Welcome back! Are you following me on Instagram? It's my very favorite place to share! You can also pin with me here on Pinterest.
I'm so excited to share an updated version of our home tour with you today! You can scroll down to the bottom of the post to check out the other awesome bloggers I've joined for this series!
We purchased our home in July of 2012 in the suburbs of Boston. It's in a beautiful neighborhood of 1980s/90s colonials, but each house still manages to have it's own very unique character. While the house lured us in with it's incredible curb appeal and flat lot, it was undeniable that the interior needed some updates. You can learn how to make the moss covered monogram wreath from the photo above here.
We absolutely love the yard, and dream of someday putting a farmer's porch on the front of the house so we can enjoy it. We have done quite a lot of yard work, and the lawn is absolutely my husband's baby- it's a running neighborhood joke! :)
This is the foyer. I loved the curved railing at first sight. We started out with dark trim in the room and have replaced most of it with white. We are planning on staining the stair treads and railings to match the hardwood floors we are installing in the fall.
Here's a peek of the "formal" dining room to the left of the foyer. As you can see, we are big fans of rustic furniture! We actually haven't done anything to update the actual room other than replacing the light fixture, but it wasn't in as desperate need of an update as other rooms were. This room is currently a construction zone, since we closed off a doorway and haven't yet patched the wall. We are planning to plank the walls, do a ceiling treatment, and add some sort of built-in. Our goal for this room is for it to be casual and welcoming- we are considering adding bench seating in place of some of the chairs to lend a community dining vibe.
Down the hallway beside the dining room is our kitchen. We completed a DIY Kitchen Renovation in February. The room was very dark, with little natural light, so we wanted to create a blank slate. Mission accomplished! I am now in the process of decorating and adding wood accents back in to warm up the room. We will also be planking the ceiling and changing out the wood floors for wider, darker boards.
My favorite part of the kitchen is hands-down the kitchen island that my husband and I built with a Craigslist marble top. I've always dreamed of having marble in the kitchen, and I actually love that it contrasts with the granite that was already there.
The opposite side of the kitchen holds our DIY rough-cut pine shelves. We love the natural wood touch they add to the room!
Our kitchen also includes our pantry, which was our first project after moving in. I designed the storage, and my husband built a slide in unit out of cabinet-grade plywood. I did the finish work, and then we installed the drawers (which he also built) and other storage items. This project actually changed my life, and helped me to become a much more organized person.
Across from the pantry is our breakfast nook, which is another blank slate. We have painted, added a new light fixture, and created the shelves. We are planning to create a bench in the bay window, and add a console table under the shelves.
We also recently painted our family room. We are planning a fireplace remodel with built-ins, a planked ceiling, new flooring, window treatments, and of course- decor. The new color is already such an improvement! I love the architecture in this room- the original rustic beams and the Palladian windows. The furniture was previously in my husband's "man cave" at our former home, and I was not thrilled when it became our primary furniture- but it's actually kind of growing on me. I think if we swap out his recliner for some prettier chairs, it could actually look really nice- but that will probably take some convincing! The steamer trunk was a yard sale find by my Dad that passed along to me. It actually works really well as a coffee table. I am hoping to be able to add decor to the top of the trunk and also have a side table and lamp someday- but my three-year-old is a destructive force in this room. At the moment it looks like toy-pocalypse.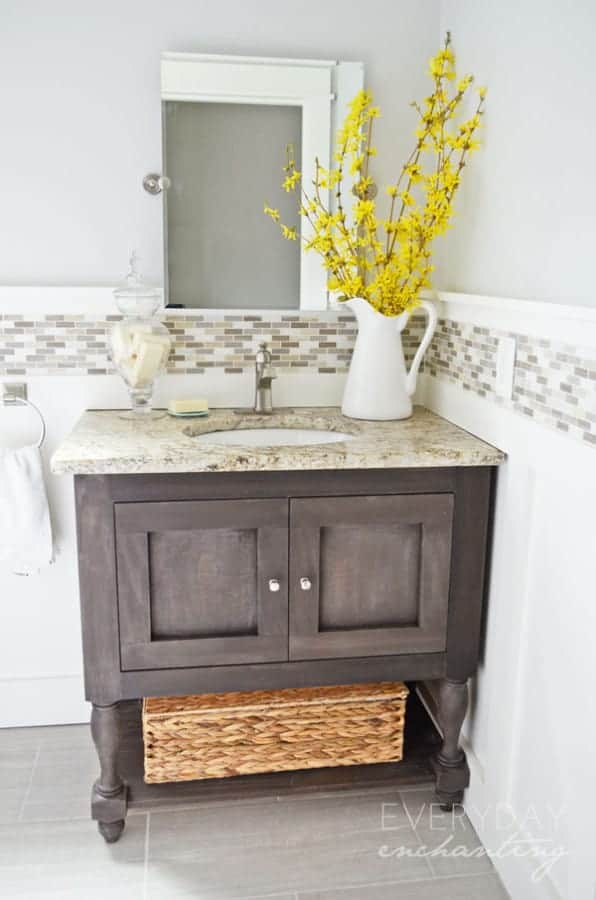 The final room in today's tour is the Powder Room. This is the only room in the entire house that is 100% complete. It also happens to be the smallest, at 5×7′. We started out with a rust-colored room with gold swirls on the wall. We redid the entire room from top to bottom, adding tile, board and batten, wall tile, new paint, and a beadboard ceiling treatment. We saved the toilet and the granite countertop, and built a vanity based on one from Pottery barn.
It's so nice to have a room complete, even if it's a small one! It's the perfect motivation to finish the other rooms on the first floor.
Thank you so much for joining me on this tour!
Paint Color List:
All white trim: Benjamin Moore Simply White
Foyer: Benjamin Moore Edgecomb Gray
Dining Room: Unknown (We haven't painted it yet)
Kitchen/Breakfast Nook: Benjamin Moore Gray Owl
Powder Room: Benjamin Moore Wickham Gray
Living Room: Benjamin Moore Edgecomb Gray

This week we are kicking off a week of 23 inspiring house tours by some amazingly talented bloggers!
As a fun bonus, some of these bloggers are going to be offering a giveaway on their site the day of their home tour so don't forget to check out all the tours so you don't miss anything exciting. Here is the order of events for the week… we're ending with a big day Friday!
Monday

Finding Silver Pennies | Town and Country Living | Migonis Home
Tuesday

Craftberry Bush | The Hankful House | Life on Virginia Street | So Much Better with Age
Wednesday

House by Hoff | Everyday Enchanting | Maison de Pax | Wicks Nest
Thursday

My Creative Days | Ella Claire | The Happy Housie | Rooms FOR Rent | 

The Lily Pad Cottage
Friday

Bliss at Home | Southern State of Mind | Designed Decor | The Woodgrain Cottage | 3 Little Greenwoods | Just A Girl and Her Blog | City Farmhouse 
Join the Weekly Newsletter
Subscribe to get our latest content by email and access to our File Library. Download organizing and home decor printables FREE!
Nina is the owner & designer of Nina Hendrick Design Company and the Nina Hendrick blog. Along with her husband Mack, she is chronicling the journey of transforming their builder-grade 80s colonial into a modern day farmhouse. Nina and Mack live in the suburbs of Boston with their three children and golden retriever Lucy.