25 Inspiring Organized Pantries
25+ Inspiring Organized Pantries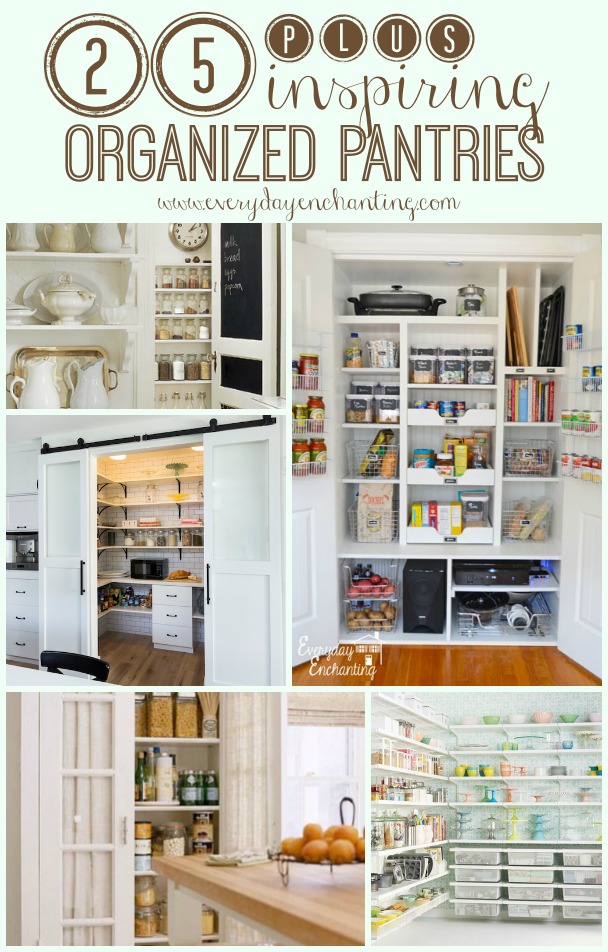 It has been two years since I first shared our renovated pantry, but it is still by far the most visited post on this blog! And in real life, it is the most organized space in our home, since everything has a place. It makes me excited to put groceries away- now that is an accomplishment! I pinned so many things when I was originally gathering inspiration, and I quickly discovered that there are a ton of beautiful pantries out in web-land. Today I'm sharing some of my favorites! Click through the gallery above for ideas and inspiration.
Slide 1: 25+ Inspiring Organized Pantries
Slide 2: Everyday Enchanting Pantry
Slide 3: My Original Pantry Inspiration
Slide 4: Barn Door Pantry
Slide 5: Bright & Organized Elfa Pantry
Slide 6: Stunning Pantry with Slide Out Shelves
Slide 7: Colorful Organized Elfa Pantry
Slide 8: Rustic Barn Door Pantry
Slide 9: White Divided Pantry
Slide 10: Gorgeous Butler's Pantry with Beadboard
Slide 11: Country Built-In Pantry with Glass Canisters
Slide 12: Colorful Pantry with Custom Cabinetry
Slide 13: Walk-In Pantry with a Place for Everything
Slide 14: Barn Door Pantry with Slide-Out Shelves
Slide 15: Country Pantry with Baskets
Slide 16: Contemporary Pantry with Lazy Susan
Slide 17: U-Shaped Dream Pantry
Slide 18: Old-Fashioned Cottage Pantry
Slide 19: Walk-In Pantry with Built-In Hutch
Slide 20: Dream Pantry with Ice Maker
Slide 21: Colorful Hutch Turned Pantry
Slide 22: Neat and Tidy Pantry with Wine Storage
Slide 23: Pantry with Perfectly Labeled Containers
Slide 24: Pantry with Slide-Out Shelves
Slide 25: Country Pantry Cupboard
Slide 26: Pantry with Adjustable Shelves
Slide 27: Chalkboard Pantry Cabinet
Slide 28: Gorgeous Pantry with Library Ladder
Slide 29: Huge Pantry with Wire Storage Pieces
And I'd love to hear, what features would your dream pantry include? Barn doors? Slide-out shelves? Let me know in the comments!
Join the Weekly Newsletter
Subscribe to get our latest content by email and access to our File Library. Download organizing and home decor printables FREE!
Nina is the owner & designer of Nina Hendrick Design Company and the Nina Hendrick blog. Along with her husband Mack, she is chronicling the journey of transforming their builder-grade 80s colonial into a modern day farmhouse. Nina and Mack live in the suburbs of Boston with their three children and golden retriever Lucy.