Arabesque Tile Backsplash Accent Tutorial
Arabesque Tile Backsplash Accent Tutorial | Create a dramatic focal point in your kitchen using this tutorial for an Arabesque Tile Backsplash Accent.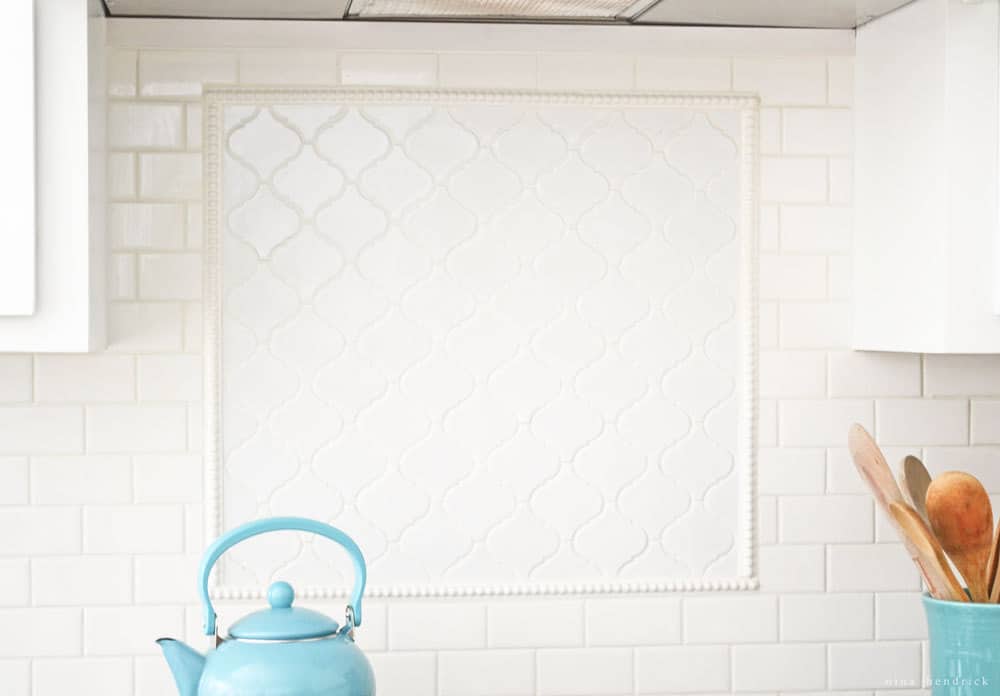 DIY Arabesque Tile Backsplash Accent
I'm so excited to share the very first tutorial from our kitchen renovation! As you may know, we have been working on this project since September 29th (my birthday). I suspected it would take months to finish, but what I didn't know for sure was how wonderfully everything would come together. I am truly in awe every time I walk into the room. We are still working on finishing up the rest of the cabinet doors, building a furniture-style island, cabinet interior organization, and some lighting. However, I thought I would go ahead and walk you through one of the projects that is 100% complete ahead of the "big reveal".
Here's what we started out with for a backsplash:
I don't know how to say it delicately, but I really didn't like it. I actually hated it. No amount of cleaning could ever make it truly look clean because grease and dust seemed to get into every crevice of the tile. I also knew that the strips of granite backsplash would have to go- I much prefer backsplashes that go all of the way down to the countertop. (I'm not sure if there's a technical term for that- I'll just go with "prettier").
This ugly backsplash did not want to go easy. It ended up taking the whole wall with it. We ended up taking the Dremmel to the edges and cutting out the whole thing, drywall and all. So that complicated the project a little more than we had originally planned, but it actually ended up almost being a good thing, because it made wiring the under cabinet lighting a whole lot easier.
Once all the technical stuff was done, it was time for the fun part. I already knew I wanted to go with subway tile with white grout, but then I began to question whether it would be a little… well… boring.
I thought it would be interesting to go with the arabesque tile rather than the herringbone in the accent area. That was something he could live with. We went ahead and purchased the subway tile at our local home improvement store, and I went on a search for arabesque tile. I quickly found options, none of which were inexpensive, and dejectedly began to think that the idea was going to be scrapped. Then, one day, when looking for roman shades on Overstock, I stumbled across
the same tile for a reasonable price
. I was so excited! I went ahead and ordered. My arabesque kitchen backsplash was one step closer to happening!
The Process
I ended up with way too much, which I was fine with, and the color didn't 100% match the subway tile from Lowes- but it was close enough that I could deal with for the price. It has been brought to my attention that there is also an inexpensive option sold at Home Depot by the sheet. I am not positive if it is from the same line as their Subway tile- but if it is you may have better luck getting that perfect color match!
I won't walk you through the subway tile portion of the program, as there are countless subway tile tutorials out there, and I doubt if there is anything profound I can add. We decided to do this accent before the surrounding subway tile, and that proved to be a good decision. Even with careful measurement and planning the surrounding subway had to be cut to different measurements within a 1/4″.
We first measured and decided where we wanted the accent to appear behind the stove.We decided not to perfectly center it in both directions, and to move it closer to the top of the area.
We separated the tiles from the webbing. We'd read in the tile reviews that the webbing on the back dissolved in the water. Then we tested it out just to double check, and it was true. Mack then cut the tiles with our wet saw. This was not easy, as they were so small. He wanted me to relay to you to be cautious, and also to turn the tile upside down, as a little bit of chipping did occur. By running the tile through upside down, the chipping was at least on the back side of the tile instead of the front (you can see the difference in the bottom corner photo between the ones that were upside down).
After all of the cutting was complete, I laid out the design in it's entirety on the countertop.
Mack applied the mastic to the wall and began adding tile.
This is when we remembered that we now have under cabinet lighting… haha!
Working with the mastic is time sensitive, so pretty quickly it was completed.
We completed the surrounding subway tile and allowed it to dry overnight. I have to admit, I was a little concerned with all of the uneven gaps at this point. The arabesque shape was certainly not easy to work with, or consistent. All of the tiles were slightly different sizes, no matter how hard Mack tried to be precise. Even with our careful measurements, there were some inconstancies. We were feeling a little dejected at this point. But then, it was time for grout!
Grout
We could already tell that it was looking much much better with the grout added.
Here was a tip Mack asked me to share with you. (It was probably the most awkward thing I've ever had to photograph to date.) This is a deposable Wilton frosting bag filled with grout, it helped him get into the corners and other difficult spaces.
Once again I had a lot of anxiety because the "white" grout appeared very yellow and dark.
The Result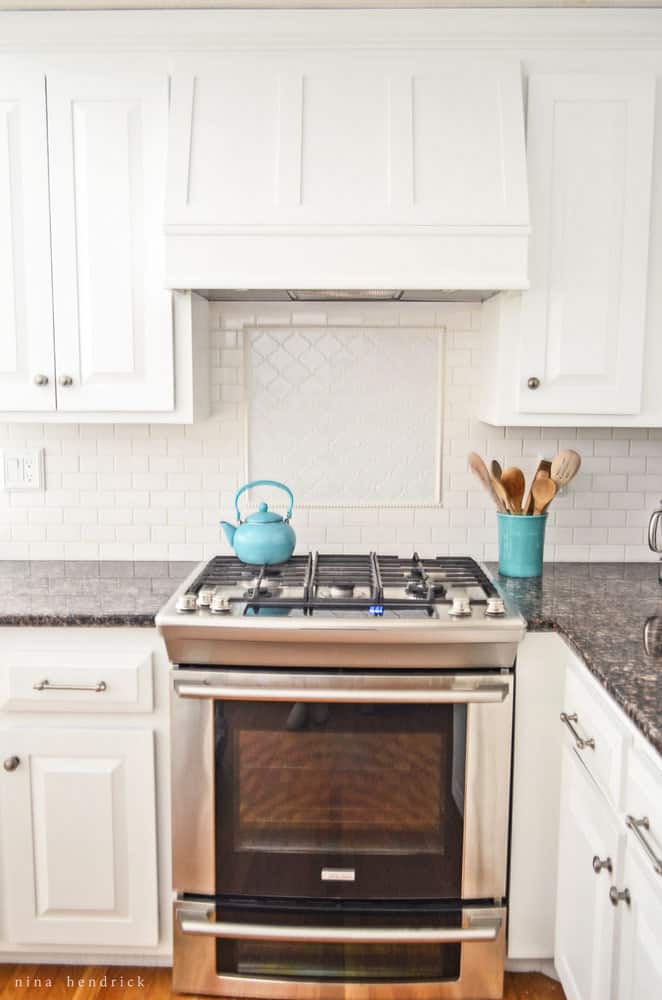 However, it lightened up as it dried. It is actually even lighter now, several weeks after the fact. I can't wait to share the final kitchen photos with you so you can get the full effect. It really is beautiful! It adds interest to what could have easily ended up being a boring large area of plain subway tile. I am so happy with it, it's another touch that makes the kitchen uniquely ours!
See our other kitchen posts: [ubergrid id=13891]