Get the recipe for this autumn harvest apple pear sangria. This fall cocktail recipe is perfect to share with friends for your fall entertaining!


As I mentioned in my Fall Into Home tour the other day, sangria is kind of my "thing" when I'm entertaining. For some reason, I have a random skill for combining various fruits, wines, liquors, and sodas to make something delicious. I'm not sure how useful of a skill this is, but it is a skill. I honestly don't usually use a recipe, but I've tried to approximate for the purposes of this post. Basically, it isn't an exact science. Feel free to experiment! Also, tequila just happens to be my liquor of choice for sangria and I've also used white rum with good results- but traditional sangria calls for brandy or gin.
Today I'm going to share my early fall version of this yummy beverage. I have one for just about every season. I hope you enjoy it!
MY LATEST VIDEOS
MY LATEST VIDEOS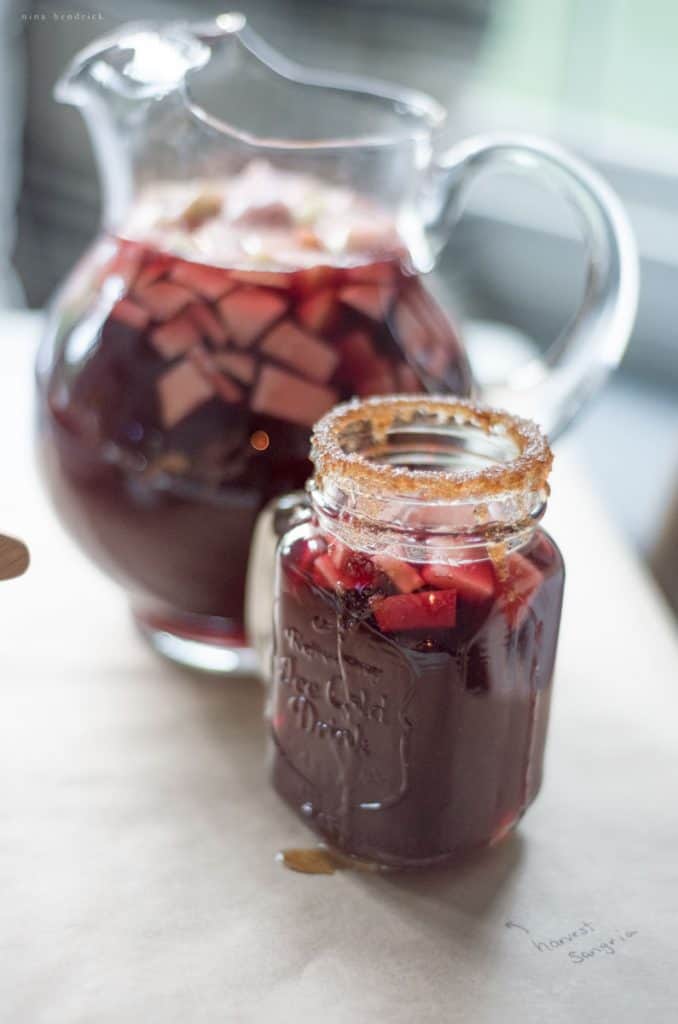 Autumn Harvest Apple & Pear Sangria
Ingredients
2 apples, cored, skin on, and diced
2 pears, cored, skin on, and diced
optional- 1 peach, pitted, peeled, and diced
1/3 cup tequila (or more, I won't judge)
1 750 ml bottle red wine (I have really been liking 90+ Cabs lately)
3/4 cup ginger ale, plus more to taste
Garnish
honey
1/4 cup organic brown sugar
ice to chill
Instructions
Prepare fruit according to ingredients.
Add fruit to the pitcher and mash lightly with wooden spoon.
Mix fruit with tequila. Allow to soak for a few minutes.
Add wine and ginger ale.
Allow to steep at least one hour in the refrigerator before serving, 3-5 hours is ideal.
Mix in ice to chill (approximately a cup) before serving.
For this autumn version, a honey rim with brown sugar is especially fun!
Serve and enjoy. Make sure some fruit for munching makes it into the glass!