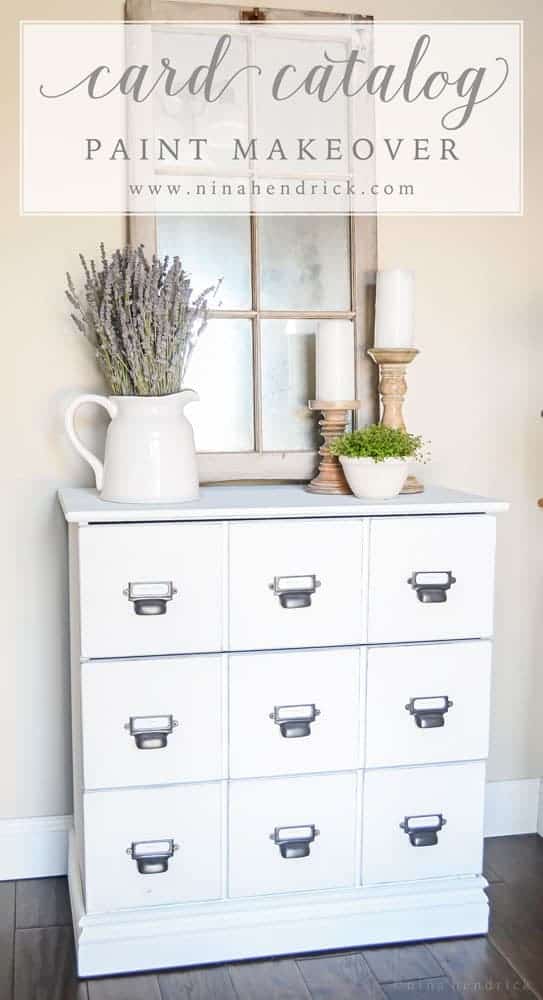 This is a sponsored conversation written by me on behalf of Wagner SprayTech. The opinions and text are all mine.
Recently we've been making slow but steady progress with random projects around the house. If you've been around here for a while, you may remember when we simultaneously started 6 room renovations at once almost two years ago. They all had a bit of a domino effect- one had to be started to get to a certain point in the next one done, and so on. Basically we were left with a bunch of 90% finished projects.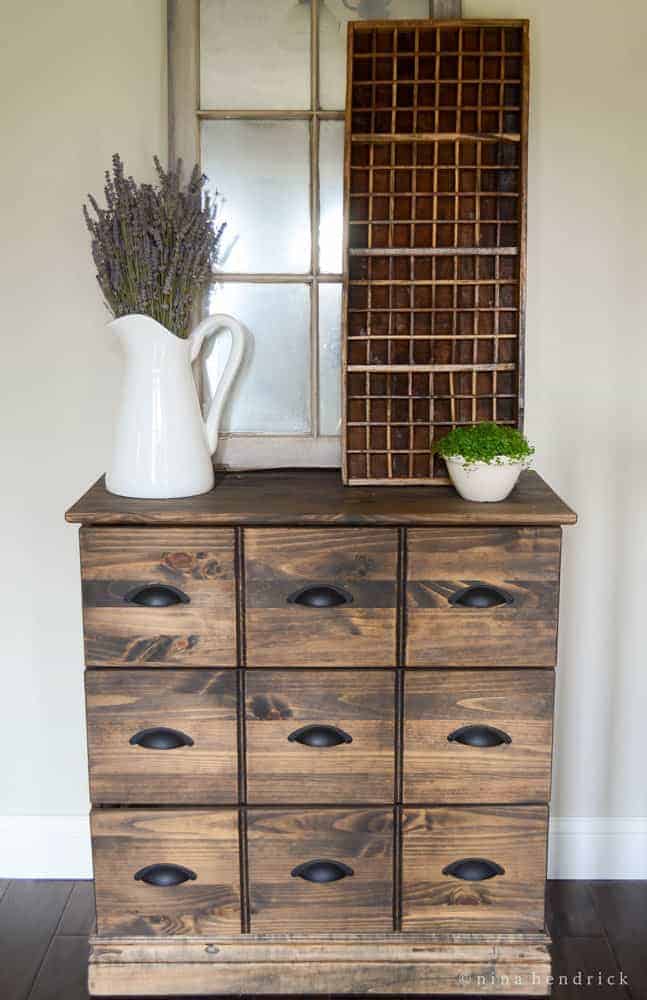 The foyer was one such project. After we replaced the flooring, I brought in my Ikea Hack Card Catalog from the family room. I had stained it dark, which went nicely when we had light walls and carpet- but it wasn't playing nice with the floor in the foyer. I had told myself that maybe it would be more cohesive when the stair treads were stained to match the floor (rather than being yet a third stain color in one small space), but I (and my OCD) don't really believe that will be true. It was just too much dark wood!
With that being said, there was absolutely nothing wrong with the before- and I wouldn't have changed a thing if color circumstances were different. You can see the tutorial for the original stain here.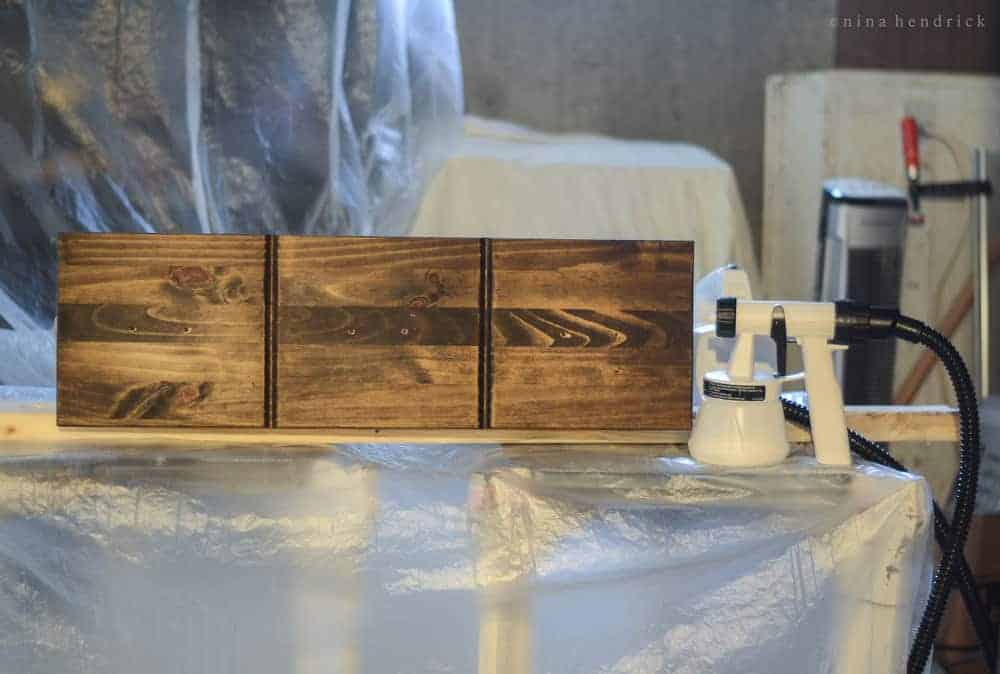 This project gave me an opportunity to try out a new paint sprayer from Wagner- the Home Décor Sprayer. When I read that it can handle all kinds of different paint, including milk and chalky paint, I was very excited. That wasn't what I had planned for this project, but I definitely made a mental note.
For this project I used Benjamin Moore Aura paint in Simply White with an Eggshell sheen. It was the same paint we had used in the dining room, and it's the same color as all of the trim in the foyer. My goal was really to brighten up the small space.
My first step was to lay plastic over the shelves and tools in our workshop and to create a safe area to use the sprayer. I hauled the drawers down and removed the hardware. I covered the backs of the drawers with masking paper, since I was only planning on painting the drawer fronts.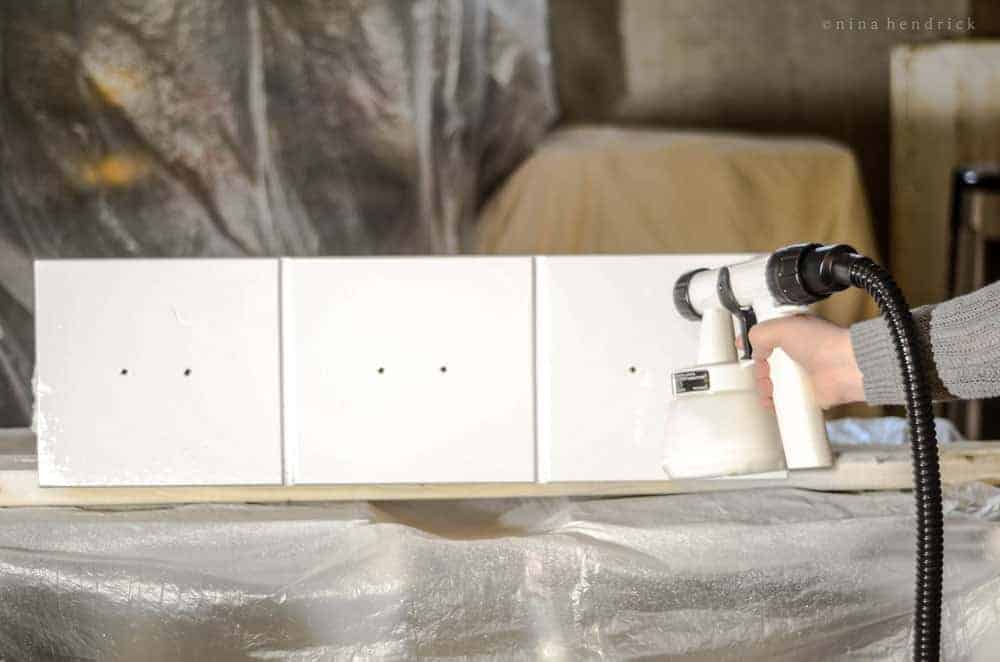 Assembly of the sprayer was extremely easy. What I immediately liked about it is that it's lightweight. Those busters can get heavy when you're doing a whole project (ahem… kitchen cabinets).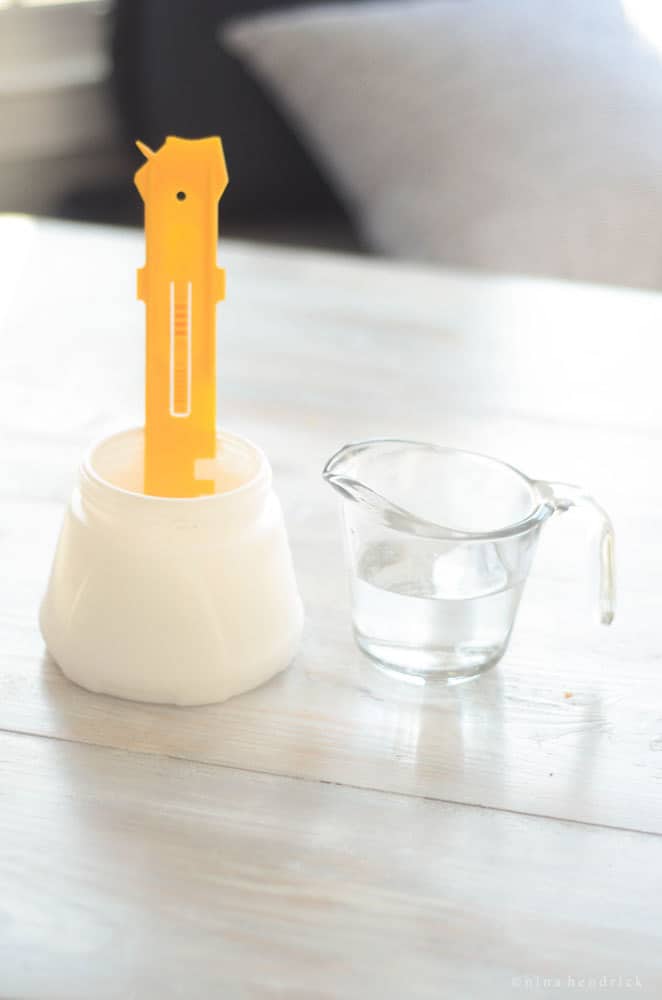 The Home Décor Sprayer came with a handy tool that showed the ratio of paint to thinner- in my case, I always use distilled water. I did a test run on a scrap board and found that the Aura paint needed to be a little thinner than recommended. I think this is one of those "play-it-by-ear" type of things, I would start with the recommended amount and add more paint or more water accordingly.
I tested the viscosity out again before beginning to paint the drawers (this is always something I strongly recommend), but I liked what I saw immediately. The paint went on smoothly and almost immediately began to self-level. I had originally planned to do this project with a brush, and there is no way I would have been able to complete it during one naptime.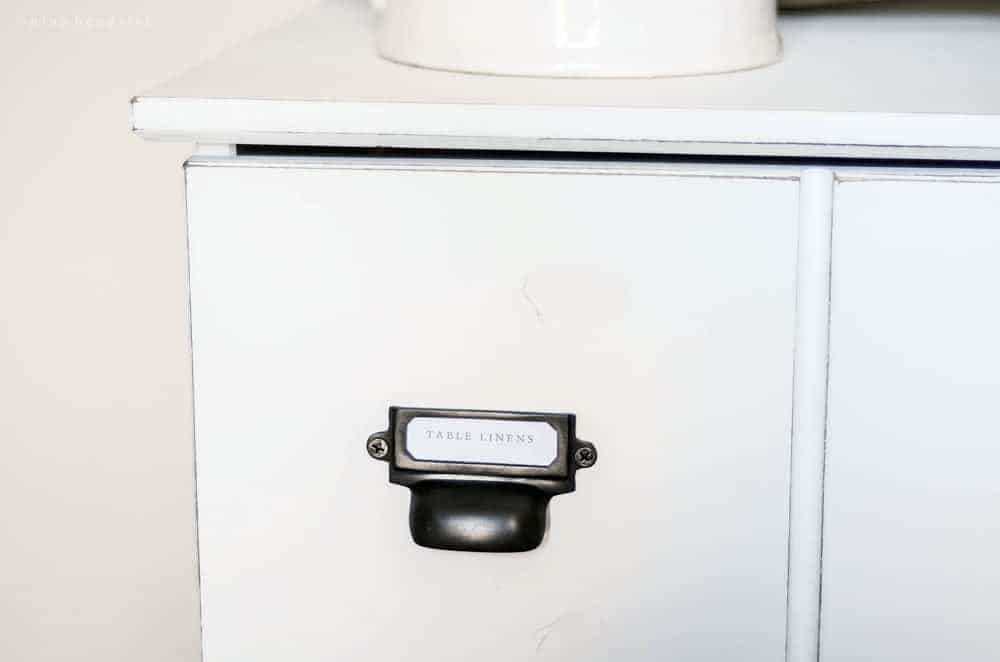 Not only was I able to complete the painting of all of the drawers and the main chest (one coat finished the job), I was able to wait for it to dry and distress the corners, all before the baby was up. The longest part of the whole project was adding the hardware (I love these pulls, available here!).
You can see how I distressed the edges just enough for the former stain to show through. It also highlighted the knots. I finished it up with a clear wax.
Clean-up from this project was also pleasantly simple. The sprayer came apart easily, and cleaned up well. You can also purchase lids so that you can store any leftover paint right in the jar from the sprayer.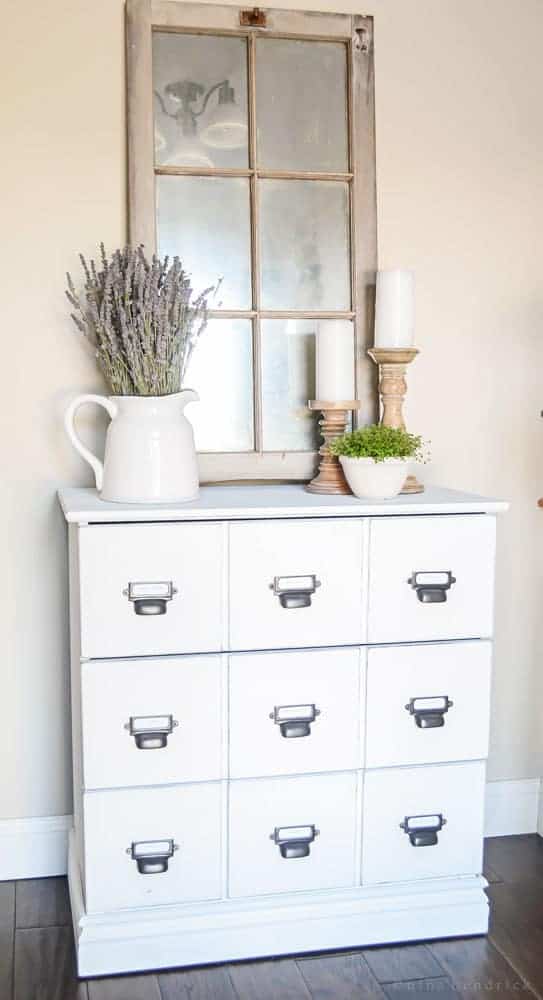 I would have never imagined that I would have a completely transformed a piece of furniture in a few short hours, but there it is. I love the finished product! It was quick, simple, and impactful- my favorite type of makeover! If you are local to Boston, MA (like I am!) or Atlanta, GA the Wagner Home Décor Sprayer can be purchased at your nearest Home Depot. Otherwise, it is available at Wagner's website.
This is a sponsored conversation written by me on behalf of Wagner SprayTech. The opinions and text are all mine.

Comments submitted may be displayed on other websites owned by the sponsoring brand.
Join the Weekly Newsletter
Subscribe to get our latest content by email and access to our File Library. Download organizing and home decor printables FREE!
Nina is the owner & designer of Nina Hendrick Design Company and the Nina Hendrick blog. Along with her husband Mack, she is chronicling the journey of transforming their builder-grade 80s colonial into a modern day farmhouse. Nina and Mack live in the suburbs of Boston with their three children and golden retriever Lucy.