DesignBox: A Tactile Virtual Design Service
 DesignBox:  A Tactile Virtual Design Service | How do I begin decorating my home? It's with this question in mind that I created DesignBox. DesignBox combines the convenience of personalized virtual design with the tactile elements of fabric swatches, paint swatches, and samples. Read on to learn more about this service.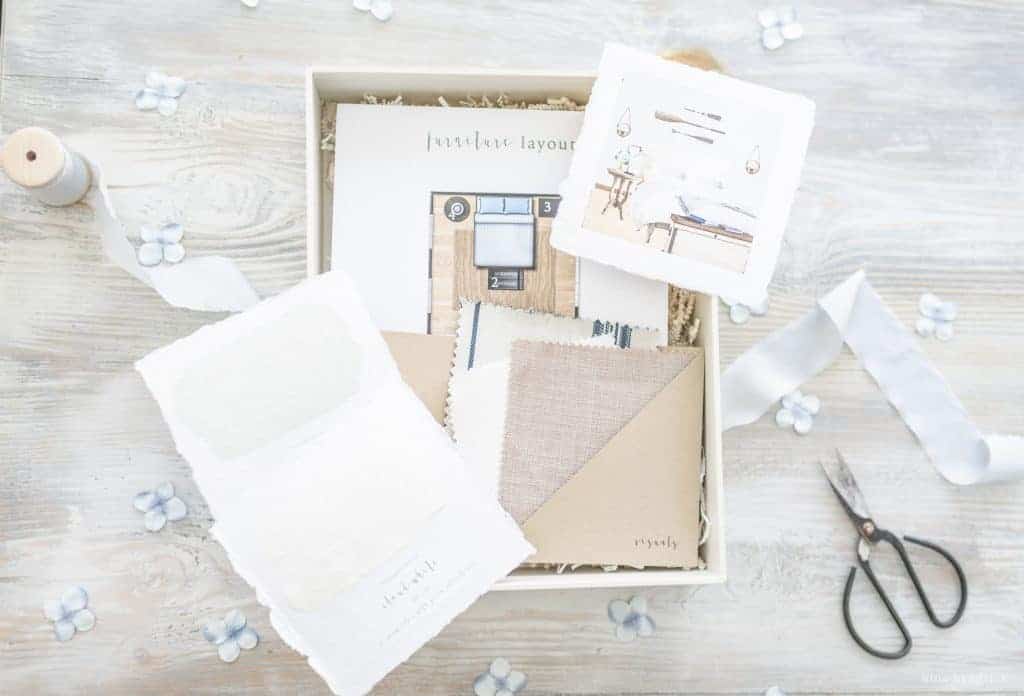 How do I begin decorating my home? This is a question I receive so often. While there isn't a one-size-fits-all answer, I have tried to provide a ton of free resources that answer that question right here on this blog. It's always my hope that they will provide guidance and spark inspiration, but I understand that sometimes people seek a more tailored answer to this question.
Do you love to watch design shows, follow blogs, and surf Pinterest and Instagram for home decor inspiration? Maybe you love what you see and wish your home could look the same way. Maybe you've walked around Homegoods or flipped through Pottery Barn and found yourself loving so many things (and maybe even buying them!) but then get home and have no idea how to bring everything together. You may just feel overwhelmed by all of the options available. Maybe you've even considered hiring an interior designer- but you want to take things at your own pace.
You know what you want your end result to be- a home that makes you feel relaxed, and a place to create memories with your family and friends.
There's just one problem: you don't know where to start.
It's with all of this in mind that I created DesignBox.
DesignBox combines the convenience of personalized virtual design with the tactile elements of fabric swatches, paint swatches, and samples. We will work together via email to create a unique design for your space and at the end, your plan will be delivered to your front door in a beautiful package wrapped up with a bow.
DesignBox is perfect for you if:
You're frustrated with a room in your home and don't know where to begin.
You're overwhelmed by all of the decor options available.
You have an eye for design and love home decor, but just need a little bit of advice and guidance to pull a room together.
You prefer to work virtually and correspond via email or messages.
You're excited to order everything and put the room together, but want to do the project at your own pace.
You're visual and love the idea of having something at the end of a virtual design process that you can hold in your hands.
Now, the flipside of this. While I would love for DesignBox to be a great fit for everyone, there are some instances where that may not be the case.
DesignBox would NOT be perfect for you if:
You have a large project and would like someone on site to manage every aspect.
You prefer to have face-to-face conversations about your project.
You'd like someone to order all of the pieces for you.
You don't like the idea of working together online.
What's Included:
Let's Get To Know You | Our initial questionnaire helps us paint the entire picture and create a design tailored to you.
Dimensions Guide & Workbook | Instructions for taking dimensions of your room and a timeline of the project.
Private Pinterest Board | We'll work together to gather inspiration and make sure your vision is achieved.
Virtual Moodboard | A curated digital collection of the overall story of the room.
Review & Revision | You are emailed the virtual moodboard and one round of revisions is included before sending the final product.
Final Product: DesignBox with Final Design | Design Plan Explanation, Floorplan, 3D Rendering, Paint & Fabric Swatches, Access to Shopping List with pricing, links, and details of all products.
Additionally, we'll check in after the package arrives and answer any final questions you may have, see if pieces have started to arrive, and follow up if you'd like to have your completed room featured on this blog and social media!
How long does it take?
This answer will vary depending on the size and scope of the project, but on average it will take 4-6 weeks from the time you reach out until the DesignBox is delivered to your door. You can see the steps in the image above! 
How DesignBox is Different
I know DesignBox may be a bit different than anything you've heard of before. If you are still confused about what DesignBox is and what it isn't, I thought I would highlight what makes it special versus classic design services.
An example of a design rendering from DesignBox.
Example Project
DesignBox is ideally suited for projects where you need help choosing furniture, decor pieces, and finishes. Rooms like living rooms, offices, dining spaces, and bedrooms are perfect, although we are not necessarily limited to them.
So for example- let's take a bigger project like a kitchen. DesignBox would be perfect for helping you choose the finishes and pieces. I can help with items like the sink, faucet, lighting, hardware, tile, countertop finishes, cabinet colors, even cabinet styles- but you would have to find the cabinet maker and hire contractors to make sure your dimensions are correct and ultimately find a contractor to do the project.
DesignBox vs. Traditional Interior Design
With DesignBox, we only "meet" virtually through email, I never come to your home (even if you are local). In fact, I don't offer in-person services at all! That's the beauty of the digital age- I have put together all of the tools necessary to be able to help anyone, anywhere decorate their home from wherever I happen to be!
This is a decorating service rather than a full-service interior design. I won't be working with your contractors, providing you with CAD drawings, or any of the more technical aspects of a renovation project. I do provide you with a floor plan, but for furniture placement rather than a builder to work off of. I'm providing you with the overall plan.
I don't order your furniture or materials for you, but I do provide you with a detailed list, including links. This enables you to put the room together at your own pace. You can see more of what's included above!
DesignBox vs. Virtual Design
DesignBox includes virtual design, but at the end, you are delivered a physical product instead of a digital file. As with classic virtual design, we will work together to create a unique plan for your space. What makes it different is that at the end, your plan will be delivered to your front door wrapped up with a bow.
The inspiration came when, after completing virtual designs, I felt something was still missing.  I realize that there is a value for so many of us in the tactile aspects of interior design that gets lost in virtual design.
There's something about being able to feel the texture of a sample of Carrera marble and hold it up in the room we are dreaming of making over and placing a piece of fabric up against a paint swatch. DesignBox has the best of both worlds because it combines the convenience of personalized virtual design with the tactile elements of fabric swatches, paint swatches, and samples.
Coming Full Circle
You may or may not know that I got my start back in 2010 as a party styling business (called Enchanting Details back then). My signature product was called "Party in a Bucket" and it included everything you would need- invitations, cupcake toppers and wrappers, ideas for styling, photos for inspiration… all wrapped up and packaged in a colorful metal bucket. I loved the creative aspect and it gave me a crash course in how to run a business. When we moved to this house I shifted my focus to all things home and officially phased out the buckets. So this concept is not necessarily new to my business, but I've missed creating something with my hands. Applying this concept to the home is a step that I am so excited to take!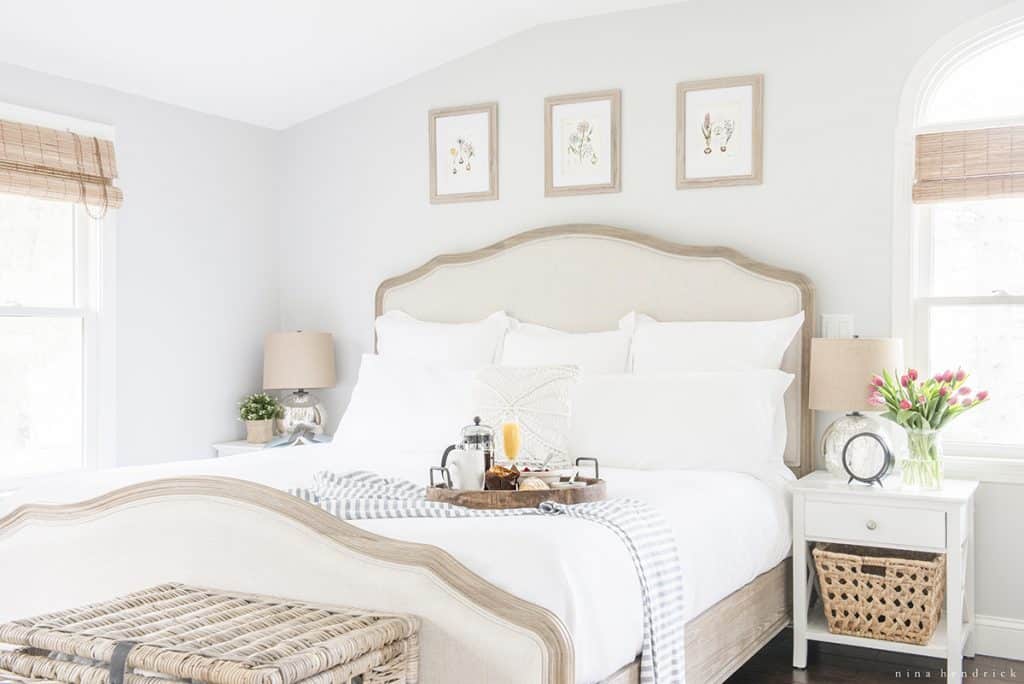 Investment
Are you ready to begin creating a room you love? An investment in your home spills over into relaxation and creating happy memories with your family.
DesignBox begins at $1,200 for a full room. I only take a limited number so that I can completely focus on a single design at a time.
Please let me know in the comments if there are any questions you have and I will be happy to answer you!