Ireland Part 1: Exploring Galway, The Cliffs of Moher, & Dunguaire Castle
Exploring Galway, The Cliffs of Moher, & Dunguaire Castle | Part one of a recap of our trip to Ireland. I share our explorations of Galway, the Cliffs of Moher, and Dunguaire Castle.

Our trip to Ireland was such an incredible whirlwind! As anticipated, I completely fell in love with the land and gathered so much inspiration. I've only been back a couple of days as I'm writing this, but I wanted to make sure to capture it as soon as I could before I began to forget details.
Our trip was essentially split into three parts: Galway & the Cliffs of Moher, the rental castle in Tipperary, and Killarney & the Ring of Kerry. I will be doing one post for each part of the trip, three posts total (and maybe one about how I packed for the trip), so stay tuned!
We left Boston on a Wednesday night red eye. We flew direct to Shannon with Aer Lingus, and it was a pretty smooth experience. I knew I needed to try to sleep as much as I could in order to function and be able to manage the kids once we landed.
I slept sporadically, the kind of non-REM sleep that isn't quite satisfying. We arrived in Shannon early in the morning. The airport was so quiet, I was a little worried that we were in the wrong place! On the plus side, immigration was a breeze, and we were in our rental car within a half hour of landing.
Day 1: Exploring Galway
Our rental car turned out to be a stick shift, which Mack hasn't driven in a long time. I sneakily tried to video him as he sat on the "wrong" side of the car to drive down the "wrong" lane, all while shifting with the opposite hand from what he's used to. My viral video dreams were dashed, he was disappointingly adaptable, and he barely missed a beat.
We immediately headed to Galway, which was the location of our first hotel.
My first impressions of Ireland as the sun rose along the motorway was that it seemed a lot like home in New England, particularly like driving down on the Cape with the stunted trees. The big difference that stood out immediately was that there was a lot more livestock, and everything was a whole lot greener.
However, it would be a recurring theme throughout the trip that I never really felt like I was in a foreign country. I had a recurring sense of déjà vu.
We arrived in Galway a little over an hour later, and we decided to try to see if we could get breakfast where we would be checking in later in the day, the Park House Hotel. We were completely exhausted.
It must have been obvious because the Park House front desk staff took pity on us. They really bent over backward to try to offer us an early check-in. It would naturally be some time before a room would be ready nevertheless, so we decided to go exploring.
Cloonacauneen Castle

We had seen several signs for castles on the way in, so we decided to check out some of those. The first one was called Cloonacauneen Castle, a popular wedding venue, and it wasn't yet open for the day.
It did give me an opportunity to test out my camera lenses on the grounds, which was extremely fun! We then made our way down the winding roads in the suburbs of Galway in search of Menlo castle.
We passed this beautiful gate that was in the middle of the road like no big deal. Menlo castle also seemed to be closed, but I got out of the car and snapped some photos of the gate. I'm told that getting lost in Ireland is part of the charm. I was determined to push past the exhaustion and enjoy my first day there!
We drove through the campus of the National University of Ireland Galway to get back to the hotel. The familiarity of a college town hit me again, and it dawned on me that it reminded me a lot of Boston.
Eyre Square, Galway
They had one room ready for us, so we all crammed in to take a much-needed nap on whatever surface we could find. By the time we woke up, the second room was ready. We were all able to freshen up and meet back up to go explore a bit more of the city.
We visited a few different pubs, having appetizers at one in Eyre Square, a drink at another, and then dinner at the last one right near the hotel. After that, we called it a night!
Day 2: The Cliffs of Moher & Dunguaire Castle
The next day was Good Friday. After an Irish Breakfast (I traded out my puddings for an extra tomato) we made our way out of Galway to visit the Cliffs of Moher. It was a day that had been forecasted to be cold and rainy, and we got what they said we would.
We had decided to see the Cliffs from the water, which had seemed like a good idea at the time. That is until we were being tossed around on the choppy sea. There was a steady drizzle of cold rain for an hour. I would advise to somewhat attempt to plan around the weather!
Corkscrew Hill
On the way back we paused so I could capture a shot of Corkscrew Hill. It was too misty to see the ocean, but it was a pretty scene nevertheless.
Kinvarra
We also stopped in the beautiful little village of Kinvarra. It charmed me with its colorful waterfront cottages and boats! I wish I had the whole day to take photos.
We decided to take a quick tour of Dunguaire Castle, which was built in the 16th century.
Inside Dunguaire Castle
It was the first castle we were able to explore the inside of and it was extremely interesting. It gave me a little preview of what to expect during our upcoming stay in the castle.
On the way up to the roof, I saw this little four leaf clover growing in a crack near the window. It seemed appropriately symbolic.
"Famine Cottages"
One of the many "famine cottages" from The Great Famine of the mid-1800s. This was a massive time of starvation caused by a potato blight. Many Irish people sadly passed away or were evicted from their homes and emigrated to other places (Boston being a major one) to try to start over. This cottage was outside of Kinvarra. The beauty and sadness was striking to me.
There was a man rethatching a roof on a house nearby. I watched him for a couple of minutes. I can't help but marvel at the fact that it is a historic skill that has been passed down for centuries.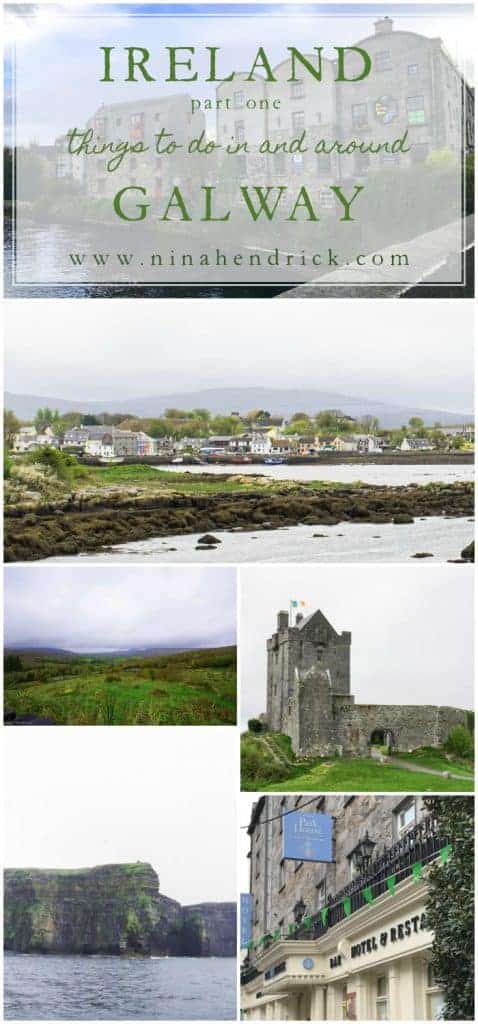 Where to Stay in Galway, Ireland
We made our way back to the Park House Hotel and ate there for our final night in Galway. The food and service were both very good throughout our stay. The hotel is nicely decorated and the staff is friendly. The room was small but very clean and tasteful. Our meals, particularly breakfast, were very good. I will say the hotel seemed to attract an older clientele. That kind of comes with the territory of staying in a nicer hotel in Europe. I had to make sure to remind the kids to be extra silent as we walked through the lobby. You could hear a pin drop with all of the elderly people having their tea. Even still, it certainly wasn't an issue, and the boys were very polite. I would recommend it and even stay there again if I ever go back to Galway.
The next morning we headed to Tipperary, where we would be staying in our very own (haunted?) castle. I will share more about that story next!