Inspiration for Our Exterior Finishing Touches
Since the day I shared the details about the exterior makeover, we have had seven days of rain and three days of sunshine (including today and yesterday). So progress has been a little slower than we had hoped. However, it's still progress. On the days that the painters have been able to work, they have worked impressively fast, but thoroughly. After the scraping, sanding, and replacing all of the rot, they started out with a primer coat, and the primer was tinted to be a lighter version of the final color. It didn't take long before the whole entire house was no longer yellow, and I had a good idea of what the final product would be like. To say that I'm happy with it would be an understatement. It's so completely "us", and as I had hoped, it's the perfect extension of our interior improvements. Yesterday they did the first coat of actual paint, and the color darkened a few shades- which I was pleased about. The photo below is the primer coat, so it's not the actual color, but gives you a little idea of how different it looks!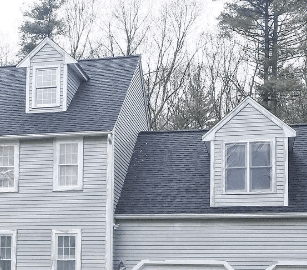 Today they are doing the final coat, touch-ups, and finishing up the painting on the trim. They will also rehang the freshly painted black shutters- I had always thought they were faded black, but as soon as they began to roll on the black paint, it was immediately obvious that they had actually been faded dark green. The house already looks lovely, and the new front door really pops, but I'm so excited to see the contrast of the shutters.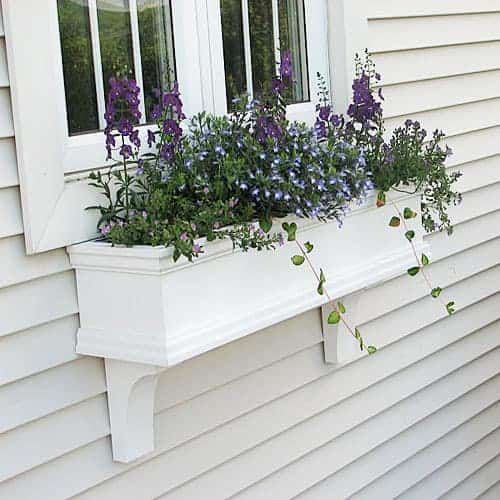 I have also decided to install window boxes on the four main downstairs windows and the dormer above the garage. The color and texture added by the plantings in the boxes will be a perfect balance to all of the neutrals. I also have a vision for how I plan to decorate the boxes for Christmas. I'd prefer to have corbels below the window boxes like the pho. I looked into buying them assembled, but they are extremely expensive. I'm going out to look today, and unless I find a better deal, we may be building them ourselves out of Azek. It would add some time to the project, so fingers crossed that I find something pre-made!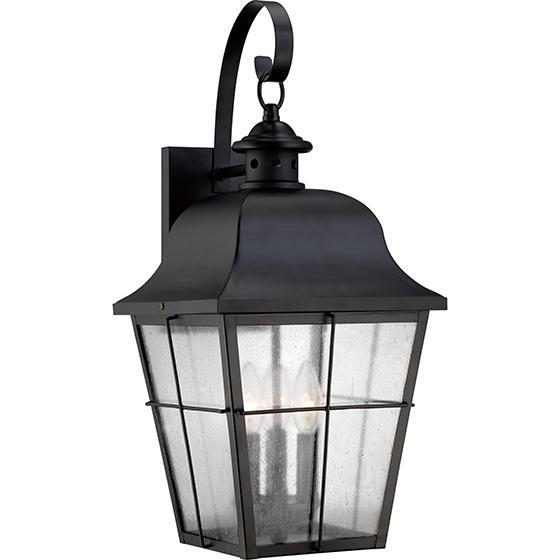 We also purchased new lanterns to replace the broken and dated ones. I wanted the lights to have a "modern farmhouse" look to them, and I fell in love with the clean shape, seeded glass, and grids of these lanterns from Home Decorator's Collection. I can't wait to install them, they are sitting in their boxes in the garage, and I feel like a child with newly-opened Christmas presents I want to play with. I'm hoping to install them tonight, but things have been a bit tricky with baseball practice and school events.
I've been brainstorming occasionally for a while that the dormer above the garage (as seen in the sneak peek photo) is just missing "something". It's great that there is one to begin with, since I think it would look really plain without it. However, I think that having the double windows instead of just one with shutters was a mistake in architectural detail. It just looks so plain and boring. I'd really like to add crown molding that is similar to what we installed at the top of the front door, and I'm hoping that it will be enough in combination with the window box. I'd really love to have shutters, but there just isn't enough room.
I have also made some tentative decisions about exterior plantings and landscaping. It has been a difficult process since I don't always feel confident about plants, my go-to has always been "plant a hydrangea". For this project, I've relied heavily on free garden plans from BHG and Lowes and then researched the flowers that have caught my eye. I want to make sure they can survive in the sunny front yard and our relatively unpredictable New England weather. As an aside, in case you're wondering about all of the "I"s here, I have pleaded with Mack to give an opinion every step of the way- but he refuses. If I could have picked a project for him to remain impassive about, it would not have been this one. I suspect he's as lost as I am, he tells me to get what I want (within reason of course) and he will dig the hole.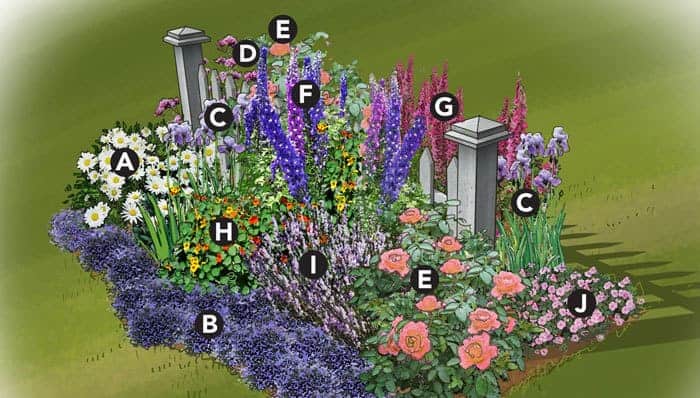 Colorful Cottage Garden Plan via Lowes
My plan for the front garden inside the picket fence is to pick up some boxwoods, Shasta daisies, and phlox. I hesitate to go too crazy, because we have plans to add the farmer's porch another year, and everything is going to have to be moved anyway. My goal, for now, is to make it look as neat as possible with a combination of what's already there, a couple of additions to fill the gaps, and black mulch.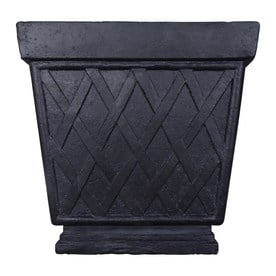 Last night we also picked up these planters for the front steps. I had gone back and forth on color, since I wondered to myself if they should match the window boxes. I'm not sure what the "rule" is, but I decided not to match and to go with an aged black instead of white. The planters mimic the shape of the lanterns, and I appreciate the symmetry. My tentative choices to fill the planters are white bacopa, verbena, licorice plant, and swan river daisy- I don't know that they will be available locally, but that's my jumping off point. I'm going for a combination that will be very cottagey and almost wild-looking, which will soften the symmetry I just mentioned.
Before any plans can move forward, I have so much weeding to do, even though it's so early in the season. I also have to scrub the mildew off of the PVC picket fence, which came with the house. Although it's true that PVC doesn't have to be painted, it does have to be cleaned fairly often, and that requires a lot of elbow grease. Having such a large yard can be overwhelming, but a gratifying feeling of pride is emerging when we drive up to the house. I know I've said this before, but it's incredible how much of a difference paint can make! It was the impetus for this whole curb appeal makeover, and it's coming together beautifully.
If you have any newbie gardening tips for me, I would love to hear them! We are in Central Massachusetts, Zone 6b.