Updating the Exterior of Our Home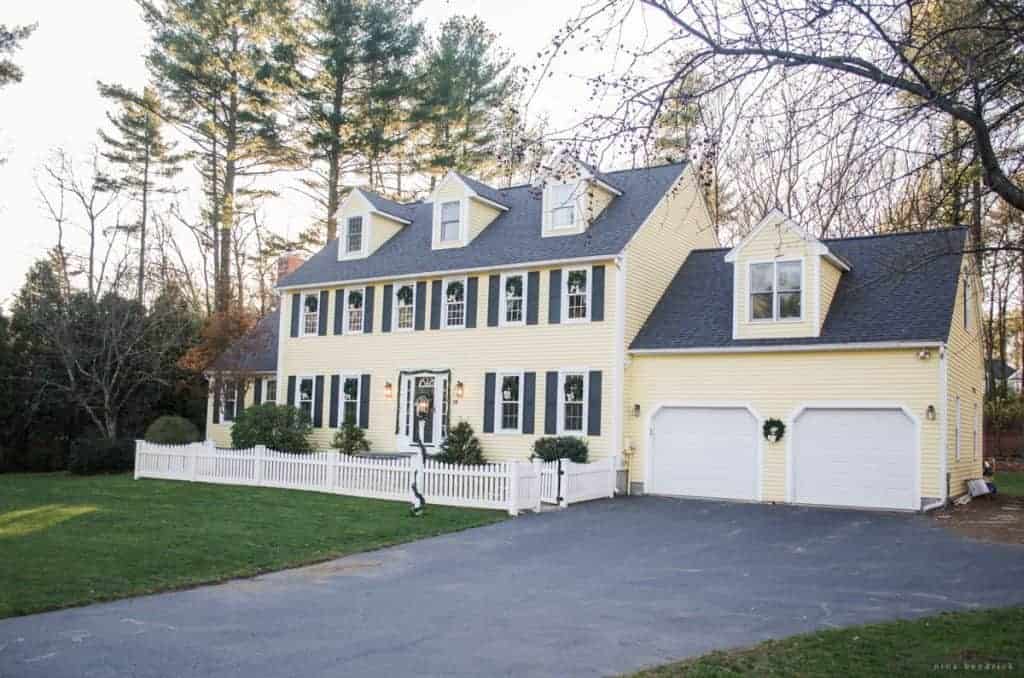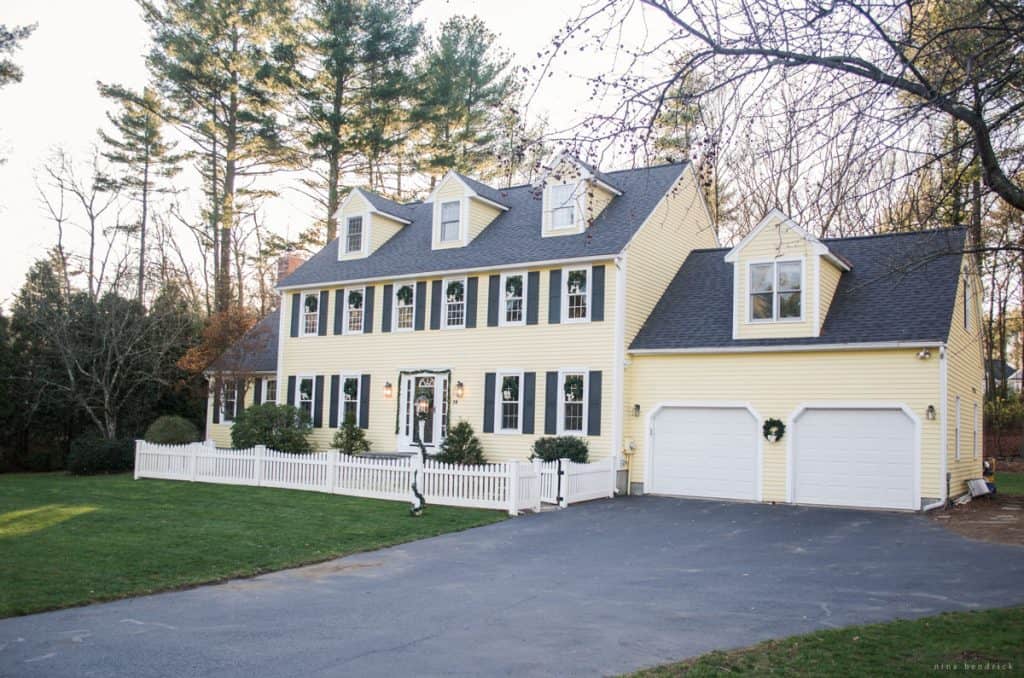 For the last few weeks I have lived and breathed constant
The Everyday Planner™
work, as well as battling a poorly-timed bout of pneumonia (is there ever a good time, really?), so today I'm taking a much needed planner-break to recharge ahead of the launch! I thought I would take an opportunity to share a project with you that isn't necessarily photo-heavy or DIY, but has been going on in the background as we work on other aspects of our home and I work on
my shop
.
As we approach the fourth anniversary of moving into our home, we have some big and exciting plans unfolding for the exterior. While the house originally attracted us with it's potential curb appeal, the yard was very overgrown and dated (pretty much like the interior) when we moved in. If I had to sum it up, I would say it was overwhelming for our season of life with a growing family. There were large mulched islands filled with giant 120+ foot pine trees that swayed terrifyingly in strong winds. There were dozens of overgrown shrubs that we didn't even know how to begin maintaining. So much mulch, so much pruning… We had a large yard in our previous home, but it was very simple- there were some lovely flowering shrubs and borders, but it was manageable. We decided to go the same route with the new yard, and begin the process of simplifying.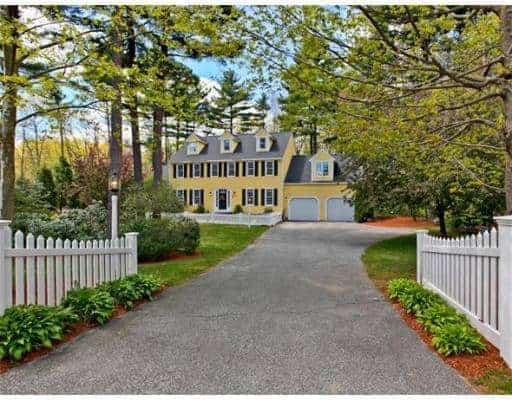 a listing photo with the pine trees and shrubs still up
Our first step came in the Spring of 2014- we had my dad (a licensed arborist and owner of
Royle Tree Company
) and his crew take down over a dozen of the giant pine trees. Our goal was to just have a pretty and simple front lawn. Removing the trees made a huge difference, it's a much cleaner look and paves the way for our overall vision of the front of the house. We left the mature hardwoods and all of the flowering fruit trees, which are now showcased. They are actually starting to bloom as I write this- it makes for such an amazingly pretty yard in the spring.
Over the time since then we have leveled things out, brought in material, and had our lawn hydro-seeded. Mack is obsessed with the lawn, it's like his baby- and after the mild winter we just had, he couldn't be happier that it's coming in beautifully green. We are still working to this day on simplifying and creating a park-like perimeter and landscape, which has involved ripping out a lot of overgrown giant rhododendrons and random undergrowth. It will definitely be a process, and we aren't in any rush. I just thought I would share that story to give you some background on our exterior so far, before I share what is happening soon!
Within the next few weeks we are tackling the exterior of the house itself. After the particularly brutal winter we had in 2015, we dealt with ice dams. For those in warmer climates who may have never heard of this, an ice dam is when ice forms a literal barrier, and melting water backs up behind it and seeps into shingles or siding. It can eventually cause leaks into your home- and in the worst case, mold and mildew. A few of the corners of our home experienced this (minus the mold and mildew, we hope), and in the process of repairing the damage we discovered old water damage and rot that had been covered over. Naturally, it had continued to rot over time until the wood was no longer salvageable.
Mack tried to tackle the worst of it, but he quickly realized that there was more damage than he could dedicate the time to. We decided to get a quote to fix all of the rot and to paint the house, which by last summer had started peeling quite significantly. We got a lot of bad news from several estimates. To sum up what we learned, not only was there the extensive rot that needed to be fixed, but the current paint job had been done incorrectly. We would have to save up some money over the course of a year, and start from scratch.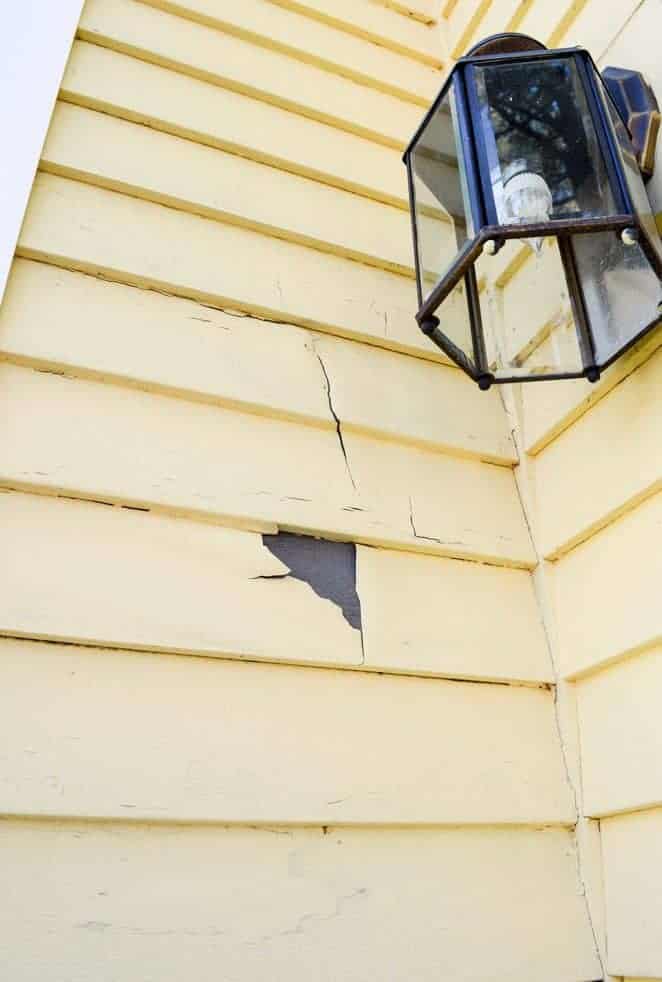 Multiple contractors shared the same theory that the house was once stained. A quick and less expensive coat of water-based paint was likely tossed up directly on the stain, with no primer to lock out the moisture. It looked fine when we bought the house, but it was an illusion. A few years later we are now dealing with large sheets of paint bubbling off, as moisture is becoming trapped below the paint, and all of the rot in the trim areas is becoming visibly bad. According to the painter we ultimately hired, the only solution that breaks the cycle is to completely scrape and sand the house down to the cedar siding. After that, all rot will be addressed, it will be correctly primed to seal out moisture, and painted with a professional exterior paint. As far as the trim goes, a lot of it has rotted to the point that it needs to be replaced. We will be doing that with Azek PVC so that we don't run into this issue in the future.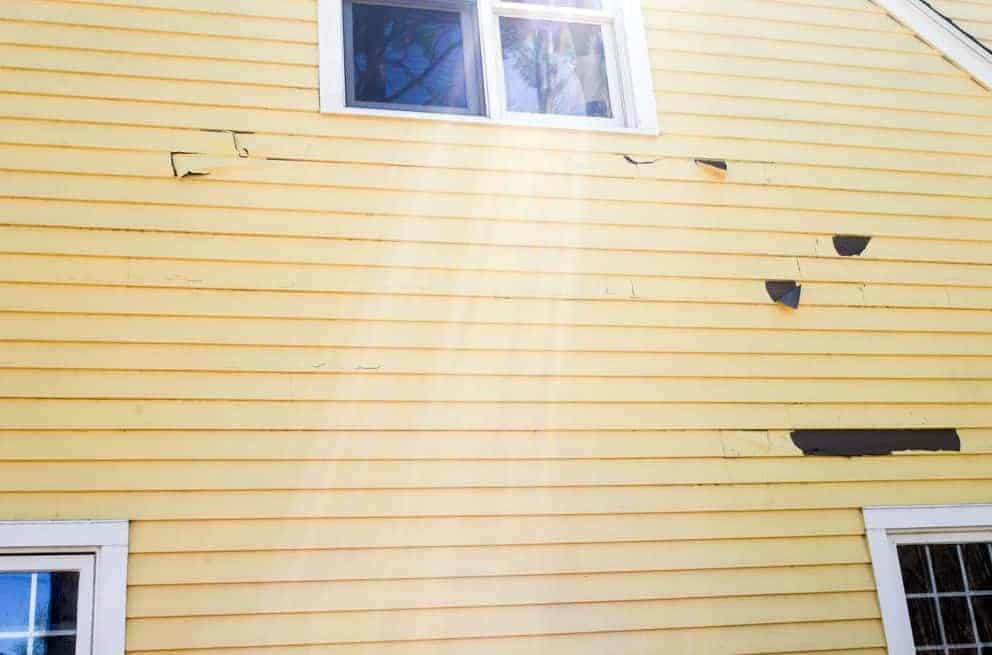 At this point the exterior is pretty embarrassing if you look too closely, so it's good that we are only days away from the beginning of the project. When we decided to buy an older home instead of building a new one, we considered that there would be some maintenance challenges. However- as I'm sure you can imagine, repair to this extent was not something we had planned for- logistically or financially. It came as a shock and frustration on many levels. The silver lining is that I can completely justify changing the color now, as I very strongly dislike the bright yellow (trust me- in person it's not as soft or pretty as I made it look in the photo at the very top of the post- it's more like the second photo down). Although we've done so much to the inside to improve this home, this feels like the biggest step we've taken yet in really making the house ours.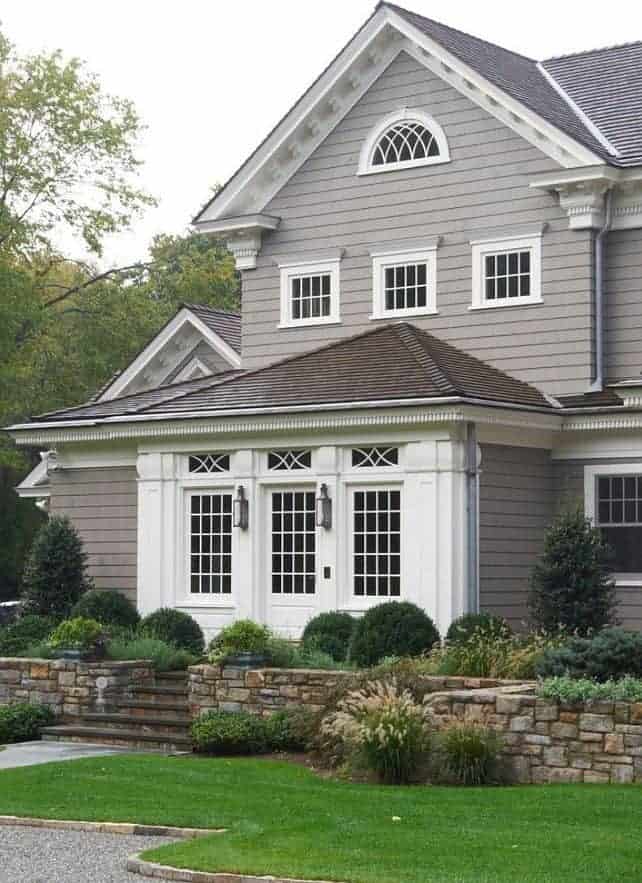 Gray Huskie by Benjamin Moore
source
We will be having it painted "Gray Huskie" by Benjamin Moore. In person it actually looks a bit lighter than the photo above- but it's actually a darker color than I originally thought we would go with. I think it's going to be perfect. We have a neighbor with a light gray exterior, so we wanted to go in a slightly different direction.
Along with the new paint color, we recently had most of the upstairs windows replaced (we replaced the first floor windows in 2012 when we moved in) with new energy efficient models. We also had the rotted front door replaced, which we've tried many times to repair, but finally wrote it off as a total loss (story of the exterior project, really). The new door is a fiberglass walnut-look planked model, with simple farmhouse trim. We are so happy with it!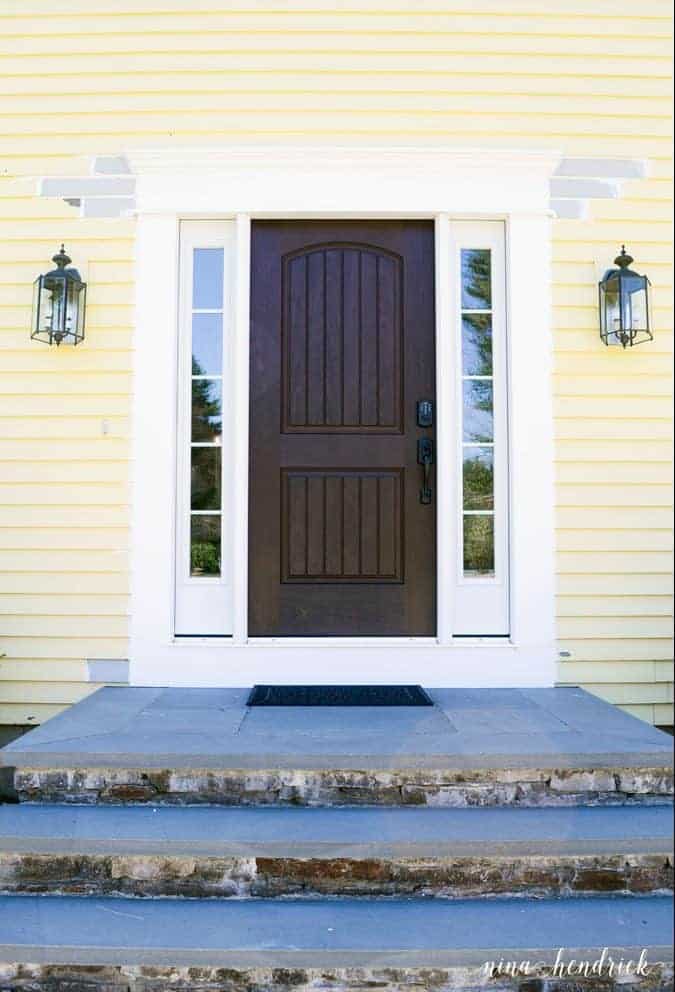 All of our updates are modern farmhouse, which flows really well with the story of our interior. Although, it's like "When You Give a Mouse a Cookie…"- after I saw the door, I immediately mentally replaced all of the exterior lanterns, envisioned matching walnut-look garage doors, and began a
pinning-frenzy of farmer's porches
… I guess that's just how my mind works! Obviously those changes won't be immediate- but hopefully someday.
A few short weeks from now, the house is going to look completely different, and will be one step closer to our vision! I'm more than happy with these steps. I can't wait to share the final product!