via Muskoka Living
Things are suddenly moving in our family room project!
New window treatments are installed. I will share next week how I completely dressed each window for under $40 each.
I am making progress on a vignette and mini gallery for the empty window wall. I will be doing a fun project with a plain dresser for my next Remodelaholic contributor post this month.
We're talking flooring, which will be an October project. I'm lobbying hard for this 5″ Pewter Maple.
We are also discussing ceiling solutions. We have already decided to at least add a coat of white paint to the yellowed parts soon, with an eventual plan to upgrade to LED can lights and to add white tongue and groove between the beams. The beams themselves were poorly stained and it appears they were never taped when the room was painted in the past. We are considering wrapping them in rough-cut pine to make them appear more substantial (they are very obviously not structural being as puny as they are- we'd like to give them an authentic structural look), and giving the new pine a rustic, faux-reclaimed finish. The ceiling fan is a point of contention- I think they are ugly, and we won't need it once we have our A/C installed- Mack thinks I'm crazy and impractical. I probably am impractical, but I've yet to meet a ceiling fan that I would call pretty. I would love a huge wine barrel or wrought iron chandelier. We'll see.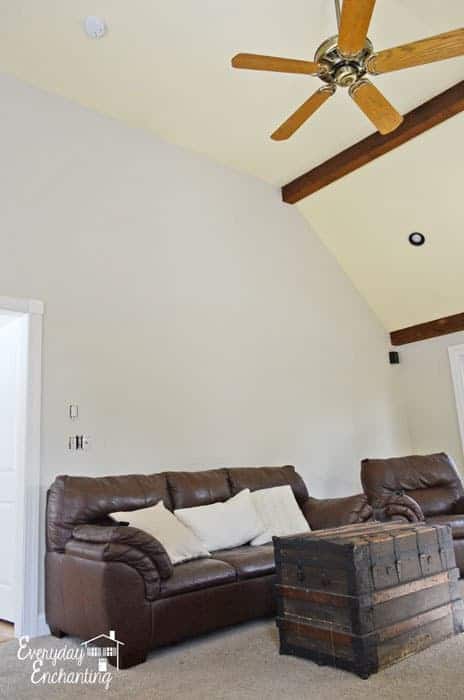 Furniture is, as always, at a standstill with us. With our recent announcement, it seems a little crazy to be getting new furniture that will inevitably get spit up and who-knows-what-else all over it. I'm still staring longingly at my Ballard dream couch and chairs, but I will occupy myself with hunting down free/bargain versions of the other elements in the room for now. You can follow along on Pinterest to see some of my other living room inspiration!
via Ballard Designs
Fireplace Demo
As I mentioned in my last post, we are suddenly progressing on the fireplace project. I had secretly hoped to have the project complete before Christmas, but it's now looking like it will be MUCH sooner… like there may even be a fall mantel this year! I hesitate to get my hopes up because projects almost always take longer than planned- but with some of the work in the hands of stone installers, it will speed things along- we will be solely on woodwork duty and painting (a lot of which I can complete myself during the day).
I know it says after (since this is from the living room paint post), but this has now become the "before" photo. I know a lot of people love brick, but it's really not our style- and this particular brick is very stained and dirty. It's hard to see head on, but the top courses of brick were staggered outward. Here is a close up:
This slightly complicated our original plan of covering right over the brick. To simplify the work of the stone installers, we decided to tackle demo of the top courses ourselves- around 7 last night. It only took us an hour, so it was really a bargain compared to paying for the installers to do demo.
We discovered that while the bricks on the facade were decently mortared, the back was filled with a lot of construction rubble, loose bricks, and chunks of unattached mortar- it was therefore fairly easy to remove.
Is it bad that I prefer a hole in my wall to the old mantel? We still have to chip away at a bit of the mortar on the top of the bricks, and then we are going to build a box with 2x4s, plywood, and tileboard that sits flush with the remaining brick. Then, the stone installers will come in and template, then they will eventually come in and install the stone slabs.
Many many moons ago, before we decided to keep the original kitchen counters,
I was dreaming of marble alternatives
. We opted to go with real marble for the
island
instead, since it is more gently used than the general workspace in the kitchen (and we got an incredible Craigslist deal on a slab). Well, I loved the idea of quartzite, which is advertised to have the look of marble with the durability of granite. When we were discussing fireplace surround options with the stone guy Russ (I mentioned in an earlier post that we are swapping a lawn mower for the stone work), he suggested Superwhite Quartzite- and I already knew exactly what he was talking about, and loved the idea.
For the hearth, we loved the idea of soapstone- but had some concerns about it's durability in a frequently used place where there's a good chance logs will be dropped (our fireplace is actually a workhorse- with a wood stove insert we run it all winter to cut our propane bill). Russ suggested a stone called Jet Mist Granite with a leathered finish. I had never heard of it, but judging by the photo above, it will work perfectly! I couldn't find a single example online of a fireplace with the combination of stone we will be using, but I'm really excited to see it come together. Since we were originally resigned to tile, it's going to be a luxury to have the stone slabs instead.
Here's an update of the fireplace plan with the materials we actually plan to use and the more simple clean lines we will use for the molding and cabinets. The wood tones are probably still off a bit, but it gives a general idea.  I am so excited to turn our plan to a reality- can you picture it with pops of Christmas red like I can?
Hope you all have a great weekend!
Join the Weekly Newsletter
Subscribe to get our latest content by email and access to our File Library. Download organizing and home decor printables FREE!
Nina is the owner & designer of Nina Hendrick Design Company and the Nina Hendrick blog. Along with her husband Mack, she is chronicling the journey of transforming their builder-grade 80s colonial into a modern day farmhouse. Nina and Mack live in the suburbs of Boston with their three children and golden retriever Lucy.