Farmhouse Dining Room Makeover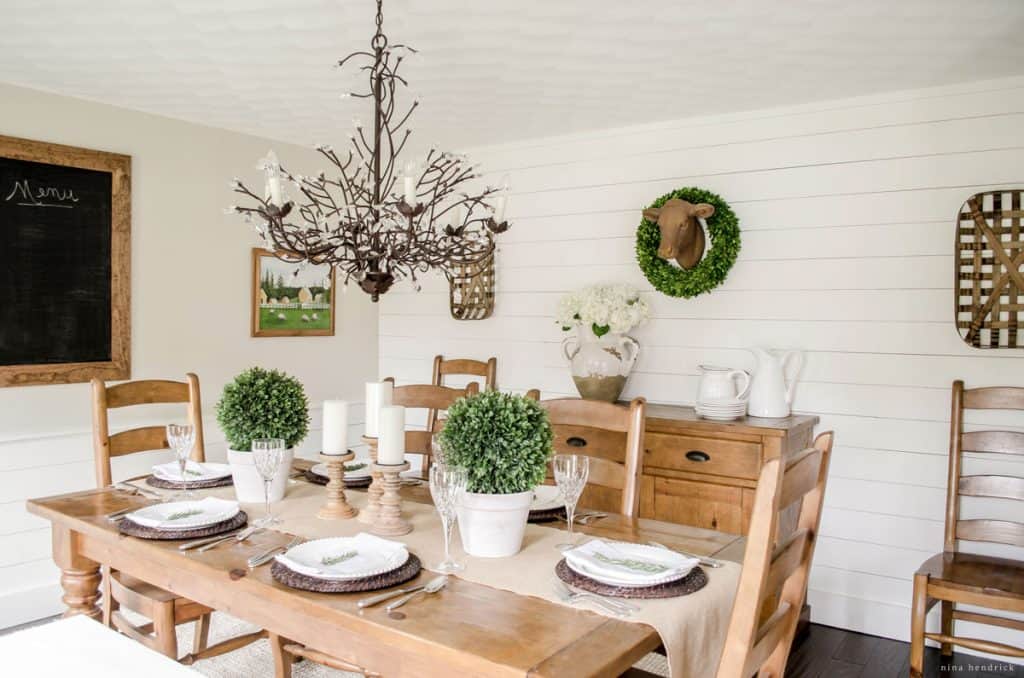 There was a point in my blogging journey, not so long ago, where I had the hardest time defining my style. The fact of the matter was that I desperately craved an old New England Farmhouse, much like the ones I grew up around (and right down the road from our development), but didn't think the style made sense with our 1980s colonial.
BEFORE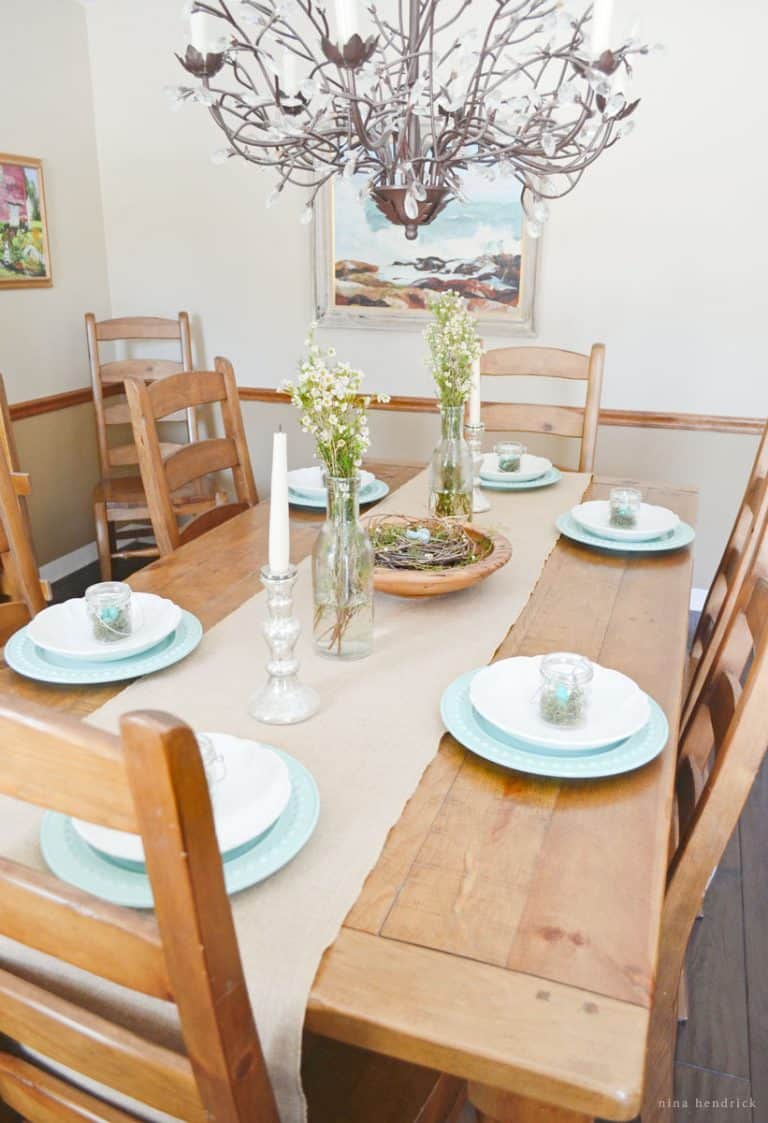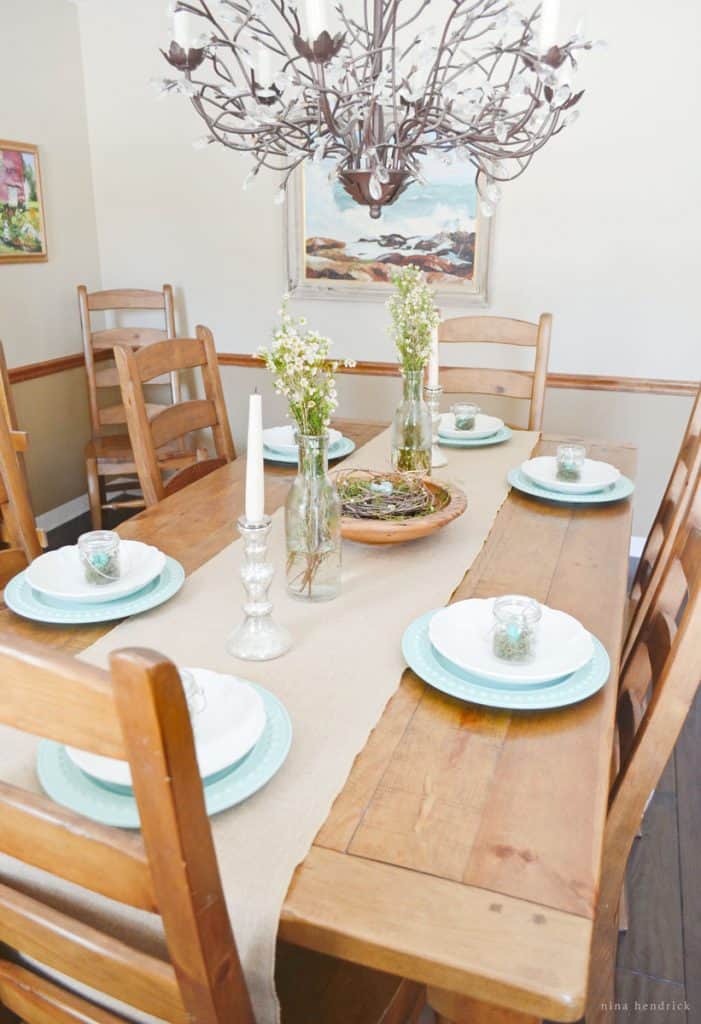 Well, it all makes sense to me now! While there may not be chickens in our suburban backyard (yet), our dining room now looks very much like it belongs in an old farmhouse, and I could not be happier!
I'll direct you back briefly to the inspiration board for this room. We stuck pretty close to the plan. (If you are interested in having me put together an E-Design like this for you, you can learn more
here
!)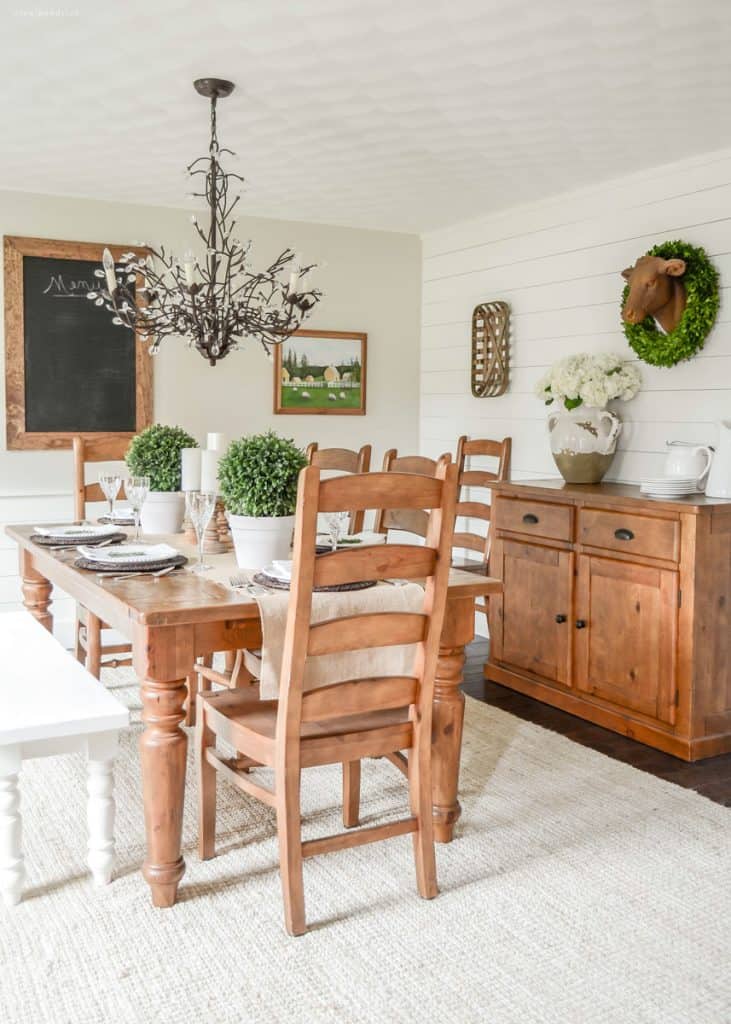 Mack proposed this project a couple of weeks before Thanksgiving, which we were hosting two events for, and we've never completed a project so quickly.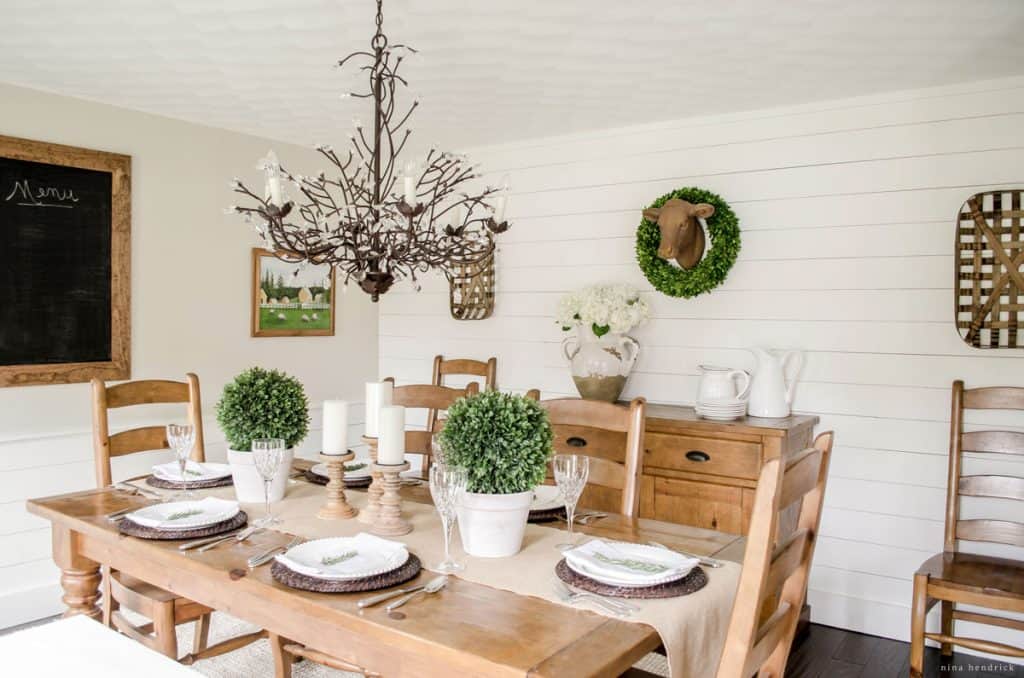 I absolutely love the look of the planked wall. However, I'm glad we compromised and  only did a half-plank around the rest of the room (I was in favor of all planked walls, Mack thought it would be too much) because all of the nail hole filling and painting of planks was a lot of work.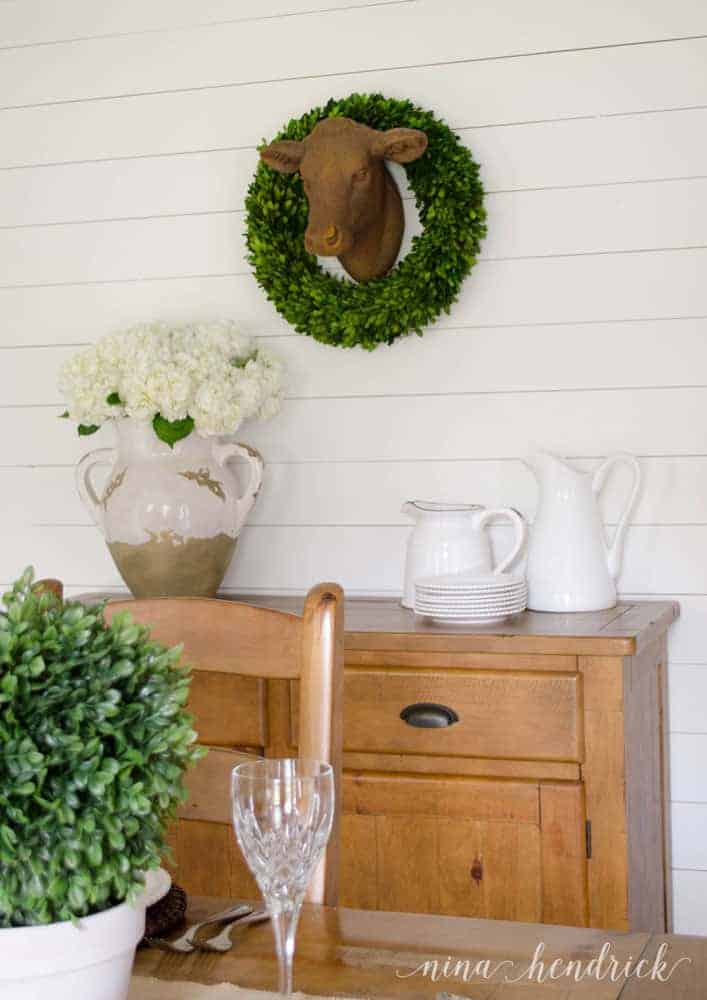 I shared the dining room all dressed up for Christmas in my
Holiday Housewalk
, putting the cart ahead of the horse a bit. I received quite a few emails at that point asking for a tutorial on the planking, which I will share soon.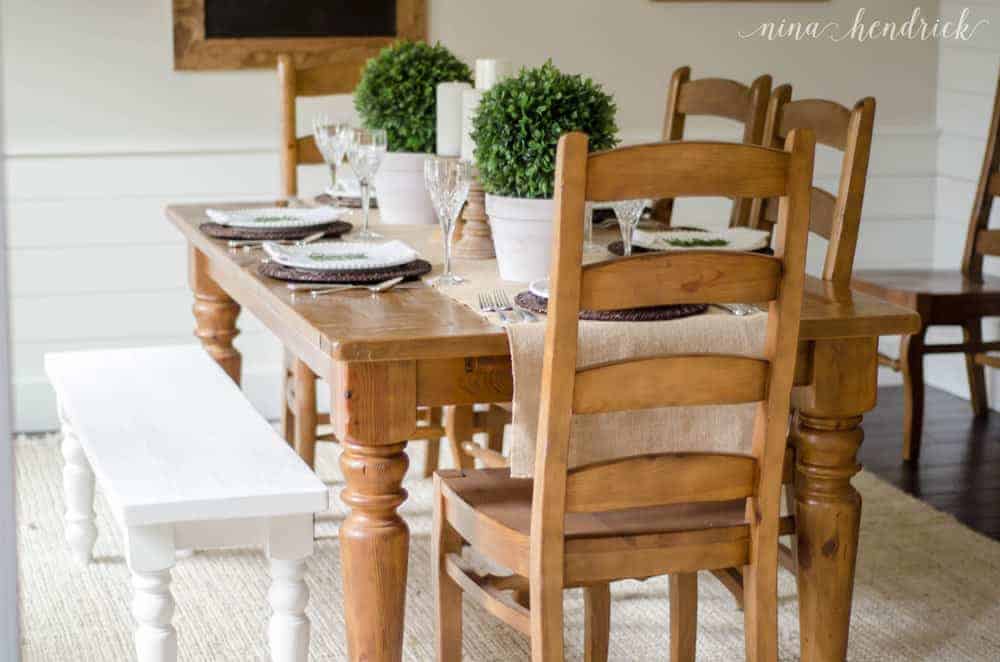 To be honest, I'm sharing this a bit later than I had hoped because Mack and I became completely burnt out by DIY after Christmas. Between this project, finishing the flooring project, decorating for holidays, hosting holidays, hosting birthdays, completing the breakfast nook (coming soon!) and normal life- we needed to take a big step back. The good news is that I am back to work on sharing all of our projects, and updating old ones!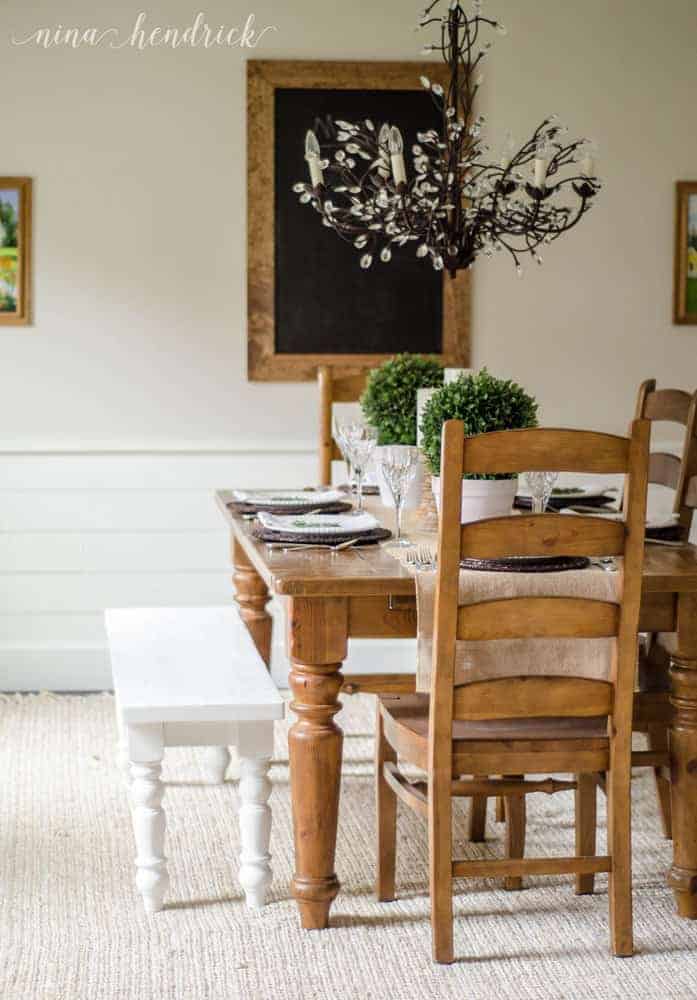 I will be sharing the very easy tutorial for this little farmhouse bench soon. I wanted to break up all of the wood of the dining room set a bit, and this build was an simple solution! The chalkboard was also a DIY, with a tutorial coming as well!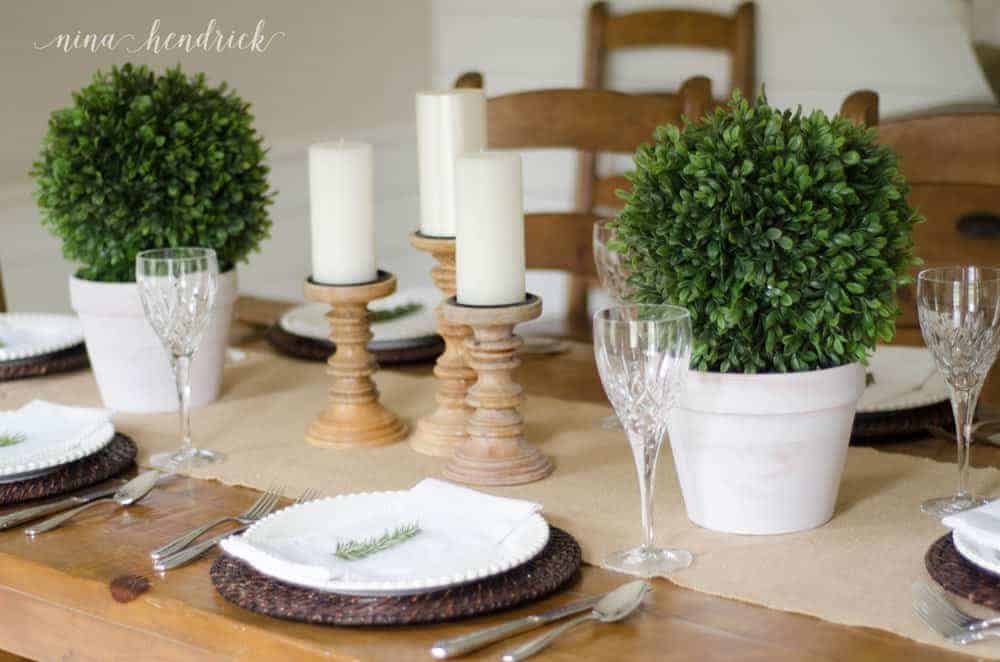 Another important thing to mention- Mack had the idea to turn the table. For some reason this had never occurred to me, and I had it stuck in my head that the room was rectangular. Actually, the room is perfectly square- and turning the table made a huge difference in lighting!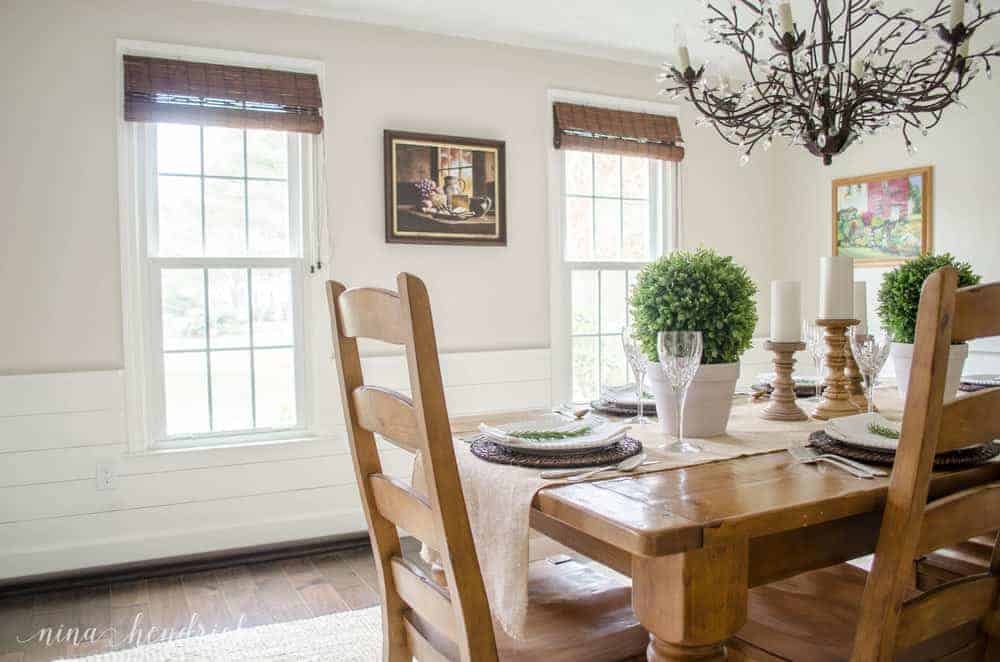 A couple more things about this room. It's basically a gallery of my grandfather Norman Royle's paintings (he displays his work in this gallery, but as of right now you can't purchase his paintings online. I need to get on that!). All of the artwork you see was painted by him. You may remember his painting from our
Powder Room Makeover
.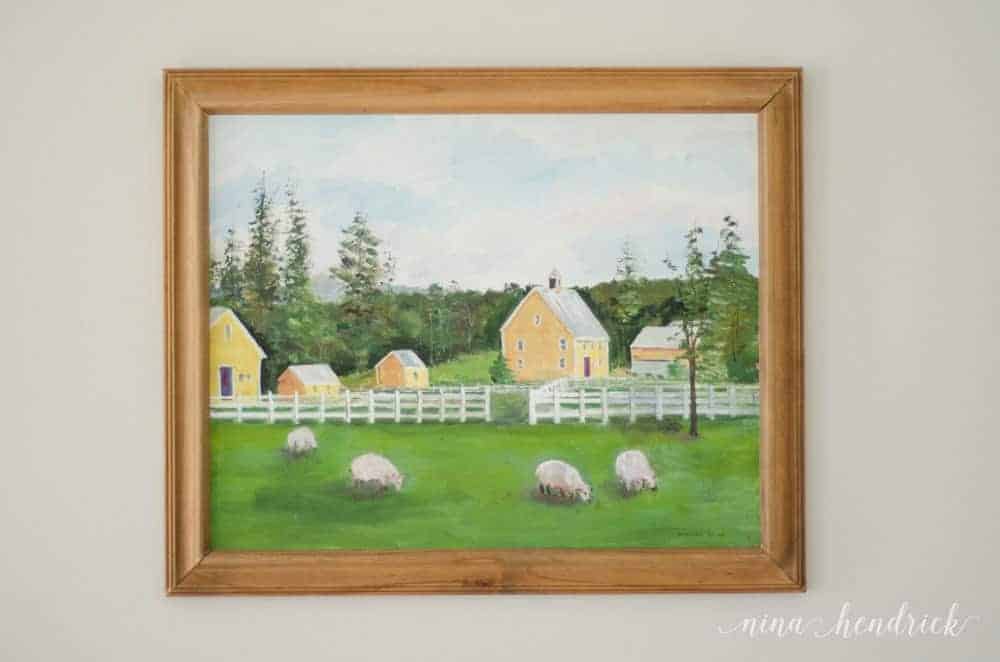 This particular paining is one of my absolute favorites. I love the sheep, and it fit this room perfectly!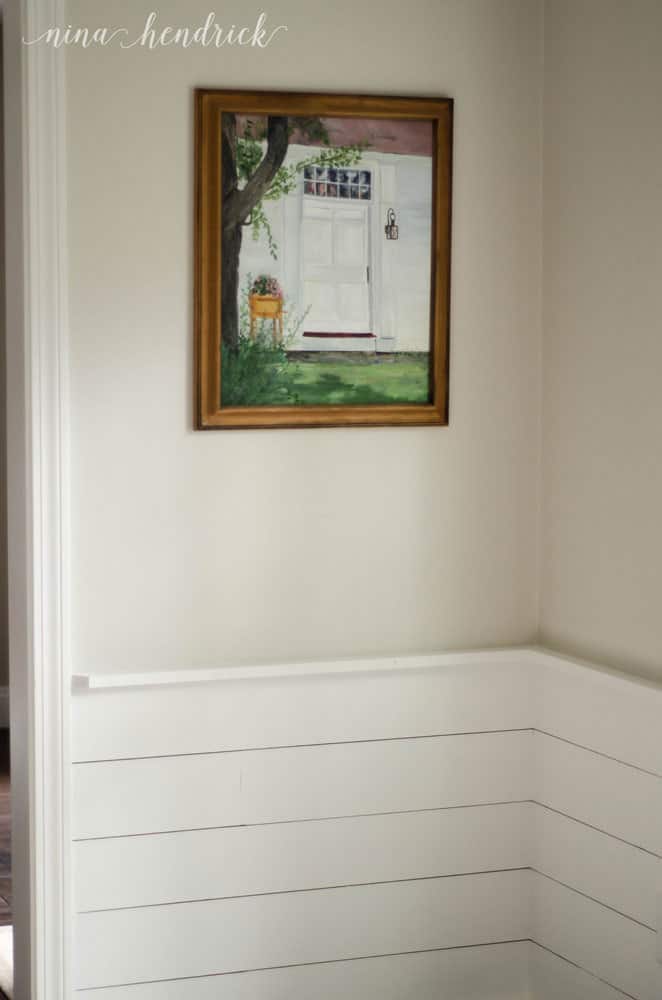 I also wanted to give you a closeup of the half-wall planking treatment. I will give more details in the planking tutorial!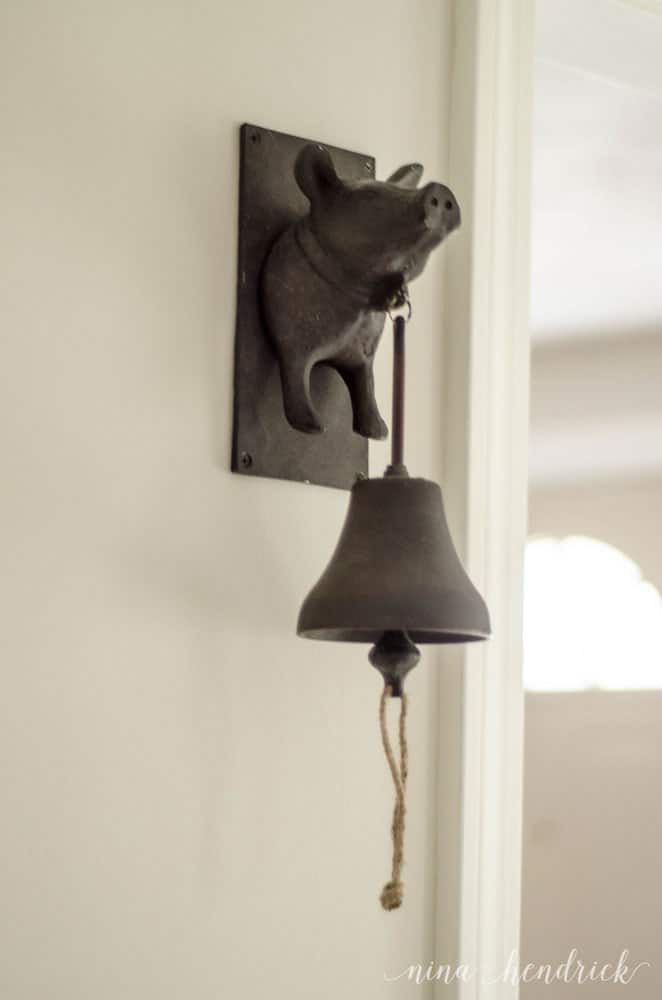 Isn't this pig bell adorable? It was a gift from my mom a couple of years ago, and it worked perfectly in this room.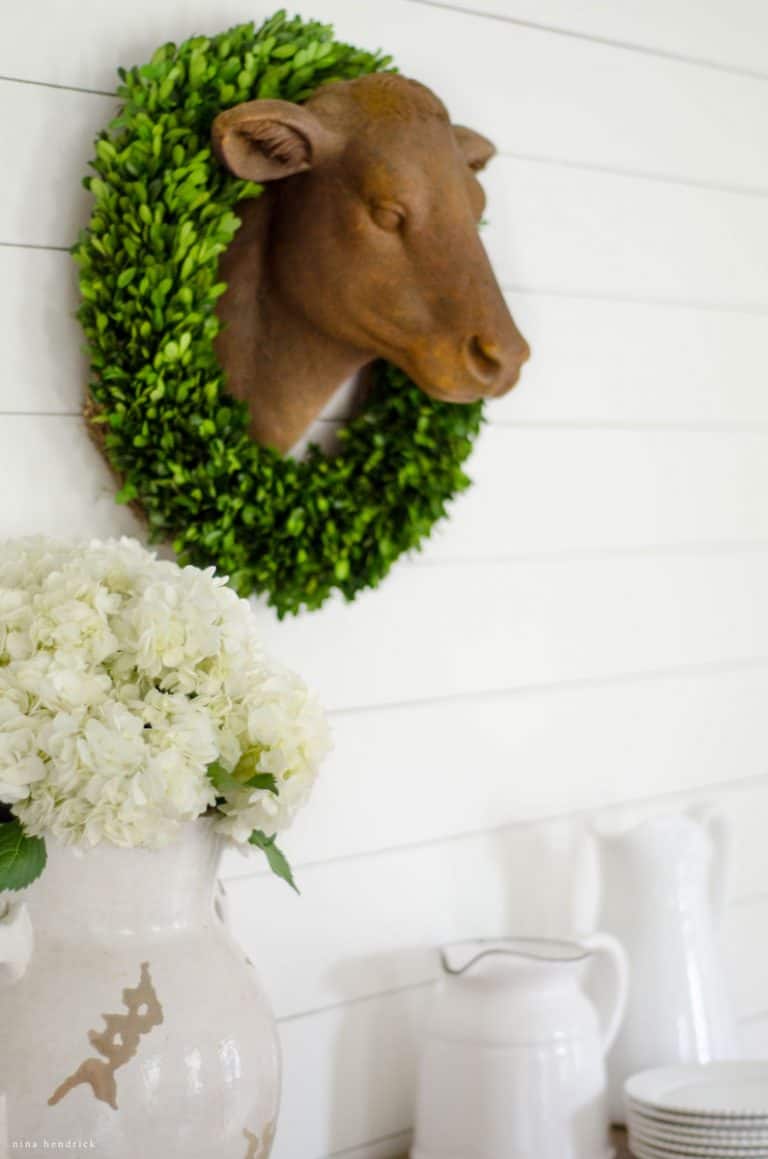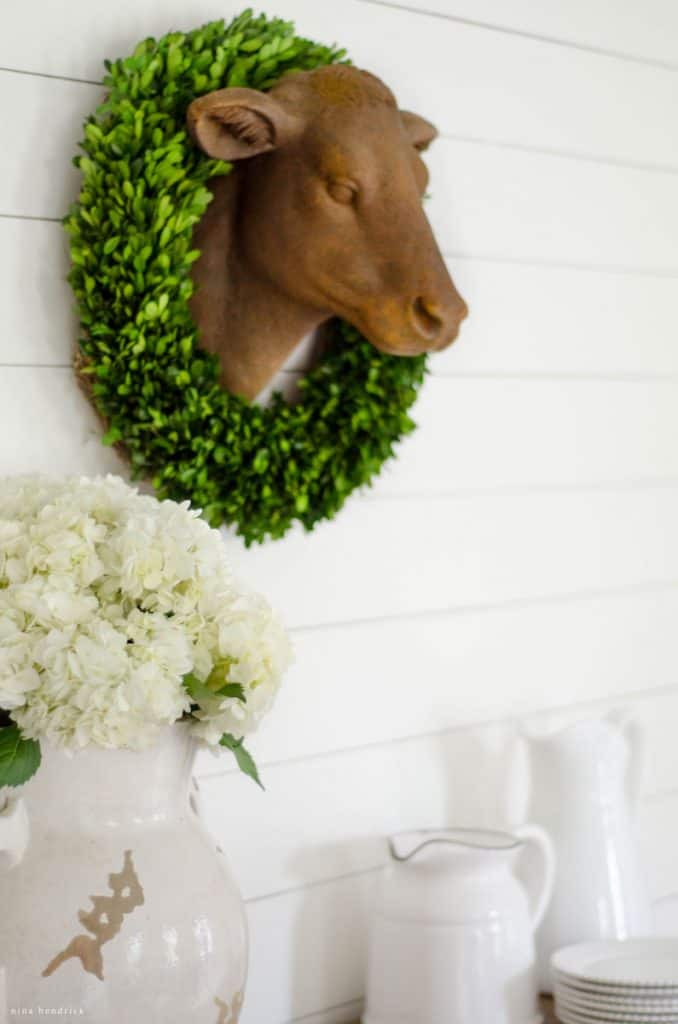 And this is Molly (although I reserve the right to change her name if we ever get another dog).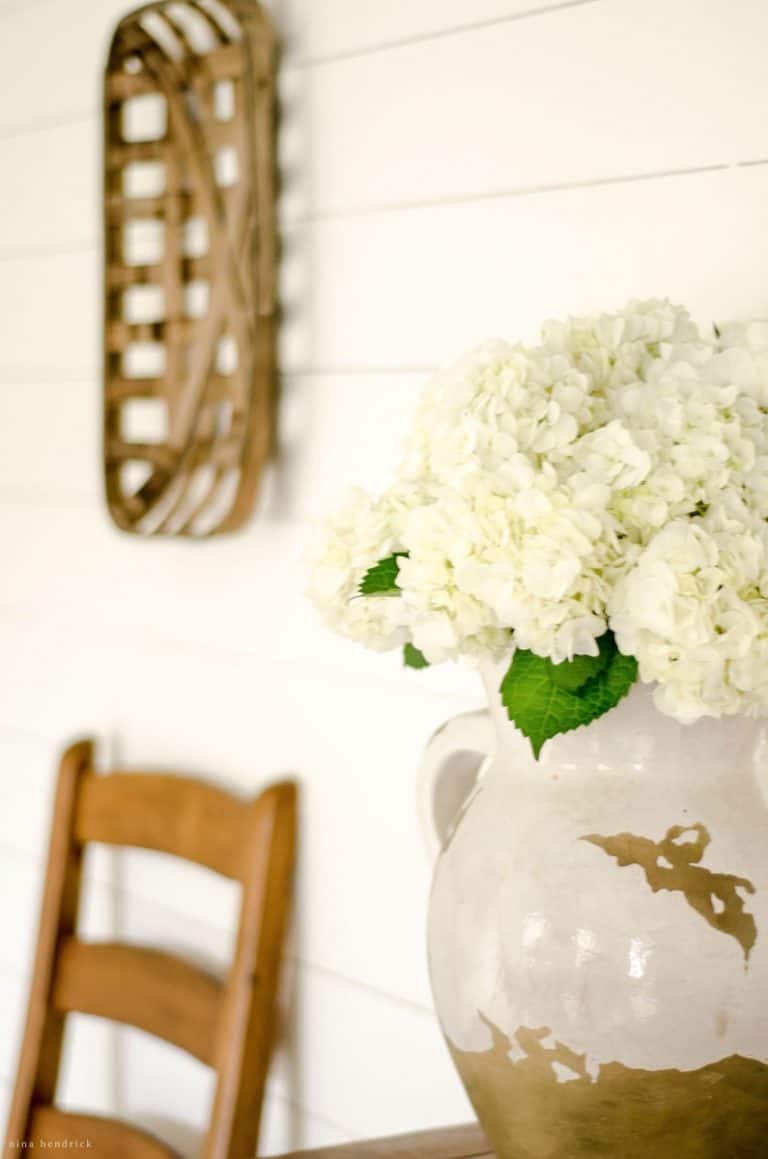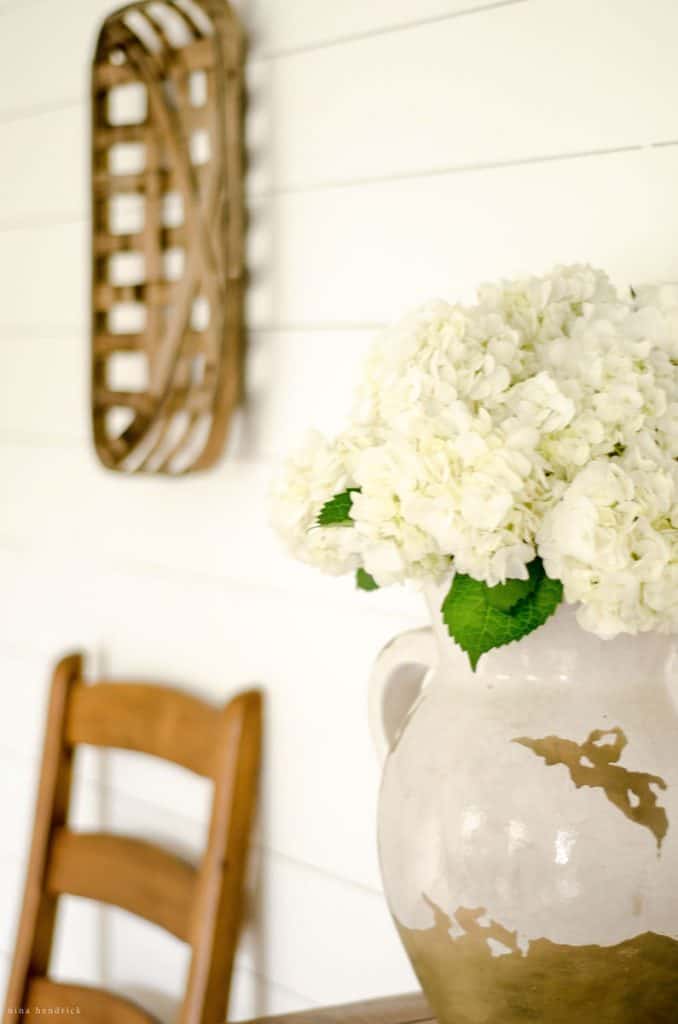 Since it seems silly to have such a pretty room that we only eat in for holidays, we have discussed doing a family dinner every Sunday. We both feel like it's important for the kids to know table manners, and we would get more use out of the room.
Paint Colors: Walls- Benjamin Moore Edgecomb Gray lightened by 50% Planking/Trim- Benjamin Moore Simply White Eggshell
Source List:
Buffet
(similar, ours was discontinued)
Boxwood Topiaries (Homegoods)
Pitchers (Homegoods)
Candlesticks
Plates
Rattan Chargers
Tuscan Urn
Blinds