Today I'm joining my lovely and talented friends from the bHome App to share why I love to "bHome" in the fall. There is also a giveaway at the bottom for a $250 Amazon gift card courtesy of our sponsor, My Paint Saint!
With the air finally cool and crisp, and the equinox passed, there's no denying that fall has reached us in New England. Although I was resistant to the change for the first time ever, I've finally come to embrace it. We had the most wonderful summer- full of sun, sand, and family time spent at Camp. I was sad to see the summer go- so much that I asked that we not shut down the Camp this winter in order to keep making these memories!
A cloudy but vibrant day at Camp last autumn.
Home has a broader meaning for us than just our house in Massachusetts, it also includes my home state of New Hampshire (also the location of Camp, our second home) so I'm sharing some images from both places today to tell my story.
Fall, to me, is the season spent snuggled up under a soft blanket with a good book and a mug of coffee or glass of wine. Fall nights are a dark but comforting thing. A fire crackles in the fireplace, and it's heavenly although it makes you a bit sleepy.
See more of my Fall Home Tour Part 1 here.
Meals are hearty and warm you from the inside out.
Crusty bread and savory soups, chilis, and stews are served with a side of colorful storytelling and laughter.
Get my Apple Crostata recipe here.
Too many apples are picked straight from the tree and baked into pies, tarts, cookies, jams… anything you can think of to use them all up!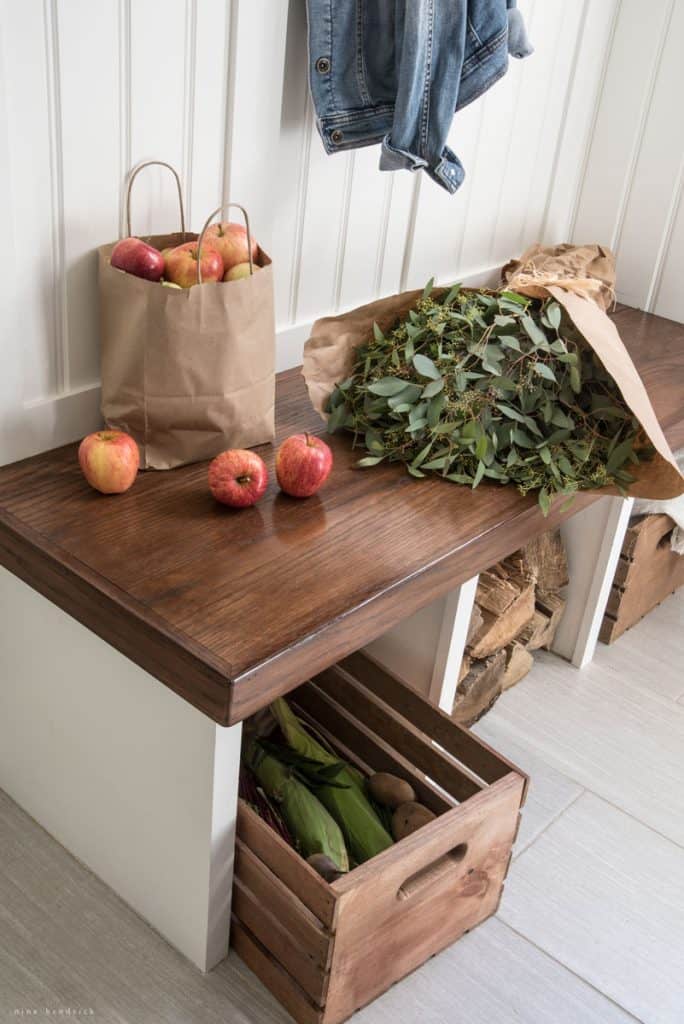 See more of my Farmer's Market Inspired Fall Entertaining here. 
Locally grown produce is abundant, and you squirrel it away and preserve it for the winter months to come.
Our Massachusetts yard last autumn. 
Your senses are overwhelmed in the best way, as the world outside is a riot of colors along with the smell of wood smoke and that crisp and special "autumn" fragrance.
It's a beautiful season, and one that I especially feel lucky to get to spend in New England… and that's why I love to bHome in the Fall!
Enter to win a $250 Amazon Gift Card from our bHome Tour Sponsor ~ My Paint Saint.
Got paint? You need My Paint Saint ~ the all in one touch up painting solution.
Check MPS out!
To Enter simply PIN this image
and let us know you did in a comment with the link to the pin or just your word that you did.
( we trust you – good luck!)
Winner chosen by random & notified by email on October 7th
Visit 5 other bHome Bloggers today – 30 in all by the end of the week !
Shabby FuFu
Join the Weekly Newsletter
Subscribe to get our latest content by email and access to our File Library. Download organizing and home decor printables FREE!