The Biggest Home Renovation Goals I've Set for 2021
Tackling a renovation of your own in 2021? See the home renovation goals I've set as we enter our ninth year of living in our New England colonial.
I'm going to start out by saying that I realize this list is ambitious. After all, my biggest home renovation goal for 2021 is… to essentially finish our renovation. We're approaching nine years of renovating and we're both ready to be 100% done. We want to enjoy our home and our family and focus on making memories rather than staring at unfinished projects and knowing that there are things we need to work on. However, we do still have some hard work ahead before that happy day.
Curious about how I set (and accomplish) home goals? I wrote a post all about my home goal-setting process here and shared my favorite tools here!
My Top Home Renovation Goals for 2021
Luckily, the major interior renovation projects are all complete with our primary bathroom renovation and kitchen checked off the list. We're down to punch list items, a couple of cosmetic updates, and exterior projects. So, there are still some exciting reveals up ahead and A LOT of organizing to be done. As we make changes to our home and our kids grow, we have to constantly reevaluate our storage needs and create new systems to work for our life.
Renovation Goal One: The Punch List— finish all of the existing projects.
We've been chipping away at this list since 2012. In various places around the house, there are missing pieces of trim, unpainted doors, missing railings, a rogue almond-colored light switch, etc. One of my goals for 2021 is to address every one of these little things until our punch list is complete.
Renovation Goal Two: Complete the Kids' Rooms & Guest Room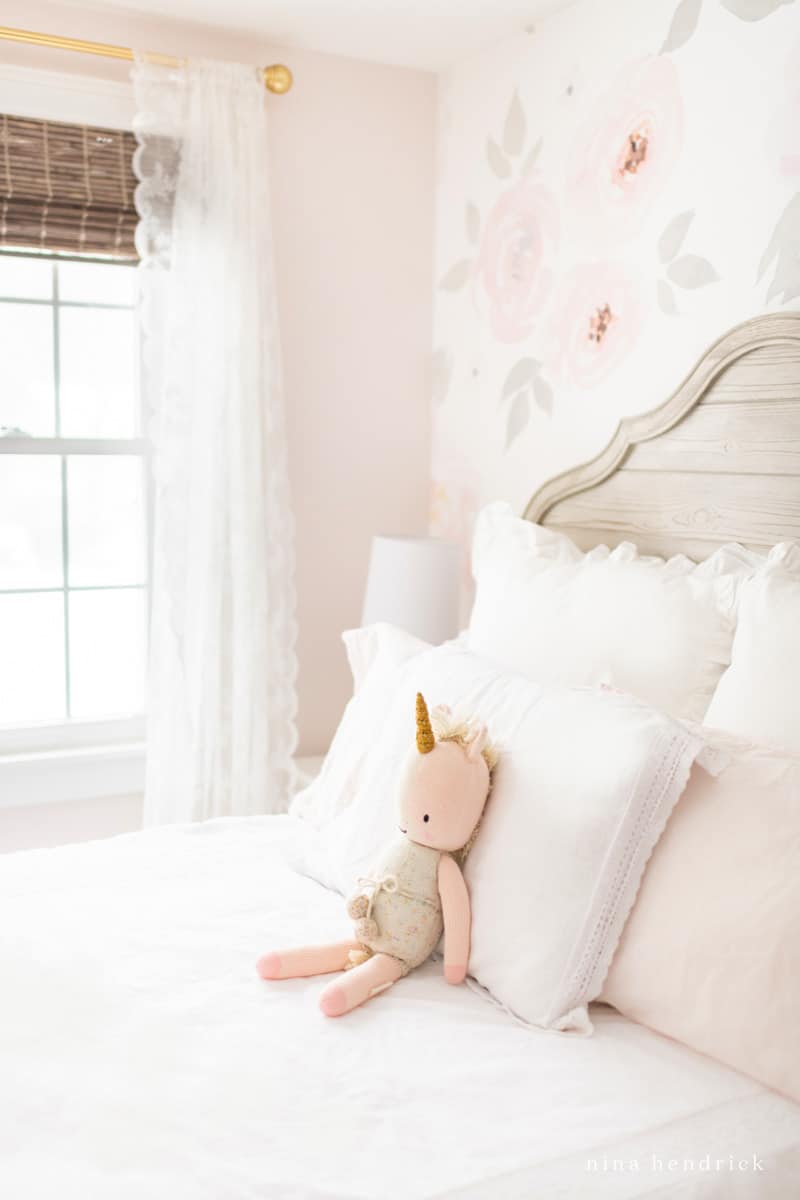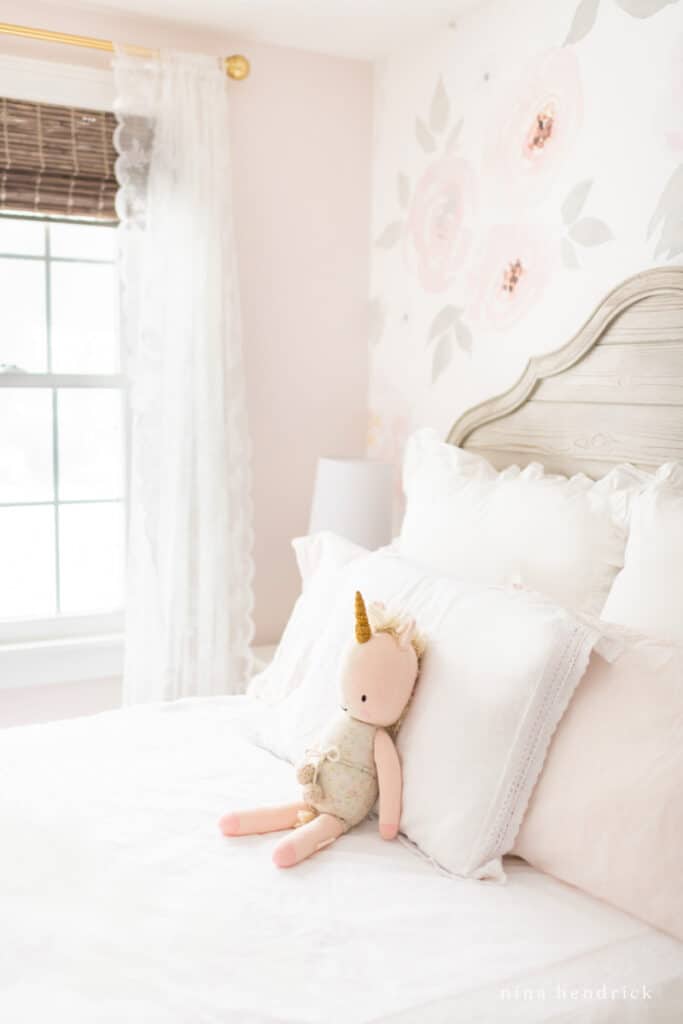 The Teen "Modern Minimalist" Boy's Room
Our oldest son Logan has been patiently waiting for a full room makeover for several years, although we've painted and swapped out his furniture along the way. He will officially be a teenager this year (crazy) and I'm rather glad that we never completed any of the projects we planned for his room. He has a specific "Modern Minimalist" (his words) aesthetic he wants for his space, and the things I planned over the years— like a rustic wood ceiling— aren't at all to his taste. Instead, I'm going to try to find a compromise between what he likes and what will fit in with the rest of the house. Luckily, he's pretty easygoing.
The Outdoorsy Tween Boy's Room
Our middle son Cooper has more of an adventurous spirit and he likes to be cozy. He loves to travel and be outside. I hope to design a reasonably neutral space that can grow with him while also hinting at his love of New Hampshire and adventure. I plan to draw some inspiration from our camp with old pennants and some rustic touches.
Non-Cheesy Princess Girl's Room
Our youngest Lyla is full of ideas for her space, so it's probably no surprise that her room progressed the most quickly. In fact, I'll be revealing it next month. The challenge with this one was trying to find a happy medium between what she desired— basically, an ultra-girly mixture of all Disney princesses with a good dose of Barbie and unicorns thrown in— and designing a room that would grow with her a bit longer than whatever phase she goes through past kindergarten. I think I succeeded in finding the happy medium— and barring any major personality changes, I believe it will stand the test of time.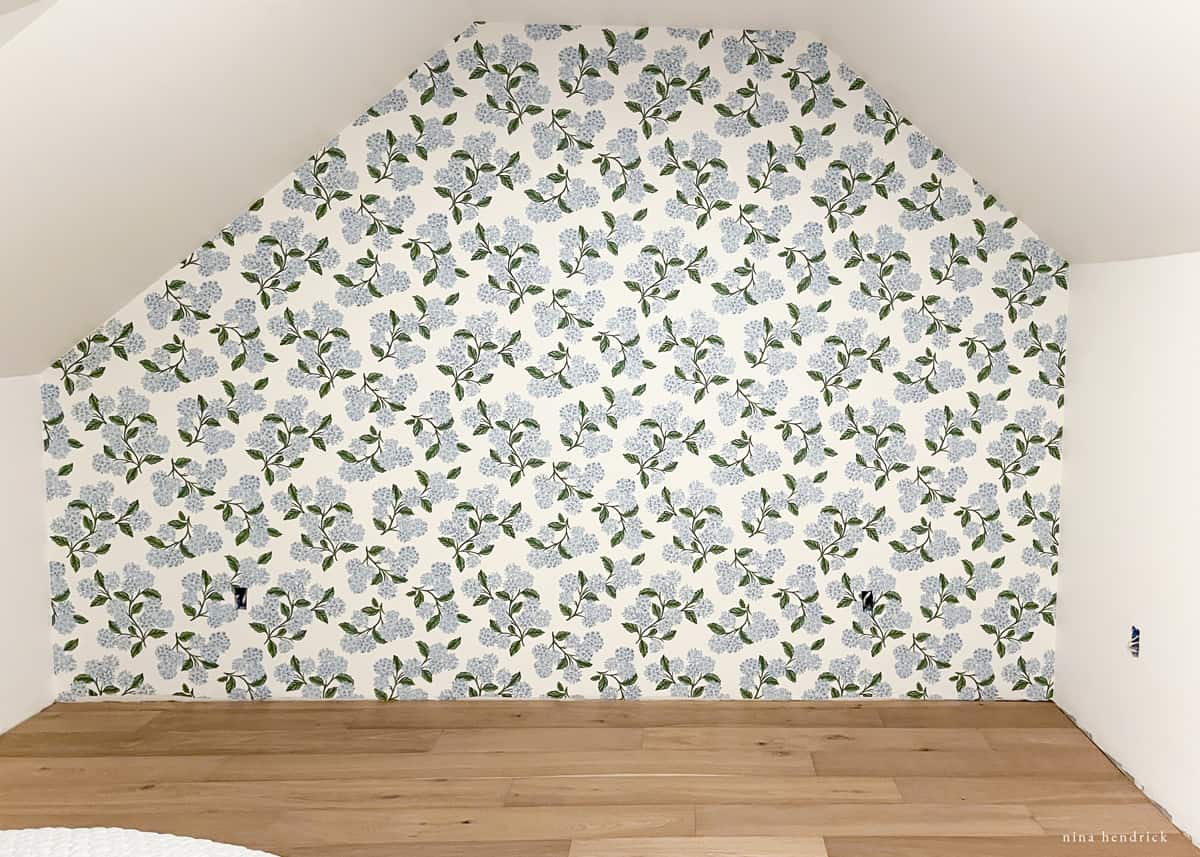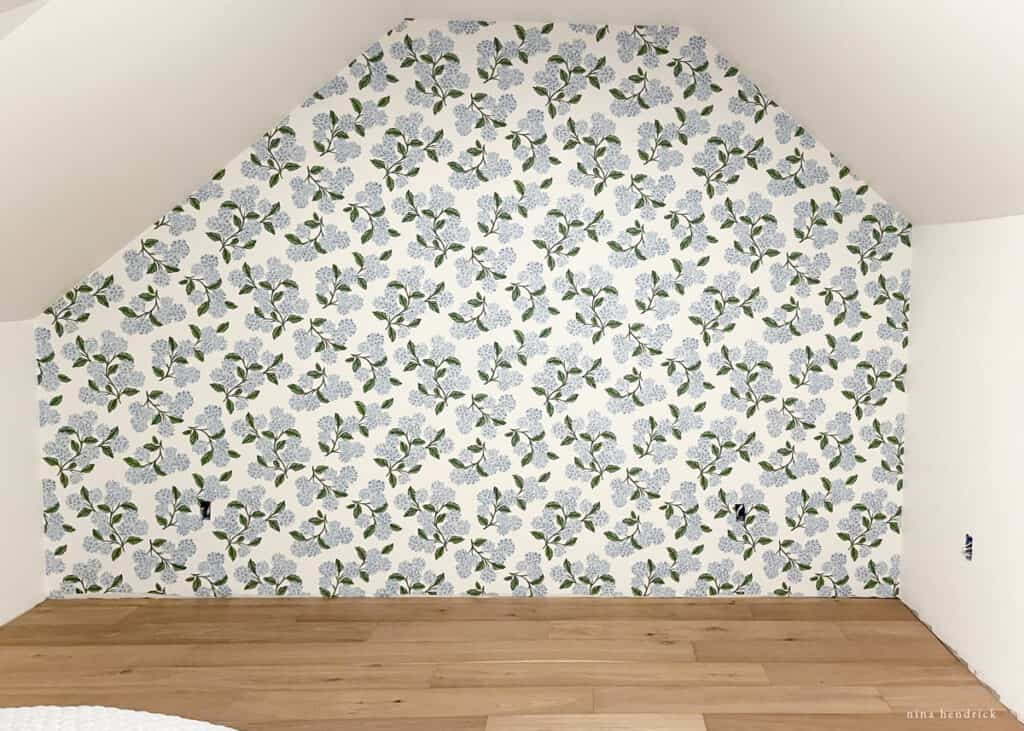 Hydrangeas & Sunshine Attic Guest Room
We slowly transformed part of our attic to accommodate a guest room. It's gorgeous and I'm excited to give you this sneak peek— honestly, I want to move my office up there and use my office as a guest room instead! However, it's currently missing trim, furniture, and decor, so pulling together the rest of the design is one of my goals for this year.
Renovation Goal Three: Finish the Closets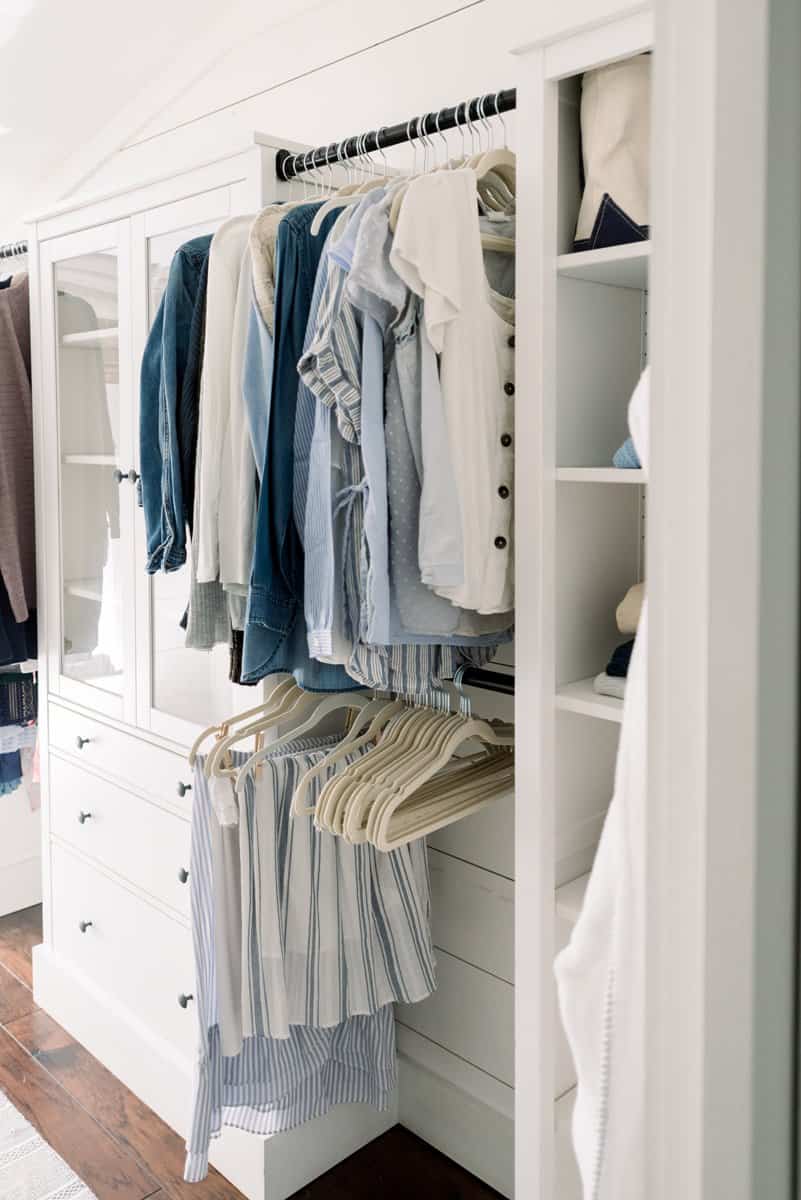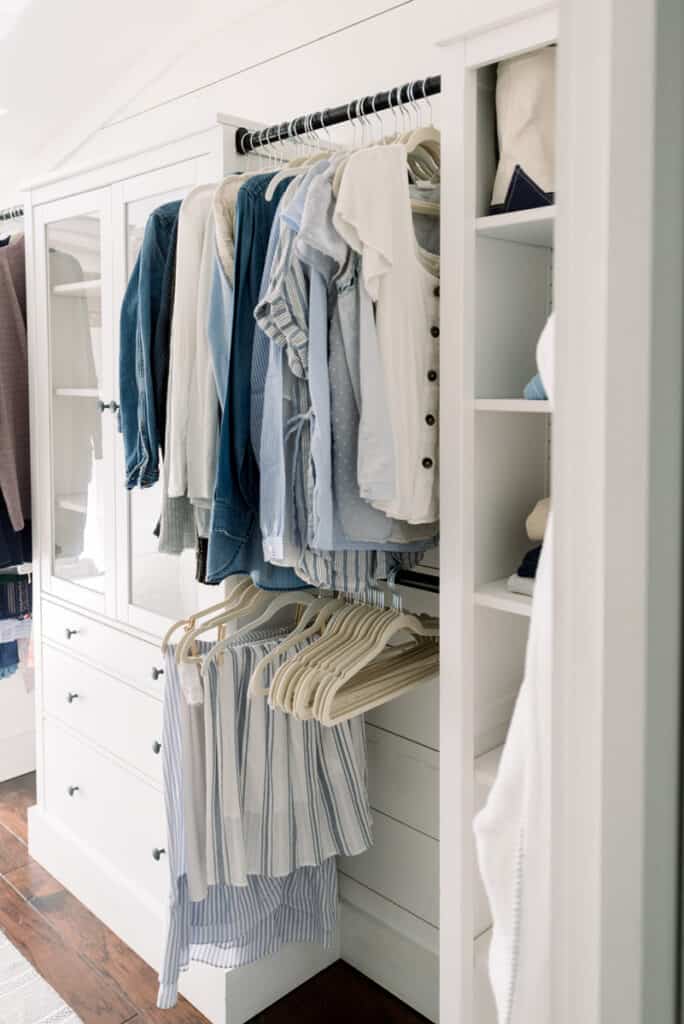 I also hope to complete all of our closets this year. My closet is the closest to being complete, although I need to rethink the storage a bit. Lyla's closet is at 90% since we carved if from her room and we didn't have to cover up wall texture.
The boys have awful sliding doors on their closets that are majorly inconvenient. They also have the same textures on their walls that were once on all of the ceilings throughout the house.
Mack's closet is the largest, which makes the most sense because he has the most clothes and shoes. But it's built into the eave of a sloping roof, so it has some design challenges we'll have to overcome. It's also only half-finished and what walls it does have are the same texture as the boys' closets.
Along with those closets, our utility closet across from the mudroom needs a few finishing touches. Additionally, my decor storage closet in the basement needs some shelves and a light.
Overall, it's the year of completing closets. We'll be working with California Closets for most of them (not as a sponsor, but because I really like the quality) and installing Elfa systems for the rest.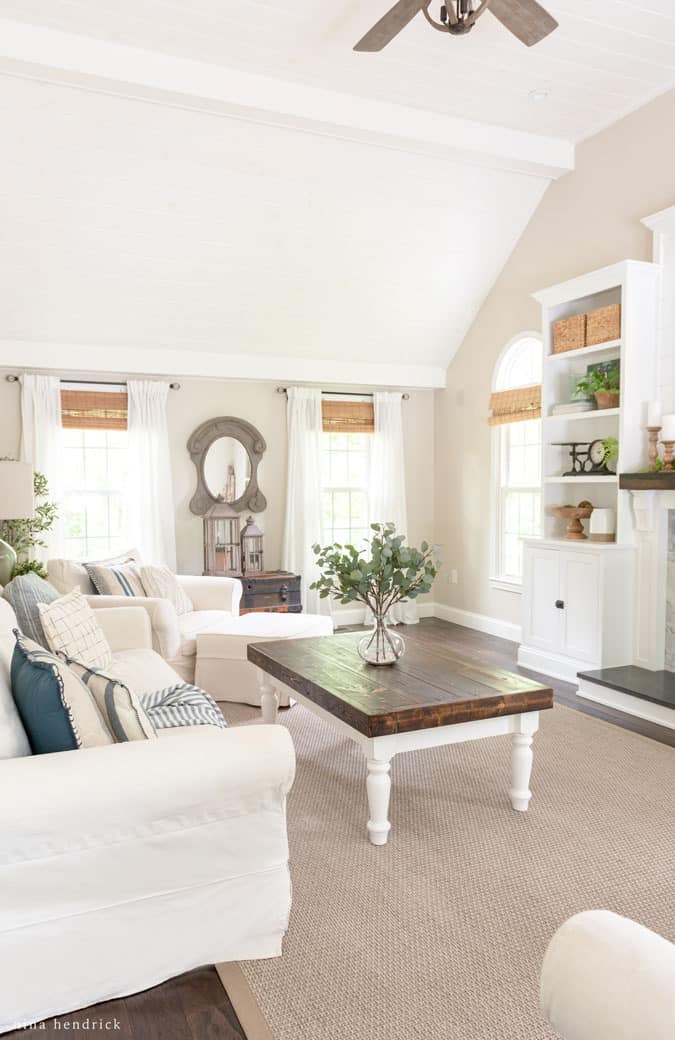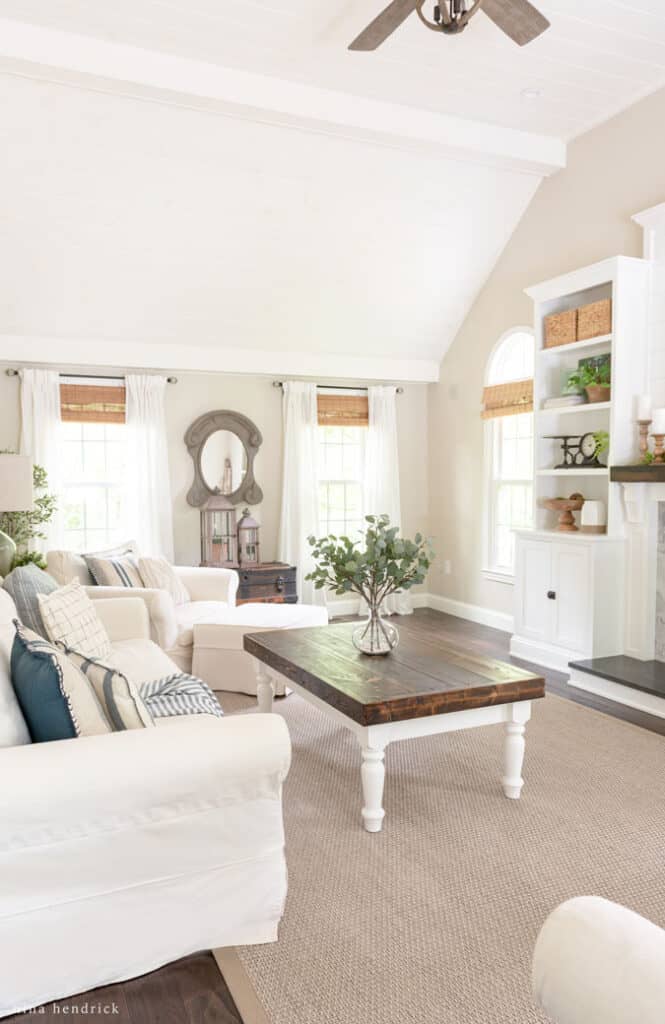 Renovation Goal Four: The Family Room
The family room is a space that we've picked away at over the years but never completed all at once. One day several years ago, I got frustrated by the yellow walls that came with the house and just started painting while Mack was at work.
We also completed the tongue-and-groove ceiling and fireplace built-in several years ago, but unfortunately, the primer we chose didn't work, and the knots bled through. So everything needs a good coat of primer and a fresh coat of paint. As I mentioned in my most recent update to our paint colors post, I'm ready to switch the paint color to Balboa mist, which is a bit lighter. I'd also like to add a wall treatment behind the sofa, swap out the doors to the back deck (which will be getting a makeover of its own) and replace some trim here and there; We have most of the furniture already, so we just need artwork and a couple of chairs.
Renovation Goal Five: The Foyer & Stairs
Several years ago I attempted to tackle painting and staining the stairs myself. That project was an absolute and utter failure. They've peeled and look generally terrible. I'm ready to call in the pros for this one, and then add a stair runner when it's all complete.
I'd also love to swap out the railing for a newel post and square off the bottom step, which fits the other changes in our house a bit better.
Last but not least, I'd like to bring in a wall treatment like shadow box molding.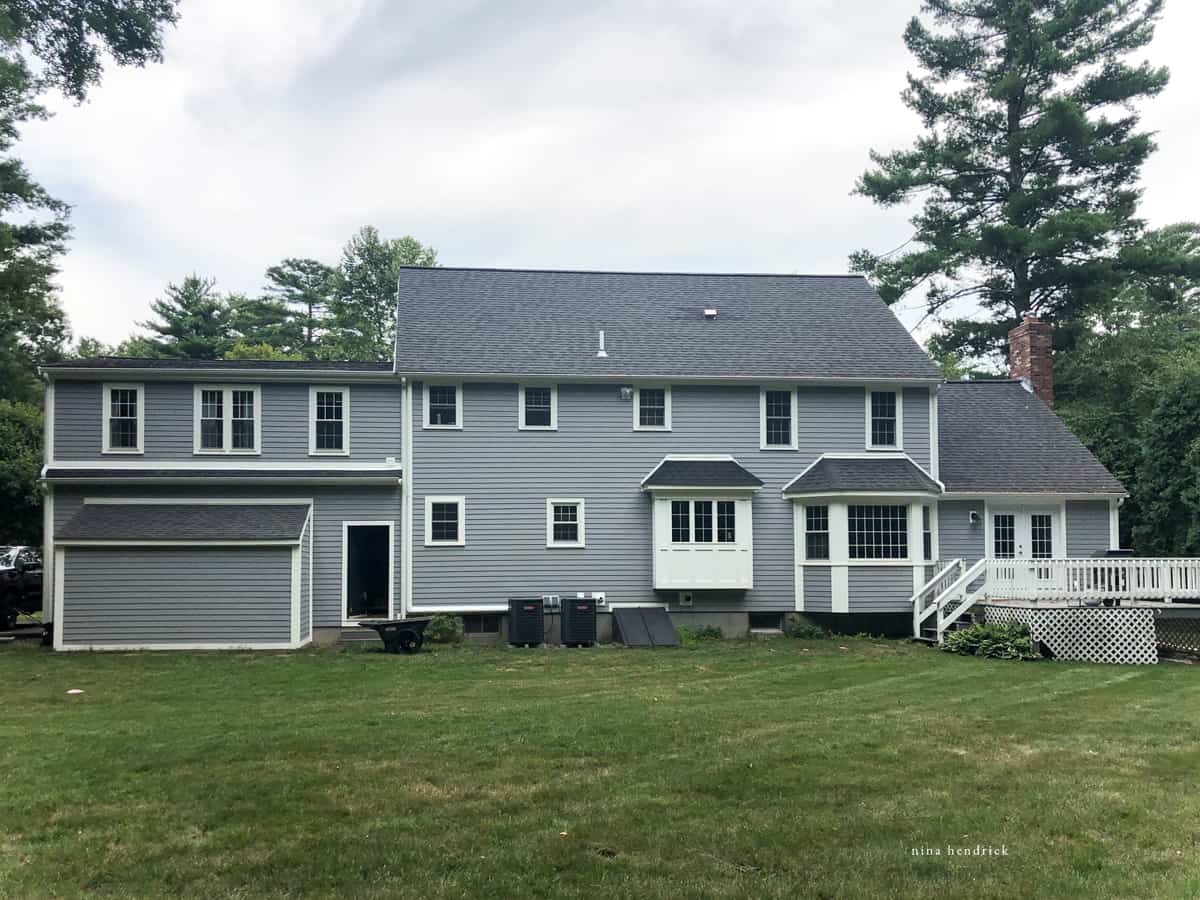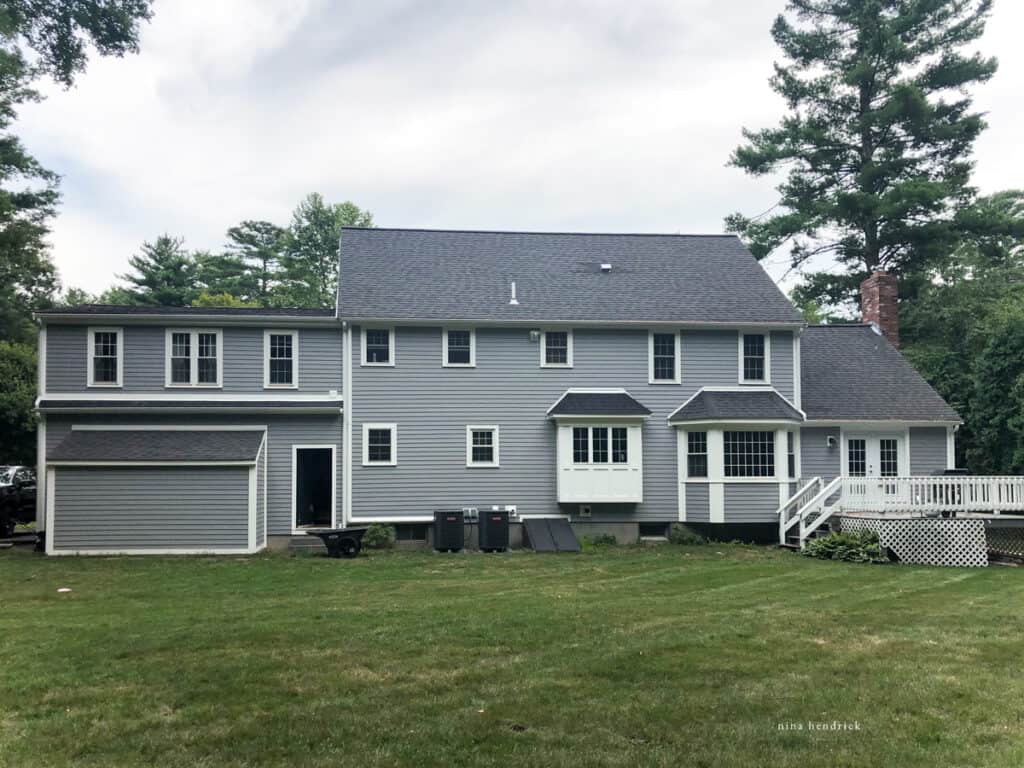 Renovation Goal Six: The Back Yard
We've already laid the groundwork (pun intended— ha!) to begin this project in the spring. Like our other exterior projects, we're hiring this one out 100%. We're planning a new deck, a patio, and beautiful plantings to tie everything together. They'll also fix some of the botched landscaping from the people we hired last year and add uplighting. We're super excited to add to our outdoor living space and fix everything that disappointed us so much last year.
Bonus: The Garage
I'm not sure if we'll get to this one this year, but we're also hoping to insulate and plaster our garage and add usable storage. It's currently unfinished, and our primary bedroom is up above, so it would help us increase our energy efficiency in the winter. I really like the garage systems with epoxy floors, but we'll have to see if this fits into our plans and budget.
On the Side: Organization
As we complete projects, it makes sense to reevaluate our storage and audit our systems so that things are running smoothly. Between projects, I'll be working on smaller decluttering and organizing projects all year long, and sharing along the way. 
A Home Renovation Goal with Meaning: Adding More Family Photos
Last, but not least, I'm ready to put holes in the walls and add more family photos and other artwork to our home. In our eagerness to complete projects, sometimes these more personal touches have fallen by the wayside.
Like I said, I know it's a lofty list. However, I have a dual-purpose for wanting to complete this house. Like I mentioned, we want to actually enjoy it.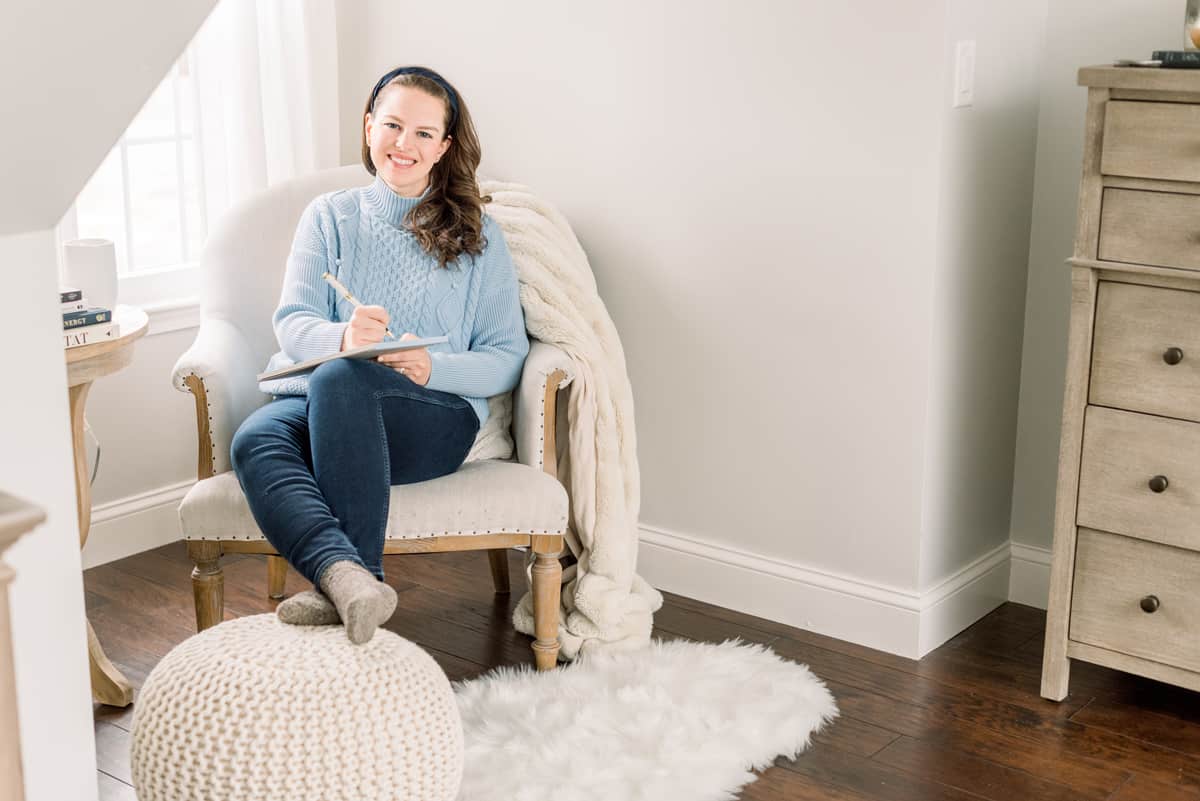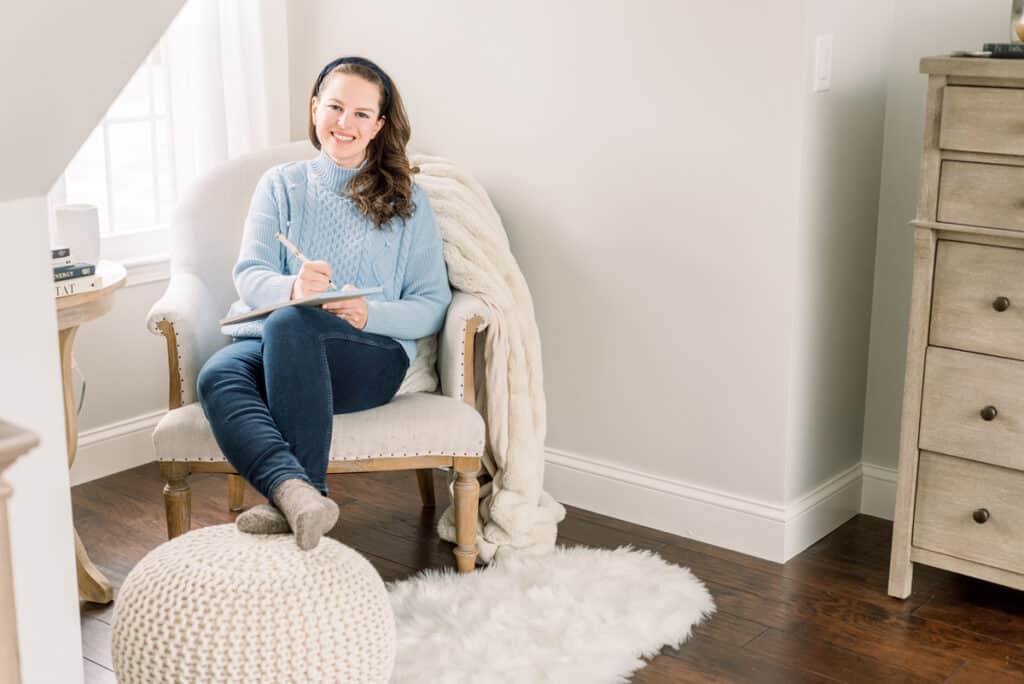 The Other Reasons I Want to Finish the Renovation
There's a second reason… I'm writing a book! It's something I've dreamed of doing for years (and stopped and started, but not completed). The book will be about— you likely already guessed it — renovating this house! It's been such an adventure on both a personal and professional level and has run parallel to the story of our children growing up. There are so many details and projects beyond what I've shared here on the blog and I'm excited to organize it all in one place.
I'm also working on a second big project for you, and this is something that many people have requested over the years: a virtual course on how to plan and execute projects! It's called Home Goals and right now I'm planning to launch it for the first time this spring.
I'll be going step-by-step through the entire process of planning a project, from setting home goals (like this!), to creating action steps, making mood boards and floor plans, vetting contractors, and more! If you have projects coming up and you're interested in becoming a beta tester, you can learn more here. We'll run through the course once with beta testers (at a serious discount) before we launch for the first time!