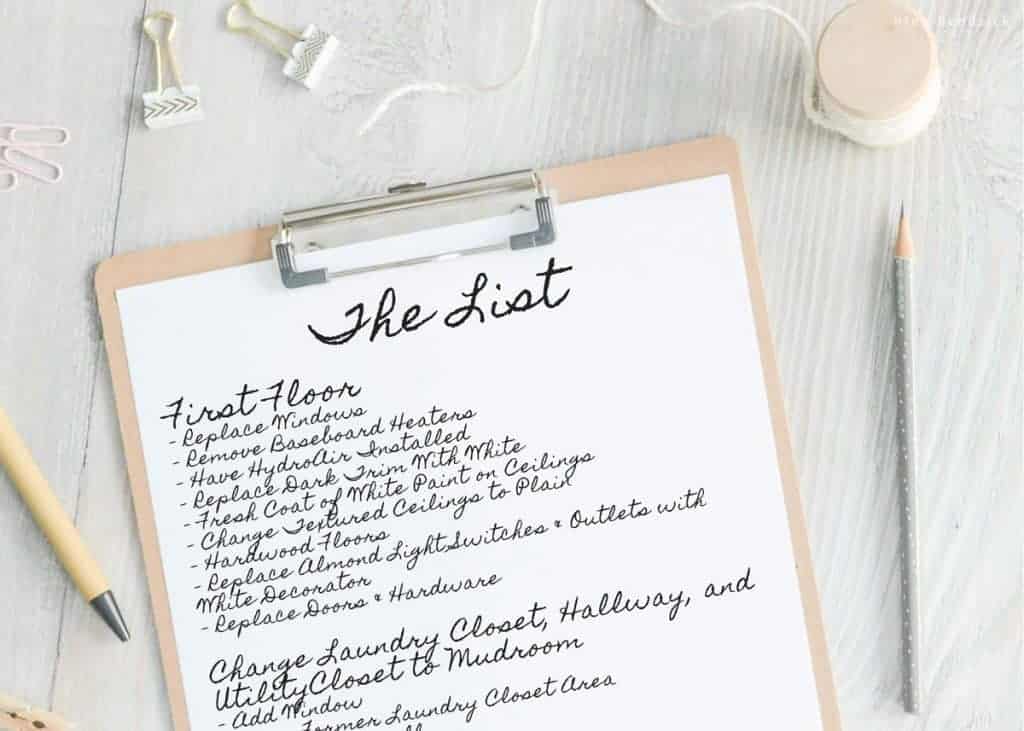 UPDATED 12/29/17: Here is the master list of things that need to be done in our home! We have made so much progress from the original posting date, I would honestly say that the house looks completely different from when we moved in!
First Floor:
Replace Windows
Remove Baseboard Heaters
Have HydroAir Installed
Replace Dark Trim With White
Plaster over textured ceilings
Paint ceilings
Hardwood Floors
Replace Almond Light Switches & Outlets with White Decorator
Replace Doors & Hardware
Change Laundry Closet, Hallway, and Utility Closet to Mudroom
See the completed project here!
Add Window
Demo Former Laundry Closet Area
Replace Drywall 
Patch & Paint
Beadboard & White Paint
Tile
Lockers & Benches
New Utility Closet Doors
New Light & Patch Ceiling
Phase 2:
Replaster Interior of Utility Closet
Add Organization to Interior of Utility Closet
– Powder Room 
See the completed project here!
Inspiration Here
Remove brass/chrome combo fixtures
Patch walls
Sand
Prime & Paint
Build Vanity
Replace Tile
Board & Batten Treatment
Beadboard Ceiling 
Paint Door
– Kitchen
See completed Phase 1 here!
Inspiration Here
Phase 1: 
Paint Cabinets
Add Crown Molding
Replace Backsplash with White Subway Tile
Under Cabinet Lighting
Replace Cabinet Hardware
Paint Room
Build Island and Add Craigslist Marble Top
Phase 2:
Add Organization inside the Cabinets & Drawers
Paint Ceiling
Add Recessed Lighting
Refinish Ceiling with White Plank
Install Dark Hardwood Floors
Replace Trim/ Add Trim to Cabinets
Refinish "Awkward Wall" (formerly known as "command center)
– Pantry 
See completed project here!
Replace Sagging Shelves with Cubes & Drawers
Replace Sliding Doors & Trim
Paint Glossy White
Add Lighting
Finish Media Cube
Add Slide-Out Baskets
Add Wine Rack
Organize in bins and Label
– Breakfast Nook
Paint
Replace Light Fixture
Build Window Seat
Add Trim to Doorway
Add Wall Shelves
Build New Table
-Family Room
Phase 1:
Remove Baseboard Heaters
Paint
Gallery Wall
Fireplace Redo  See Phase 1 here
Hardwood Floor
Replace Trim
Buy/Build New Furniture
Phase 2:
Complete Built-Ins
Add Tongue & Groove Boards to Ceiling
Refinish Beams
Replace Fan & Recessed Lights
Add Board and Batten to tall wall
Repaint Room
-Dining Room
See project here!
Replace Floor
Refinish Ceiling
Planked Walls
Paint
-Entry
Remove Closets
Replace Entry Door
Replace Floor
Add wall treatment
Resurface Ceiling
-Stairway
Stain Stairs & Paint Risers
Paint Spindles & Stain Railings
– Office
Paint French Door
Paint
Paint Built-Ins
Move Upper Cabinets from Bonus Space to This Room
Replace Trim, Paint & Caulk
Replace Floor
Add Ceiling Light Fixture
Resurface Ceiling
Add Wall Treatment
Add Lighting to Built Ins
Buy Desk
Buy Storage
Build Craft Table
Second Floor:
Replace Windows
Remove Baseboard Heaters
Install HydroAir
Change Textured Ceilings to Plain
Replace Flooring
– Cooper's Room
Paint Walls & Window Trim
Add Ceiling Light
Replace Trim
Replace Sliding Closet Doors
Crown
Barnwood Bed Project
-Logan's Room
Add Ceiling Light
Paint Walls
Replace Trim
Replace Sliding Closet Doors
– Kids/Guest Bathroom
Replace Trim
New Tile
Replace Vanity
Frame Mirror
Paint
Change Light Fixture
Redo Linen Closet
-Hallway
Build Staircase to Attic
Remove Pulldown Attic Ladder
Patch Attic Ladder Opening
Add Lighting
Replace Trim
Paint Spindles & Stain Railing
Add Crown
Gallery
– Lyla's Bedroom
Build Wall to Extend Hallway
Box in Closet, Add Door
Prime & Paint
Add Ceiling Light
Replace Windows
Add Trim
Finish Closet
– New Hallway
Add Lighting
Demo Former Walk in Closet
Frame in New Walk in Closet & Drywall
-Master Bedroom
Phase 1:
Remove Wallpaper
Add New Doorway
Prime & Paint
Fix Floor where Staircase was
Remove Trim & Patch Walls
Paint Window Trim
Replace Carpet with Hardwood
Replace Fan
Touch Ups
Paint Door
New Bedding
Delete Extra Can Lights
Replace 4 Can Lights with LEDs
Patch Ceiling, Fresh Paint
Replace Outlets with White Decorator
Phase 2:
Replace Windows
Window Seat/Reading Nook
Built-Ins
– Walk-in Closet/ Laundry
Inspiration Here
Phase 1:
Install Washer/Dryer Hook-Ups & Outlets
New Dryer Vent
Move Washer & Dryer Upstairs
Demo Former Closet
Build Walls
Add Drywall
Frame in Pocket Door
Install Pocket Door
Replace Ceiling Light (Remove Extra Light)
New Drywall Ceiling
Plank Walls
New Flooring
Replace Window
Replace Trim
Add Cabinets & Counter
Build Custom Organization
Build Shelves
Accessories
-Master Bathroom
Inspiration Here
Rip out all Fixtures
Remove Wall & Linen Closet
Rip out tile
Repair Walls, Prime & Paint
Install Tile
Install Glass & Tile Shower
Install new Vanity with Storage Towers
Install Tub
Attic:
Inspiration Here
Replace Windows
Spray Foam Insulation
Frame in Rooms & Add Tongue & Groove
Hardwood Floor
Storage Space, Guest Spaces
Basement:
Inspiration Here
Knock out wall to Former Boiler Room
Replace Carpet
Install Lighting
Drywall Ceiling
Remove Panelling & Wallpaper
Repair & Paint Walls
Replace Trim on Columns
New Flooring
Garage:
Remove Staircase
Add Organized Storage Wall
Epoxy Floor
Replace Garage Doors with Carriage House Doors
Replace Exterior Lanterns
Insulate? Drywall?
Facade: 
Paint Gray
Replace Trim with more Substantial Farmhouse Trim
Replace Lanterns
Add Farmer's Porch
Landscaping
Back Deck:
Inspiration Here
Expand to multiple tiers
Pergola & Seating Area
Patio:
Inspiration Here
Build stone patio
Add Outdoor Kitchen
Add Firepit
Add Outdoor Bar
Yard & Garden:
Inspiration Here
Remove Pine Trees
Expand Lawn
Add Extensive Garden
Playground
Tree/Clubhouse
Barn:
Inspiration Here
Buy Mini Barn
Landscape and Add Garden
Chickens