Tomorrow we will say Happy Birthday to this girl!
It's hard to believe that almost 8 years have gone by since we added Lucy to our family.
Have I ever told that story here on the blog? If I have it was a long time ago, so I'll just go ahead and share it again. When I was about 5 months pregnant with Logan, Mack suggested we go to "look" at puppies. He'd had a cinnamon colored golden retriever named Gloria- or "Globug" as a kid. He had been surfing the web and he "just so happened" to find a litter in Maine with one girl puppy remaining.
"Every kid needs a dog!" he told me. I was reluctant. We were still in college (babies having babies) and also working full time, we lived in an apartment, and we were already throwing a baby into the very crazy mix- but it was sweet that he wanted his little boy to have a dog like he had. I agreed to "look" at the puppies- but that was all. We drove up to Maine and pulled into this idyllic beautiful restored New England farmhouse (in hindsight I wish I had a camera…this place was stunning, truly. Like a Nancy Meyers movie.).
The family that raised the dogs was very nice and welcoming. It turned out that the one puppy remaining hadn't had the correct temperament to be a service dog (i.e. hyper) and had a pink spot on her lip and a pink nose that would disqualify her from being a "show dog". She was slightly over 8 weeks old with no home.
We met the mother, who was beautiful and sweet- and according to Mack, a doppleganger to GloBug. Then they brought out the puppy that they called "Cinni-Minni". The breeder knew his customer- he plopped this little ball of fur on my 5-month bump and she immediately began cuddling and giving me puppy kisses. I never stood a chance.
We brought her home that day. We named her Lucy because of her ginger fur- a nod to Lucille Ball and "I Love Lucy", a favorite of my late grandmother. How appropriate that name would prove to be! Lucy was a ball of energy that had a real penchant for mischief and trouble. She put me through the paces for the next few months and I got a real crash course in taking care of someone other than myself.
As hyper as she was, when Logan came along and began to grow she was incredibly patient with him. As they both got older she allowed him to crawl on her and pull her ears, and she'd just give him a kiss. As he began toddling she accommodatingly became his step up onto the couch. In turn, he shared his goldfish and cheez-its with her. Little did she know she would repeat this symbiotic relationship with two more babies! Out of all of the babies, her connection with Lyla is unique. They just love each other. Lyla intentionally seeks her out, and then they snuggle. Lyla is our first and only baby to not mind the doggy kisses too much. When she was still pretty tiny we would ask her "Where's Lucy?!" and her little eyes would search around the room until they landed on her buddy. At night Lucy takes turns laying beside all of the beds, but I will most often find her laying by Lyla's crib.
Lucy's favorite thing is to chase her frisbee at the Lake. While she's not as young as she once was, you would never know it if you saw her at The Lake. She runs and leaps off the granite wall in hot pursuit of the frisbee. We have recently had to give her arthritis medicine when she seems a little sluggish. Well, those magic pills turn her into a puppy again and she's off!
Lucy at the Camp.
Any relationship with a pet is bittersweet. You know even when they are a puppy that they won't be with your family nearly as long as you wish they could be. Lucy is very much loved and a very real part of our family. We had a scare with a tick-borne disease called anaplasmosis earlier this year (in spite of our diligence with her flea and tick treatments) and we thought we were going to lose her.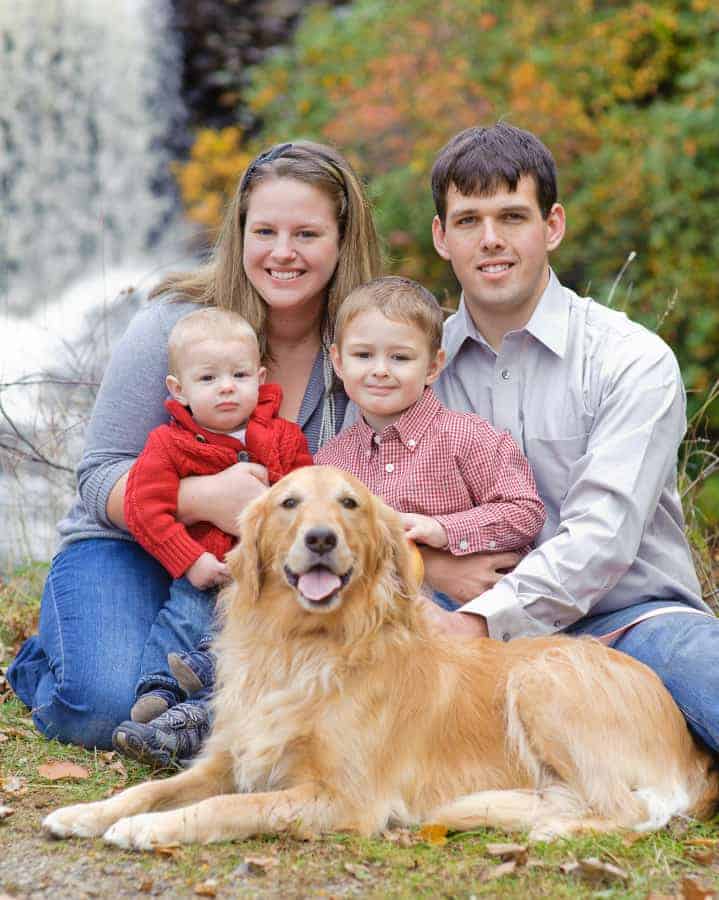 Family photo in 2011, by Jill Serrano Photography.
She pulled through in even better health than she was in before, but it taught us not to take her for granted. Here's to as many more years of frisbee chasing as possible!

Lucy at her favorite place, enjoying a misty lake sunrise.
Join the Weekly Newsletter
Subscribe to get our latest content by email and access to our File Library. Download organizing and home decor printables FREE!
Nina is the owner & designer of Nina Hendrick Design Company and the Nina Hendrick blog. Along with her husband Mack, she is chronicling the journey of transforming their builder-grade 80s colonial into a modern day farmhouse. Nina and Mack live in the suburbs of Boston with their three children and golden retriever Lucy.