Here's my honest Pottery Barn Sofa Review of the PB Comfort Roll Arm Slipcovered Sofa with updates seven years after our initial purchase. I share the pros and cons and how it's stood the test of time!
When it comes to furnishing your home, it's hard to beat the quality and style of Pottery Barn. Their classic PB Comfort Roll Arm Slipcovered Sofa has been a popular choice in living rooms for years and with good reason: it's classic, stylish and comfortable. But how does it stand the test of time? In this blog post, I'm going to take you through my honest Pottery Barn Sofa review, including the pros and cons after seven years of use.
Thinking about buying a slipcovered sofa and want to explore other brands? See my full guide to slipcovered sofas here!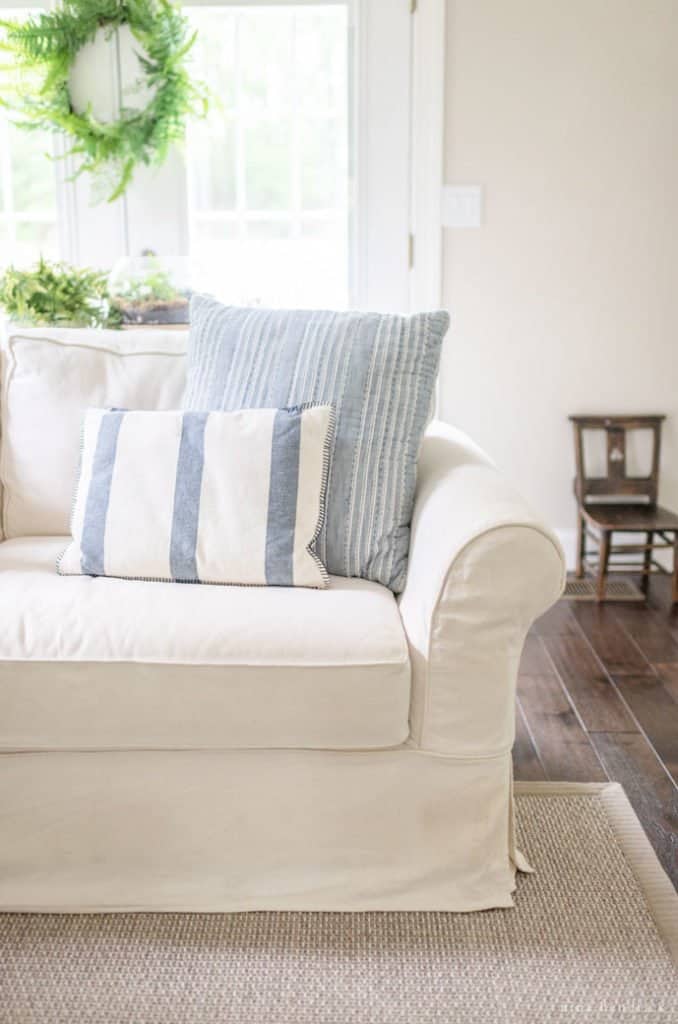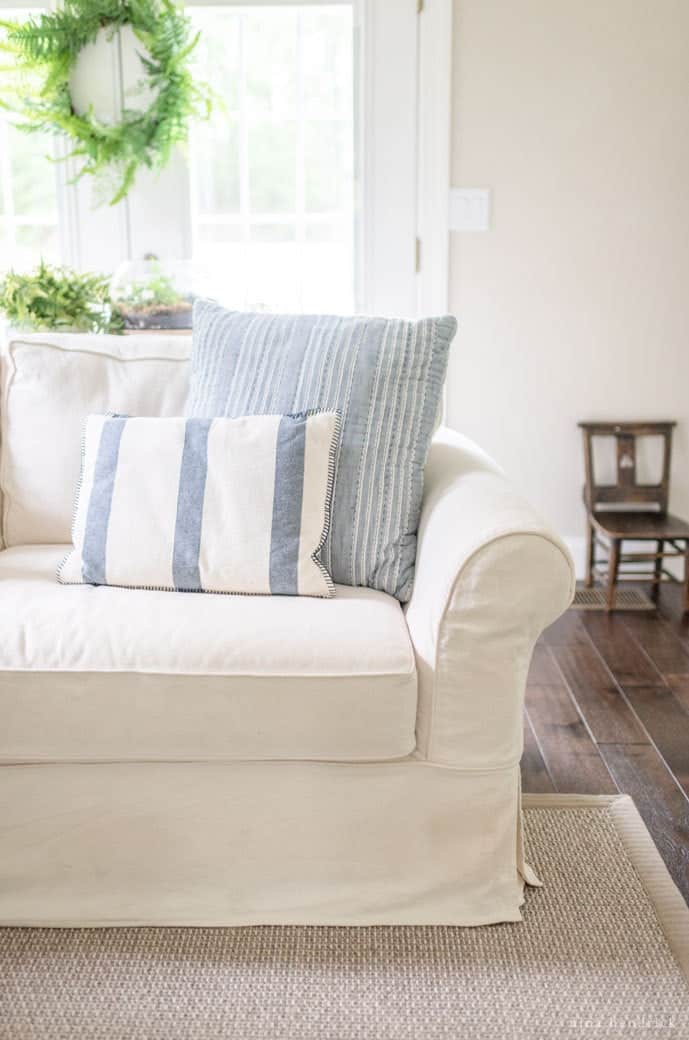 This post contains affiliate links, which means I may get a small commission (at no extra cost to you) if you shop my link. Please see my disclosure if you'd like more info!
Pottery Barn Sofa Review: Pros and Cons of the PB Comfort Slipcovered Sofa
Note: The Pottery Barn sofa review is not sponsored, we purchased these sofas on our own.
One of the questions I'm asked most often is my feelings about our light, slipcovered roll arm Pottery Barn Comfort Sofas. We have three models: the standard sofa, the grand sofa, and the grand armchair. I'm updating this post seven years later so that I can answer the question thoughtfully and from the perspective of how well they hold up over time.
Seven years ago, we purchased a Pottery Barn Comfort Slipcovered Sofa during a rare sale on their custom furniture. I had been dreaming of having cottage-inspired white slipcovered sofas for years! A couple of months after I placed the order, the sofas arrived. They were beautiful, clean and fresh, casual but structured. They were incredibly comfortable. The whole room felt lighter.
After years of brown leather that hid almost everything, I was suddenly side-eyeing my goopy children, but I was otherwise elated.
Naturally, even though we've always had rules about not eating or drinking in the living room, there were almost immediately spills and stains. I was/am relaxed about it, kids are kids. (Read my philosophy about decorating with kids here!) My priority was that we balance enjoyment with style. I refused to be "that mom" who practically had plastic over her furniture.
After all, it was my choice for our family room, and I knew what I was signing up for. I would just wash the slipcovers, as planned, right?
Well…
There were some challenges early on. I'll get to those, but let's start this Pottery Barn sofa review with the positives.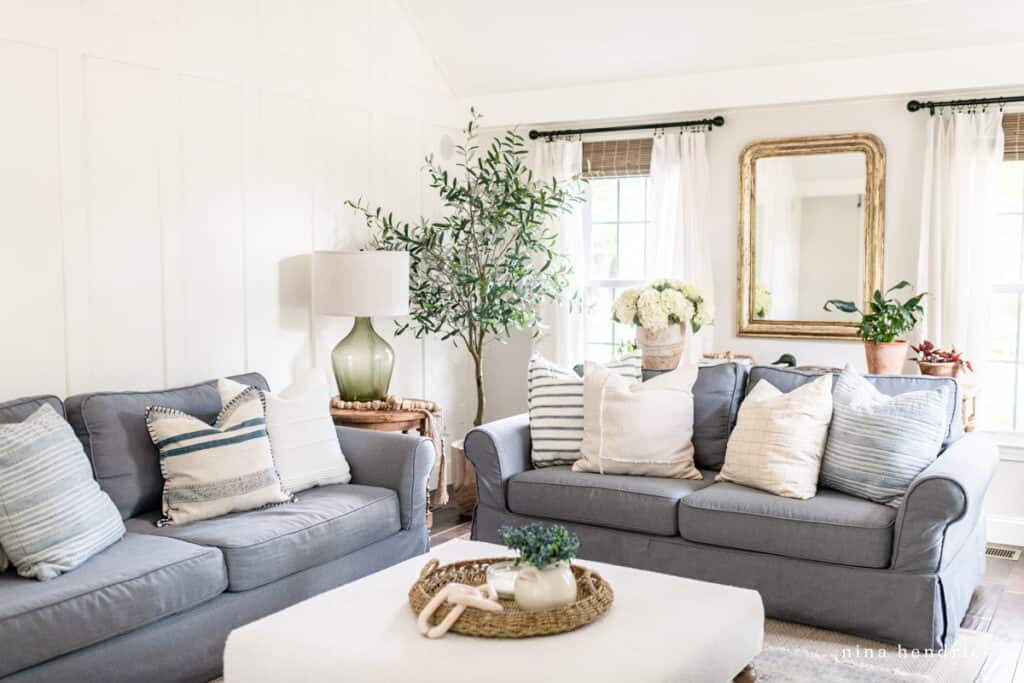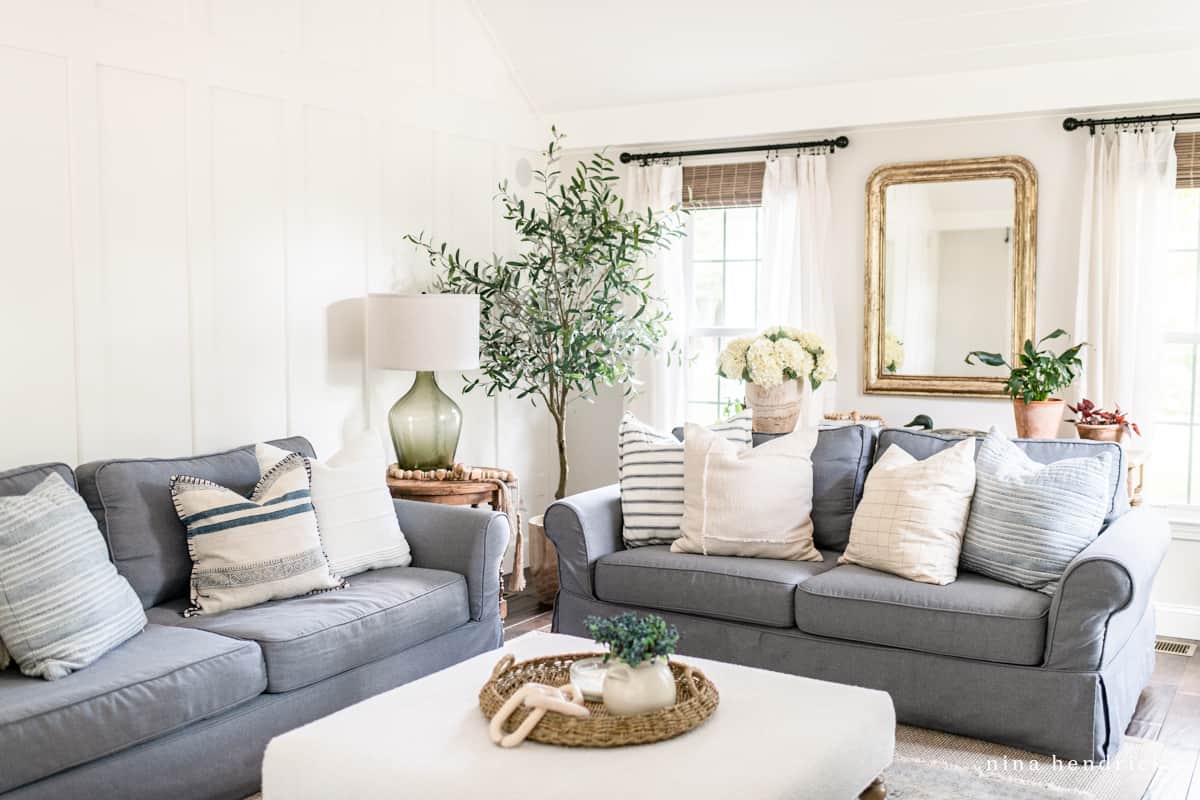 The Pros:
The construction of the sofas and chair themselves is really sturdy and impressive. The frame of our sofas is very solid and, bonus: built in the U.S.A. right in North Carolina.
The PB Comfort sofas are customizable. You can order slipcovers in many different fabric options.
Pottery Barn also offer many different sizes for the PB Comfort sofa. They no longer use the "Grand Sofa" term, but offer five options with lengths ranging from 68″ to 102″. The 92″ and 102″ length models offer 40.5″ deep seating versus the 38.5″ depth of the shorter models. You can explore all of the specifications here!
There are options for slipcover fabrics that are machine washable, which makes it much easier to keep the sofa clean and free of pet hair.
If you like a more modern or contemporary look, you can also choose a square arm sofa.
I love that I can change the look of the sofa whenever I want by simply changing the slipcover, and they are fairly easy to replace when needed. I'll talk about my third-party replacement slipcovers below!
Pottery Barn Comfort Sofas vs. IKEA UPPLAND
I love a good IKEA purchase (see my closet hack here and my apothecary cabinet here!), and I find the UPPLAND to be beautiful and a great value. Although I haven't owned an UPPLAND, we happen to own two EKTORPs, which were the extremely similar precursor to the UPPLAND. The EKTORP was discontinued a few years ago. We have the EKTORP sofa in our lake house and an EKTORP sectional in our kids' playroom.
Here are some details about the EKTORP (which may be similar to what you'd find with the UPPLAND):
The foam of the cushions is actually more substantial than the polyester cushions that originally came with our Pottery Barn sofas in 2016. IKEA sofa cushions are definitely less comfortable right out of the gate, but they held up longer than the original polyester PB Comfort cushions (Note: Pottery Barn has now replaced the polyester cushions with a more durable memory foam).
The slipcovers hold up extremely well to spills. Especially the dark gray! However, they do stain. Our kids' charcoal EKTORP ottoman cover has a spot that's permanently discolored from a spilled drink.
Honestly, you really just can't beat the price of the UPPLAND at $799.
Pottery Barn Comfort sofas, on the other hand, are more expensive at around $2000. However, the quality and craftsmanship of the Comfort sofa is top-notch and will stand up to the test of time. The Comfort sofas come in a variety of colors and fabrics, and are very customizable. The UPPLAND only comes in a few colors, and the fabric isn't as durable. Both sofas have a classic look, but the Comfort sofas are more luxurious and timeless. If you're looking for a sofa that will last for years to come, then the Pottery Barn Comfort sofas are the way to go.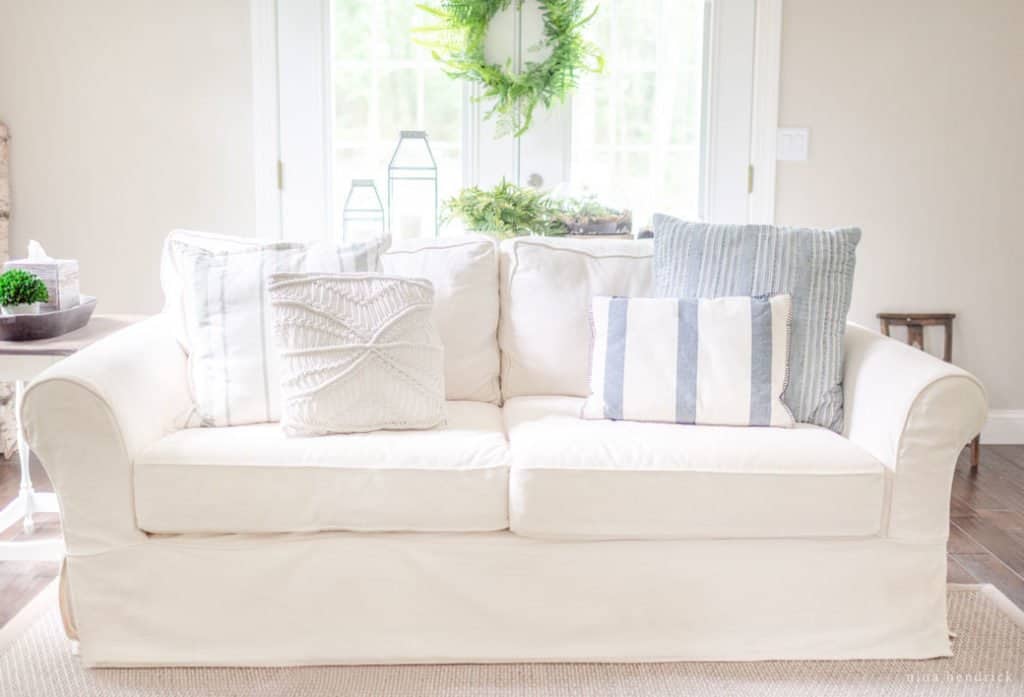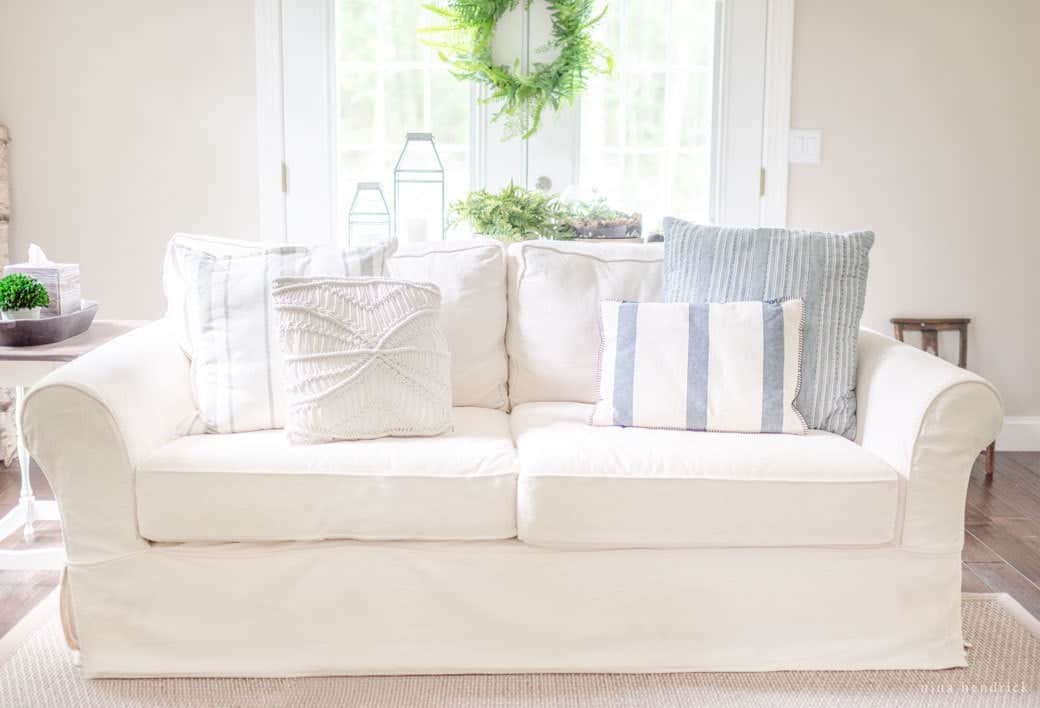 Why the Pottery Barn Sofa?
It was the dimensions of our previous family room that decided us on the PB Comfort sofa. Our room was very long and narrow with cathedral ceilings, and we knew we needed a large sofa to look proportional in the space. True to its name, the PB Grand Comfort Sofa was both longer and deeper than average sofas we looked at in 2016. We also liked the oversized dimensions of the PB Comfort Grand Armchair. It filled up the corner perfectly!
I know that there are other options out there, and we did explore those (both local and national). The prices were generally comparable, but we were unsure of the quality. Ultimately, I decided I wanted to go with the PB Comfort because I love Pottery Barn, have purchased other big-ticket items from there (with positive interactions with customer service when needed) and it was the one that had always caught my eye.
Why the PB Comfort Sofa over the PB Basic?
While they're similar, I liked the option of having two cushions versus having three like the PB Basic. I also liked the longer sofa options for the PB Comfort.
If you're looking for a bench cushion option, the York Roll Arm slipcovered sofa has a very similar look to the PB Comfort but with a bench cushion!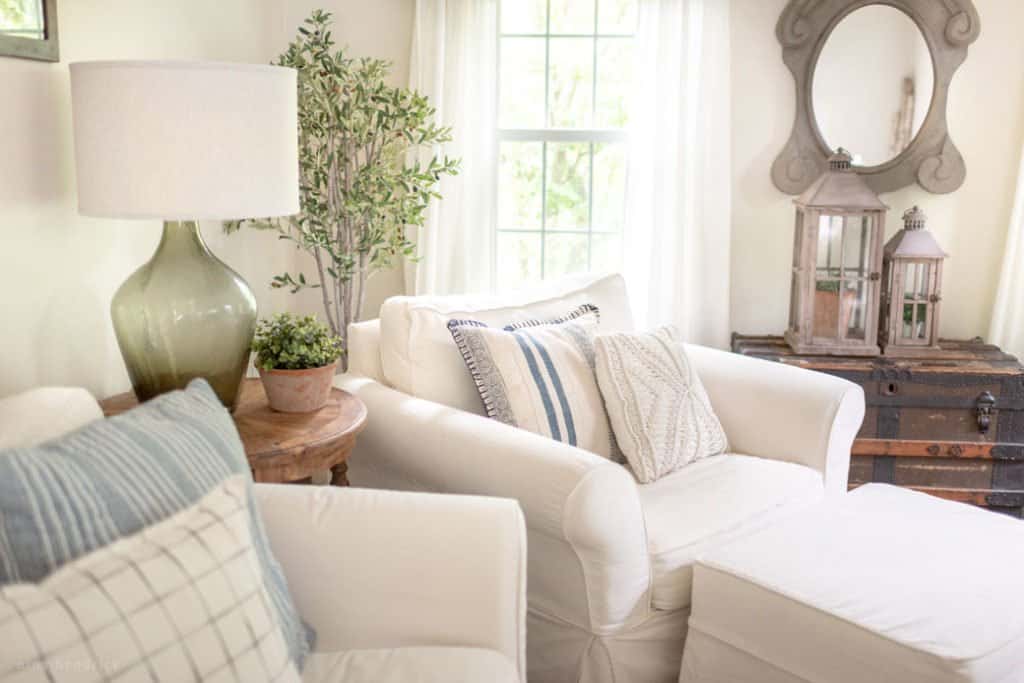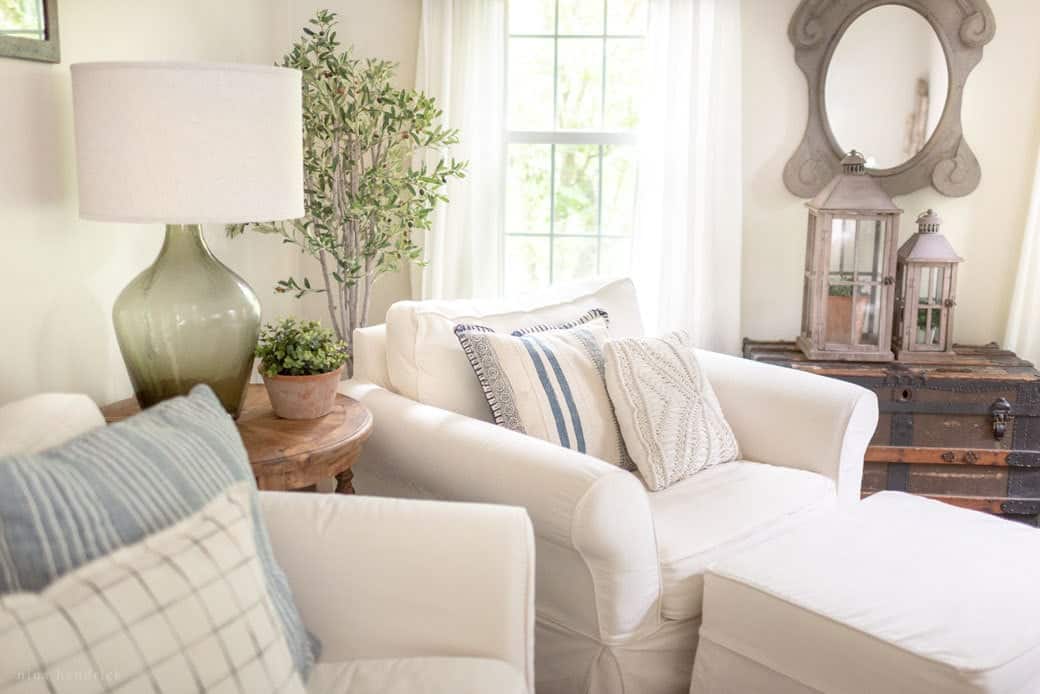 PB Comfort Sofa Dimensions
Our Pottery Barn Sofa specifications are no longer applicable since they've changed the models since 2016, but our sofas are most comparable to the 92″ option (previously the "Grand") and 82″ (previously the standard model). We also have what they now call the Comfort Chair-and-a-Half and Ottoman-and-a-Half.
Can the PB Comfort Sofa Slipcovers be Machine Washed?
In general, yes. By following the care instructions included when you purchase the sofa, you should be able to wash the slipcovers at home in your washing machine (with cold water) and then lay them out to mostly air dry before putting them back on your sofa slightly damp.
I spot treat my slipcovers between washings with my portable upholstery cleaner. You can read here about how I care for my slipcovers and keep them looking neat and wrinkle-free!
However, I do also want to share the stories below in the effort to keep this Pottery Barn Sofa Review fair.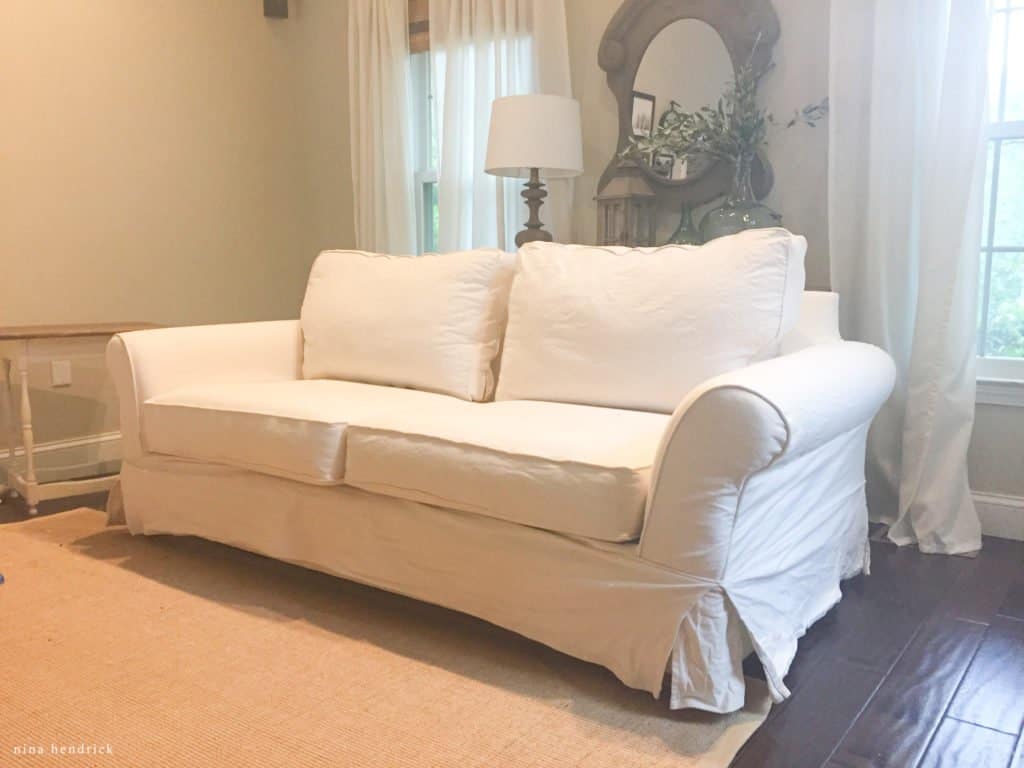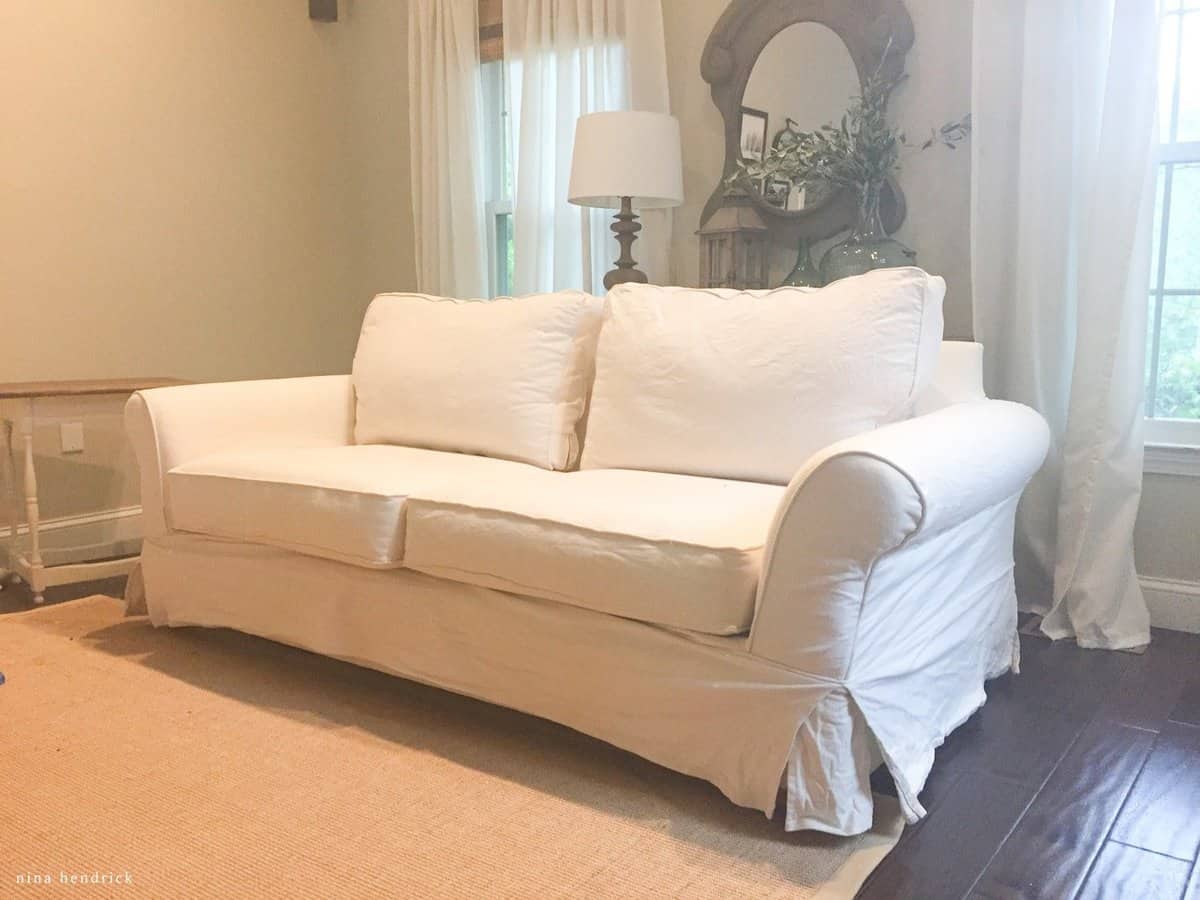 The Cons
My Pottery Barn Slipcovered Sofa Story
Shortly after our big purchase in 2016, I washed the slipcovers for the first time, meticulously following the care instructions provided by Pottery Barn. I used cold water and gentle detergent. My machine didn't have an agitator.
I laid the slipcovers out to air dry and brought them to the sofa to put on while they were still slightly damp. I thought I was going above and beyond the care instructions with the air drying since the care instructions actually said they could be put in the dryer on "tumble". That seemed way too scary to me.
As I attempted to muscle the damp slipcovers onto the sofa, It was immediately apparent that something went horribly wrong. The first thing that came to mind was Chris Farley in Tommy Boy… my sofa was a Fat Guy in a Little Coat. I repeated the same process with the second sofa, this time with the added bonus of inexplicable splotchy discoloration… even though it had been washed the same exact way. It wasn't quite as tight, but my second sofa suddenly looked like it was wearing high-waters.
After some frustrated tears from me and a round of "I told you so" from Mack, I was on the phone with Pottery Barn customer service. I see a lot of angry comments, but I have personally always found their customer service responsive and professional. They were quick to make everything right on both sofas. They asked for me to email photos and after they reviewed them we were sent replacements expediently and without issue.
The replacement slipcover Pottery Barn sent for the Grand Sofa arrived just a bit oversized. With that factor, I felt confident enough to wash it in cold water and lay it out to dry the first month after it arrived. Over the years, I was able to wash it many times without issue.
The other replacement slipcover Pottery Barn sent seemed to be made from a slightly different fabric — I could tell the difference, but most people couldn't. Although they were both brushed canvas, I'm guessing they changed suppliers between the two replacement covers they sent. We purchased the Grand Armchair (now called the Chair-and-a-Half and Ottoman a little later than the sofas, and they were made from the exact same fabric as the second replacement slipcover.
All of those items were very tailored. I held off for as long as possible on machine washing the slipcovers, but ultimately I worked up the nerve and it turned out fine.
While there was some trial-and-error as I figured out the maintenance on keeping my white slipcovers clean, once we had all of the replacement slipcovers, I was able to wash them without issue for many years. My slipcovers never shrunk like that frustrating first time.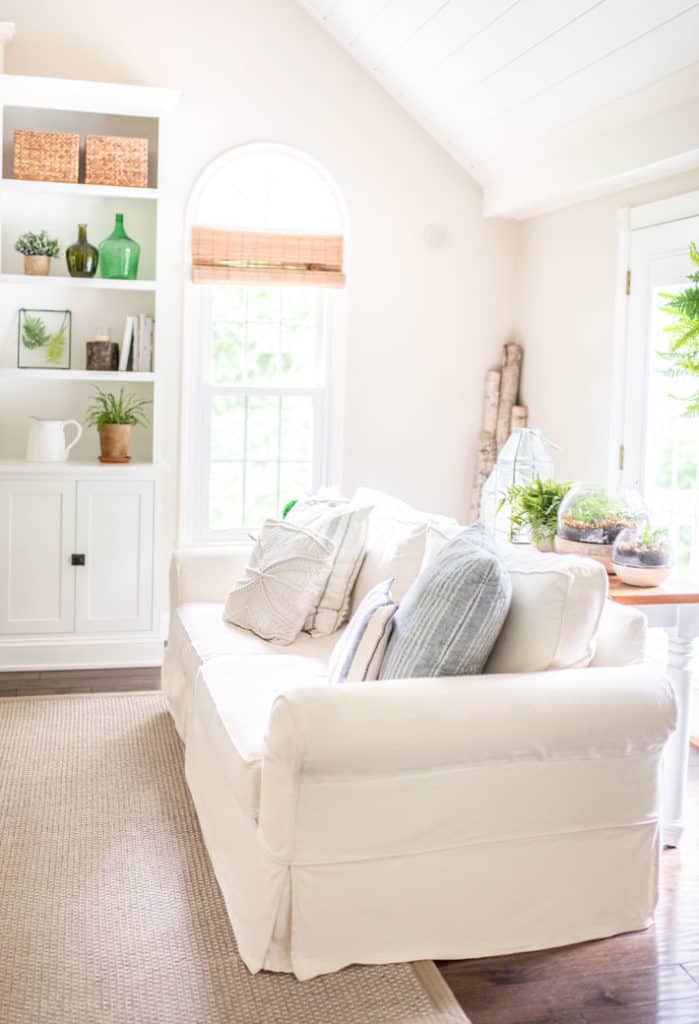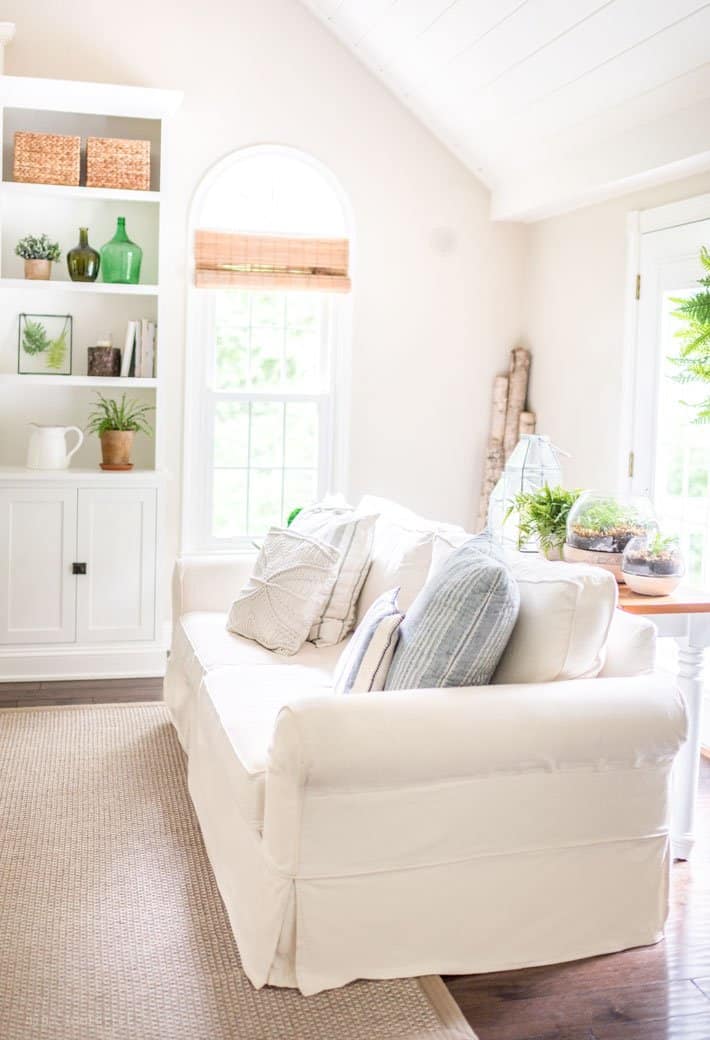 Refilling My Pottery Barn Polyester Sofa Back Cushions
Pottery Barn no longer offers the polyester-filled back cushions like the ones that came with my sofa, and I believe that's for a good reason. They've wisely replaced this option with memory foam. I wanted to keep this section in here regardless, in case someone with an older PB sofa is looking for a solution to fix ruined cushions!
Picture the filling that's in dog toys — that's what the back sofa cushions were stuffed with. After years of normal use, they were flattened from the top, the back slipcovers sagged, and they looked terrible.
I decided to do surgery. I took a seam ripper to the cushion inserts. The polyester batting had been smooshed into a compressed mat. I tried to pull it apart as much as possible and "fluff" it, and I also bought higher-quality replacement filling and overstuffed the back cushions. Then I sewed them back up. They looked even better than they started! Several years later, they're still doing great.
In the effort of being fair, I want to point out that two of the three major "Cons" on this list have been corrected by Pottery Barn since, and they aren't issues that you're likely to face if you purchase the sofa today. However, this was my experience!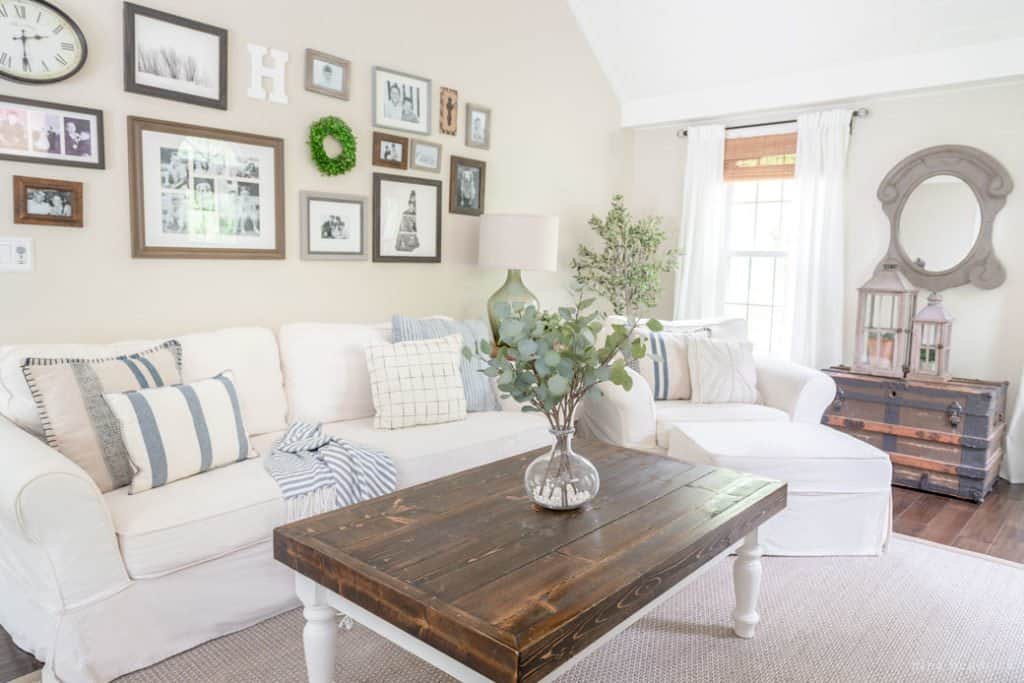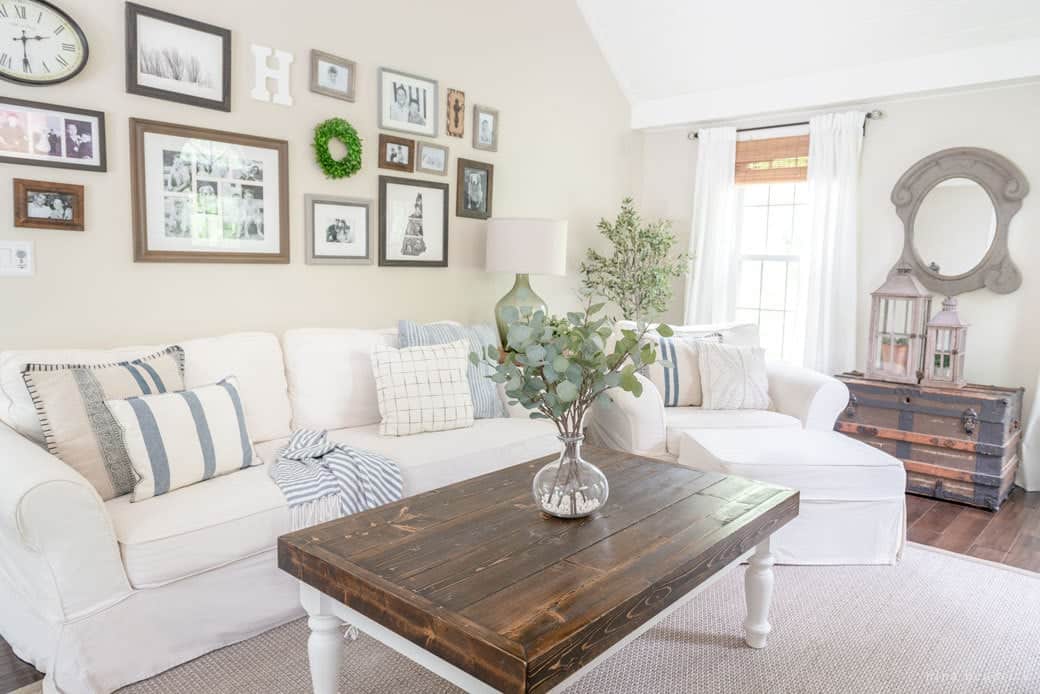 Slipcovered Sofas vs. Upholstered Sofas
Pottery Barn offers an extensive selection of both slipcovered and upholstered sofas. Both types of sofas offer a luxurious look, but each has its own unique attributes.
Slipcovered sofas are great for those who want a low-maintenance option that is easy to clean. They also come in a variety of fabrics and colors, making them a great choice for those who want to add a splash of color to their living room.
Upholstered sofas, on the other hand, offer a more traditional look that is perfect for a more formal setting. Upholstered sofas also provide a more tailored look and feel, and are typically more durable than slipcovered sofas. Both options are great for those looking for a comfortable and stylish seating solution for their home.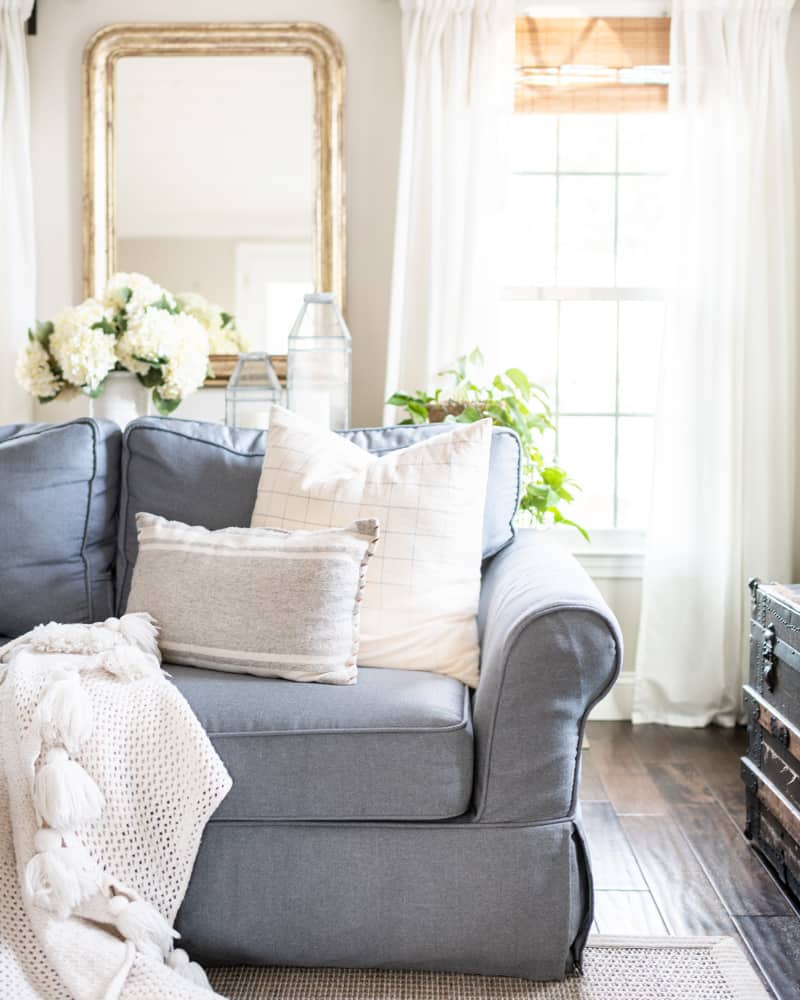 Replacement Slipcovers
Replacement Slipcovers are a great way to refresh the look of your existing sofa without investing in a new piece of furniture. The slipcovers come in a variety of fabrics and colors so you can find the perfect one to match your style. They are easy to install and fit snugly over the existing Pottery Barn sofa for a professional-looking finish. The slipcovers are also made of a durable fabric that is easy to clean and maintain. Overall, replacement slipcovers provide an affordable and stylish solution for updating your sofa with a fresh and new look.
Just over two years ago I purchased replacement slipcovers from Comfort Works. I had already purchased some of their slipcovers for the sofas at our lake cabin years earlier, and that was the ultimate test in durability. They had held up to all of the sand, water, and even wet dogs.
I knew that I was looking to change up the style of our sofas to provide some contrast in our family room makeover, so I went with Comfort Works Textured Weave Charcoal fabric. The replacement covers fit great and it made the sofas feel like new!
Pottery Barn now also offers replacement slipcovers. Make sure to check the specifications, especially since dimensions have changed since the older models like mine!
Do you recommend the PB Comfort Sofa?
Yes. I recommend the PB Comfort Sofa because they worked with me early on to replace the defective slipcovers. Also, It also appears that the company has made note of the things I (and others, according to the comments!) struggled with, and has made changes to their materials accordingly. They now have an option for memory foam cushions instead of the easily-flattened polyester, an improved slipcover design, and an extensive array of fabrics for customizing your sofa.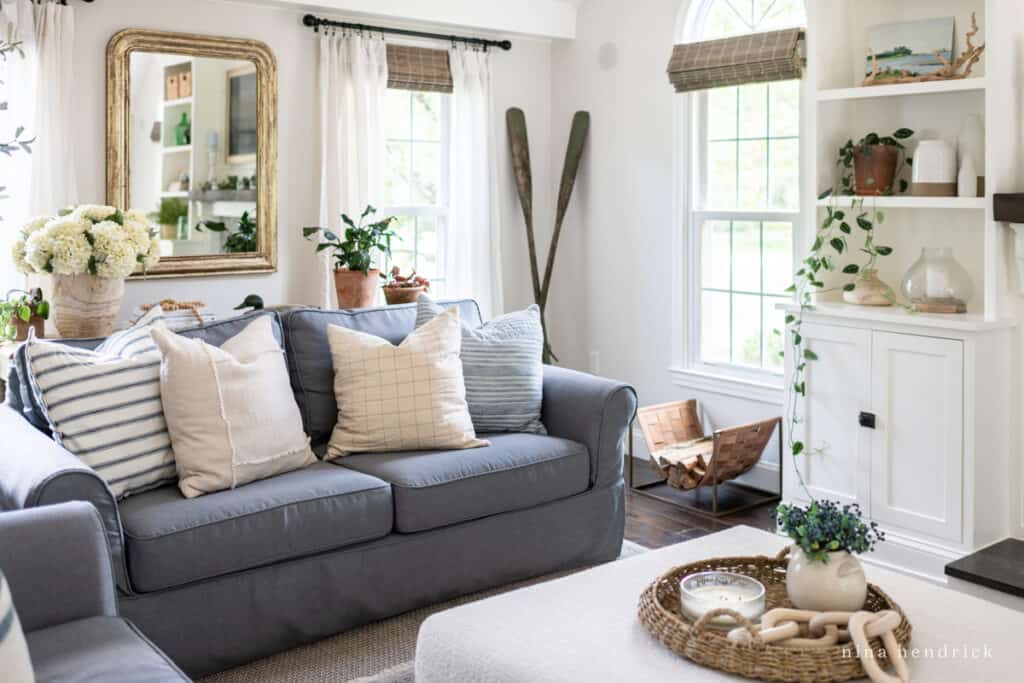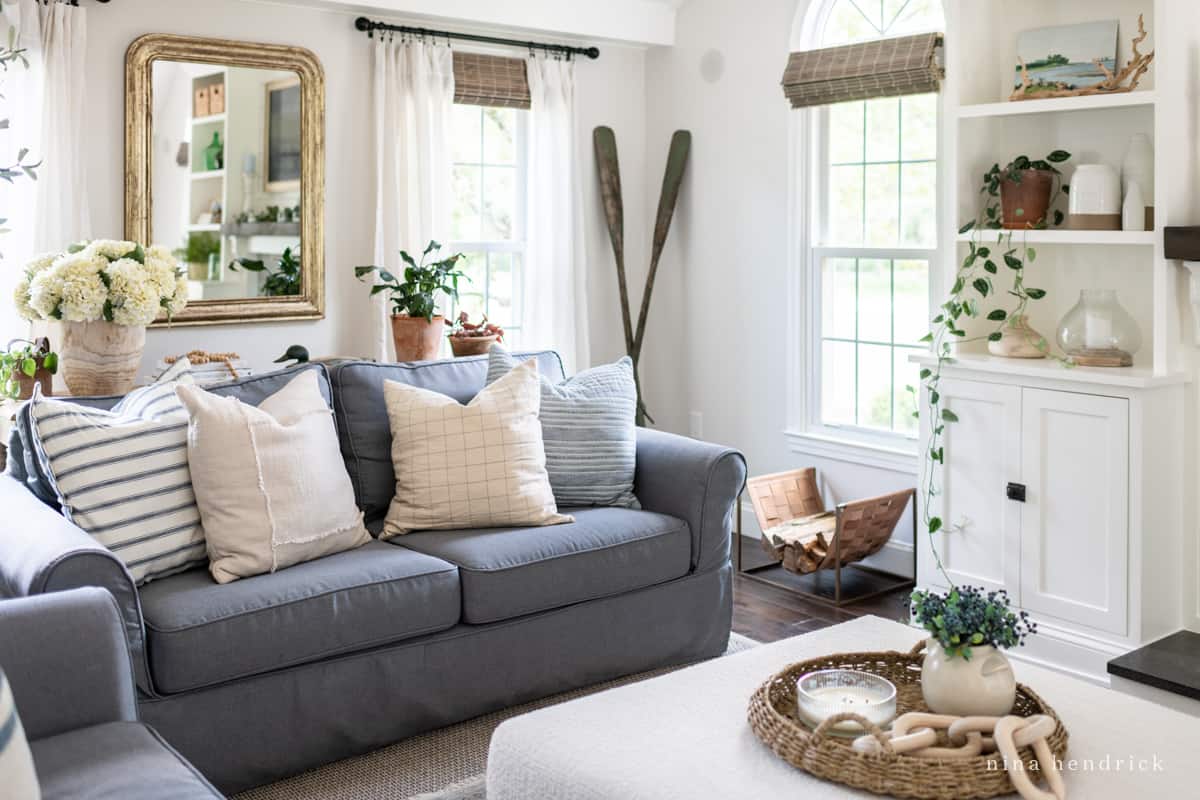 Was the PB Comfort Sofa worth the investment?
Yes. Overall, the bones of this sofa have stood the test of time for us, which meant that any necessary additional investment that we made in the sofa was minimal (replacement batting for the back cushions). For having them for over seven years and the fact that they still look great, I'd say the investment has been a good one! I chose to replace the slipcovers most recently for style reasons, so I won't count that against them.
Would you purchase a PB sofa again today?
Yes. However, if I was buying a Pottery Barn sofa today, I would choose a Crypton fabric, which at Pottery Barn is called "Everydaylinen". Sunbrella can also be a great option, but having experienced Crypton in person, I know that it's much softer, more comfortable, and very durable.
Now that my children are older, I would likely choose an upholstered sofa instead of a slipcover, especially when paired with easily-cleaned Crypton Fabric and my upholstery cleaner. However, since our current Pottery Barn sofas are still in such good shape, I know we'll have them for many years to come!
This Pottery Barn sofa has been a great addition to our home. The construction and longevity have been excellent, and the style is classic and timeless. The comfort and flexibility have been really satisfying over the years. Based on my experience, I would highly recommend this sofa and I would purchase it again today. I hope this Pottery Barn sofa review was helpful in deciding if the PB Comfort is the right piece of furniture for your home!