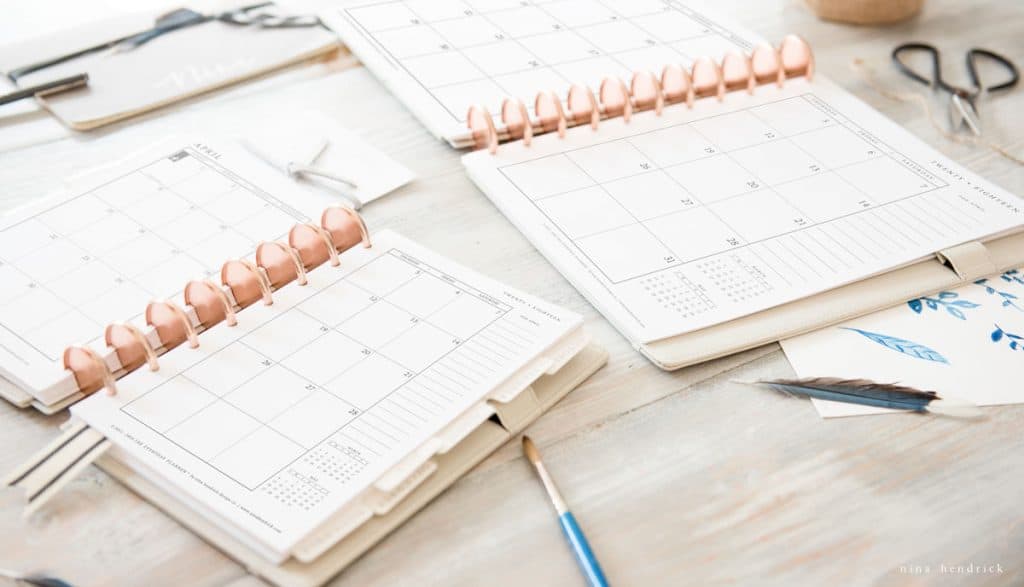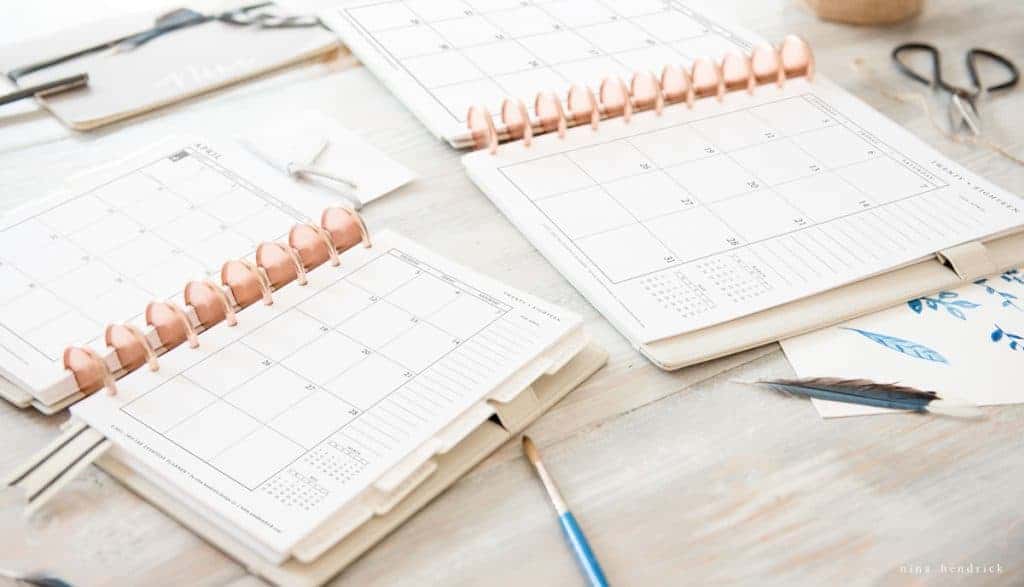 The Everyday Planner™ Getting Started Guide
Thank you so much for purchasing Nina Hendrick Design Company's The Everyday Planner™ Printable 2018 Edition! It gives me such joy to be able to share my designs and to help make other people's lives more happy and organized. This is the biggest redesign of the planner yet. It sounds a little dramatic- but I'm being completely honest when I tell you that I've poured my heart and soul into this design! There are big and exciting things in store for 2017, and we have our community and your always productive feedback to thank for what's ahead!
Our Story
The Everyday Planner™ was born out of one overwhelmed mother/wife/entrepreneur/blogger's need for some order and sanity in her life. Nina first began playing around with the design in 2013, and it made such a positive difference in her life that she decided to share it with others. Over the years since it was created, it has evolved to include everything that a busy woman needs to accomplish in a day. From focusing on daily goals, to keeping track of water intake, to scheduling your day, to planning what's for dinner- The Everyday Planner™ helps you stay ahead of what's important, and helps you turn your wishes into actionable goals.
First Things First
Downloading Your Planner
You will receive an email from me via SendOwl (the program I use to deliver the large planner file). It will contain a link to download the zipped planner file. Please make sure you are on a desktop computer when you download this link (the planner does not work from mobile or tablet)! The link may only be used up to three times for security purposes. After waiting for the download to complete (it may take a couple of minutes) please check your computer's Downloads Folder to find the zipped planner file. If you still cannot find the planner, search your computer's files for "The_Everyday_Planner_2018.zip ".
Unzipping Your Planner
You will need to unzip the compressed planner file The_Everyday_Planner_2018.zip by one of two methods. If you are on a Mac operating system, simply double-click and the file will automatically unzip. On newer Windows operating systems, you can right-click the folder and select "extract". On older Windows operating systems you will need to use a third party program such as WinZip or WinRar.
IMPORTANT: BEFORE YOU OPEN YOUR PLANNER PDF
Please make sure you have the latest version of Adobe Reader for Desktop. This is a free and safe PDF viewer, available at get.adobe.com/reader. Please double-check that when you open your planner that the top of the screen shows that you have actually opened these files in Adobe Reader, and not Apple Preview, or any other PDF viewer. This planner was created using features that are only available in Adobe Reader. If you open it in another PDF viewer, those features will be erased, and some of the formatting will look strange.
Opening Your Files in Adobe Reader
Please download and install the latest version of Adobe Reader, or allow it to update. If you are having trouble with your download and install, this page is a very helpful resource.
The quickest and easiest way to ensure that your files are being opened in Adobe Reader is to open Adobe Reader first, then open the files from the program.
To do this:
Mac:

Select

Applications > Adobe Reader

. Once the program is open, at the top of your screen choose

File > Open

… and select the planner file.

Windows:

Select Start or the Windows Logo on your taskbar. Scroll up to Programs, and select Adobe Reader. Once the program is open, at the top of the window select

File > Open

… and select the files from this kit.
If needed, more in-depth instructions for opening and operating Adobe Reader are available here.
You should now be able to see your planner and all text will be properly formatted!
Saving Your File
You can save any changes that you make to the file. I recommend saving your changes under a different file name, just in case you find you need the original.
Copy & Print Centers
A Print Release is included in your download folder so that the planner can be professionally printed. Office supply stores are often considered by those who don't have a printer at home. I have also heard that smaller shops, libraries, and community centers may have better rates, and it's great to support your community! Please note that the planner must be printed from Adobe Reader, even when printed professionally. We do not offer JPEGs or customization of any kind.
Printing Your Planner
<video3.insert>
A Note About Home Printing
Although we always try to provide as much help as possible, please note that all printers are different, and we can't be experts at the hundreds of variations that exist. Please do a "Print Preview" and make sure that the templates are within the printing area. If they are not, adjustments can be made in your page settings. If you are having difficulties with the page being cut off, colors not appearing correctly, or the resolution of the planner appearing much lower once it is printed, please contact your specific printer support.
About Paper:
I recommend printing the cover page on 110 lb cardstock, and the remaining pages on 32 lb printer paper. It is slightly thicker and more durable than regular printer paper and therefore will hold up better for the year.