Camp: Rustic Lakeside Log Cabin Home Tour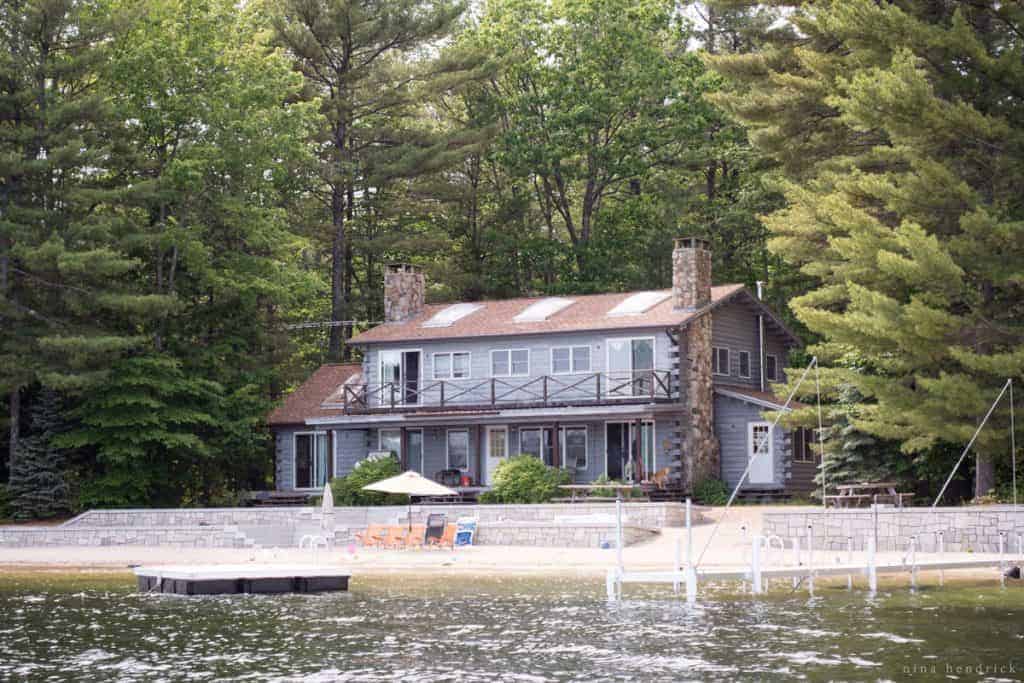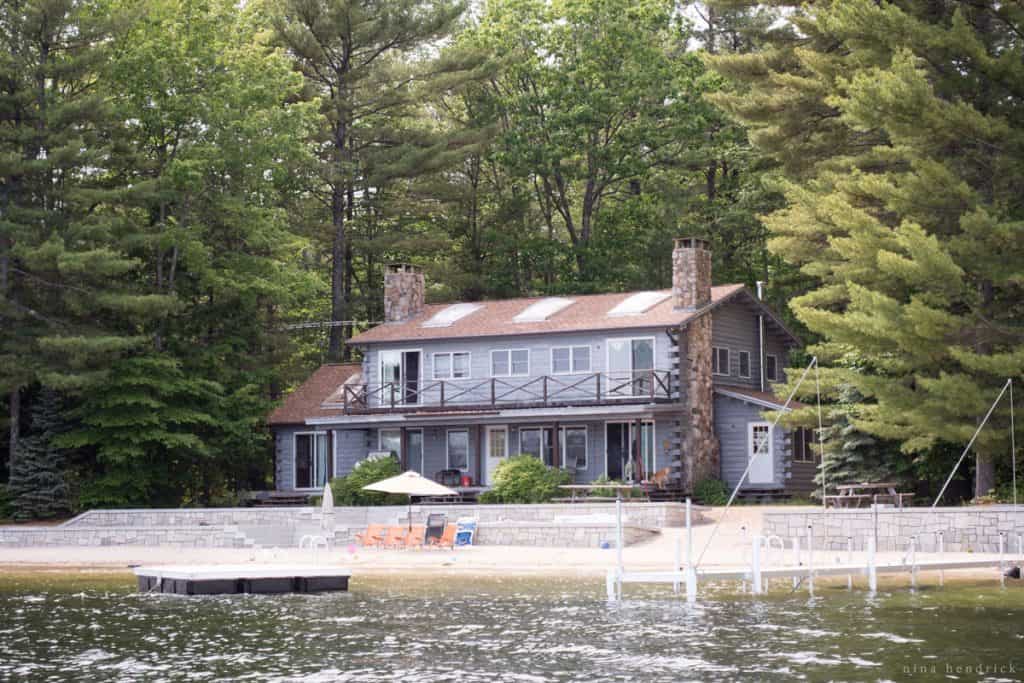 Rustic Lakeside Log Cabin Home Tour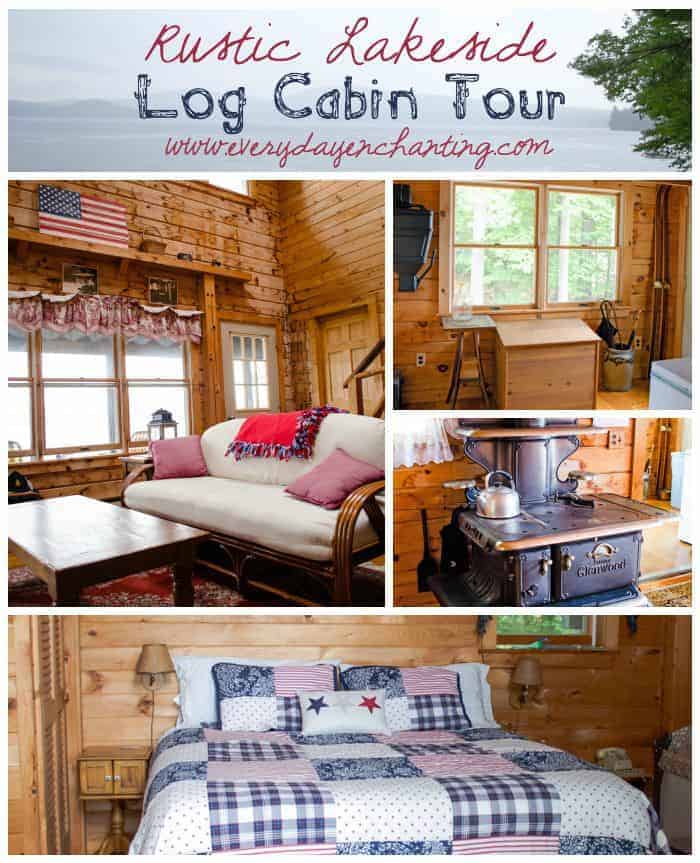 Welcome to Camp! We're spending a rainy but quiet weekend lakeside, and I thought it would be the perfect opportunity to share a Camp Tour with you! Now as I mentioned before– Camp is a log cabin located on a NH lakefront (you can see a photo of the facade in the post I just linked to). There's a large beach, and a large wooded area with trails. Some of our favorite things to do here as a family are go fishing, go for boat rides, play on the beach- or read on the beach under an umbrella in my case (I burn to a crisp in the sun, unlike my tan little men), go for 4-wheeler rides, have campfires in the fire pit… you get the idea!
On rainy days we spend time inside the house. Being myself, my mind is always whirling with ideas about the space and how to better utilize it for our family. However, as I've mentioned before- it's my father-in-law's home, so I constantly have to remind myself that any changes that we make are in decor only.
Mudroom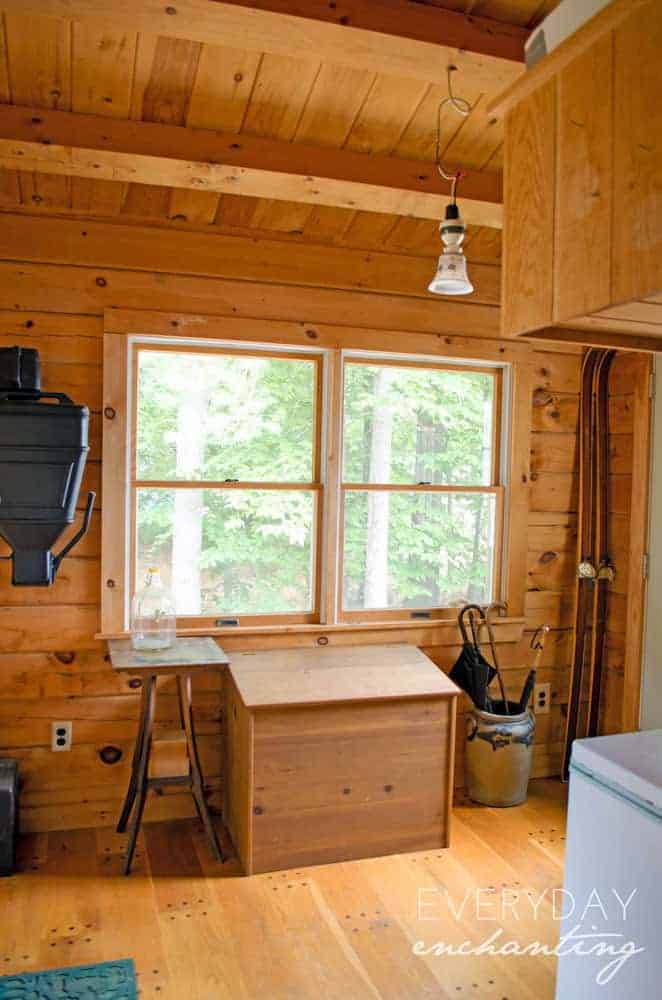 When we arrive for the weekend, we enter in the mudroom. There are some really cool vintage cross country skis in the corner, which I think would look great stored up on brackets on the wall.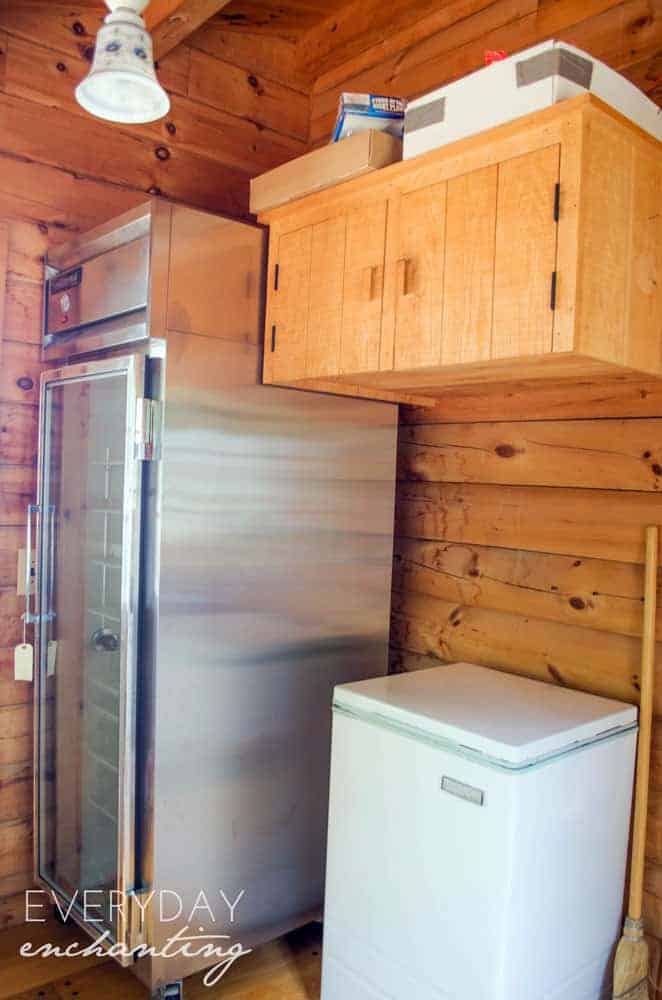 We have two freezers in the space, only one of which that works (the retro one- go figure!). I would love to have a bench under the opposite windows with cubbies for storage. There isn't a ton of wall space for hooks with all of the windows, but I'd love to try to add some of those too to keep our coats neatly stored in the winter.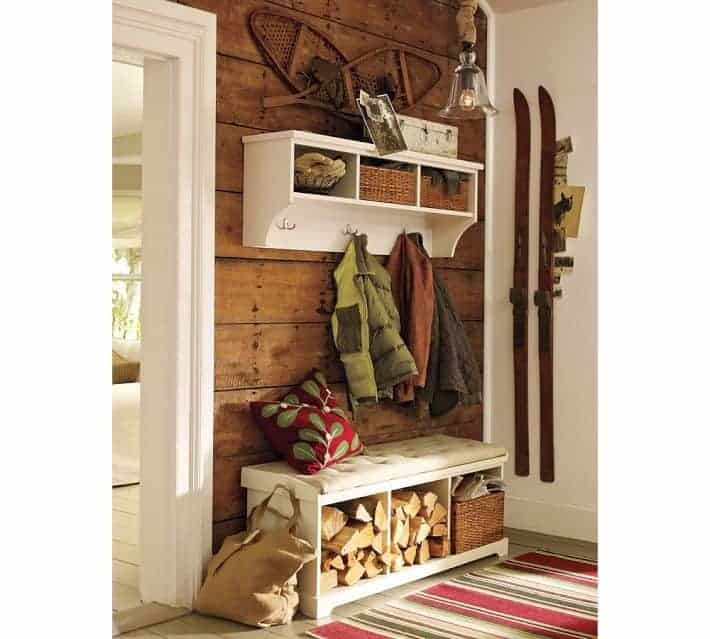 via Pottery Barn
Kitchen

The kitchen is wood on wood on wood. The cabinets are very rustic, rough cut pine.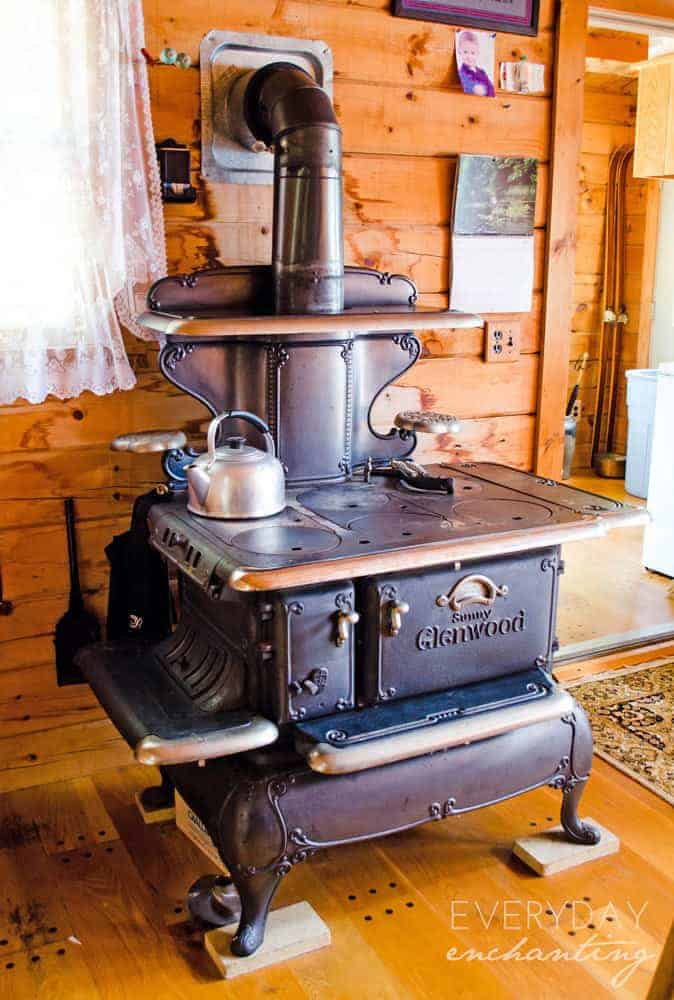 One neat element of the space is the antique cast iron stove. In the past, we've used this as an old fashioned warmer for food on Thanksgiving. As you can see in the photo, there's some water damage to the exterior logs from the pipe.
Family Room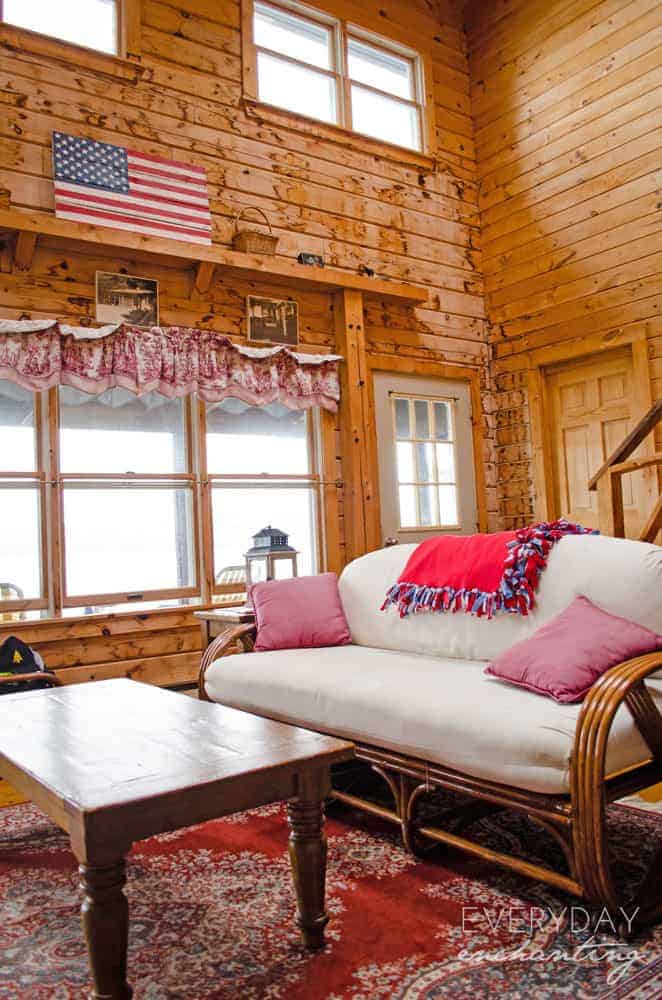 The family room is a cathedral space, with a large fieldstone fireplace as it's centerpiece. There's quite a bit of clutter, since it's where we spend almost all of our indoor time.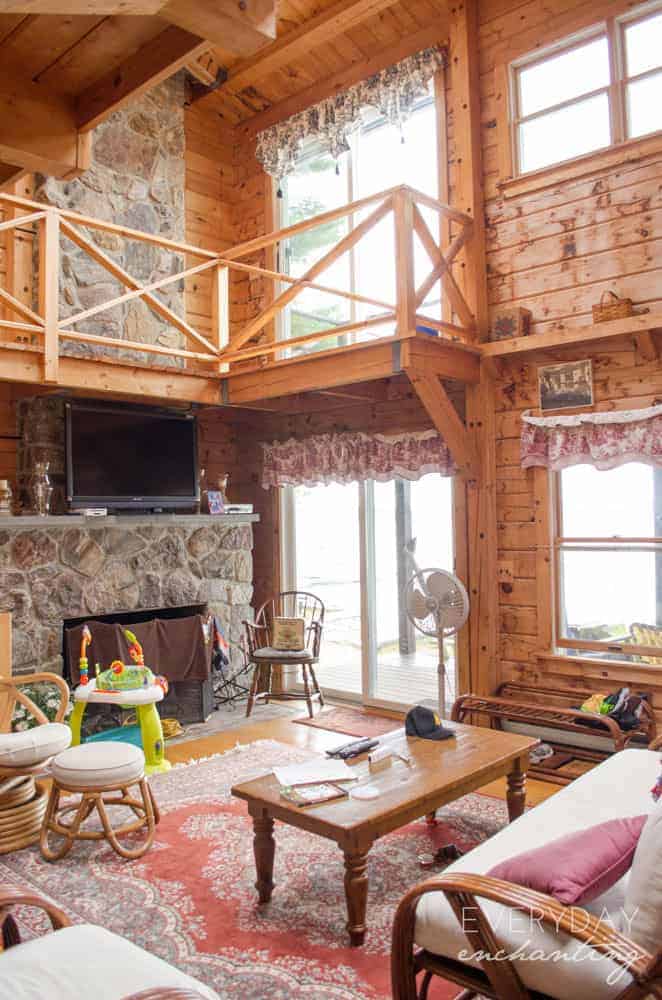 I would love to put a basket under this little table. There's a lack of storage in this room.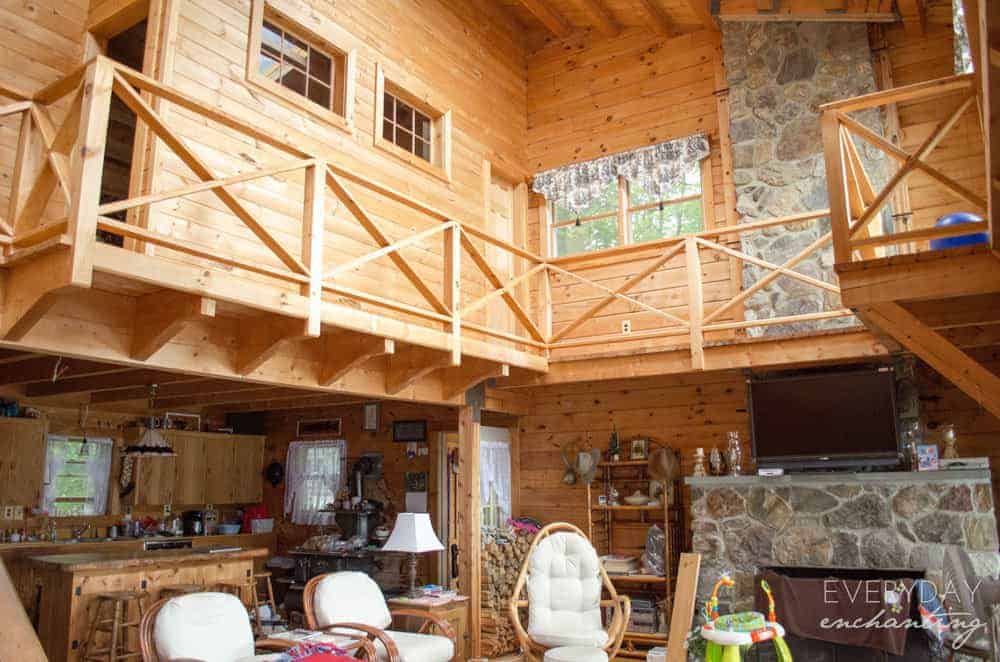 Here's a shot that gives a little perspective on the layout. The room you see upstairs is the red guest room.
Dining Room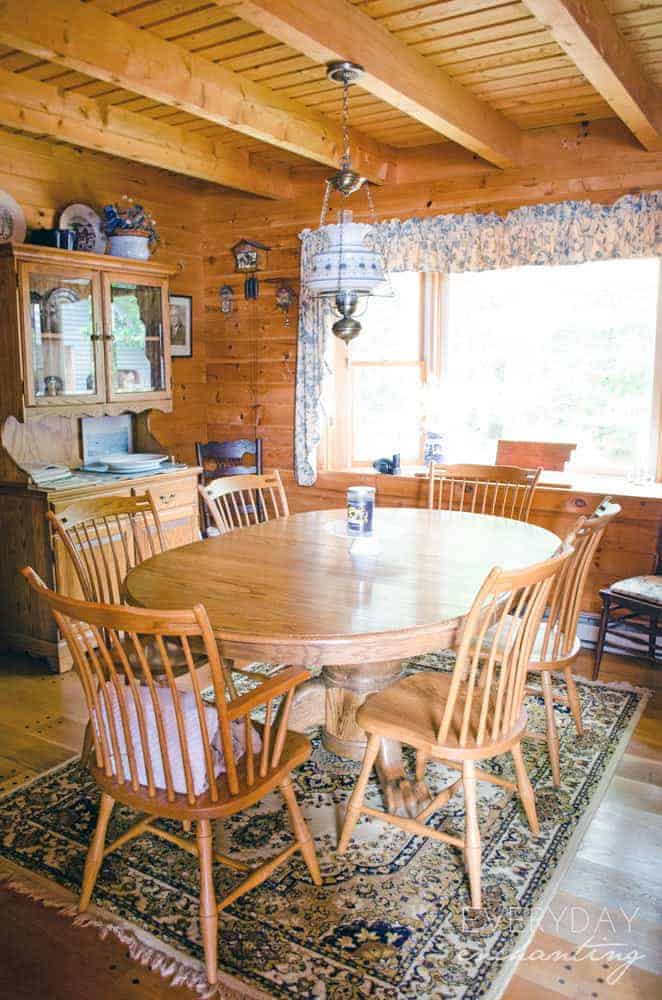 This room is actually a lot smaller than it looks in the photo! We actually rarely eat in here, it's mostly used for holidays.
Master Bedroom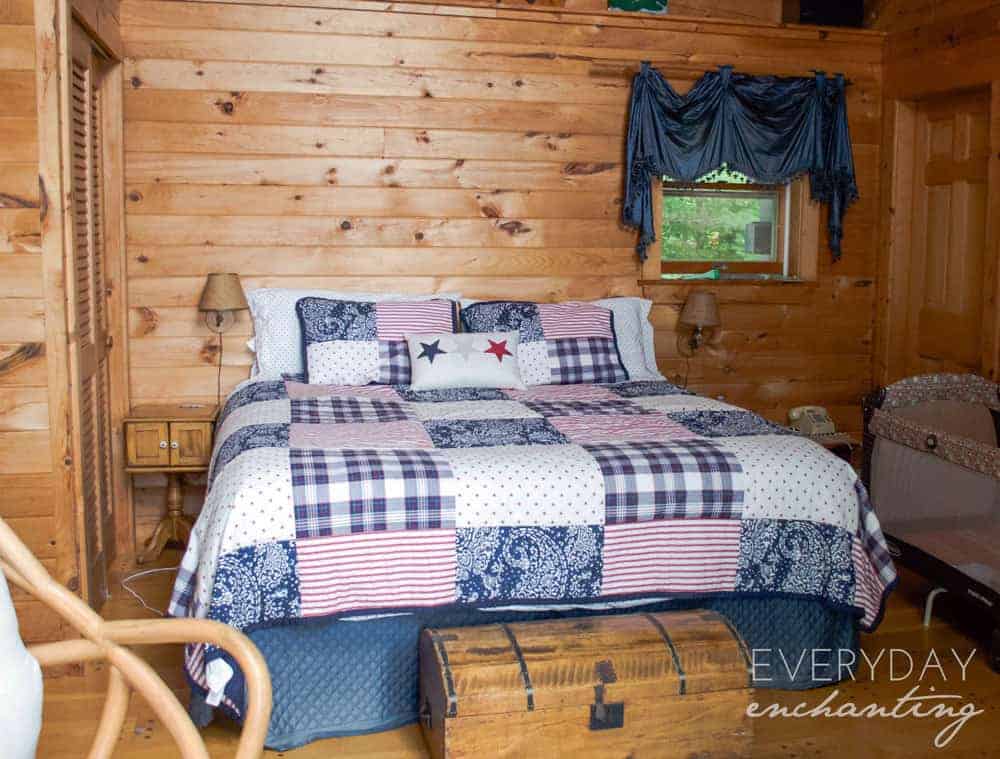 The only thing I've changed in this room so far is the bedding. I'd love to add a headboard and some artwork above the bed, and some new curtains.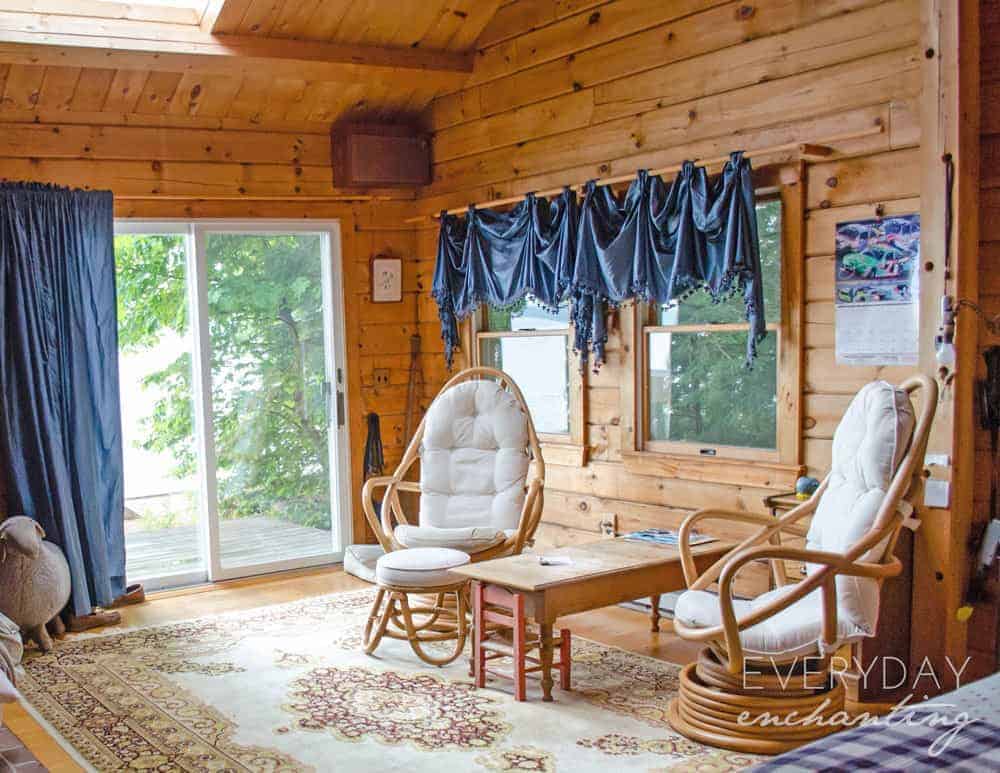 This is the sitting area in the Master Bedroom. It faces a fireplace (filled with more clutter) that I've never actually used.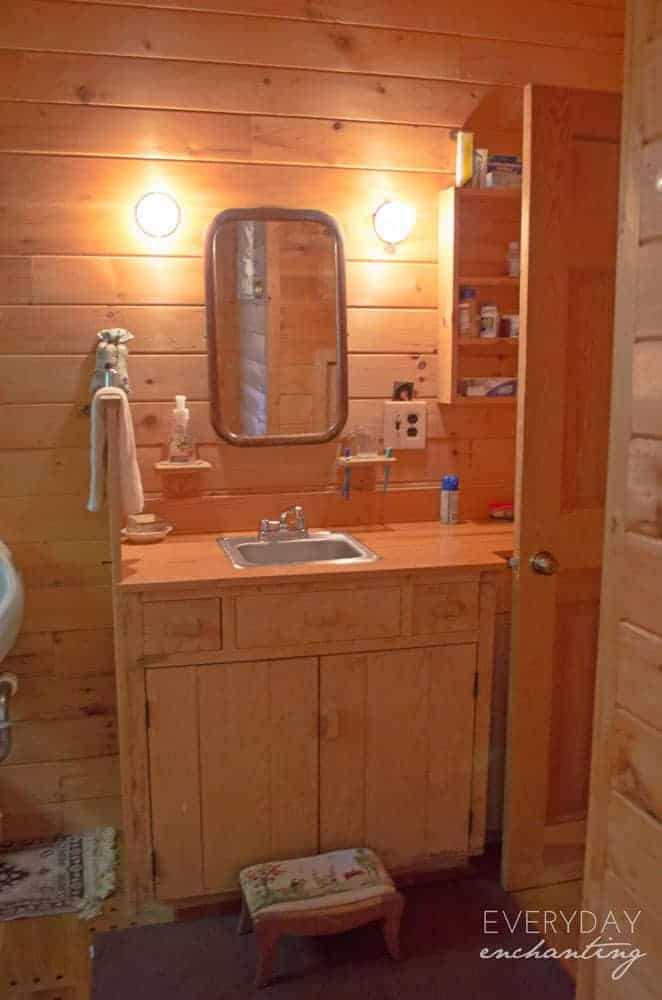 Here's a peek at the Master Bathroom. It's a tight space with two doors.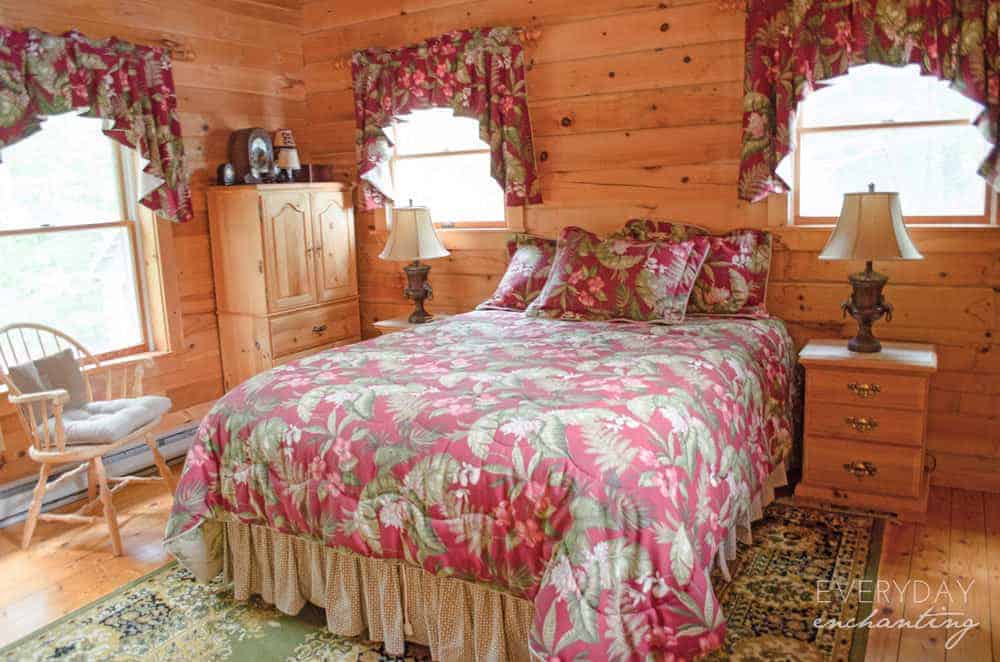 Moving upstairs, this is the red guest room. I'd love to swap out the bedding for something a little more "camp". Like plaid LLBean.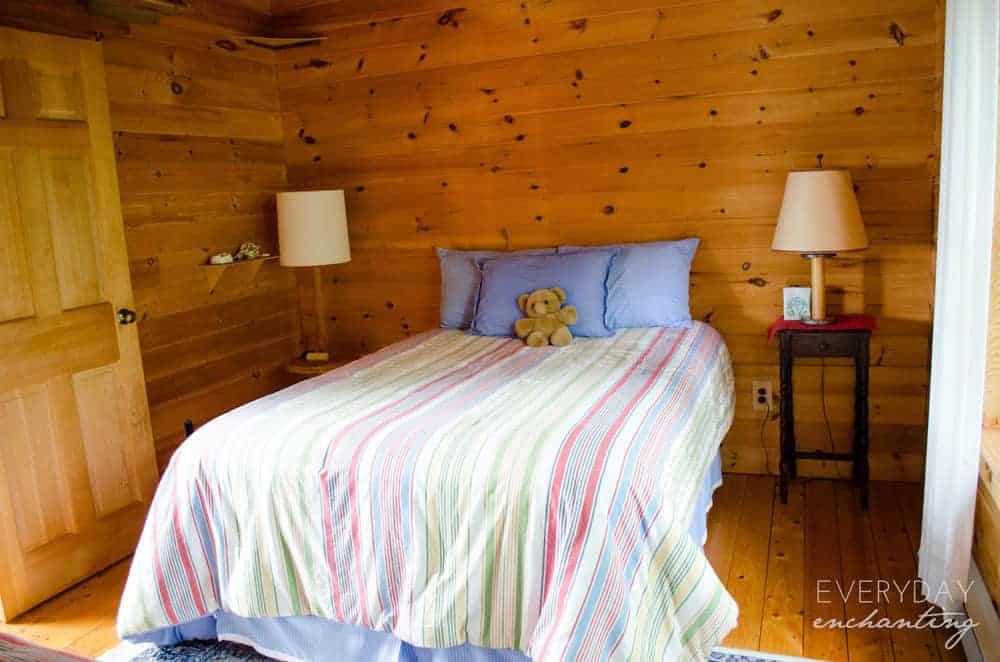 This is the blue guest room, which happens to be Mack's childhood room.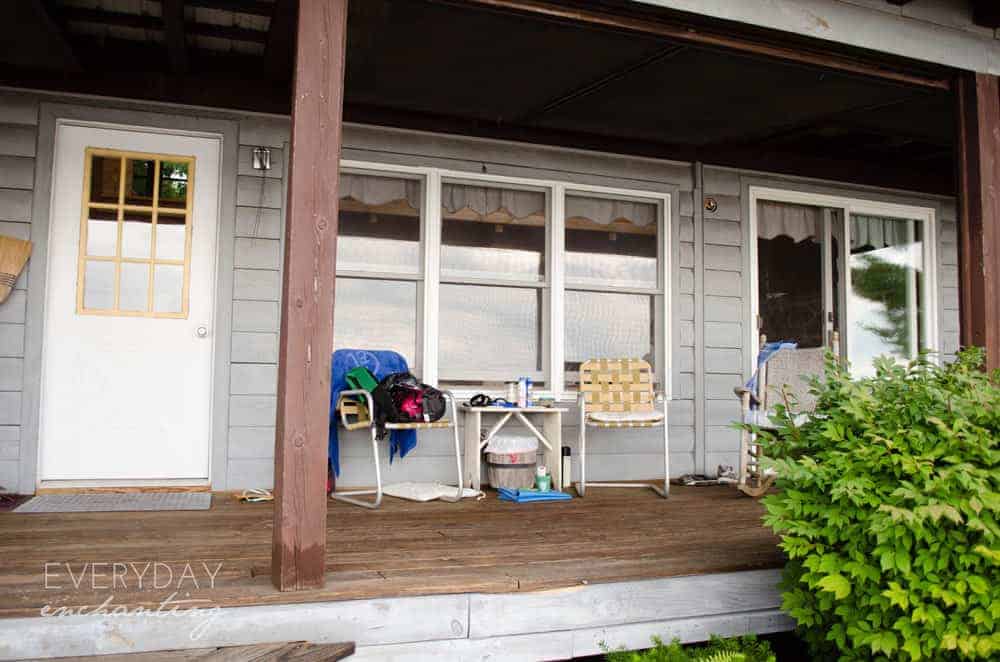 Here's the porch. This is one of the areas I'd really love to give a facelift (and I have a vision in mind of what I want it to look like!).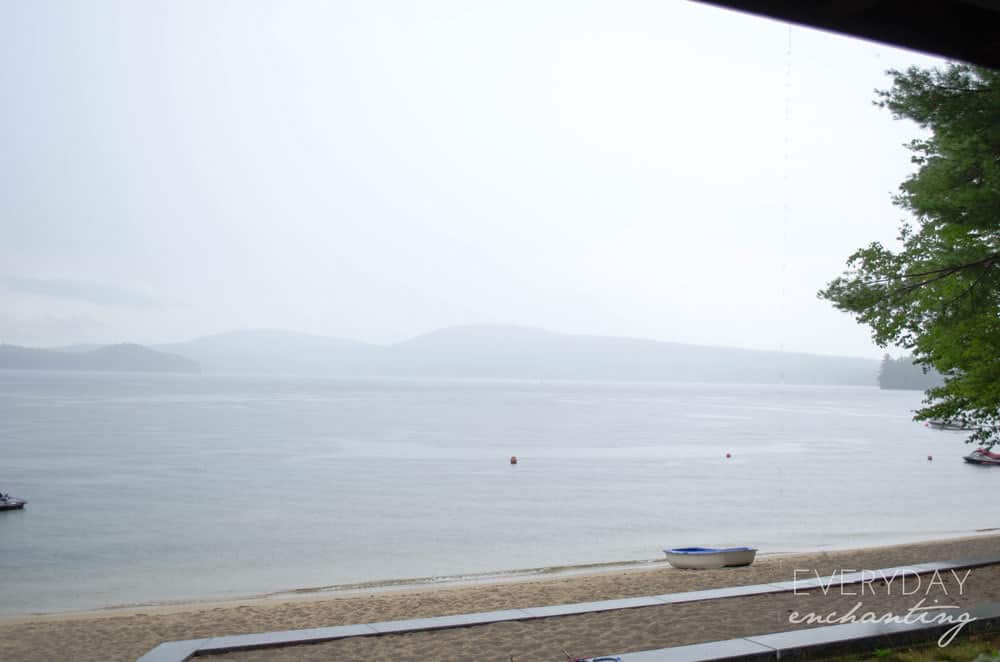 Here's our rainy lake. Fun fact- my parents live (and I grew up) on the hill off in the distance to the right. Little did I know that the person I'd marry was a few miles away. I often wonder how many times we passed by each other in the grocery store without knowing one another!
There's a few rooms I missed- the boys' room is an atrocious mess that they have to clean.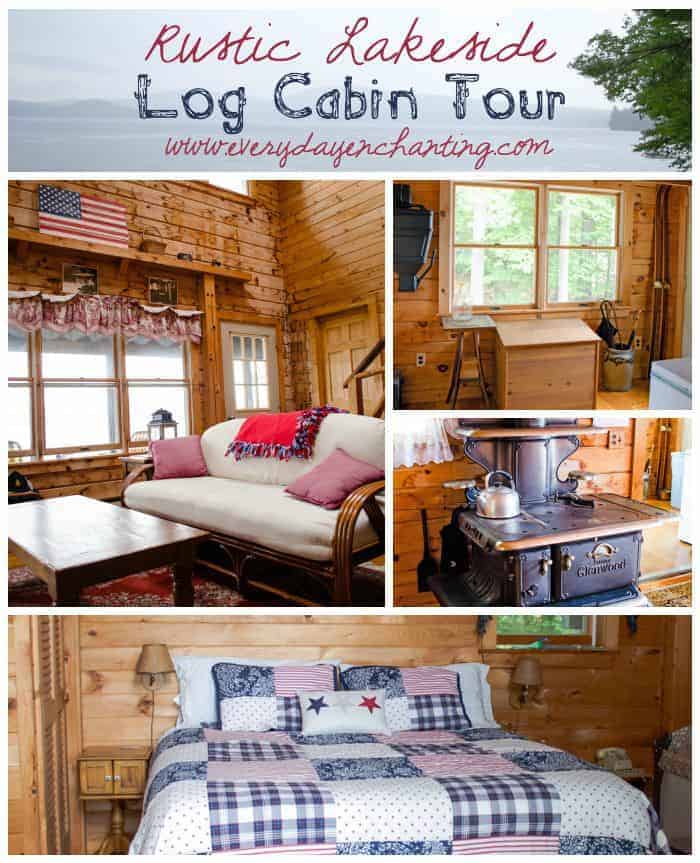 You can see more of our Summer Camp Series here. I will be back this week with a post from home about our new breakfast nook table!