Stylish Budget Window Treatments
Stylish Budget Window Treatments | Attractive and stylish window treatments don't have to break the bank. Get the look of custom treatments on a budget!
Window treatments are one of those hidden costs in home decor. It seems we never anticipate quite how much they will add up to. You can end up spending hundreds and even thousands for a single window, which is unrealistic for most of us. Frankly, it's also a bit unnecessary! You can get a really beautiful look on a small budget. Below I rounded up a collection of options for stylish budget window treatments that you are sure to love in your home!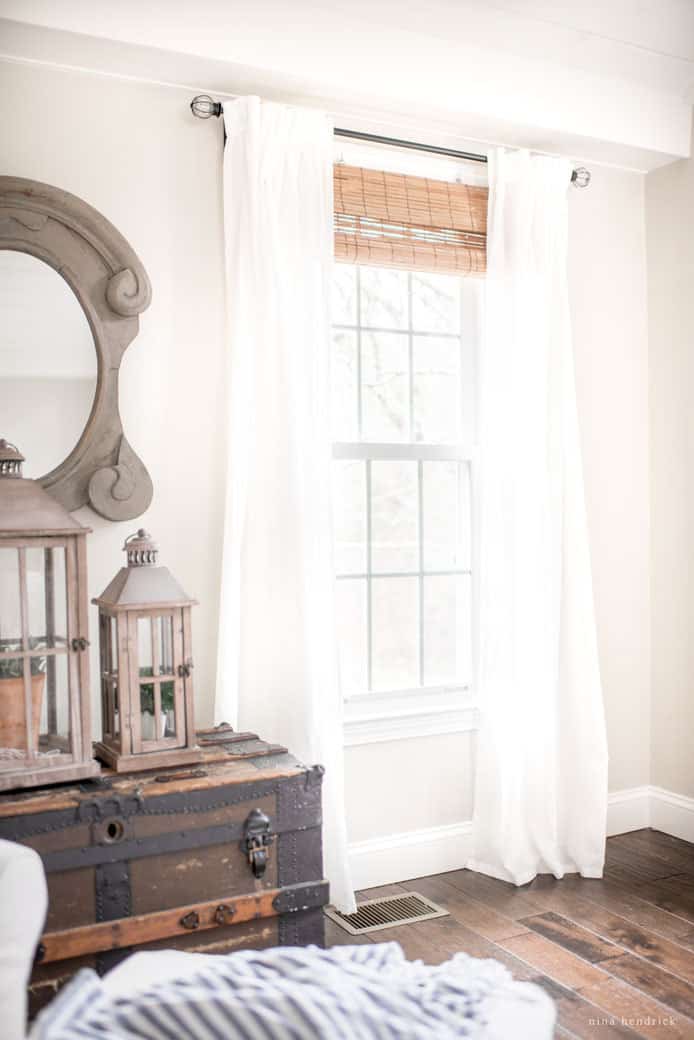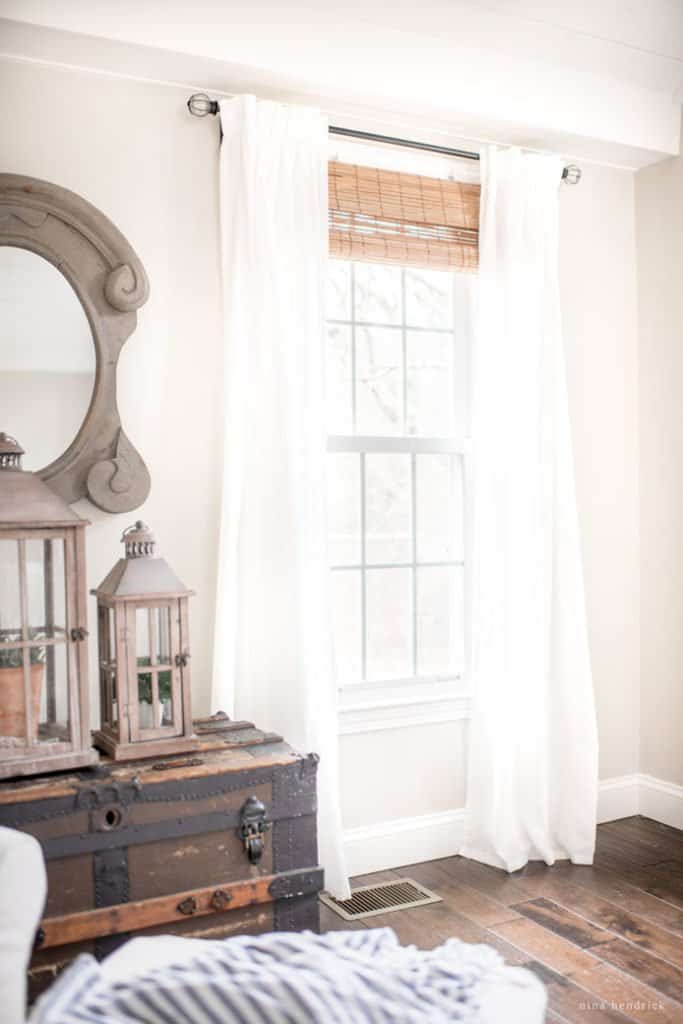 I am pretty middle-of-the-road when it comes to what I'm willing to spend on decor. If a piece of furniture is used often, like our slipcovered sofas, I think it is worth the investment. I'll also invest in solid wood furniture and professional artwork. However, window treatments are not an item that I'm willing to spend a lot on. Luckily, there are many options that fit the aesthetic we're looking for and are both beautiful and inexpensive!
How to Choose Window Treatments
Window treatments are always the final thing that pulls a room together! I like to think of the shades, curtains, or other window coverings as the "frame" of the room.
If window treatments aren't high on your budget, there are plenty of options to choose from.
Here are a few tips to think about when choosing window treatments:
#1 Keep it simple.
As the frame of the room, the window treatments don't need to be the focal point – unless, of course, your intention is such. To create a farmhouse style, I kept my coverings neutral and selected darker ones where needed.
#2 Use layers.
Window coverings can be practical and pretty at the same time. Building your window treatments with layers is a great way to get a designer look.
Think of your curtains, blinds, etcetera as an outfit: The most basic, functional items first, then layer outward to curtains or drapes. Creating layers is also a great way to filter light and adjust privacy.
#3 Make it you.
There are countless options beyond the natural shades with light drapes combination that I'm sharing with you today. This post is intended for those hoping to get a similar farmhouse look like what I have in my home.
No matter what's on trend, the items in your home should work for you and always reflect your style!
This post contains affiliate links, which means I may get a small commission (at no extra cost to you) if you shop my link. Please see my disclosure if you'd like more info!
Stylish Budget Window Treatments
Natural Shades


I use natural shades because I love the texture. They are a nice contrast to my light paint colors. I often choose shades to match or complement the existing furniture finishes. Overall, they add character (which I talked about in this post!) and warmth to your space.
No. 1 | Tuscan Roman Shade
This is a similar source to what you see in the photos in this post, but not the exact shade (which is no longer available). Instead of the roll-up style, these are cordless roman shades (which I prefer!). "Tuscan" is close in color to what we have, but I also like the "Dali Native" color. There are many size options to choose from to fit your exact windows. These shades have a warm finish, and I love how they play off of the natural raw wood in our home.
No. 2 | Driftwood Roman Shade
These shades are a step-up from the roll-up shades in functionality but are comparable in price. Rather than the roll-up style, which can be a little frustrating, these are a classic roman shade and go up accordion-style. They hold up really well over time. I appreciate the cordless safety feature. I also really love the driftwood finish, it's my favorite weathered gray. Honestly, if I found these sooner they would be throughout my house rather than just in a couple of rooms.
No. 3 | Cocoa Roll-Up Shade
These roll-up shades are the same as what we have in our home but in a darker stain. We have these shades in the Dining Room to tie in with our dark hickory hardwood floors.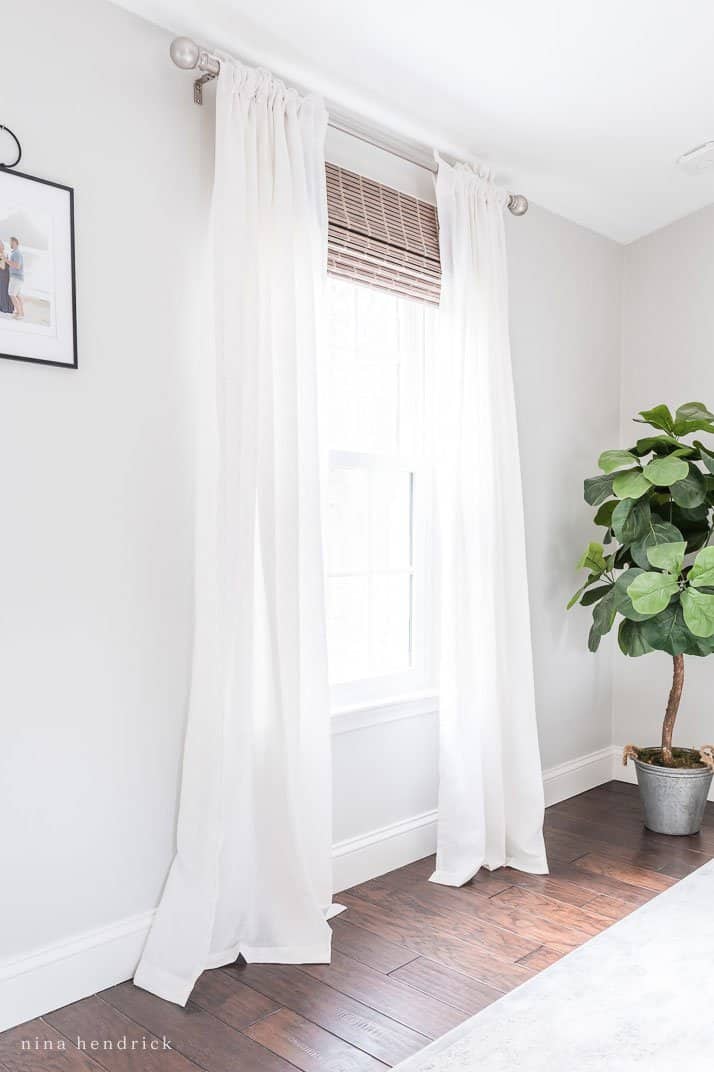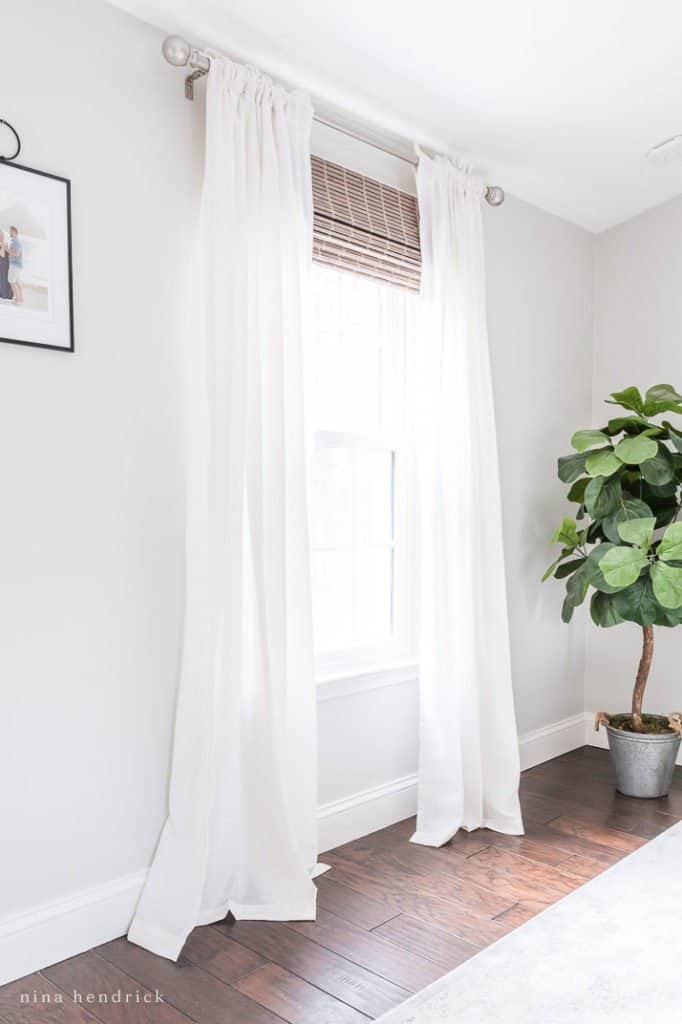 In our recent Master Bedroom Makeover, we used the Driftwood Shades, Basic Curtain Rod & Hardware in Satin Nickel, and Linen Curtain Panels.
Window Treatment Hardware


While you can get window treatment hardware in any finish, I just happened to choose dark options for this collage. We have dark floors and door hardware, so it is my main choice for our home. With that being said, you don't have to have just one finish through your house, and we also have brushed nickel hardware and brass in rooms in our home.
No. 4 | Basic Curtain Rod with Round Finials & Mounting Hardware
This hardware is about as classic as you can get and is hands-down my favorite at a very reasonable price. I really like that the brackets are small and hidden by the drapes. As the top review says— they look like Pottery Barn at a fraction of the price!
No. 5 | Window Treatment Rod with End Caps
This hardware is also very classic but is a bit more elevated with a decorative bracket. The end caps give the rod a more modern flair.
No. 6 | French Pipe Drapery Rod
I love this industrial-inspired option. Not only do the drapes wrap around, which give them a fuller appearance, but the hardware is extremely stylish on its own and affordable.
I intentionally didn't link to my curtain rods with the cage finials. They were from IKEA several years ago, but I really don't like them. The curtain rods haven't held up well (and have actually mostly been replaced) and the mounting brackets are unnecessarily large. However, I know a lot of people like the final style. They were the IKEA BLAST, but they're no longer sold and the combo of a cage and acrylic seems to be unique. For a similar feel at a good price, try these.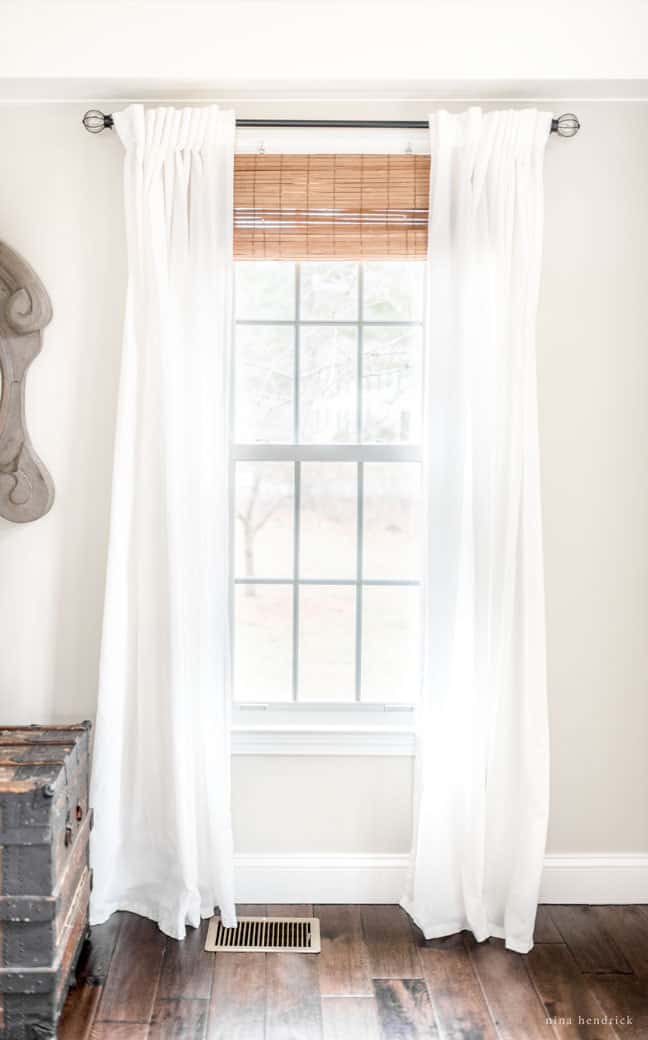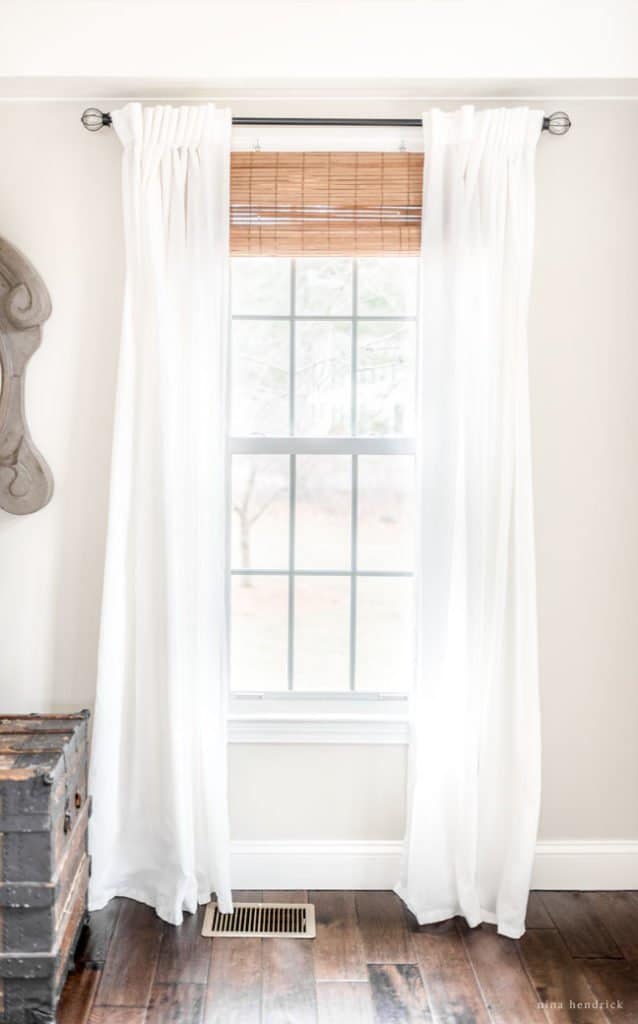 Get a similar look to our Family Room window treatments with a Tuscan Roman Shade, Basic Curtain Rod, Clear Finials, and IKEA Vivan Panels.

Light & Airy Drapes


I gravitate toward light and airy drapes because I love the fresh feeling they bring into a room. They look very clean, and you don't lose much light. They are my go-to choice for curtains and drapes.
No. 7 | IKEA Vivan (pictured in the photos of our family room)
I have had these drapes for about six years now. While thin, they are not completely sheer. Readers often describe them as "the curtains that look like a bedsheet" and that's an extremely accurate description. The weight in person is comparable to a standard cotton bedsheet. We had to hem them for our family room, as they come in very long lengths.
No. 8 | Lace Sheer Curtain
These romantic lace panels are similar to some that I picked up at IKEA years ago and used in my daughter's room. It's a slightly whimsical variation to use along with the natural shades.
No. 9 | Linen Curtain Panels
I love linen, and these curtains are an extremely affordable way to bring in a luxury look. They are a bit heavier than the other options and the "natural" color is pretty close to white. We have them in "natural" for our Dining Room and Master Bedroom.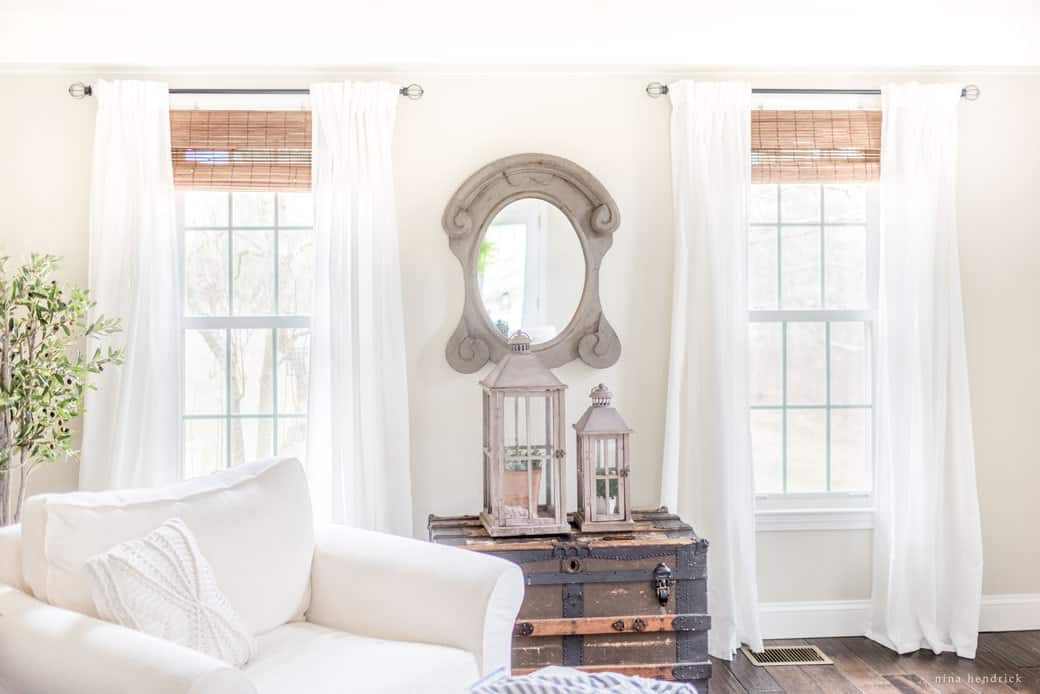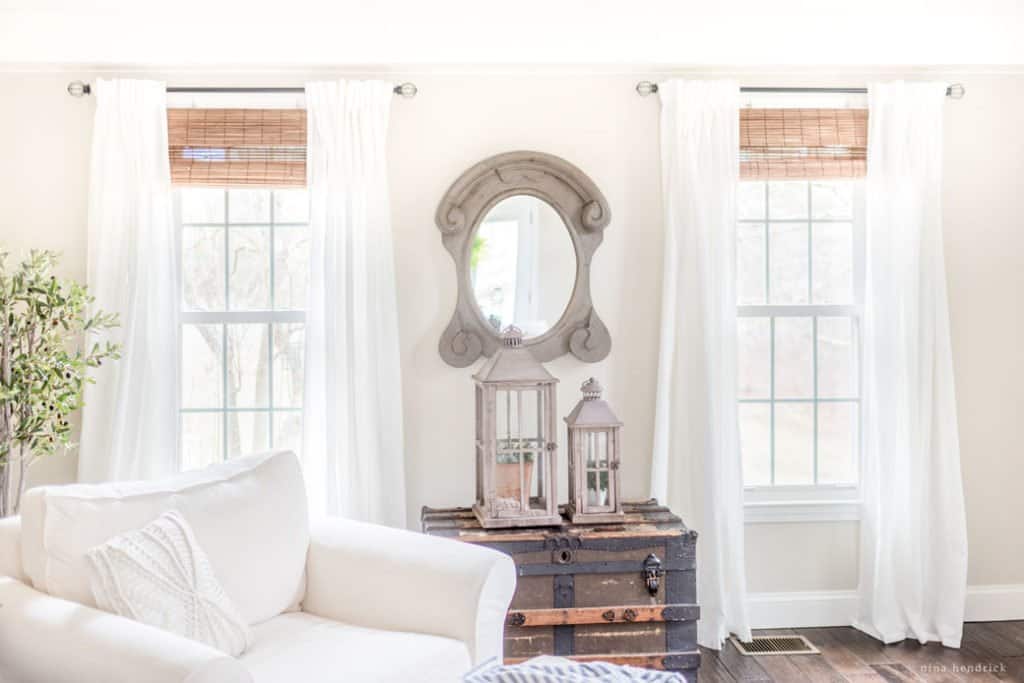 All in all, window treatments help to create the mood for a room, so it's up to you to determine what you are trying to accomplish. If you are looking for a light, airy, and warm look I hope that these ideas for stylish budget window treatments were helpful to you. Let me know in the comments or tag @ninahendrickhome on Instagram if you end up using any of these combinations in your home!