Looking for a way to ease into fall decorating without going overboard? This subtle fall decor brings in hints of the season for years when you want to keep things simple.
It's hard to believe it's already that time… but grab your mug with a warm beverage and snuggle in to take a tour of our NEW home (if you have no clue what I'm talking about, you can catch up here) decorated for fall!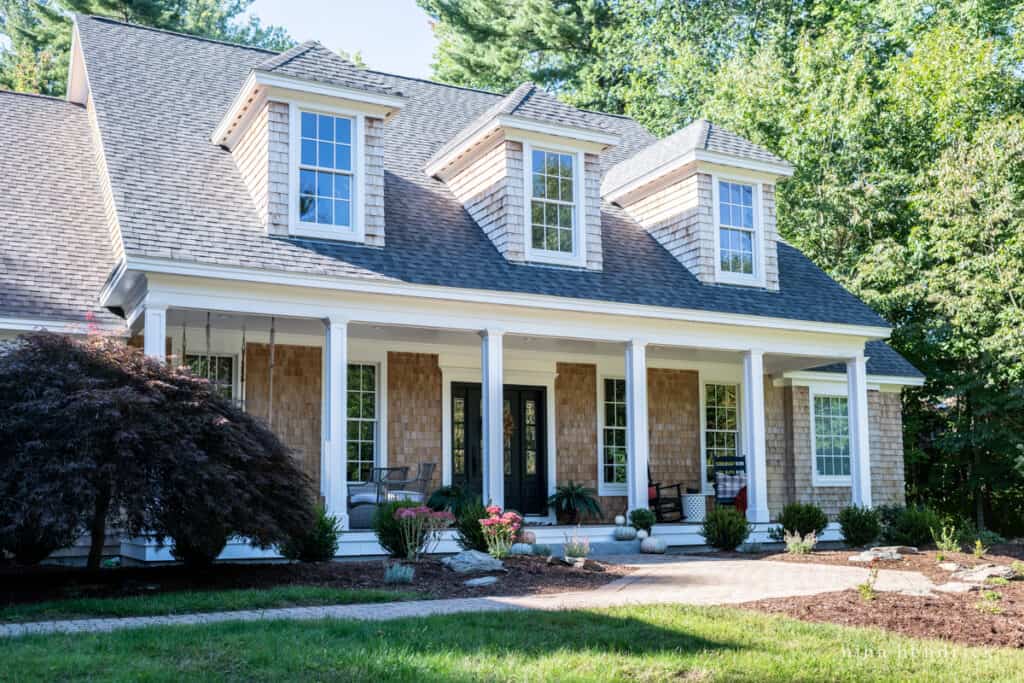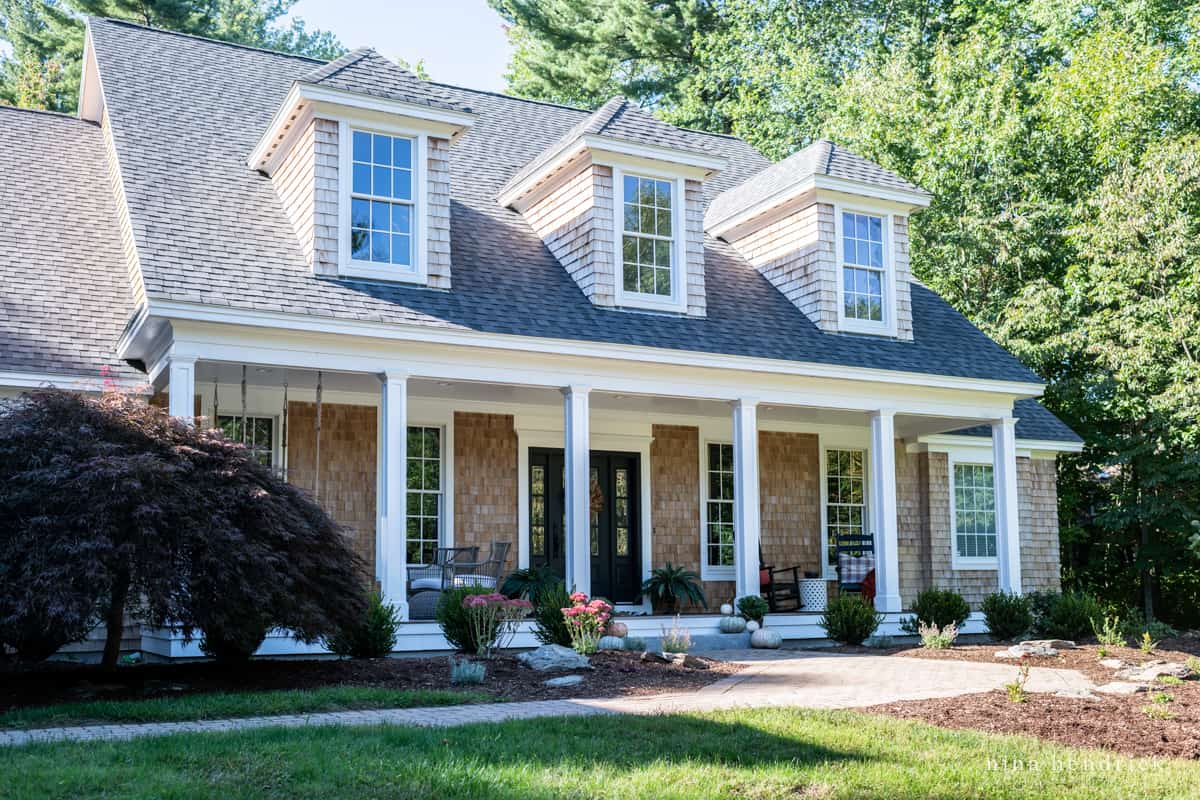 I'm sharing as part of the Seasonal Simplicity tour. If you're continuing from Grace in my Space, welcome! If you want to start back at the beginning, you can visit our hostess Krista at The Happy Housie here. I just know there will be so many ideas and inspiration for you this week!
Subtle Fall Decor on the Porch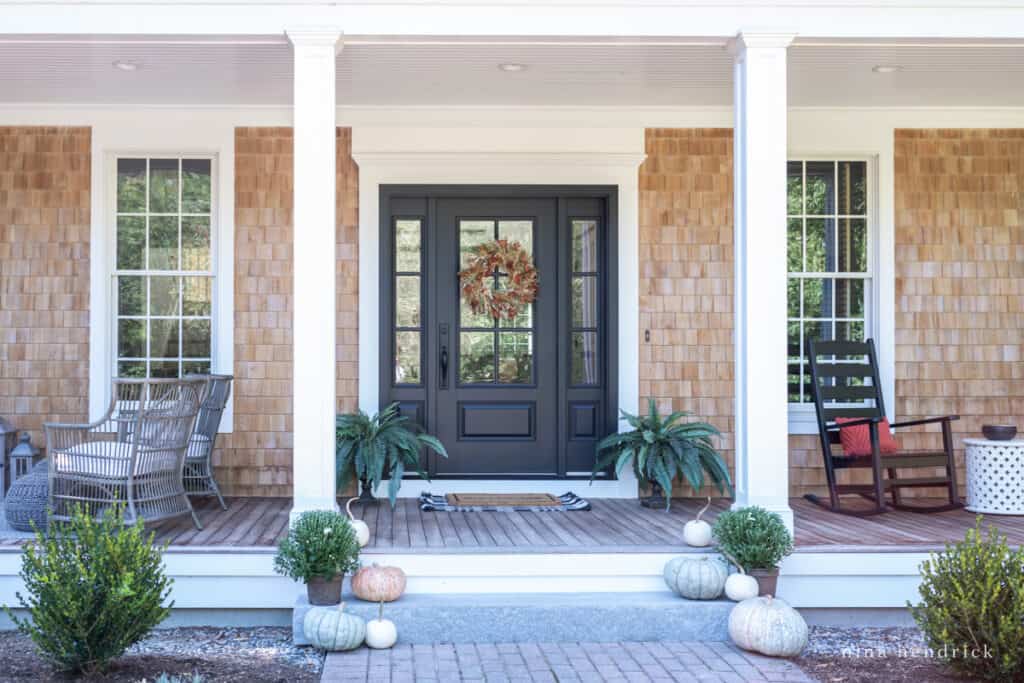 Since we're just settling into our new home, I knew I wanted to keep things simple for this point in the fall. The kids began their new school a couple of weeks ago and it's been a whirlwind of activities as the year starts back up. With that in mind, I opted to go for subtle fall decor again this year. I know I'm not exactly a stranger to that concept. I also shared what I called a muted fall theme a couple of years ago.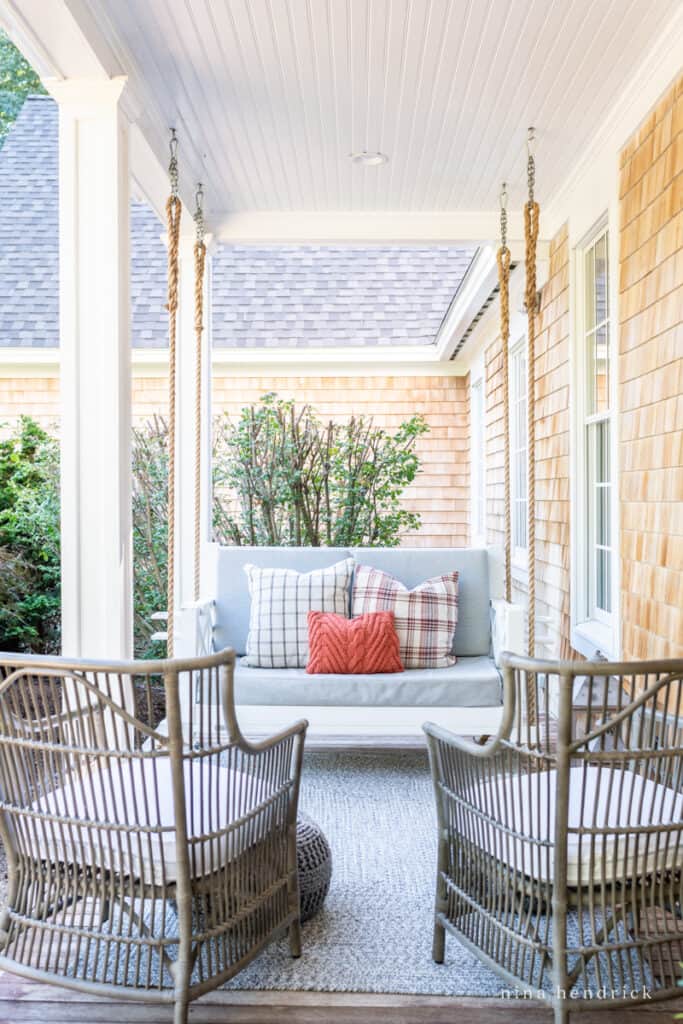 If you're thinking that our new porch looks an awful lot like our previous home, you'd be right! It was intentional to set up our new porch the same way, including hanging our swing as one of our first steps after we moved in. We loved our previous porch, and we were really excited to bring it right with us to the new house.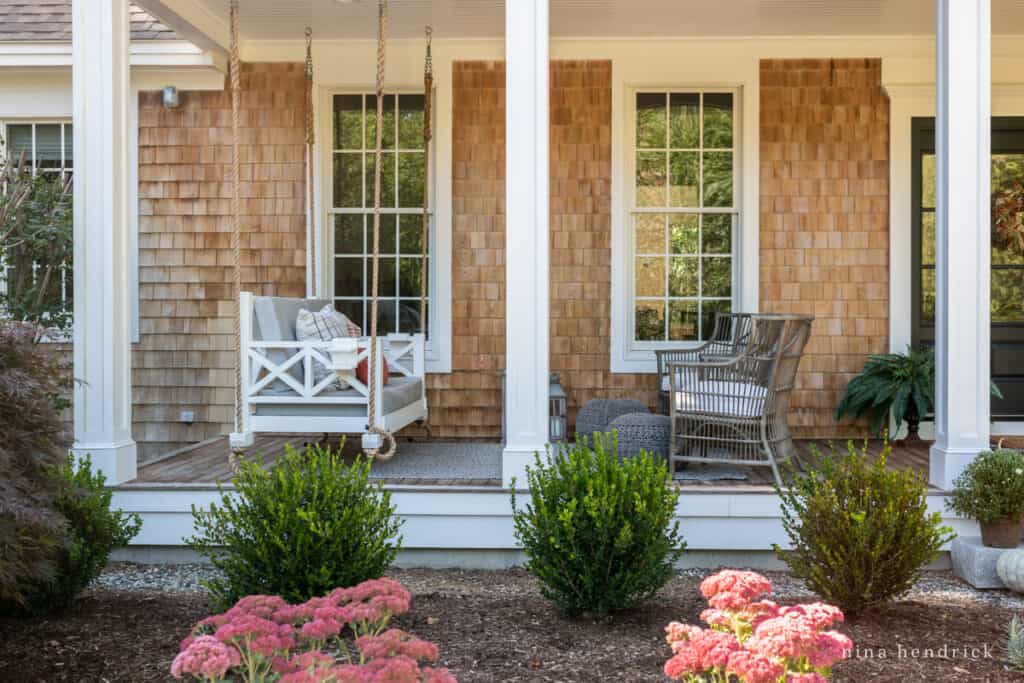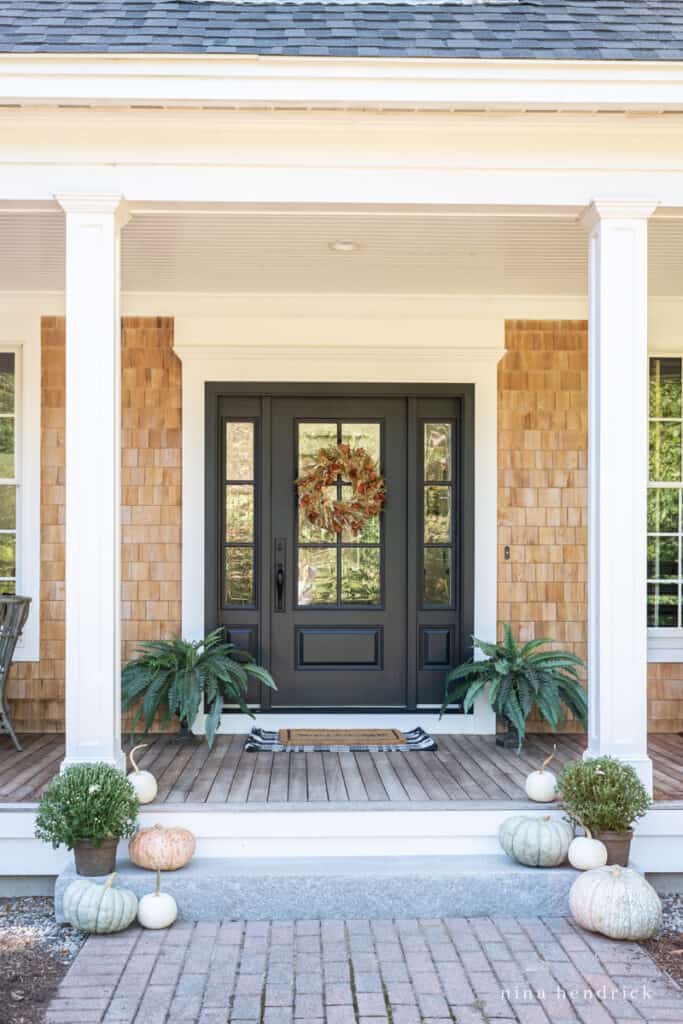 One benefit to now living in New Hampshire is that I could pick up some heirloom pumpkins and mums right at the farm stand minutes from our house!
The subtle fall decor touches I added to the porch were all items I purchased previously, aside from the pumpkins and mums, of course.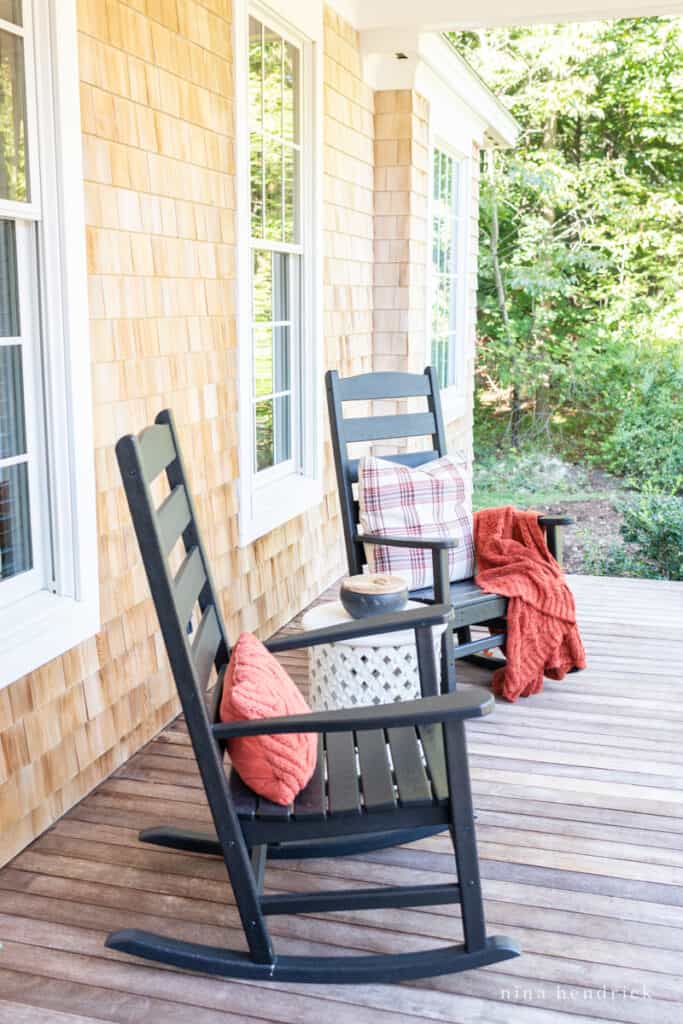 Subtle Fall Decor in the Dining Room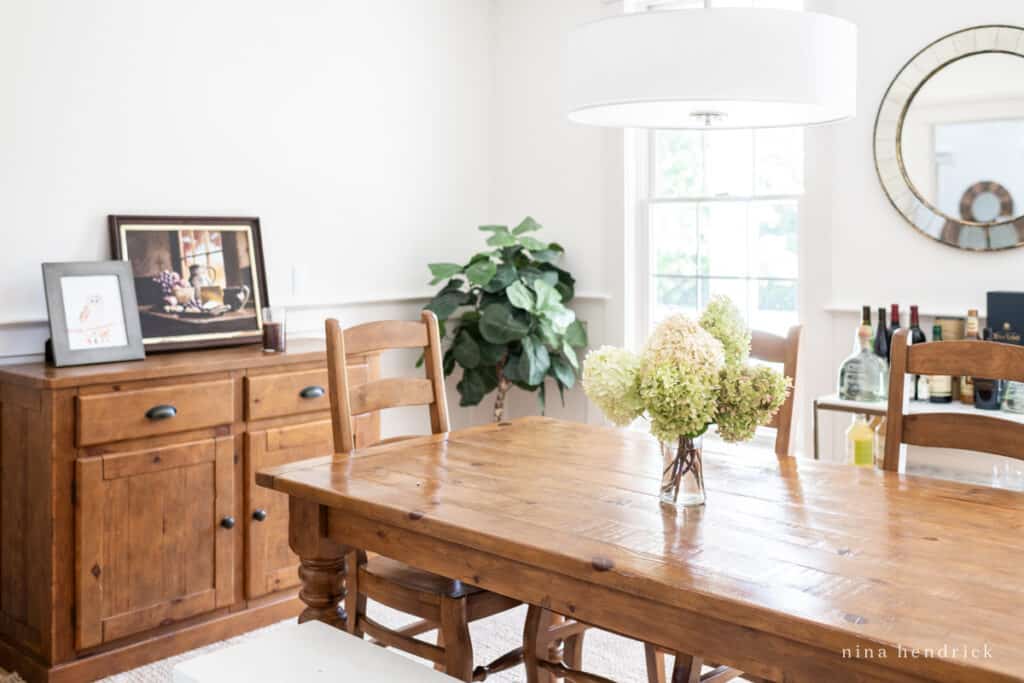 I wanted to show you a little peek into our dining room. Our harvest pine furniture (purchased over a decade ago after our wedding) looks pretty perfect in here. I think I'm going to do some sort of wallpaper on the upper half of the walls. The board and batten treatment was painted Benjamin Moore Pale Oak by the previous homeowners and the upper walls are White Dove. For a subtle fall decor touch, I brought in a combination of fresh and dried limelight hydrangeas from my shrubs.
Subtle Fall Decor in the Family Room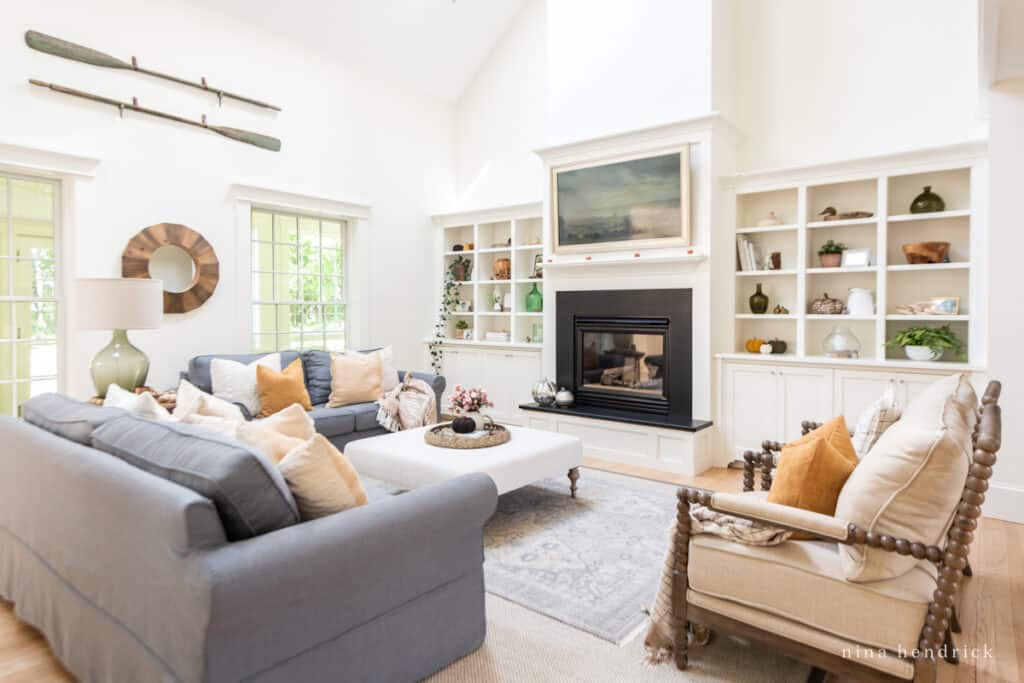 The family room is the most complete room in our new home, which makes sense. We also just completed our family room at our previous home before we moved!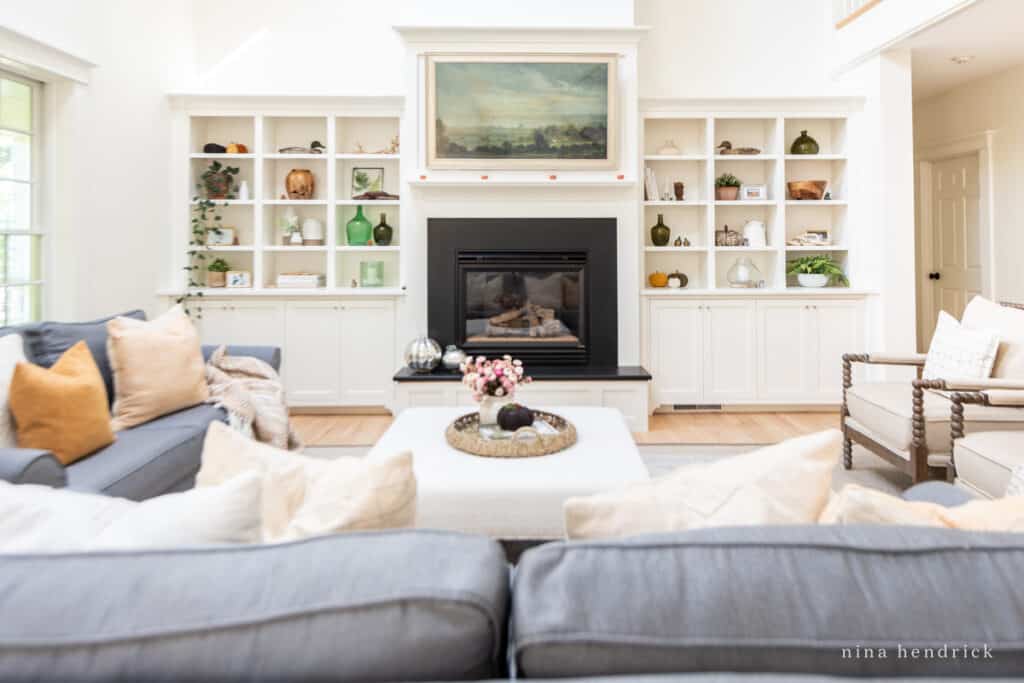 Luckily, all of our existing furniture worked very well in the new space. We still may replace the sofa with a sectional in the future (and move these sofas to the bonus room), but for now we're testing out this furniture layout.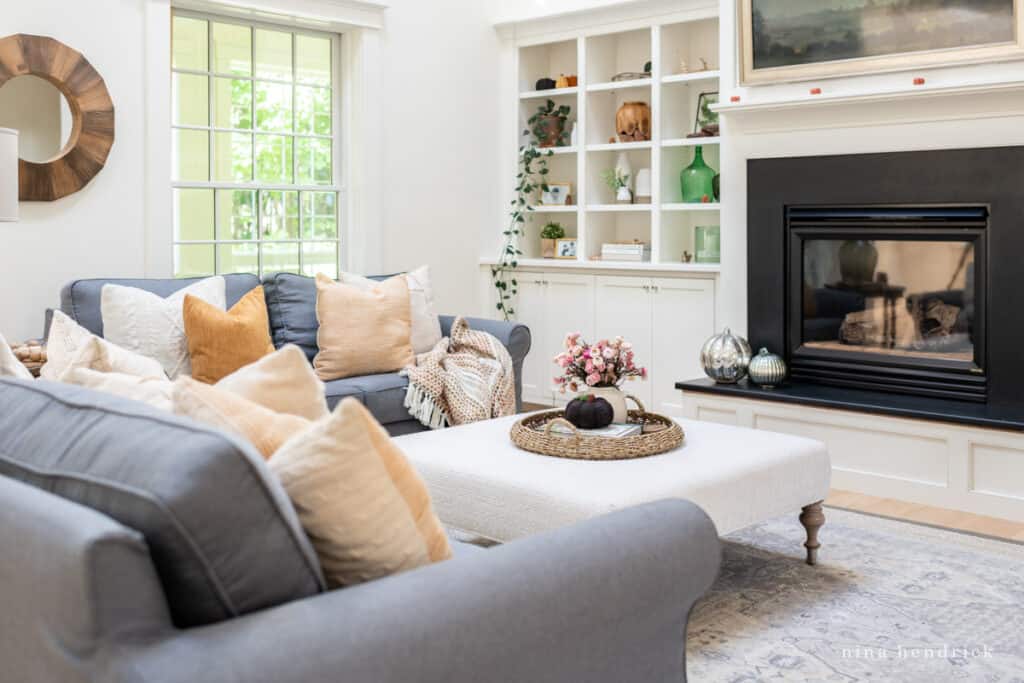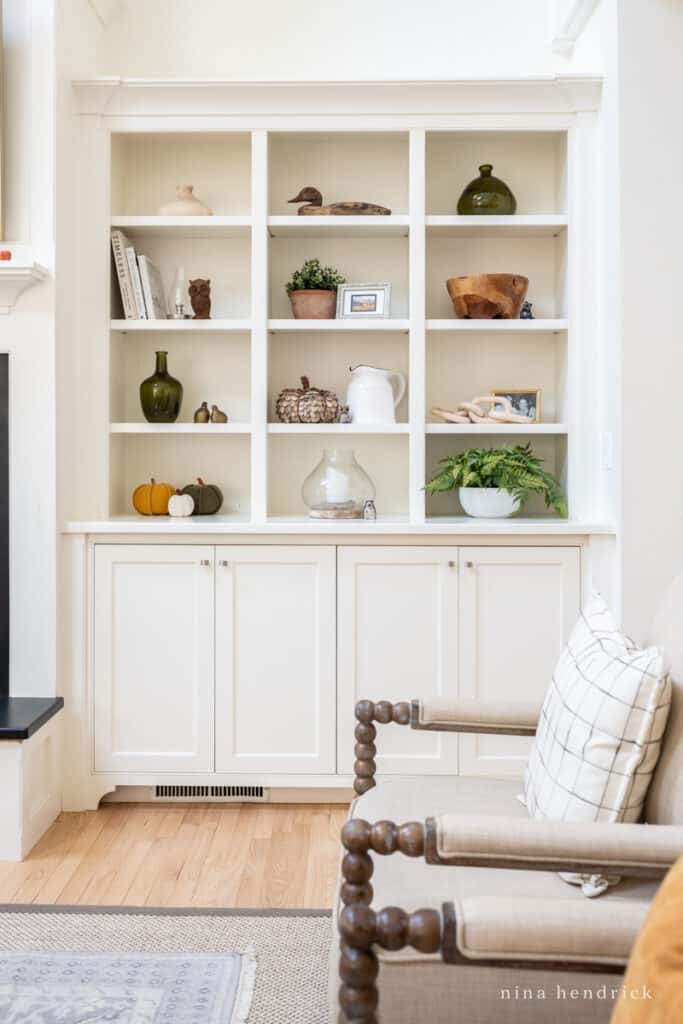 I added some felt pumpkins from the Target dollar spot to the built-ins, as well as some sweet woodland critter candles I've had for years.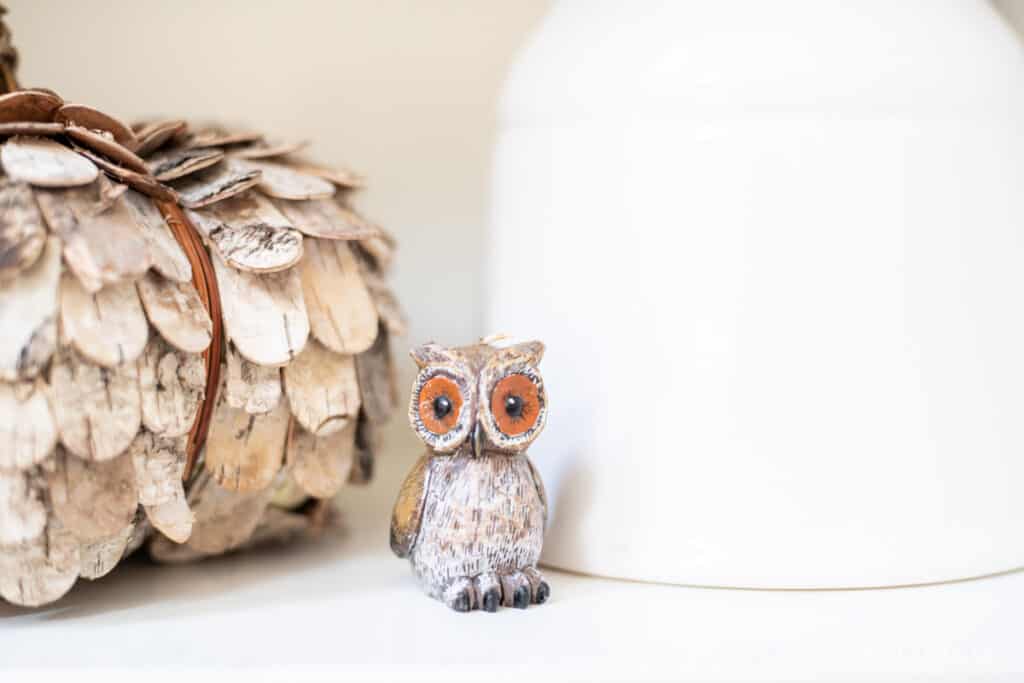 Some were from Pottery Barn and some were found at Target. I believe they still have them occassionally!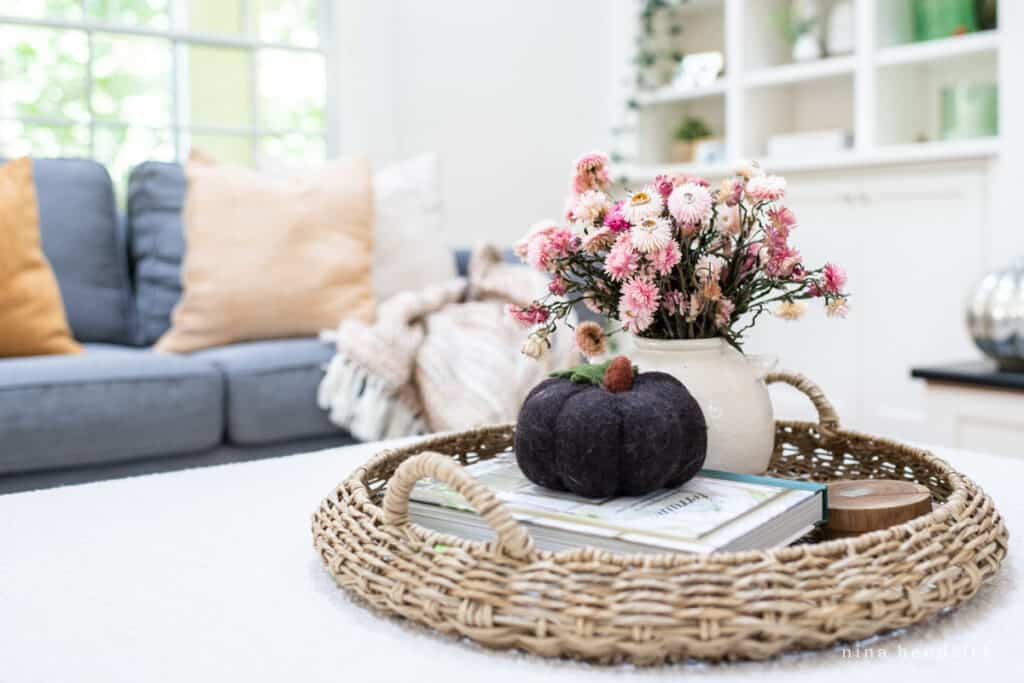 One subtle fall decor touch I experimented with this year was dried flowers. The only dried flowers I usually decorate with are hydrangeas, but I found these at the Farmer's Market where I bought the pumpkins and mums. I thought they were really gorgeous, and I loved the juxtaposition of pale pink along with all of the faded orange colors.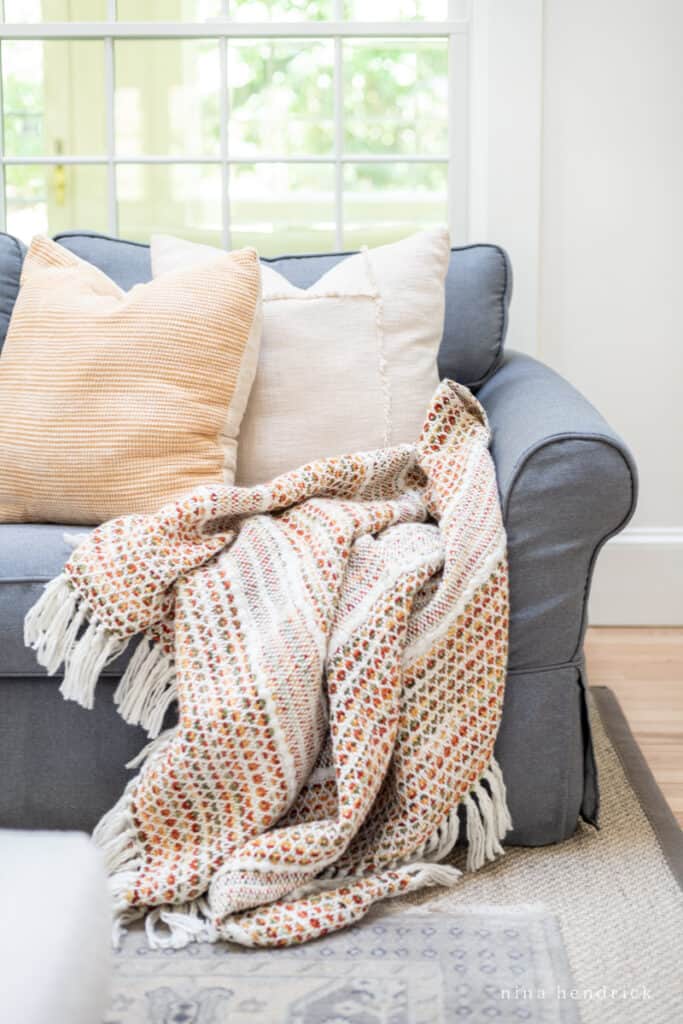 The fall pillows and blankets were all HomeGoods finds, so I'll be working to source some similar ones (or find the original source) over the coming days. This blanket reminds me of one my grandmother had crocheted and had on her sofa, I think it must have had similar colors!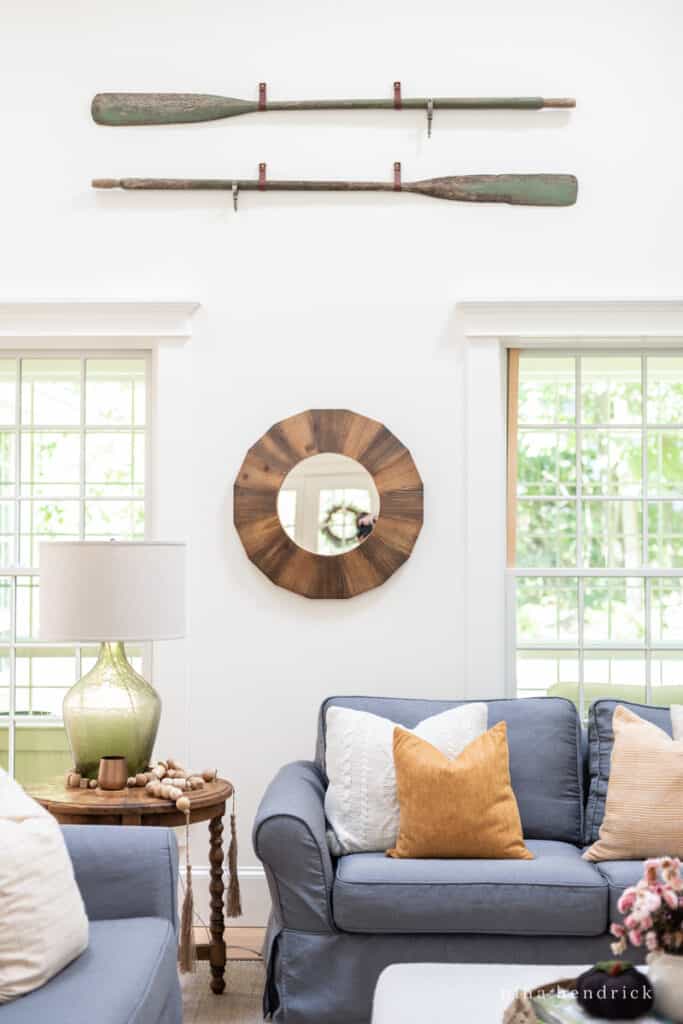 I took more pictures that I could possibly fit in a post, so make sure to follow along on Instagram for more over the coming fall months! I'll be transitioning this to Halloween soon. The kids are requesting a Harry Potter Halloween again this year!
Next up on the tour is Shannon at Home Made Lovely (tomorrow, if you're reading in real time!). Make sure to stop by to visit her beautiful home.

This week I'm joining some of my talented blogging friends for the Fall Seasonal Simplicity Series. All week long we are sharing our homes decorated for Fall. Be sure to check out all of the beautiful inspiration by visiting today's tours, and pop by again during the week to visit everyone else who is sharing!
Sharing with me today…
Tuesday
And sharing the rest of this week…
Monday
Wednesday
Thursday
Friday