I have found so much kitchen inspiration from other bloggers and on Instagram! I thought I would share some of my favorites with you. Honestly, it was difficult to narrow it down to just ten kitchens! These blogs and Instagrams happen to be some of my favorites to peruse as well, so they are more than worth spending some time looking through. These white farmhouse kitchens are also in no particular order.
Anything Liz touches turns to gold- I love to follow along as she renovates her farmhouse (make sure to also stop by her bedroom makeover– stunning!). She also has a book coming out this year, which I can't wait to get my hands on!
My friend Rachel has lovely and clean french-meets-farmhouse style. She has such great taste, and I have loved following along as she updates her new home (her staircase is just crazy gorgeous!)! This was the kitchen in her previous home- she made such good choices, the new home owner must be so in love with it!
I'm sure you've heard of her- Marion from Miss Mustard Seed was one of the first bloggers I ever read. She was the one who helped me realize through her posts that I am 100% in love with rustic farmhouse style and not necessarily the "pattern and color of them moment". When looking for ideas to bring antiques and texture to my kitchen, her blog was the first place I went to for inspiration. I cannot wait to meet her at the Haven Conference this summer!
My friend Jamie from So Much Better With Age has amazing taste- she seamlessly blends romantic french style with vintage and farmhouse elements. Her kitchen in her former home was truly inspiring! I can't wait to see what she does with her charming new home.
Anissa's home is pure stunning eye-candy, I can pass away a happy hour oogling her Instagram! Her kitchen is beautifully classic with plenty of warm farmhouse details!
Annie from Zevy Joy has a beautiful eye for design (her sunny living room is amazingly gorgeous!), and I love her classic white farmhouse kitchen. The beadboard on the island is a perfect touch!
A girl after my own heart, Rachel from Shades of Blue Interiors DIYed her kitchen remodel. She built that pretty and functional island herself from scratch. Such a lovely and inspiring farmhouse kitchen!
I am not exaggerating when I say that Anisa Darnell's kitchen stopped me in my tracks on her (stunning) Instagram! Although I love my kitchen- her kitchen is my dream room! You can see more of her work at Truth and Co.
Not only is she an extremely funny and entertaining writer, Kelly from The Lilypad Cottage has an incredible skill for choosing cohesive finishes throughout her home. I love her new rustic range hood, I think it was the perfect touch in her space! (Also- I recently made Mack look at pictures of her sunroom… dreams!)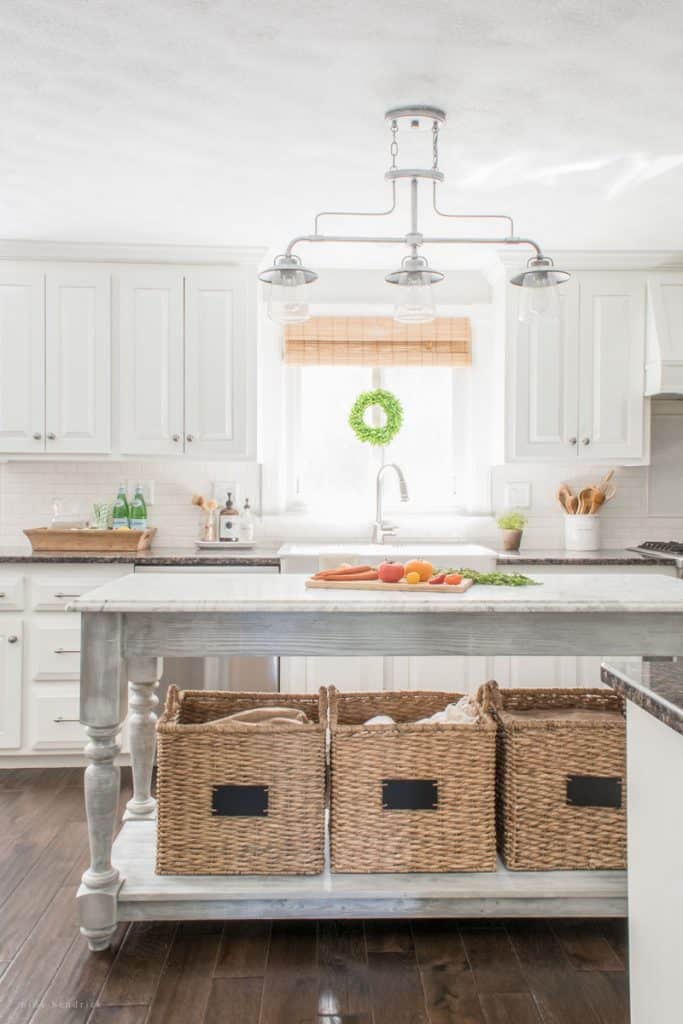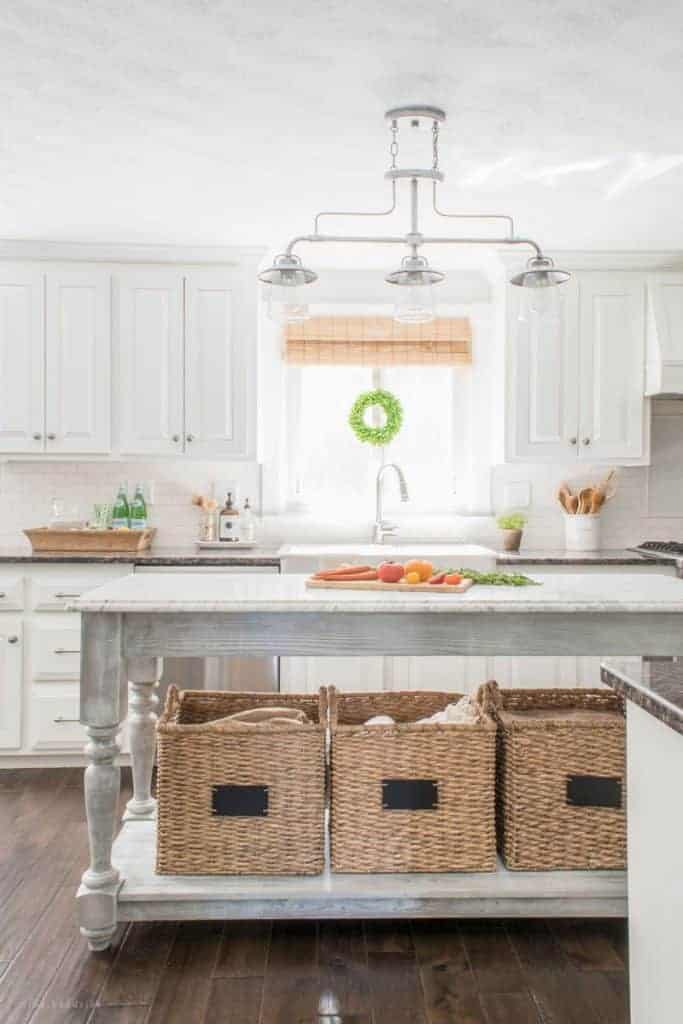 This one is my own kitchen! While I still consider it a work in progress, we have come such a long way in this space since we first painted our cabinets back in 2013. I have a clear vision of the final few touches it will take to bring the room to 100% completion (like tackling the textured ceiling, and dealing with a tricky and awkward wall on the other side of the room). For now, I enjoy adding farmhouse textures to the room, and (especially when it's looking this clean and pretty) it is a happy space for me to spend time in!
I hope you were as inspired by this collection of fantastic bloggers as I was!
Join the Weekly Newsletter
Subscribe to get our latest content by email and access to our File Library. Download organizing and home decor printables FREE!
Nina is the owner & designer of Nina Hendrick Design Company and the Nina Hendrick blog. Along with her husband Mack, she is chronicling the journey of transforming their builder-grade 80s colonial into a modern day farmhouse. Nina and Mack live in the suburbs of Boston with their three children and golden retriever Lucy.