Make your holiday special with these 15 free Valentine's Day printables! From vintage prints to watercolor tags and a banner, you can add a creative touch to your gifting and decorating. Show your loved ones some extra love this year!
Valentine's Day is quickly approaching, and what better way to show your loved ones how much you care than with some homemade (and free!) Valentine's Day printables! Whether you're looking for a card to give your sweetheart on the day of, a Valentine's Day banner to hang in your home, or a fun gift for your kids to give their teacher, this blog post has you covered. From free downloadable printables to creative Valentine's Day crafts, we've got something for everyone. Read on to find out which Valentine's Day printables will suit your needs!
Free Valentine Printables
Valentine's Day is a time to express your love and appreciation for the special people in your life. To make this holiday even more special, why not try out some free Valentines Printables? These printables are a great way to add a personal touch to your Valentine's Day celebrations. Whether you want to make a card or even a special gift, free Valentines Printables can help you make your Valentine's Day celebration even more meaningful.
This post contains affiliate links, which means I may get a small commission (at no extra cost to you) if you shop my link. Please see my disclosure if you'd like more info!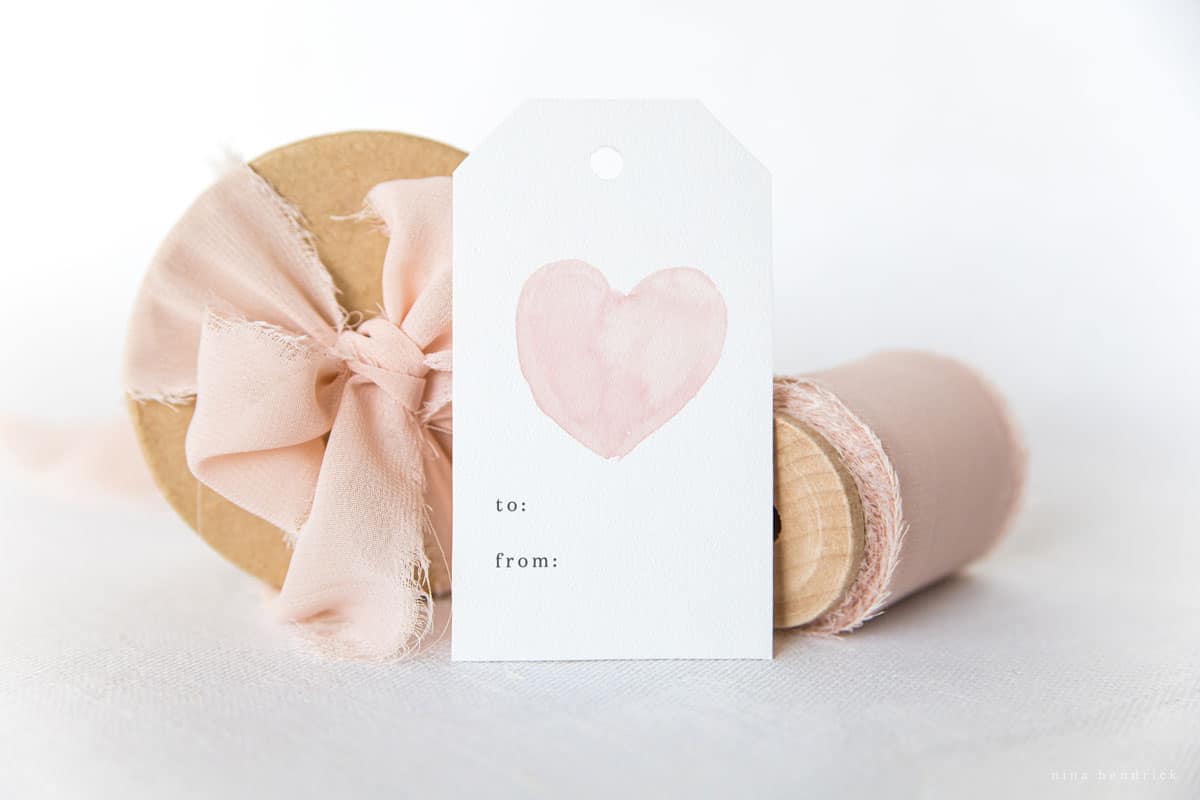 Watercolor Heart Gift Tags
These watercolor heart gift tags are the perfect way to accessorize and add a special touch to any Valentine's Day gift! These sweet tags feature a watercolor heart design from light pink to magenta, and are great for use on Valentine's Day cards, gift boxes, or even tied to a treat for a class valentine.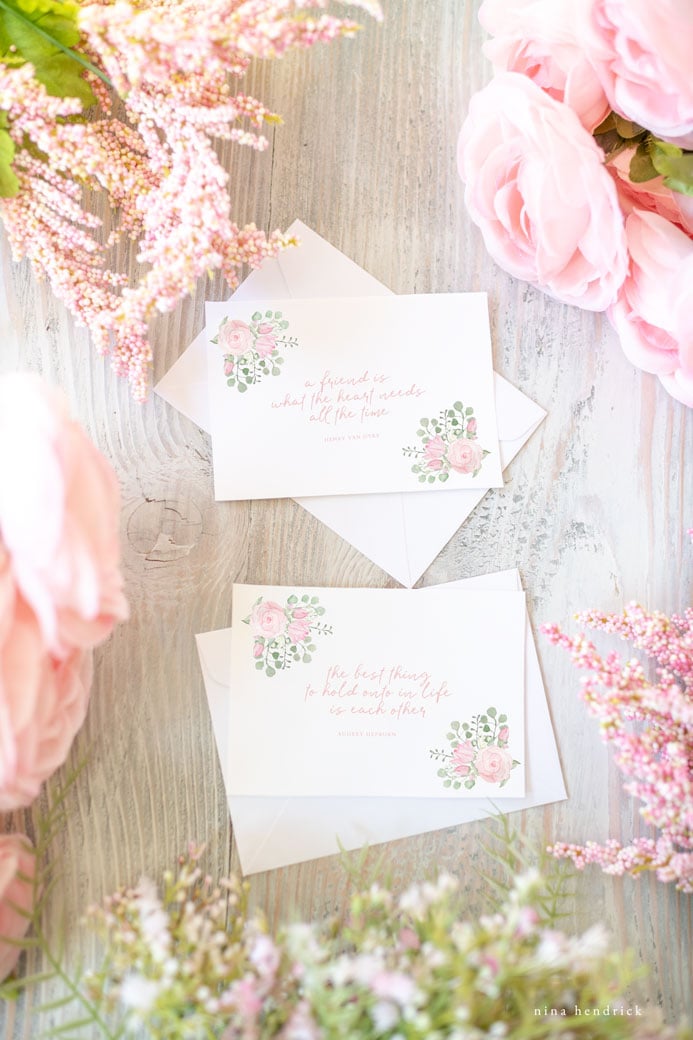 Watercolor Notecards
Valentine's Day is just around the corner, and if you're looking for a unique way to show someone you care, consider using printable Valentine's Day cards. These printables feature beautiful watercolor designs, such as hearts, flowers, and sweet quotes that fit for a friend, partner, or other loved one. Since they're blank inside, there's room for you to write a little note of your choosing.
I chose two of my favorite quotes to add to the center of the cards.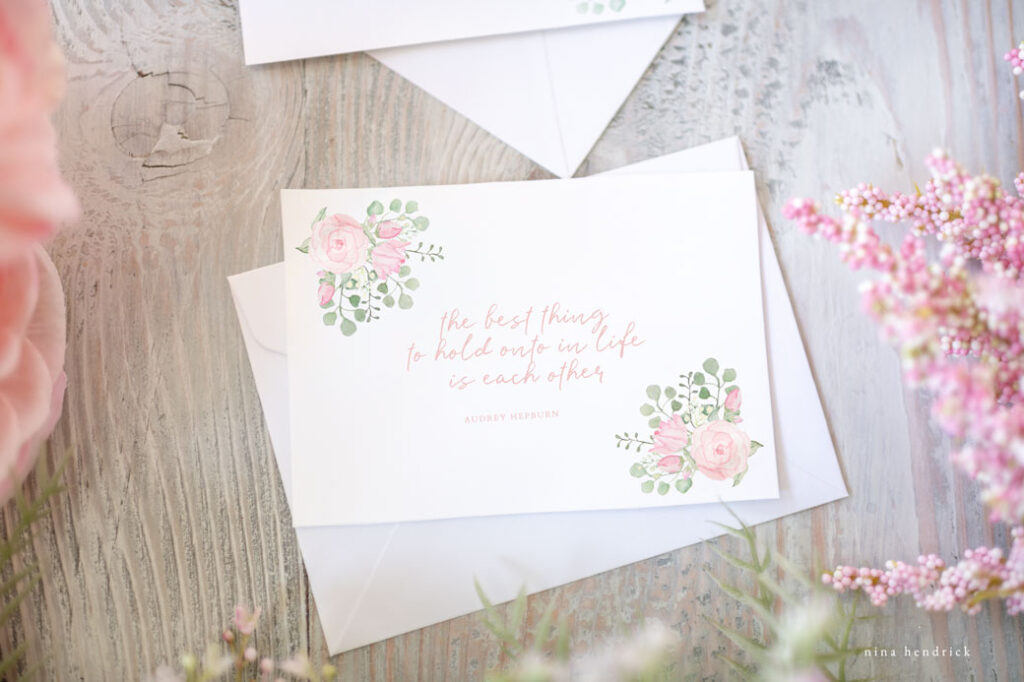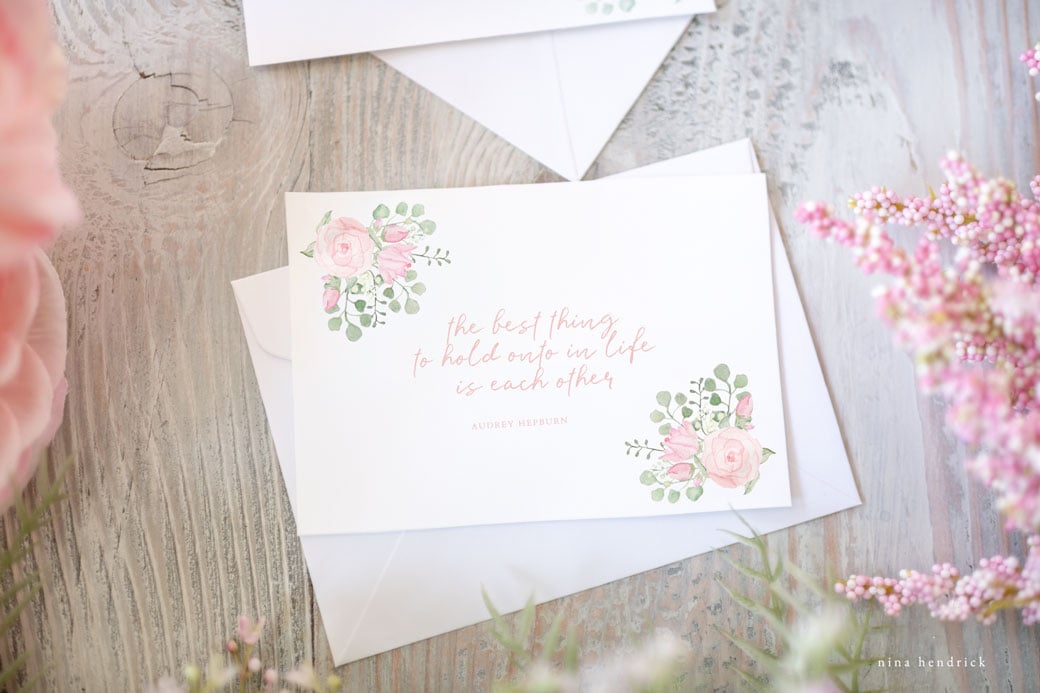 The best thing to hold onto in life is each other.
Although I created these printable notecards for Valentine's Day, you can really send these cards at any time of the year.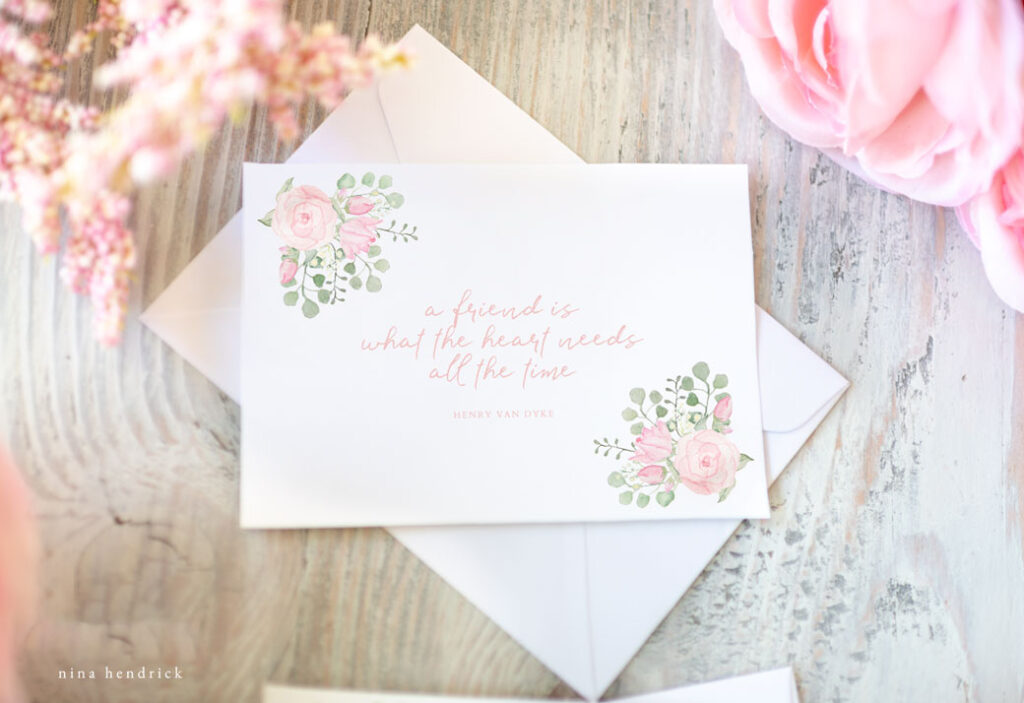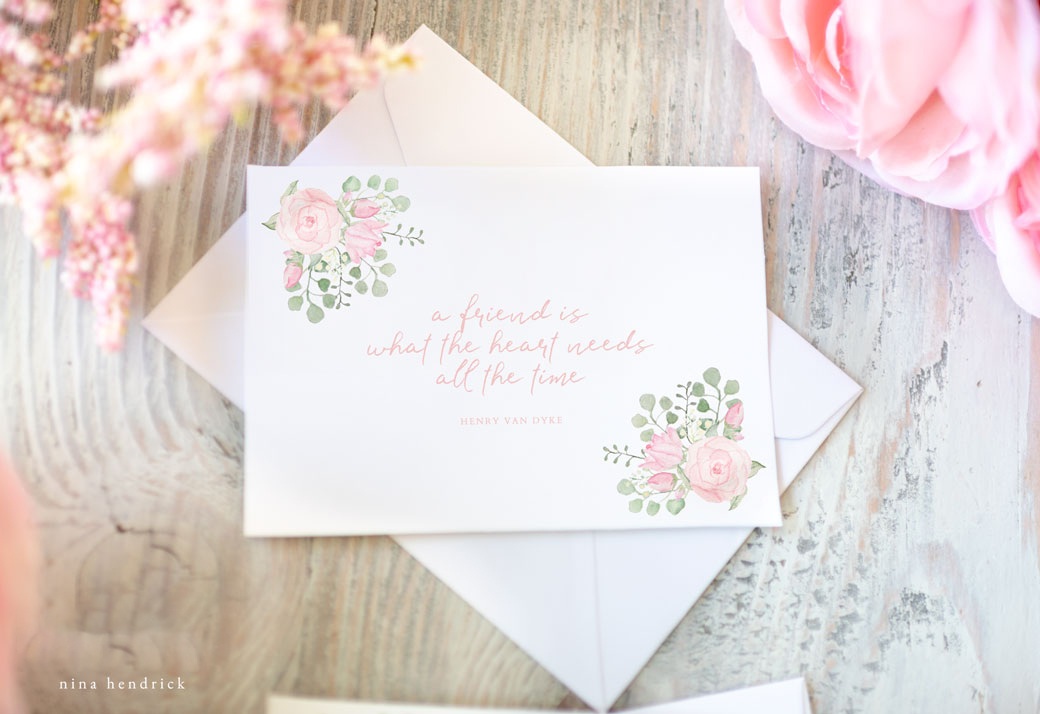 A friend is what the heart needs all the time.
One of my personal goals for this year is to do more random acts of kindness. I think sending a few of these through snail mail to encourage and brighten someone's day would be a perfect little surprise!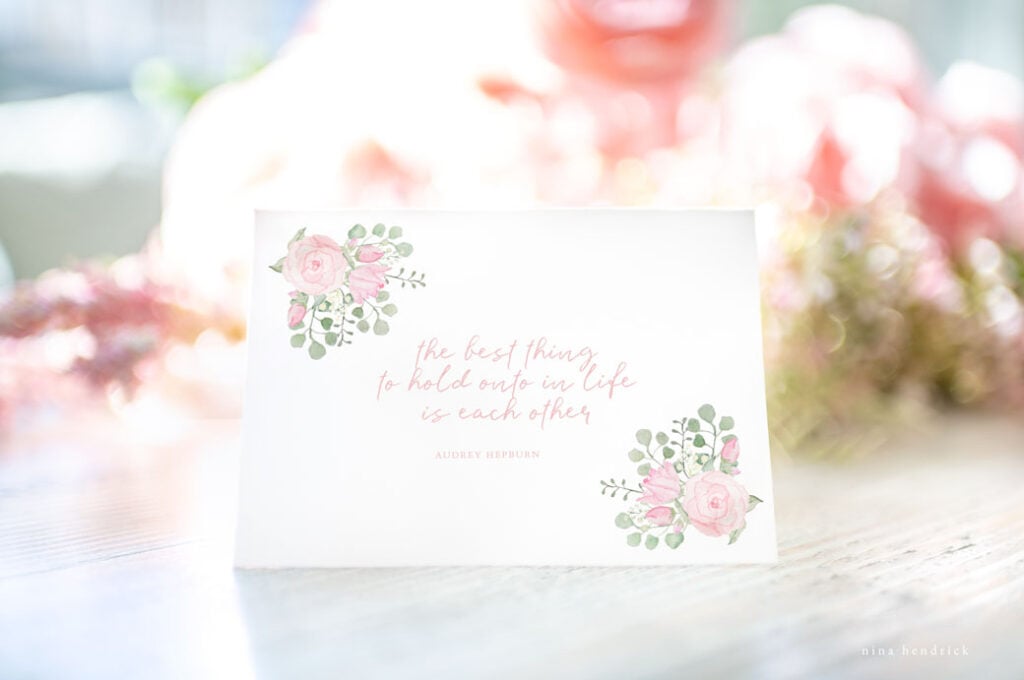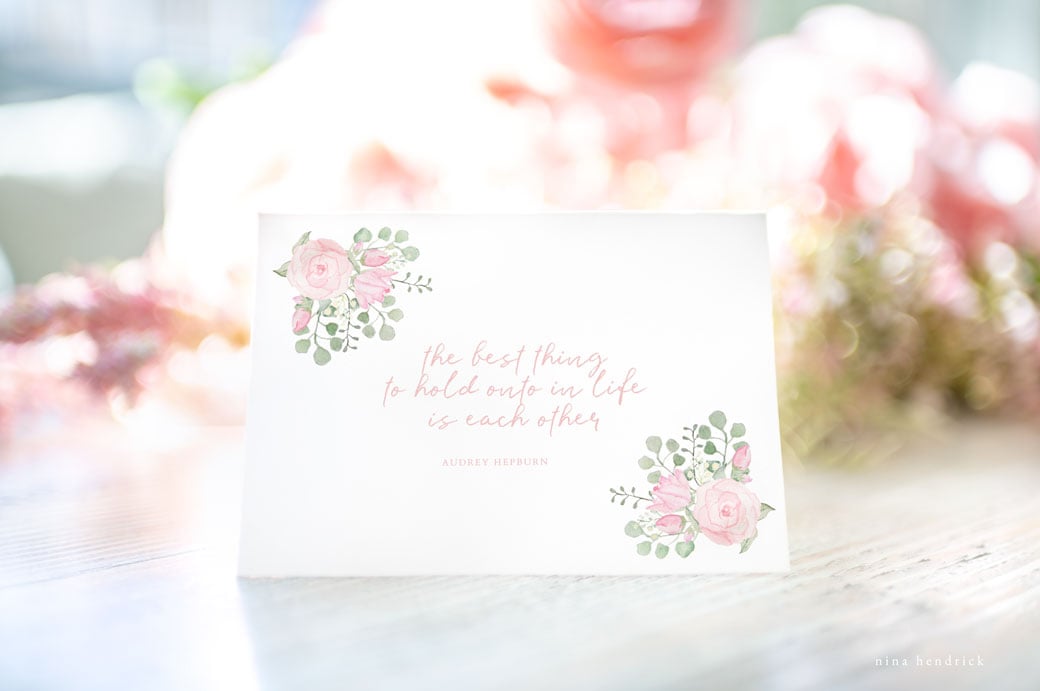 They are the perfect size for A1 envelopes (these are a cute color). Just add a pretty stamp, and you're good to go!
I hope you enjoy these watercolor printable cards and that they help you bring a smile to someone else!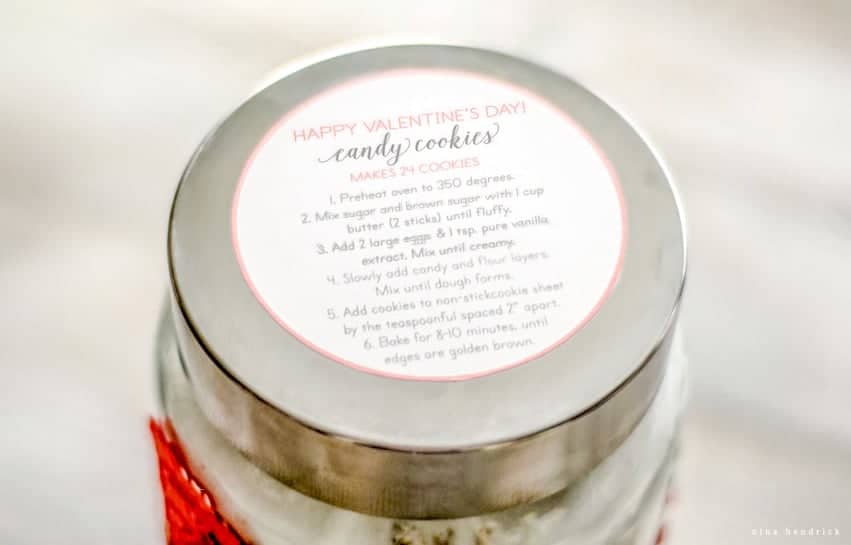 Candy Cookie Mix Jar Gift Idea
This charming candy cookie mix jar gift idea is perfect for a teacher, neighbor, or anyone you want to show appreciation for on Valentine's Day! Of course, it also works for any holiday, but the paper doily and candy theme for this particular jar are Valentine's themed.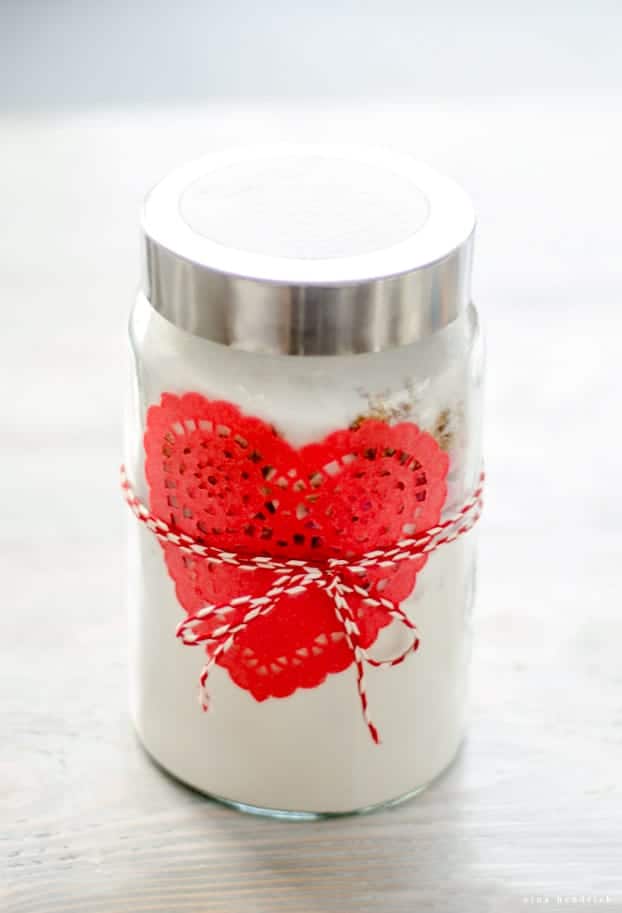 The cookie mix is based on my very favorite, which is the classic standby Tollhouse Cookie Recipe (yup, the one on the bag of chocolate chips!). I've created a free printable with instructions for your recipient to bake their cookies. These labels also include the ingredients your recipient needs to add to complete the recipe! I recommend printing on sticker paper.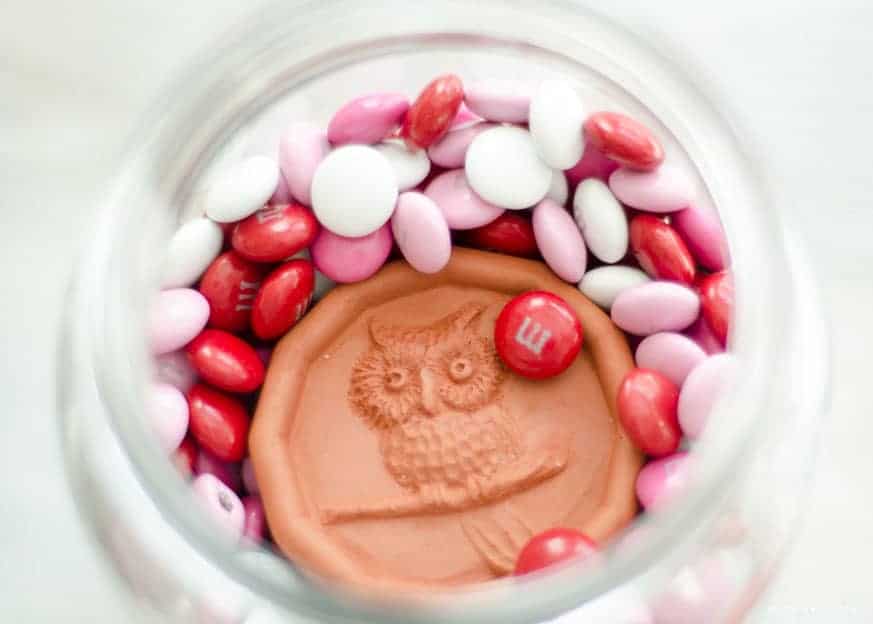 Tip from Nina: These little brown sugar savers are great for the mix because the brown sugar can harden and make it difficult to get the ingredients out of the jar. However, make sure to add a note that you included one (print out the heart gift tags to write the note!), so the recipient isn't startled to see one in the cookie mix!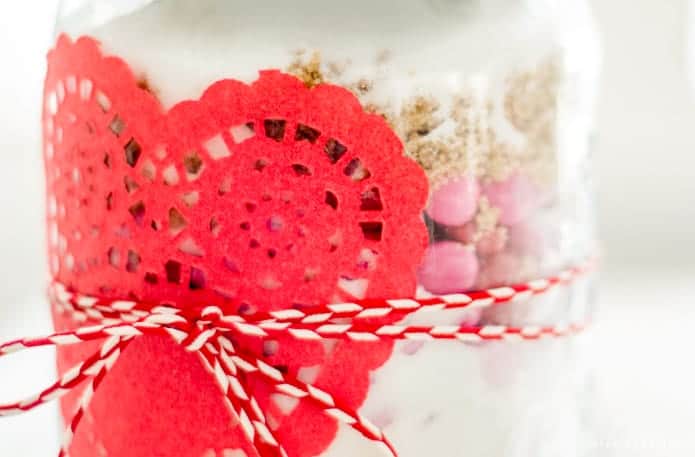 To finish it with a sweet touch, simply loop twine around the jar twice to secure the doily and tie a bow.
Valentines Day Printable Decorations
One easy and budget-friendly way to decorate for a smaller holiday like Valentine's Day is with printable decorations. From heart-shaped garlands to banners, prints and vintage art from the public domain, there are plenty of fun and festive printable decorations that you can easily print out and adorn your home with.!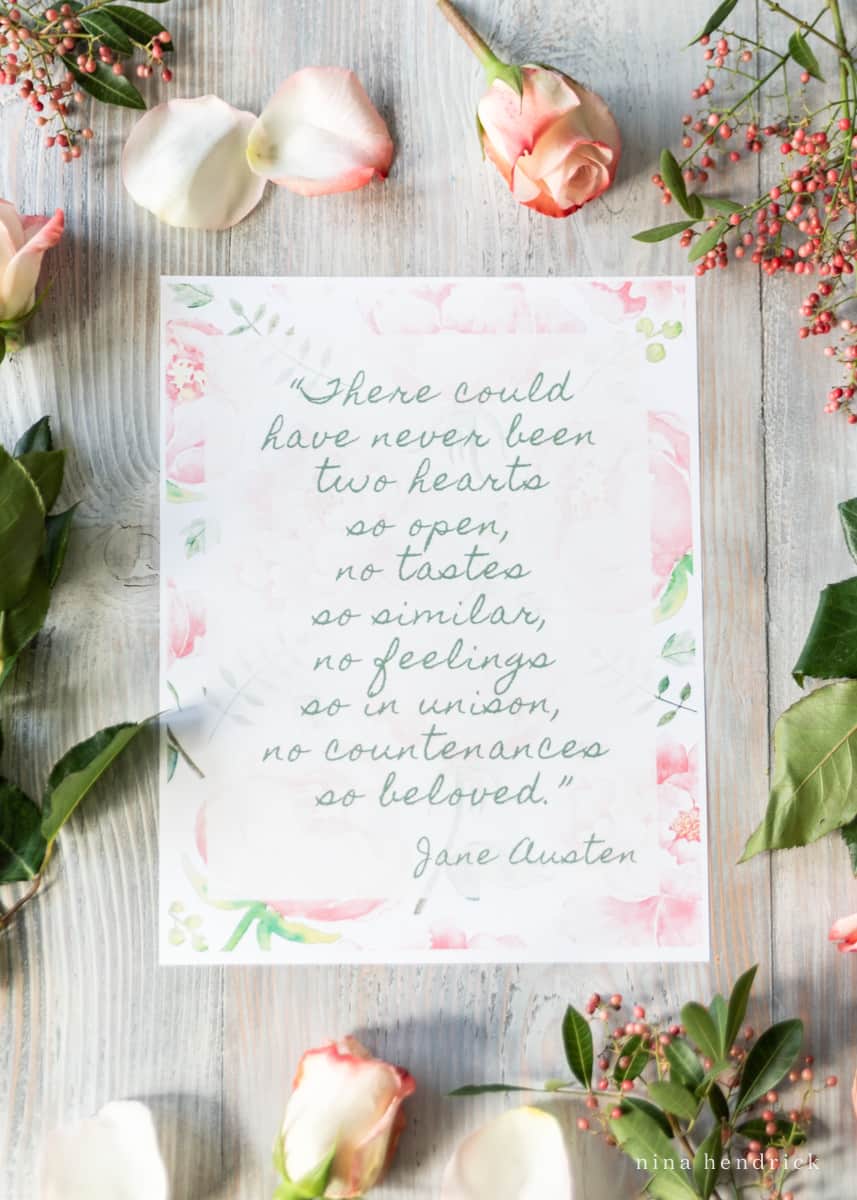 Jane Austen-Inspired 8×10″ Print
This year, why not go the extra mile and give a unique and beautiful Valentine's Day gift that will last for years to come? My Jane Austen-Inspired 8×10″ Print is a perfect choice for any fan of the timeless classic author. This print features a romantic quote from one of her novels and is perfect for Valentine's Day. You can see a table centerpiece inspired by this quote here!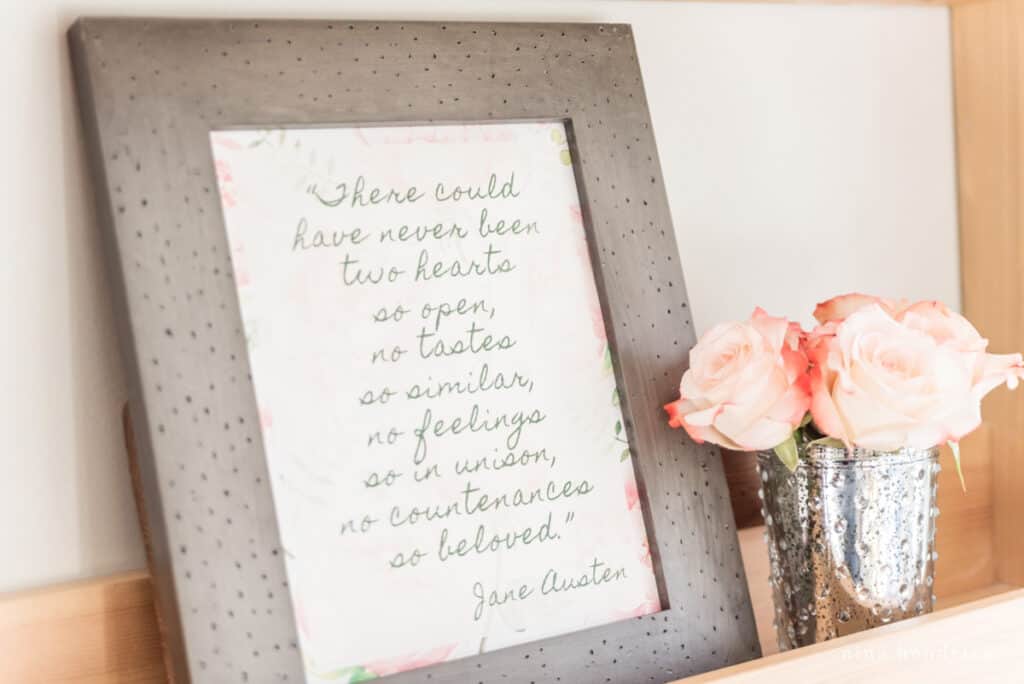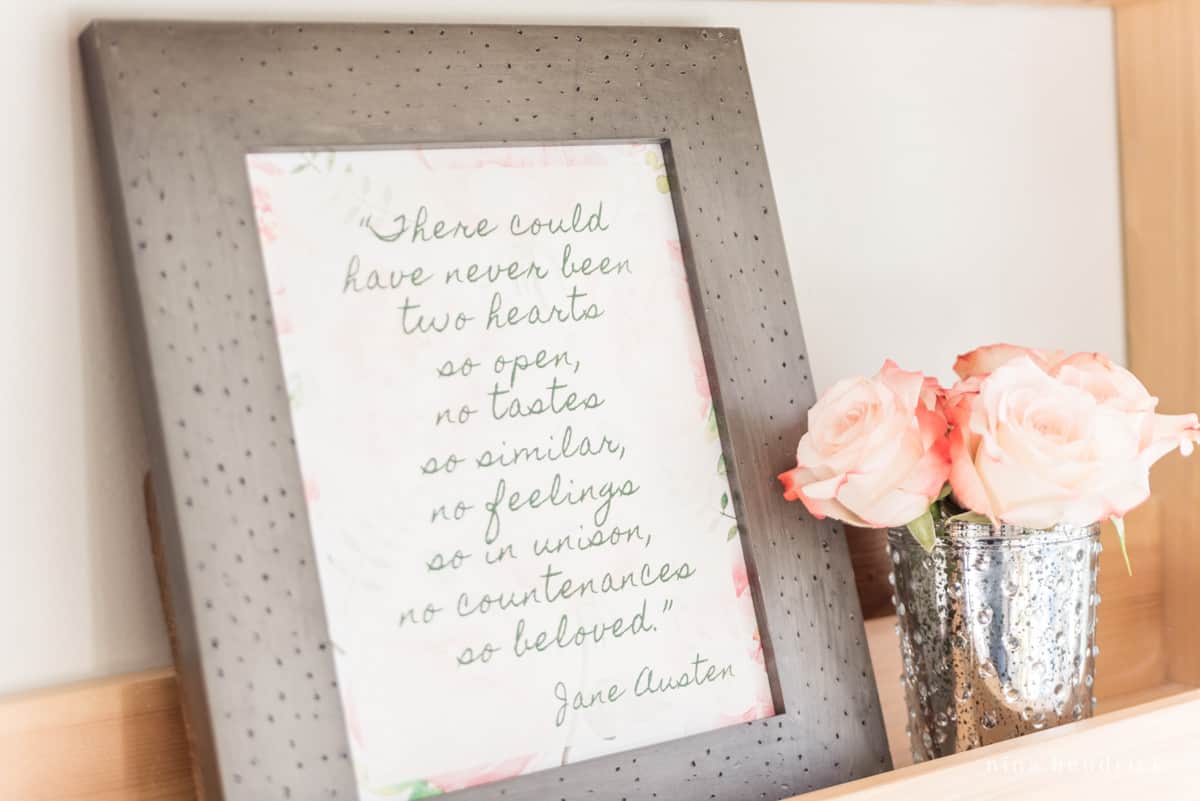 There could have never been two hearts so open, no tastes so similar, no feelings so in unison, no countenances so beloved.
I designed this Valentine's Day printable to be reminiscent of an English garden. The delicate and romantic tones of the flowers in soft pinks and greens perfectly complement the sentiment of the quote. This elegant print will add a touch of romance to any room and can easily be printed at home or taken to a local printer. Whether you frame it or display it as-is, this printable is sure to add a romantic atmosphere to any room.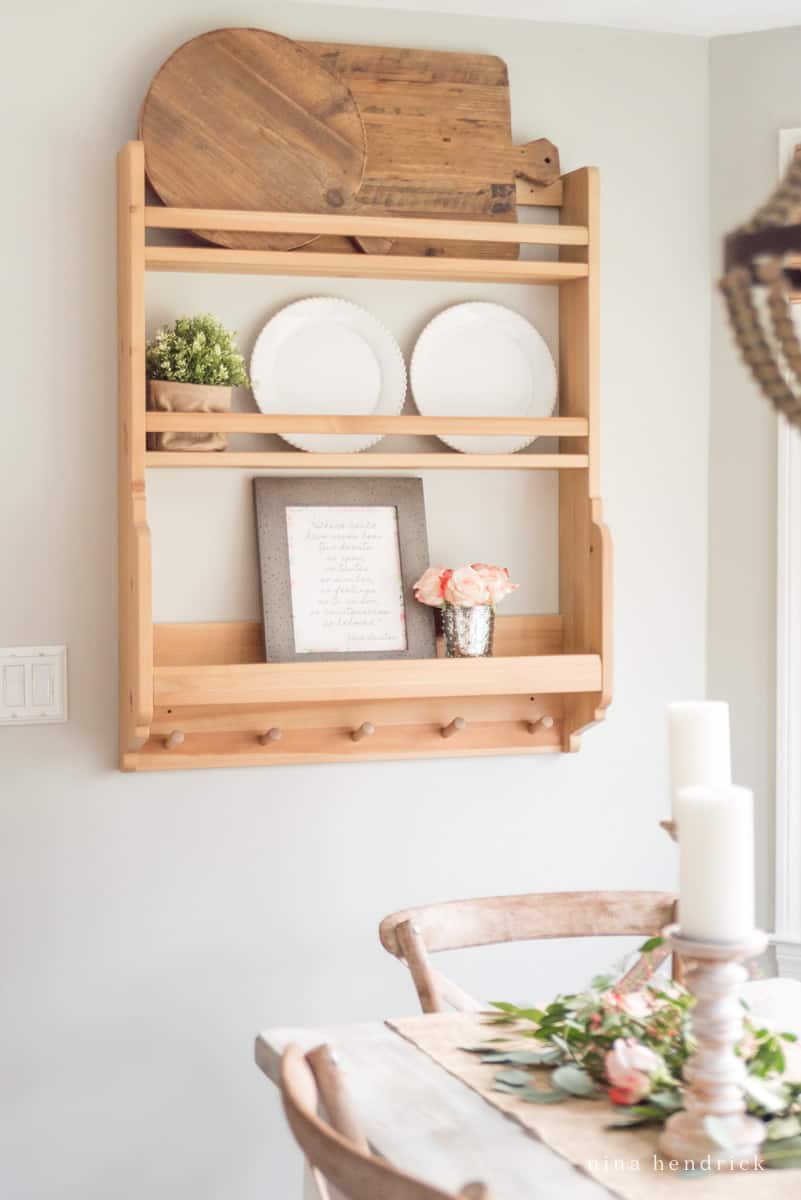 This lovely print can also be used as a great decoration in your home or office. Hang it in your favorite room to add a touch of romance and nostalgia to the space.
The rustic frame from the photos was purchased many years ago and isn't what I'd choose if I could pick a frame today to fit this theme. I think this 8×10″ Jane Austen print would look so pretty in a simple and elegant gold float frame like this one!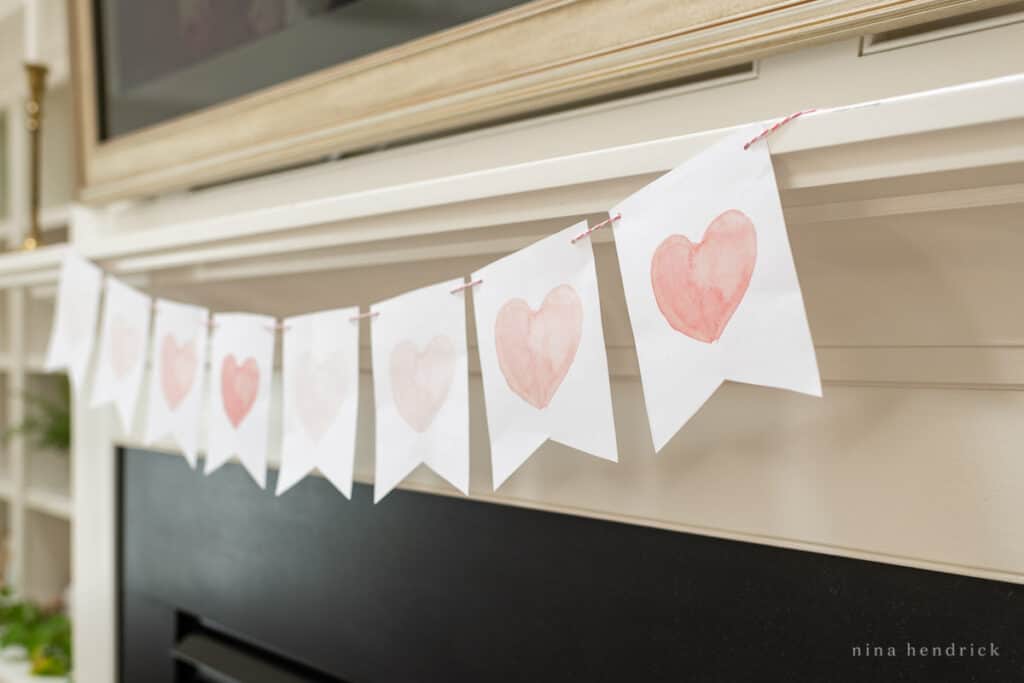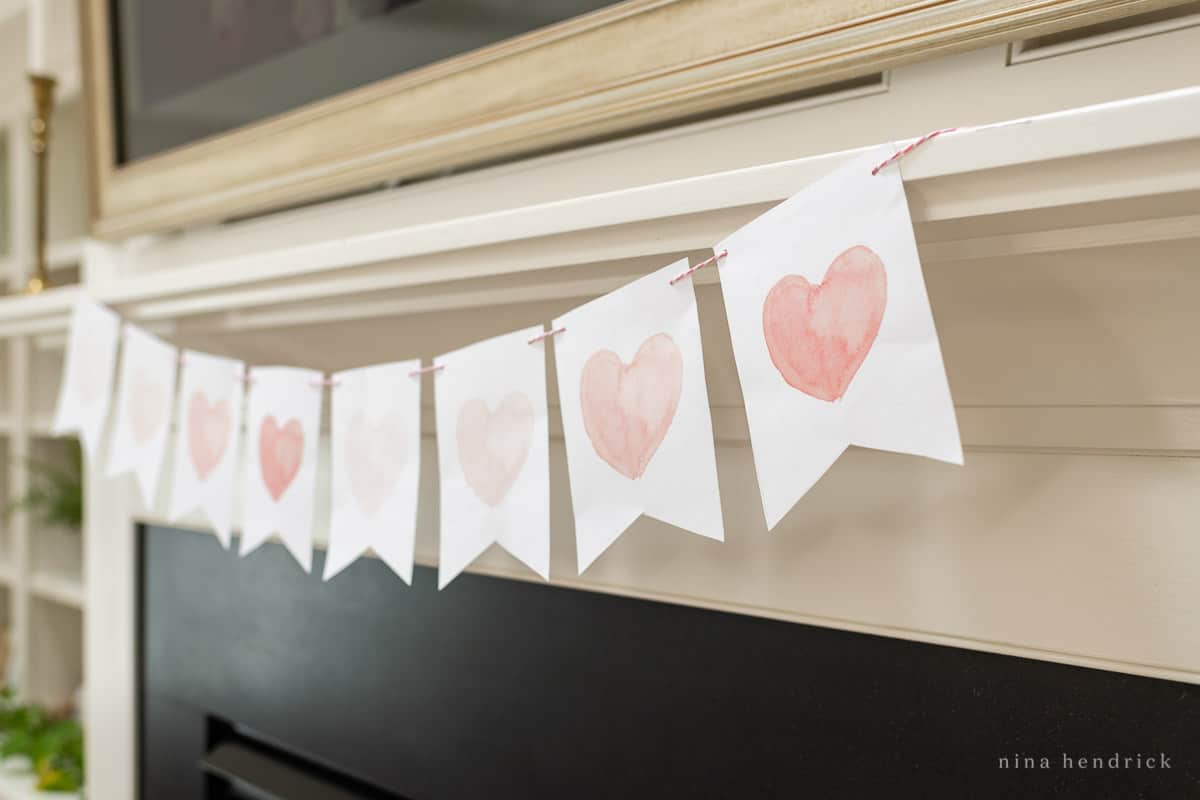 Valentine's Day Printable Banner
This Valentine's Day Printable Banner is the perfect way to add a festive touch to your mantel or celebration. Featuring an adorable heart design, it will be a hit with all your guests, whether you're hanging it up as a decoration or using it for a photo backdrop for your party. It's easy to assemble with scissors, a hole punch, and twine, and can be reused year after year, making it ideal for classrooms, office parties, or any other Valentine's Day event.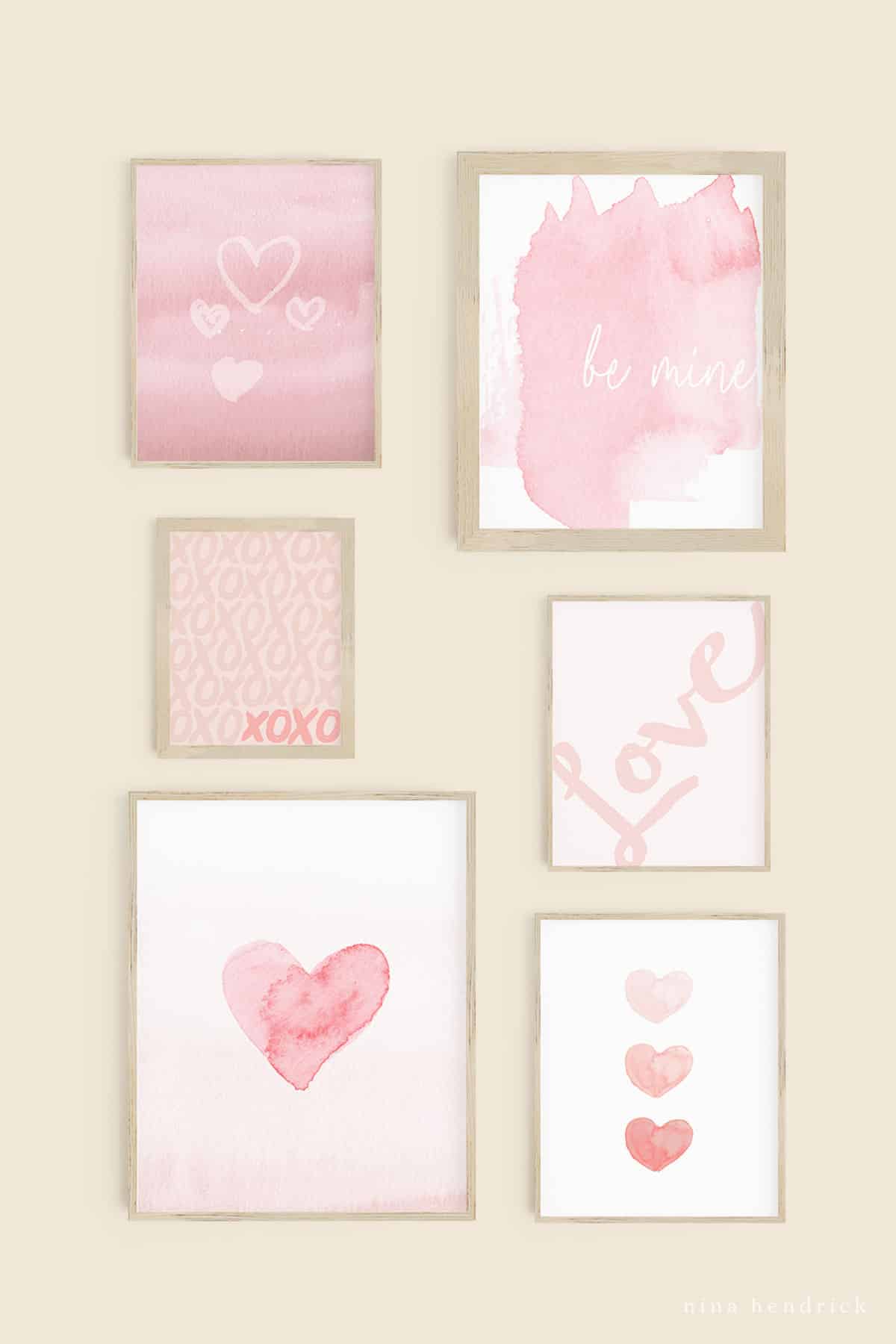 Valentine's Day Printable Watercolor Gallery Wall Art
The printable watercolor art is easy to download and print, and you can get creative with your decorating ideas. You can even print out a full gallery wall art set to hang in your home or office.
Whether you are looking for something special to give to your loved one or just want to show your appreciation, using Valentine's Day Printable Gallery Wall Art is an easy way to show your love.
Download them as a set from our Community Member free printable library!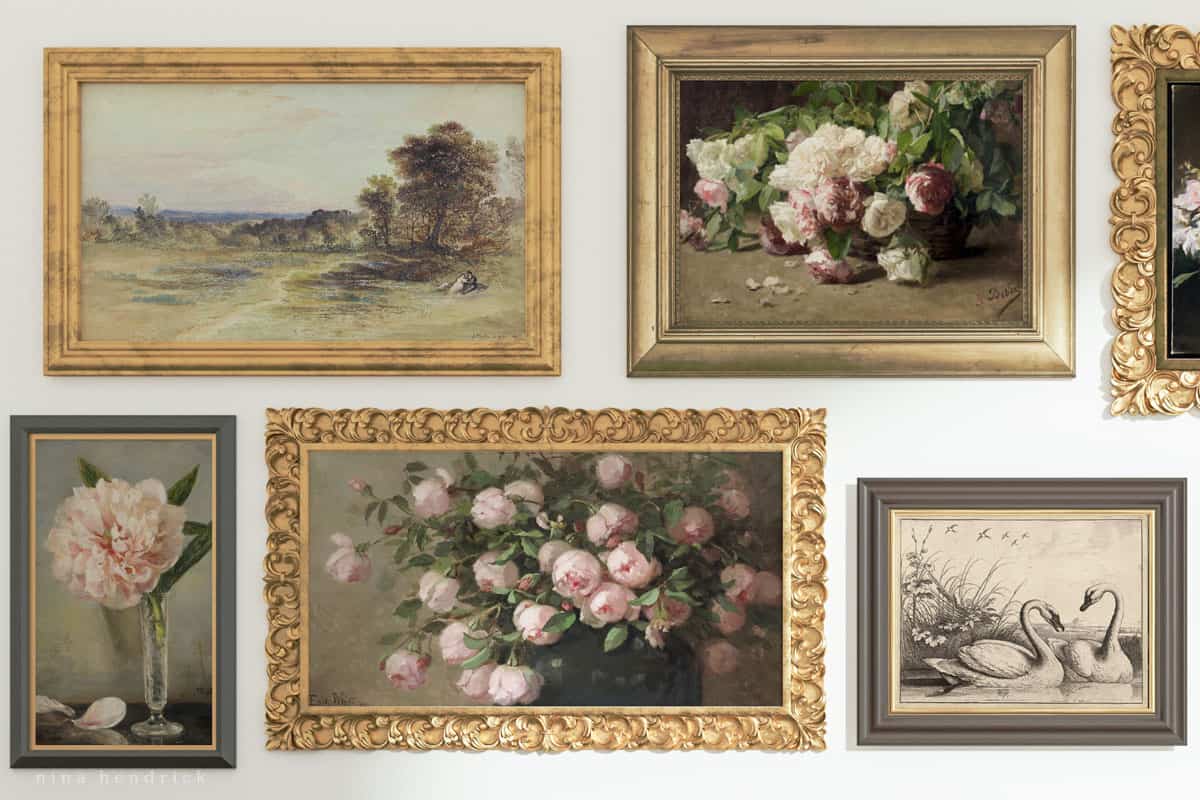 Valentine's Day Printable Vintage and Antique Artwork
I curated this collection of romantic antique and vintage oil paintings, sketches and etchings from the public domain and converted them to printables to help you decorate for Valentine's Day!
The collection includes a variety of Valentine's Day-themed artwork, from a couple embracing in a beautiful landscape, floral arrangements and an etching of a pair of swans.
These images have been carefully chosen and converted to printable formats, so you can easily print and frame them to create beautiful decorations for your home. With these printables, you can create a beautiful and romantic atmosphere for your Valentine's Day decor. Not only are these vintage images perfect for Valentine's Day, but I can also use them for any other day of the year where you want to spread some extra love and romance!
If you're looking for decorating ideas to go along with this art, my floral tablescape is a natural fit.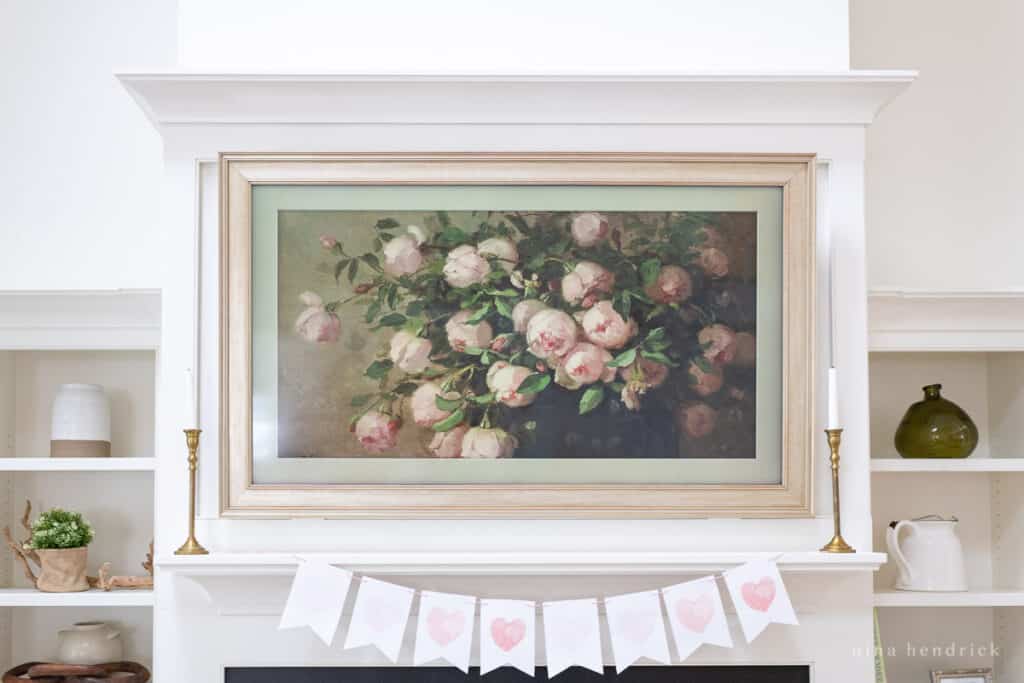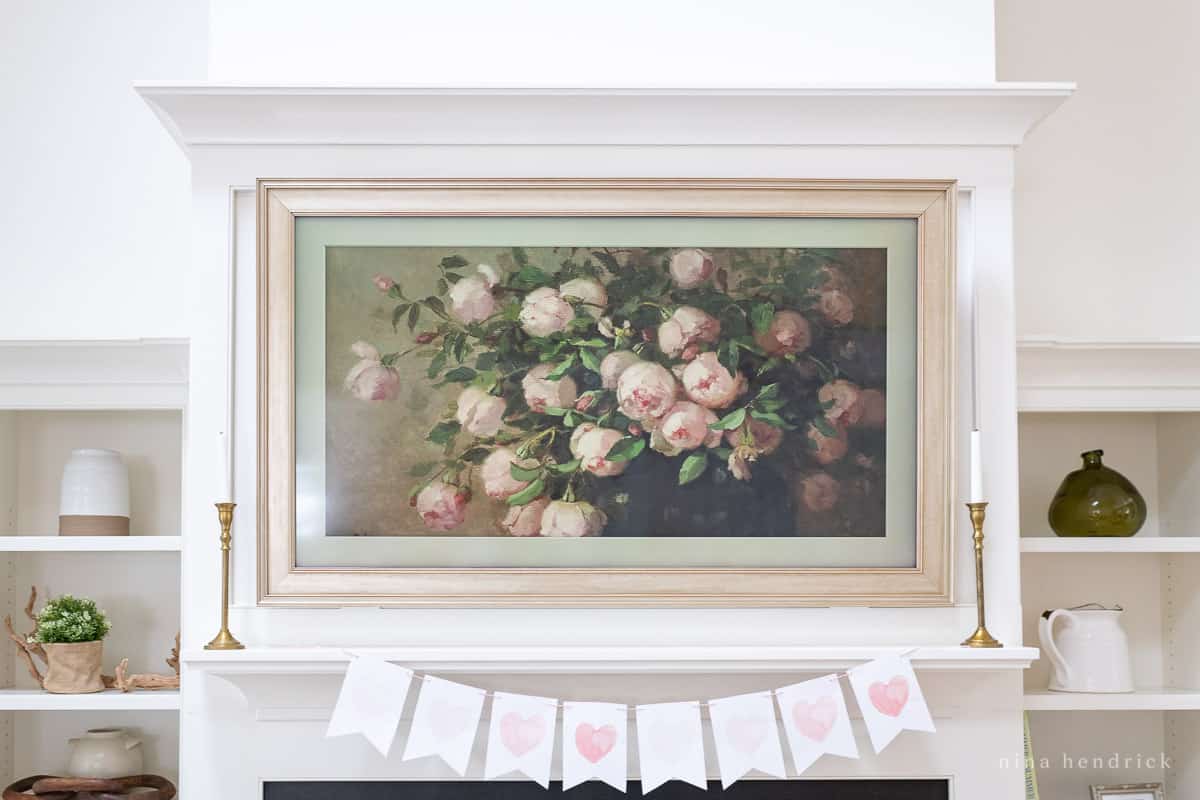 I also converted the three larger landscapes to Frame TV dimensions, so you can use if you have a Smart TV! They are available to download in our printable library.
How to Get these Valentine's Day Printables
All of the printables in this post (plus dozens more!) are available to download in our members-only gallery. To join, simply subscribe with the form below, and we'll send you the password and link. I'm always adding new printables to the gallery, and newsletter readers are the first to get them!
Valentine's Day printables are an easy and fun way to celebrate the holiday. With a variety of designs and styles to choose from, these printables can be used for anything from classroom decorations to party favors. Whether you're looking for a special way to express your love or just want to add a little extra fun to your holiday celebration, Valentine's Day printables are the perfect way to do it!