New England Neutral Paint Color Scheme
Read the Color Story of this New England Neutral Paint Color Scheme and learn how to discover the perfect neutral paint colors from Benjamin Moore.
In the past, we've shared how to paint a room and our favorite room painting essentials. Today I'm going to share the details of our neutral paint color scheme.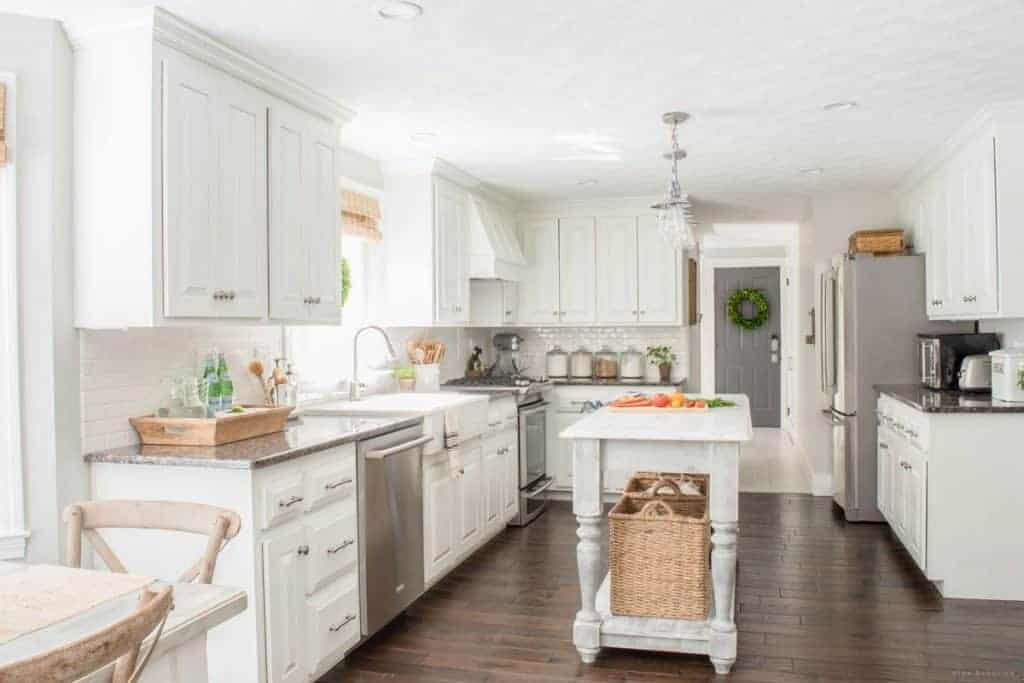 Choosing a Neutral Paint Color Scheme
One of the choices people seem to struggle with most in their interiors is which paint colors to choose for the walls. Although that first stroke of paint can seem intimidating, it isn't necessarily the most permanent mistake you can make with your decor. Sometimes it can be worthwhile to take a risk! I've had my hits and my misses when it comes to picking out our neutral paint colors, and I'm going to share those with you today.
Breakfast Nook
When we bought the house back in 2012, we started with a fairly typical mixture of 90s/early 2000s experimentally painted walls and… interesting… wallpaper. There was never a question of keeping any of it, but what I didn't bank on was the fact that some walls would need to be sanded or even have the drywall replaced when it came to wallpaper. So the painting hasn't been as simple as I would have imagined. We figured out pretty quickly that we would need to take it slow and see what we could deal with, and what was high-priority to get rid of.
I knew immediately that I couldn't "live with" the previous homeowner's beige paint with a rag treatment (?) overlay in the kitchen, breakfast nook, and hallway. In my eagerness to cover up this look, I went to the paint store and picked out the first dark greige I could find. I couldn't sand and get it up on the walls quickly enough… I don't even have a photo of the results since it was before I blogged regularly about our home. Long story short, I somehow managed to make a room that already felt dark and (if I'm being painfully honest) dingy, even darker and dingier.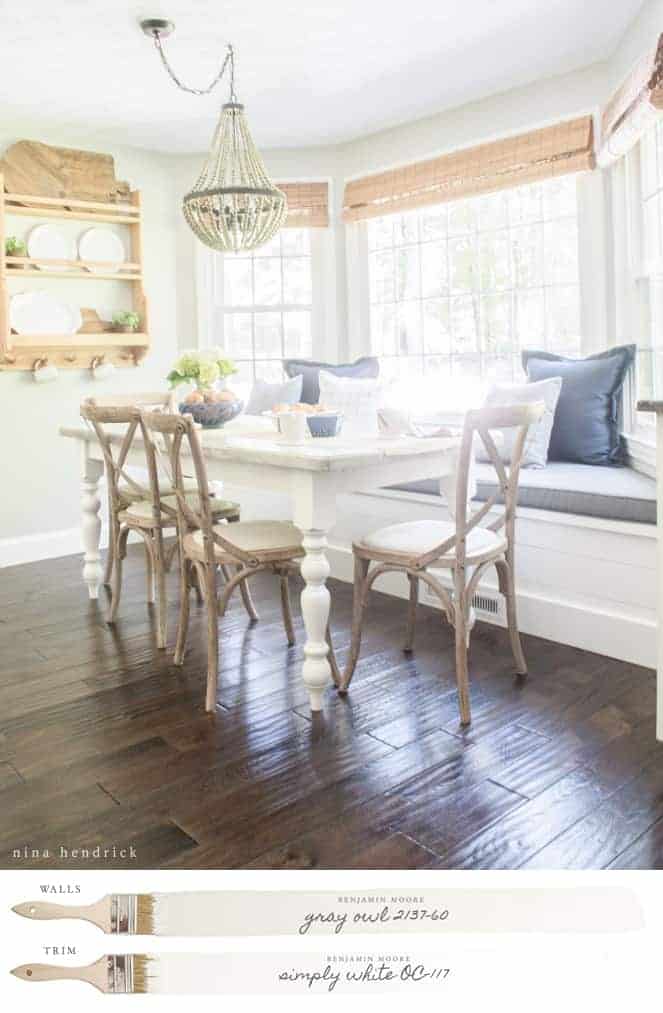 After realizing I had made a mistake, I looked around the room and considered what I did and didn't like. I liked the idea of a gray, but I wanted it to be more blue than brown. My preference was for it to be lighter (almost white) rather than dark. After some research, I found Benjamin Moore Gray Owl 2137-60 in eggshell. It has a definite aqua undertone, but it is such a pretty color.
Mudroom
We decided to carry the Gray Owl through the kitchen, hallway, and mudroom as well. Benjamin Moore's Simply White OC-117 in semi-gloss is a natural companion for Gray Owl. It has an ever-so-slightly cream undertone (although it's still pretty light as far as whites go), which provides a contrasting warmth to the cool tones of Gray Owl.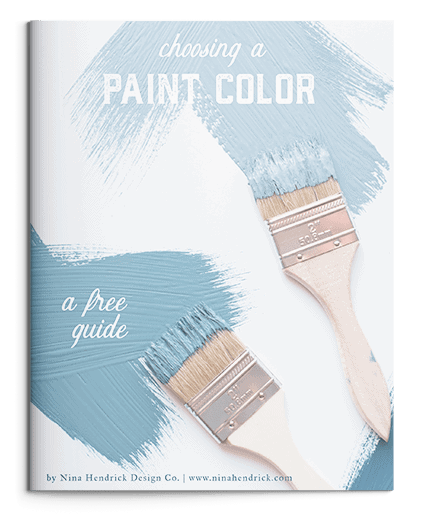 Click Here For Your Free Guide: Choosing a Paint Color
Kitchen
Speaking of the kitchen, one thing I regretted was not having the cabinet paint tinted any particular color. We used Insl-x Cabinet Coat in satin straight from the can. The natural color of Cabinet Coat seems to have a bluish undertone, and as it has aged it has yellowed very slightly. I was actually okay with this since as I mentioned before, the Simply White of the rest of the trim in the room was a slightly creamy white. Since we are now several years in with our painted cabinets, we are contemplating a fresh coat. If that is the direction we decide to go in the kitchen, we will likely tint the paint Simply White as well.
Powder Room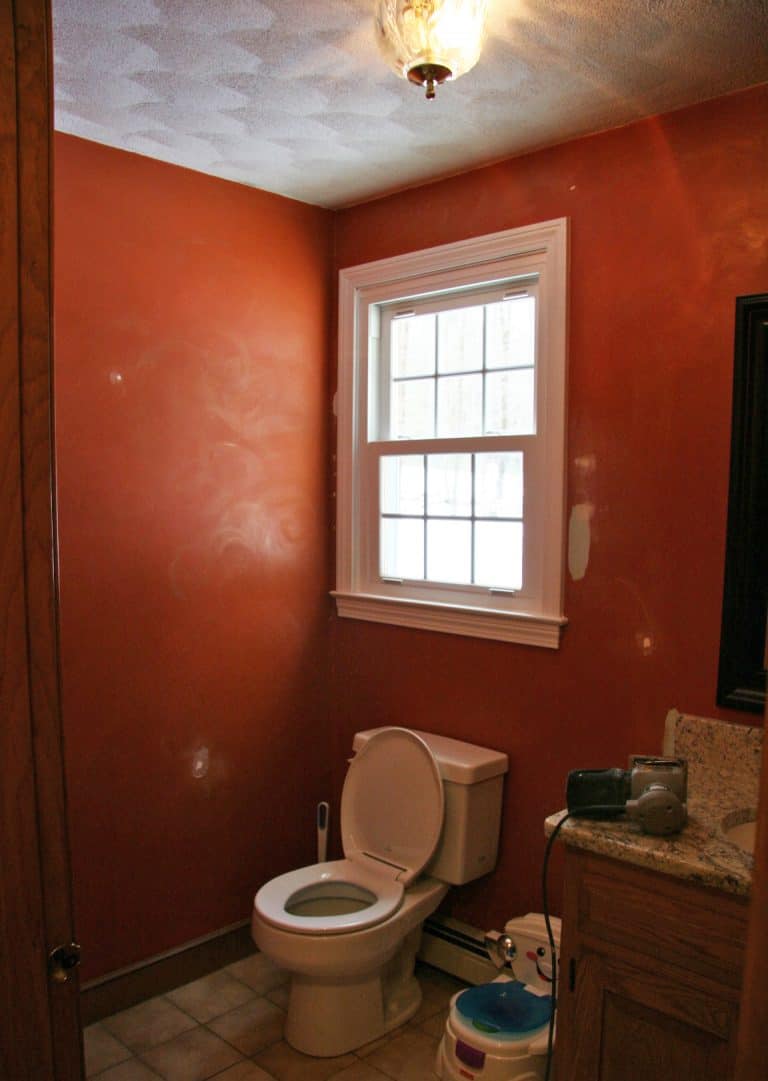 Regarding rooms that I couldn't wait to paint over, this was definitely another big one. The powder room was our very first project in this house, back in 2012, because I truly could not even look at the rust orange with gold shimmer overlaying swirls. We ended up painting it Benjamin Moore's Wickham Gray HC-171 in eggshell.
I am pleased to say I wouldn't change a thing about the colors, although I do plan to make a couple of decor changes soon! Wickham Gray in satin is my ultimate favorite paint color. Like Gray Owl, it has some green undertones, and can in fact actually appear aqua in certain lighting situations. It's a blue-gray-green depending on the time of day. It can be cheerful and calming as these color shifts happen, and no matter what, it's such a clean color. It's the perfect compromise in our household, as Mack likes a bit of color, but this is enough of a neutral to keep me happy.
Master Bedroom
Since I found that combination so soothing, I knew it was a perfect choice for our master suite. So far only the bedroom is finished (and will be revealed in early May, finally!) but we will also be carrying the color down our little hallway and into our master bath someday.
Foyer
Benjamin Moore's Edgecomb Gray HC-173 in eggshell is the color that is most prominent in our home. I consider it the ultimate greige, I would honestly never be able to tell you whether it's gray or beige (in spite of the name). The foyer is painted this color, and then it goes up the stairs and into the upstairs hall (which are all connected). Cooper's room will also be this color when we repaint it.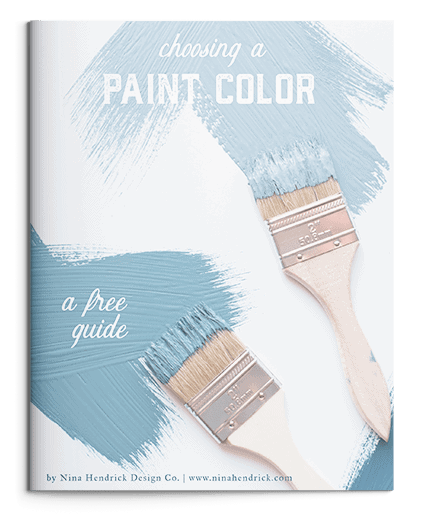 Click Here For Your Free Guide: Choosing a Paint Color
Dining Room
I wanted an all-white dining room, but Mack wanted some color. We compromised to Edgecomb Gray lightened by 50% and eggshell and painted the planks Simply White in eggshell. The room is light and bright, and we are both happy!
A Paint Color Fail that led to a Success: My Office
Since I talked about my hits, it's only fair to address my misses. Most of them have occurred in my office, a room I'm chronically "stuck" on when I try to decorate. It's also the first room in the house, so everyone who visits sees it. This was the second time I painted this room, but the first color was very similar.
This is Benjamin Moore's Deep in Thought AF-30. In my defense, I brought a cabinet door to the paint store and asked them to match it, I really just wanted a white. It even still looked like it matched when the paint went up on the walls… but then it dried to a yellowish-green beige. I'm really just not a fan. Repainting the room is on my to do list.
The chalkboard wall is Benjamin Moore's Chalkboard Paint in Onyx 2133-10. While I like the idea of contrast (and having a dark and moody backdrop), I really need my workspace to be light and bright.
Another angle of the room. Right after we moved in, I painted the back of this bookcase Valspar's Tranquility CI183. I was excited to have my own workspace and I had no idea what my style was yet. Furthermore, Mack kept silent and let me go to town since it was "my" space. It's funny, as irritating as I sometimes find it to compromise on colors all of the time, our compromises have turned out to be my favorite colors.
This just was not my style at all and it lacked the maturity I was craving. We recently repainted these built-ins and all of the trim we later installed in Benjamin Moore's Cloud White 967 in semi-gloss. Now, for the record, this is a perfect match to Ikea's "off-white" cabinets. I decided to trust my eyeballs instead of the color match machine, and it paid off. My plan is to paint the walls in Cloud White as well and possibly install board and batten. Since it is the room I work in and paint in, I'd really like it to be a blank canvas for creative thinking.
Family Room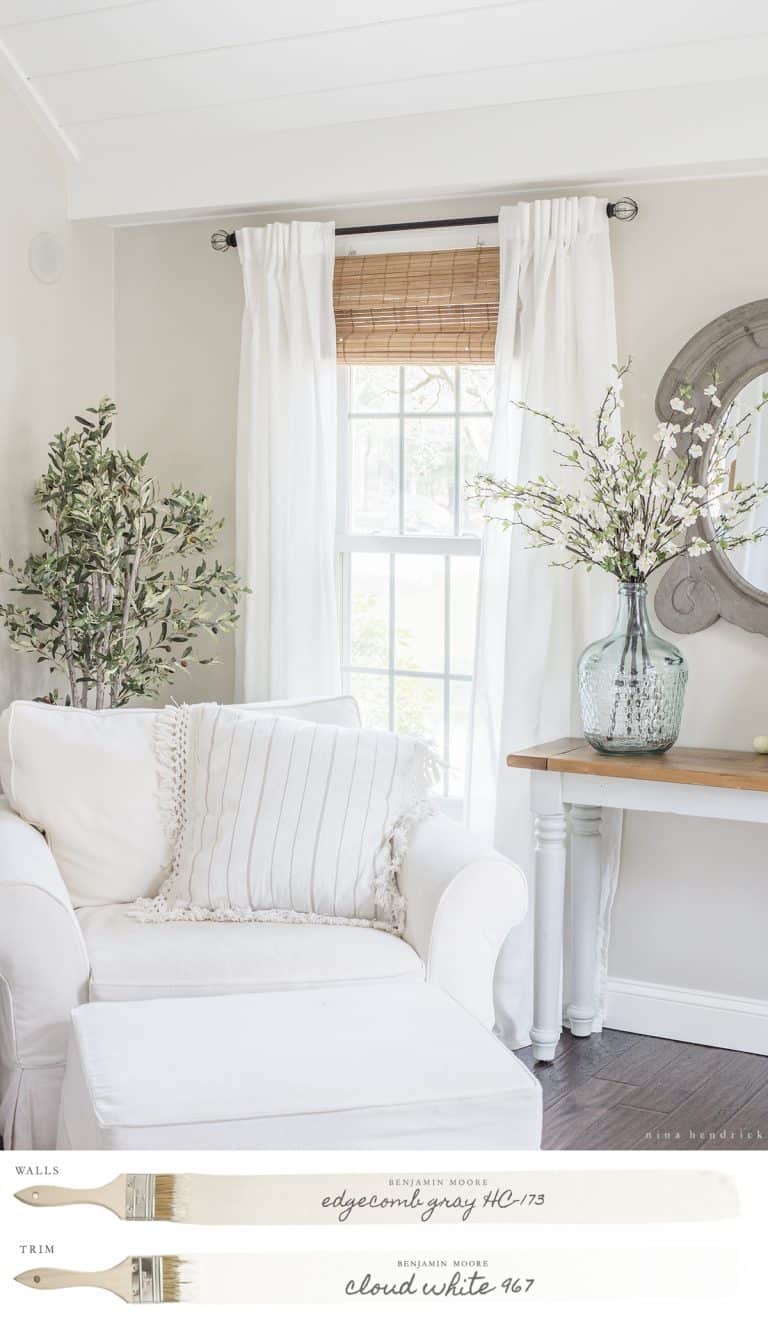 I've come to believe that these missteps have a purpose. When I was looking at our living room slipcovers, which are actually not a pure white, (they are Pottery Barn's Comfort Sofas and Grand Armchair in Natural Brushed Canvas- another compromise, since Mack wasn't a fan of the pure white) I was concerned about how warm they looked against the previously Simply White semi-gloss trim, but because of my office missteps, I already knew a perfect solution. When we completed the tongue-and-groove ceiling project, I decided we would use the slightly warmer Cloud White in eggshell on the ceiling and semi-gloss for the trim instead. It compliments the slipcovers much better, and I'm even considering doing a Cloud White (eggshell) board-and-batten feature wall behind the sofa and armchair. The walls are also Edgecomb Gray in eggshell, and it creates a cozy feeling in this particular room.
Lyla's Room
Another challenge that I found was painting a room pink. When I was pregnant with Lyla, I painted her room Benjamin Moore's Touch of Pink 2008-70 in satin. I chose it because it was a peachy pink, and I wanted something that was feminine but subtle. I got it up onto the walls, and it dried… and it looked like pepto bismol. I had a new can made, and they lightened the paint by 25%, and it was much softer
We originally painted the trim in Cloud white, but I decided to also go with the Simply White in semi-gloss for her trim during the repainting. My next step for this room is to do a lace stencil on the wall behind Lyla's bed. I'm planning to paint the entire wall Simply White in Eggshell, then to stencil it with Touch of Pink. After some consideration, we are going to lighten the color to 50% and repaint the walls in eggshell. Pink is tricky! I think that the 50% will be perfect. Stay tuned!
Exterior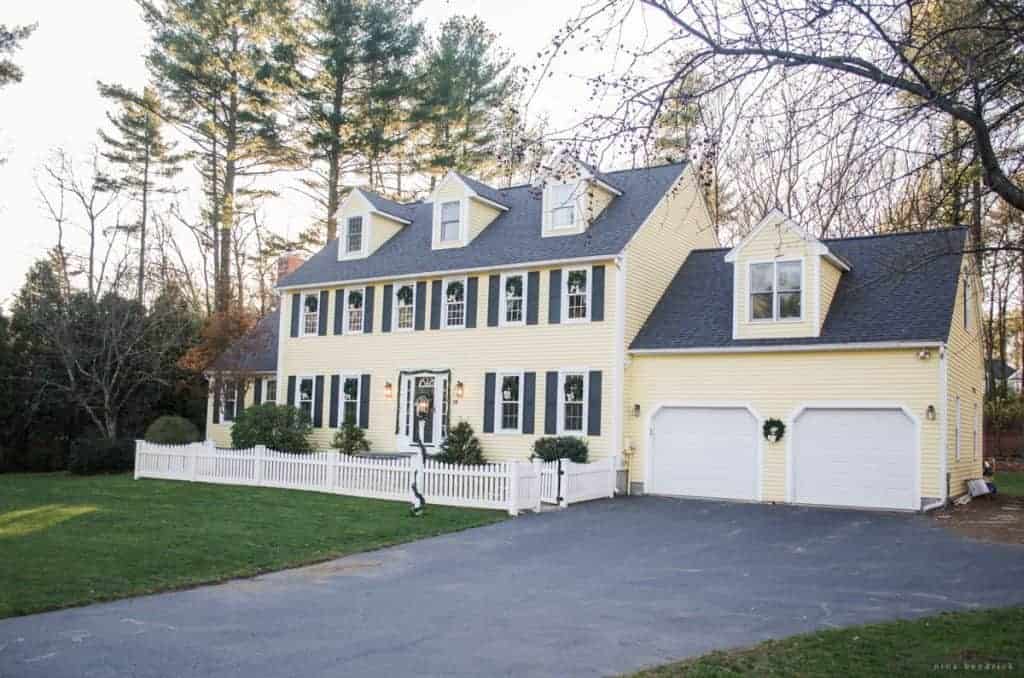 This was by far the most agonizing of all paint color choices. I discussed it more in this post. Since it's so expensive to change a house color, I wanted to make sure to get it right the first time. I know a lot of people really liked the yellow, but it's probably pretty obvious if you've made it this far that I prefer neutrals. I get asked a lot what the color was- it came with the house, but I suspect it was Benjamin Moore's Hawthorne Yellow HC-4. The shutters and front door were a dark forest green.
What I find interesting about Benjamin Moore's Gray Huskie 1473 is how extremely different from the paint swatch that it looks on an exterior. When I brought the sample home, I was extremely skeptical due to how dark and brown it appeared. However, on the exterior of our home, it is a bluish-gray and very very light. I went with Onyx for the shutters as well, but the painters went with a semi-gloss against my instructions. I would have chosen an eggshell for shutters. Overall, I am so happy with the combination!
We still have several rooms in our home to makeover, and I will update this post accordingly when the time comes. I also wanted to mention that I tend to use Benjamin Moore Aura paints for walls and Advance for trim. This isn't a sponsored post, it's just a preference!
I hope that this helps clear up some of the color questions we receive frequently! If I missed anything, please feel free to ask in the comments!
CHOOSING A PAINT COLOR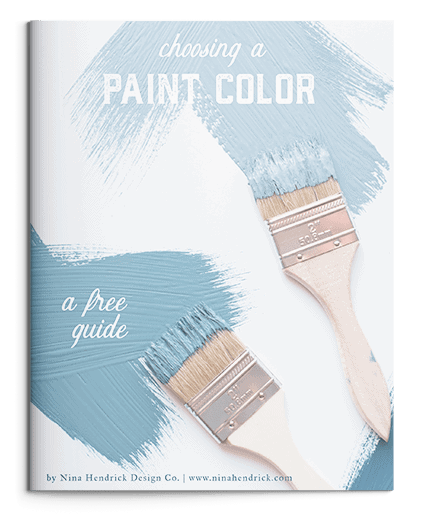 Last, but not least, I want to share this guide I put together for you. It works you through the steps to choosing a paint color based on the mood and style you want to convey. It also includes a paint color checklist and paint tracker to help you remember which colors you've tried and where!