Here are words I never thought you'd hear me say… we moved!
Watch our Moving Announcement
explore by room
It definitely unfolded quickly, in basically just the month of June. Trust me — it has been bittersweet to leave our New England Colonial which we've been renovating since 2012. I'm not sure I've even fully processed it yet!
Over the past nine years we've transformed our house from a builder-basic 1980s colonial to a fully updated dream home. At this point it's safe to say that there isn't a single square inch we haven't touched either inside or outside of the property.
In late spring, we just approached the finish line of the interior renovation with our family room makeover, which I just shared the post and video for.
For the first time, I shifted my focus from renovating a house to simply living in one. I love to renovate, but after twelve years of renovating two homes, we were pretty tired of tripping over power tools and always having a project. I was excited to spend more time on the entertaining, decorating, and organizing aspects of our home.
But on a recent drive home from our family's cabin, my husband Mack broke the news to me that he was opening a branch of his business in New Hampshire.
Now, for a bit of a backstory, I'm originally from New Hampshire. It's where Mack and I met, it's where our cabin is, and it's where my entire family and most of our friends live still. I've struggled with homesickness ever since we moved to Massachusetts twelve years ago. I know it's not too far, but it's far enough. We had always planned to retire to New Hampshire someday, but we're pretty far off from retirement. The idea of moving sooner involved a readjustment of my entire plan for our life!
We started off with moving when our middle son Cooper finishes high school, which is in eight years. We'd find the perfect piece of land and then build our dream home over the course of a few years.
Then, the kids caught wind of our plan, and particularly our oldest wanted to move up the timeline. Ideally to now.
That really didn't feel workable, because we certainly couldn't build a house before a new school year and even the odds of finding one were pretty low, especially in the current housing climate.
So we decided on a year. That would give us time to plan, find a house, pack, enroll the kids in a new school, and two of the three could transition at a critical turning point — high school and middle school, respectively. We decided we'd move slowly over the course of the year, buying a house now and juggling two houses for a while as we transitioned.
After researching the towns on the New Hampshire seacoast, we finally landed on Dover. I'll admit, I knew little about Dover even though I went to high school in the next town over. But after some research we found that there was a lot we love about it. There's a really nice downtown, and it's a stone's throw from Portsmouth and the Maine beaches. It's also about forty minutes from our family.
So we proceeded with this idea in mind. We reached out to our good friend Robert, a Realtor in Dover. He's actually the one who introduced Mack and I. We asked Robert to put out some feelers for houses in the area. I also sent him the plans for my dream house — I already knew that it was a long shot, especially getting it built in time while Mack will be doing his own building project.
At first it looked rough. The market is crazy, and the New Hampshire seacoast is even crazier than average. But Robert got a heads up about a house that was about to come on the market and sent it our way. Even seeing the google maps photo had me so excited — it was in a beautiful neighborhood on the river right near the bay and it had so many similarities to our dream home, but with the bonus of a huge detached barn and a pool. It checked all of our boxes (and then some!).
Robert suggested putting in an offer to let them know we were serious. Yes, without actually ever laying eyes on this house or even seeing photos of the inside, we put in an offer. It felt crazy. But there's also this gut feeling I've had over the years whenever we take a crazy leap and I've learned not to ignore it. It felt right.
After a little back and forth, we settled on a number. We had an officially accepted offer! We set a date for the following week for us to see the house and do a home inspection. Yes, all at once. Like I said, crazy.
I was so incredibly nervous leading up to seeing the house in person. We had at least driven by at that point, so I'd been able to see how beautiful the neighborhood was and how pretty the house is from the outside.
So many questions were running through my head. Would it be dated inside? Were there a ton of projects in our future again? Would it be so bad that we would be forced to start back at the beginning of our real estate search?
Well… It turns out that I really didn't need to worry, because the house is absolutely gorgeous. We were completely blown away. Walking around, it was like all of my dreams of those plans I sent to Robert had already been brought to life. I'm going to share a full tour once we close at the end of July, but for now I'll say this: the house is definitely move-in ready.
On the ride home from the showing, Mack dropped another of his life surprises on me. "What do you think of moving now?"
I'll admit, I was really shocked and more than a little panicked. I like to plan things, and I was already adjusting to the idea of moving in a year — nevermind in a matter of weeks.
There were both logistical and emotional things tying us to our current home. Things like school for the kids and their willingness to move now. The actual reality of moving. I was also having leg surgery in a couple of short weeks, which complicated the situation.
And also, our home. This home that we've poured our literal blood, sweat, and tears into during the last nine years. The home that helped me build my career and find my passions. The home I was literally writing a book about. Could I really leave it, just like that?
We gave it some time and discussed it as a family. Our oldest in particular was ecstatic to move. They're all excited about the pool. They were ready to take the leap.
From there, everything seemed to fall into place. I'm not sure if you believe in signs, but it has truly felt like someone has been guiding this journey from the first moment. It just feels right.
Of course, it's still bittersweet. I've cried a lot about this completed house and my garden that I've barely had a chance to enjoy. Although the new house has a lot of the same flower choices — and that's only one of the crazy parallels, wait until you see the new paint colors. We won't be selling the Massachusetts house right away since there's still some little pieces of projects to button up, so there's still a little time to say goodbye, but we officially moved to the new house at the end of July.
Honestly, there was a bigger and real goodbye recently that brought everything into sharper focus for me. Our sweet pup Lucy lost her eighteen-month battle to cancer just a week before the move. Although she lived a long thirteen years, she was our first baby and a beloved member of our family. I'll admit that even though we love it, the new house doesn't feel quite like a home yet without her as we grieve.
I've come to realize and appreciate what I've preached to you all along — home isn't a place, it's about who you're with. And although I loved the colonial house, it's the people (and furry family members) that I share it with that truly matter. I know we'll be able to create a home wherever we go as long as we're together — cheesy, but true.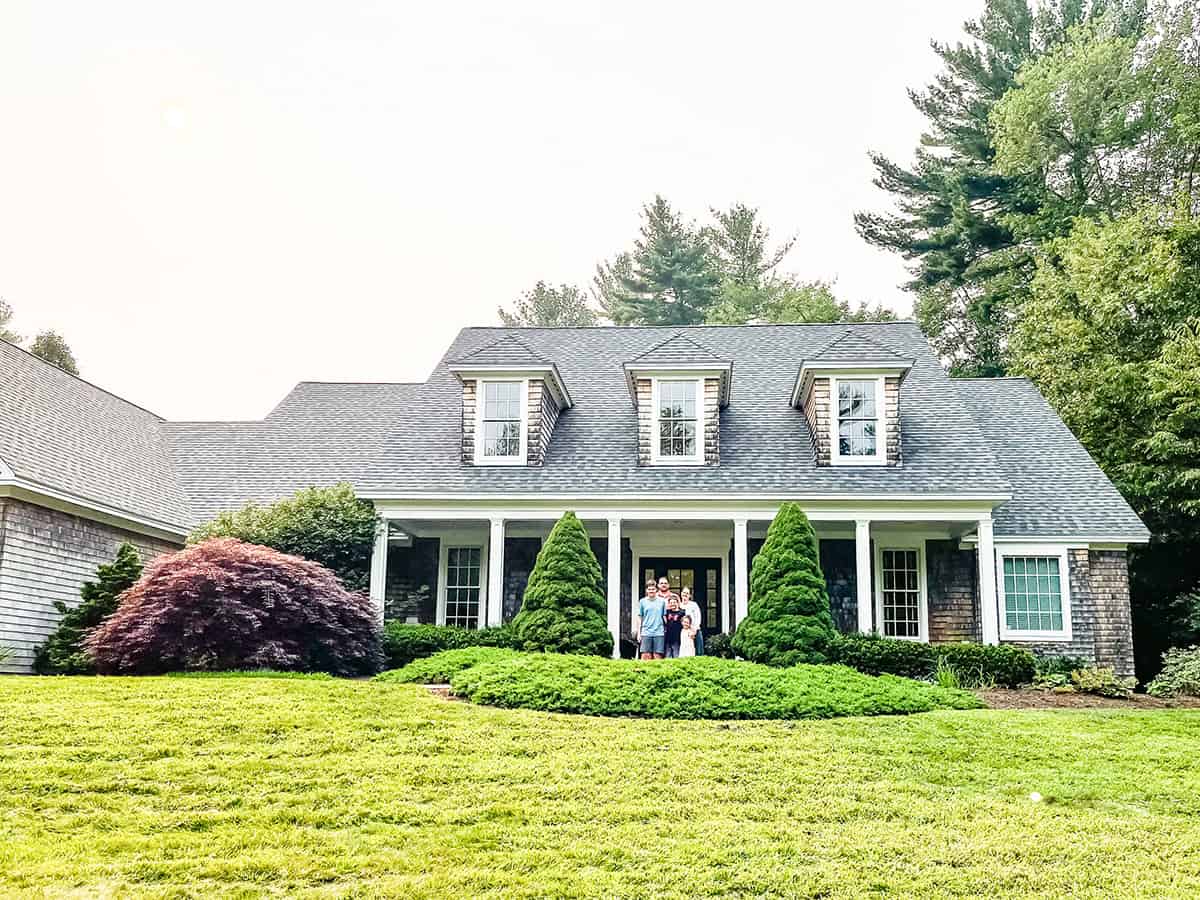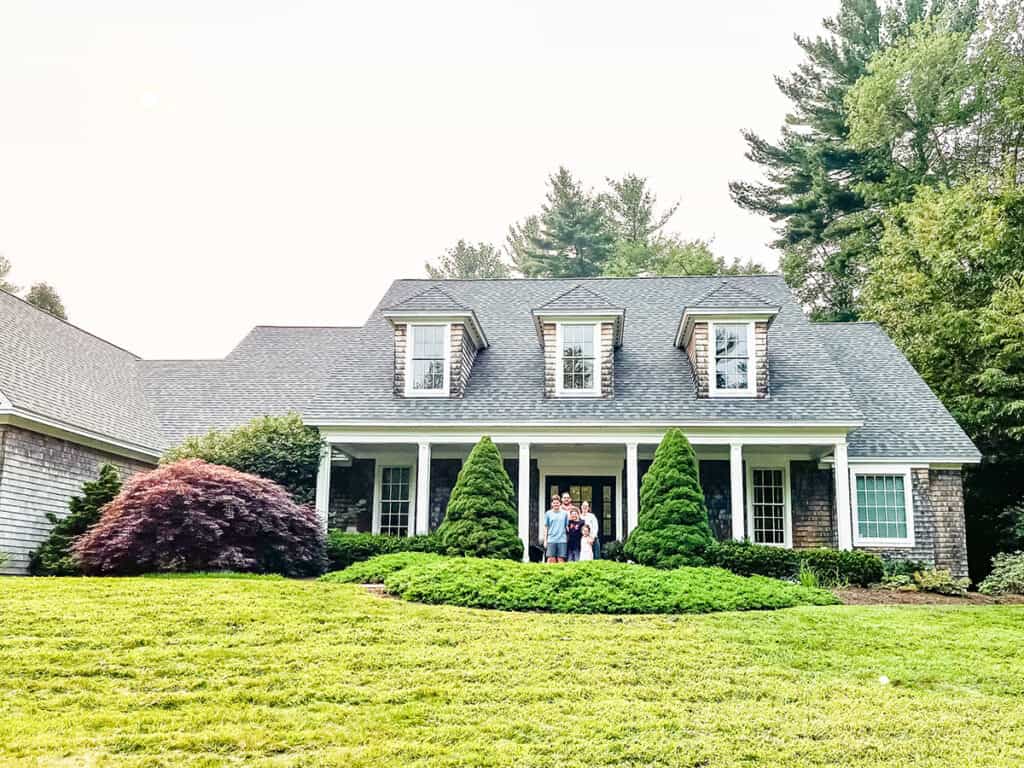 If you'd like to follow along with our journey and see our new home, I'd love to invite you to subscribe and also follow along on YouTube. I'm excited to share a tour soon and since there's minimal major remodels in the new house, continue those plans of focusing on decorating, entertaining, and organizing in a brand new space!
In the meantime, I still have a lot of unpacking to do!