Make your Christmas decorating easy and fun with these simple Christmas decor ideas. From festive wreaths to glittering ornaments, we have all of the tips you need to create a beautiful, cozy, and minimalist holiday aesthetic.
The holidays are a time of joy and festivity, and what better way to celebrate the season than with some simple Christmas decor? This blog post will explore the many ways that you can decorate your home for Christmas without having to spend a bunch of time or break the bank. From simple DIY projects to affordable seasonal decorations, you'll find plenty of holiday decorating ideas for creating a holiday atmosphere. Whether you're looking for a traditional look or something a little more rustic, there are plenty of ways to make your home merry and bright this holiday season! For more easy Christmas decorating ideas throughout the house, check out this post!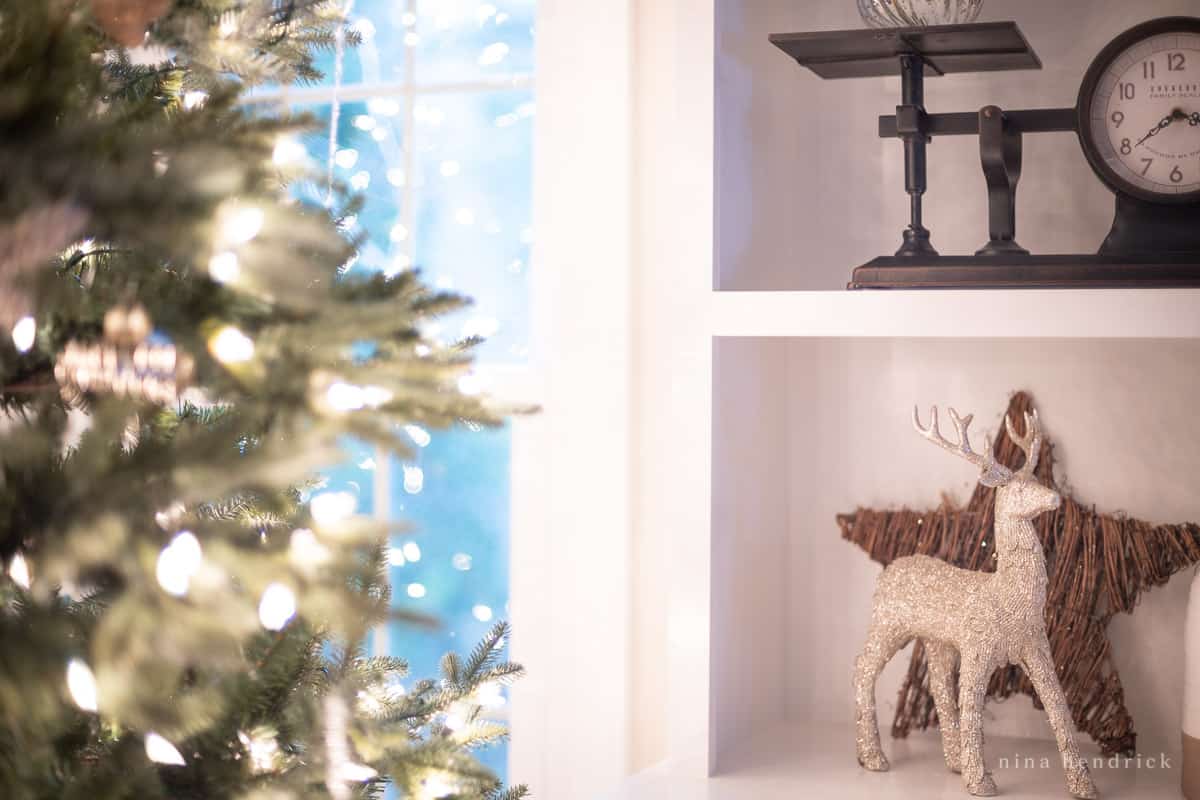 Inexpensive & Simple Christmas Decor Ideas
Simple Christmas decor is a minimalist aesthetic that is becoming more popular with lives that seem to get busier year after year. For those looking for simple and inexpensive holiday decorating ideas, there are plenty of great options. Using items from around the house, one can create festive decorations that look beautiful and can be reused year after year. For a Christmas tree, use a real tree or an artificial one and decorate it with ornaments, garlands, and lights. Place a bowl of ornaments in front of the fireplace or hang evergreen branches from the mantle. An evergreen wreath can be placed on a door or wall to add a merry touch. Stringing garlands of evergreen around the banister of the stairs or around a door frame is another simple and inexpensive way to decorate for the holidays. Place a holiday-themed centerpiece on the dining room table, such as a bowl of ornaments, pinecones, or candles. For the kitchen, hang a holiday-themed kitchen towel and place a bowl of holiday-themed candy or cookies on the countertop. This type of decorating is perfect for those who want to keep the traditional holiday spirit alive but don't want to go overboard with decorations. Keep reading to see these simple Christmas decor ideas in action!
This post contains affiliate links, which means I may get a small commission (at no extra cost to you) if you shop my link. Please see my disclosure if you'd like more info!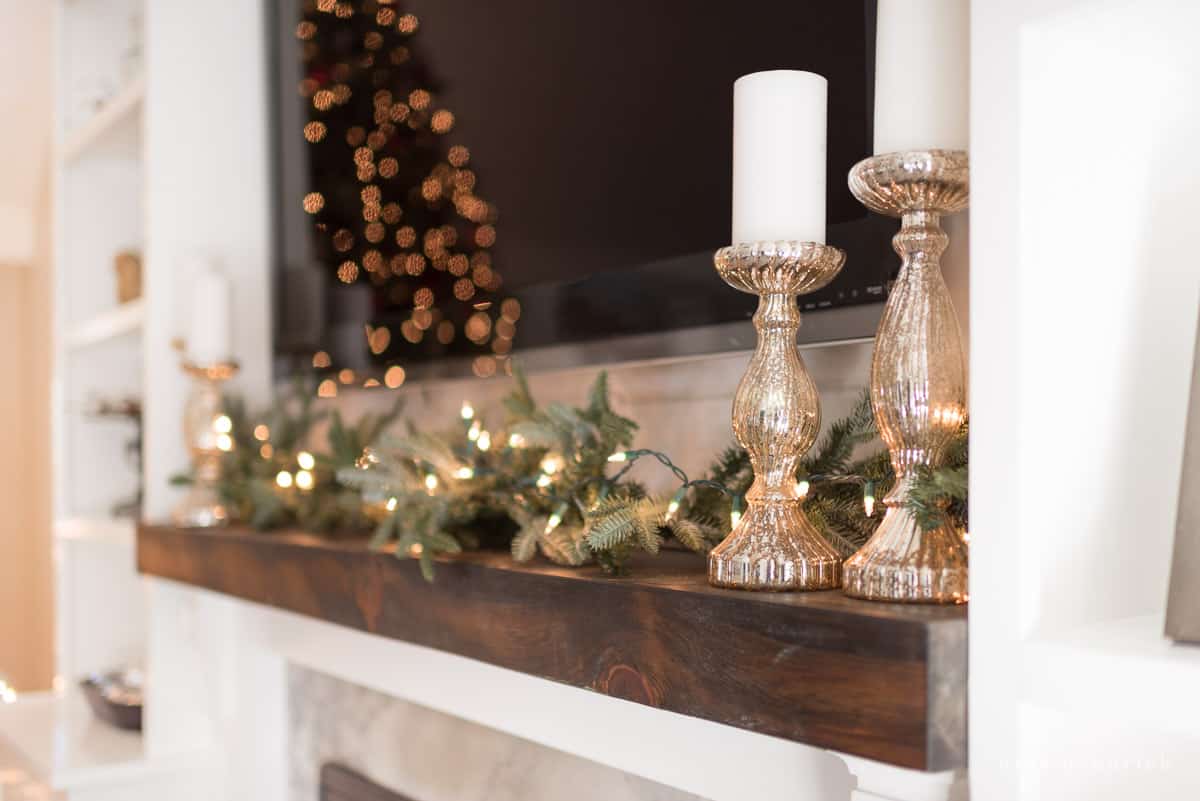 1. Create a Collection of Christmas Essentials
A collection of simple Christmas decor essentials can transform your home into a festive holiday space year after year. Start with a few select, neutral pieces that will add charm and cheer to your home. A pre-lit artificial tree, a string of twinkling lights, a few evergreen garlands, and some mercury ornaments will create a beautiful holiday atmosphere and will feel new and fresh with just minimal additions or changes the next year. Add a few candles, a cozy throw blanket, and some throws pillows to complete the look. With your collection of simple Christmas essentials, you can create a cozy feel that will spread cheer throughout your home.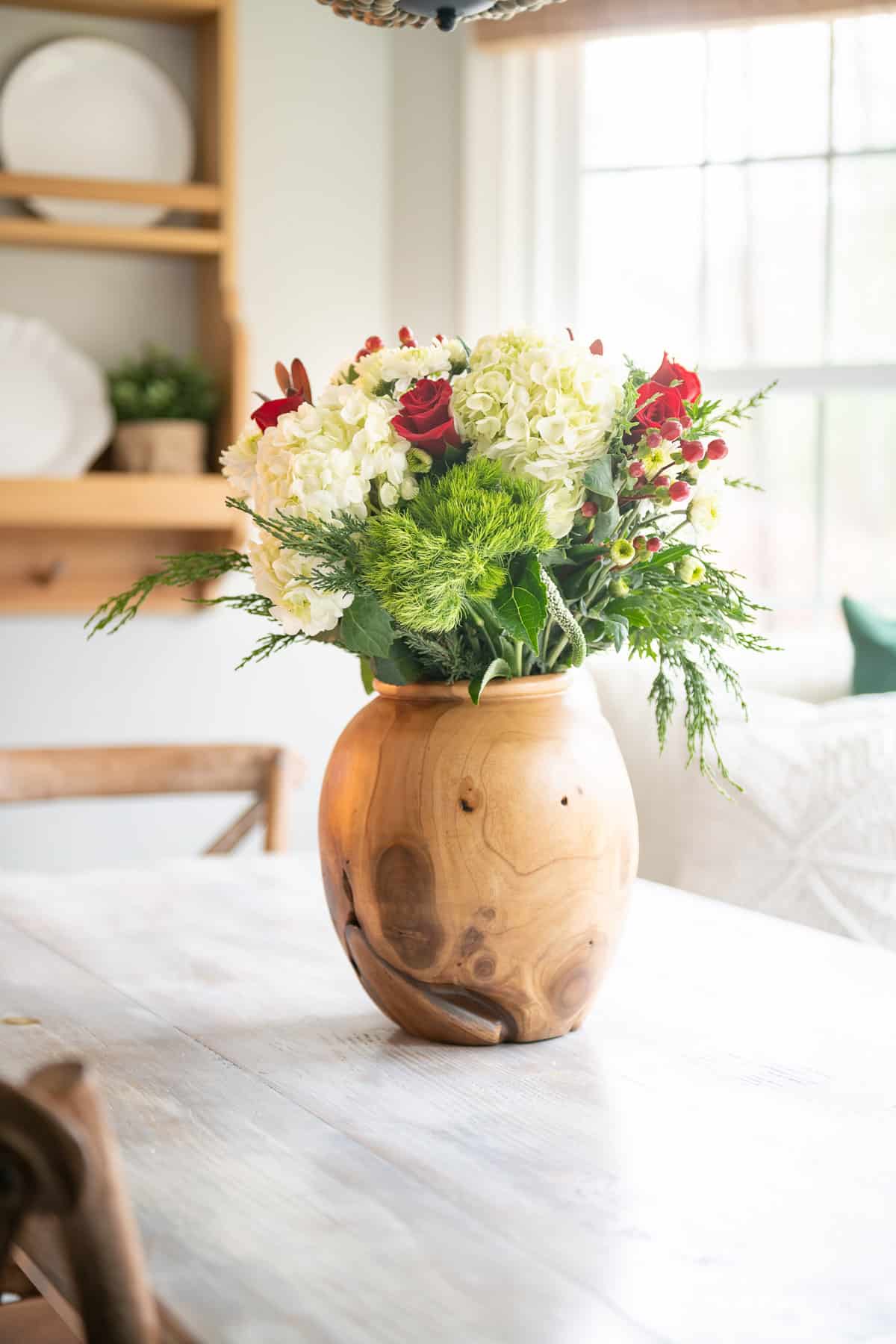 2. Cheap & Simple Christmas Table Decorations
Adding a holiday touch to your table for Christmas entertaining doesn't have to mean creating a complicated or expensive tablescape. A great and budget-friendly way to decorate your table is to start with a simple white flower arrangement from your local grocery store, and add some red roses for a vibrant pop of color. You can also add berry picks, pinecones, and evergreens to the arrangement to make it even more special. Create a whole tablescape by adding a holiday runner, some simple candlesticks and everyday white plates. A tablescape doesn't have to be complicated to be beautiful for Christmas!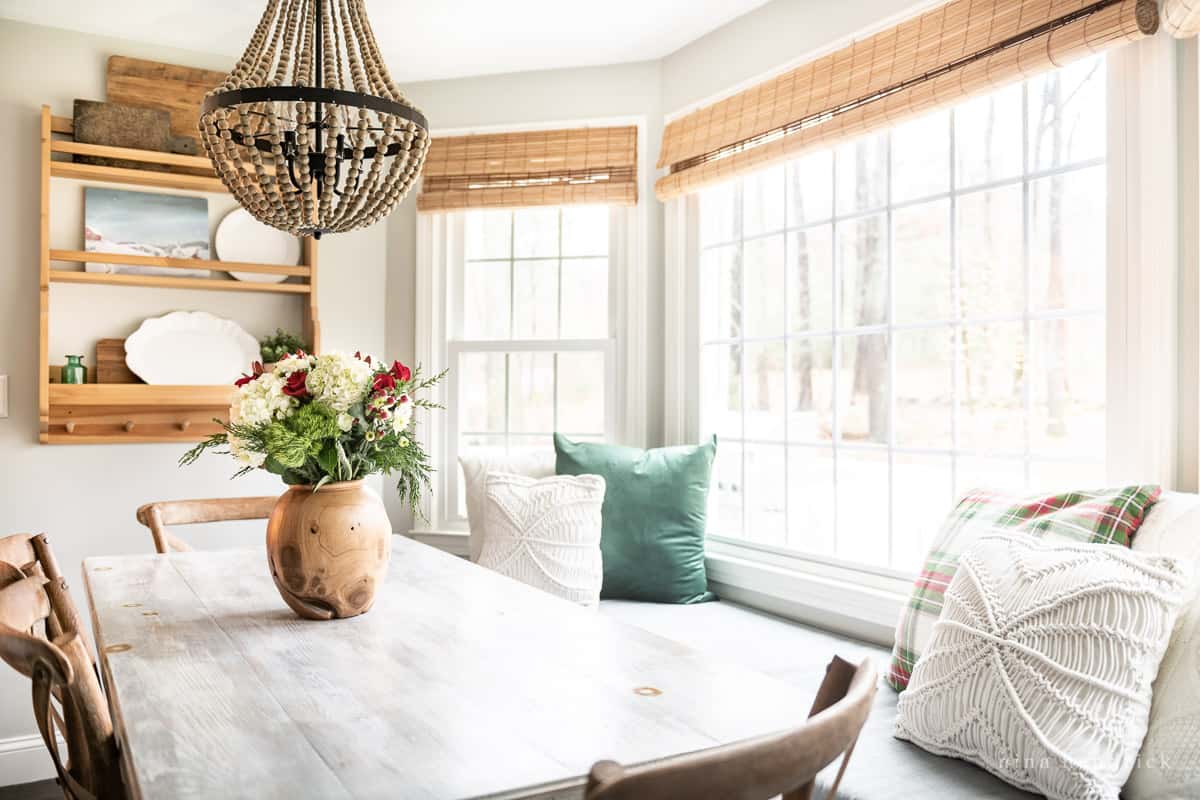 3. Mix in one or two Christmas Pillows with Your Everyday Neutral Pillows
Mix one or two Christmas pillows with your everyday neutral pillows to add a bit of cheer to your living space. Choose Christmas pillows in classic colors such as red, green, and white, or opt for more creative designs that feature reindeer, snowflakes, or Santa himself. The addition of a few Christmas pillows is sure to bring some extra holiday spirit to your home and make it a cozy place to spend time with your loved ones.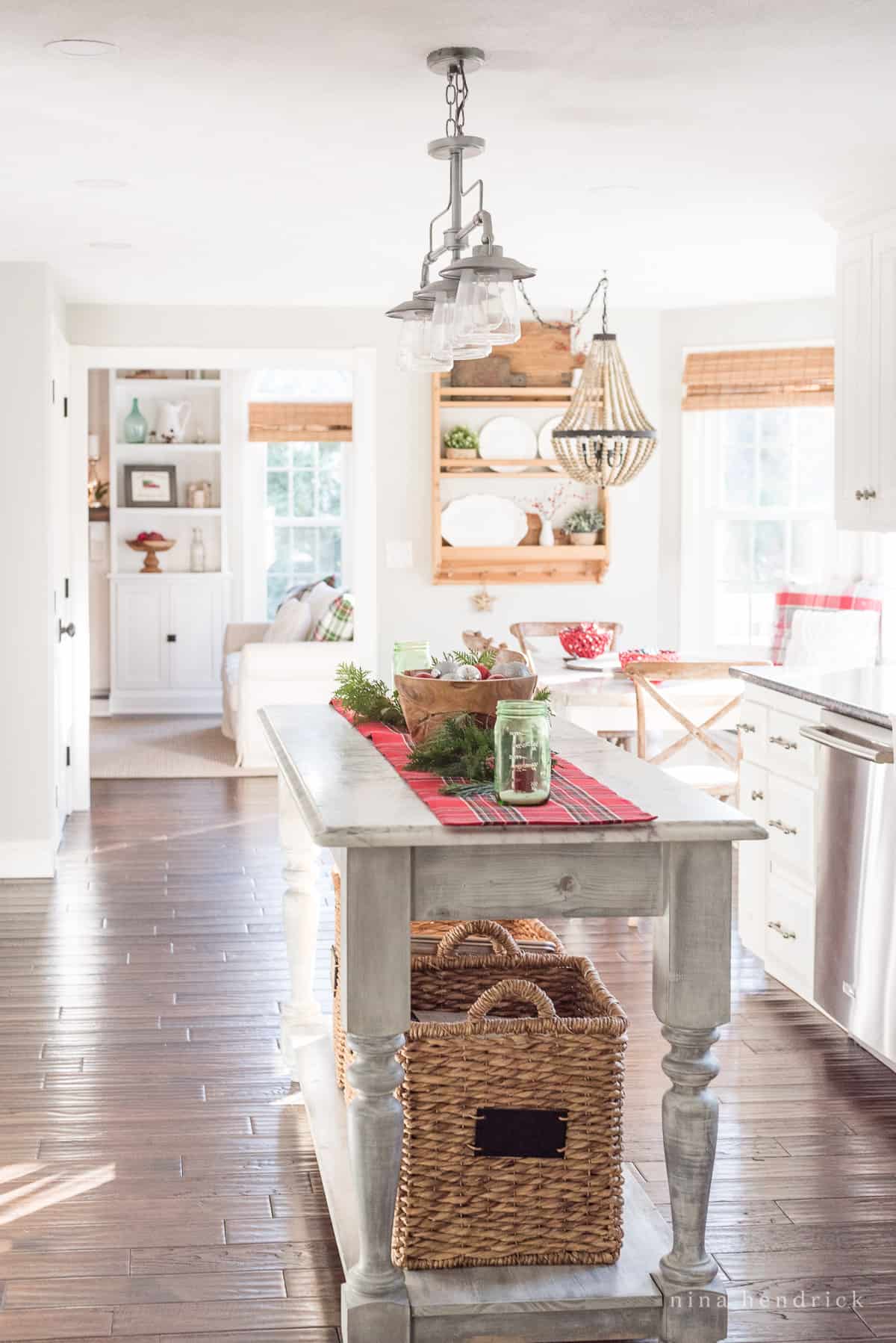 4. Bring Simple Christmas Decor to the Kitchen
For a simple Christmas decor in the kitchen, focus on the basics. Use a few decorations and colors to keep the room looking festive. Start with a kitchen island centerpiece such as a festive wreath, a few Christmas candles, or some sprigs of evergreen. Hang a few garlands from the walls or window frames. Add a few strands of Christmas lights around the room for a bit of extra sparkle. Finally, top off the look with a few Christmas-themed kitchen towels, oven mitts, or a plaid table runner. The result will be a cheerful and inviting kitchen that will bring plenty of Christmas spirit.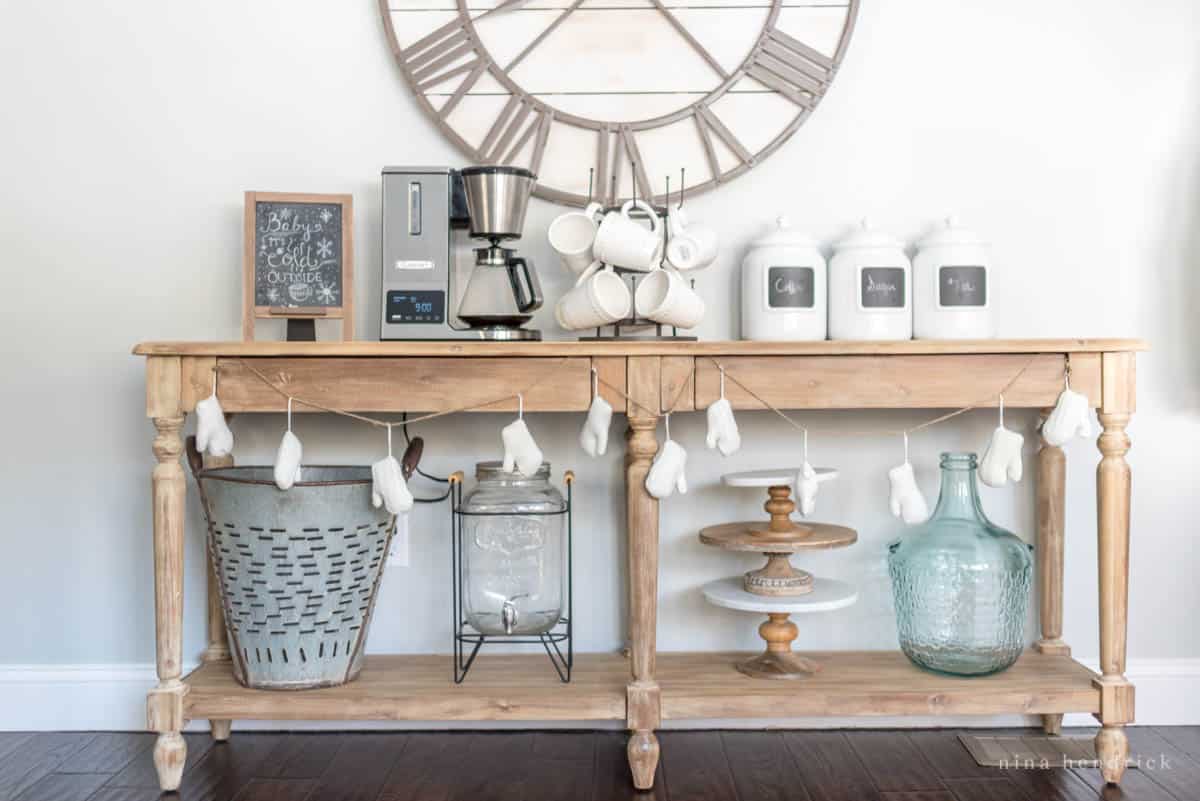 5. Hang a Festive Swag, Garland, or Banner
Adding a decorative banner to your home is a simple way to bring holiday cheer. Whether it's a classic Christmas message or a pattern, this is a great way to add some holiday flair. Swags can be hung in any room, from the kitchen to the living room, and even outside with the right materials. They are easy to hang and don't take up much space, making them the ideal decoration. Garlands come in a variety of materials, like paper, fabric, and wood, as well as in many colors, sizes, and styles. Hanging a whimsical banner is a great way to instantly decorate for the holidays and create a warm and inviting atmosphere in any space.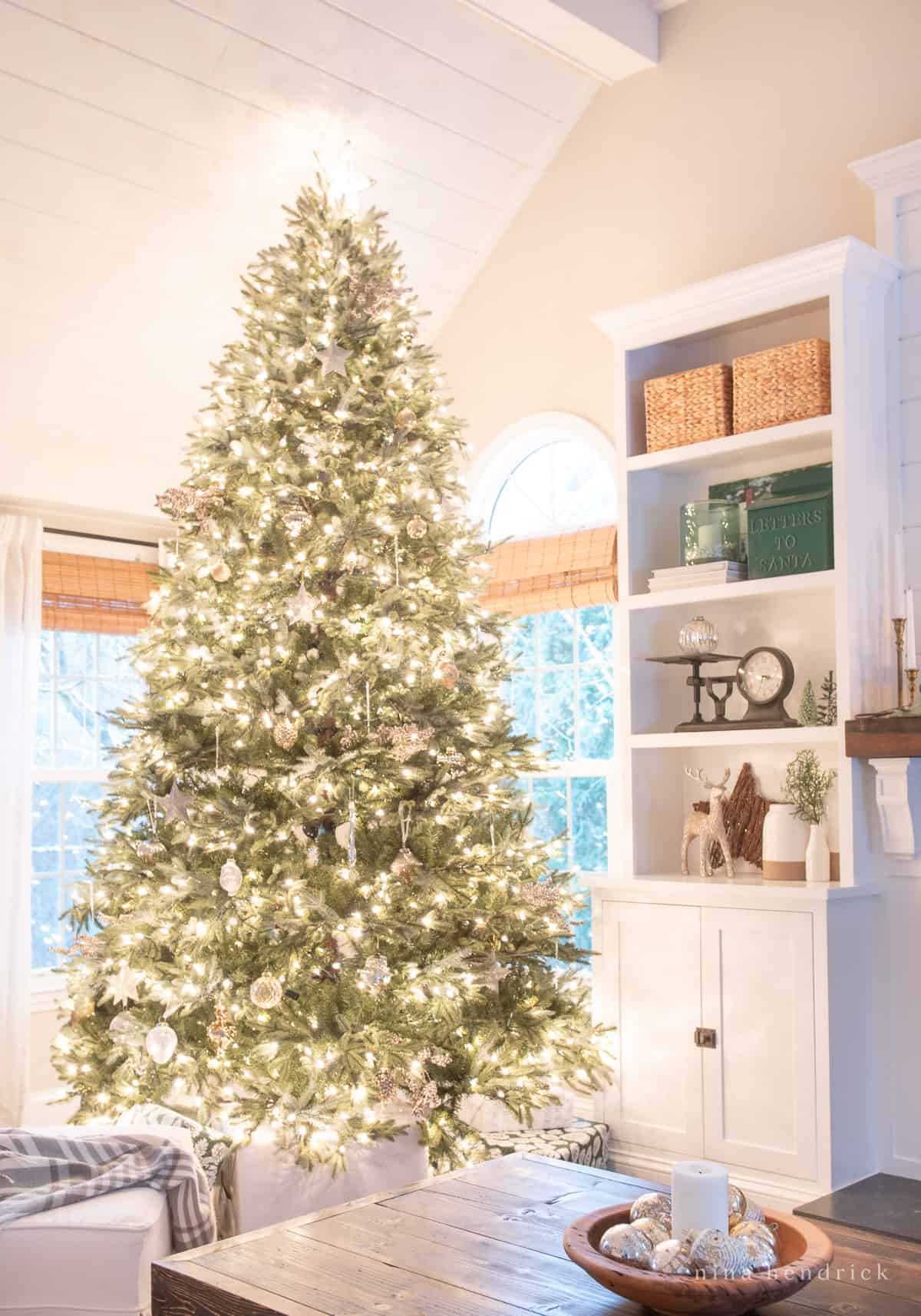 6. Simple Christmas Decor for Your Tree
One key to simple Christmas decor is to let your tree speak for itself. You can select a few special decorations to place on the tree, such as ornaments and ribbons, but try not to overdo it. Instead of going crazy with decorations, use the tree and its beautiful sparkling lights as the focal point and accessorize it with natural elements, like pinecones and berries, or simple decorations like garland and bows.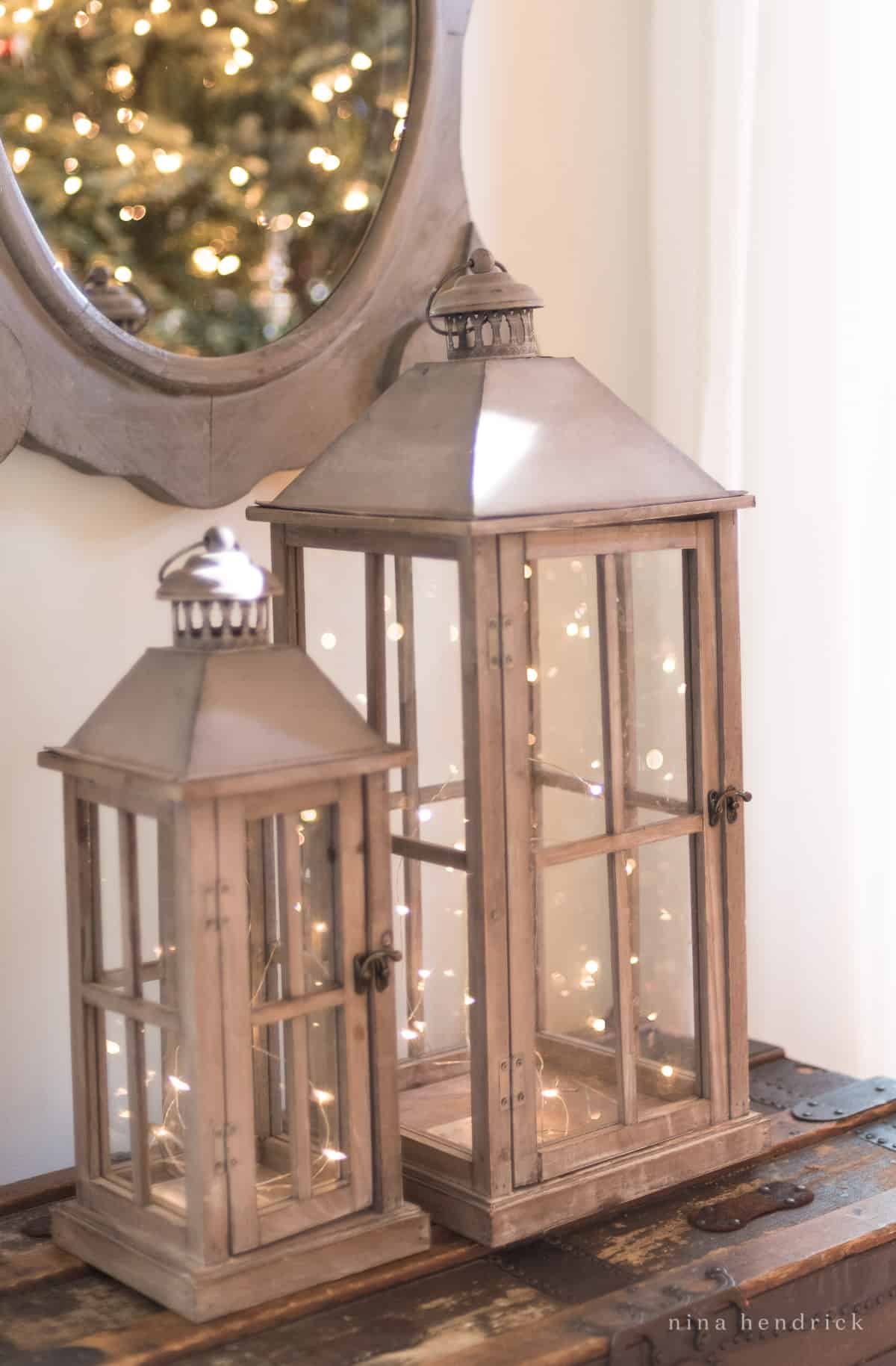 7. Add Twinkle Lights for Instant Holiday Magic
Twinkle lights are simple Christmas decor that can instantly bring a magical feeling to any space during the Christmas season. They come in a range of colors and sizes, so you can easily find the perfect look for your home. Hang them on the wall, around a doorway, or around a window to add a touch of holiday cheer. If you want to get even more creative, why not make a light garland to hang around the mantel or stairs? Adding a simple string of LED lights to everyday decor like lanterns or even a basic vignette automatically (but easily!) elevates it to Christmas decor!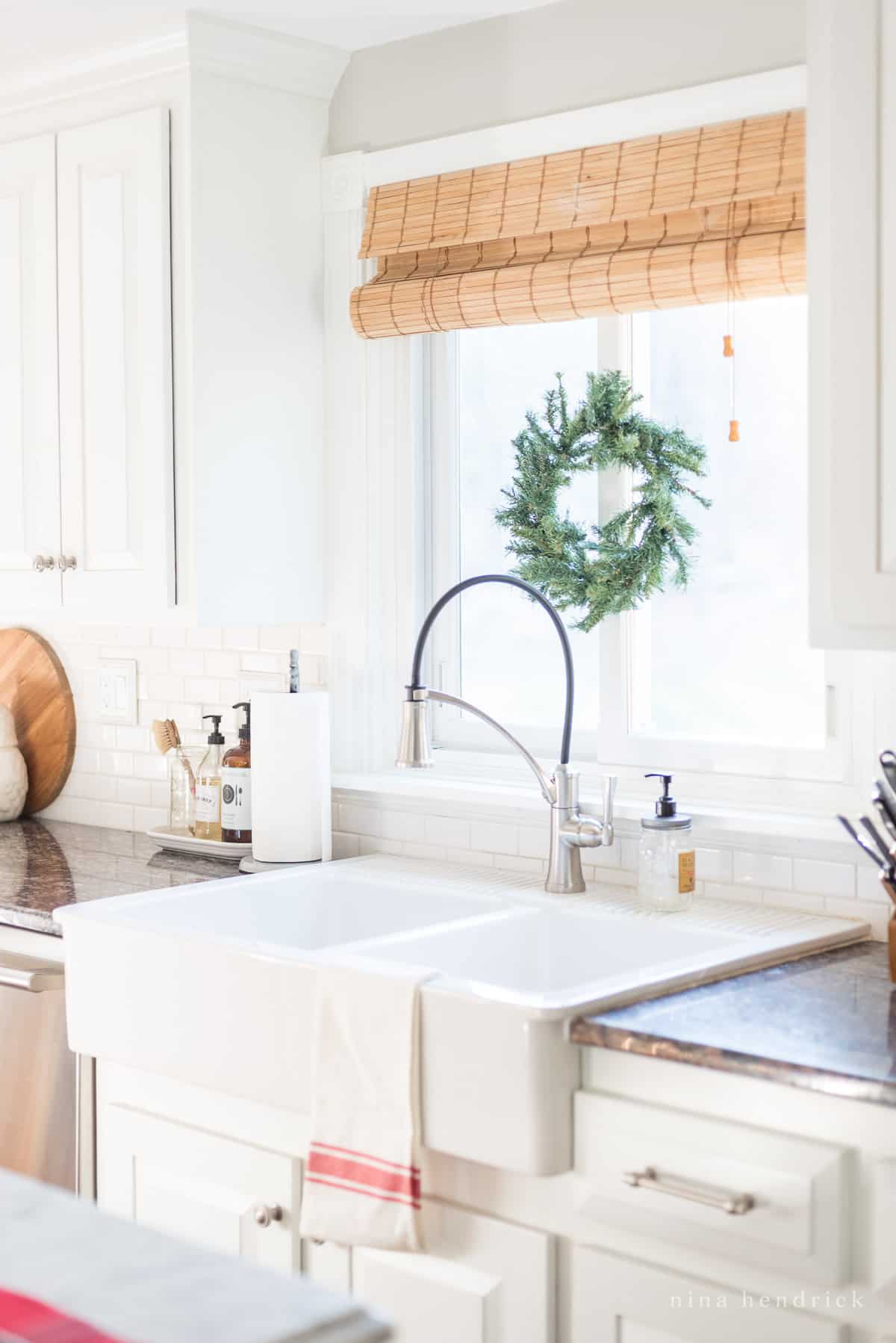 8. Decorate with Wreaths
A wreath is a classic way to add some holiday cheer to your home during the Christmas season. Wreaths come in a variety of styles, colors, and sizes, so you can find one to fit your home's decor. Hang a wreath on your front door to welcome guests or place one on a wall or window to add a cozy touch to your living space. Wreaths made with fresh pine and holly, or ones adorned with lights, baubles, and other decorations, are sure to bring the Christmas spirit into your home.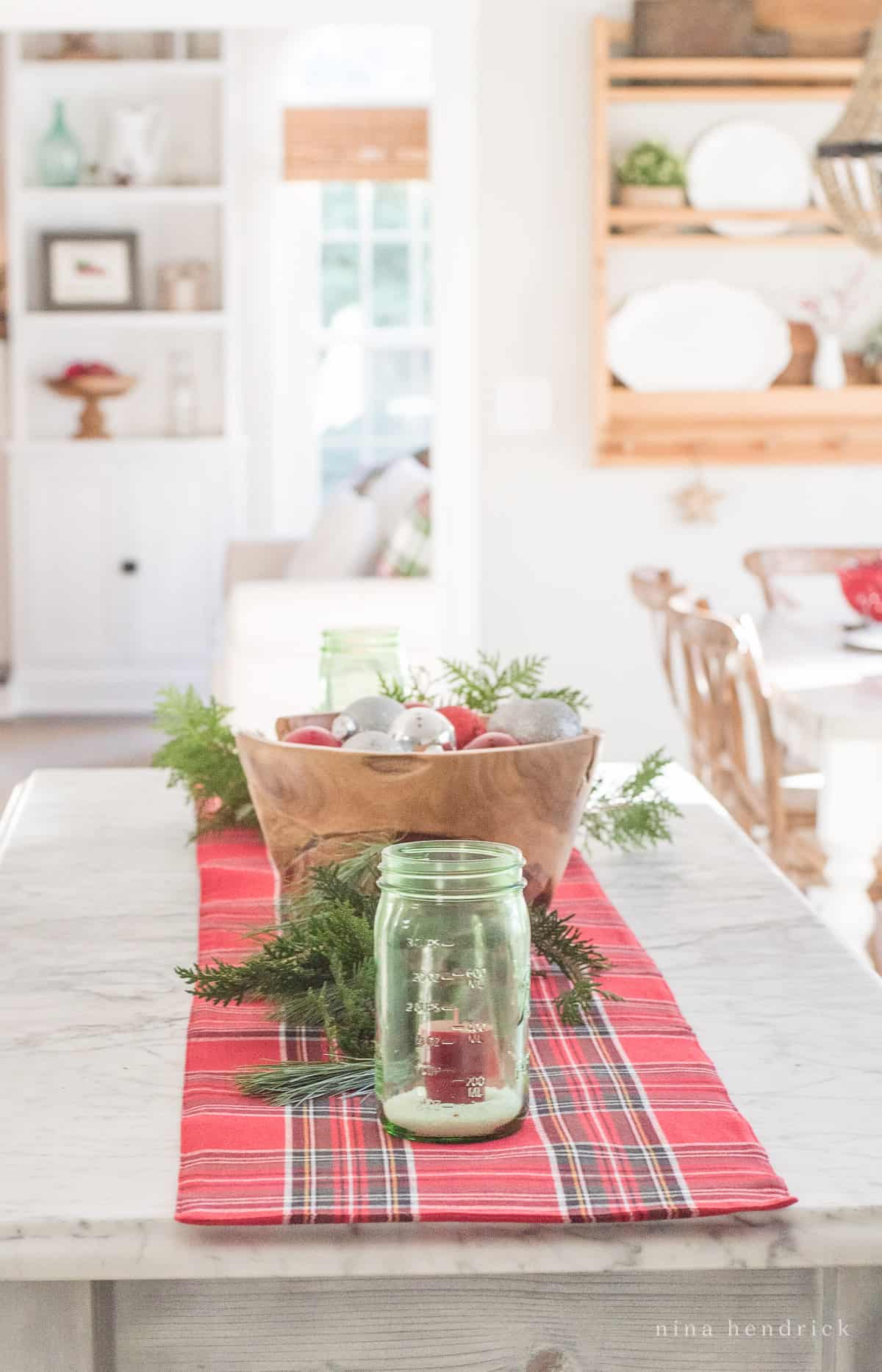 9. Use Found Objects — Like Jars — as Candle Holders for Simple Christmas Decor
Incorporating mason jars into Christmas decor is an easy way to create a cozy atmosphere. Choose jars of varying sizes, fill them with decorations like epsom salt, evergreen sprigs or holly, and place a LED flameless candle in the center. This will create an eye-catching and welcoming centerpiece. To make it even more cheerful, decorate the jars with a ribbon or twine. Mason jar candles are also a great gift idea!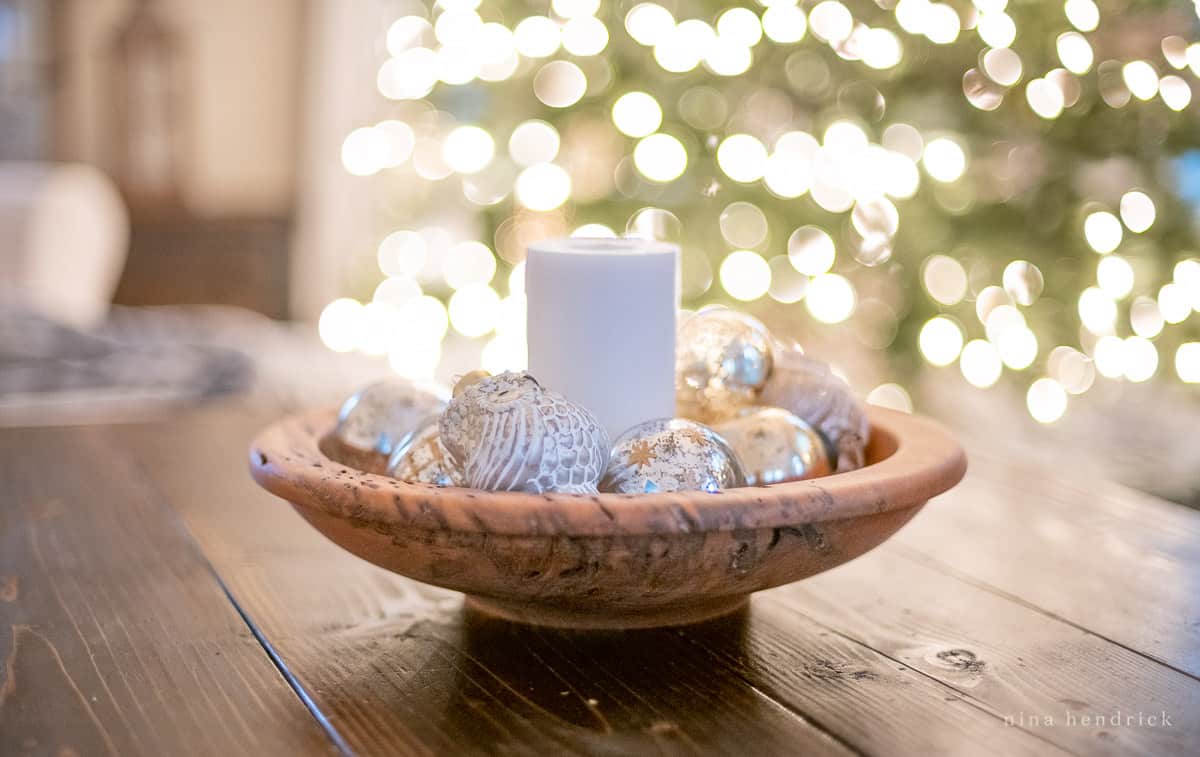 10. Fill a Bowl with Ornaments or Greenery
A simple and elegant Christmas decoration is to fill a bowl with ornaments or greenery. This creates a cozy atmosphere in any room. Whether you choose shiny glass ornaments, bright and colorful plastic ornaments, or a mix of both, the bowl will be a beautiful and eye-catching display. You could also opt for garlands or wreaths of greenery and ornaments to fill the bowl. This is an easy and inexpensive way to bring a touch of Christmas cheer to any home.
Simple Christmas decorations can create a jolly atmosphere for the holidays and add a touch of cheer to any home. They can be as elaborate or as simple as desired and are an easy way to express a little holiday spirit. From wreaths and garlands to candles and lights, simple Christmas decorations can create a festive atmosphere while still keeping the decorations simple. Whether you choose to decorate with store-bought decorations or create your own, the options are endless and can be tailored to your personal style and budget.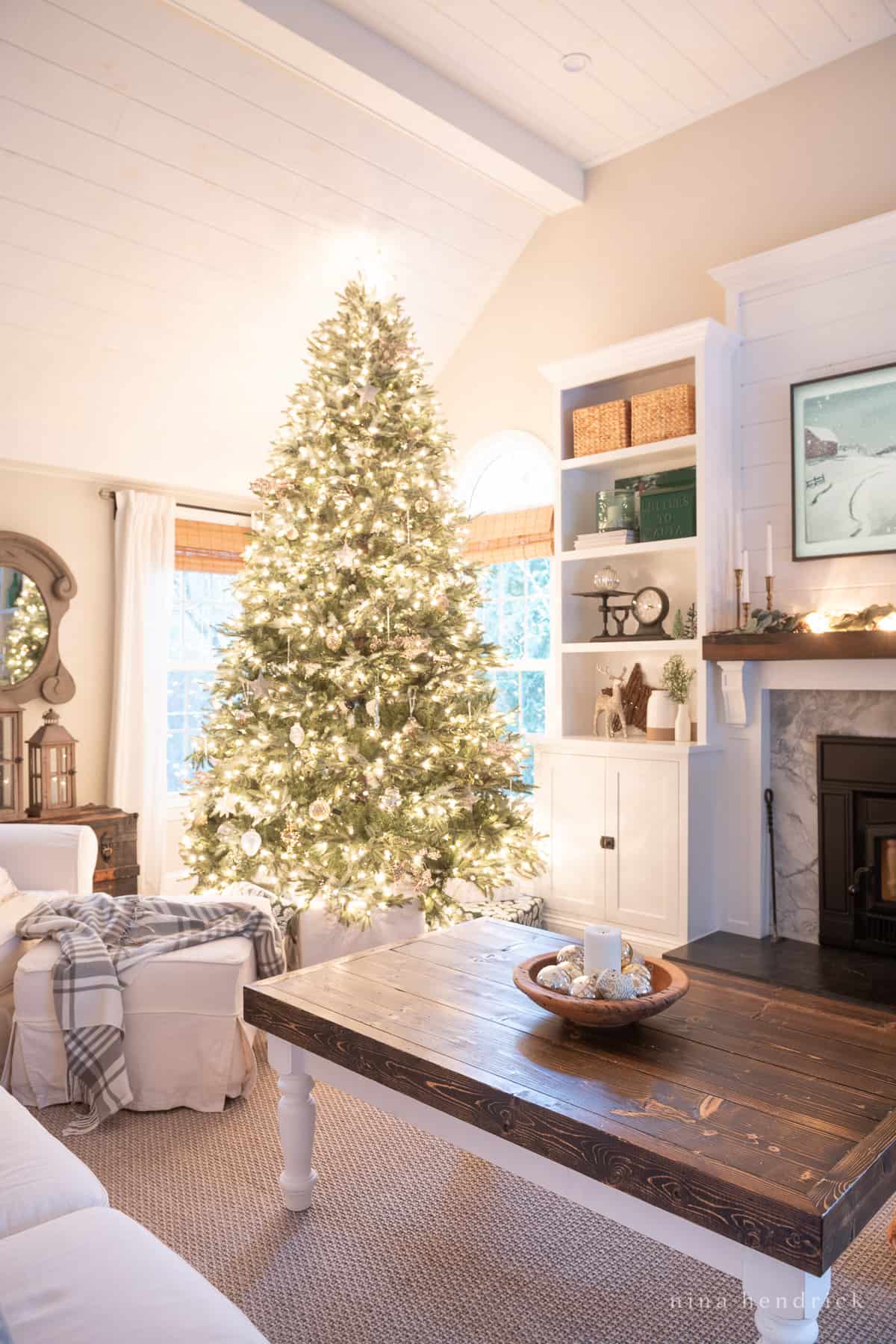 If you found these simple Christmas decor ideas helpful and decide to recreate them in your own home, please tag me on Instagram @ninahendrickhome so that I can see what you've created. I hope you enjoyed this guide to simple Christmas decor ideas! Decorating for Christmas doesn't have to be complicated and expensive. By following my tips and tricks, you can create a beautiful holiday look on a budget. Whether you choose to go with a traditional Christmas look or a modern one, these simple Christmas decor ideas are sure to help you create a holiday atmosphere in your home. Plus, you can have a lot of fun in the process!