Celebrate a Cinco de Mayo party with a fun and creative Margarita Bar and other easy party ideas to make your gathering memorable!
Cinco de Mayo is the perfect time to gather your friends and family for a festive celebration! The fifth of May, or Cinco de Mayo, is celebrated in parts of Mexico and the United States to mark the Mexican army's unexpected victory over France in the Battle of Puebla in the Franco-Mexican War on May 5, 1862. There's a rich history of gathering on this day to celebrate Mexican culture!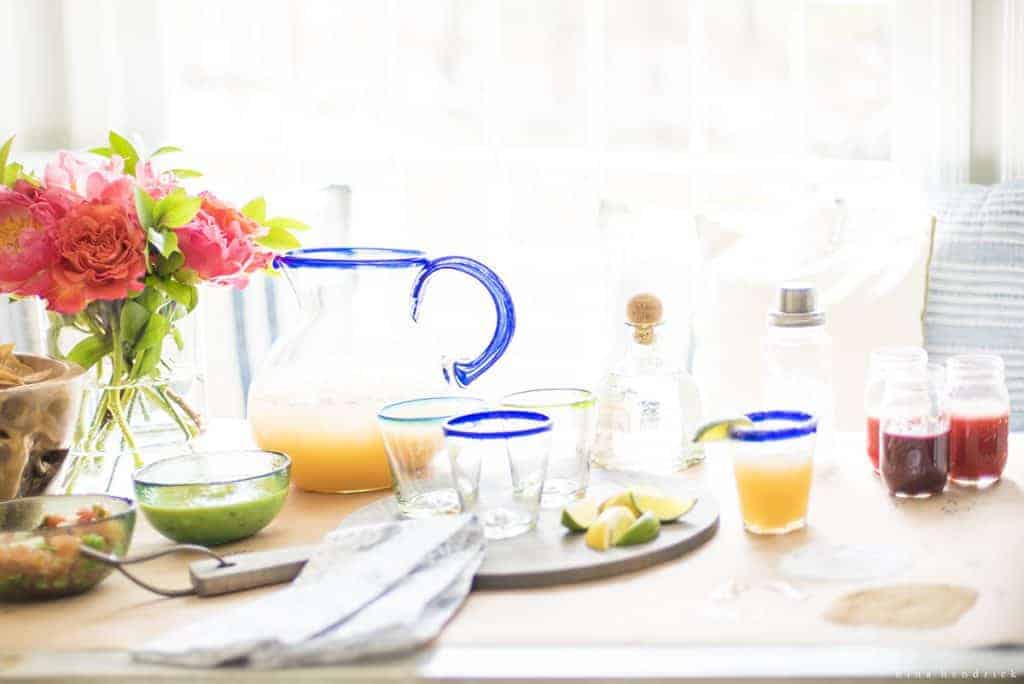 From decorations to food to drinks and activities, there are countless ways to make your Cinco de Mayo party memorable. Whether you're hosting a big bash or just a small get-together, these Cinco de Mayo party ideas will help you plan a fun and festive event. If you're looking for ideas for another May holiday, you can check out my colorful Mother's Day brunch here!
This post contains affiliate links, which means I may get a small commission (at no extra cost to you) if you shop my link. Please see my disclosure if you'd like more info!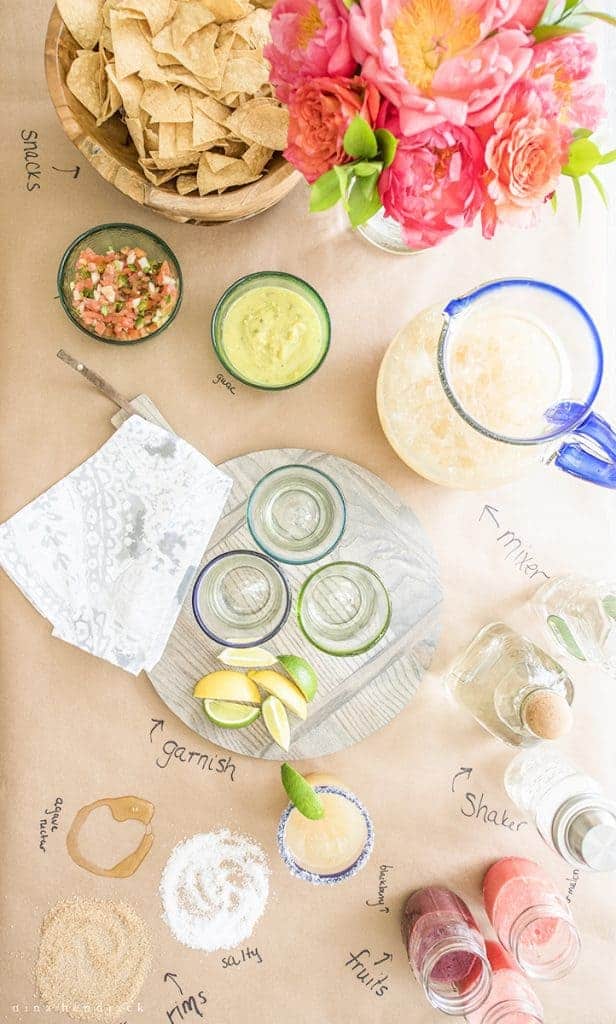 Cinco de Mayo Party Decor Ideas
For Cinco de Mayo decorations, consider using the colors of the Mexican flag: green, red, and white. You can string colorful papel picado (lacy paper) banners and hang piñatas of all shapes and sizes! Hang festive paper lanterns from the ceilings and walls, and add a variety of bright balloons and streamers. Use lots of Mexican cultural symbols like serapes, maracas, and sombreros, and don't forget to include plenty of festive cactus-themed decorations as well. Make sure to have Mexican music playing to get everyone in the right spirit!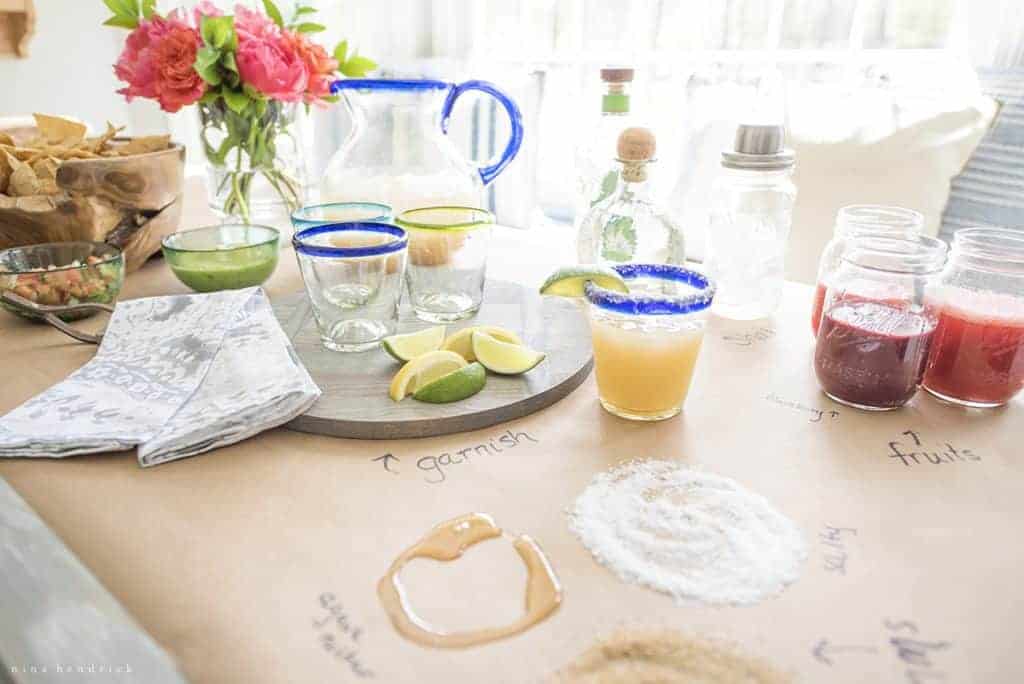 Set A Festive Table
To set a festive table for your Cinco de Mayo celebration, start by picking a vibrant color palette. Choose colors like pink, red, orange, green, white, and yellow that are associated with Mexican culture and the holiday.
Next, set the table with festive decorations like bright table runners, tissue paper flowers, or paper lanterns. You can also use a festive tablecloth or placemats to give your table a unique look. I have already shown you my favorite way to create a snack table for guests, labeling all the different parts of it on a kraft paper runner. I thought that method would lend itself perfectly to this theme!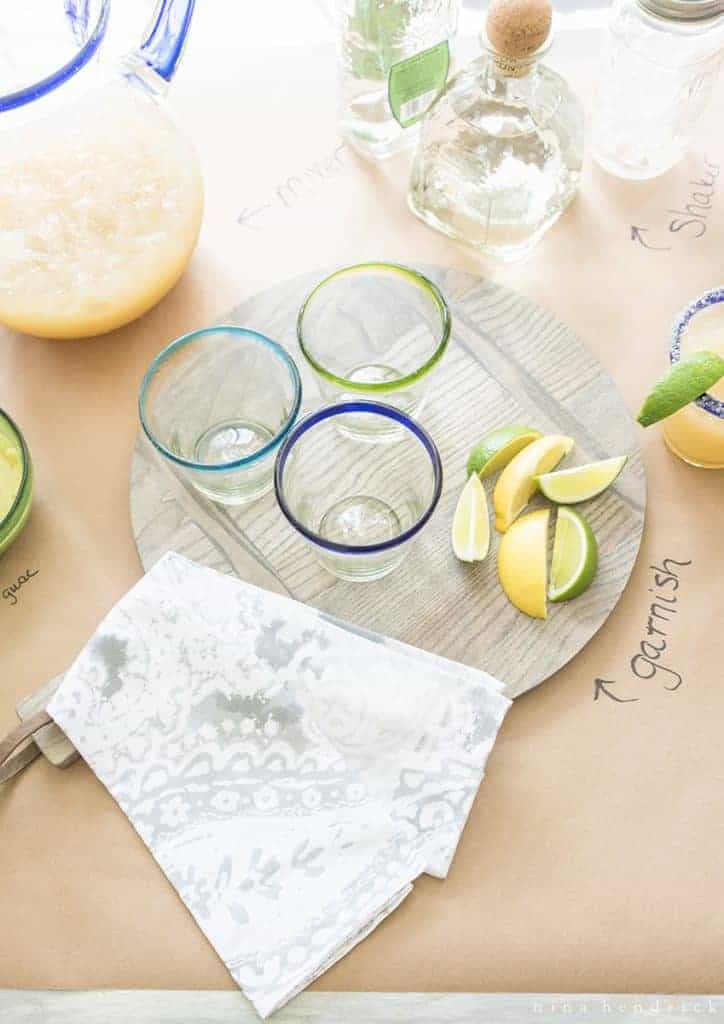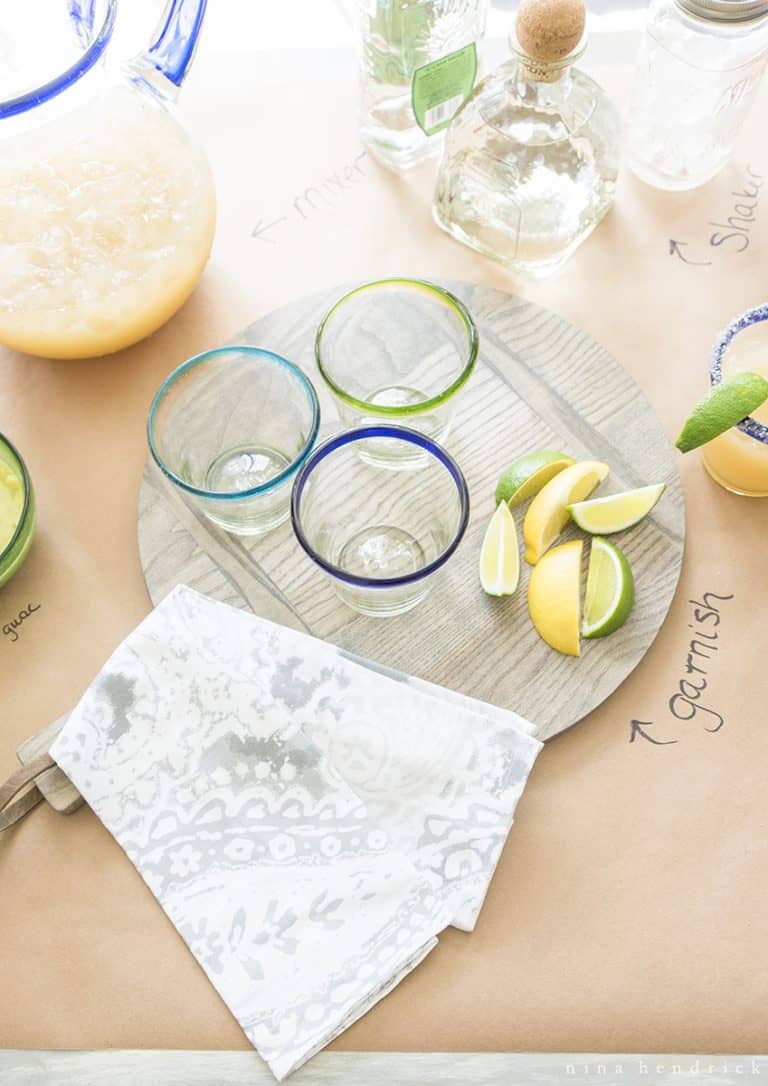 Finally, set the table with dinnerware, cutlery, and glasses that fit the theme of the celebration. Once you have your table set, it's time to add the food and drinks for your Cinco de Mayo celebration!
The napkins (similar sourced) I used in this table setting reminded me of a Mexican cement tile pattern. I loved that they are neutral, so I can use them in other places, but they are still on theme.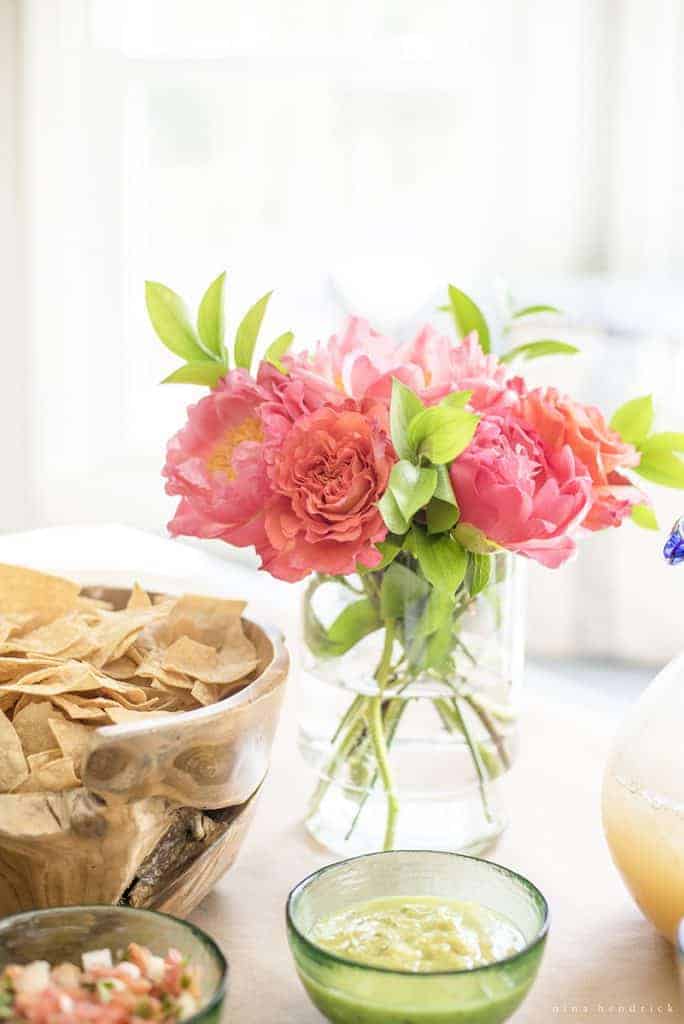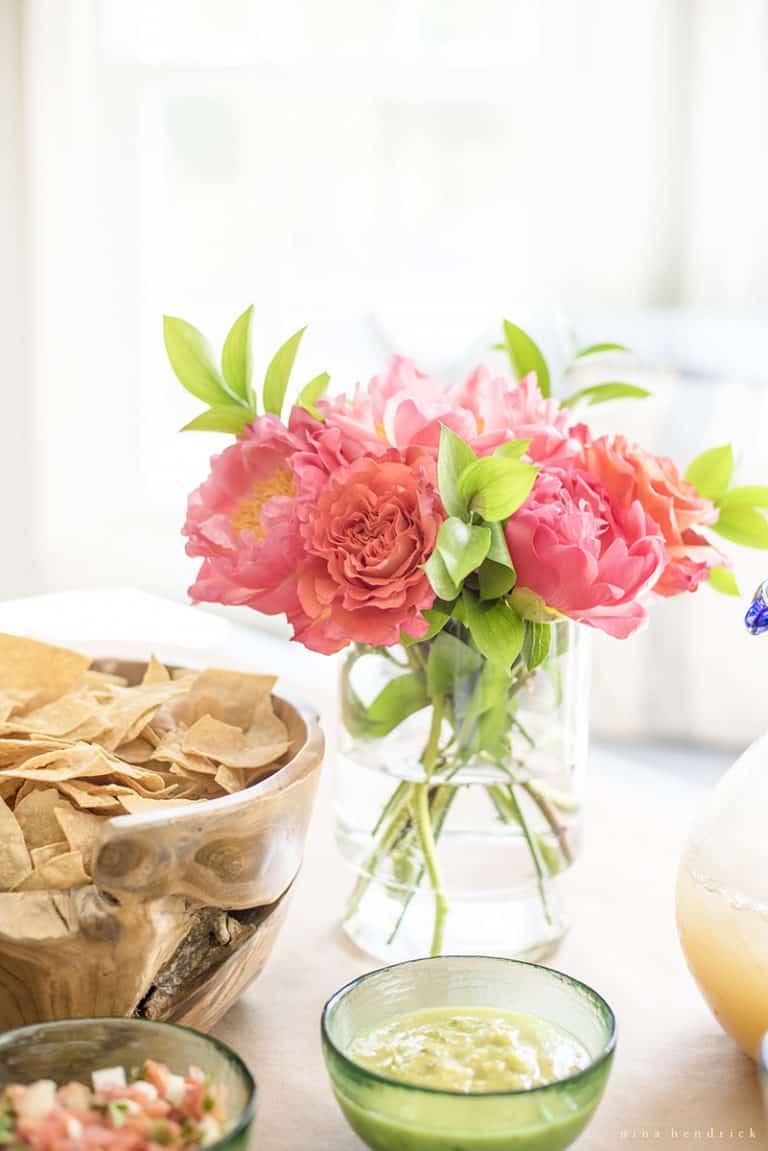 Floral Arrangement with Bright Colors
You can incorporate orange roses and bright pink peonies into your floral centerpiece. Not only will they look beautiful, but they will also add a fun and festive feel to your home. They'll put a smile on the faces of your guests and help to create the perfect atmosphere for a Cinco de Mayo party.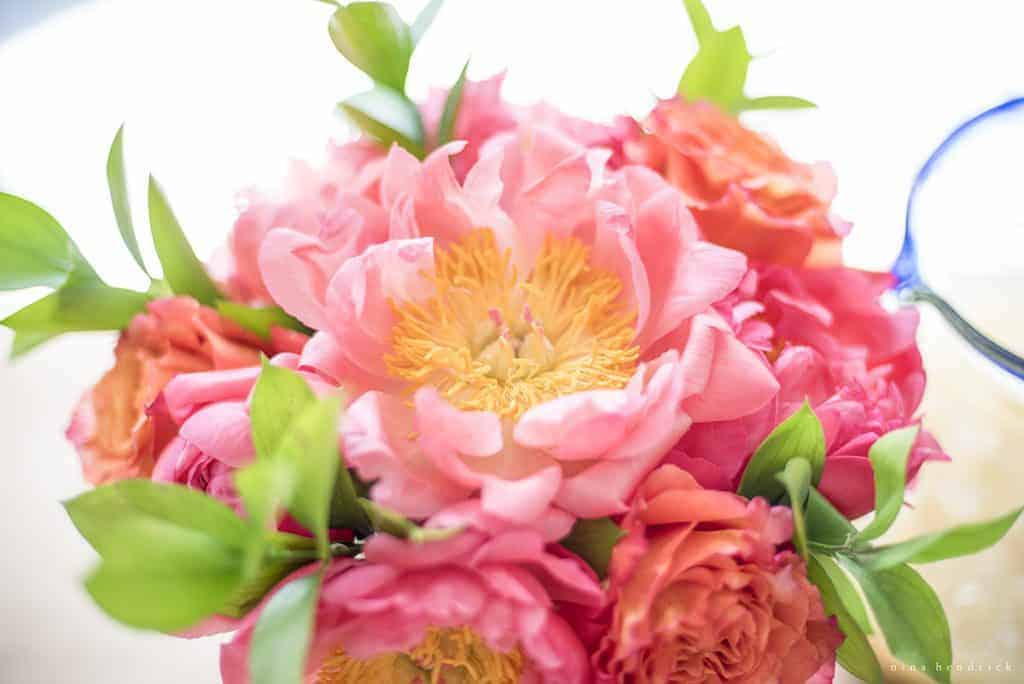 You can also include other bright colors, such as yellow, purple, and red, to bring the Mexican fiesta to life. You can even repurpose everyday items like mason jars, vases, and jars to create candlight centerpiece accents to set the mood.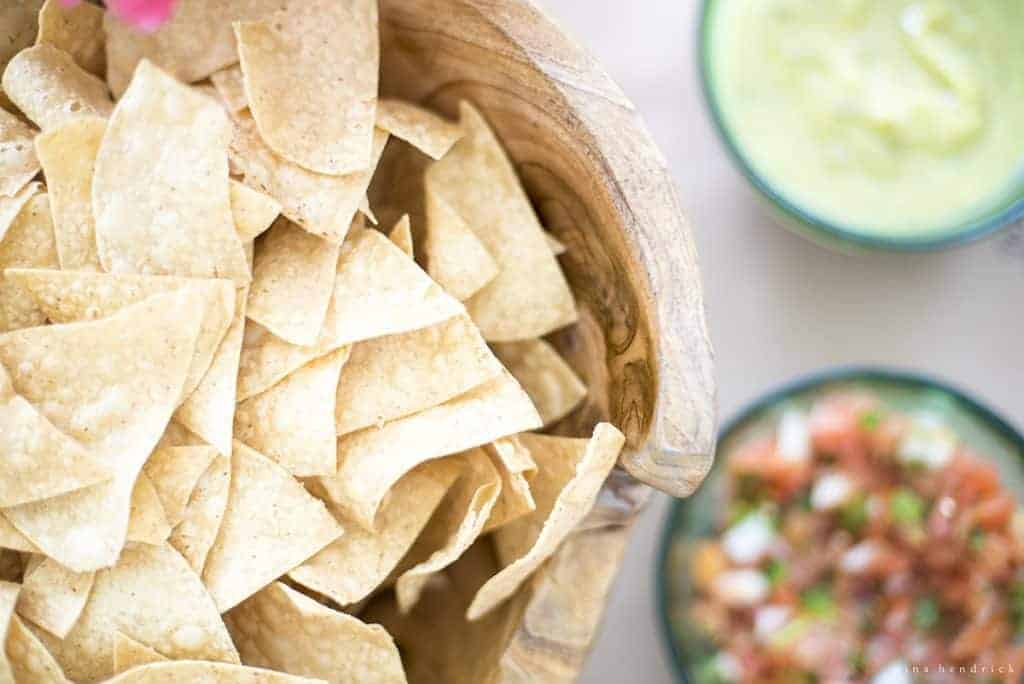 Serve Delicious Food
A Cinco de Mayo fiesta would not be complete without delicious food! Traditional Mexican food like guacamole, tacos, enchiladas, and burritos are all sure to be a hit at your party.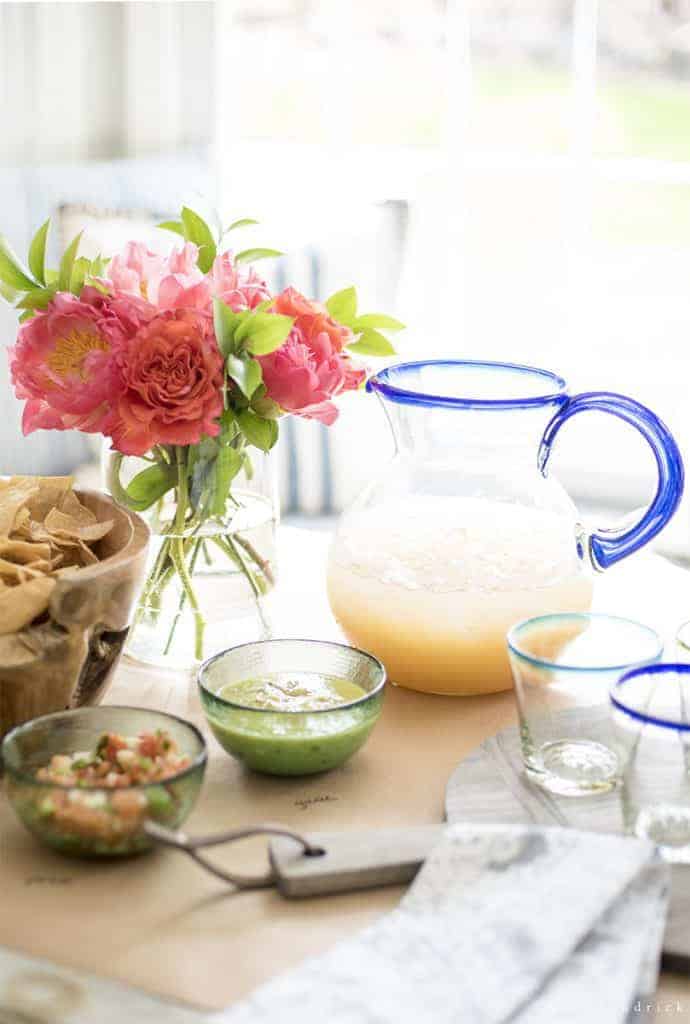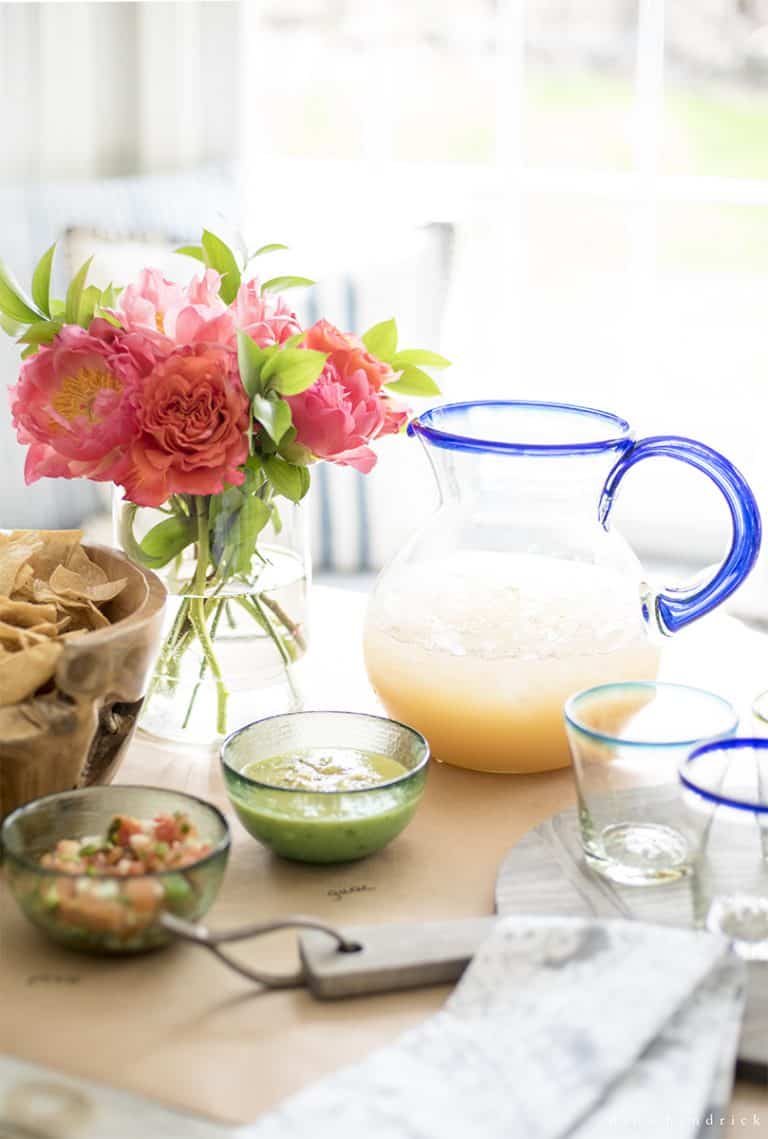 Here's a list of ideas:
Similar to the margarita bar in this post, consider a burriro or taco bar with plenty of grilled meats like pork, ground beef, and chicken. Set out bowls with all the fixings like lettuce, cheese, diced tomatoes, peppers, onions, sour cream, and different hot sauces.
Set out tortilla chips with a bunch of dips options like pico de gallo, guacamole, salsa verde, and queso.
Make sure to include plenty of options for vegetarians and those with food allergies. Refried beans are a great substitute for meat. Mexican street corn is a great vegetarian-friendly side. In addition to flour tortillas, have some corn tortillas on hand for any gluten-free guests.
To top it all off, don't forget to serve some of your delicious Mexican desserts like tres leches cake, churros, or sopapillas. You can also set out popular Mexican candy like mazapan. Your friends, family, and especially any kids in attendance will love the sweet ending to the night!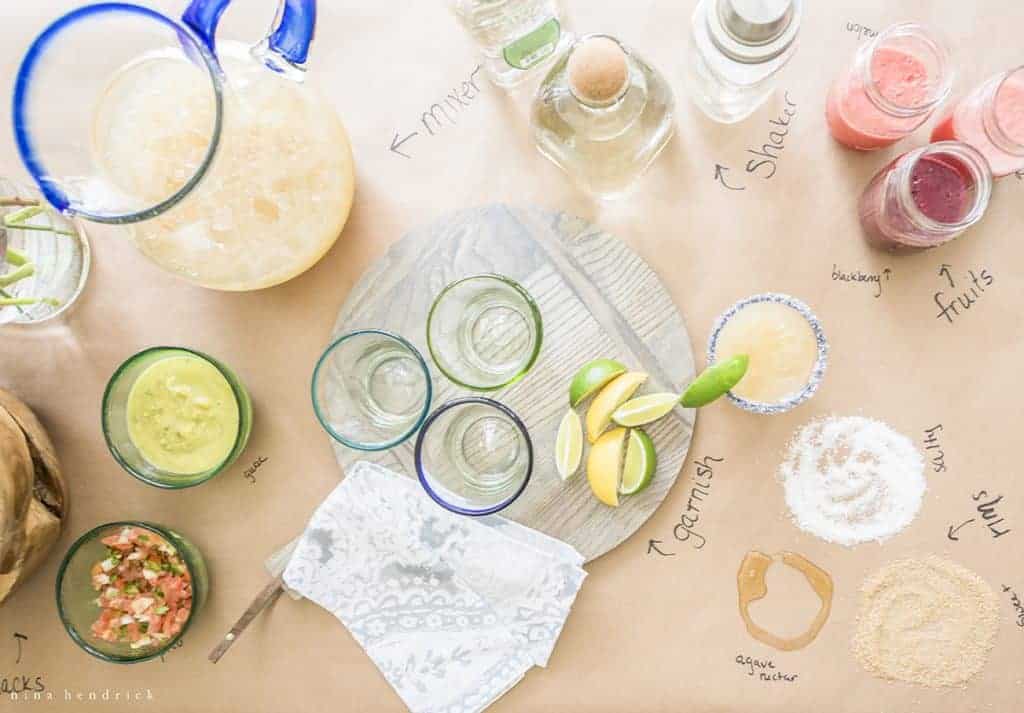 Set Up a Margarita Bar
Having a margarita bar is a great way to get your guests in the Cinco De Mayo spirit! You can create a fun and festive atmosphere by setting up a variety of margarita flavors and ingredients. Margaritas are my absolute favorite! I've always been a citrus fan, and they are such a fun and tasty cocktail with all the contrasting flavors of sweet, salty, and sour.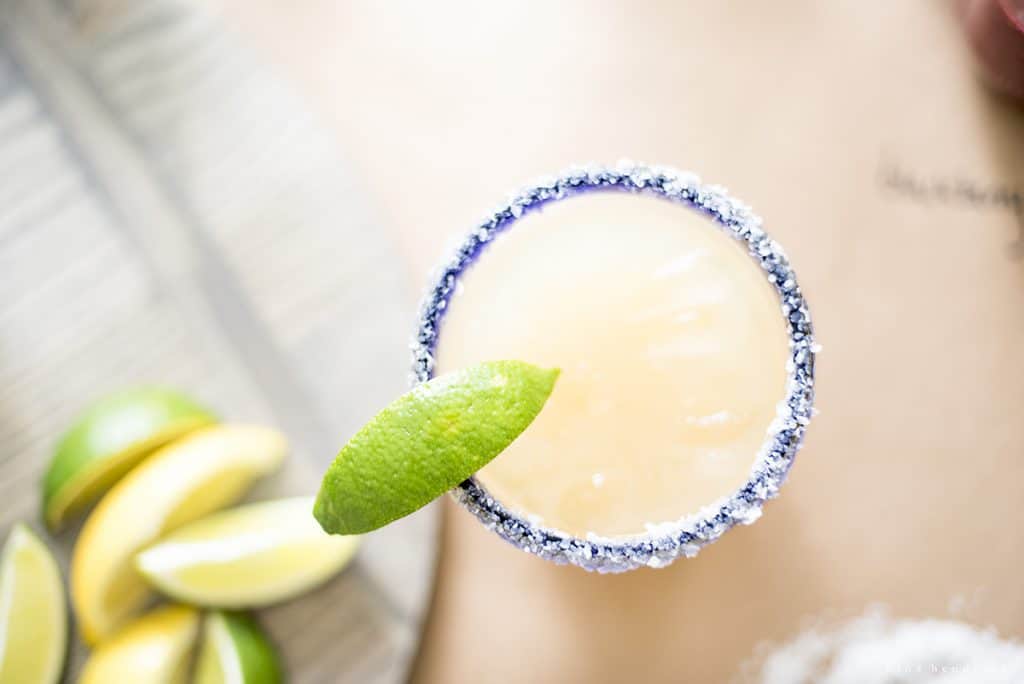 Start off with a base of Classic Margarita with a good tequila. Then, add some creative touches to your margarita bar with fun ingredients like jalapeno simple syrup, cilantro, and chili pepper.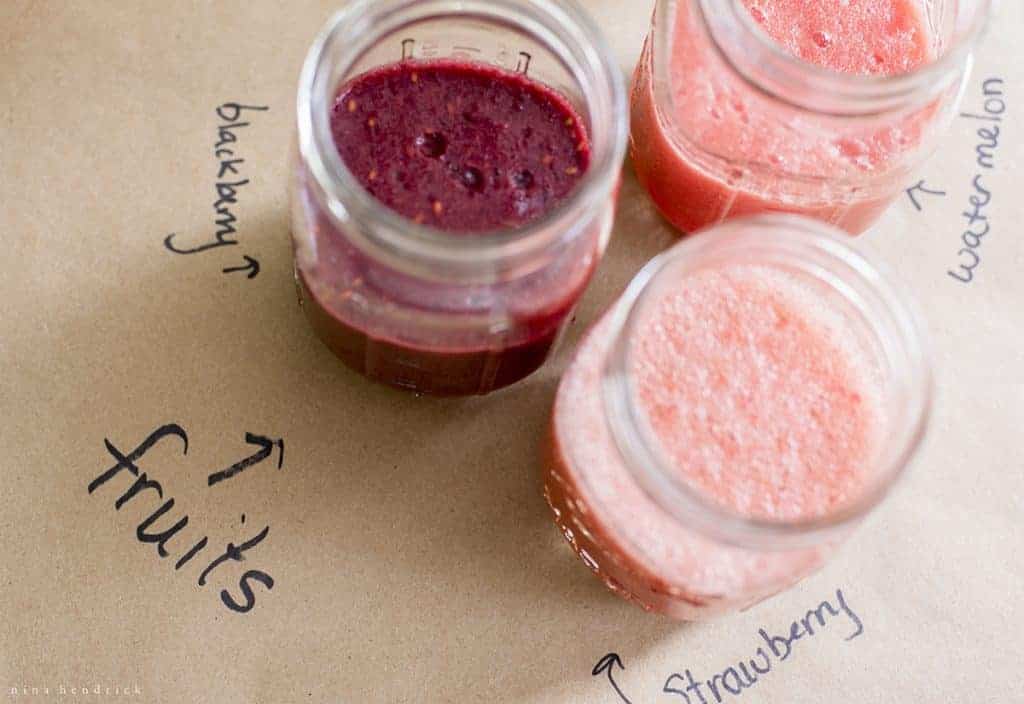 You can also add a variety of fruit juices, like strawberry, watermelon, pineapple, and mango to make even more unique margarita flavors.
Make sure to have plenty of margarita salt, sugar, and limes for your guests to garnish their drinks.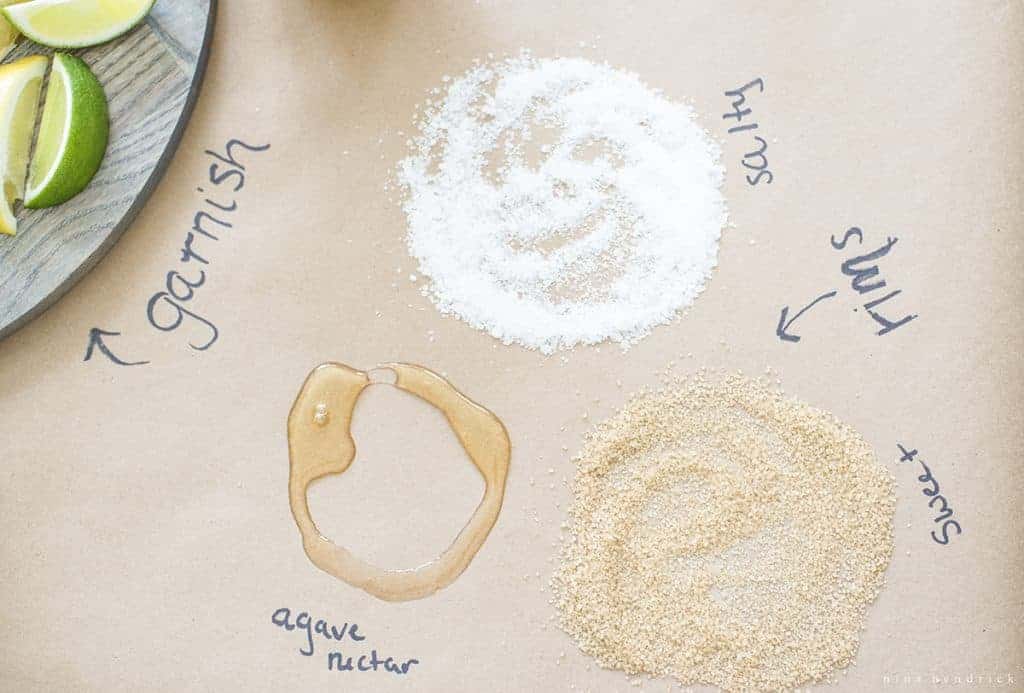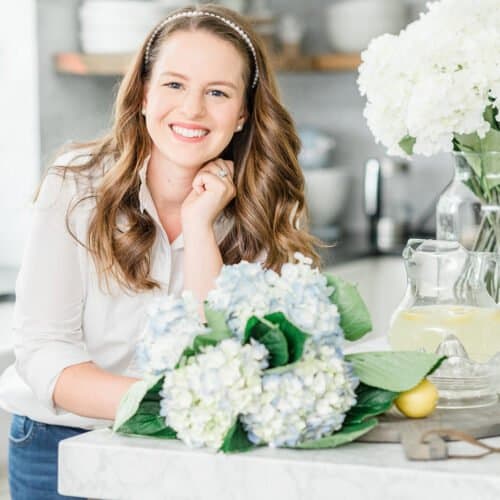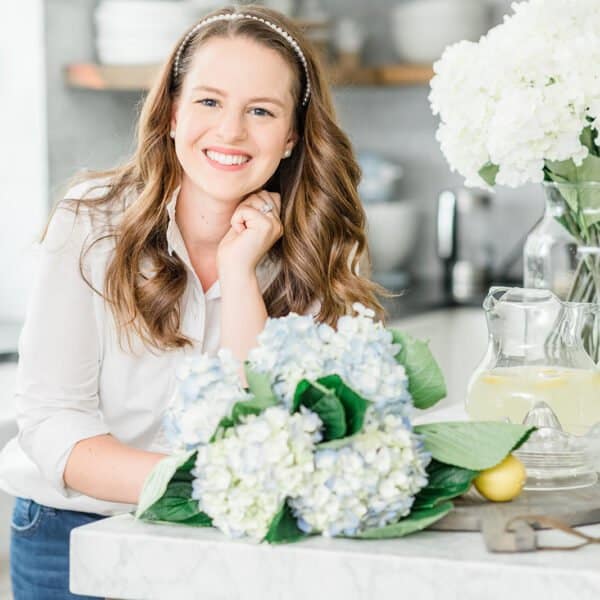 Tip from Nina: My favorite trick for a perfect margarita rim is to use agave nectar to stick the salt or raw sugar on.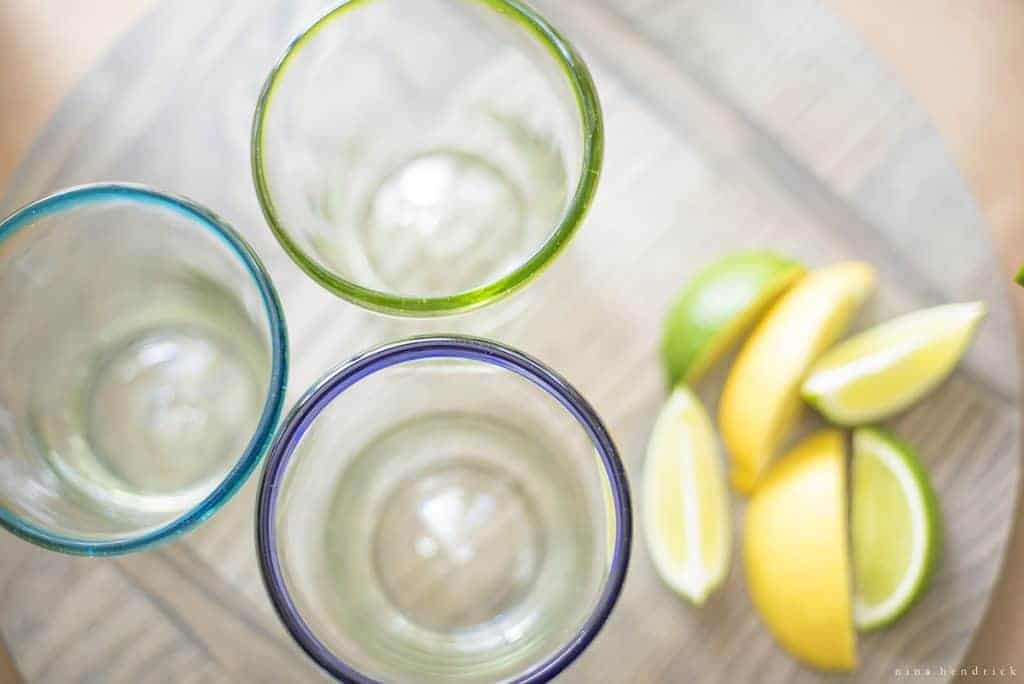 All of the colorful glassware came from Homegoods, but I've sourced similar glasses here and the pitcher here. The cutting board can be found here.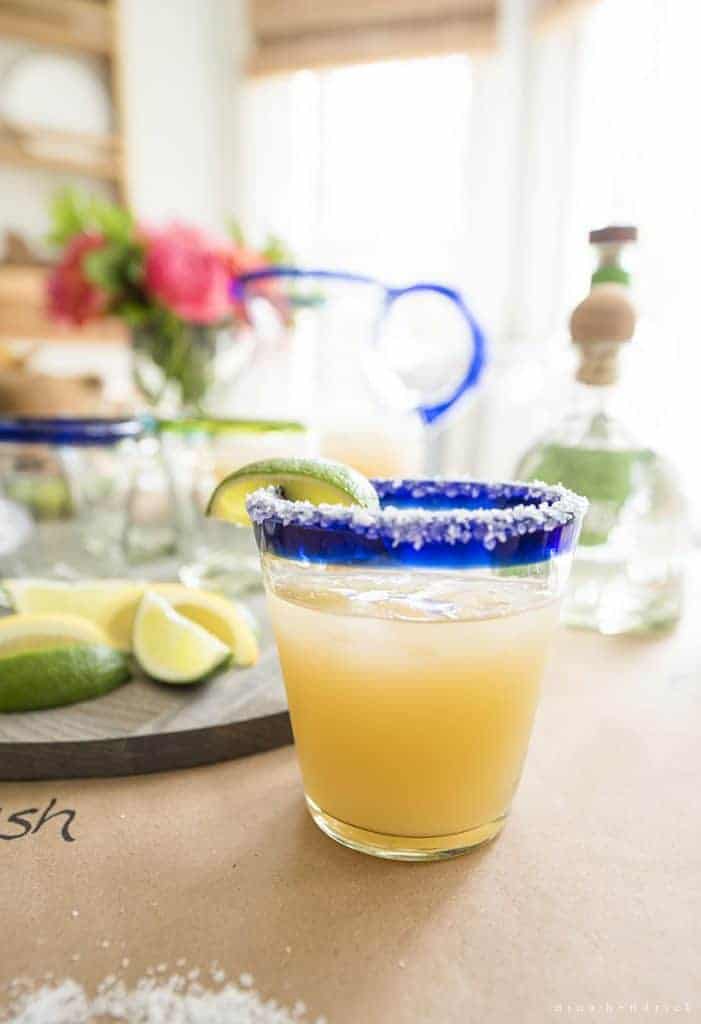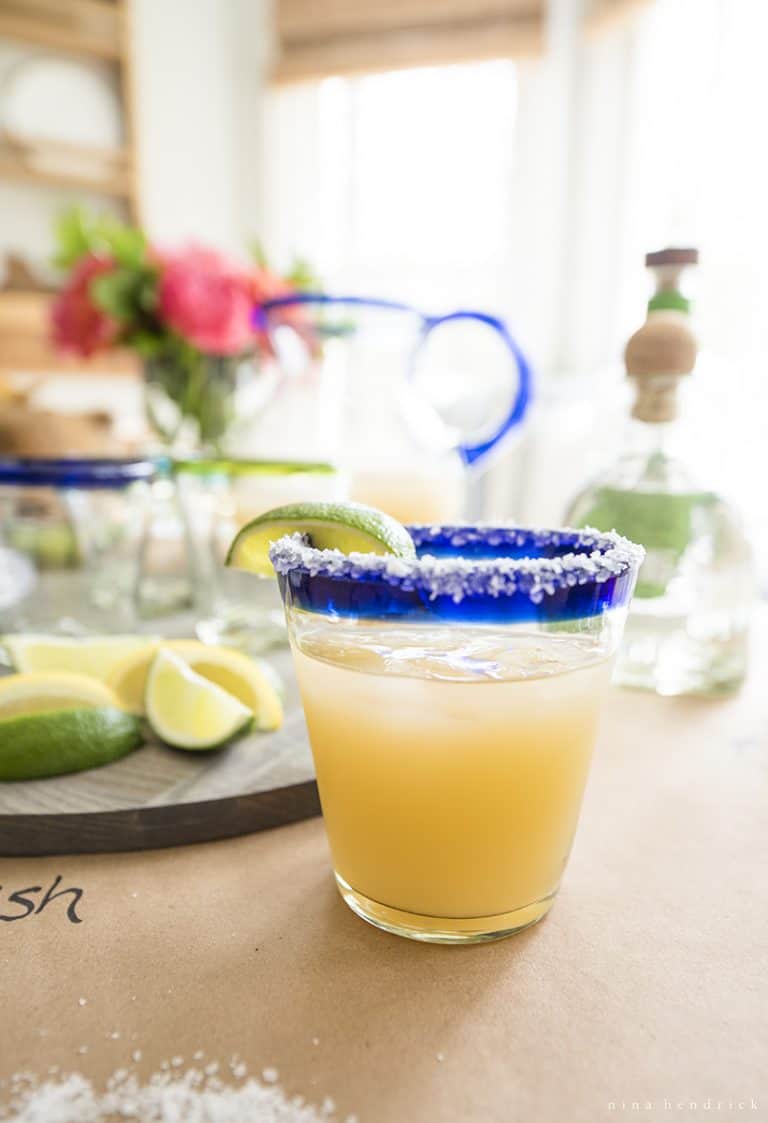 Setting up a margarita bar is a great way to get the party started, and it's sure to be a hit with your guests!
Overall, Cinco de Mayo is a great way to bring people together to celebrate Mexican culture with delicious food, drinks, and decorations. With the right Cinco de Mayo party ideas, and a bit of creativity and planning, you can make the most of this holiday.
Don't forget to share pictures of your party on Instagram and tag @ninahendrickhome if you use any of these ideas!