Celebrate the special moms in your life with these Mother's Day brunch table setting ideas like a floral arrangement, croissants, and mimosas.
Mother's Day is just around the corner, and what better way to celebrate the special women in your life than with a beautiful brunch table setting? Whether you are hosting a small gathering of family and friends or having a brunch for two, setting a gorgeous tablescape is sure to be an added bonus for your special day. From picking the perfect color palette to selecting the right centerpieces, I have all of my best Mother's Day brunch table setting ideas rounded up in this post!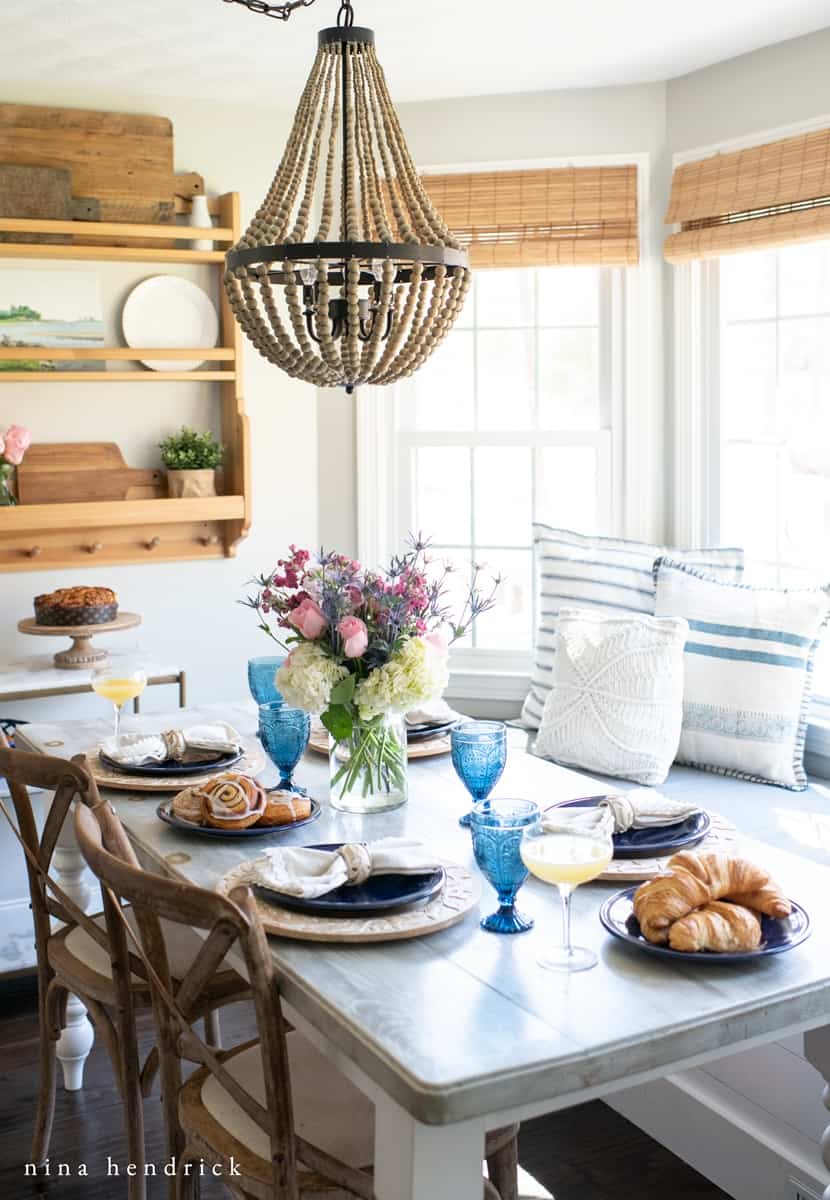 Mother's Day Brunch Table Setting Ideas and Decorations
How to Decorate for a Mother's Day Brunch
Is there anything better than a brunch you don't have to make yourself? A couple of years ago, I shared a breakfast in bed dream post for Mother's Day. It still hasn't happened IRL… While that one was a blast to put together, this one is a bit more realistic, since I would be hosting it!
With these Mother's Day brunch table setting ideas, you can host a beautiful event that will make the special moms in your life feel extra special. Take the time to make your Mother's Day brunch table look its best and you'll be sure to make lasting memories.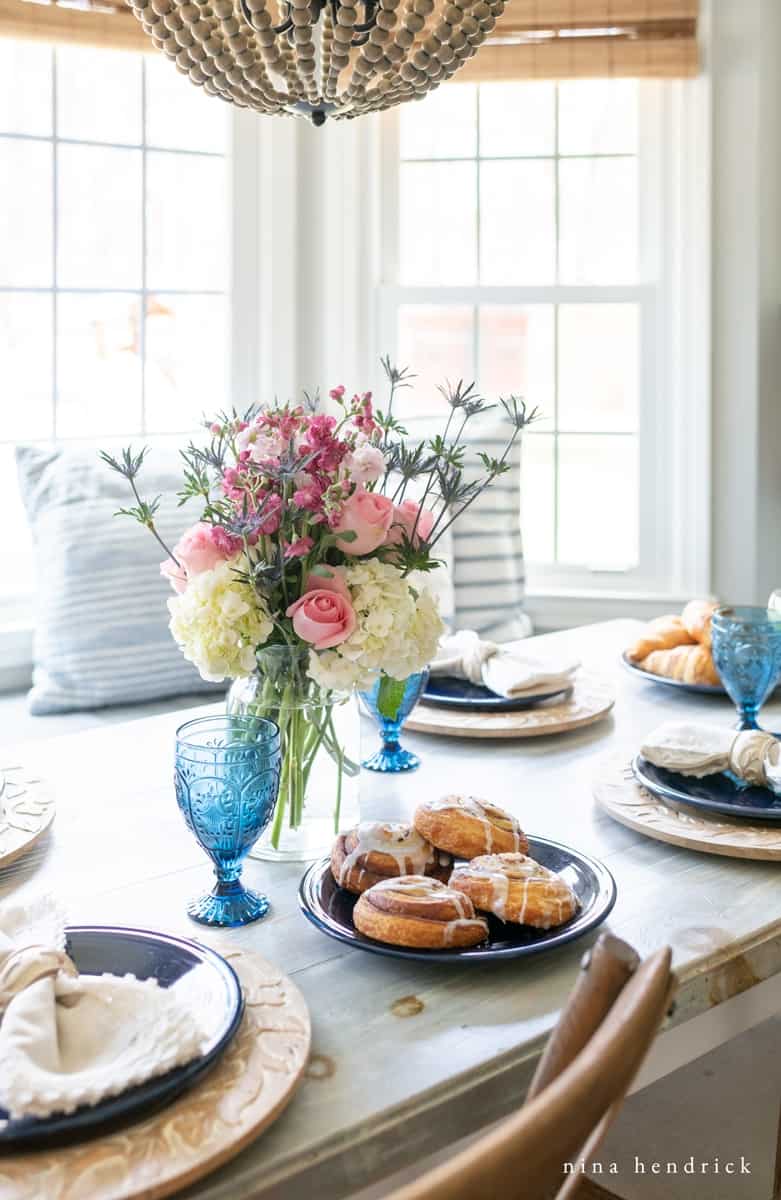 Choose a Color Theme and Decorate With Mom's Favorite Colors
A Mother's Day brunch is a great way to show your mom how much you care. To make your brunch extra special, consider adding a little color and flair to your table setting with her favorite colors. In this case, I chose pink and blue, but feel free to swap those out for mom's favorites! Adding mom's favorite colors to the table setting is an easy way to honor her on this special day. Whether you prefer to use placemats, napkins, or even a table runner, find a way to incorporate her favorite colors into the decor. If you want to get creative, try adding colorful flower arrangements or centerpieces to the table. By doing this, it can really bring the whole table together and show mom how much you care.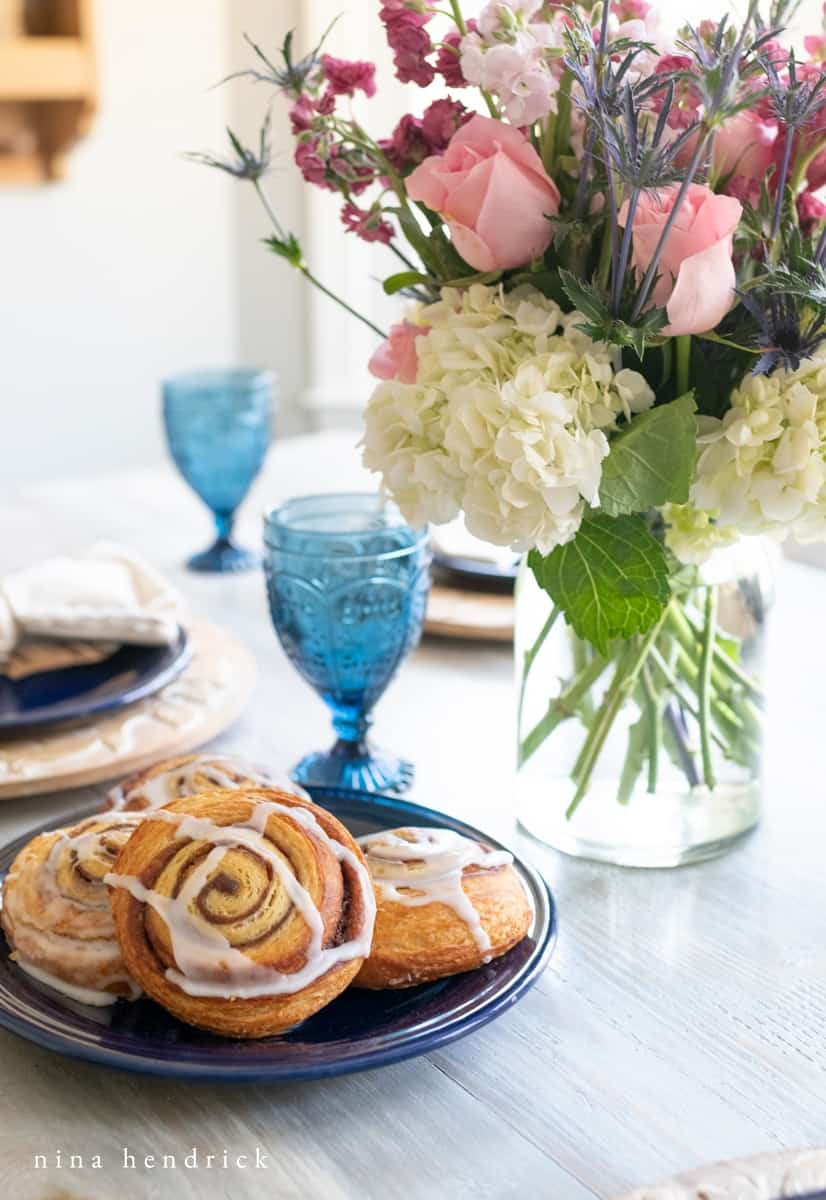 If you aren't 100% sure what her favorite color is, try thinking about the colors she wears most often or her favorite flower (this can also help you with the floral arrangement!). You can then build the color pallette from there!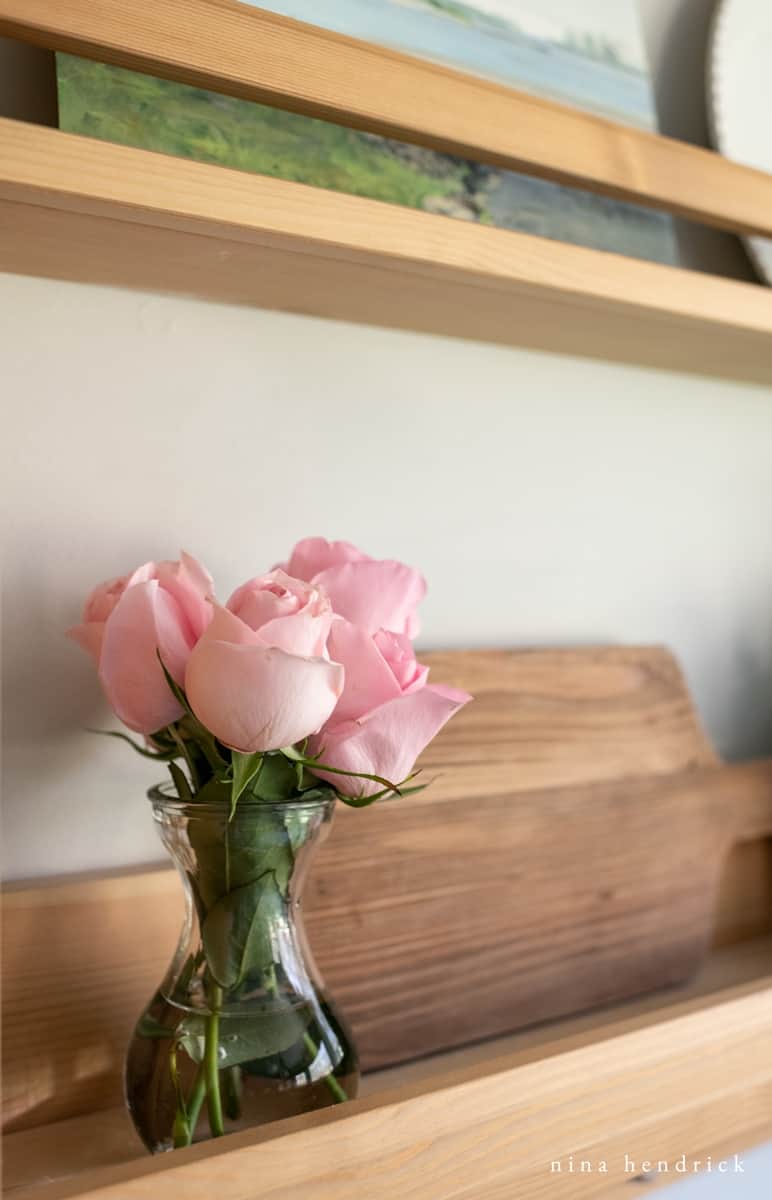 I put a little vase of extra roses on the shelf. You can think beyond the table to incorporate these Mother's Day brunch table setting ideas! Consider adding little touches to the kitchen, the family room or anywhere else you know she'll enjoy them.
Mother's Day Flower Arrangement & Centerpiece Ideas
Creating the perfect Mother's Day brunch table setting is easier than you may think! Start with the linens, choose a runner that fits with your color theme and begin adding your table decorations to create your centerpiece.
To create the flower arrangement, begin by selecting a few bunches of your mother's favorite flowers, such as hydrangeas, roses, tulips, or peonies, to create an eye-catching centerpiece. For added texture and color, incorporate some foliage like eucalyptus. Place the flowers in a vase or bowl in the center of the table.
If your mother loves fresh fruit, fill a bowl with seasonal favorites like strawberries, blueberries, and raspberries. Finally, light some candles to make the atmosphere more inviting. Your mother will be sure to love the effort you put into making her special day just perfect!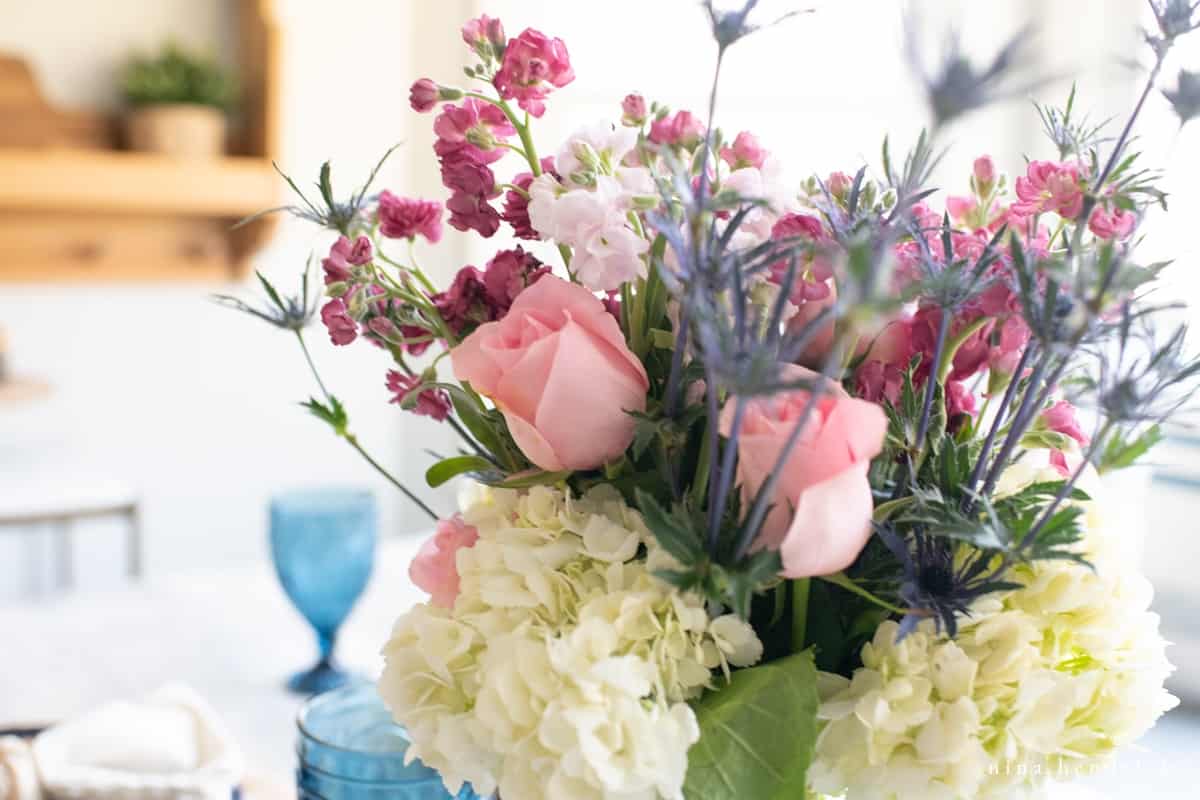 Grocery store flowers never cease to impress me. These were so inexpensive but included unexpected textures. I'm actually not sure what the spiky flowers are. Sea Holly? Please leave a comment if you happen to know, I'm curious!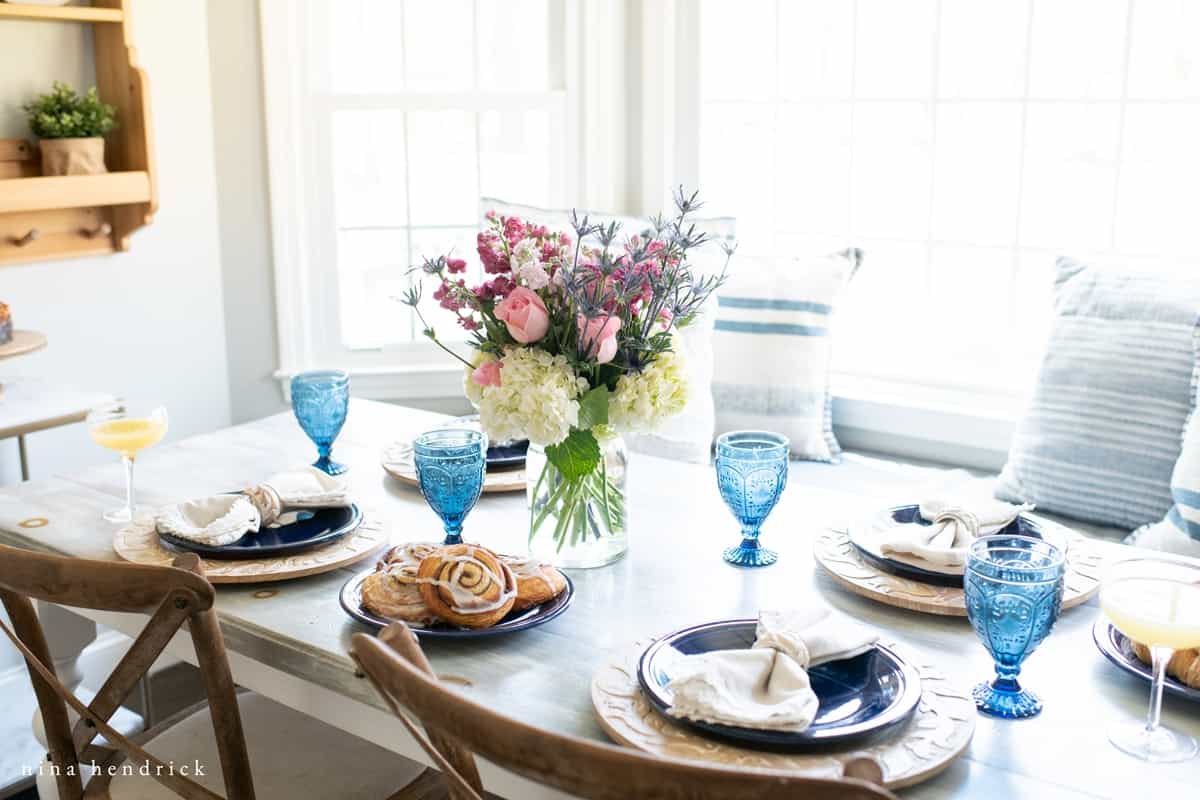 Mother's Day Brunch Tablescape Place Setting
We already covered the centerpiece, so now let's go over the individual place settings.
Here are some tips for setting a memorable Mother's Day brunch table:
Tableware
Select appropriate dishes, silverware, and glassware to match your decor (whatever color palette from above!).
The blue plates I used in these photos are our everyday plates that I've had since our wedding. They were such a good choice. They've held up wonderfully and never go out of style.
You can also try a mix-and-match look with different plates and colorful napkins.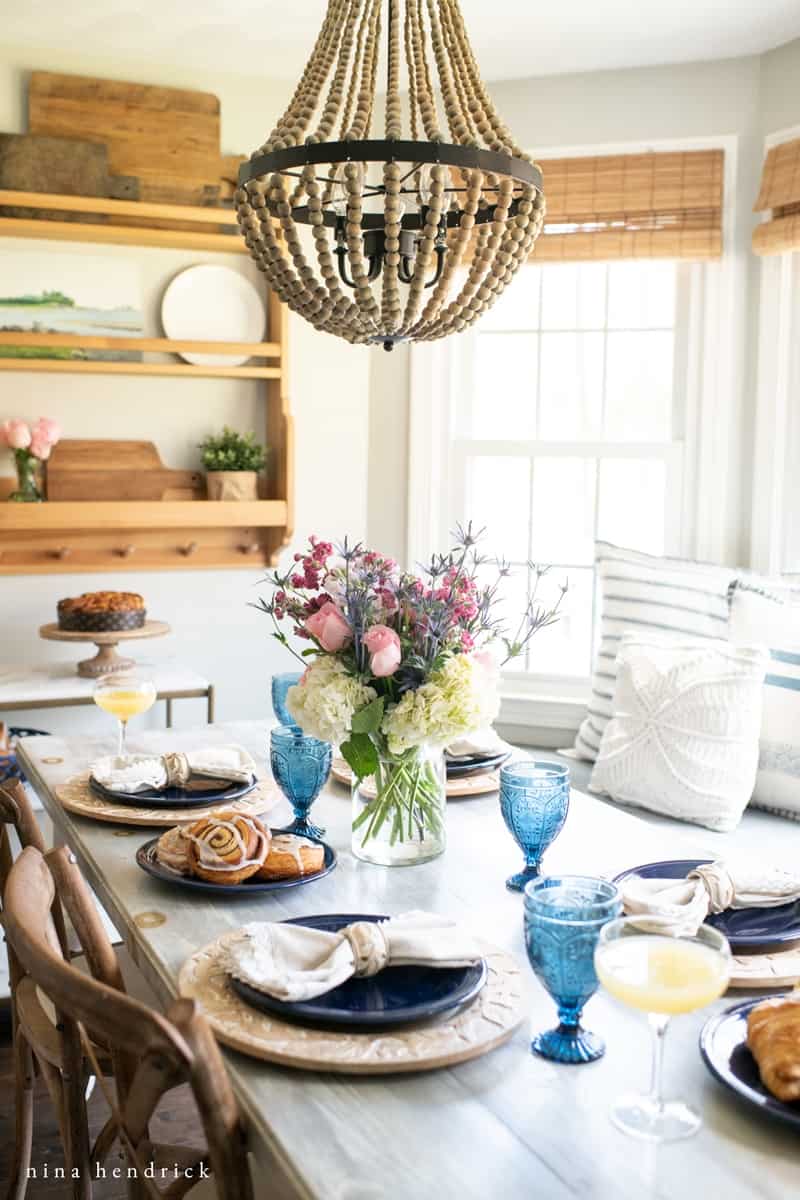 Food Presentation
Arrange the food on platters and trays to create an appealing and appetizing display.
Drink Presentation
Use elegant glasses for a sophisticated feel. Consider the drinks you're serving and make sure to have the proper glasses to match, i.e. champagne flutes for mimosas and mugs for coffee and tea. Provide some garnishes to give your drinks a finished look!
Activities
Place a small card with a pen so that guests can write sweet messages for each mom at the table.
For extra fun (and to keep little ones busy!), set up a special area for the kids to decorate their own place settings. Provide washable markers, construction paper, and other craft supplies so they can make their own place cards, decoration, or gifts for their moms and grandmothers.
With a bit of creativity and attention to detail, you can create a beautiful table setting that will make your Mother's Day brunch extra special.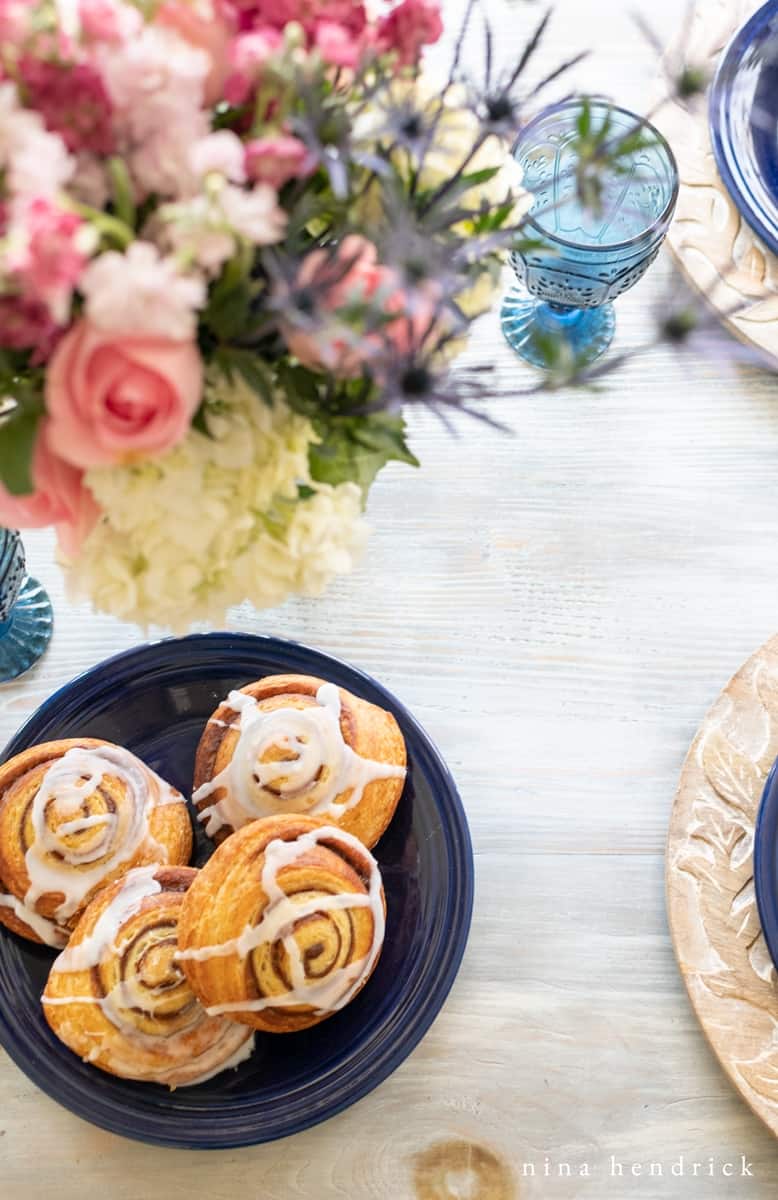 What is the best food for Mother's Day Brunch?
Although we want the moms to feel extra special, a delightful Mother's Day brunch should include something for everyone, including the kiddos. Here are some ideas for what to serve your guests (including the little ones) so that mom can relax and everyone can enjoy the meal!
Pastries
Mother's Day is the perfect day to indulge. Croissants are a decadent treat to enjoy while waiting for the main course. Or, you can make croissant sandwiches the main course!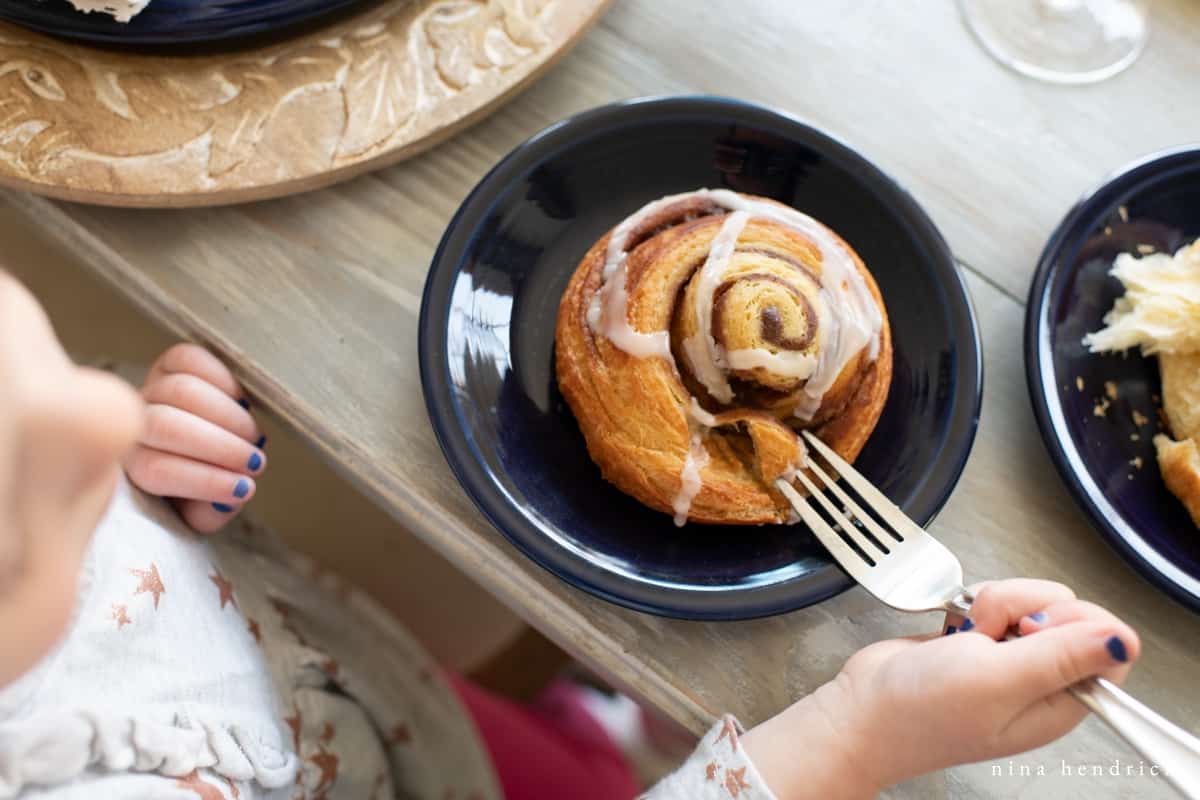 Also, cinnamon buns are always a crowd pleaser. You can also include variations like apple sticky buns or raspberry-filled pastries. The options are endless for yummy sweets to serve!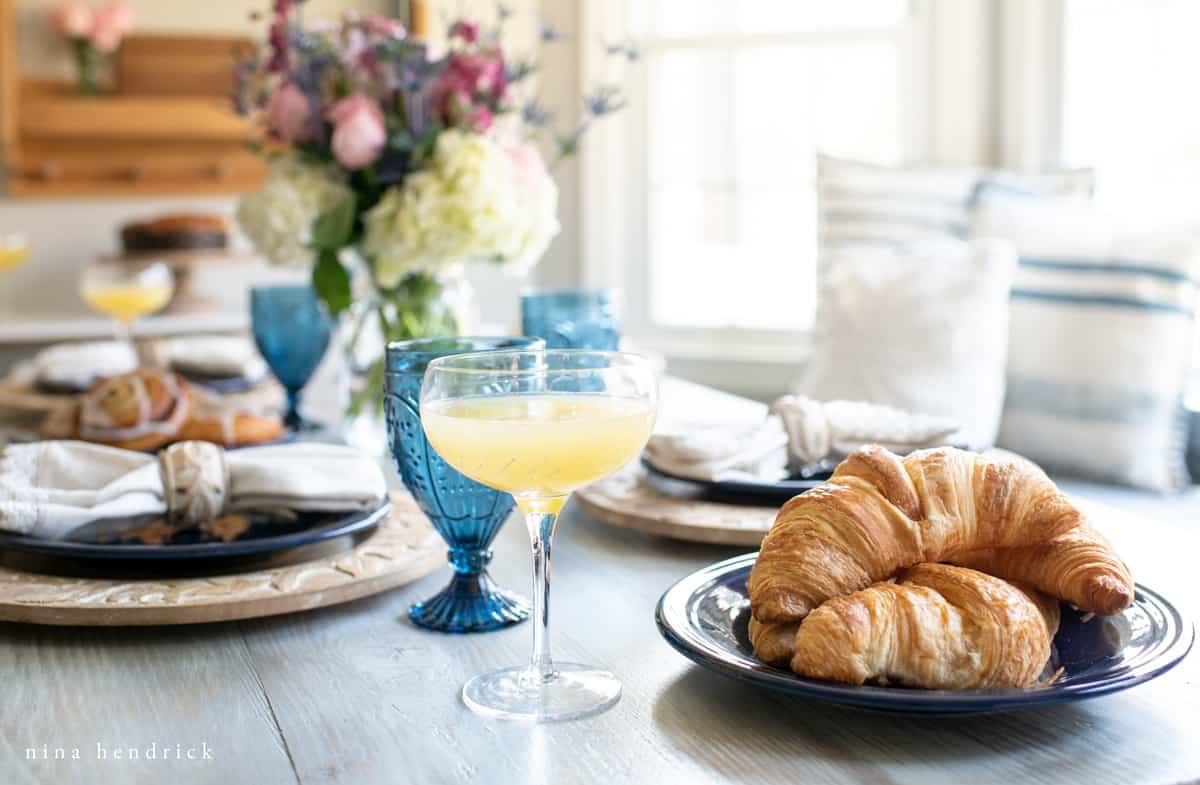 Beverages
Prepare a variety of beverages to satisfy every taste. Offer coffee, tea, juice, and alcoholic drinks from your home bar. Another fun idea is a Mimosa Bar. Mimosas and brunch are a given in my world. For the expectant mamas or those who avoid alcohol, orange juice and ginger ale have the same festive look!
More Mother's Day Brunch Ideas:
Start off with a fresh fruit salad, which is a healthy and colorful way to open the meal.
Mini quiche is a great choice for a brunch item that everyone can enjoy.
For the sweet tooth, a delicious French Toast Casserole will hit the spot.
Smoked Salmon and Bagels are a classic combination that's sure to be a hit.
For the kids, pancakes with berries will definitely be a crowd-pleaser.
With these delicious items, the moms in your life will know just how much you appreciate them.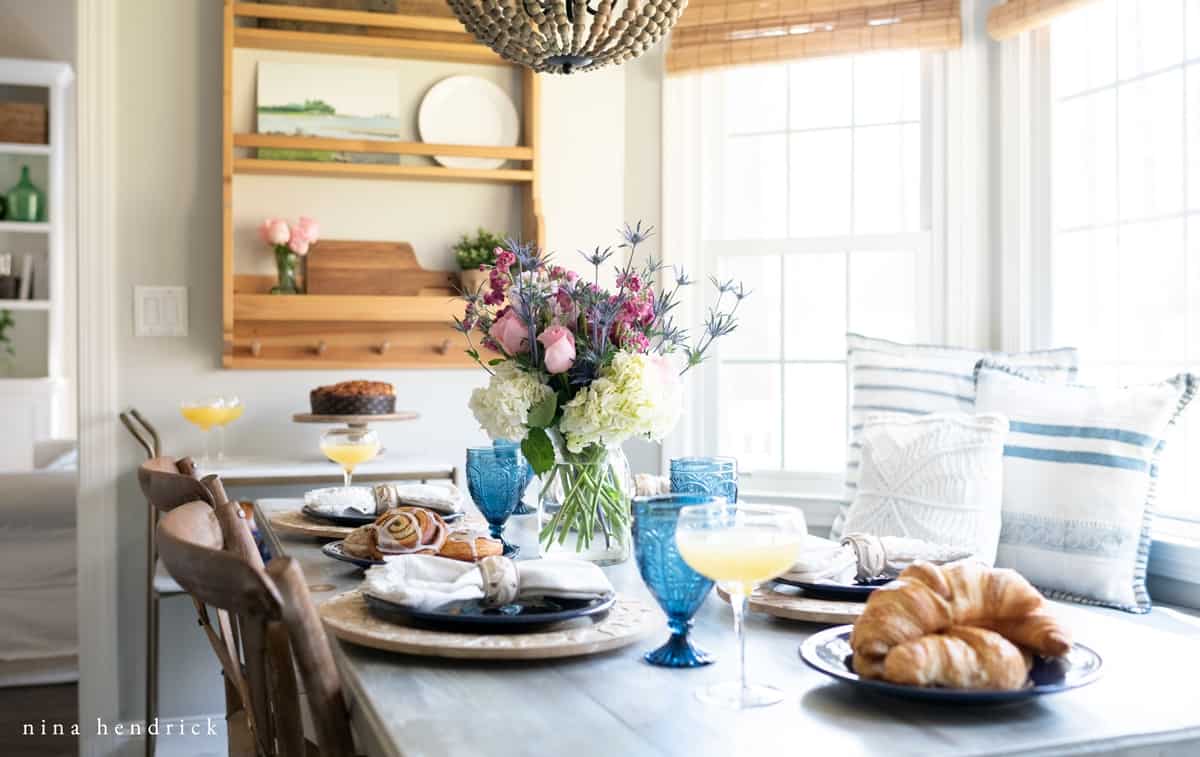 To sum up, setting a lovely table for Mother's Day Brunch is a great way to show your mom how much you care. It doesn't have to be fancy or complex. Just add a few special touches to make the day more memorable! With a few simple tips and tricks, you can easily create a show-stopping look that will leave your mom feeling extra special and appreciated. Start planning your table setting now with these ideas, and give your mom the perfect Mother's Day brunch! 
If you found this inspiration helpful, I'd love it if you followed me on Instagram where I share my favorite entertaining and decorating tips and tricks!