This spooky & elegant Halloween tablescape transitions a moody fall table to a creepy holiday display with three simple tips that can be used year after year!
Remember the Elegant Fall Tablescape we had fun creating together? It's time to wave our magic wands (or in this case, our creative hands) and give it a spooky twist. That's right, with Halloween just around the corner, I've been itching to transform that elegantly moody setting into something a tad more… shall we say, hauntingly beautiful?
In my previous post, I shared how I created an elegant fall table setting, brimming with moody charm and sophistication. Little did I know, many elements of this original setting were a perfect prelude to a spooky, yet elegant tablescape that's perfect for a Halloween dinner party. The black candles and brass candlesticks that once whispered tales of autumn evenings now set a mysterious, almost haunting stage. The moody table runner, with its deep hues, served as a dramatic backdrop, while the black plates, once a canvas for fall's bounty, now embraced the eerie spirit of Halloween. It's fascinating how these elements, designed for a fall feast, effortlessly lent themselves to elegant Halloween table decor.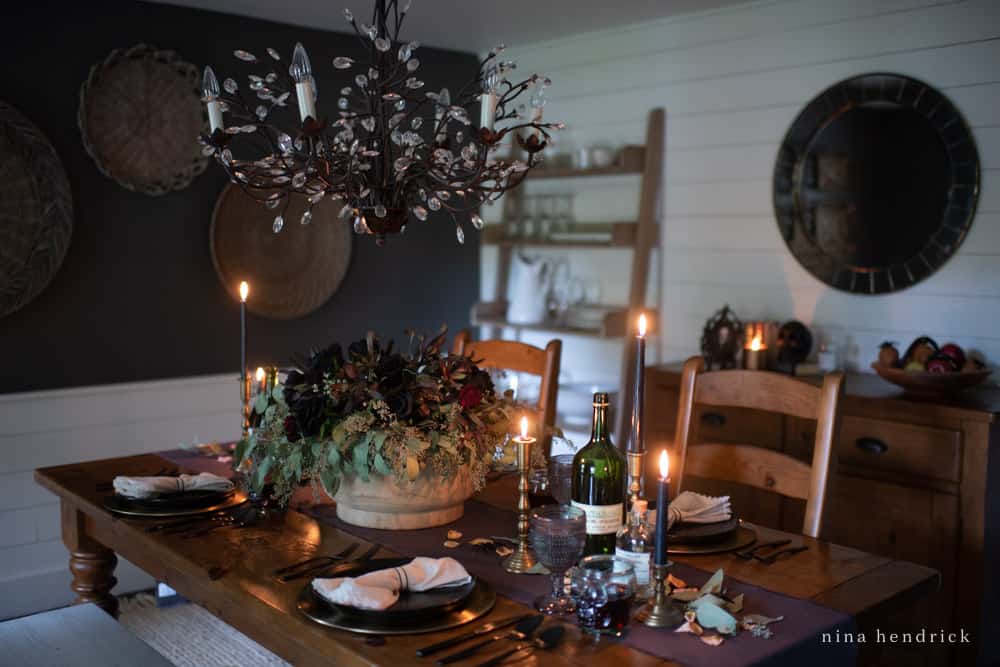 Think of it as dressing up our tablescape in its Halloween best – a bit like costume play for your dining table! So, let's swap out a few things, add a dash of spooky charm, and voilà: we have a Spooky & Elegant Halloween Tablescape that's sure to be a conversation starter. From swapping pink roses for mysterious black fabric roses to introducing skull goblets that would make any ghost do a double-take, we're about to embark on a delightful journey of Halloween transformation.
Grab your skull goblet of red wine and let's dive into this spellbinding adventure. After all, who says Halloween can't be both a little spooky and utterly sophisticated?
Looking for more Halloween decor ideas? Check out this post!
Spooky & Elegant Halloween Tablescape
This post contains affiliate links, which means I may get a small commission (at no extra cost to you) if you shop my link. Please see my disclosure if you'd like more info!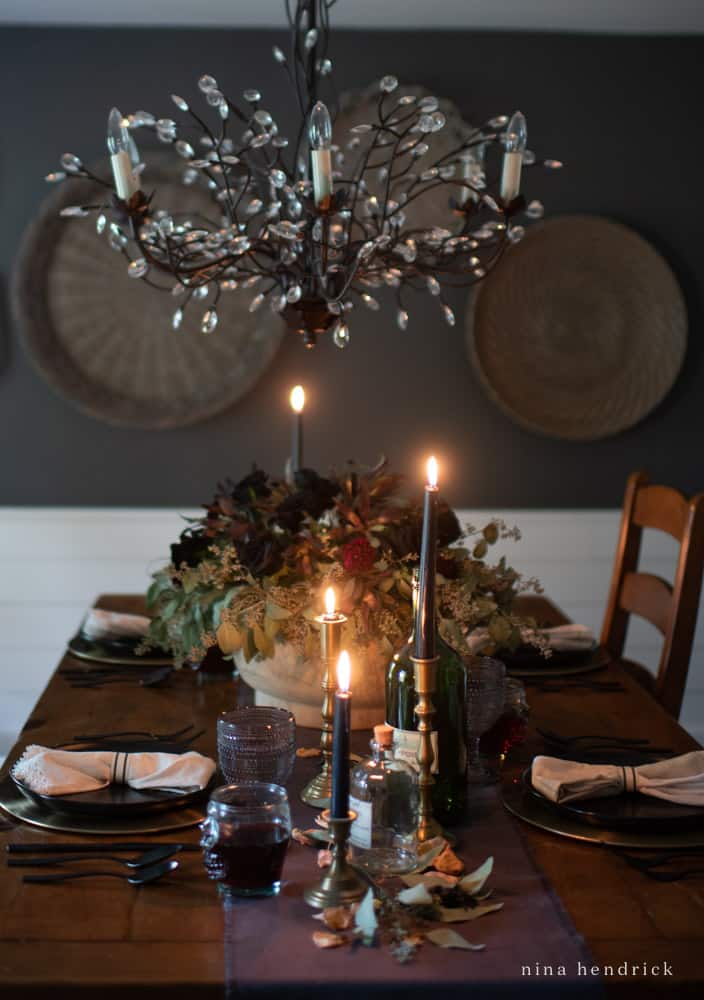 Although the main spirit (get it?) of the table stayed the same in this case, in order to change up this tablescape for Halloween I made a couple of small tweaks.
The goal here is simple: we're taking our elegant fall tablescape and giving it a touch of Halloween mystery. Don't worry; it's easier than carving a pumpkin and twice as fun!
1. Farewell to Fruit, Hello Spooky Sophistication
The first step in our journey to transform our centerpiece is to bid adieu to the fruit that brought a touch of autumnal charm to our table. Instead, we're creating space for something a bit more… haunting. Imagine where once there were ripe pears, now there could be a "poison" bottle. Spooky, right?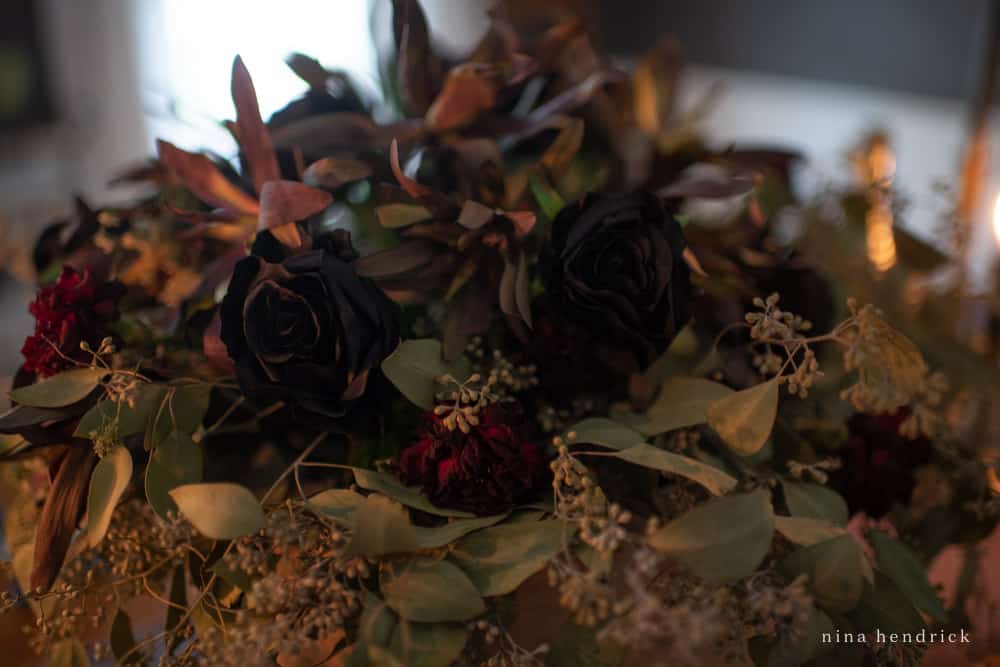 To enhance the center of the table, consider using black gauze as a tablecloth, adding a touch of mystery. Place a vase filled with mini skulls to create an eye-catching skull centerpiece, or set up a candelabra, thrifted and spray-painted black, for a dramatic effect. You could also scatter around miniature pumpkins, again spray-painted black, for a subtle nod to the season.
2. Roses with a Dark Twist
Those lovely pink roses that added romance to our fall table? They got a Halloween makeover. Swap them out for black fabric roses – they bring a mysterious, gothic vibe that's just perfect for Halloween. And here's a little secret: let the petals of the original roses dry and scatter them around. They turn a beautiful brown that screams 'haunted elegance.'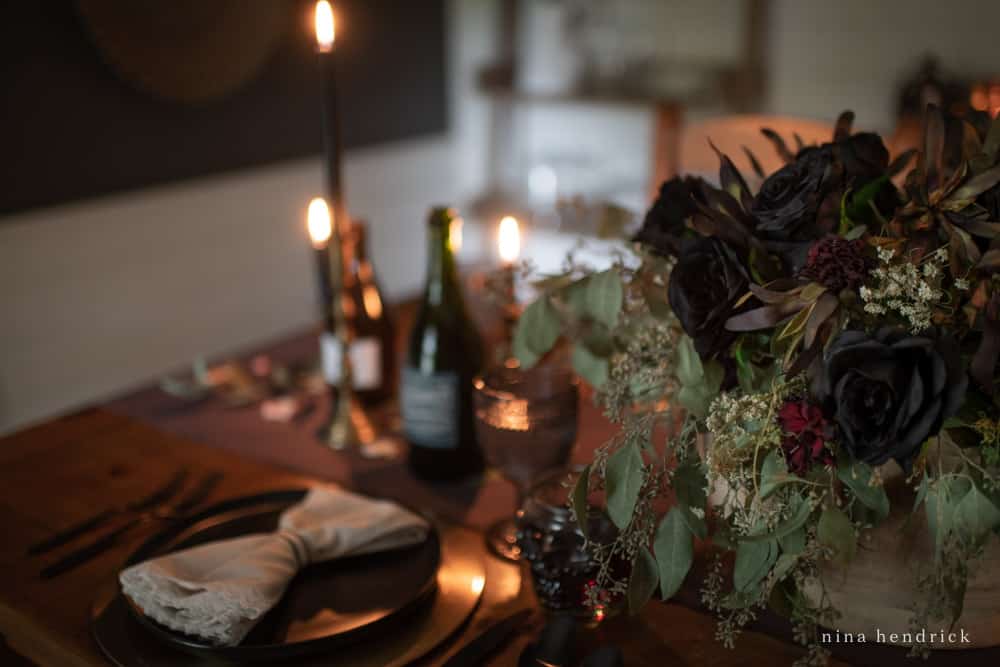 I really loved the idea of getting more mileage out of the fresh flowers. The arrangement had blood red carnations and spiky leucadendron that opened up and dried in a very interesting way. The whole arrangment lended itself well to spooky season!
Another season where this tip shines is Christmas. You can effortlessly transition evergreen arrangements from festive Christmas decor to a more general winter theme, proving the versatility and timeless charm of these subtle changes.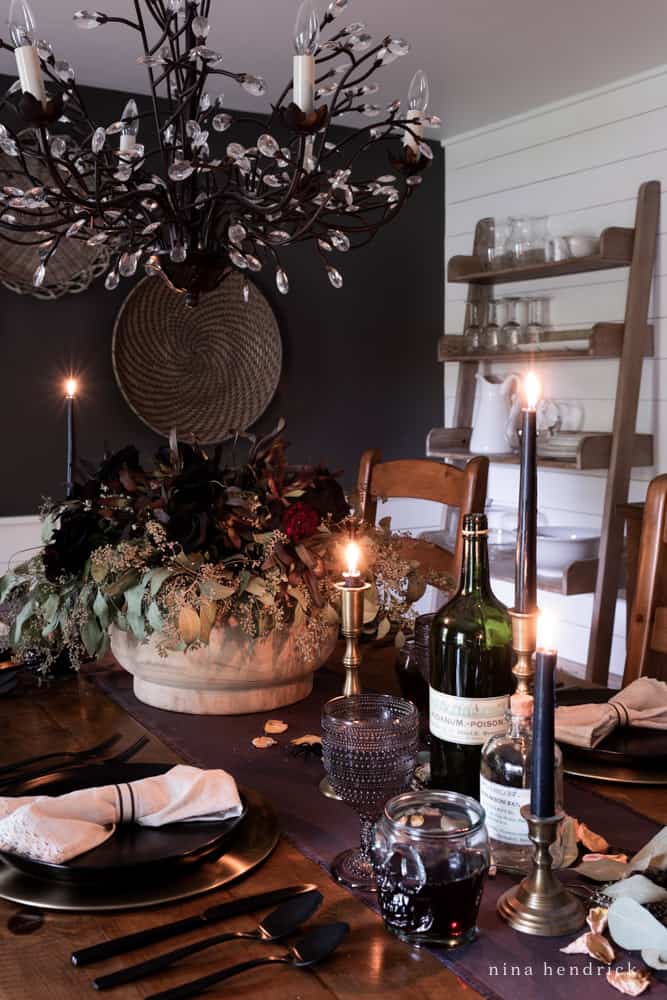 3. Goblets Fit for a Ghost
Remember our classy glassware? For Halloween, we're going a bit more Gothic. Introducing skull goblets – because what's Halloween without a nod to the macabre? These aren't just glasses; they're conversation starters that will make your guests do a delightful double-take.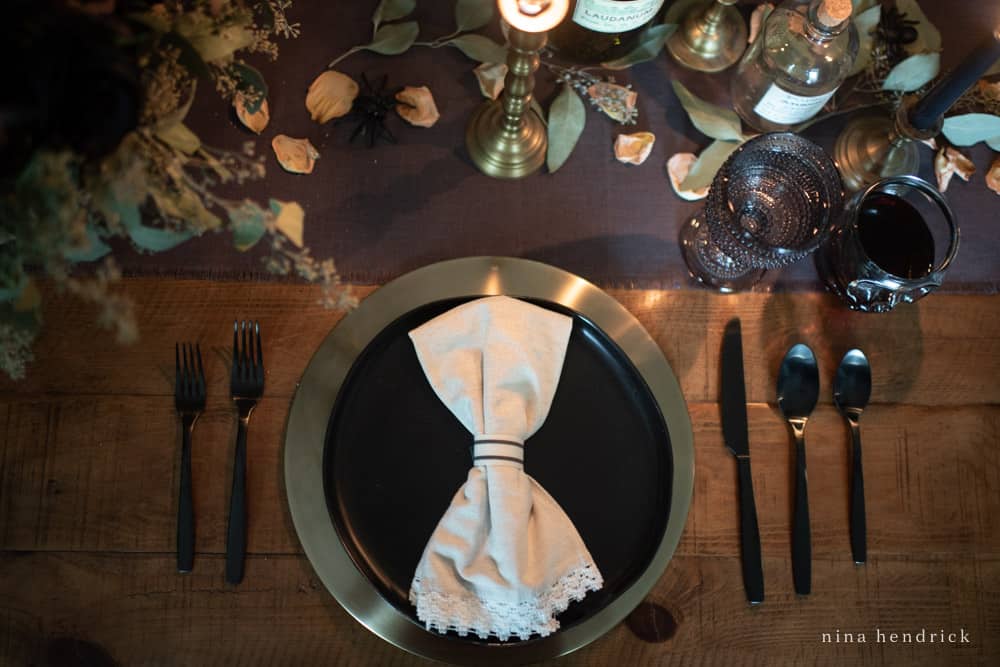 4. Transition from Season to Holiday with Subtle Touches
Elevating the table from a classic setting to a Halloween tablescape was all about those small, impactful elements. I wove in dollar tree spiders amidst the dried rose petals on the runner, lending a spooky twist to the scene. These little critters also made a surprise appearance in the fruit bowl on the buffet. At each place setting, I swapped out the fresh fruit and handwritten place cards for vintage-look napkins, cinched with black striped ribbon napkin rings, invoking a delightfully creepy Addams Family vibe.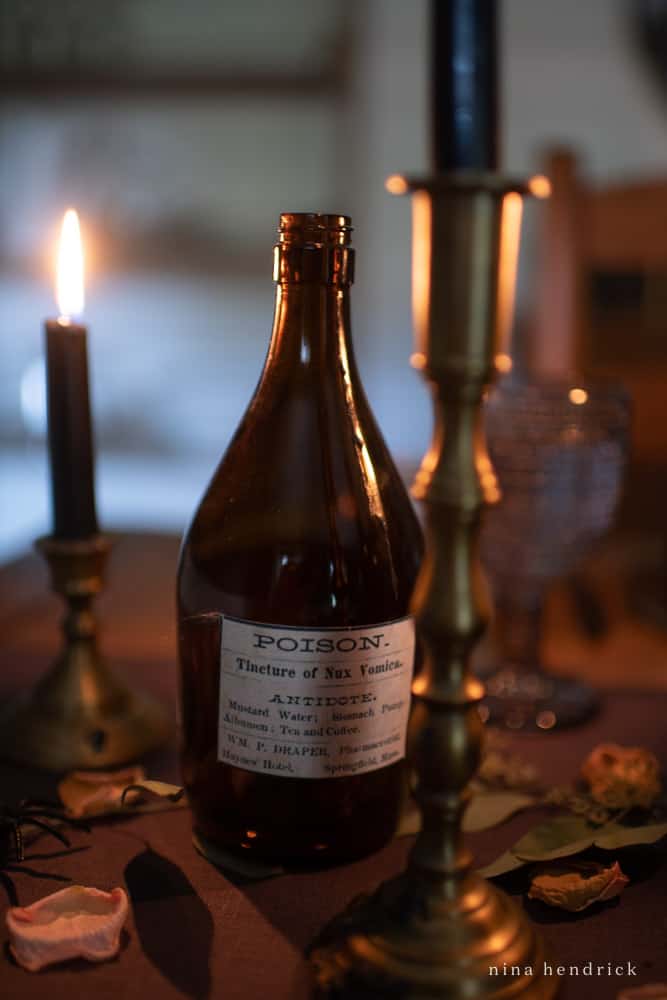 5. Repurpose Seasonal and Holiday Decor Creatively:
For this Halloween tablescape, I embraced sustainability and creativity by mainly using items from my existing collection, proving you don't always need to purchase new things to create a fresh look. The only new addition was the black roses. A standout example is the "poison" recycled wine bottles, a simple craft that's been a Halloween staple in my home for nearly a decade. You can even download the free printable labels I used below!
email subscribers get access
to all of my free printables
After you sign up, a link will be sent to your inbox with instructions for how to access these printables from our gallery (which also has many more options for you to decorate with!).
I'm a big advocate for building a versatile capsule collection of seasonal decor. This approach not only saves money but also reduces clutter. Resist the temptation to follow every trend or buy new items each season. Quality and intentionality in your decor choices will make your home feel more personal and less overwhelmed by unnecessary items. However, if you find something truly special that speaks to you, feel free to add it thoughtfully to your collection.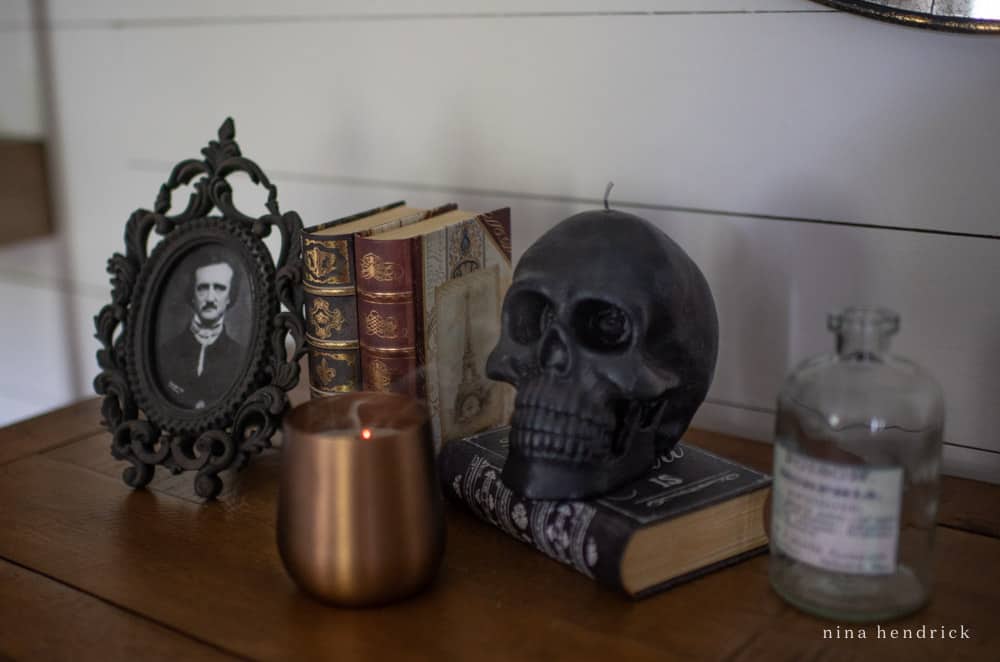 This Halloween table setting transformation is a testament to the power of reimagining what you already have. By simply rearranging and repurposing items, like the Edgar Allen Poe themed vignette from years past, you can breathe new life into your space. Remember, being intentional with your decor choices doesn't mean limiting your creativity; it's about making the most of what you have and enjoying the process of evolving your home's aesthetic from one season to the next. This spooky & elegant Halloween tablescape is a perfect example of seamlessly transitioning decor from fall to Halloween with style and sustainability in mind.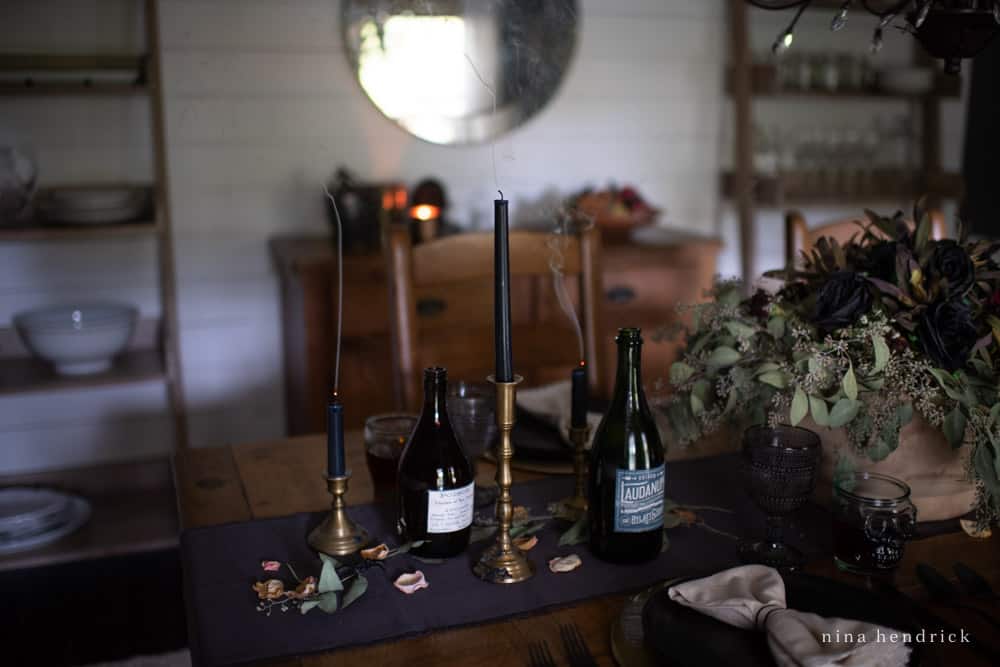 As we wrap up, I hope this post has sparked your creativity and provided you with some unique Halloween table decor ideas. Crafting this Halloween tablescape was a thrilling journey, blending the eerie with the elegant. It's amazing how a few simple tweaks can transform a regular setting into a spooky, enchanting scene that captivates your guests. Remember, the key to a memorable tablescape is in the details and the stories each piece tells.
So, whether you're hosting a Halloween dinner party or just want to add a touch of the season's spirit to your home, I encourage you to experiment with these ideas and make them your own. And most importantly, have fun with it! After all, Halloween is the perfect time to let your imagination run wild.
Wishing you a Happy Halloween filled with delightful frights and enchanting nights. May your Halloween tablescape be as bewitching as the season itself!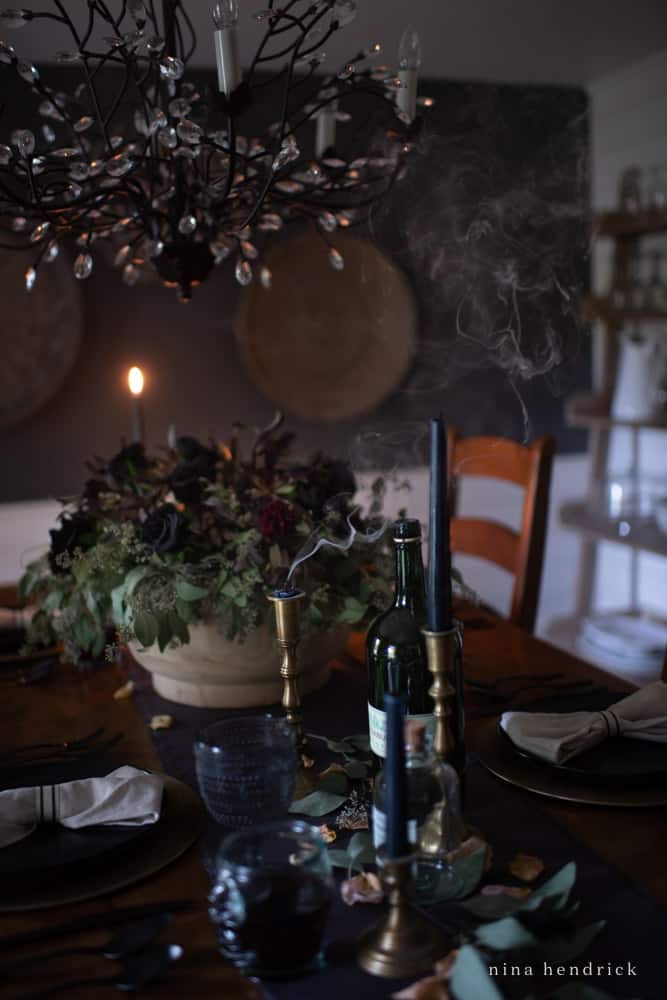 If you're looking for other fun Halloween ideas that use some of these same decorations, you can find more inspiration here. Let me know on Instagram @ninahendrickhome if you use any of these ideas!