This home tour offers classic and traditional Christmas decorations that are sure to fill your home with festive cheer. Get inspired by the best ideas for decorating your home this holiday season.
The holiday season is a special time of year, and one of the best ways to get into the holiday spirit is to decorate your home with traditional Christmas decorations. From classic Christmas trees adorned with lights and ornaments, to festive wreaths on your front door, these traditional decorations can help create a warm and inviting atmosphere in your home.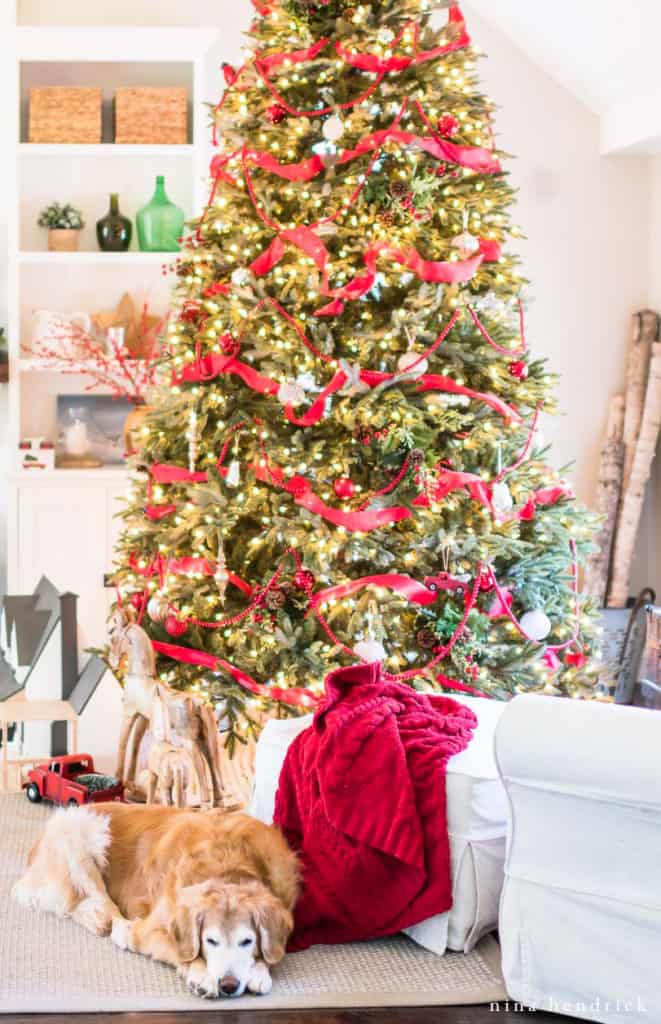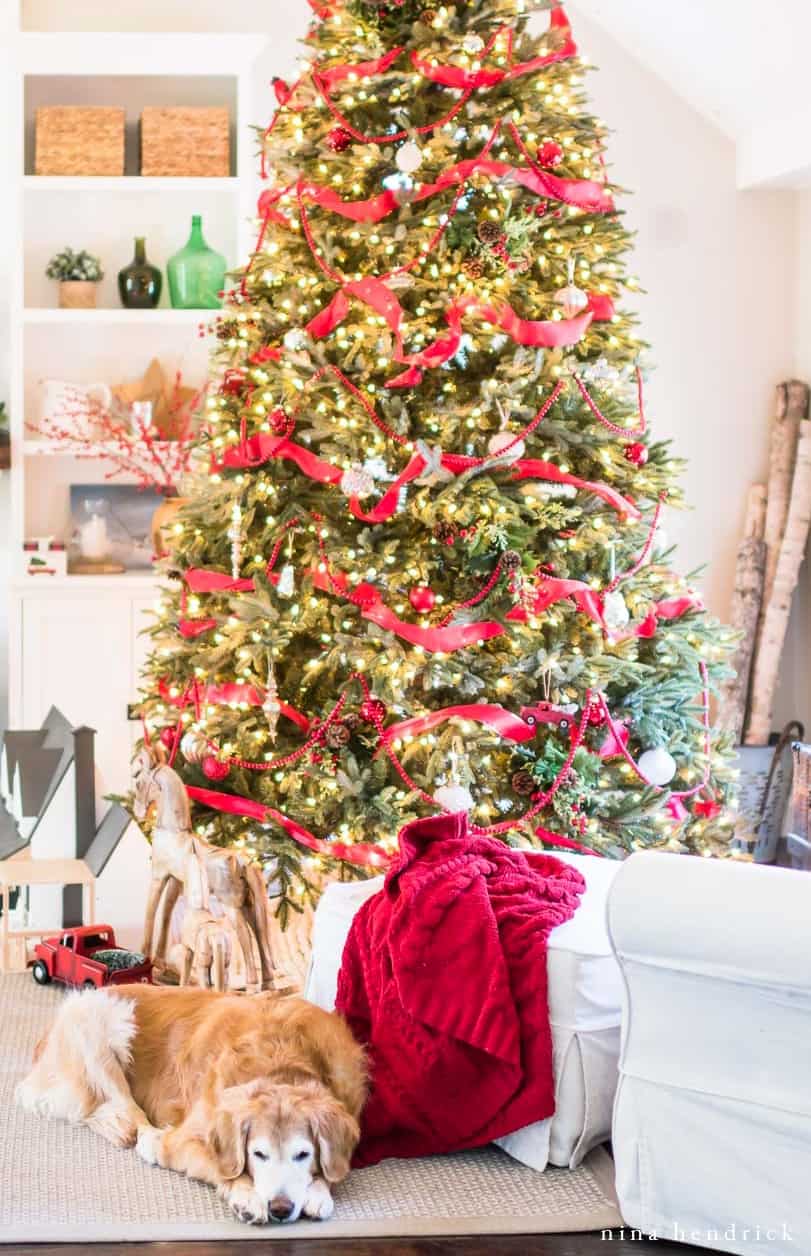 Traditional Christmas decorations are sure to bring a festive touch to any home. In this blog post, we'll explore some of the most popular traditional Christmas decorations and discuss how to incorporate them into your home.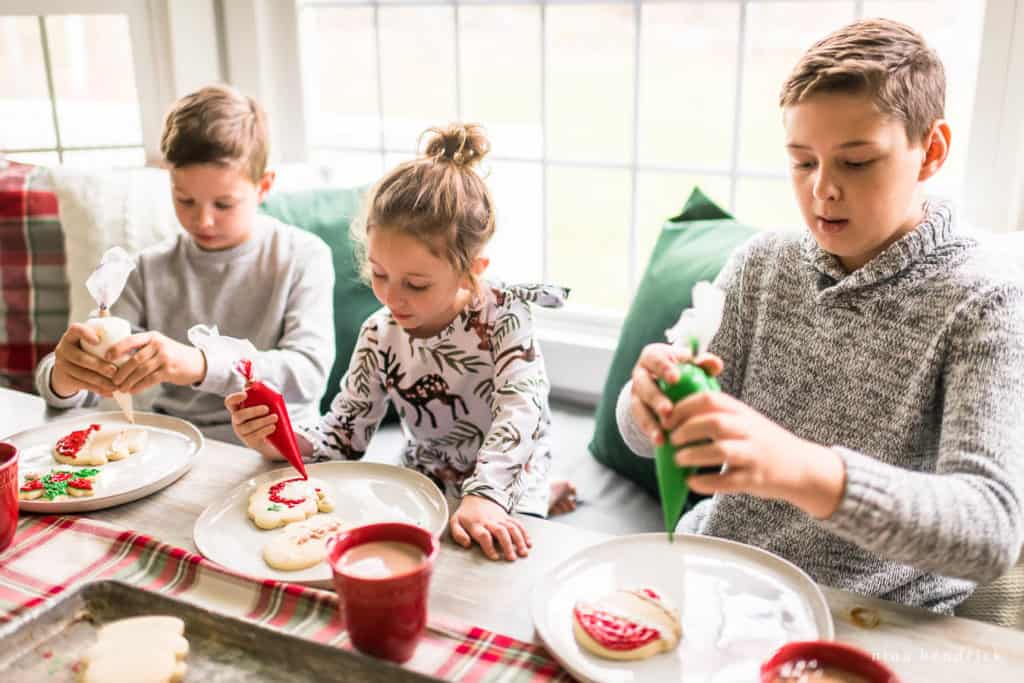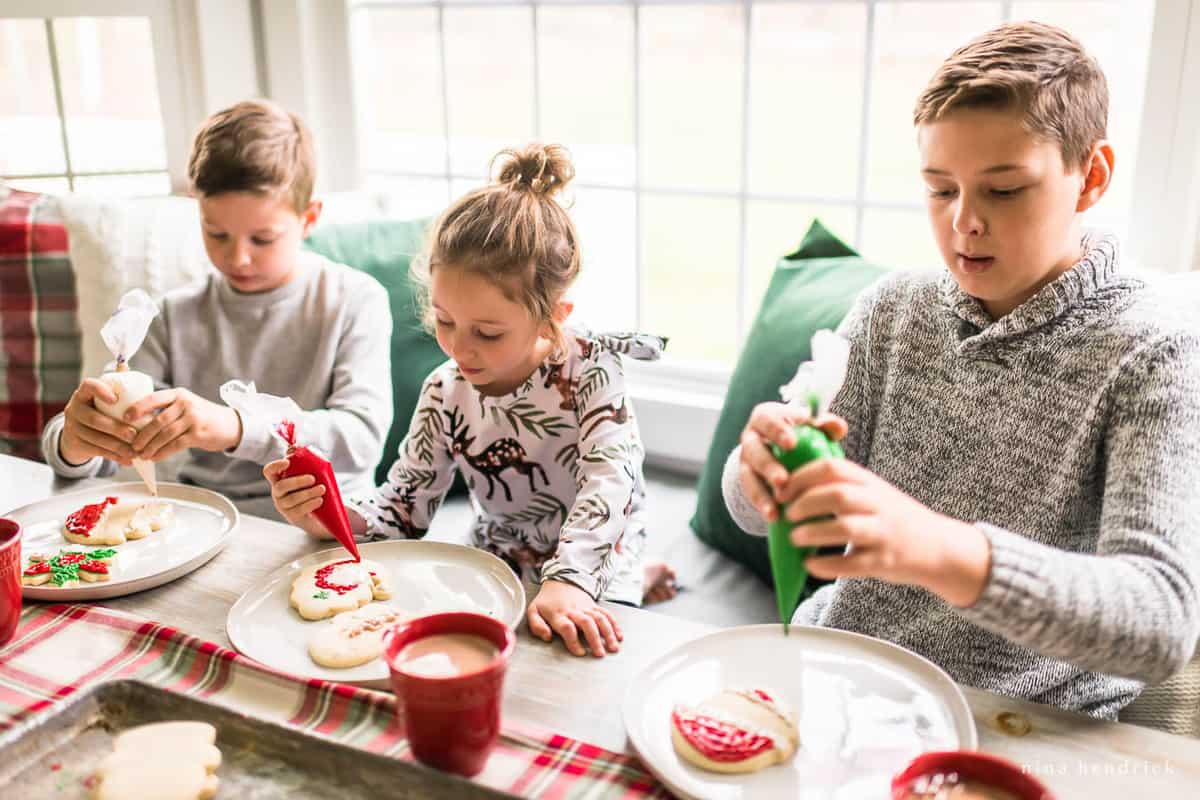 As our oldest approaches his teen years, I've been feeling particularly nostalgic… like time is moving WAY too fast… so that was my focus for decorating this year. I wanted to capture the magic of Christmas as a child, so I included all of the traditional Christmas colors and decor that brought to mind classic toys.
This post contains affiliate links, which means I may get a small commission (at no extra cost to you) if you shop my link. Please see my disclosure if you'd like more info!
I used red, green and white as the main colors for the decorations throughout the house, and I chose decorations that I remember from my own childhood. I put up a festive garland around the fireplace, hung ornaments on the tree shaped like antique trucks and added a few simple, classic stockings to the mantel. I think this simple, classic decor really captured the true spirit of the holidays, and I'm so glad I went the traditional route this year.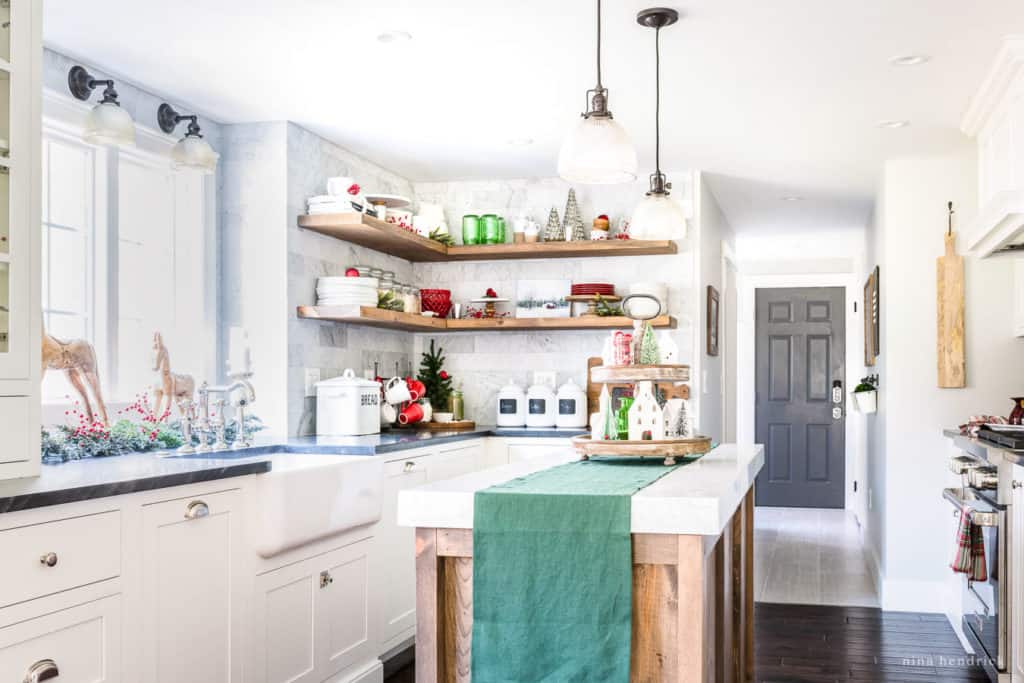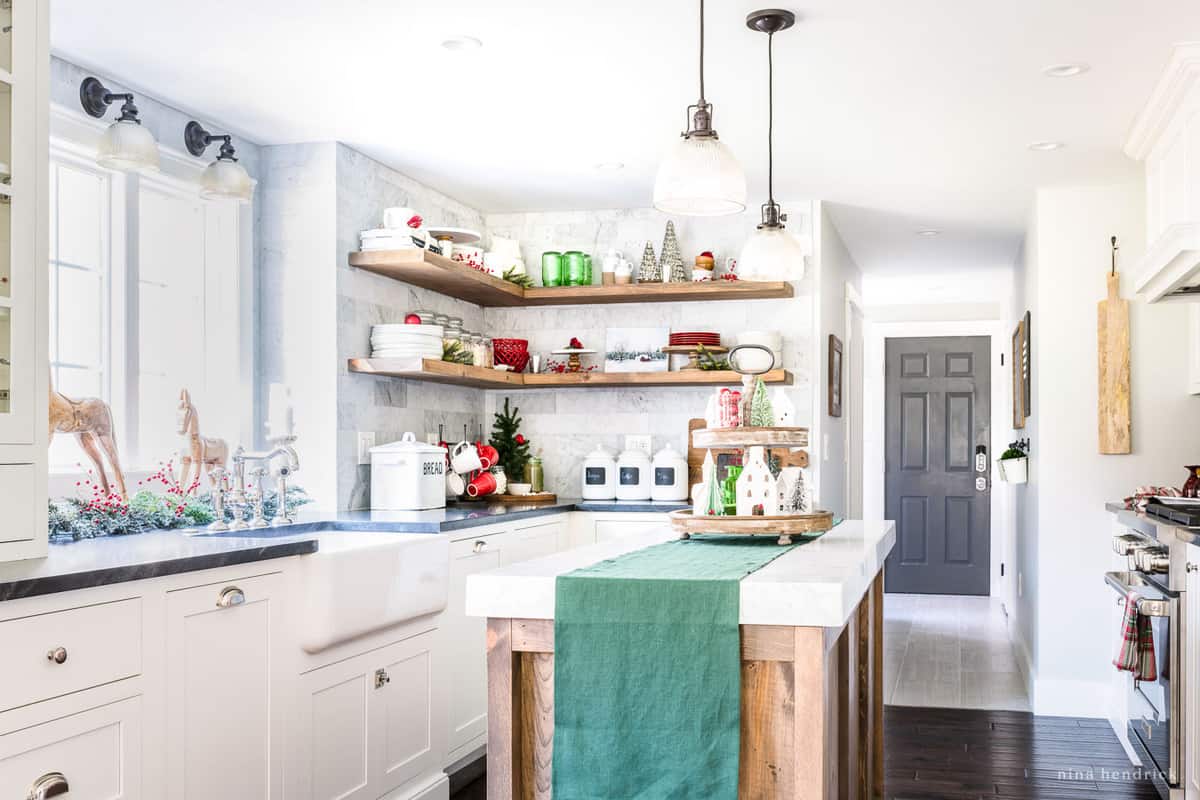 Classic & Traditional Christmas Kitchen Decorating Ideas
Traditional Christmas decorations for the kitchen include garlands, ornaments, lights, and holiday themed kitchenware. There are endless possibilities to bring a festive feel to the kitchen while echoing a traditional Christmas style. From classic green and red to more modern takes on the holiday, there are a variety of decor items to choose from. Consider a festive garland to hang over the sink, or a festive wreath to add to the kitchen wall. Hang ornaments from the cabinets, or on a small Christmas tree. String lights around the kitchen in a creative manner. Add holiday themed kitchen towels, rugs, and other festive items. Place Christmas plants like poinsettia, paperwhites, and rosemary topiaries on the countertops. Lastly, don't forget the festive kitchenware such as mugs and plates to really bring the holiday spirit to the kitchen.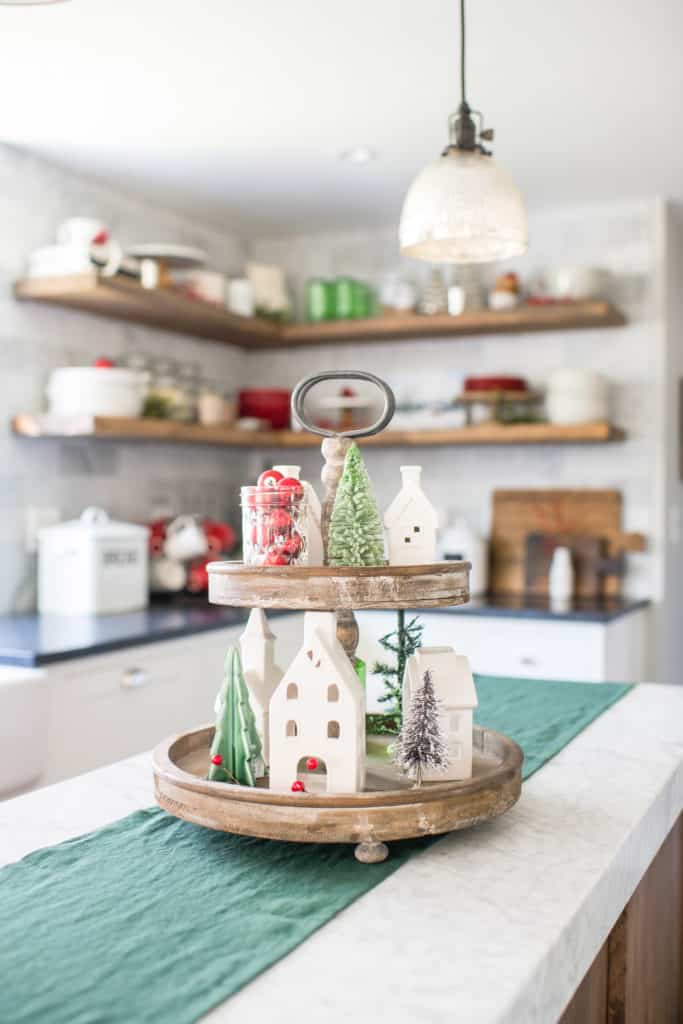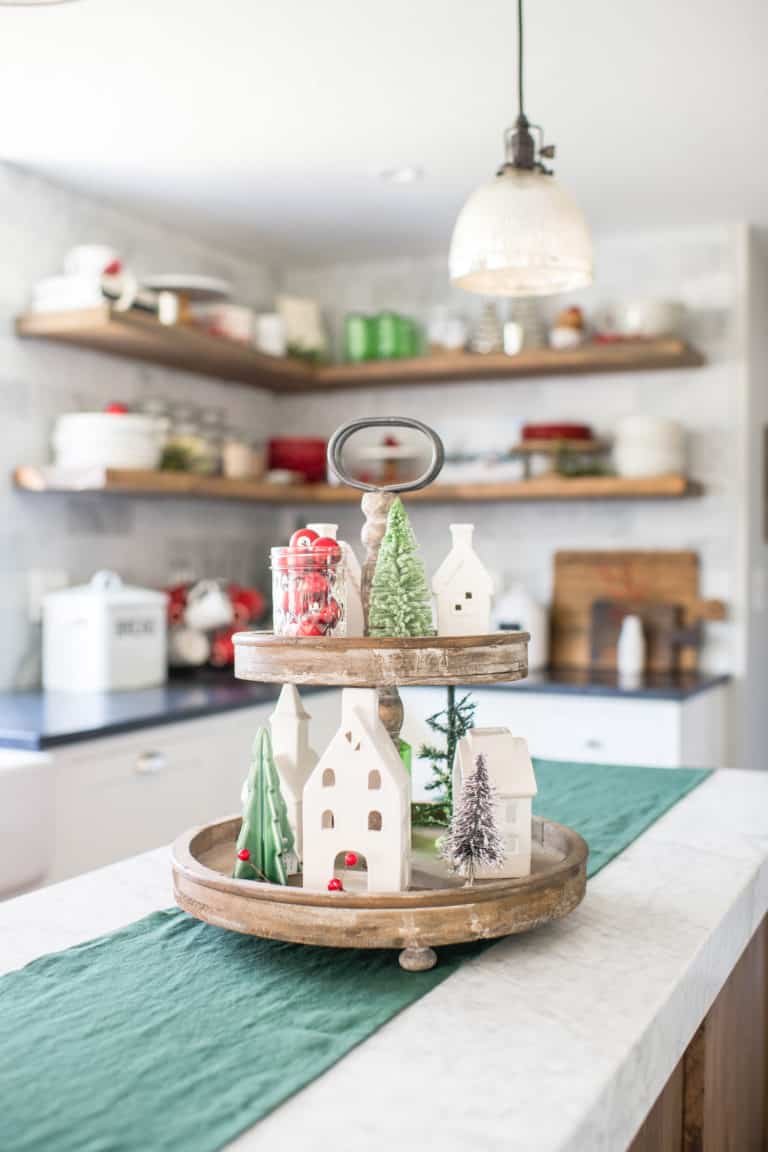 When I decorated the kitchen for a Traditional Christmas this year, it was very much with the activities in mind that we'd be doing in our space for the holiday season. I kept things more simple than in the past so that our traditions have plenty of room.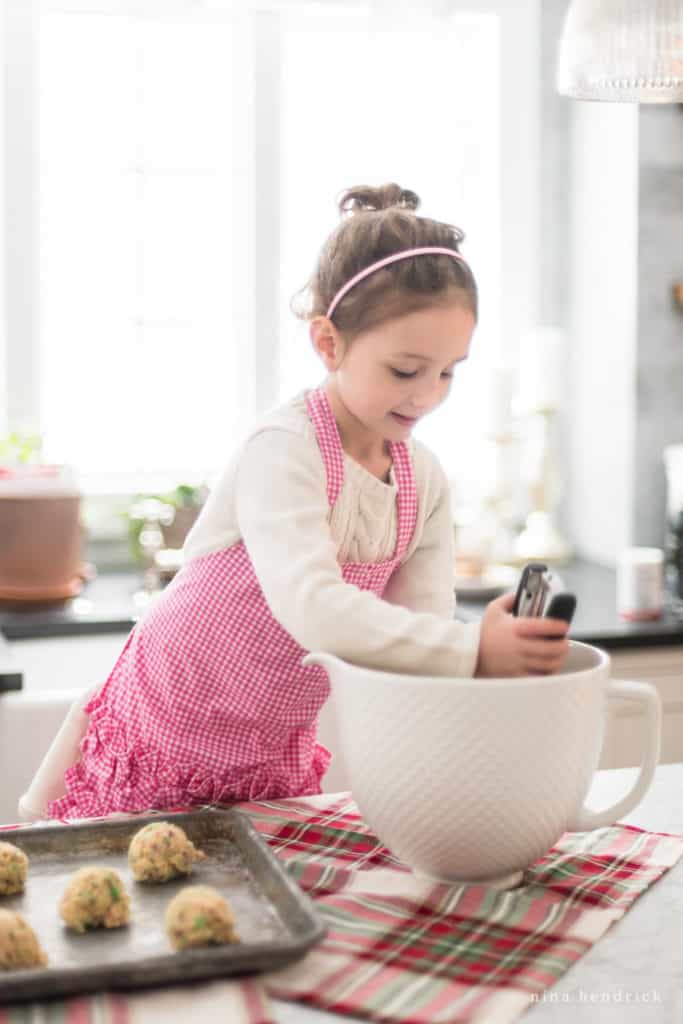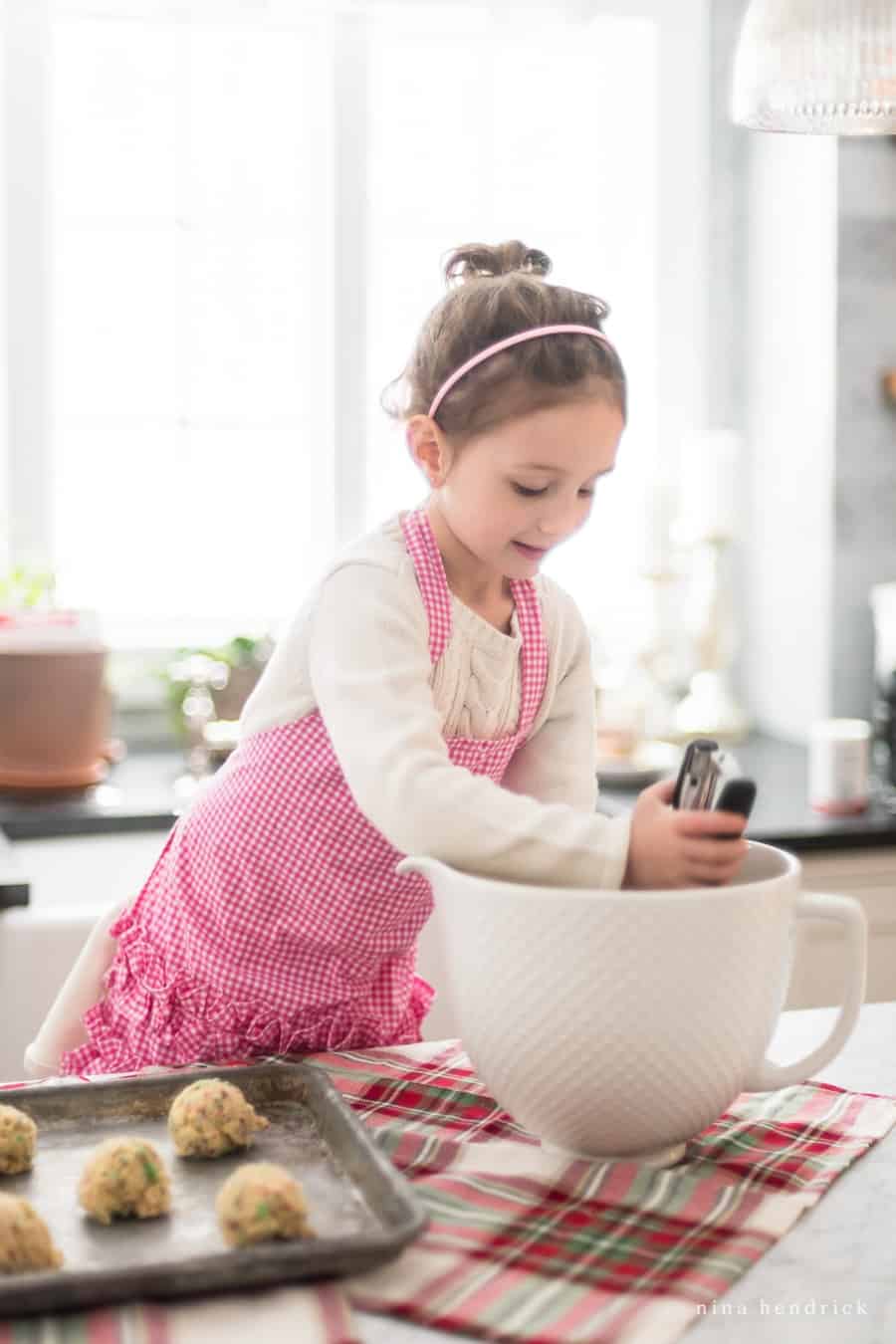 For example, in our kitchen, I made it as easy as possible to remove the little tiered tray on the island so we could have plenty of space for making Christmas cookies.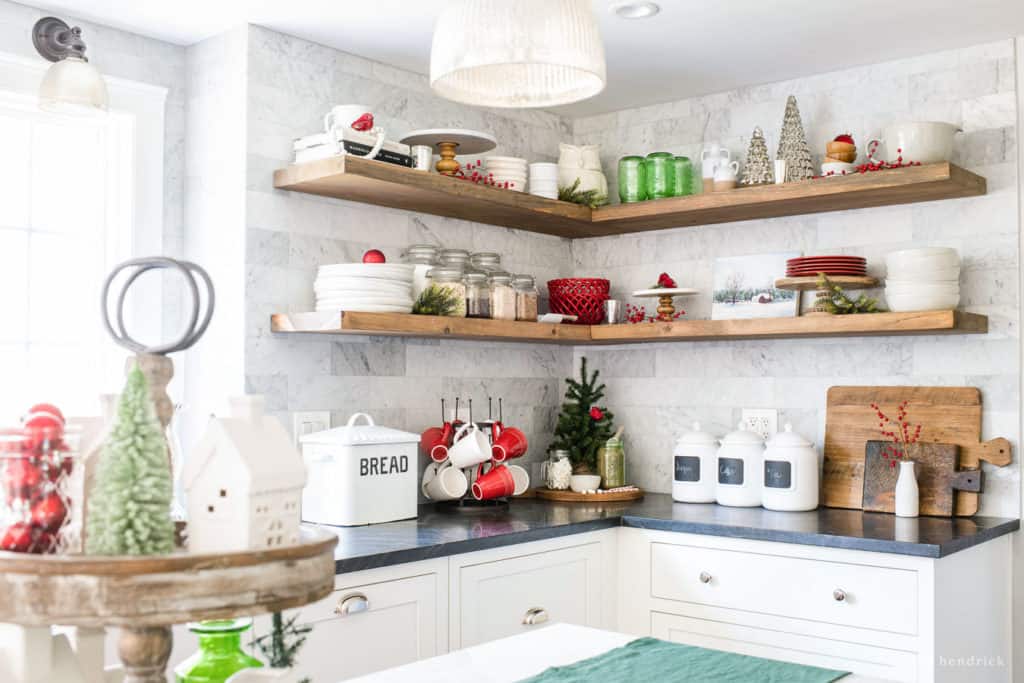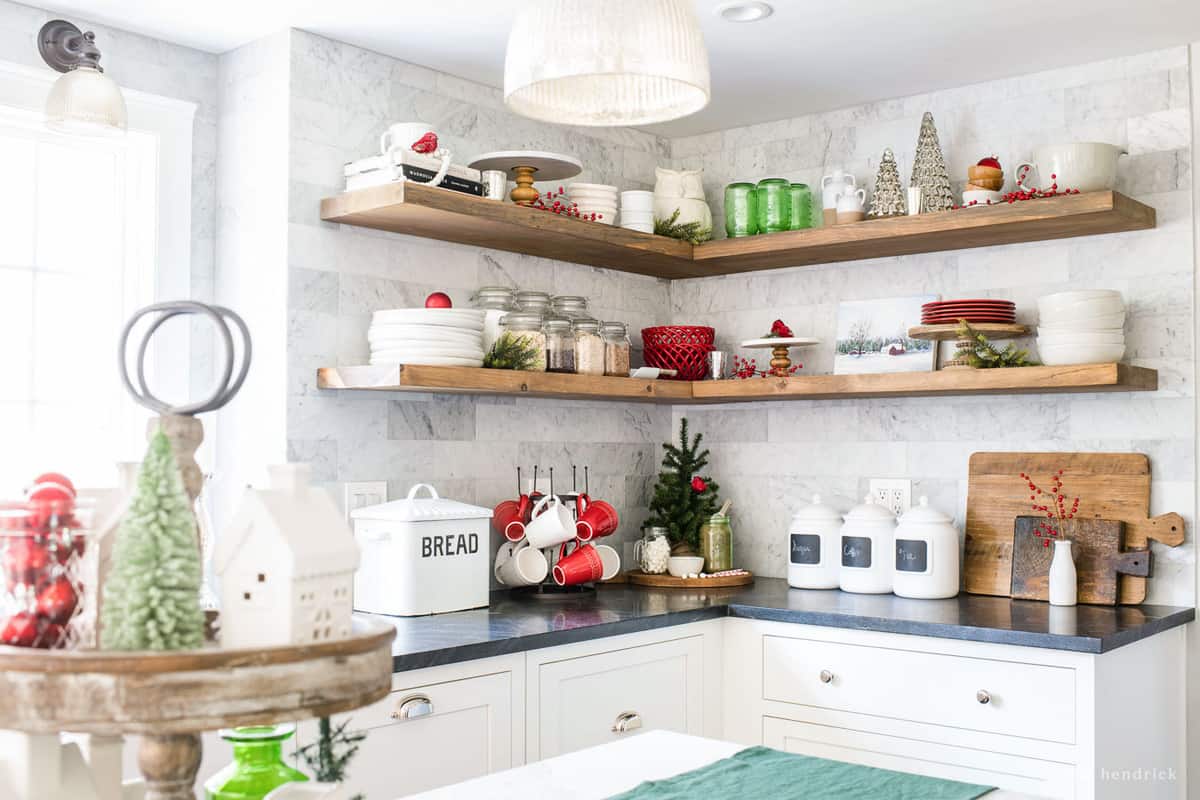 Besides that, I added a few pieces of classic holiday decor, such as some festive red mugs, berry sprigs, and a few pieces of greenery. For the finishing touches, I added some green accents here and there.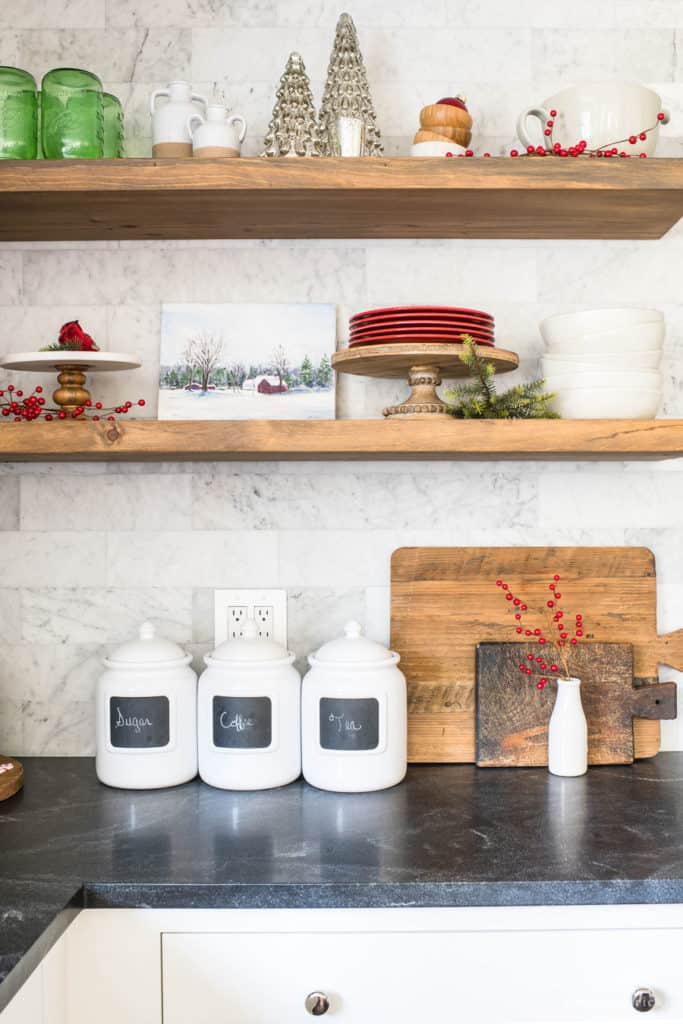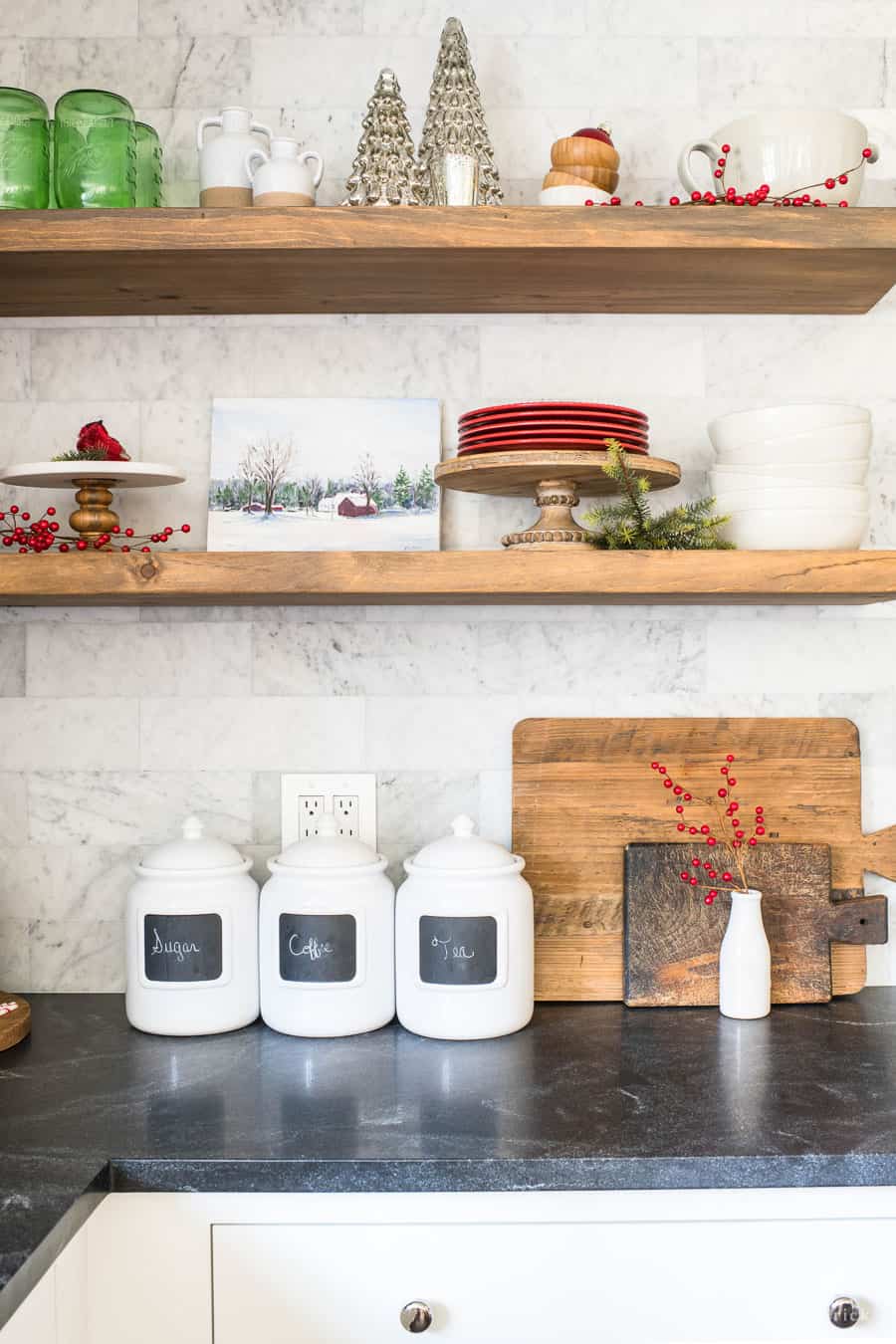 Most of my fun in the kitchen came from decorating our floating shelves. I added simple traditional Christmas decor touches on top of the everyday pieces.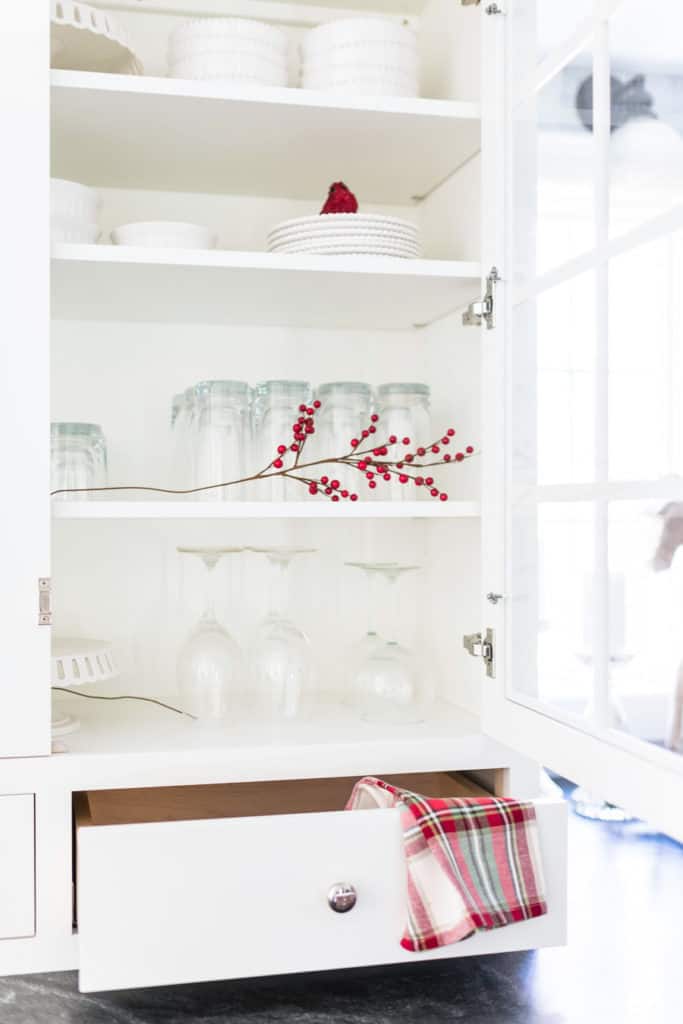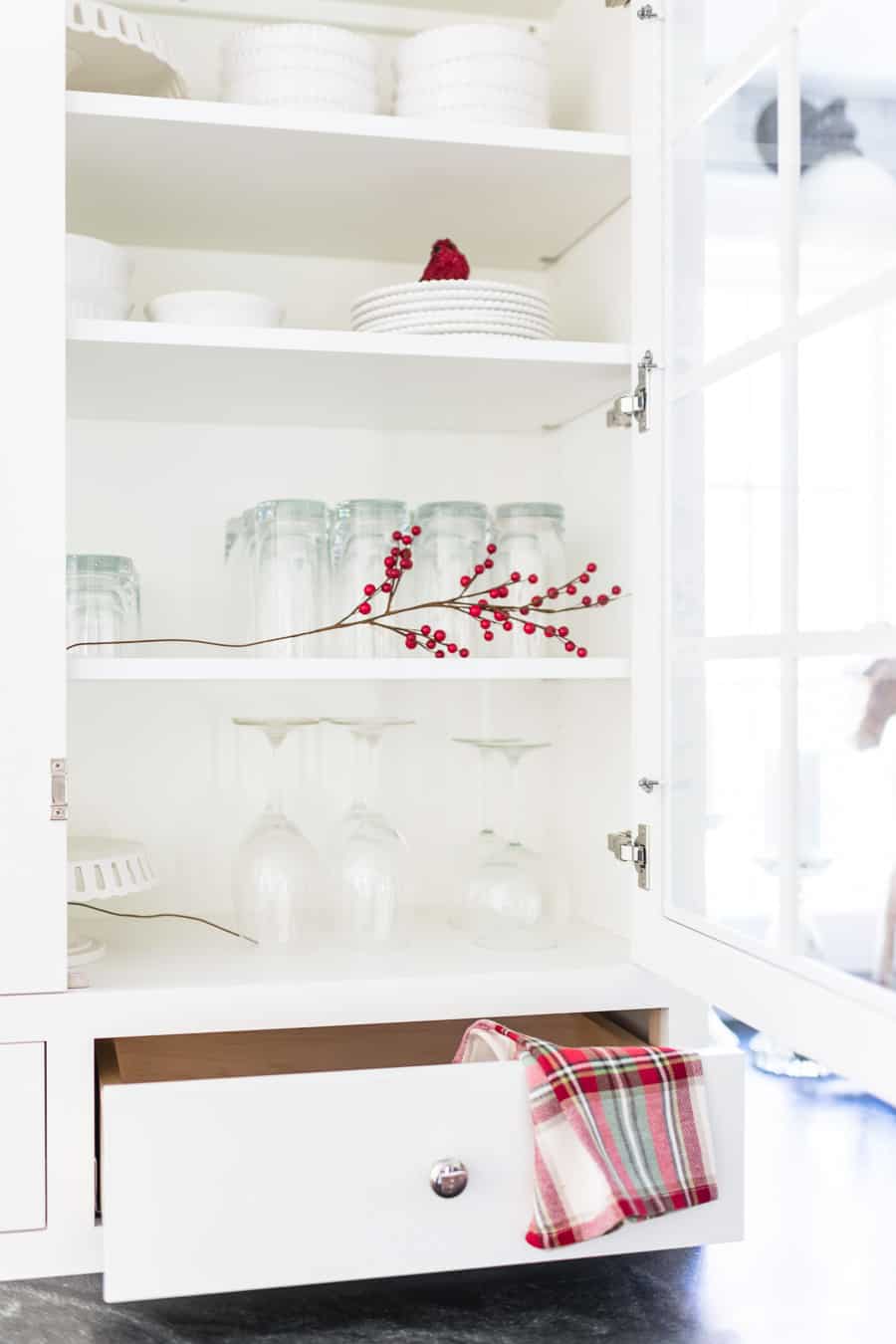 Similarly, I put away our blue plates for the season and added bright pops of red to our everyday white dishes in the built-in kitchen hutch. The hutch feels Scandinavian because of the stark white with pops of red!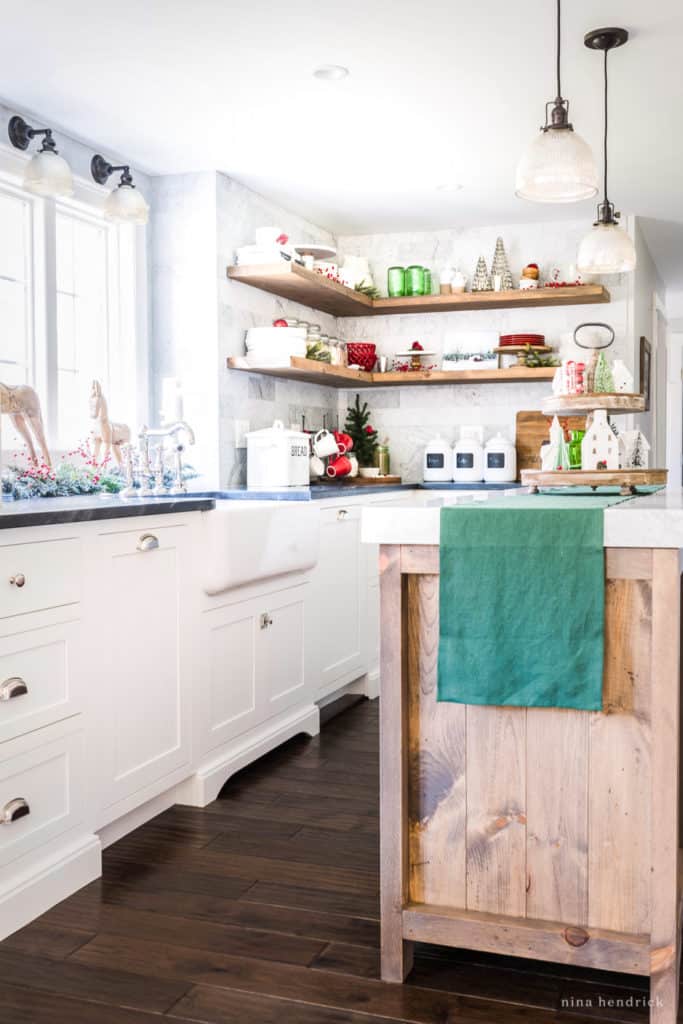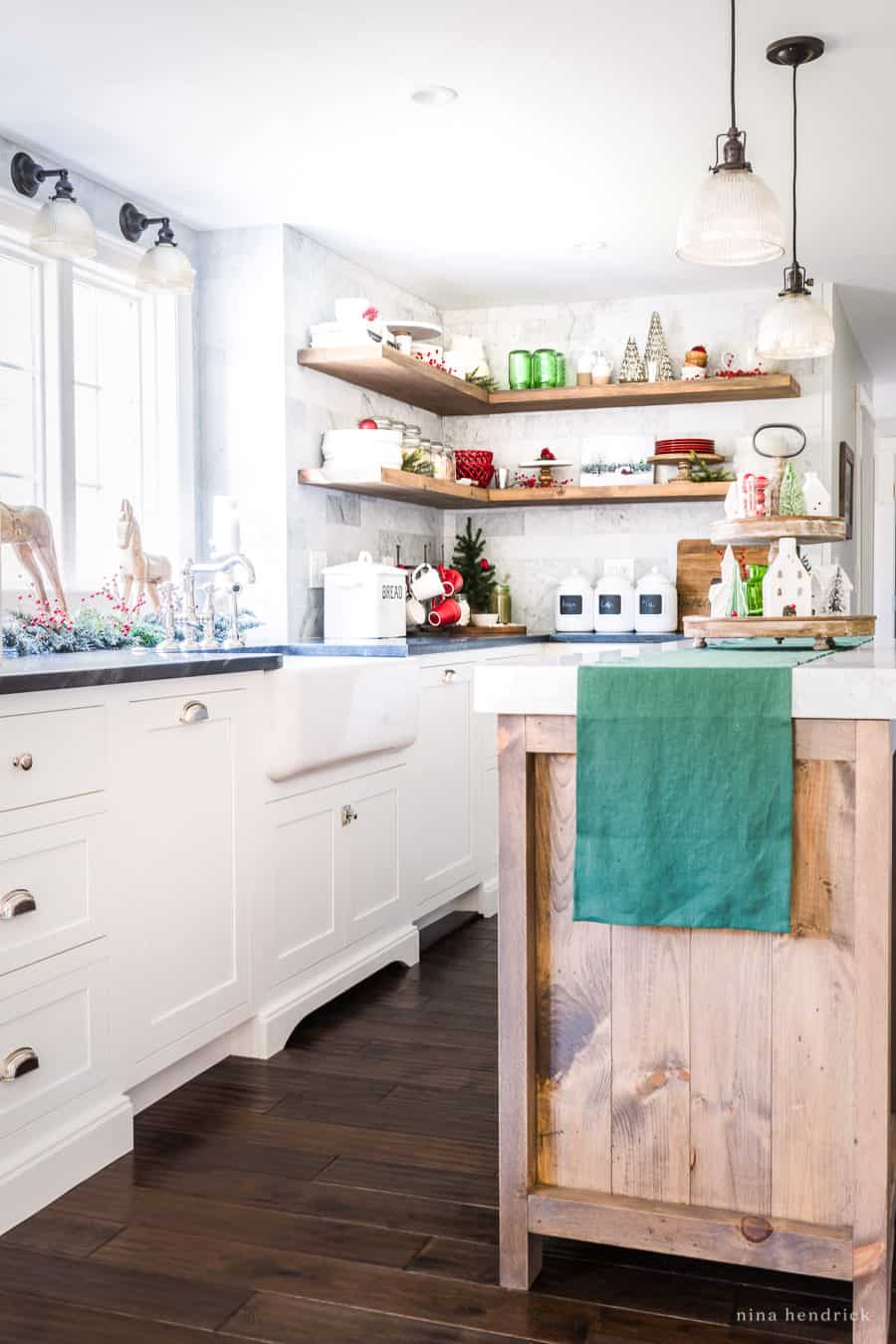 These pieces together made the perfect cozy traditional Christmas kitchen. You can see more of my kitchen Christmas decorating ideas in this post!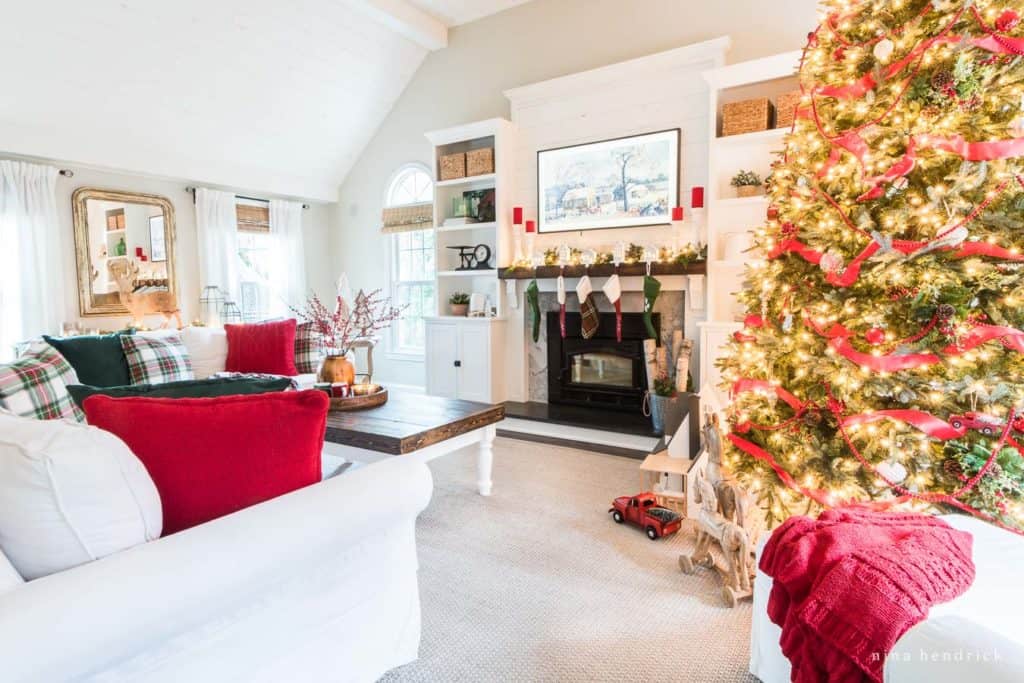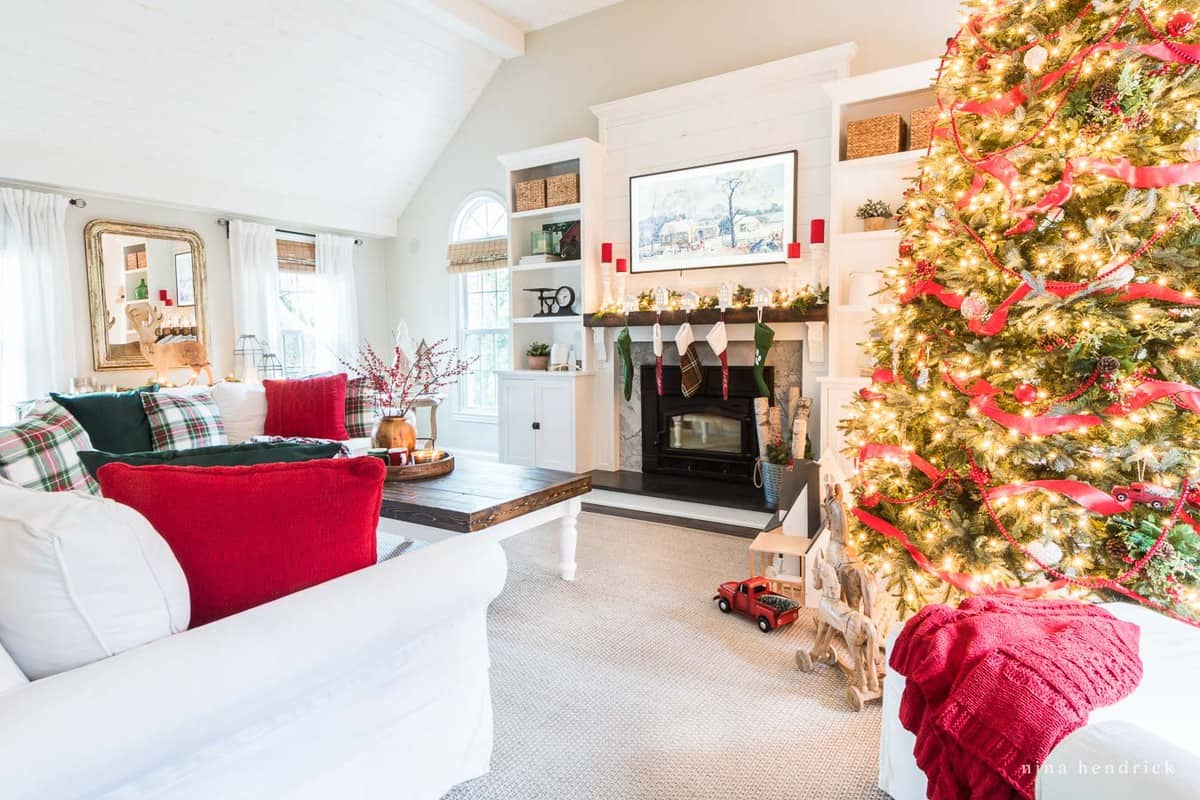 Classic Christmas Family Room
This traditional Christmas Family Room is decorated in traditional red and green with nostalgic and rustic touches to celebrate the season. The tree is the main focus of the room and is decorated with traditional red, white, and green accents and a star on top. The tree is adorned with vintage-inspired wooden ornaments. A variety of vintage Christmas decorations, such toy horses and other wooden toys, are placed around the tree. The room is complete with a cozy fireplace, a comfy sofa, and plush throws to keep us warm during the winter months. The room is filled with the joyful sounds of Christmas music, and the air is filled with the sweet scent of evergreen and cinnamon. This classic Christmas family room is the perfect place to spend the holidays with family and friends.
Welcome to our family room all dressed up for the Christmas season! I went full-on traditional this year and my family thoroughly approves. I've had several comments from them that it "truly feels so cozy and Christmas-y" in our home this year. Mission accomplished! If you're looking for more Classic Christmas Ideas, make sure to visit our kitchen and other inspiration here! There are also more beautiful family room ideas from other bloggers at the bottom of this post.
As I mentioned, I'm carrying on the theme of sticking with all things that bring to mind childhood Christmases. As my children begin to get older (although they are still on the younger end), I can feel time slipping through my fingers and I wanted to really capture the magic of this time in their lives.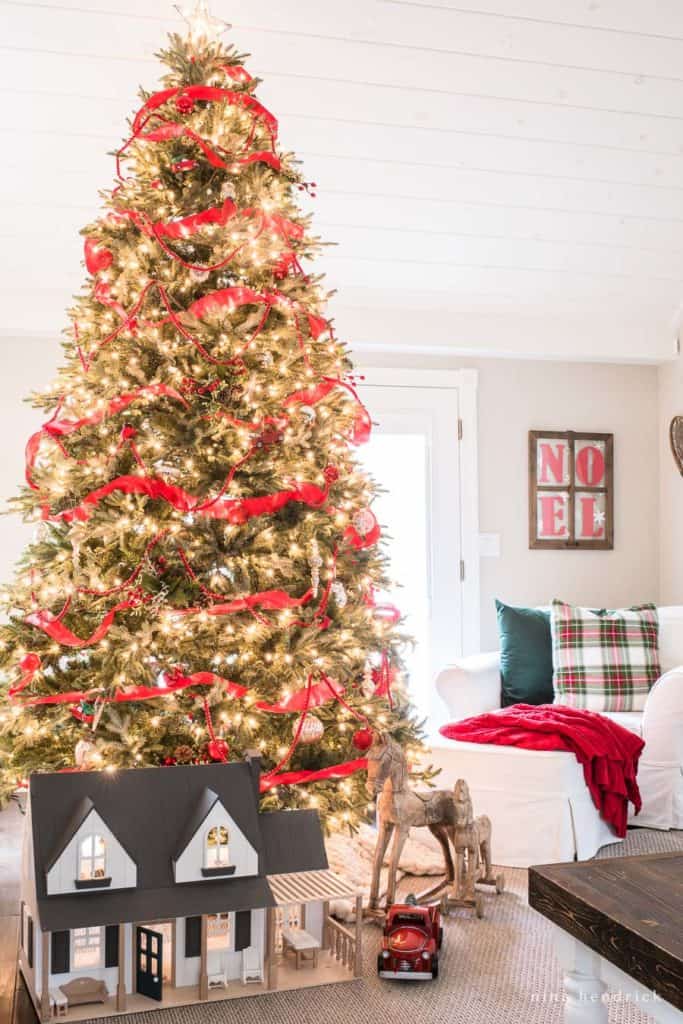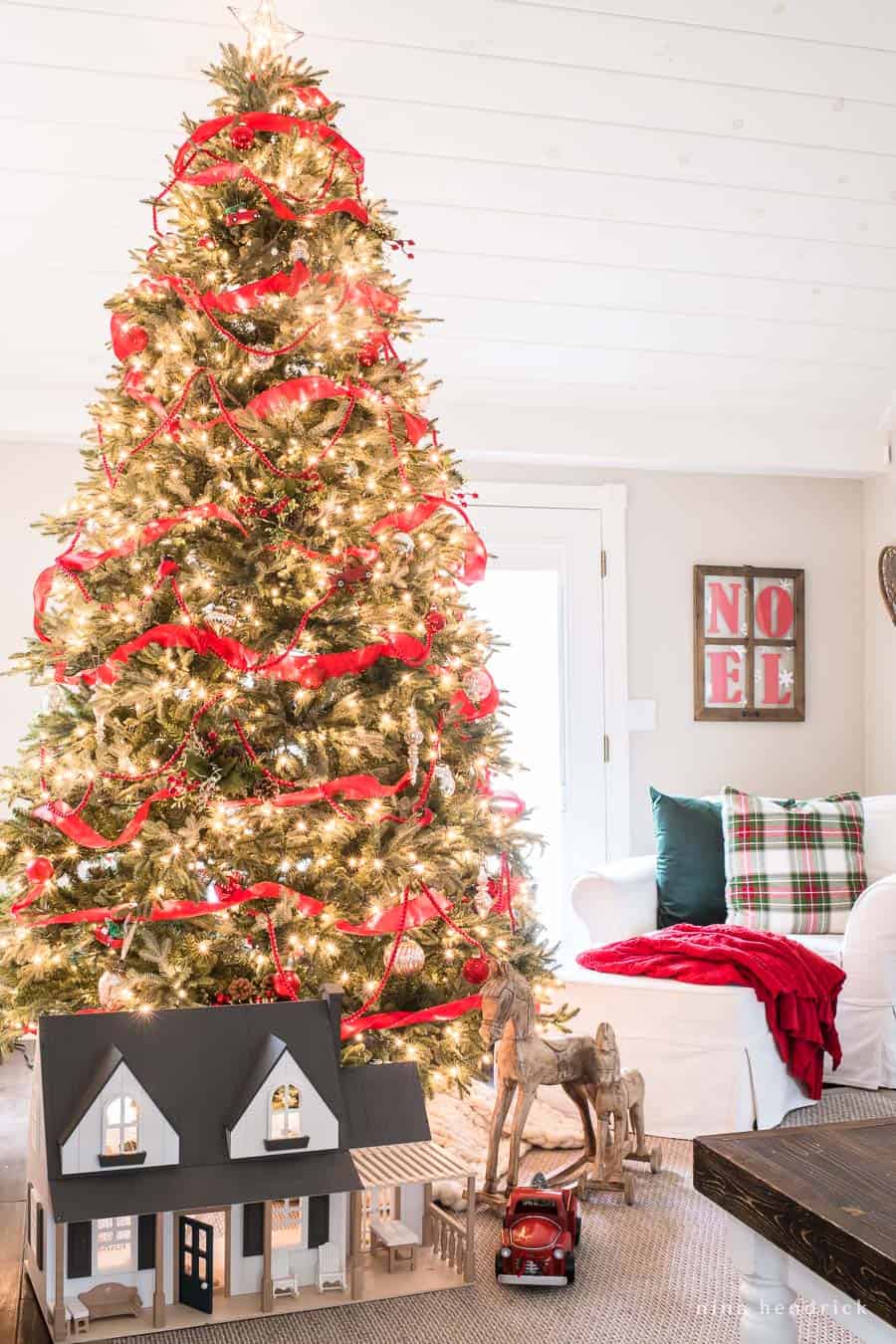 Nostalgic-Inspired Christmas Tree Decorations
When it comes to Christmas tree decorations, I'm all about the traditional. I like to fill my tree with classic ornaments, garlands, and lights that bring back memories of my childhood Christmases. I have a selection of antique glass ornaments that I've collected over the years, as well as a large set of beaded garlands that I've strung around the tree. I have a variety of ribbons l that I've used to add a touch of color. I also love to add a homemade ornament or two each year, whether it's a new rustic crafted ornament or a hand-painted ornament that my kids made at schoole. With all these traditional decorations, our tree looks and feels like the holiday season.
To decorate a traditional Christmas tree, use classic colors like red, green, and gold. Choose ornaments in a variety of shapes, sizes, and textures, such as blown glass, wooden ornaments, or even felt decorations. Finishing touches like garland, tinsel, and a star or angel topper will complete the look. For a real traditional touch, add dried orange slices, popcorn garland, and paper snowflakes to the tree. A few strands of twinkle lights will add a sparkle to the finished product.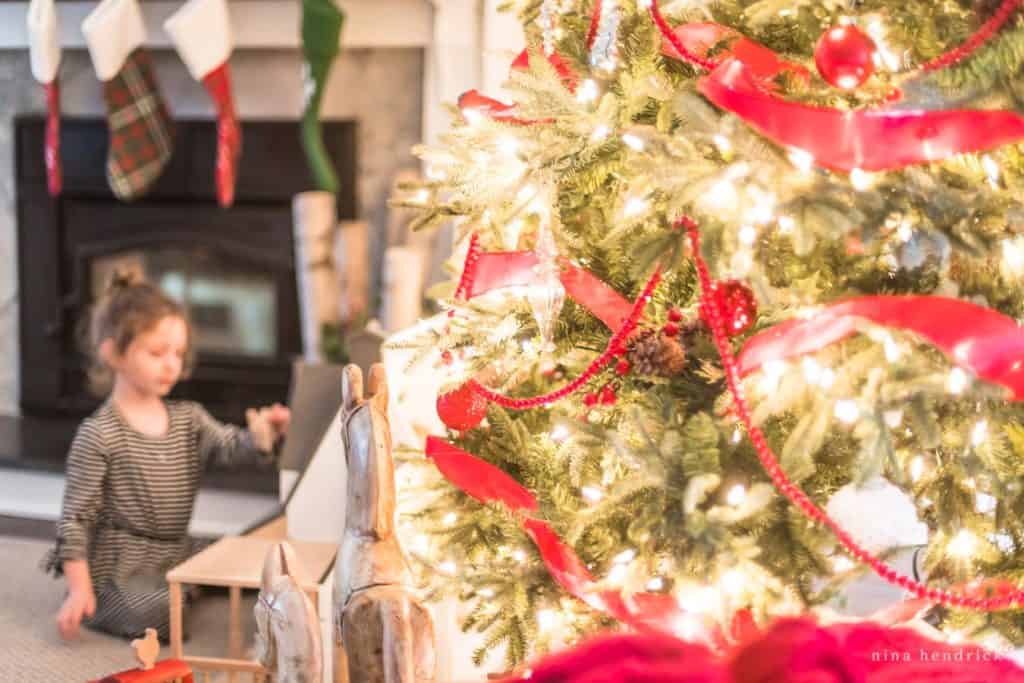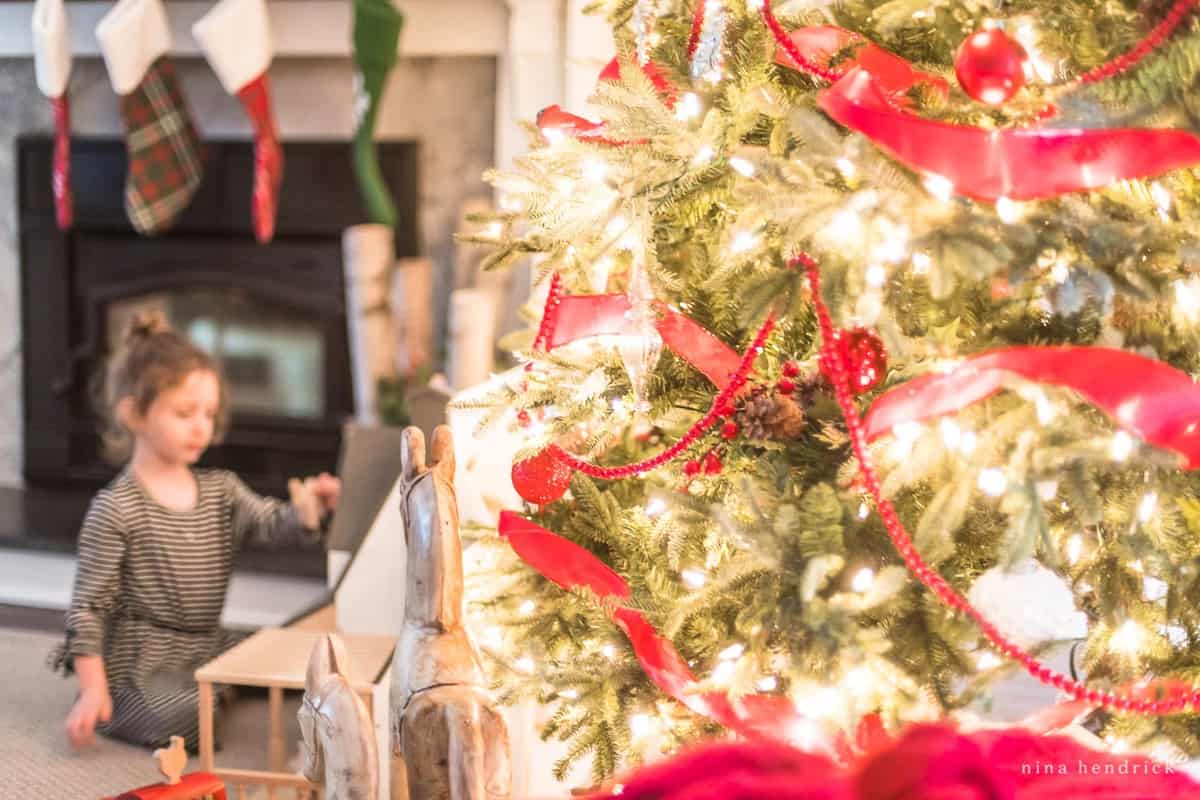 I used mostly our collection of red, classic mercury glass, and frosted ornaments. The only new additions were the red ribbon and 12′ wooden bead garland. The combination of old and new gave the tree a vintage feel. I love the idea of incorporating family heirlooms and little pieces of the past into the tree. The finishing touches were a few twinkle lights and the traditional star on top. I was so happy with the way the tree turned out!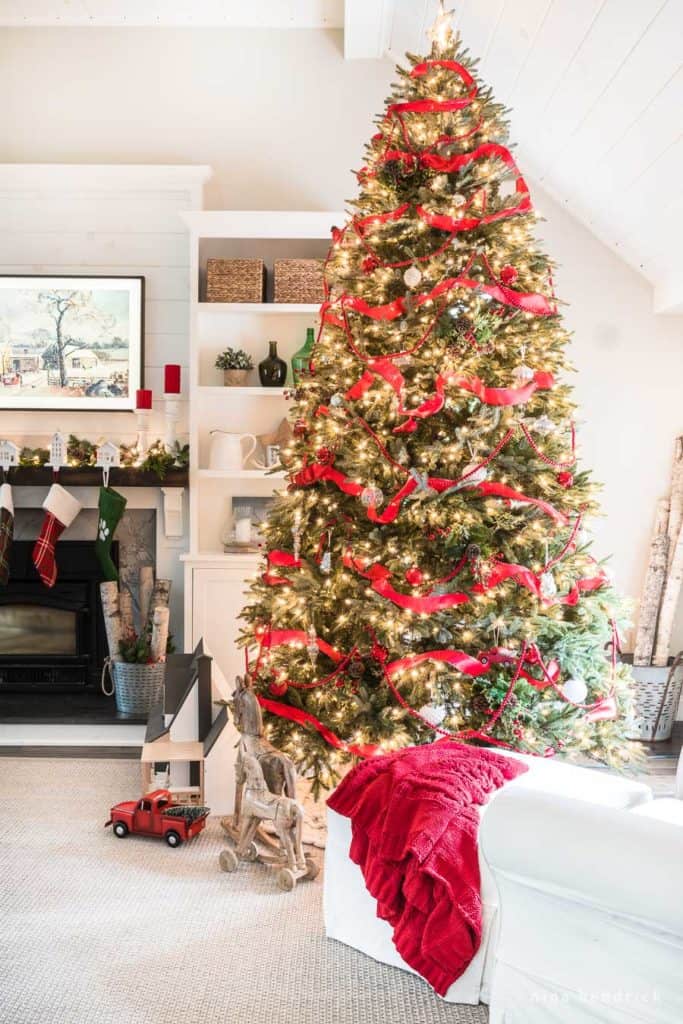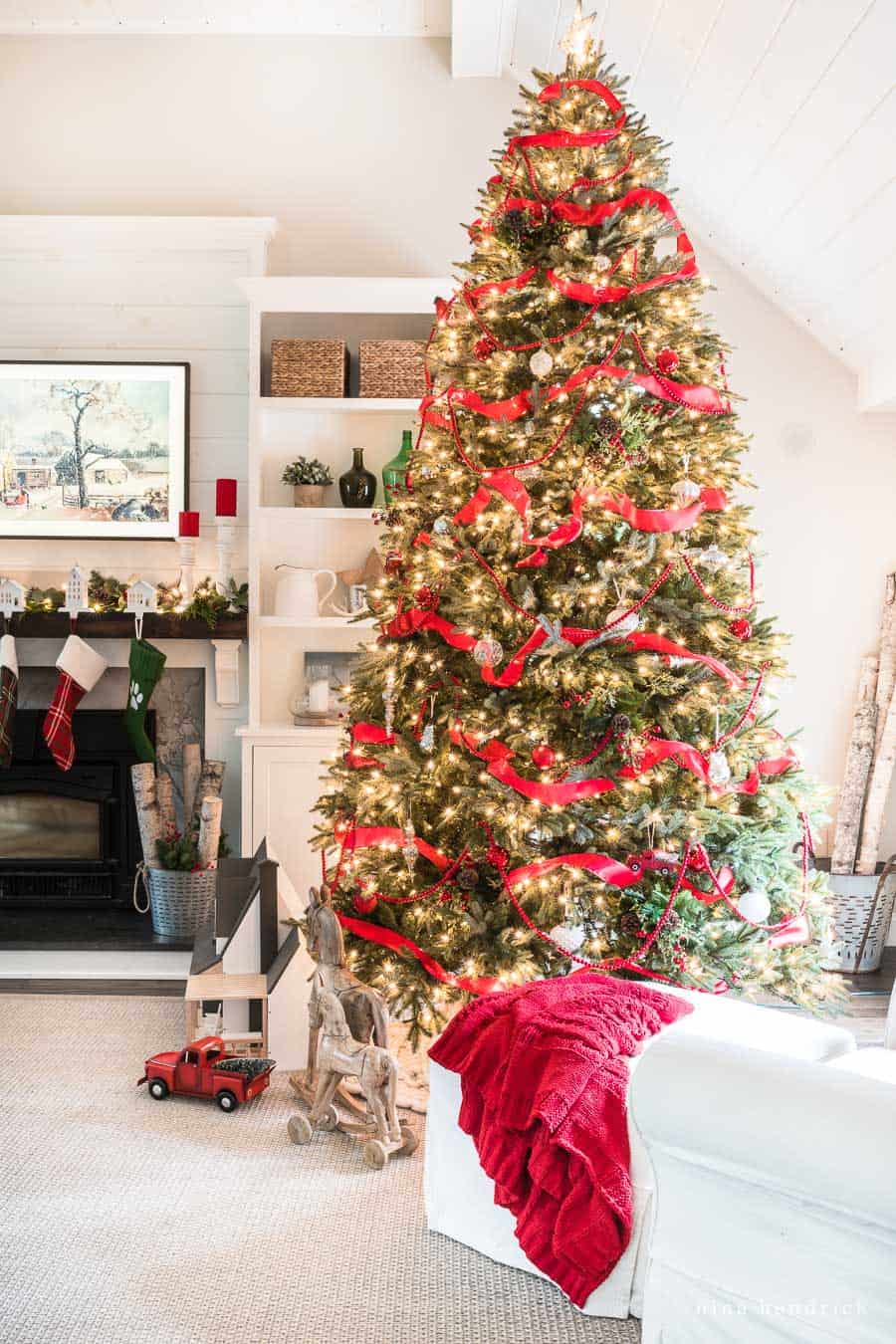 Our Christmas tree is huge— 11 feet. It's currently sold out, but this one is highly rated and comparable in size. It's quite an effort to decorate it every year, but it definitely has that "larger than life" feeling that I was hoping to convey.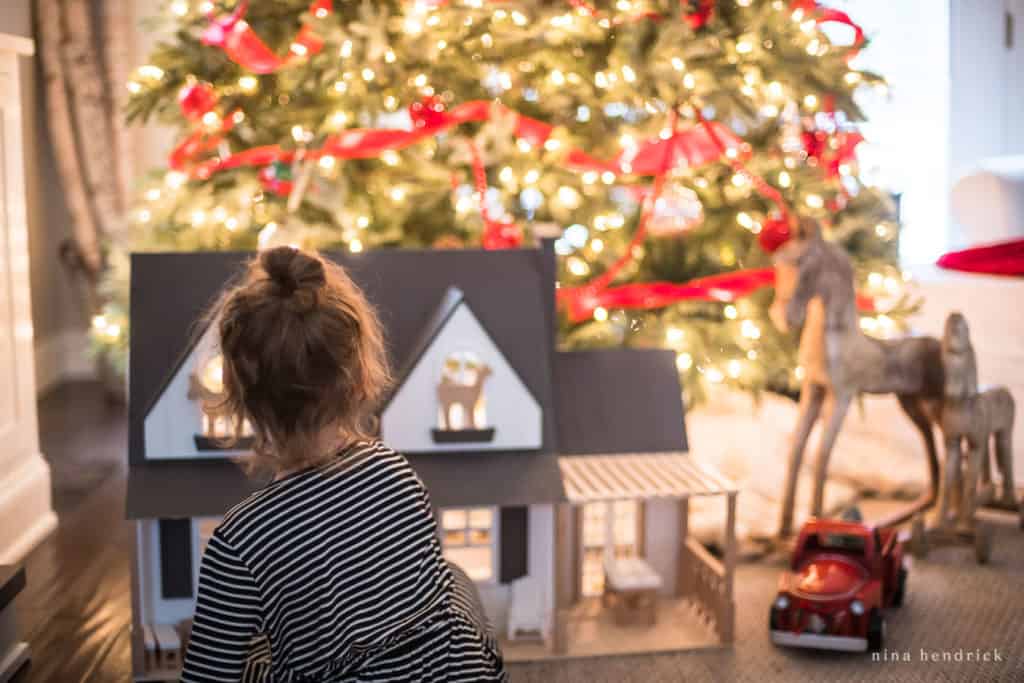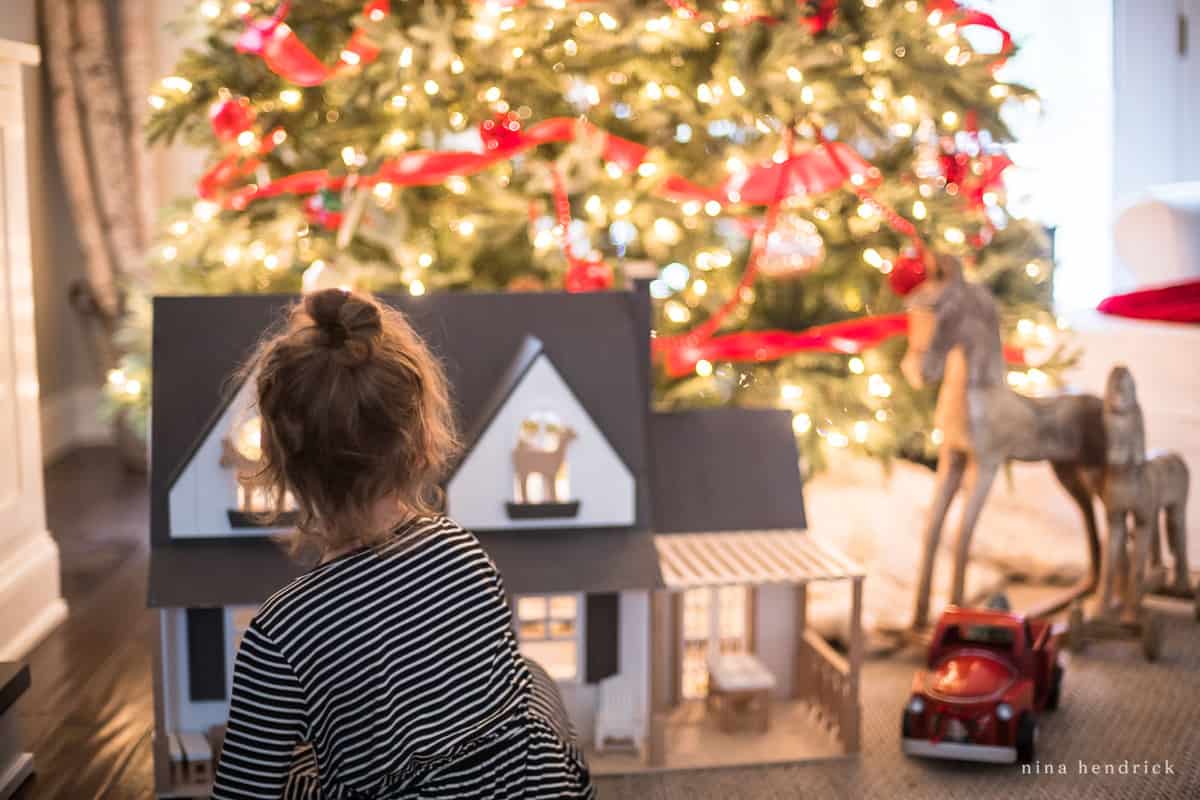 The toy farmhouse was technically a gift from last year, but Lyla plays with it so much that we left it in the room. I don't blame her, I'd want to play with it, too! I thought it worked perfectly with the focus and theme of our decor. The whole scene feels like the perfect representation of our family's holiday traditions.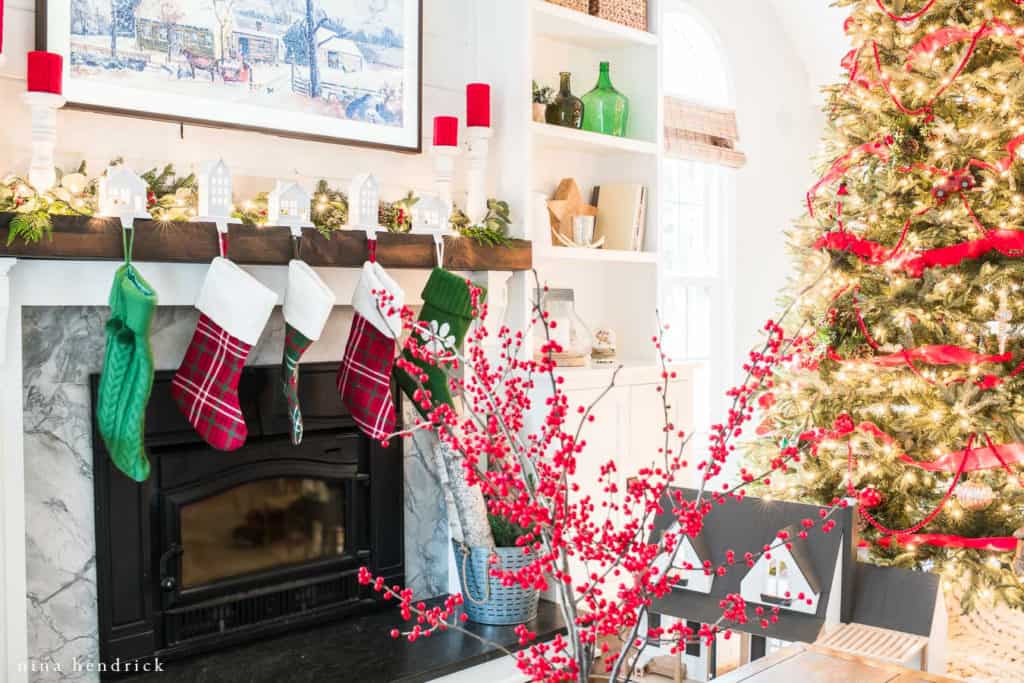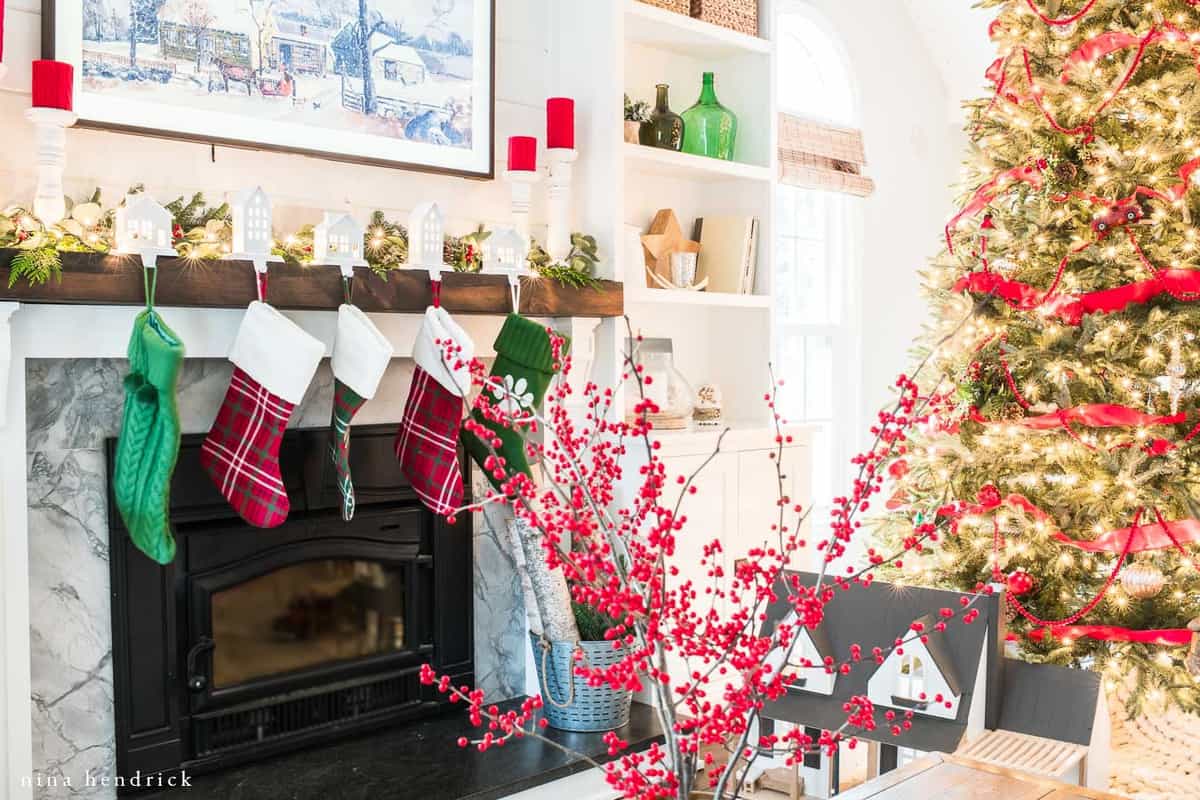 Traditional Christmas Decorations for the Mantel
One of the most iconic symbols of the holiday season is the mantelpiece. The mantel is a perfect place to showcase traditional Christmas decorations that bring cheer to any home. From classic stockings to vintage ornaments and festive garlands, traditional Christmas decorations for the mantel can make your home look warm and inviting.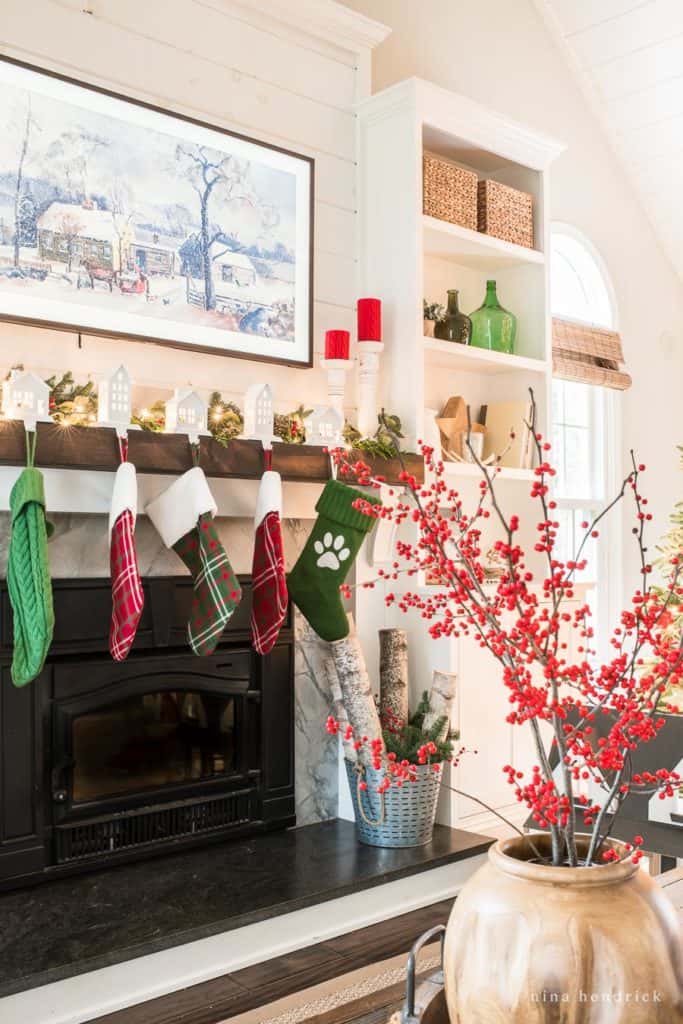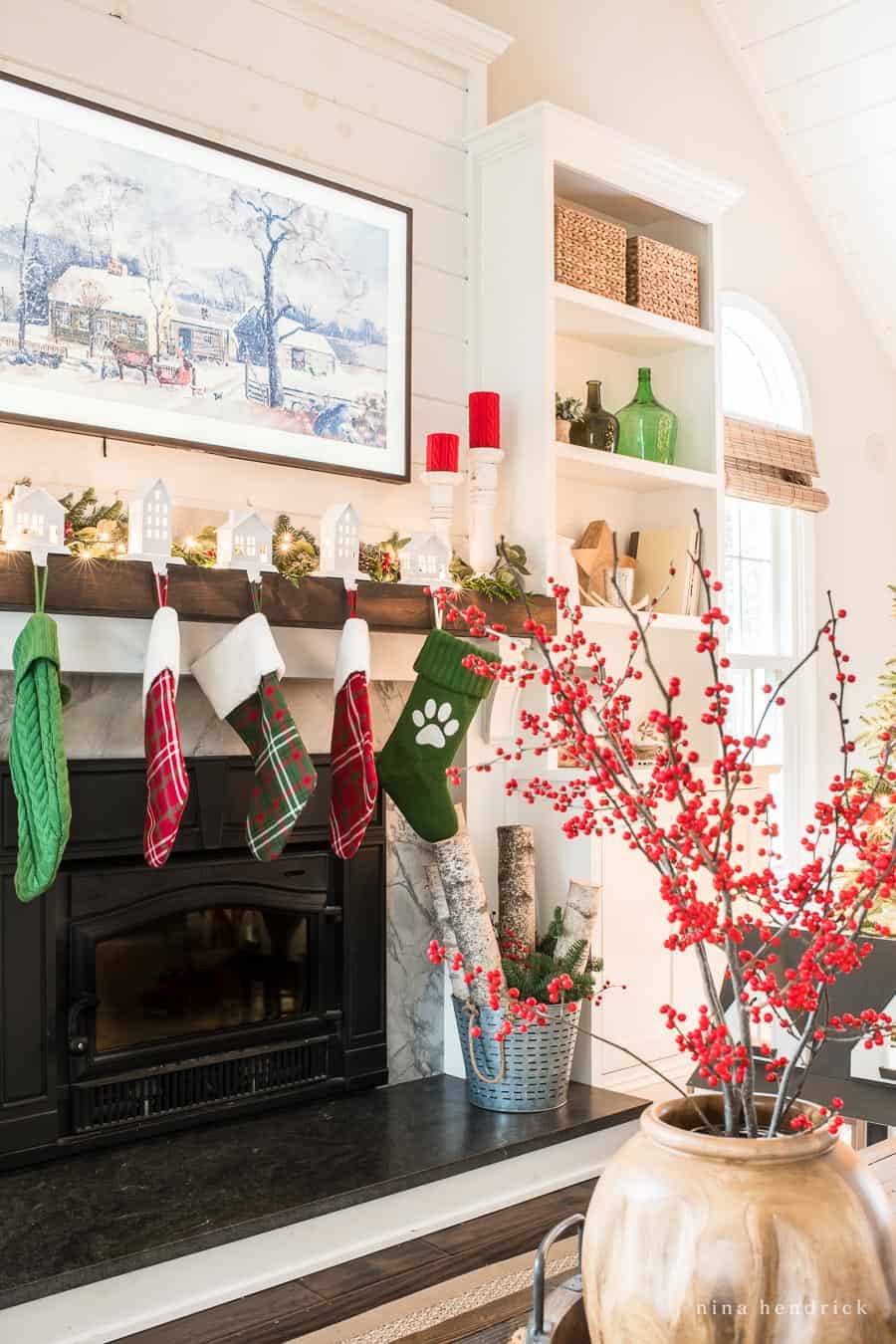 I kept my mantel pretty simple with cedar and fir clippings from a local nursery mixed with some red berries. I also added white pillar holders and red candles. The white and red also mimicked Scandinavian feel of the hutch in the kitchen!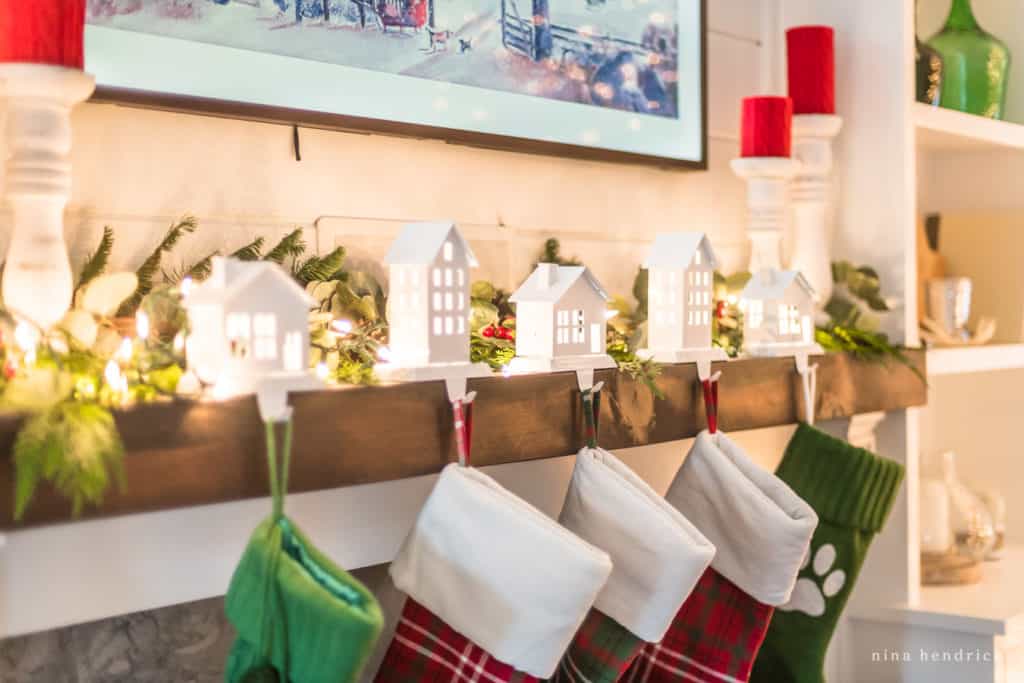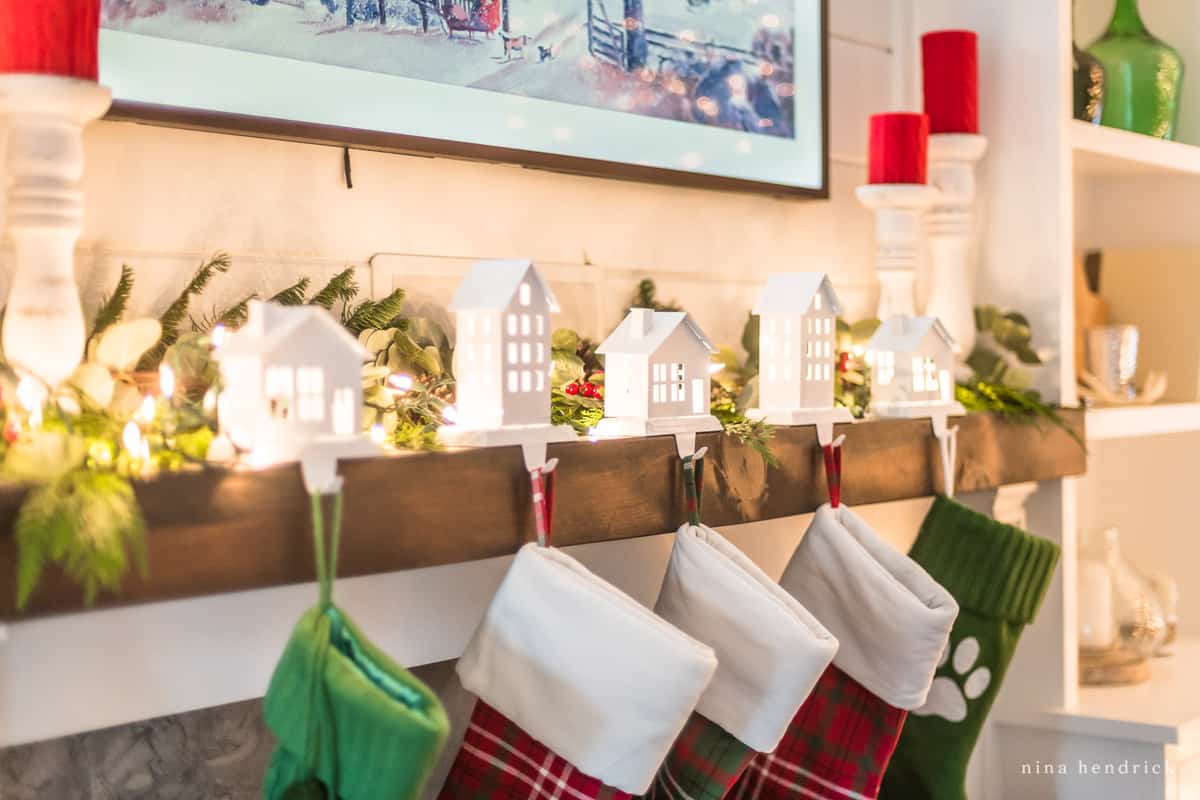 We added on these Christmas Village stocking holders which tied-in perfectly with my porcelain Christmas village in the kitchen. I always love to repeat themes in different rooms, even if the scenes will never be seen together. It gives a sense of continuity in the Christmas decor!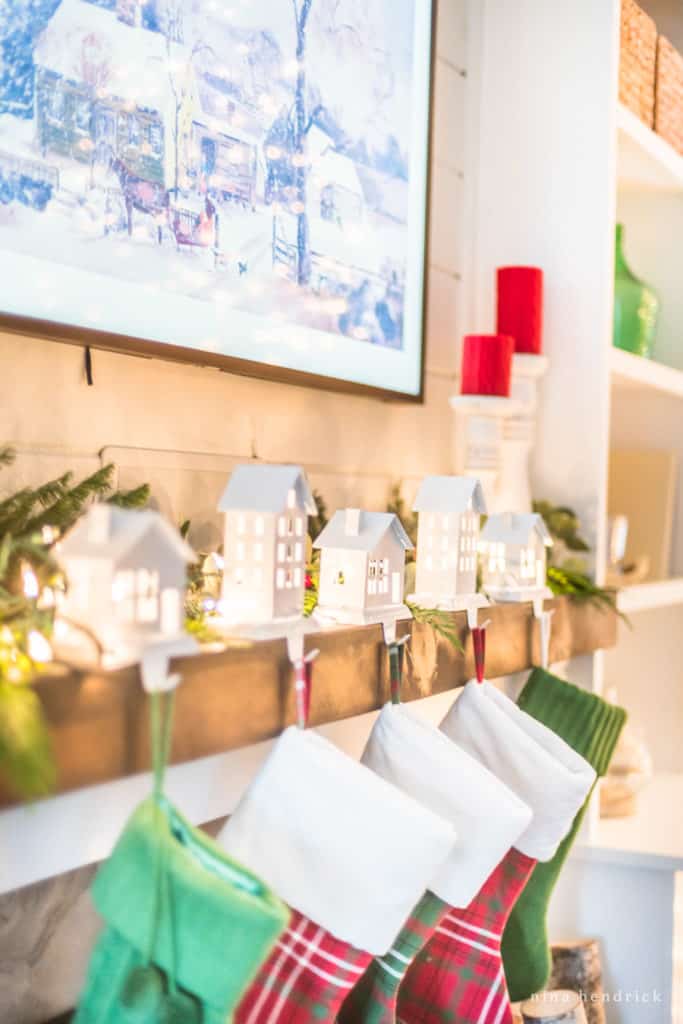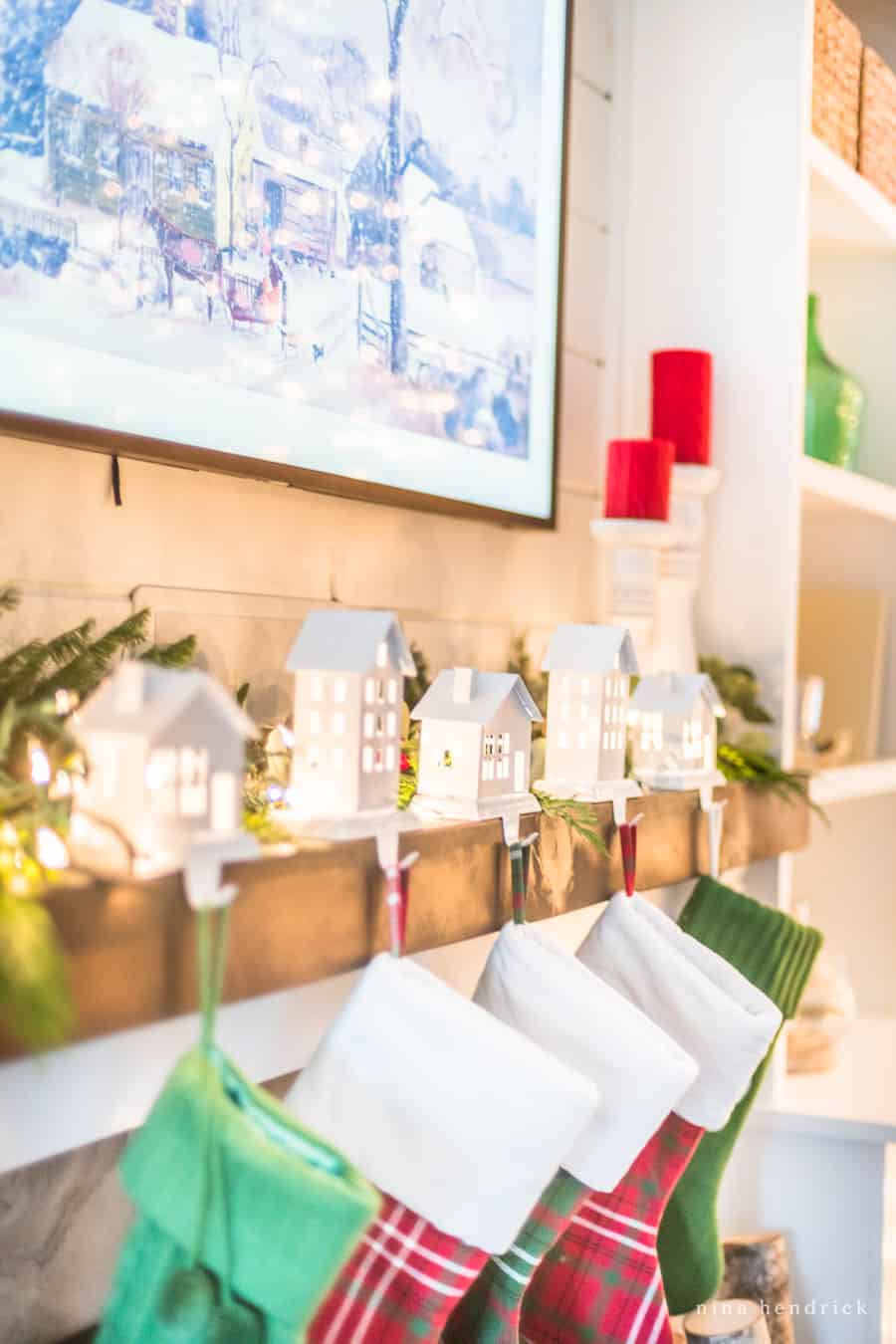 Red & Green Christmas Family Room Throw Pillows
The holidays are a time of tradition, and there's nothing quite like decorating your home with pieces that you've had for years. This year, I wanted to bring that same sense of nostalgia to my living room by carrying the traditional Christmas theme through to the rest of the room. To do this, I combined throw pillows from previous years with some new red ones, creating a cozy and classic atmosphere that celebrates the season. I want our family and guests to feel like they can get comfortable and enjoy our space.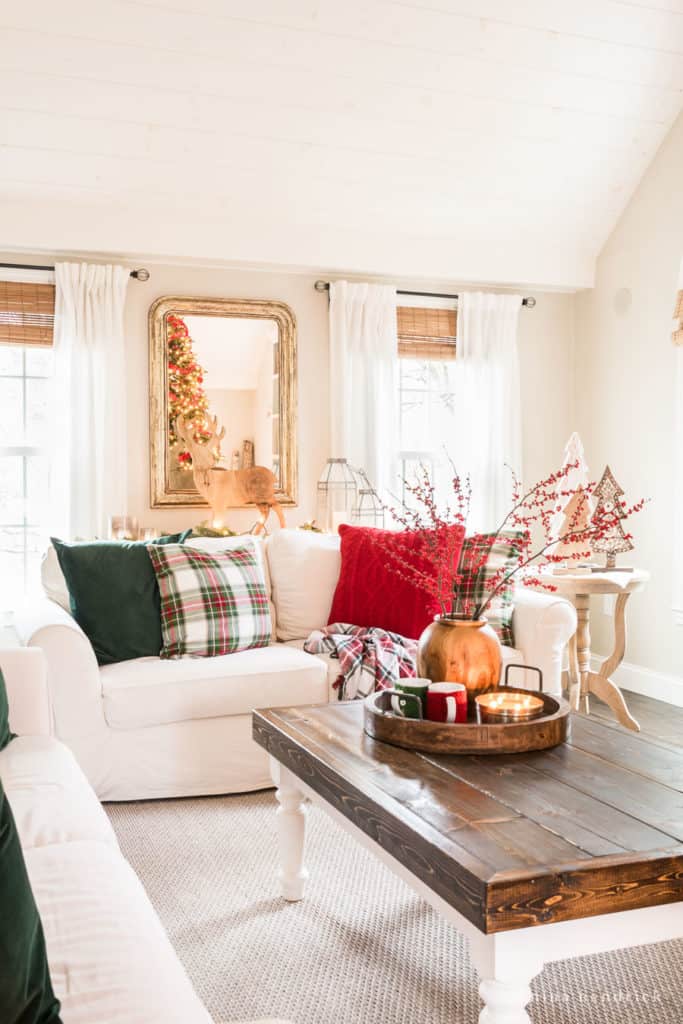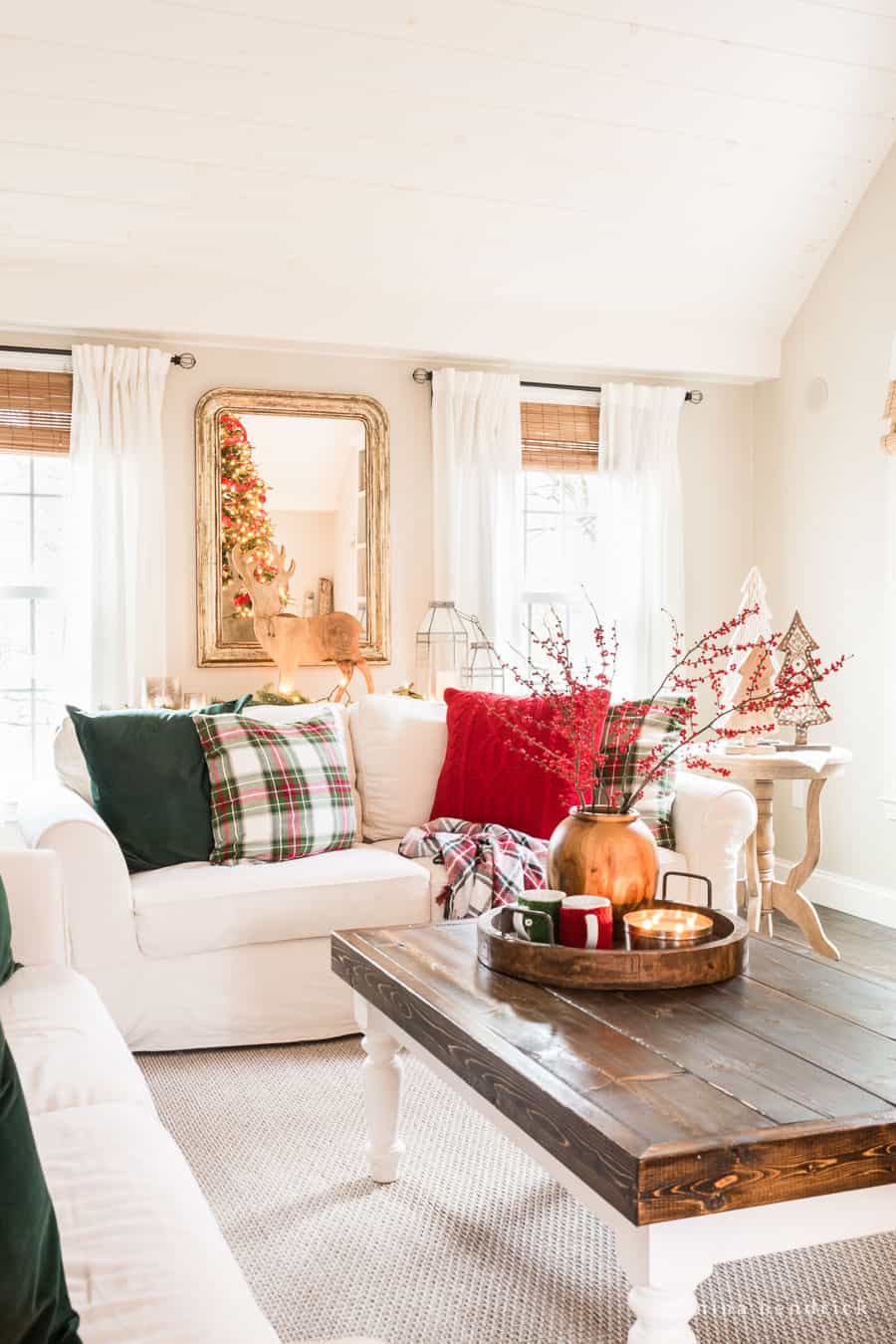 To create your own cozy and traditional family room, start by adding several throw pillows to your couches and chairs that feature classic Christmas designs. You can find pillows in solid holiday colors, or with snowflakes, trees, Christmas lights, ornaments, and snowmen that can all give your family room a festive look.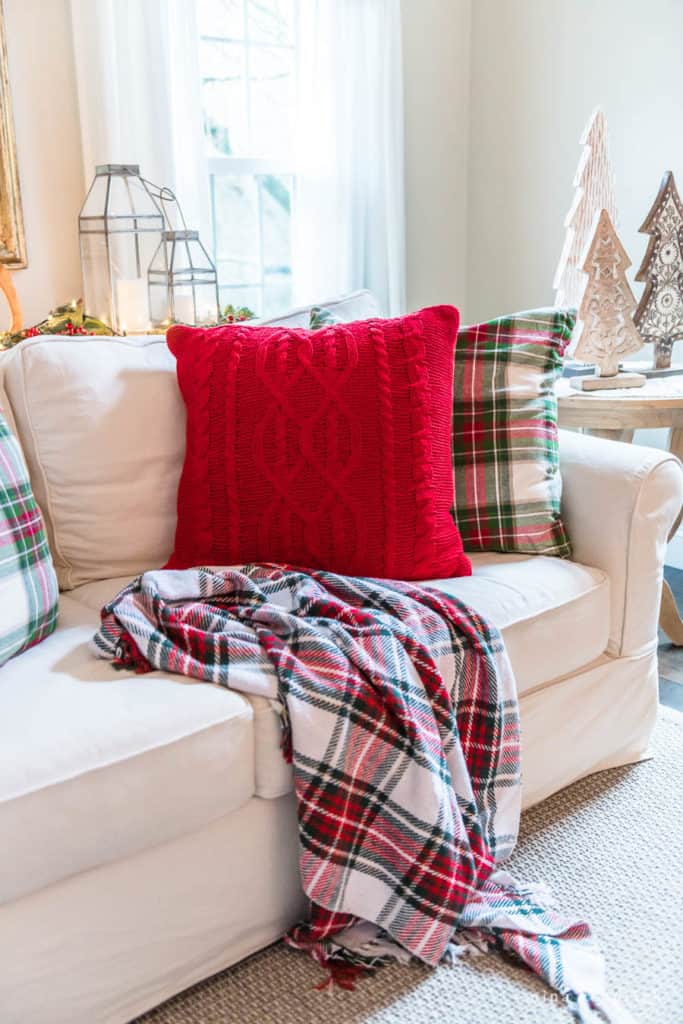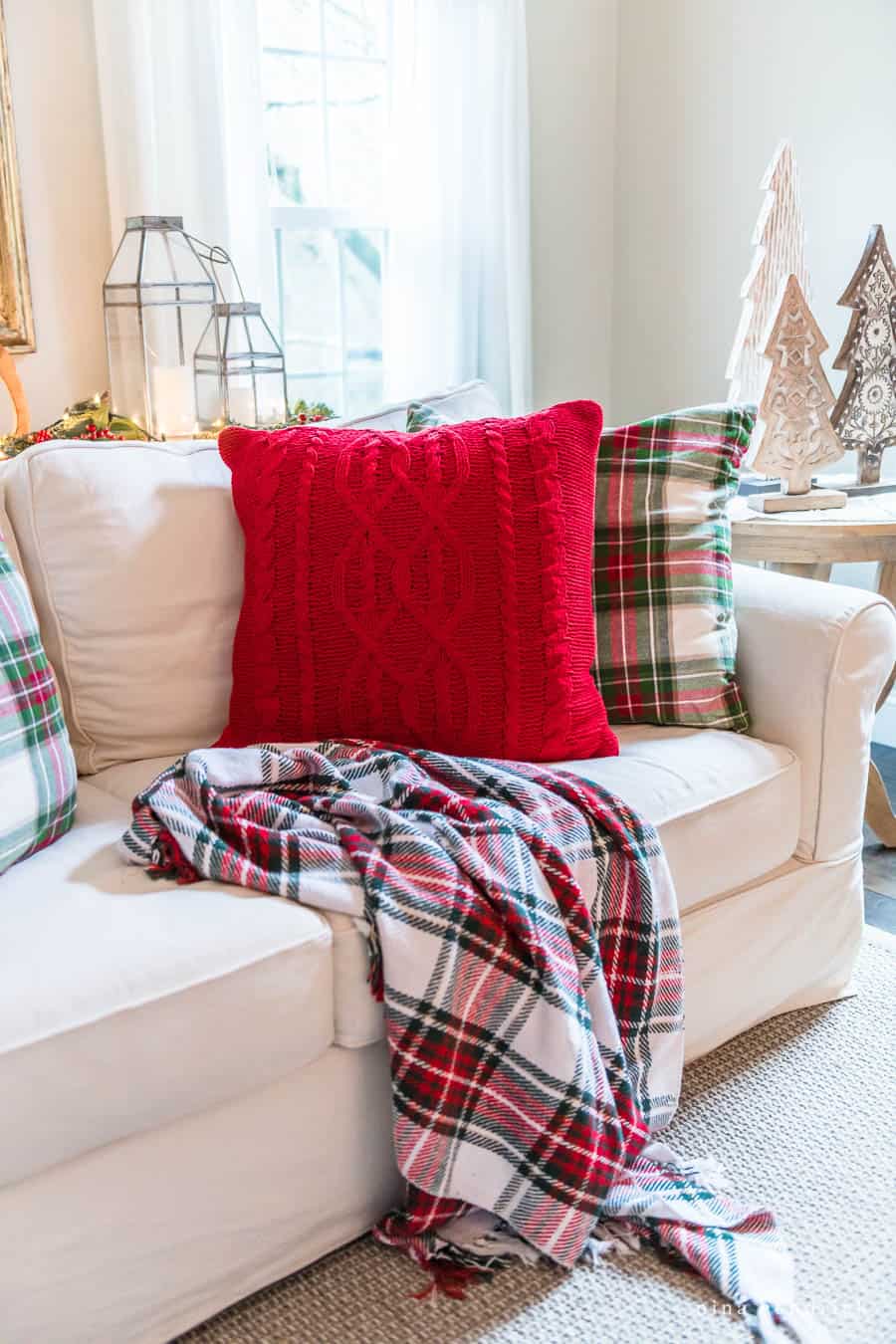 To go along with the throw pillows, you can also add a few holiday-themed blankets to fold and drape over the couches and chairs. This will give your family room a cozy and inviting look that is perfect for the holiday season.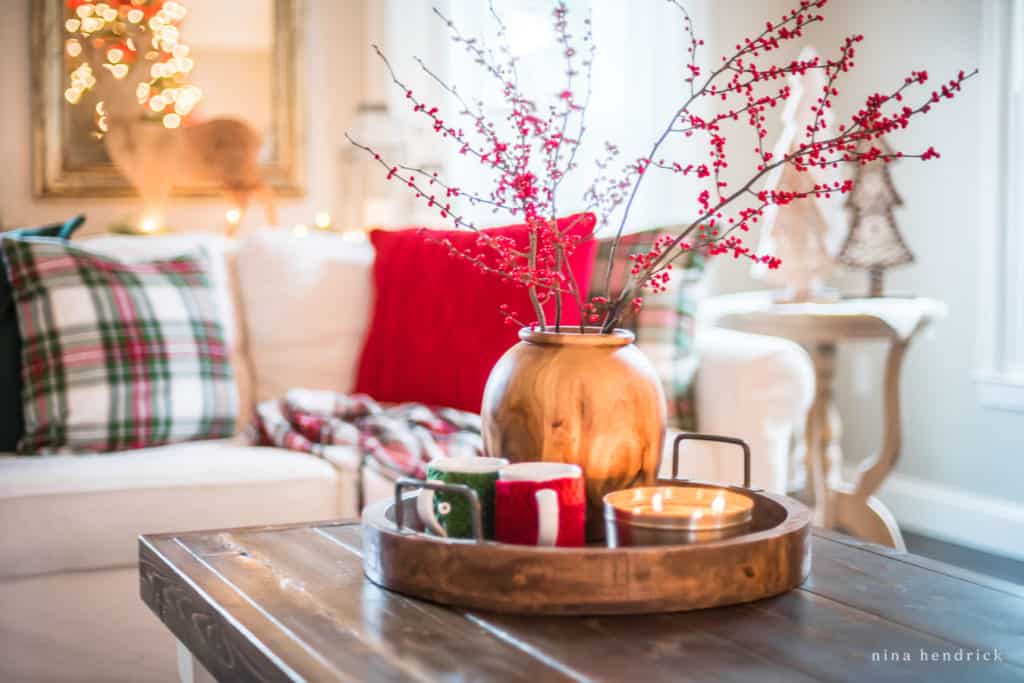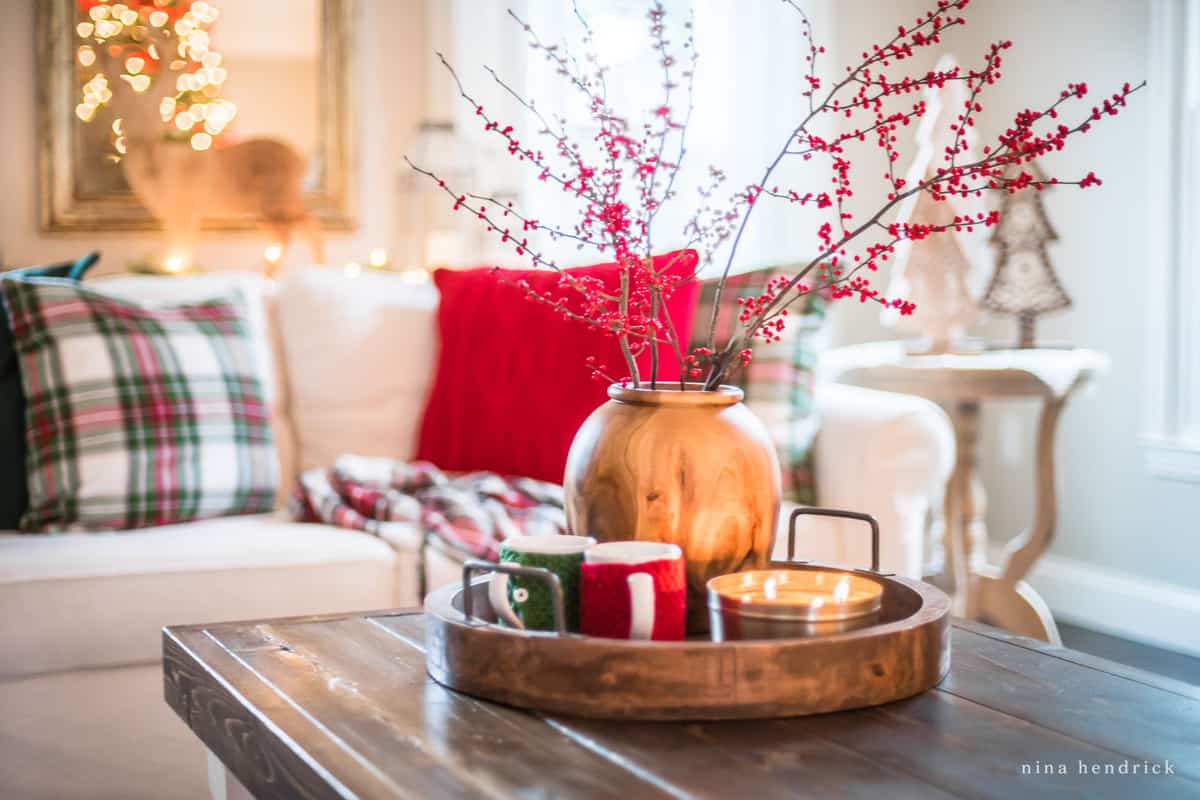 Vignettes Using Traditional Christmas Decorations
Vignettes, or small decorating scenes, are a unique and fun way to bring the Christmas spirit to your home. Vignettes are easy to create and can be used to decorate any surface in your home. With a few simple items, you can create beautiful displays that will make your home feel warm and inviting this holiday season. Ideas for vignettes include a mantel with a few candlesticks and evergreen garlands, a shelf with a Christmas village and festive lighting, a side table with a few scented candles and a few Santa figurines, a console table featuring a nativity scene and a holly swag, and a coffee table with a poinsettia centerpiece. With a few classic decorations, you can easily create a classic aesthetic with traditional Christmas decorations.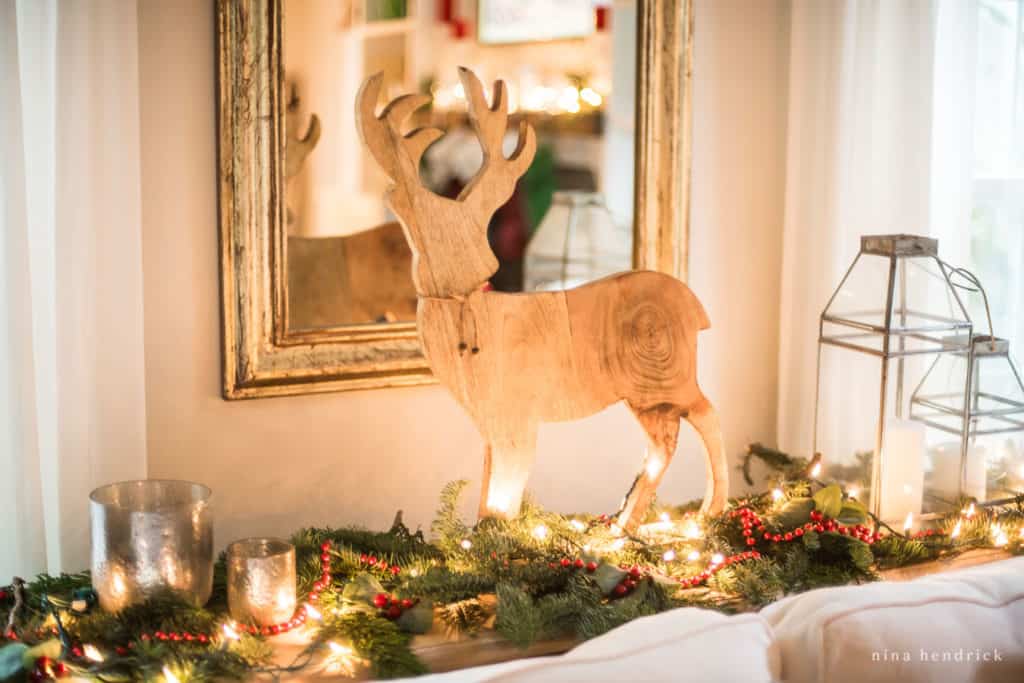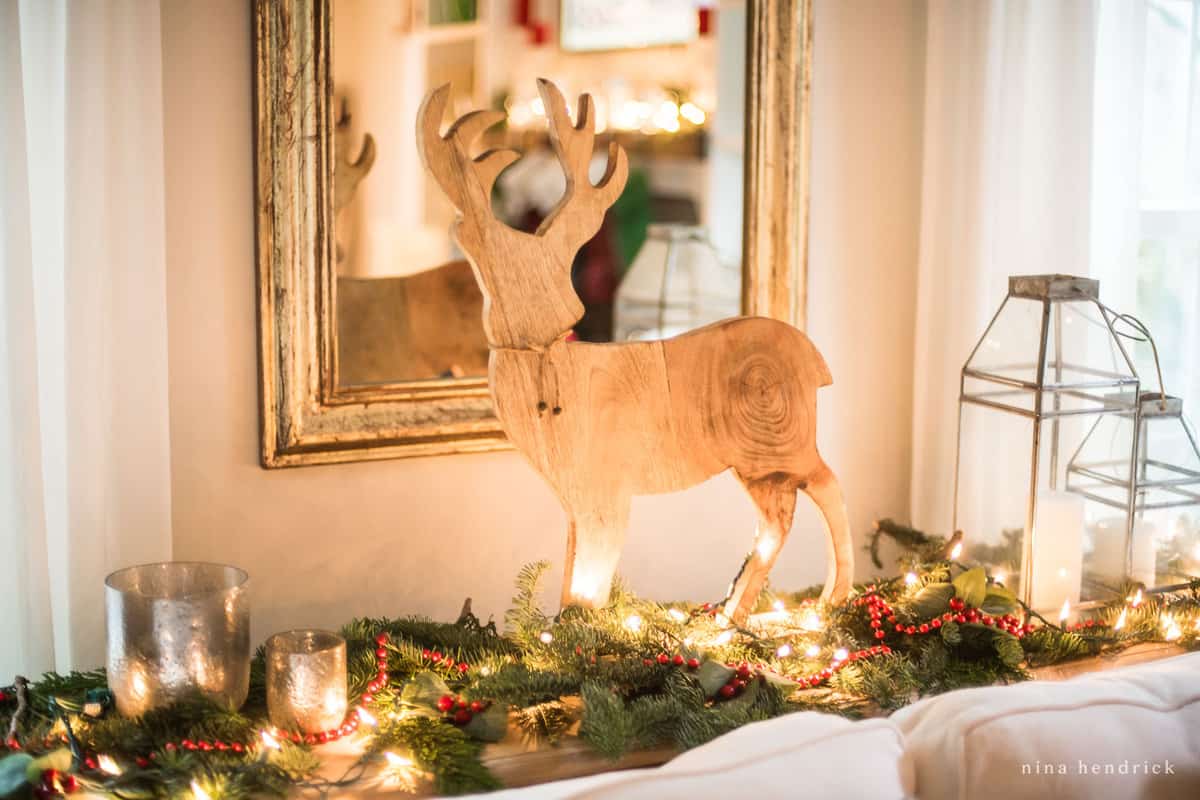 In my space, I set up a vignette behind the sofa on the console table. The wooden deer was a Homegoods find years ago. I bring him out for every holiday season and winter! I've never found a similar source for you, unfortunately. There are some much smaller ones on Amazon and Etsy.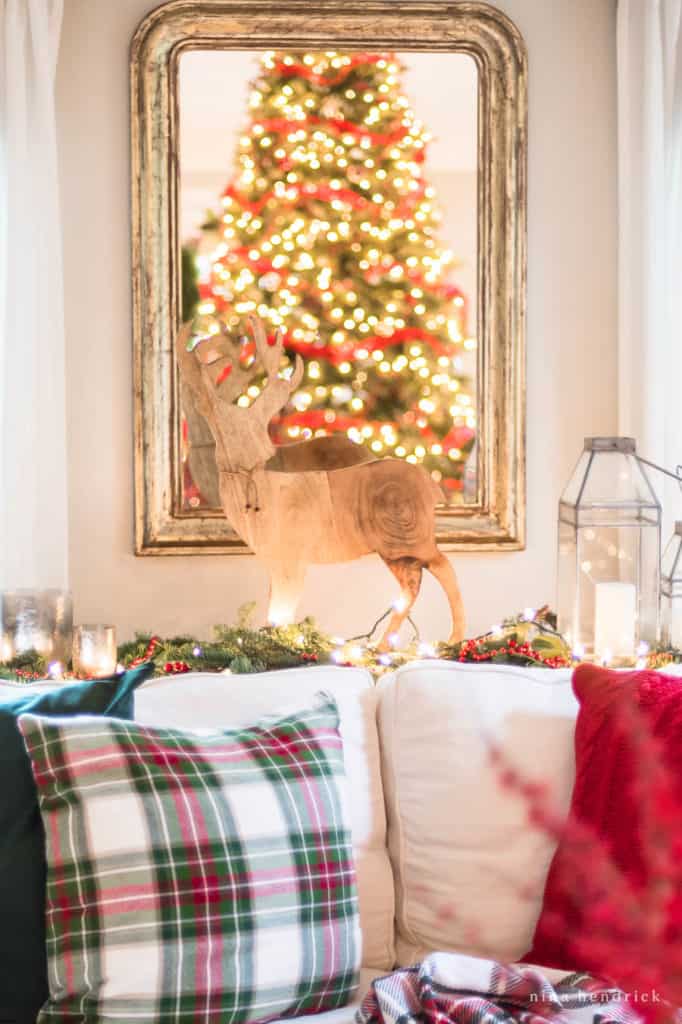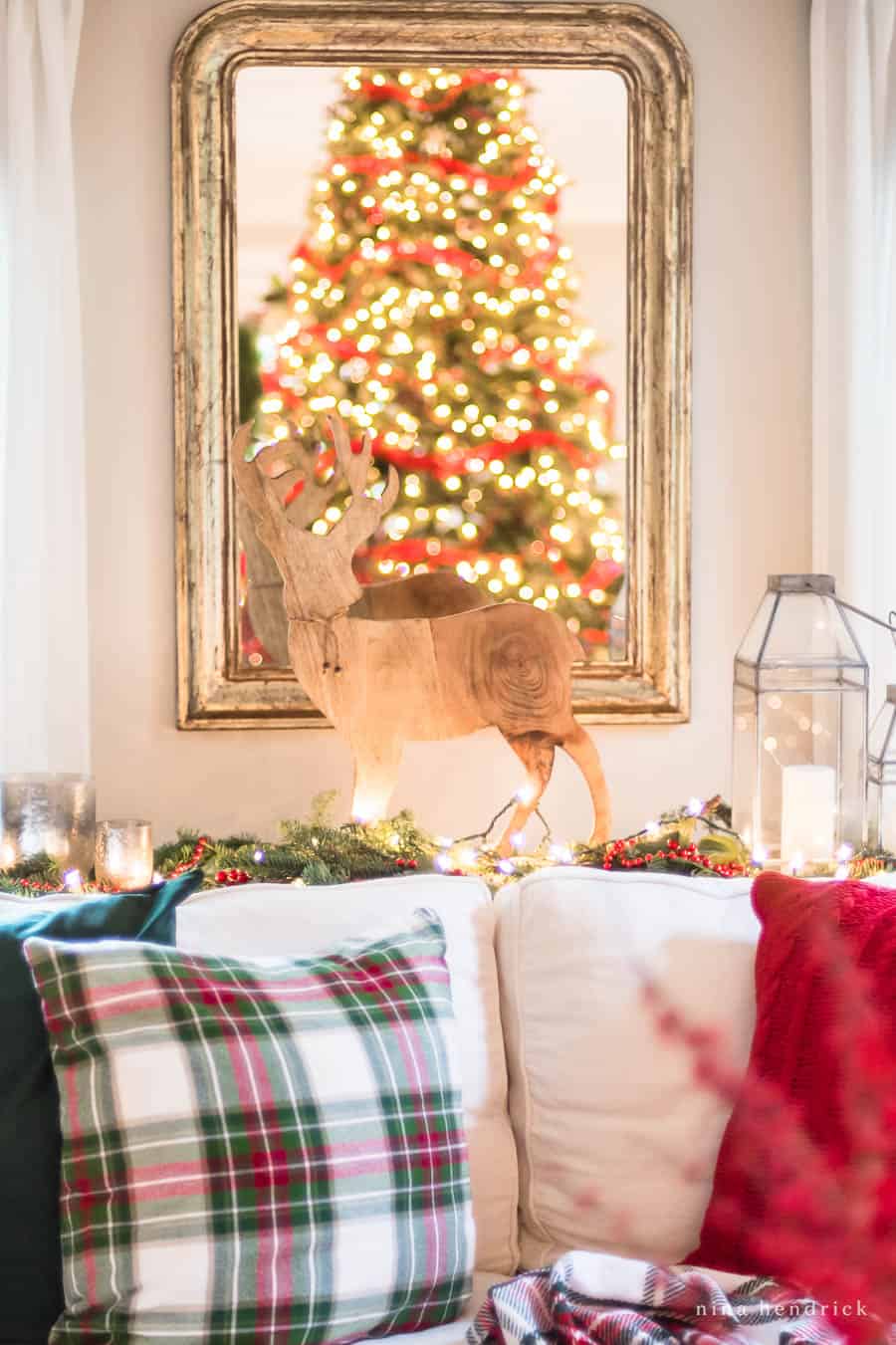 We recently moved my Louis-Phillipe mirror to the Family Room, and I'm loving the glow of the Christmas tree reflected all over! I bring in fresh greens to get the Christmas tree smell (one of the only downsides of an artificial tree) but you can also use essential oils or a candle to make your room smell like an evergreen forest. The air is filled with the sounds of Christmas music, and the room is cozy and inviting. All in all, the traditional Christmas decorations make this room feel special and festive.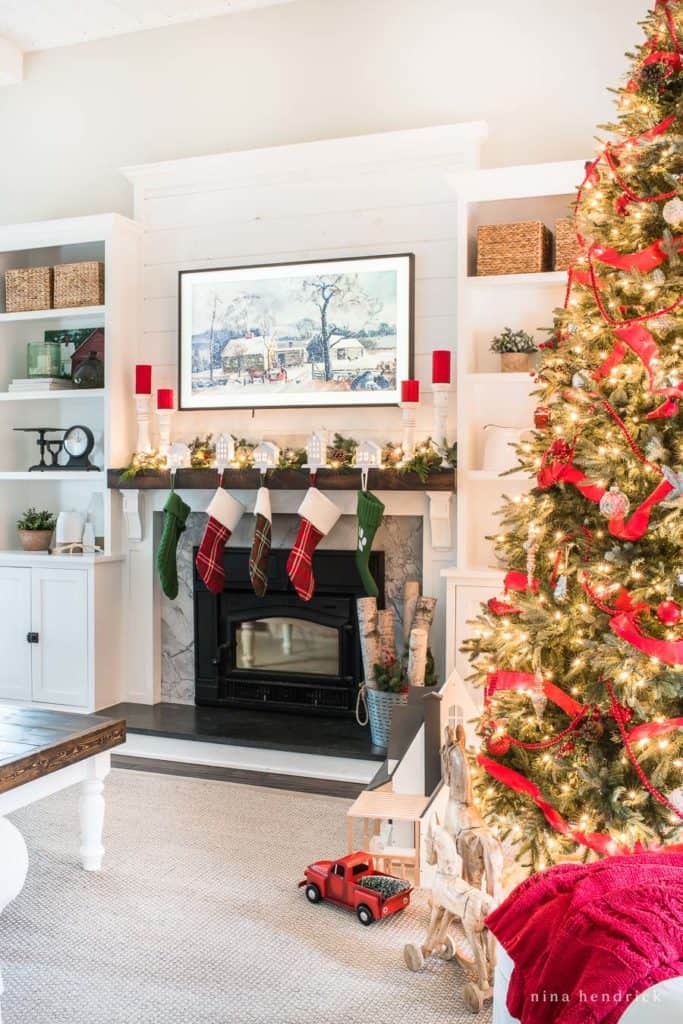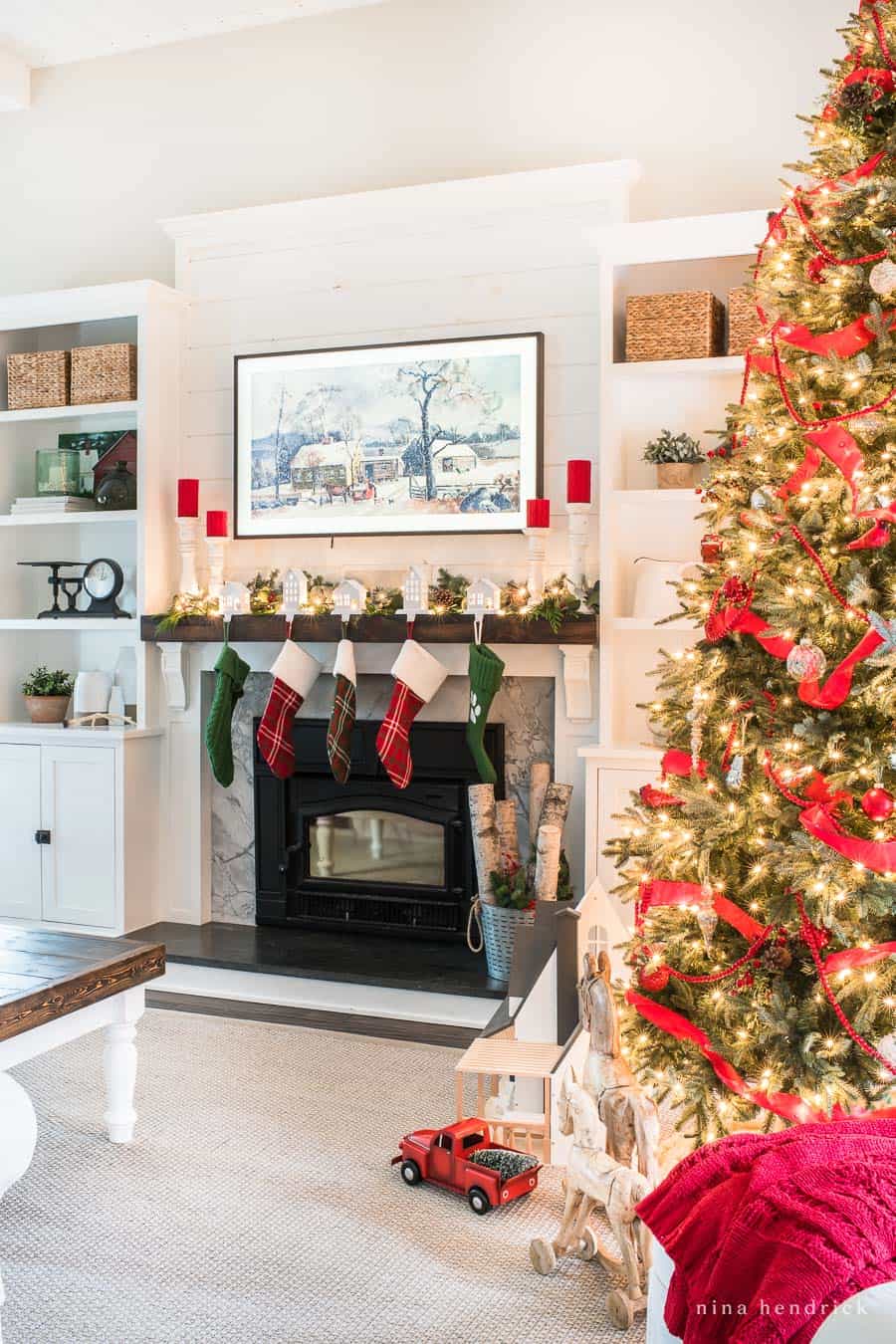 I hope that this post helped to inspire you to decorate for a traditional Christmas! Traditional Christmas decorations are a great way to bring the holiday spirit into your home and create a festive atmosphere for family and friends. Whether you stick to the classic decorations like the Christmas tree, stockings, and lights, or mix in something new and unique, you can create a truly special and memorable holiday atmosphere in your home. After you decorate, snap a photo and make sure to tag me @ninahendrickhome!