Show off your holiday spirit in the kitchen this year with festive Kitchen Christmas Decor! In this post, I'm sharing all of my favorite ideas for how to decorate a kitchen for Christmas.
When it comes to Christmas decorating, the kitchen is often the best place to start. It's the heart of the home and a place where everyone naturally gathers to make memories. For a classic Christmas look, the kitchen should be decked out with festive decorations that tie into the rest of the home. With these classic Christmas decorating ideas, the kitchen will be the most festive room in the house!
Come on in and grab a cup of cheer! Today I'm sharing my favorite Classic Kitchen Christmas Decor Ideas to help inspire you to bring in small nostalgic touches to your own space. You can see my mega post of classic Christmas decorating ideas here!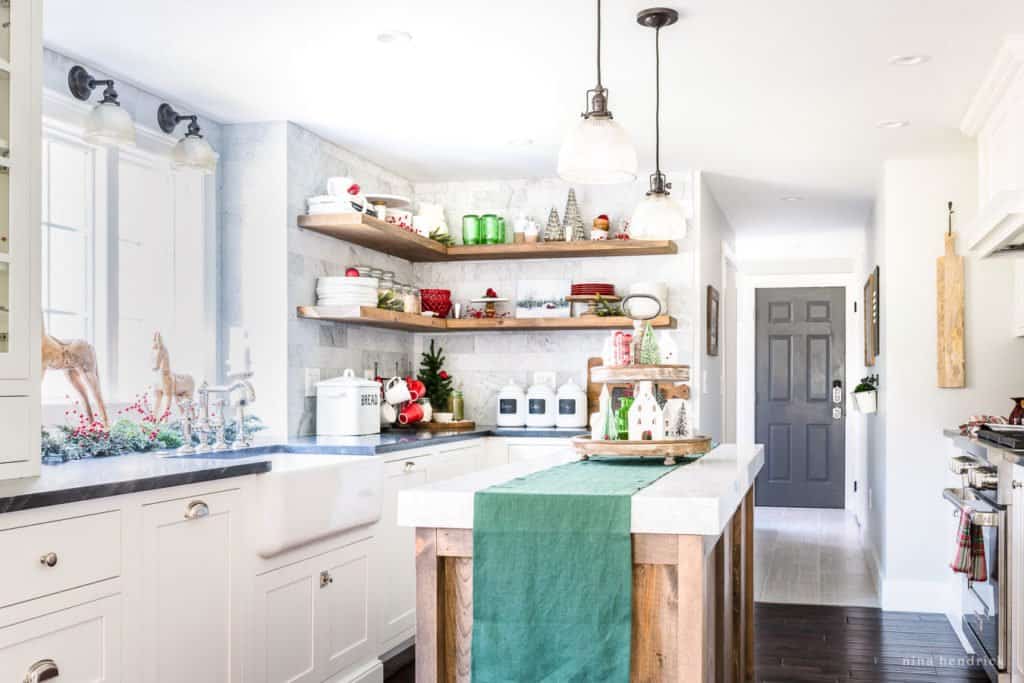 In case you're just visiting for the first time, we renovated this kitchen in 2019. You can get all of the details here! We actually just finished it a couple of weeks before this post, so I had barely had a chance to enjoy it before it was time to decorate for Christmas!
This post contains affiliate links, which means I may get a small commission (at no extra cost to you) if you shop my link. Please see my disclosure if you'd like more info!
How to Decorate a Kitchen for Christmas
Decorating a kitchen for Christmas is a great way to bring the holiday spirit into the home. A few easy steps can turn a kitchen from ordinary to festive.
1. Add Christmas Kitchen Decor to Your Shelves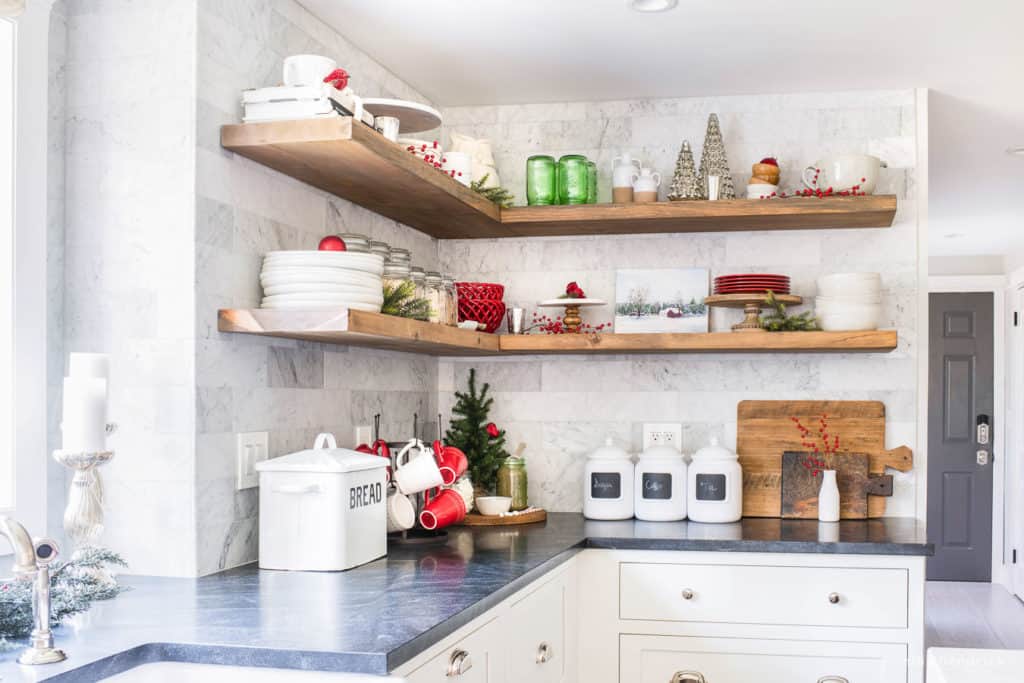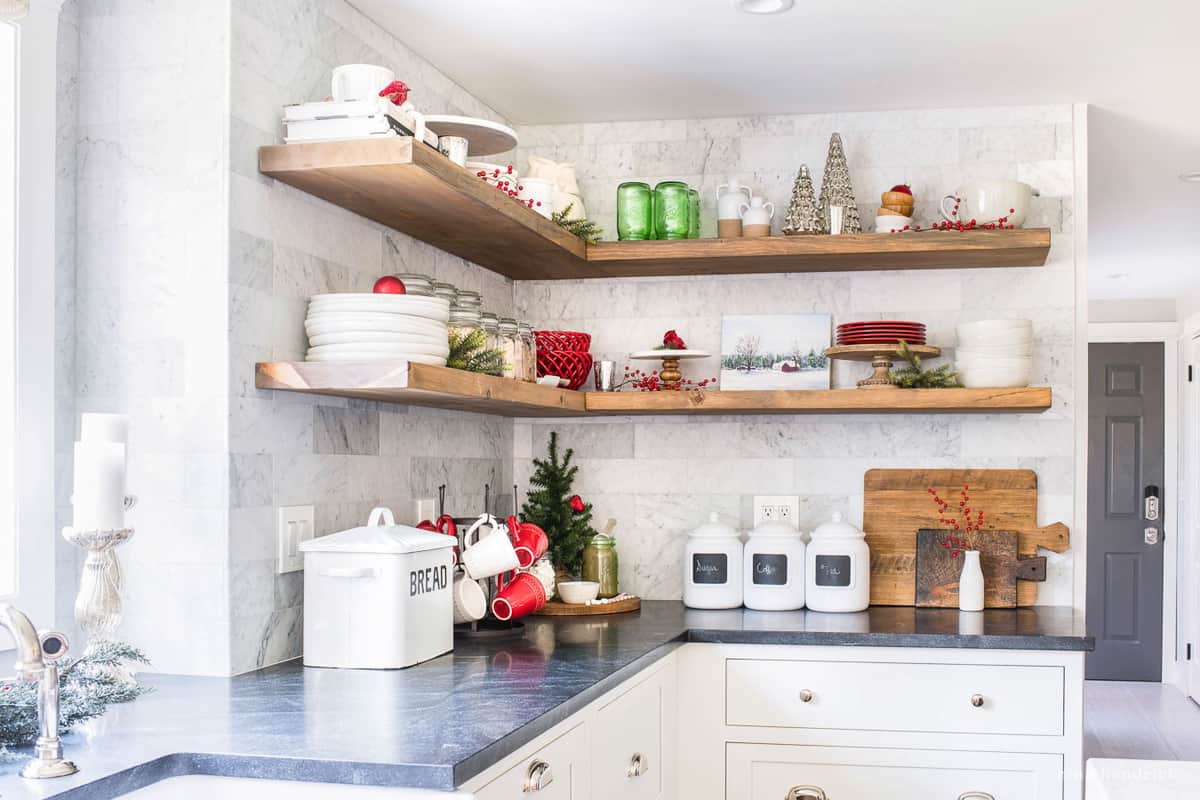 Shelves are one of the best places to display festive decorations. When it came to our kitchen shelves, I only made a few swaps to tranform my decor from the everyday to Christmas.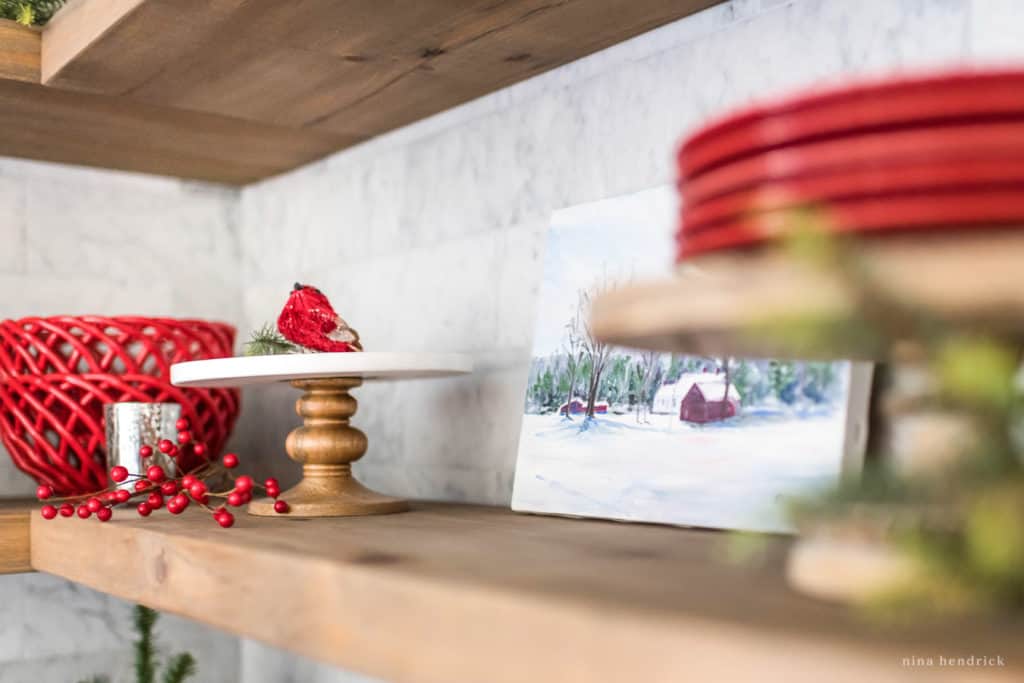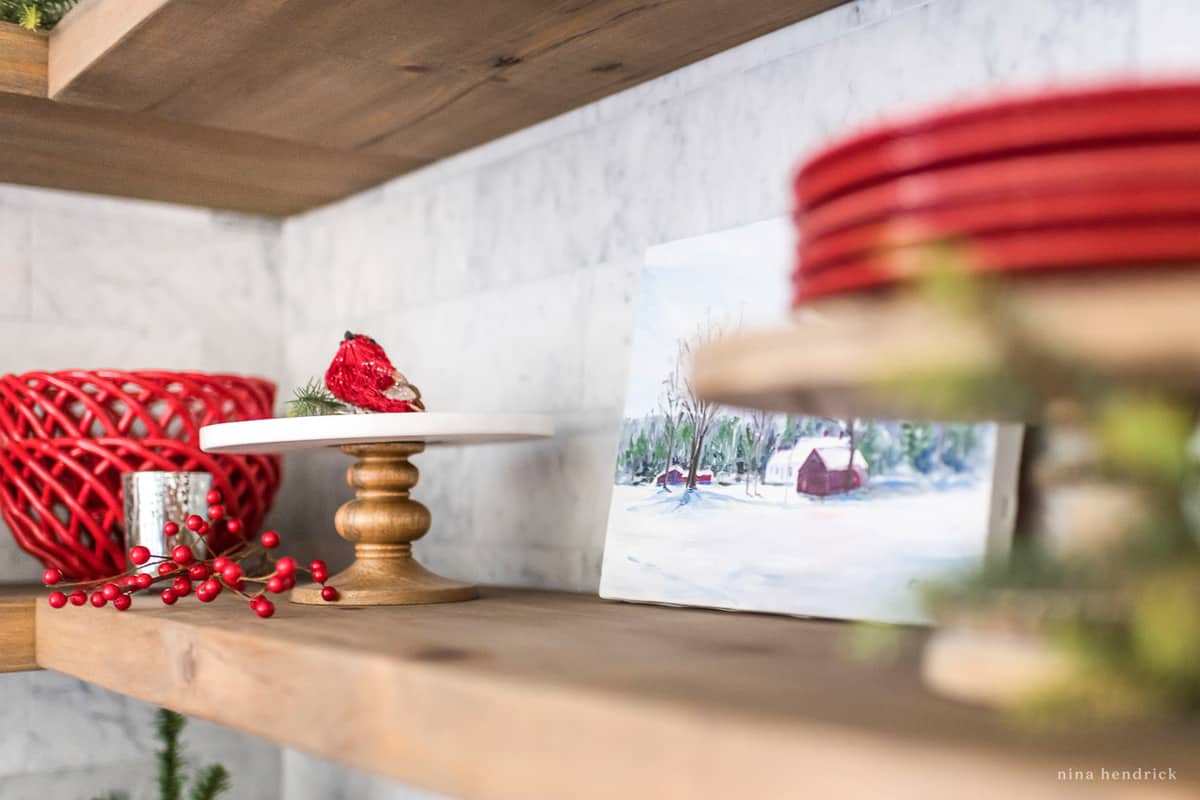 I added a small canvas print of a winter scene by my grandfather, red dishes and mugs, and a few sweet little red finches I bought a couple of years ago. Although the "put a bird on it" joke definitely came to mind— if it works, it works. They feel so whimsical and cheerful peeking out of random spots all around the room! A few simple decorations were all it took to give the shelves a festive holiday feel.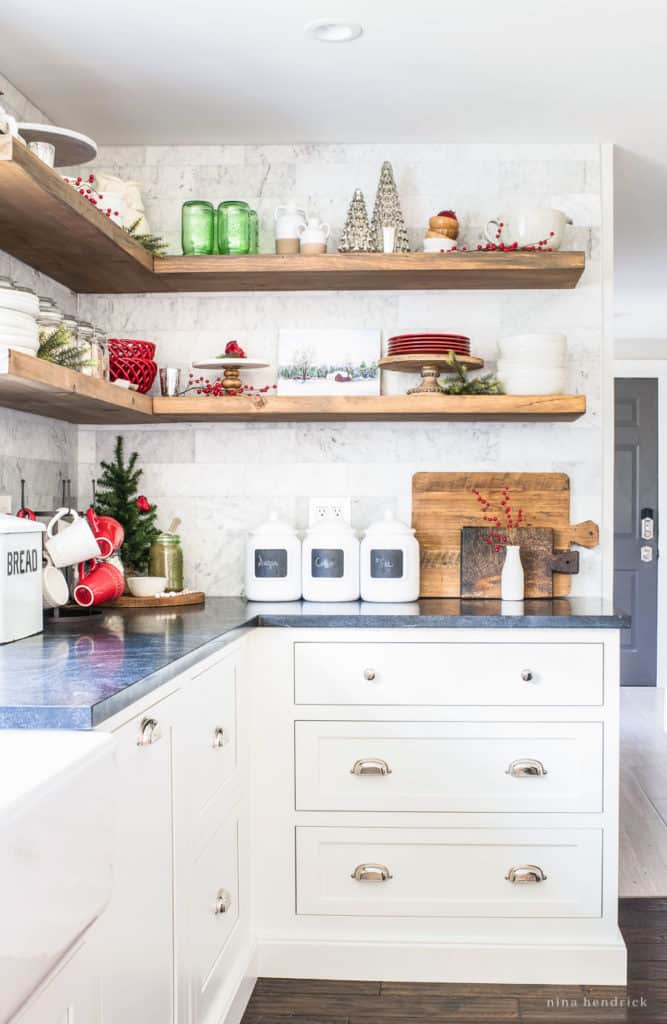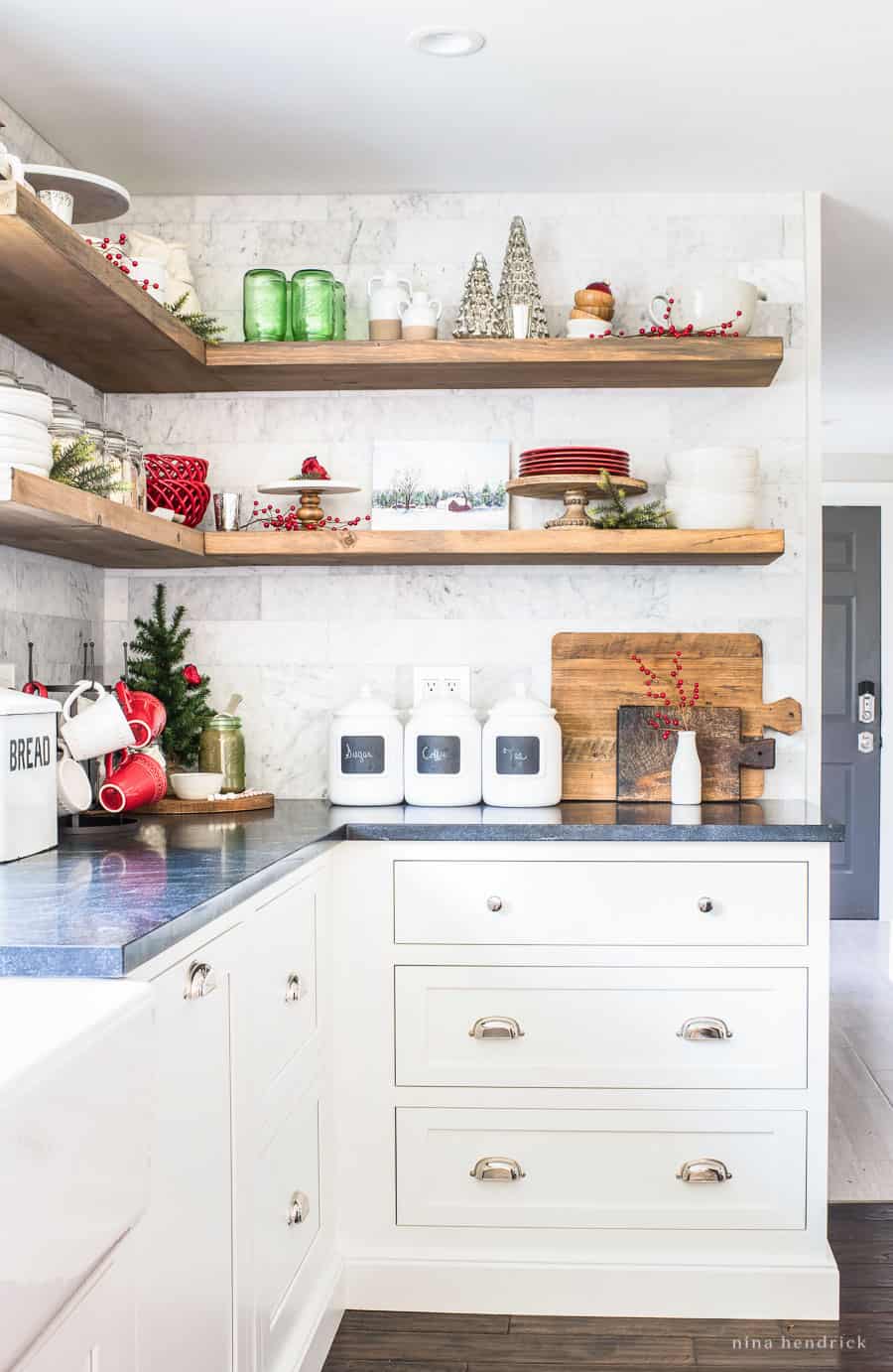 I felt like there was a great lesson in this, that you only have to make a few small swaps in order to bring big holiday impact into your space. I left the base of the shelf decor intact, then changed just a few things out and added inexpensive touches like ornaments and berry sprigs. I was very intentional about decorating with only what I had on hand from previous years.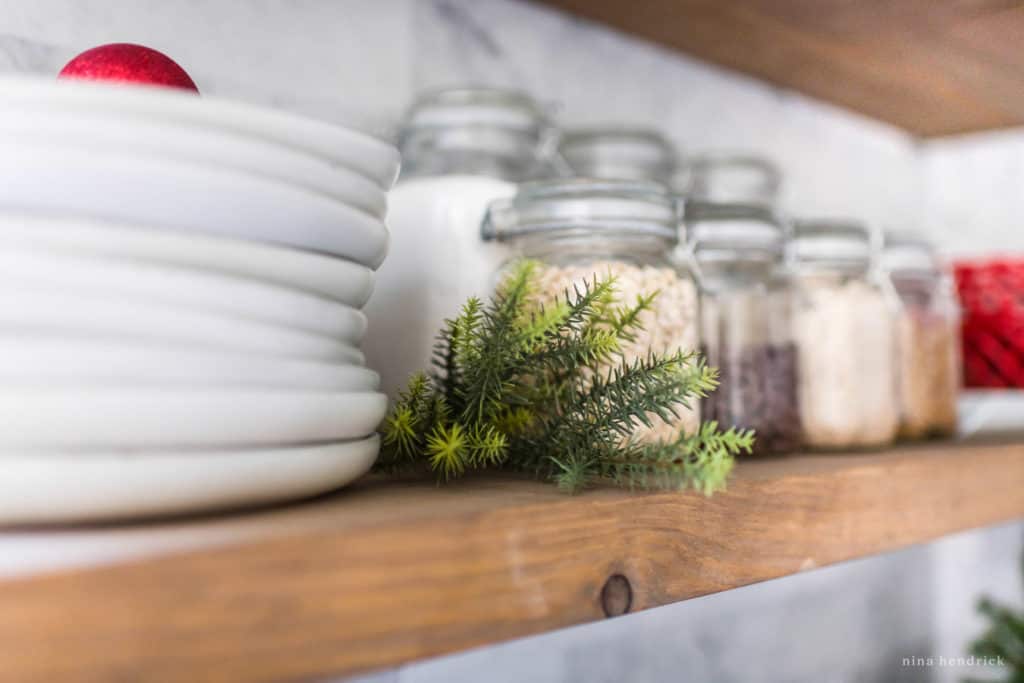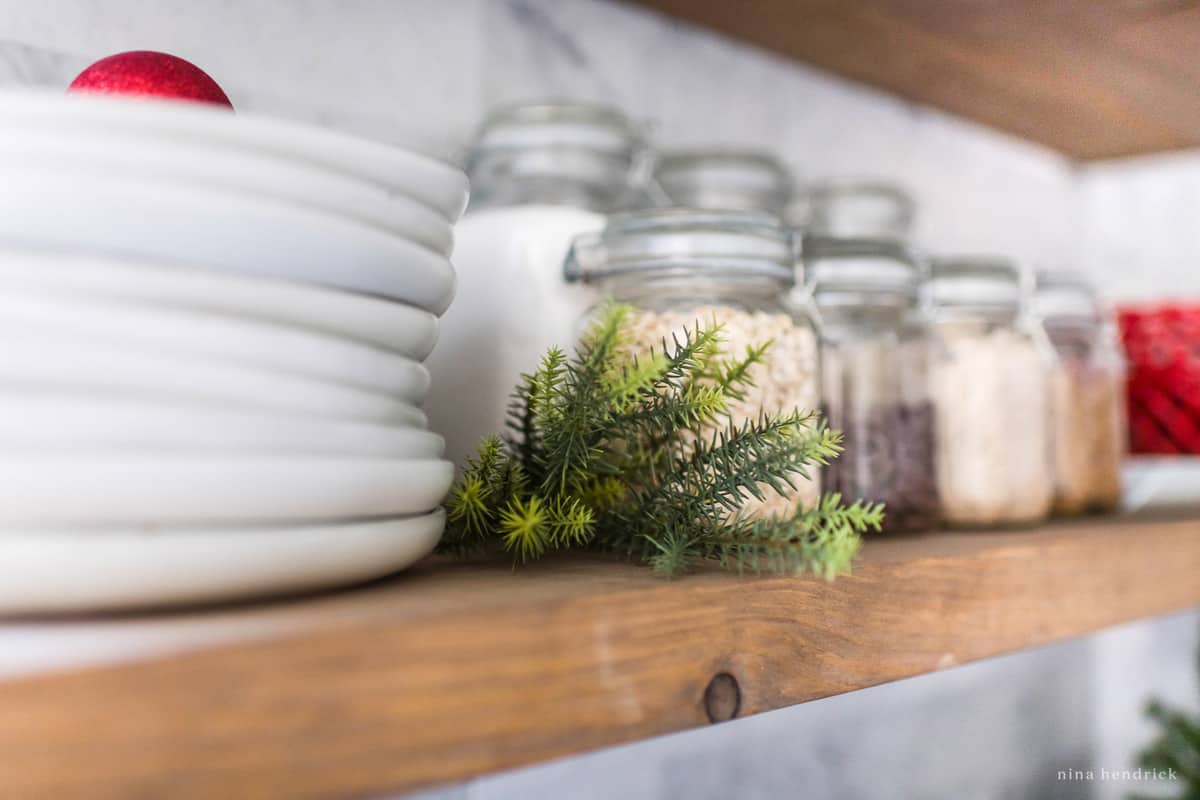 Many of you shared in the reader survey that you'd like to see simple, achievable, and affordable ideas for decorating your house for the holidays, which I completely understand. I know it is difficult and/or sometimes impossible to go out and buy new things each year— but the good news is that a small collection of inexpensive staples can make a big impact, too.
Red and White Classic Hutch, Cabinet & Cupboard Christmas Kitchen Decor Ideas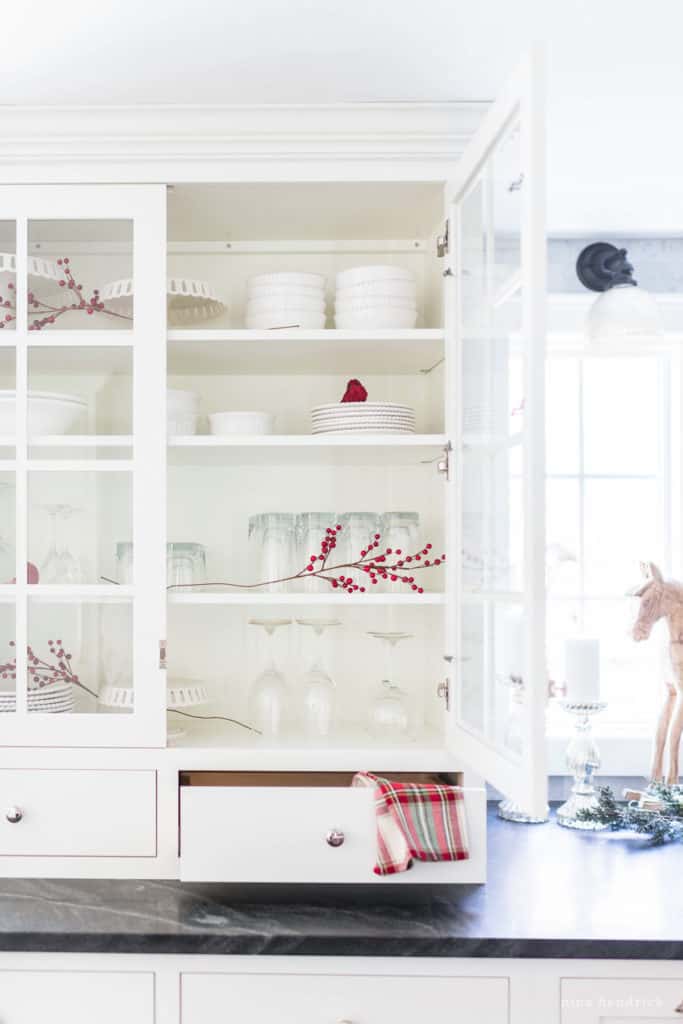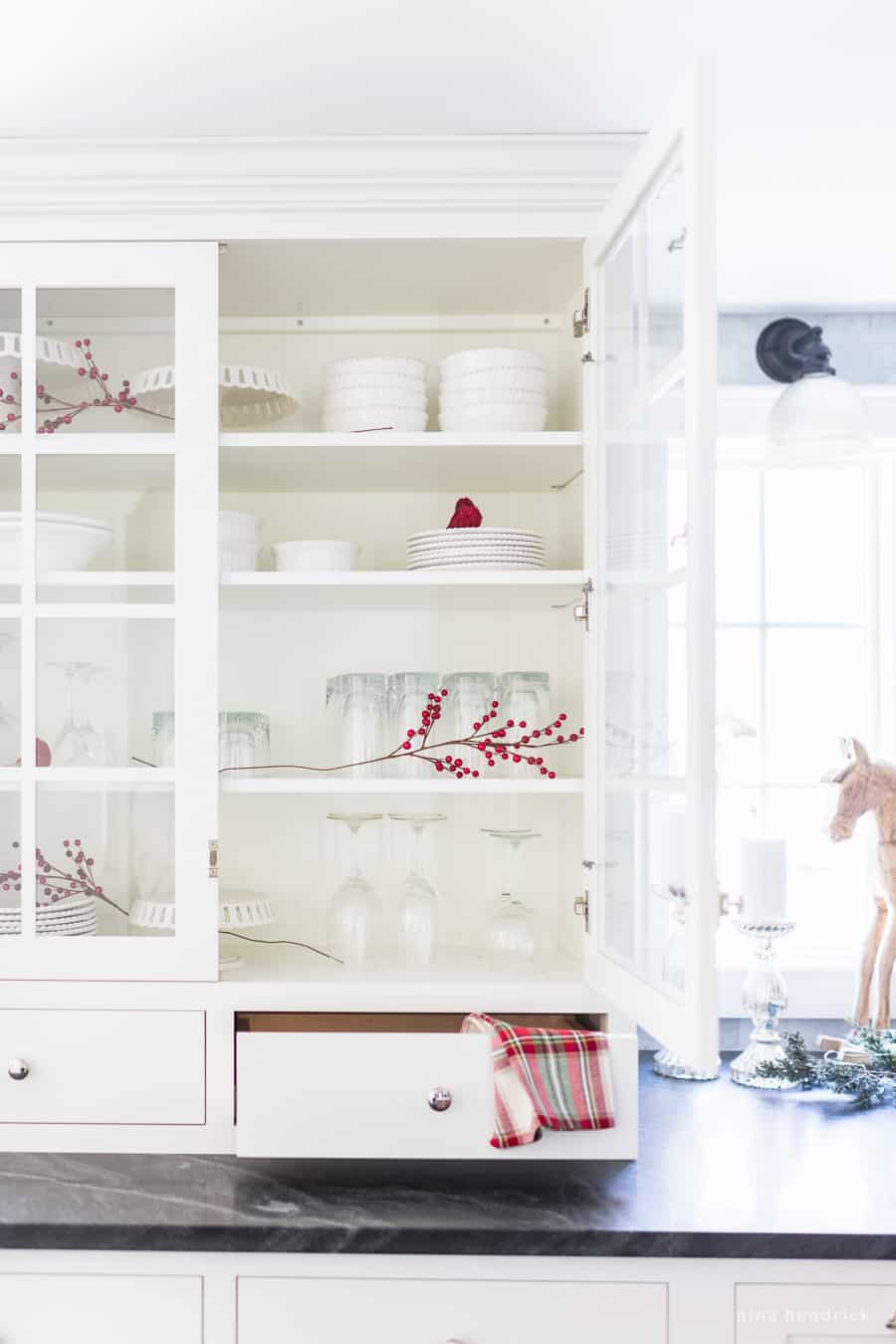 In the same vein as the shelves, I made a couple of small additions to the hutch to bring it from everyday to Christmas. This cabinet contains my "capsule wardrobe" of entertaining essentials.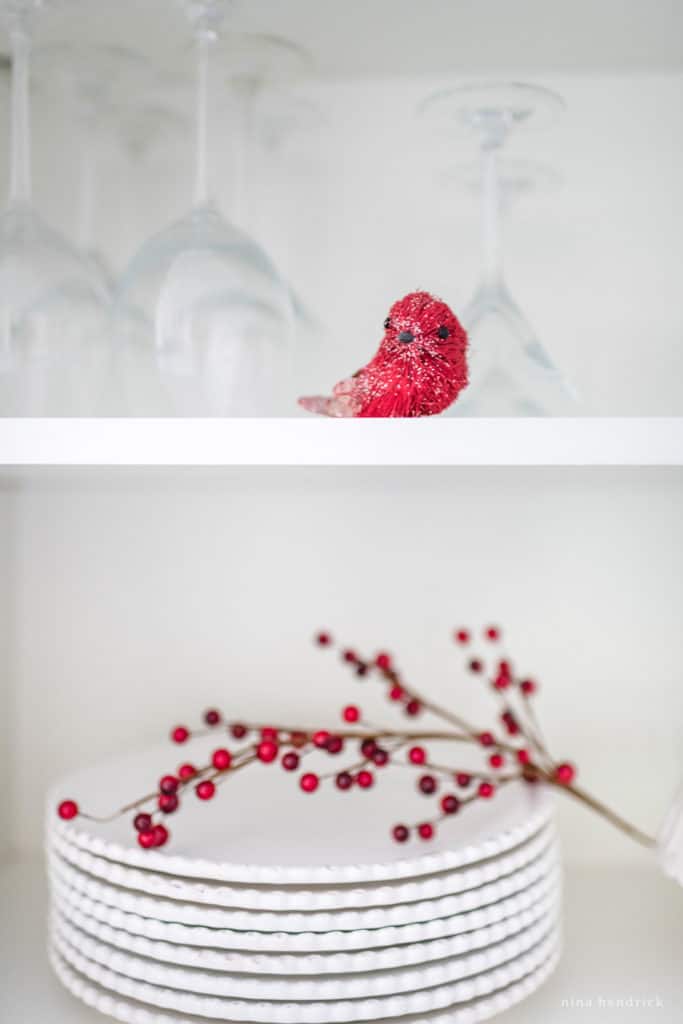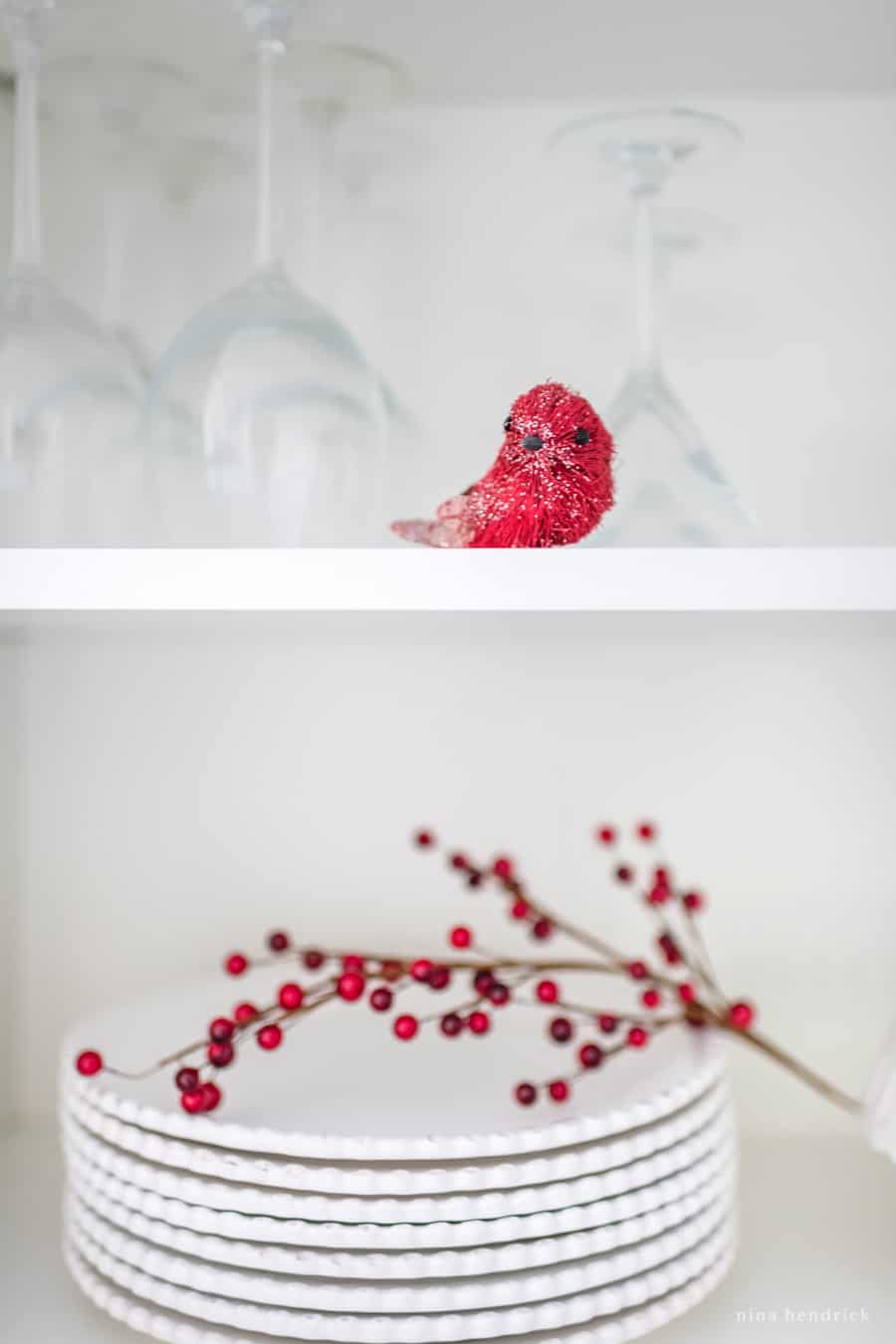 The bright touches of red really stand out since the rest of the cabinet is pure white. It's so stark that this spot almost has a Scandinavian feel! I repeated the red finches and berry springs from the floating shelves to tie different areas of the room together.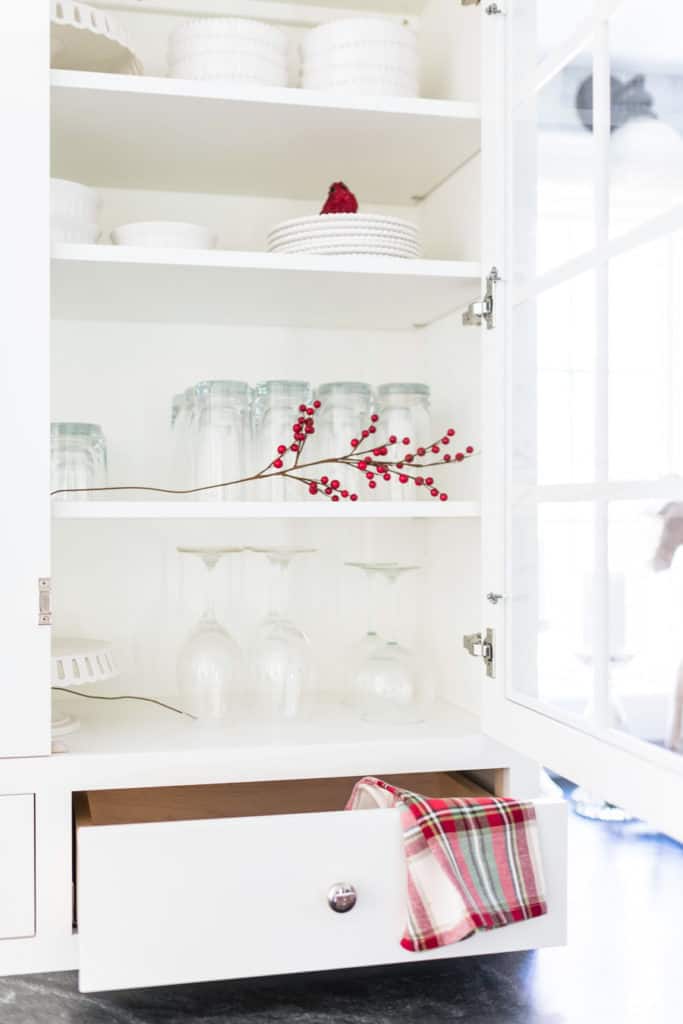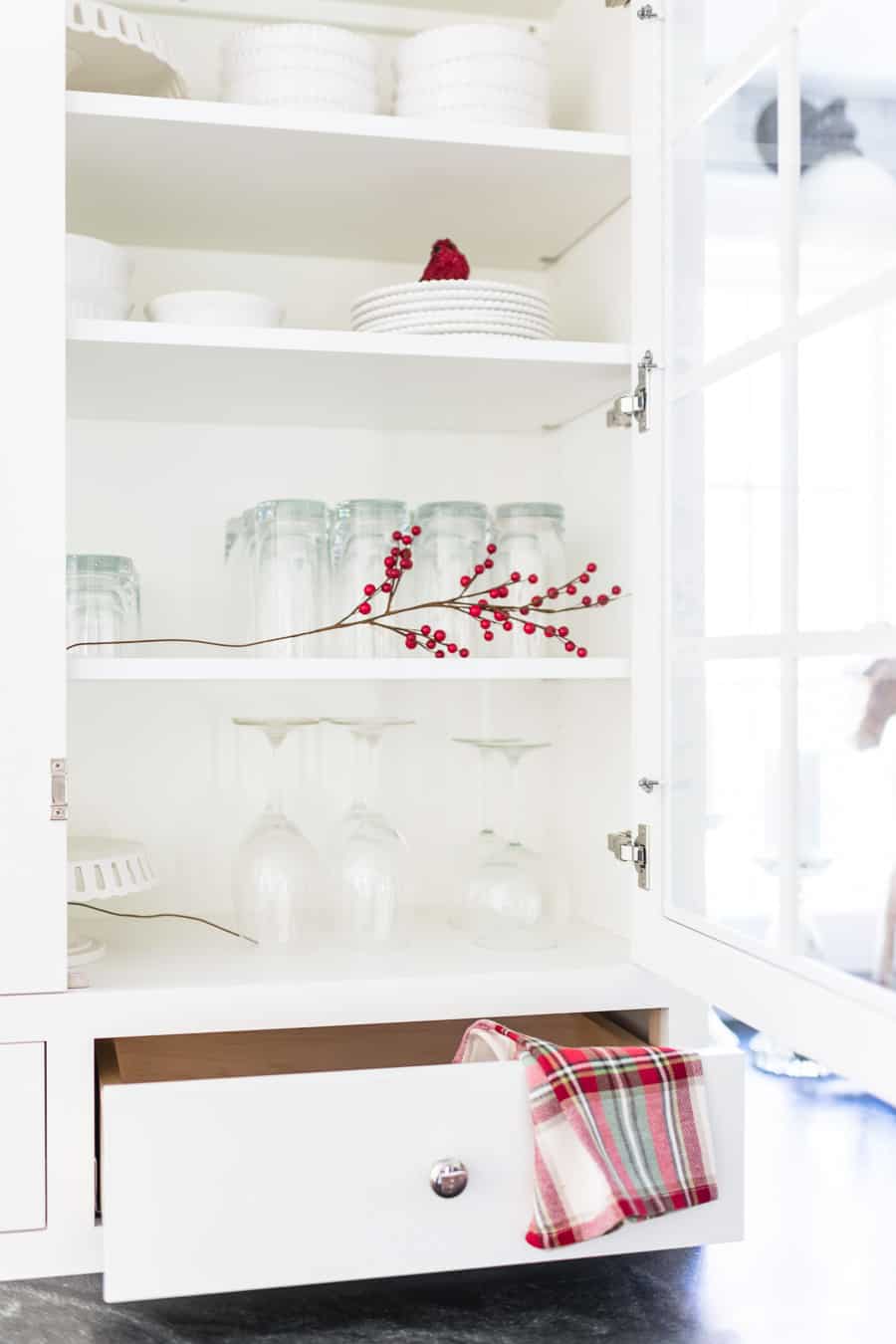 Plaid is classic for Christmas, and I love the contrast of the red and green! I found this specific plaid at Target a few years ago and it's my absolute favorite. While not exactly the same, these have a very similar feel (there's also a runner and table throw).
Here are some other ideas to decorate your kitchen shelves or cabinets for Christmas:
Hang a festive garland from the top of the shelves and use small, battery-operated LED lights for a twinkling effect.
Place mini Christmas trees, colorful ornaments, and glittery stars on the shelves.
Swap out your everyday kitchenware on the shelves for Christmas-themed pieces like holiday dishes, mugs, and bowls.
Hang festive stockings from the shelves, or arrange them on top.
Place candles, pinecones, and other festive decorations to give your kitchen shelves a cozy and inviting feel.
These are just a few ideas to help you get started with your kitchen Christmas decor for your shelves. Have fun and get creative to make your kitchen shelves look and feel festive!
2. Decorate Your Kitchen Window with Christmas Decor Ideas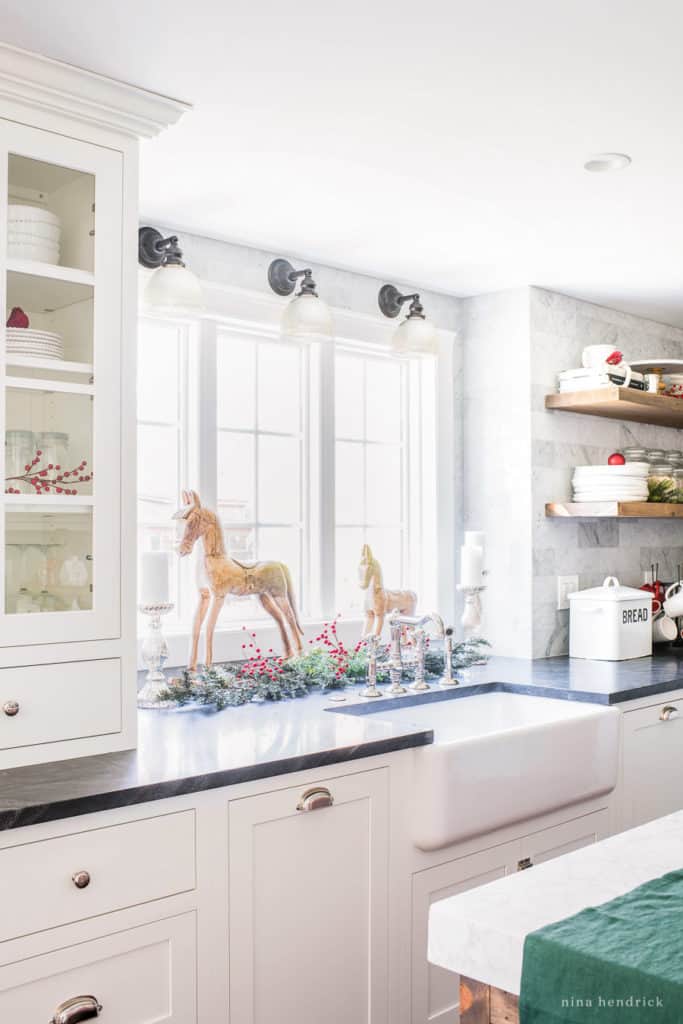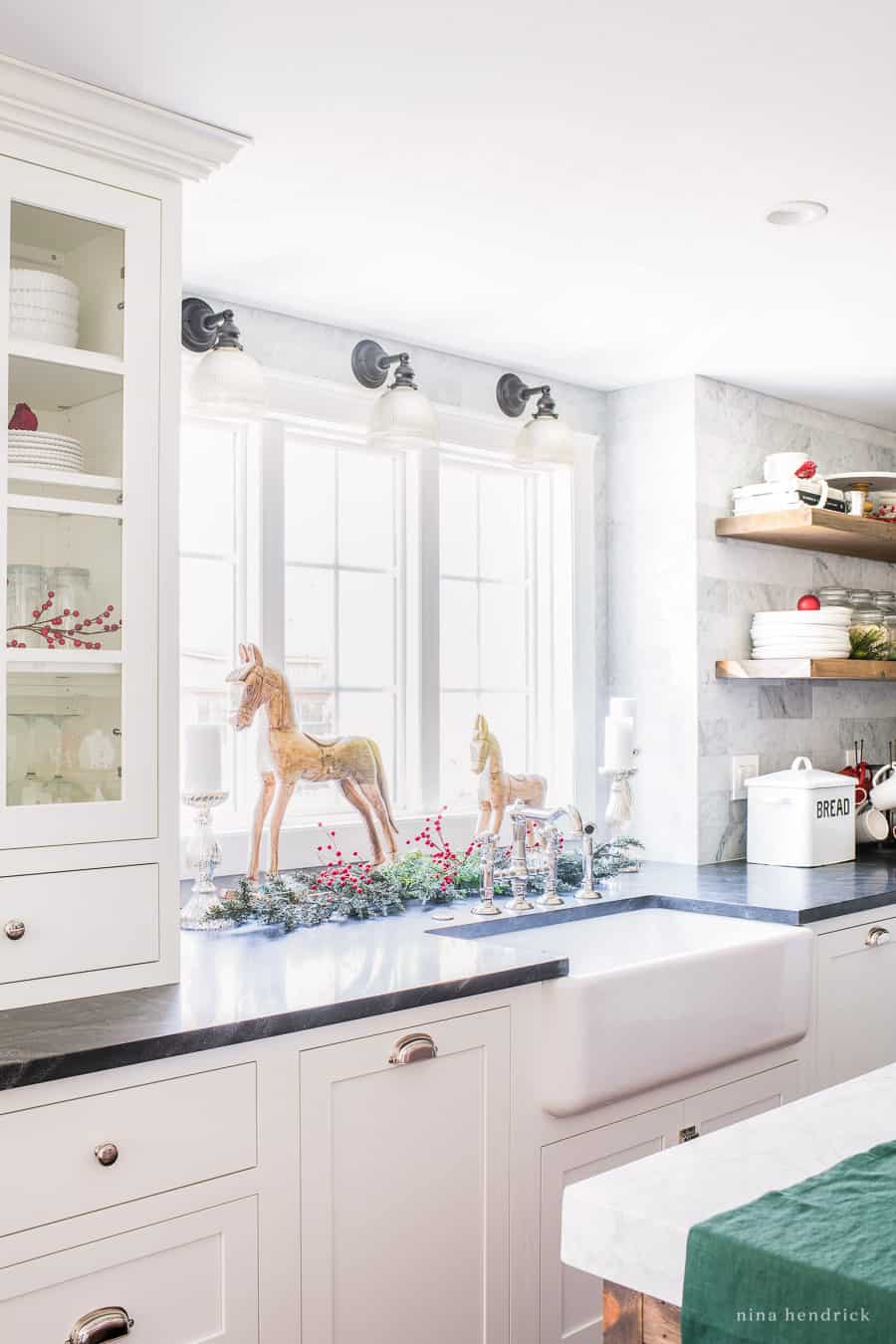 I brought out the wooden horses that I've had for years and years and added them to our kitchen window bump-out to create a display behind the sink. They always make me think of the nursery in the Velveteen Rabbit and other stories from that era.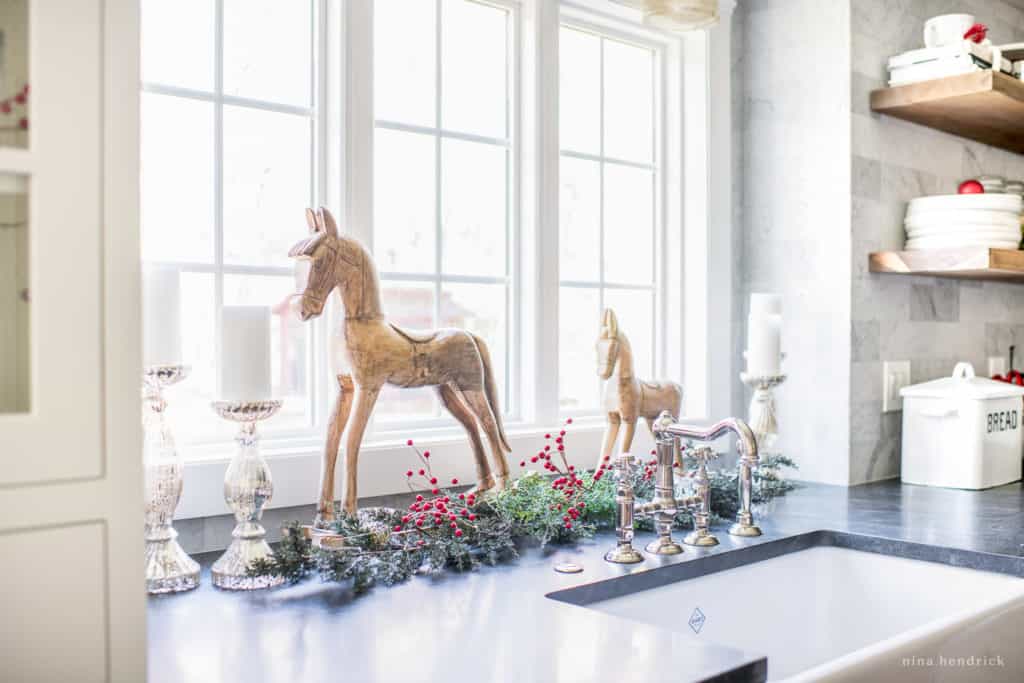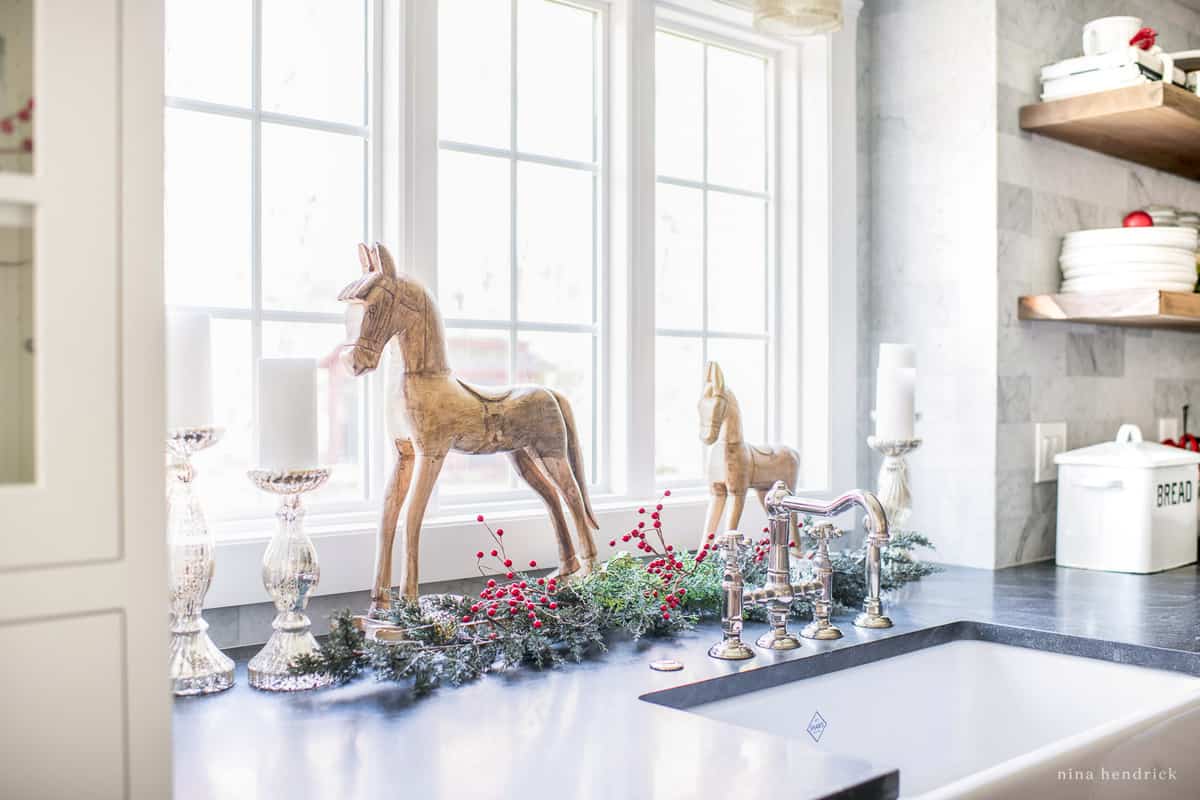 I created a swag at their feet from faux evergreen branches mixed with some red holiday berries. To finish the look, I added some battery operated lights, which twinkle in the evenings. The toy horses look like they are part of a little winter wonderland. The lights create a nice warm and cozy atmosphere in the kitchen. It's a great way to bring a holiday feel into the room without taking up too much space. This display was mostly for myself, since I look out the kitchen window and can enjoy this Christmas decor as I wash dishes.
Here are some other Christmas kitchen window decor ideas:
Place a small Christmas tree in or near the window, decorated with ornaments and lights.
Set up a Christmas village scene in the window, with a miniature house and trees, figurines, and other decorations.
Hang a string of holiday lights and drape garland around the window.
Add a wreath to the window, securing it with a command hook and tying it with a festive ribbon or bow.
Place a festive holiday centerpiece in the window, such as a bowl of pinecones, potted poinsettias, or flameless LED candles.
With these simple kitchen Christmas decor ideas, you can easily create a cute display in your kitchen window.
3. Create a Hot Chocolate Station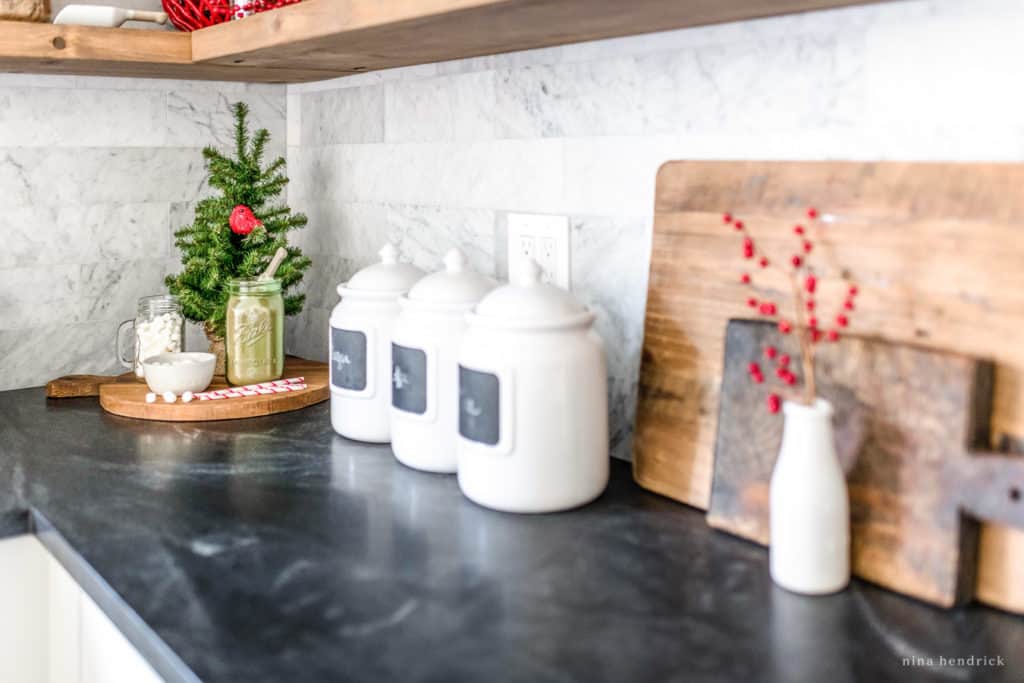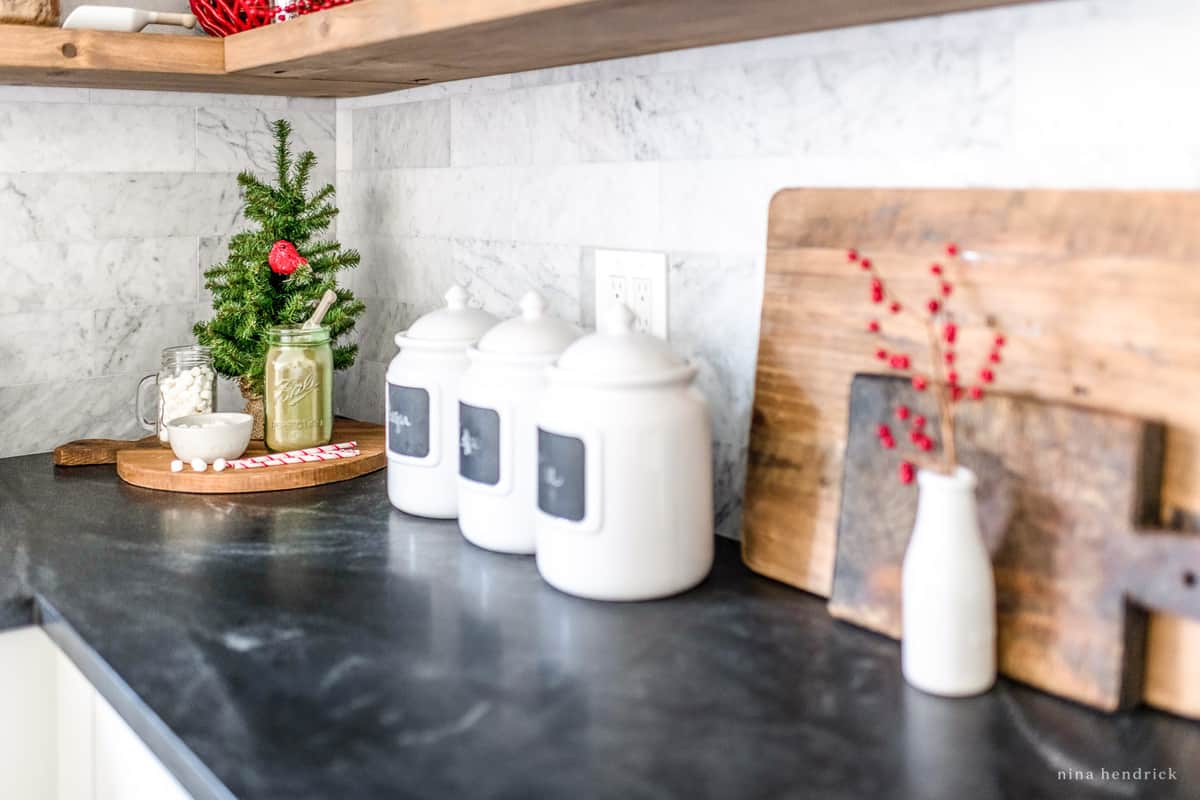 For a festive and cozy kitchen Christmas decor, create a hot chocolate station. It's easy to do, and it's sure to be a hit with the family. At this point, I'd call this a yearly staple in our home!
Start by setting up a small table, counter, or shelf area with a tray and an assortment of mugs. For the hot chocolate, choose a variety of flavors, such as classic, white chocolate, or peppermint. Storing them in a mason jar works great!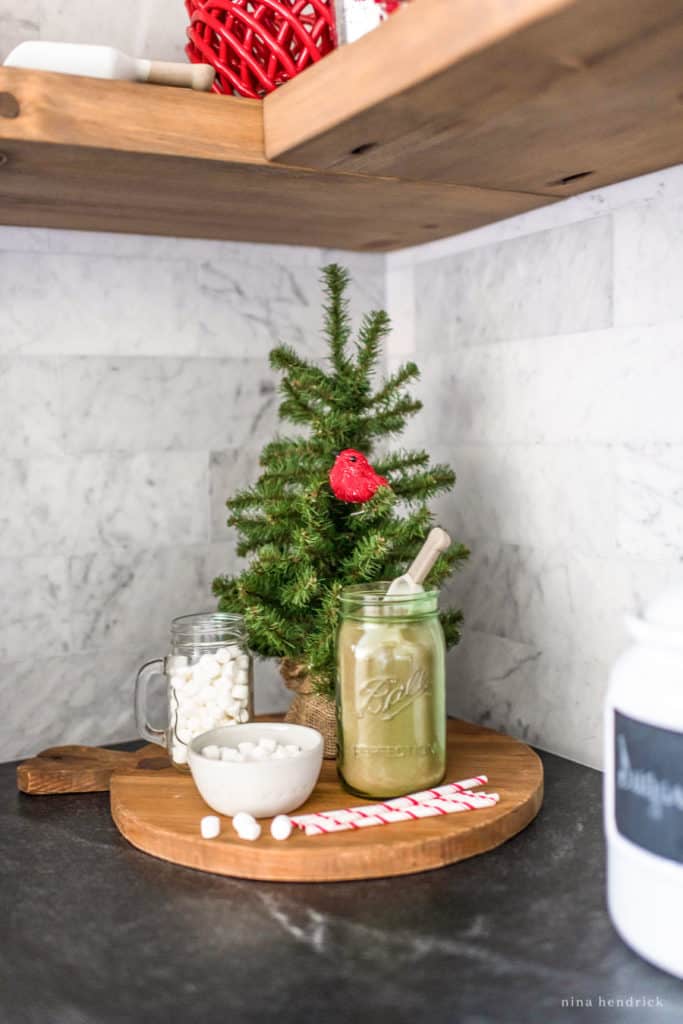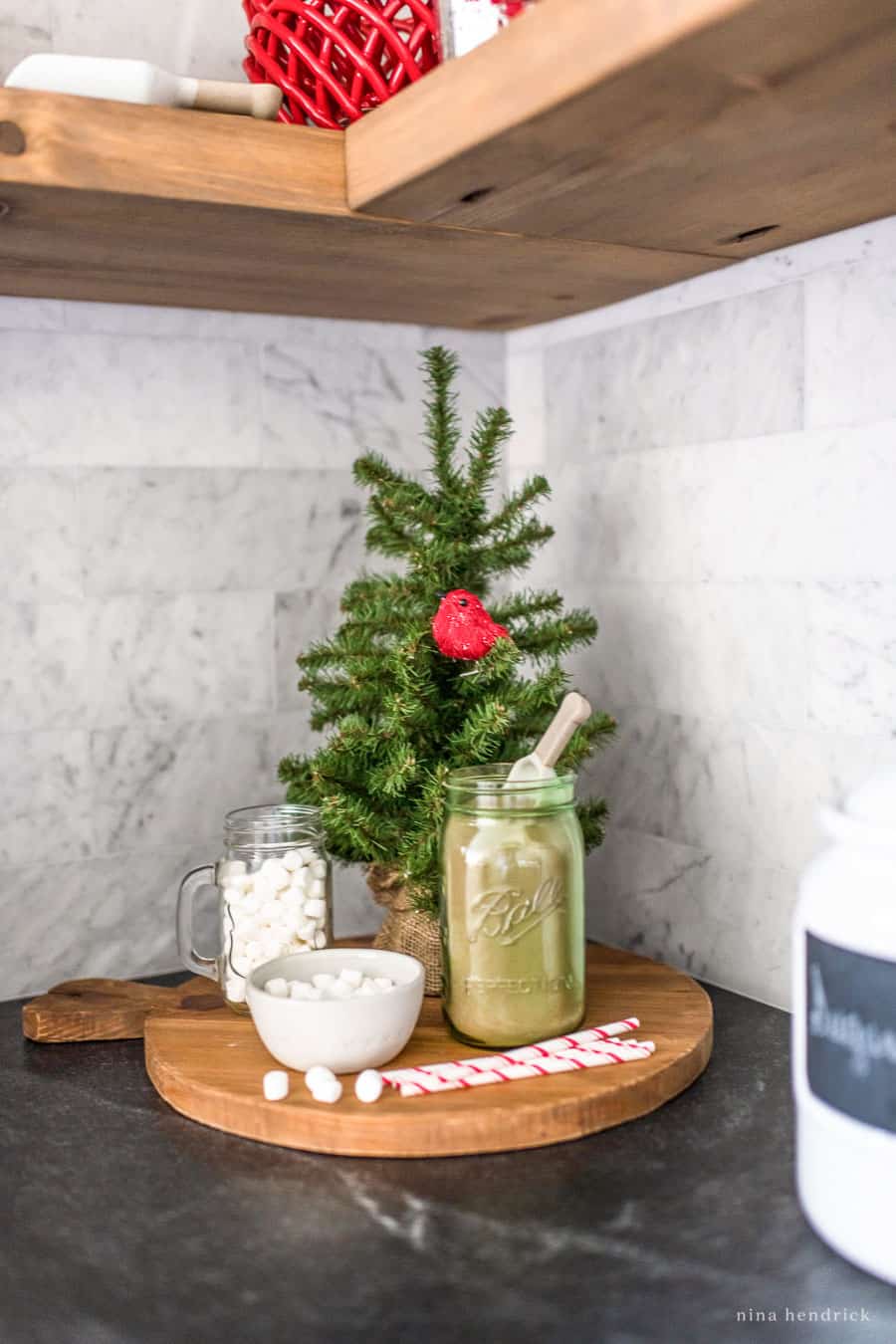 Put out hot chocolate-related toppings such as mini marshmallows, chocolate chips, sprinkles, and candy canes. Add Christmas flair to the station with a few holiday-themed decorations, like this small Christmas tree.
Finally, when you enjoy your hot chocolate, set out a few treats such as cookies or brownies to complete the station.
4. Create a Hot Toddy (or Warm Mixed Drink) Station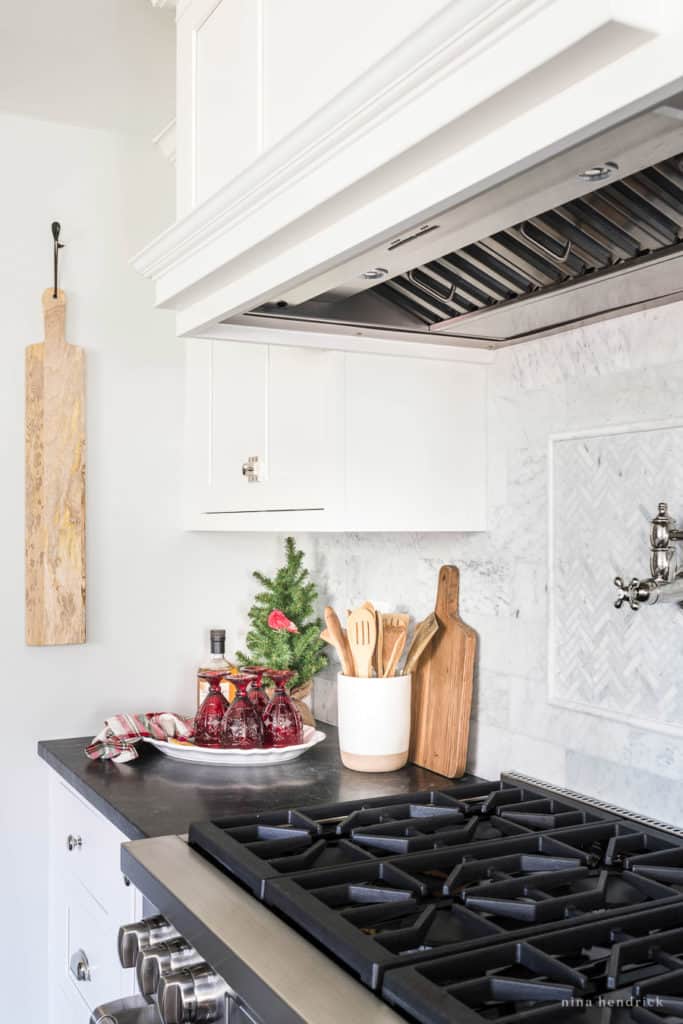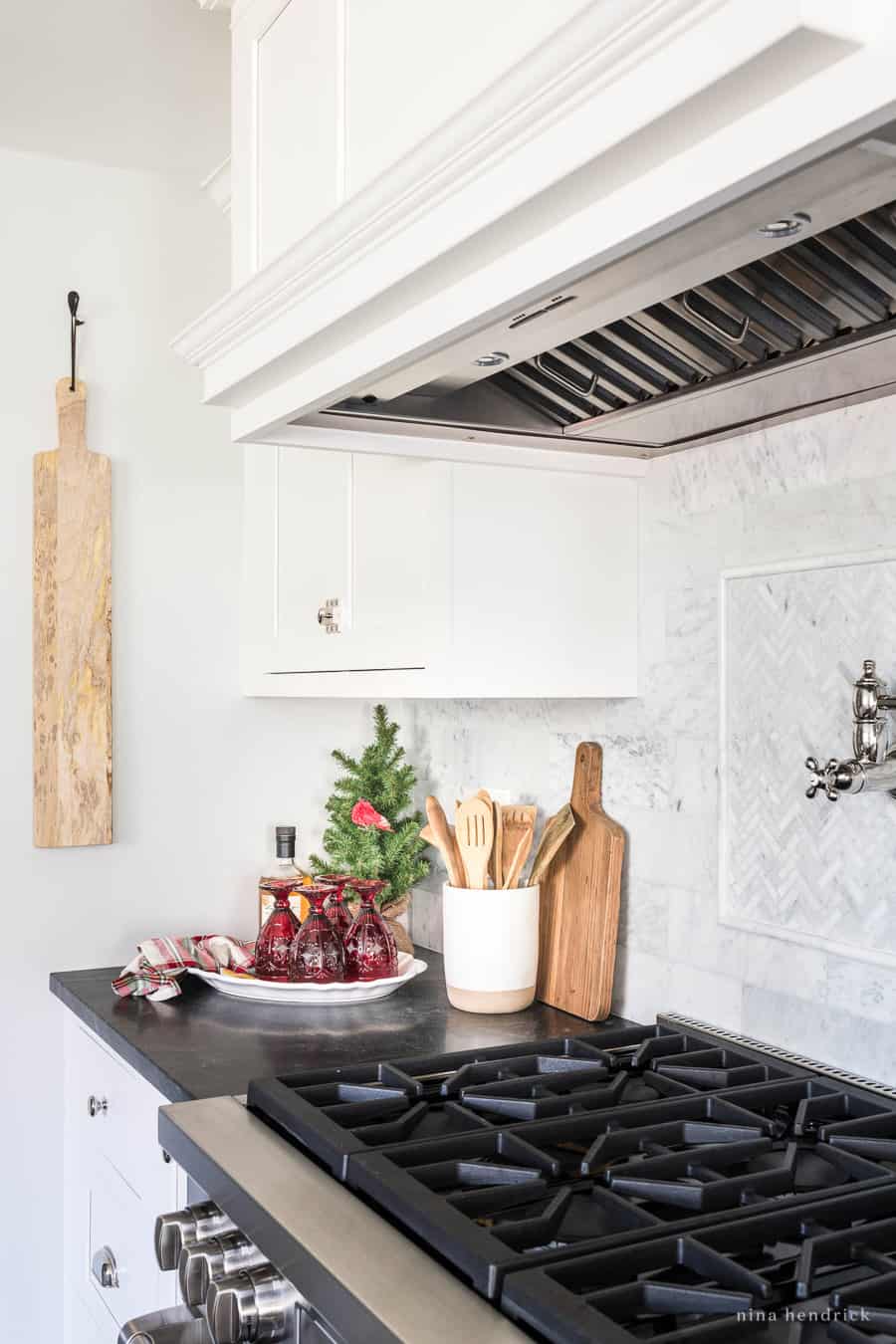 As a new companion to the hot chocolate station, we have a hot toddy station for the grown-ups. A hot toddy is a traditional mixed drink typically made of whiskey, boiling water, sugar, citrus, and spices. You can also add tea, like I planned to here.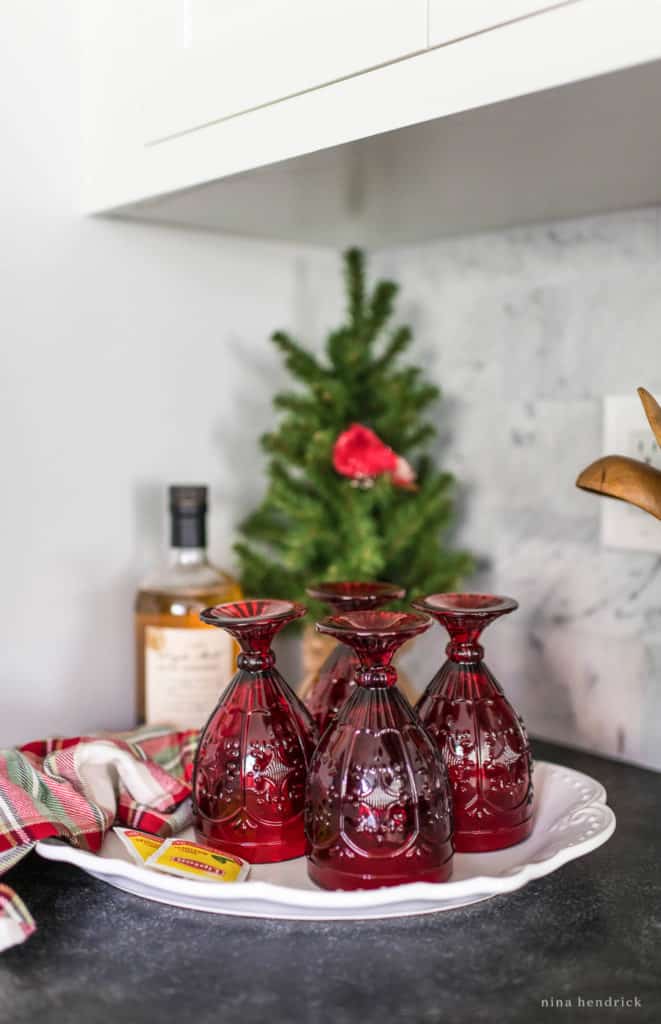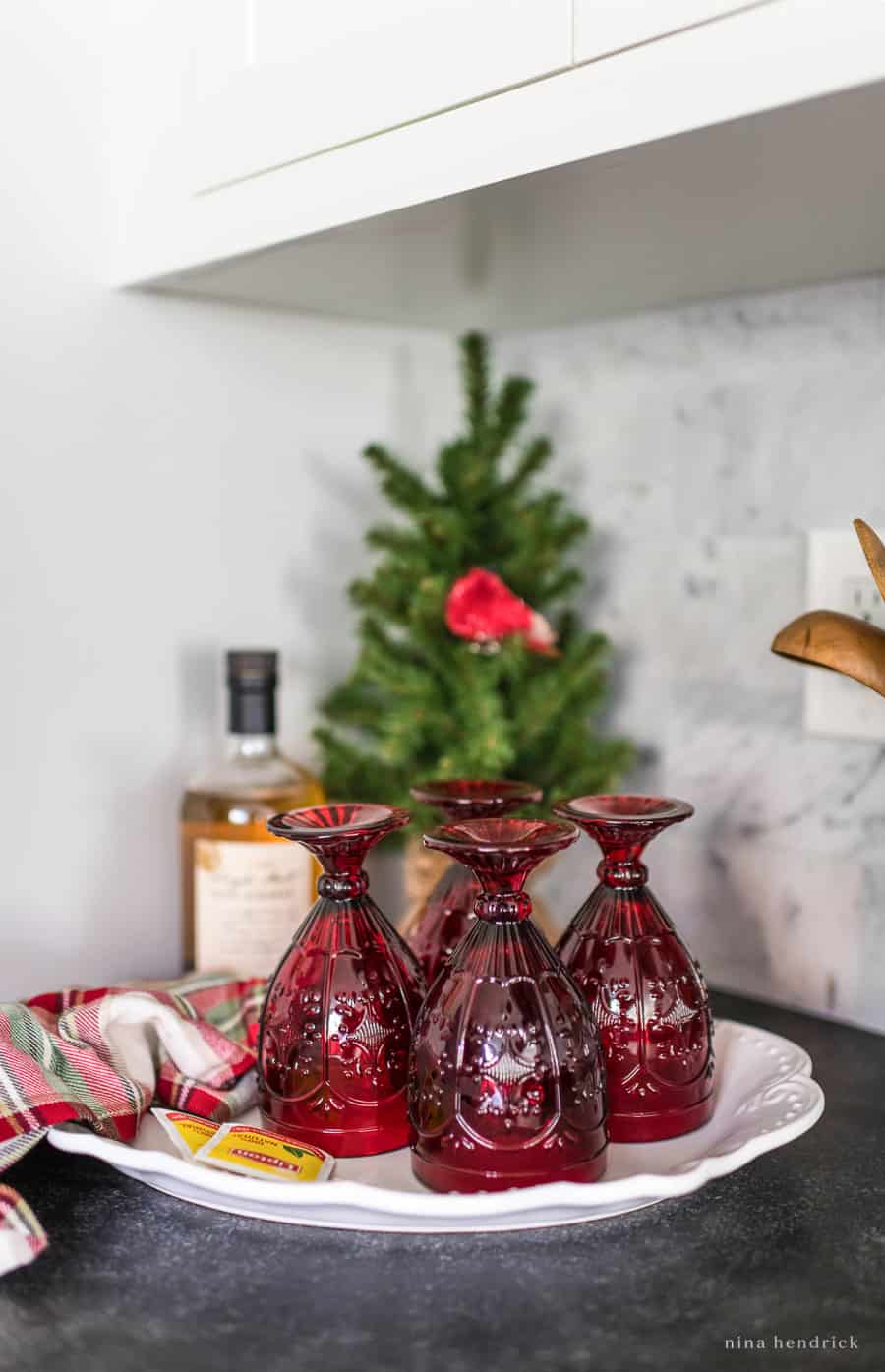 I've actually never had one, but we're going to give it a try! Aside from the whiskey and tea, we'll add a couple of lemons and some honey and drink them from these fancy red goblets.
This station can also be used to make a variety of spiced drinks, like a hot apple cider with brandy, a spiced rum toddy and mulled wine. Lay all the ingredients out for your guests to mix and match their favorite flavors. This station adds a unique, festive touch to your holiday kitchen, and it will be sure to warm up your family or guests on a cold winter night.
5. Create a Portable Kitchen Christmas Decor Island Centerpiece
One of the best and easiest ways to add a cheerful touch to your kitchen for Christmas is to create a beautiful kitchen island centerpiece. You can spruce up the kitchen island with a removable centerpiece featuring a little Christmas-themed village on a wooden two-tiered tray. This piece is an elegant way to incorporate the holiday spirit into the kitchen.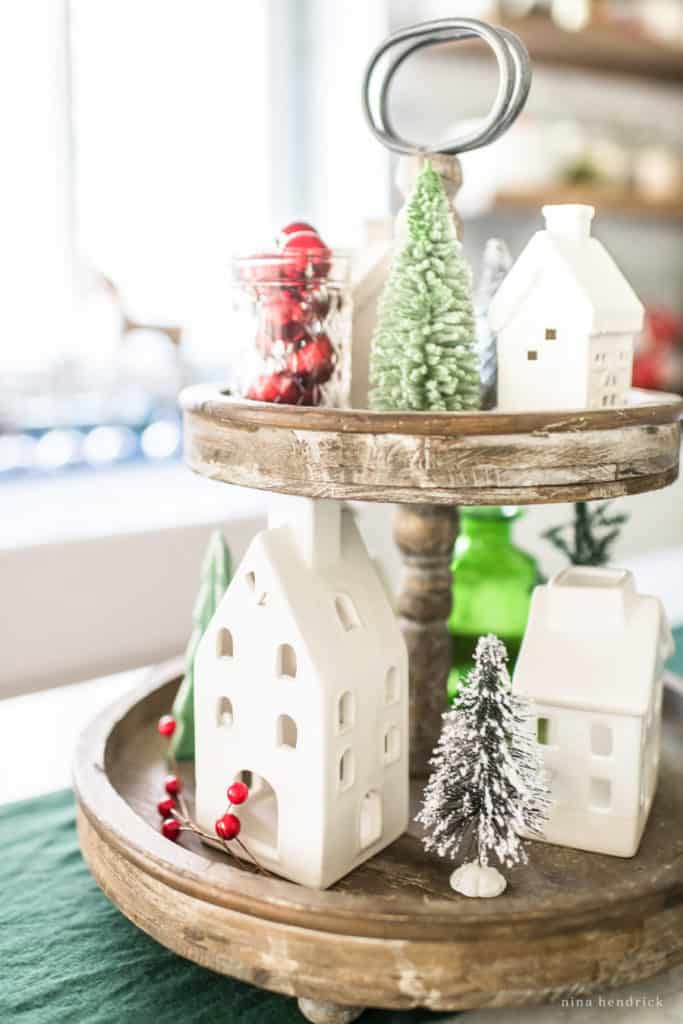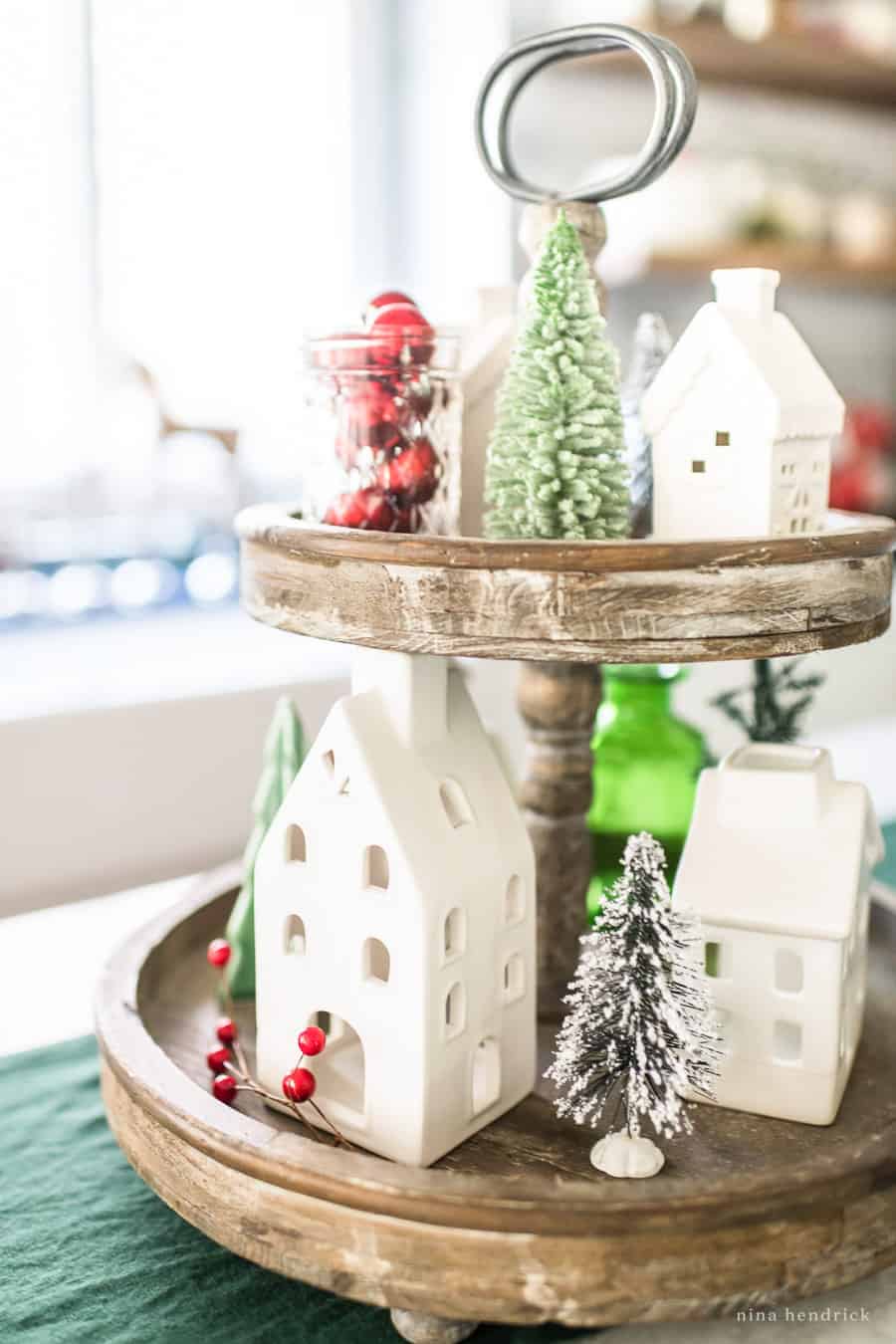 The village includes a small snow-covered church, white porcelain houses and cottages, and a few trees. Adding a few white Christmas lights and a dusting of snow will add to the winter atmosphere. The best part is that I can easily move it when we want to bake Christmas cookies. We can even take it to another room to create a holiday display.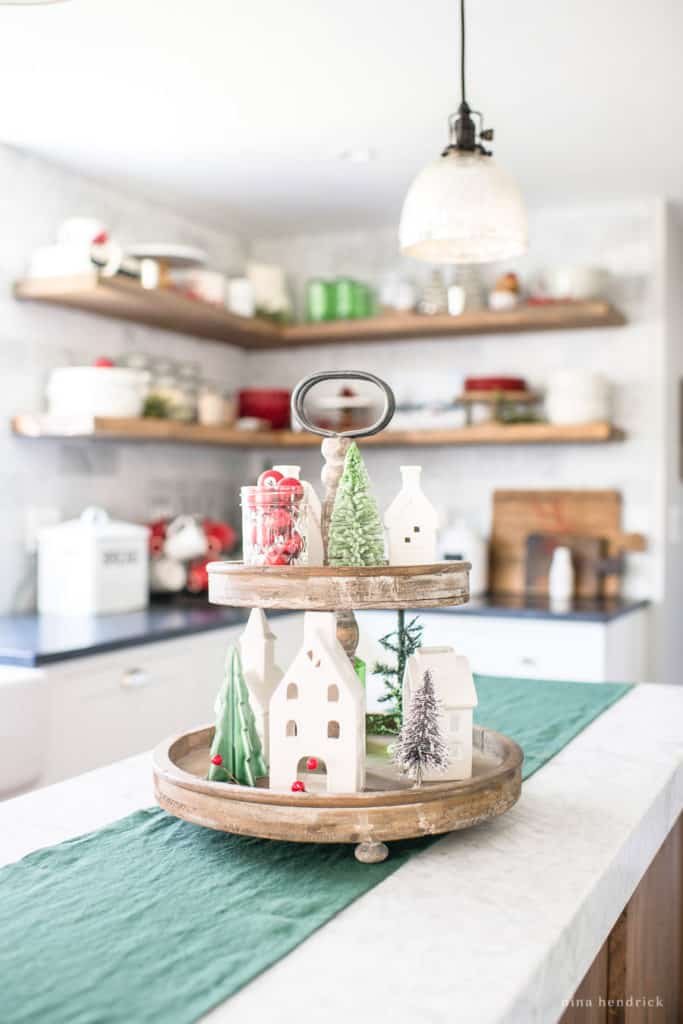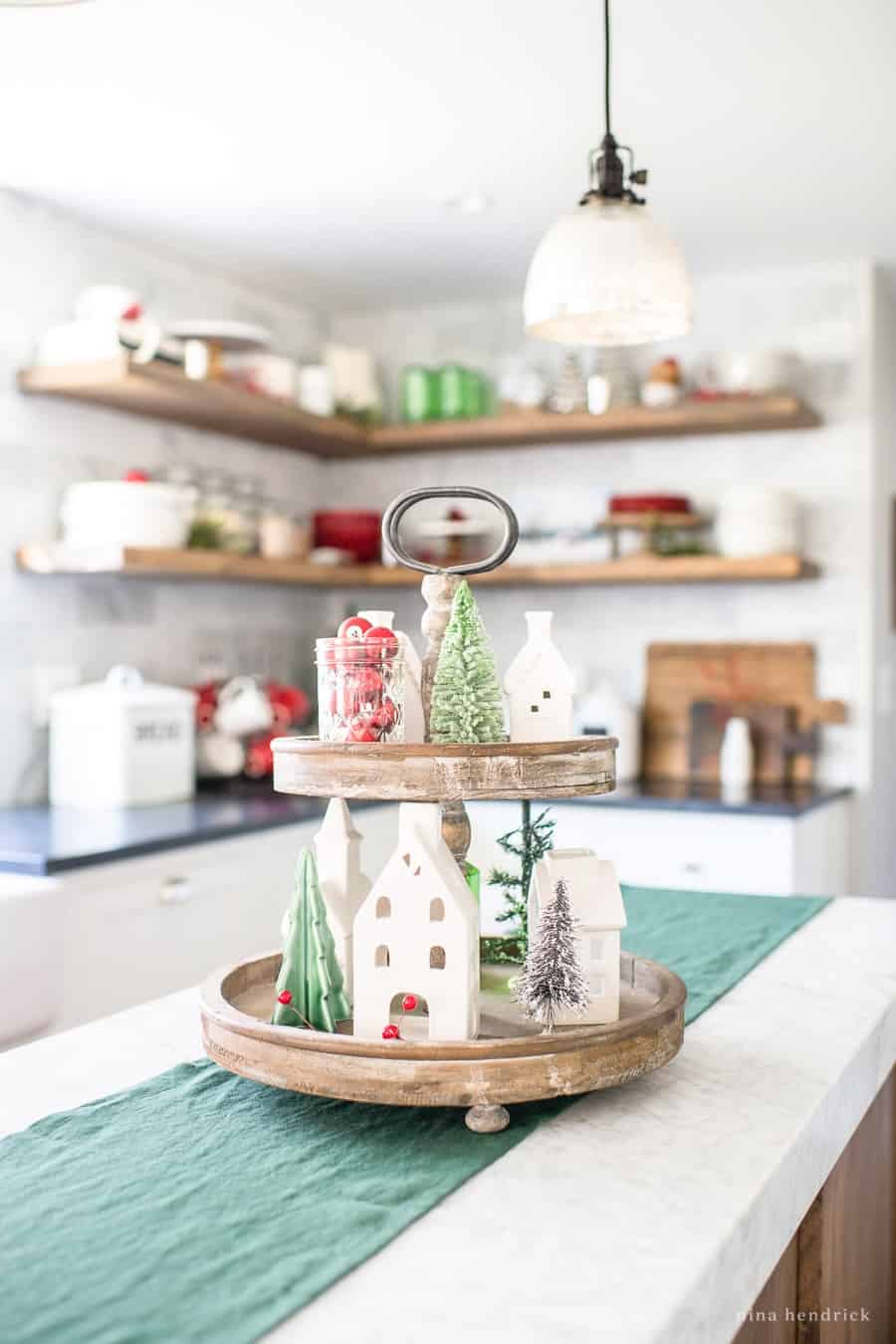 I'll likely add some rosemary trees to the island once they become available, just like I do most years! You can get a similar green linen runner here.
Here are some more kitchen island Christmas Centerpiece ideas:
With just a few key items, you can easily create a beautiful and inviting Christmas island centerpiece that will bring warmth and cheer to your kitchen for Christmas.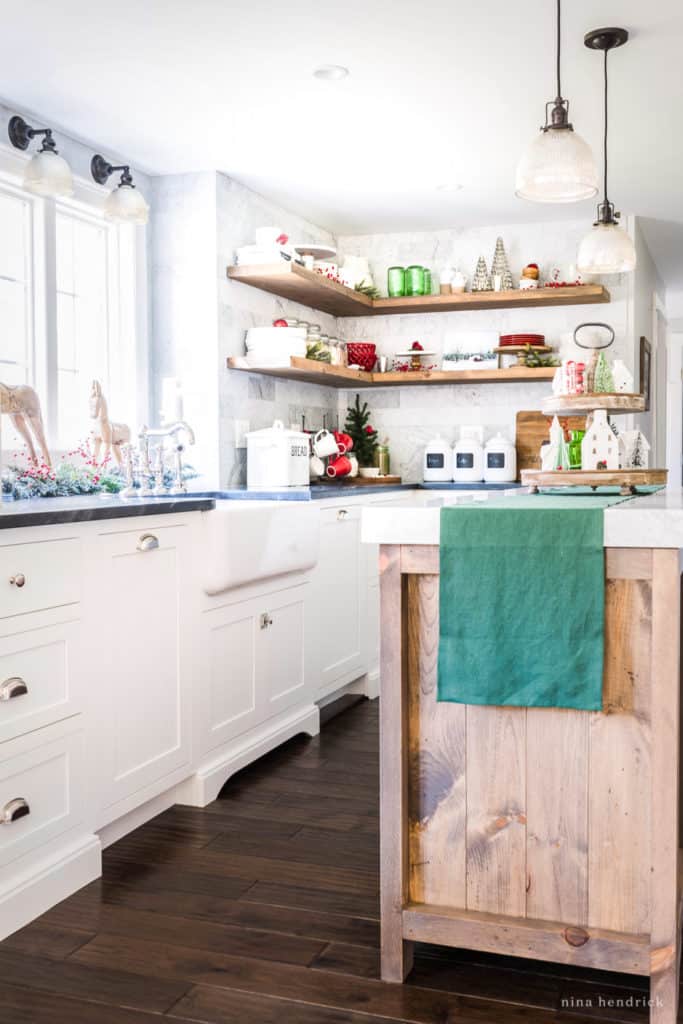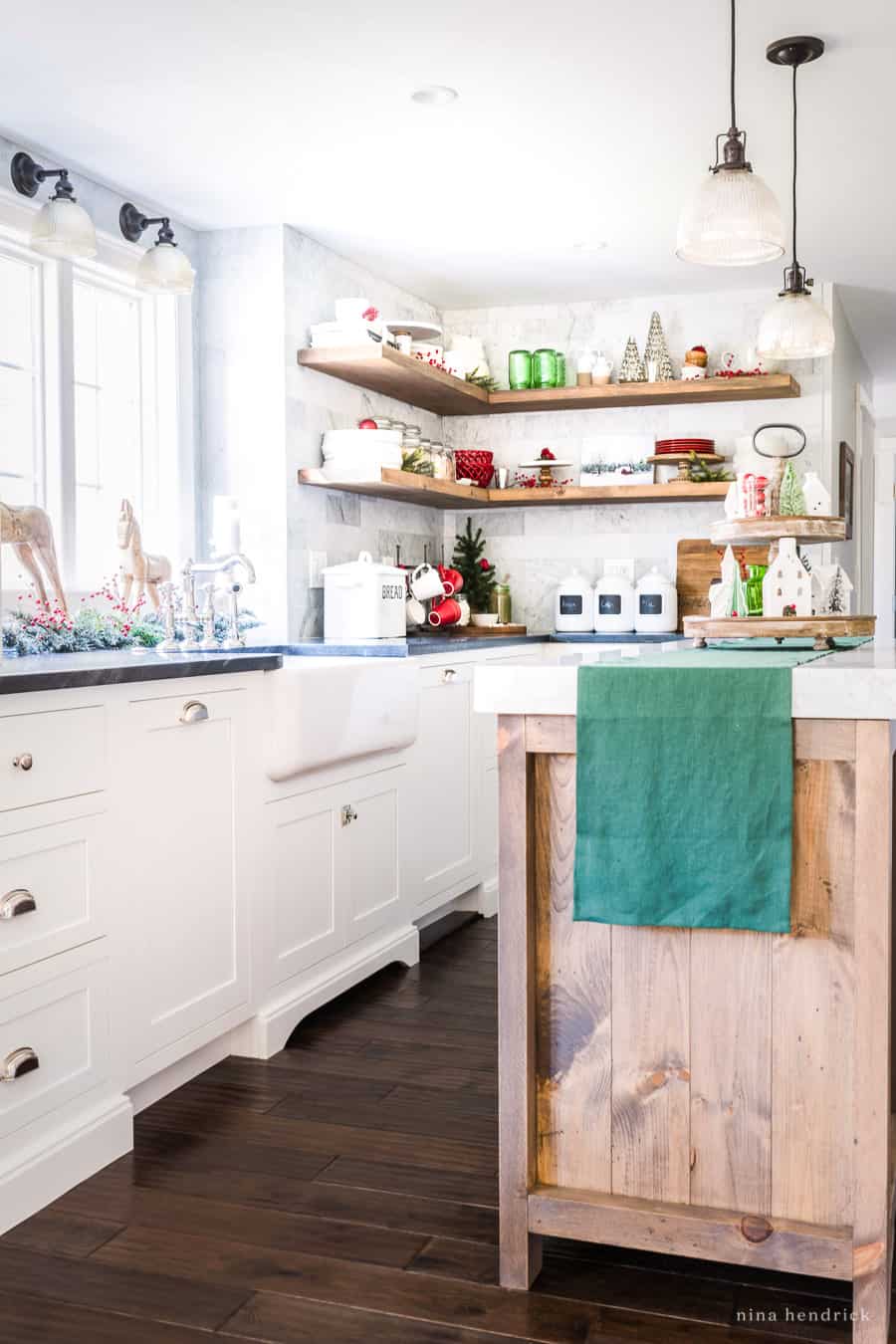 I hope that these classic kitchen Christmas decor ideas sparked inspiration for how you can use a few simple touches to create a cozy holiday feel in your own home! If you use some of these ideas, please make sure to tag @ninahendrickhome on Instagram so we can share in our stories!
Shop the Look: Classic Kitchen Christmas decor Ideas

Pin It for Later | Classic Kitchen Christmas Decorating Ideas