How to Brighten Up Your Home During the Darkest Days
Winter decorating after Christmas doesn't have to be hard. With a little imagination, you can brighten up your home and your mood at the same time. Here's how.
It's the time of year when the hustle and bustle of the holiday season is over, and the decorations come down. But just because the holidays are over doesn't mean you have to take your decorations down! Winter decorating after Christmas is a great way to keep the festive feeling going and add a bit of warmth and coziness to your home. Whether you want to keep some of your Christmas decorations up for a little longer, or transition to a clean and fresh look, there are plenty of ways to decorate your home for the winter season.
Is there anything sadder than taking down the Christmas tree and boxing up all the ornaments, tinsel, and other special touches? After all the excitement of holiday decorating, packing everything away for the next 11 months is honestly pretty depressing.
For me, the worst part of it is losing the extra light and sparkle. Once you take down the tree, it's like there's a black hole in the room where all those lights used to be. And where I live in New Hampshire, those lights make a big difference. Winter is long here, and the worst part might not be the cold but the darkness. In January, the sun sets a little after 4 p.m., so we have hours of nighttime to get through before spring.
That's why I love decorating for the winter. Psst, if you want more winter decorating ideas, I also have this post!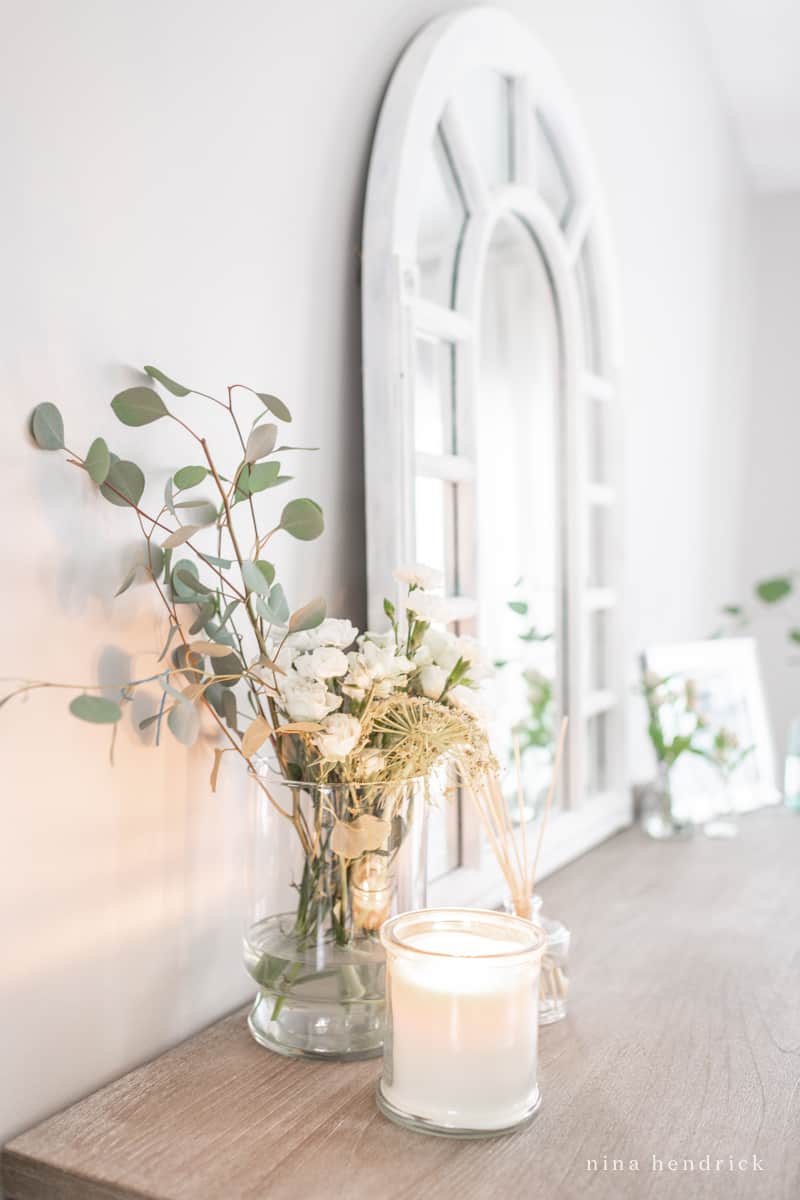 One of the best ways I know to bring some joy into your home is to surround yourself with beautiful things. Christmas makes that easy, but why wait until next December to feel that same warmth and coziness? Adding a few special touches will help you embrace the special quiet of winter. It's naturally a time to turn inward, away from the weather and toward the comforts of home.
Easier said than done? I get a lot of questions about winter decorating after Christmas, so let's dig in.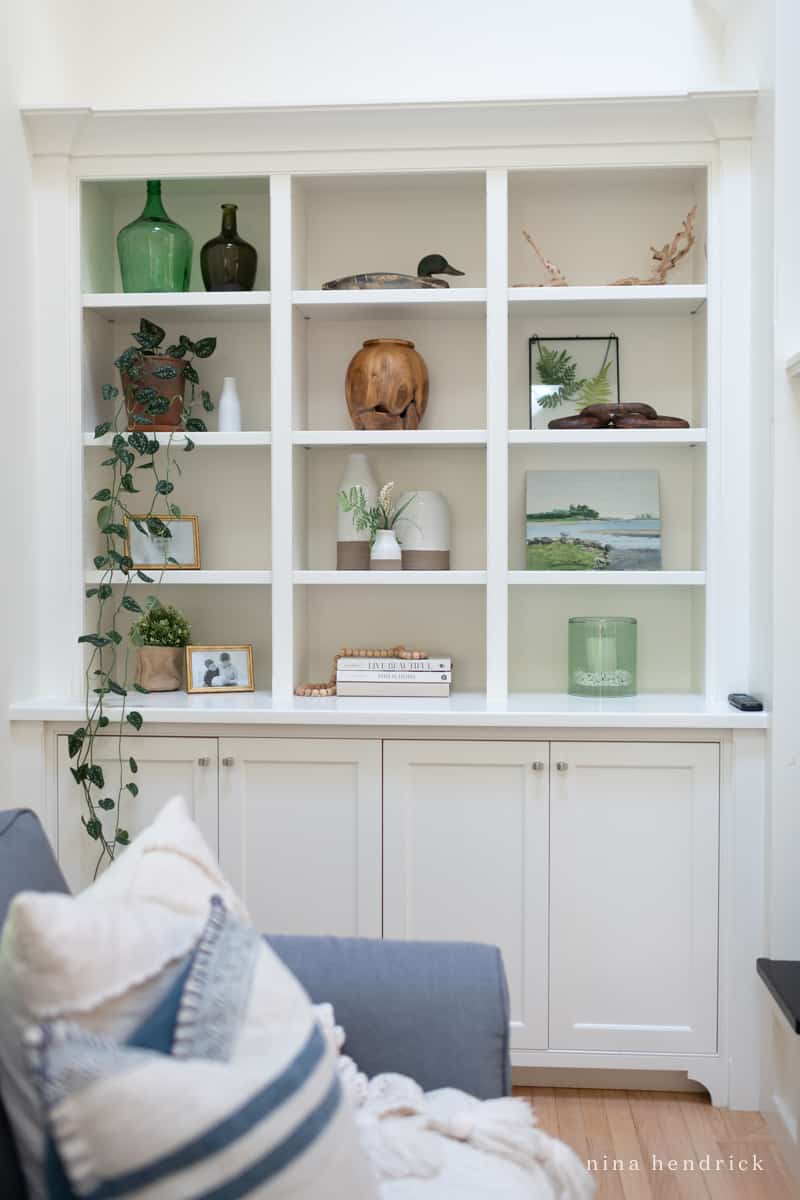 What type of decorations do you put up after Christmas?
Rather than trying to dream up a wintertime theme, I think it's helpful to think about how you want to feel in your home during the winter months. Are you looking to create a warm, cozy space or a more tranquil one after the craziness of Christmas? Once you've decided how you want to feel, choose decorations that support that goal. Here are some examples: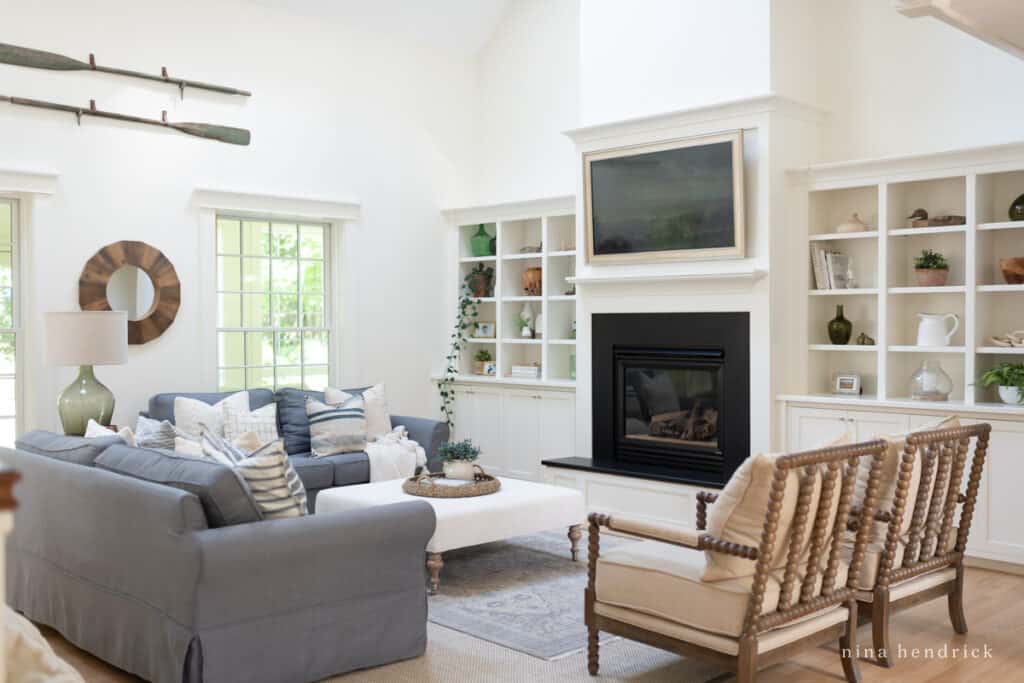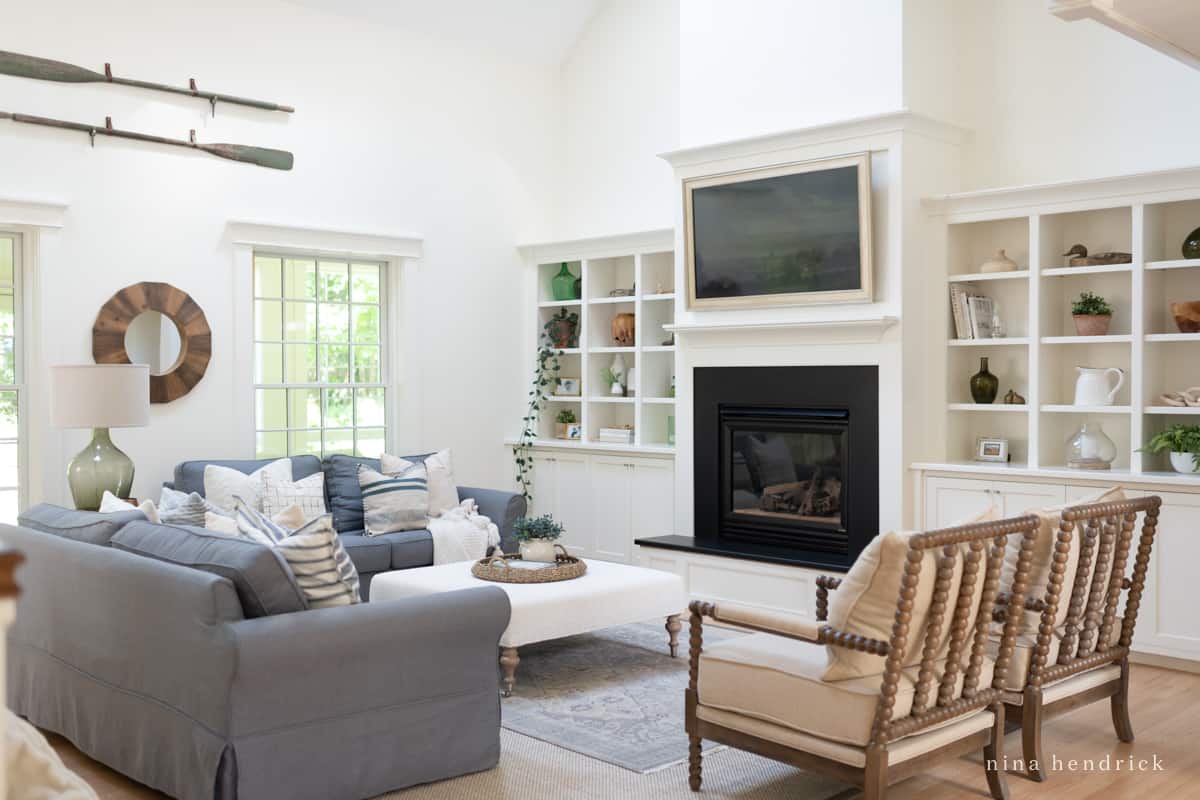 Cool and Collected
If you find the holidays exhausting, winter might just be the most calming season of all. You know how quiet it is after that first snowfall? Everything is covered in a clean, soft coat of white, and you just feel at peace in the hush. If regaining control is your goal, take your cue from the snow. First, clear away any clutter, including leftover holiday decor and any gifts that haven't found their permanent home yet. You might even selectively put away some of the standard decorative items taking up space on your shelves for a clean start.
Next, embrace a monochromatic color palette to keep the Zen vibes humming. Shades of white, beige, and cream with lots of interesting textures will bring the feel of fresh snowfall indoors. Or you can play with blues, greens, or purples instead. The point is to keep your eye moving easily across the room rather than jumping around to different pops of color.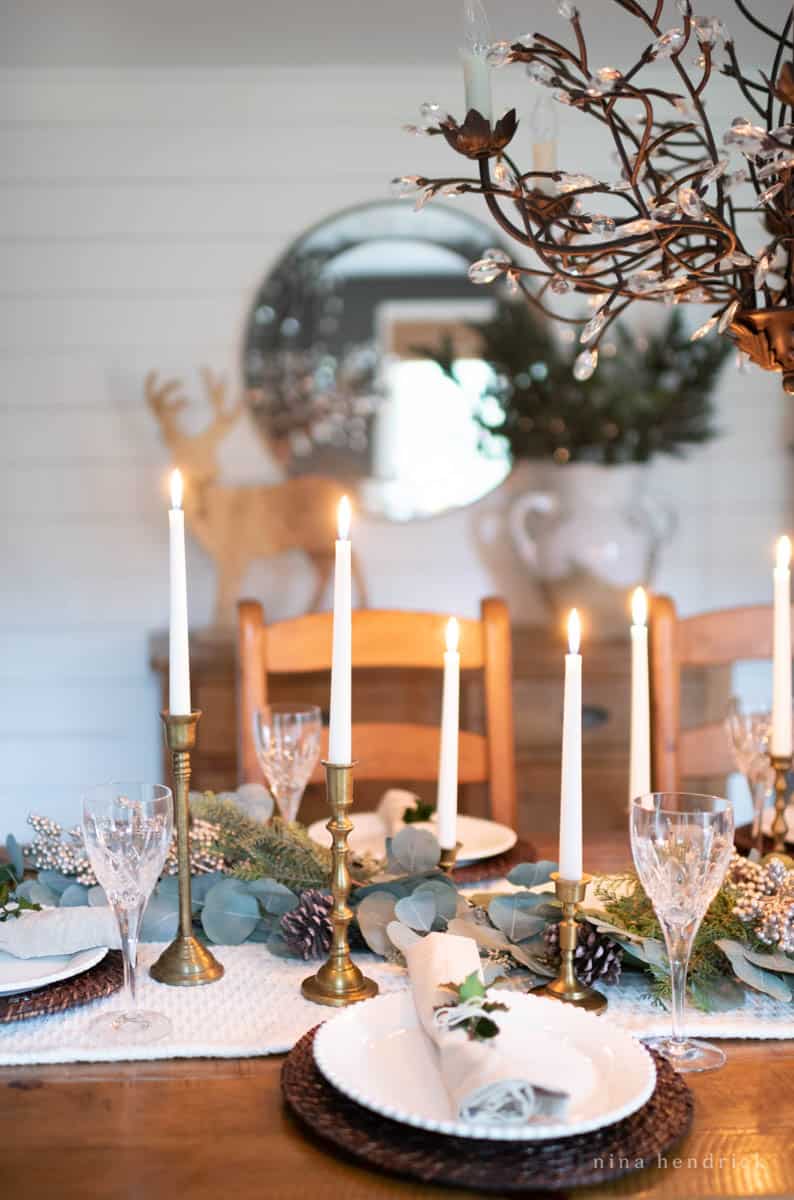 Peaceful and Fulfilled
If winter gets you down, it might be because you're not getting a big enough dose of nature in your life as you hunker down indoors (guilty!). Studies have shown that time spent in nature reduces stress and boosts our quality of life. Save those evergreen boughs from your holiday decorations (or even cut them from your tree before you discard it if it's not too dry) and use them to decorate the mantel or to create a lush dining table centerpiece. You can also use pinecones, birch branches, and dried grasses for winter season interest.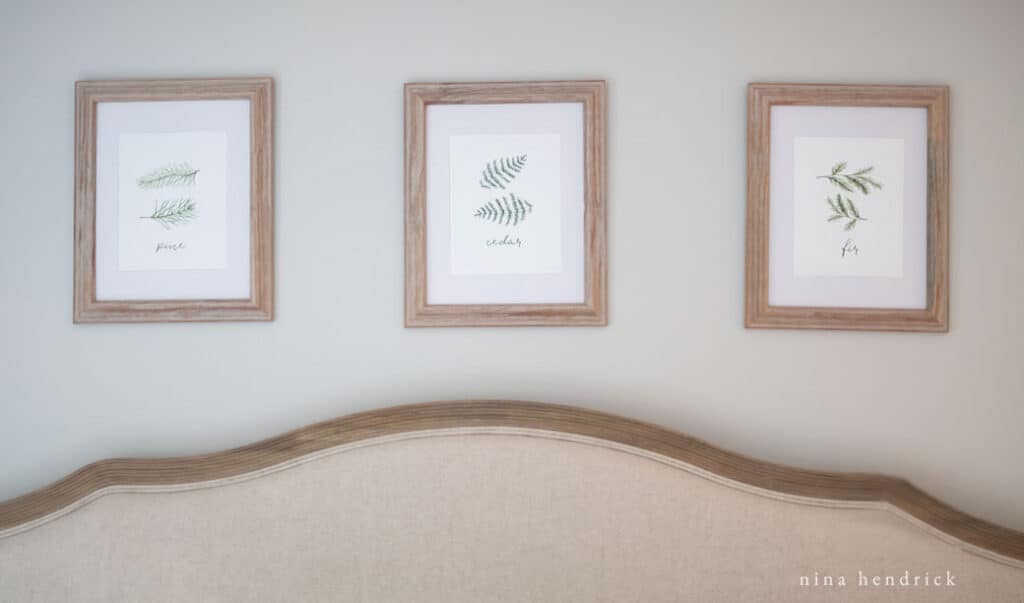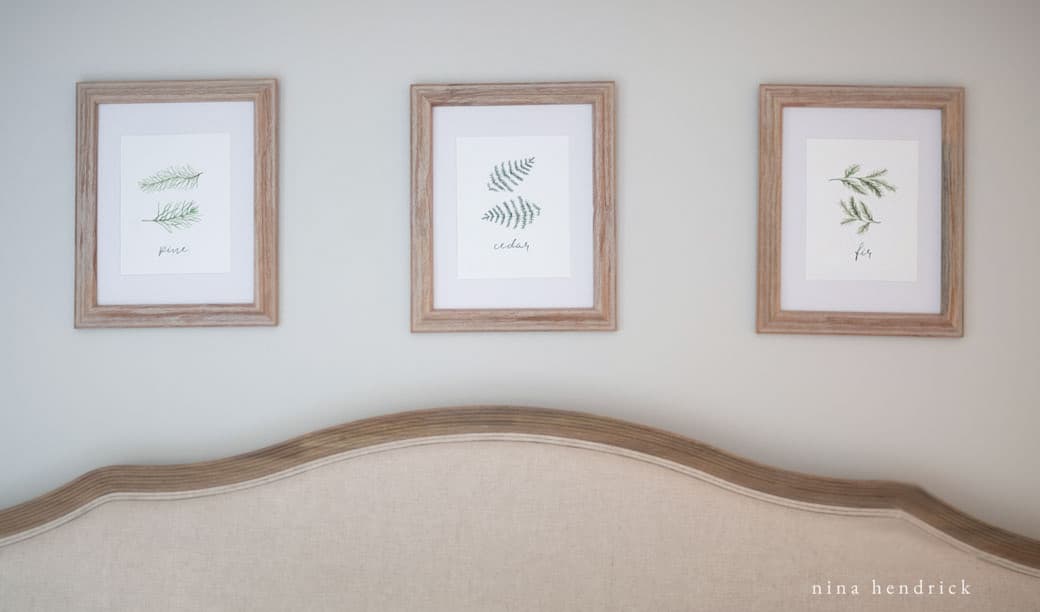 Luckily, scientists have also found that just looking at pictures of nature will do the trick, too. For a quick winter decoration, I love the style of this evergreen artwork — and subscribers can get the free 8" x 10" printable at the end of this post!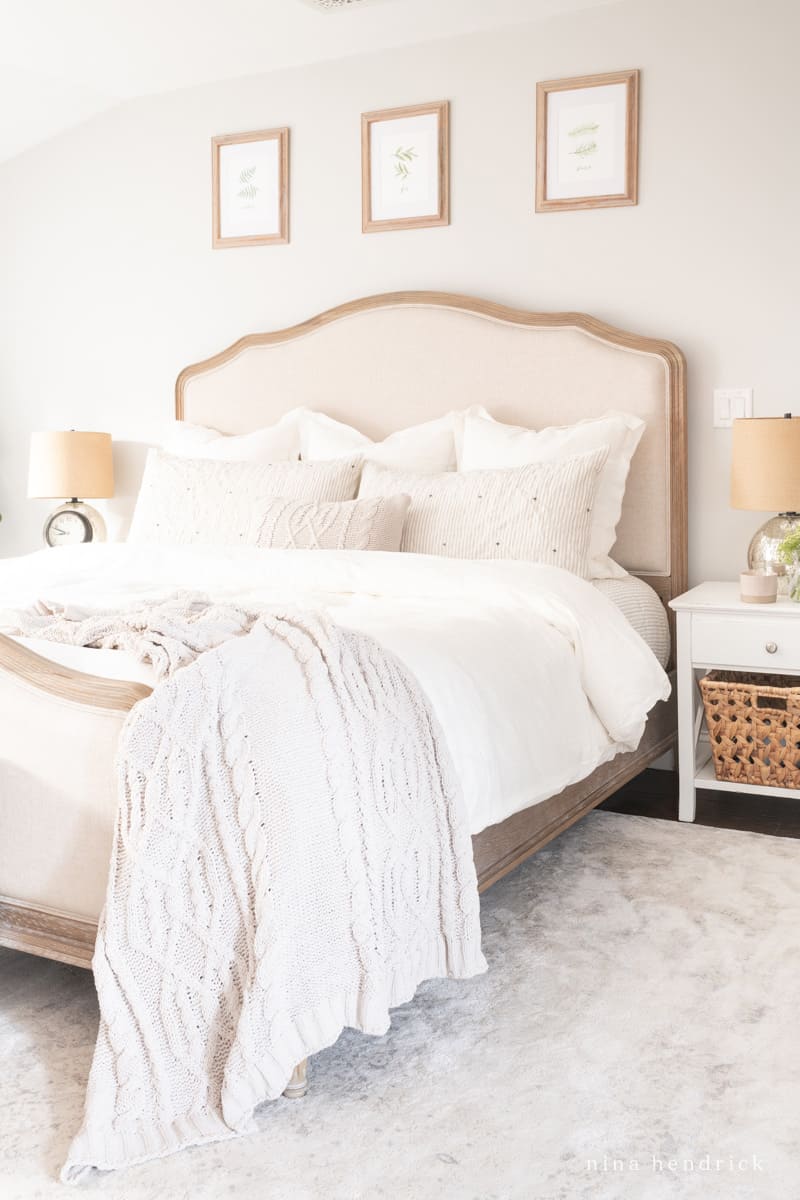 Warm and Cozy
If all you want to do in the winter is wrap yourself in a big blanket until April, I get it! Another way to decorate for winter is to make your home as soft and inviting as possible. If this is your M.O., embrace the principles of hygge to decorate for winter after Christmas. Hygge is all about cozy comfort, so add blankets and cushions with fuzzy, furry textures to cuddle up in. You can also think about adding touches that make you feel cared for, such as a hot cocoa station or a reading nook. See my previous post about hygge for more warm and cozy ideas.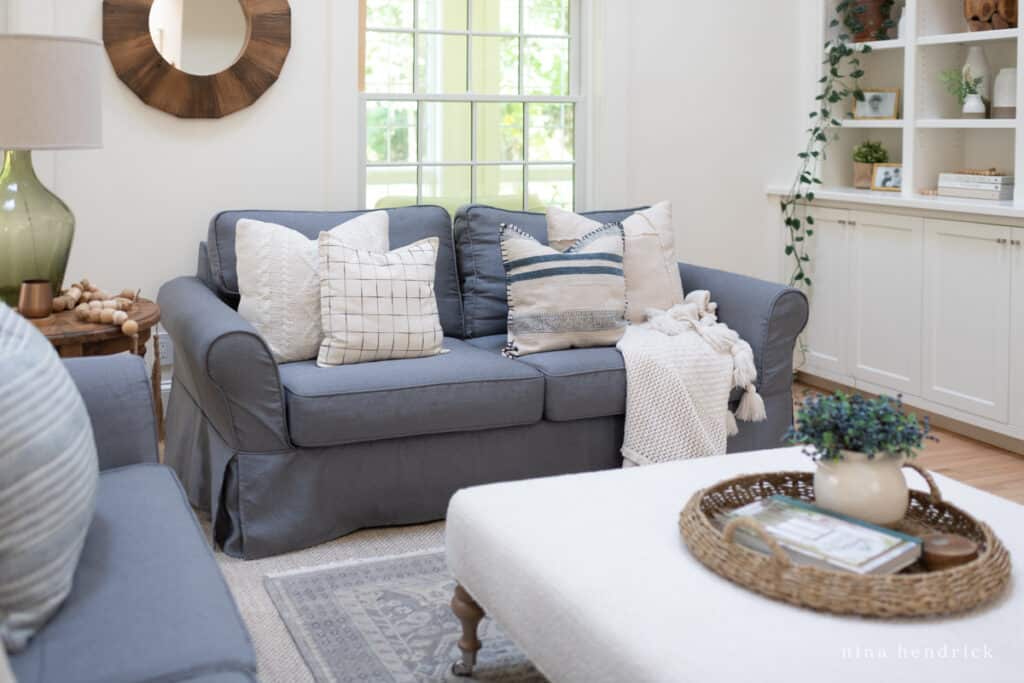 How can I brighten up my house after Christmas?
Winter is tough on sun lovers. It's not only that there are fewer hours of daylight and lots of gray, cloudy days; it's also that any sunshine we do get is at a lower angle, so there are more shadows indoors and out. To combat all that darkness, make natural light a priority. Start by opening up your curtains and blinds to let in more light, especially on the south and west sides of your house. If you need privacy, try hanging inexpensive white sheers to filter the view.
Next, assess your lighting at nighttime. If there are dark corners, add small, decorative lamps to fill the gaps, or repurpose your white Christmas lights in a dark corner — you can even fill a tabletop hurricane lamp shade with them for the world's quickest DIY lighting fixture. Reflective surfaces will also help brighten dark winter nights, so try decorating with glass and crystal, silver, and mirrors to round out your winter decorations.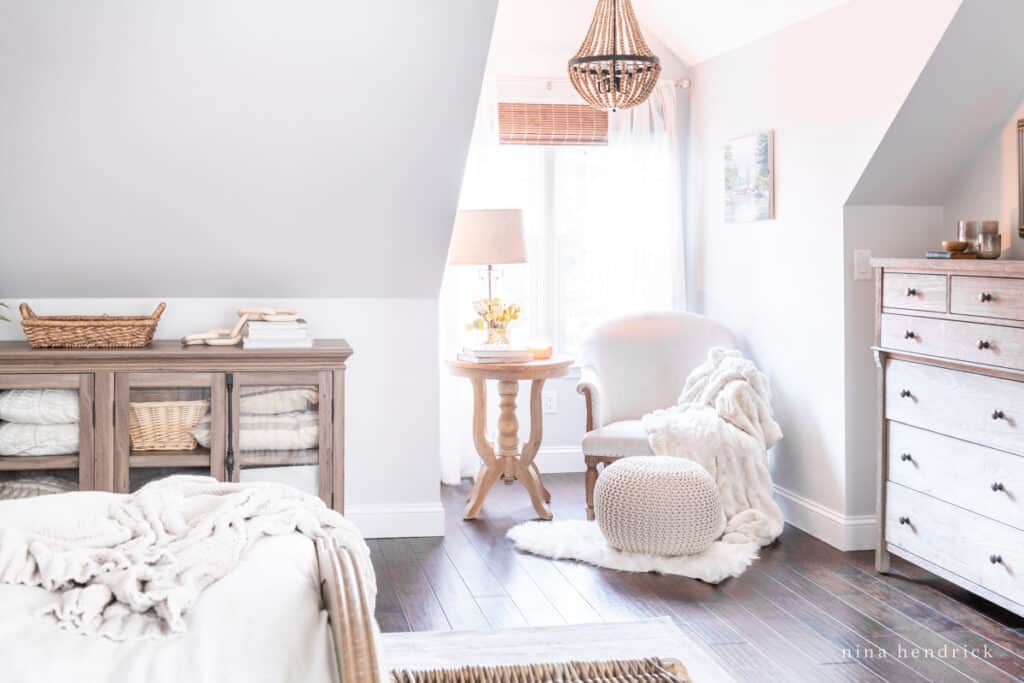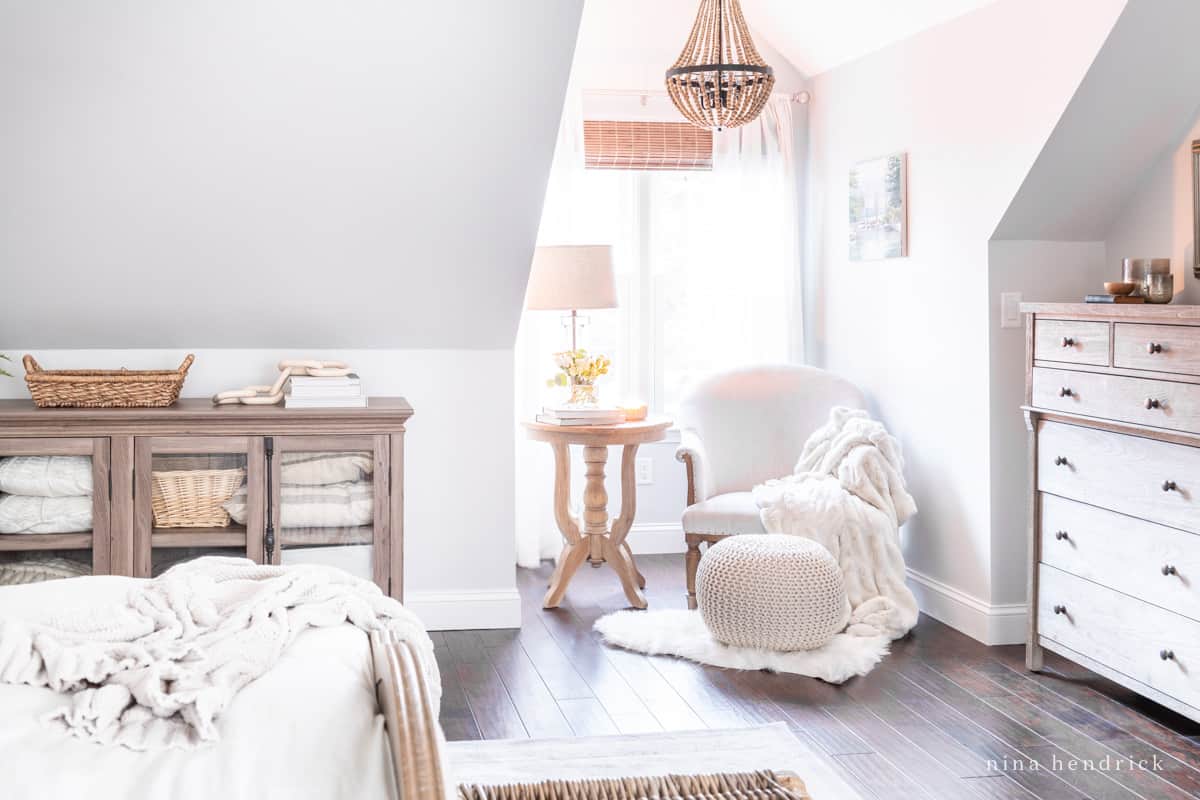 How do I make my house feel cozy after Christmas?
In addition to the basic hygge ideas mentioned above, coziness is often a matter of the quality of light in your home rather than the actual brightness. Have you ever been walking down a street at dusk and caught a glimpse inside another house through a window? The golden light makes everything inside look warm and almost magical. That type of light was traditionally created with incandescent bulbs, but these have fallen out of favor because they use too much electricity. Fluorescent bulbs can be harsh, so try switching to efficient LEDs — just make sure they have a color temperature rating of less than 3000K or are labeled as "warm white."
You can also up the warmth by decorating with warm colors. These are tones that have a bit of red or gold in them, and they can include sophisticated salmon pinks or warm browns and ochres. Adding actual gold provides more reflection and a warmer glow, but you can also consider metals like rose gold, copper, and bronze.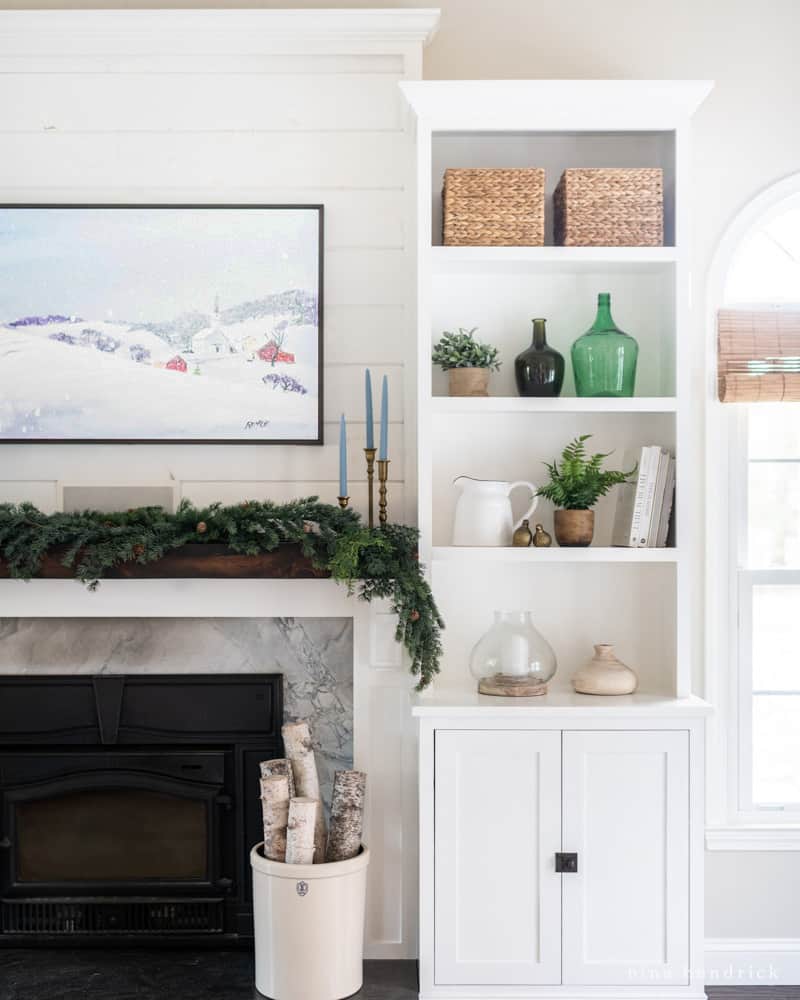 How do you transition from Christmas to winter decor?
To decorate for winter after Christmas, you can repurpose many of your holiday decorating staples. Though Santa, reindeer, and candy canes all shout "Merry Christmas," hang onto your white lights, natural greenery, candles, and other bits of sparkle. If you have a collection of plain metallic or glass ornaments that aren't too Christmasy, you can take them off the tree and use them as part of a centerpiece or hang them in the windows to catch the light. Snowflakes and evergreens work well for winter, especially if the color palette avoids the one-two punch of red and green.
As you make the transition to winter decorating after Christmas, think about relabeling your storage boxes for easy future reference. Pack up the Christmas-only decorations and label them that way. When March rolls around, pack up your general wintertime decorations and label them "Christmas and Winter" so you'll be able to find everything easily next season.
Free Winter Decorations After Christmas: Download This Printable
To help you get started on your winter decorating journey, try this charming evergreen printable. At 8" x 10", it's the perfect size to pop in a frame to update your gallery wall or serve as a wintery anchor piece on a shelf or mantel.
To finish off, winter decorating following Christmas is an ideal way to make your home both inviting and stylish after the festivities have ended. From leaving a Christmas wreath on your door without the red ribbon, to adding small winter-themed touches throughout your house, there are plenty of ways to decorate for the winter season. Whether you want to keep the holiday spirit alive or create a blank slate, winter decorating after Christmas will make your home look and feel cozy and inviting.