Looking for inspiration and ideas for creating winter tablescapes? Learn how to recreate this elegant winter tablescape with brass and greenery in your own home.
When it comes to decorating in the winter, my very favorite decor is anything that can be repurposed for winter decorating after Christmas. After all, why do something twice when you can do it once with beautiful and lasting results? This elegant winter tablescape with brass, glittering crystal, and greenery is one of those examples.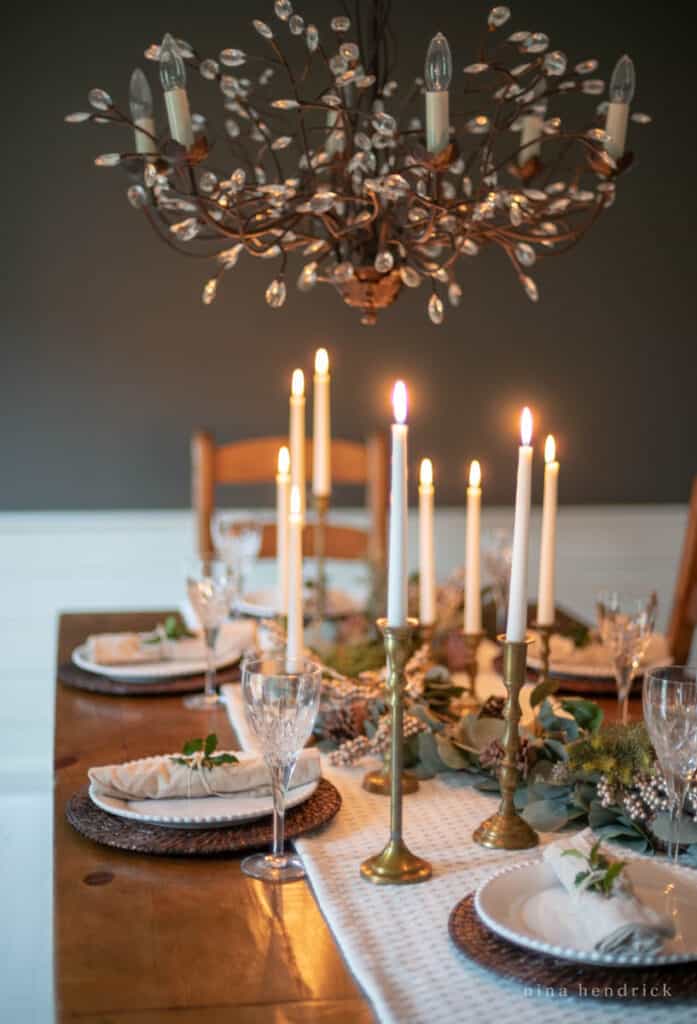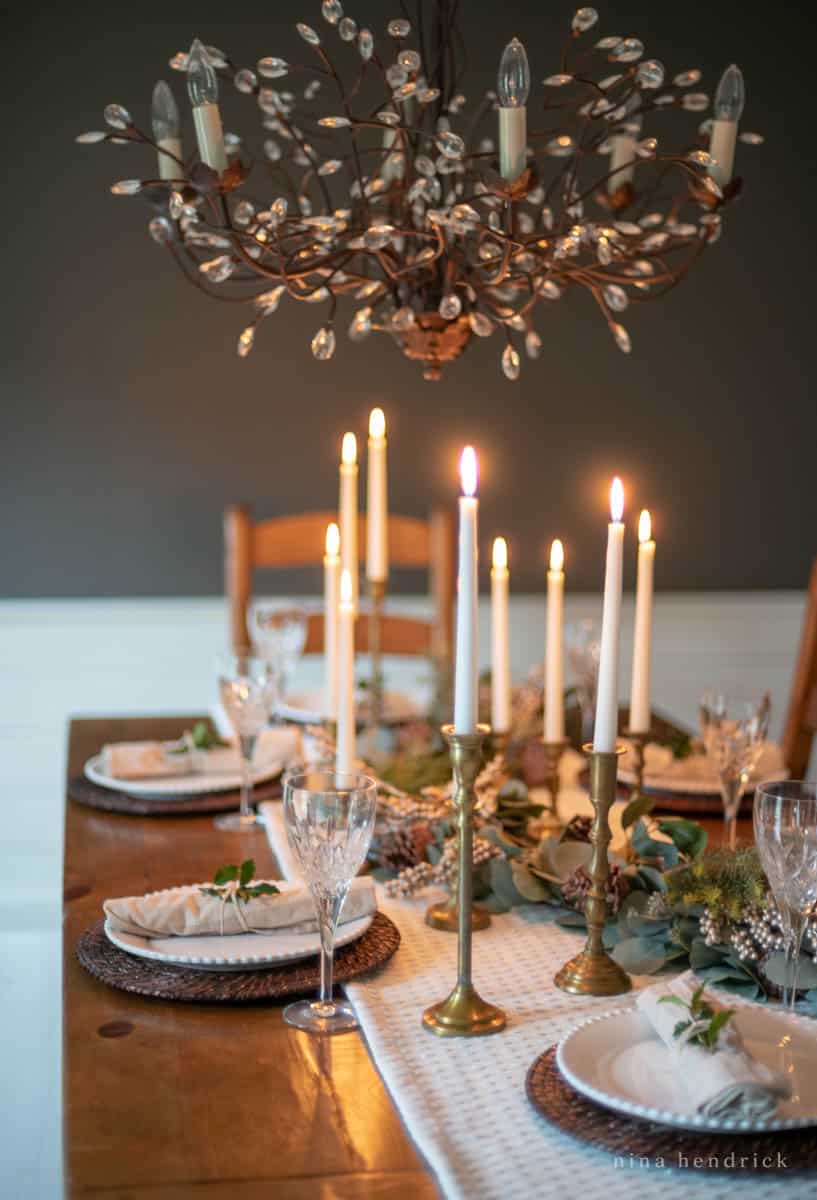 With just a couple of simple tweaks, it transformed from a holiday tablescape to a seasonal table setting we can enjoy all winter long.
If you're looking for tablescape inspiration for other winter holidays, I also have this post all about how to create a glittering table for your New Year's Party and how to create a beautiful and romantic Valentine's Day Tablescape.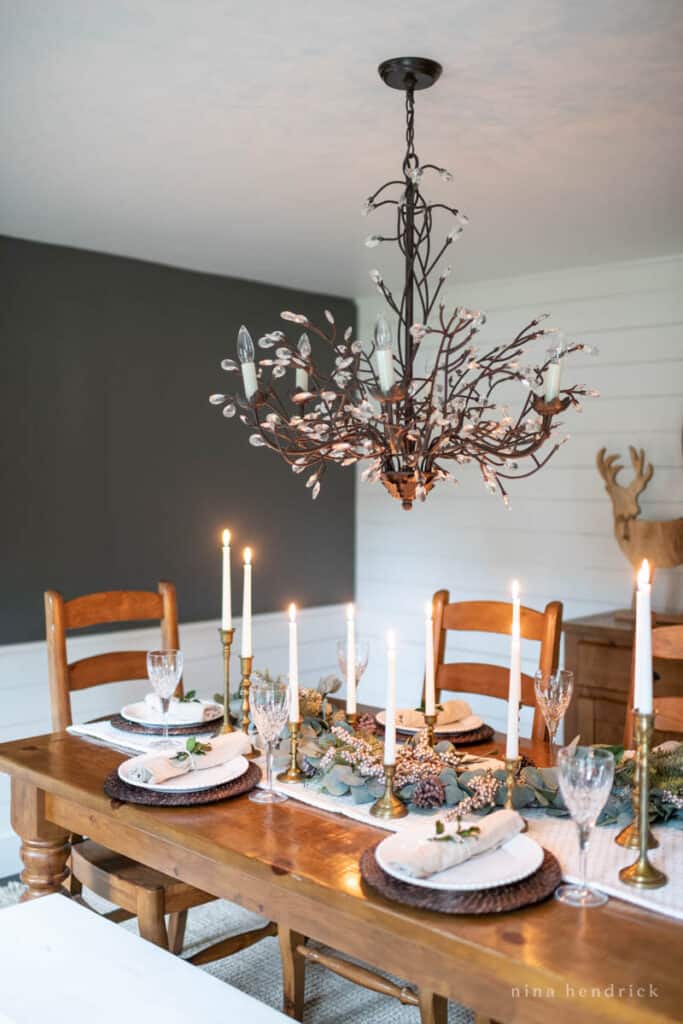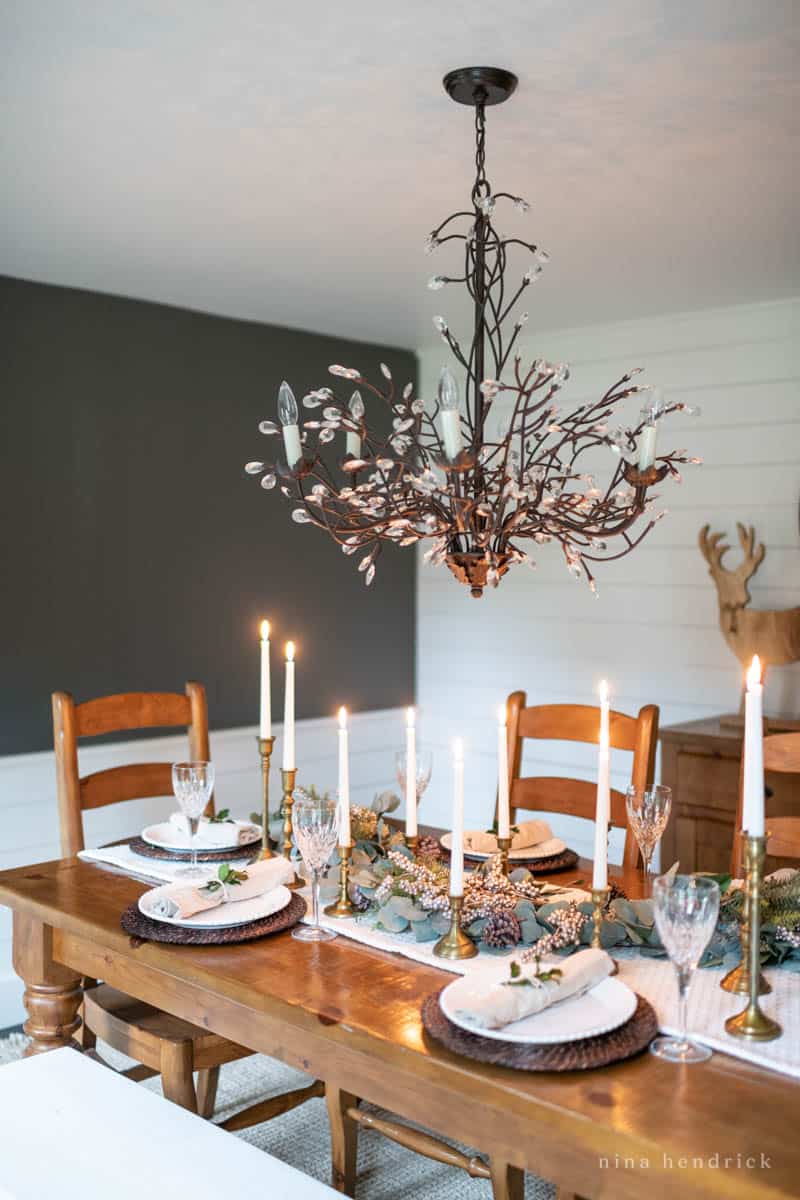 Winter Tablescape Ideas
Originally published November 14, 2018
This post contains affiliate links, which means I may get a small commission (at no extra cost to you) if you shop my link. Please see my disclosure if you'd like more info!
As I mentioned, I originally put this tablescape together for Christmas. You can see it here when the Christmas tree was still in the room. To transition our dining room from Christmas to winter, I removed the tree and all the ornaments and other Christmas-specific items. There were plenty of touches left over that I knew would fit in with a winter theme.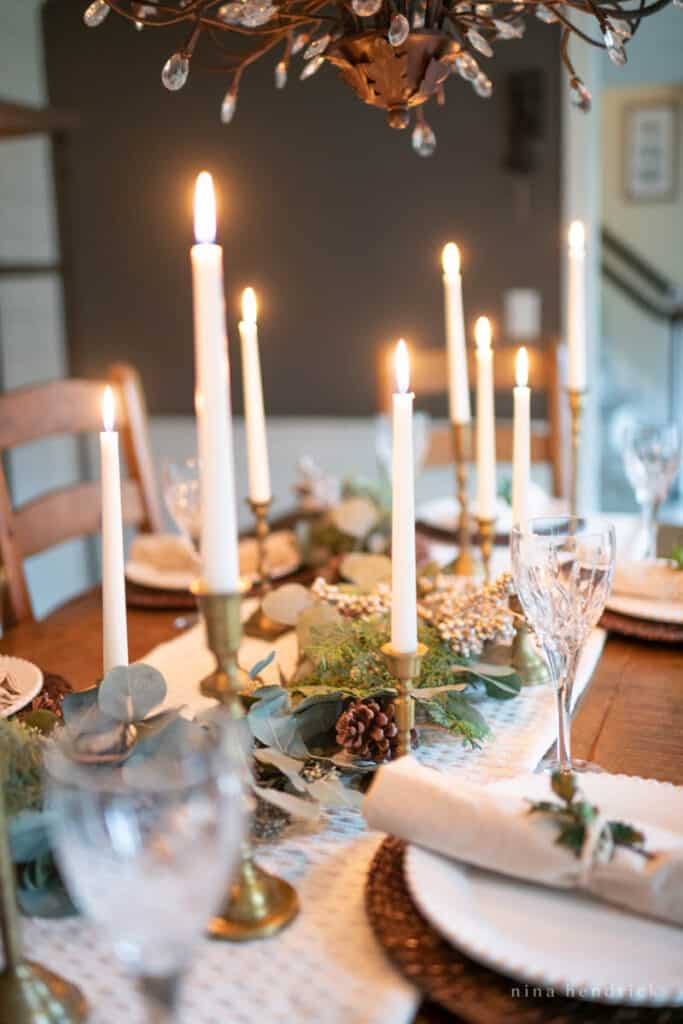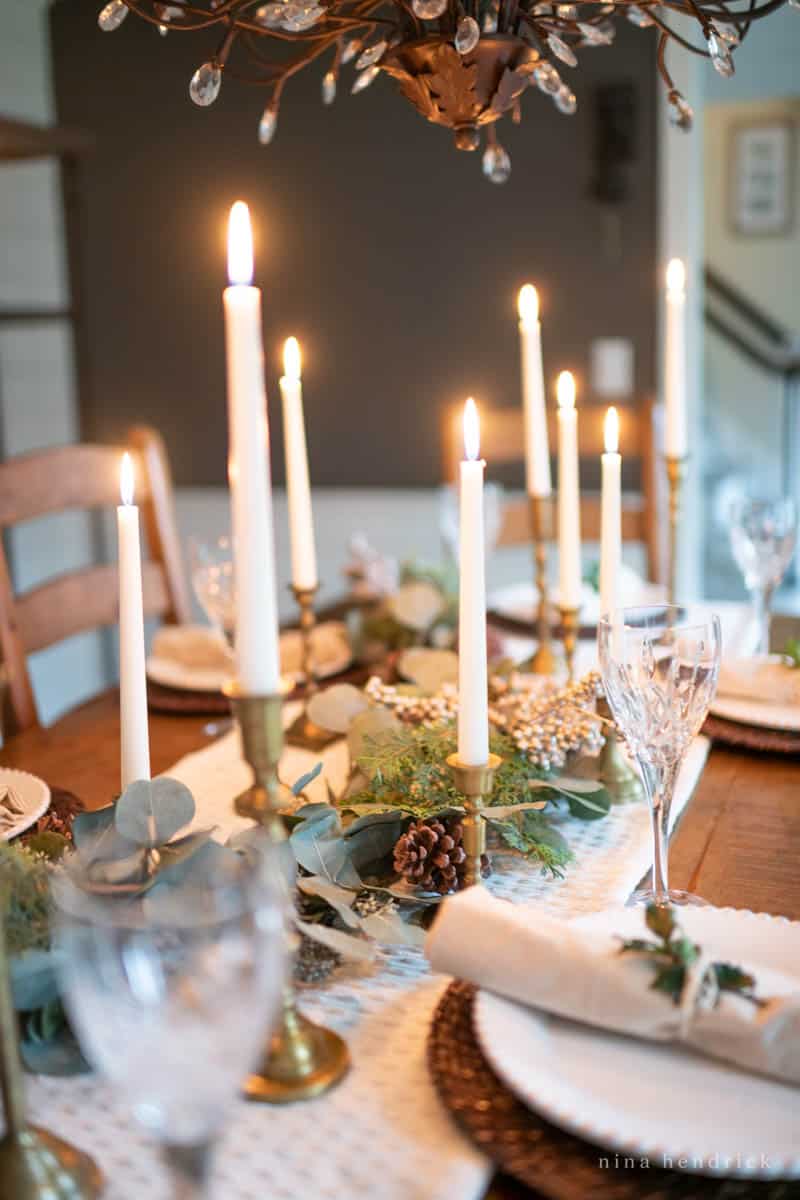 Ideas for what to include in a winter tablescape
Evergreen garland
Sprigs of evergreen or holly to include with your napkins
pinecones and wood accents
white dishes and neutral linens
warm metals
sparkling crystal to hint at ice and snow
candles to help set a cozy mood
Winter Tablescape with Brass Candlesticks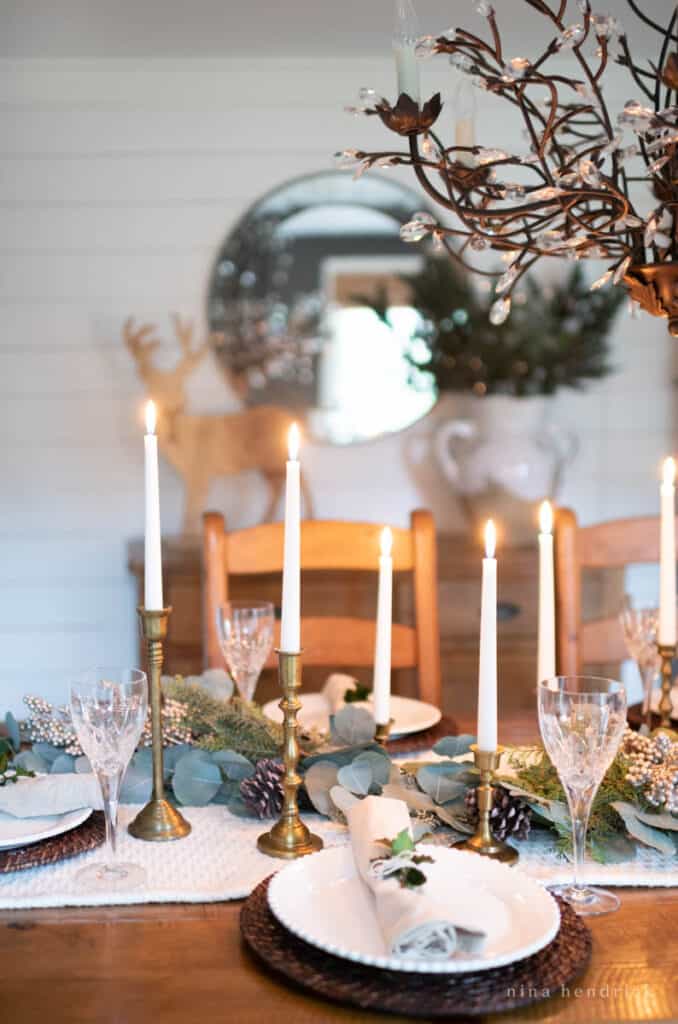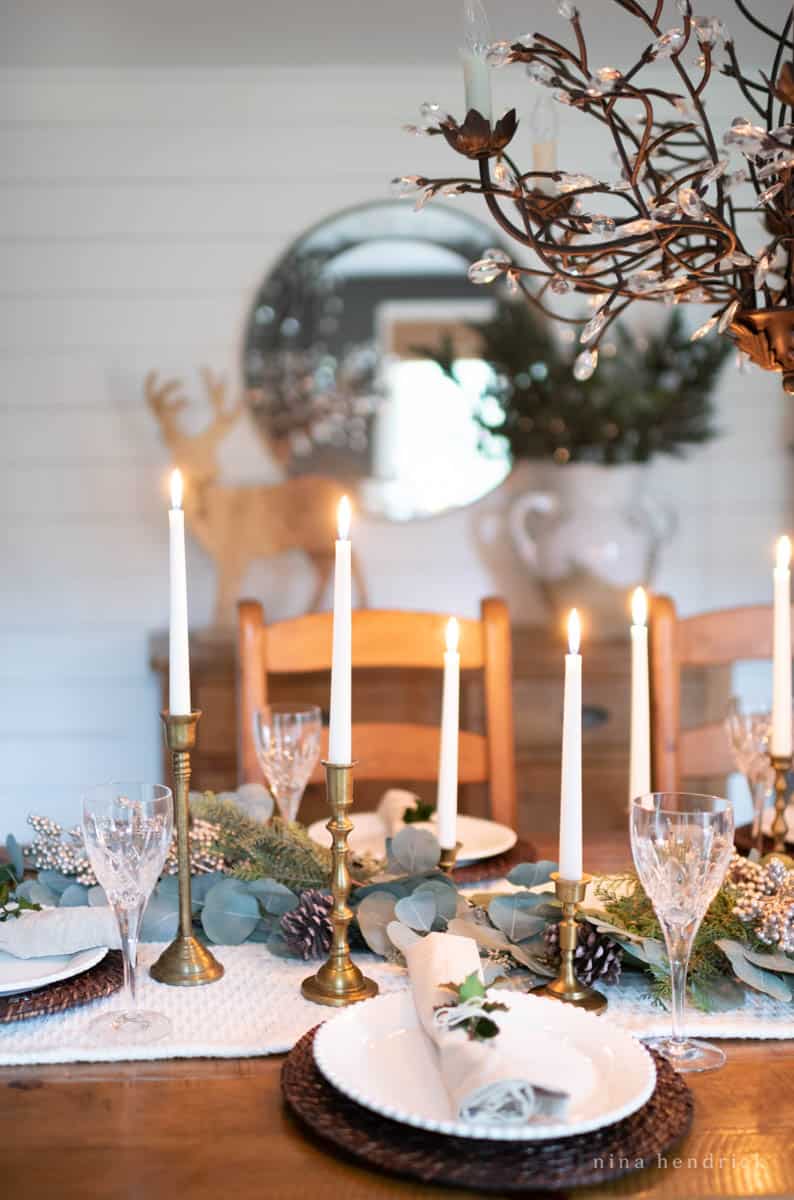 I love the elegant combination of greenery with brass. The aged brass candleholders were a great deal and are pretty nice quality. I'm really impressed by them!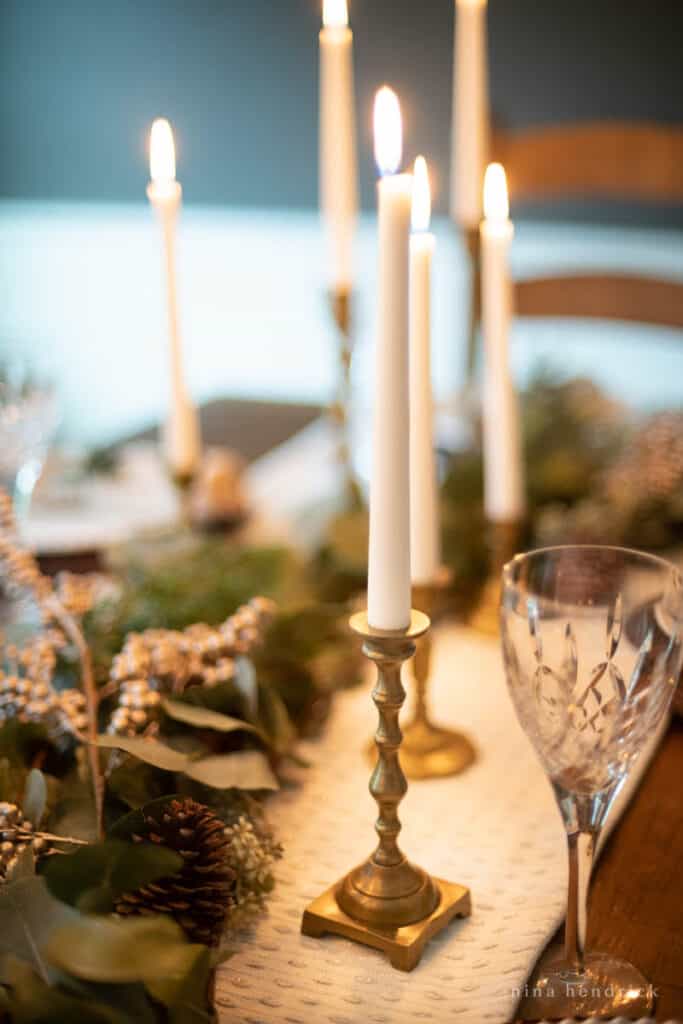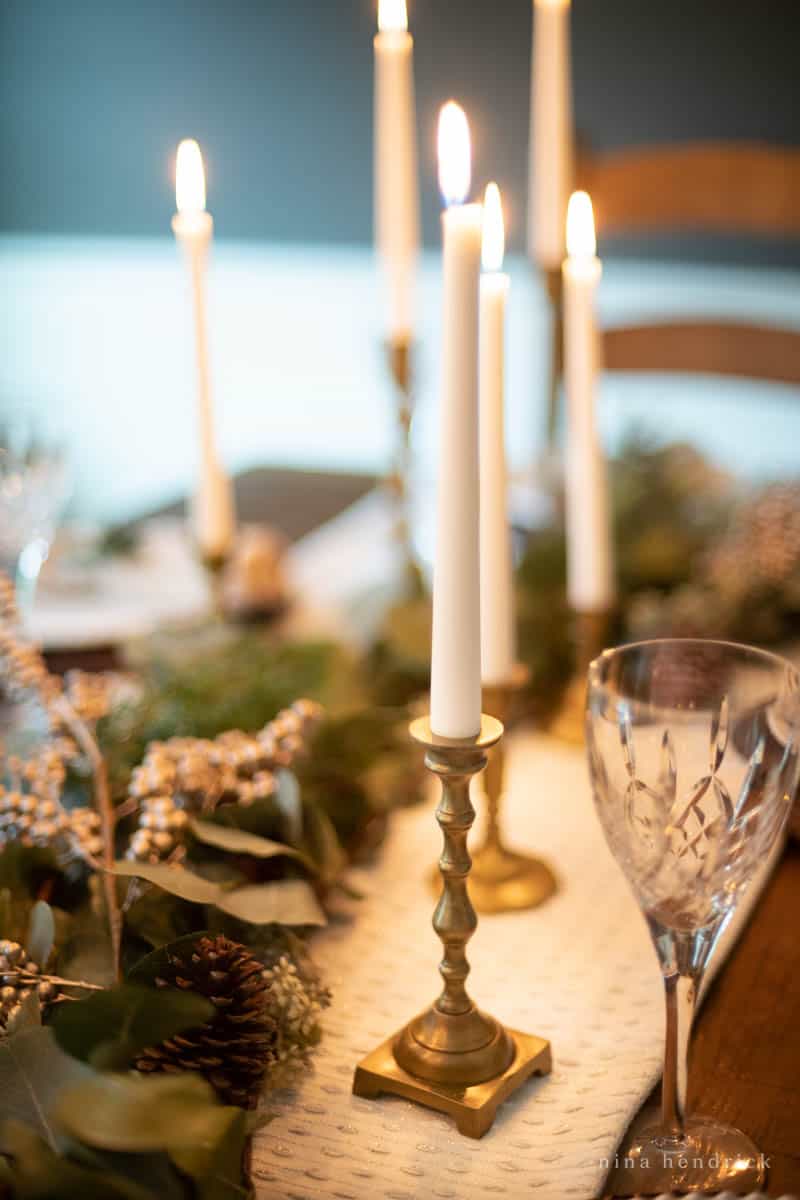 I've been wanting brass or aged gold candlesticks for a while and hoped to collect them. Although they aren't vintage, this was the next best thing!
Winter Greenery & Gold Berry Centerpiece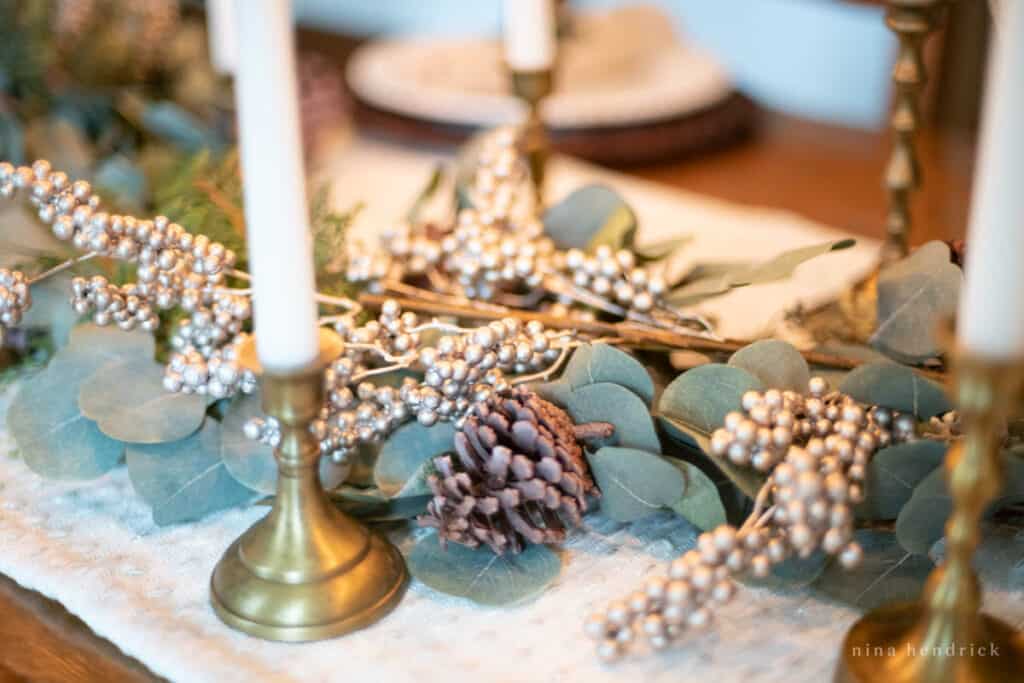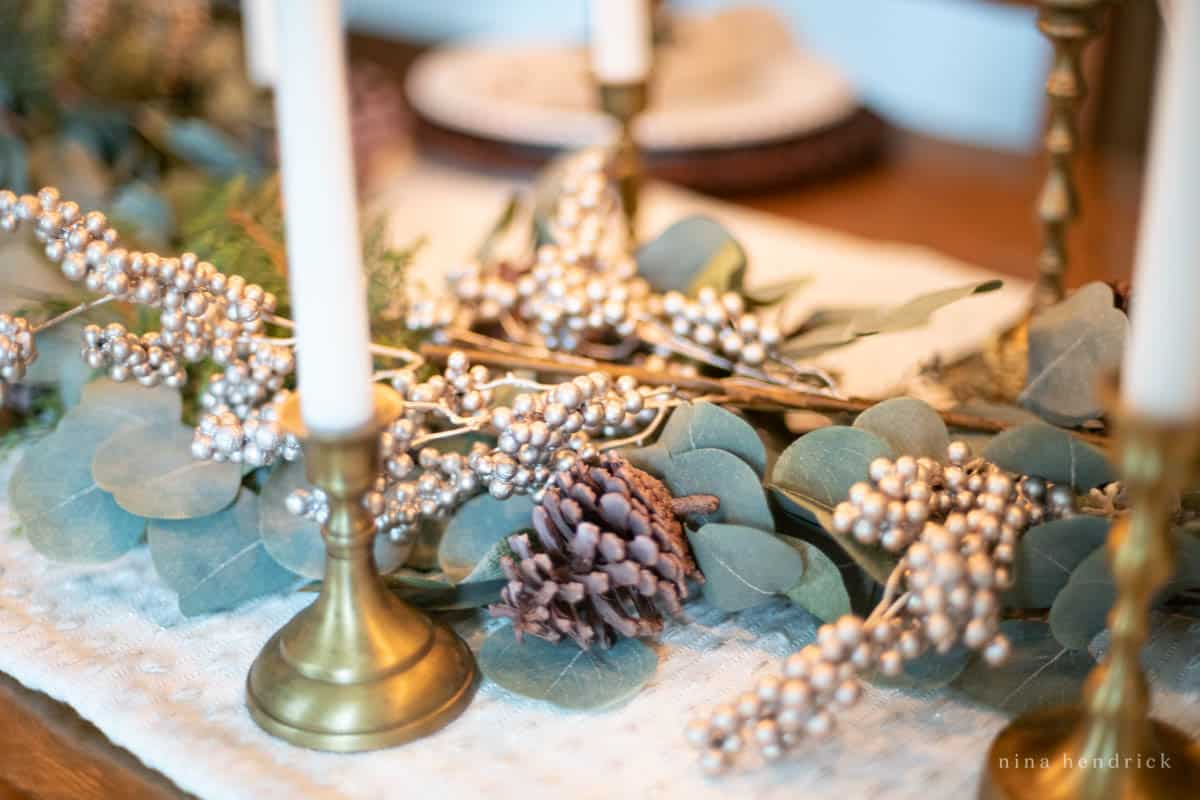 For the centerpiece I used a winter garland with eucalyptus and pinecones over the foundation of a simple white runner. Unfortunately, the runner sold out, but here's a good neutral foundational runner. I tucked in gold berry springs here and there to add a touch of warmth.
Simple Winter Tablescape Place Setting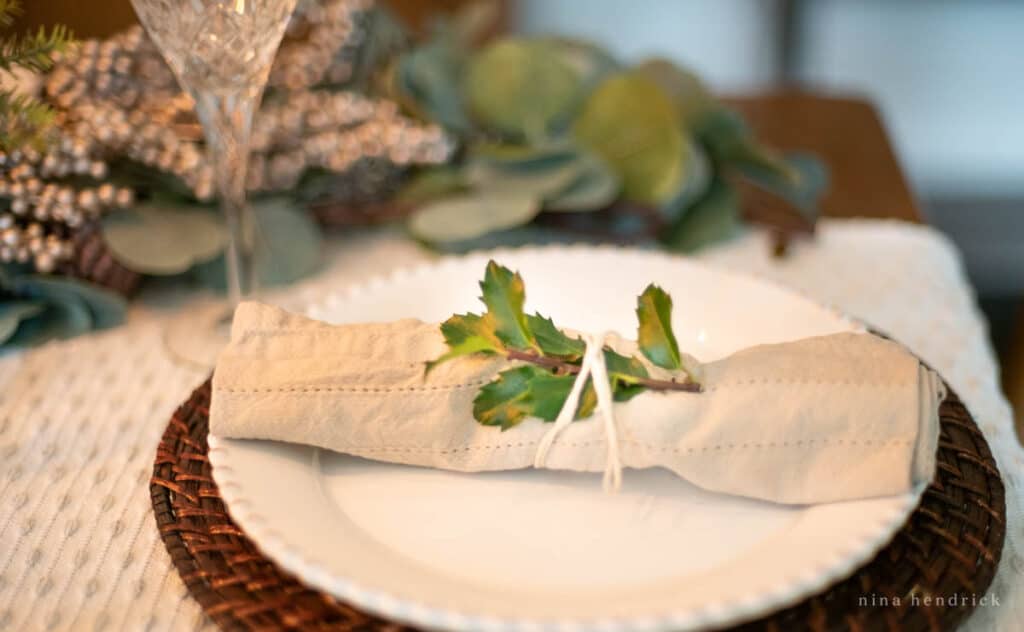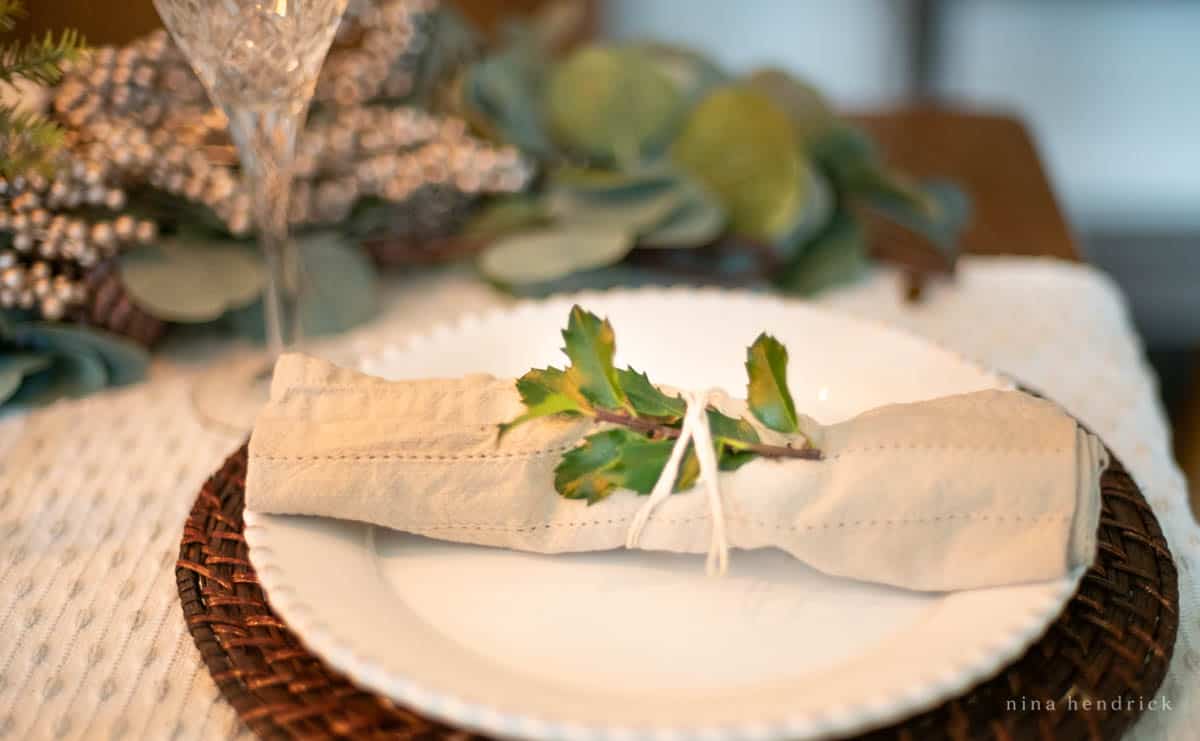 For the place setting, I used the simple combination of dark rattan chargers and white beaded plates. I cut a simple sprig off of our holly bush and tied it with twine to add a natural touch to the linen napkin-rolled silverware. It's one of my favorite tricks that I first shared years ago for Thanksgiving!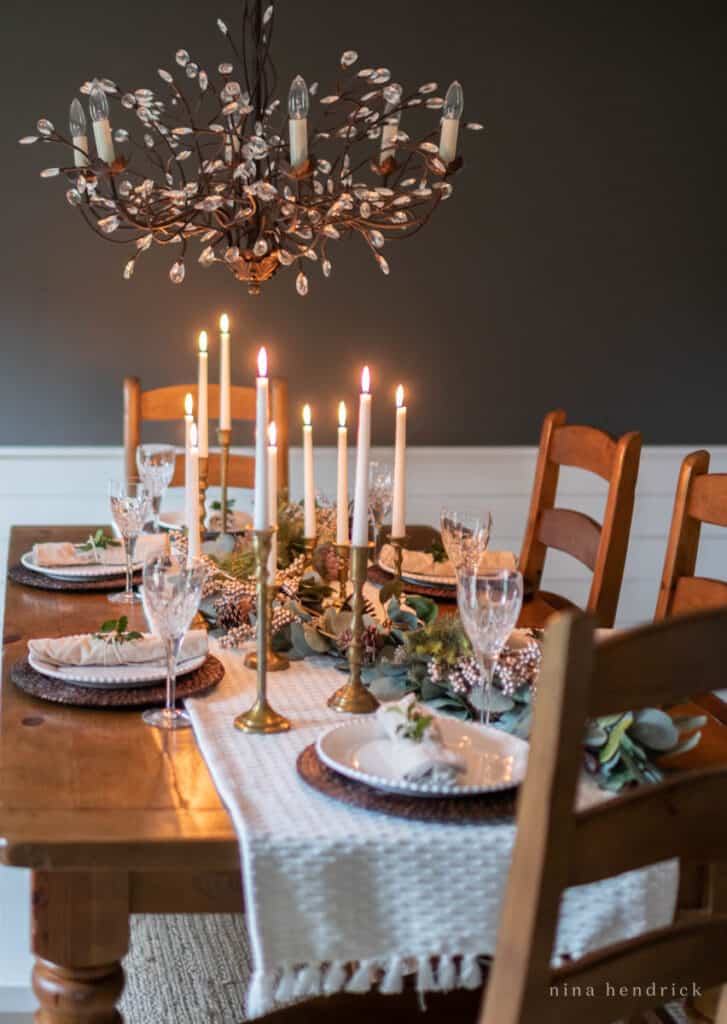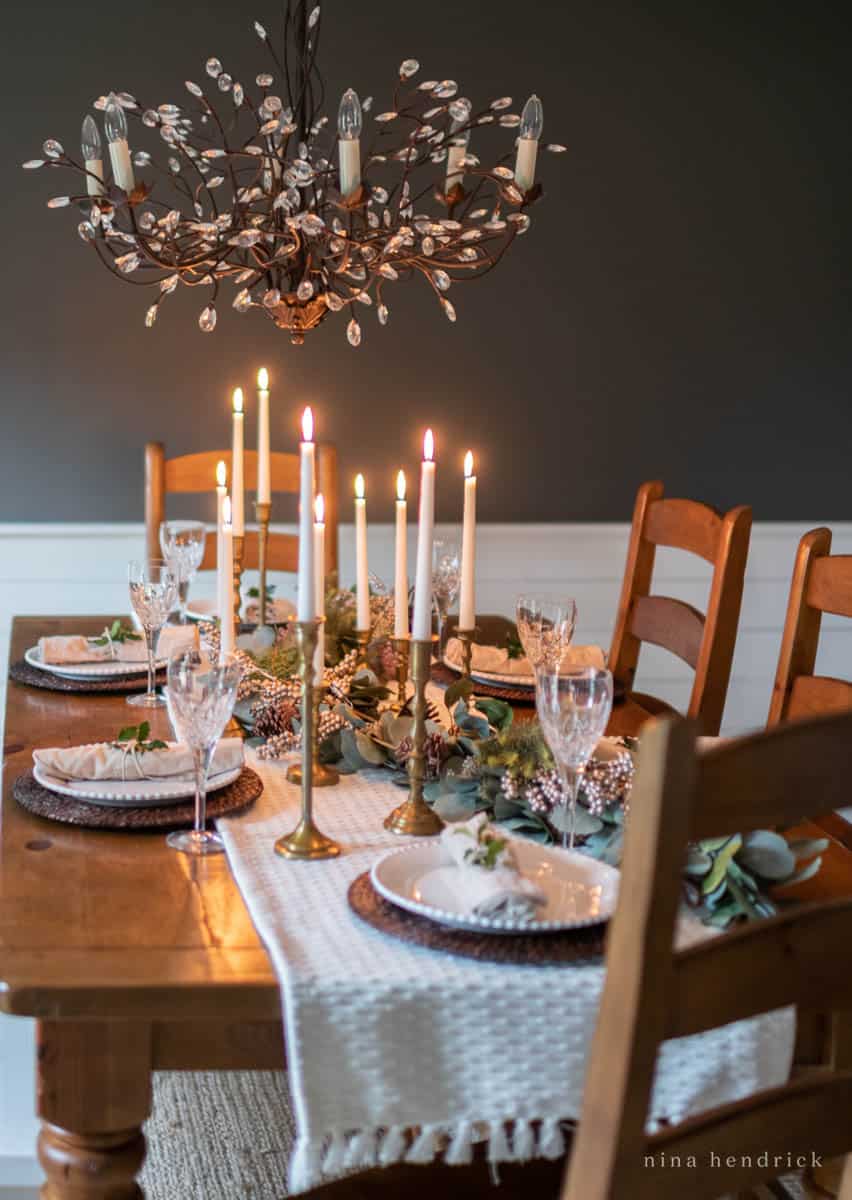 Although the chandelier is here all year long, the crystal teardrops and branches work particularly well for this winter tablescape. I used my crystal glasses from our wedding to tie in with the teardrops and give the tablescape an icy winter sparkle.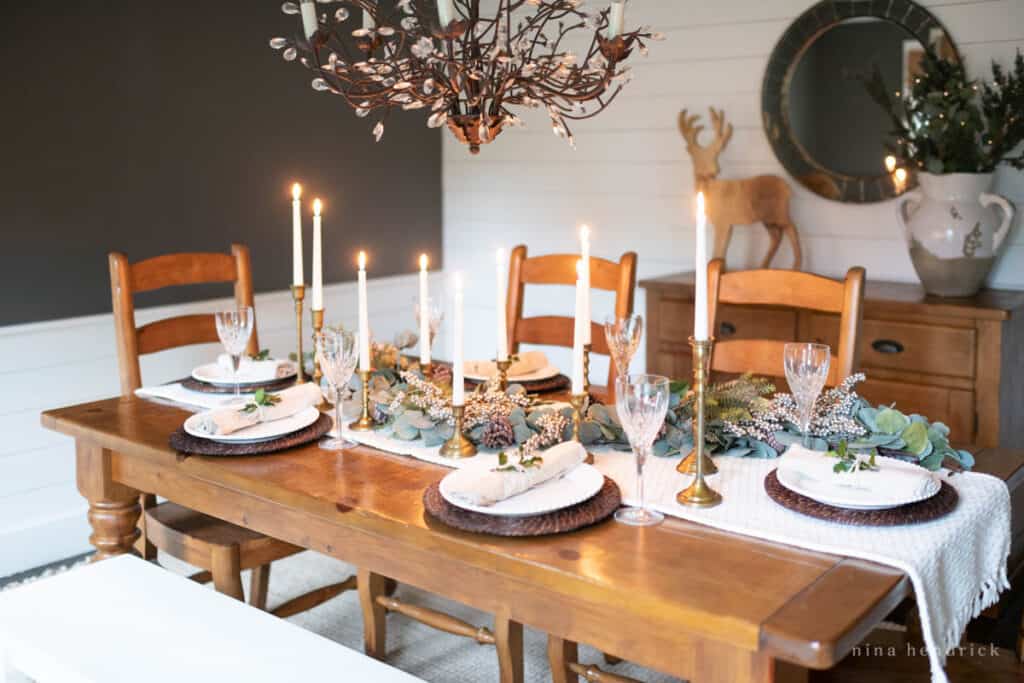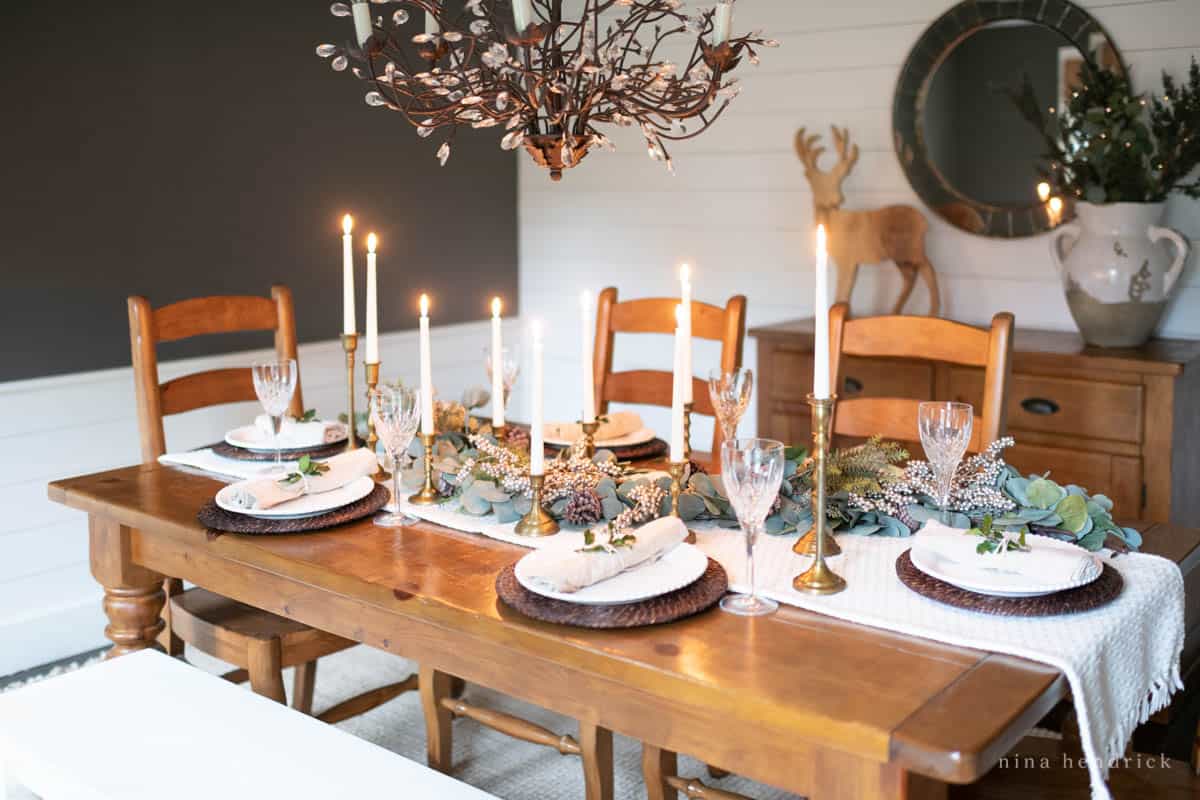 Aside from the winter tablescape, in this post you can also see a little sneak peek of our new Benjamin Moore Kendall Charcoal walls, which were part of a larger dining room refresh. The DIY planked wall treatment and trim is Simply White. We also recently re-surfaced the ceilings and carried the Simply White there as well. I loved the contrast of the dark walls with this winter tablescape, I think it made the room feel extra cozy.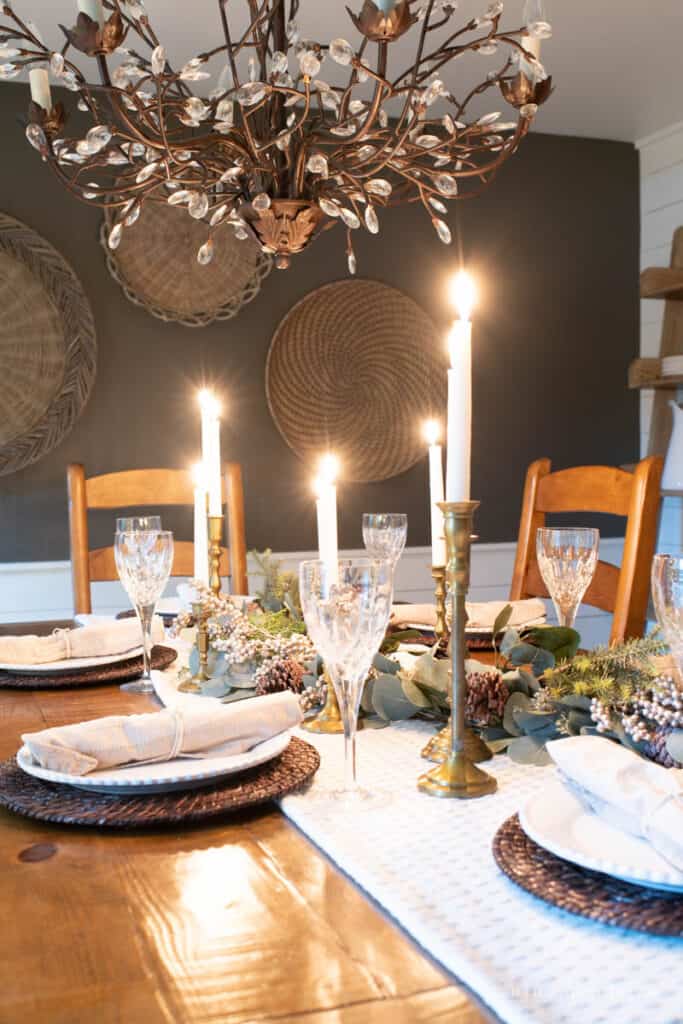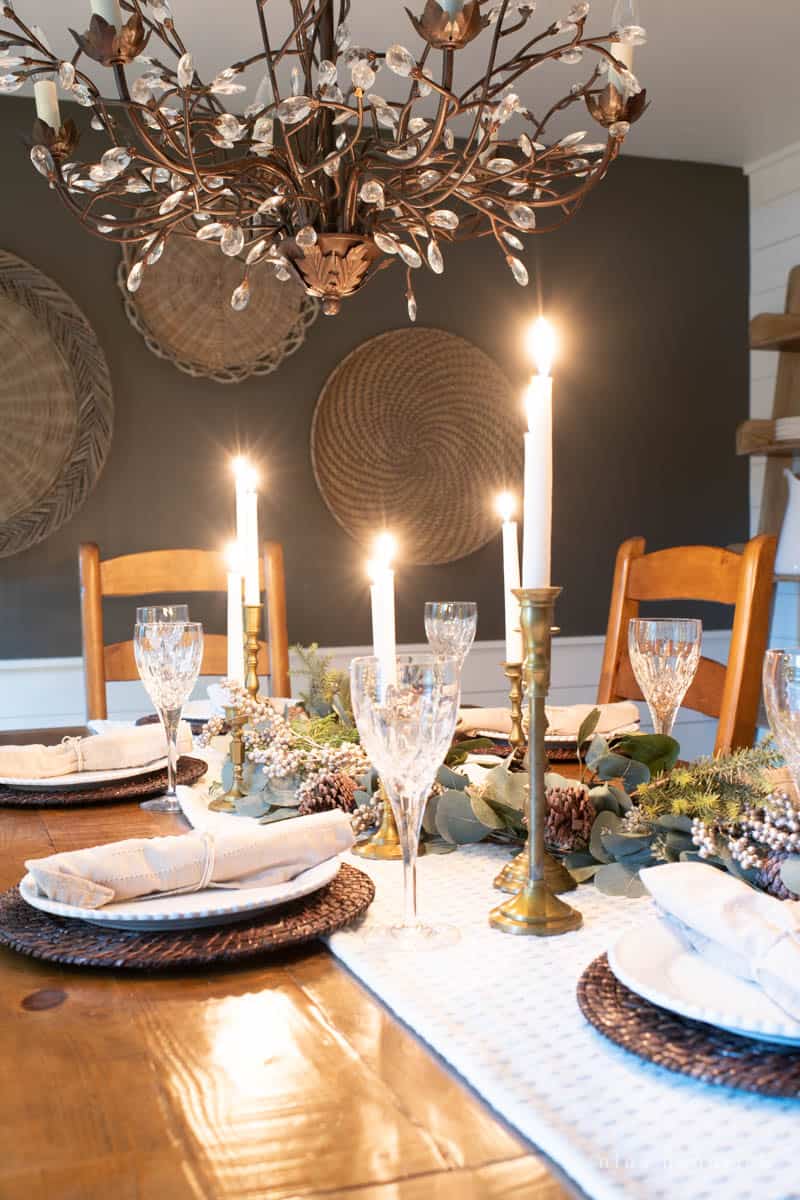 I hope these ideas sparked inspiration for you to create your own winter tablescape!