Here are the most up-to-date closet organization ideas that will make the most of your space and help you organize your clothes for good!
If an organized closet feels overwhelmingly out of reach, I've got just the guide to make things easier! With these 10 clever closet organization ideas, you'll learn how to make the most of the space you have, and turn it into the aesthetic closet of your dreams. You'll never waste time searching for clothes again, because with this list, closet organization will be done in a *snap*.
For more organizing ideas, make sure to visit this post!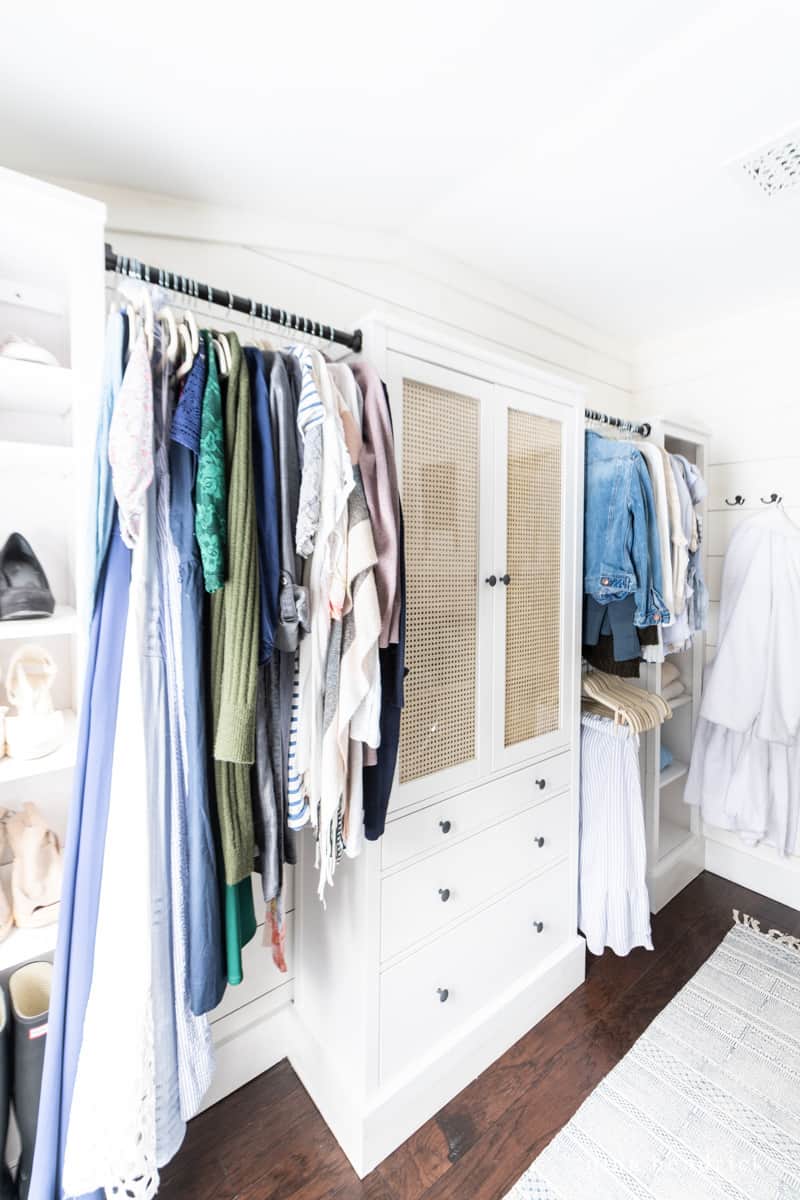 Picture this familiar scene…
You're in a mad rush getting ready for the fun event you've been looking forward to, and if you're not out the door in the next 20 minutes, you'll be late! The problem is, you can't find the cardigan you've been planning to wear for weeks. You could've sworn you just saw it the other day, but after checking all the usual places, it's not turning up anywhere. You HATE misplacing things. It's truly one of the most frustrating feelings! But the clock is ticking, and you still need to brush your teeth, put on mascara, and make a quick note for the babysitter.
If only you had an organized closet! If only it didn't feel like it would take a chalkboard full of algebra equations and a year of your life to figure it out and get it done! If only you could snap your fingers and have one of those celebrity closets, you'd be wearing that beautiful cardigan instead of its not-as-cute backup.
This post contains affiliate links, which means I may get a small commission (at no extra cost to you) if you shop my link. Please see my disclosure if you'd like more info!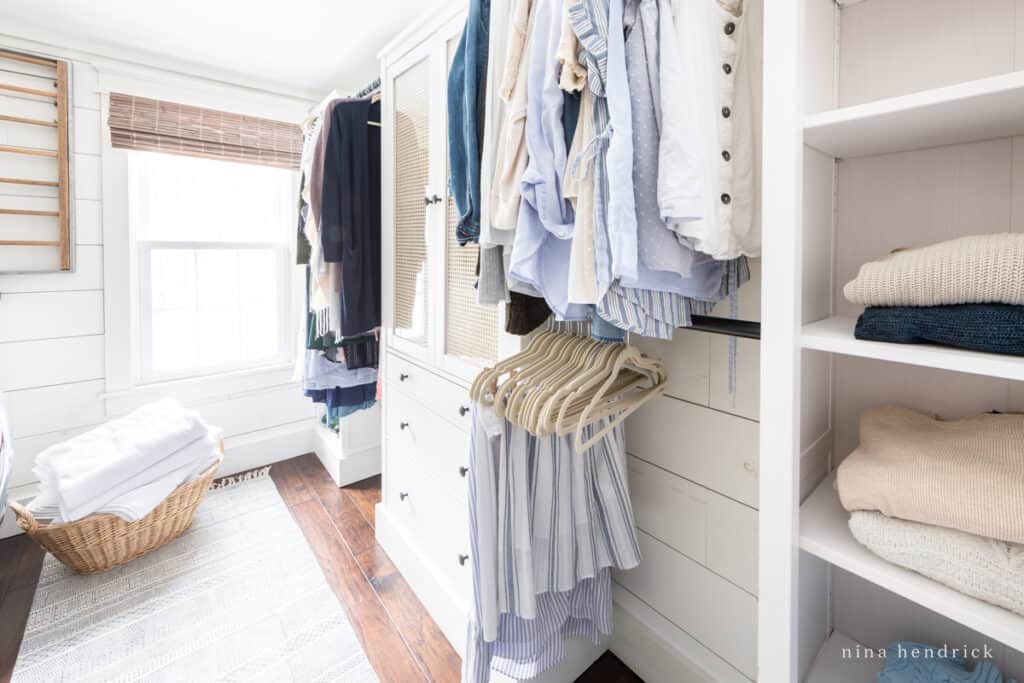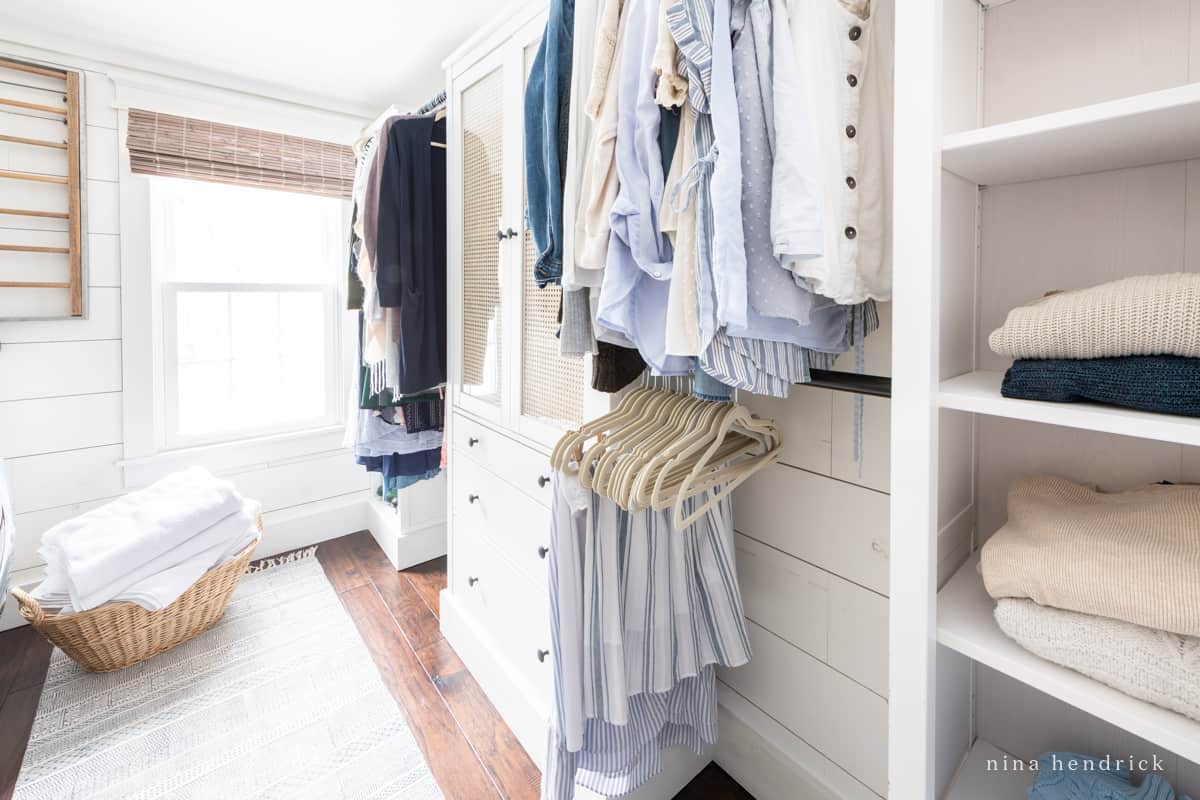 10 Closet Organization Ideas to Maximize Your Space
Unorganized closets can REALLY get you down, but fixing them doesn't have to be so overwhelming. I've listed 10 closet organization ideas to help you figure out the easiest ways to maximize your space, and get it looking sharp. With these tried-and-true tips, and up-to-date tricks, you'll learn the best ways to organize a closet in no time flat!
1. First things first – Start with a good purge and declutter your clothes
There aren't many things that feel as refreshing as a good decluttering! It's amazing how much lighter you feel when you let go of the clothing and accessories that are no longer working for you. And you can feel good about the sustainability of donating, selling, or repurposing a portion of what you clean out.
You'll want to make 4 piles and label them so you don't get confused.
Keep: the "keep" pile will be new, current, on-trend items.
Sell: the "sell" pile will be pieces that are trendy and in great condition, but just not for you, and are therefore collecting dust and taking up space. Sell these items at a fair price and feel the satisfaction of clearing out your space while earning some extra side money!
Donate: the "donate" pile will be items you haven't worn in a really long time, but they still have some life left in them for someone else. These can go to a local charity or donation station of your choice.
Trash: the "trash" pile is for any items that are no longer wearable/usable. They may have holes, tears, and stains that are beyond repair. Before trashing them, give consideration to repurposing them. A great sustainable option for these items is to cut them into big squares and use them as dusting or car cleaning rags!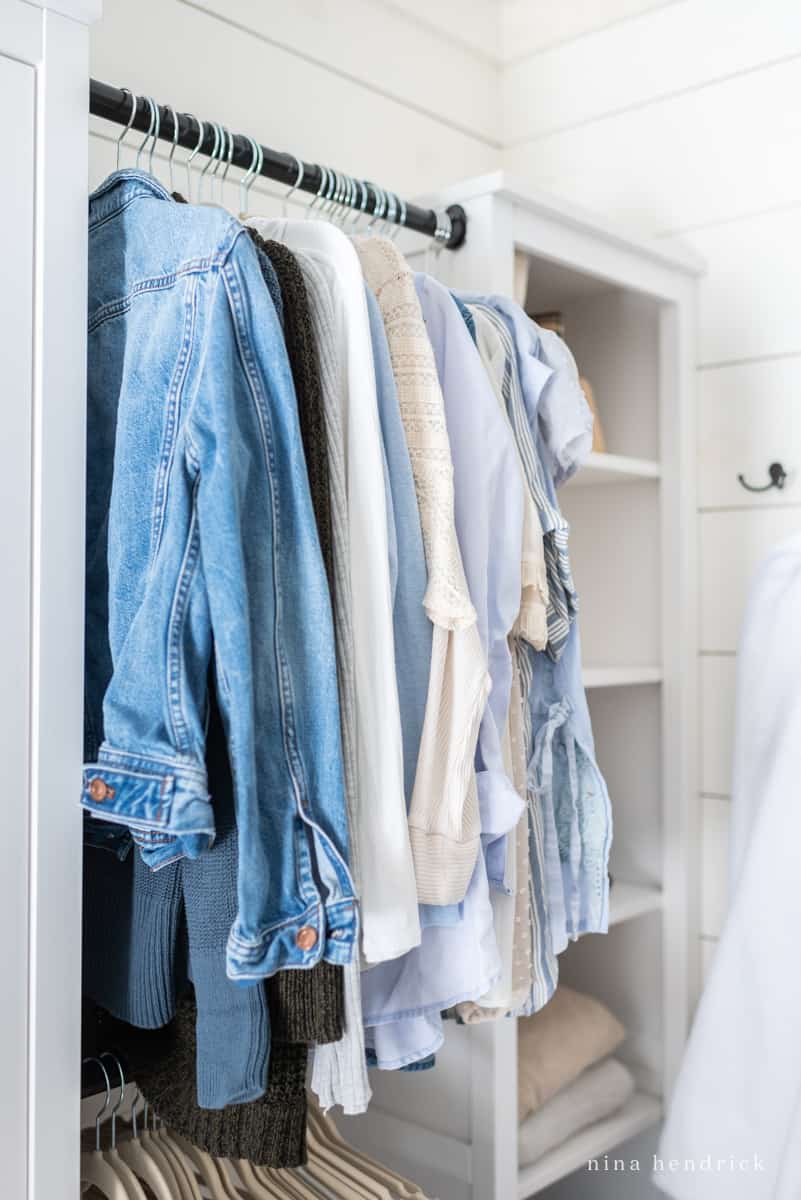 2. Rotate when the season changes
This closet organization idea will free up space, especially if you have a small closet. There will be many clothing items that you truly wear year-round. (Looking at you, black leggings!) But some pieces, like thick sweaters, can be put away during warm weather seasons to help make the most of your space.
Make a stack of the items that are currently taking up valuable real estate in your closet, but are not going to be used until we have a big seasonal change. And don't forget shoes! You don't need flip flops handy during freezing winter temps. So move those babies outta there! We're about to find a new (temporary) home for them.
Utilize a back shelf
A lot of closets have shelf space behind hanging clothes. It's the perfect place to stack your winter clothing during warm weather seasons when they're not being used. That space is not easily accessible, so it's great for the items that don't get used every day but still need a home.
Baskets on the top shelf
If your closet doesn't have that kind of shelving, or it's already in use, then your out-of-season items can go in baskets on the very top shelf. Put the thick, wooly sweaters in one basket, and your flip-flops and sandals in another. Just don't forget to label the baskets so you remember what's up there!
Chest of drawers or dresser
When hot summer weather is here, long sleeve tops and winter pants can be taken out of the closet completely to be neatly folded and stored inside a chest of drawers or dresser in your room. This will free up SO MUCH space, and feel really good. Now the summer clothes you need right now, will have space to be spread out and fully organized, where you can see every piece and find everything easily. And this tip comes with a bonus: You forget some of the pieces you have when you don't see them everyday, so when the seasons change and it's time to rotate them back in, it's like getting new clothes!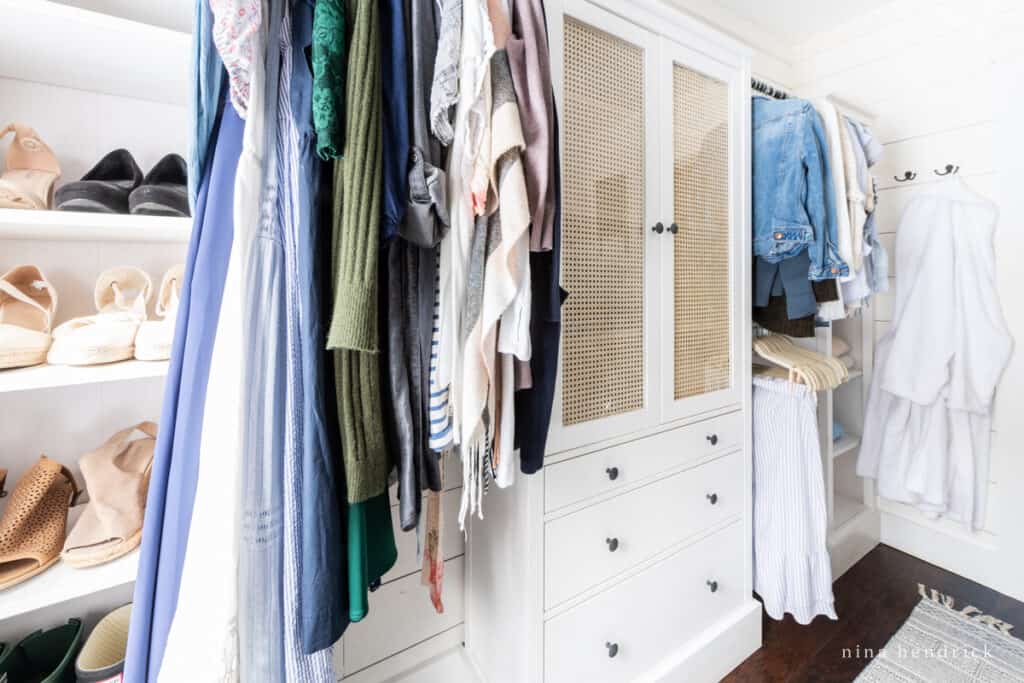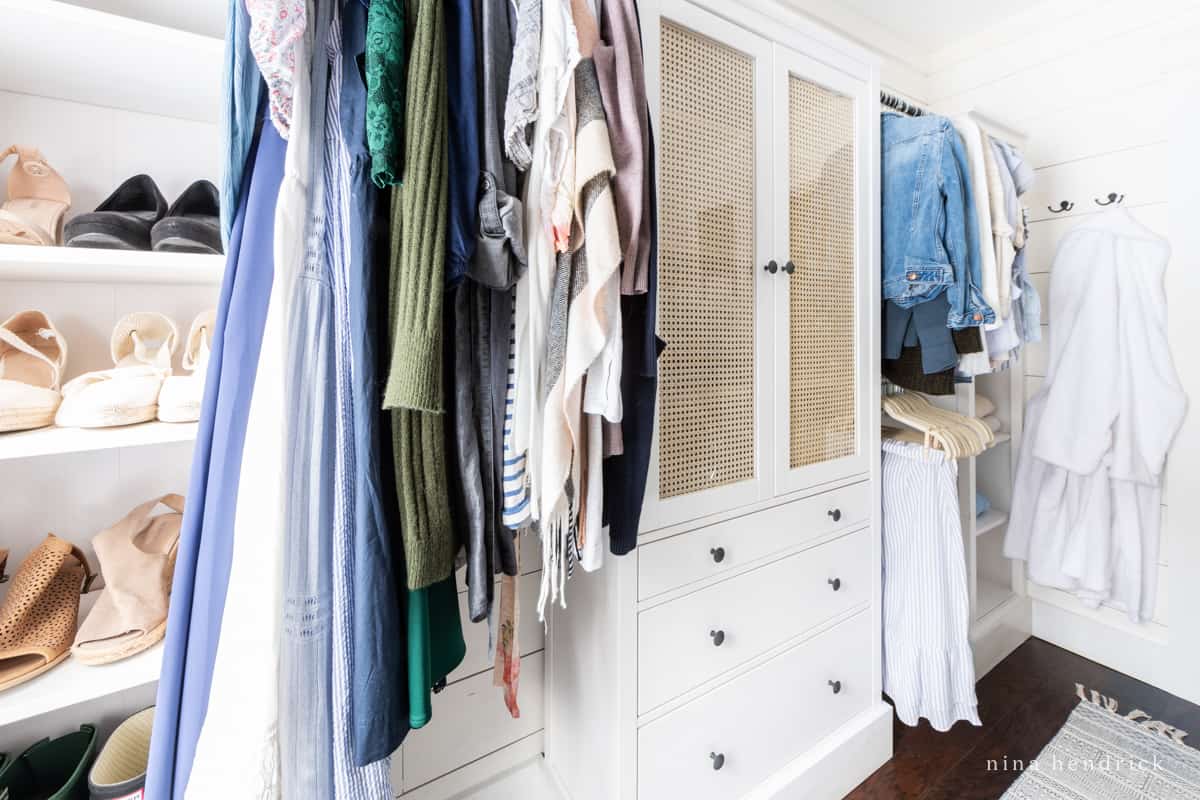 3. Group clothing by type
This is probably the best tip for organizing your closet like a pro. Divide your clothing into groups according to type. This one tip alone will make a world of difference! You'll be able to find items much quicker and easier, and your clothes will stay in better shape when they have a designated home. No more flipping through 27 items until finally finding the one you need!
This tip will make your closet much cleaner to the eye, because when you separate clothing by type, you're putting same length clothing together. This creates a streamlined look that lends itself to a more pleasing aesthetic.
These are some helpful groupings:
Long dresses/skirts
Short dresses/skirts
Pants
Shorts
Shirts
Sweaters
Cardigans, kimonos, dusters, and shawls
Pullovers and jackets
The order of hanging
A simple rule of thumb is to hang heavier pieces, like pants, on a lower shelf or rod. This is easier on you when you have to get them down and off the hanger. You can hang shirts on the shelf or rod that's directly above the pants.
For longer items, like dresses, you'll need to make sure there's nothing underneath them that needs to be accessible. Push your longest dresses and dusters all the way to the edge of the shelf or rod. Then fill in the middle with the shorter length dresses, cardigans, and kimonos.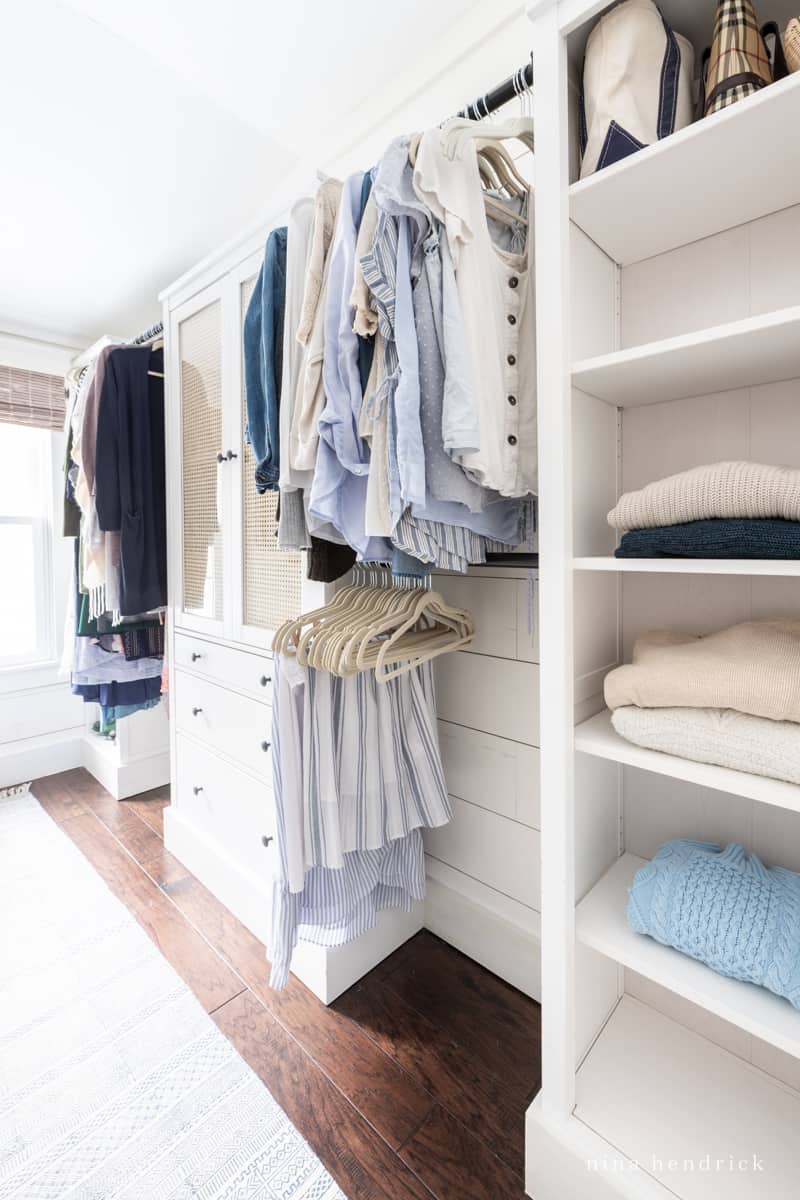 4. Organize by clothing color
If you really want to go the extra mile to have a closet that looks like it was professionally installed, one closet organization idea is to arrange your clothing by color within their groupings. Think in terms of color tone, and follow a general pattern of lights to darks.
A popular way to do this is "rainbow style", like the lovely gals from The Home Edit advise. But you don't have to follow "ROYGBIV" to a T, you can really do whatever color order you like!
You may not have a clothing piece for every color, but try this general order for a trendy and aesthetically-pleasing look:
White, ivory, oatmeal
Light beige, yellow, tan, camel
Peach, salmon, orange
Pinks, light – dark
Berry red, wine red, burgundy, rust
Plum, purple, lavender
Blues, light – navy
Greens, light – dark
Chocolate brown
Black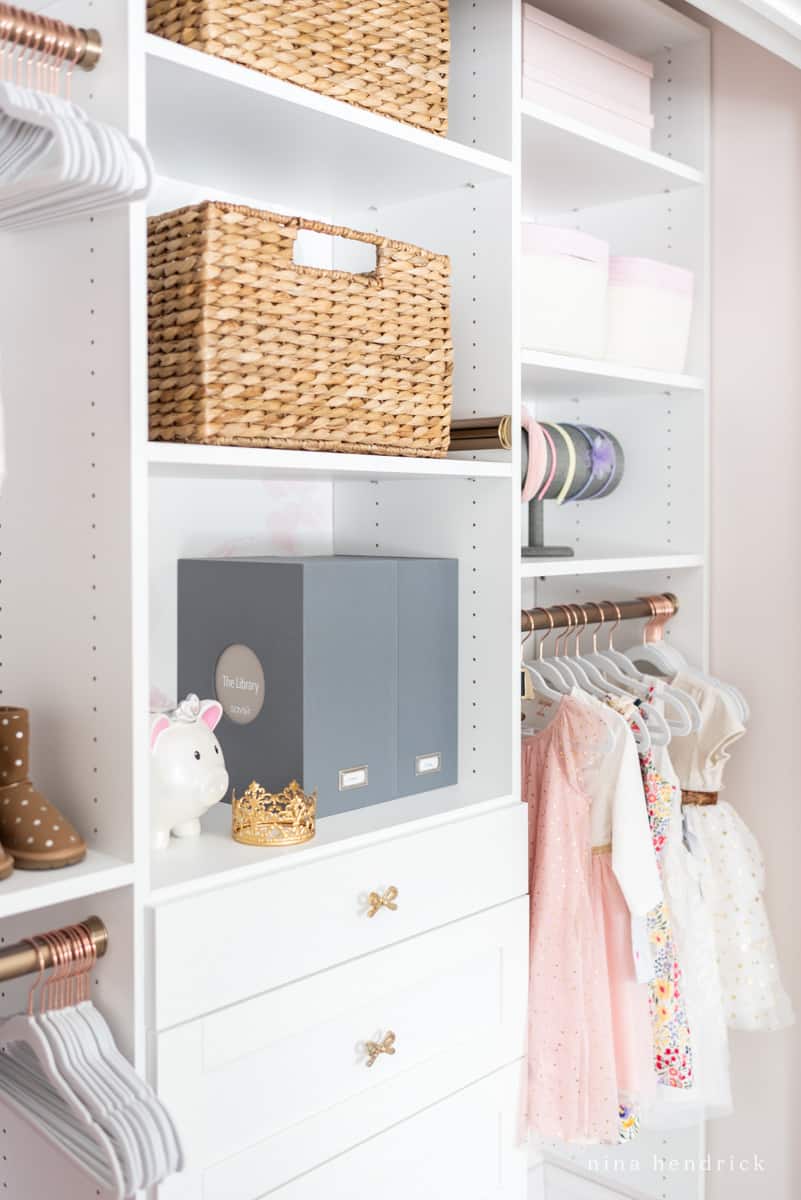 5. Uniformity for neatness – Same baskets & same hangers
Uniformity is not only more pleasing to the eye, but it's more pleasing to the brain as well! Pattern repetition is less of a mental load, making it easier for us to process. Picture this: Your eyes scan the closet and see a row of 8 different baskets varying in shape, color, size, pattern, and material. There's a lot going on there! Now picture scanning that same closet and seeing a row of identical square-shaped, medium-sized, rattan baskets. Ah…sigh of relief. :)
A great closet organization idea to achieve uniformity is to use all the same baskets, hangers, containers, and separators. It will reduce stress and create a beautiful look that you'll be proud of!
Baskets
Baskets are a go-to for almost every closet design; and for good reason! They look great and function well for clothing and accessory storage. You'll want to measure the dimensions of the space your baskets will be filling, so that they fit just right. Sometimes this can be tricky, but trust the dimensions!
Some popular basket options right now are seagrass, rattan, bamboo, or plastic. Pick a color and material that blends well with your entire closet aesthetic, and repeat it over and over! Some spaces you have for baskets may vary in shape and size, but if you're able to stick with the same style basket, the varying sizes will still look uniform, and will actually add some nice dimension.
Hangers
Take a cue from your shelving to know which direction to go in with hangers. Do you have white wire mounted shelves? If so, then white plastic hangers would work great for your space. Will your clothing be hanging from a wooden rod? If yes, opt for a velvet or wooden hanger that has a metal hook for easy sliding and an elevated look. Whichever style you choose, keep to the same one for all your hanging clothing. This step alone will create so much uniformity.
These are the velvet hangers that I chose for my closet. They save space and I love their look!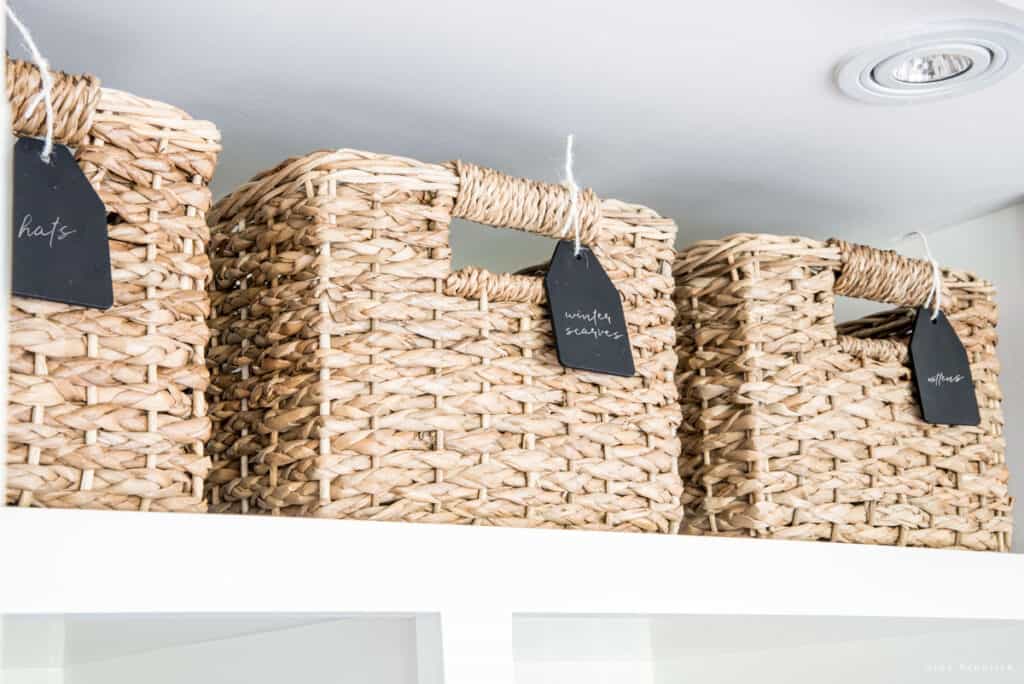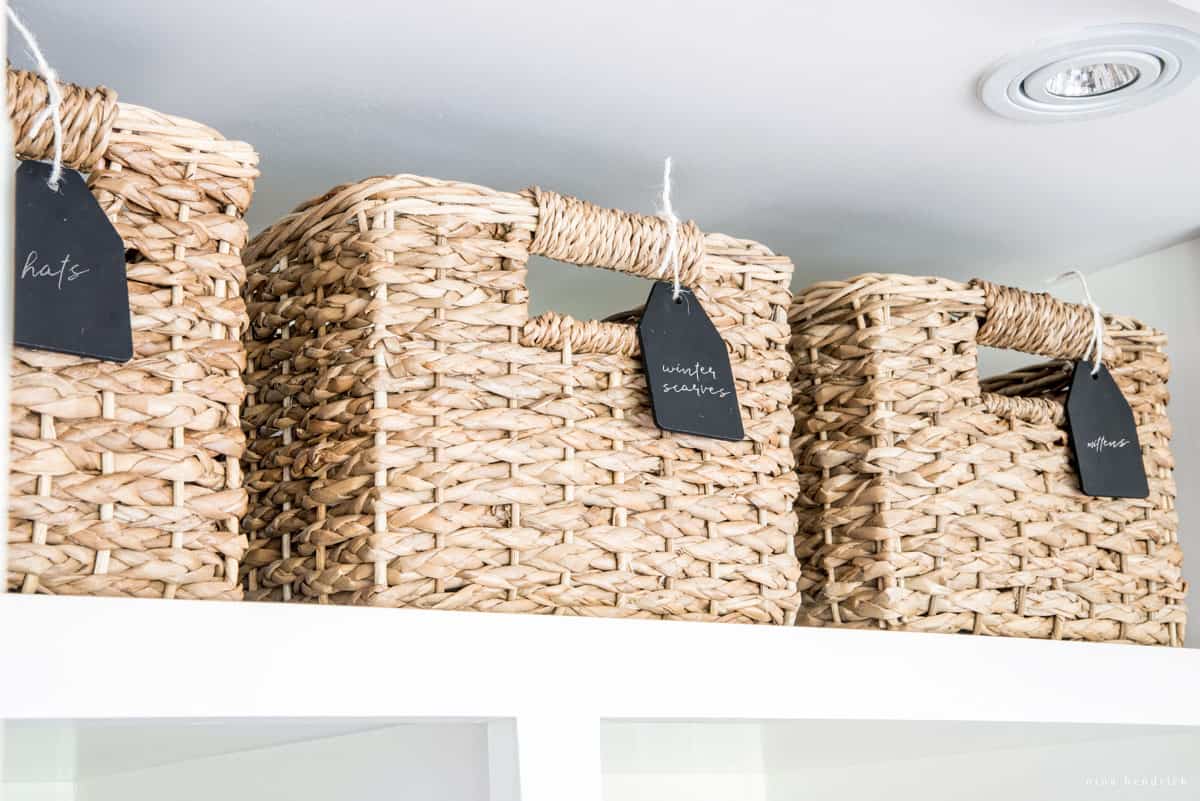 6. Label your baskets
I highly recommend incorporating basket labels to help you achieve the most function out of your newly organized closet! This is especially important for baskets that are:
on upper shelves
not see-through
If your basket is made from a woven material that is not see-through, and it's going on a shelf that is above your head, giving it a label will make your life so much easier! It's tiring and time-consuming to have to constantly pull baskets down from high shelves to look and see what's in them. By labeling them, you'll know exactly which basket you need, with no second-guessing or extra effort spent.
Chalkboard labels not really your thing? There are many other cute and trendy options! Look for gold or silver metal labels that clip onto your basket. The metal frames the label to create a high-end look. I recommend using a trendy script font for each label. Either print them out yourself, or purchase them online. If you can't find the specific words you need, there's an abundance of custom label options on Etsy.
Don't underestimate the powerful effect of labeling. This seemingly small detail will really take the look of your closet to the next level!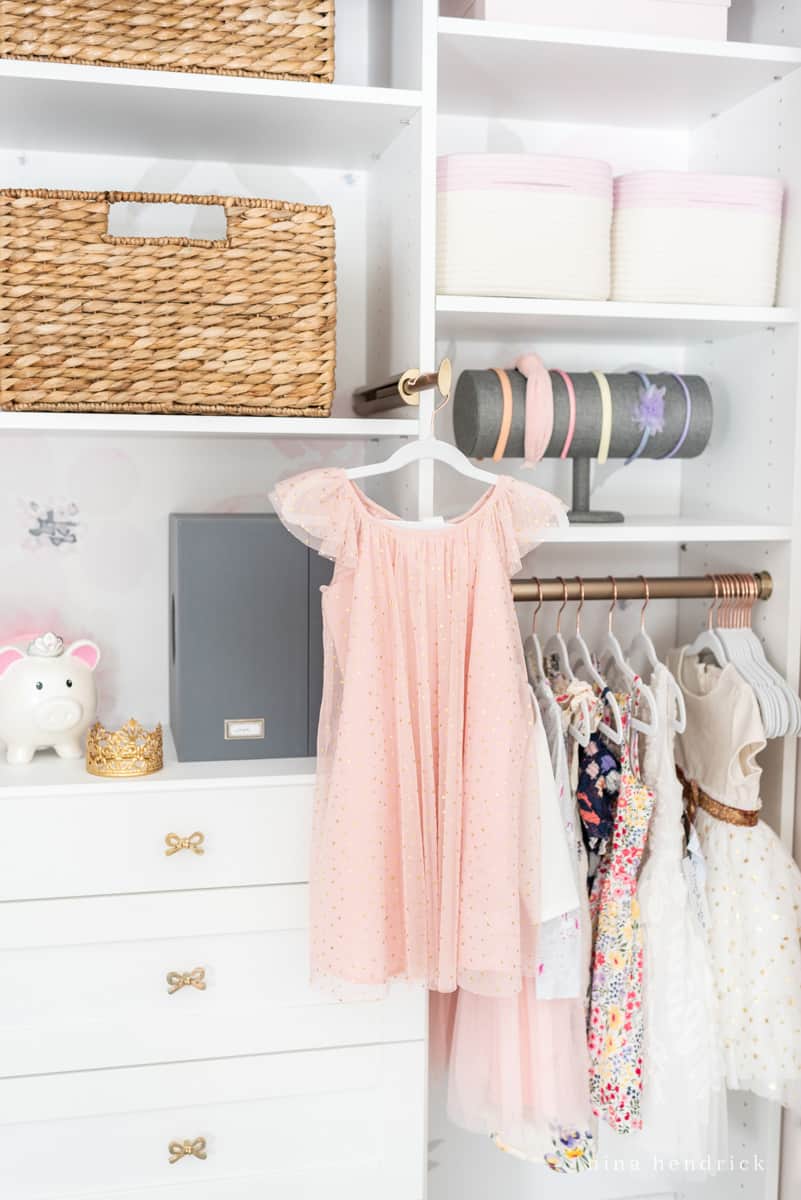 7. Use a pull-out organizers
If you're short on closet space, there are so many pull-out components that you can install to make closet organization a breeze!
valet rod
Have you ever wished there was an easier way to organize your closet and plan your outfit? Did you know that a slide out valet rod could be the answer?
Valet rods are an ingenious solution for organizing your closet and planning out your outfit. Not only do they help you quickly organize your closet, but they also help you plan what you're going to wear each day and make it easier to steam the wrinkles out of your clothes. Installing a slide out valet rod can be a great way to help you stay organized and look your best.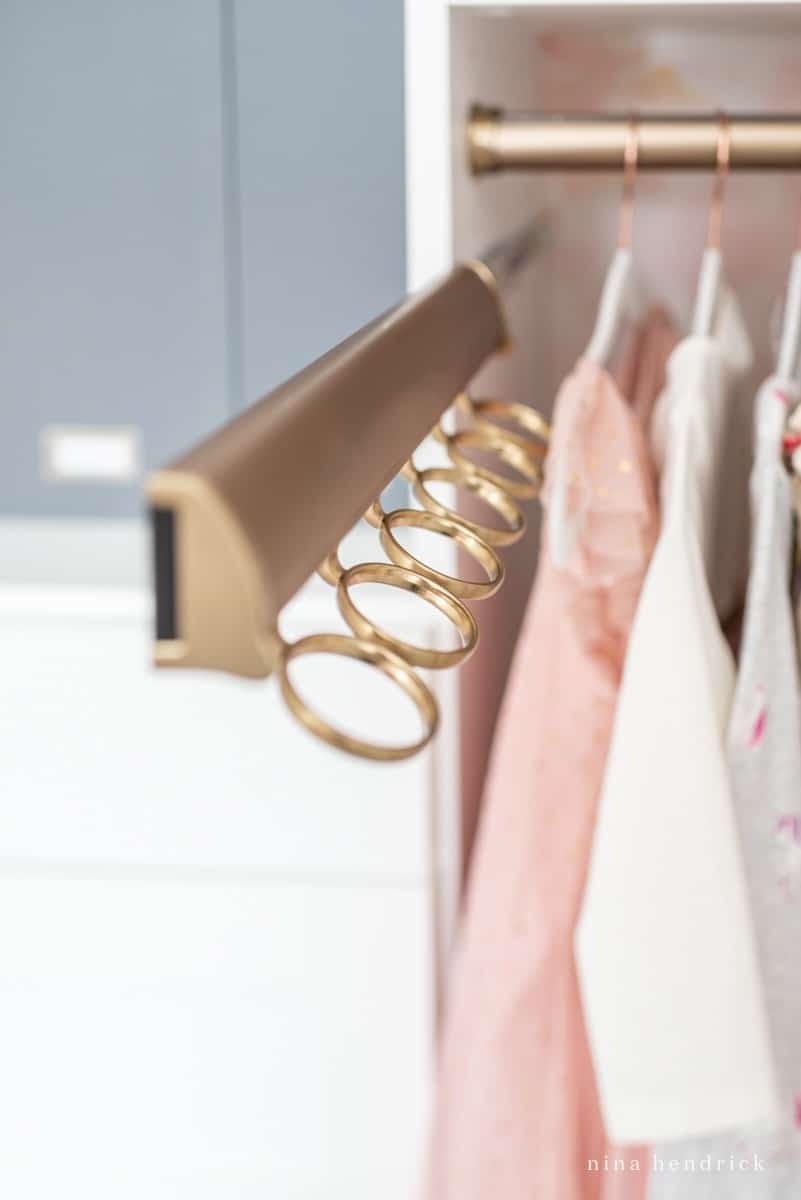 Scarf organizer
If you're looking for an efficient and stylish closet organization idea for scarves and ties, a pull out scarf or tie organizer is the perfect solution. Not only will it help you keep your closet neat and tidy, but it also makes a great addition to any wardrobe. They come in both standard hanger and pull out designs—so you can choose the one that works best for your closet.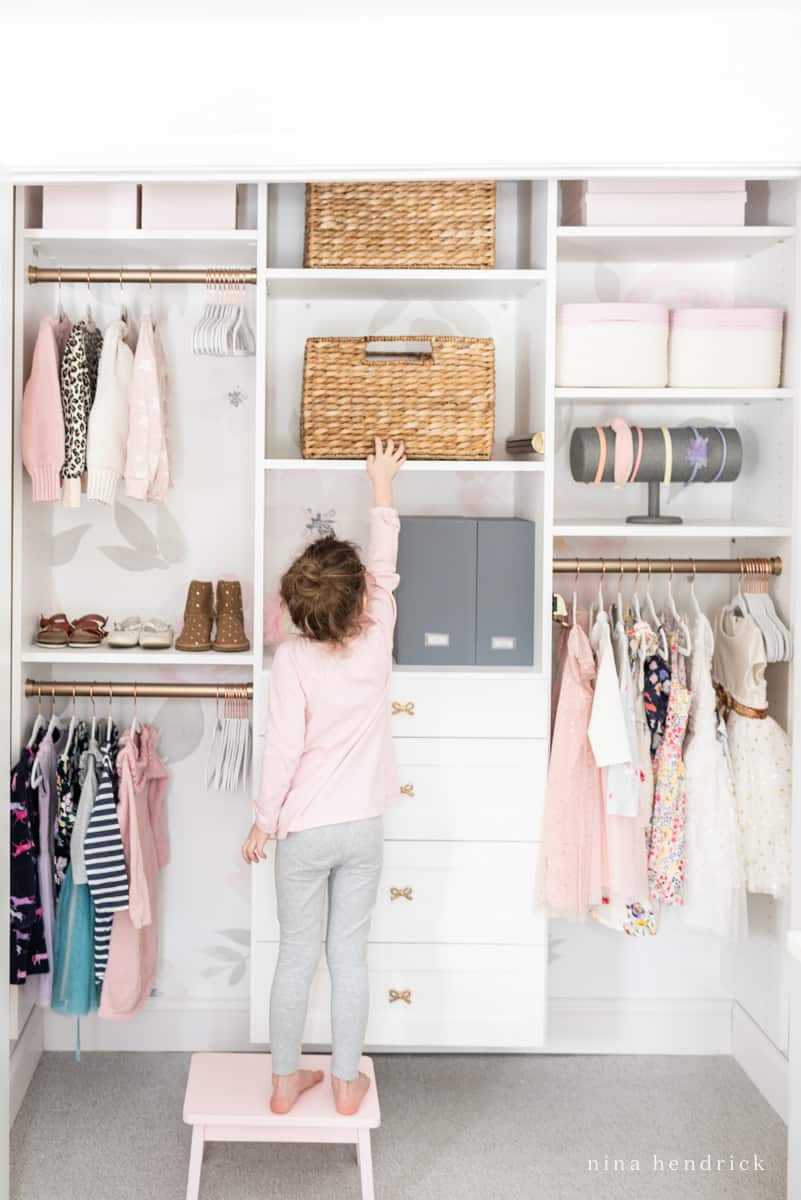 8. Go vertical!
If I could give you just one tip on how to organize a small closet with a lot of stuff, it would be to take things vertical! When you start thinking of vertical solutions, you'll find extra space you didn't even realize you had. Whether it's adding an additional shelf up top, or one at the very bottom, making use of the space up to the ceiling and down to the floor is the way to maximize even the tiniest closet. By doing this, you'll be shocked at just what all you can fit in there.
It's not just extra shelving that can help you go vertical, make use of door hangers and wall hooks as well! These are wonderful solutions for storing accessories.
Think that the only door hanger options are the plastic pouches we're used to seeing? Think again! There are many aesthetic options out there that have a neat, sturdy, high end look. Look for units that come with narrow shelving with railing, as these are perfect for storing your shoes vertically as well as purses, clutches, and crossbody bags.
Wall hooks are great because they can be hung all the way to the ceiling! These are great for beach bags, and hats.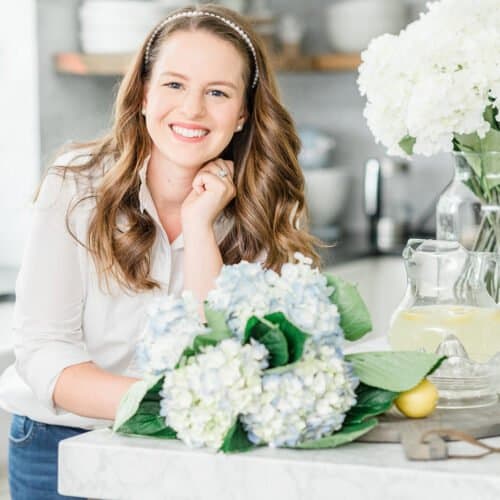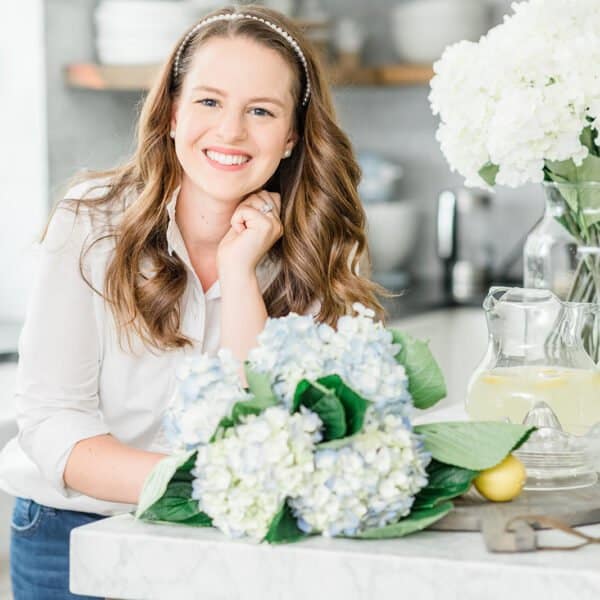 Tip from Nina: Try to keep 1-2 objects per hook for the tidiest look!
If you're wanting to go vertical, and you're after the built-in shelving look, I've got the perfect fix that looks amazing and will save you thousands! My husband and I decided to try this IKEA china cabinet and bookcases hack ourselves to create the look we wanted for much less. It did take some elbow grease, but we're really happy with the end result, so it was totally worth it!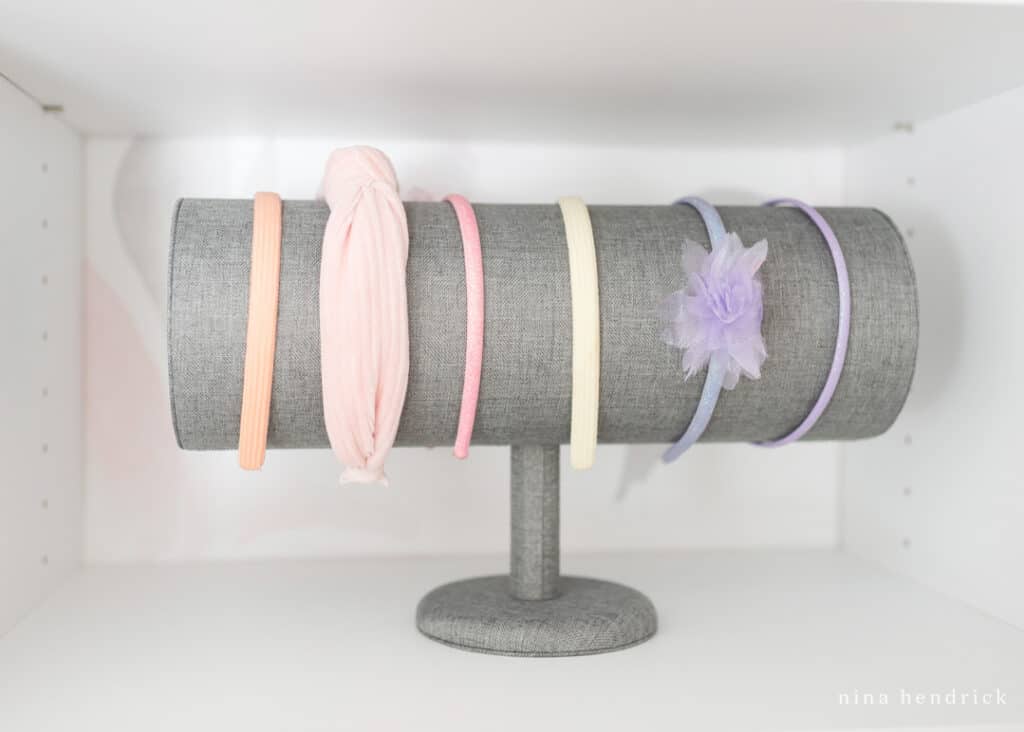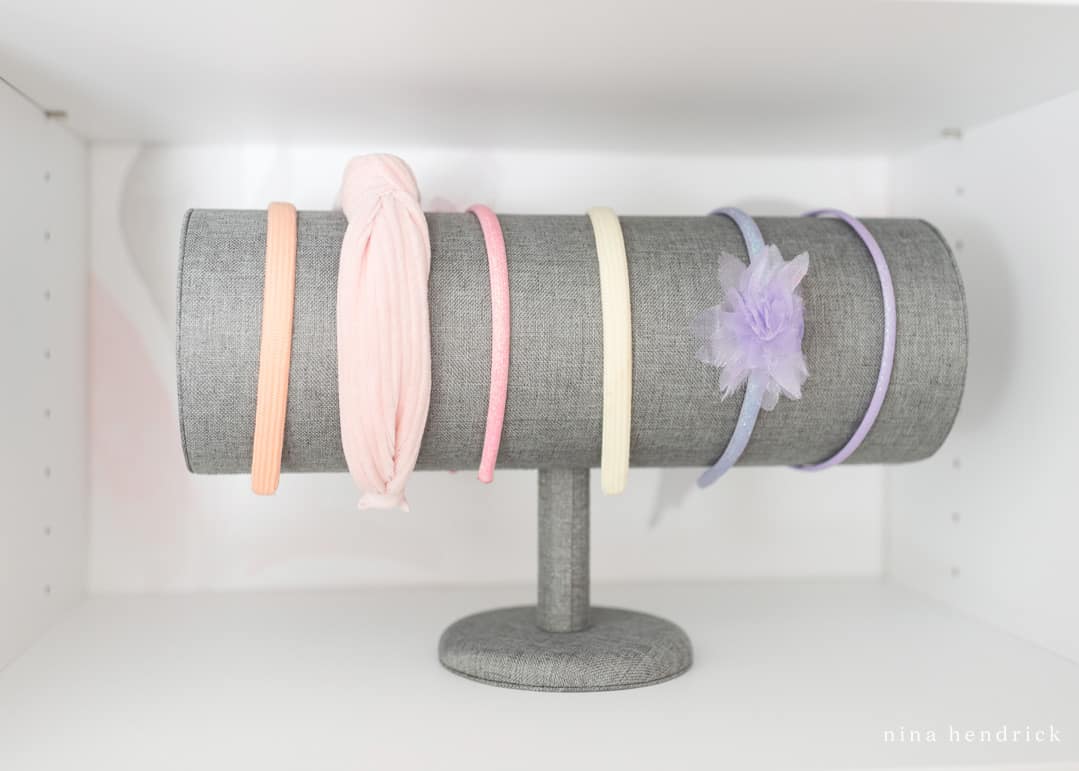 9. Store accessories with style
One of my favorite closet organization ideas tracks with one of my favorite philosophies that you'll keep things more organized with they look pretty! Storing and displaying your accessories neatly and with style will really make your newly organized closet shine.
Shoes
There are many different ways to organize your shoes in your closet. The best closet organization ideas for you will really depend on your unique shoe collection, and the confines of your closet space. A great place to get started is to divide up your shoes by type. Group all the tennis shoes, heels, flats, boots, and sandals together so you know what you're working with.
You'll want to put the bigger shoes, like tennis shoes, slides, and chunky heels, in their own cubby or acrylic separator. Thinner shoes like sandals, ballet flats, and flip flops, can be stored in a "filing" manner with multiple shoes squeezed into one acrylic basket.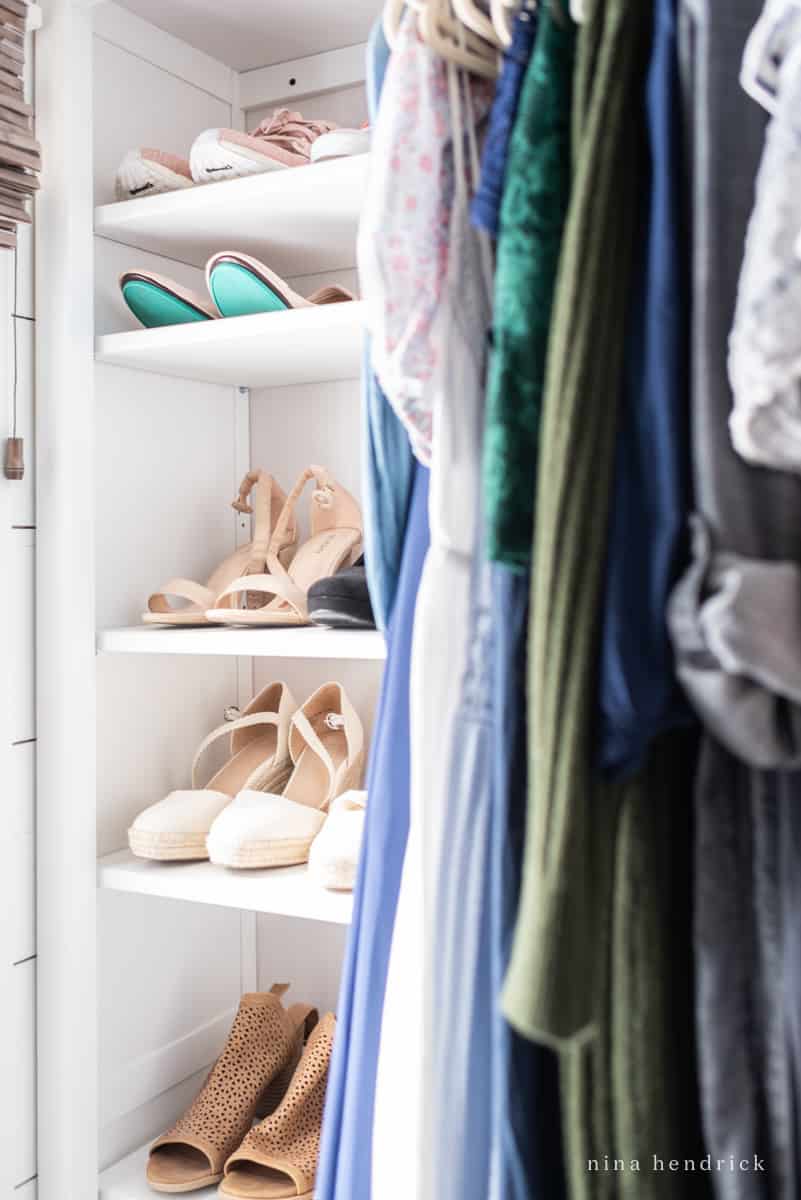 Boots and booties will need more height, whether that's on the floor or a shelf. Use boot inserts to keep tall boots from leaning over, and taking up extra space. This will also keep them in better shape for longer. You can use acrylic separators to create some structure on the floor for boots if needed, and it will look just as clean and neat as if they were on the shelf.
Below are a few tips and tricks for how to handle some of the trickier pieces:
Use wall hooks, door hanger hooks, or

hat

stands on the very top shelf to display your hat collection.
A 2-3 tier clear acrylic riser is perfect for showcasing your

sunglasses

!
A

headband holder

is such a fun way to store headbands! I used this adorable one for my daughter's closet makeover, but it could be used for adult headbands too.
Acrylic separators are perfect for filing

clutches and wallets

.
Put

scarves, gloves, and toboggans

in baskets.
Roll up

belts

into a coil and store them in baskets or clear acrylic organizers.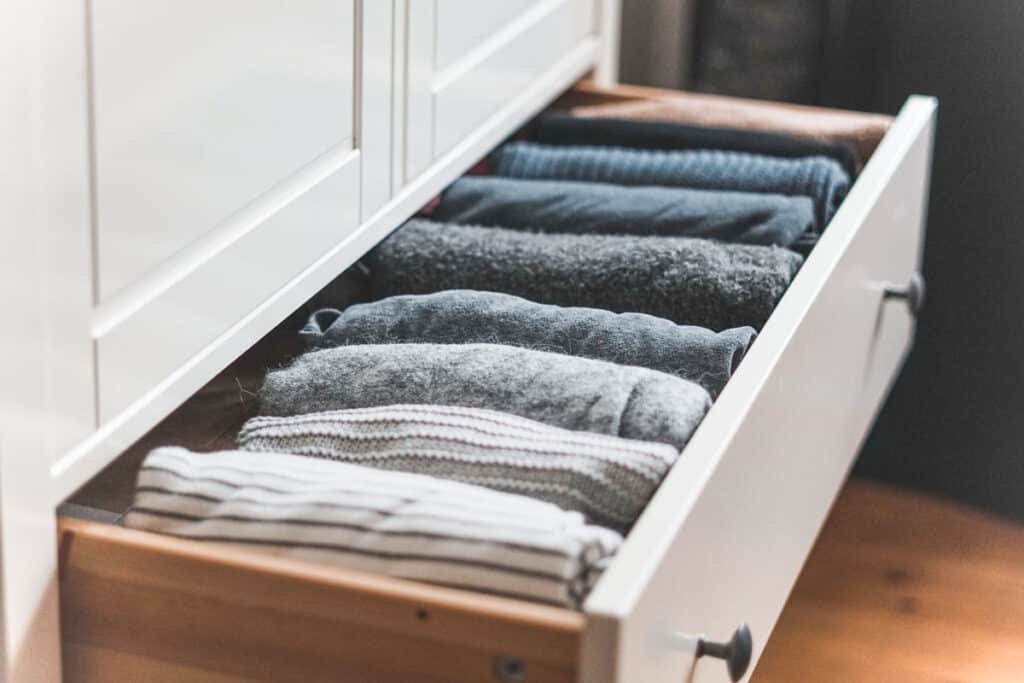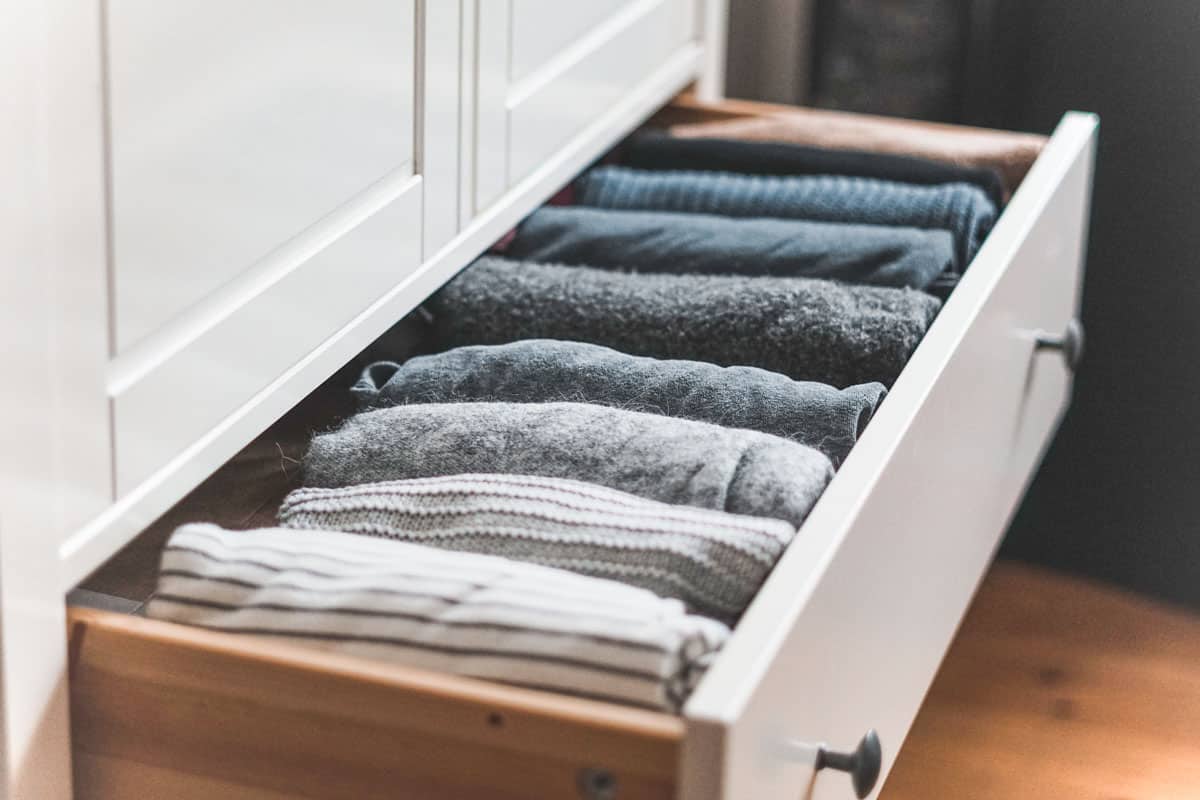 10. Instead of regular folding, file and roll your items
Filing and rolling clothes are huge when it comes to making the most out of your closet space. You'll be shocked at just how much extra space and function this creates for you.
Filing
When you "file" your clothes and shoes, it allows you to fit more into tight spaces and see every item at once, so you'll never have to thumb through several pieces to find what you're looking for again. It's the perfect solution for items that will go into woven baskets that only have visibility from the top looking in.
Filing clothes is just what it sounds like – arrange them just like folders in a filing cabinet! You can file tshirts, jeans, thin sweaters, and thin shoes like sandals, ballet flats, and flip-flops. Filing allows you to see a thin strip of each item, so you are able to look at everything at once. It looks neater, and will STAY neater than the conventional way.
Rolling
To roll your clothes, lay them flat and fold them in half lengthwise until the piece is about 5 inches wide (or less depending on size). Then simply, roll it up like a sleeping bag, and place it inside its container.
Use clear acrylic baskets, drawers, and separators to keep your clothing and shoes rolled the way you want them.
Bonus Tip: Your new best friend – clear acrylic!
I'd like to introduce you to a life-changing closet organization idea… using clear acrylic! Whether it's risers, separators, baskets, or organizers, clear acrylic is the ultimate for function and beauty! This style chameleon goes with literally any decor, and because it's transparent, you always know what you have and where it's at.
Clear acrylic separators allow you to turn a wide open shelf into neatly contained cubbies for folded jeans, sweaters, and shirts. You can use clear acrylic baskets for storing rolled up bathing suits, leggings, undergarments, and accessories. Risers allow you to create height tiers in small spaces. You can even use these clear containers on the floor level of your closet, to make the most of your space while still looking chic!
Use your clear acrylic containers for pieces you use pretty regularly. The visibility and accessibility they provide for your everyday items is unmatched, and their look is at the caliber of a high-end department store!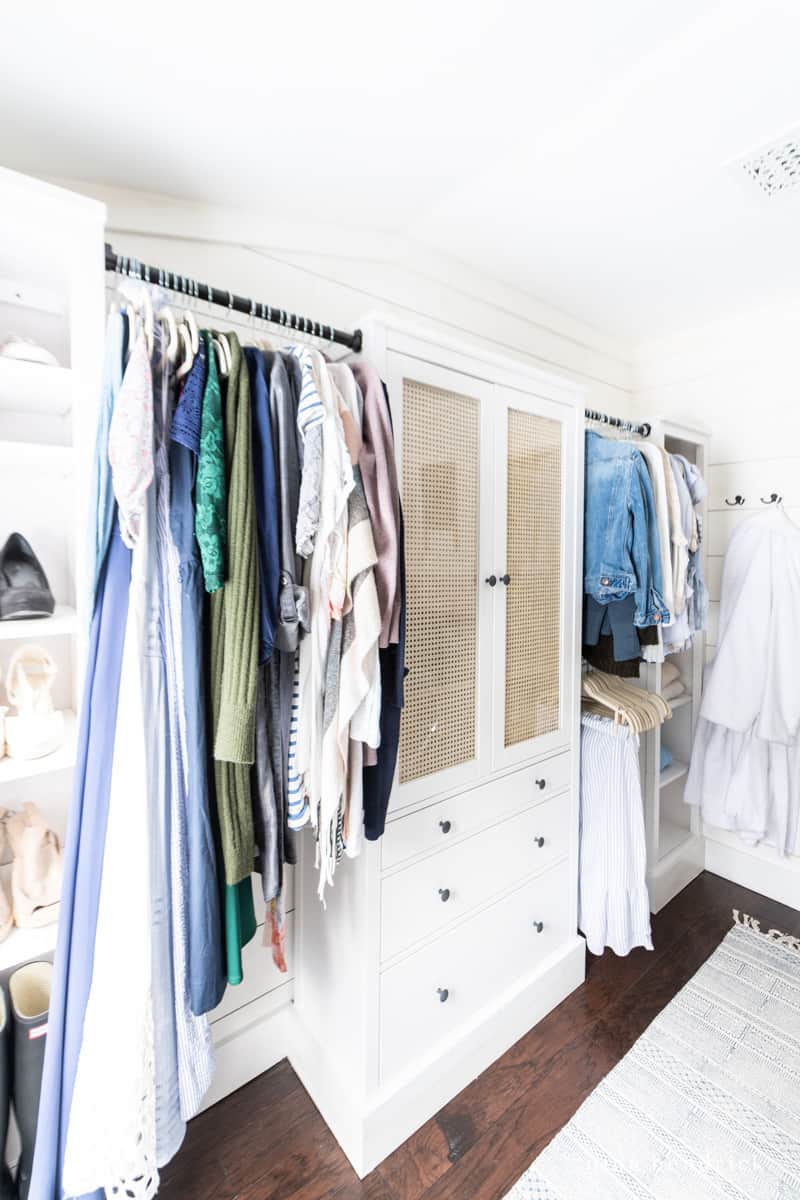 It's time to implement these closet organization ideas!
I hope this guide helps you feel more equipped to tackle organizing your closet once and for all. I took the best old school hacks and combined them with the latest trends to give the most current and thorough list of closet organization ideas out there.
It's time to turn that messy tornado of a space into the beautiful closet you deserve, friend! So that the next time you're looking for that one special cardigan, you'll know right where to find it in two seconds flat. :)
Be sure you're following me on IG @ninahendrickhome to catch all the helpful home tips I post, and to keep up with my fun projects around the house!