This organized closet makeover uses a hack of the IKEA Hemnes for the perfect amount of storage for a minimalist or capsule wardrobe.
Are you a clothes girl? This surprises some people, but I'm really not. I love to decorate my house, but not so much myself. In fact, my husband has way more clothes and shoes than I do! So when it came time to renovate our primary suite and we carved two closets (one being a laundry/closet combo) out of what used to be an awkward hallway, we knew it simply made sense for me to take the smaller side. Here's the inspiration post, in case you missed it and also all the details about the laundry room side of the space.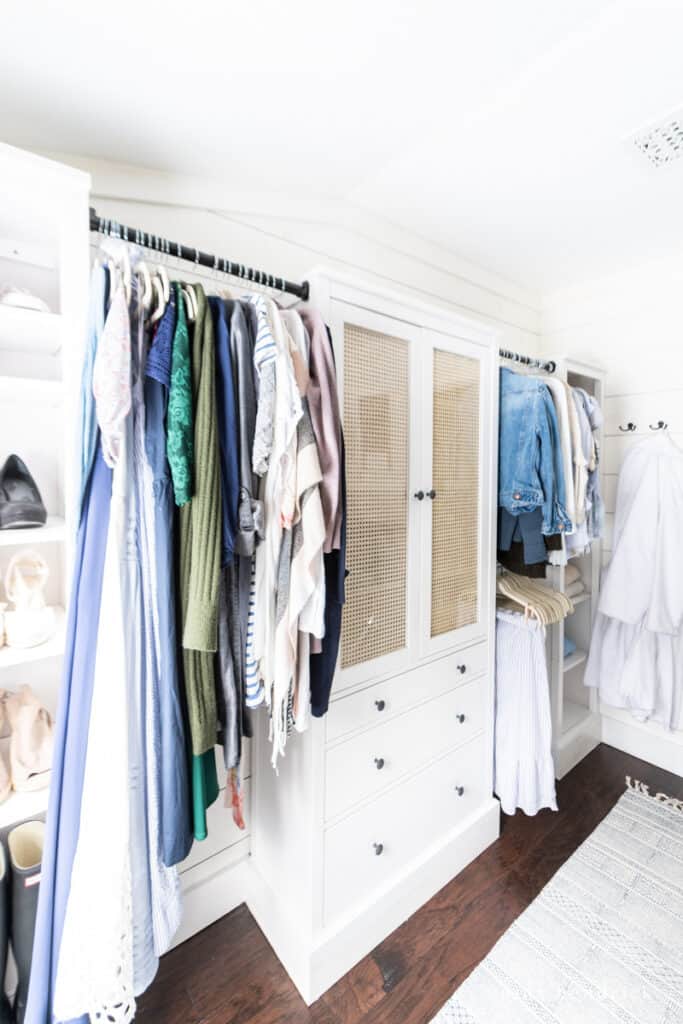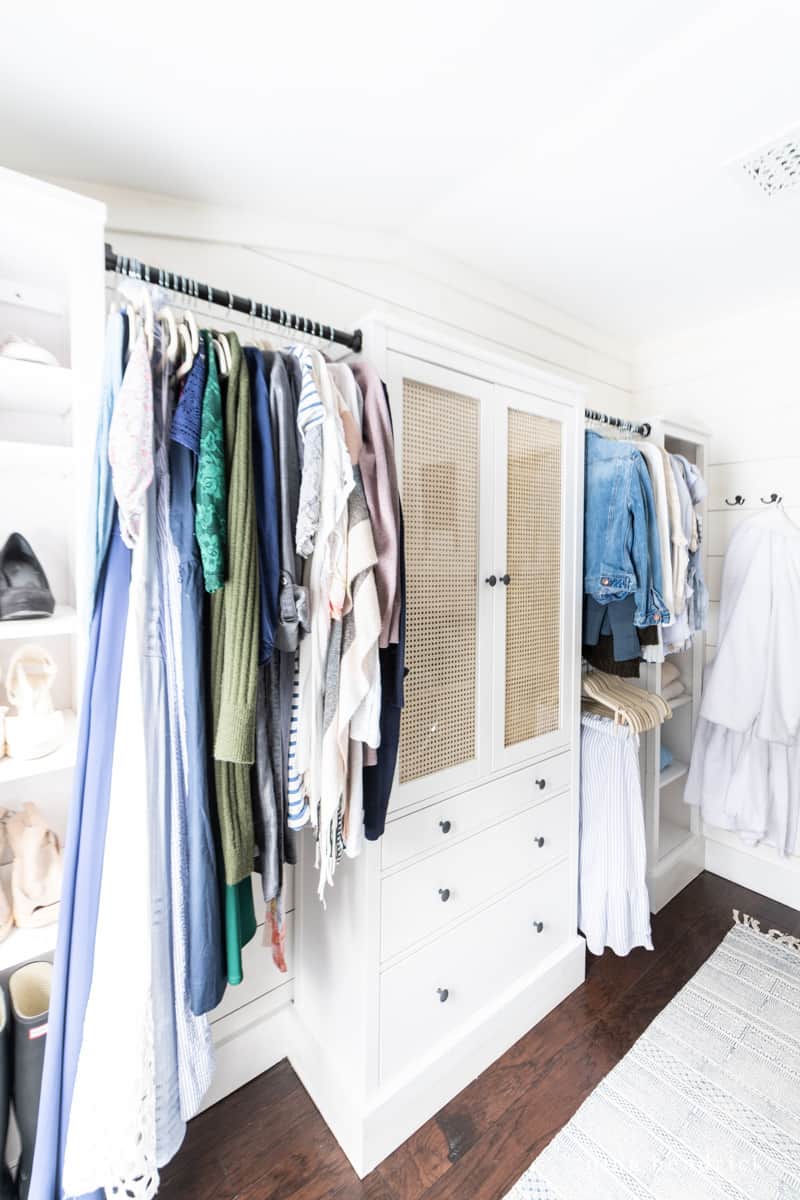 Organized Closet Makeover with IKEA Hemnes Hack
Follow along on YouTube!
So now I have this organized closet makeover to share with you! It includes an IKEA hack of the Hemnes china cabinet and bookcases to create a built-in and high-end closet look. With that being said, I realize my closet will probably only resonate with you if you're more like me and favor a minimalist or capsule wardrobe. Rather than abundant storage, I'd say that it makes the most of what it has. Maybe it will be perfect for inspiration for your partner's closet rather than your own. Whatever works!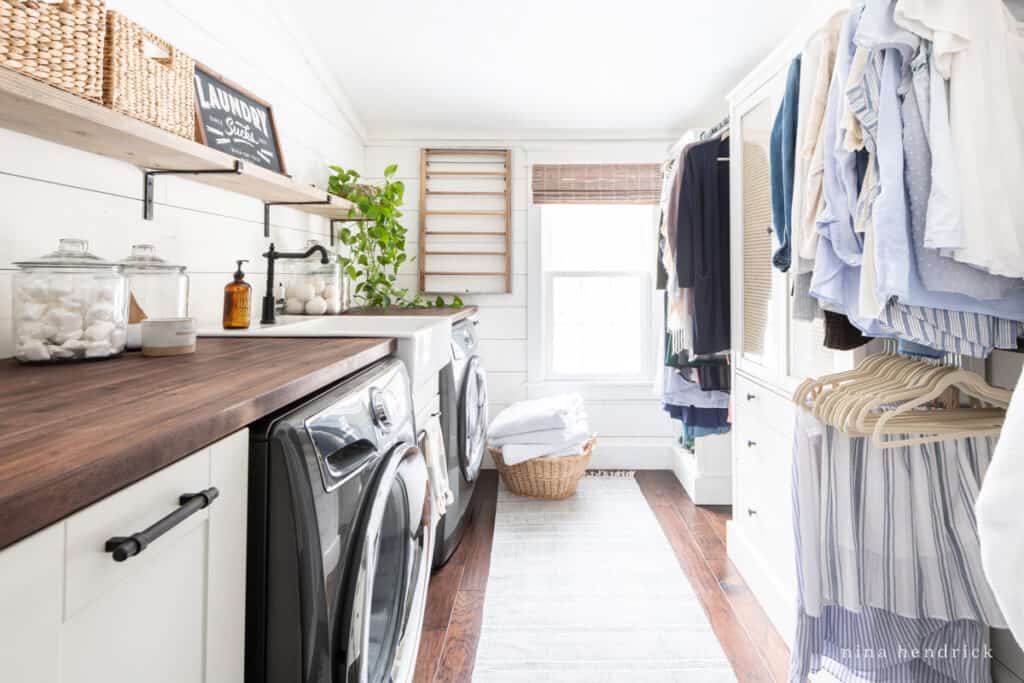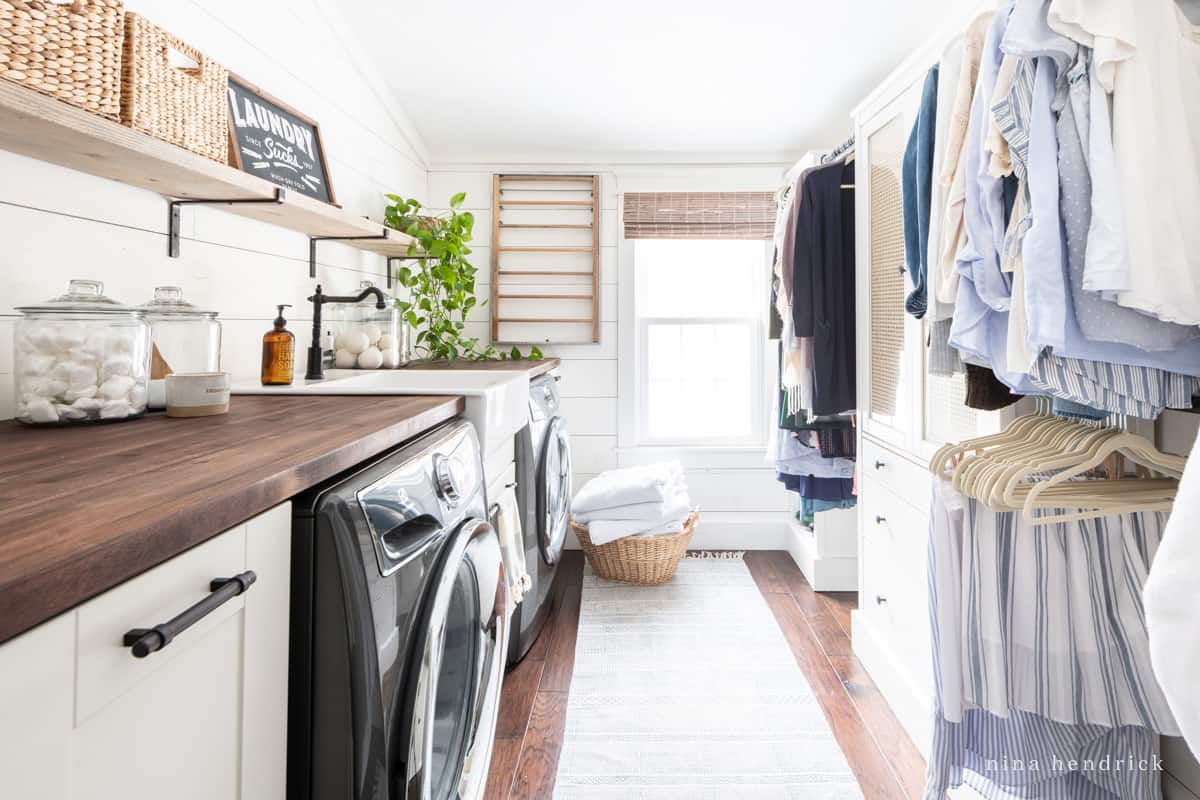 Like I mentioned, this organized closet shares space with the laundry room. That means I have to be really intentional about what I store in here. It also meant, in the case of the glass cabinet, I was a bit sick of my stuff being on display. You can see how I decided to cover the glass with cane webbing in this simple DIY tutorial.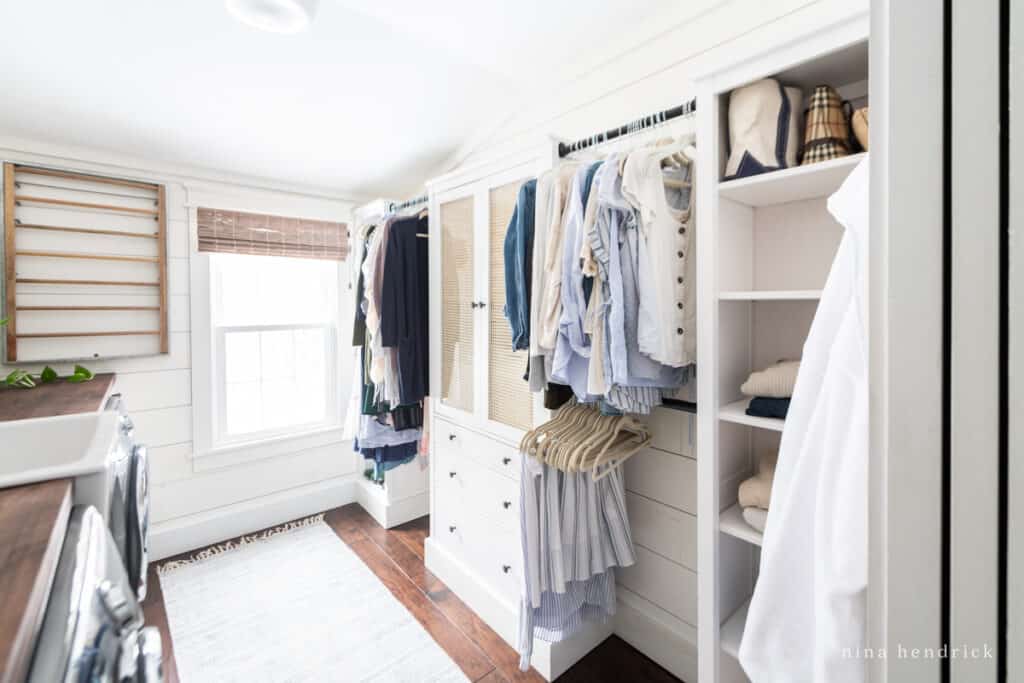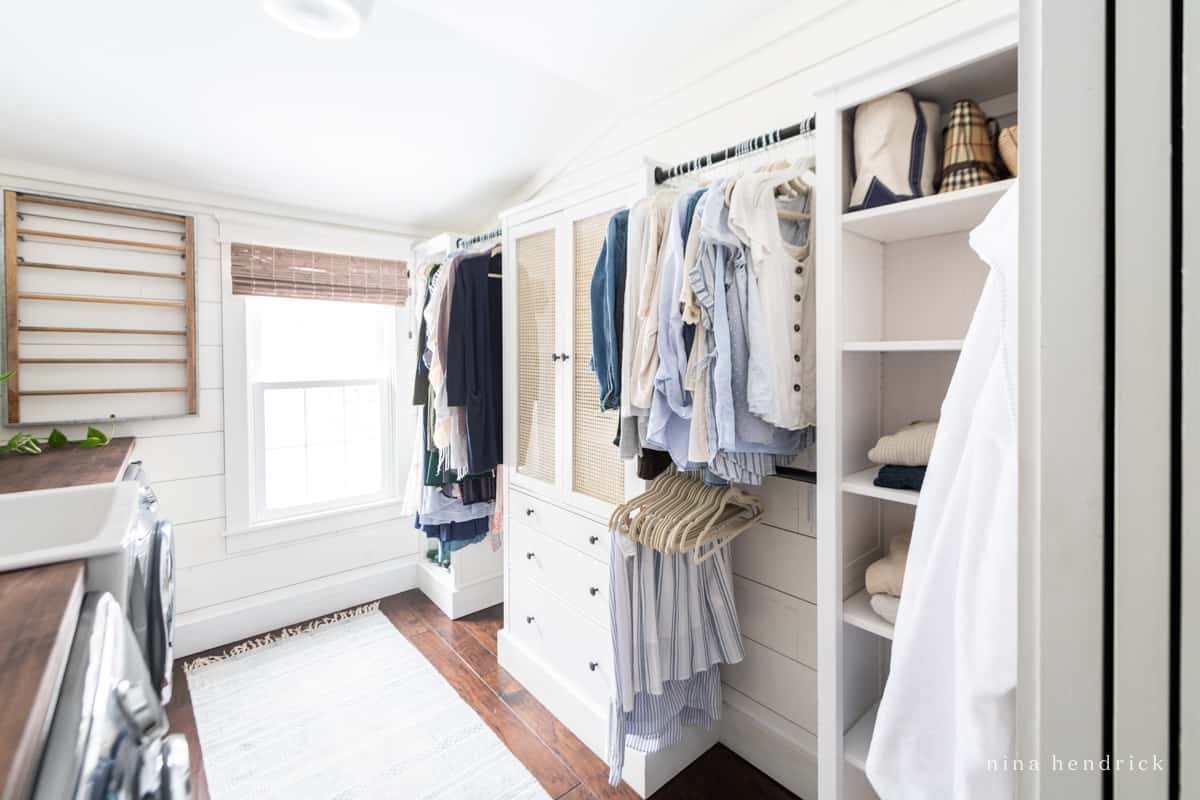 IKEA Hemnes Closet Hack
The Hemnes hack was a bit more in-depth time-wise, but at the same time not so complicated that I feel it needs its own post.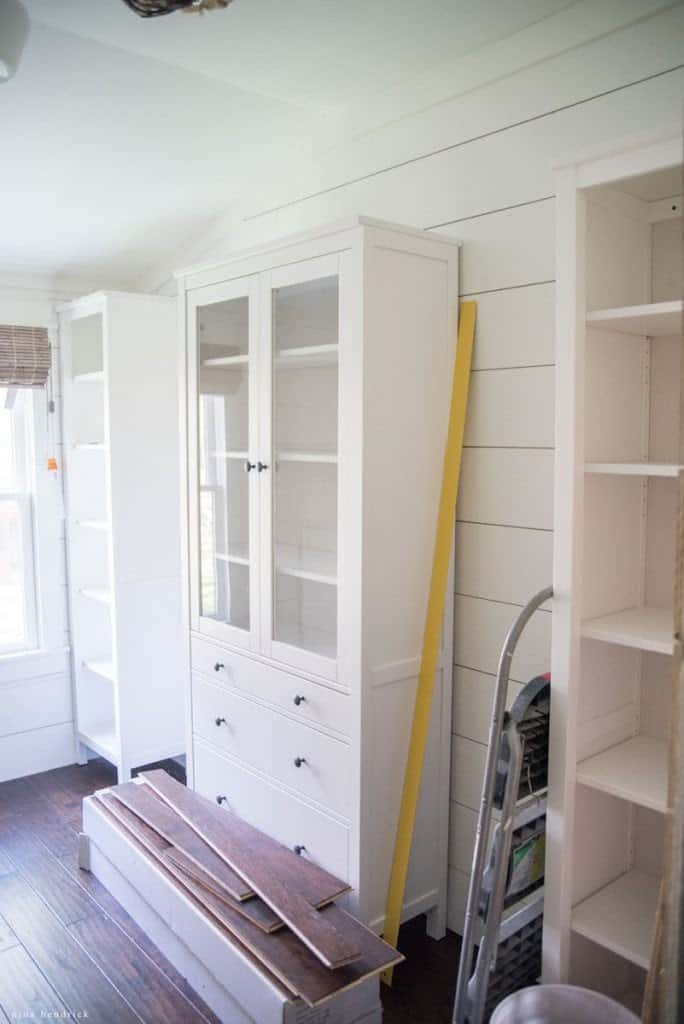 This post contains affiliate links, which means I may get a small commission (at no extra cost to you) if you shop my link. Please see my disclosure if you'd like more info!
Essentially, we assembled two of the Hemnes bookcases and one Hemnes china cabinet in white stain, anchored them to the walls, and then we wrapped 1×6″ trim around the bottom and painted it all Simply White to give the whole setup a built-in look. We connected three rods with brackets for hanging clothes.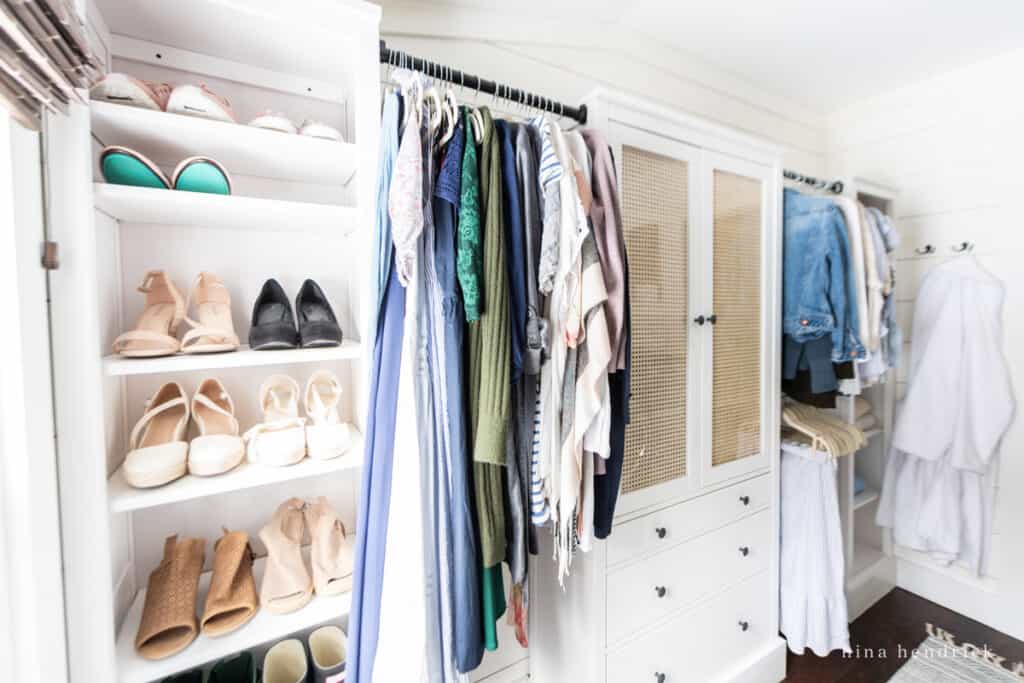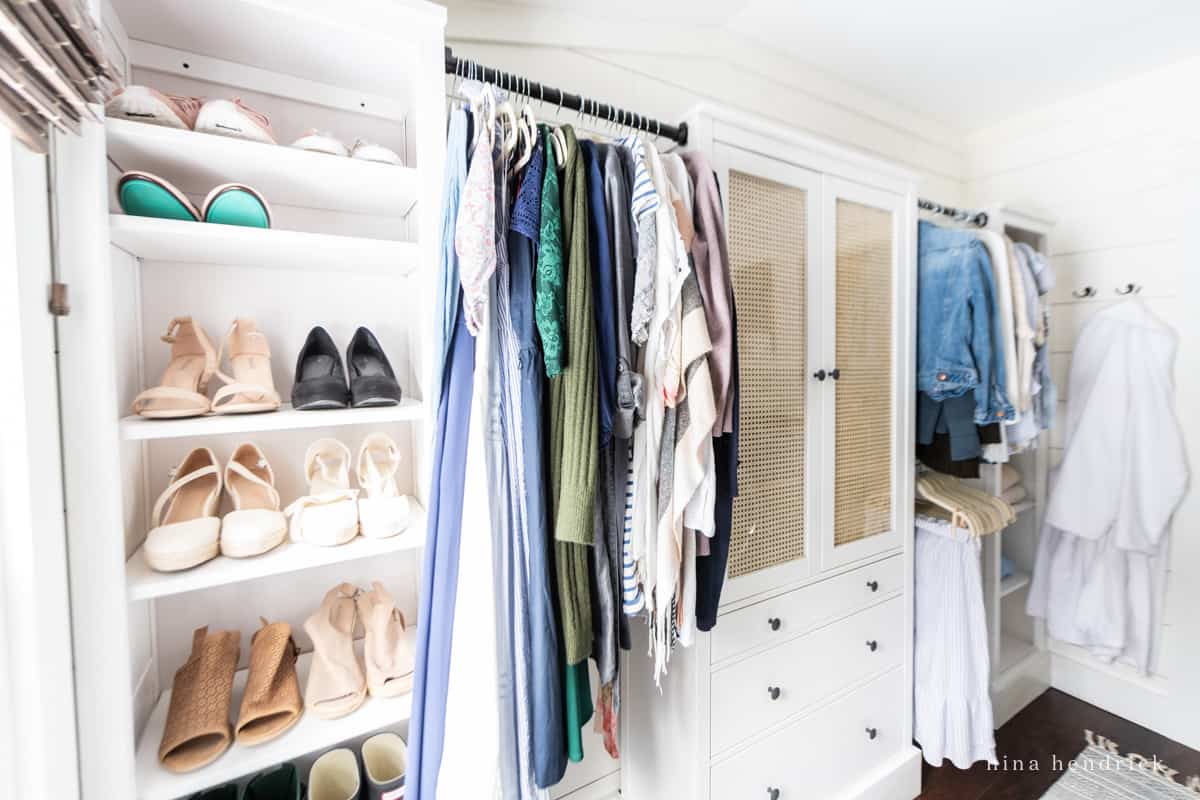 Organized Closet Shoe Storage
The far-left bookcase holds all of my shoes. I removed the bottom shelf in order to make space for my taller hunter boots.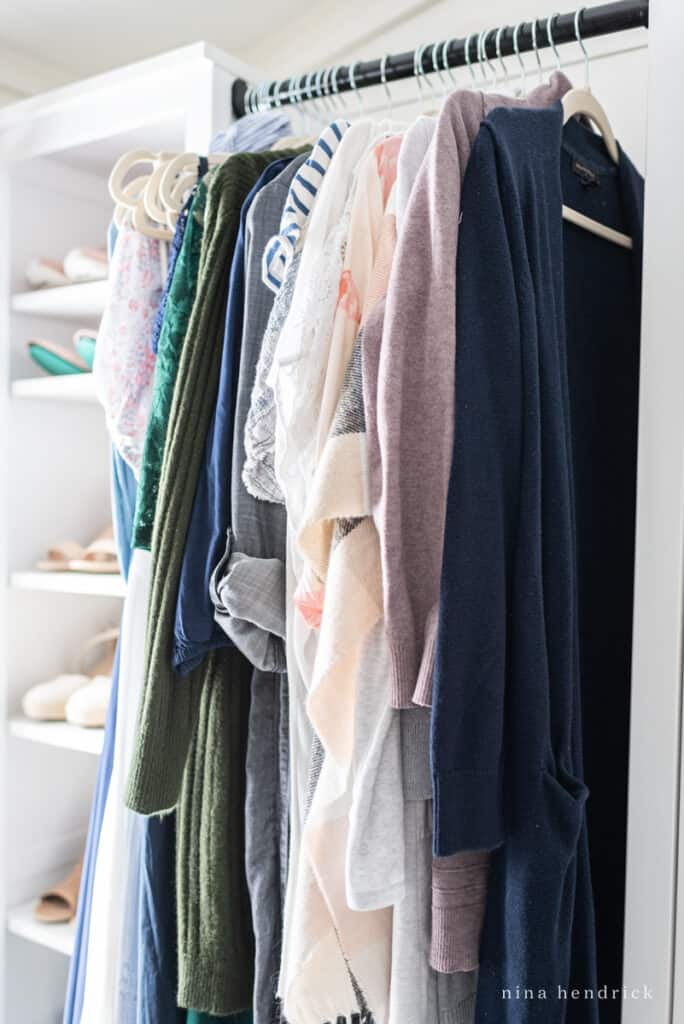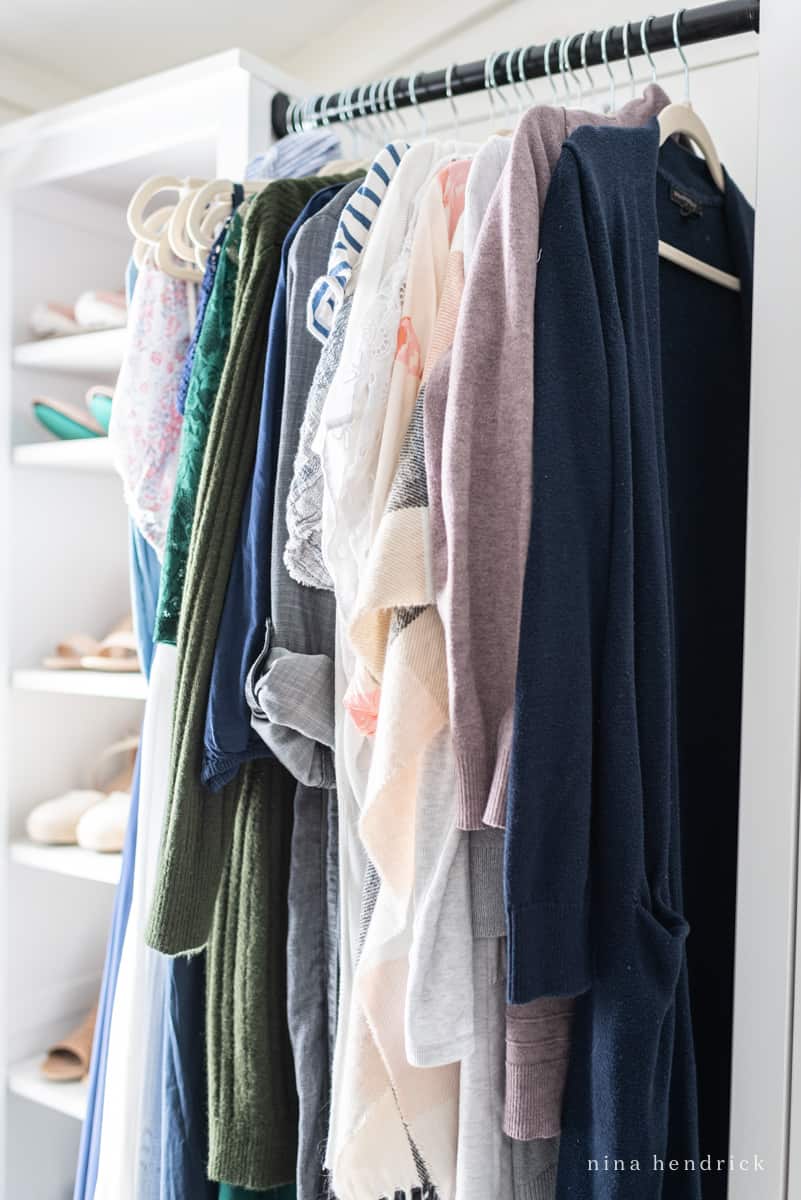 Organized Closet Storage for Long Dresses
Next, we hung one rod between for all of my long dresses. I have them arranged on space-saving velvet hangers in order of length for finding things as easily as possible.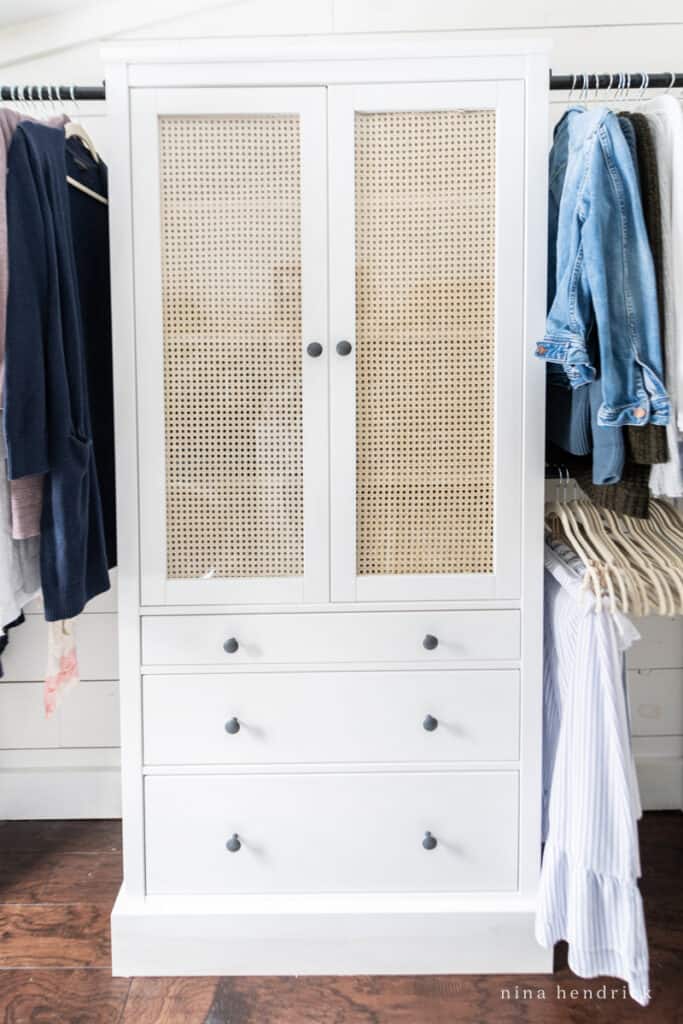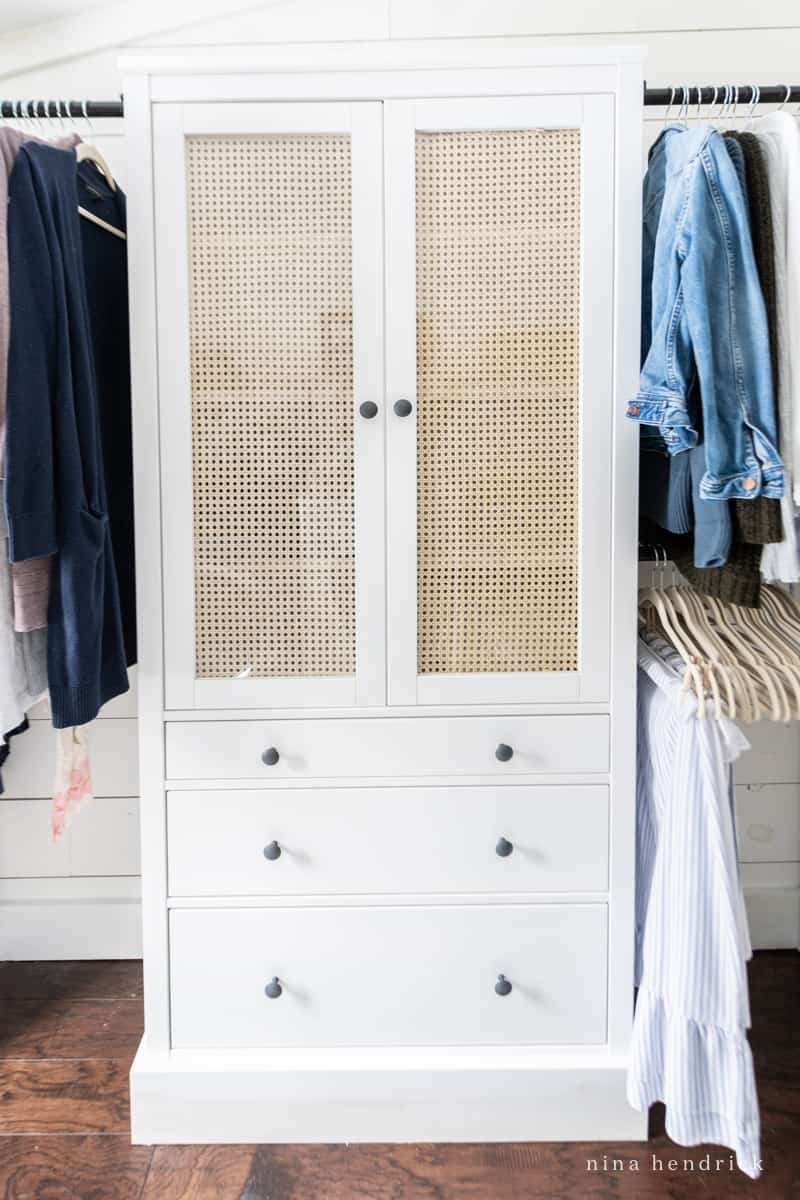 The middle cabinet houses my jewelry (nothing fancy, trust me, so don't rob me) which is currently in need of organizing on its own. It also stores shapewear and swimsuits and then sweaters in the deep bottom drawer.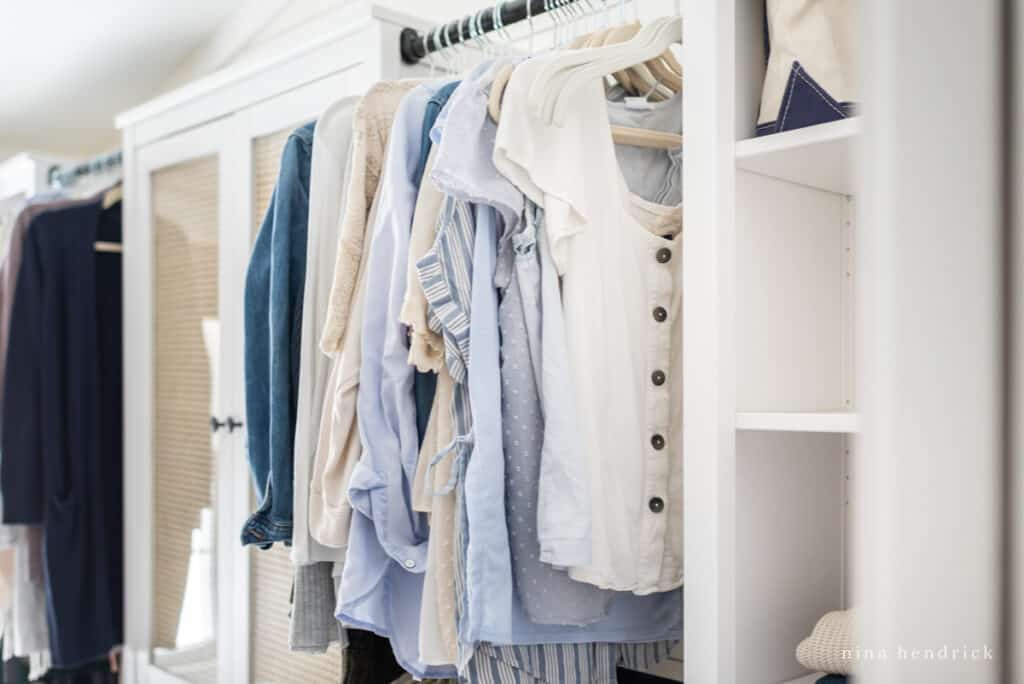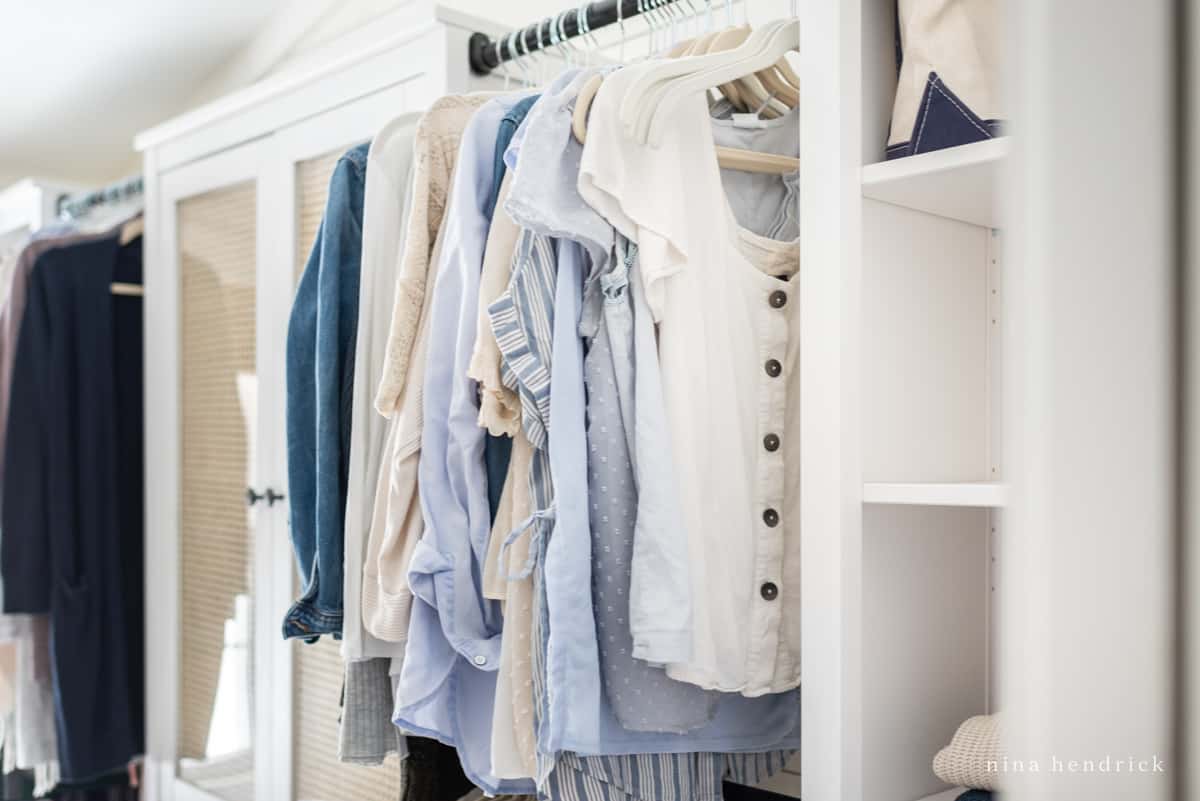 Organized Closet Storage for Button-Downs and Tops
I have my tops arranged on the higher rod. As I mentioned, I tend to keep things pared down. It's a little funny to me looking at these photos how closely my clothes match my whole house color scheme. I didn't remove anything for these photos, these are truly the colors I wear! It's actually not a surprise because I recommend taking cues from what you wear to figure out your decorating style, but I almost think I reverse engineer that process.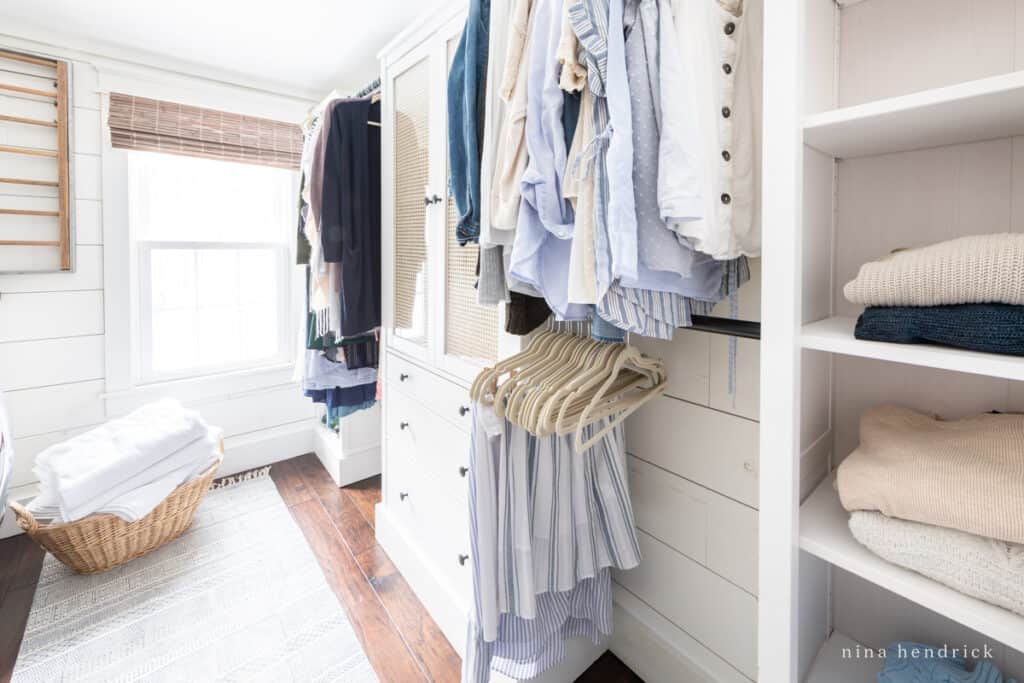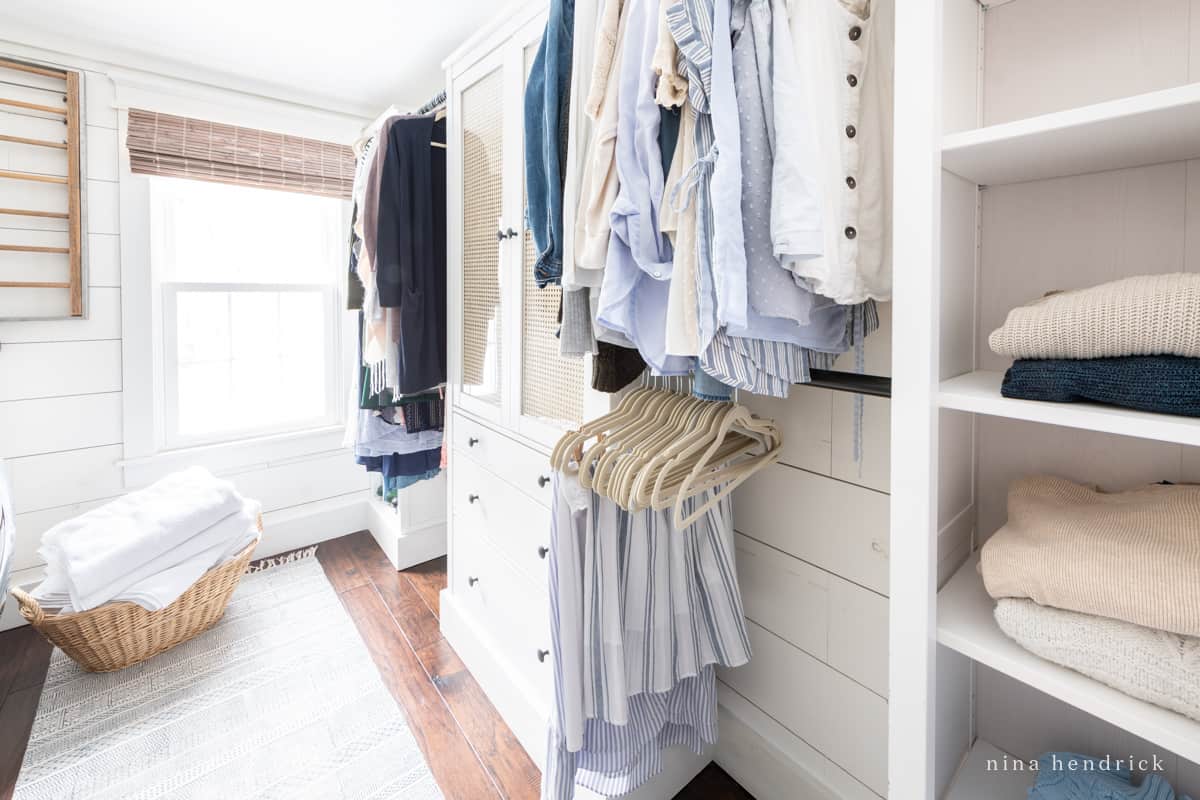 I have my skirts (and jeans, when I'm not wearing them) on the lower level. I actually keep a drawer for pants in my bureau and I'm planning to move things over, hence the extra hangers.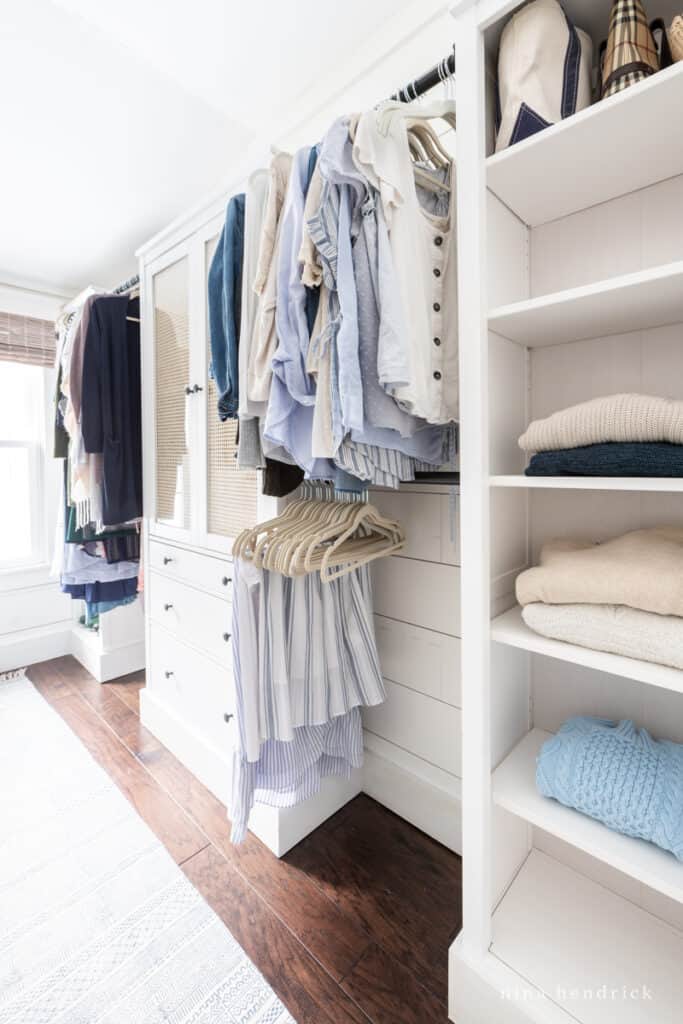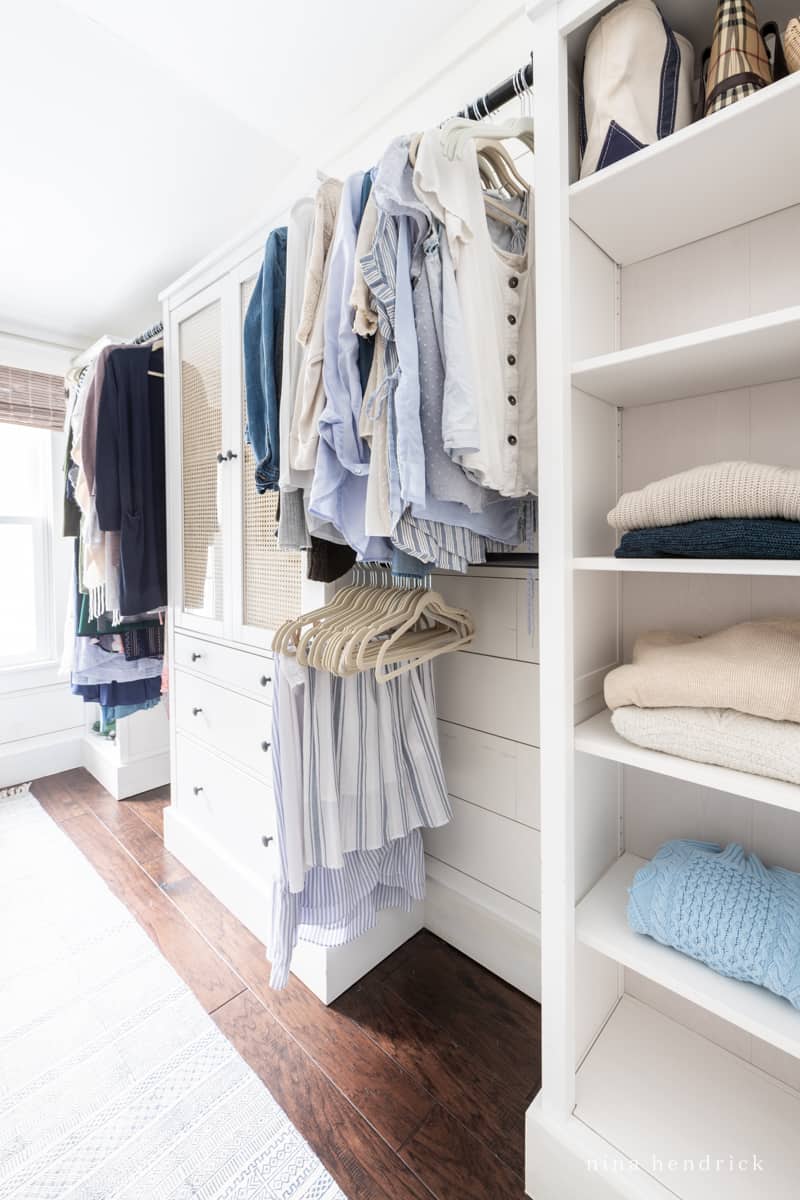 Last but not least, the bookcase to the right holds all three of my handbags (ha) plus more folded sweaters. If there's anything I'm not a minimalist about clothes-wise, it's sweaters. I left some of the shelves empty because that's how it actually is! I didn't want to stage it with something just for the sake of filling it up. When the baskets come (I go into that below), I'll likely add them to those shelves to hold things such as mittens and hats that are currently in the mudroom until the weather warms up.
Baskets to Fit the IKEA Hemnes Bookcase
I actually struggled to find baskets to fit the Hemnes bookcases for this organized closet makeover as the shelves are a strange dimension. They're wide but not very deep. I finally succeeded with these in the Utility Medium, but unfortunately, they're back-ordered. Mine should be arriving a couple of months from now. I know I searched high and low for a basket to fit, so I hope that's helpful!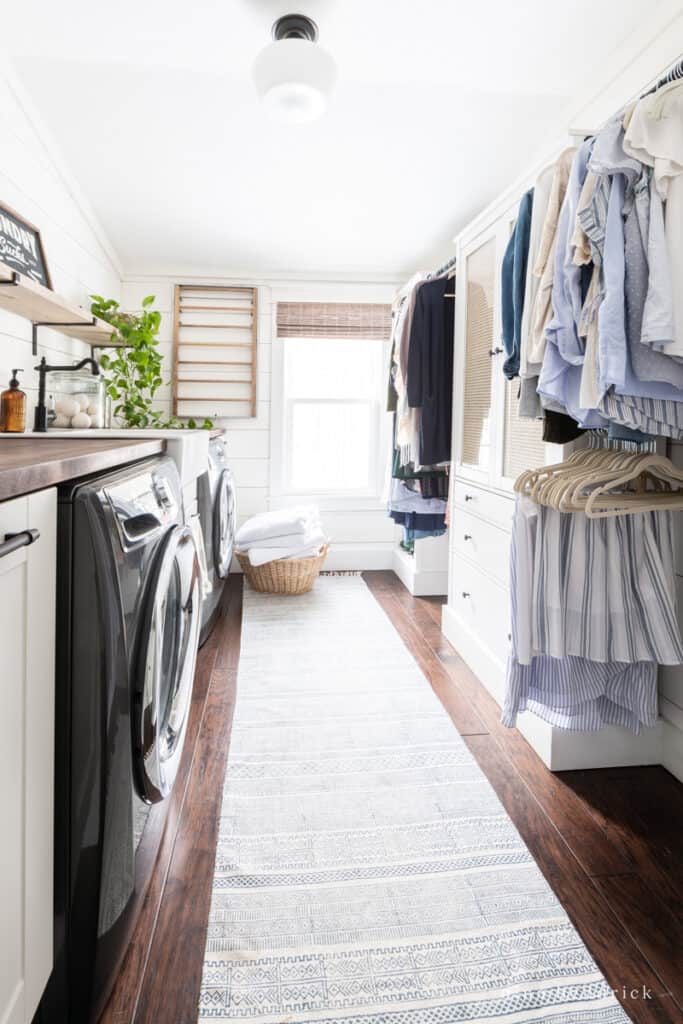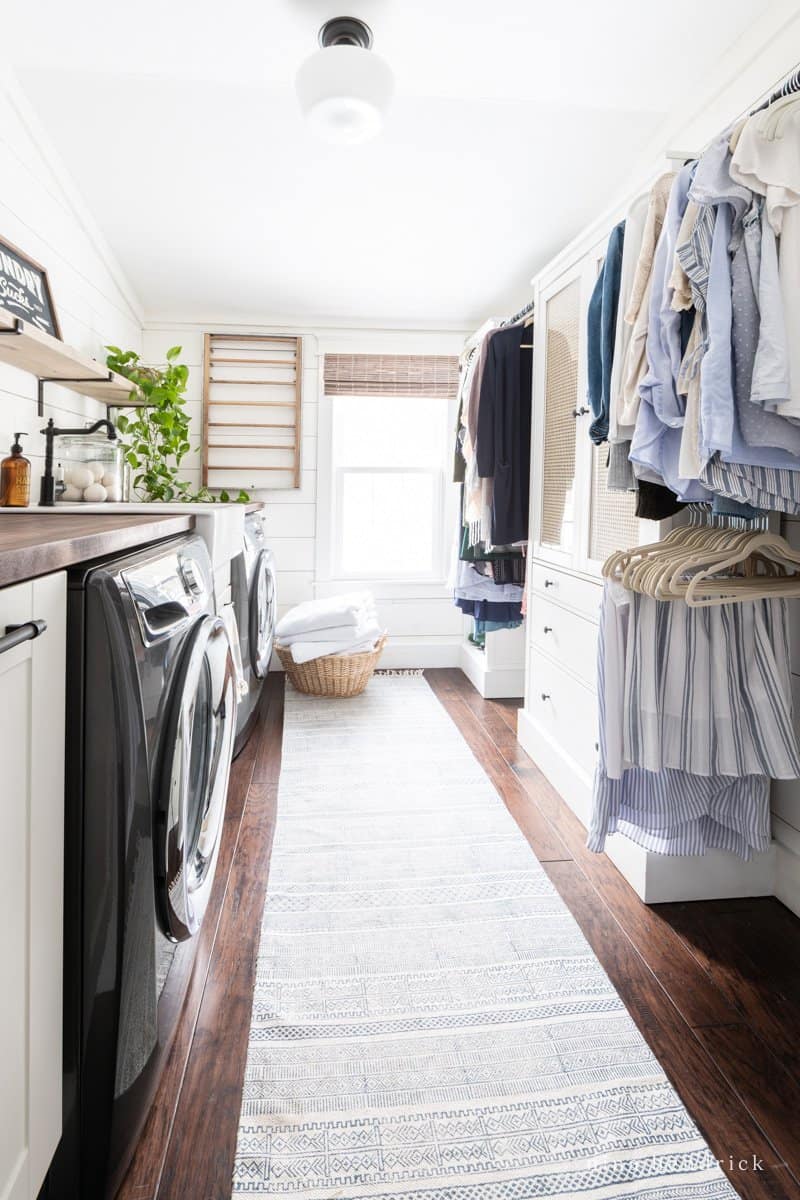 And so that concludes my tour of this organized closet makeover. While I may make a couple of tweaks in the future like adding the baskets and perhaps swapping out the hardware (what's on there came with the cabinet), it functions well for me. Make sure to check out the laundry room side of the space and get the full source list below!
Organized Closet Source List
Wall Color — Benjamin Moore Simply White in Eggshell
How to Plank Walls Tutorial
Cabinets — IKEA Hemnes Bookcases & Glass Cabinet
Closet Rod & Brackets — here
Velvet Hangers — here
Cane Webbing Tutorial — Webbing Here
Flooring — Engineered Mocha Stain, similar here
Runner — 2.5 x 8′ here
Light Fixture — Heirloom Bronze
Woven Shade — Driftwood