This organized girl closet makeover has a floral wallpaper backdrop and features smart storage ideas that can adapt as she grows older.
I never thought I'd be in a situation when I envy my own child — but I'm a little bit totally jealous of the storage in Lyla's new closet. This organized girl closet makeover has definitely left it as the best one in the house currently. Read on to get all the details about how we transformed this space along with the rest of Lyla's bedroom makeover. You can also read the mood board post here!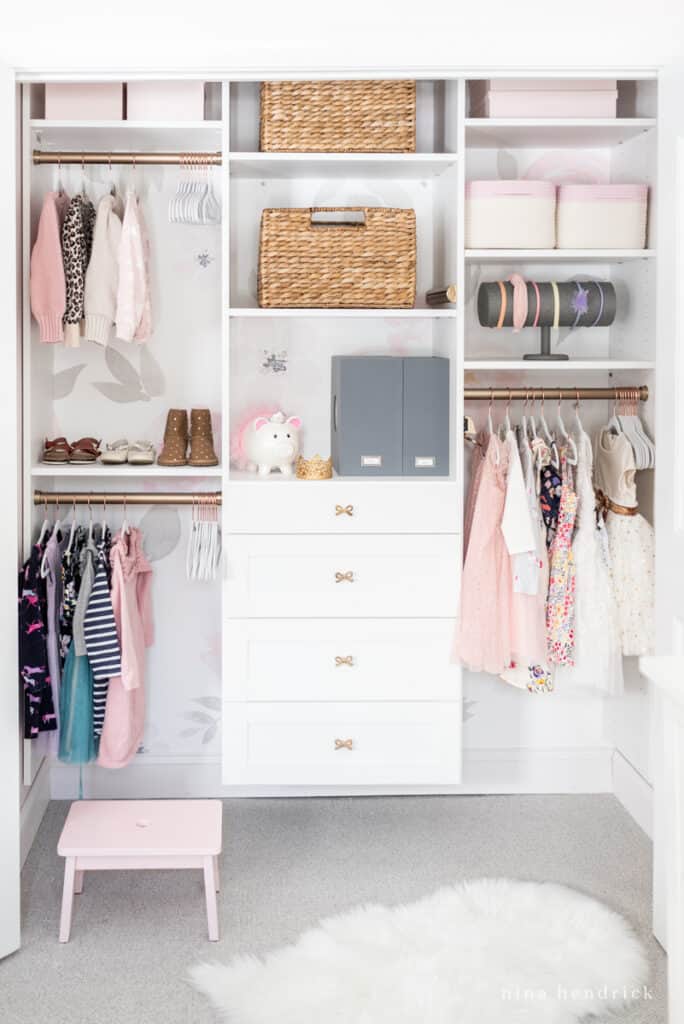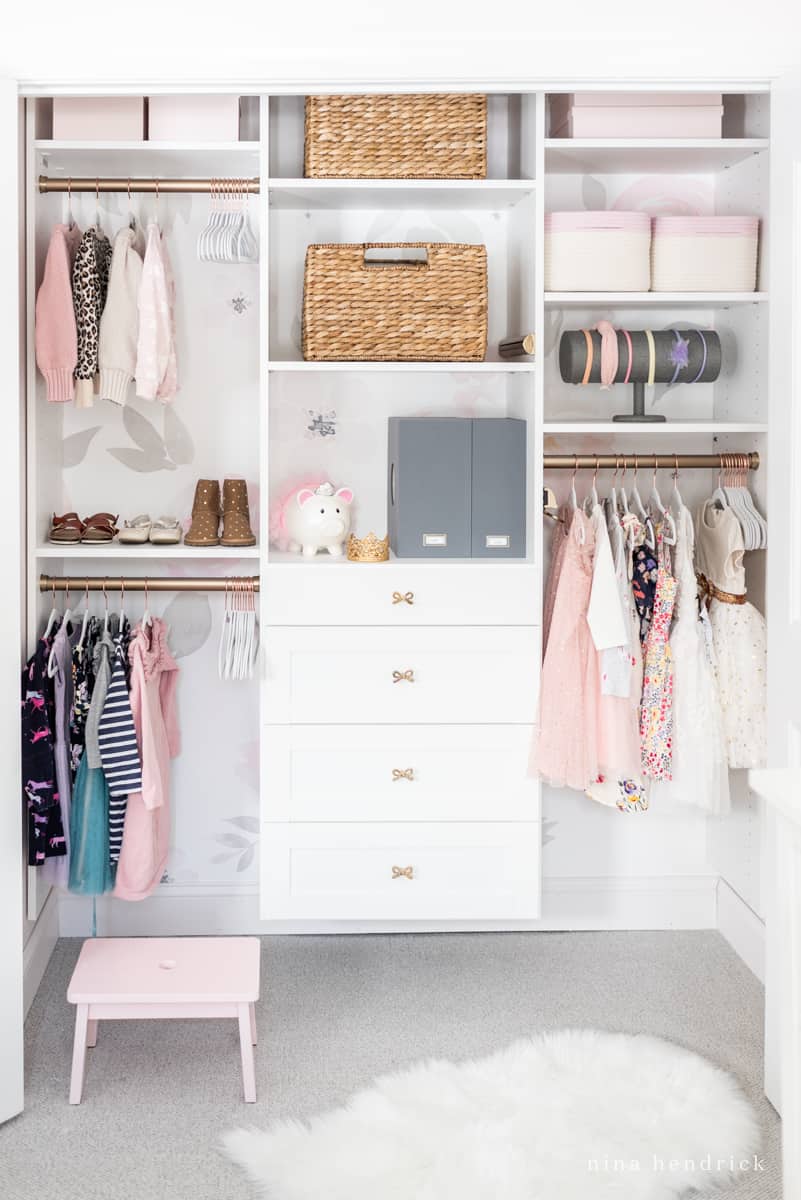 Organized Girl Closet Makeover
explore by room
I worked with California Closets. They didn't sponsor this post, I just "shopped around" virtually and on Instagram and found them to have the best quality and all the features we were looking for. I worked locally with Janice, and she was fantastic!
This post contains affiliate links, which means I may get a small commission (at no extra cost to you) if you shop my link. Please see my disclosure if you'd like more info!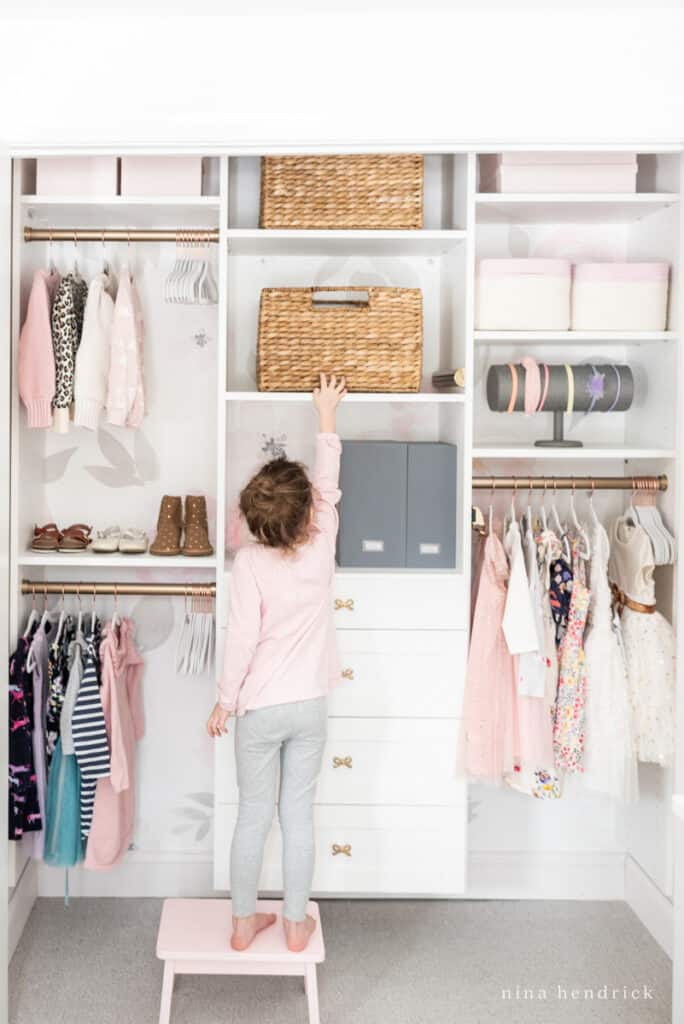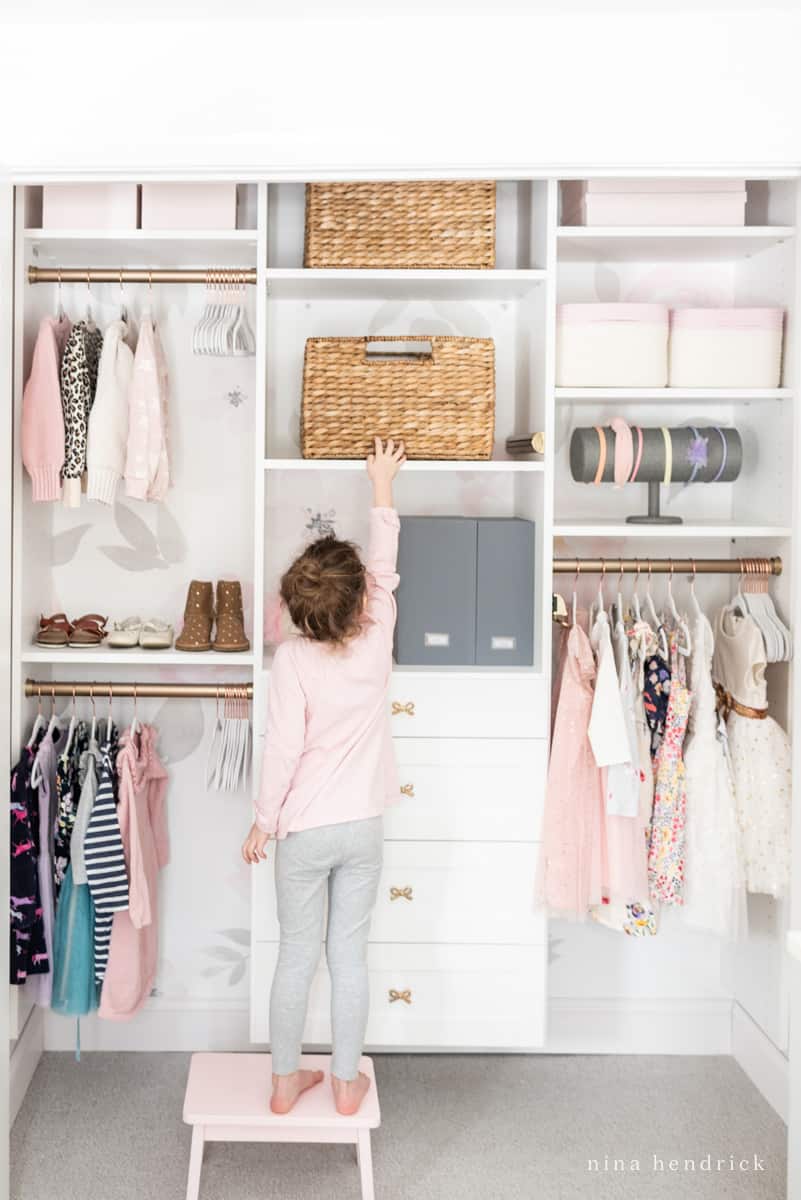 Our goal for Lyla's entire room was to create a space that can withstand the test of time and grow and evolve as she does. Luckily most of the components can be moved and adjusted in the peg system, so we can change the heights of the closet rods and etc.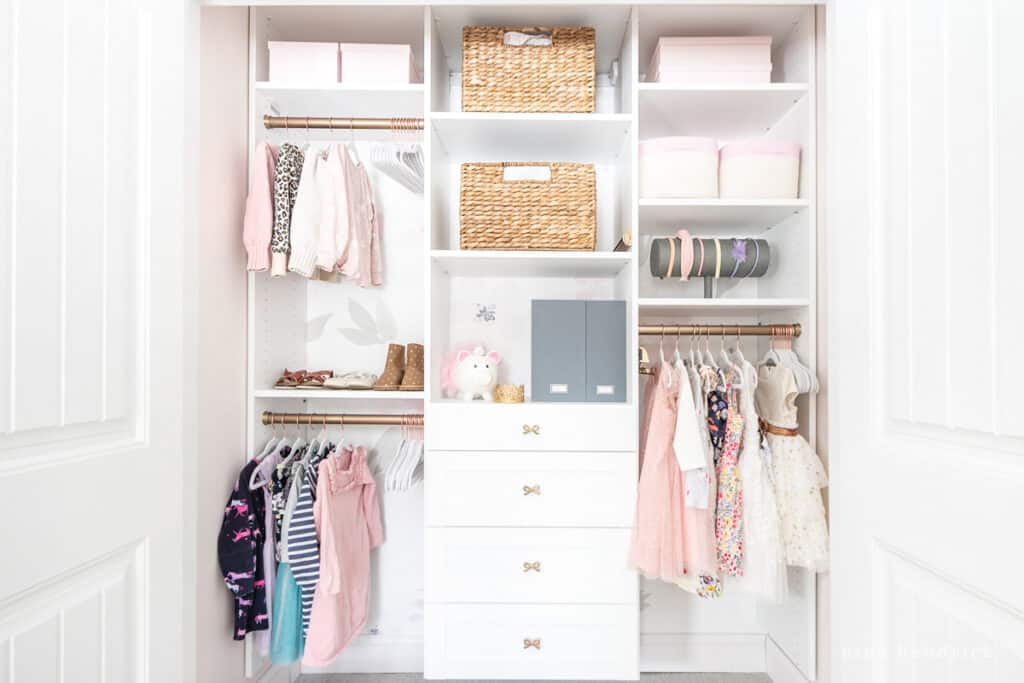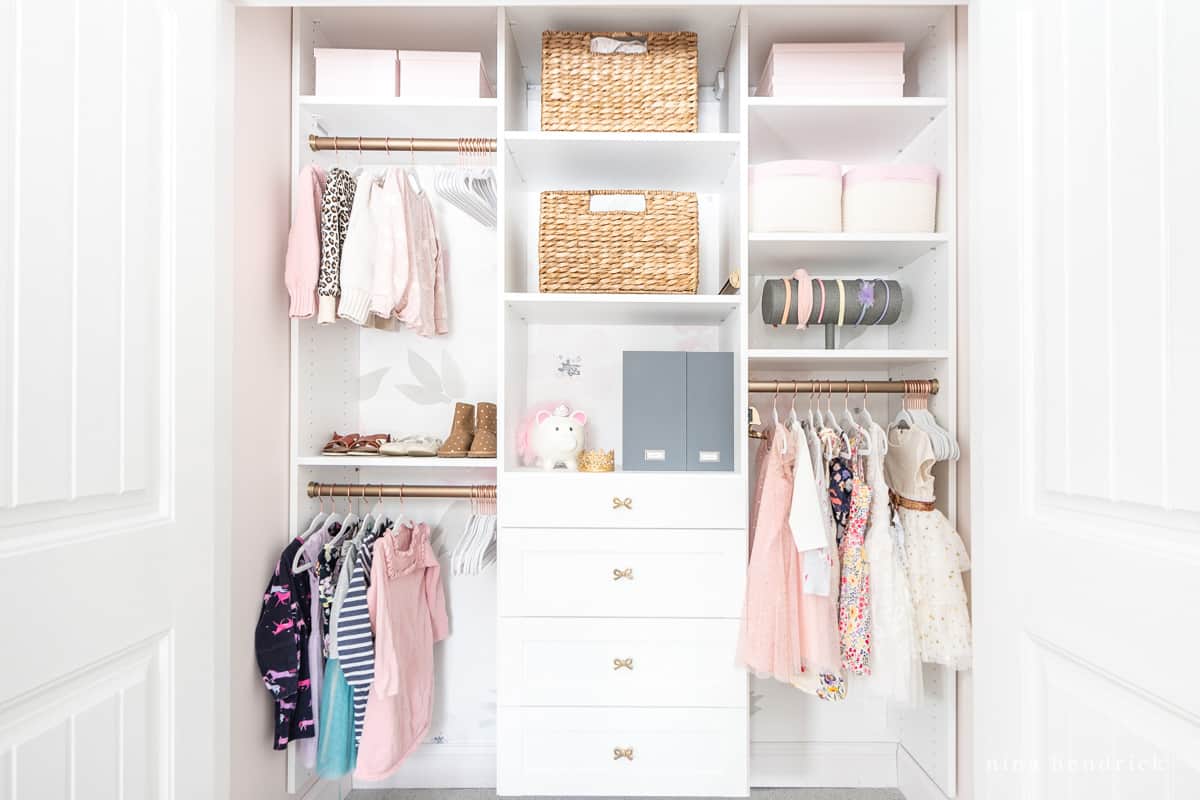 The back of her closet features the same floral wallpaper from the accent wall behind her bed. I love that you can see little peeks of the paper showing through!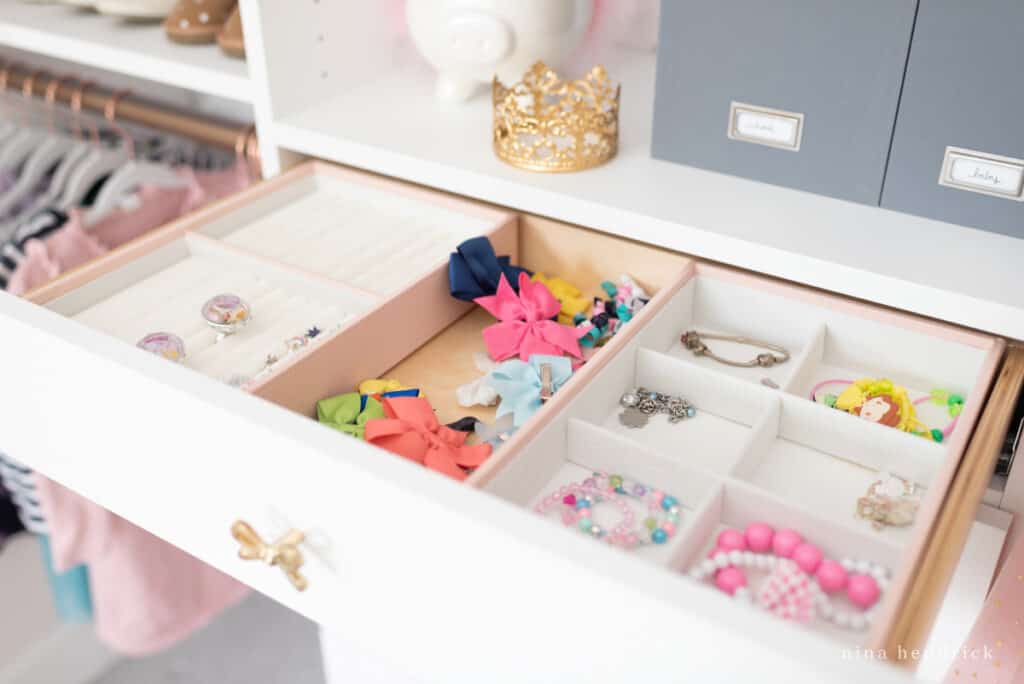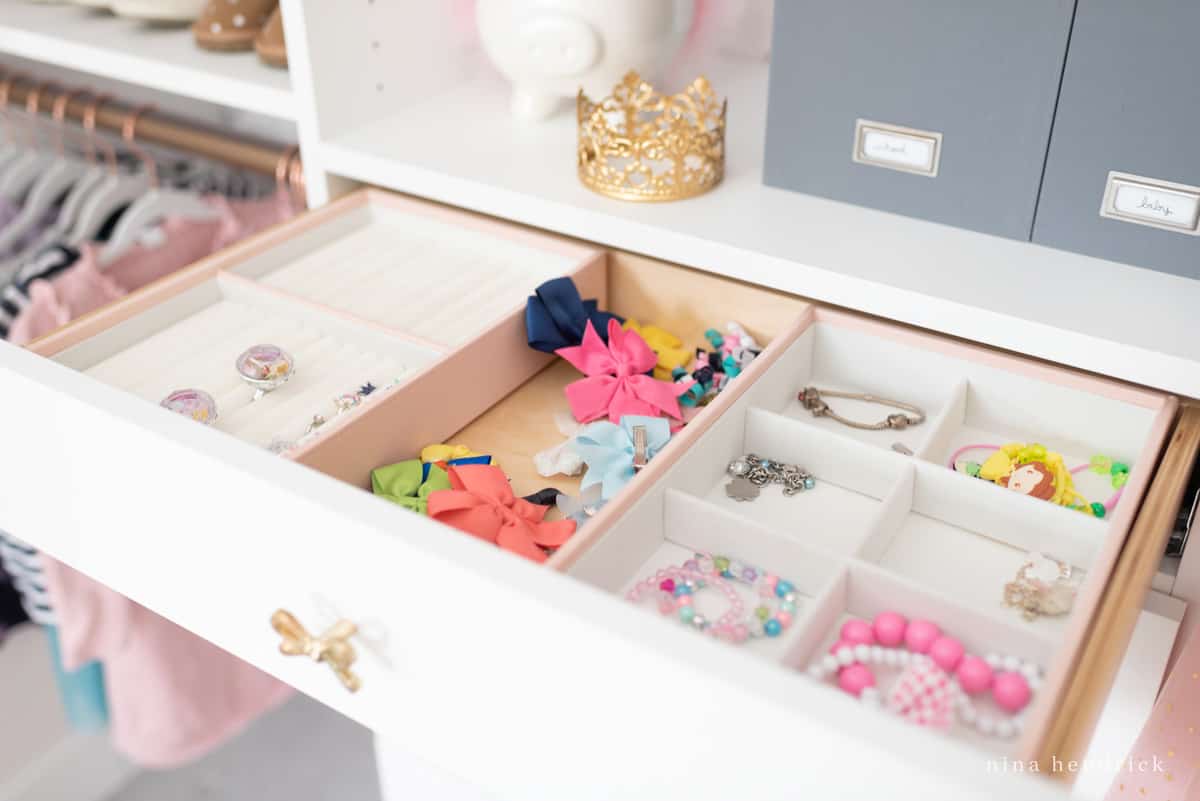 We carried over the sweet little gold bow drawer pulls from the rest of her room as well.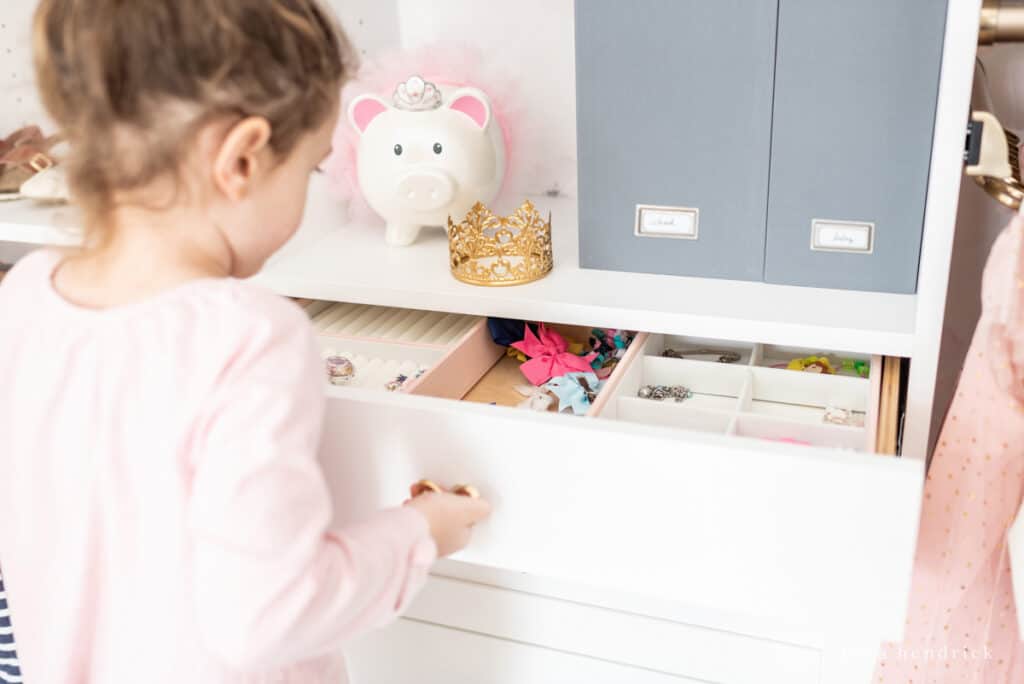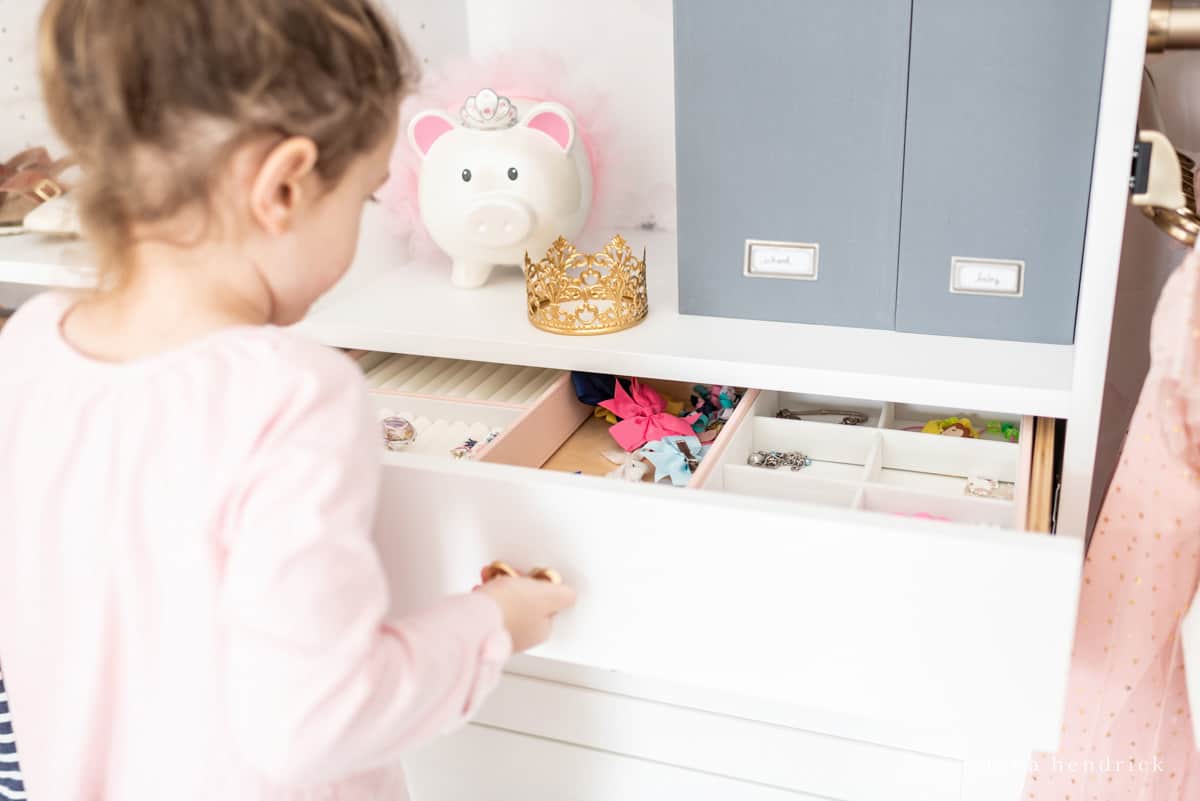 For the inside of her top drawers, I bought these blush jewelry organizers. She mostly has play jewelry right now, but it helps to keep it all in one place. We also store a lot of her bows in this drawer.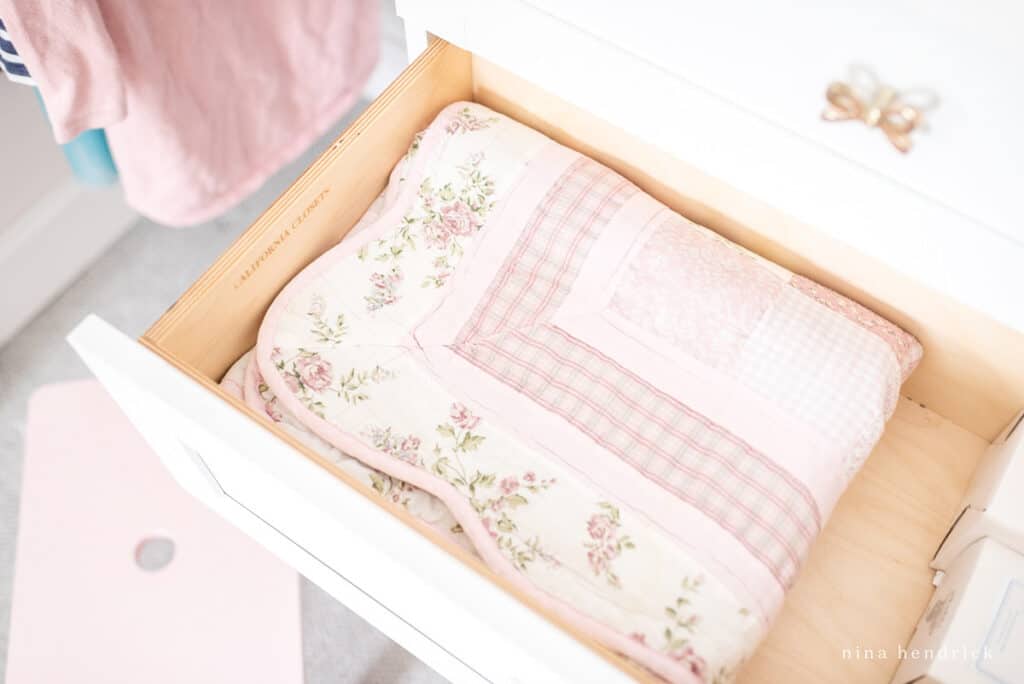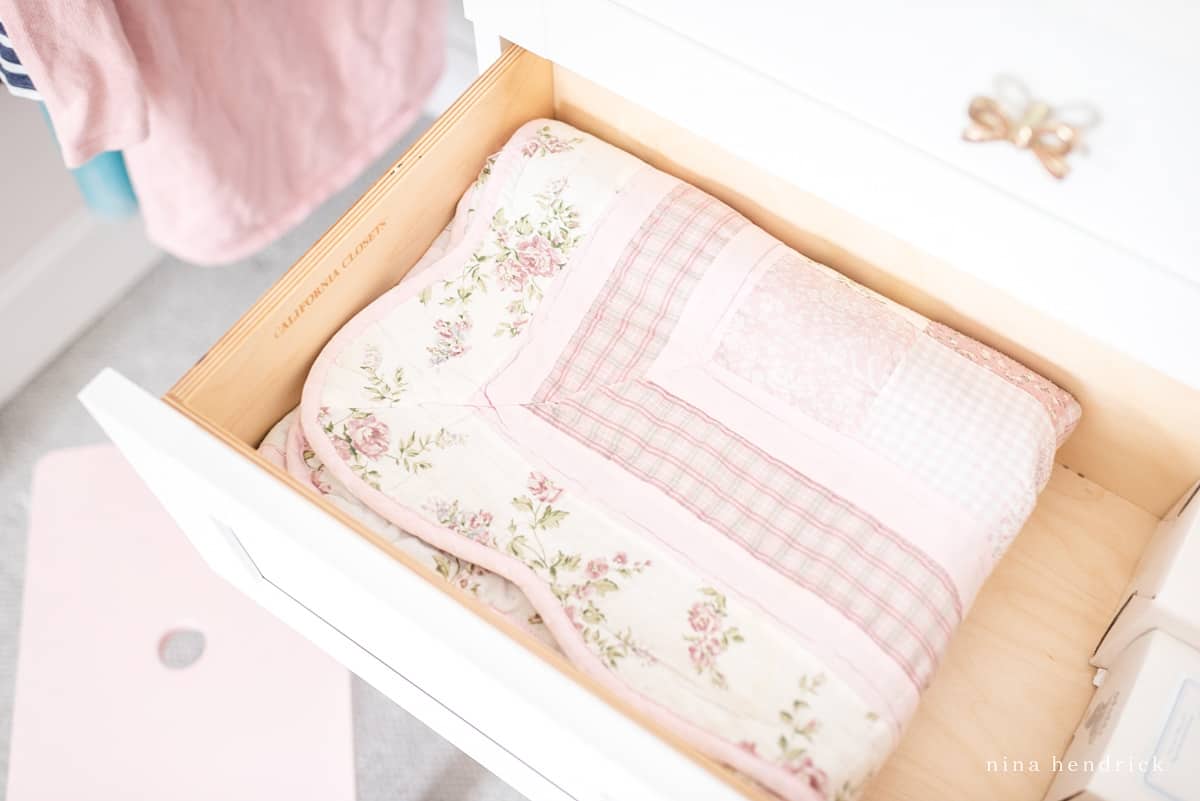 The lower and deeper drawers are perfect for storing extra blankets, like this handmade quilt my grandparents gave me for my sixteenth birthday.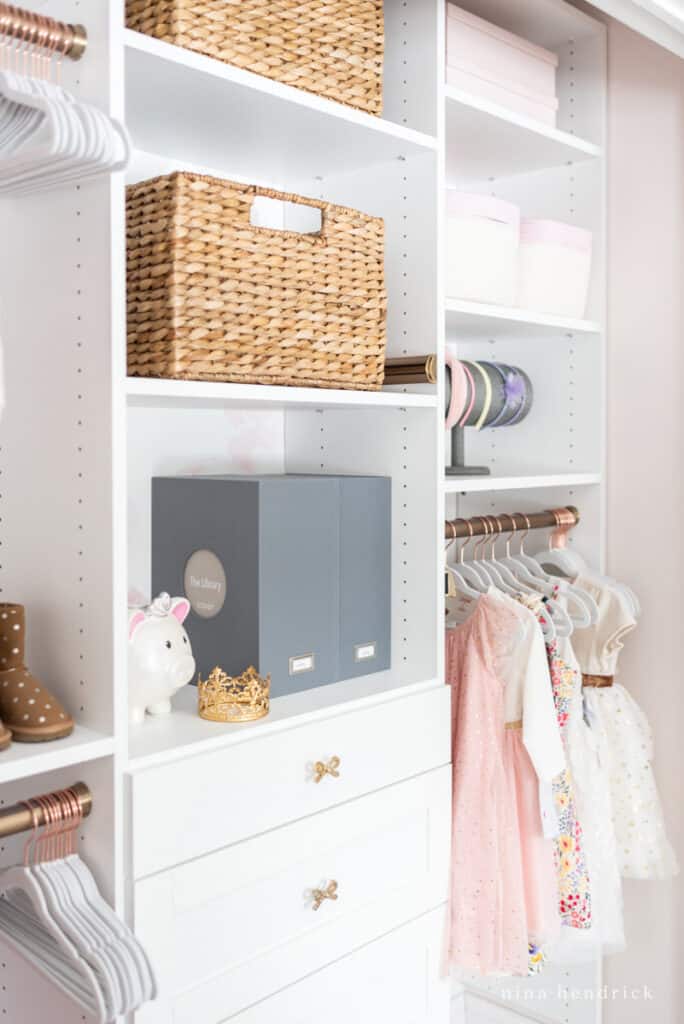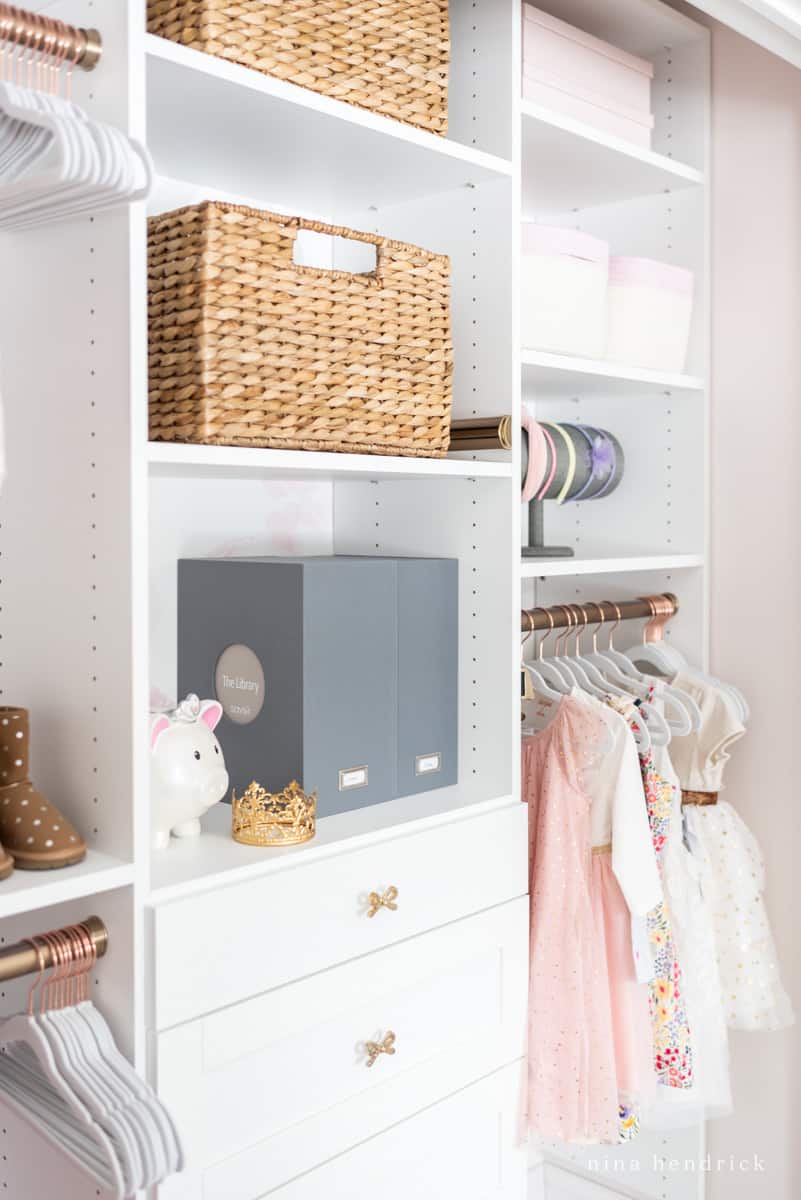 I got child-sized space-saving velvet hangers. I thought they were gold but they're really more like rose gold. They slide smoothly on the gold tracks.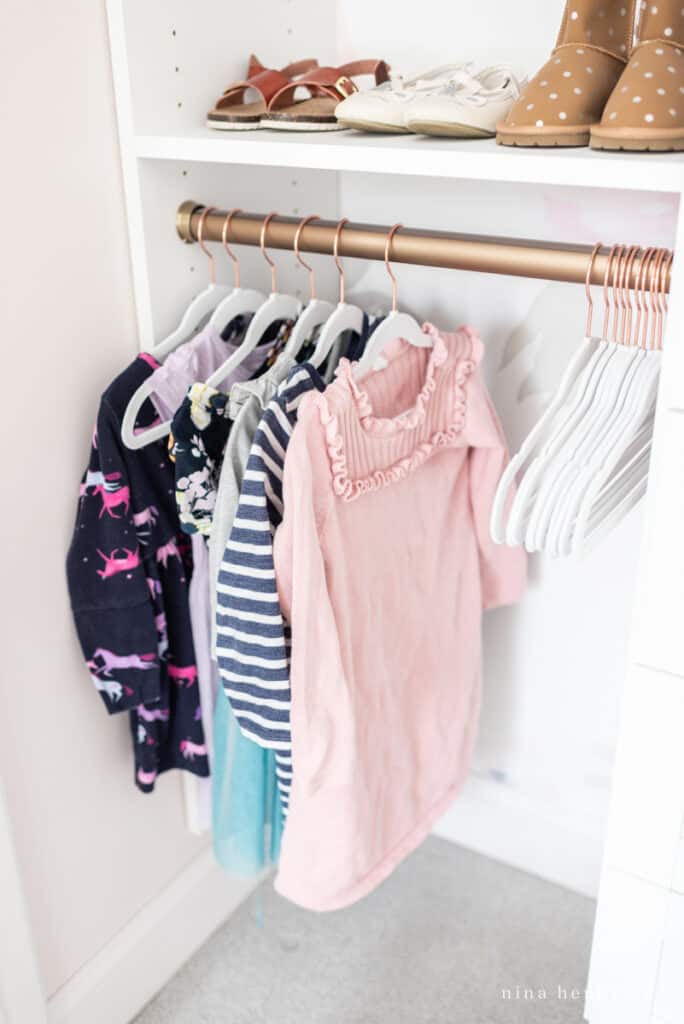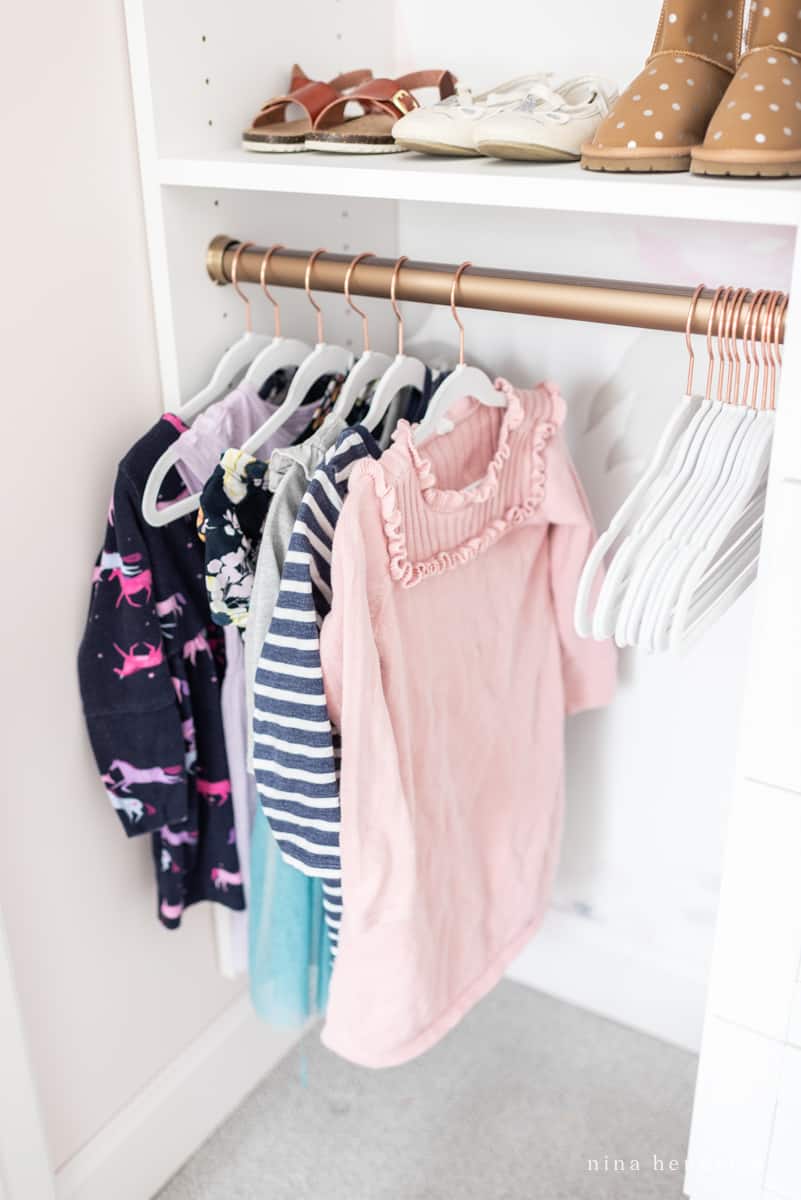 The clothes in the bottom left of her closet are her "play"/everyday dresses and they're easily within her reach so she can get dressed herself in the morning. A few pairs of her shoes are right above, but I'm also planning on adding a freestanding shoe rack on her floor.
Dress Storage Ideas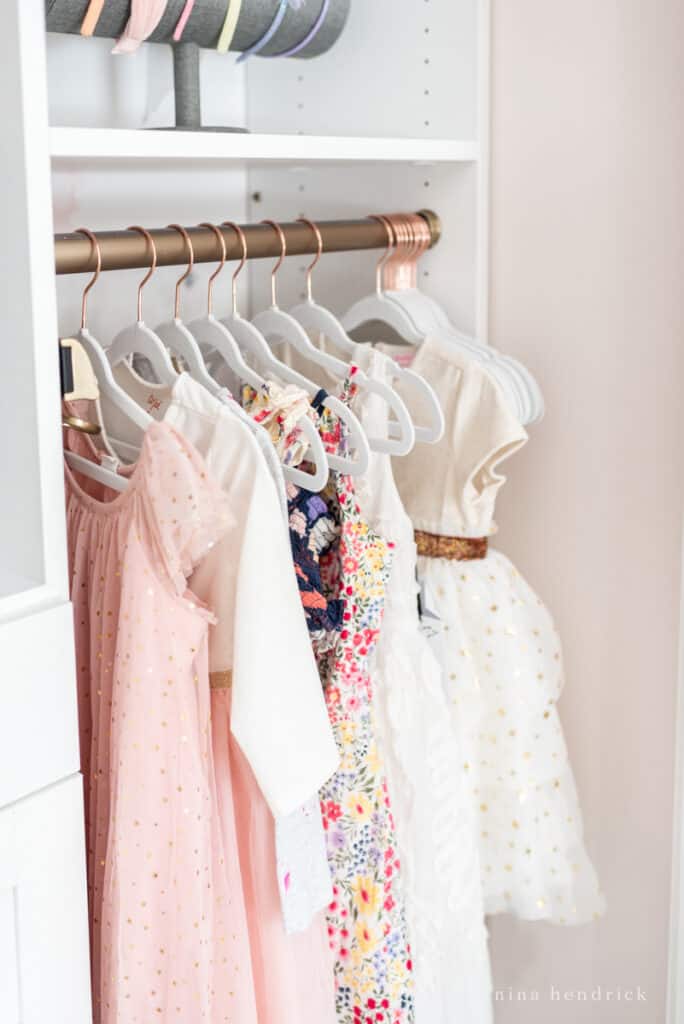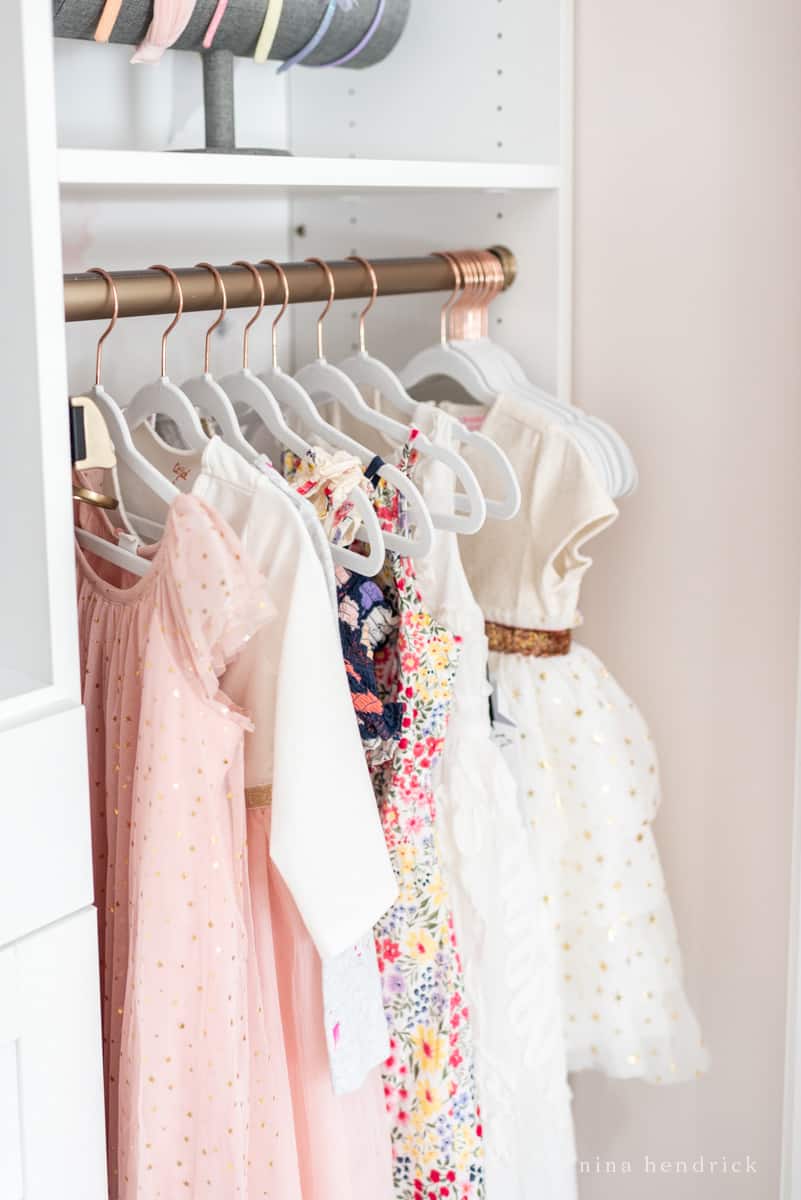 On the bottom right we have Lyla's fancy dresses.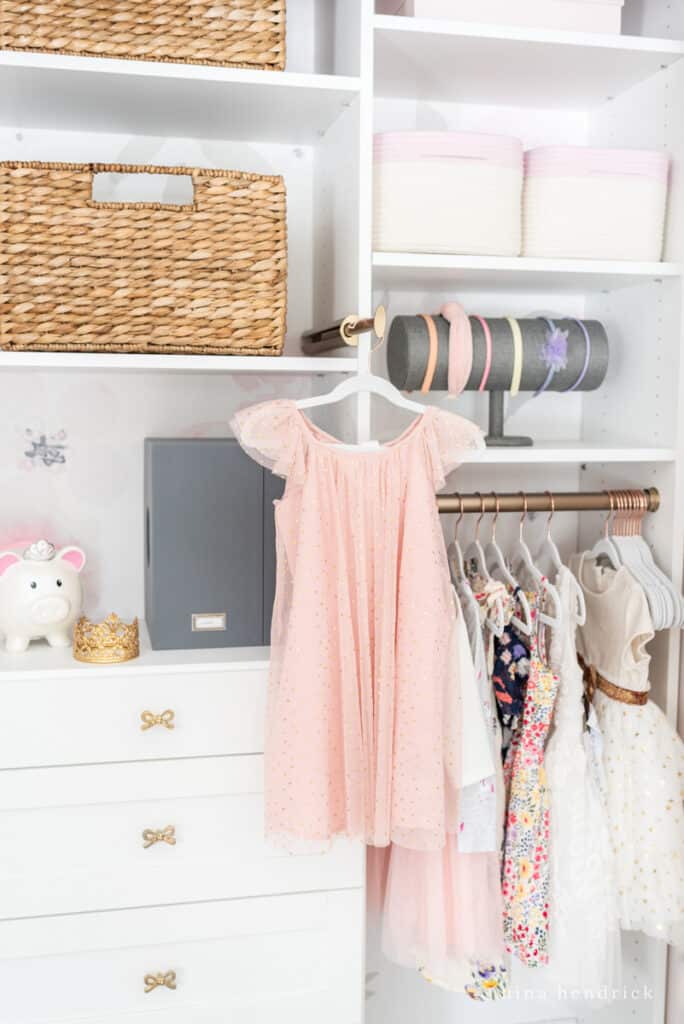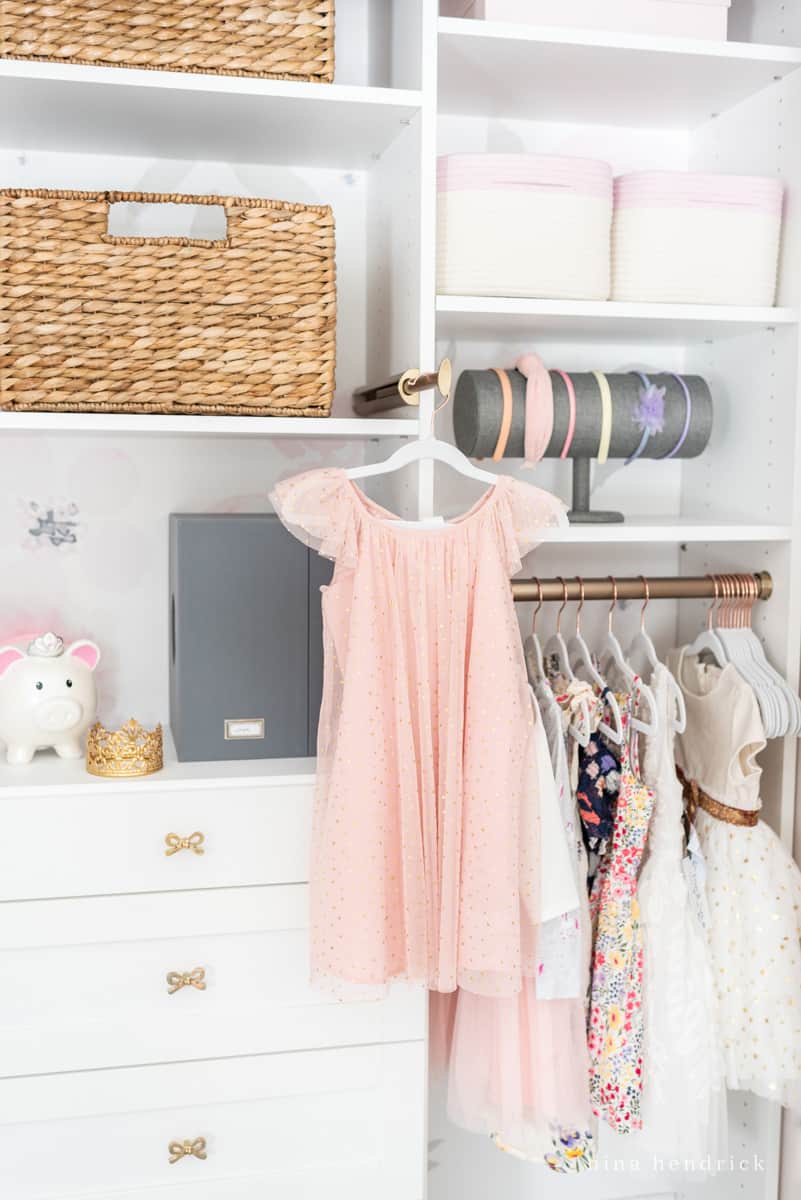 Up a bit higher we have a hanger for displaying or steaming clothes (which can be adjusted as she gets taller).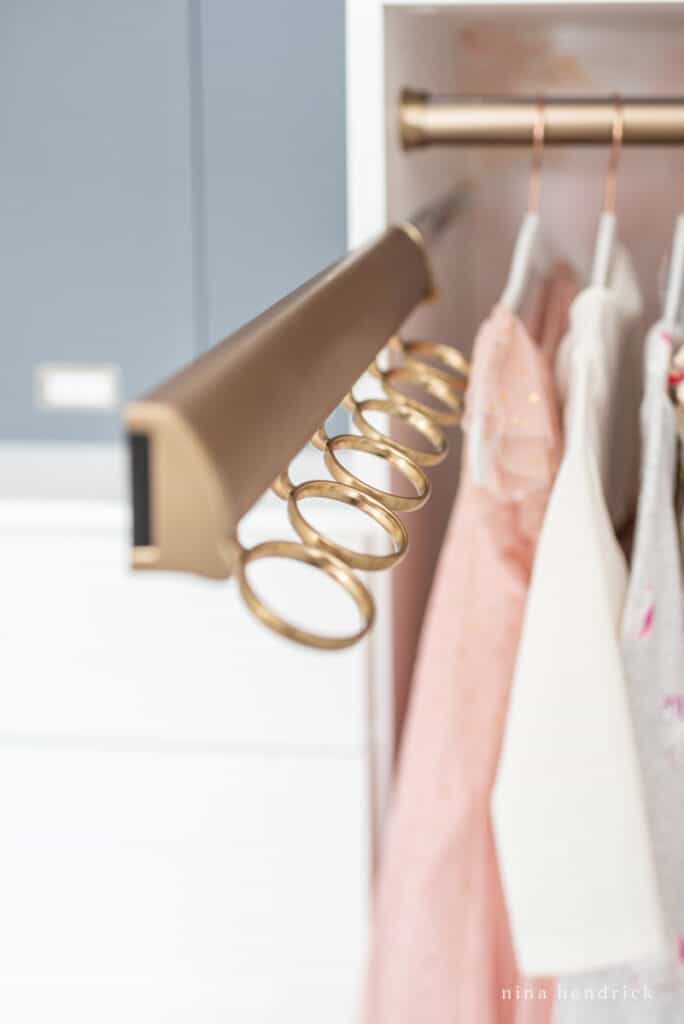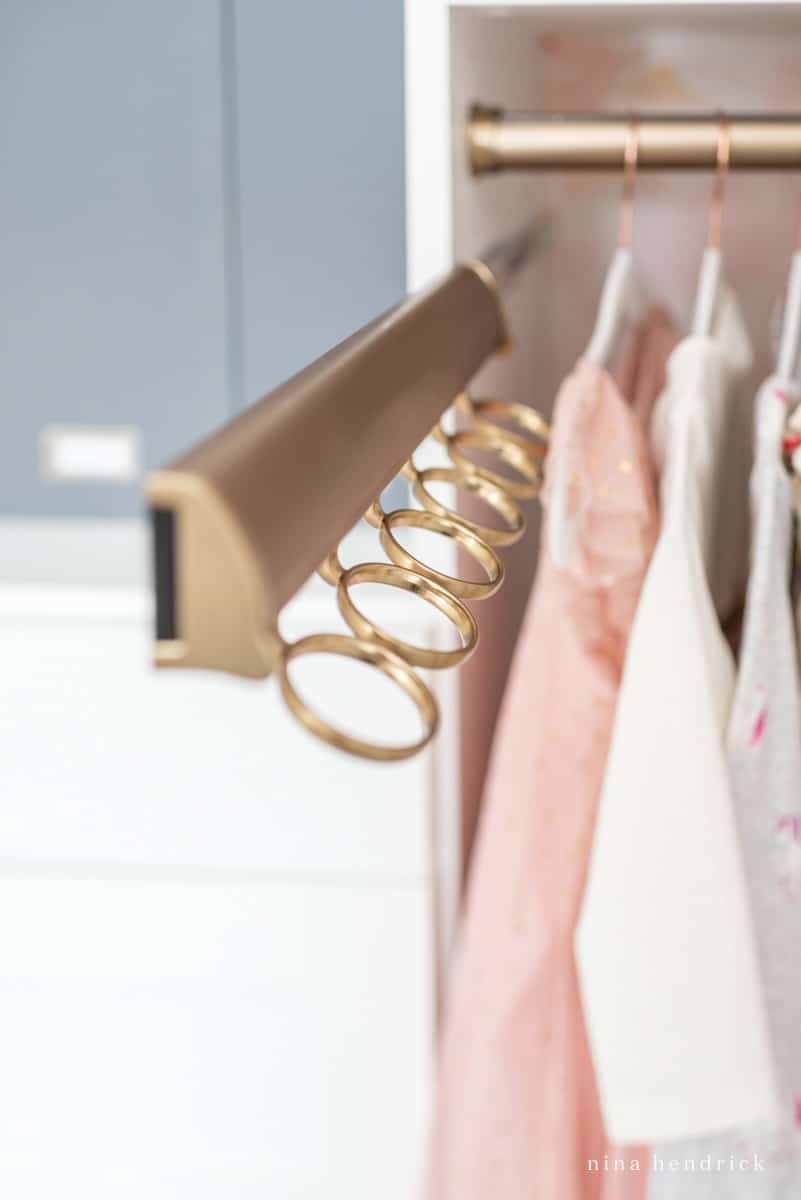 Also on this side is a pull-out scarf organizer, which I think she'll appreciate when she gets older! I know I wish I had one.
Organizing Kids' Memories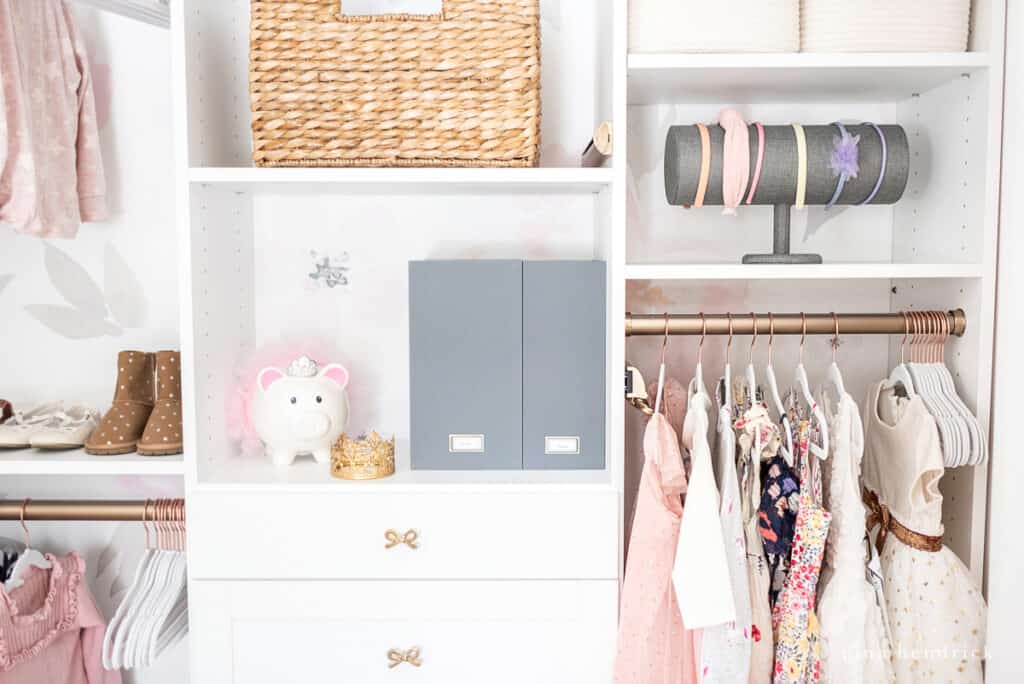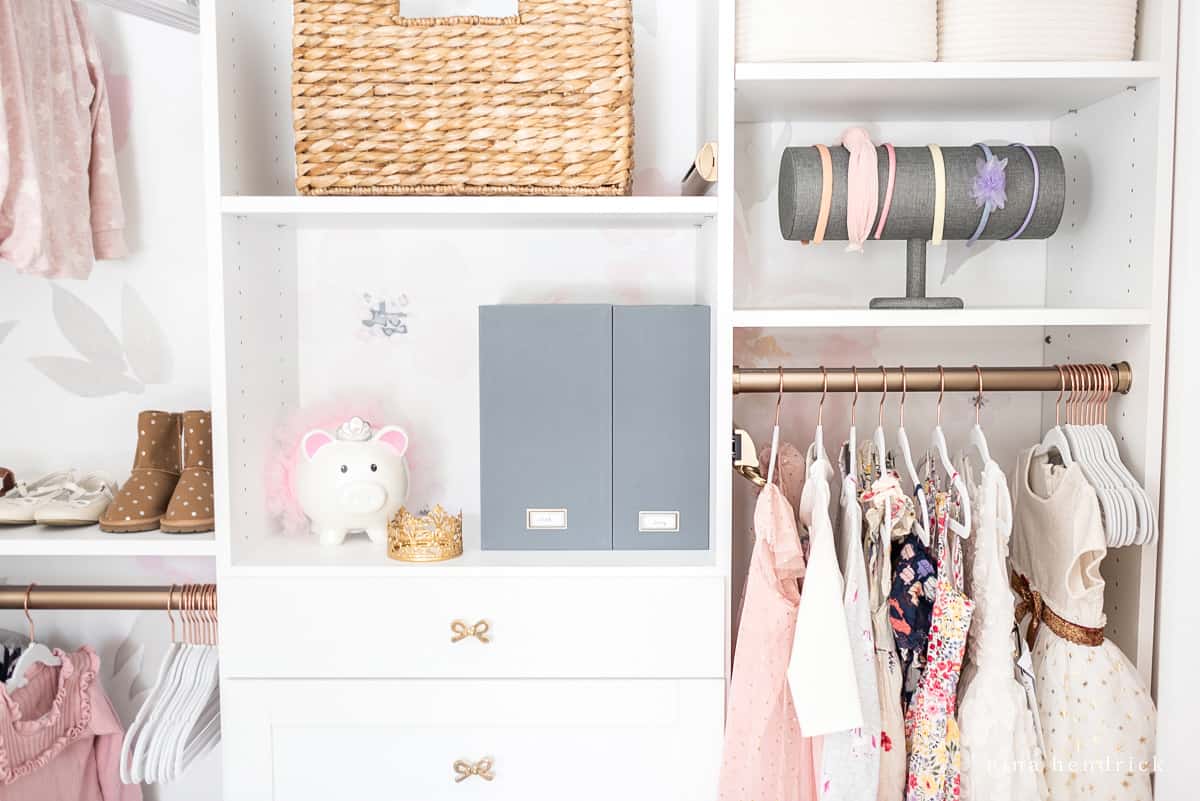 Above her drawers are some memory boxes from Savor — one for baby items and one for school items. I absolutely love these systems! I'll share how I've organized them in a separate post, but they're such a good solution for storing and organizing sentimental items.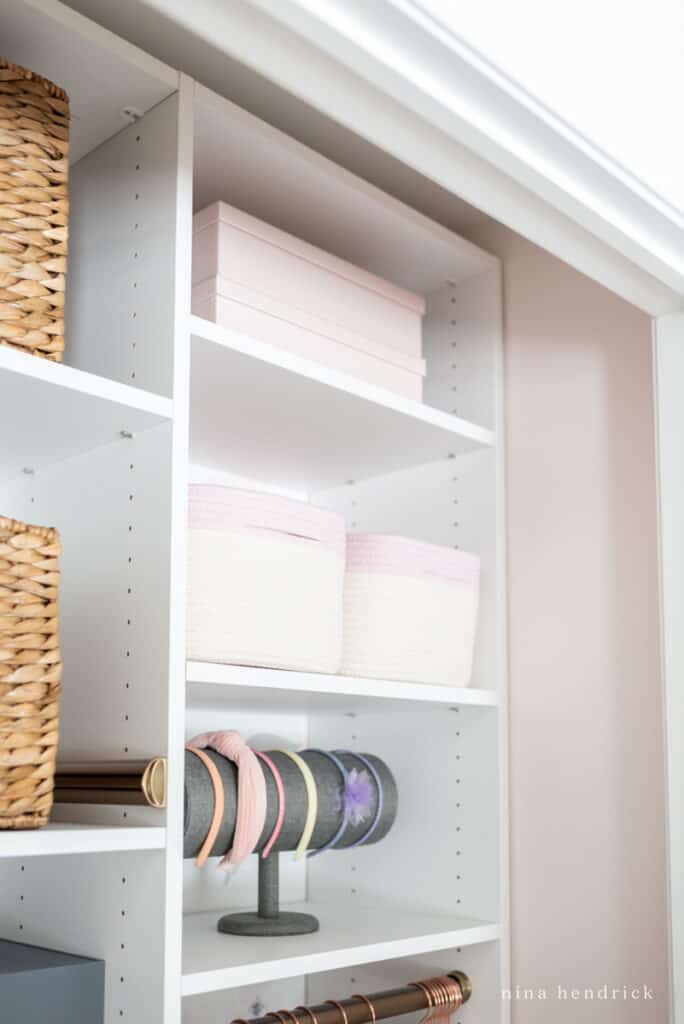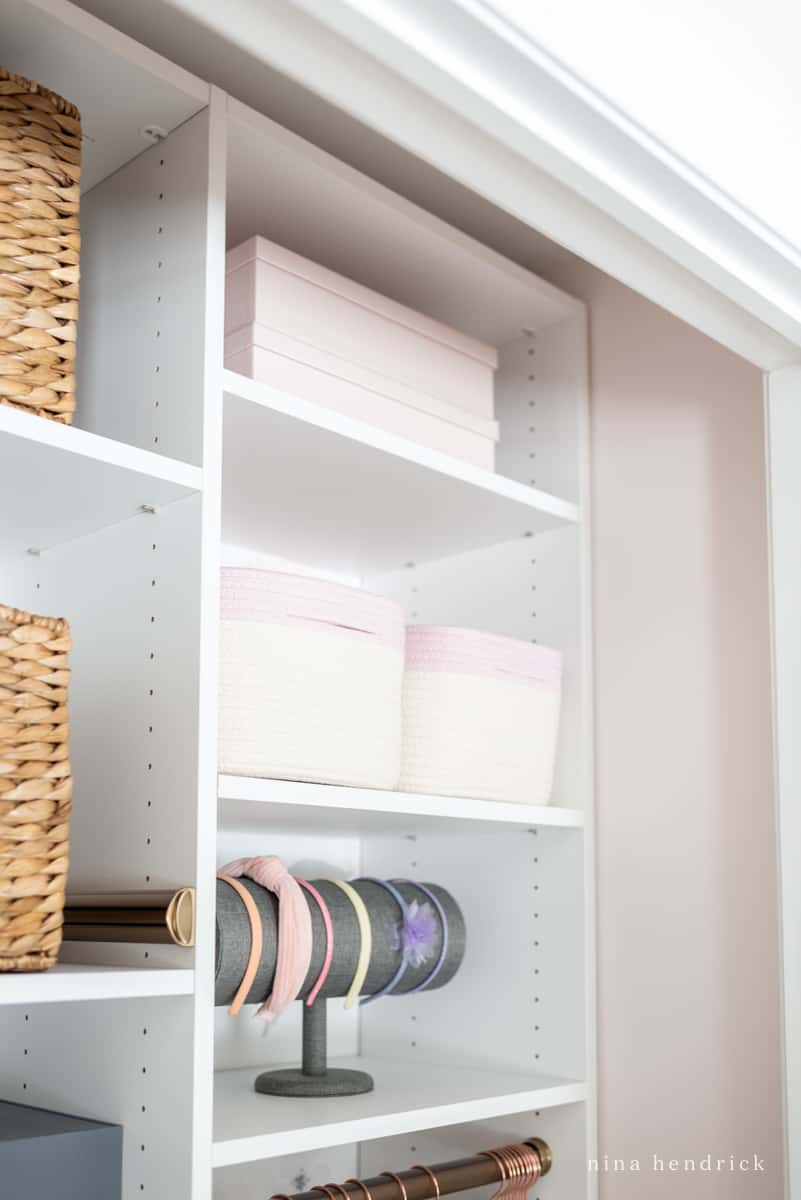 The overflow is in the pink boxes up on top of the closet.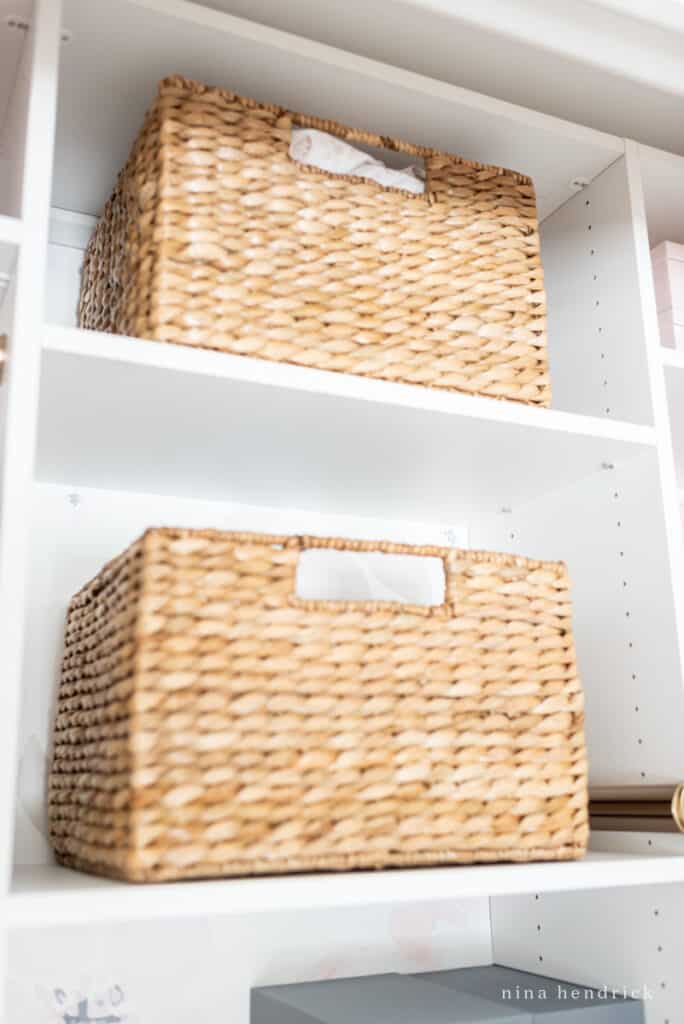 The wicker baskets hold extra sheets and her humidifier and nebulizer, plus all of the attachments.
How to Organize Headbands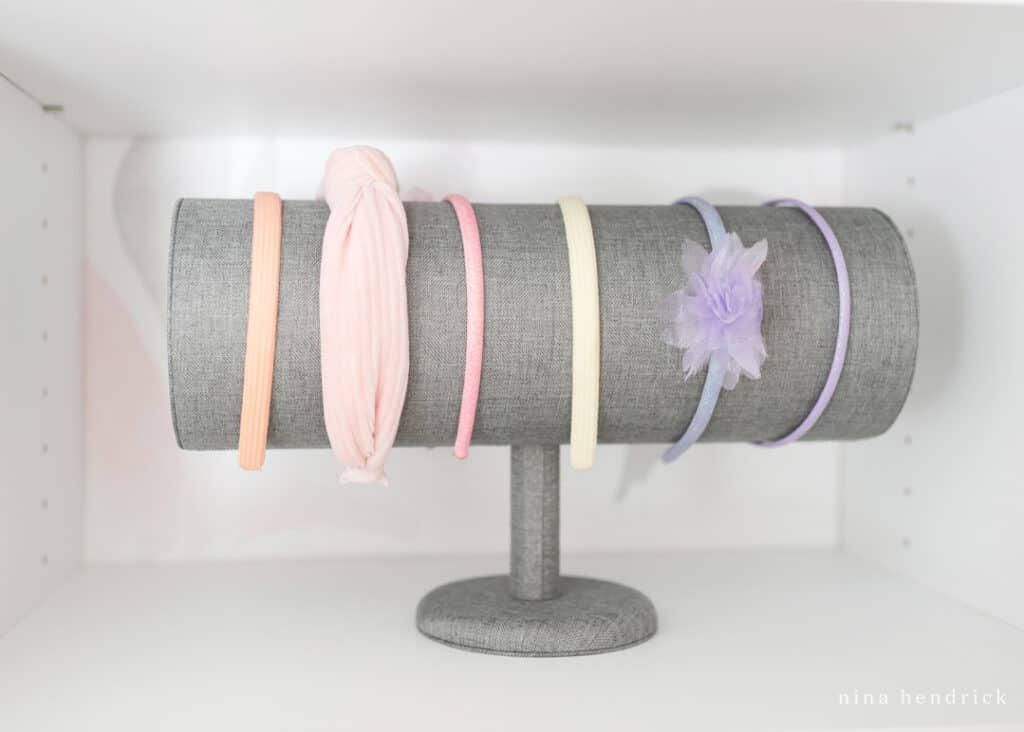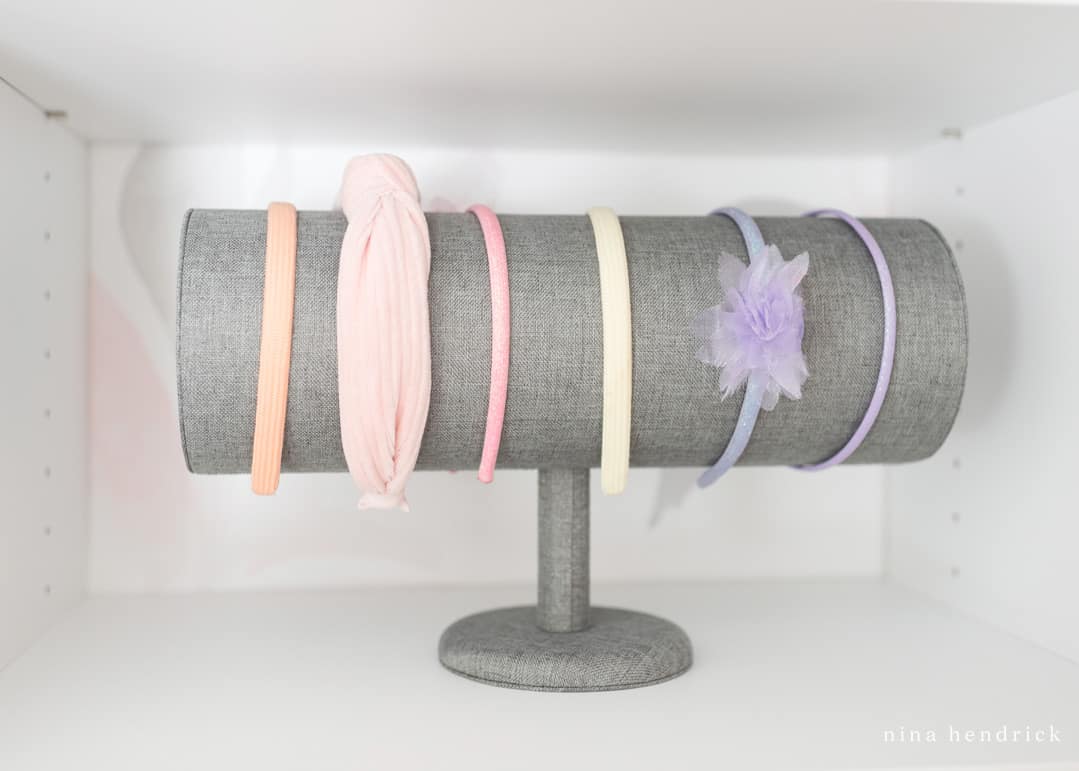 This headband holder is such a helpful way to store headbands which is sometimes an awkward item to try to find a place for.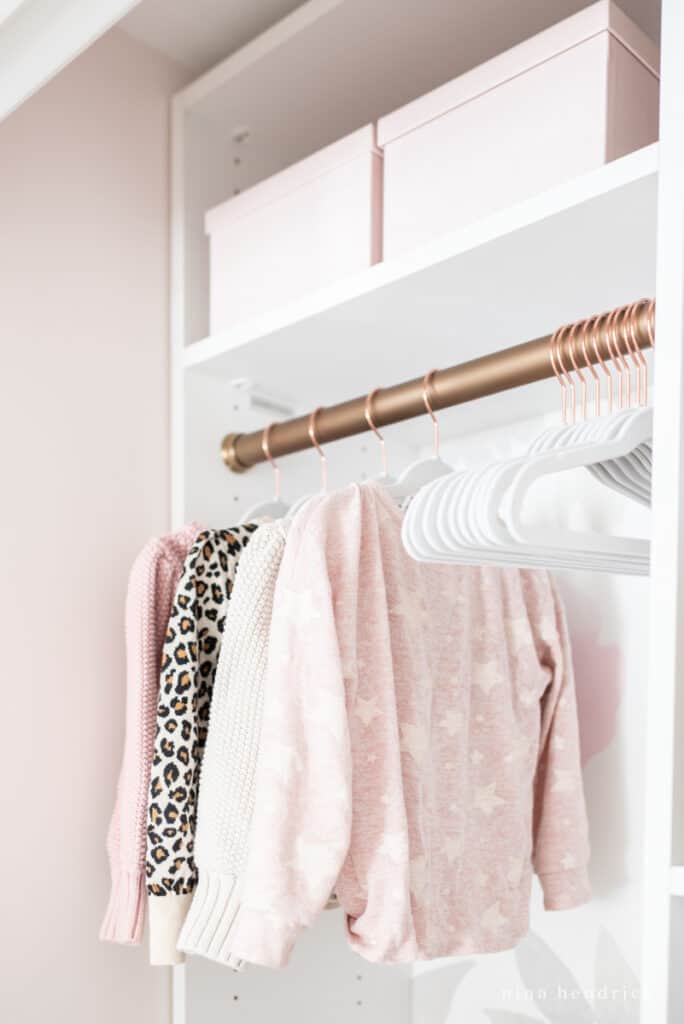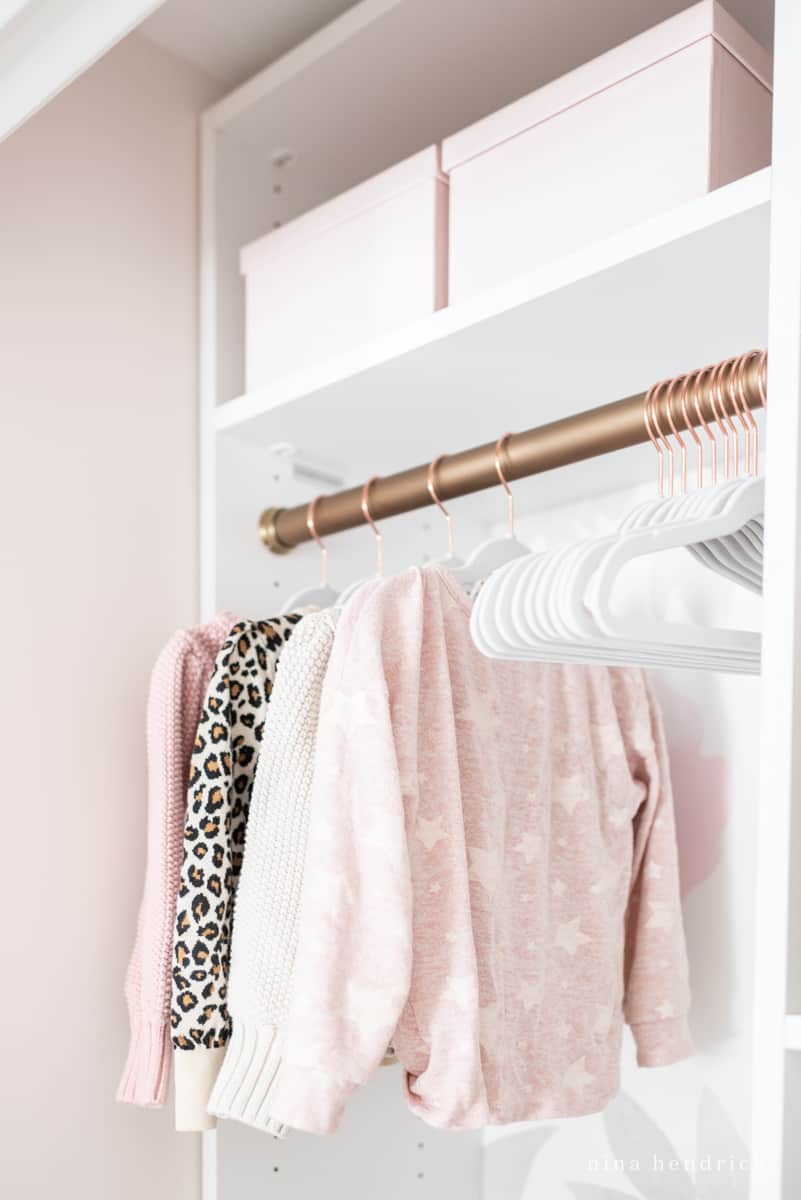 Last but not least, her sweaters are hung up above her shoes. Unfortunately, she can't reach with her stool to grab the ones she wants in order to get dressed in the morning, so I do still have to help. Someday!
So that's it, our organized girl closet makeover! We have more closet projects to come, so stay tuned and follow along on Instagram as they unfold!
Girl Organized Closet Makeover Source List
Wall Color — Benjamin Moore Melted Ice Cream lightened by 50%
Ceiling Color — Benjamin Moore Simply White in Eggshell
Trim Color — Benjamin Moore Simply White in Semi-Gloss
Wallpaper — Walpaperie Amara Floral
Closet System — California Closets (white shaker cabinetry, gold rods)
Bow Hardware— here
Velvet Hangers — here
Jewelry Organizers — here
Memory Boxes — one for baby items and one for school items
Headband Organizer — here
Crown — here
Princess Piggy Bank — here
Stool — similar here
Rope Baskets — here
Pink Boxes — Square and Rectangle
Wicker Baskets — Large, here
Pin It for Later