Sometimes it's hard to find fresh pumpkins early on in the autumn, so these simple early fall kitchen decorating ideas take advantage of the abundant produce of August and September.
Early Fall always feels like a season of its very own! I've put together several companion posts to this Early Fall Kitchen to help you tackle decorating every area of your home for this almost-season. You can check out the master Early Fall Decorating Ideas post here, my early fall tablescape, early fall mudroom, and a vintage apple study printable that coordinates with these spaces. For even more fall kitchen ideas, make sure to scroll to the bottom of this post!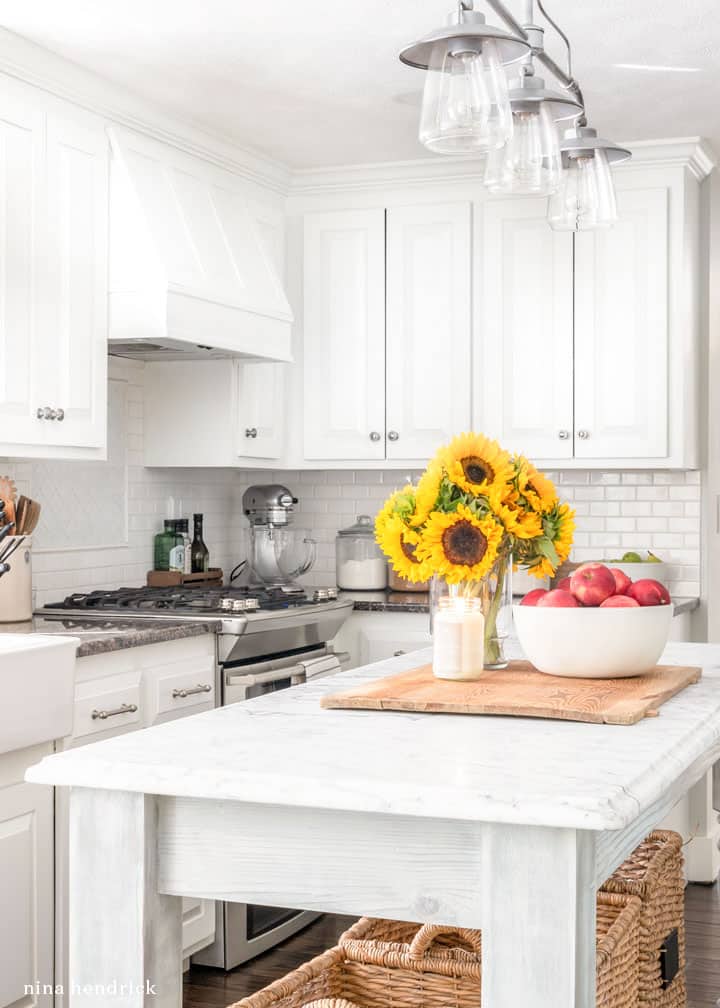 Simple Early Fall Kitchen Decorating Ideas
You may agree with me— I find that my decor evolves as the season progresses. In the early fall, It's difficult to dive into the pumpkins and pops of orange and yellow and red. Our produce is just a bit behind here in New England, so the pretty real heirloom pumpkins won't be out for a week or two!
Decorate with Fresh Seasonal Produce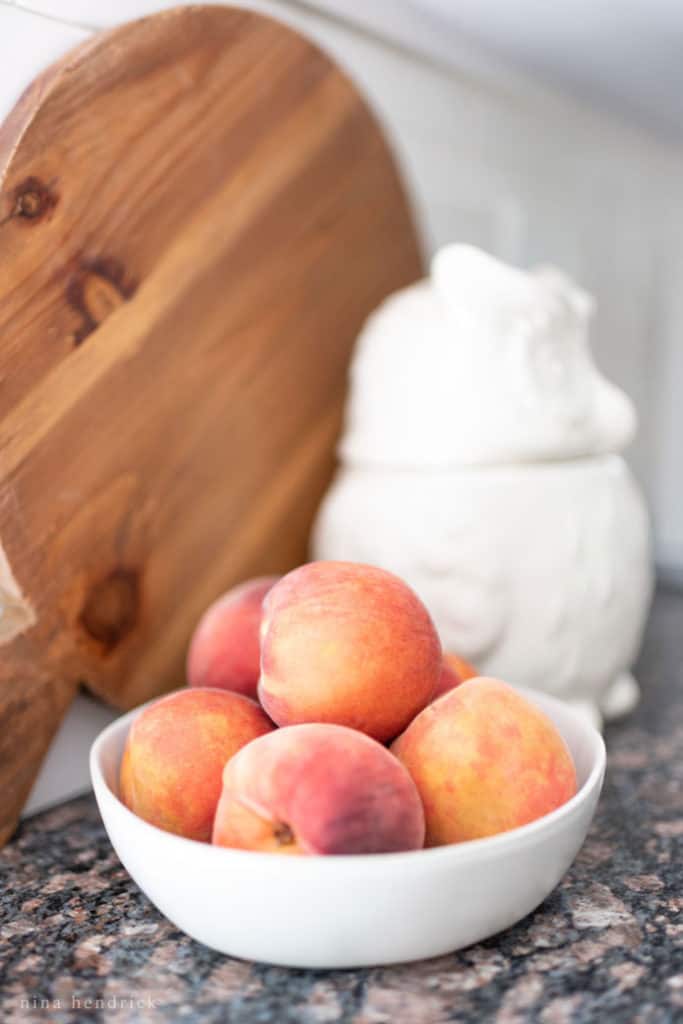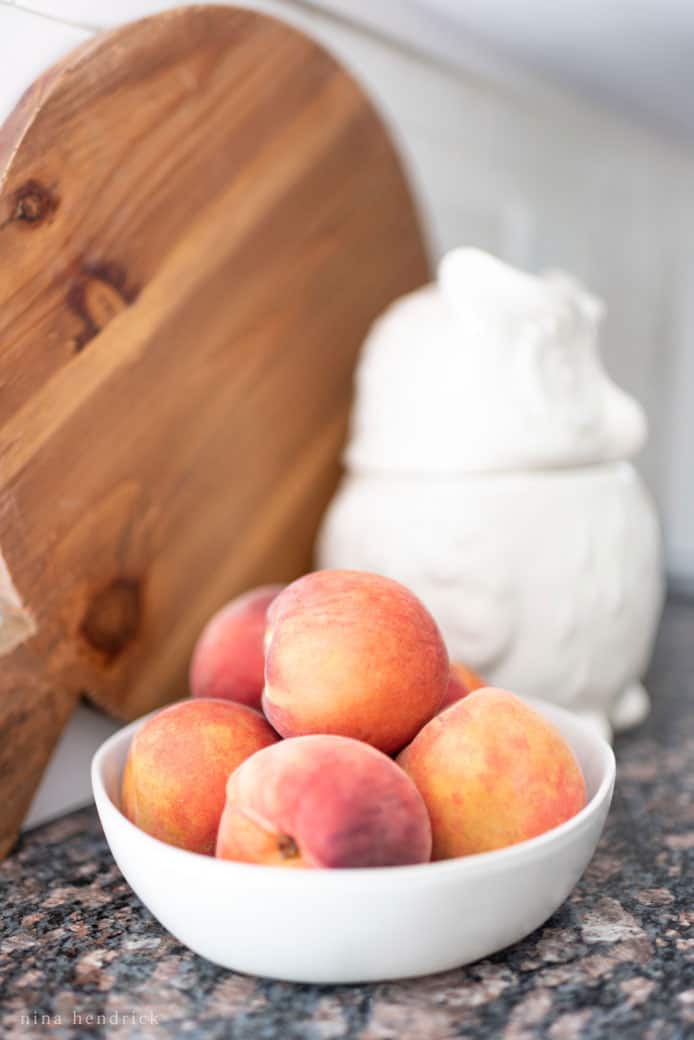 Instead, I take advantage of the abundant seasonal harvests. Any excuse to go to the farm stand is a valid one in my book! Bright apricots can sit in a stoneware bowl on the counter and bring in color, but they're still handy as a snack.
Fill the Kitchen with Fall Baking Scents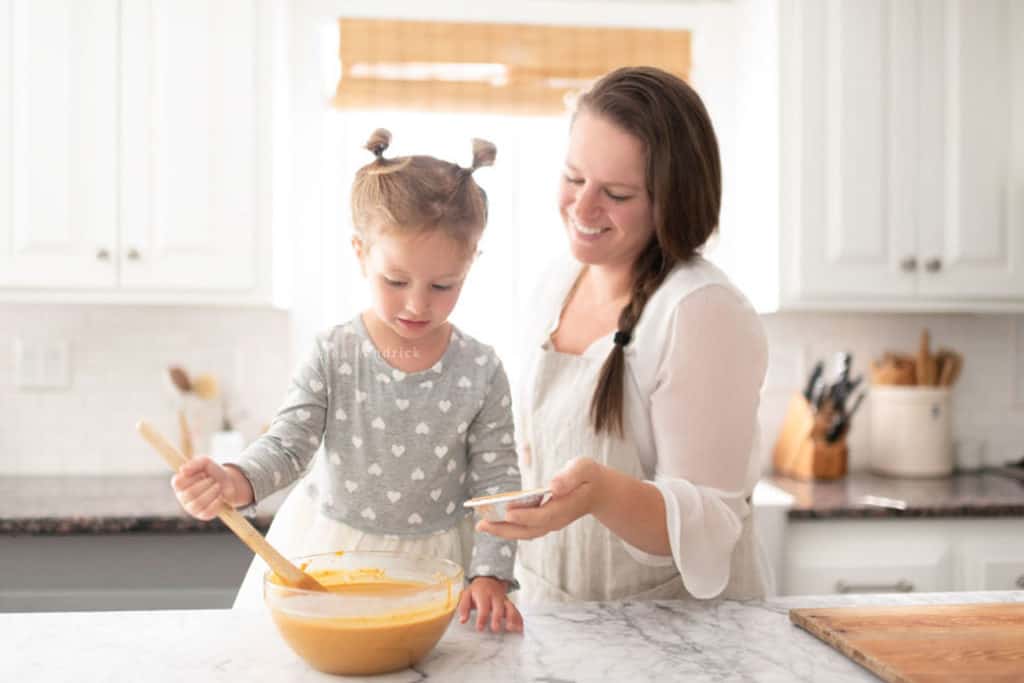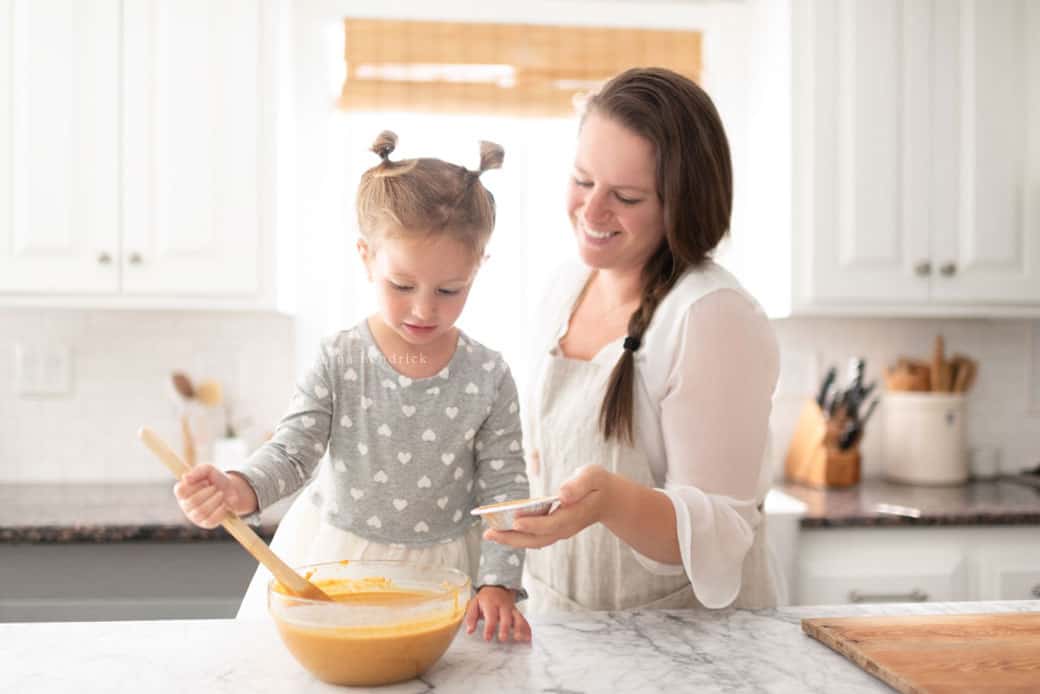 The best way to get the kitchen ready for autumn? Fill it with the scent of pumpkins, even if we can't decorate with them yet!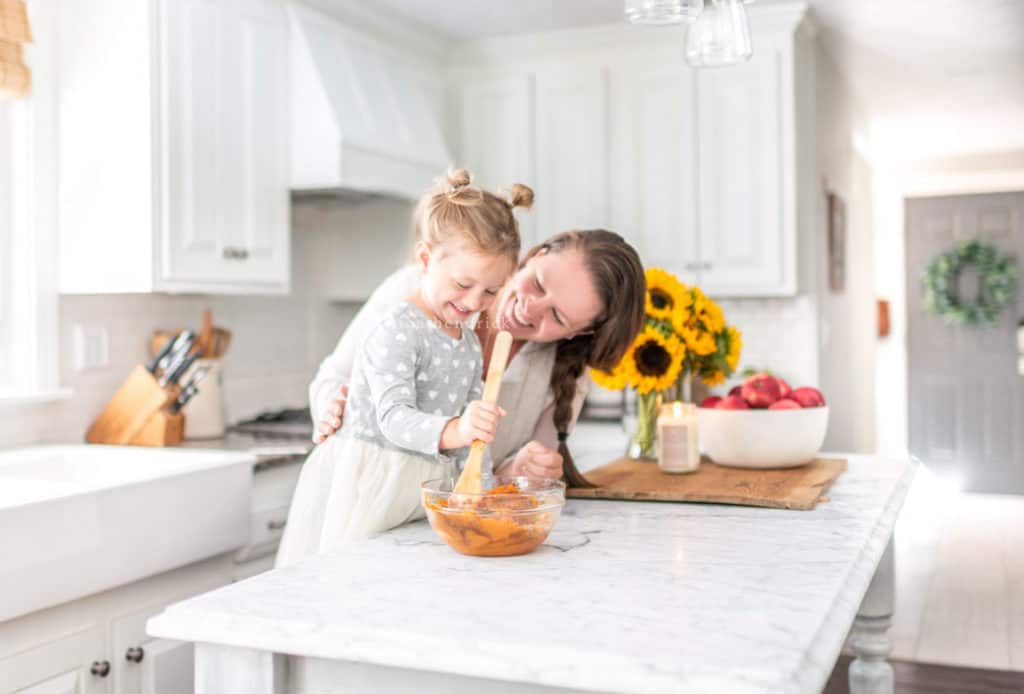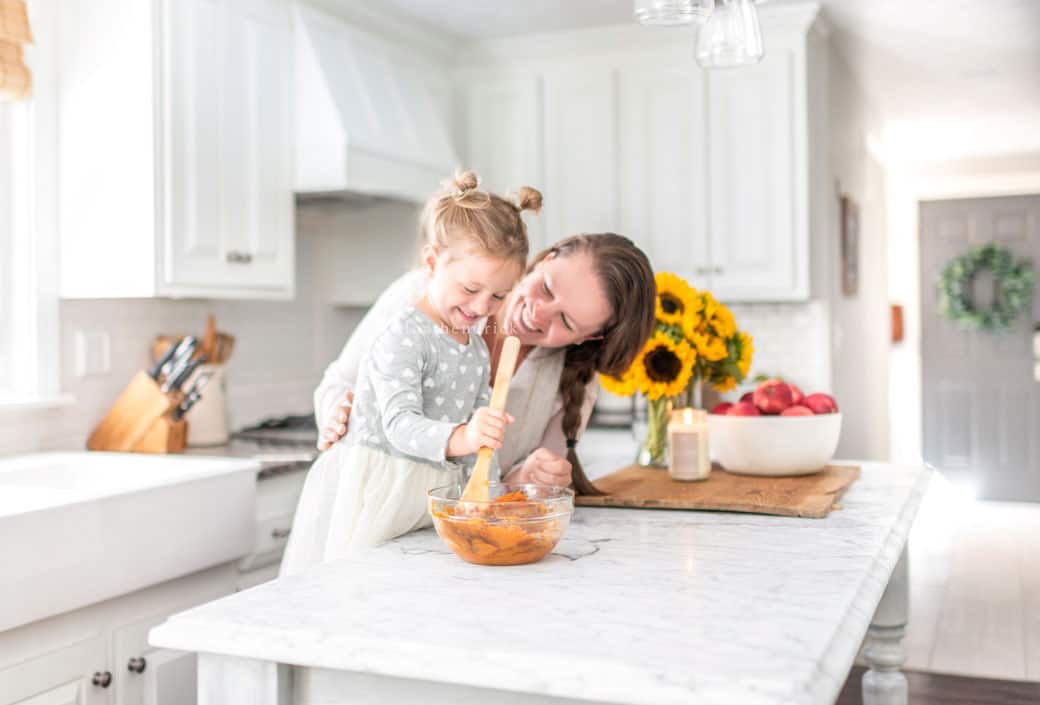 This right here is my reason for wanting to decorate in the first place. Making meaningful memories is my whole purpose behind decorating and homemaking! My daughter Lyla loves to help me bake and is endlessly fascinated by anything happening in the kitchen. I love that it's something we both enjoy doing together.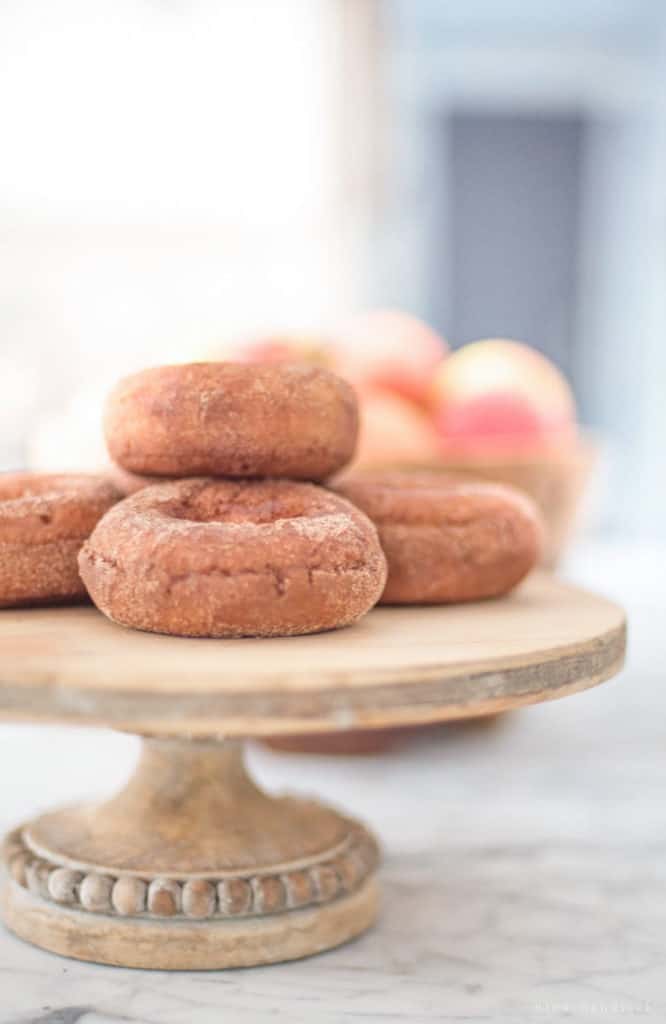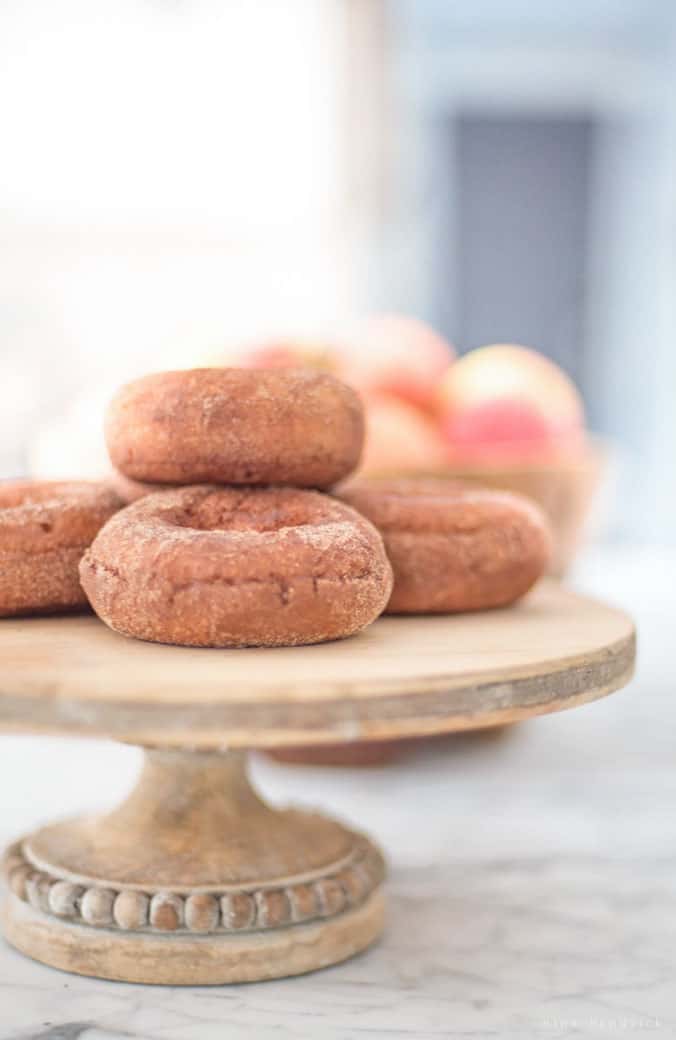 Pumpkin donuts also serve double-duty of looking pretty on their wooden cake stand and tasting delicious. You can see some of our other favorite fall recipes here!
Light a Yummy Smelling Candle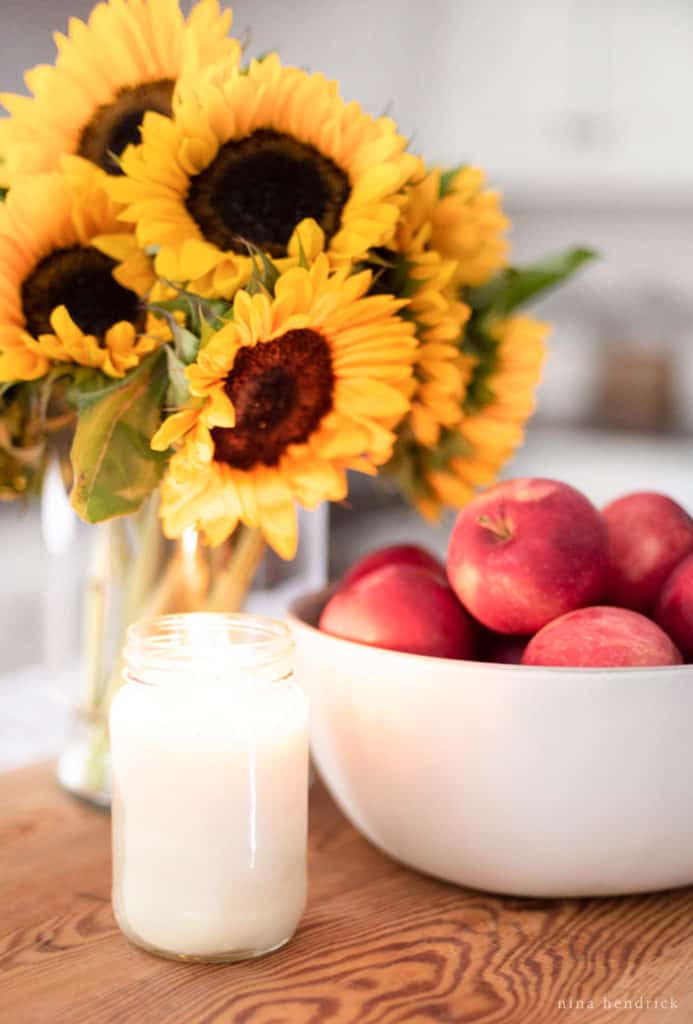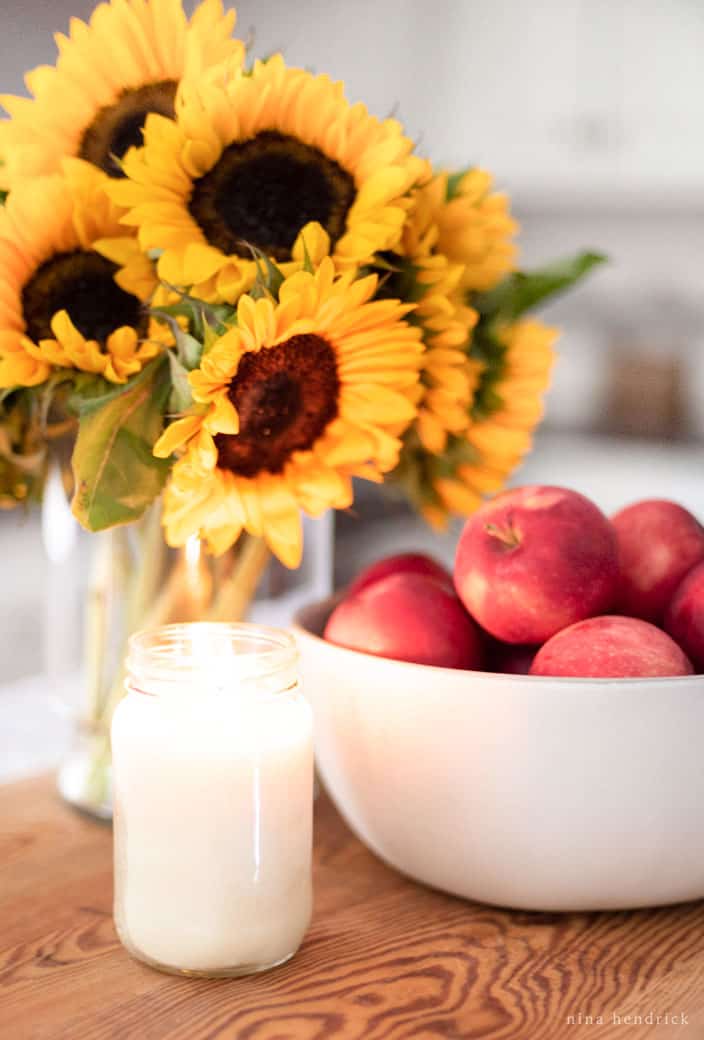 Of course, baking does take some time and commitment. A quick and easy way to capture that same comforting feeling is to light a yummy fall candle. This one is my current favorite!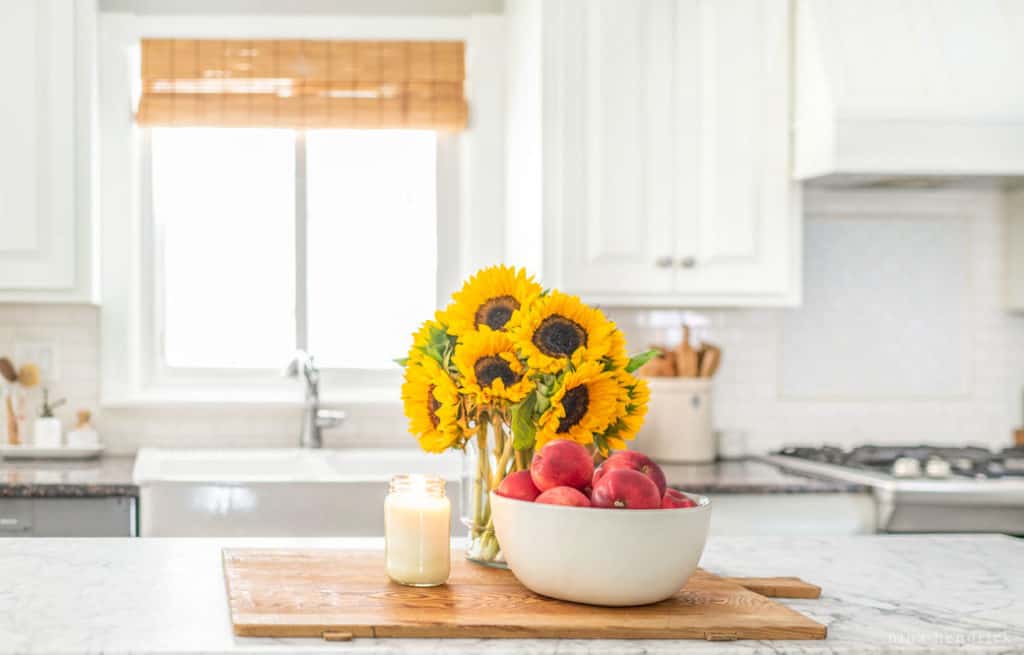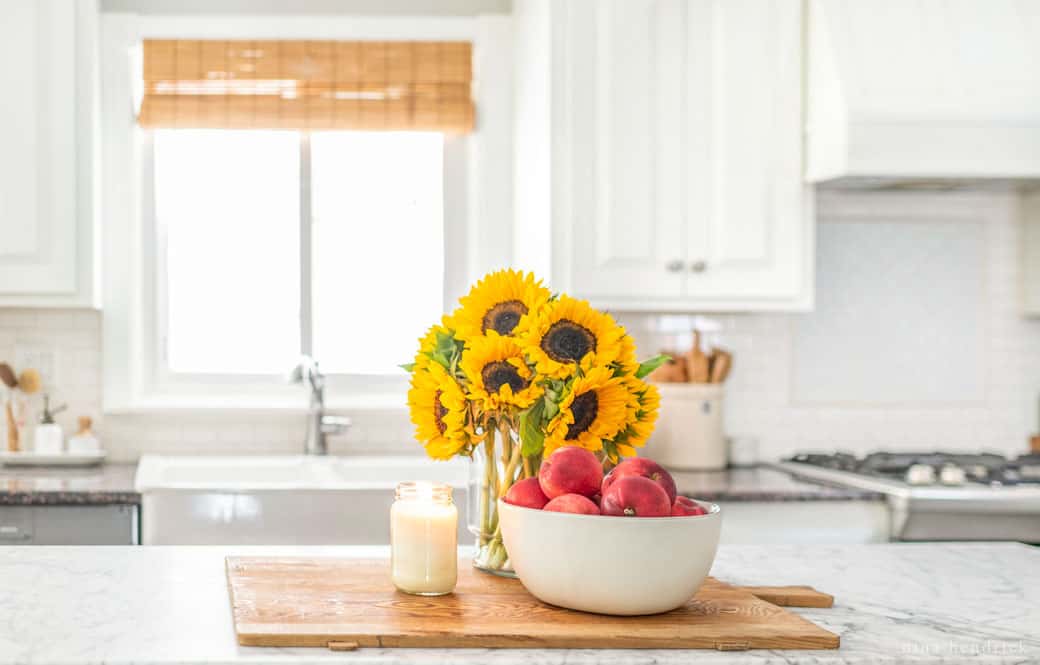 Apple and pumpkin are the obvious choices, but I also like to explore slightly woodsy scents that remind me of sitting around a bonfire on an early Fall night.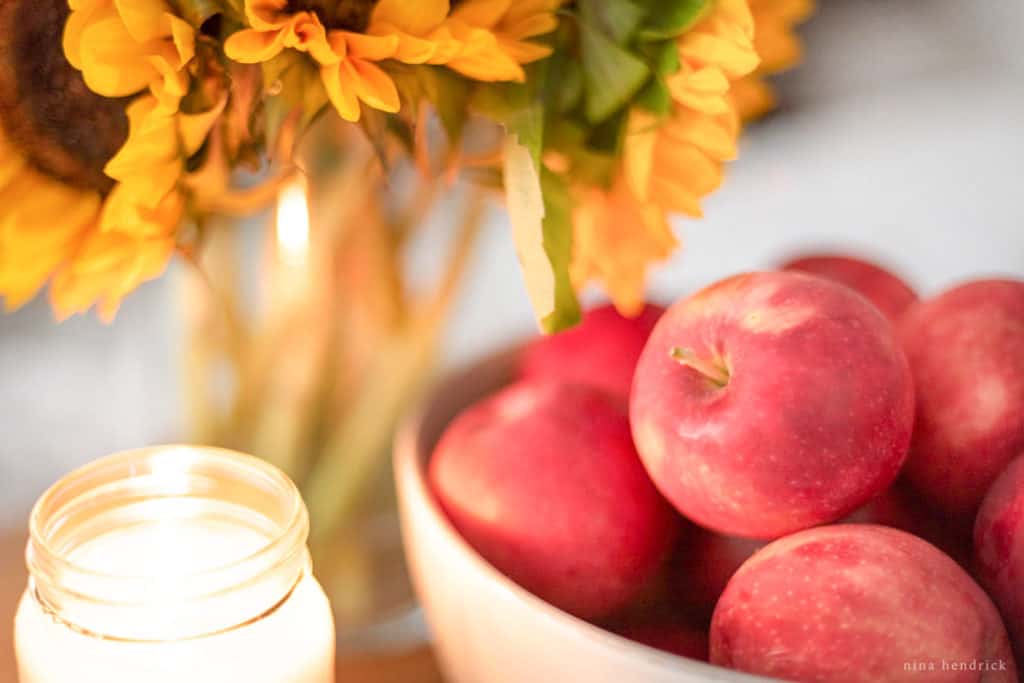 Not to mention, that warm glow feels like a mini bonfire all on its own, doesn't it?
Bring in Sunflowers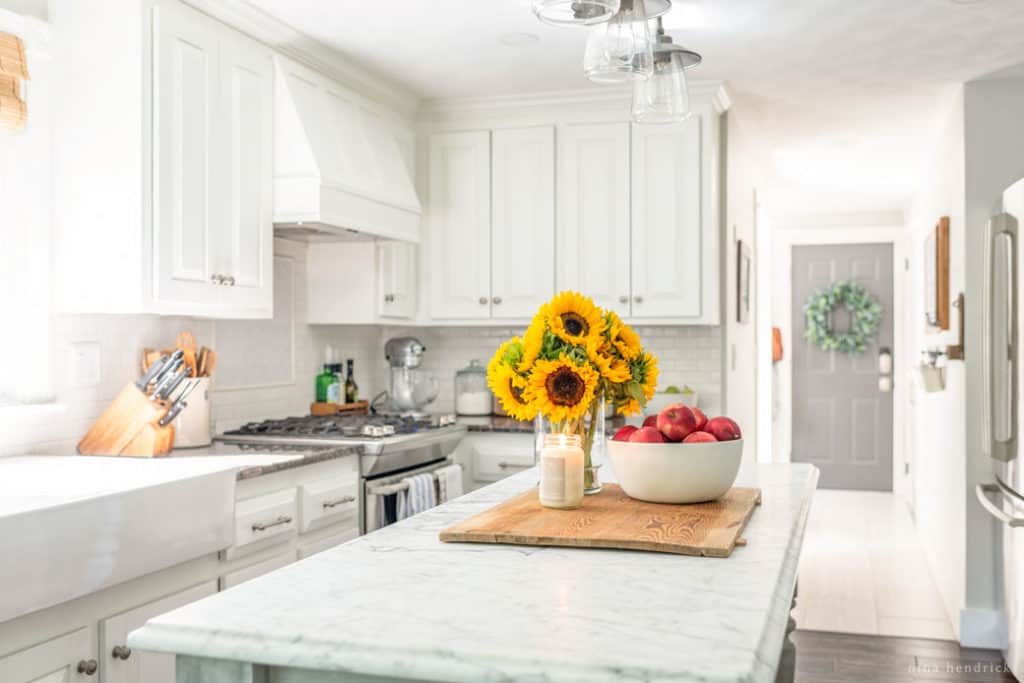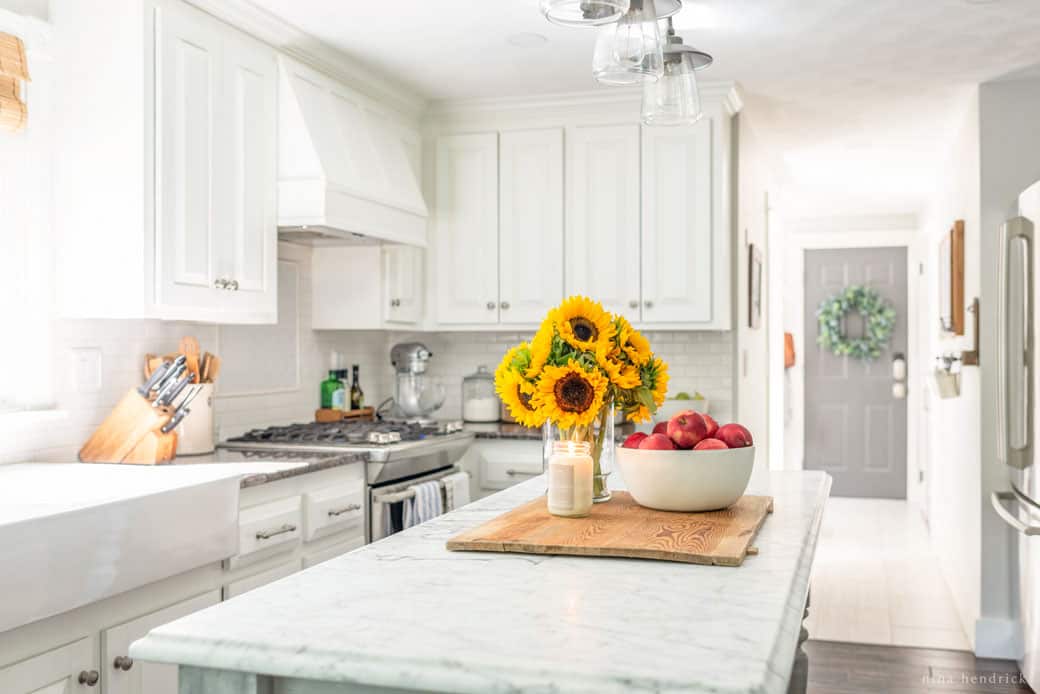 Another early fall kitchen favorite? Apples and sunflowers. To me, those are the classic elements of early fall decorating. You can see a tablescape I put together with this theme here!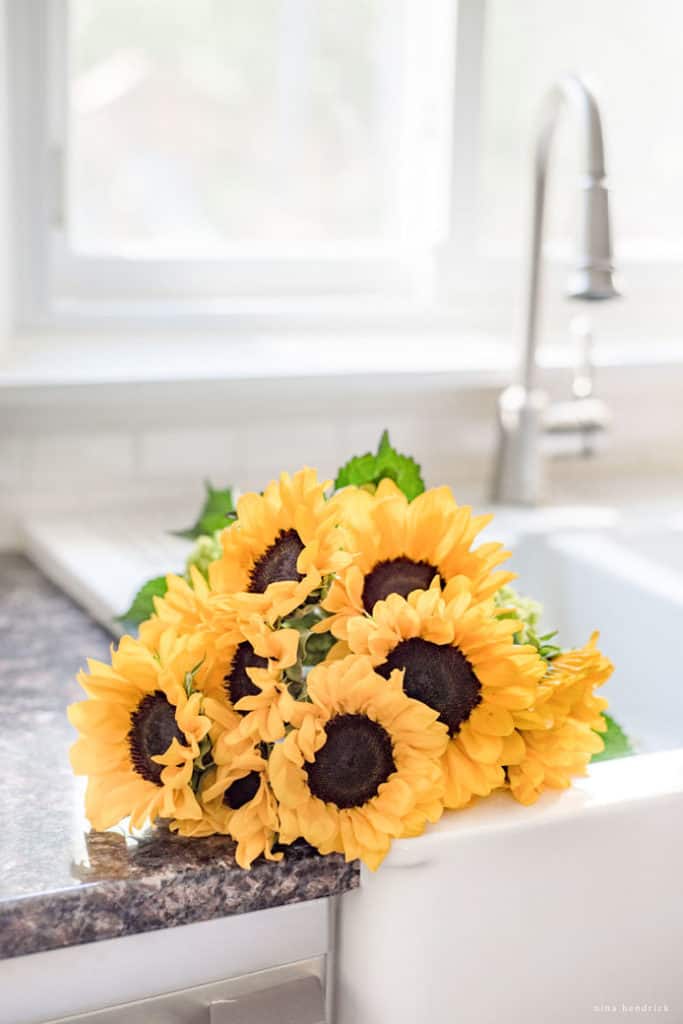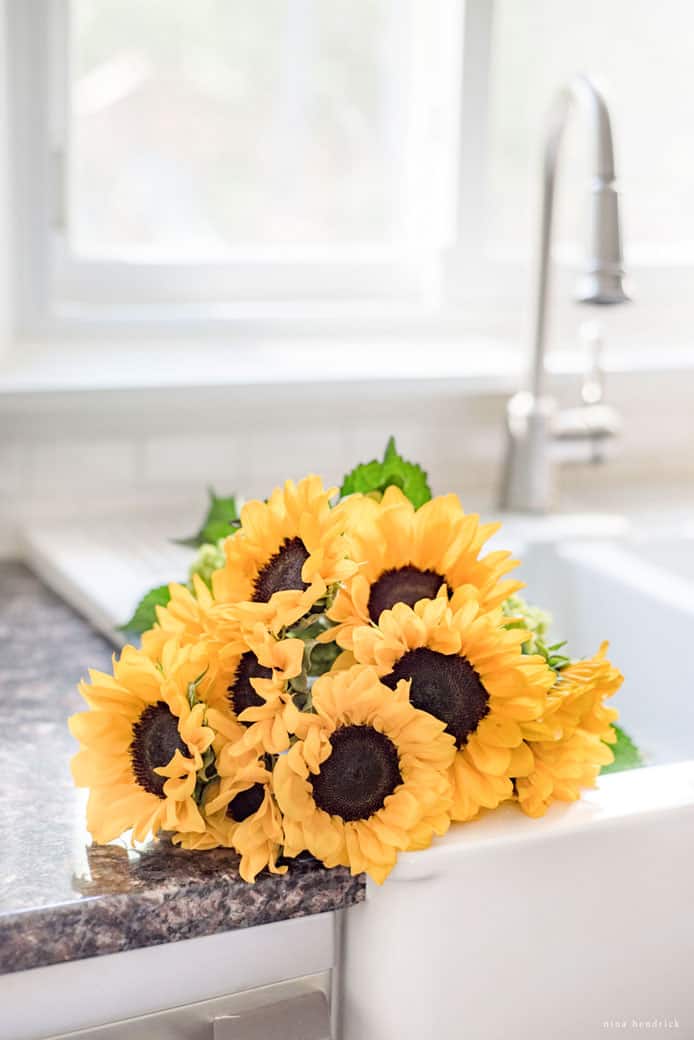 This shot was actually impromptu, as I was preparing the flowers for the arrangement in the breakfast nook. They just looked so beautiful in the sink and I couldn't help but snap a photo.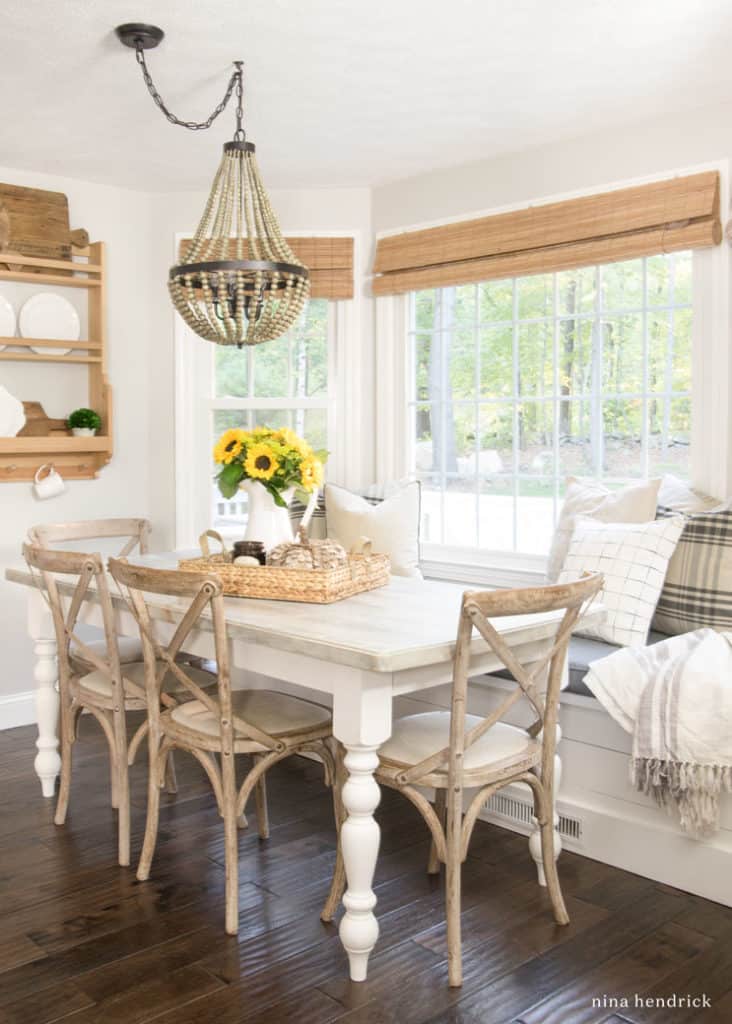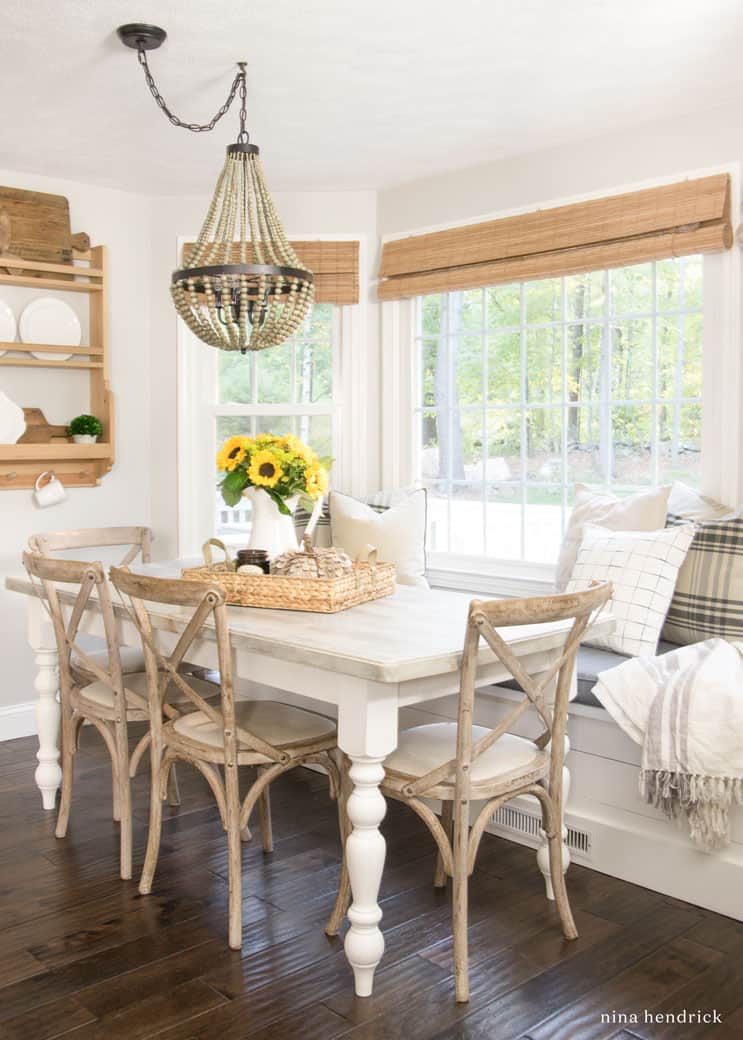 I brought another arrangement over to the Breakfast Nook so that we could enjoy them as we eat our meals and do homework.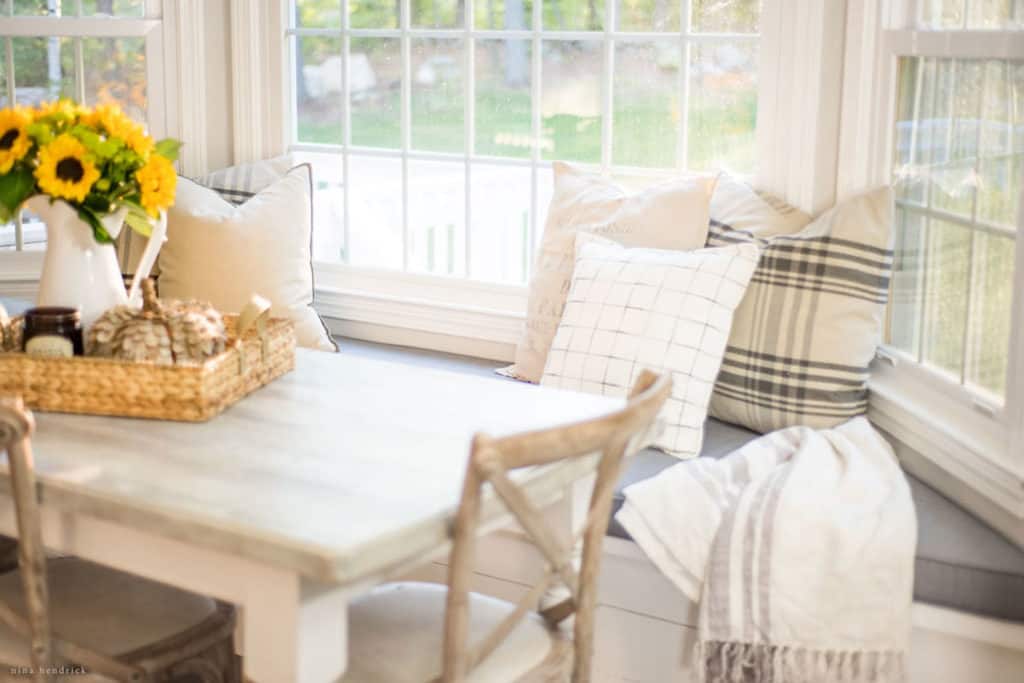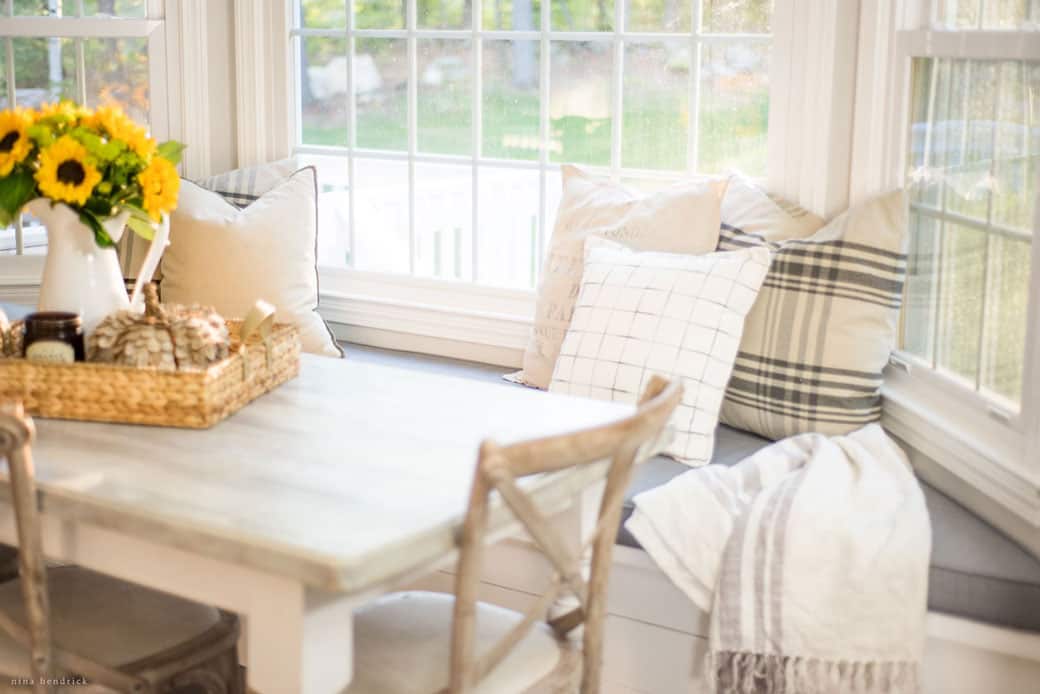 One of my favorite tricks is to put tabletop vignettes in a tray or dough bowl so they can be whisked away easily when it's time to use the table.
Soak Up That Sunshine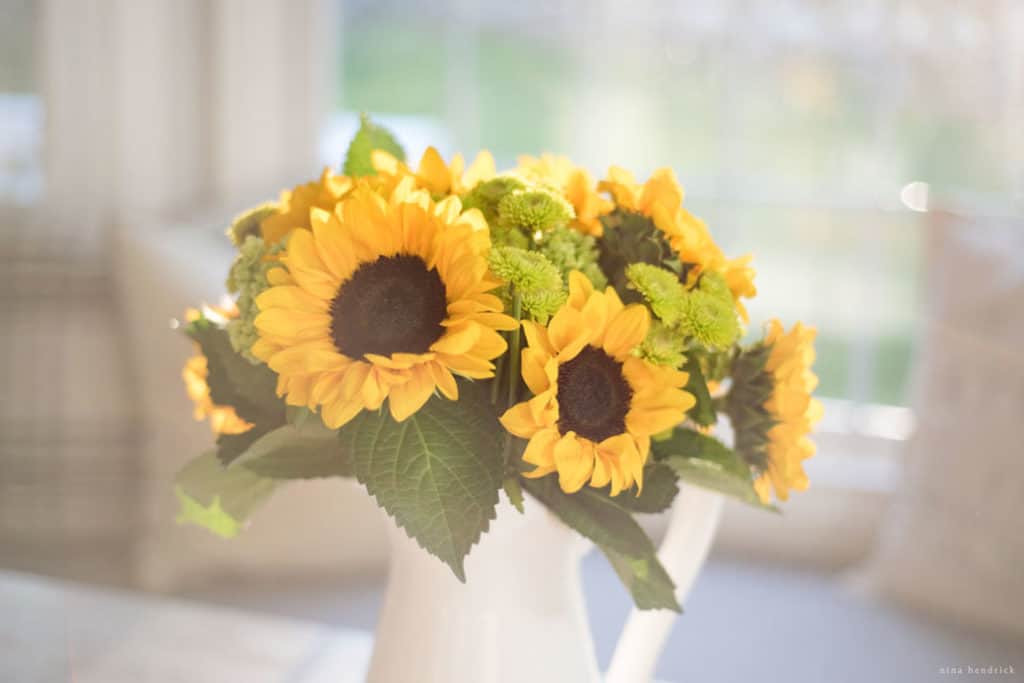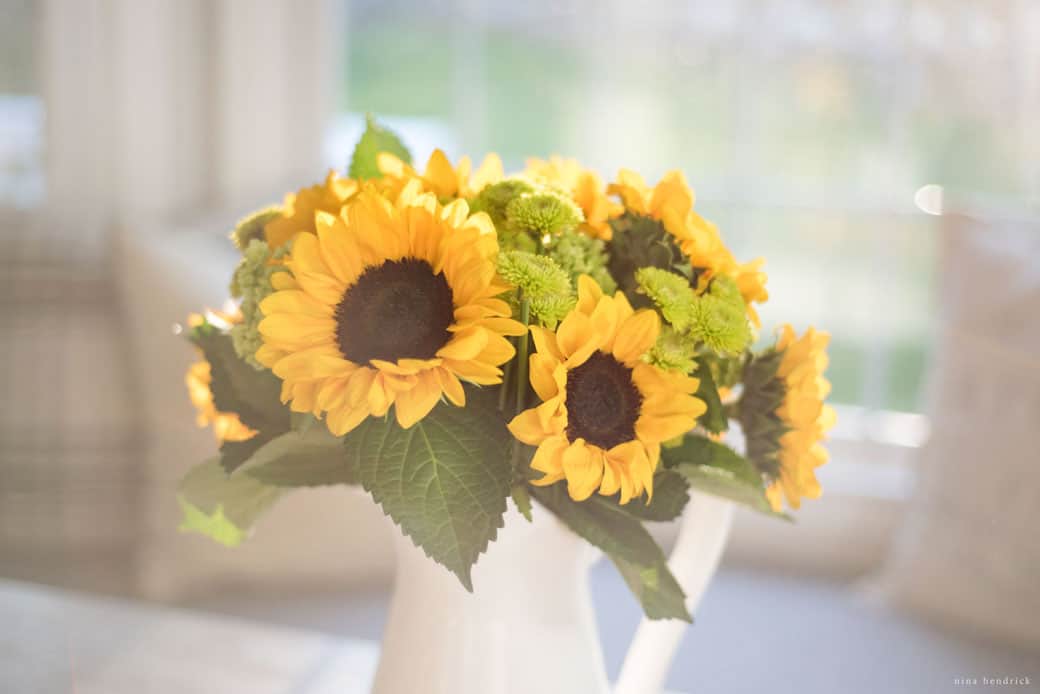 The sunset light in the breakfast nook is always unreal and beautiful at sunset. We know shorter days are just around the corner, so enjoying these cheerful flowers and soaking up the sun now will get us through the long winter months to come.
Pin It For Later | Early Fall Kitchen Decor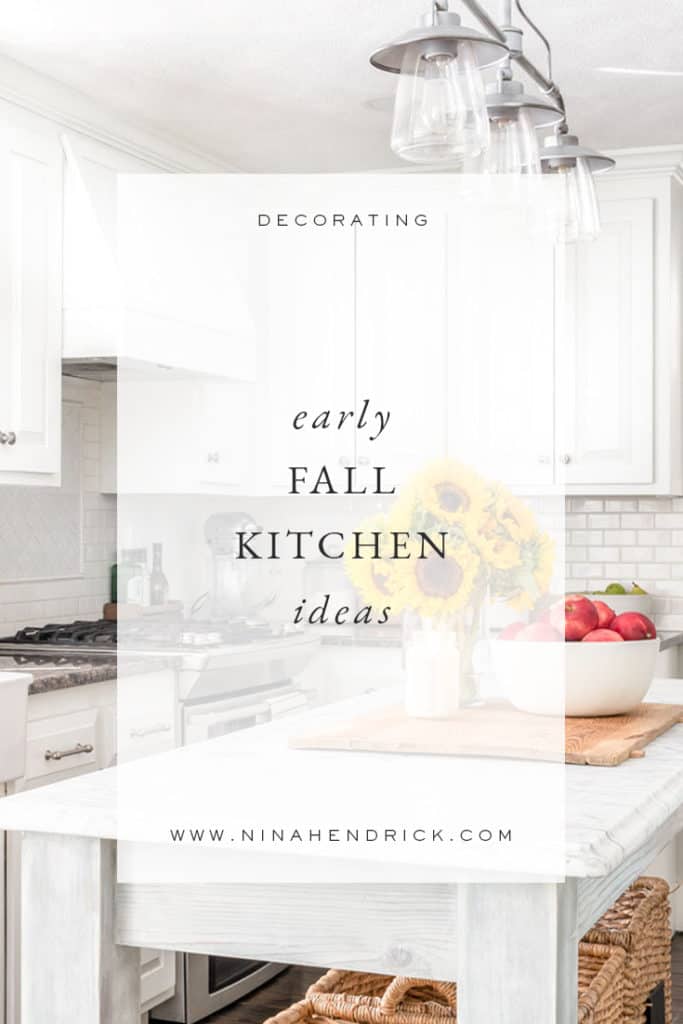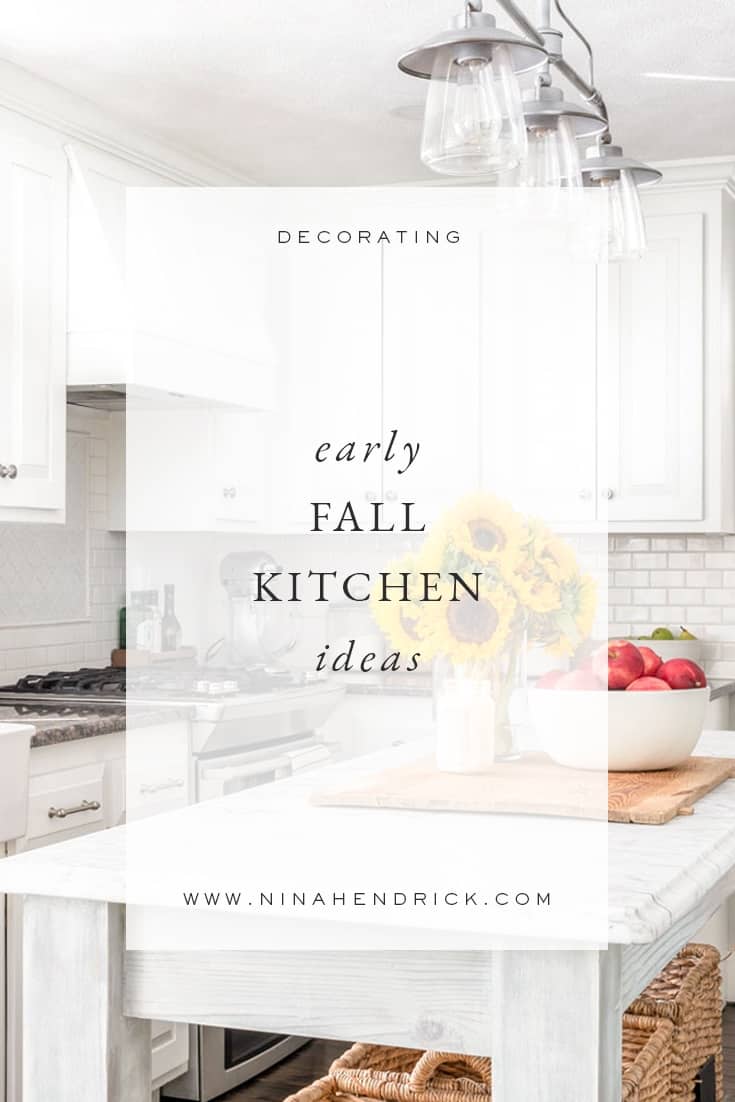 More Fall Kitchen Decorating Ideas

Ella Claire | French Country Cottage | Craftberry Bush | Rooms For Rent

Jeanne Oliver | Nina Hendrick | Shades of Blue Interiors | Zevy Joy

Dear Lillie | Home Stories A to Z | Beneath my Heart | Boxwood Avenue

Nesting with Grace | Jennifer Rizzo Design Company | Julie Blanner | Thistlewood Farms