Explore these 5 vibrant fall tablescapes! From moody & elegant to rustic Thanksgiving, discover fall table decor ideas that transform your autumn gathering.
Oh, autumn! Isn't it just a comfy, color-packed, and delightful time of the year? It's that one-of-a-kind season where you can really get playful with lively colors and unique textures, piecing together some strikingly beautiful tablescapes for every little get-together. And whether you're a fan of minimalism, bold vibes, or something in between, there's a fall tablescape idea with your name on it, ready to turn your meals into memorable moments.
Grab a cozy blanket and a cup of your favorite fall beverage, and let's explore my cherished collection of fall tablescapes, each breathing life into the autumn charm we all love so much!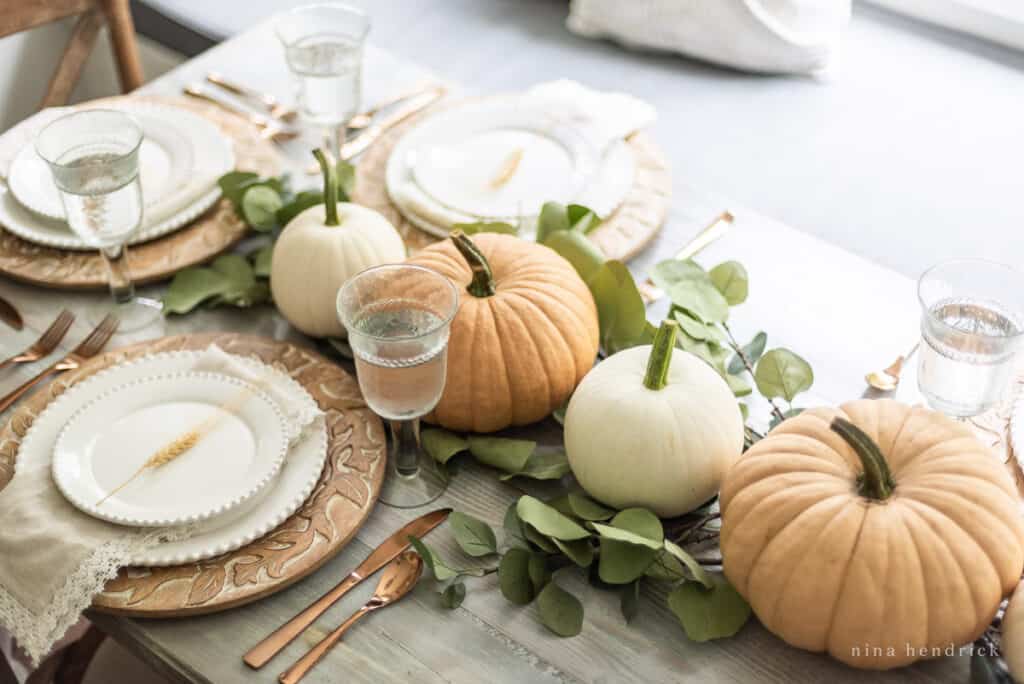 How to Create a Tablescape for Fall
Creating a beautiful fall table setting is all about embracing the various elements and layers that this enchanting season has to offer. Before we jump into my favorite fall tablescape ideas, I thought we should cover all of the basics so that you can easily recreate these tables when the time comes. Whether you're prepping for a cozy family dinner or a grand Thanksgiving feast, here's a simple guide of basics for getting your dining room table autumn-ready:
Kick it Off with a Base: Get started with a base layer—maybe a rustic burlap runner or a cozy plaid tablecloth to get those fall vibes going! It's like the foundation that pulls all your fall table decor together and boosts the whole autumn feel.
Throw in Some Textures: we're talking linen napkins, carved wood chargers, and some lace to add that special, inviting touch.
Pick Some Fall Colors: Autumn is all about warm, lively colors. Go for some reds, oranges, yellows, and browns. If you're feeling more subtle, pale oranges, soft whites, and mint greens are perfect choices.
Add a Touch of Nature: bring in some natural autumn elements like colorful leaves, acorns, berries, and of course, pumpkins. Use different sizes of heirloom pumpkins for centerpieces and branches with autumn leaves to spice things up.
Design a Stunning Centerpiece: A centerpiece is the heart of your fall table decor. In fact, you could simply have a centerpiece alone and consider it a tablescape! Use some fall flowers, fruits like apples and pears, and candles to catch the eye. Keep it simple with a pumpkin and candles or go big with a lavish floral arrangement—whatever feels right!
Light it Up: soft, warm lighting is autumn magic, seriously. Add in some candles, fairy lights, or lanterns to give your table a soft, golden glow. It really adds to the cozy vibe, especially when you're hanging out in the evening.
Get Personal: add your own twist with handwritten place cards, custom menus, or thoughtful favors. These little personal touches make everyone feel extra special and make your event truly memorable.
Watch the Height: Keep your decor elements at a friendly height so everyone can chat easily. Whether you're using tiered stands or low vases, it's all about keeping the balance.
Don't Forget Functionality: While making things look good is important, it's super important to keep things practical. Make sure there's space for all the dishes and that the decor is adding to the dining experience. After all, a tablescape is all about enhancing those meal-sharing moments!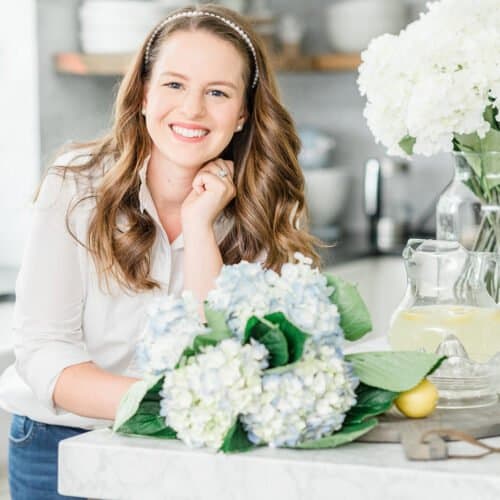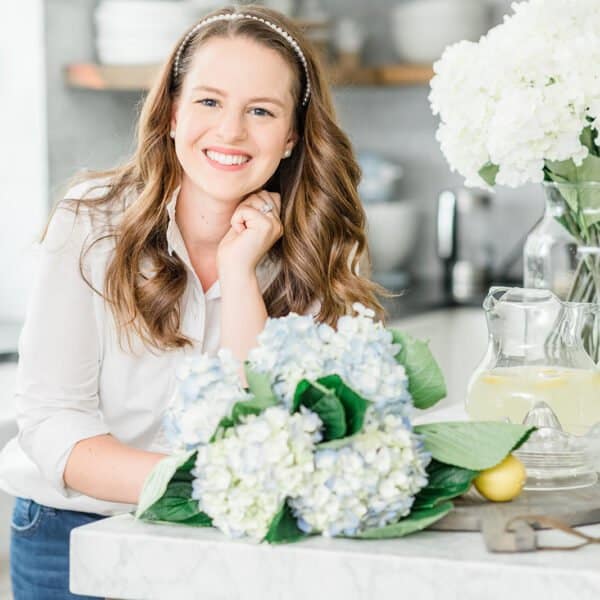 Pro Tip: Remember, there's no strict rulebook! Mix and match elements, play around with colors and textures, and let your creativity flow. The goal is to create a fall tablescape that resonates with your style and brings joy to you and your guests.
Once you've got these basics down, you can modify and play around with them to suit the specific vibe you're going for, whether it's a casual get-together or a more formal fall feast. Enjoy the process and have fun experimenting with the versatile and abundant elements of fall!
My Favorite Fall Table Decor Ideas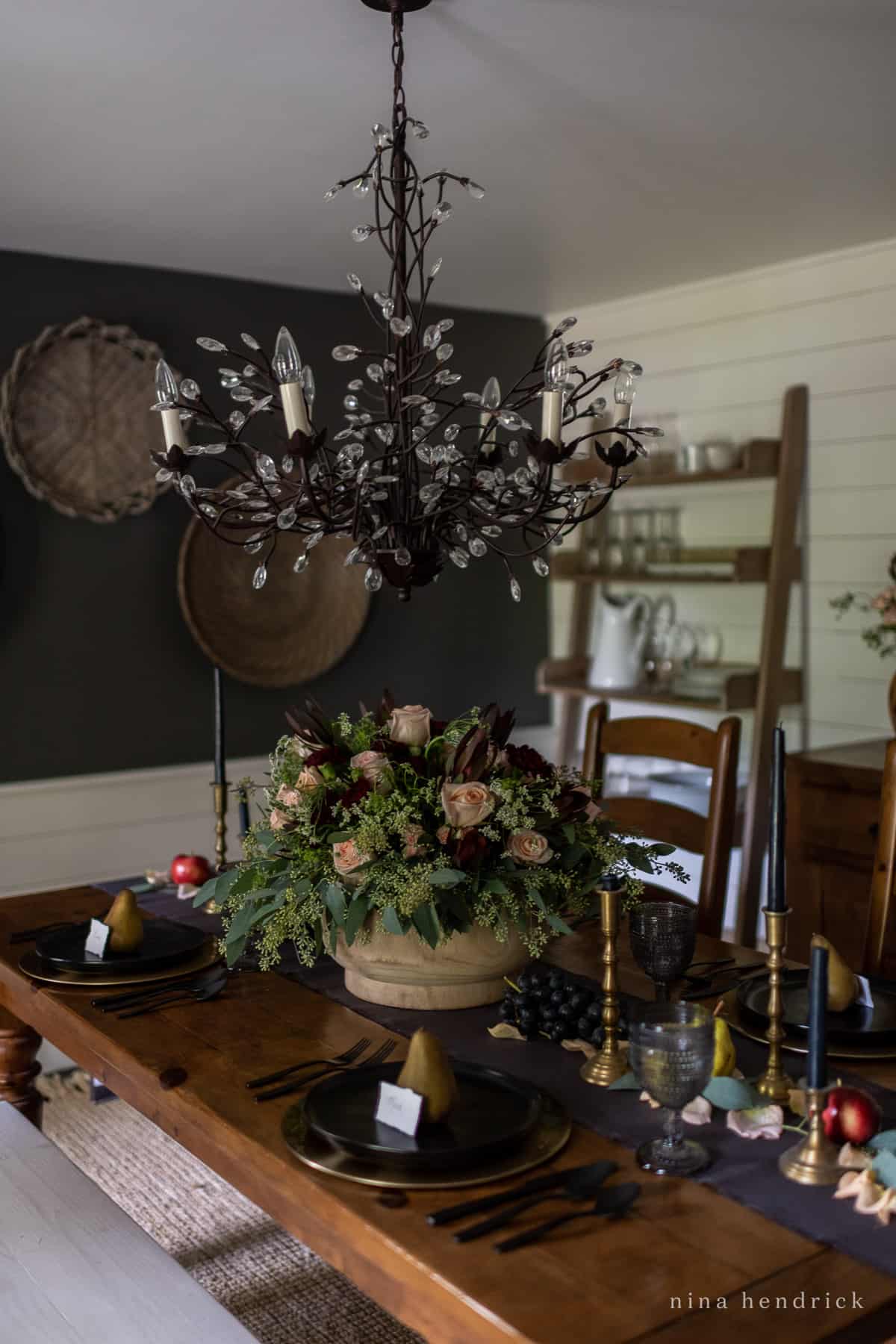 1. Moody & Elegant Fall Tablescape
Let's kick off with a moody and elegant fall tablescape that is straight out of a mesmerizing Dutch still life painting. It's all about embracing the mystical vibes of autumn, blending deep, rich colors with elegant accessories and soft flowers. The end result feels like a cozy, yet sophisticated autumn evening!
Elements:
Floral arrangement mixing light and dark shades
Rich burgundies, deep purples, and blacks
Gold accents and dark crystal glassware
Moody lighting with elegant brass candle holders
Pears as place card holders and other autumn harvest fruit

Doesn't this tablescape just elevate your dining room table to another level of elegance and autumn mystery? It's a beautiful tablescape that brings an enchanting luxury to any refined autumn dinner party. And guess what? You can transition it to Halloween seamlessly, see how here!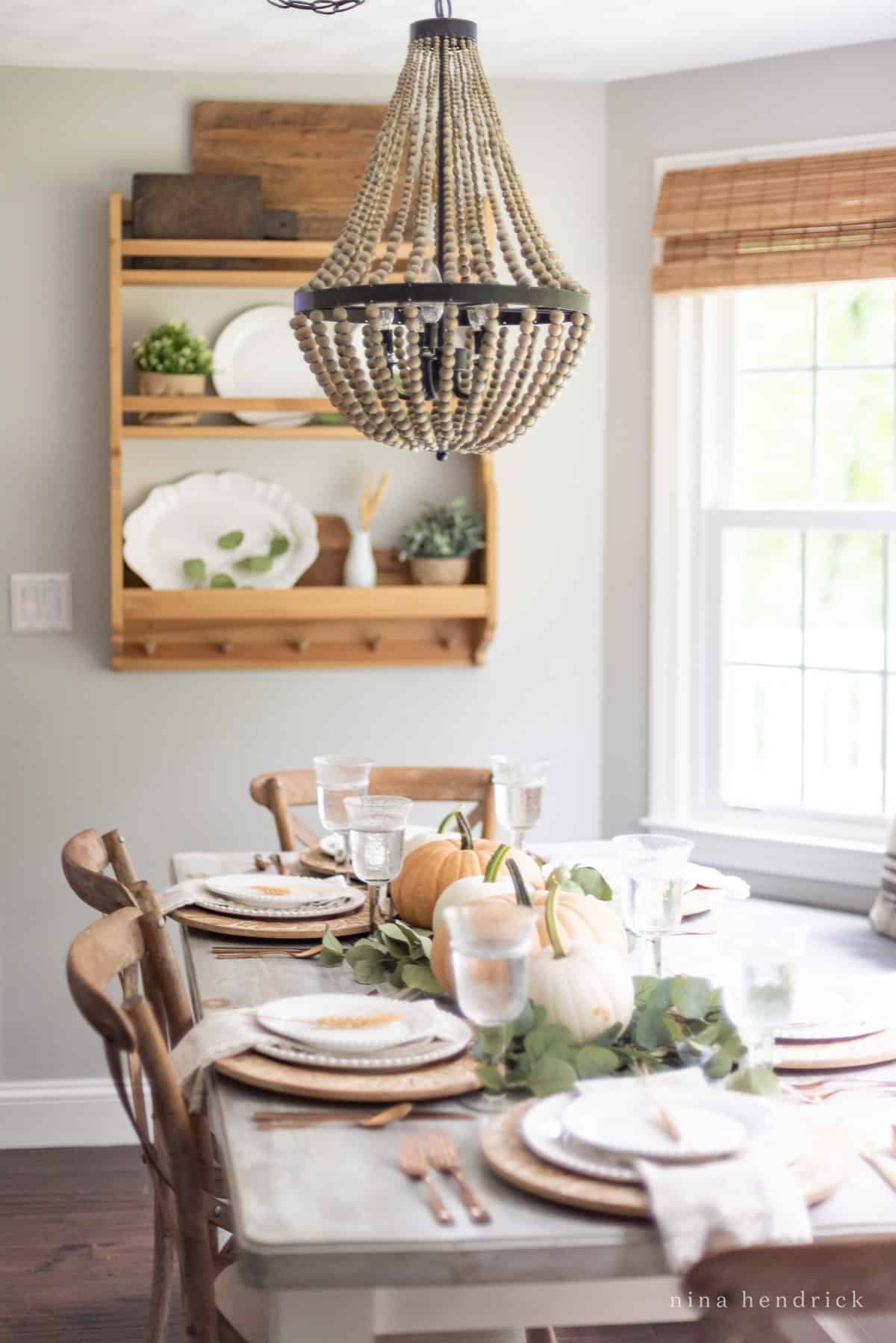 2. Simple Fall Table Decor with Muted Colors
This muted fall table decor is all about keeping it simple and sweet, perfect for those last-minute gatherings! It's super easy to pull together but still has a touch of elegance. We're talking heirloom pumpkins, shades of pale orange, and a hint of mint green, creating a calm and peaceful vibe. It's minimalism at its finest, allowing the simplicity and the delicate details to shine, and making your dining space feel serene and welcoming.
Elements:
Fall centerpiece of light mint green, heirloom pale orange, and soft white pumpkins
Natural textures such as linen napkins with delicate hints of lace and carved wood chargers
Subtle greenery
Simple beaded white dinner plates
Warm copper flatware
This fall tablescape is perfect for anyone who loves a bit of understated elegance! It's a reminder of fall's serene beauty, with a focus on creating a peaceful and soothing vibe that adds a little something special to any meal. It's all about enjoying the subtler, calming side of autumn.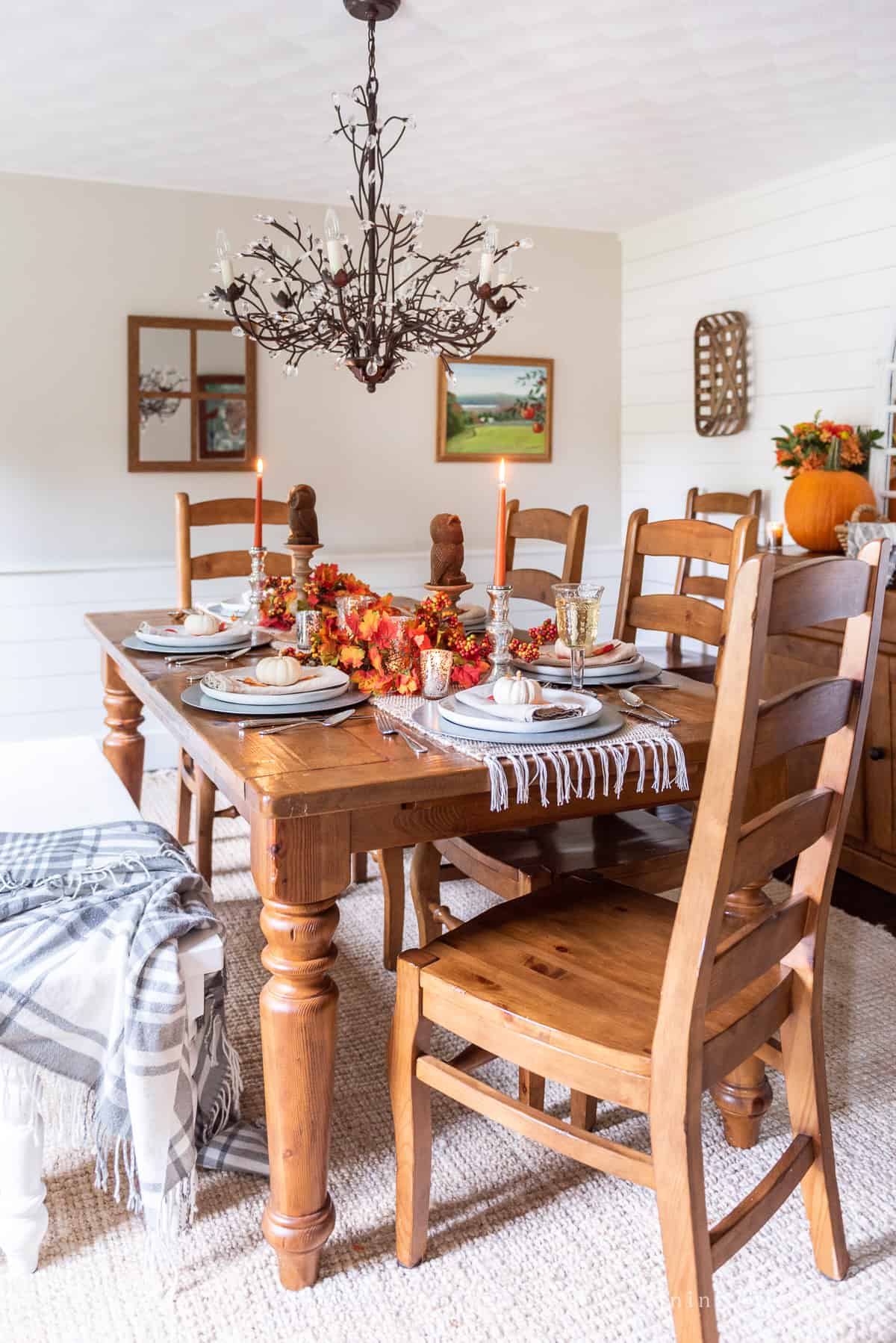 3. Decorate a Fall Table with Bright Reds and Oranges
This classic fall tablescape is a burst of pure autumn, rocking the quintessential autumn color palette of the season with bright reds, oranges, and yellows. It's a lively celebration of fall's vibrant personality, featuring a mix of bold, colorful leaves, festive pumpkins, and metallic accents, all basking under the warm, inviting glow of candlelight. It's like bringing a piece of a spectacular autumn forest right to your dining table!
Elements:
Vibrant centerpiece with fall leaves, berries, and colorful pumpkins
Woodland-inspired owl candles
Silver metallic finishes with mercury votive candles, candlesticks, and galvanized chargers
White mini pumpkins at each place setting
This beautiful fall tablescape is a real celebration of the season, adding joy and warmth to any get-together. It makes every meal festive and cozy, filled with the hearty, colorful color scheme of the season. It's all about embracing the joyful spirit of autumn!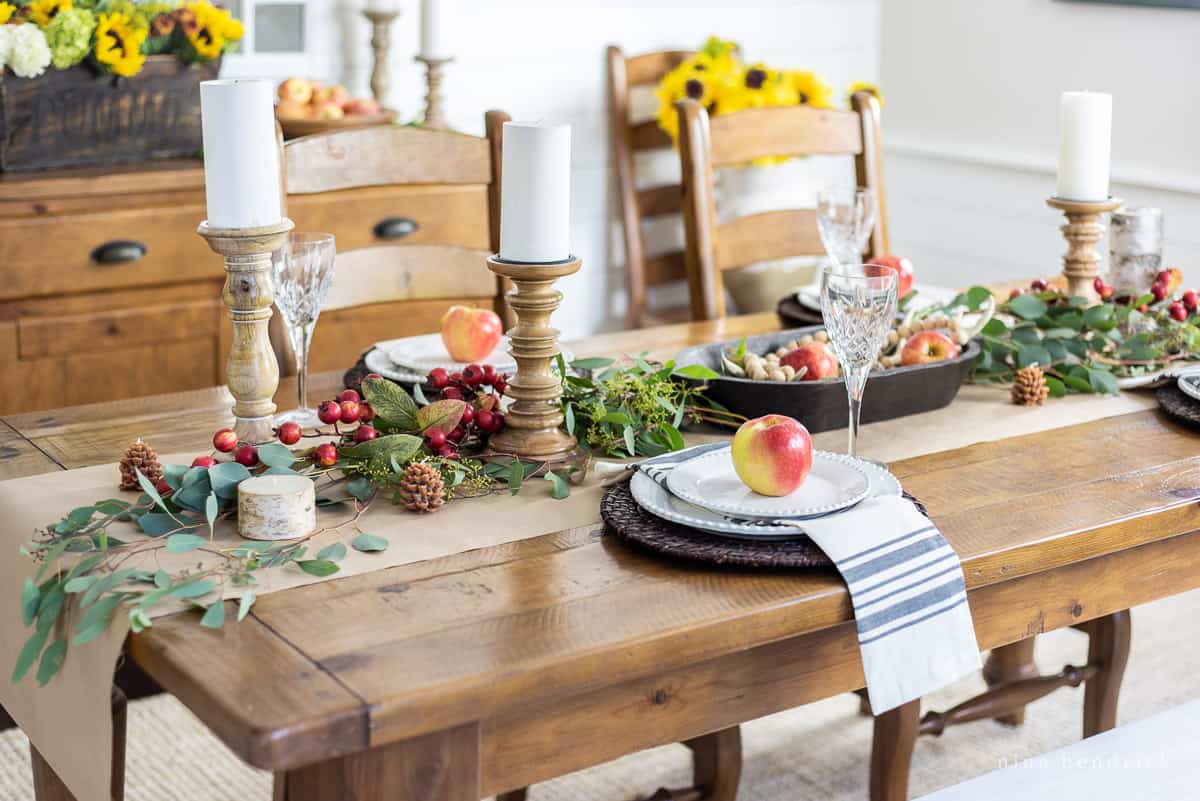 4. Early Fall Tablescape with Apples:
It's all about celebrating the bounty of fall with this early fall table decor! Drawing inspiration straight from the apple orchard, it mixes in rustic vibes with fresh touches to give a big, warm welcome to the season. It's like a casual, refreshing nod to all the natural goodness autumn brings!
Elements:
Various natural elements like crab apples branches, apples, and greenery incorporated in centerpieces and place settings
A bowl of apples for guests to grab
Fall flowers and green foliage to accentuate freshness
A customizable kraft paper table runner where guests can write what they're thankful for
Overall, it's a bit like bringing the orchard to the table. It's casual, it's fresh, it's got that rustic charm—all the good stuff to kick off the season right. It's a refreshing way to embrace and reflect on the natural abundance and warmth of fall!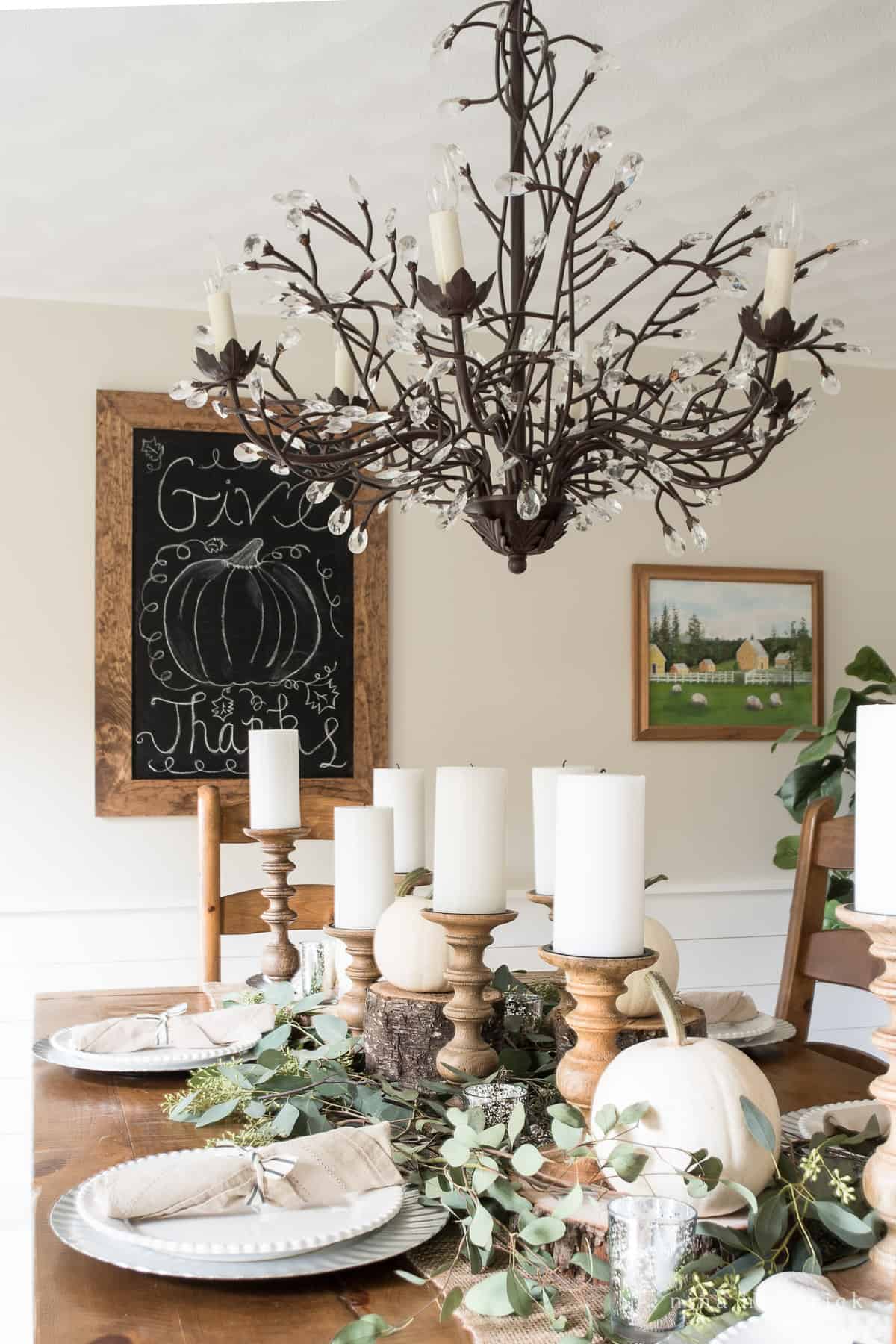 5. Rustic Thanksgiving Tablescape
Last but not least, this rustic tablescape is a cozy nod to our beloved Thanksgiving traditions. It's got rugged wood, sparkling mercury glass, and fresh greens, embodying the essence of Thanksgiving!
Elements:
Wood risers with pumpkins that can be easily swapped out for dishes at mealtime
A simple, neutral, and cozy color palette
Warm, inviting lighting with rustic candle holders
Wrapping up in this cozy blanket of Thanksgiving vibes is just what the season calls for, don't you think?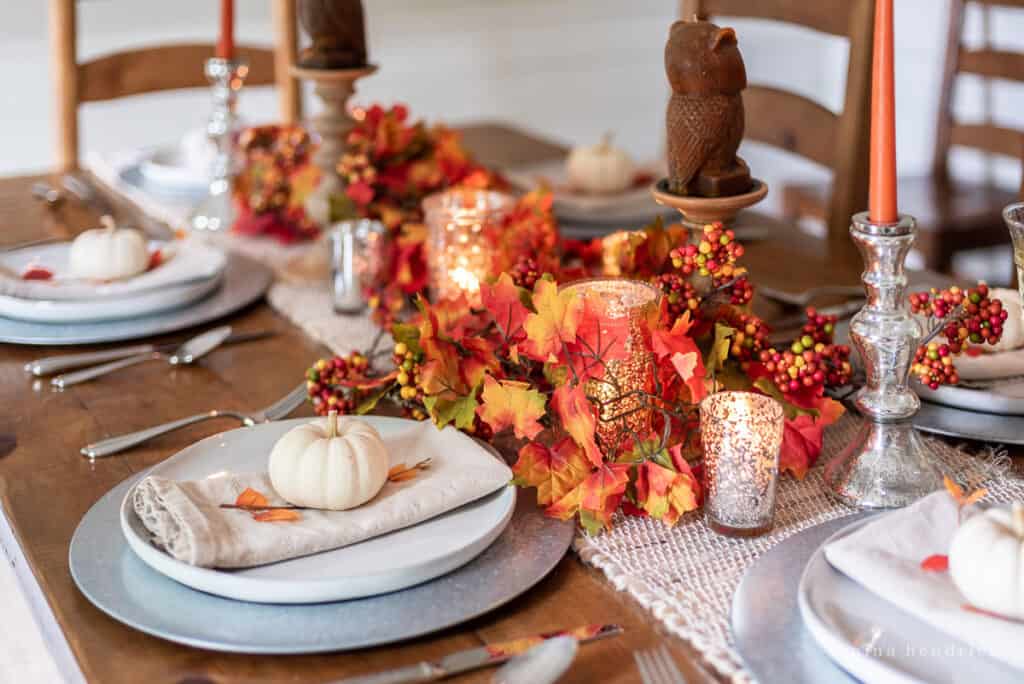 So, which one of these fall table decor ideas speaks to your autumn-loving heart? Whether you try one of these tablescapes or they inspire your own masterpiece, I'm excited to see your creations! Don't forget to share your beautiful fall tablescapes with us on Instagram @ninahendrickhome. Can't wait to see your beautiful interpretations and layers of fall decor on your tables!