Discover the coziest decor ideas in this inspiring fall home tour – perfect for adding that touch of autumn charm to your space!
As autumn strolls in, bringing its cool, cozy vibes and rustic tones, it's time to make your home feel like sweater weather heaven. But let's face it, who's got the time and energy to wander through endless store aisles for inspiration? Don't worry — I'm here to save the day! From snuggling up with knit textures to embracing the warm, rich colors of fall, I've got the top ways to infuse that unmistakable autumn vibe into your living space.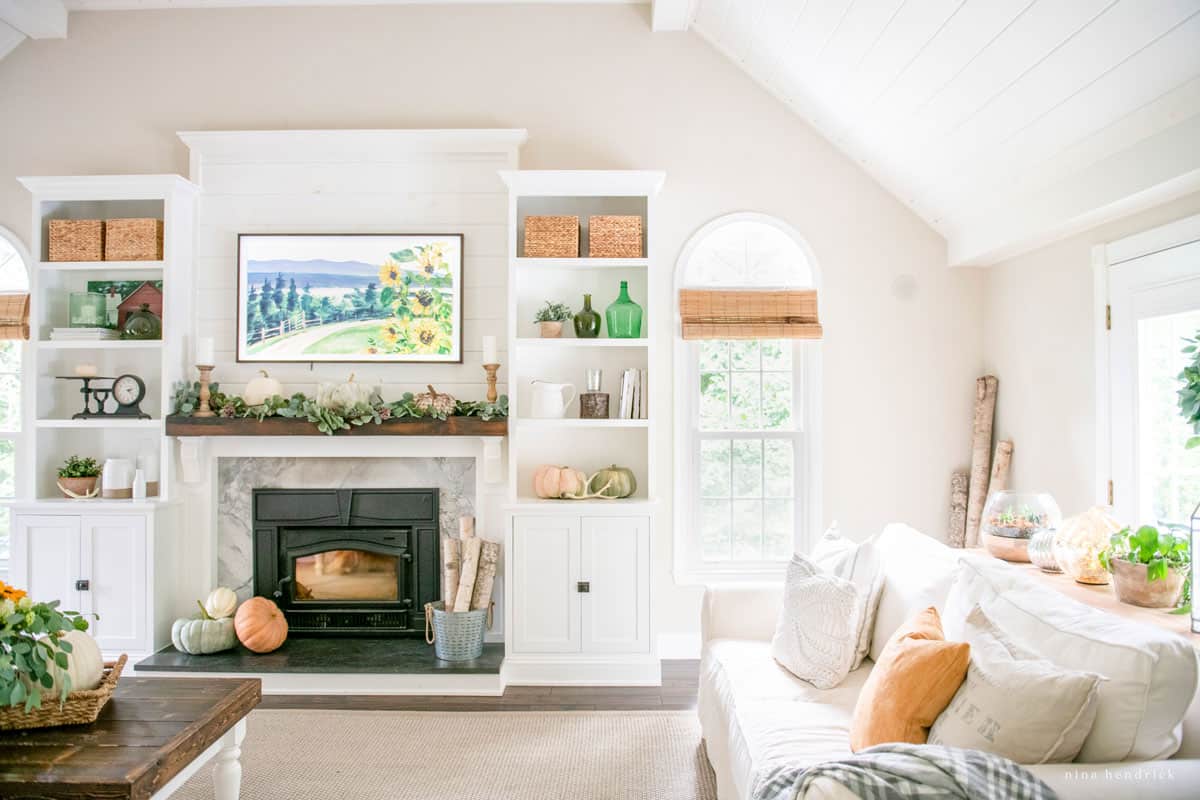 Kick back on your comfiest sofa and let me take you on a tour of all things fall home decor, serving up a hearty dose of inspiration. So, whether you're sipping a Pumpkin Spiced Latte or your favorite fall beverage, cozy up and join us on a virtual stroll through some of our favorite fall home decor from the past.
If this is your first time here, a big warm welcome! I'm Nina Hendrick, and this tour showcases our previous home. Since then, we've packed our bags and moved back to our home state of New Hampshire, where I mainly share my latest decor content today on my YouTube channel. Despite the time that's passed, I still adore the timeless ideas from this fall home tour. Think of it like a "Greatest Hits" album of fall decor from our previous home!
This post contains affiliate links, which means I may get a small commission (at no extra cost to you) if you shop my link. Please see my disclosure if you'd like more info!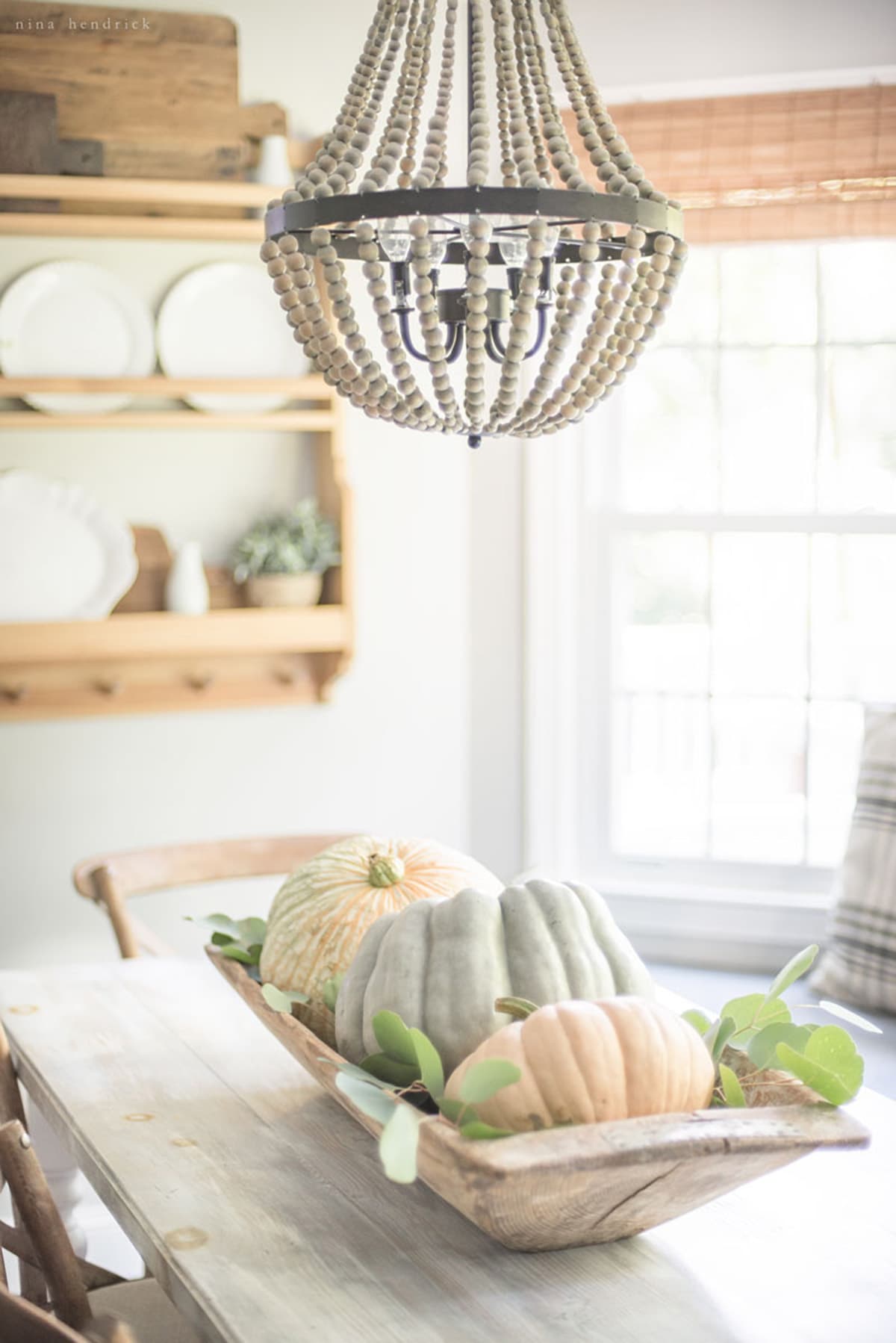 Effortlessly Cozy & Natural: My Take on Simple Fall Decor
Before we jump in, I want to share something very important. You don't need to go all out or break the bank to create a stunning fall home—trust me, less is more! My decorating philosophy for this magical season is all about keeping things simple to craft that warm, inviting atmosphere in your home. Start small, and remind yourself that it's the little touches that give "autumn." Above all, the goal here is to capture the essence and warmth of the season, not transform your home into a HomeGoods display. Keep it simple, genuine, and in tune with your personal style!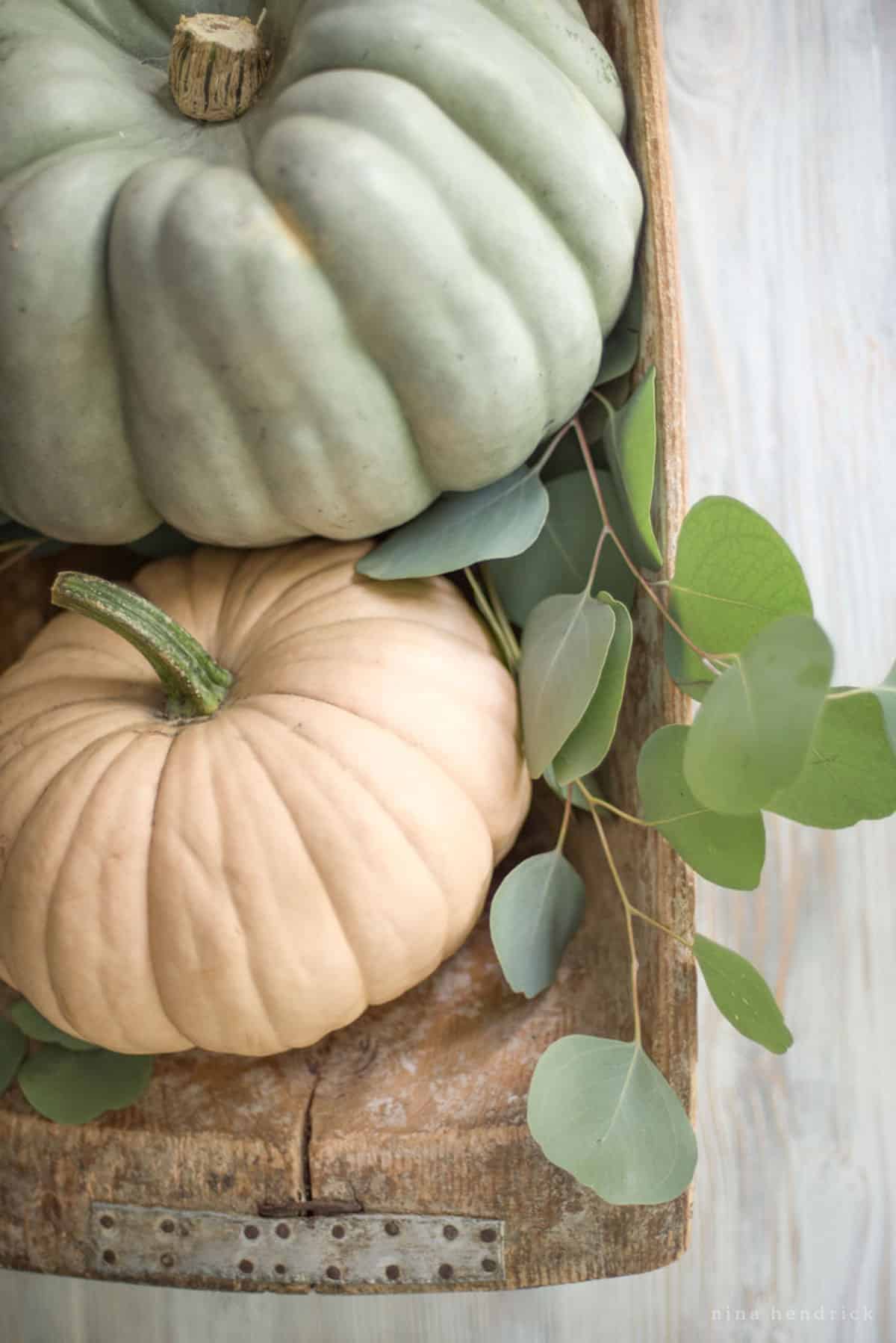 Next, let's chat about nature. Fall is the perfect season of abundance to bring in some natural elements into your decor. Grab a few small pumpkins or gourds and make them the centerpiece of your dining table, or scatter some pinecones on a bookshelf. Feeling crafty? How about making a DIY wreath with some lovely autumn leaves? The best part? Foraging for fall home decor outside is free!
Natural & Simple Fall Home Tour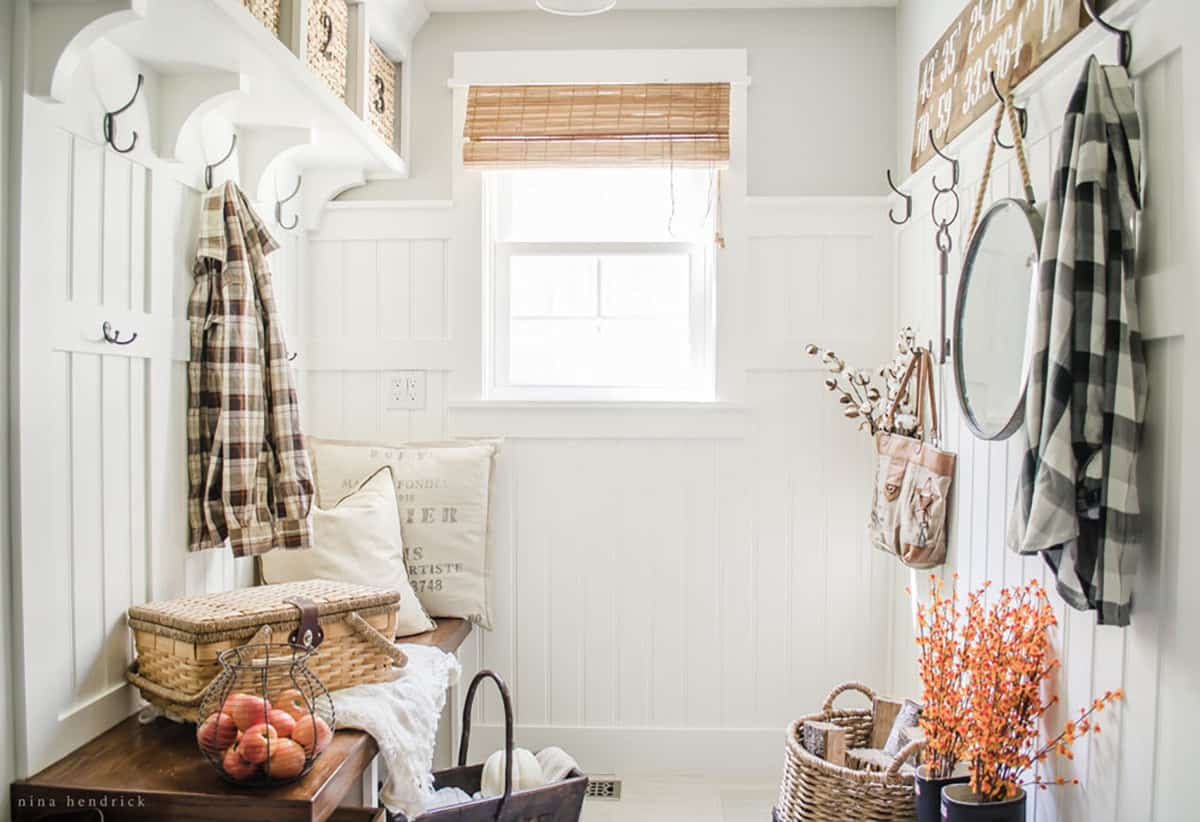 Autumn's Welcoming Embrace: Mudroom Magic
First up, let's take a look at our DIY Mudroom—a spot where dreams of having a designated drop zone for coats and bags came true back in 2015. We made it happen with some built-ins, beadboard, a whole lot of caulking, and a fresh coat of white paint (Simply White by Benjamin Moore).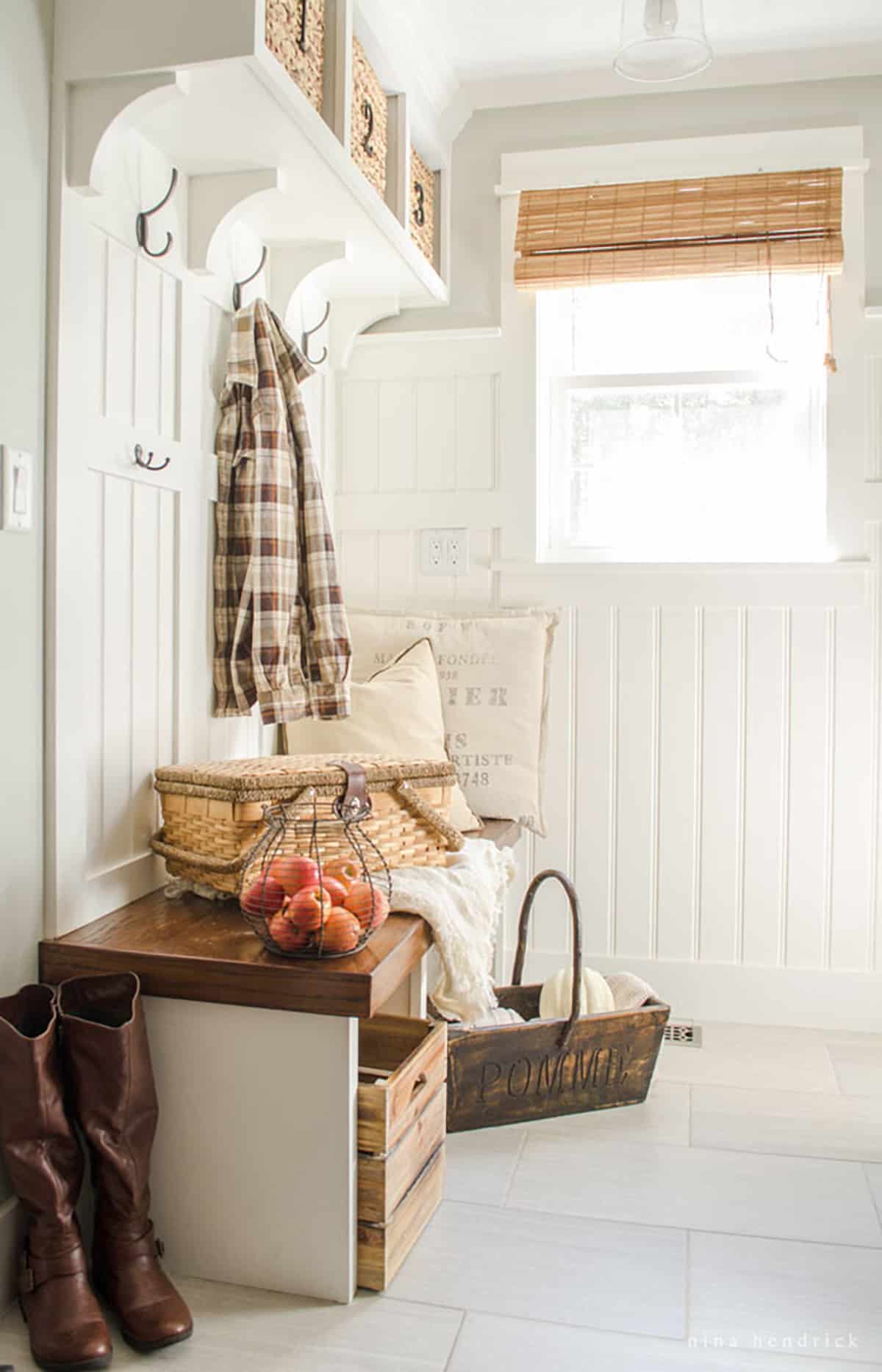 One of my all-time favorite fall activities is apple picking. It's a tradition filled with memories of kids running through orchards, grabbing apples, and enjoying hayrides.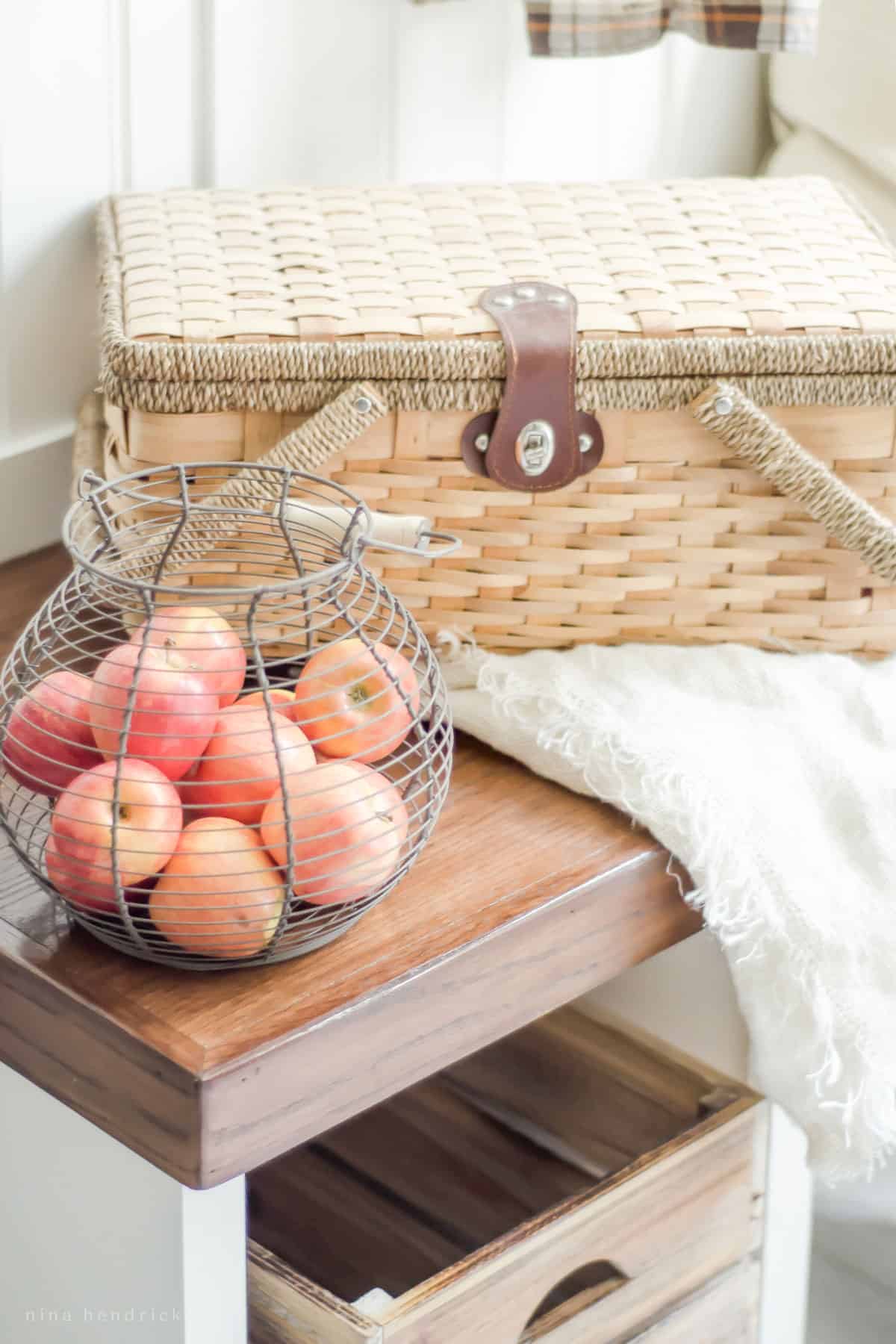 We're lucky to have plenty of orchards around us here in New England, and the mudroom is the perfect canvas to showcase the fruits of your apple-picking adventure. From baskets bursting with apples to wreaths adorned with dried apple slices, there are countless ways to bring the outdoors in.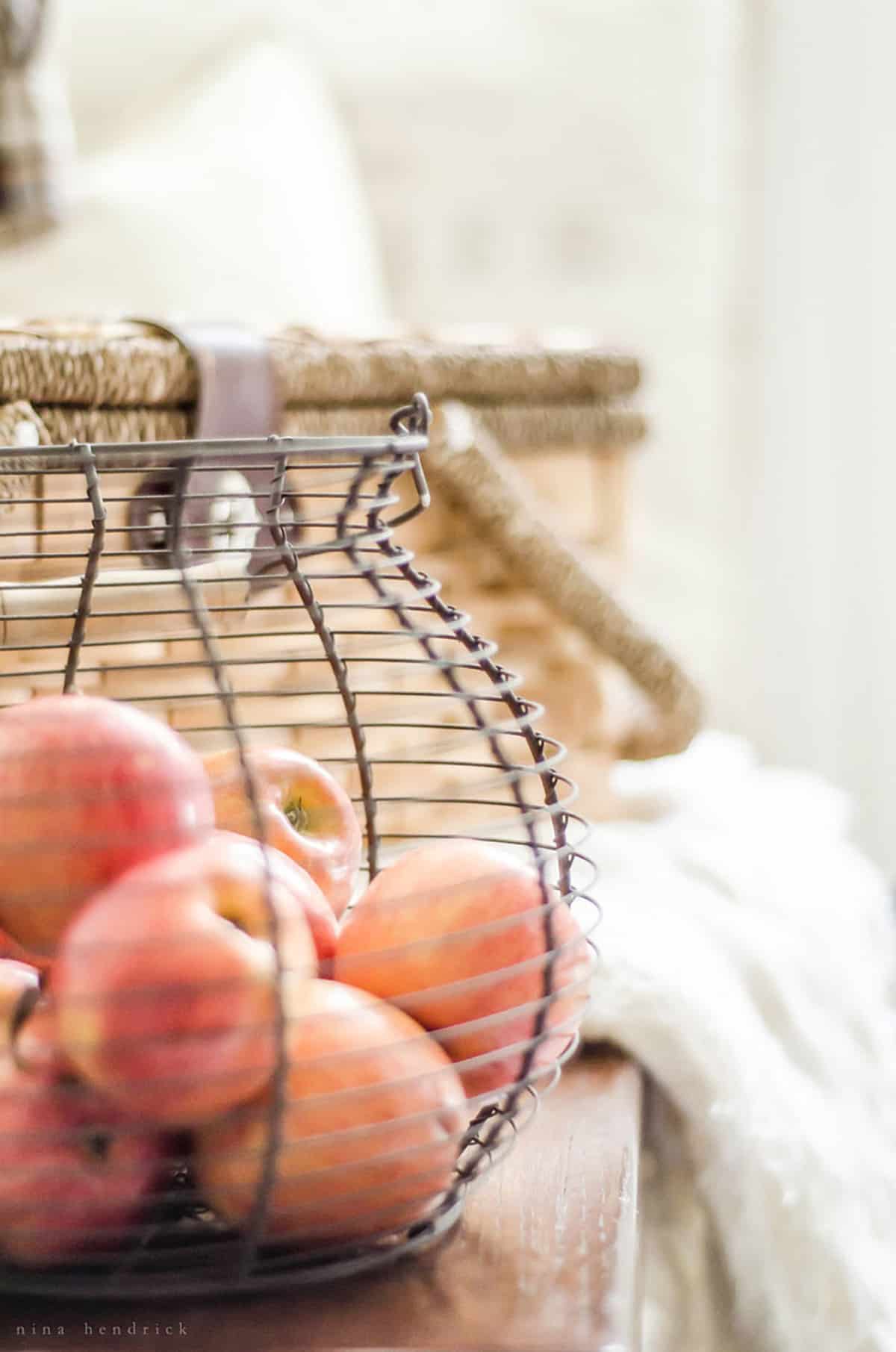 Wondering what to do with your apple-picking haul? Check out some of my favorite apple recipes here!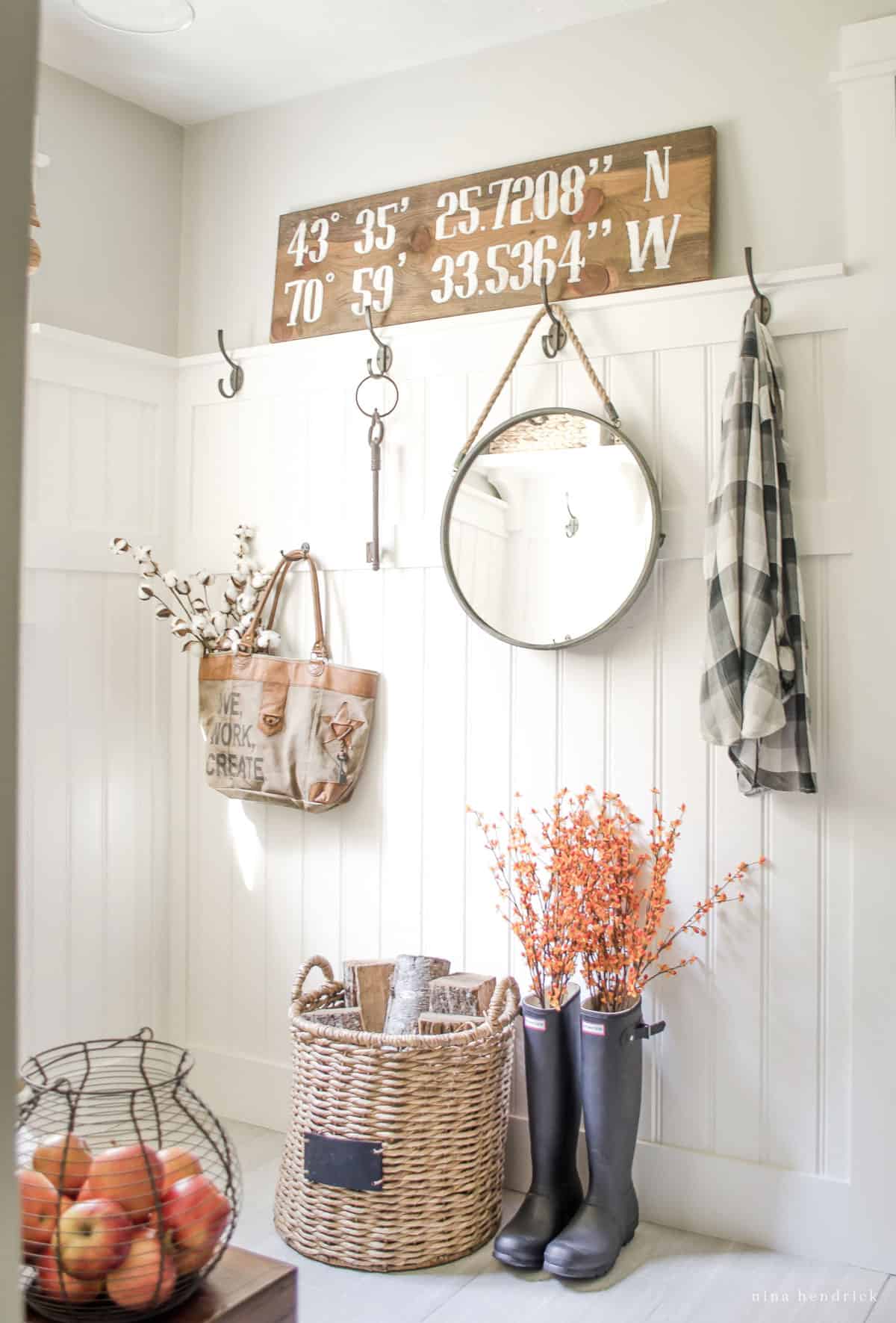 Now, I probably wouldn't recommend putting decorative branches in your boots today, but when I originally posted this, it sure got people talking—equal parts love and hate! 😅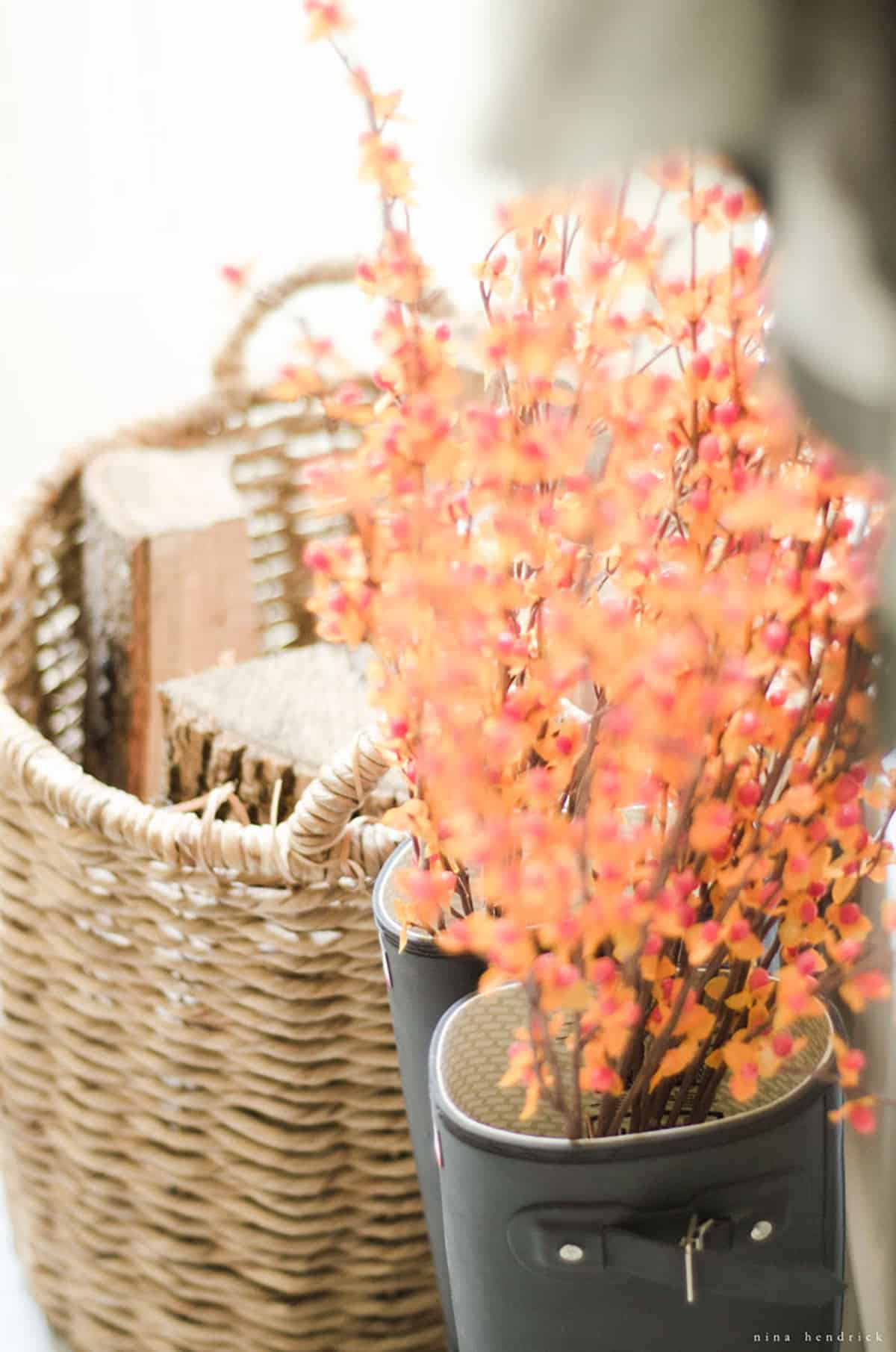 These days, my advice for mudroom decor is to choose accents that serve a purpose or won't disrupt your daily life. Go for a rug with subtle autumn colors or add a couple of understated orange throw pillows to your bench. A pumpkin or a container of pinecones still works wonders, as long as they don't get in your way!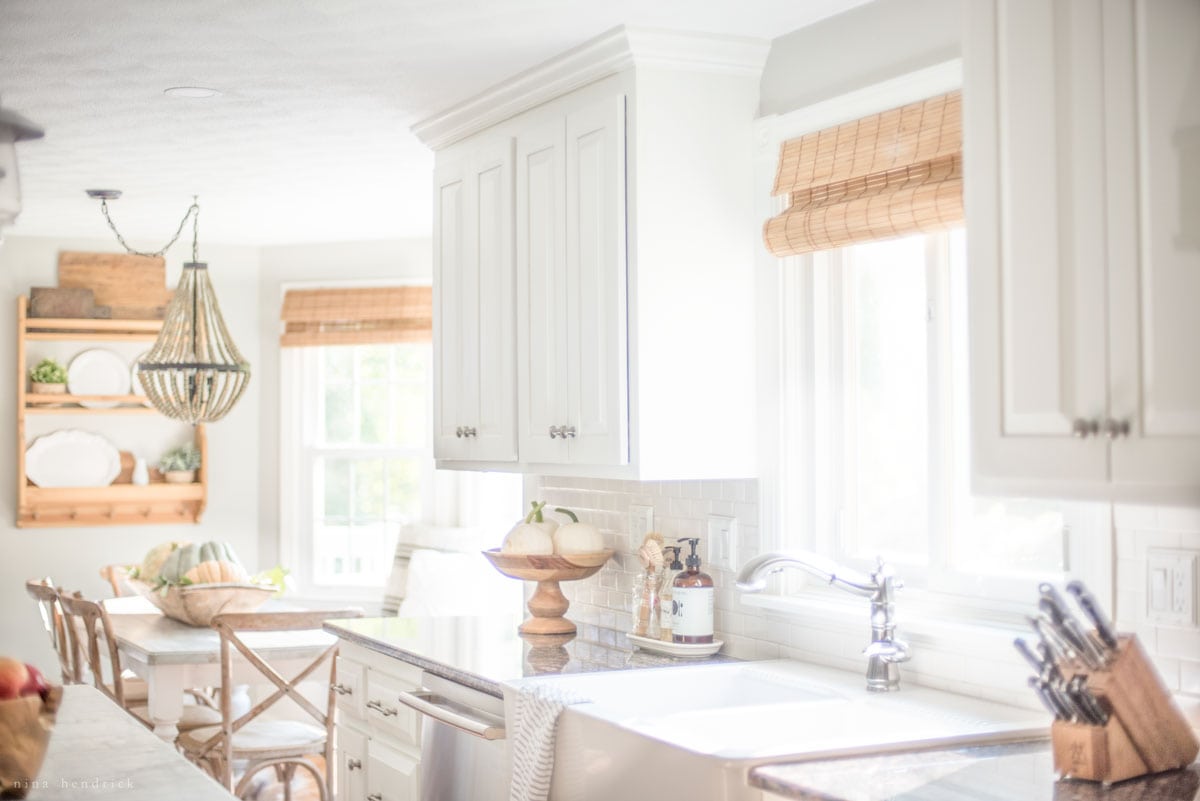 Scents of the Season: Fall Home Tour in the Kitchen
To truly embrace the best of fall, consider bringing natural elements into your kitchen. Deck out your kitchen door or window with a wreath made of dried leaves or fill a bowl or basket with freshly picked apples or mini pumpkins.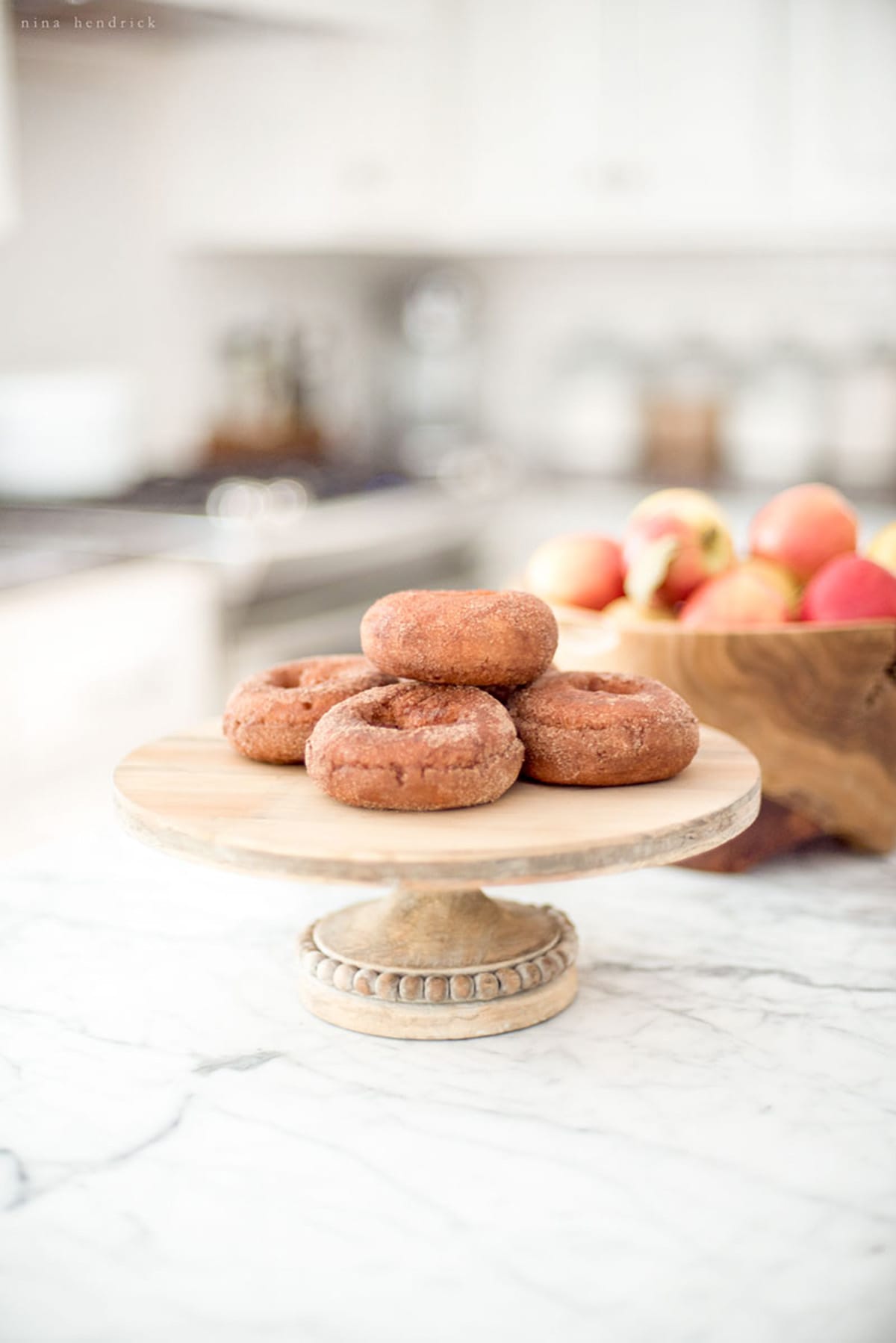 Amp up the cozy factor by introducing autumnal scents with burning candles or adding some seasonal decorations like a vase of wheat or flowers. And if you're feeling adventurous, bake some pumpkin donuts to fill your kitchen with the irresistible aromas of fall.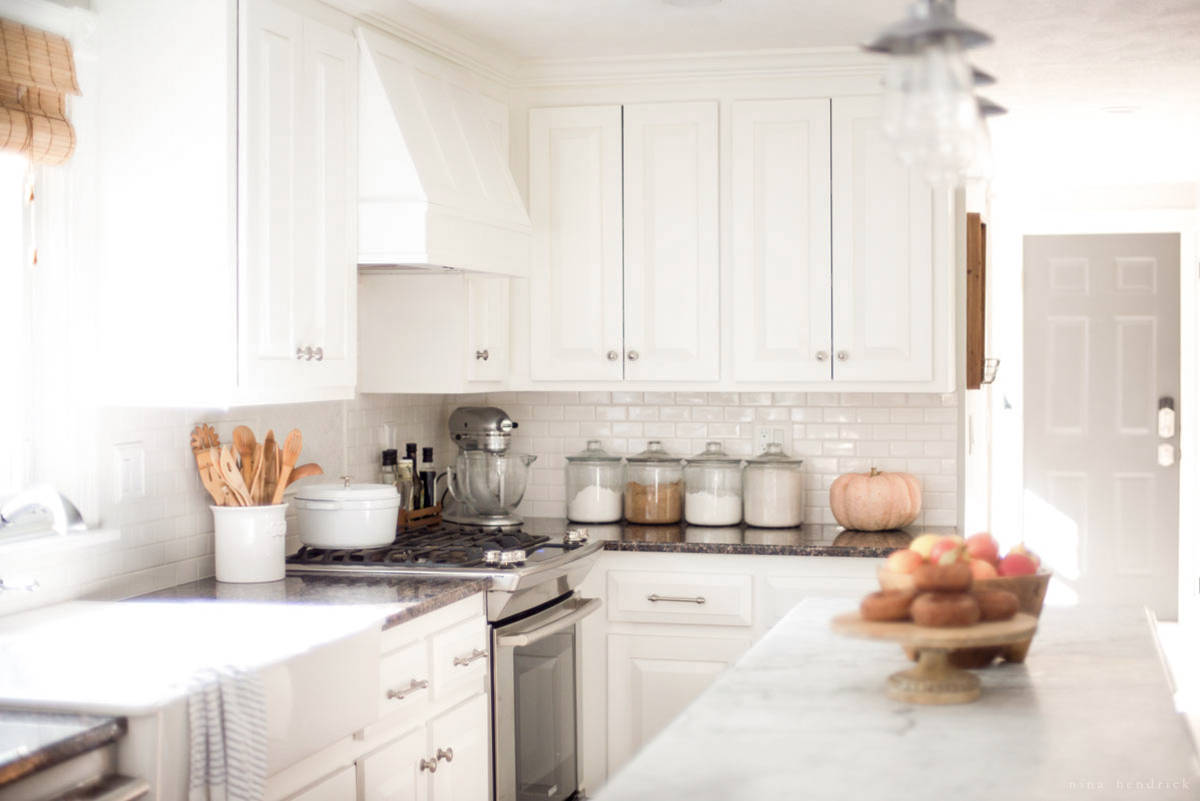 In case you missed my posts about this kitchen before, you can find them all here. Painting our once-orange oak cabinets white was a game-changer for our home!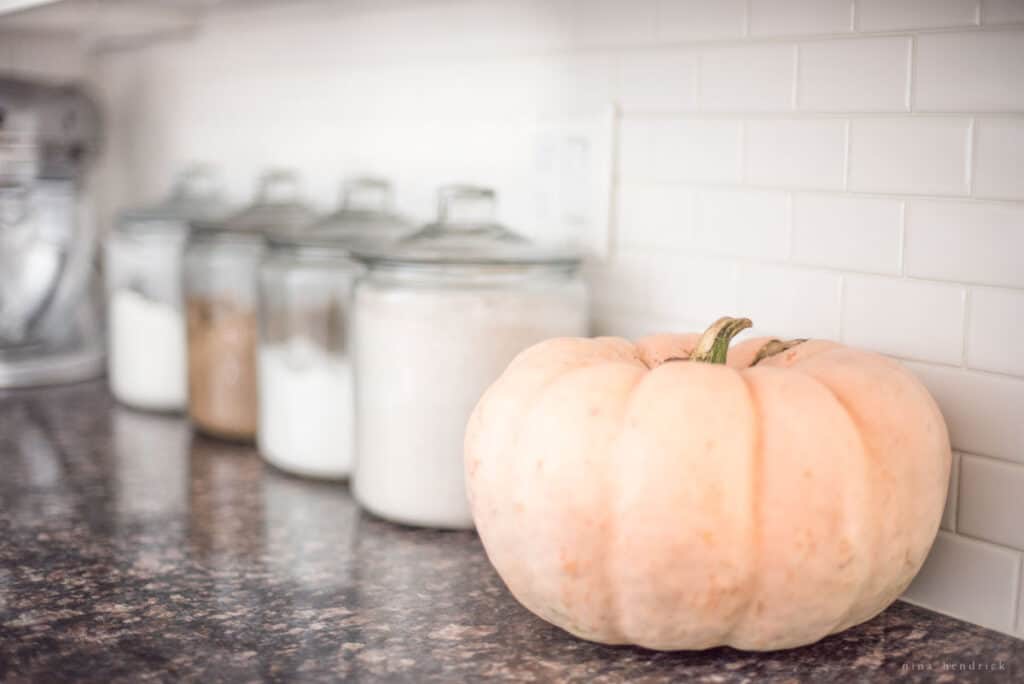 This fall kitchen is decked out with just a few autumn favorites that radiate coziness. On the counter, you'll spot an heirloom pumpkin from the grocery store, adding rustic charm and a touch of autumn magic to the room.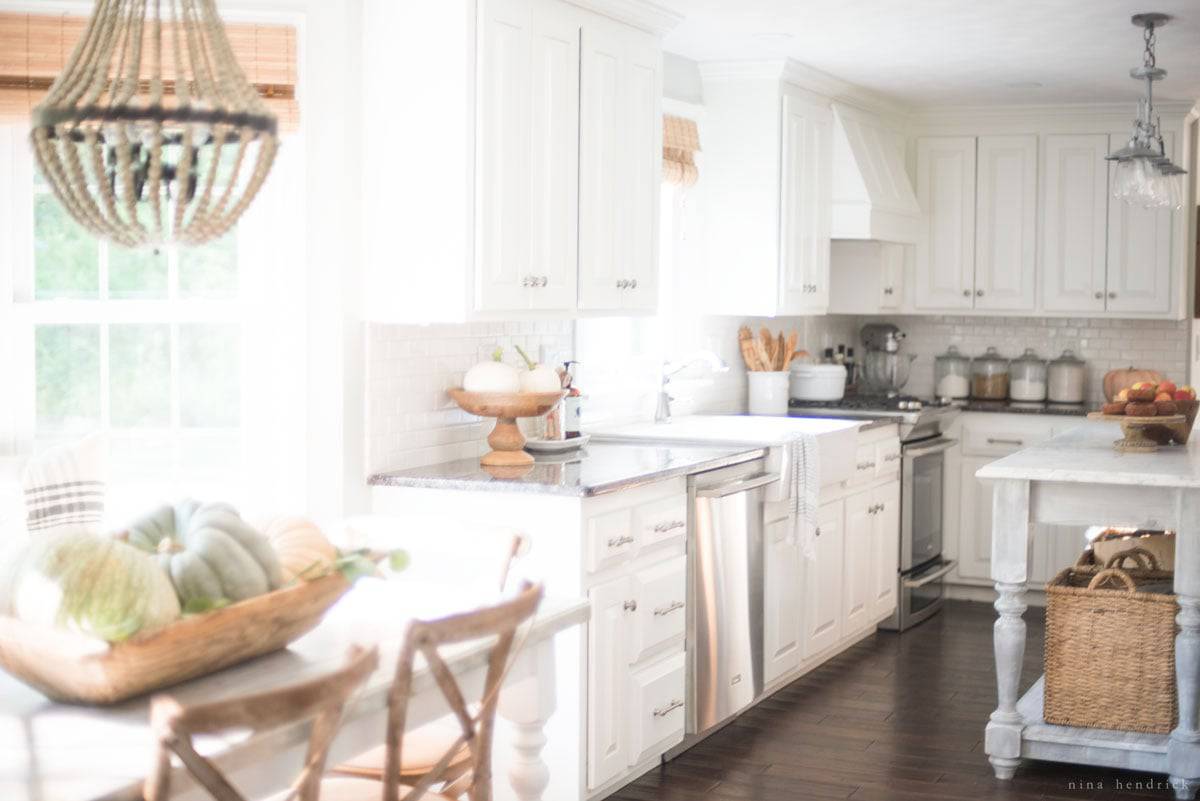 With just a few simple touches, you can transform your kitchen into a warm and inviting space this fall. No need to go overboard with home decor; a few additions are all it takes!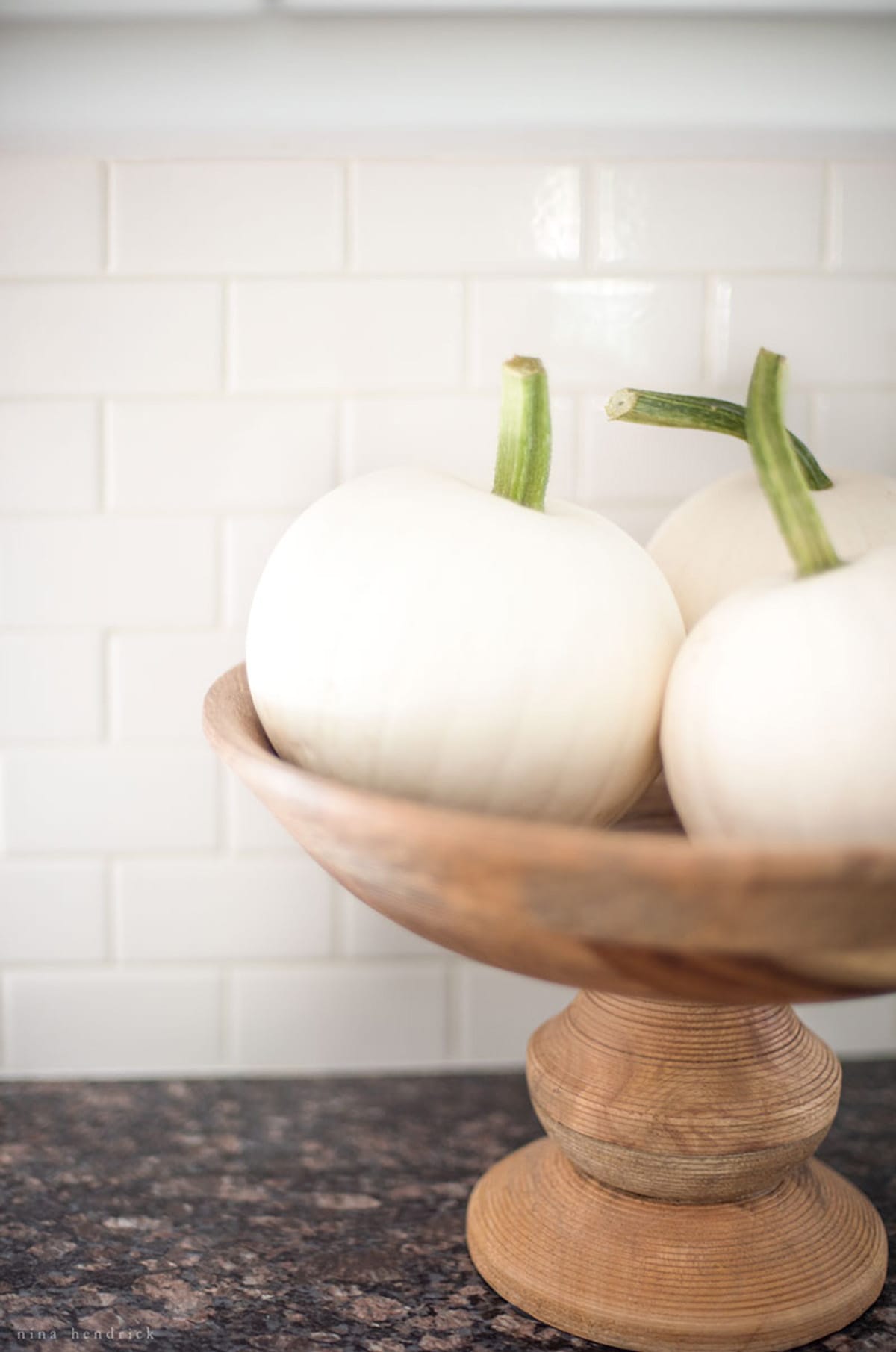 I filled a wooden bowl with the kids' three little white pumpkins. Such a sweet and easy decor idea.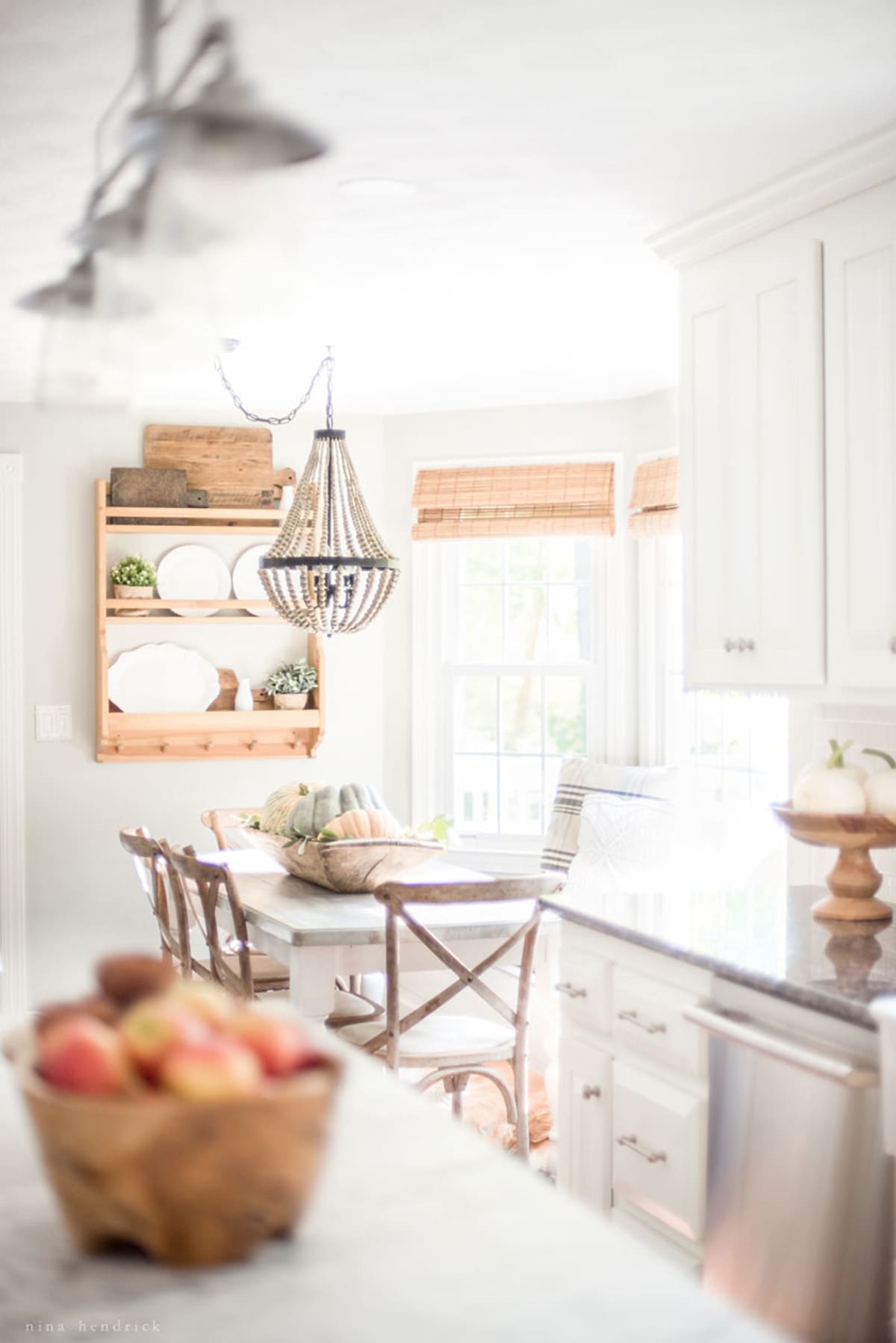 Do you spy the photobomb?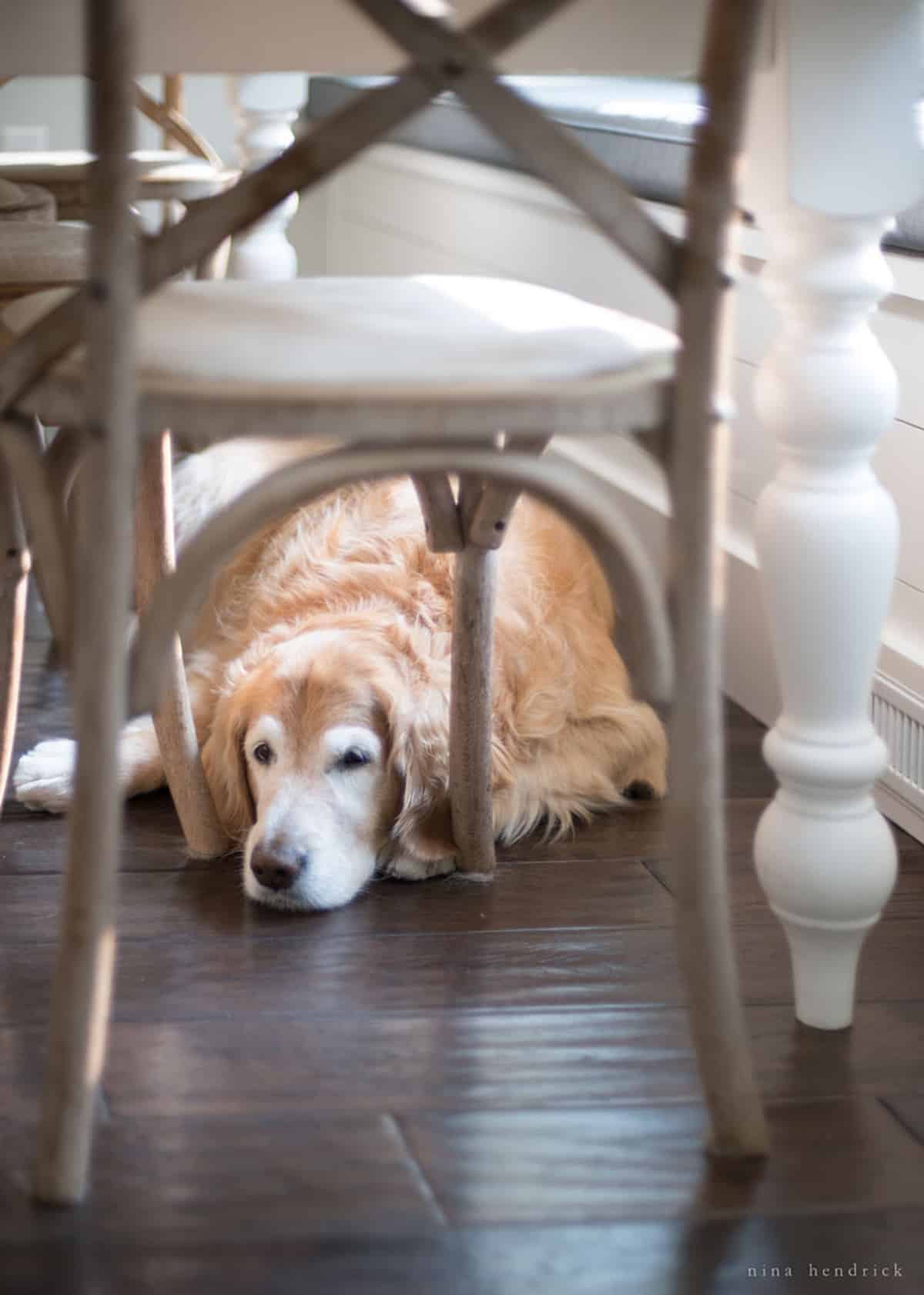 Our sweet girl Lucy is in so many of my photos if you go back through the blog. She passed away in 2021, but I'm so thankful to have these memories captured of her in our previous home.
Cozy Mornings in the Fall Breakfast Nook
Now, let's dive into the heart of your home—the breakfast nook! This little spot is where you can kick back with your morning coffee or share a cozy autumn meal with your favorite people.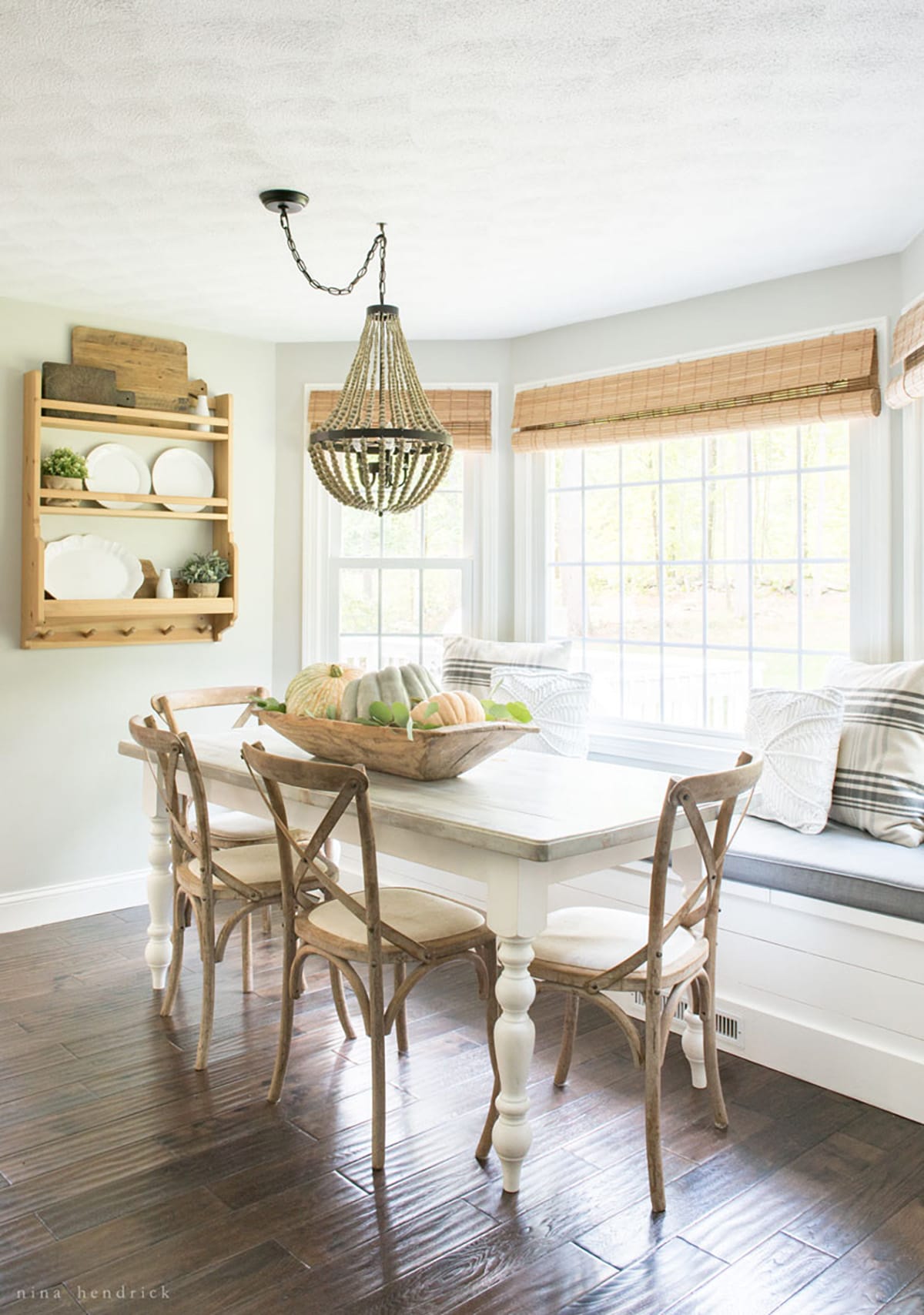 To give your breakfast nook that irresistible fall vibe, start by decking out the table with some seasonal flair.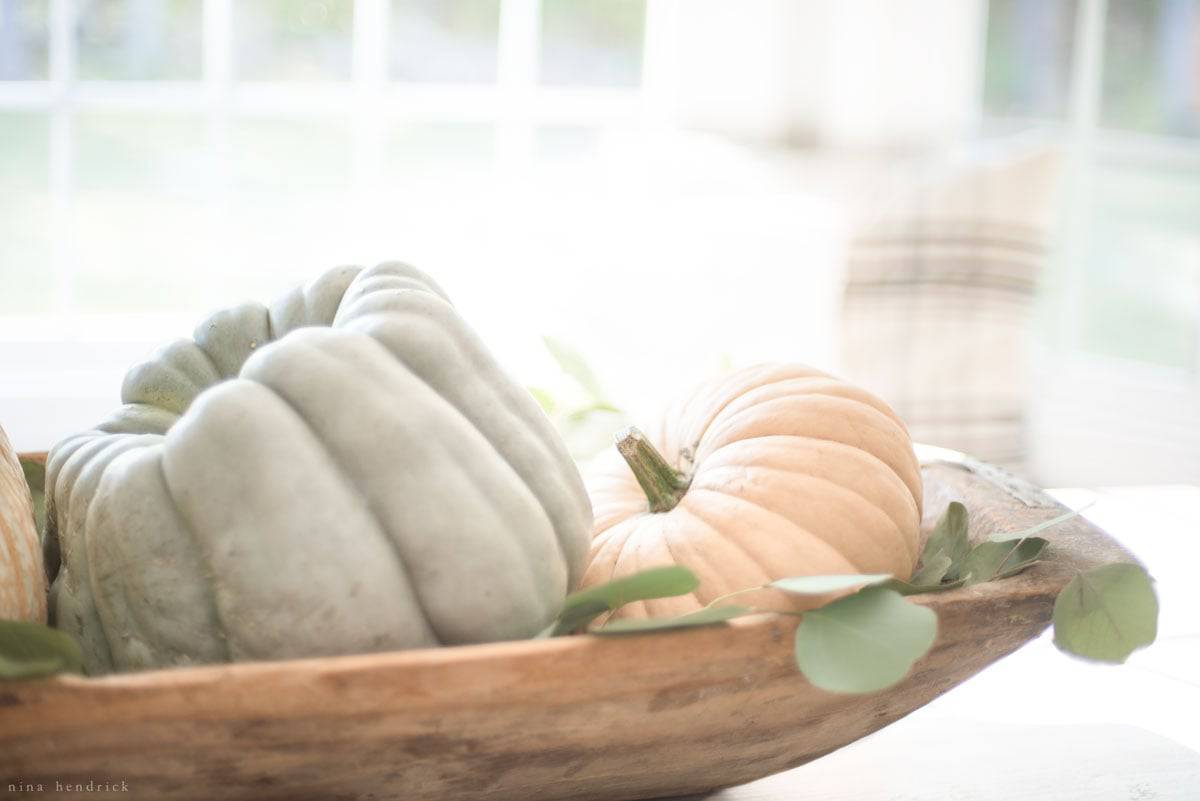 The wooden dough bowl centerpiece filled with some greenery and heirloom pumpkins can be moved easily for homework or meal times.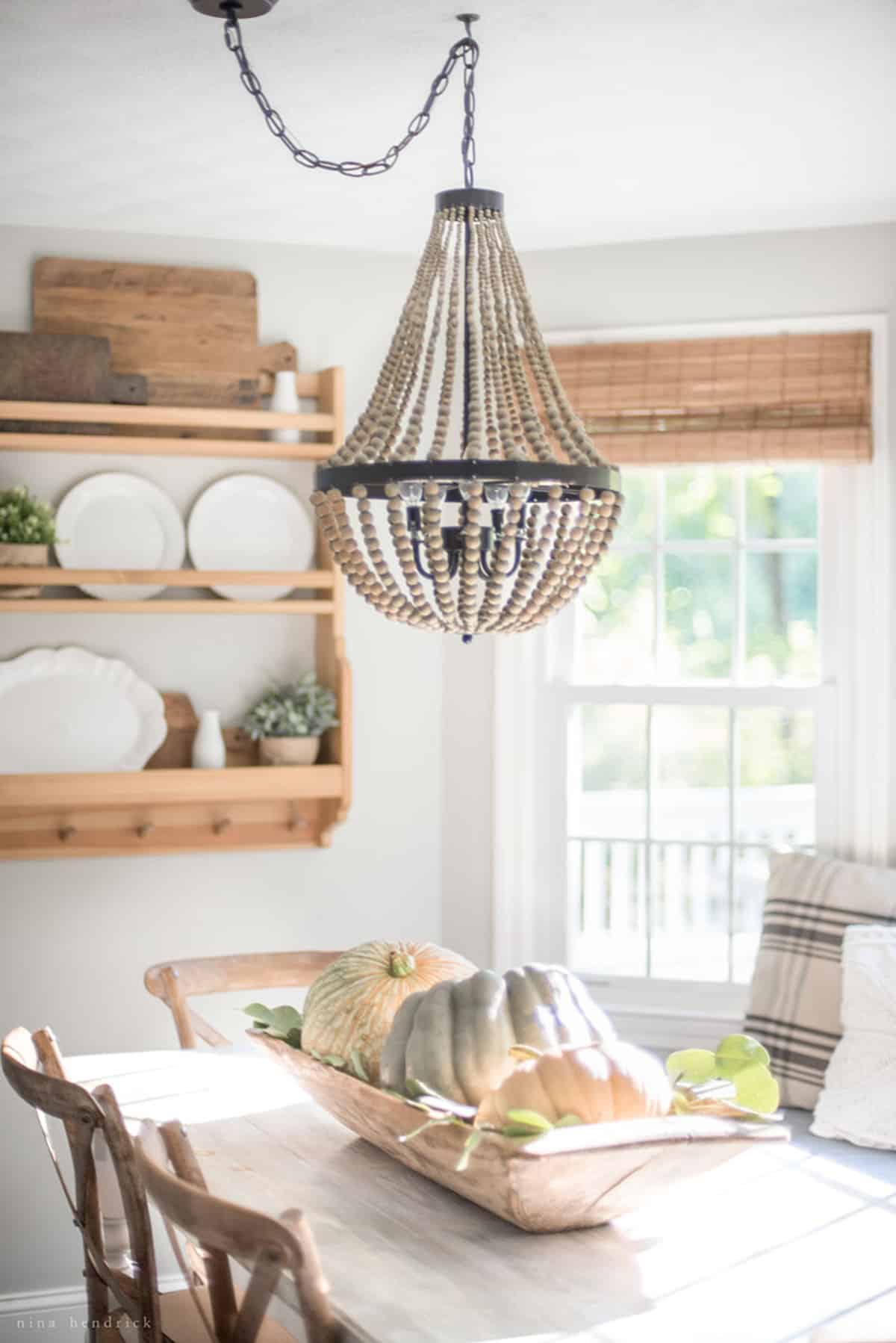 You can fully embrace the spirit of fall by adding some rustic, textured elements to your breakfast nook.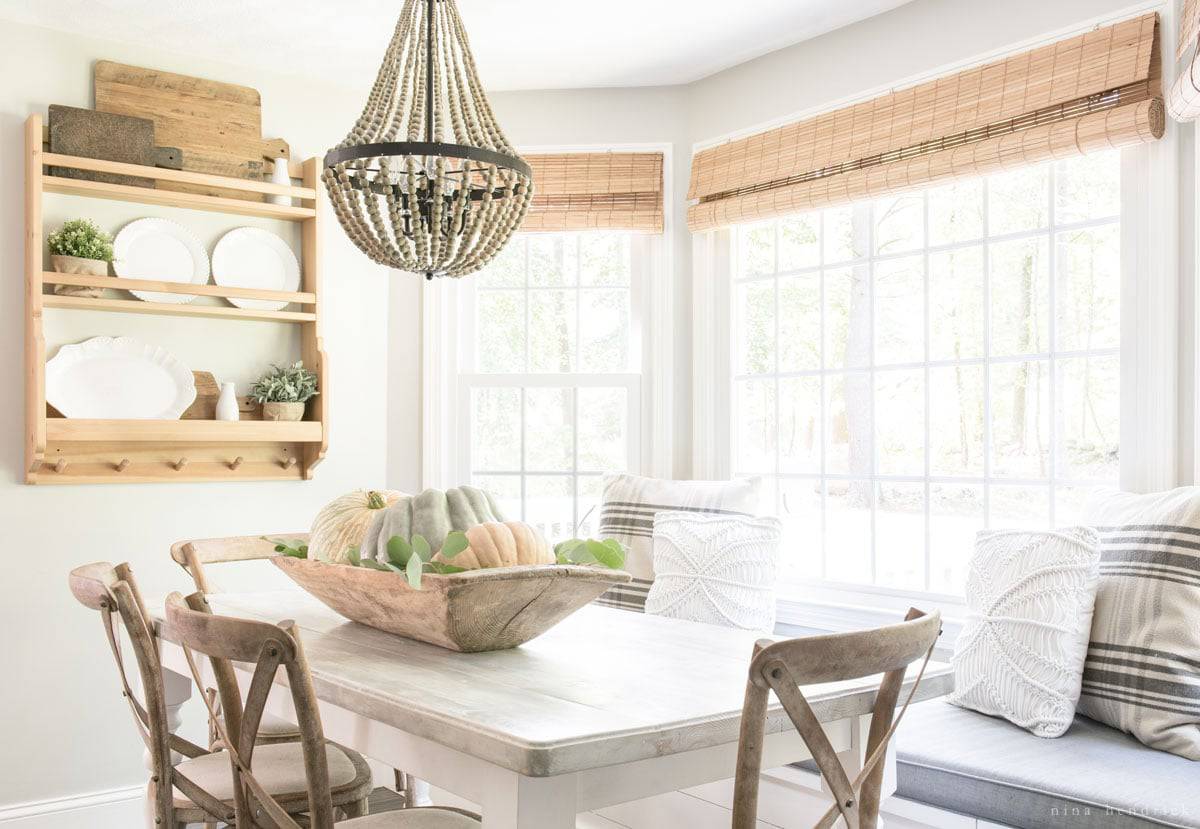 Think about tossing in soft, knitted pillows for that extra comfort and a nod to the season's cozineess. And why stop there? Go for fall-themed place settings with dishes in earthy hues and some charmingly rustic tableware.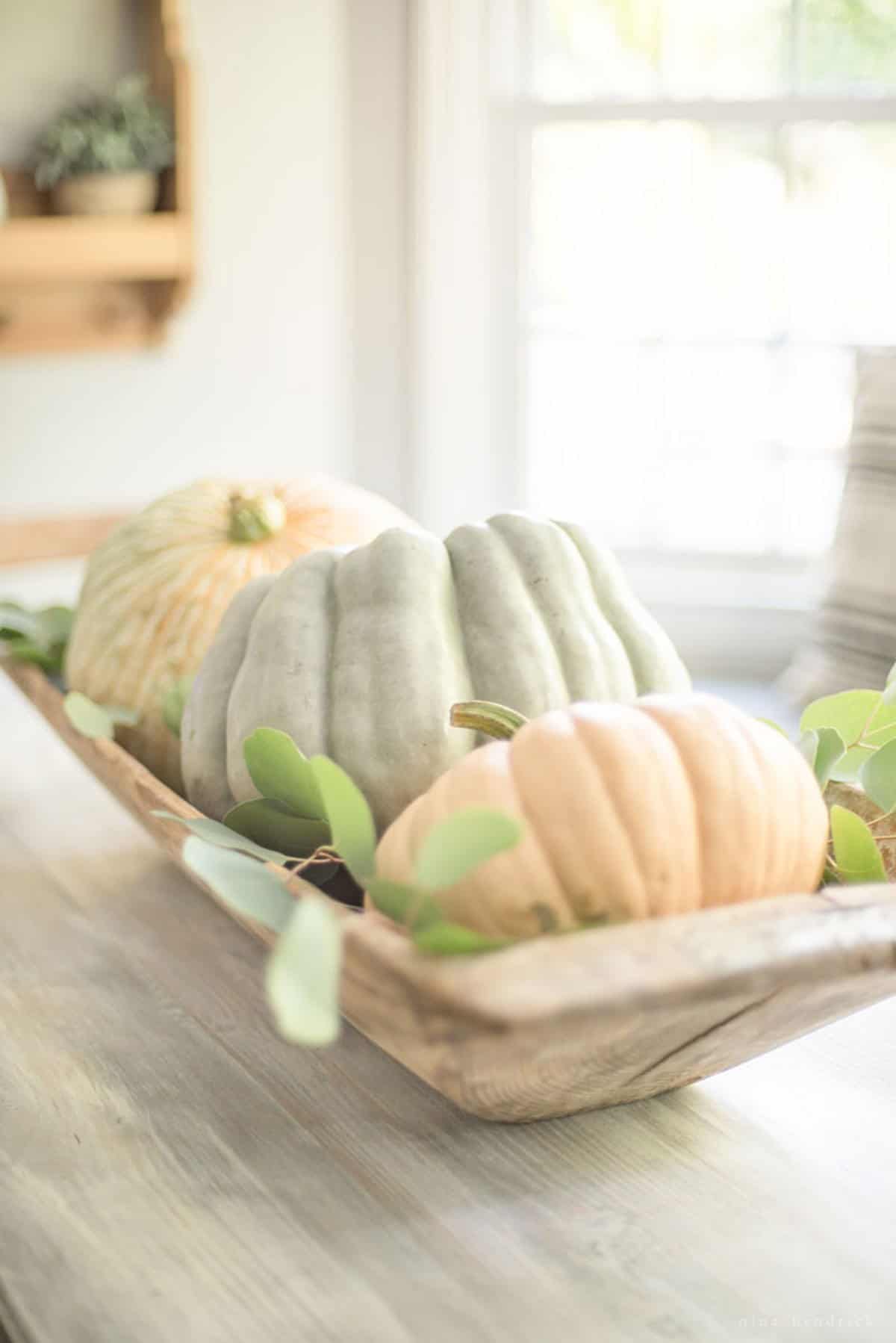 Oh, and the finishing touches! Consider hanging a wreath of dried leaves on the wall or putting a basket filled with mini pumpkins right on the nearby shelf. These little details will blend together, turning your breakfast nook into a warm and picturesque haven that's absolutely perfect for soaking in the beauty of autumn mornings.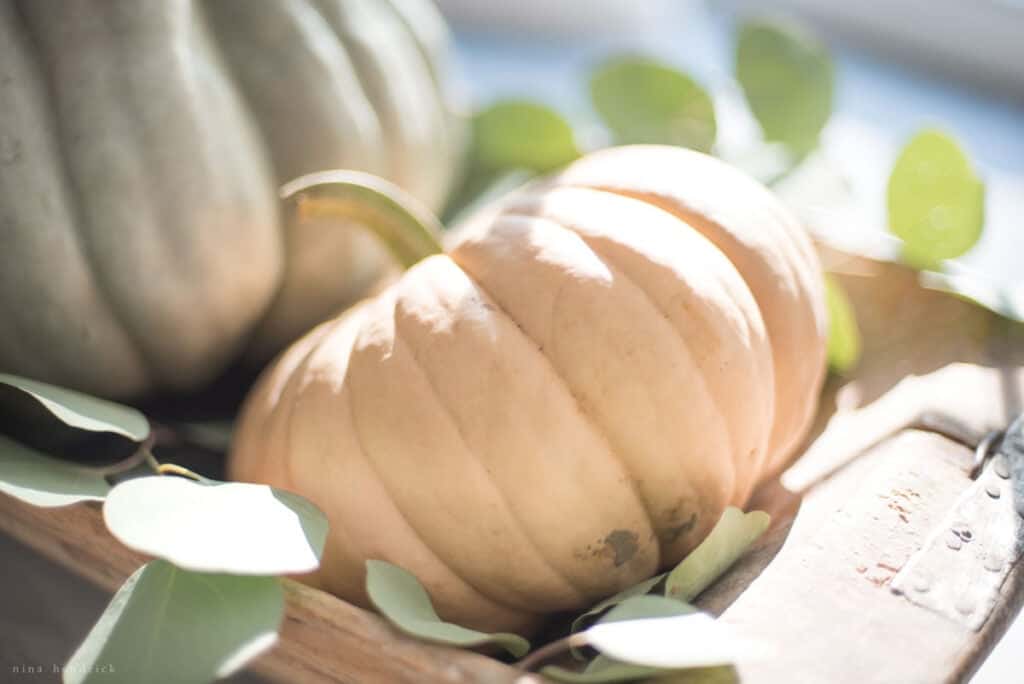 Whether you're leisurely enjoying your breakfast, sipping on a cup of tea, or simply basking in the view outside, trust me, your fall breakfast nook is about to become the ultimate favorite spot in your home during this enchanting season.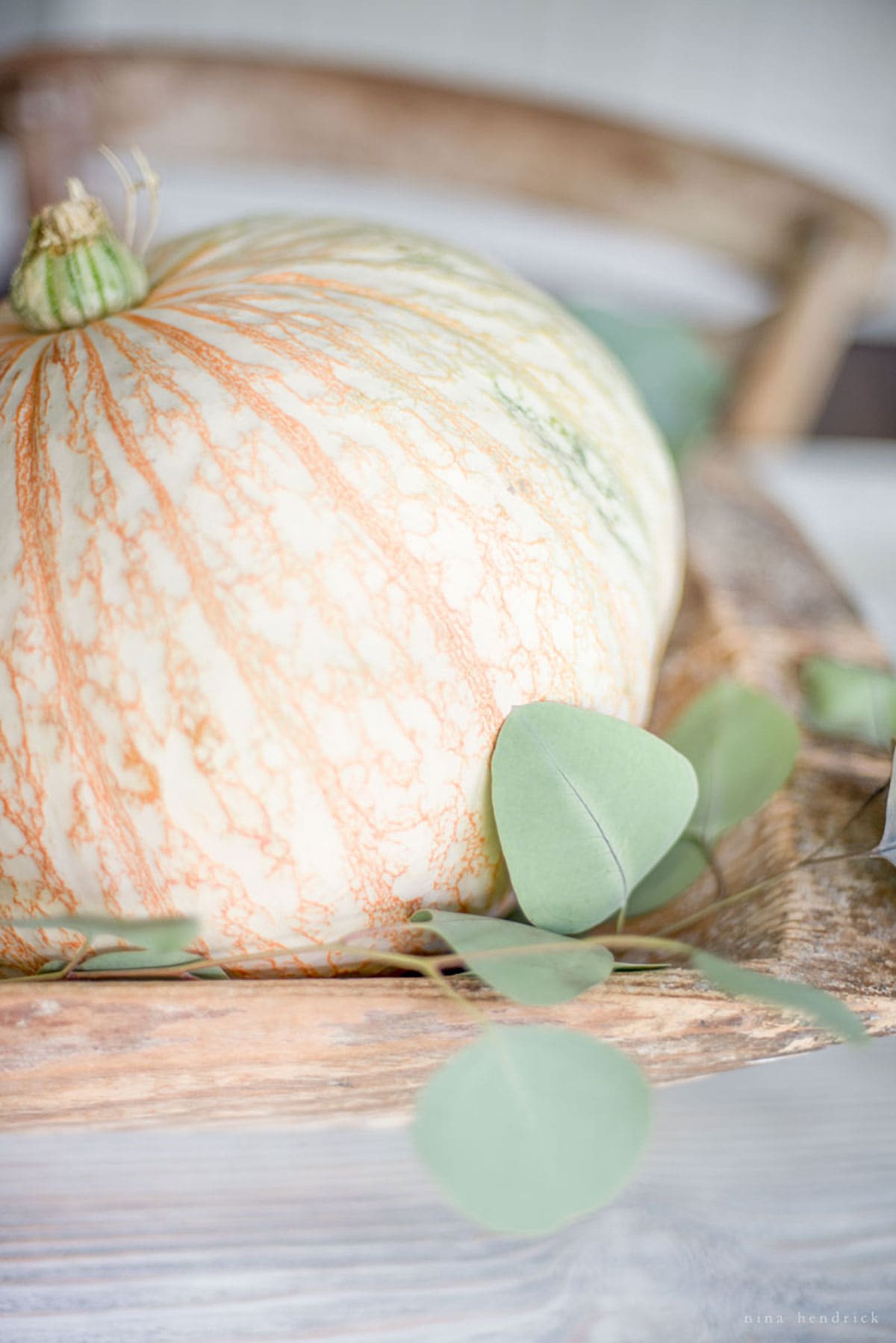 So, let's get that table set, light up that candle, and soak in all the warmth and beauty that fall has to offer, right in your cozy little breakfast nook.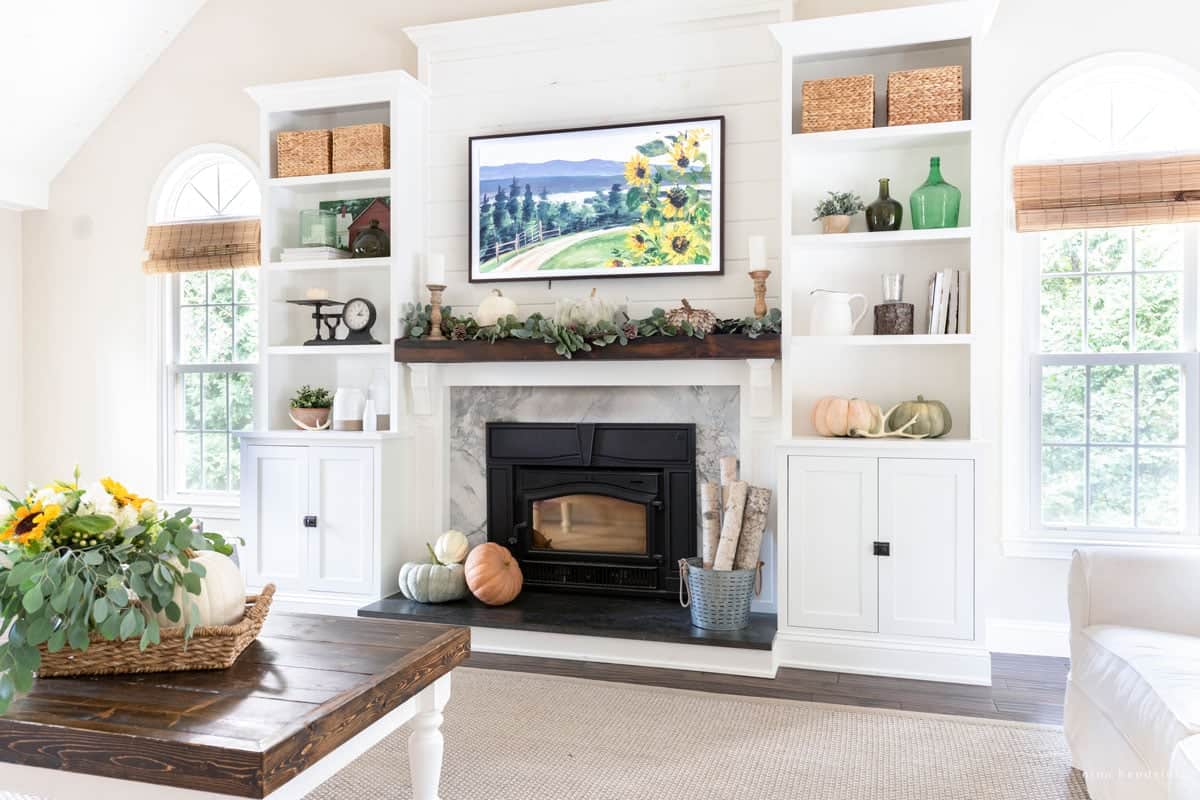 Getting Cozy: Fall Family Room Decor
Alright, let's keep this fall home tour rolling as we venture into the soul of any home during the autumn season—the family room. Just picture this: everyone gathered around a crackling fire, enveloped in those warm, fuzzy vibes. How can we dial up the autumn feels even more? Well, when it comes to the family room, remember that it's the cozy touches that can make a big difference.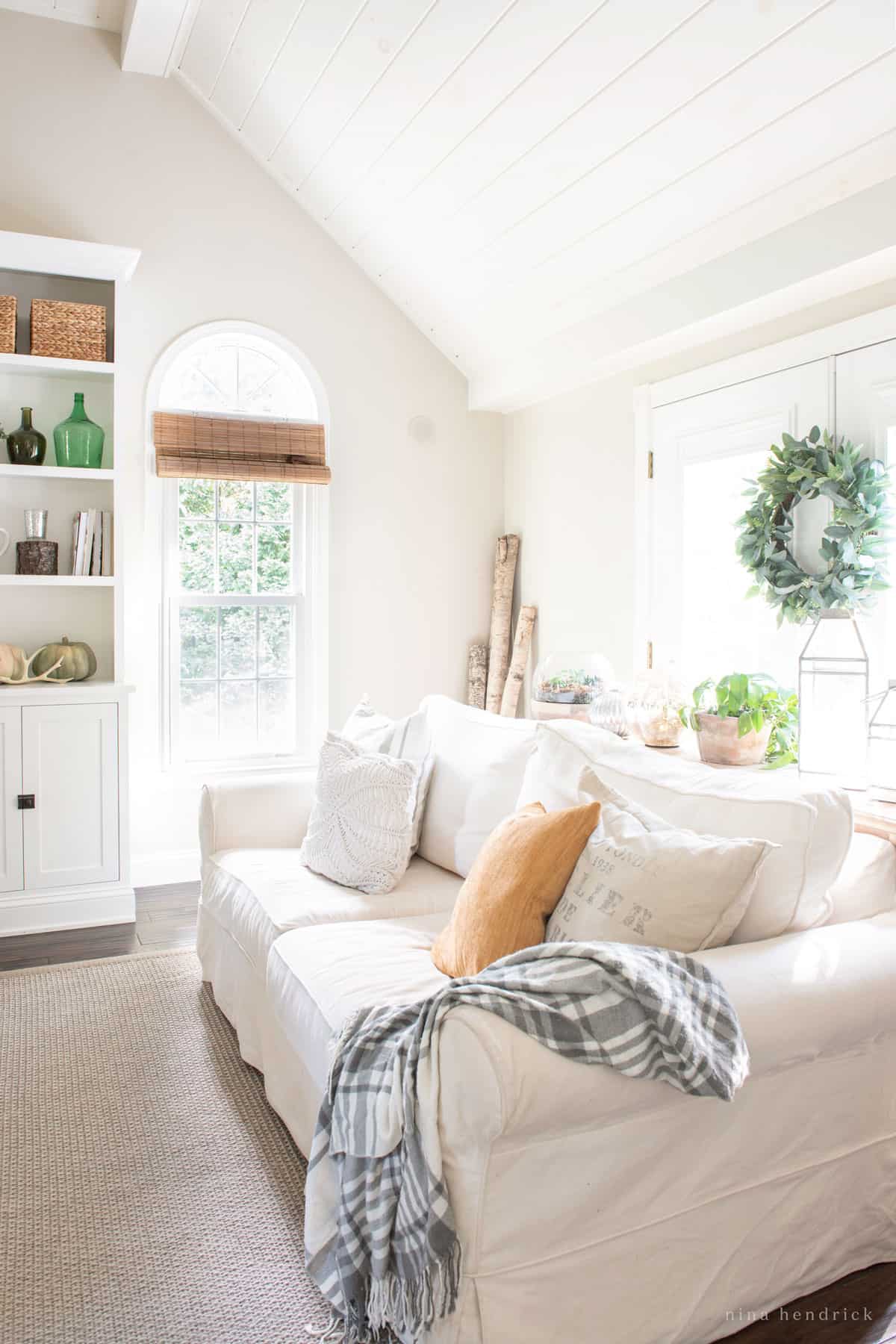 My goal is always to create a seasonal space that's pretty and inspiring but also livable. What I really want is to be able to cozy up in the family room and enjoy the fire and share some of our favorite 90s Halloween movies from our childhood with our kids.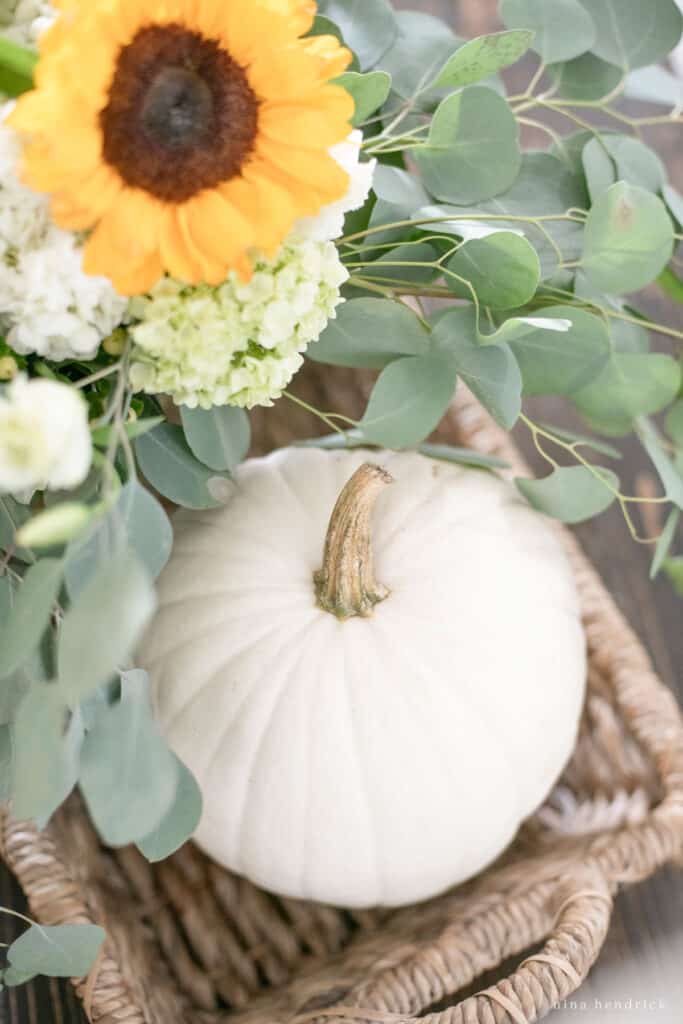 Just like with the breakfast nook arrangement, the tray with the white pumpkin and floral arrangement on the coffee table can easily be lifted away and replaced with a bowl of popcorn (or candy) while you're watching Hocus Pocus.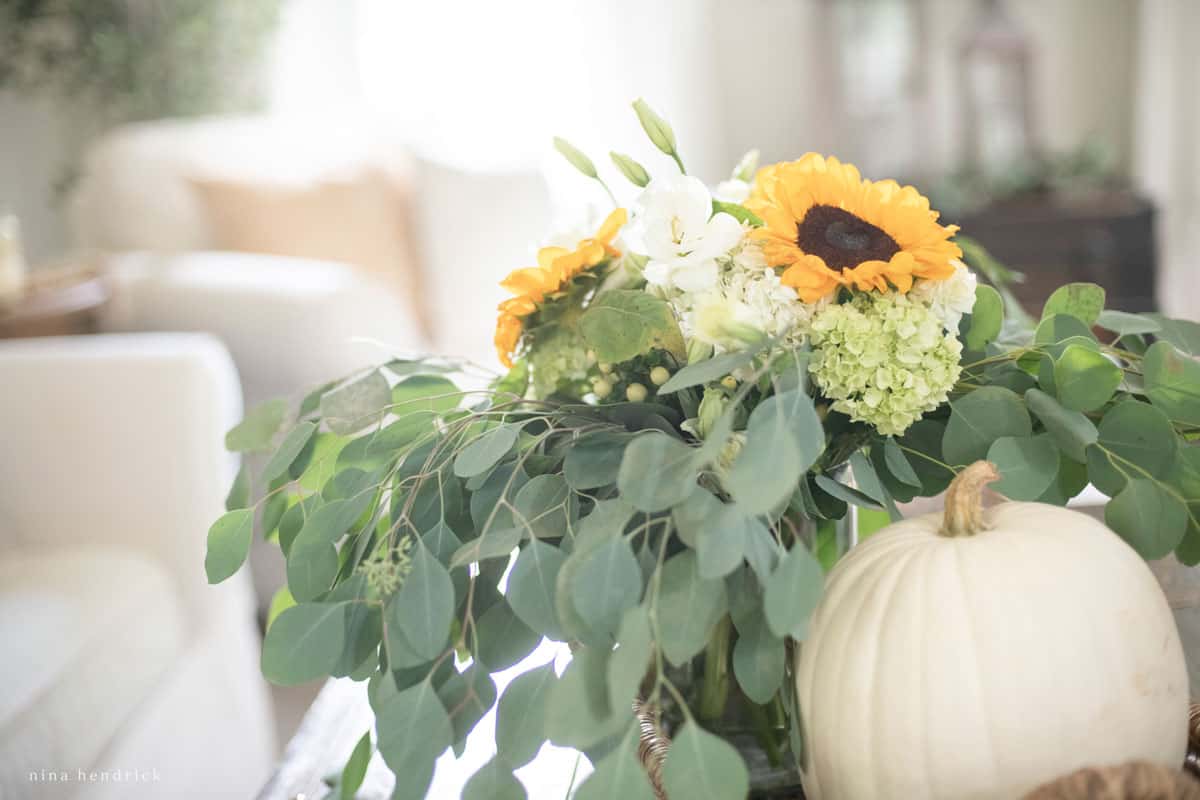 Here's a little tip I've found to bring some extra happiness into our home each week: I absolutely adore picking up some flowers from the grocery store. Not only are they super budget-friendly, but they also add such a sweet touch to our space! Better yet, support local by grabbing them at a farm stand or farmer's market.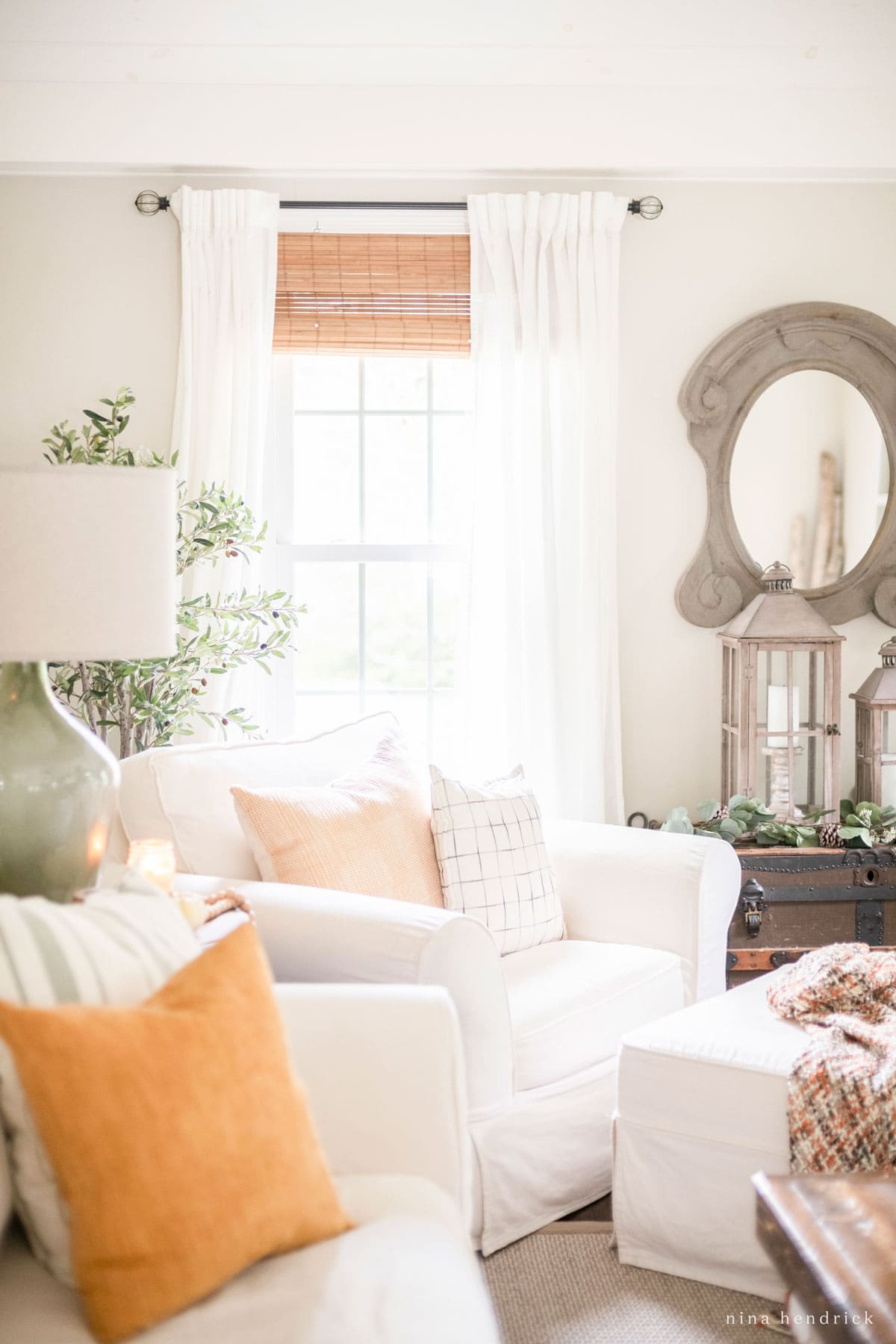 I probably would have never believed that I'd be decorating with avocado green and goldenrod… but here we are, and I didn't hate it. In fact, it really kind of worked for me in this room.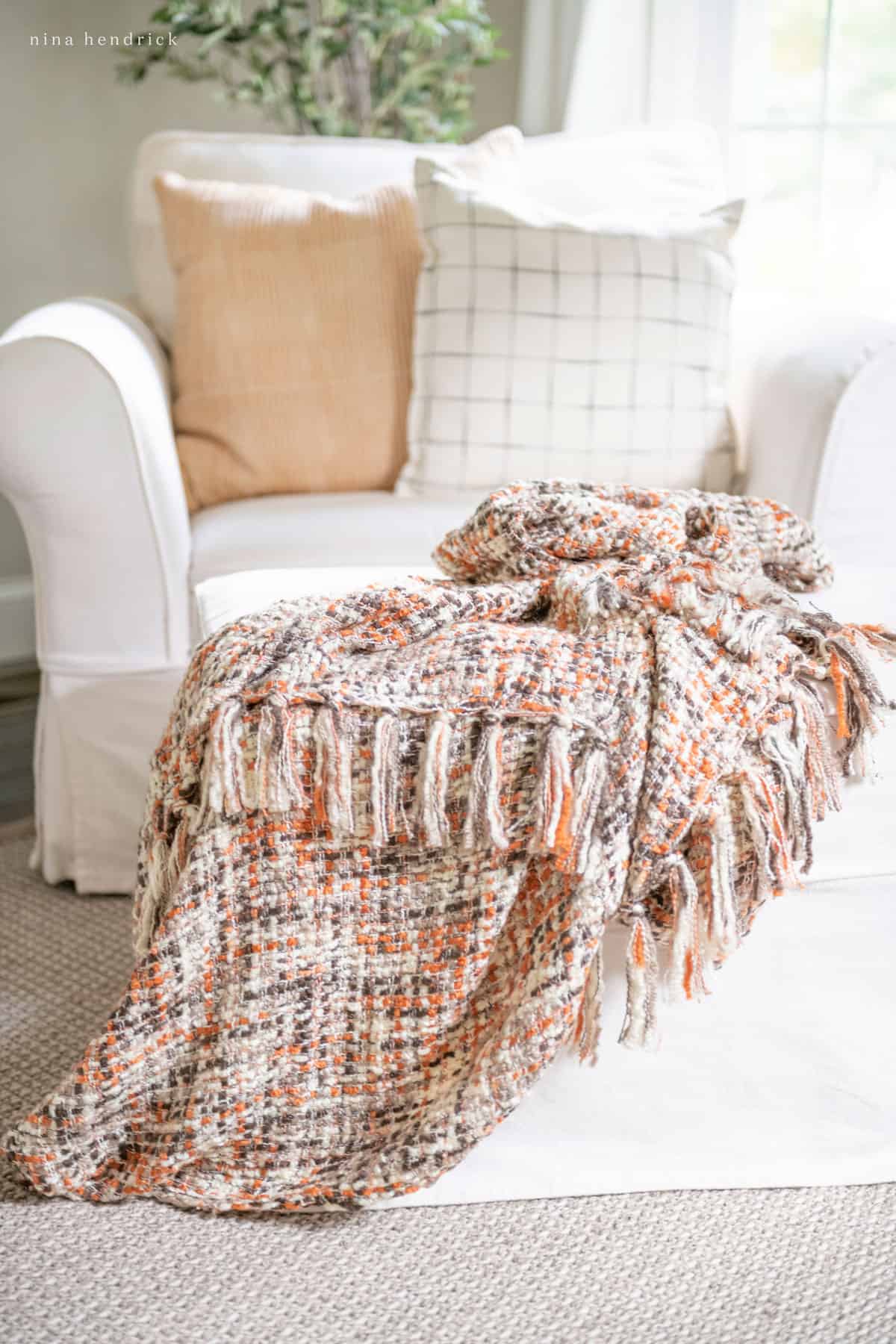 And let's not forget about this textured throw (similar) in those signature fall colors. In your home, you can do something as simple as tossing a fall blanket over a chair for extra snugness, and voilà! You've decorated.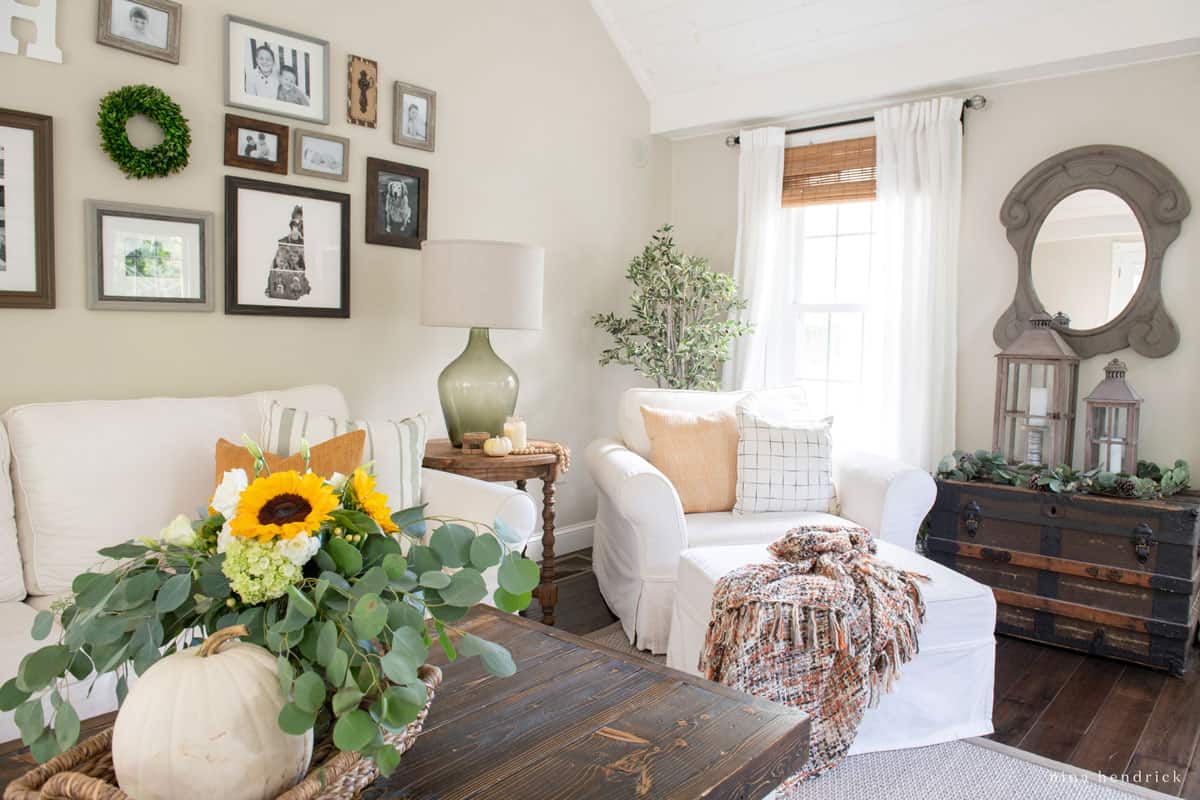 Someone in my childhood had to have had an ancient 70s sofa that looked like this throw because it felt so familiar.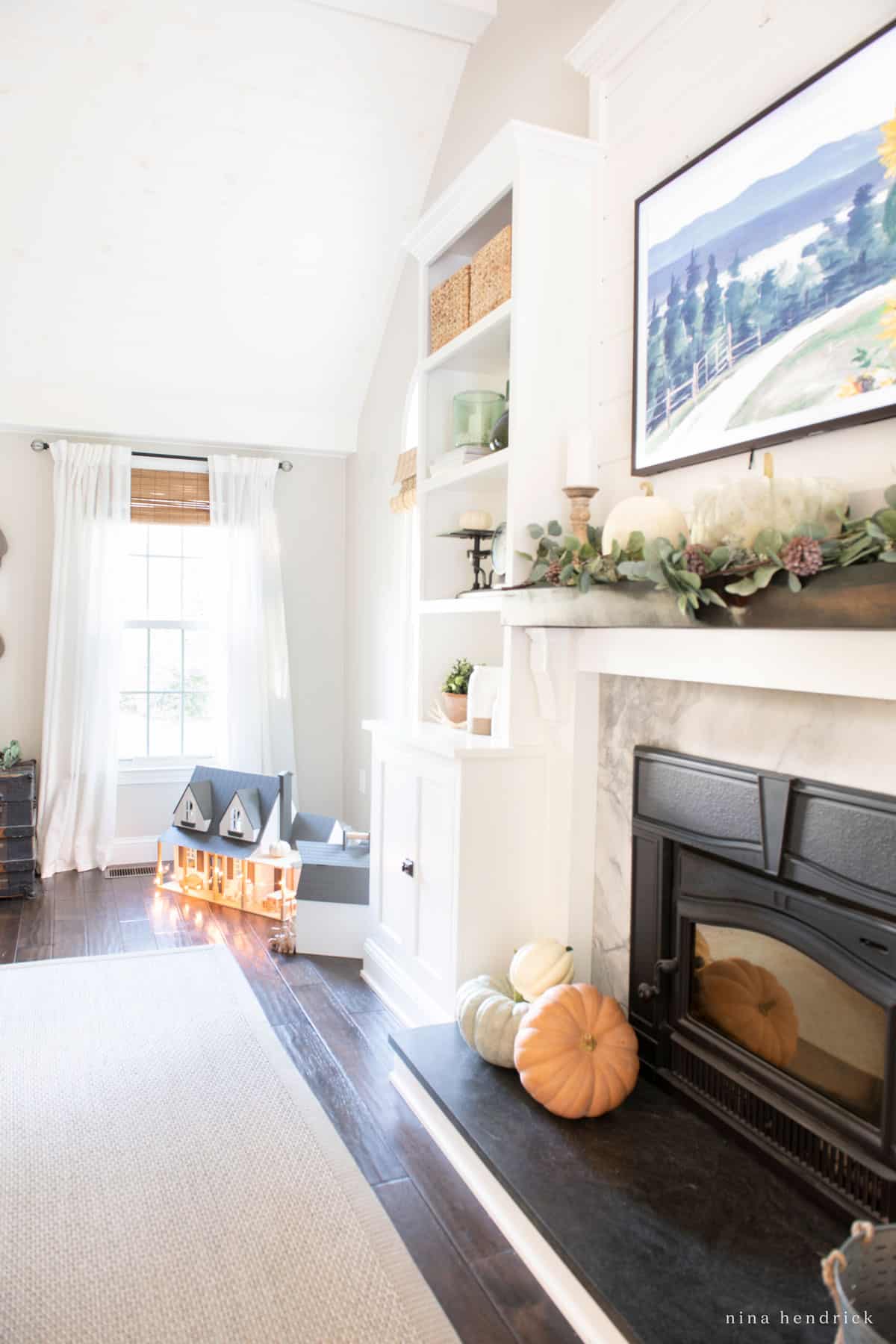 I captured an impromptu moment when I shot this tour to show you how we actually used the room. The basement was a kid zone, but we kept the Magnolia dollhouse and barn in the family room because they are adorable (and I loved to play with them, too). Proof that you can create a space that's kid-friendly and pretty!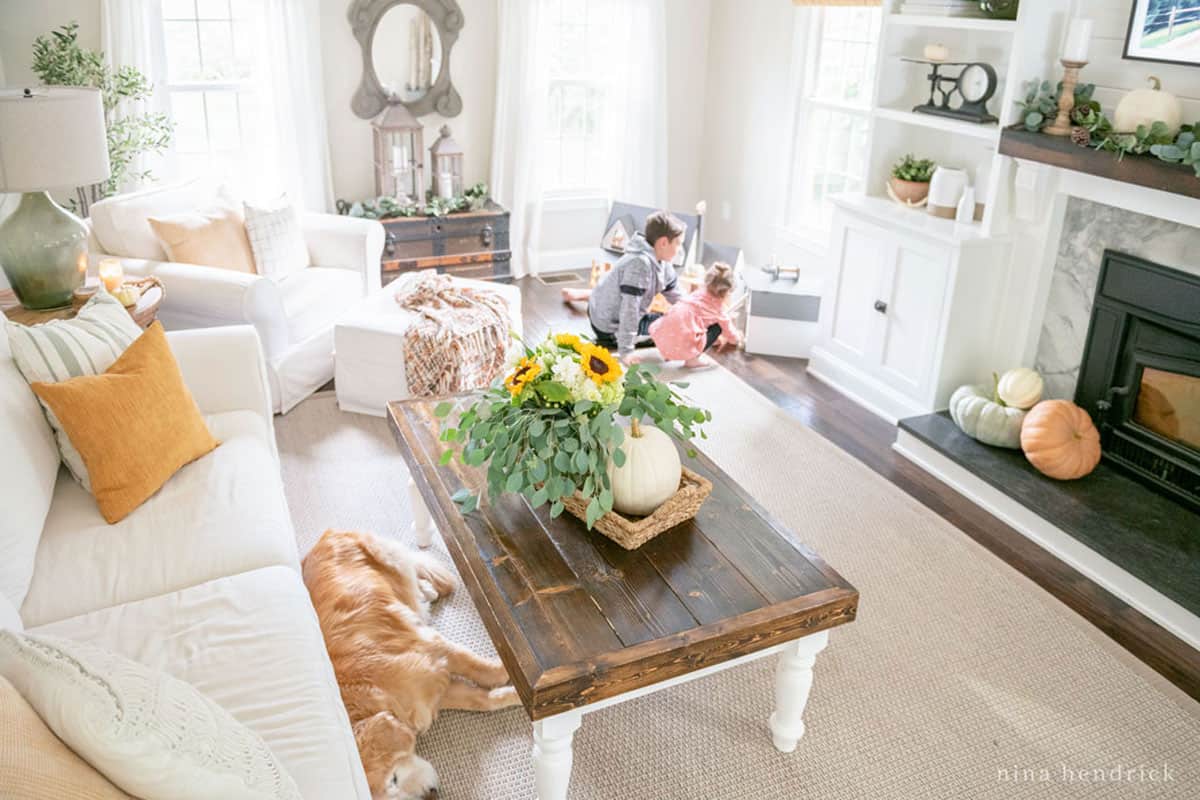 I feel so misty-eyed looking back on this. It's like a different life. I'm grateful that over the years that this blog was not only a place to share inspiration with you but also chronicle our family and life along the way. This photo perfectly captured my philosophy and goals for our home.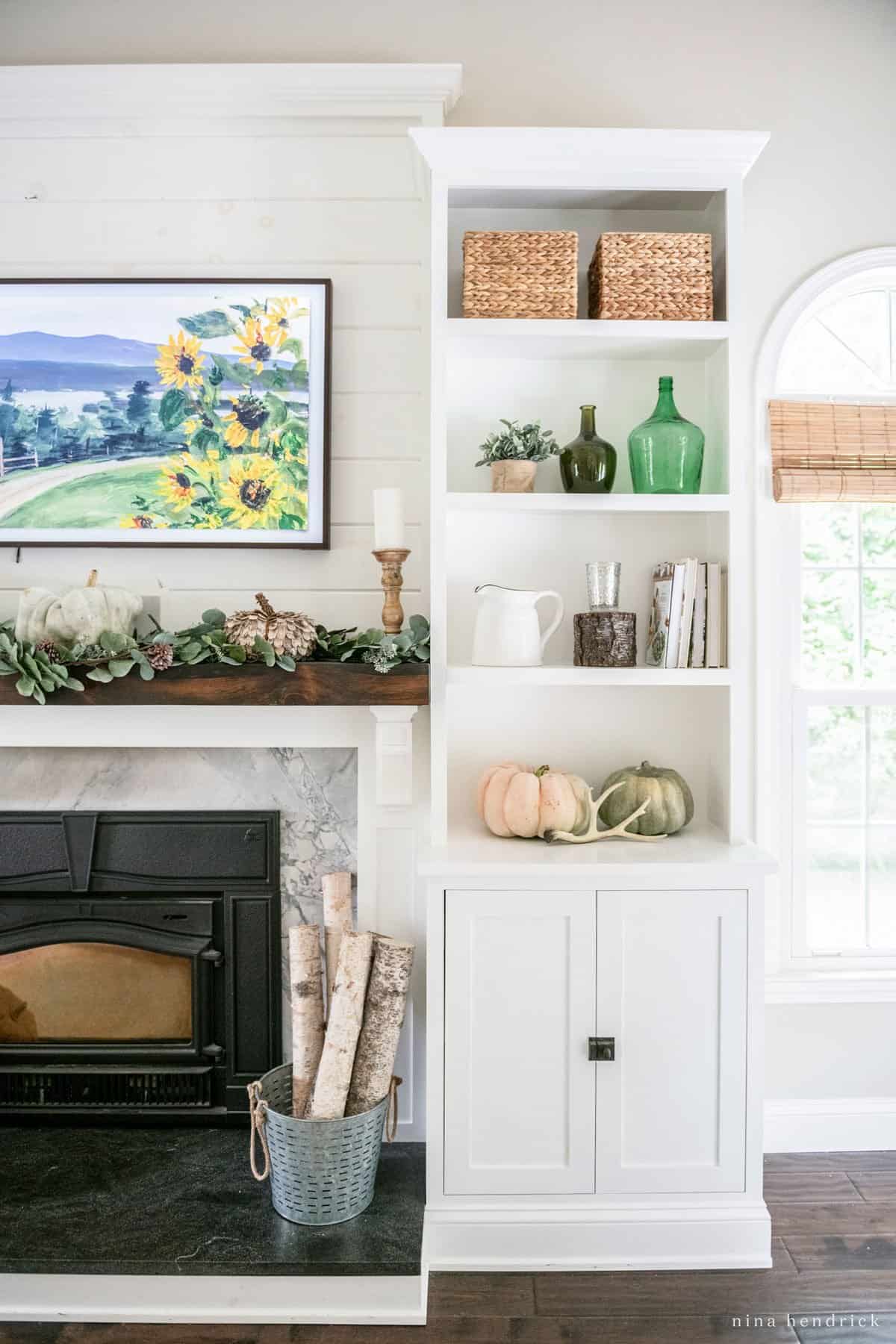 Last but not least for this space is the fireplace. In the fall, the fireplace becomes a focal point in your family room, radiating warmth and comfort as the air turns crisper outside. Its crackling flames and soft, flickering glow draw friends and family together, creating a cozy haven for sipping hot cider, reading a book or simply relaxing.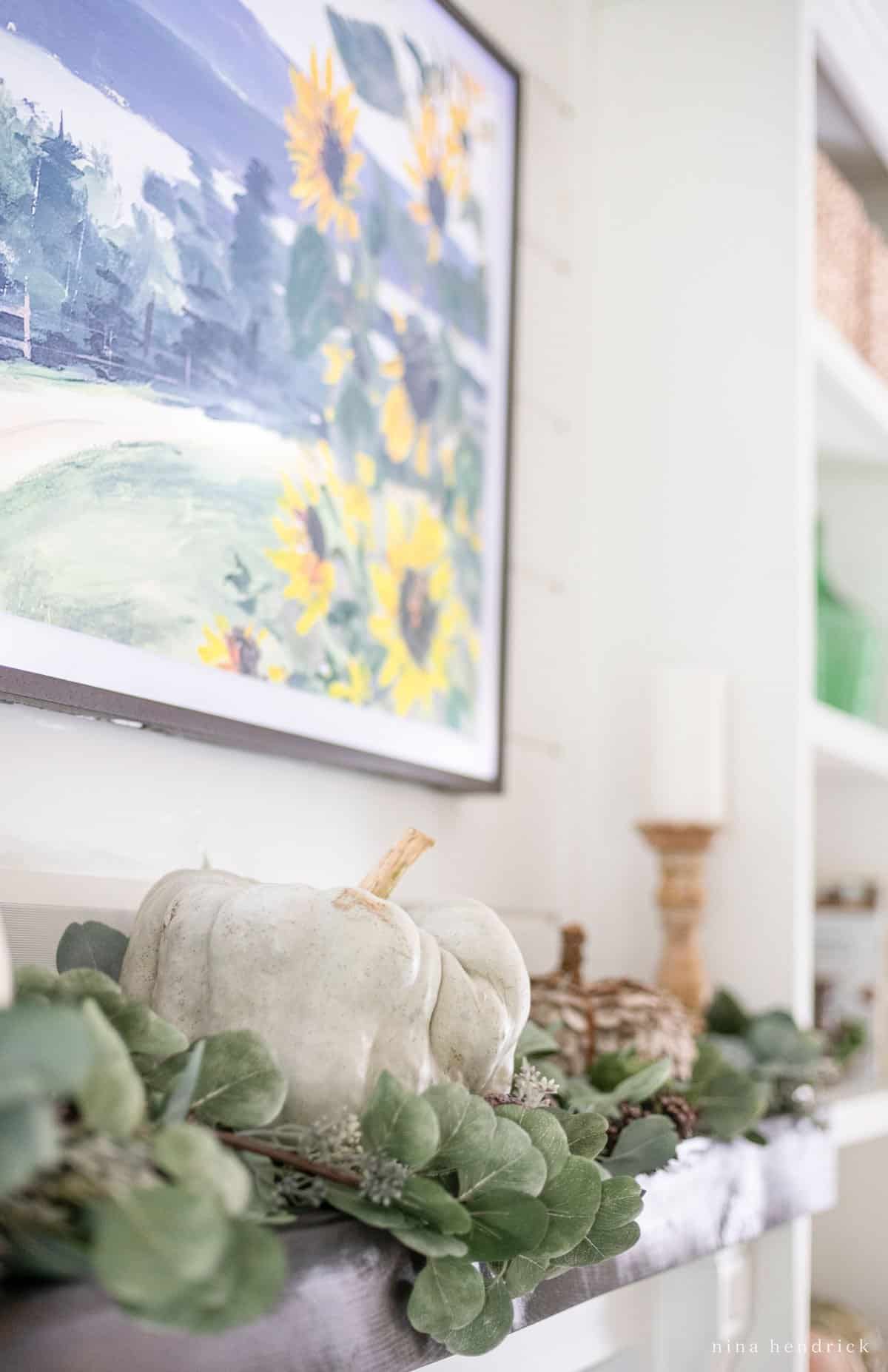 Think about dressing up the mantel with some dried branches for bringing the outside in.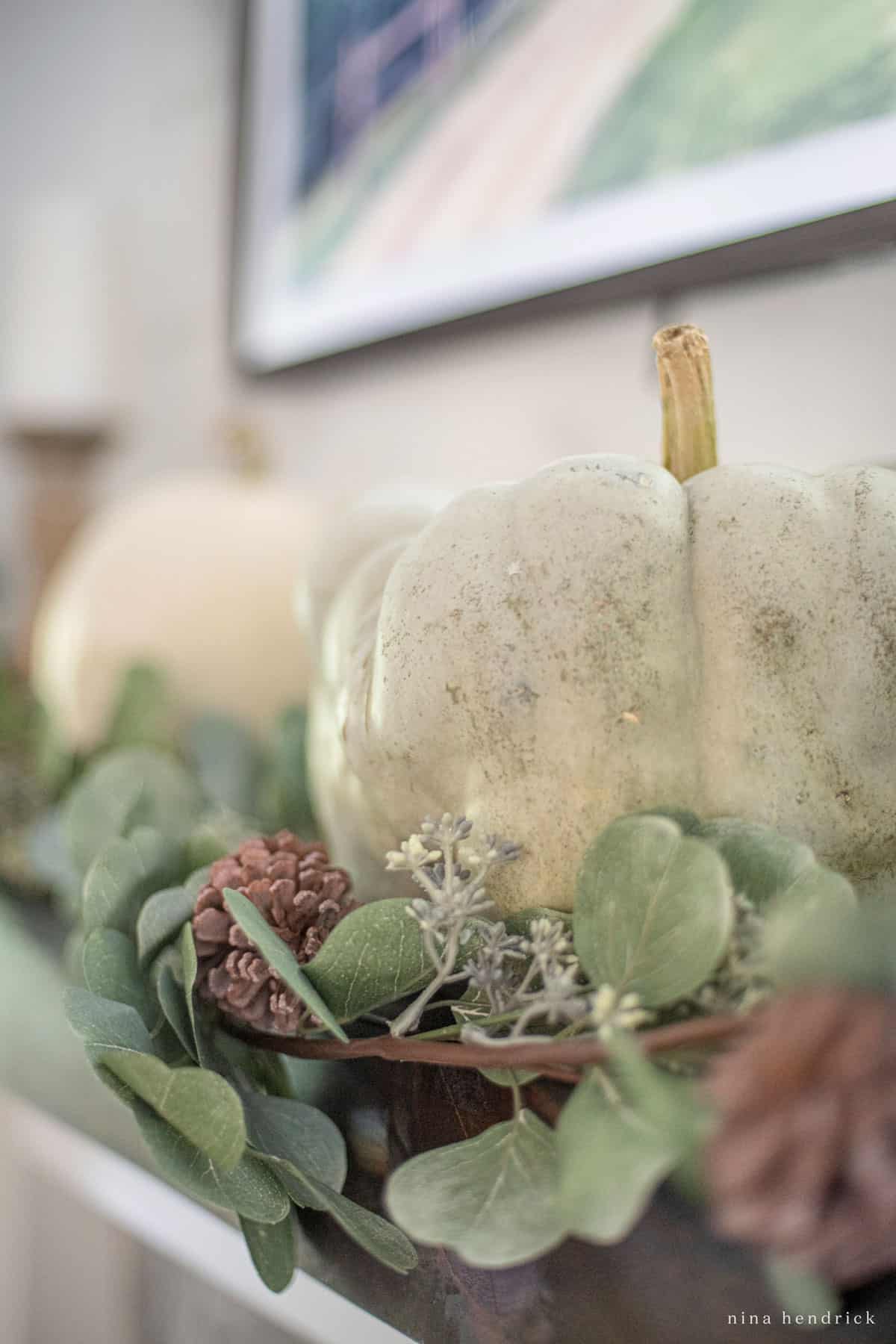 You can also add some pumpkins if your mantel is deep enough.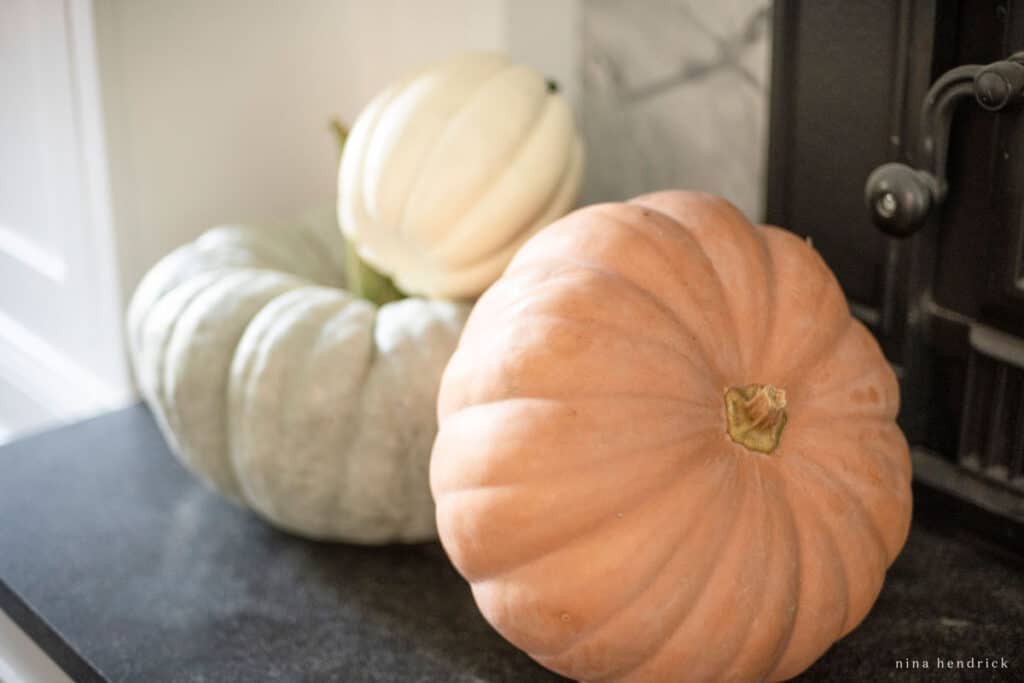 For the hearth, you could bring in some rustic elements like wooden logs in a bucket or a vintage lantern to go with those flickering orange flames. Of course, you can also just tumble even more pumpkins, like I did here.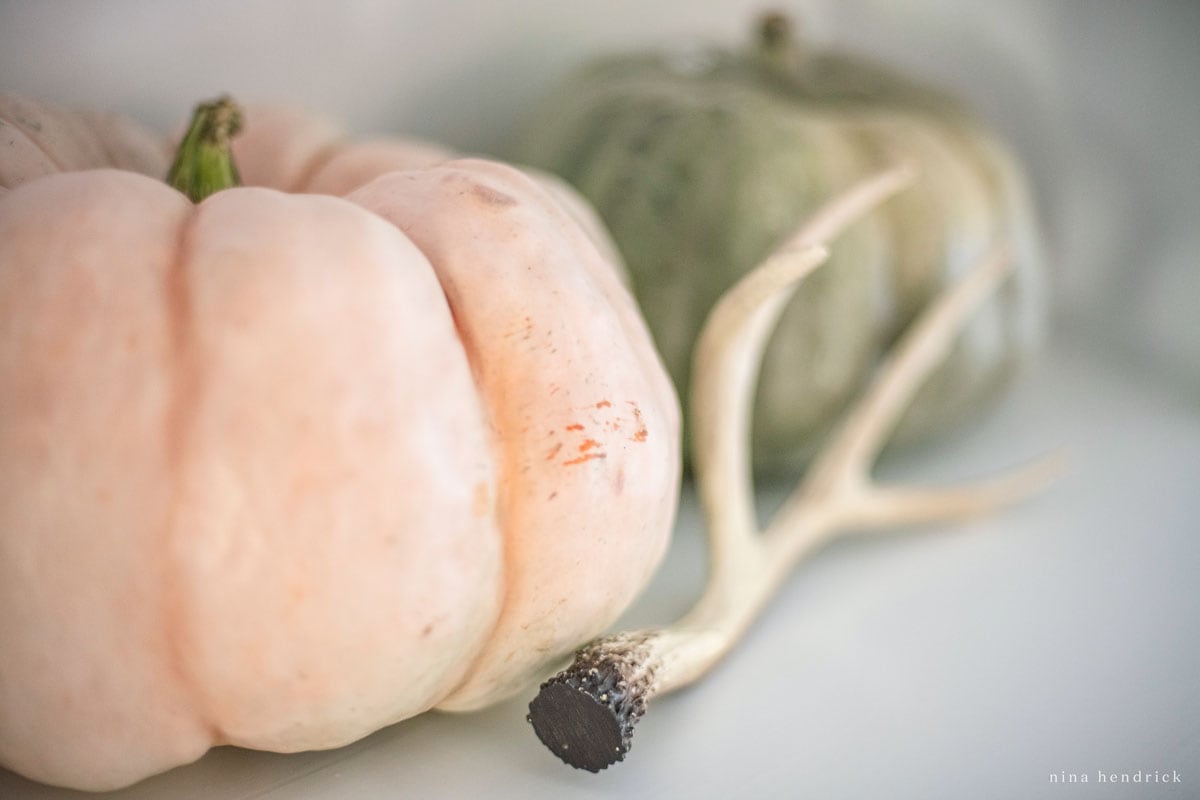 There's no need to completely transform your built-in shelves around the fireplace into an autumnal showcase. Simple swap out a few items from your usual decor with warm, earthy tones and fall-themed accents. Scatter a mix of pumpkins, cozy candle holders, and seasonal foliage to infuse the essence of fall.
To wrap it all up, I hope this fall home tour has left you bursting with inspiration, and ready to help you capture the pure magic of the changing seasons right within your own space. With the mix of those gorgeous autumn colors, the comfy-cozy vibes, and those nature-inspired decor touches, you've got the recipe for a space that's warm, inviting, and all about embracing the true spirit of fall.
So, go on and take these ideas and run with them. Make your space your own fall wonderland! 🍂🏡 Join us in our free community and share how these ideas inspired you to decorate for fall within your own space!