Make your home cozy for the upcoming season with these creative and inspiring fall decor ideas! Transform your home into an autumn retreat and enjoy the season to the fullest.
When the cool air starts whispering the arrival of the season of cozy sweaters and pumpkin spice, we know it's that magical time of year once again… fall!
The changes outdoors call for a transformation in our living spaces too. Just as the leaves trade in their summer green for a richer array of yellows, oranges, and reds, now is the time for us to bring that cozy warmth into our homes. Let's swap fresh summer florals with earthy autumn garlands, replace light linens with cozy, plush throw blankets, and say goodbye to light and fresh candles and hello to those with deep, musky notes of cinnamon and apple cider.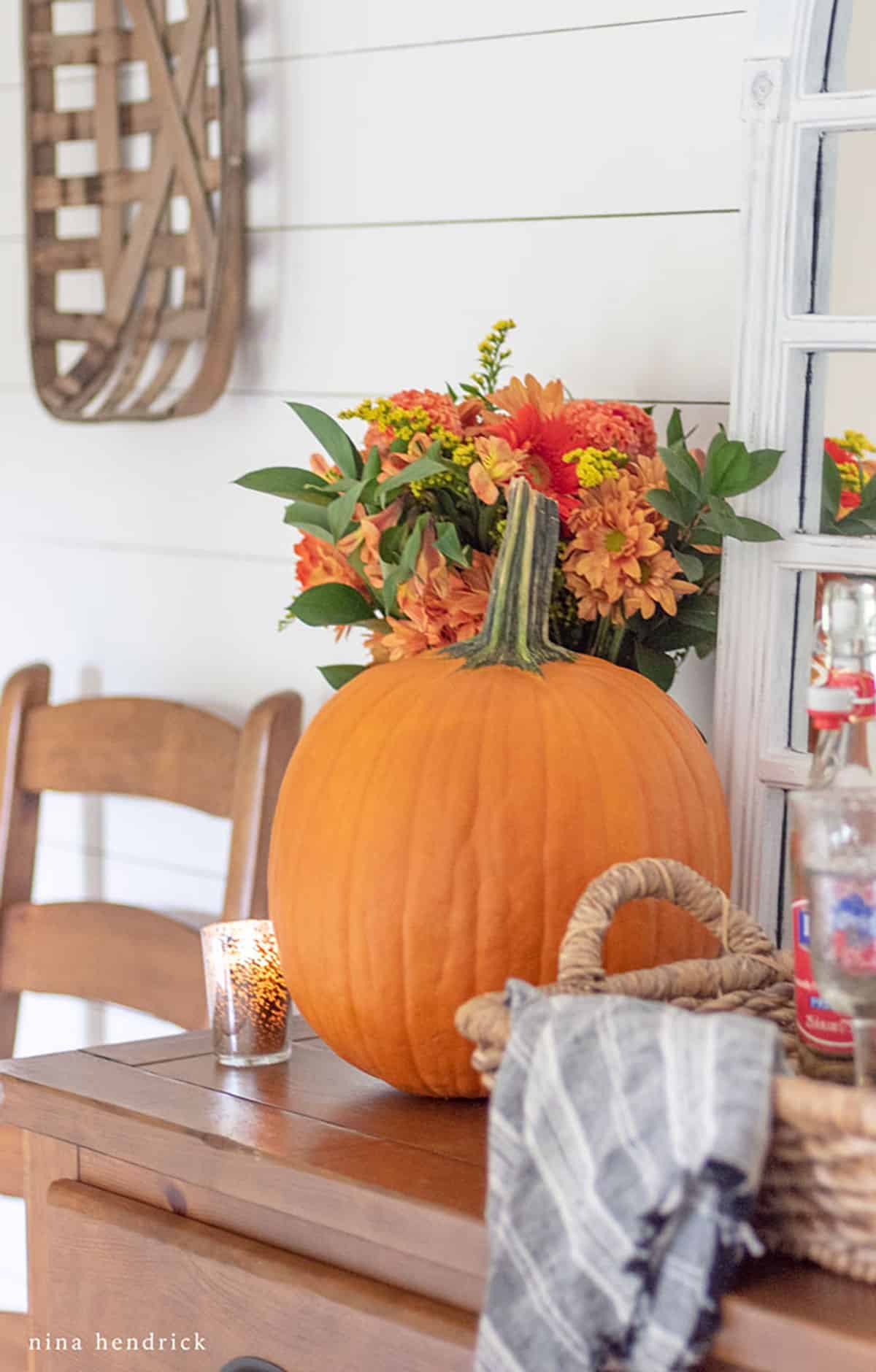 From colorful pumpkins to warm and inviting textiles, there are so many ways to make your home look and feel like an autumn retreat. Whether you're looking to spruce up your entire porch or simply your mantel, this post will provide you with some of my favorite fall decor ideas and inspiration!
If you're ready to decorate for Halloween, this post has all of my favorite Halloween ideas for spooky interiors that can scare and entertain your guests at the same time. From chilling tablescapes to cutely creepy vignettes, you'll wish Halloween could last all year-round!
What are Some of the Best Fall Home Decor Ideas for 2023?
I recently posted a YouTube video on this exact topic! In 2023, we can fully adopt the tranquil, neutral color palette, play around with a hint of romantic blush tones, immerse ourselves in the rich magnificence of jewel tones, or delve into the vintage Dark Academia aesthetic. Of course, there are so many options beyond just those trends, but those are some things I'm seeing most frequently this season!
Each trend seems to add that special something to your space – whether it's a dash of elegance, a sprinkle of ageless grace, or a burst of artistic originality. You can visit this post to see how to bring hints of the fall trends into your space without having to completely redecorate.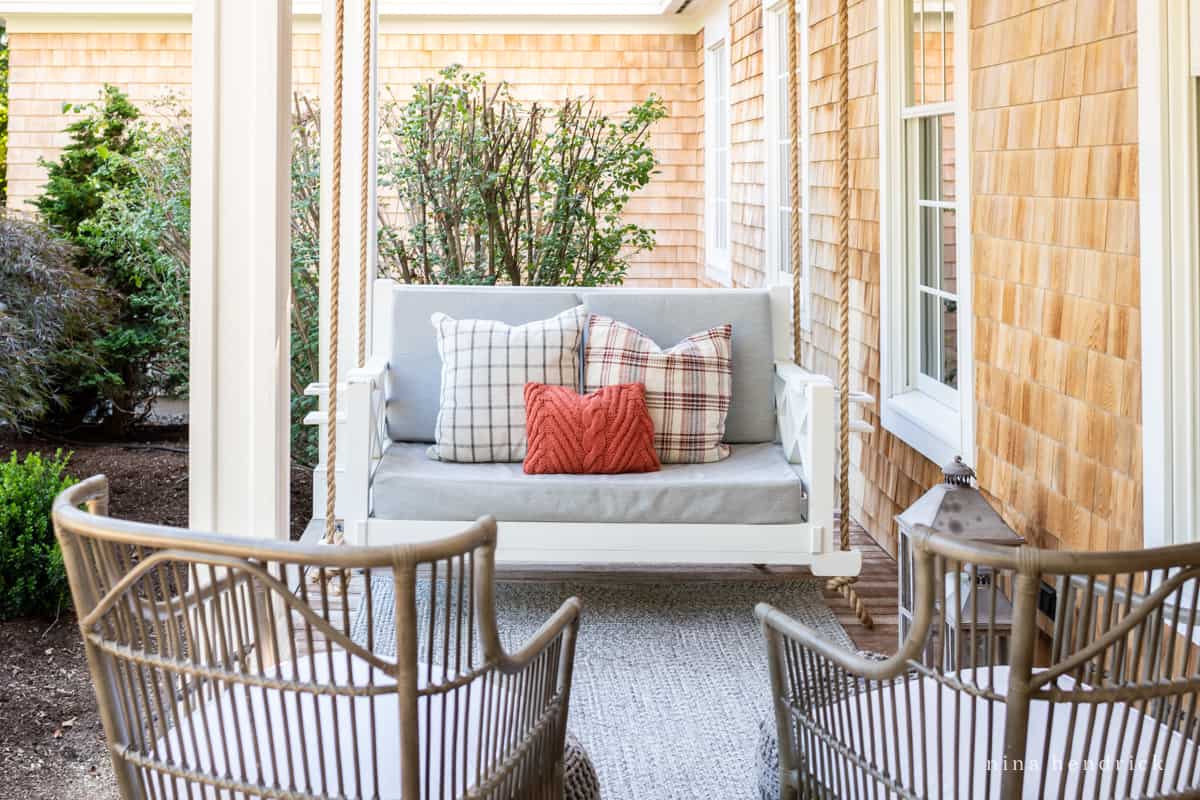 Decorate Your Front Porch for Fall
As we stroll into the heart of fall, there's no better canvas for your décor than your front porch! It's that enticing space that offers passers-by a peek into your love for the autumn season. So, let's use the following tips to transform your porch into a welcoming mix of fall coziness, charm and festive cheer!
Hang a Fall-Themed Wreath: Adorn your front door with a fall wreath made of autumn leaves. You can buy one at a craft store or DIY your own by foraging some dried leaves, pinecones, and other fall-inspired decorations and using hot glue to attach them to a grapevine wreath.
Add a Festive Welcome Mat: Welcome guests to your home with a seasonal welcome mat. Choose one with fall-themed words or images to add a bit of charm to your entrance.
Set Up a Cozy Seating Area: Create a cozy seating area on your porch with a few chairs and a small table. Add blankets and pillows for a bit of extra comfort. You can also add some rustic touches, such as mason jars filled with fairy lights or a wooden box for storing your outdoor accessories.
Incorporate Fall Colors: Use fall colors like red, orange, yellow, and brown to decorate your porch. Add a few colorful pillows to your seating area or hang a garland of autumn hued leaves along the railing.
Install Strings of Lights: Adding strings of lights around your porch is a great way to create a cozy atmosphere. Hang them around a door frame, the edges of the roof, or across the ceiling for a soft, inviting glow.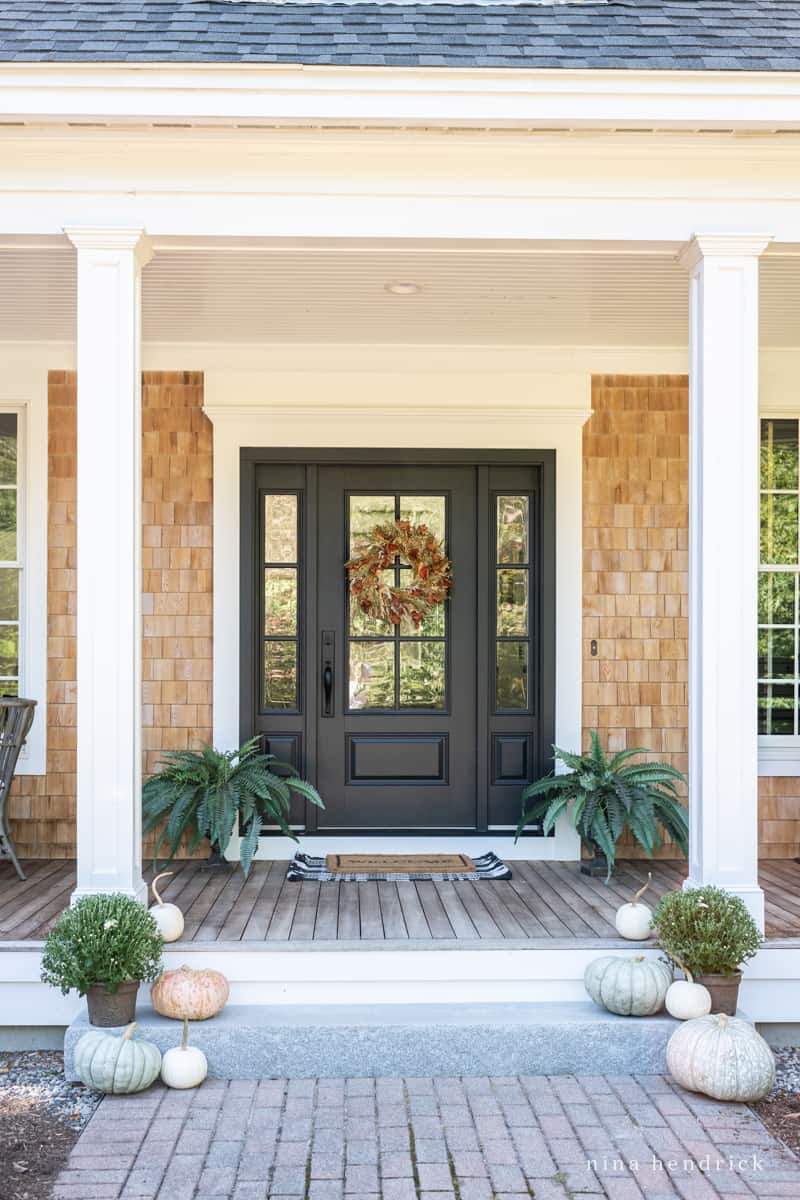 Heirloom Pumpkins and Gourds
Let's chat about pumpkins and gourds. They're pretty much the ultimate sign that autumn has arrived, right? These fall favorites, with their varied shapes, sizes, and colors, are like eye candy for your home. Why not spruce up your front porch by adding these seasonal stars? Imagine an artful array of heirloom pumpkins, scattered effortlessly, as if they've playfully rolled off a farmer's cart during a bustling Autumn harvest fair!
But hey, don't just stop at heirloom pumpkins. Visit your local farm stand and grab some corn stalks and hay bales for that extra fall flavor. It's a super simple decor switch-up that packs a big punch. And, of course, you can't forget the mums. Trust me, your home will look like autumn incarnate, welcoming everyone with a warm seasonal hug!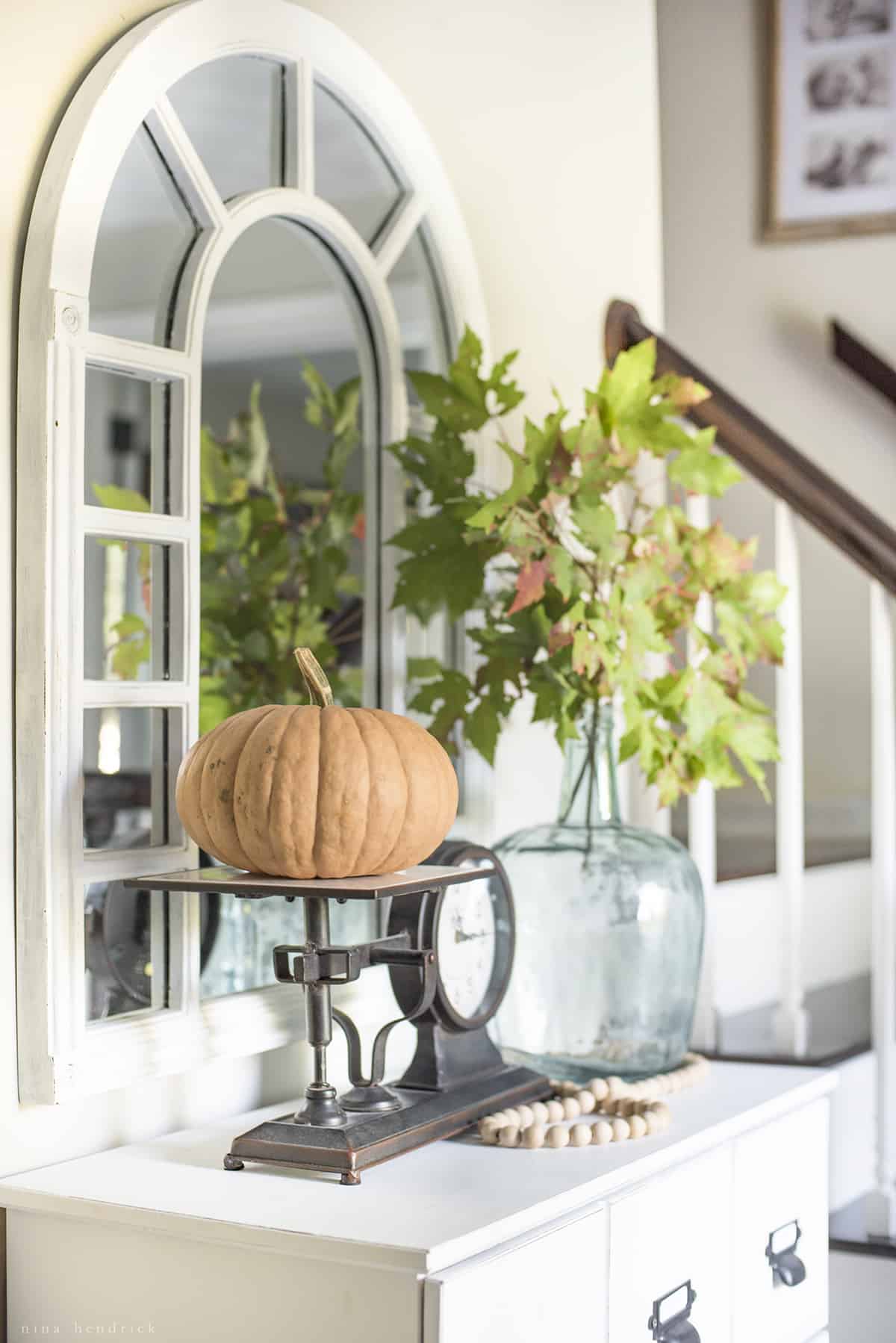 Add Touches of Fall Decor in the Entryway
Think your entryway could use a little autumn magic? Here are a couple of easy tricks for you.
Create a Vignette to Welcome Guests
A decor vignette is a small, pleasing arrangement or display of objects that helps to convey a particular theme or style within a room. It's the perfect simple way to decorate for fall in a space like an entryway or foyer!
Grab a wood statement bowl and fill it with goodies like pine cones, acorns, mini pumpkins – you get the gist. Want a bit more 'countryside cabin'? Consider adding a pair of shed antlers (don't worry, the deer don't miss them) to your foyer vignette. A piece of fall-inspired art or photography on your wall can really make a difference too.
And let's not forget our secret showstopper – a bouquet of autumn-colored flowers. Jazz it up with some turkey or pheasant feathers for that earthy touch. Voila – you've got yourself a super cozy, fall-ready entryway that's just ready to give a warm welcome to your guests.
Fall Mudroom with Rustic Accents
Your mudroom. It's where the family usually tromps in from the garage, and we kind of ignore it, right? Well, let's flip that thinking on its head!
Who says this spot can't be fun and festive? Especially when fall arrives with all its rustic glory. So here's a thought, why not start by tossing a cozy fall pillow on that bench? Or casually draping a picnic blanket that's ready to be rolled out for those impromptu leaf-peeping trips!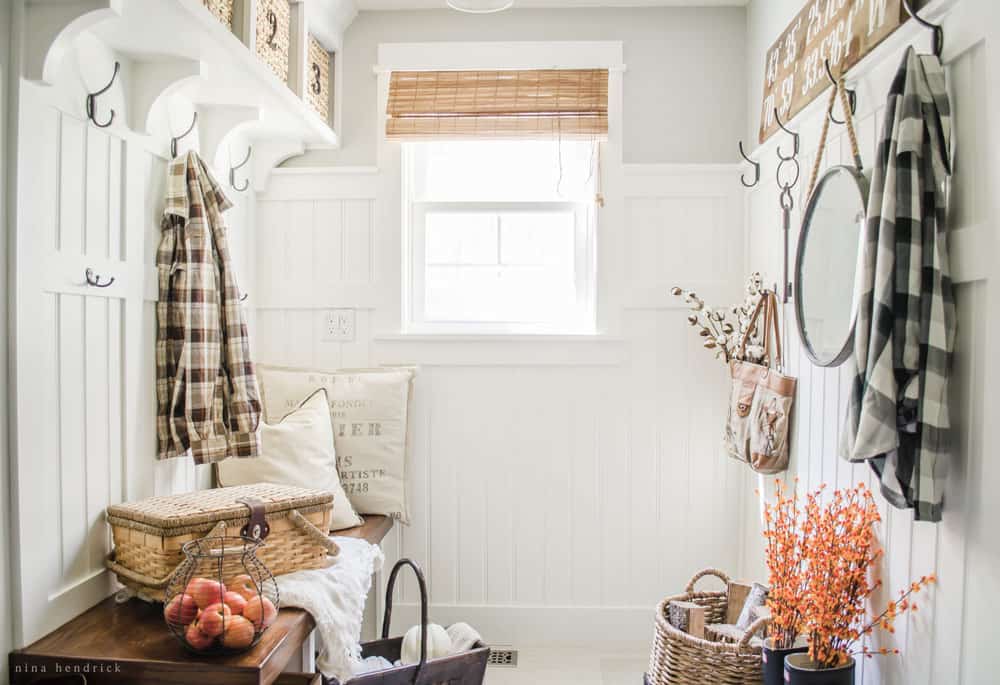 And since it's all about that warm, fall atmosphere, let's consider a stack of firewood, promising cozy nights in front of the fireplace. Wicker baskets are your best friends when it comes to organizing and they add an instant texture!
Oh, and after your family's apple picking adventure, why not stash the extras in a basket or barrel that's easy to grab for on-the-go snacking?
Just a few simple changes can refresh your mudroom and make it a festive, inviting space, ready for fall in no time!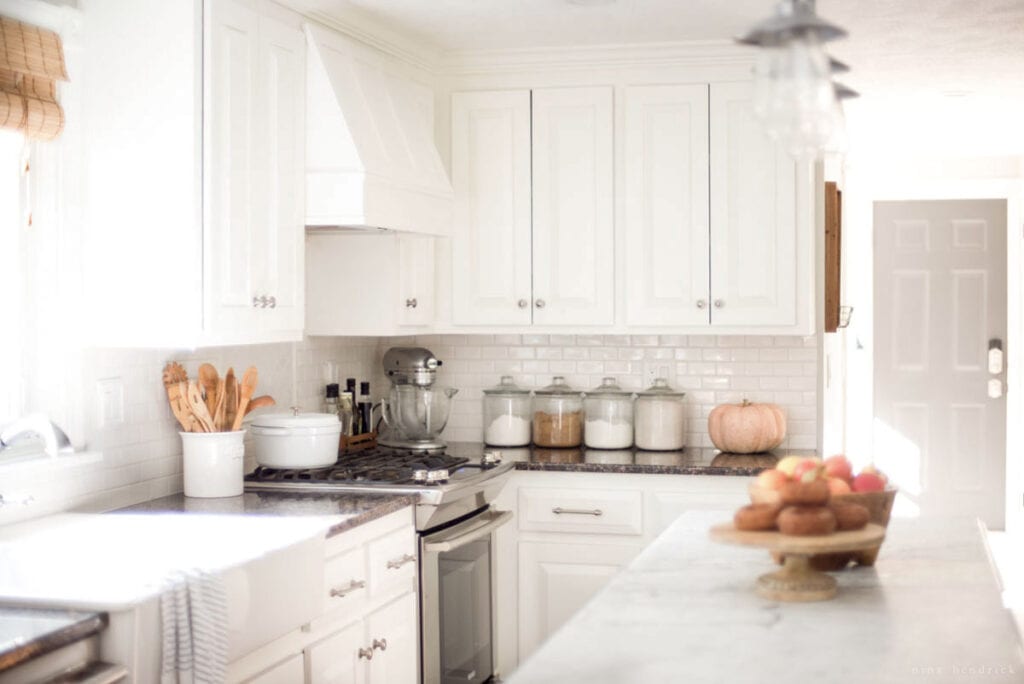 Subtle Autumn Touches in the Kitchen
Roll up those sleeves, it's time to bring those cozy fall vibes into the heart of your home – the kitchen! While we sometimes associate the season with high-impact transformations, subtle touches can be just as captivating (and are much more attainable!). Here's how you can blend in the flavors of fall without pulling a full-on decor makeover.
Start with the most joyful part of autumn – the smells. Cinnamon, nutmeg, pumpkin spice – these are all fair game. A bowl of apples or a pumpkin-scented candle can add a fragrance that fills your kitchen with the spirit of the season.
Next, cue in your countertops. They can be easily spruced up with a fall-inspired tea towel in classic autumn hues. Consider displaying seasonally-themed crockery – think a pumpkin cocotte sitting on the stove or swapping out neutral plates and mugs for orange or mustard colored options.
Now let's take a peek at your kitchen island or breakfast nook. A simple centerpiece, like a tasteful arrangement of apples, gourds or mini pumpkins, or a vibrant bouquet of marigold and chrysanthemums, can instantly elevate the space.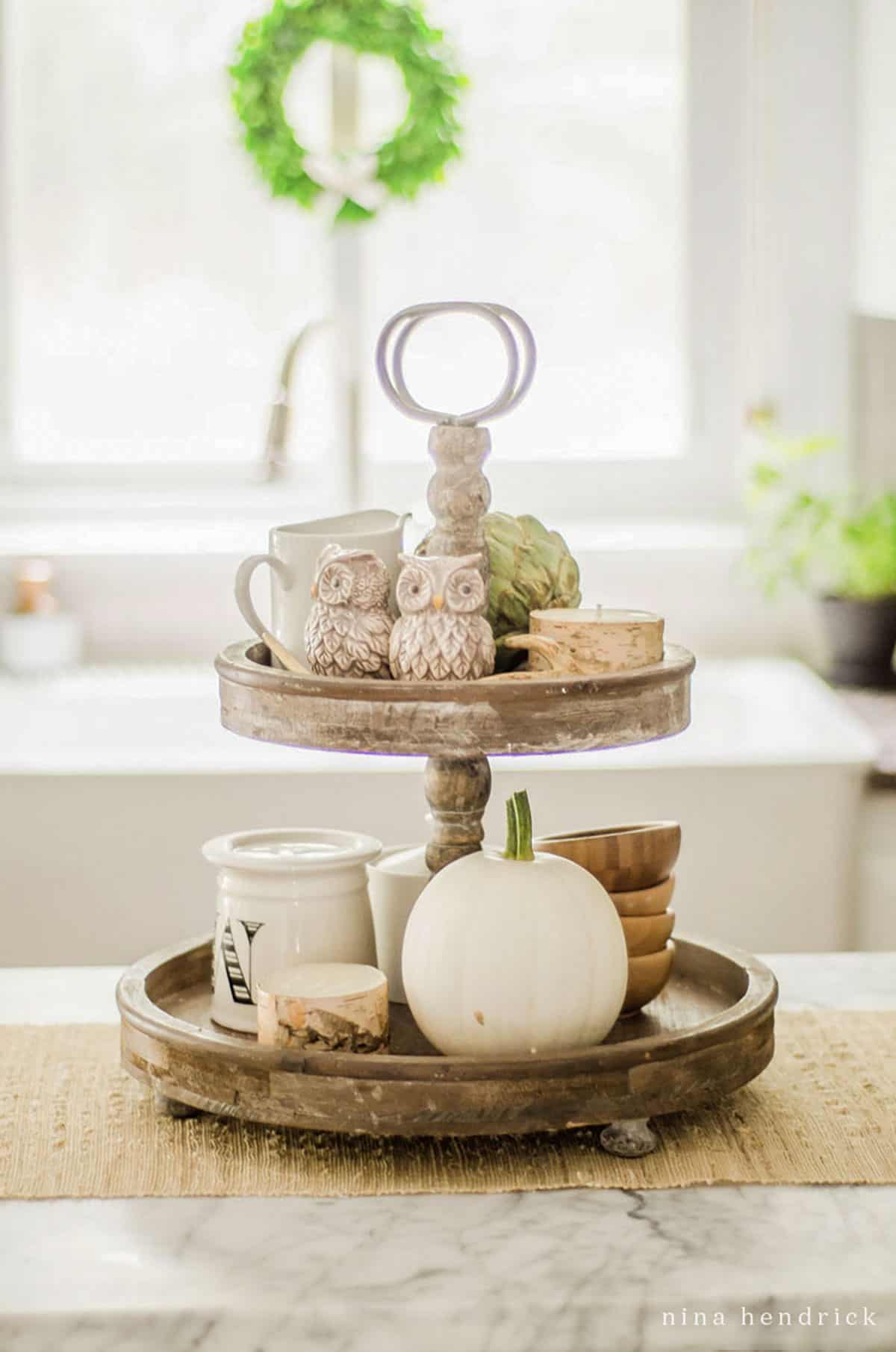 Fall-Themed Two-Tier Wooden Tray
Looking to give a neat autumn twist to your decor? Try styling a two-tiered wooden tray. This piece can easily transform into a stylish centerpiece.
Begin with larger items such as mini white pumpkins to create your base layer. Mix and match colors and shapes for a lively fall theme. Opt for faux ones if you want them to last all season.
Next, add smaller elements to fill spaces. Think glass jars filled with acorns, pine cones or a copper candle in a fall scent. Then, sprinkle in some decorative autumn leaves, berries or cute figurines for a whimsical touch.
Remember, balance is key. Layer different sizes, shapes and textures for an eye-catching look. The best part? This tray setup can be switched up all season for a fresh look anytime. So go ahead, have fun and get creative with your fall styling!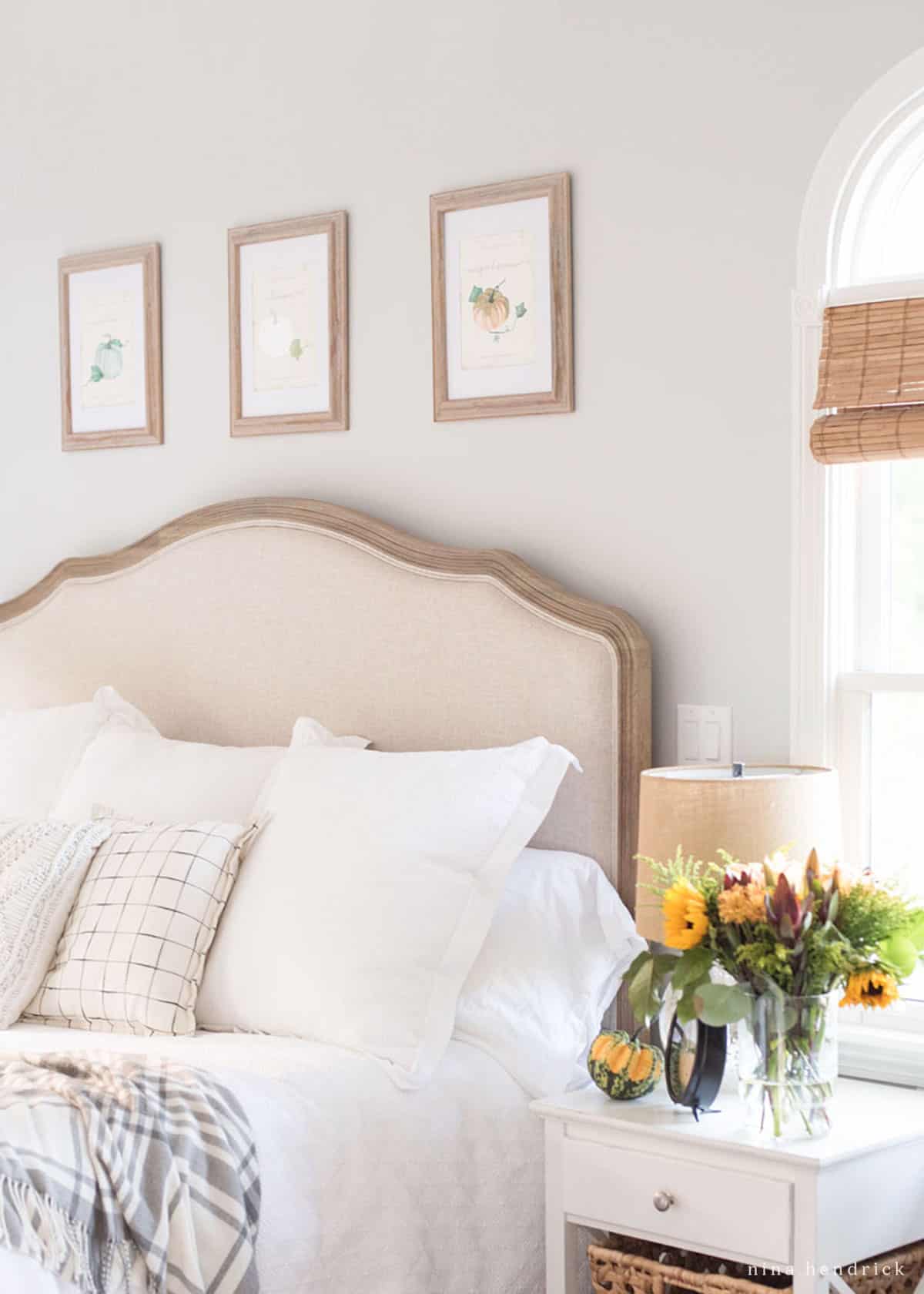 Fall Bedroom Decor Ideas
Ever notice in fall how trees perform this magical transformation, doused in hues of vibrant reds, flaming oranges, and brilliant golds? It's like they're painting their own natural canvas. Now, imagine having your bedroom join in this masterpiece! Let's dive into some fun and creative ideas to sprinkle a little autumn enchantment into your cozy little nests – your primary and guest bedroom.
Kick-starting the journey with your comfy haven, your primary bedroom. Trust me, even the teeniest touch can hint at the hush before winter. Imagine swapping out your greenery for some vibrant fall blooms – we're talking sunflowers or marigolds. Even a berry branch showcasing fall's colors can take center stage in a rustic vase, right there on your bedside table or dresser.
More of an art fan? There's no rule that says you can't switch out your artwork to echo the season outside. An autumn-hued print can do wonders – think a vintage painting of an amber sunset, a fall foliage botanical print, or a simple line drawing.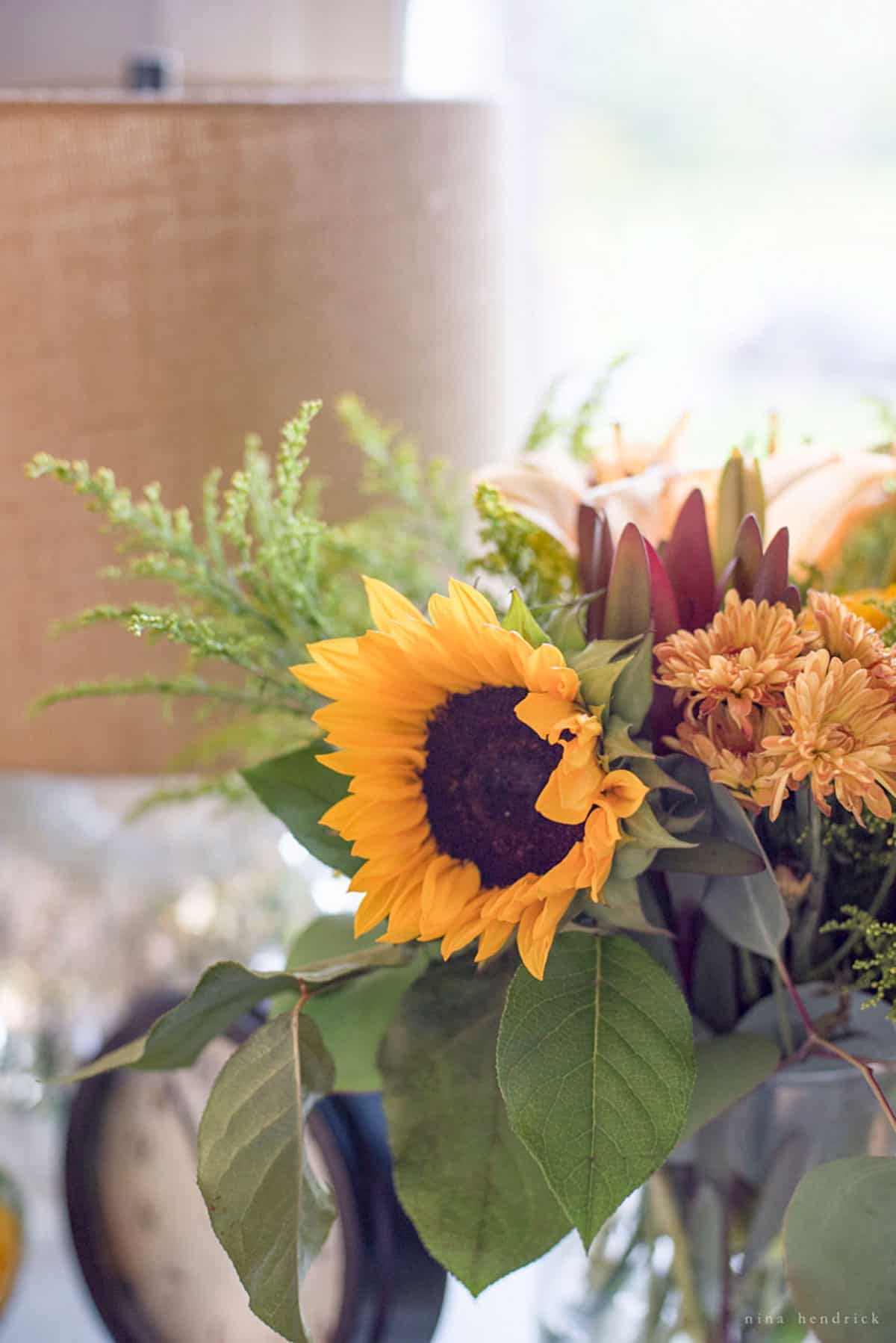 Autumn Guest Room Decor
As for your guest room, it's all about the invite – and nothing invites like the charm of fall. A cute posy of season-perfect fresh flowers on the nightstand literally says "Welcome!". To set the mood, get some cute little scented candles going – the ones that smell like cinnamon, apple, or pumpkin are simply the best!
Nothing screams fall more than cozy autumn-themed linens. Add a few plaid throw pillows, a knit blanket, or a fall-hued quilt folded at the foot of the bed. Remember, it's these little gestures that truly channel fall vibes.
So there you have it – with just a few tiny touches, you can bring the magic of fall right into your bedrooms.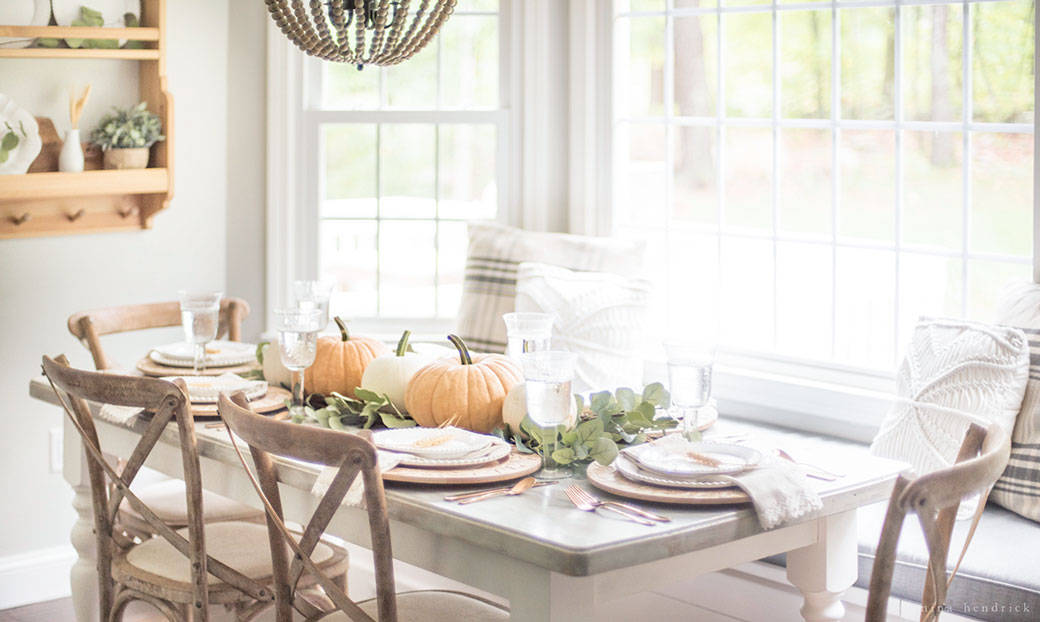 Fall Decor Ideas in the Dining Room
As days get shorter and nights draw in earlier, there's no better way to welcome autumn's warm hues and cozier ambiance than by transforming your dining room into a fall-inspired haven. This space, where we gather with loved ones to share good food, heartwarming stories, and bask in the gentle glow of flickering candlelight, deserves to be laced with the seasonal charm of falling leaves and warm apple cider.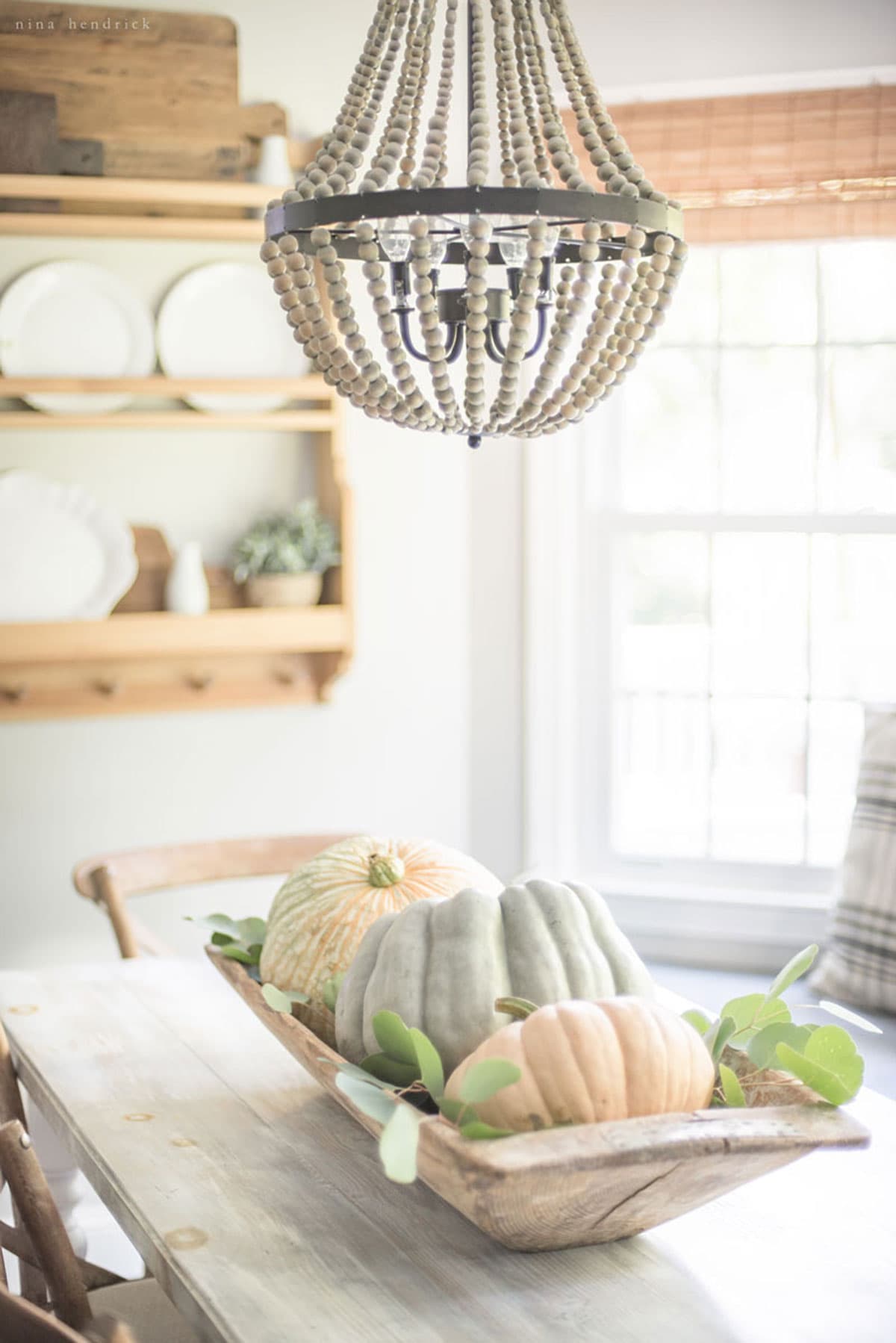 Pumpkin Dough Bowl Fall Centerpiece
Looking for a simple yet eye-catching way to infuse your dining room with fall vibes? A pumpkin dough bowl centerpiece! It's rustic, classy, and perfect for the season. Here's all you need – a big ol' dough bowl, a collection of heirloom pumpkins, and some sprigs of silver dollar eucalyptus.
Position the dough bowl as the star of your table, then nestle the heirloom pumpkins inside, tuck in the eucalyptus for pops of color. The result? A centerpiece that's as charming as a country farmhouse in the fall. It can be easily lifted away if you need the table for another purpose later on.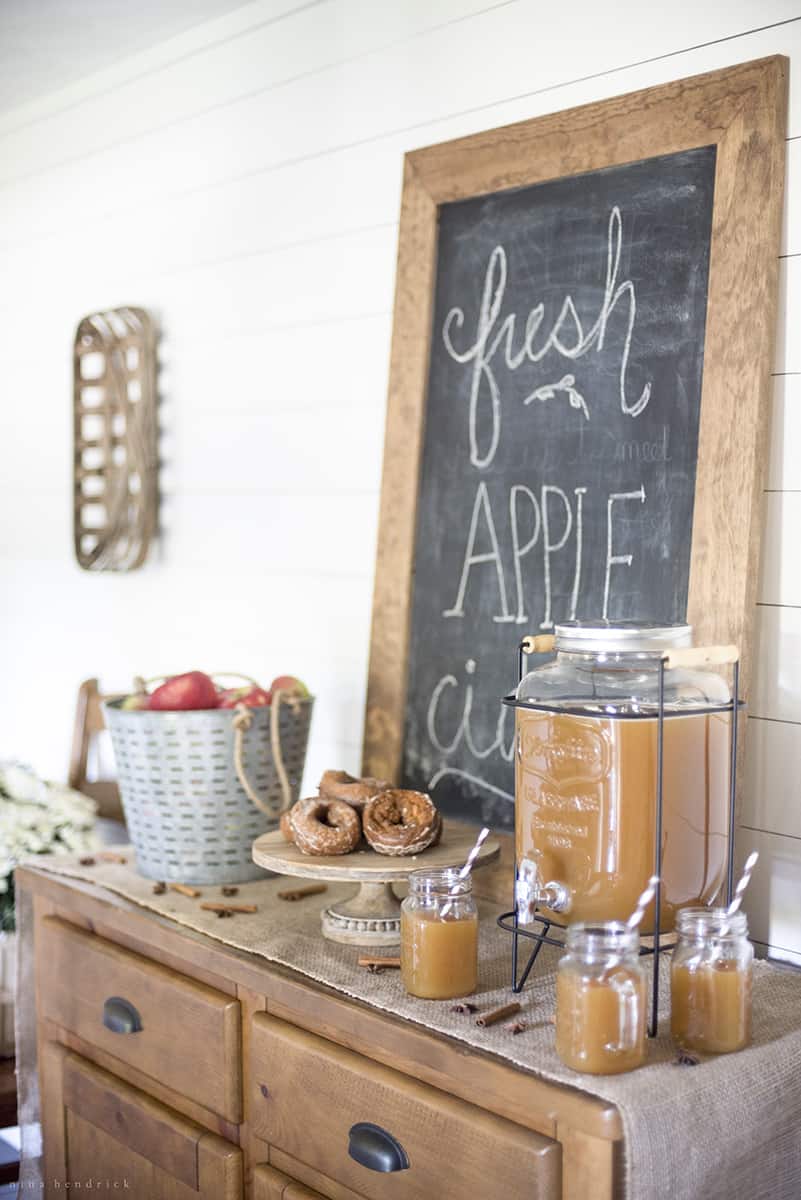 Set Up an Apple Cider Bar
Autumn's a great time for DIYs and parties. You can add a touch of fall by setting up a homemade apple cider bar. It's not just tasty, but it also warms up cool fall nights.
Provide different apple ciders – regular, spicy, or hard cider for adults. Include a spice rack with cinnamon, nutmeg, and cloves for personalized drinks.
Decorate your station with mugs, pitchers, and lots of apple cider! Add a sugared rim station with brown sugar and caramel for an extra touch.
Remember to provide snacks like apple cider donuts or a cheese and crackers. An apple cider bar can be a fun highlight for your fall party. It's a fun way to boost your fall decor and get into the autumn spirit. Try it out!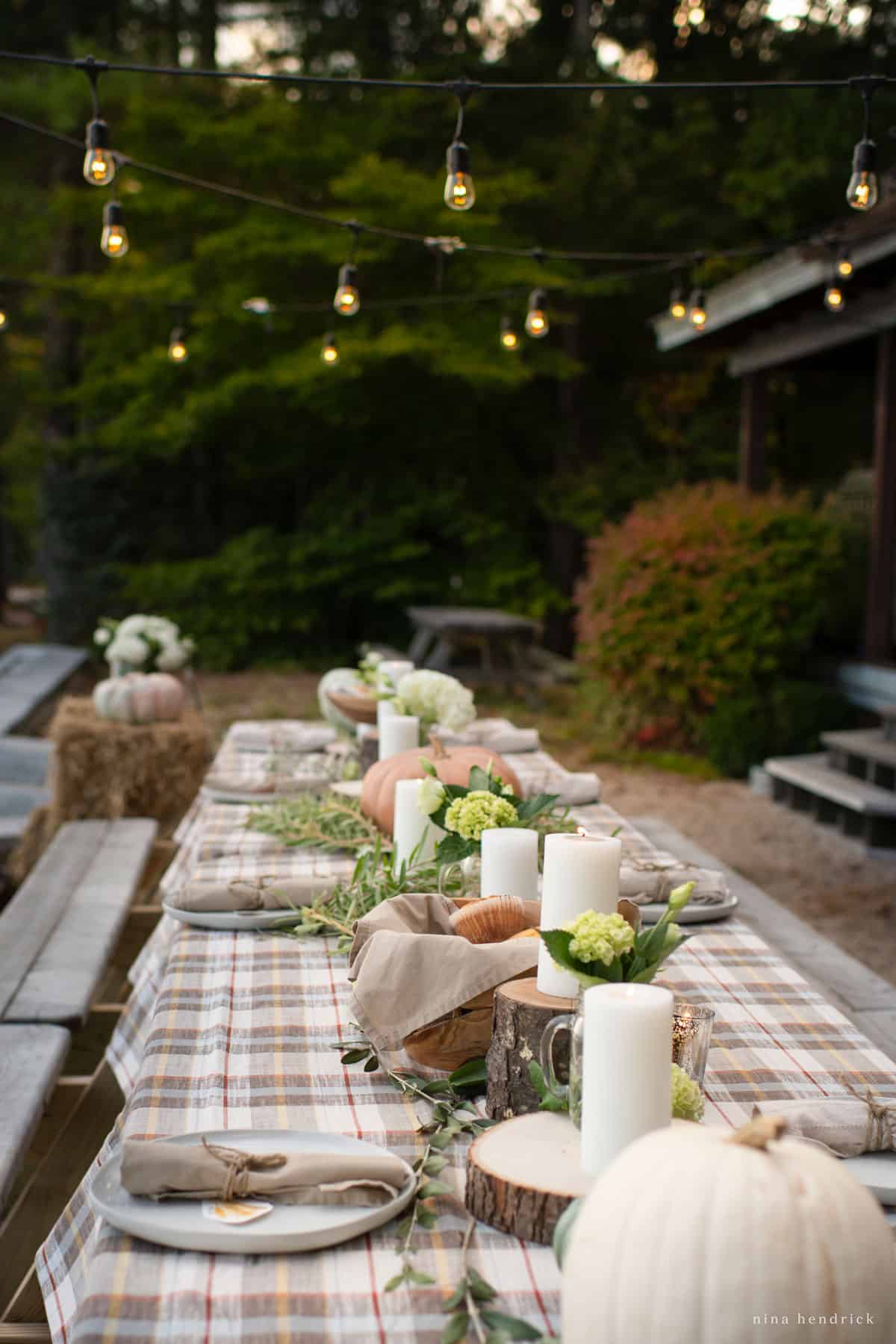 Host Family and Friends with a Fall Tablescape
Whether you're hosting around your indoor dining table or envisioning an enchanting al fresco dinner on the patio during a crisp autumn evening, a beautifully curated tablescape can set the right mood.
Picture this: First, use plaid fabric for tablecloths to bring out fall colors. Decorate your table with pumpkins, apples, acorns, and colorful leaves.
Instead of a traditional tablecloth, use an autumn throw on your table to up the coziness factor!
Your centerpiece can be bright sunflowers or hydrangeas, paired with unique pumpkins and dried foliage. Add little gifts for each guest at their place setting.
The highlight? Scatter tiny tea light candles across the table for a warm glow once the sun goes down.
Invite your loved ones over to enjoy this fall-themed table. It's not just about a pretty setting, though. The best fall gathering has good food, good friends, and lots of laughter. That's what makes any event, indoors or under patio lights, truly special in this beautiful season!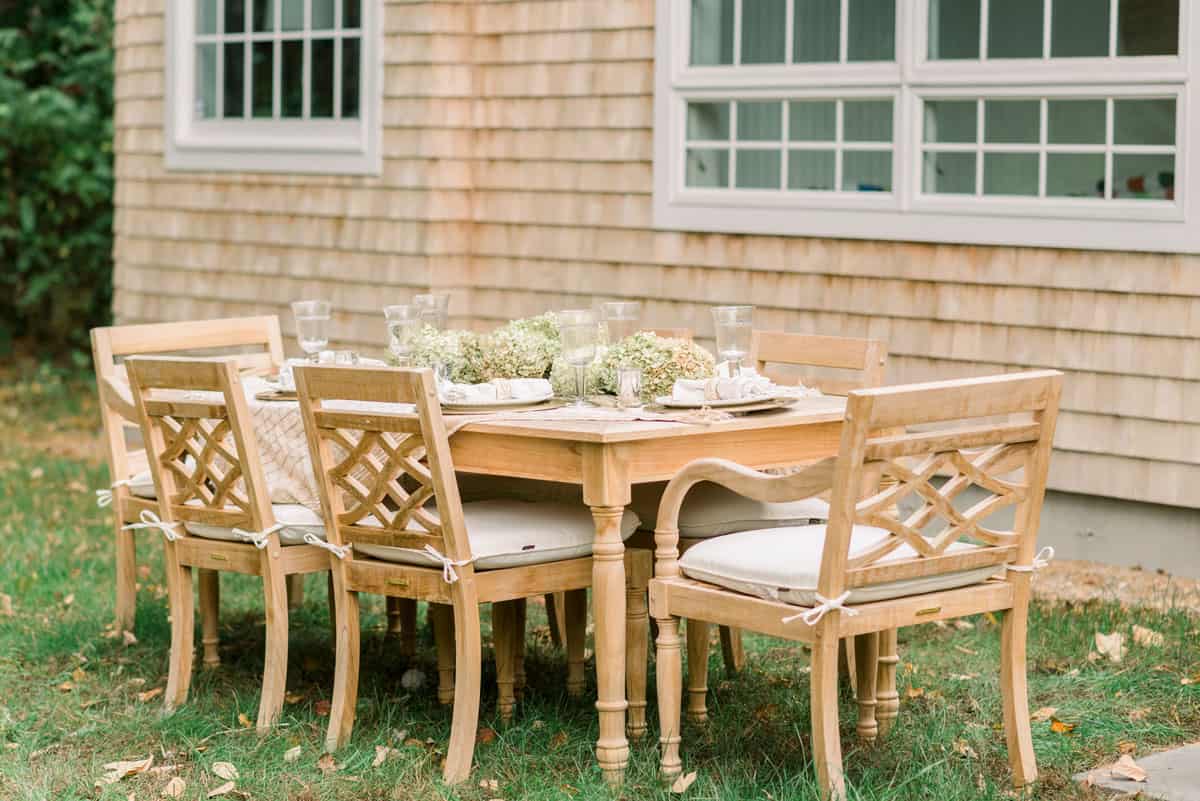 Fall Patio Decor Ideas
Thinking of giving your patio a fall-inspired makeover? Here are some simple and fun ideas to make your outdoor space warm and inviting this autumn.
Pops of color: Liven up your patio with some throw pillows in classic fall colors like red, orange, and yellow.
Autumn vibes: Make it festive with pumpkins here and there and maybe a tartan-patterned throw.
Twinkle lights: Drape some fairy lights or even hang up a few lanterns to create a cozy spot perfect for those long autumn evenings.
Pots of gold: Brighten up the place with some fall flowers like marigolds or chrysanthemums in terracotta pots.
Matchy-matchy: Your outdoor decor should blend with your indoor style. This helps to keep everything looking unified and harmonious.
Warm features: Think about adding a fire pit or outdoor heaters to make your patio a comfy place to hang out during the cooler months.
Remember, a dash of creativity and a sprinkle of practicality can transform your very own backyard into a cozy autumn retreat.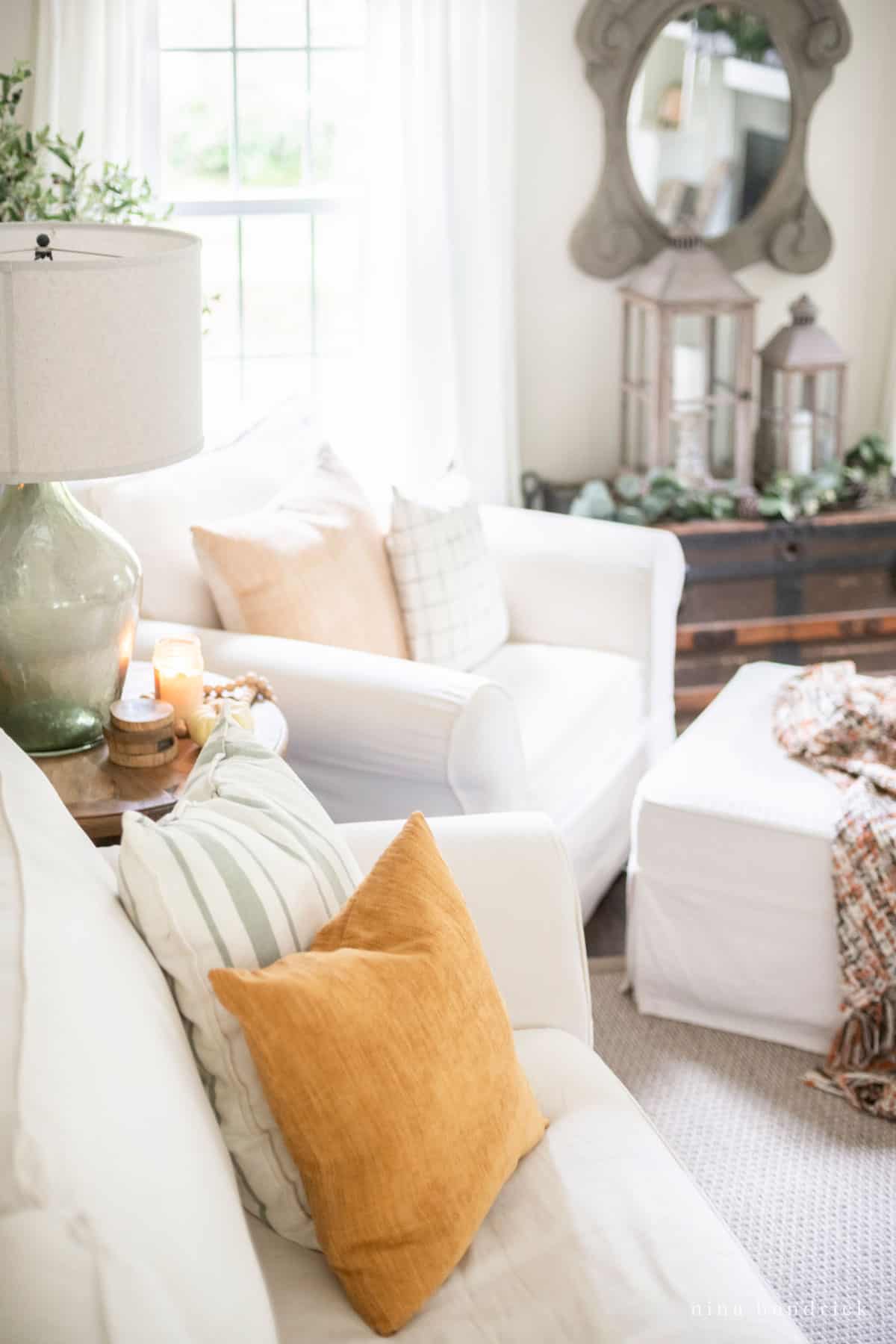 Fall Decor Ideas in the Living Room
Fall is all about cozy comforts. As the leaves start to turn and the weather gets chillier, your living room should be a warm and inviting space to curl up and relax. Bringing fall decor into your living room is not just about embracing the spirit of the season, but also about transforming your living space into a cozy haven that reflects the beauty of autumn.
You can bring the fall charm into your living room in many ways – changing pillow covers to more autumnal hues, adding a warm, soft throw over your sofa, or including natural elements like pumpkins, leaves, and gourds. By introducing fall-themed decor, you can create an inviting atmosphere with a story to tell. It's a chance to refresh your room's decor while also making your home feel extra cozy for those cooler days and nights. So settle in, get inspired, and let's explore some fall decor ideas for your living room.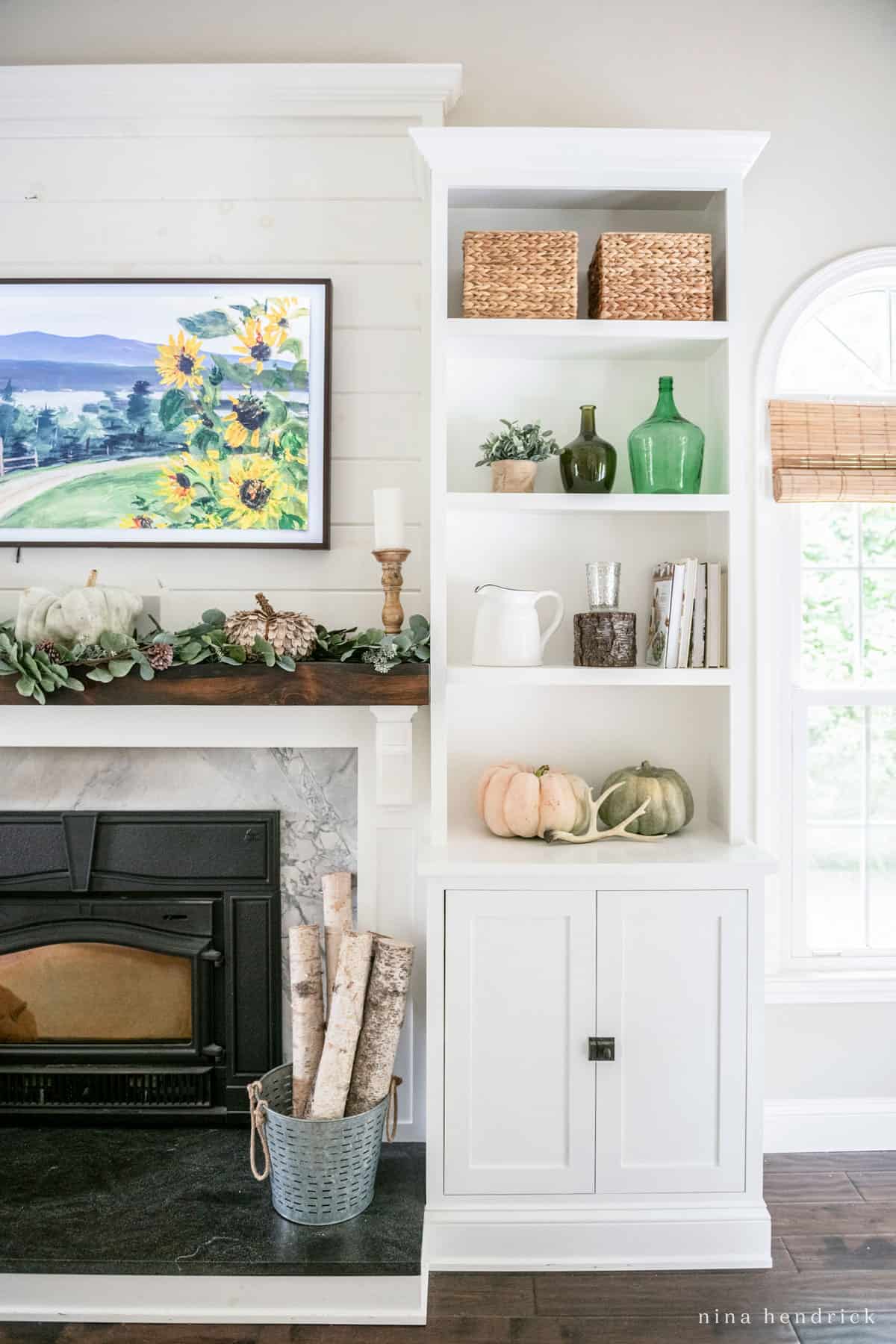 Shelf Fall Decor Ideas
Sprucing up your shelves with fall decor can bring a cozy, seasonal touch to your home. You don't have to completely begin from scratch. Simply swapping out an item here and there for something fall-themed is a quick and easy way to decorate your shelves. Place different-sized fall colored candles, ceramic pumpkins, or decorative gourds at various points. Throw in a few branches or faux berry vine garlands for a rustic look.
Remember, the key to a great looking shelf is balance — play with heights, widths and depths to create an interesting display.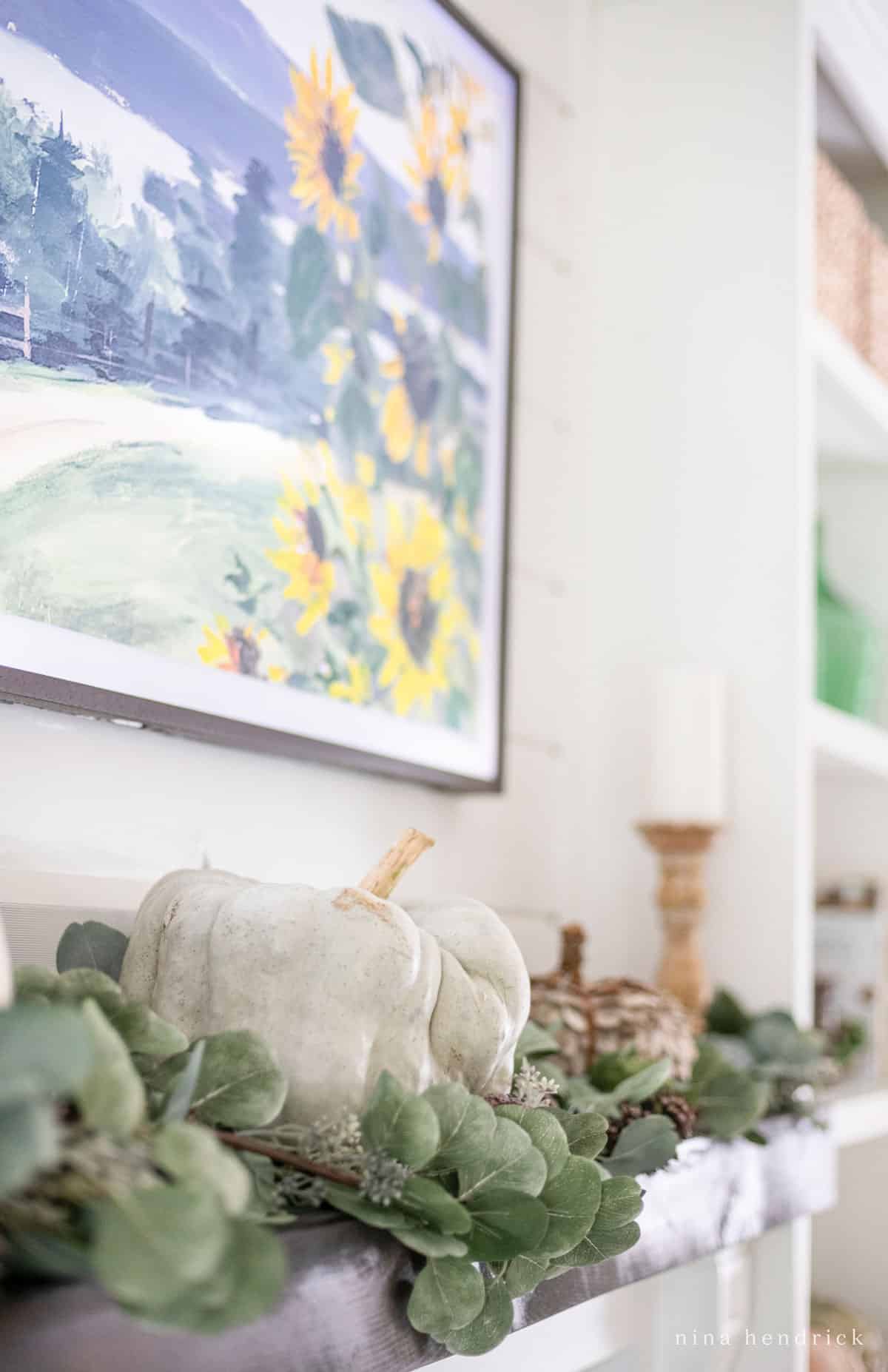 Fall Mantel Decor Ideas
If you want to make your home cozy for fall, start with decorating your mantel! It's perhaps the easiest but most visible way to decorate for the season.
Start with an autumn foliage garland for a festive look. A few faux LED candles on wooden candle holders can make the room warm and cozy. Mix small pumpkins or gourds in different colors for visual appeal.
Now you're ready to enjoy your display as you curl up in front of that warm fall fire.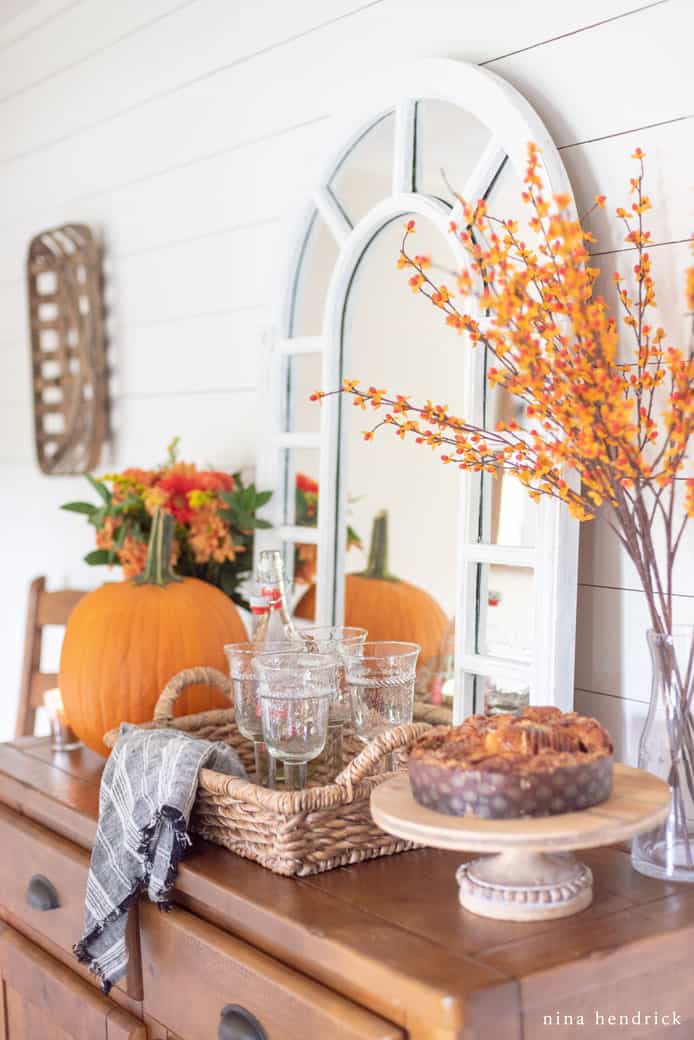 Decorating for Fall
Overall, let's remember how adding touches of fall to our spaces just makes everything feel snug, vibrant, and downright cozy. It really doesn't matter if we go all out with golden-hued accessories and yummy-smelling fall candles or if we keep things simple and subtle, every little thing we do to bring fall into our homes is a way of celebrating this stunning season. Let me know in the community, which one of these ideas will you be trying this fall?