Free Printable Blog Planner | Organize your editorial calendar with these free printable blogging and business pages from Nina Hendrick Design Company!
Today I am so excited to share this free printable blog planner with you! If you're anything like me, you have had stretches in your blogging journey that have been overwhelming and unfocused. I can always feel when one of these phases is coming on because I suddenly don't want to open my computer or look at my phone. I've found that my most effective strategy to stop Blogger Burnout before it takes hold is to stop, reassess, and formulate a plan.
For me, that system includes a combination of list making, reassessing my goals, blogging apps and schedulers, listening to podcasts, and revisiting some of the blogging courses I've purchased in the past (like my friend Abby's game-changing Building a Framework course!).
Today in this post my main focus is the planner and editorial calendar- but if you follow the link at the bottom of the post to download the planner, you will automatically receive my series for bloggers that includes tips about my workflow and favorite resources.
When it comes to list making and editorial planning, I've long stood by my love of an old-fashioned pen(cil) and paper. I have designed and shared or sold several versions of printable planners, tweaking as I go to make sure it's versatile enough to meet a vast array of blogging needs- as well as my own. This free version contains 10 printables that can be used in a variety of ways to help you get your blog on track!
MY LATEST VIDEOS
Cover
I painted this quick little "Go Your Own Way" reminder for myself to hang by my desk a couple of weeks ago. So often I find myself getting caught in the comparison trap, and I know it's something a lot of creatives struggle with. This song is also my second favorite in the world (Landslide is my first), and humming it never fails to cheer me up. I hope the little saying brings you some clarity and maybe a smile as you go about planning your adventures. I recommend laminating and/or printing this on cardstock. No matter which binding system you use, the cover gets a lot of wear and tear.
Monthly Option No. 1- Two-page spread 
This is the option I chose. I've heard a great tip that it can be used in tandem with mini post-it notes to organize your planned posts, and move things around if there are any changes.
Monthly Option No. 2- One page (not pictured)
I know a lot of people prefer to save room in their planner, so I created a single page calendar. (Fun hint- even if you don't want to use this in your blog planner- it would make a great cleaning schedule template!)
Weekly
This version of the planner has been updated with a little YouTube bubble. I haven't quite worked up the nerve to post my first video yet (although I do have one planned to share how I use this exact planner!), but the blogging guru fortune-tellers are saying that it is the future. For those of you who have taken that leap, I thought it would be helpful to have a little bubble to check!
Brainstorming Template (not pictured)
Bubbles and Grid paper make a fun page the perfect place to doodle your thoughts about a post!
2 Checklist Templates
Have you caught on to my love of bubbles instead of checkboxes? I'm a child of the 90s. I think the ridiculous number of standardized tests I completed in my school career gave me a permanent feeling of accomplishment from filling in bubbles. Seeing that lead-filled bubble… then and only then do I feel like I've completed a task! Please tell me I'm not alone! Haha! Anyway, these checklists can be used for anything you want- goals, tasks, projects… you name it!

Tracking Template
Use this as a budget tracker, stats/analytics tracker, etc. Again- it's a blank slate!
Notes Template (not pictured)
A simple lined page to "brain dump" and get the creative juices flowing!
All in all, my hope is that these freebies are a wonderful ingredient in the recipe for your success. They have certainly been helpful to me along my journey! I can't wait for you to get your planner and join my free email series. To begin sign up below:
Please Note: please remember that this is a free planner. For the sake of keeping it free, I won't be doing customizations, personalization, or making changes. If you are having technical difficulties, our support page is here. A premium version is available here, if you are interested in personalization. Also, please be respectful of copyrights. I LOVE when you share- feel free to link to this post, pin, and share etc. But please do not upload the actual planner PDF to your post. More information about our copyright policy and sharing etiquette is included in the planner.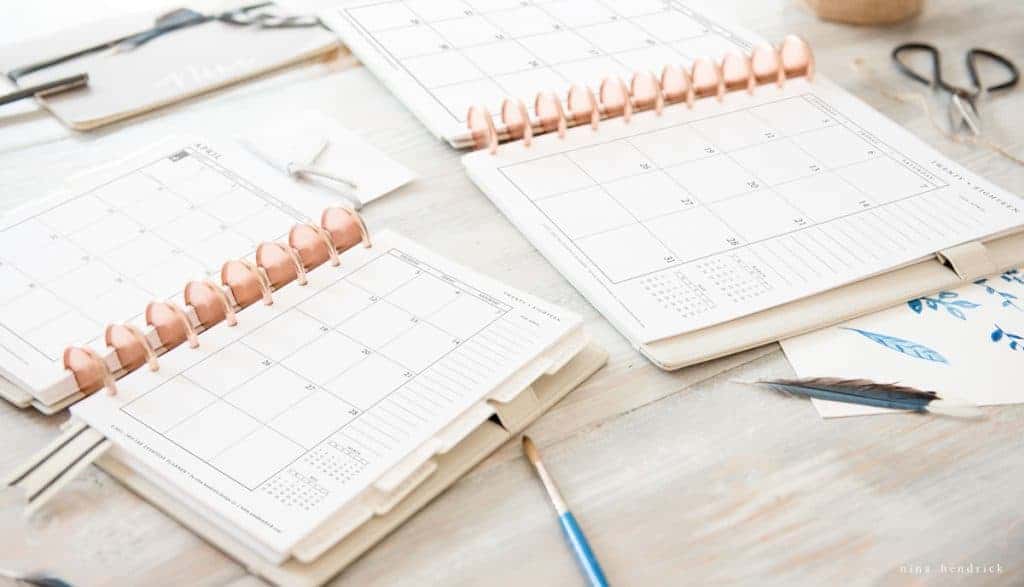 P.S. If you're interested in the full version of The Everyday Planner™, you can learn more about it here!

Pin it for Later!