Pantry
A deep closet with sagging shelves becomes an ultra-organized and functional pantry with creative built-ins and storage solutions.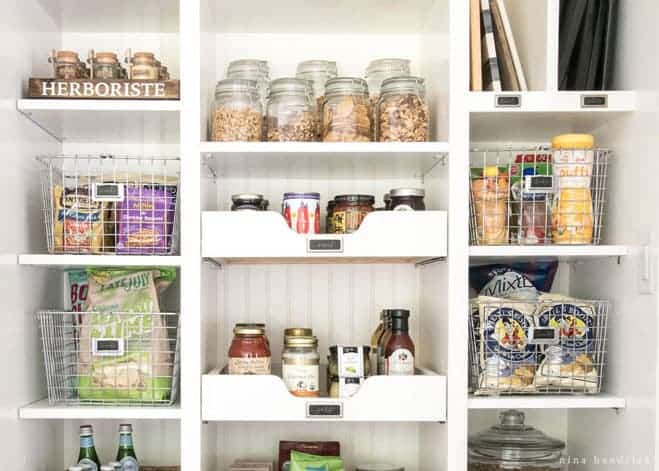 The first major project we tackled after moving into our 1980s Colonial was the crumbling pantry. It had deep and sagging fiberboard shelves and was on sliding door tracks so that you could only use one side at a time. I dreamed of a perfectly organized space where everything had it's own place.
I sketched it out on graph paper and my husband Mack built it, including the beautiful slide-out drawers! Years later we've made a couple of adjustments as our kids grew up, but it has mostly stood the test of time.
pantry posts
frequent questions…
Where did you get the drawers?
We built the white drawers from scratch along with the rest of the white components. The wire drawer at the bottom of the pantry is available here!
How is the white paint holding up?
It's been a few years since the original project (seven at the time I'm writing this) and we recently gave the pantry a fresh coat of Benjamin Moore Advance Simply White. It took me a couple of days and looks as good as new!
What are the dimensions of your pantry?
The pantry is 48″ wide, 84″ tall, and 24″ deep. We did "waste" some space by building it to the size of the doorway opening rather than making use of the full closet cavity- but I have no regrets about that. Sometimes too much space is a bad thing in organizing!
Do you really keep it this tidy?
Honestly, it is fairly easy to keep clean and organized. And I am not a naturally organized person. The DVDs were the only messy part, and they are now all gone. Even if the kids leave things out of place, it takes about two seconds to pop them back in order.
Where are all of your baking supplies? And this really can't be ALL of your food…
I have a baking supplies cabinet above our microwave, but otherwise, this is all of our food.
pantry source list
Some of the links below are affiliate links. This adds no extra expense to you but means I may make a small commission if you purchase. Please see our disclosure here for more information.
Paint Color — Benjamin Moore Simply White in Semi-Gloss Advance
Metal Label Holders — here
Wire Baskets— here
Wire Drawer — here
pantry favorites