10 Pantry Organization Ideas
10 Tips for an Organized Pantry
When we originally redid our pantry in 2012-13 I really tried to give the project a lot of forethought and create pantry organization systems that would remain neat forever. Of course, that was wildly idealistic! In any organizing project, you are going to need to adjust and adapt over time. So today I'm sharing my new top ten best tips for creating pantry organization.  Some of these are the old classics, and a few are things I learned with time and perspective. You can also check out five mistakes I made when trying to create an organized pantry here!
10 Pantry Organization Ideas
Originally Published April 17, 2013
This post contains affiliate links for your convenience. Please see my disclosure here.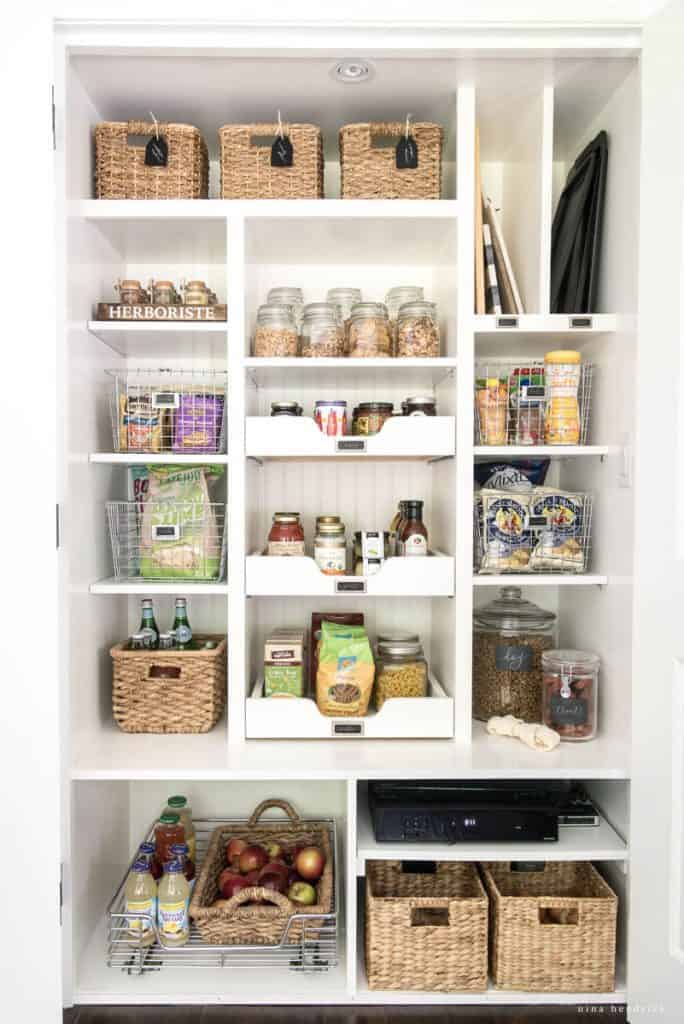 1. Plan your pantry out really well
The best way to start is to make a list of all of the challenges you have with your current pantry organization and brainstorm ways to solve them. For example, the former closet that served as our pantry was very deep. You will notice that in the new pantry that the shelves are set back from the two bottom cubbies. I am not very tall, and I have very short arms (cue the t-rex jokes). It is much easier for me to find and reach things when the shelves and drawers aren't as deep!
This is just one example of a way to design the space so it best serves your family. You may find that you have a lot more bulk goods that need a home. In your case, the deep shelves may actually be a good thing! Make the space work for your unique needs
2. Make it pretty
Now, this isn't a requirement, but I have definitely noticed that I'm much more likely to keep a space organized if it's pleasant to look at. That goes for pretty much any organizing project. I have gone as far as to contemplate glass doors- I love my pantry that much!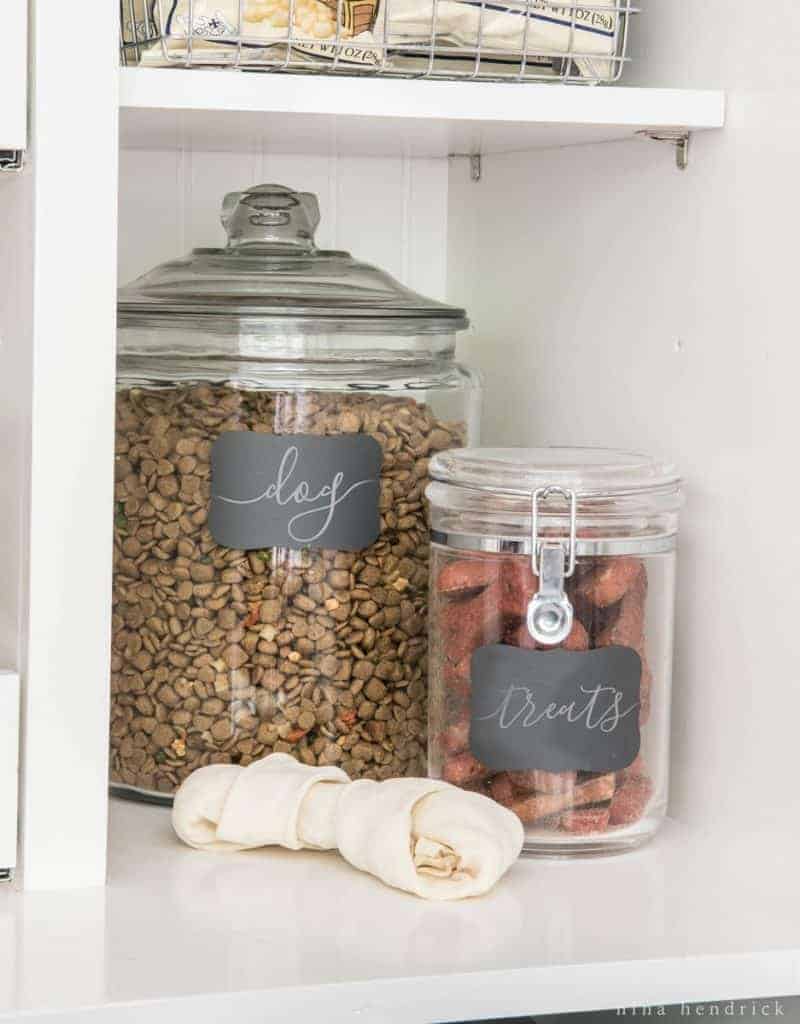 3. Use labels
When I originally planned the pantry, I labeled everything. I was just a bit overzealous ;). However, I do feel like some labels are useful. I tend to label more by category now, especially as my boys are getting to the age where their chores include putting away groceries or grabbing something for me while I'm cooking. The labels keep us all on track.
4. Utilize slide-out storage
One of my favorite features in this project is still having the drawers for cans and other items that slide out. I feel like this is a must for any deep space that isn't easy to access. We built the drawers from scratch, but there is a kit available here that is prebuilt.
5. Decant items into clear containers
I am a big fan of using glass jars in every room, and I think it truly helps to keep a space neat. You can measure quantities more efficiently, and there are no more empty boxes sitting on the shelves.
6. Create adjustable shelves
When we designed the pantry we adopted the concept of adjustable pegs and holes using the Kreg Pin Jig. In every section, we can adjust the drawer and shelf heights with our changing needs. We haven't found that we had to do this very often, but I appreciate that the option is there.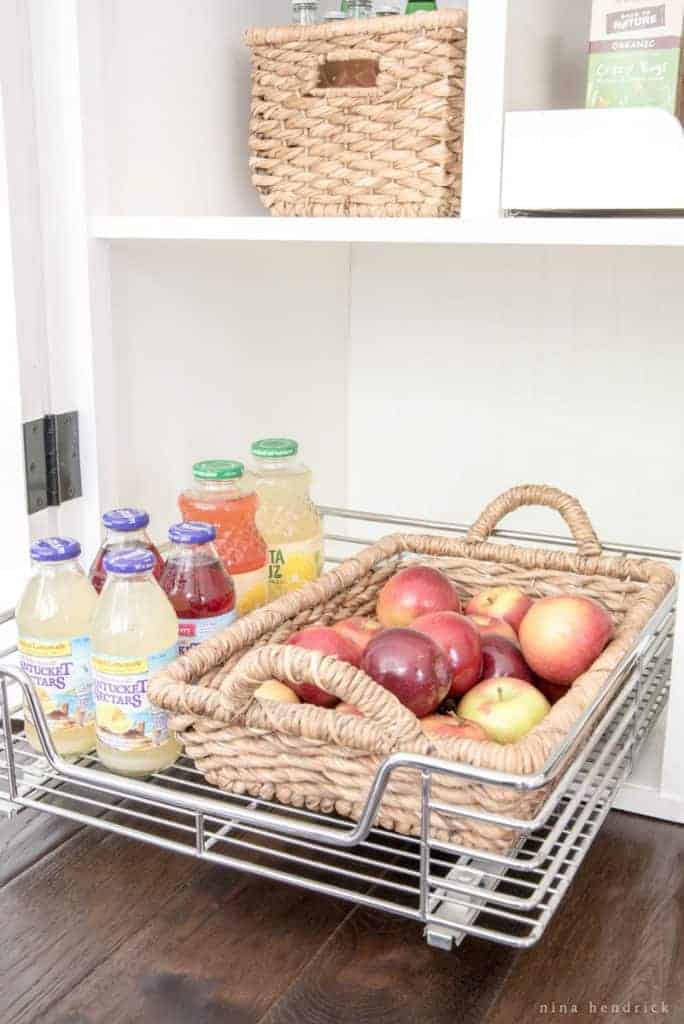 7. Corral loose items with baskets, trays, and crates
Rather than having a bunch of small items kicking around, it's so nice to be able to keep them neat and contained by corralling them in pretty baskets, trays, and crates. It can also save time- for example, you can store all your most frequently used spices on one easy-to-grab tray.

8. Make use of all available space
When we first built this space, I went way too long without making use of the real-estate on the doors. Now there are can and bottle organizers, which freed up even more space on the shelves and drawers!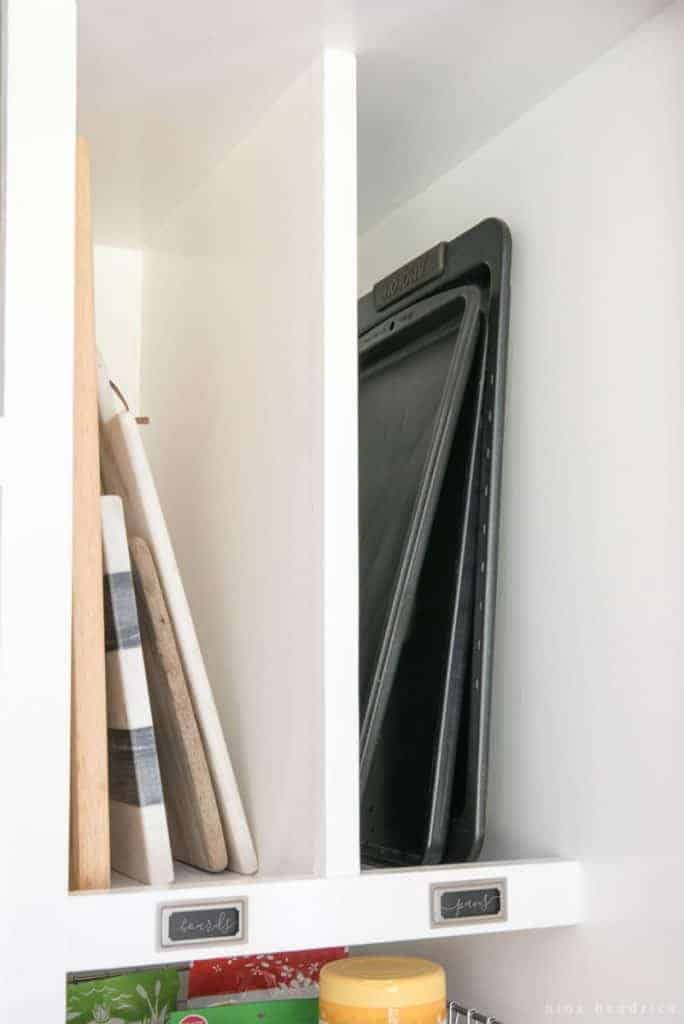 9. Create a divided area for cookie sheets and cutting boards
In my experience, cookie sheets tend to get the raw end of the deal in the bakeware cabinets. They end up at the very bottom of the stack, meaning you have to take everything else out in order to get to them. Storing them upright in the pantry has been such a great solution in our home, along with the easily-accessible cutting boards!
10. Store less-used items up high
If you're like me, you probably can't reach the top shelf very often. I could store a footstool at the bottom of my pantry pretty easily, but I choose not to because of my children. In their reach, it would become a way up onto the counters, to the candy above the fridge, and other things I don't even want to think of. Instead, I choose to store things up high that don't get used very often. I can get to them if I absolutely need to, but that isn't frequent.
I hope that you found these pantry organization ideas helpful! Creating a system for a particular space in your home can be a lot of work, but I find that it is always worthwhile. With minimum maintenance, our pantry stays very organized, even with my kids going through it constantly. I hope that if you tackle this project that you'll share it by tagging me on Instagram @ninahendrickdesign, I love to see your organizing projects!