PB Comfort Slipcovered Sofa Review
Here's my honest PB Comfort Slipcovered Sofa Review. I share the pros and cons of having a light colored slipcovered sofa.
PB Comfort Slipcovered Sofa Review
Note: This post is not sponsored by Pottery Barn, we purchased these sofas on our own. 
One of the questions I'm asked most often is my feelings about our light slipcovered Pottery Barn Comfort Sofas. I held off for a couple years on a full review so that I could answer the question thoughtfully and from the perspective of how well they hold up over time.
The Pros
The short answer is that I do like these sofas. They are super soft and comfy. When clean and fluffed, they are very pretty. I pined for them, begged my resistant husband, contemplated and schemed of ways to get rid of our puffy leather living room set (which was left over from his "man cave" and weren't my style).
About two years ago, PB had a rare slipcover sale, and we decided it was time… BUT with compromises, naturally.
The Compromises
We would not get a "pure" white. He wanted brown, I wanted white: we ended up with "Natural Brushed Canvas" which is best described as a creamy off-white.

We would not splurge for the performance fabric, as the price was already considerable.

He wanted upholstered sofas, but I really thought slipcovers would be more practical with the kids. I agreed to wash the slipcovers monthly and keep them looking neat because he is not a fan of the rumpled look.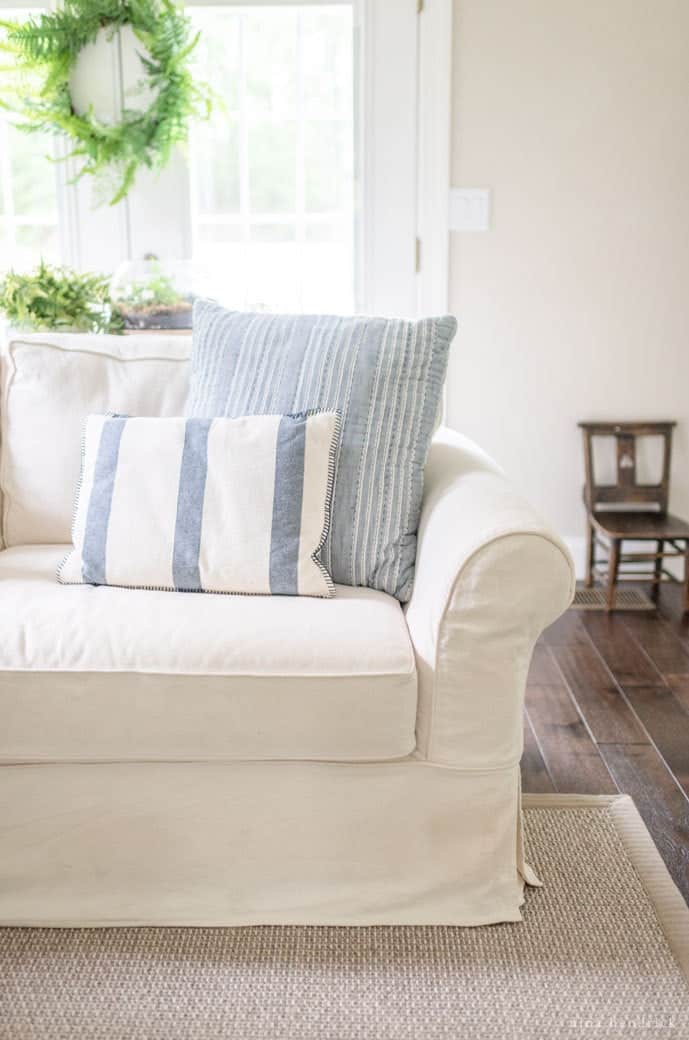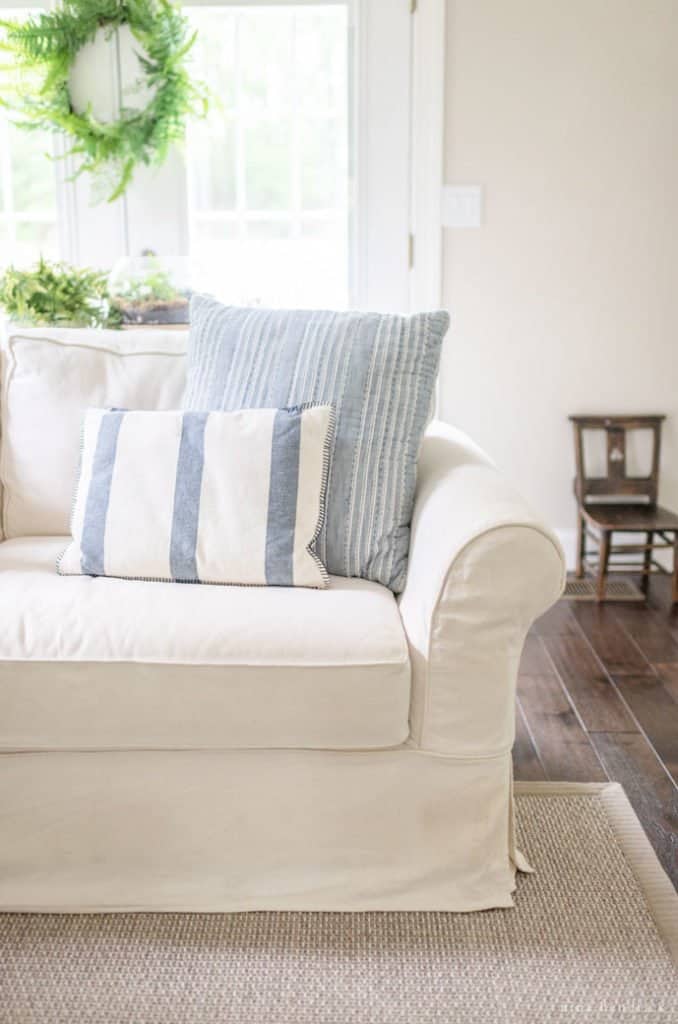 After a couple of months, the sofas arrived. They were beautiful, clean and fresh, casual but structured. The whole room felt lighter.
After years of brown leather that hid almost everything, I was suddenly side-eyeing my goopy children, but I was otherwise elated.
Naturally, even though we've always had rules about not eating or drinking in the living room, there were almost immediately spills and stains. I was/am relaxed about it, kids are kids. My priority was that we balance enjoyment with style. I refused to be "that mom" who practically had plastic over her furniture. After all, it was my choice for our family room, and I knew what I was signing up for. I would just wash the slipcovers, as planned, right?
Well…
I'm going to get to that in a minute.
First, I'll answer another big question I've gotten. Why not the popular and more affordable IKEA Ektorp?
Pottery Barn Comfort Sofas vs. IKEA Ektorp
You know I love IKEA, and I find the Ektorp to be beautiful and a great value.  We happen to own two. We have the sofa in our NH lake house and an Ektorp sectional here in our Massachusetts basement. They are fairly new, so we can't speak to the longevity- but so far, so good. The foam of the cushions is actually a bit more substantial than the Pottery Barn sofas. They are definitely less comfortable right out of the gate, but I wonder if maybe they will hold up longer. Honestly, you really just can't beat the price.
It was the dimensions that decided us on the PB Comfort for our family room. Our room is very long and narrow with cathedral ceilings, and we knew we needed a large sofa to look proportional in the space. The PB Grand Comfort Sofa is both taller and longer than the largest Ikea Ektorp at the time (although Ikea has recently released larger Ektorps!). We also like the dimensions of the PB Comfort Grand Armchair. It fills up the corner perfectly.
I know that there are other options out there, and we did explore those (both local and national). The prices were generally comparable, but we were unsure of the quality. Ultimately, I decided I wanted to go with the PB Comfort because I love Pottery Barn, have purchased other big-ticket items from there(with positive interactions with customer service when needed) and it was the one that had always caught my eye.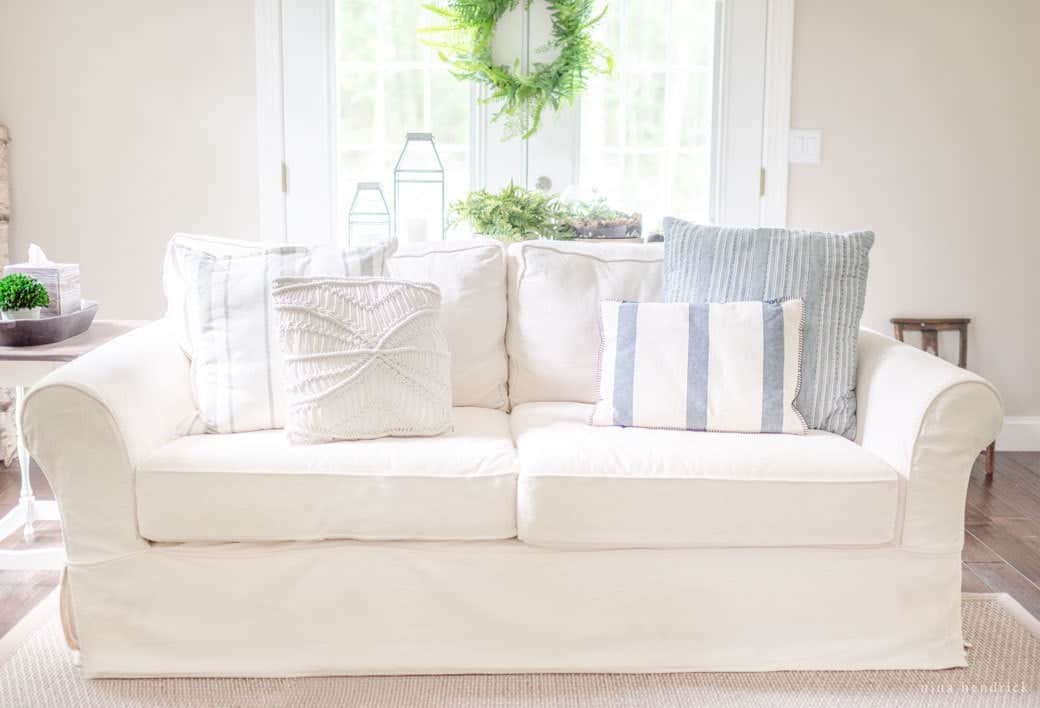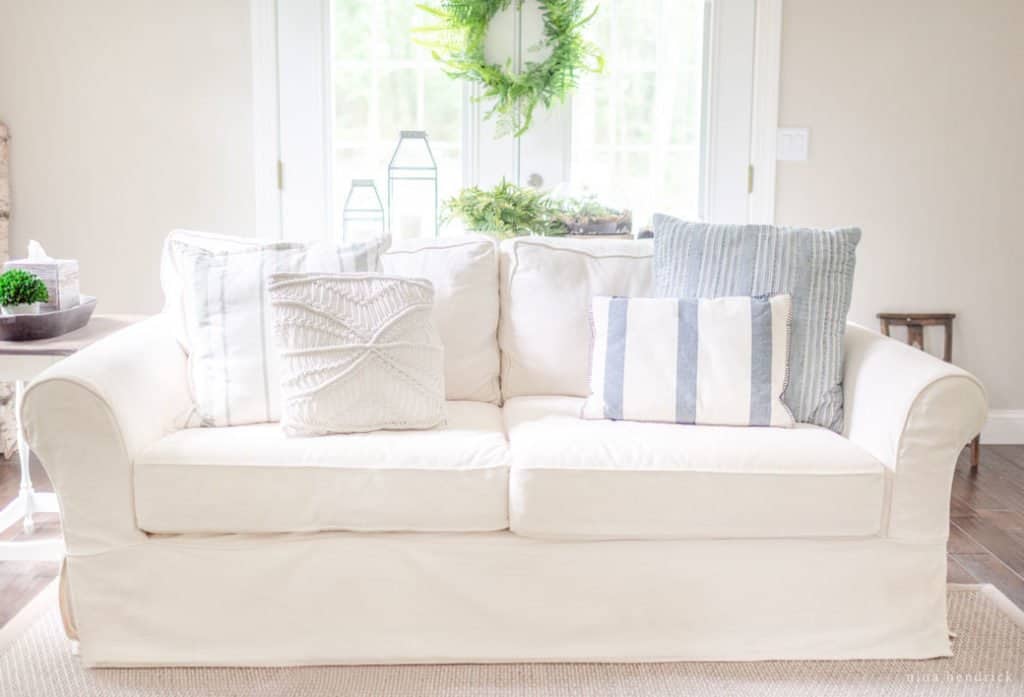 Was the PB Comfort Sofa worth the investment?
I'm going to lay out the facts and my experience, and let you be the judge.
I'll start with the positive. The construction of the sofas and chair themselves is really sturdy and impressive. One thing I've heard from friends is that the EKTORP gets a little saggy after years of constant use. The frame of our sofas is very solid and, bonus: built in the U.S.A.
The only issue we have had structurally is with the removable back cushions on the Grand Sofa, which is the one we use the most. The get really squished and flat (the kids completely abuse them, in all fairness). I believe they can be replaced later on.
We've had the most problems with the slipcovers.
(I should say *I* have had problems, as Mack was very happy with his leather sofas and has washed his hands of my slipcover woes.)
The Cons
Shortly after our big purchase two years ago, I washed the slipcovers for the first time, meticulously following the care instructions provided by Pottery Barn. I used cold water and gentle detergent. My machine doesn't have an agitator.
I laid the slipcovers out to air dry and brought them to the sofa to put on while they were still slightly damp. I thought I was going above and beyond the care instructions with the air drying since the care instructions actually said they could be put in the dryer on "tumble". That seemed way too scary to me.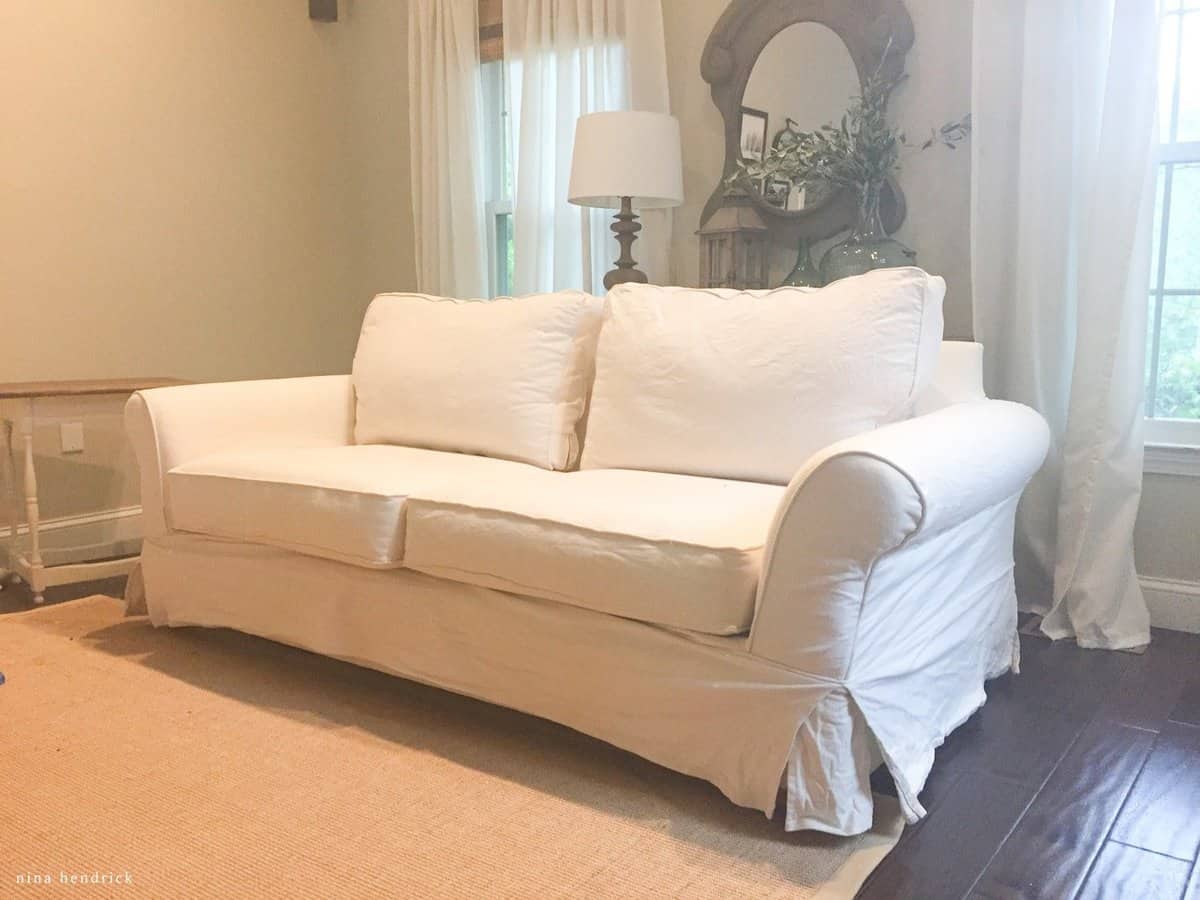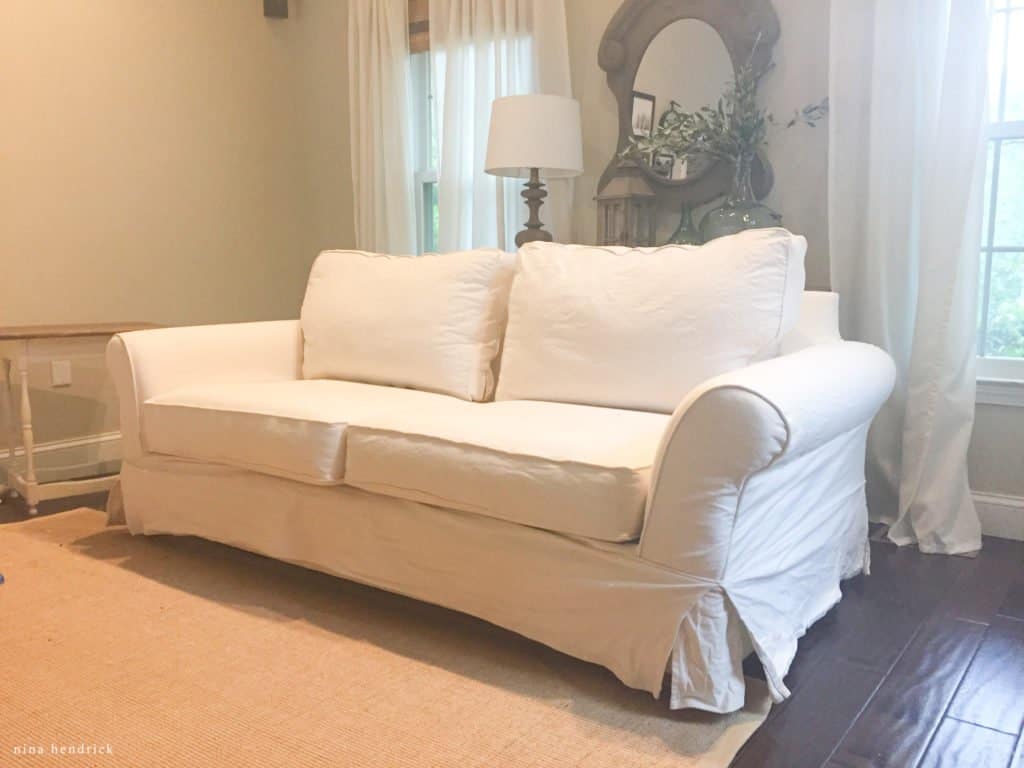 As I attempted to muscle the damp slipcovers onto the sofa, It was immediately apparent that something went horribly wrong. The first thing that came to mind was Chris Farley in Tommy Boy… my sofa was a Fat Guy in a Little Coat. I repeated the same process with the second sofa, this time with the bonus of inexplicable splotchy discoloration… even though it had been washed the same exact way. It wasn't quite as tight, but my second sofa suddenly looked like it was wearing high-waters.
After some frustrated tears from me and a round of "I told you so" from Mack, I was on the phone with Pottery Barn customer service. I have always found their customer service responsive and professional. They were quick to make everything right on both sofas. They asked for me to email photos and after they reviewed them we were sent replacements expediently and without issue.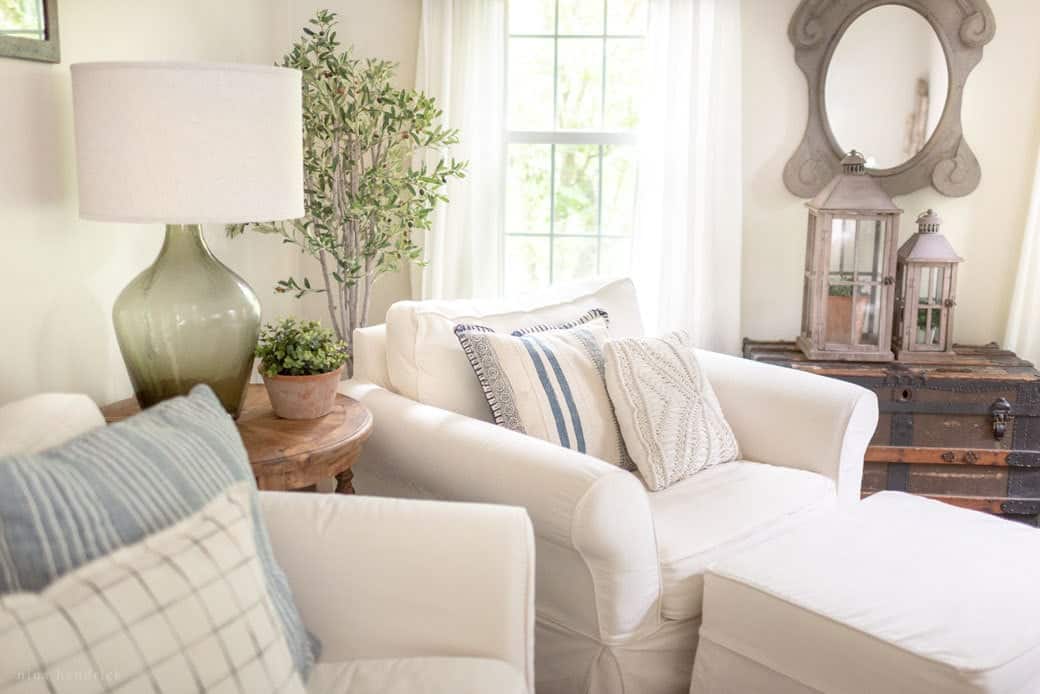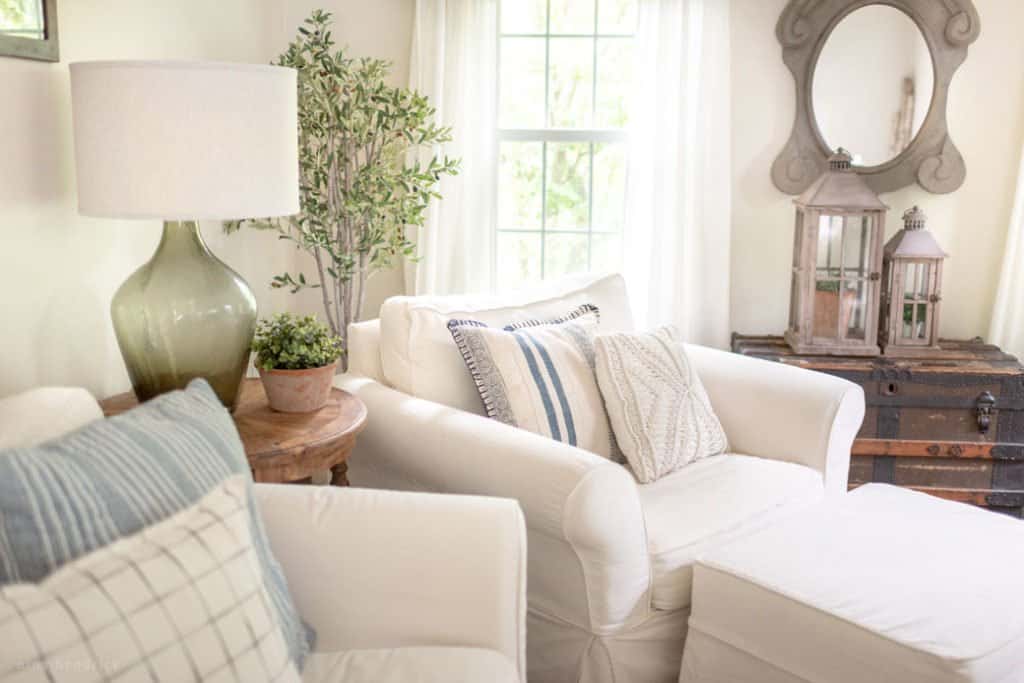 Can the PB Comfort be Machine Washed?
When I was going through the process of replacing the second slipcover, a customer service rep said, "You know, we really do recommend dry clean only with these slipcovers." (insert my panic here) to which I replied, "BUT that's not what the care instructions, product listing, or anyone else up until this point has said…" Sure enough, when I started reading them off, she then backtracked and it led to a confusing exchange about "commercial" washer machines, water and air temperature and quality, and how warm my "cold water" really may be, etc. However…
Judging by my experience and that exchange, I have my suspicions that these particular slipcovers may be safest when treated as dry clean only… which was not what I signed up for. I wanted something I could easily toss in the (cold) wash without a second thought.
I know that this is possible with some slipcovers. I've had a white canvas slipcovered chair from Arhaus for 8 years that I've washed countless times. I didn't even know about washing slipcovers in cold water at the beginning, but it looks as tailored and clean as the day it came home… All of this in spite of being a rocking chair for two infants and all of the spit-up and other messes that came along with them. I have even bleached it after an unfortunate coffee incident with perfectly fine results. That is what I was looking for, not to spend $300 every few months for dry cleaning (which is the average of the quotes locally).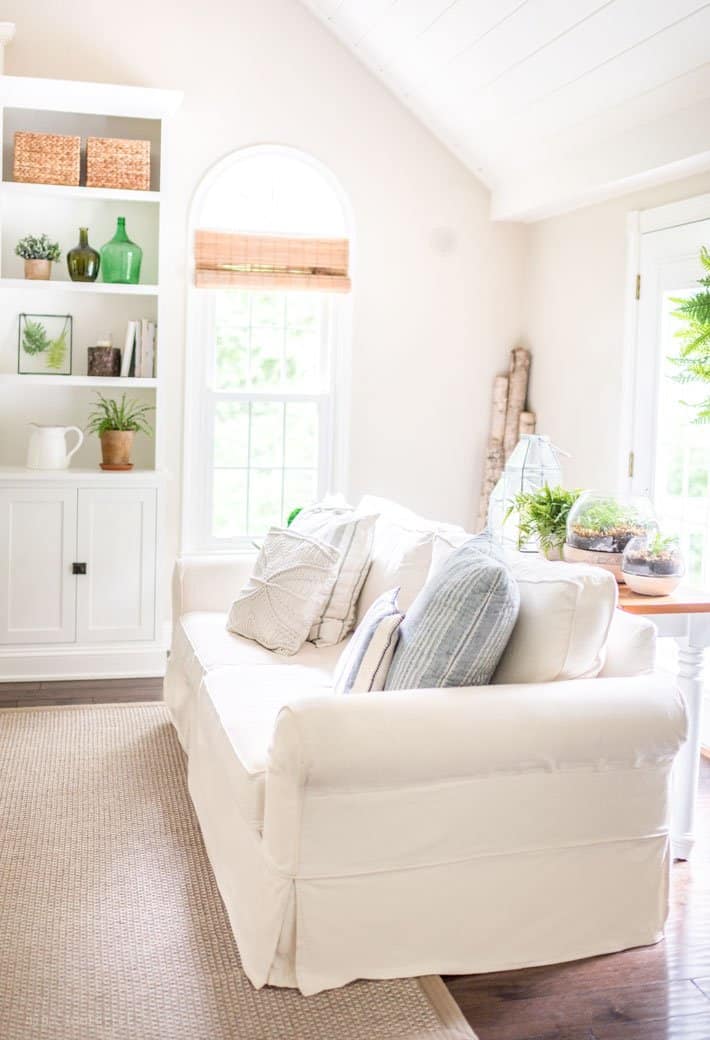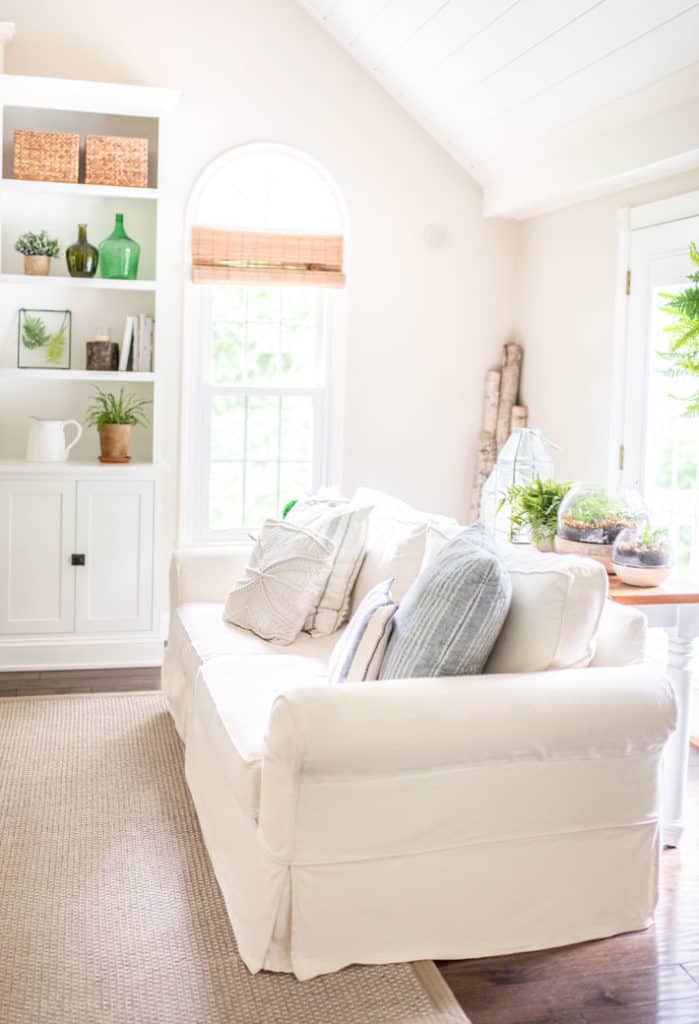 Here's where I'm at currently…
One of our replacement slipcovers (the one for the Grand Sofa) arrived just a bit large for our sofa. With that factor, I felt confident enough to wash it in cold water and lay it out to dry the first month after it arrived. It has been fine after several machine washes since (in cold water, following the initial care instructions).
The other replacement slipcover seems to be a slightly different fabric. Although they are both brushed canvas, I'm guessing they changed suppliers between the two. It is very tailored, so I held off for as long as possible on machine washing it.
We purchased the chair and ottoman a little later than the sofas, and they appear to be made of the exact same fabric as the second replacement slipcover. They are also very tailored.
I spot treated all three of those pieces with my Bissel SpotClean Pro (I love this machine) until it was undeniable that it needed a full wash. Finally, I sucked it up and machine washed them, my fingers crossed the entire time.
You can read here about how I keep the slipcovers looking neat and wrinkle-free. 
It went fine. Those slipcovers are a bit more of a struggle to get back on, even damp. They have not shrunk after a few washings following the original care instructions.
All in all, YES, the whole maintenance thing was a "headache" completely of my own making. It's also not a real problem in the grand scheme of problems. I totally get that.
If I could do it all over again…
I would invest in the indoor/outdoor fabric. We purchased third-party slipcovers in a indoor/outdoor fabric for two mismatched sofas at our lake house (one being the Ektorp, one being a PB Comfort). I have been so happy with them. They look great, machine wash easily, and hold up to all of the sand, water, and even wet dogs. I think that would have been the perfect solution.
Overall, I love the style of these sofas. The leather set will not be making a reappearance, it is happy (and looks perfect) in the home of our friends. I fully intend to continue to have light colored slipcovers in this particular room, which is low on natural light.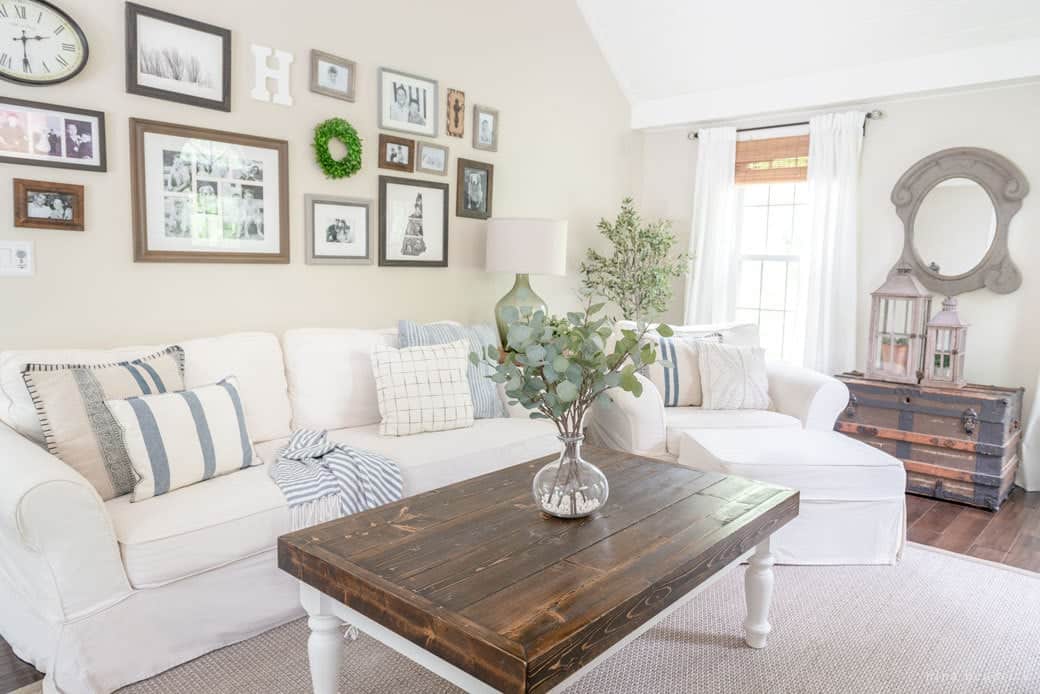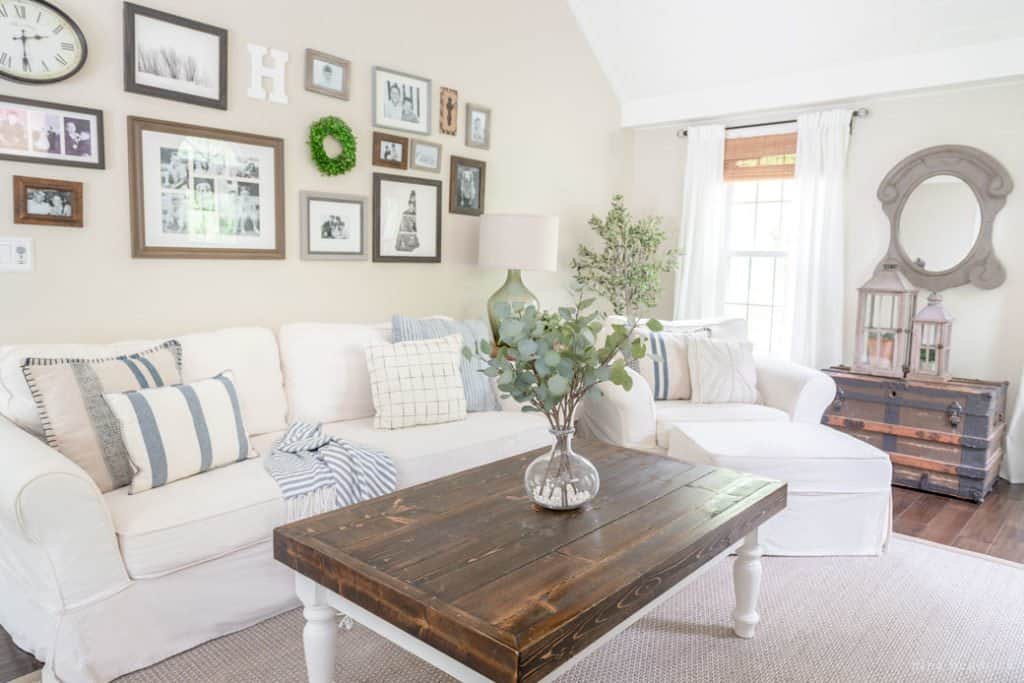 Would you recommend the PB Comfort Sofa?
So, as you can see, the FAQ of "Would you recommend the PB Comfort Sofa?" does not have a simple answer from me. My answer is: Yes, but with a different fabric choice.
It may have just been a poor slipcover fabric choice for our situation. It may have even been a bad fabric supplier that they've since changed (the issue does seem to be fixed with the new slipcovers). I can only speak for my experience. Ultimately, you will have to decide if they will work for you.  
Sources:
PB Comfort
Grand Sofa
Sofa
Grand Armchair
PB Comfort Slipcovered Ottoman