Learn the best way to keep your white slipcovered sofa looking fresh, clean, and stain-free with these easy maintenance tips and tricks!
When it comes to furnishing a living room, one of the most popular choices is a white slipcovered sofa. It adds a cozy yet chic look to any space, and its color can easily be complemented with a variety of colors and textures. The best part about a white slipcovered sofa is that it can be easily maintained and kept looking like new.
Thinking about buying a slipcovered sofa? You can read my guide here!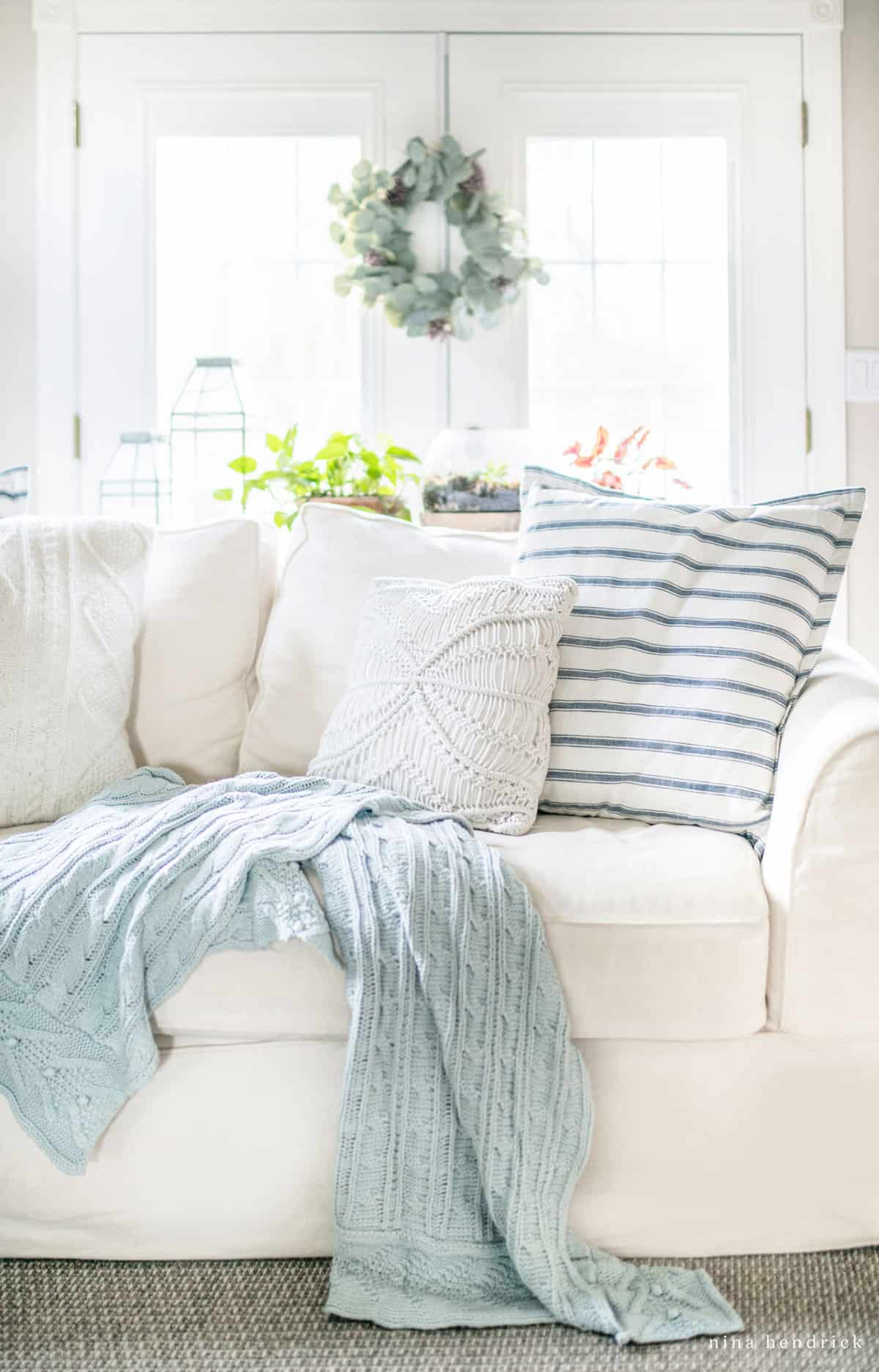 This post contains affiliate links, which means I may get a small commission (at no extra cost to you) if you shop my link. Please see my disclosure if you'd like more info!
Over the years, I've learned how to keep some of the most used pieces of furniture clean and looking their best — our slipcovered Pottery Barn PB Comfort Sofa in the family room, our slipcovered chair and ottoman, and our IKEA slipcovered sofa in the kids' playroom. You can read my full review of our Pottery Barn PB Comfort Sofas here!
Cleaning slipcovered furniture can be a daunting task, since you want to make sure to get it right. However, with the right techniques and products, it doesn't have to be a chore! In this blog post, I'm going to share my best tips and tricks for cleaning white slipcovers — from spot cleaning, to deep cleaning, to steaming out the wrinkles — so you can keep your white slipcovered sofa looking great for years to come.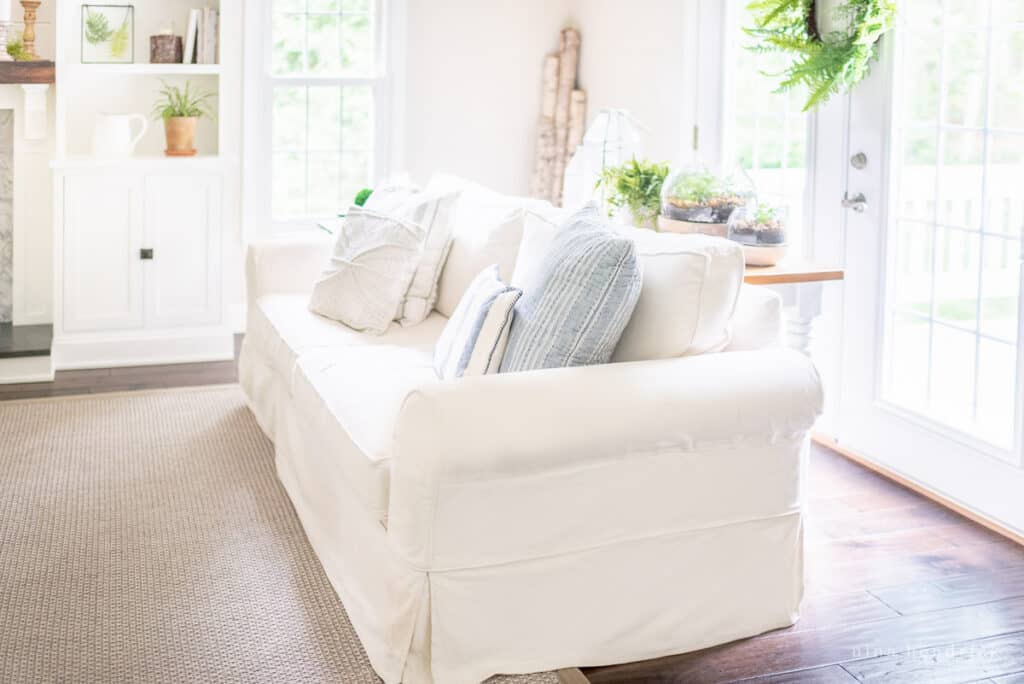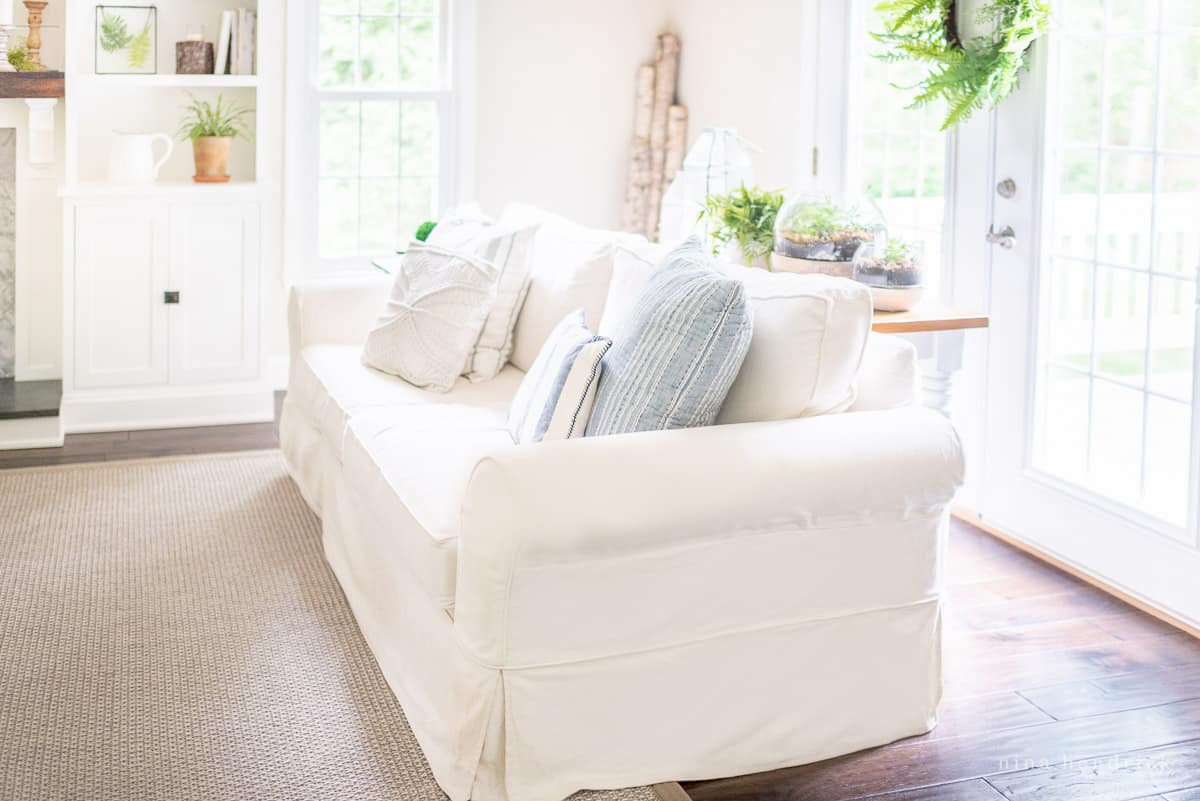 What is a slipcovered sofa?
A slipcover is a removable fabric covering that is placed over a sofa or couch to protect the upholstery and to add a decorative element to the furniture. Slipcovered sofas have become increasingly popular for their versatility and ability to fit into any style of décor. The slipcover provides an easy way to transform the look of your sofa without the need for a complete replacement.
Using a slipcover is also an excellent way to keep your white slipcovered sofa looking spotless. Slipcovers are an easy way to keep your sofa looking fresh and clean, and they can easily be removed and machine washed when necessary. This will make it easy to keep your sofa looking pristine, and it's an ideal solution for those who have children or pets in the house.
Why a White Slipcovered Sofa?
A white slipcovered sofa is a great choice for creating a bright and airy look in any room to help create a coastal, farmhouse, or a cottage design in your living room. The white color can help to open up a space and create a feeling of lightness and airiness. It can also provide a blank canvas for other colors in the room, allowing you to easily incorporate pattern and color through throws, pillows and other décor. White slipcovered sofas are versatile, timeless, and a great way to bring a simple, yet stylish look to any home. These are the main reasons I personally have a white slipcovered sofa!
But Doesn't White Get Dirty Faster?
No, it doesn't get dirty faster. White simply shows the dirt more quickly, which could mean you have to clean it more often.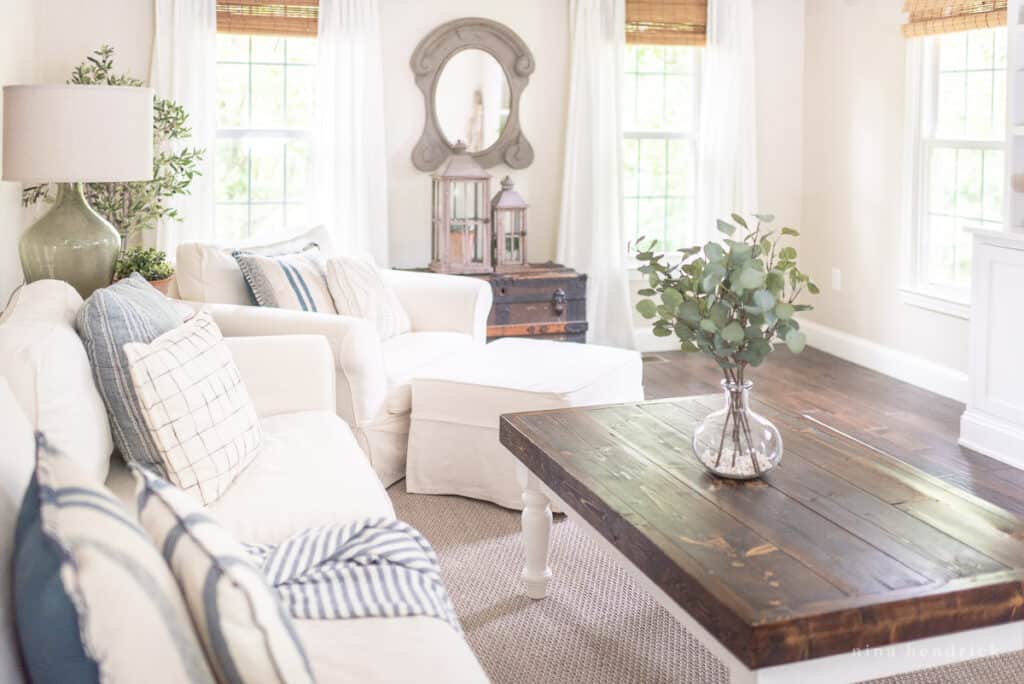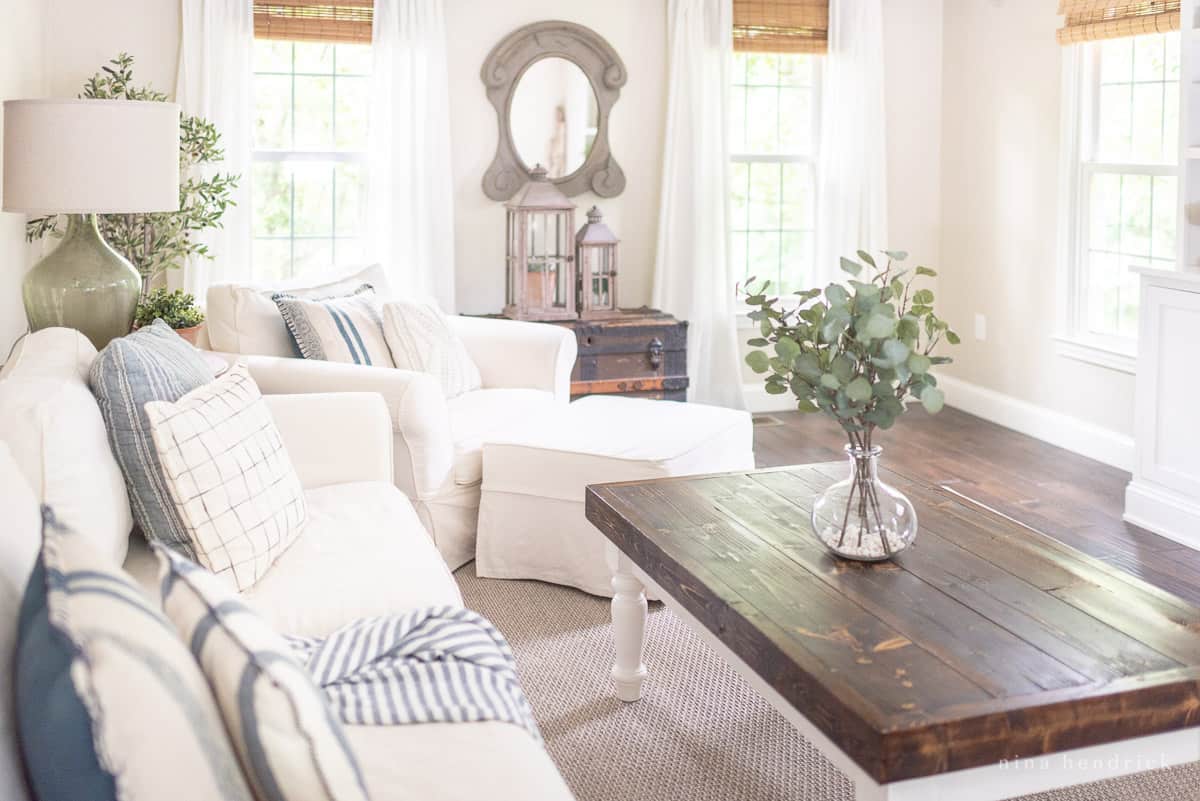 White slipcovers do have some challenges
Obviously, if you choose white slipcovers, you're committing to some maintenance. However, that doesn't mean it has to be difficult. You can set yourself up for success by choosing the right slipcovered sofa. Some fabrics aren't as durable as others, and if you choose white it will be even less forgiving on a lower-quality fabric. Lighter colors can be easily stained and can show signs of wear and tear more quickly.
To help prevent this, choose slipcovers that are made from high-quality, machine-washable fabrics and that come in life-friendly finishes. Crypton and Sunbrella are two highly-regarded and durable fabric choices.
Also, adding a few throw pillows or a blanket to the sofa can help protect the slipcover from wear and tear. If you're anything like me, you'll take any excuse to buy more pillows and throws!
Plus, as we just established, white sofas don't hide any dirt, so they need to be cleaned on a regular basis. The best thing to do is put in small amounts of effort regularly. Getting on a schedule of cleaning and maintenance can ensure that your white slipcovered sofa is always looking clean and fresh.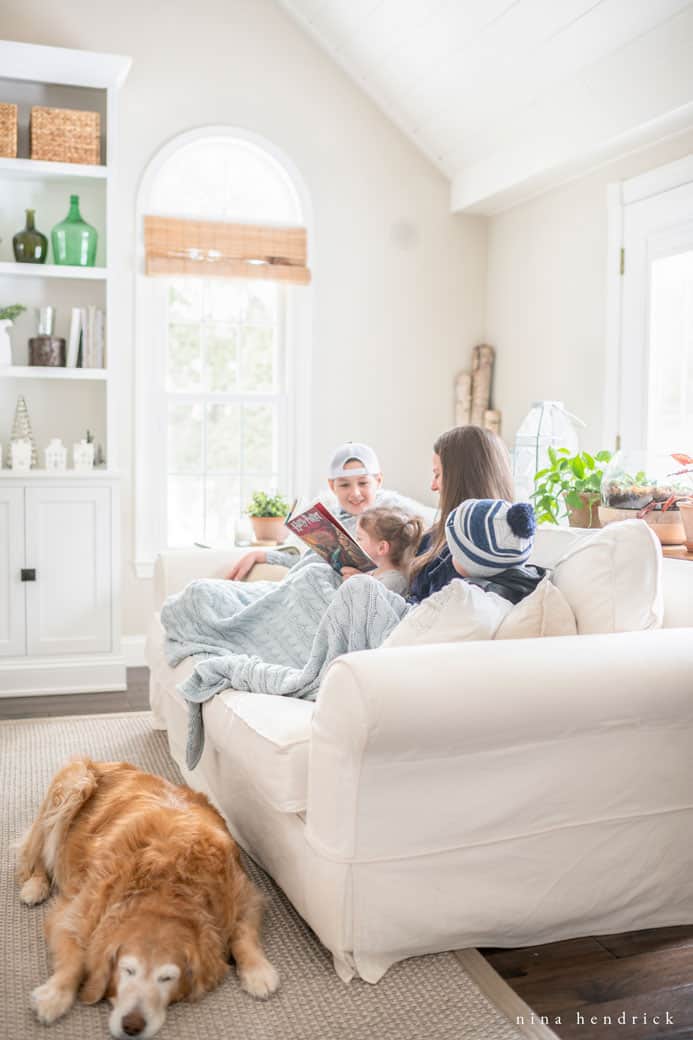 How to Clean a White Slipcovered Sofa — Tips & Tricks
White slipcovers may look nice, but there's definitely some maintenance. With kids around, cleaning is going to be a necessity. My daughter was two when she used her crayons to decorate our white Pottery Barn sofa slipcovers and my sons will often lose smelly socks and lacrosse sticks in between the cushions. Food is also constantly finding its way into the living room, especially during movie nights with popcorn that ends up everywhere. We also have a messy, silly golden retriever that loves to cuddle on the cushions. Despite the mess, my family loves and lives in our white slipcovers, and I wouldn't have it any other way. You can read about my philosophy for decorating with kids here!
You can learn how to keep your white slipcovered sofa looking like new with the following tips and tricks. By following these simple steps, you can easily maintain and enjoy your white slipcovered sofa for years to come!
Daily Maintenance for Slipcovers
Daily maintenance for slipcovers is fairly simple and straightforward. To keep your white slipcovered sofa looking its best, it is important to vacuum or brush it regularly to remove any surface dust, dirt and pet hair.
If there are any spills, it's important to wipe them up right away with a damp cloth. If they've already dried, spot clean any visible stains with a mild detergent or fabric cleaning spray as soon as possible. This will ensure that the fabric of your slipcovered sofa remains in good condition.
Before cleaning, check the care instructions and do a spot test on fabric
Before you begin to clean your slipcovered sofa, make sure to check the care instructions that come with it. Depending on the type of fabric, different cleaning methods may be necessary. For example, some fabrics may require a dry-cleaning solvent, while others can be spot-cleaned with a mild detergent.
Additionally, it is important to do a spot test to make sure that the cleaning solution you are using is not going to damage or discolor the fabric. Once you have done these two steps, you can begin to clean and maintain your slipcovered sofa.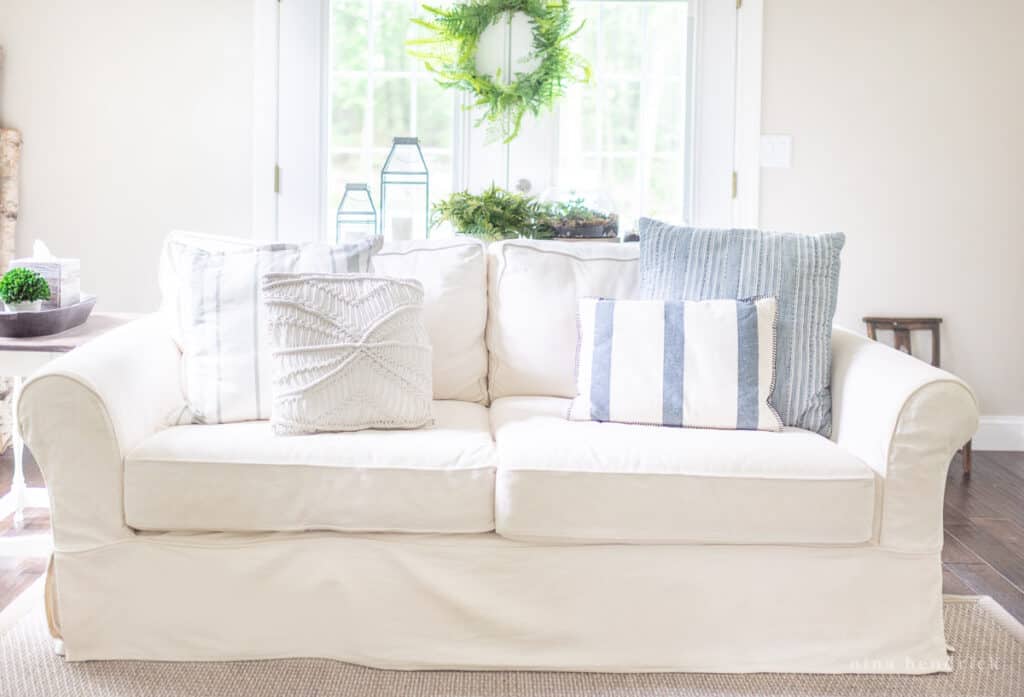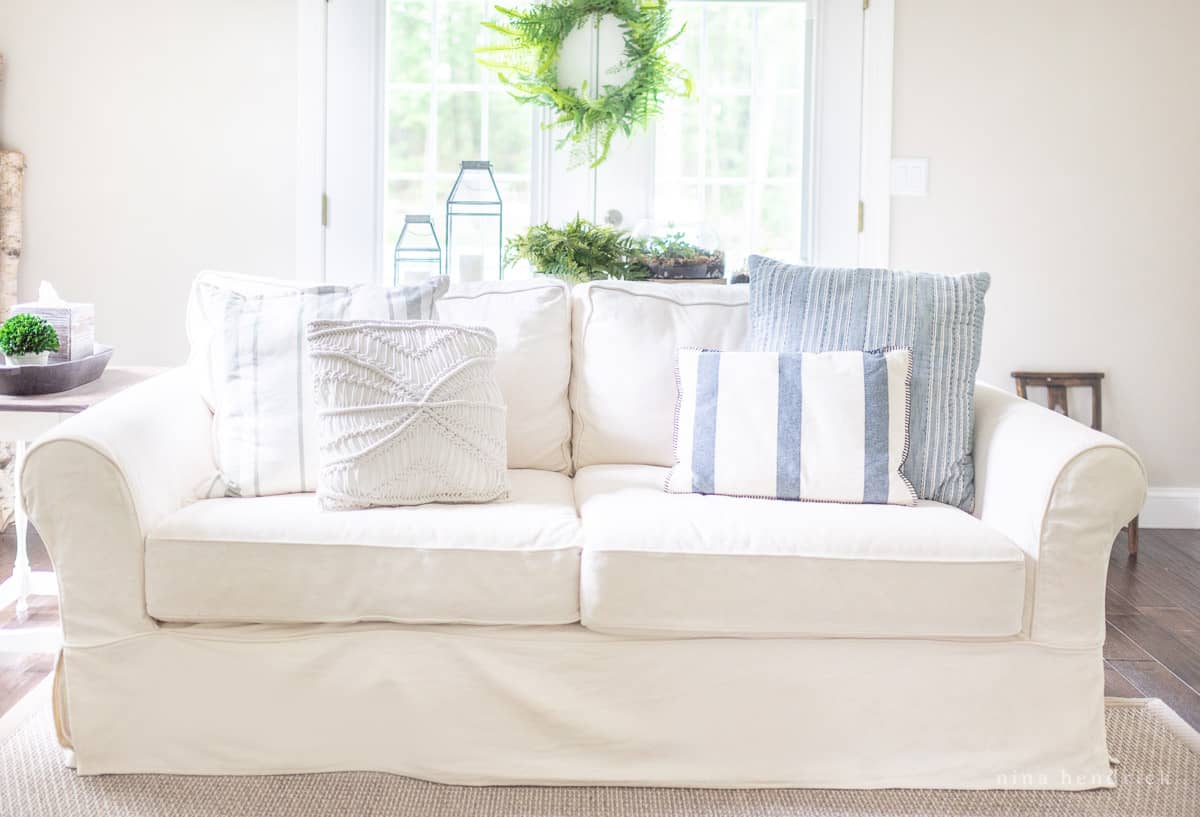 Spot clean with a handheld upholstery cleaning machine
Spot cleaning can extend the time between full washes and a small, portable upholstery cleaner is a worthwhile investment to make the job as easy as possible! This machine is lightweight, convenient, and easy to use. It can reach hard-to-reach areas, so you don't have to worry about removing the slipcovers before cleaning.
Do a full wash with cold water and a oxygen-based detergent
Even with a small upholstery machine, full washes are going to be inevitable. Start by removing the slipcover and setting it aside. Pre-treat any stains with a spot cleaner before washing. This will help to ensure that the stains are completely removed and that the slipcover will come out looking its best. Place the slipcover in a washing machine with cold water and an oxygen-based detergent. Use a gentle cycle, and avoid using too much detergent as it can leave a residue on the fabric.
Allow the slipcovers to air dry
Once the washing cycle is complete, remove the slipcover from the machine and air dry it. It is important to avoid using a dryer, as the heat can damage the fabric by causing it to shrink or become misshapen. The slipcovers should be hung on a clothesline or laid flat on a drying rack, avoiding direct sunlight to prevent fading of the fabric.
Put the slipcovers back on the sofa frames while they're slightly damp
For best results, it is important to put the slipcovers back on the sofa frames while they are still slightly damp. This will help the fabric to contour to the shape of the furniture and look its best. It also helps to avoid wrinkles, bunching, and creases that can happen when the fabric is dry. Additionally, it's much easier to install the slipcovers when they are damp and the fabric is more pliable.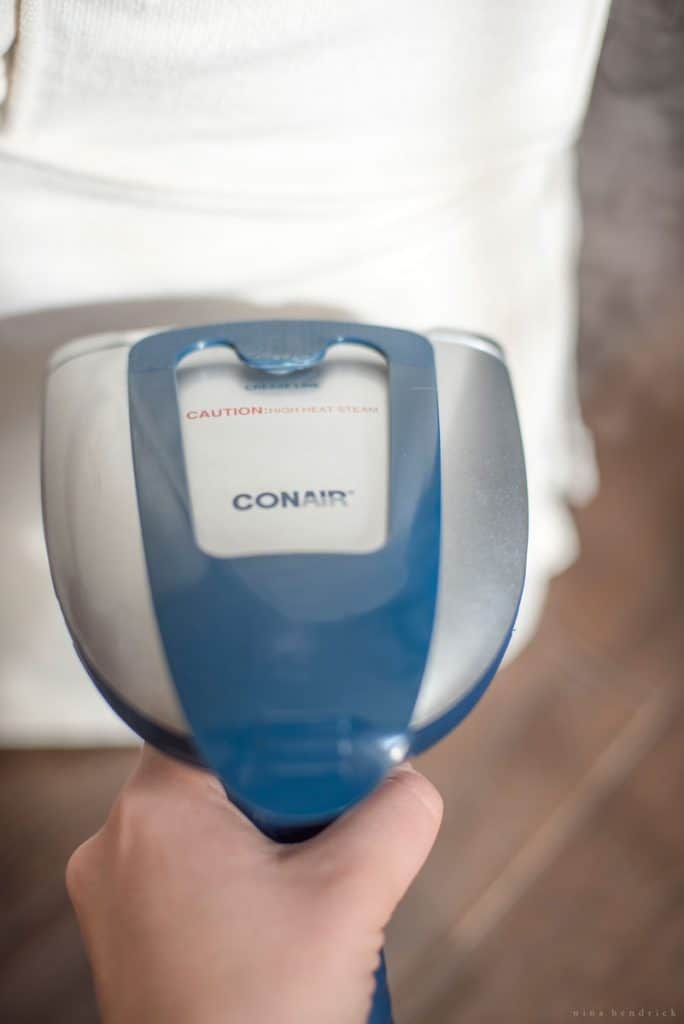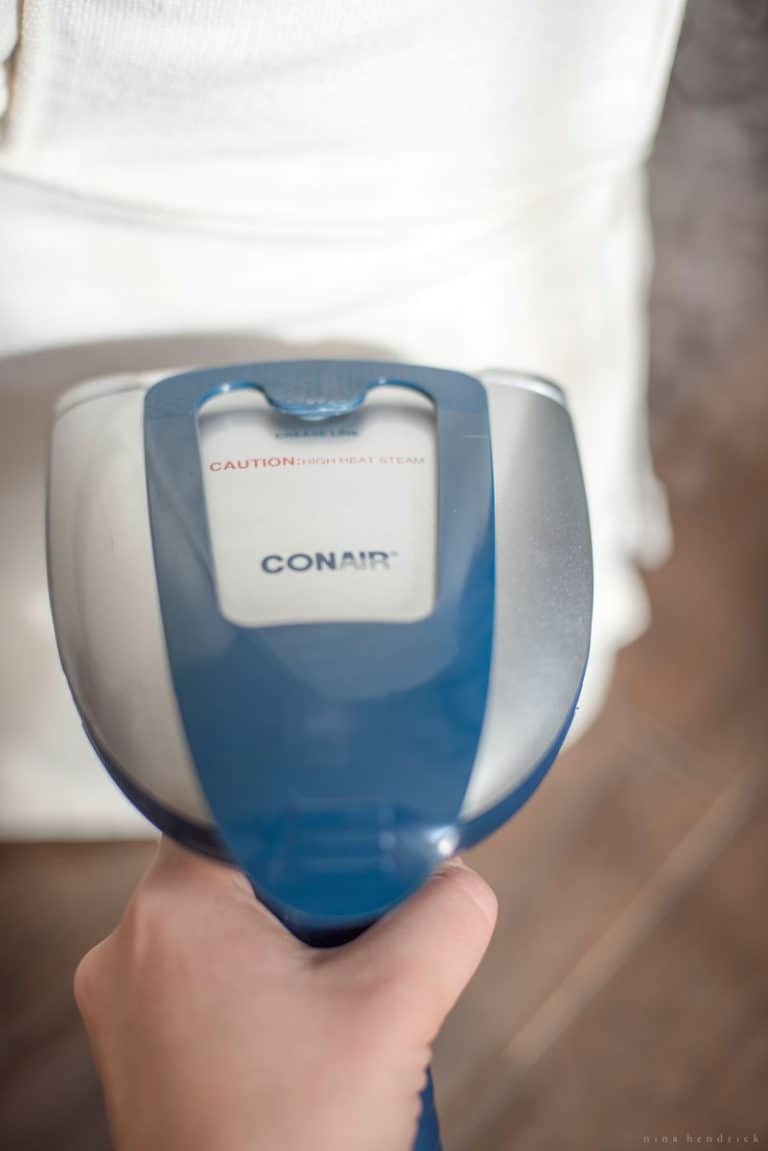 Steam your slipcovers with a handheld steamer
When it comes to steaming, I use a handheld steamer for better maneuverability around the slipcover. To make the process easier, steam the slipcover in sections. Move the steamer slowly and continuously over the fabric to ensure even coverage. Use the steam to relax wrinkles and freshen the fabric. Once the steaming process is complete, allow the slipcover to air dry completely before use. The occasional wrinkles don't bother me, but you can grab a mini steamer for daily use if you prefer a smoother slipcover look!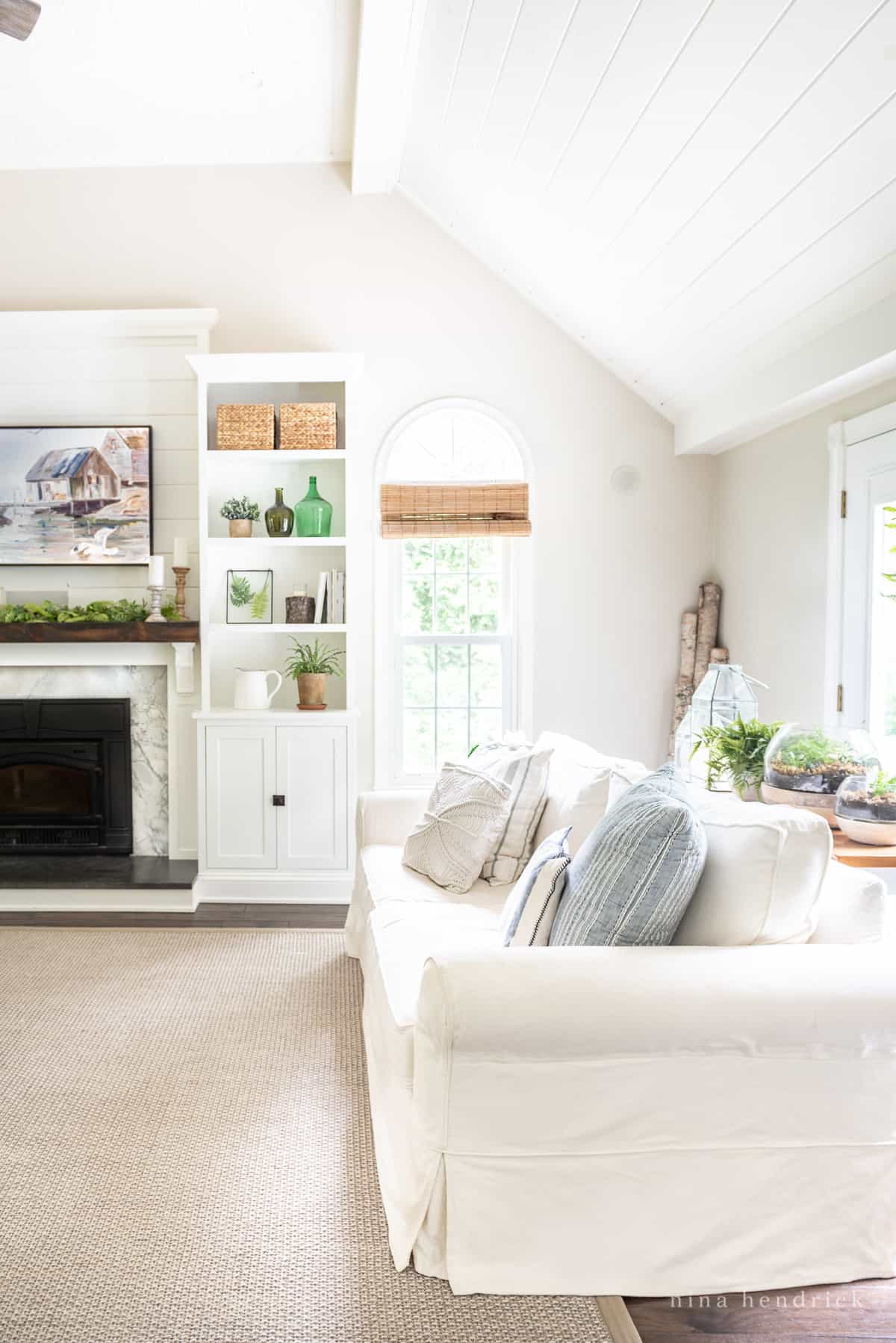 A white slipcovered sofa is a beautiful addition to any home. It is a timeless choice that will look great in most interiors. With regular upkeep and cleaning, you'll be able to have this comfortable piece in your living room for years to come. With their classic style and comfort, white slipcovered sofas are a great choice for anyone looking to add a touch of style and sophistication to their home.
Do you have any other tips for keeping your white slipcovers looking fresh? Make sure to share them in the comments!