Maintaining White Slipcovers
How I keep our white slipcovers looking neat and clean with a combination of laundering and steaming with The Conair® Turbo ExtremeSteam® Handheld Fabric Steamer.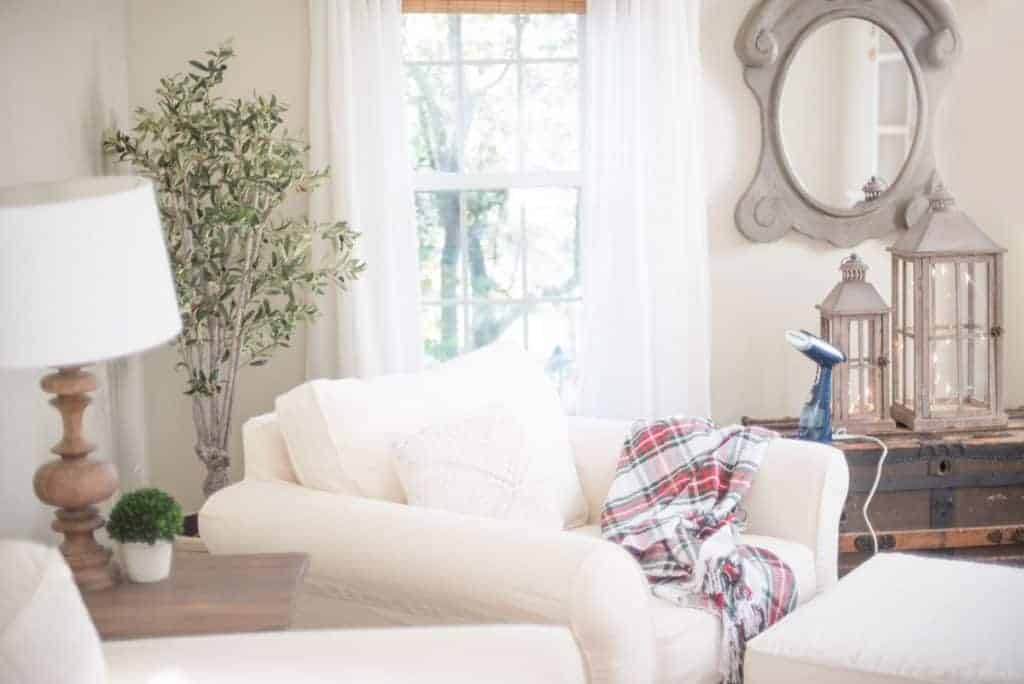 This post is sponsored by Conair. However, all opinions on this wonderful time-saving product for keeping my white slipcovers neat are my own. You can see my disclosures here.
Out of everything in our home, one of the things I'm asked about the most often is the white slipcovers in our family room. "Do you really live like that? How does that work with kids and a huge dog?"
We have slip covers over our Pottery Barn Comfort Sofa. It's a great sofa and has really been put to the test with our kids!
Our home is soon going to be featured in an actual in-person holiday housewalk to benefit the local PTA, so anyone who lives locally is going to get to see for themselves. There's no photoshopping a wrinkle or stain in real life! I know I need to make sure everything is looking absolutely perfect for our visitors.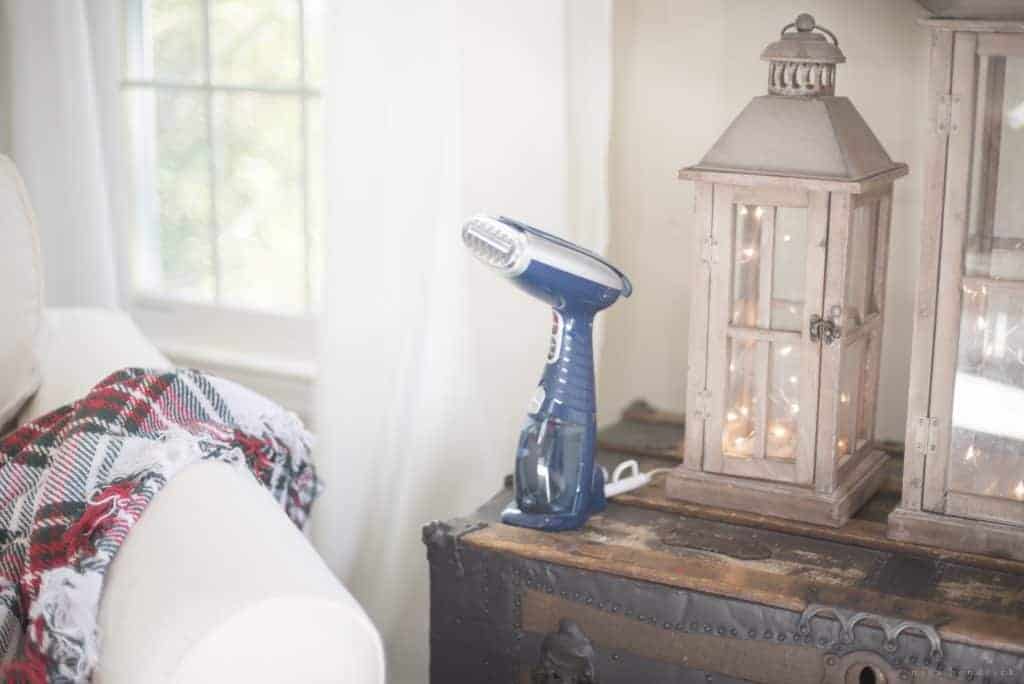 But the answer to that question is yes, we really do live like this- we balance enjoying our comfortable couches to the fullest with trying to keep things reasonably clean. I'm going to break down my strategy for keeping my slipcovers looking as clean and crisp as possible lately with The Conair® Turbo ExtremeSteam® Handheld Fabric Steamer.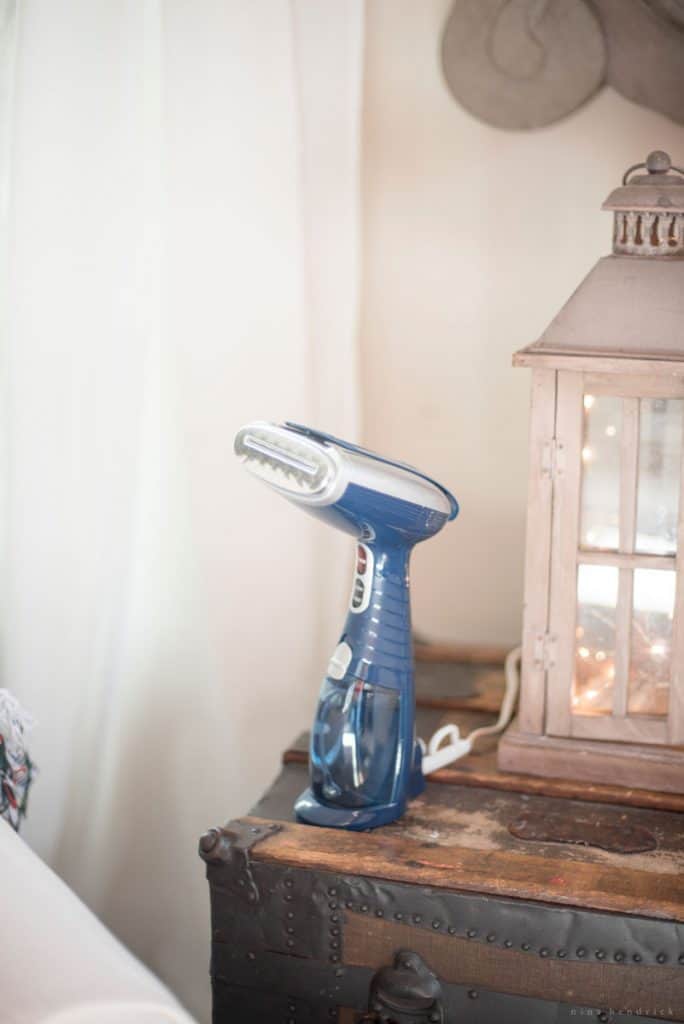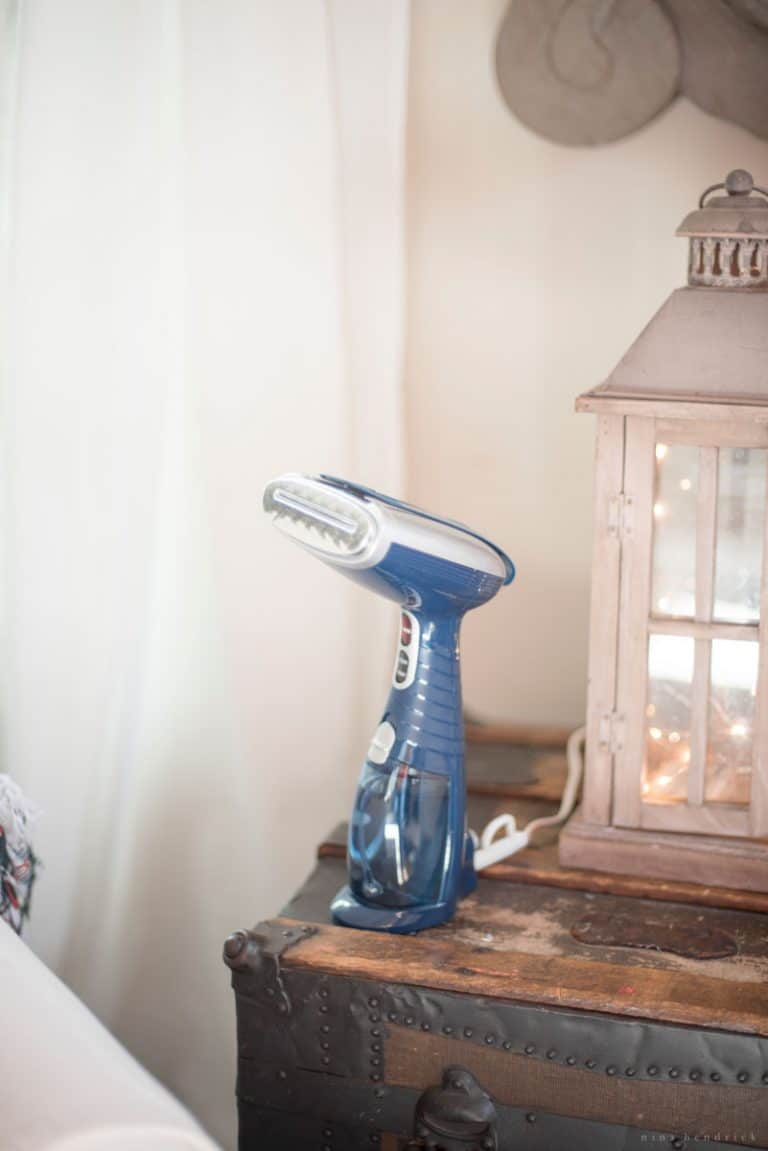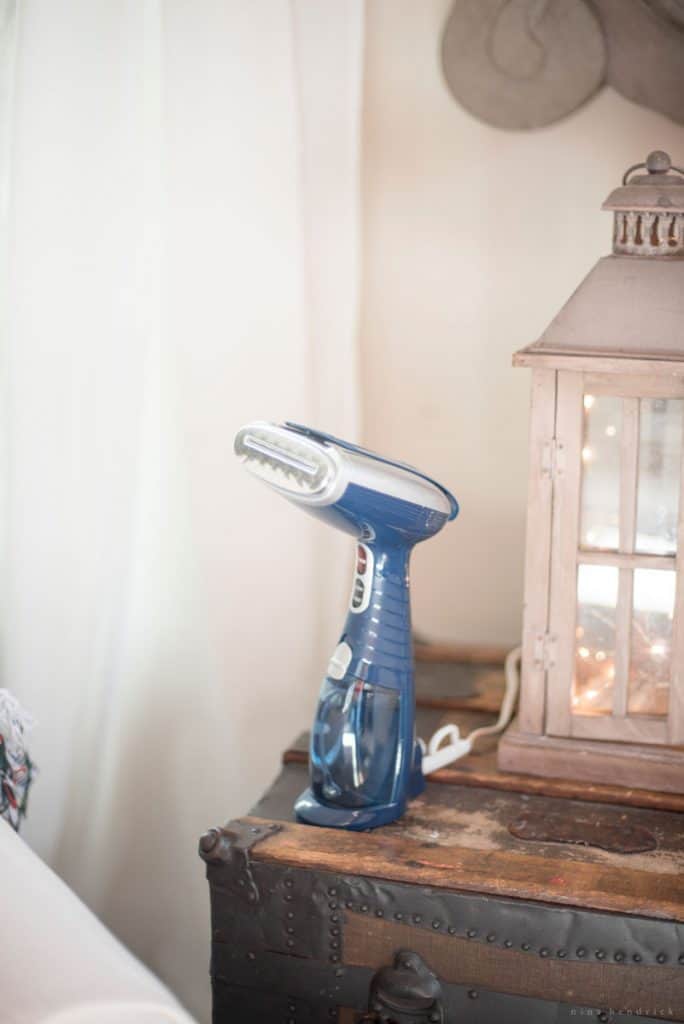 How to Keep White Slip Covers Clean
First, the truth about white slipcovers is that they are extremely high maintenance. No doubt about it. My kids aren't magical unicorns- they are normal, messy little children. My two-year-old recently used her crayons to "decorate" the slipcovers. The boys are boys. It's not unusual for me to unearth smelly socks and lacrosse sticks from between the cushions.
Things get spilled frequently. Although we have a "no food in the living room" rule, food finds its way in anyway (and we bend the rule for popcorn on movie nights- which ends up everywhere). They are furniture pieces well-loved and well-lived-in. I see slipcovers as a way to get the look of light-colored upholstered furniture in a way that is realistic with our current season of life.
Historically, I have had to wash the slipcovers at least once a month. I wash them in cold water and then let them air dry until they are slightly damp. Because I do not love how messy and wrinkled they can look after air drying, in the past I had to pull out the iron and wrestle with the unwieldy slipcovers on the ironing board.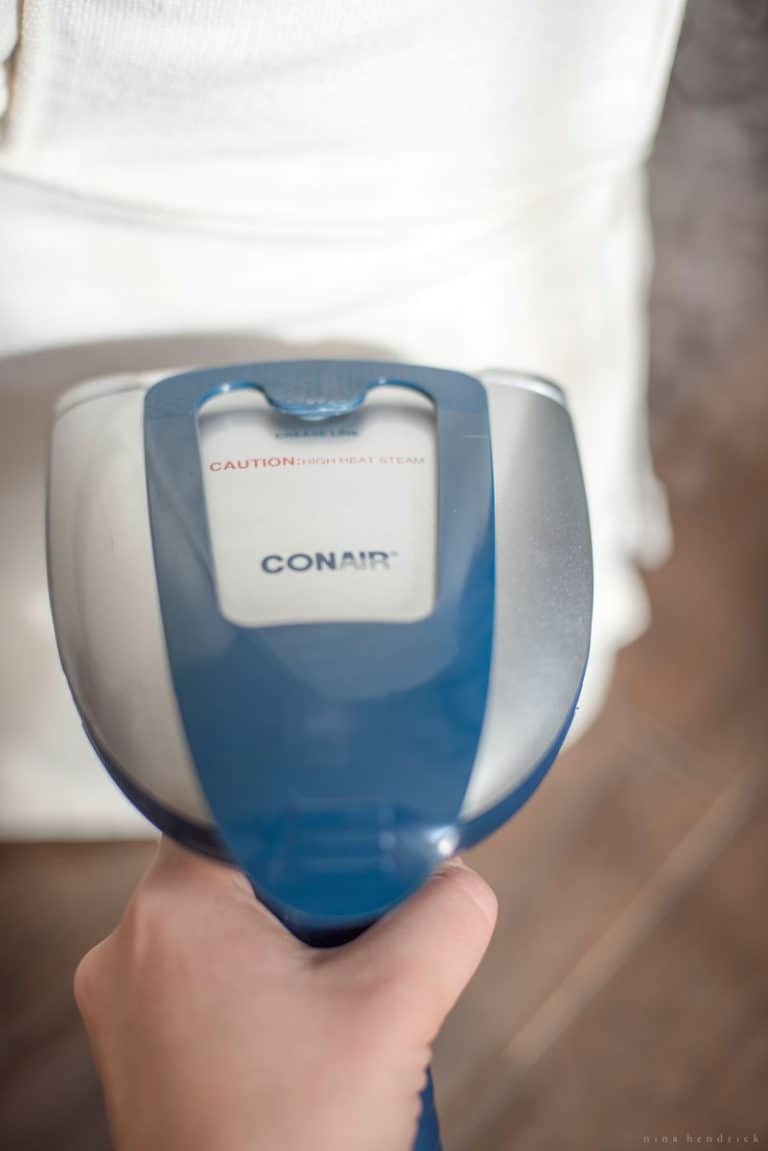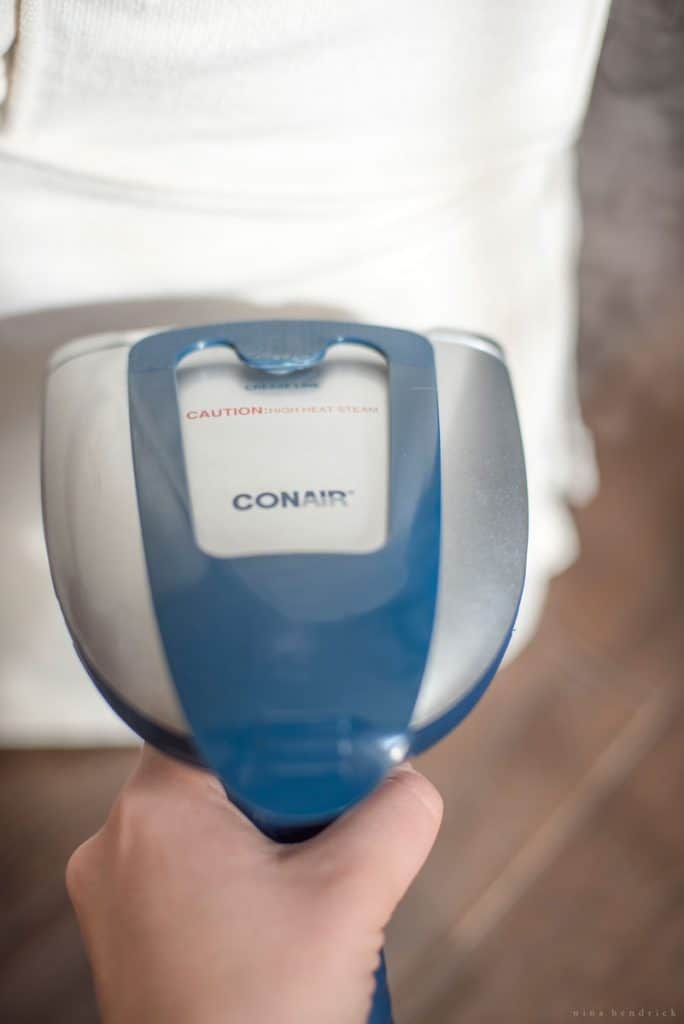 The Conair® Turbo ExtremeSteam® Handheld Fabric Steamer has made life with slipcovers even more streamlined and has helped me stay ahead of the maintenance. The steamer both releases wrinkles after washing the slipcovers and helps remove odors to stretch the time between washes.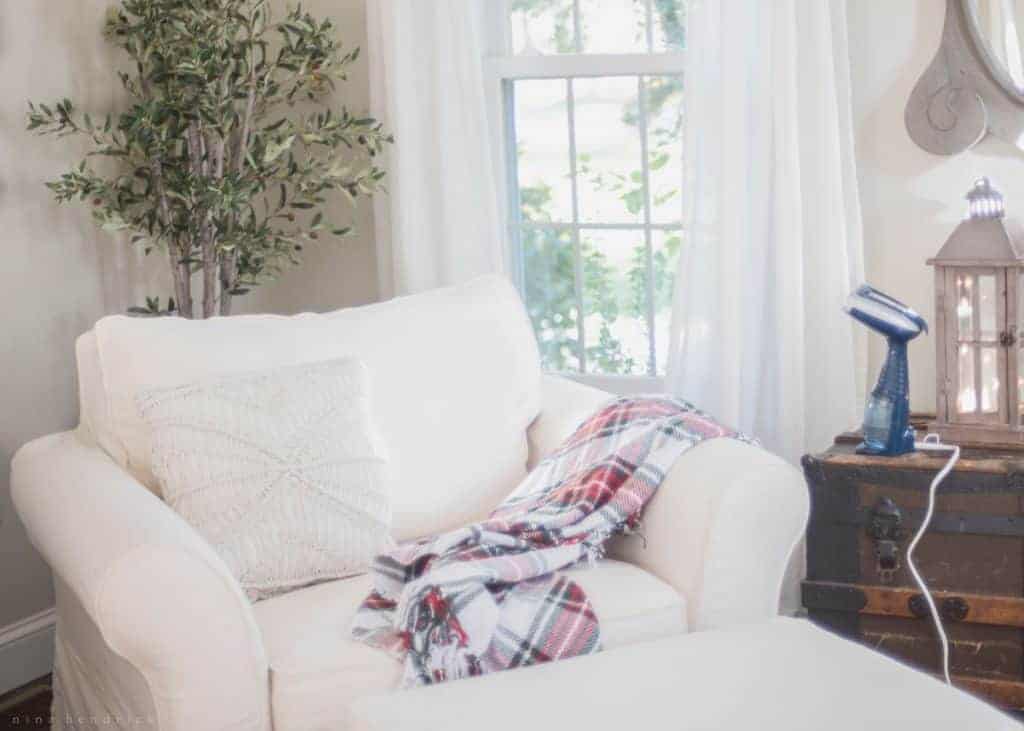 If you need me for the next few weeks, I will be cleaning and decorating like a madwoman. But hey, I won't be ironing! Anything that makes life a bit easier is a win in my book! Do you want to try it out for yourself? The Conair® Turbo ExtremeSteam® Handheld Fabric Steamer is available at Target.