Considering a slipcovered sofa? This covers everything you need to know! Learn how a slipcovered sofa can add comfort and style to your home.
Choosing furniture can definitely be a challenge. When it's an investment piece like a sofa, you want to make the right decisions so that you and your family and friends will be comfortable. I put together this ultimate guide to slipcovered sofas to help you make the decision that's best for you!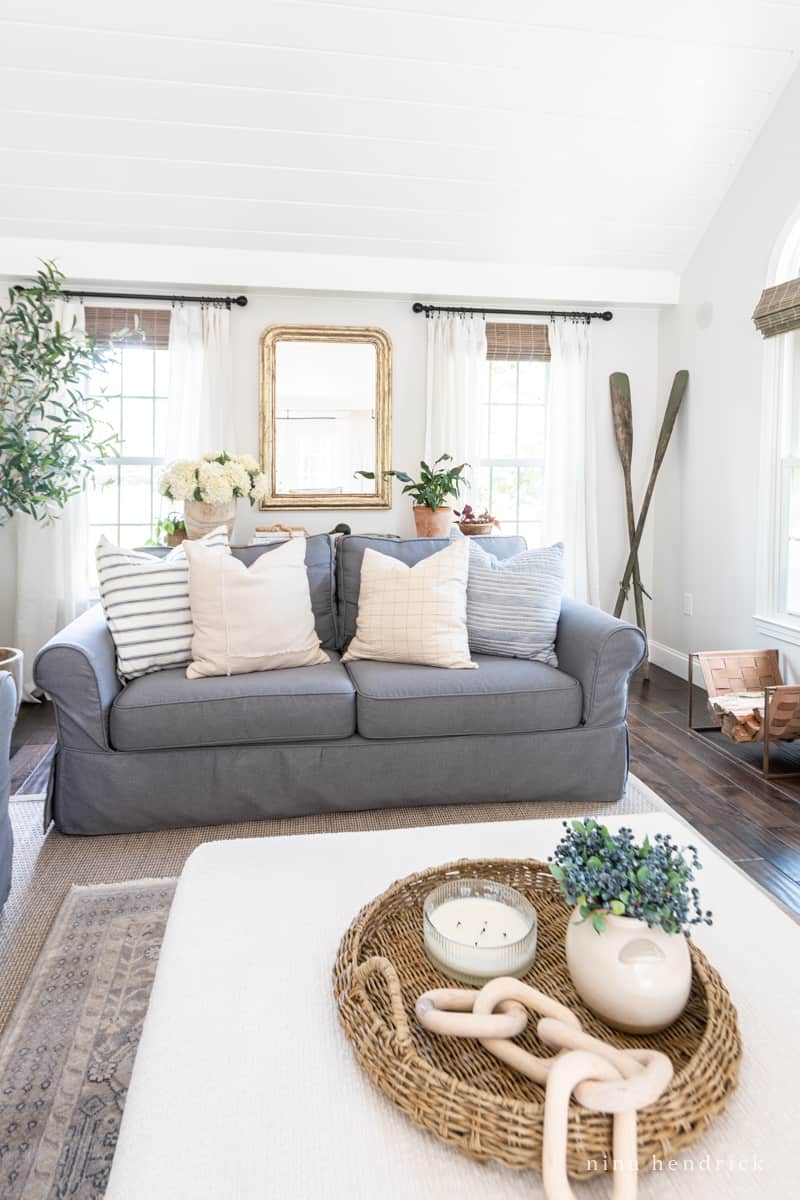 If you're looking for a way to upgrade the look and feel of your living room, a slipcovered sofa is a great option. Slipcovered sofas provide a versatile and stylish look that you can easily changed up as many times as you'd like. Not only are they stylish, but they are also incredibly comfortable and are a great choice for many homes.
In this blog post, we'll explore the many benefits of a slipcovered sofa, the different types available, and how to choose the best one for your space. For more posts on this topic, you can read my honest Pottery Barn PB Comfort Slipcovered Sofa review here and my best tips for cleaning slipcovered sofas here!
This post contains affiliate links, which means I may get a small commission (at no extra cost to you) if you shop my link. Please see my disclosure if you'd like more info!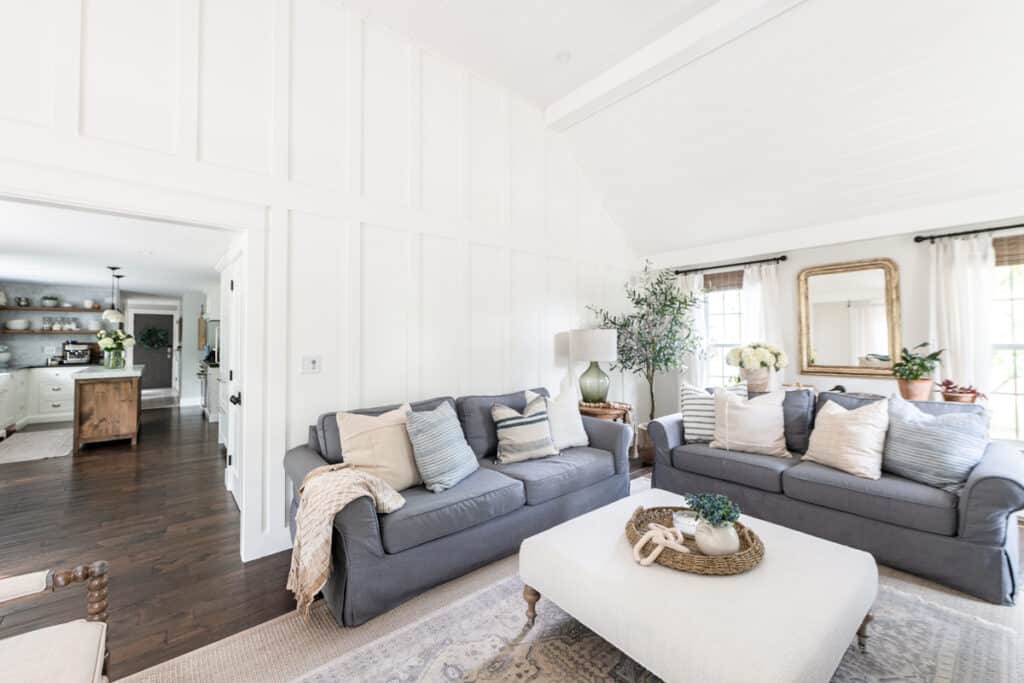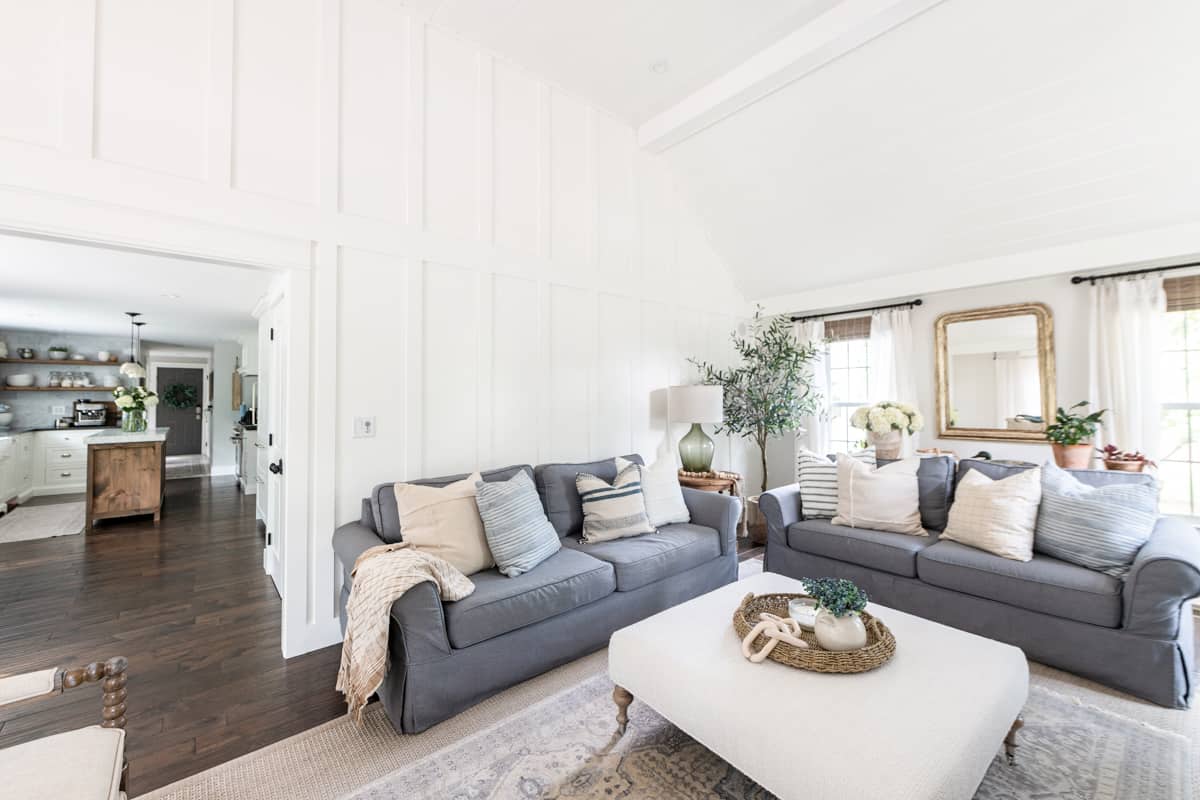 Over the years, I've owned several slipcovered sofas, and I'm happy to say we still have them all! The PB Comfort sofas we bought seven years ago are our everyday sofas and after a slipcover replacement, they are like brand new. We also have an IKEA EKTORP sofa at our lake cabin and a sectional in our kids' playroom. (Unfortunately, it's been discontinued, but IKEA's UPPLAND is very similar as is the PB Basic!)
Slipcovered Sofa FAQS
If you're considering a slipcovered sofa for your home, here are the answers to some FAQs to help you make an informed decision!
What are slipcovered sofas?
Slipcovered sofas are upholstered furniture pieces with removable, washable fabric covers. These covers come in a variety of colors and fabrics, from cotton to velvet, and can be changed out with relative ease.
Slipcovered sofas are a stylish and versatile addition to any living room or den. They offer the perfect balance between form and function, allowing you to easily switch up the look of your furniture without having to buy a new piece.
With a replacement slipcover, you can easily create a completely new style with a new fabric and color. They are also ideal for those who have children and pets, as they are easy to clean and maintain.
What is the advantage of a slipcovered sofa?
Slipcovered sofas are great for those who want to keep their living space looking fresh and updated. They provide a great way to easily change the look of your room with a new slipcover. They are also a great choice for families with children and pets because the slipcover can easily be removed and replaced when needed instead of reupholstering.
What are the disadvantages of a slipcovered sofa?
One potential disadvantage is that the slipcover may need to be replaced, which could be a recurring expense. It also can be a pain to remove and wash slipcovers, depending on the sofa. I give you some of my favorite tips for making that easier here!
What types of fabrics are available for slipcovered sofas?
Slipcovered sofas come in a variety of fabrics, including cotton, linen, velvet, and more. There are also synthetic fabrics that mimic the style of real ones but with added benefits like increased durability!
Each fabric offers a different set of pros and cons, so it's important to consider which fabric will work best with your lifestyle and budget.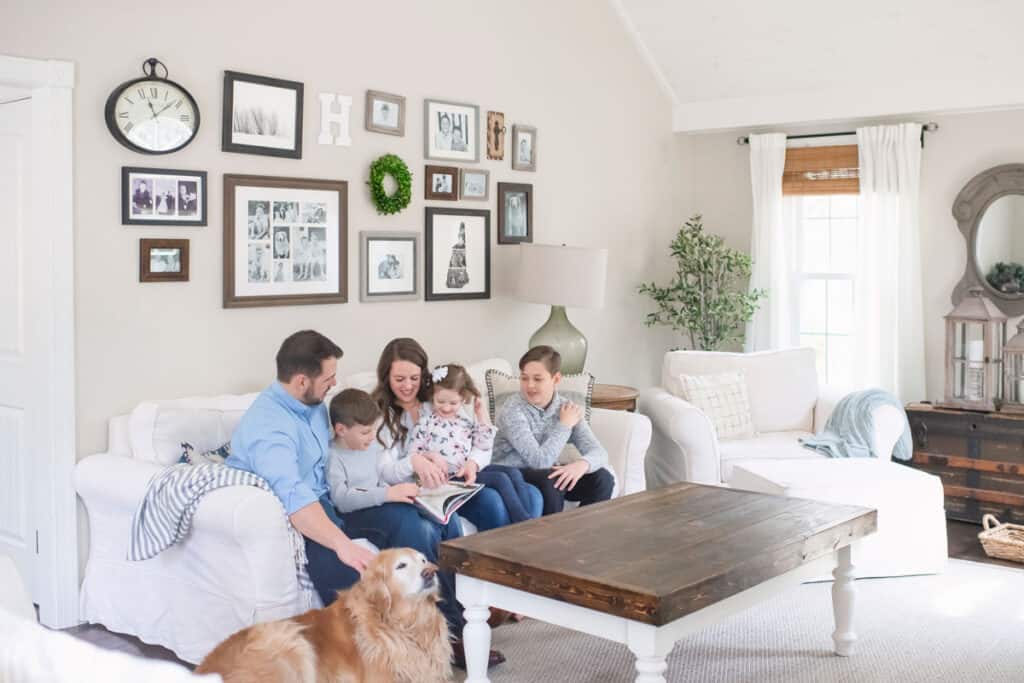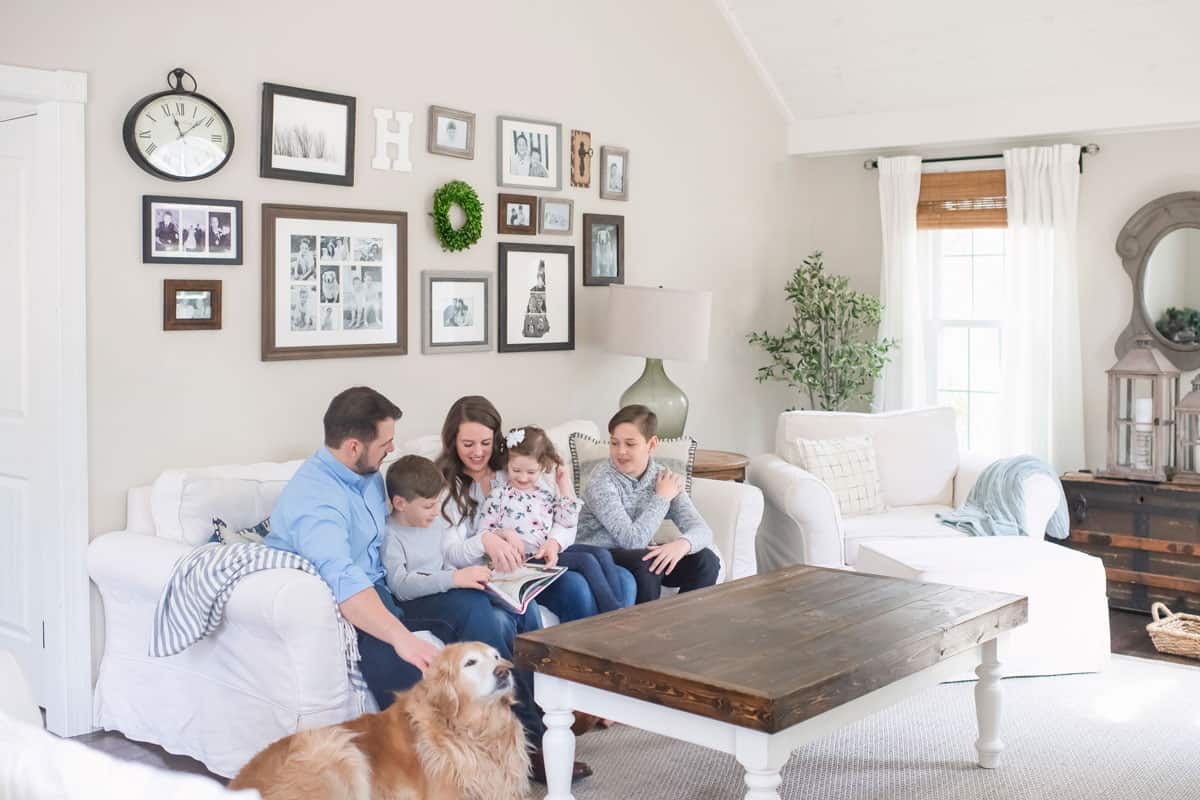 Who Should Consider Owning a Slipcovered Sofa?
Slipcovered sofas are perfect for those with kids and pets as the removable covers can be washed or replaced when needed. However, anyone looking for a timeless, comfortable seating option should consider owning a slipcovered sofa.
How Do You Clean Sofa Slipcovers?
Slipcovered sofas are easier to clean than regular upholstery, as the slipcovers can be removed and machine washed, dry cleaned, or spot cleaned depending on the fabric used.
If machine washing is necessary, be sure to use a gentle cycle and a mild detergent. Hang the slipcovers to dry and avoid using the dryer. By caring for your slipcover properly, you can keep it looking great for years to come!
White slipcovers can provide some added challenges, but also may be able to be washed with an oxygen-based cleaner. You can read my full post on cleaning and maintaining white Pottery Barn slipcovers here!
How Long Do Slipcovers Last?
As far as longevity goes, slipcovers typically last for a several years, depending on how often they are used and how well they are cared for. Regular cleaning and maintenance can help keep a slipcover looking newer for longer. Choosing a high-quality, performance fabric can lead to extended durability of the slipcover.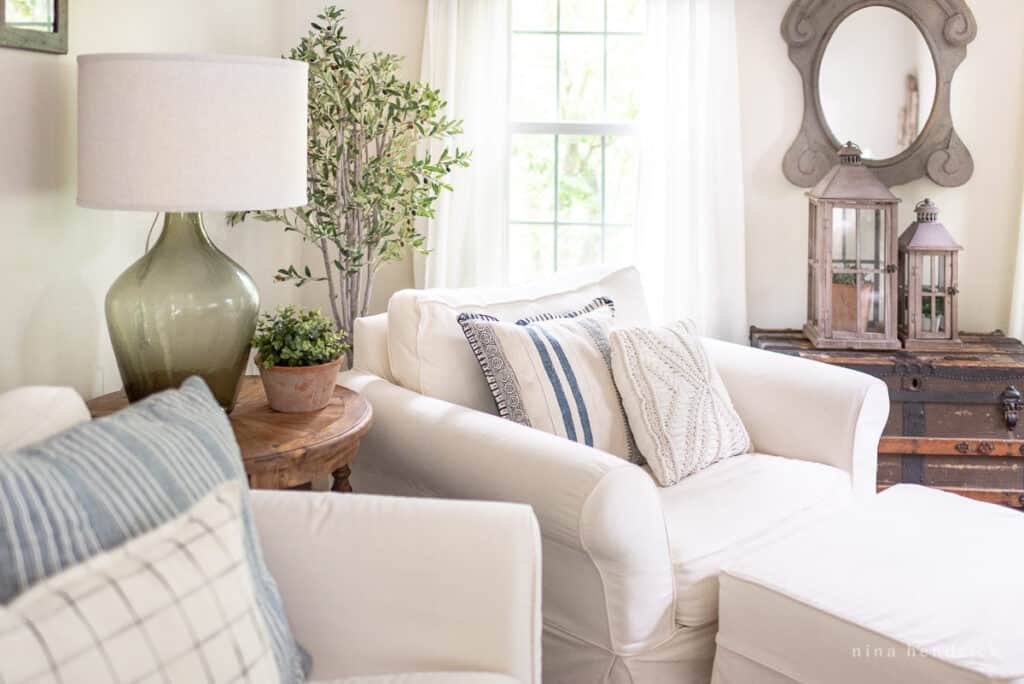 What about a slipcovered armchair?
Although this post is primarily about slipcovered sofas, there are many other types of furniture that have slipcovers, such as armchairs, ottomans, and dining chairs. The same principles apply as mentioned above! I love our large, comfy slipcovered armchair. Slipcovers are a great option for those looking for flexibility with their furniture and are also perfect for those who want to protect their furniture from everyday wear and tear. Whether you are looking for a new look or want to keep your furniture in pristine condition, slipcovers are a great option no matter what furniture they're on!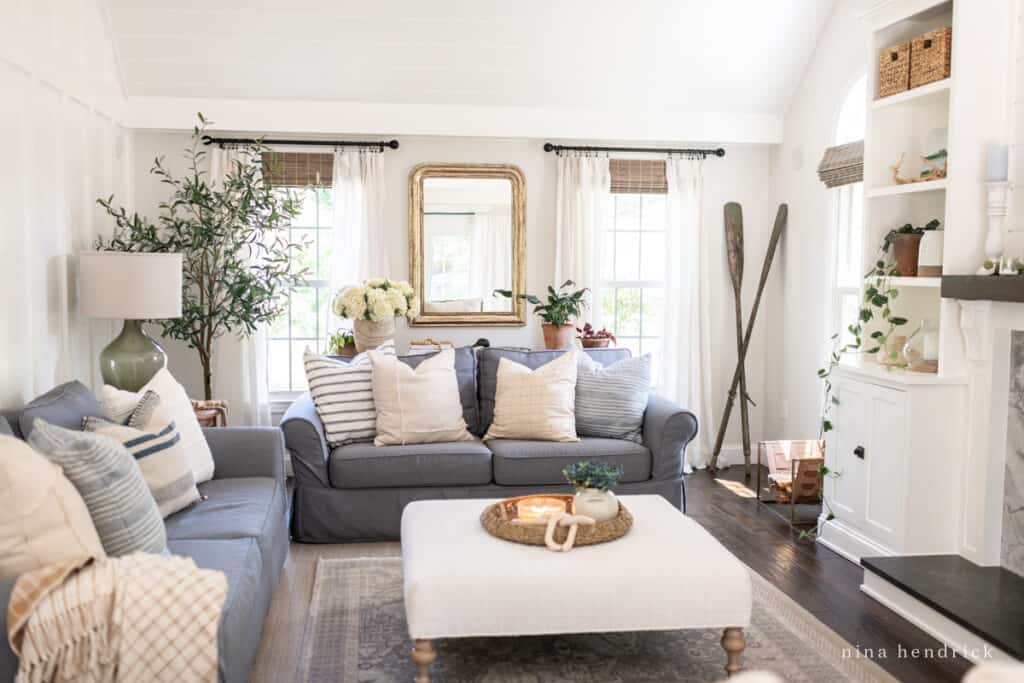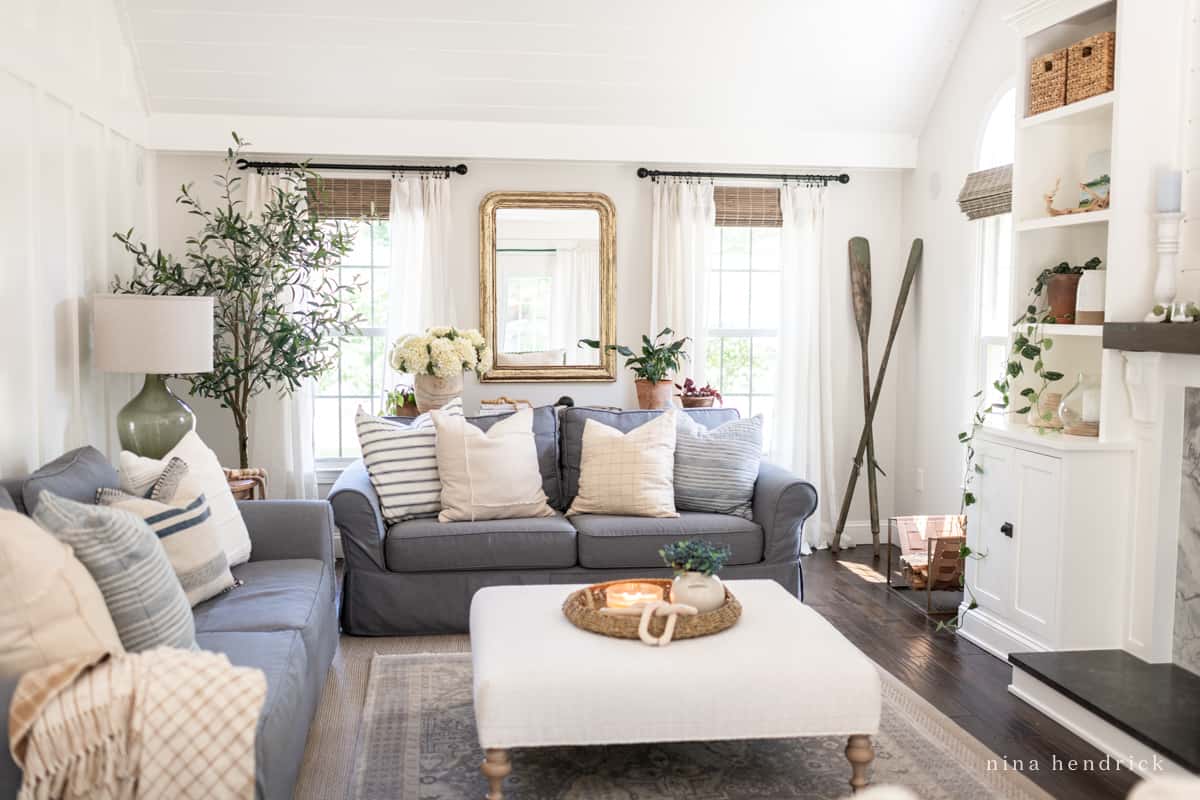 Ultimate Buying Guide to Slipcovered Sofas
When shopping for a slipcovered sofa, there are a few important factors to consider.
Size and Shape
First, you should decide on the size and shape of your sofa. Since slipcovered sofas are available in many different sizes and shapes, it is important to get one that fits your room and that is comfortable for you and your family. Whether you're looking for a traditional 3-seater, a cozy loveseat, or a grand sectional, slipcover sofas come in a wide variety of sizes and shapes to fit any room.
Sectionals allow for flexibility when it comes to size and shape. You can even customize the look and feel of a sectional slipcovered sofa by adding or removing sections to create the perfect size and shape for your space.
Fabric Choice
Secondly, you should consider the fabric of the slipcover. Look for a fabric that is stain-resistant, has durability, and is easy to clean. Cotton, linen, and twill are all popular choices, but look for a fabric that suits your lifestyle. If you have pets or small children, a more durable fabric such as canvas might be a better choice for you, as it will be easier to clean and more resistant to stains.
Crypton is my recommended life-friendly choice. It's a performance fabric that is perfect for slipcovers. Here are some Crypton benefits:
Stain-resistant and durable, so it will not fade or wear down quickly over time.
Easy to clean; simply wipe it down with a damp cloth and it will look as good as new.
Anti-microbial, so it helps reduce the spread of bacteria and allergens, keeping your home clean and safe.
It's available in a variety of colors and patterns, so you can find a slipcover that will perfectly match the decor of your home.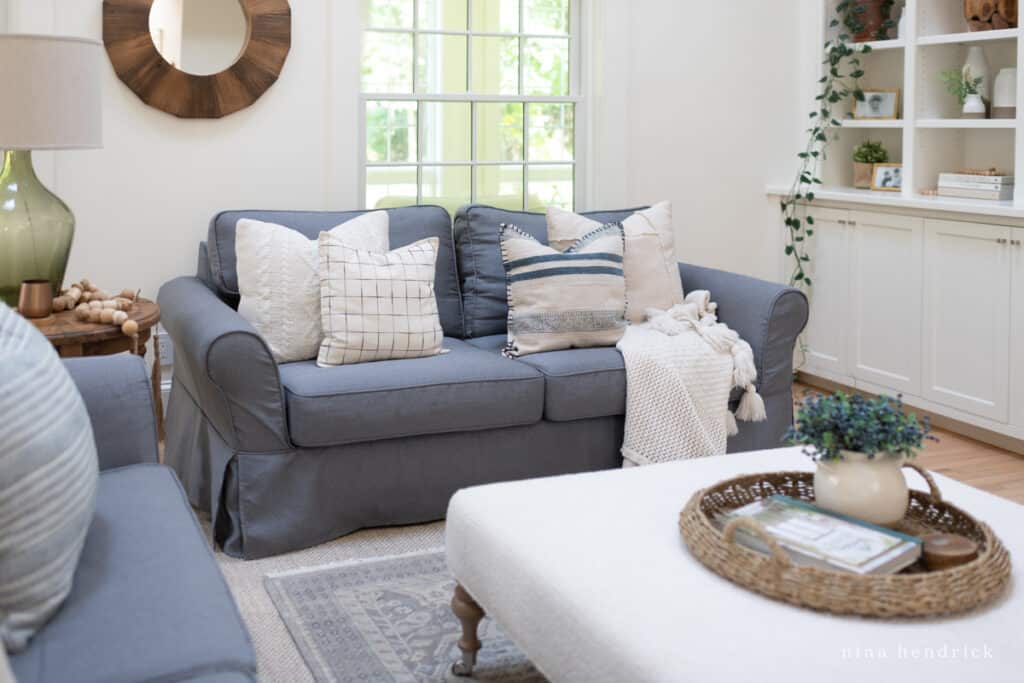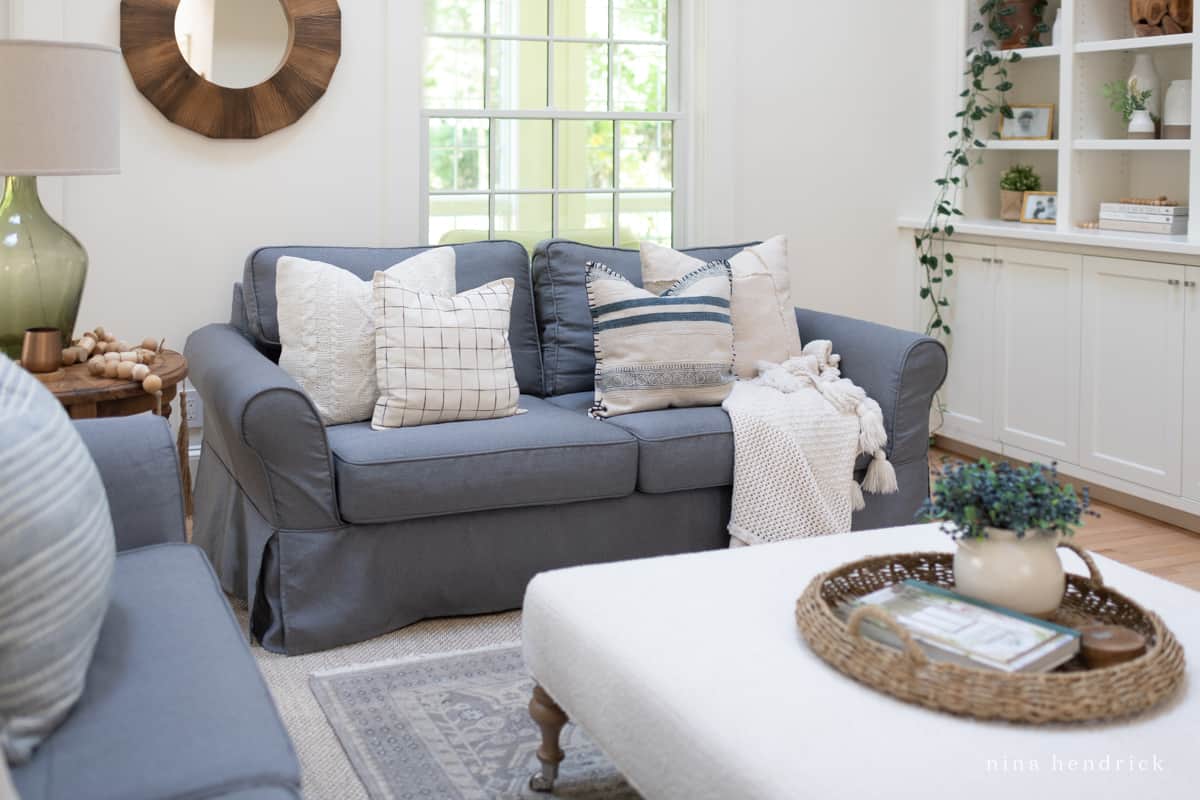 Maintenance
This goes hand-in-hand with fabric choice, but it's important to consider the maintenance of a slipcovered sofa. Most slipcovers are generally easy to clean and maintain, as they can be easily removed and machine-washed. However, some fabrics and colors will require more maintenance (like velvet or white slipcovers!). Before purchasing a slipcovered sofa, make sure to read reviews if you can find them, and also carefully read the specifications and care instructions.
Comfort
Since this is going to be the place where you snuggle up and have so many movie nights in your living room, comfort will be so important when it comes to choosing your sofa! Many sofas offer cushion options in down-blend and memory foam, and you'll have to decide which fits your lifestyle and preferences better. If possible, it's always best to actually sit on the sofa and make sure you like it!
Style
Finally, consider the style and appearance of the slipcovered sofa. Whether you want a modern, traditional, or casual look, there are many styles and colors to choose from. Light colored slipcovers work especially well with coastal, farmhouse, shabby chic, and cottage decor since they typically have a somewhat relaxed look. However, with all of the customization options out, they can really complement any style! You don't have to compromise on your personal taste in order to have a slipcovered sofa that works for you.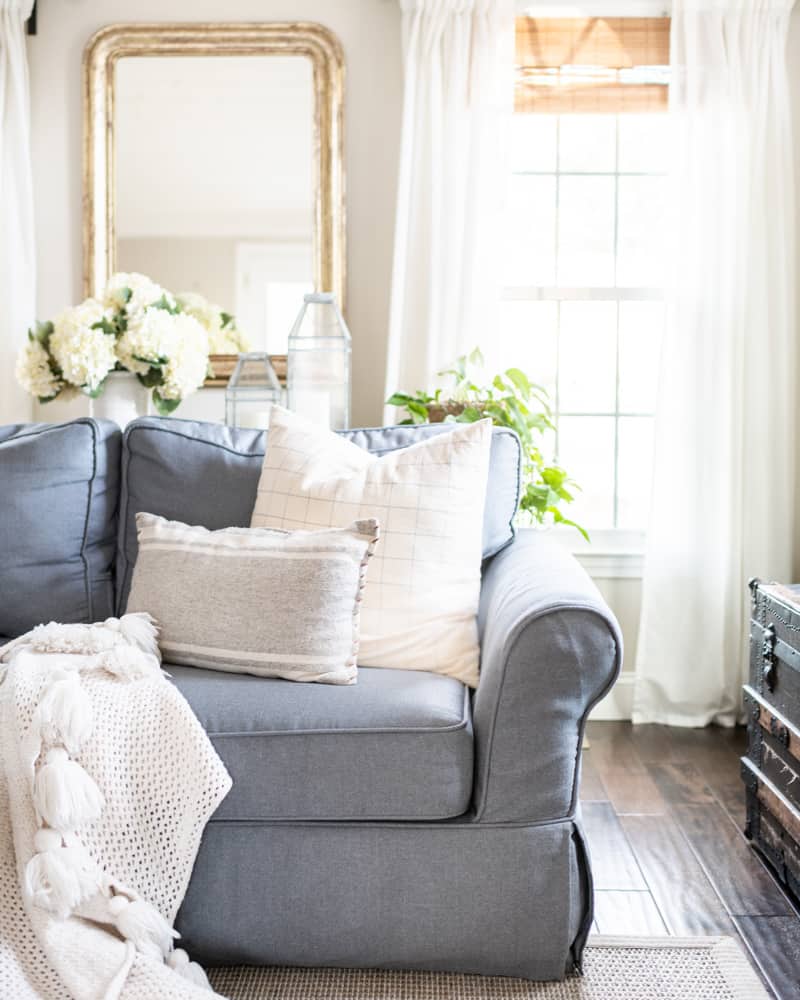 Arm Shape
One major difference between different slipcover sofas is the arm shape. They can come in square or rolled arms, and the style of the arm will dictate the overall look of the sofa. Square arms are the more contemporary or modern choice, and they offer a clean and tailored look. Rolled arms give the sofa a more casual look, and they are often seen with more traditional and cottage-style decor. You can also choose a sofa with a sloped arm, which is a beautiful profile that offers the best of both worlds.
Number of Seat Cushions
Slipcovered sofas have various options for the number of cushions. Of course, it somewhat depends on the size of the sofa. However, even with longer sofas, some people prefer a single bench cushion.
Others prefer multiple cushions, as two or three cushions can provide a more comfortable seating experience.
Back Cushion Shape
Additionally, many sofas come with removable back cushions. The cushions can be box-edged or a more casual knife edge (like a traditional throw pillow). Box-edged cushions are denser and offer more support, while knife-edged cushions are fluffier and better for lounging. These may be filled with polyester (although I recommend proceeding with caution with polyester, based on my experience), but newer sofas have memory foam and down-blend options.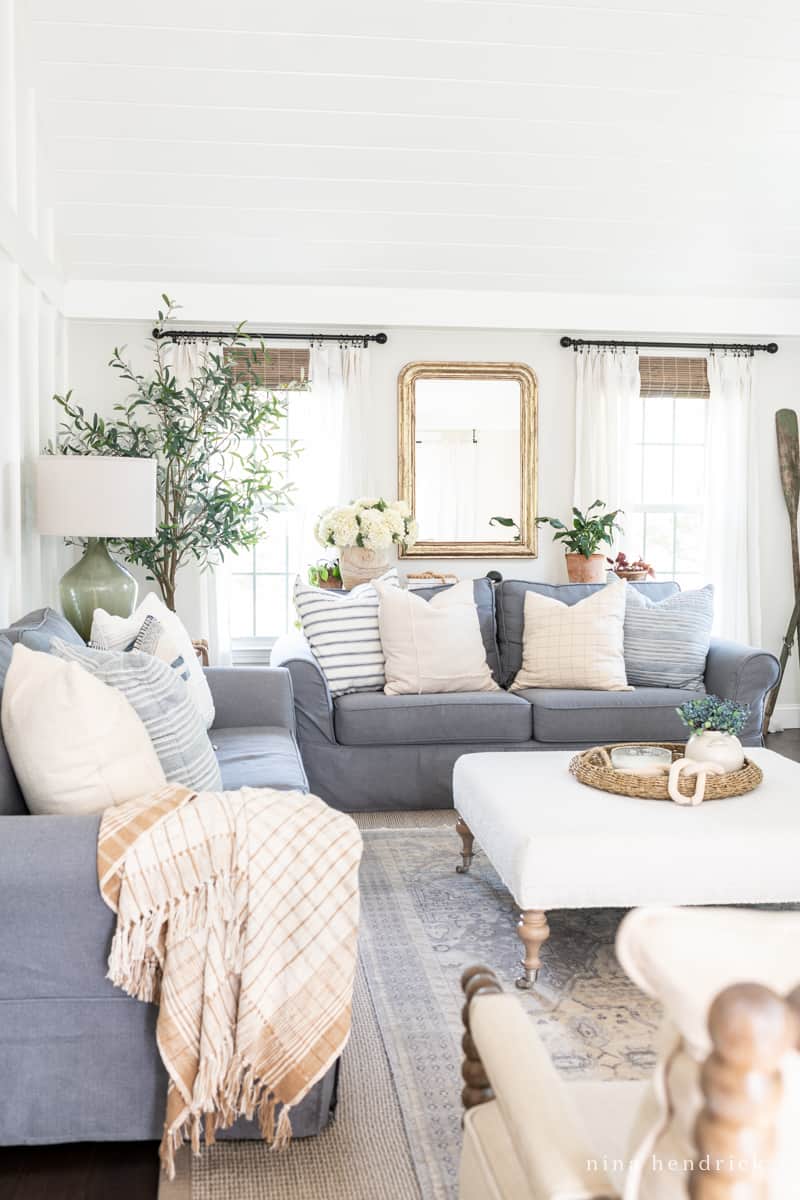 Slipcovered sofas offer a great combination of style and comfort. They come in a variety of sizes and fabrics, allowing you to customize the look and feel to fit any room. With the proper fabric choice, they can be durable and easy to care for, making them a great option for anyone looking for a comfortable, stylish, and long-lasting piece of furniture. I hope this guide helps you find the perfect slipcovered sofa for your home!
Top Slipcovered Sofa Picks