Looking for a decorating theme this Thanksgiving? Use these five decor ideas for a rustic Thanksgiving celebration with a table setting and tips for decor and entertaining, including a tablescape and apple cider bar!
I feel like I say the same thing every year, but it's hard to believe that the holidays are so quickly approaching! If you're anything like me, you get to this point in the season and you start to wonder, how should I decorate for our Thanksgiving celebration this year?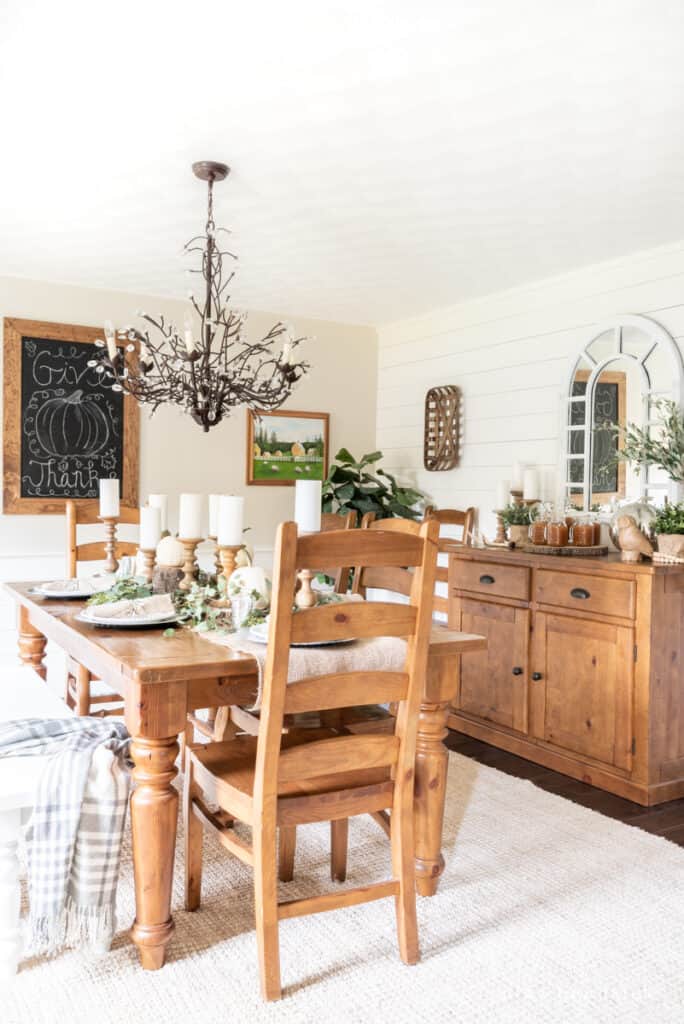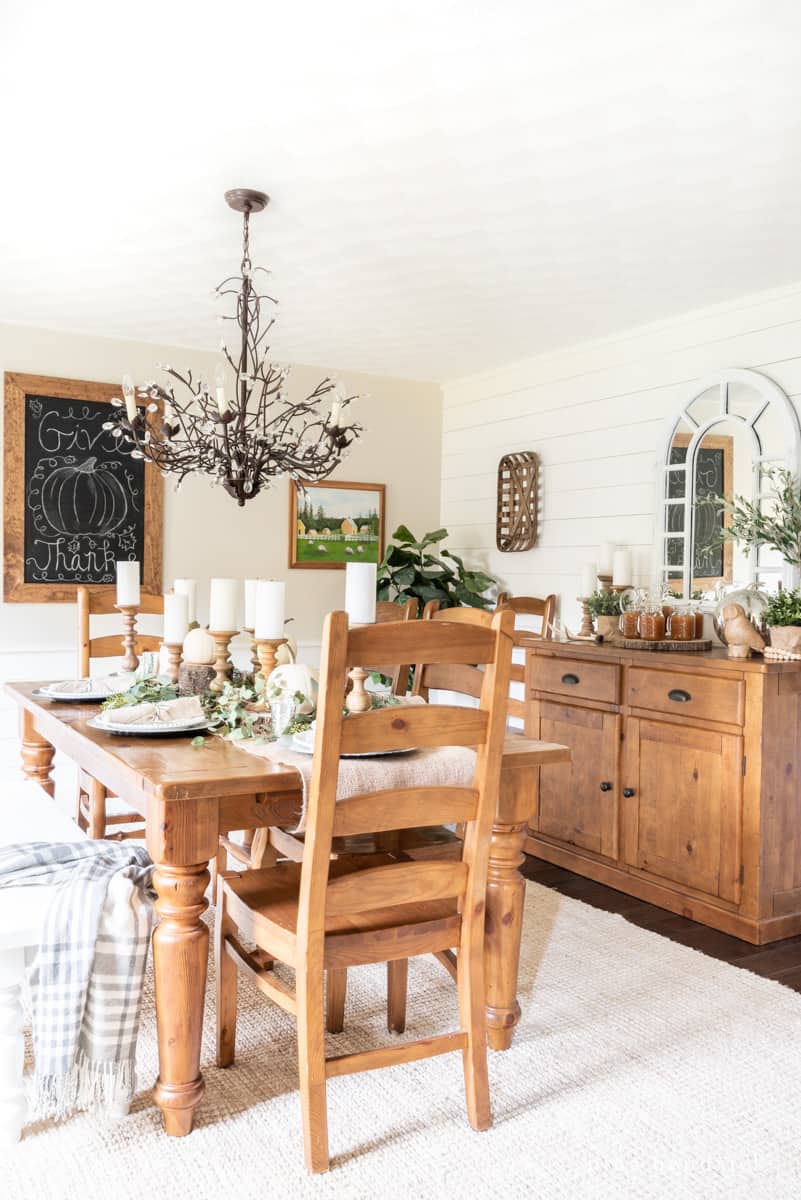 Rustic Thanksgiving Decorating Ideas
Originally published November 4, 2016.
Over the years I've shared a bunch of tablescape ideas for fall and ideas specifically for Thanksgiving, including this gorgeous Lakeside Friendsgiving. However, the rustic Thanksgiving decorating theme is one of the most popular and versatile. I mean, it makes sense! I'm guessing the first Thanksgiving all of those years ago was pretty "rustic" as well.
Without further ado, here are my five ideas for a rustic Thanksgiving celebration!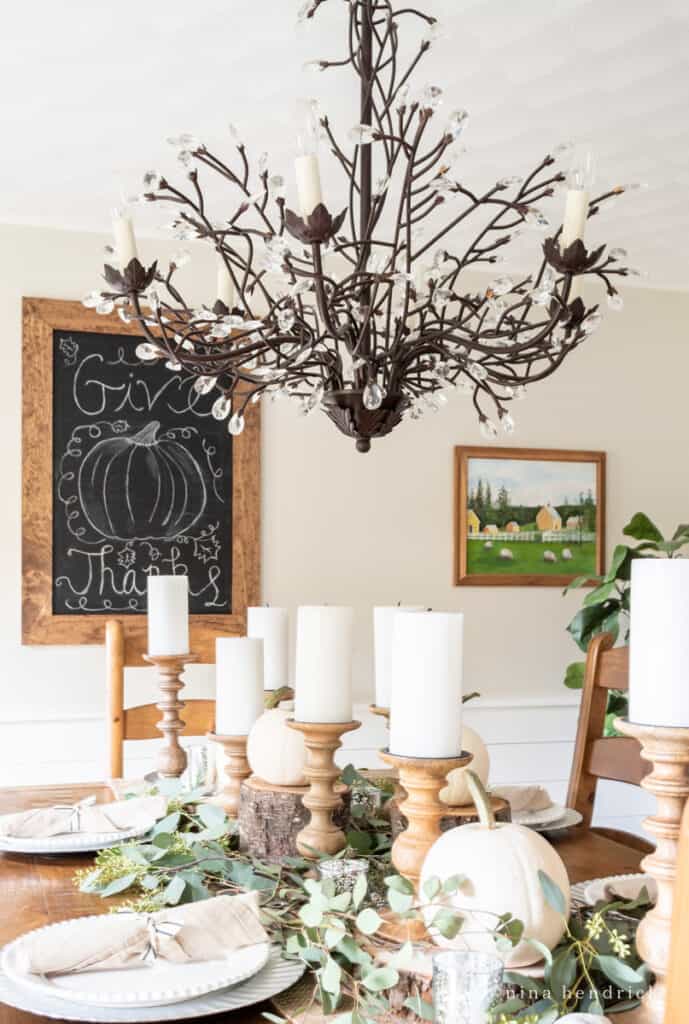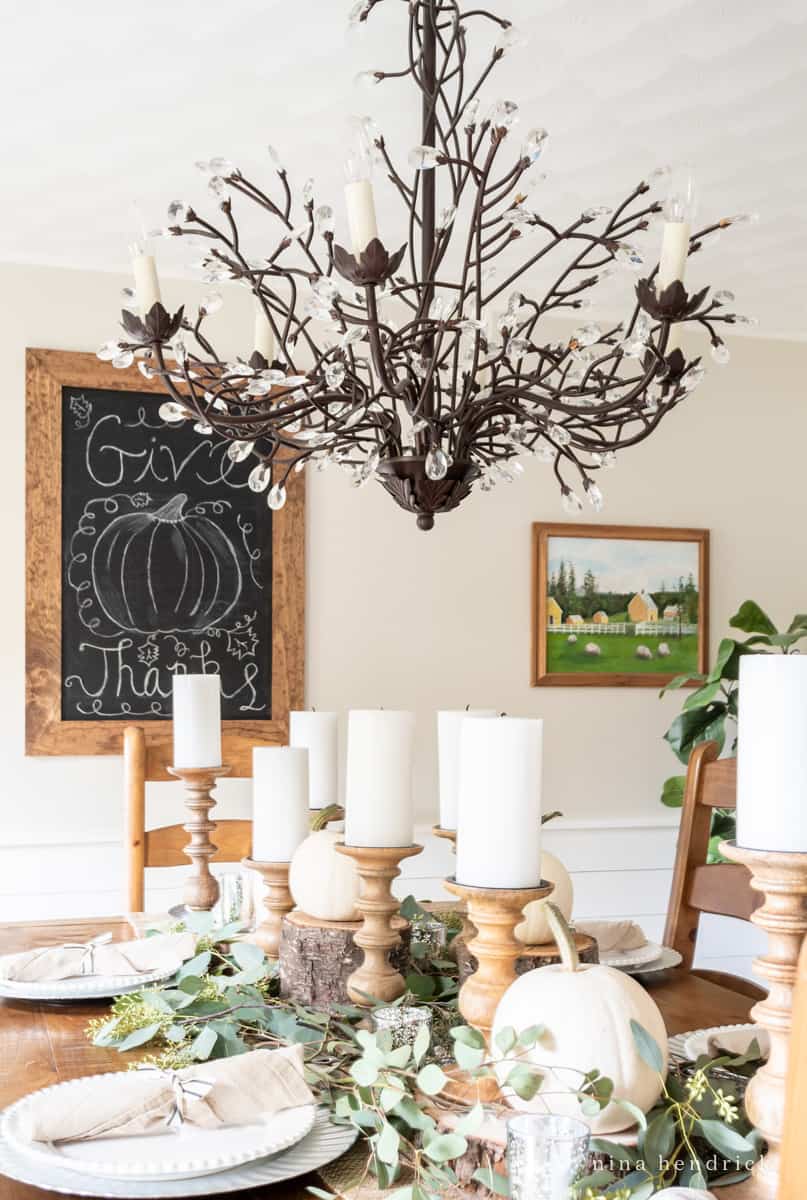 Idea One: Set a Rustic Thanksgiving Table
Arguably, the next most important element of a Thanksgiving celebration after family and food is the tablescape. I know for some it's the only tablescape they'll set all year!
I've always loved setting tablescapes before I even knew what that word meant. It's a great way to get creative and show your guests how much thought and care you put into the celebration. If you want to see my basics for creating any tablescape, check out this post!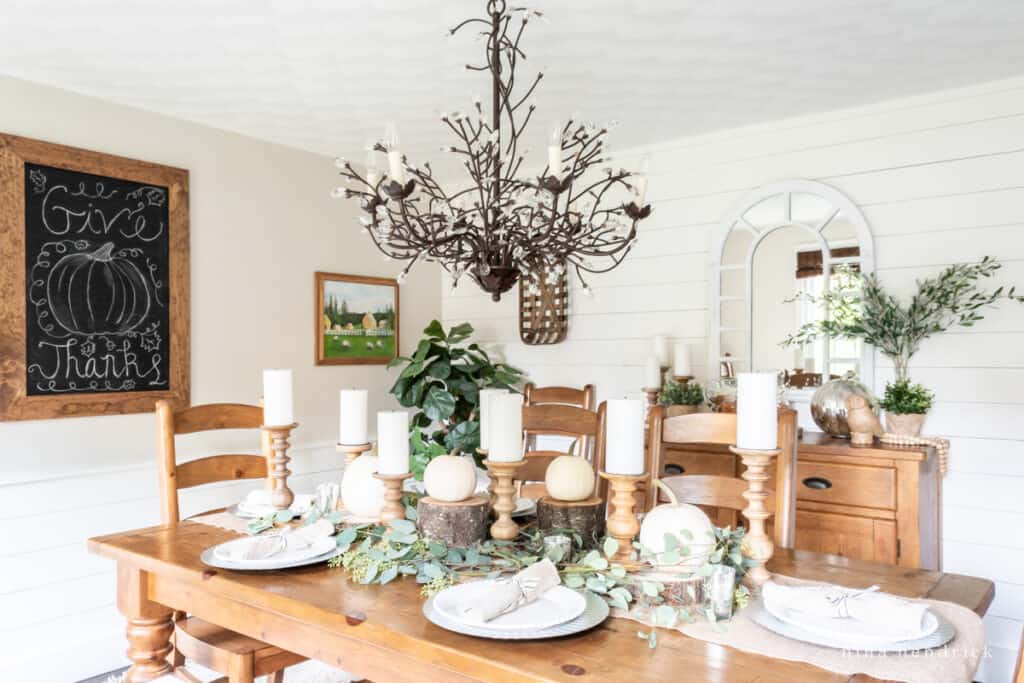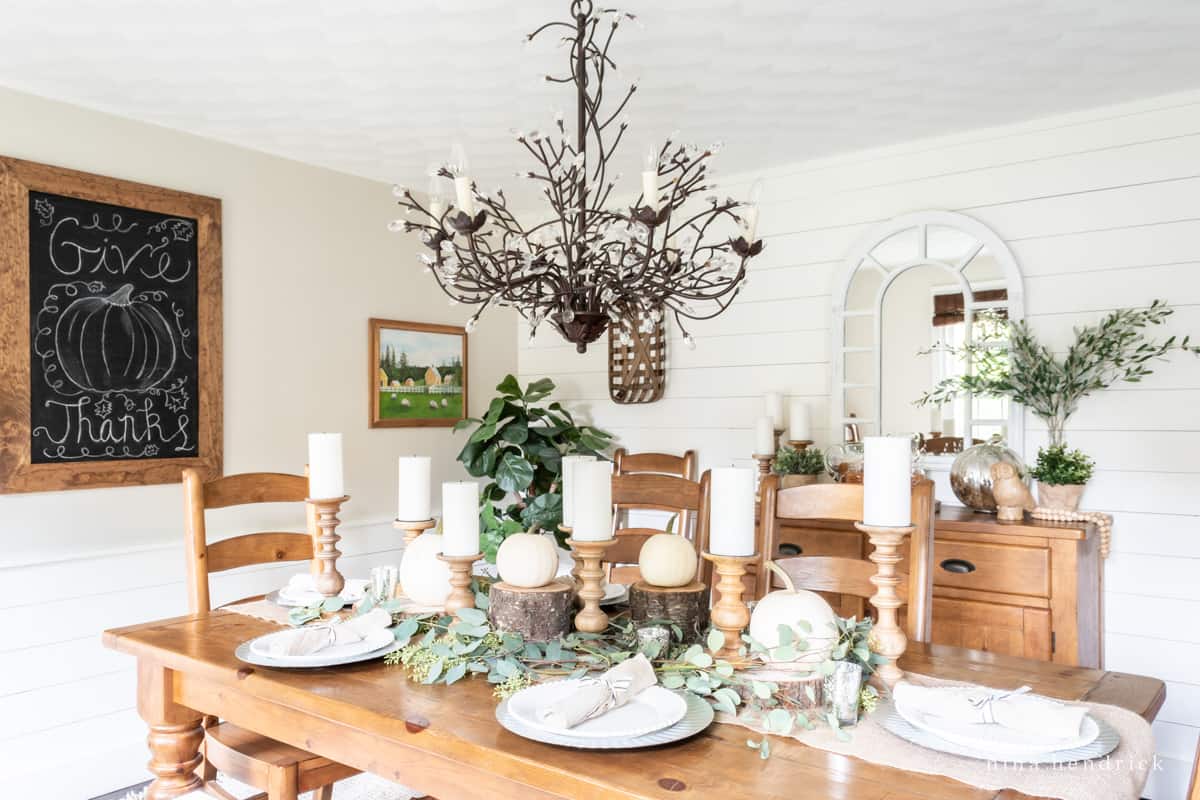 This particular rustic Thanksgiving tablescape has some of my favorite elements— rustic wood, glittering mercury glass, and lovely greens.
If you're anything like my husband, you may be wondering: where does the food go? Well, if you're not doing things buffet style (which we commonly do) you can make a few simple swaps by removing the pumpkins and putting bowls of food on the pedestals instead. However, I think it makes it way more fun to just set the food out buffet-style on our kitchen island and enjoy the table as is!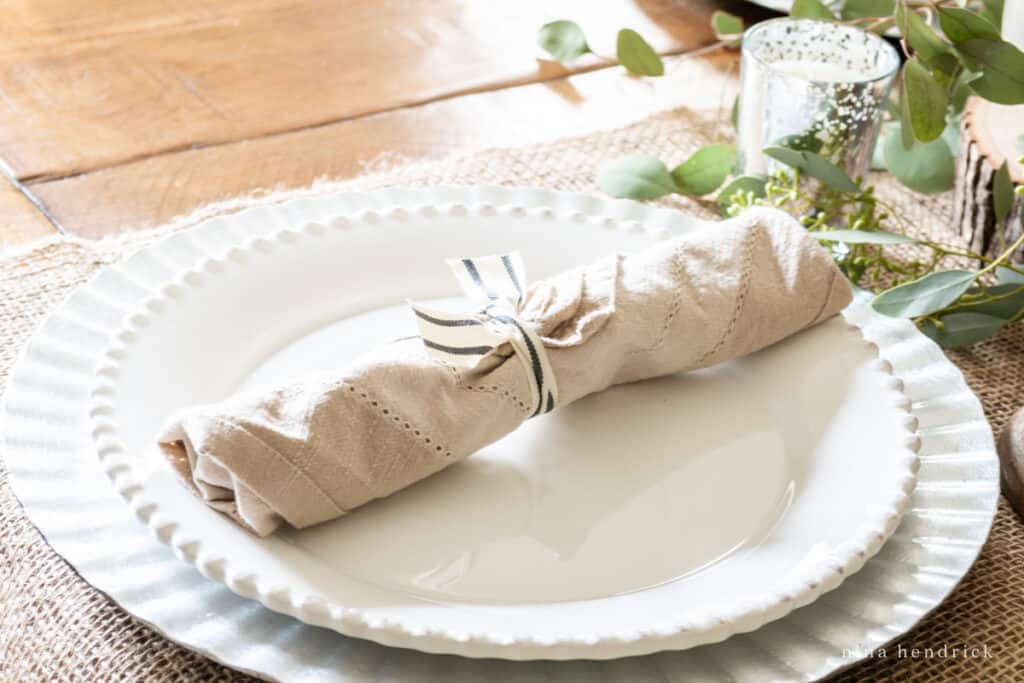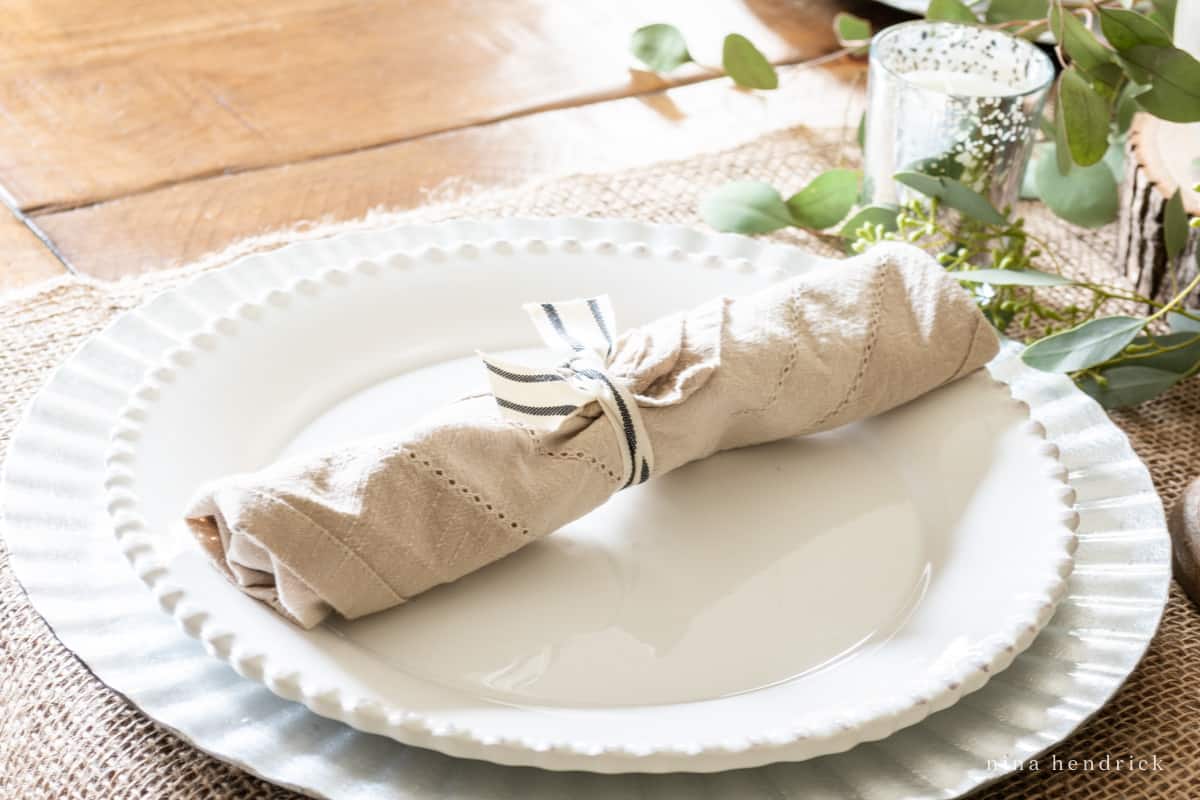 Idea Two: A Portable Rustic Thanksgiving Table Setting
I kept this rustic Thanksgiving table setting very simple with a metal charger, versatile white beaded plates, and silverware wrapped in a hemstitch napkin with my favorite ribbon.
Speaking of the silverware wrapped in the napkin, this entire place setting is perfect for the above-mentioned buffet-style Thanksgiving dinner! You simply set the table with the chargers, and you can leave a stack of plates and a napkin-wrapped silverware bundle in a basket near your food.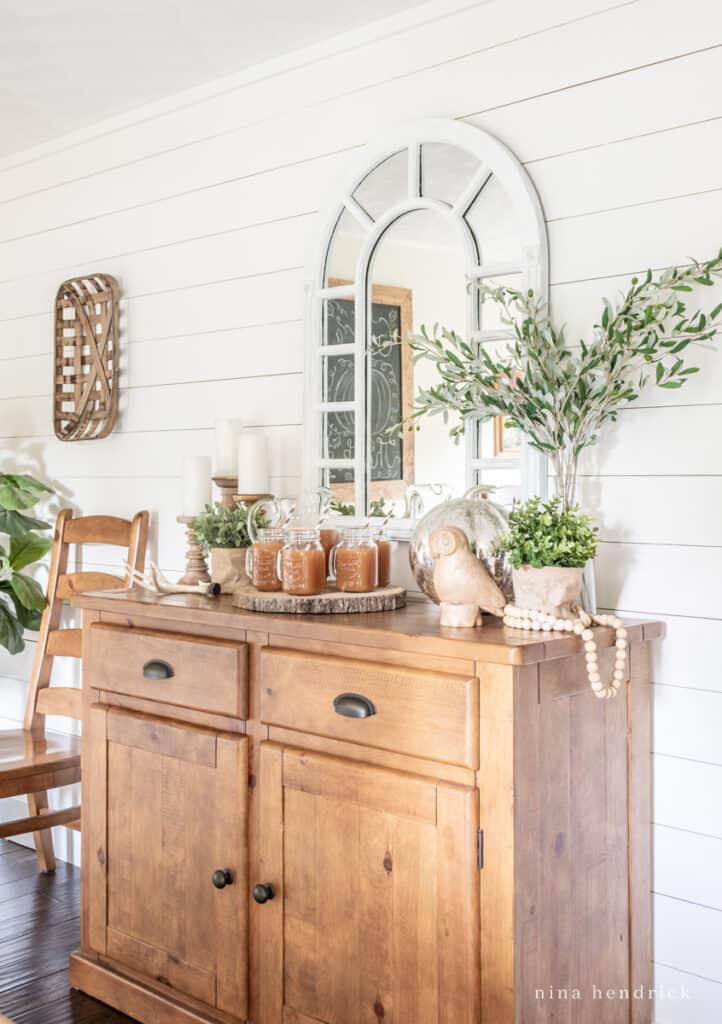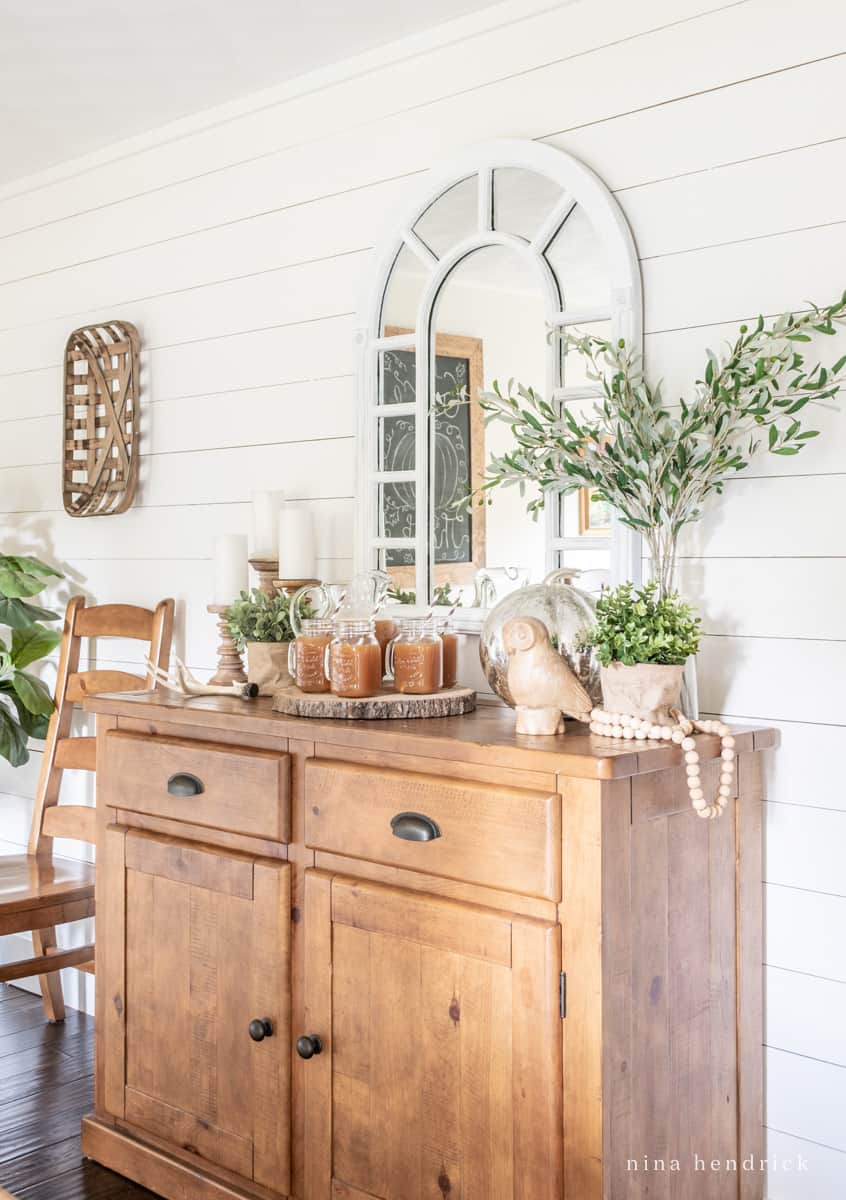 Idea Three: Set Up a Thanksgiving Apple Cider Bar on the Buffet
I know it's not exactly a novel idea, but you can't go wrong with an apple cider bar when you're planning a Thanksgiving celebration! Hey, it's popular for a reason. The kiddos in particular enjoy this idea!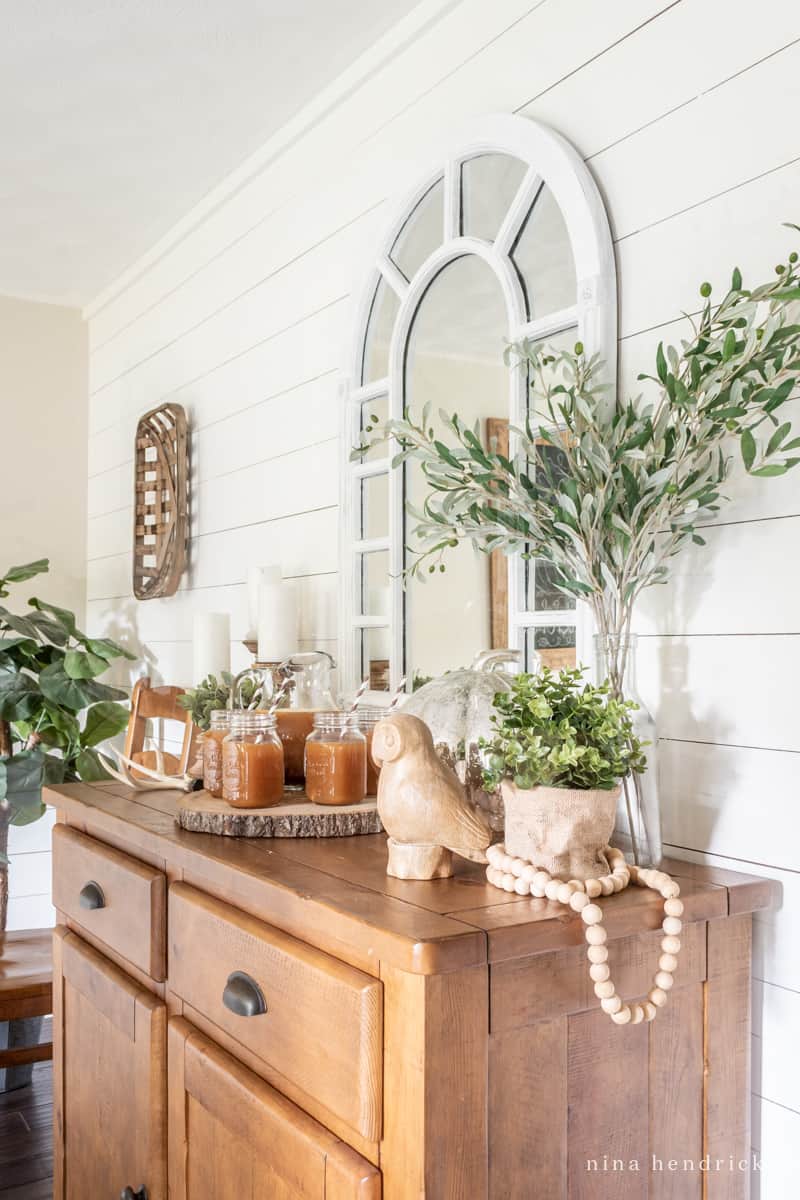 The buffet was dressed up with some apple cider and a small rustic Thanksgiving decor vignette for the occasion. I kept it simple with just basic mugs of cider and a pitcher, but you could also level up your apple cider with mulling spices, cinnamon sticks, and different flavors.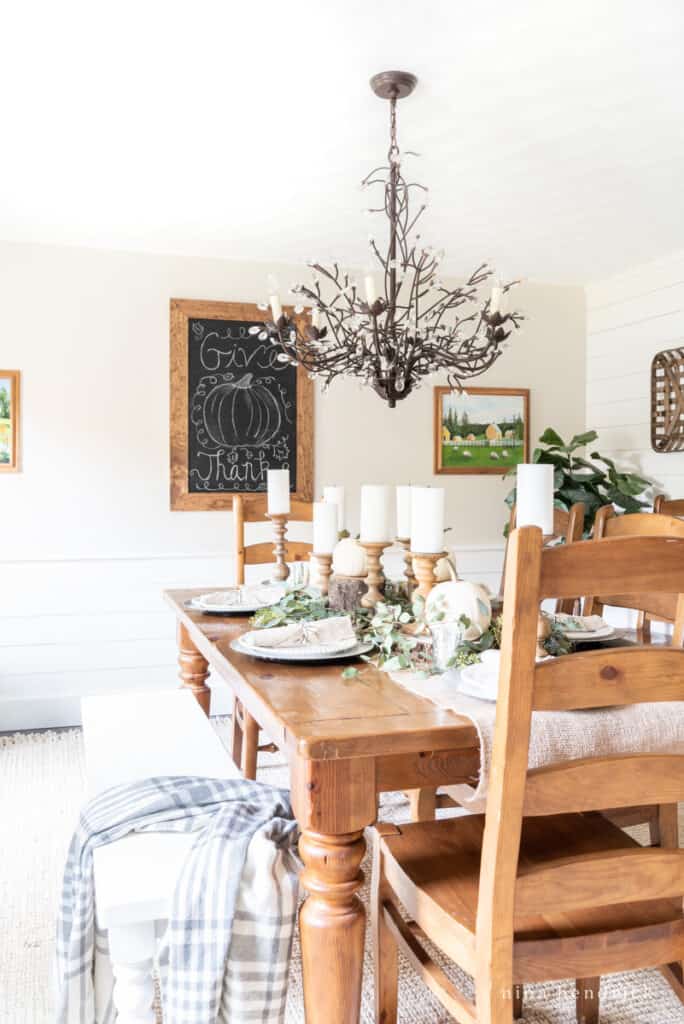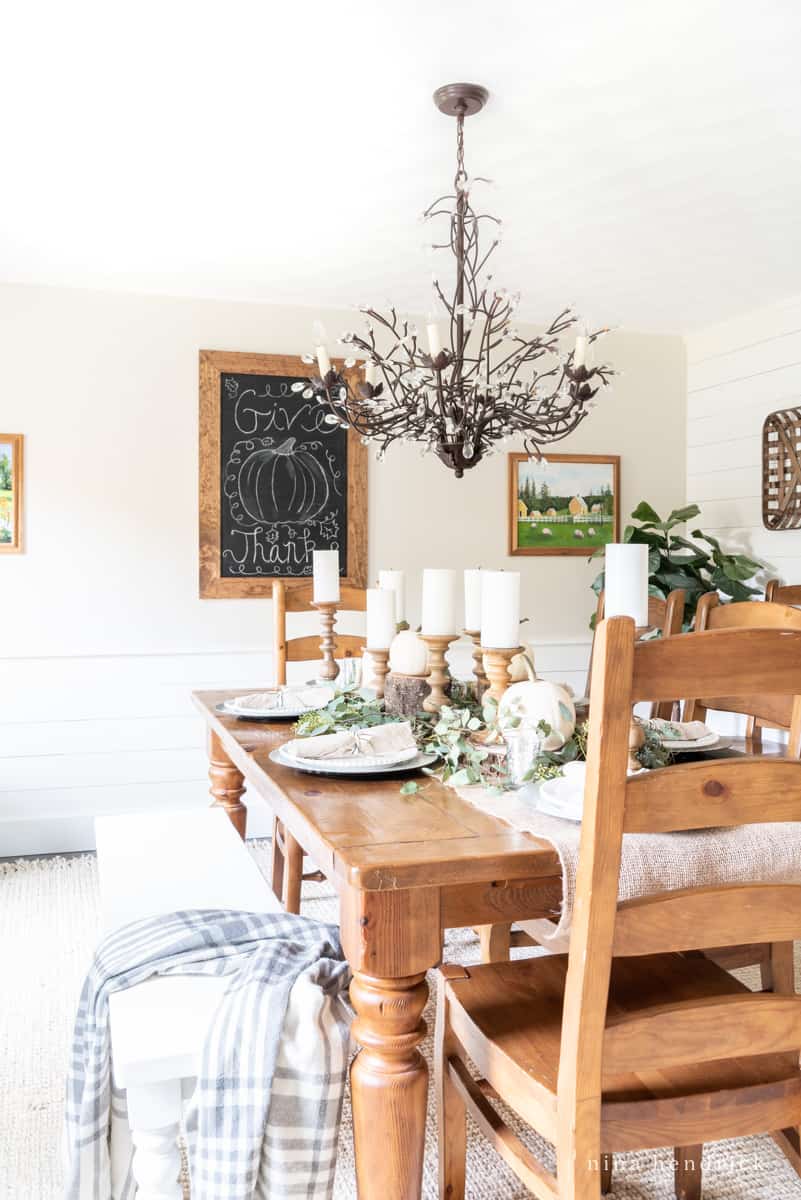 Idea Four: Decorate a "Thankful" Rustic Chalkboard
I tried my hand at chalkboard art for the first time for this celebration. There's some room for improvement, but it wasn't anywhere near as intimidating or time-consuming as I had built it up to be.
I encourage you to give it a try for a fun new decor idea. You could also leave space for people to write what they're thankful for— or even better, sketch out a tree with blank falling leaves for people to write on.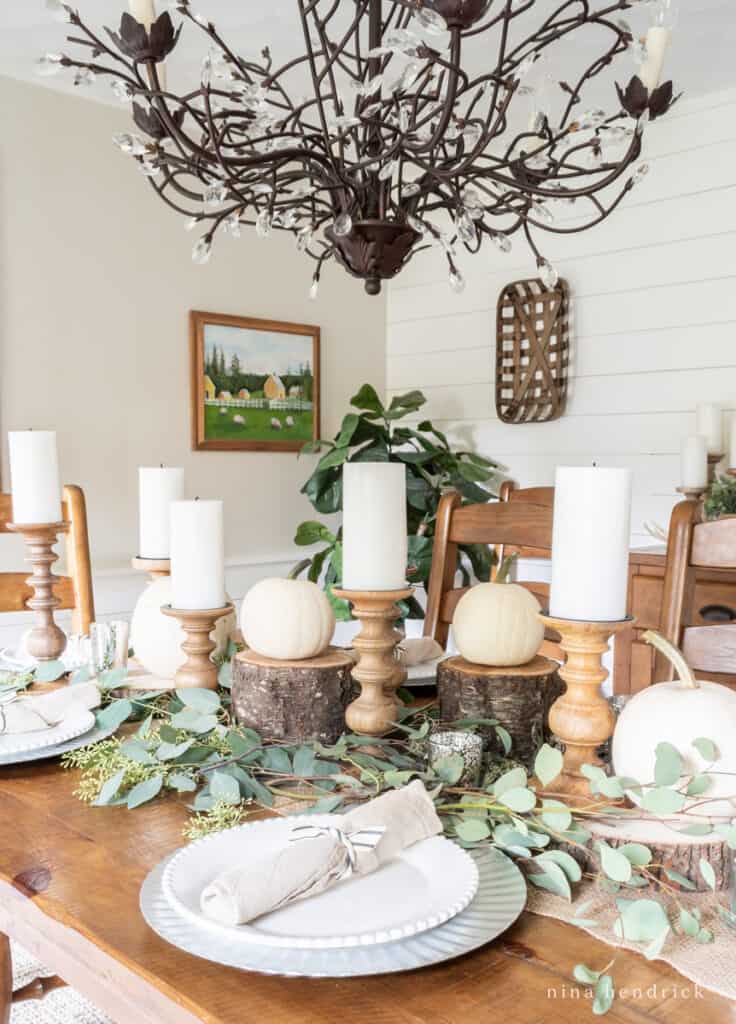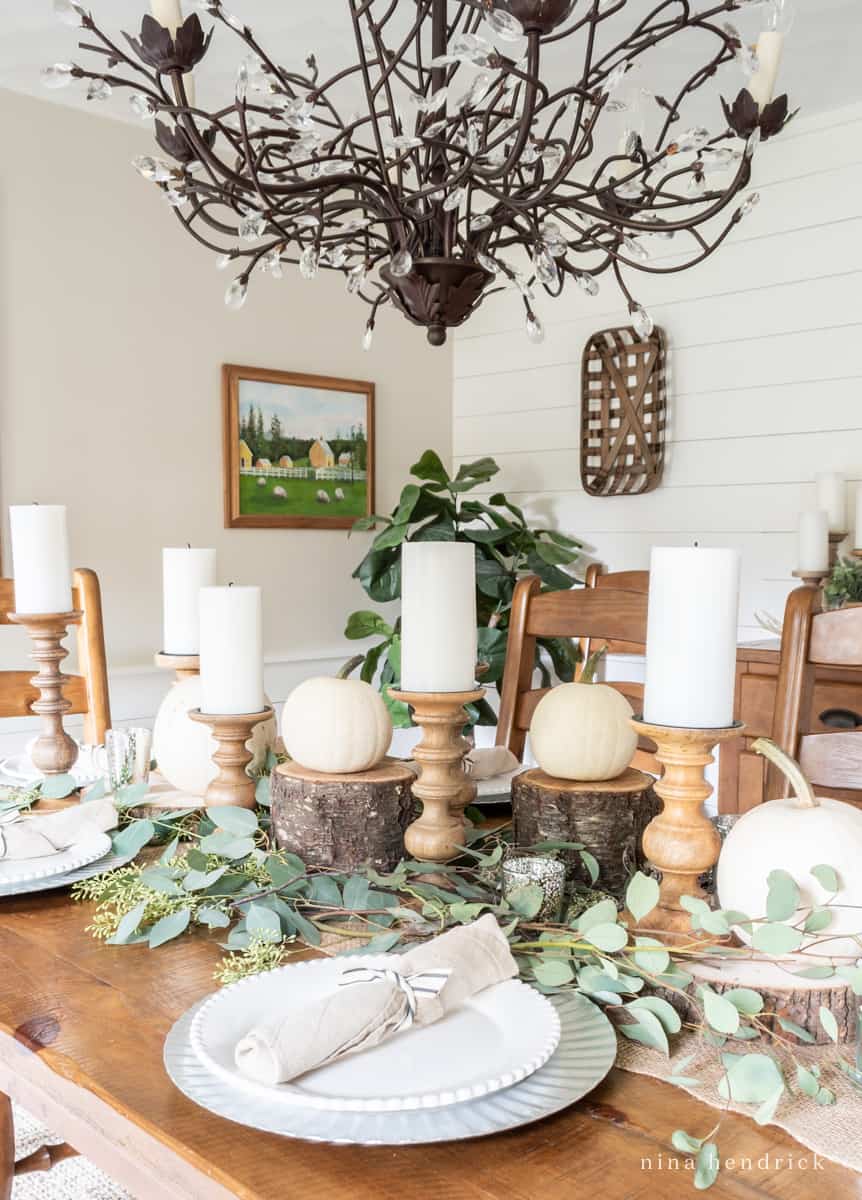 Idea Five: Have Fun with a Nature-Inspired Rustic Thanksgiving Centerpiece
I went a bit more dramatic than usual with my neutral and rustic Thanksgiving centerpiece. I'm loving the effect of the many wooden candle holders and different sizes and tiers of white pumpkins. For greenery, seeded eucalyptus is a classic choice and can be picked up inexpensively at Trader Joe's and many other grocery stores.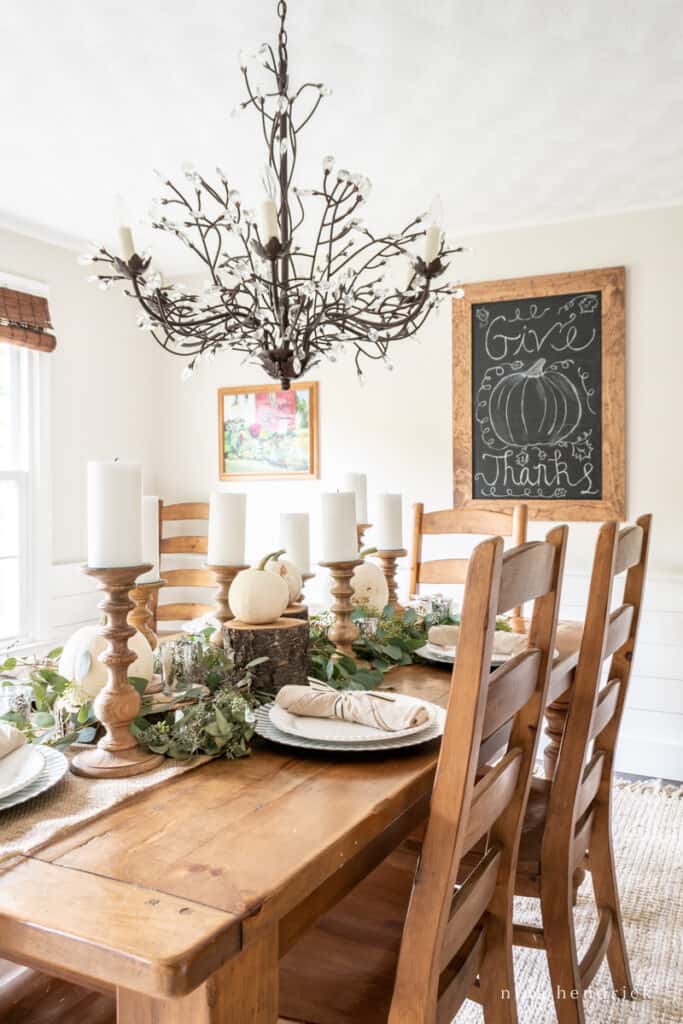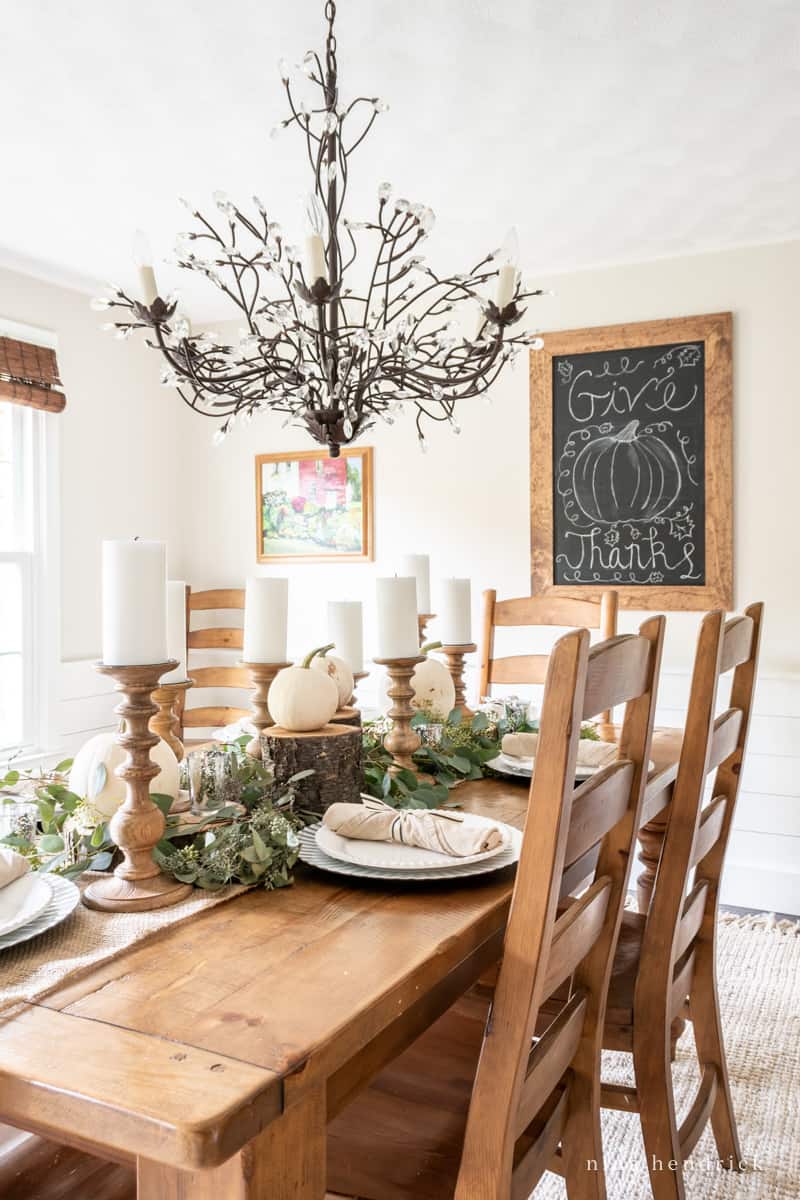 As you may have noticed by the number of place settings, we're having a very small gathering for Thanksgiving this year. That's okay though! That means we have the opportunity to create really special memories within our little group.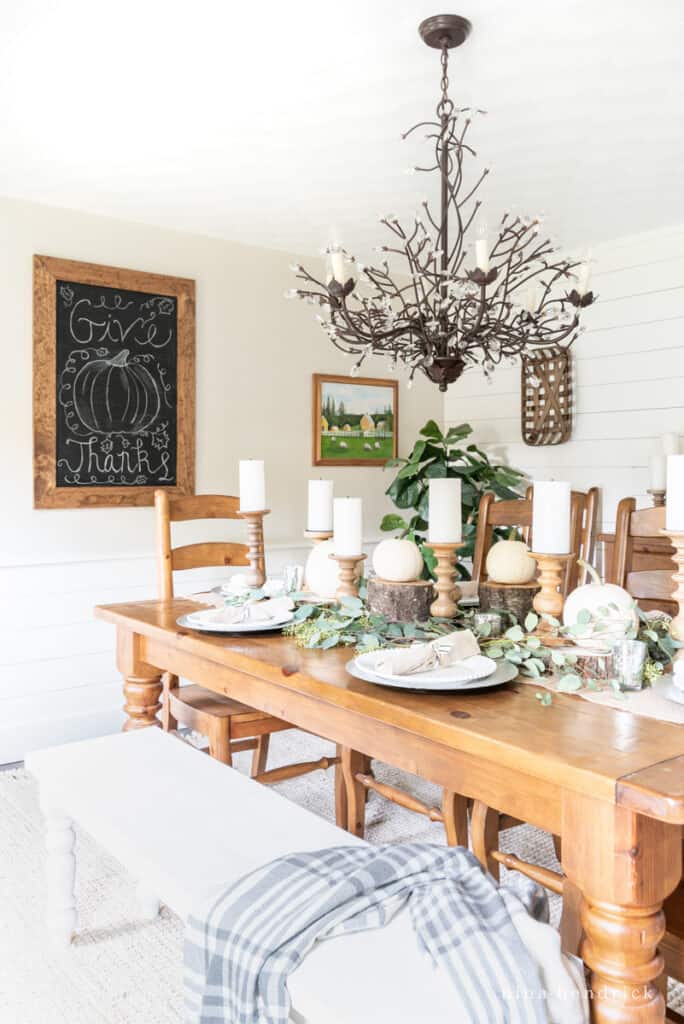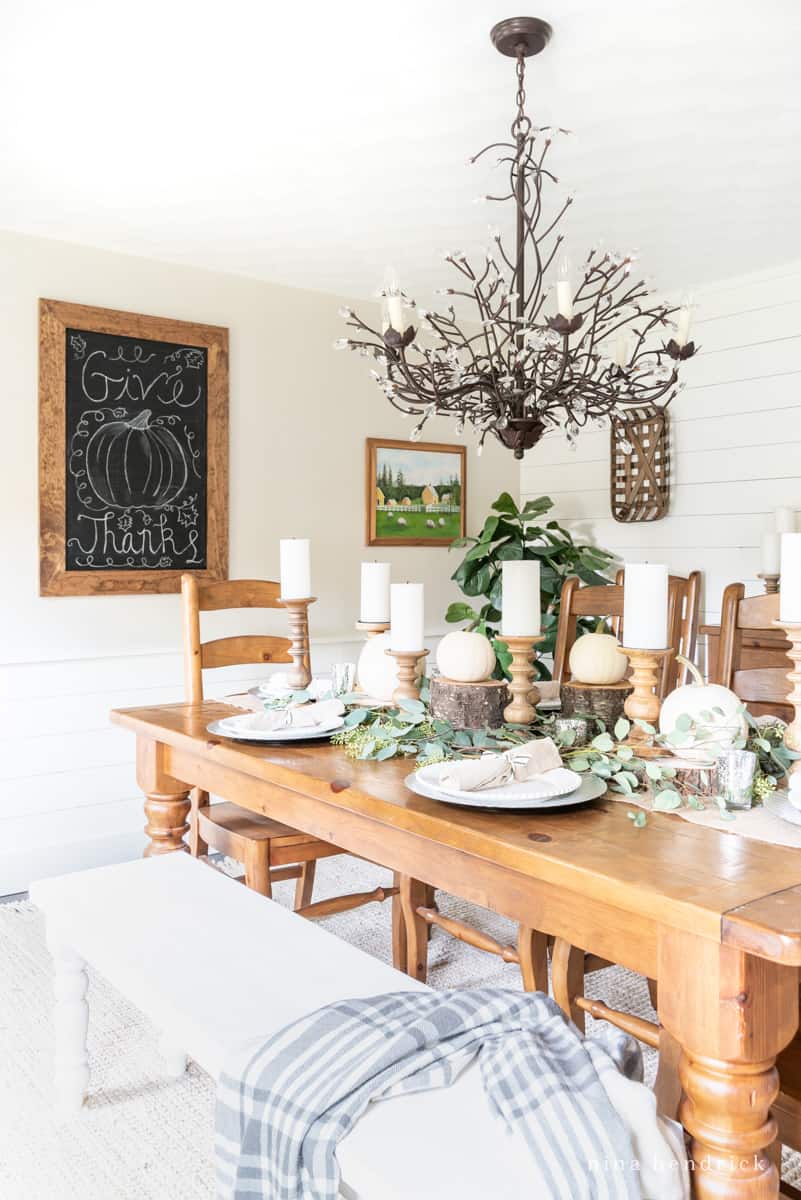 And there ya have it, friends. I hope these ideas inspire you to enjoy a really magical Thanksgiving gathering filled with laughter and delicious food with your favorite people.
P.S. Want some Thanksgiving recipes? See some of my favorites – from Pumpkin Spice Cupcakes to New England Cranberry Sauce here. Happy cooking!
Pin It for Later: Rustic Thanksgiving Decor & Tablescape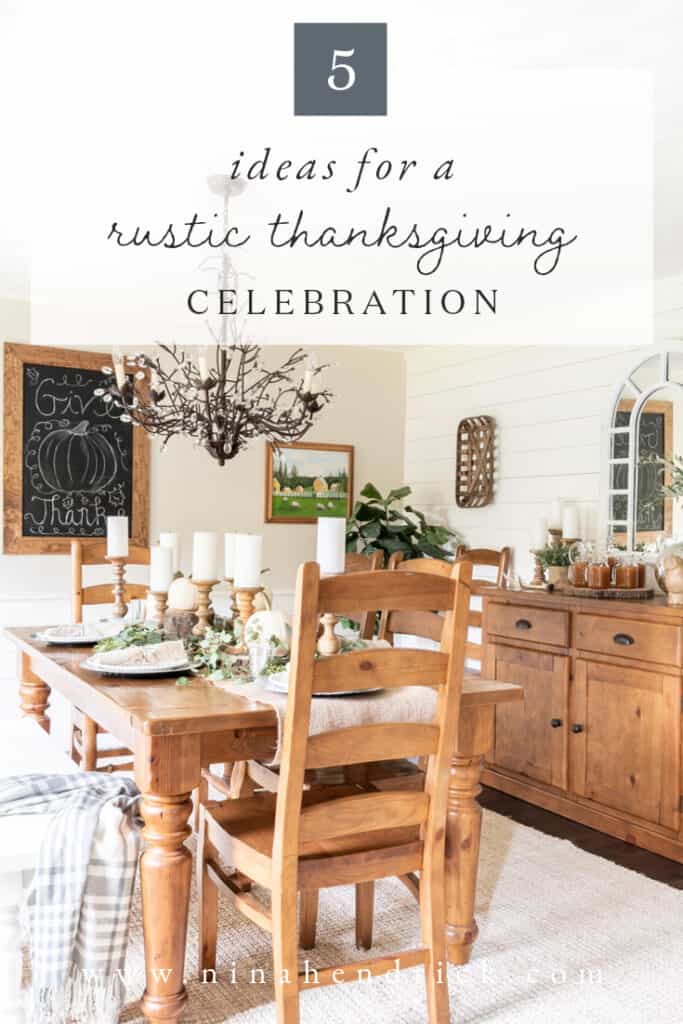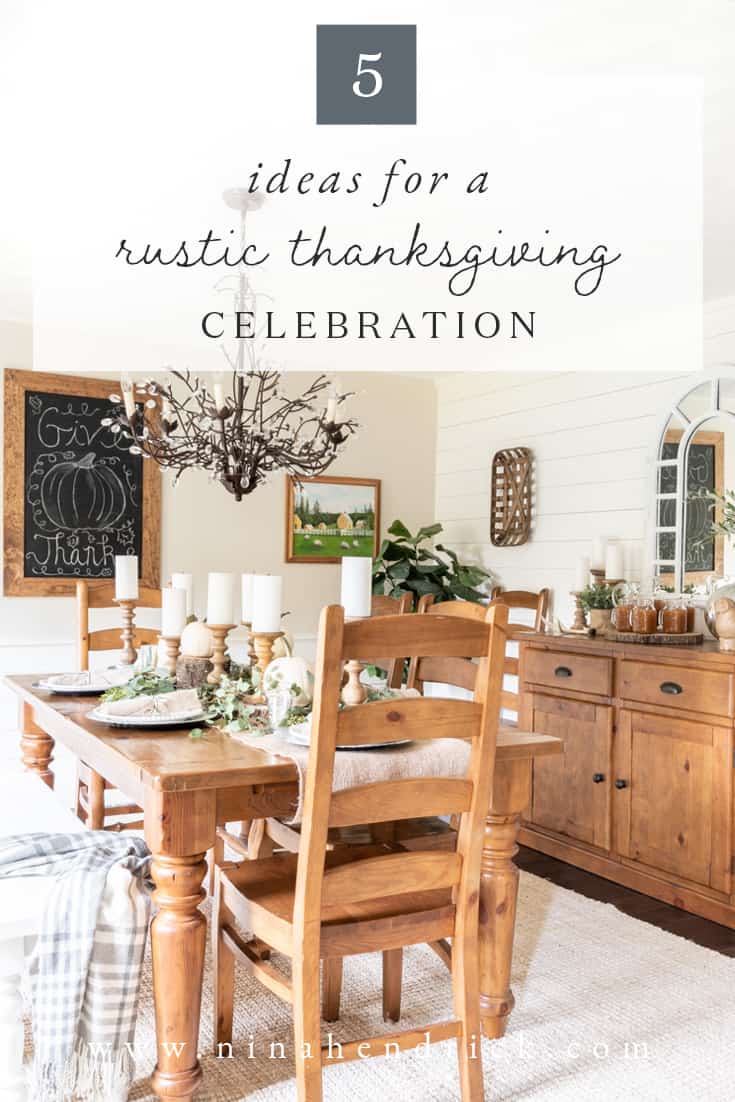 Make sure to stop by and visit some of the other lovely Thanksgiving inspiration on this tour!

Live Laugh Rowe | My Fabuless Life | Nina Hendrick | So Much Better With Age | Shades of Blue Interiors

Anderson + Grant | Cherished Bliss | Design Dining & Diapers | Little Glass Jar | Twelve On Main