Are you hosting Thanksgiving this year? Whether it's for friends or family, there's plenty of entertaining inspiration to be found from this Rustic Lakeside Friendsgiving gathering!
Welcome, friend! Grab a plate, fill it up, grab a glass of wine, and take in the foliage and our autumn lake. I can honestly say this Rustic Lakeside Friendsgiving was one of the most inspiring and fun evenings of my life! Make sure to visit the bottom of this post for even more Friendsgiving inspiration or this post for a classic indoor tablescape.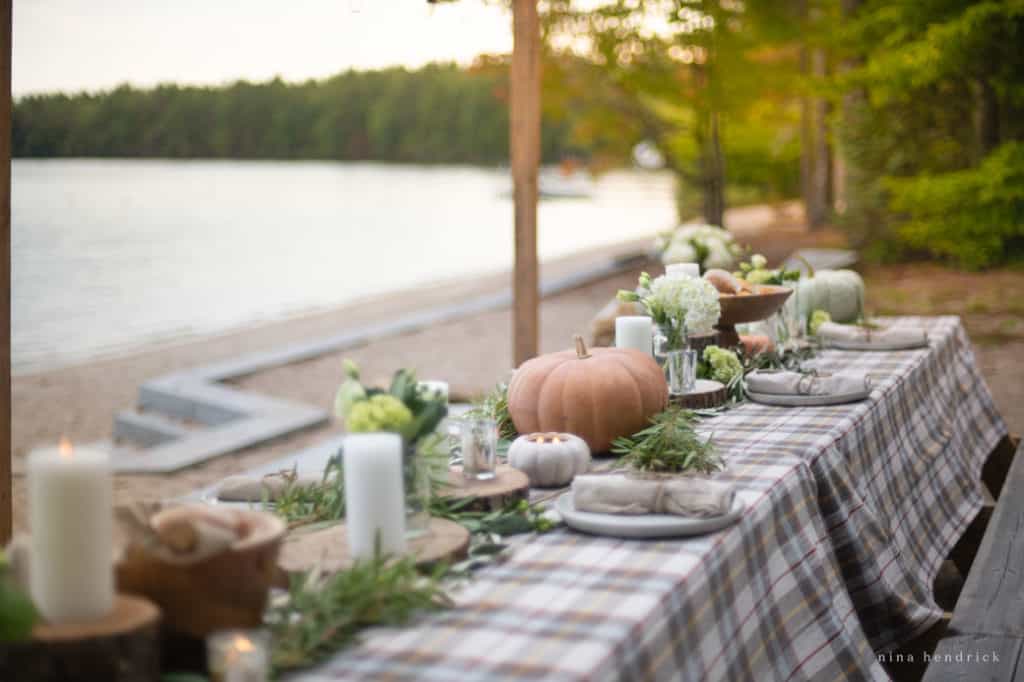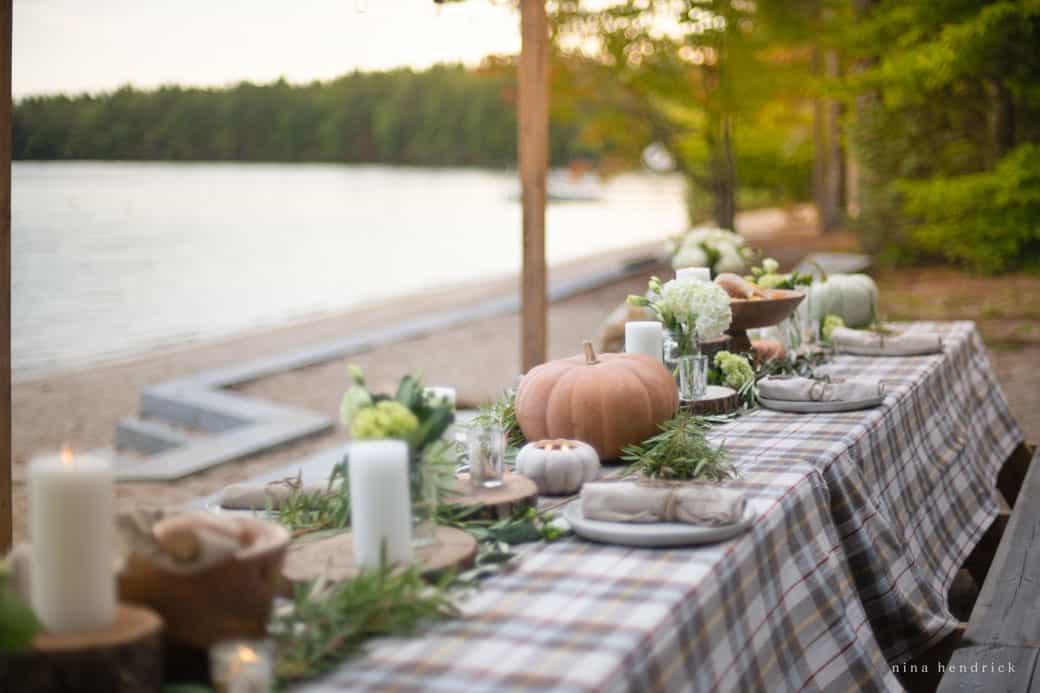 Rustic Lakeside Friendsgiving Ideas
With New England weather, you never know exactly what you're going to get on Thanksgiving Day. The beauty of Friendsgiving is that you can have it any time in the Fall, even before the weather turns. It's mostly about when you can get your friends together in one place!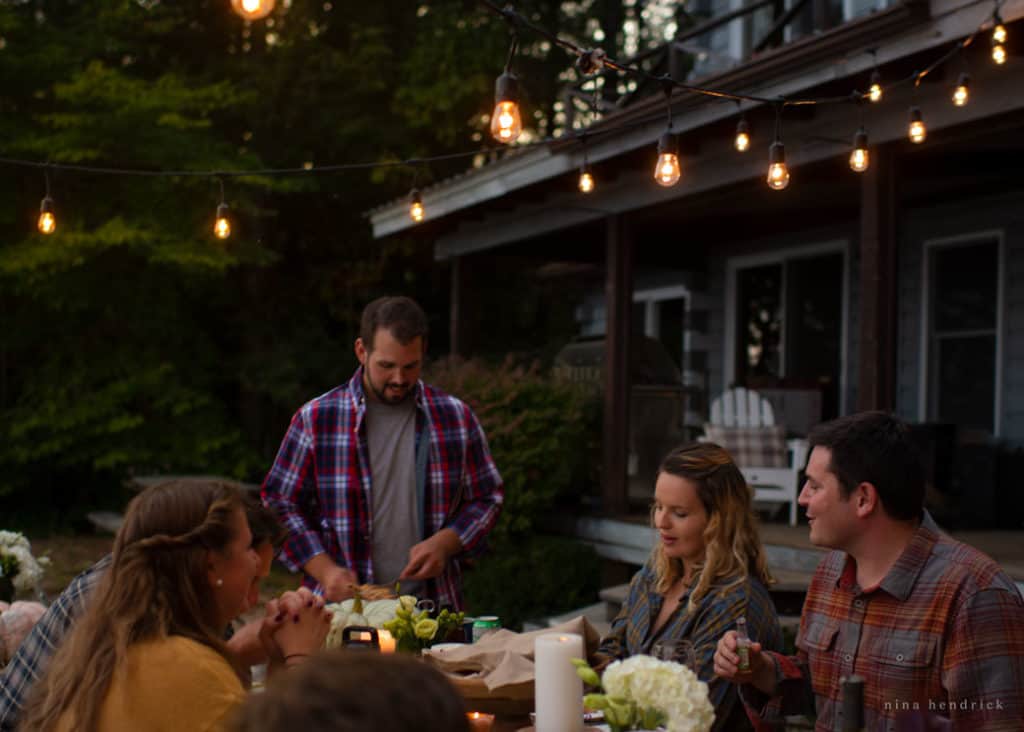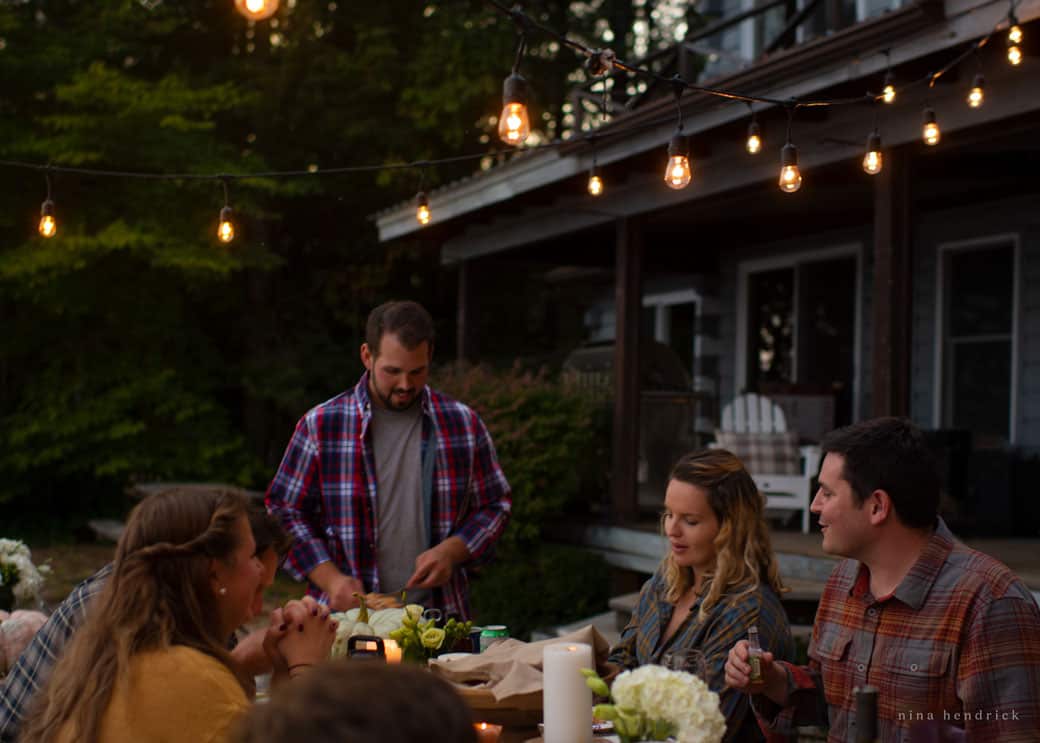 With busy schedules and other family commitments, that can definitely be a challenge. For example, we'll be having our second Friendsgiving celebration in early December with the rest of the friends who couldn't make it. While the tentative plan is to have it outdoors by the lake, usually we end up having to hang out inside, warm up, and get a fire going somewhere.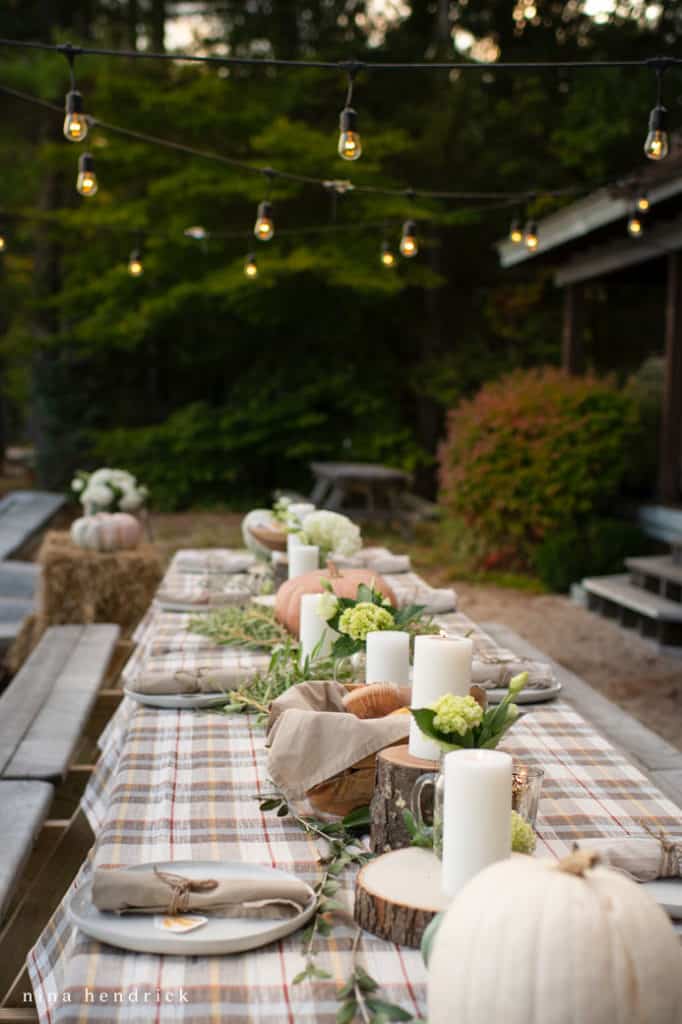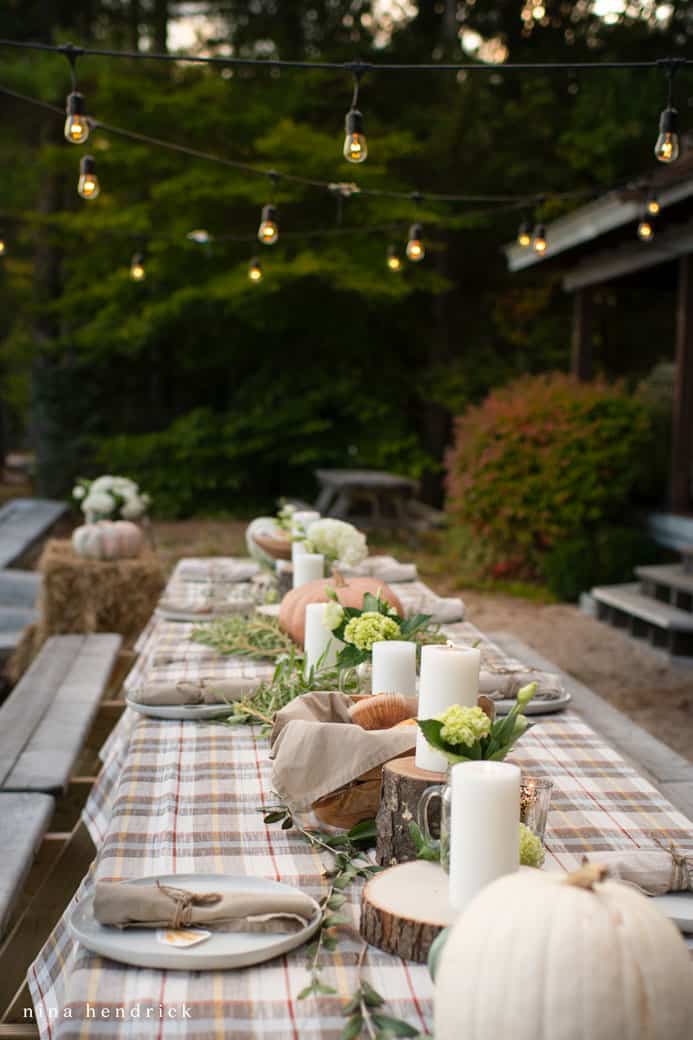 We hosted this Friendsgiving at our lakeside Camp in New Hampshire. You can read more about it here (plus the story of how Mack and I met!). Over the past summer, we added the wooden light posts and string lights. It was honestly a much more complicated project than we had thought and then we ended up having to bury the planters we'd anchored the posts into.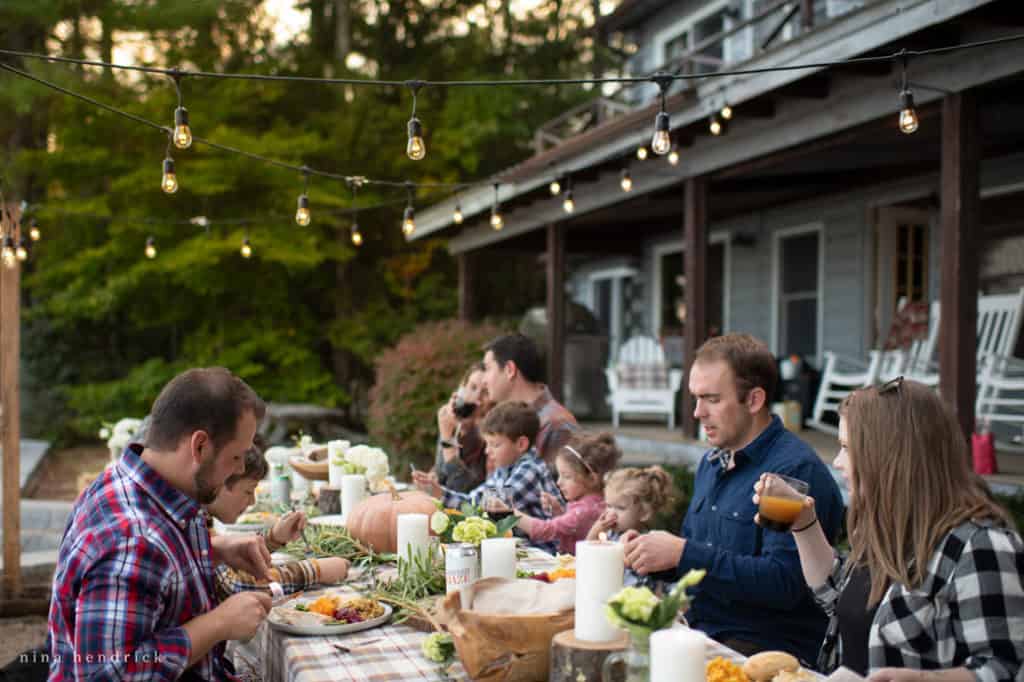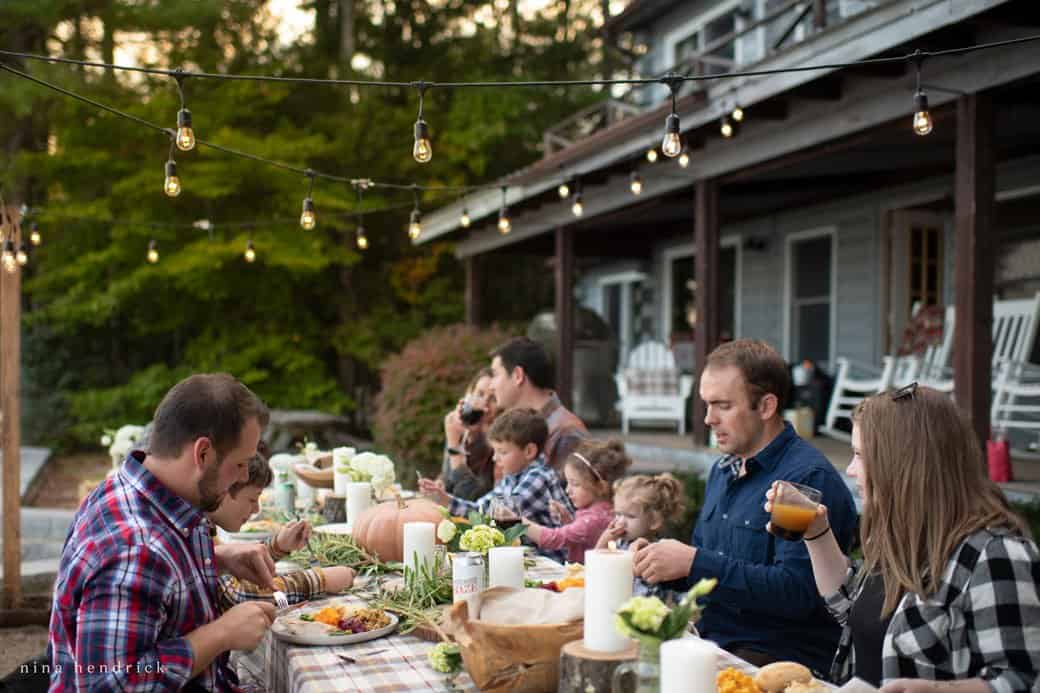 In spite of the complications, my vision was to have a place that was big enough to gather with the addition of pretty lights. Honestly, it was inspired by the backyard on Parenthood (wasn't that show the best?). I always wanted to be invited to Braverman Sunday dinners. I think I like our version even better!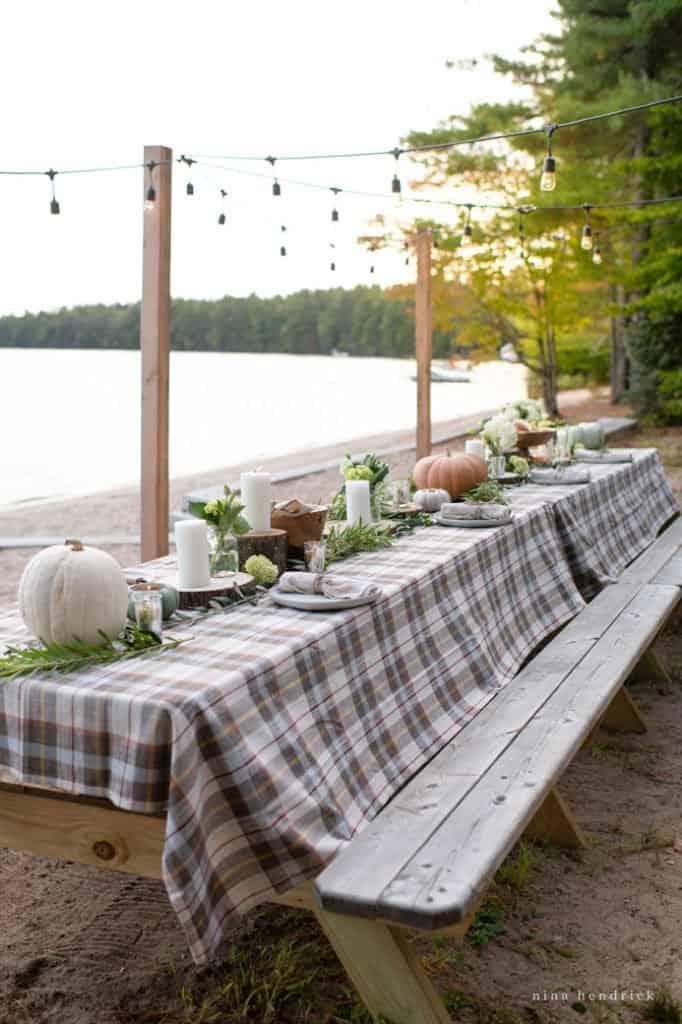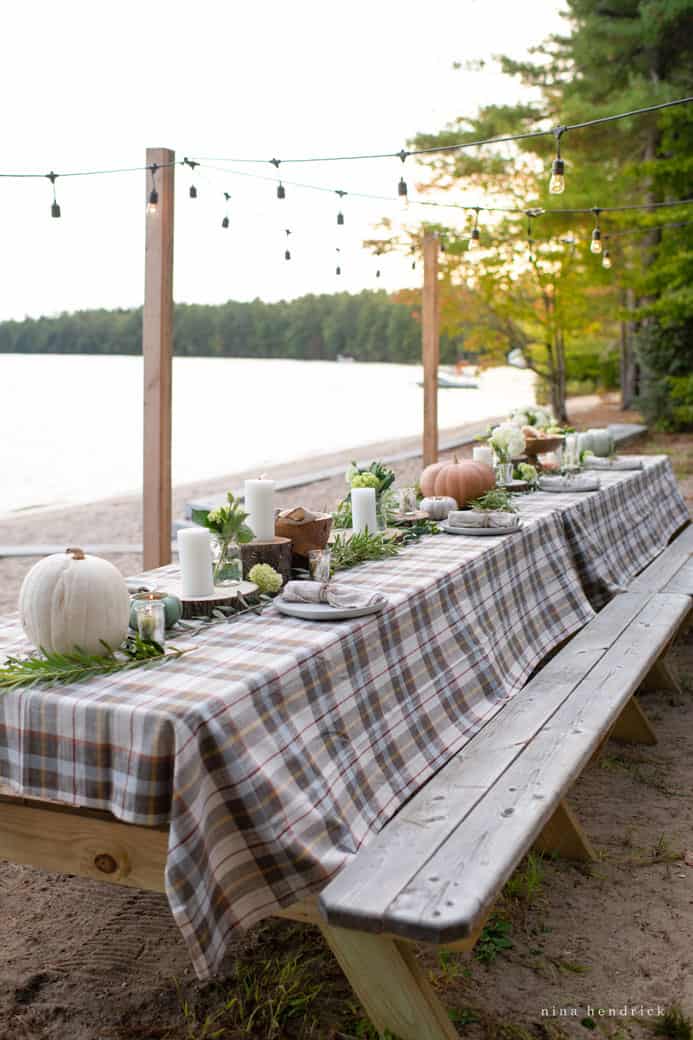 We put together two long picnic tables. We're going to let them weather a bit before we seal them. For this Friendsgiving tablescape, I added two plaid tablecloths.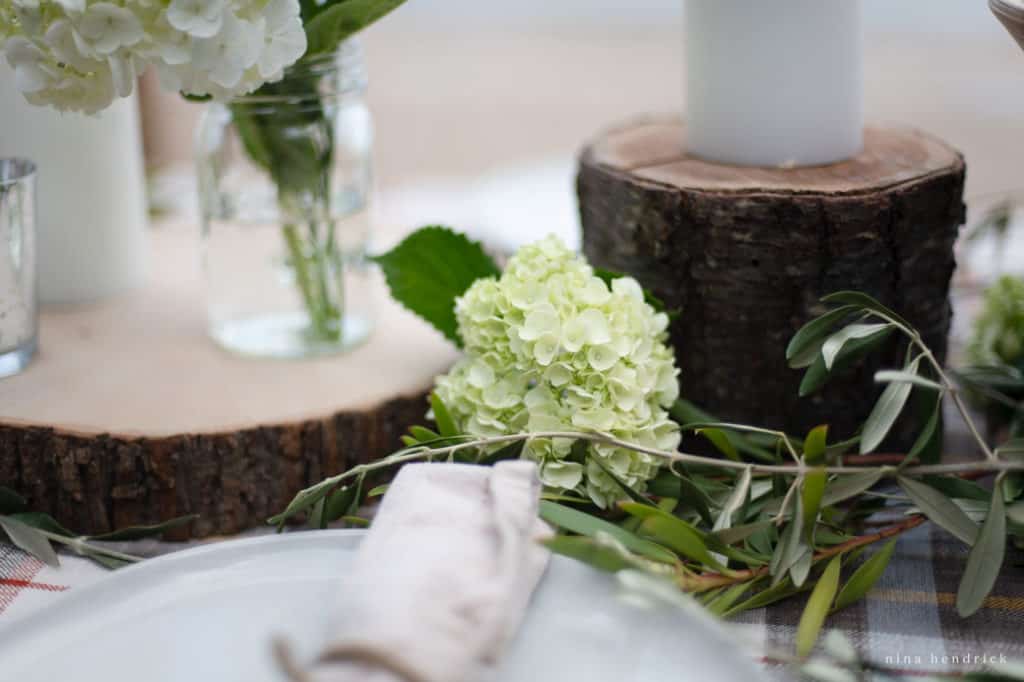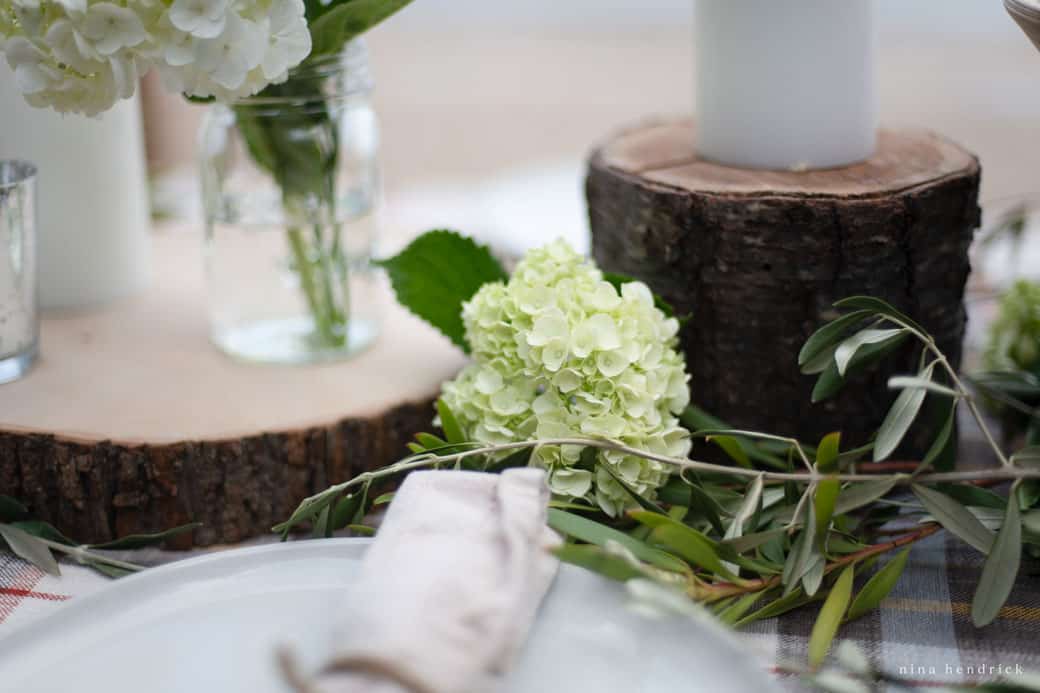 For the foundation of the centerpiece, I set out these wood slices. They are simple chunks of wood my dad cut up for me years ago! Yet I've used them over and over again.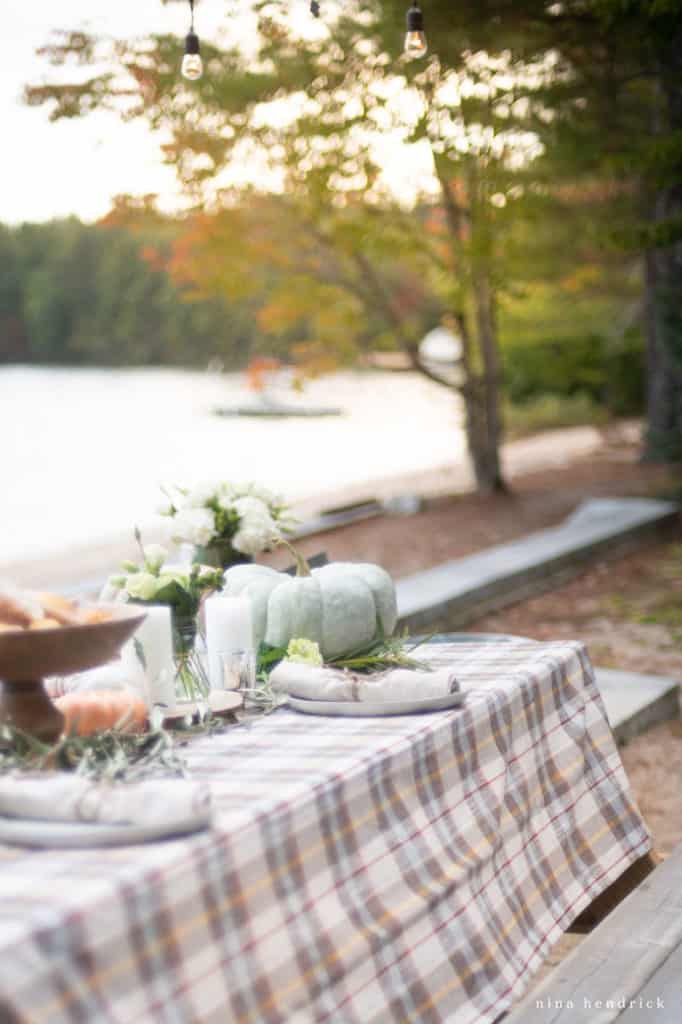 Next, I added in the heirloom pumpkins here and there.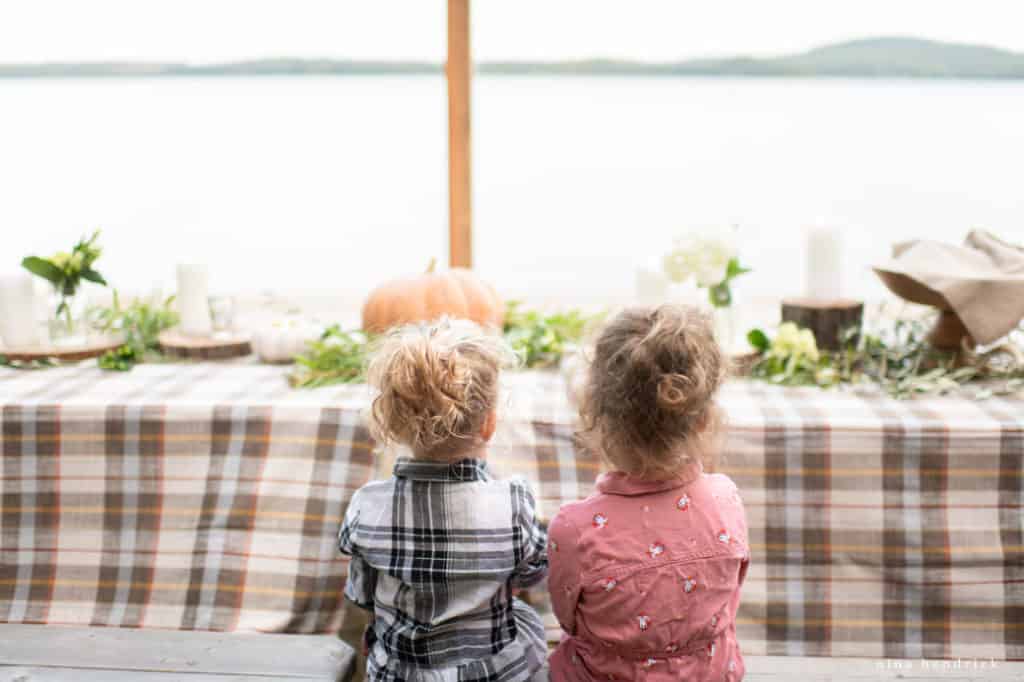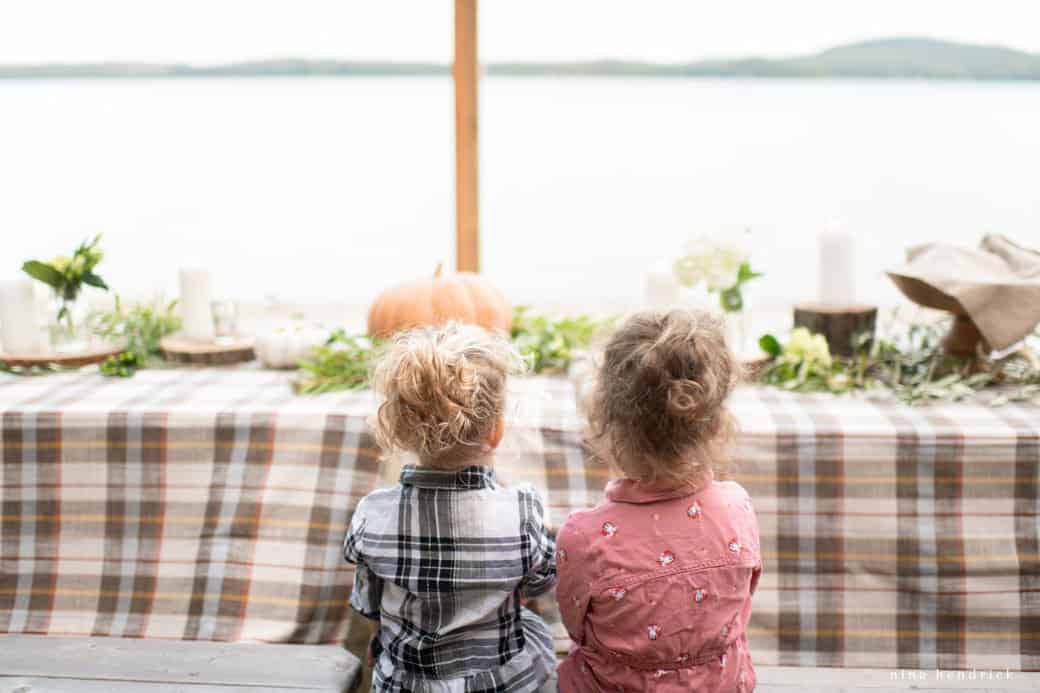 One of my biggest focuses was keeping the centerpiece low so that there was still a view of the lake.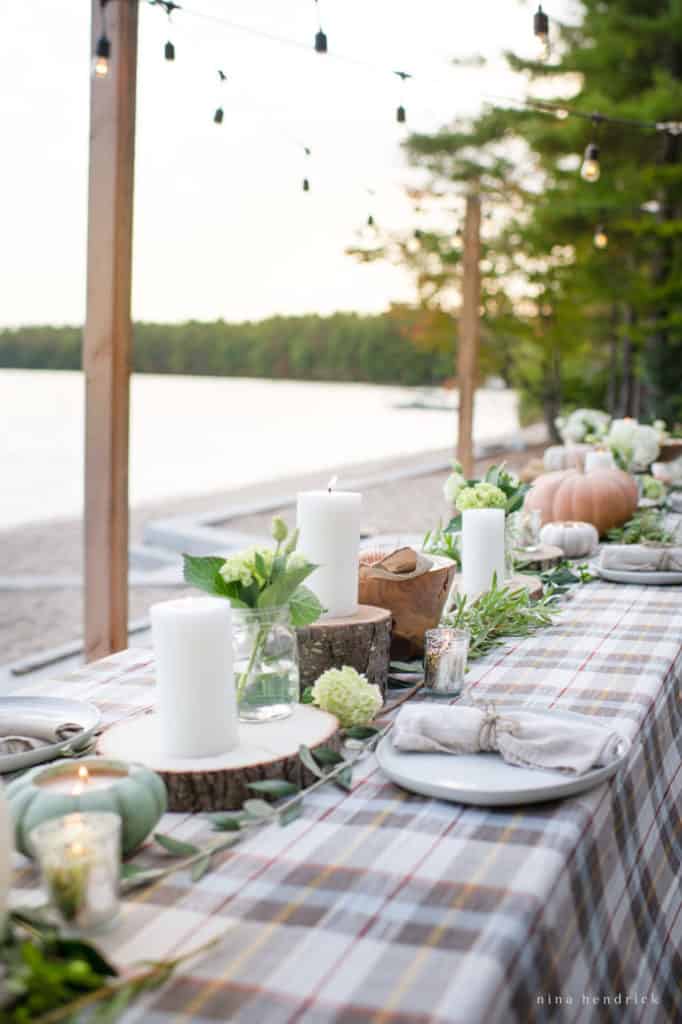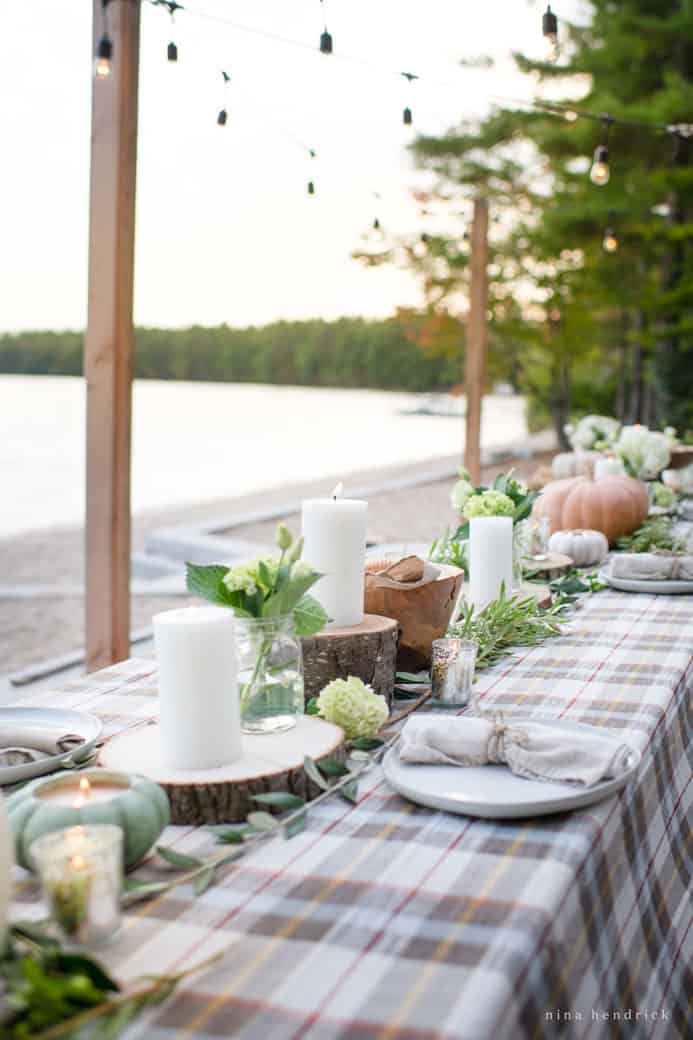 The taller items on the table were the white pillar candles and the flowers. The flowers were just a mix from the grocery store that I put in mason jar mugs.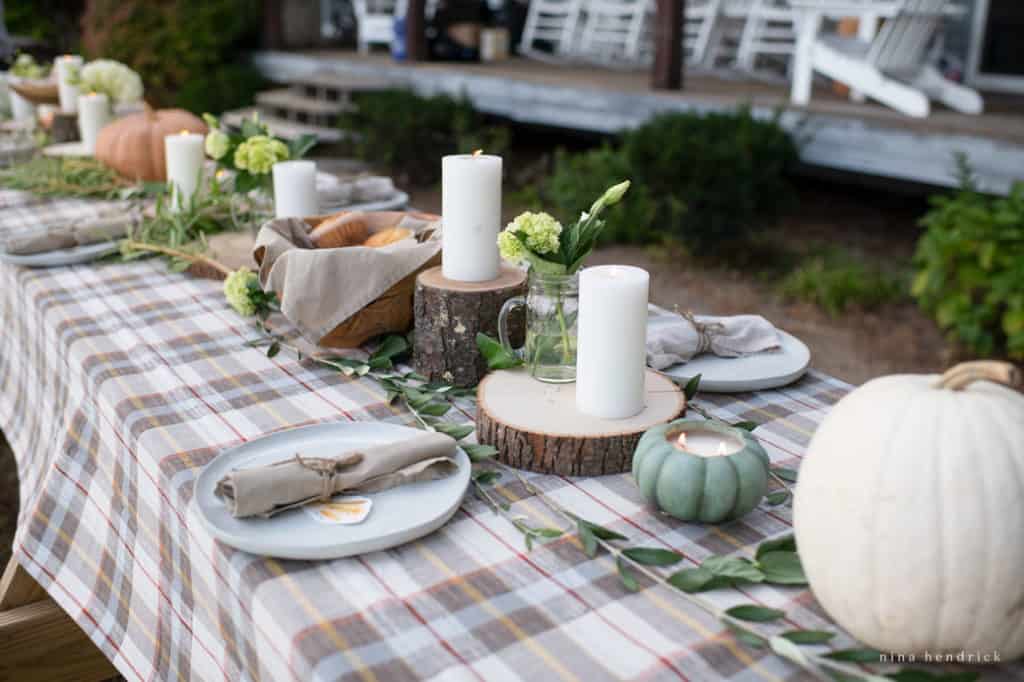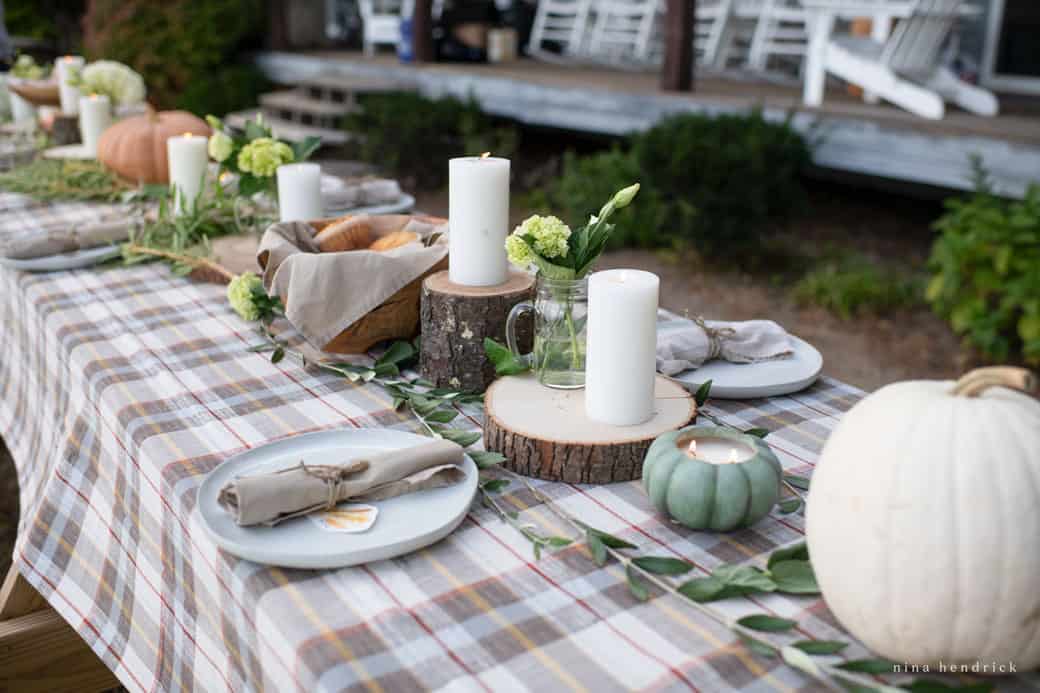 The pumpkin candleholders were also a fun touch! I spread out greenery and branches between to add even more interest.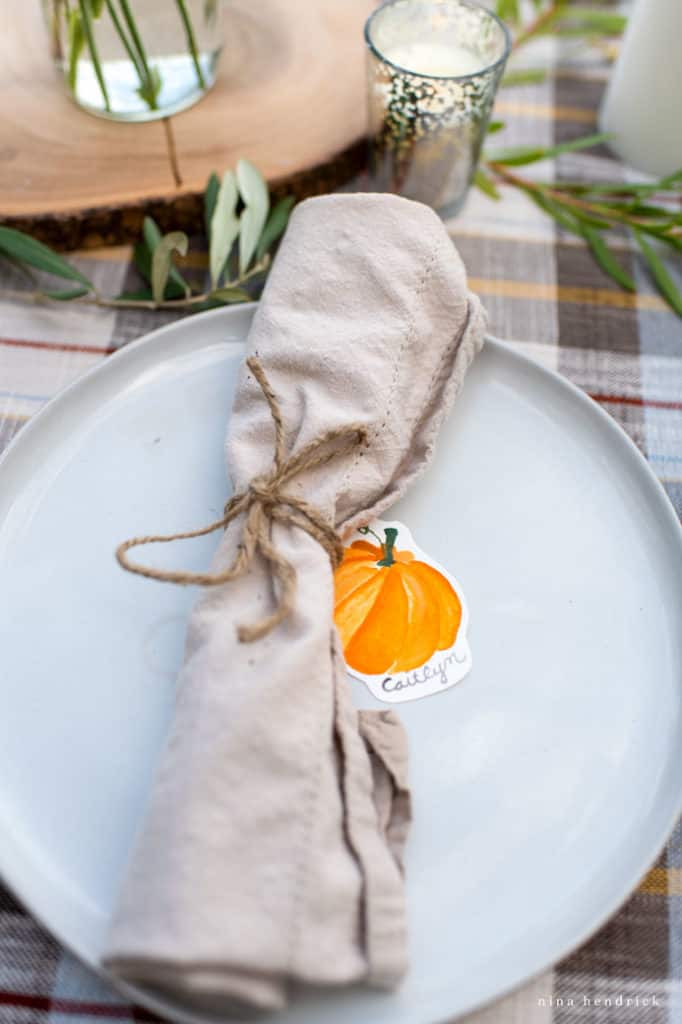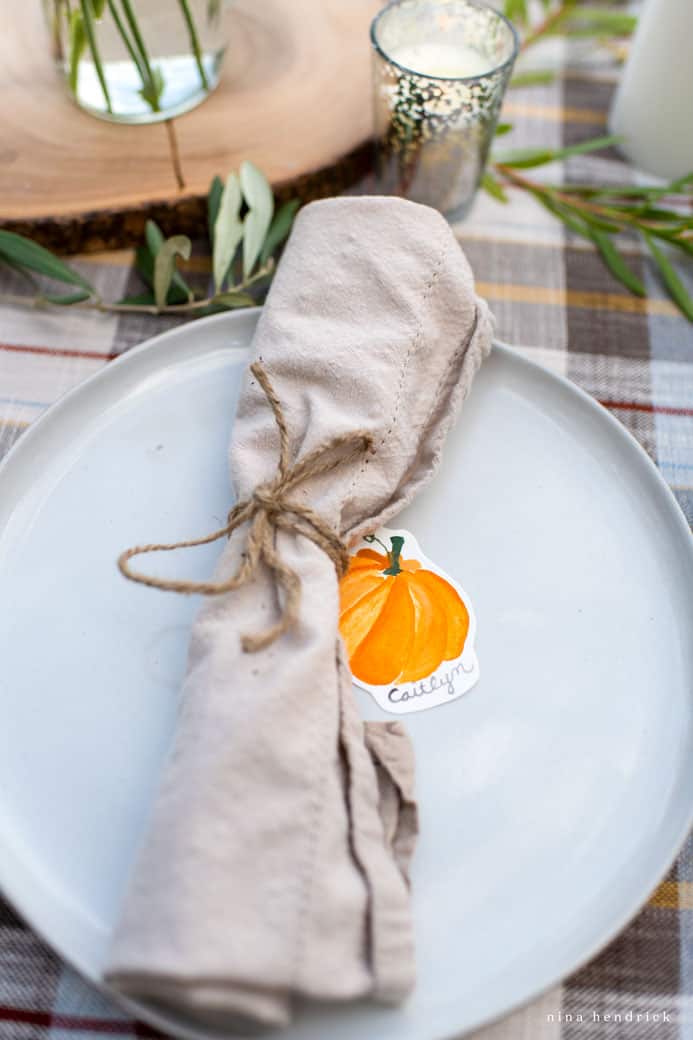 I painted a fun little watercolor for each place setting. I'll have them uploaded to the shop soon!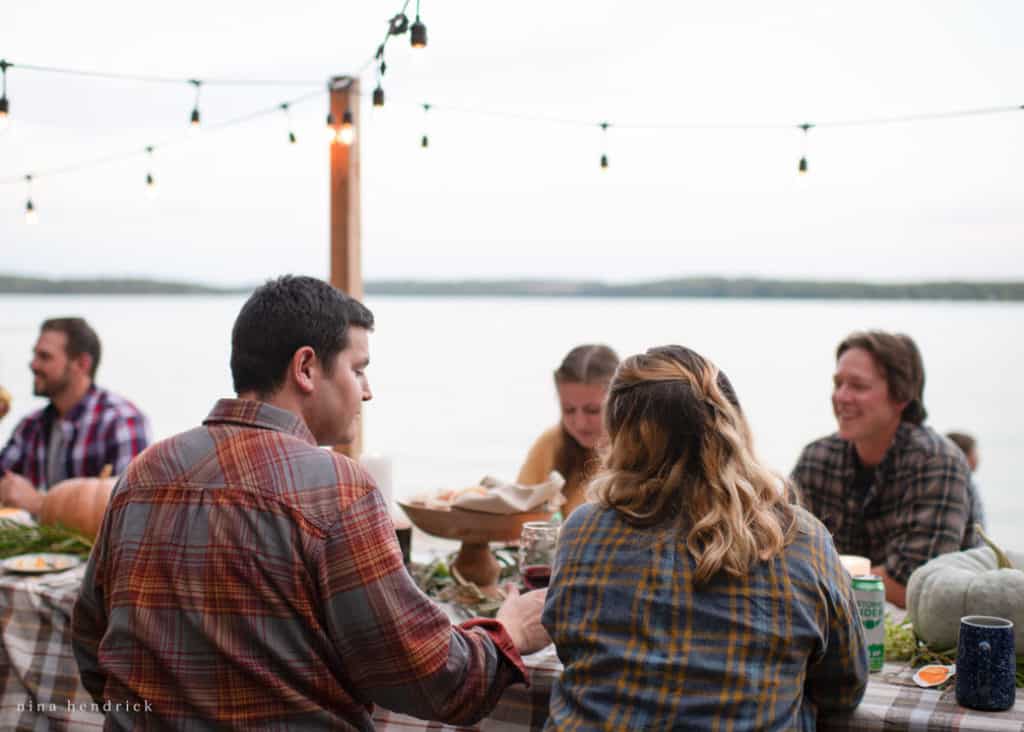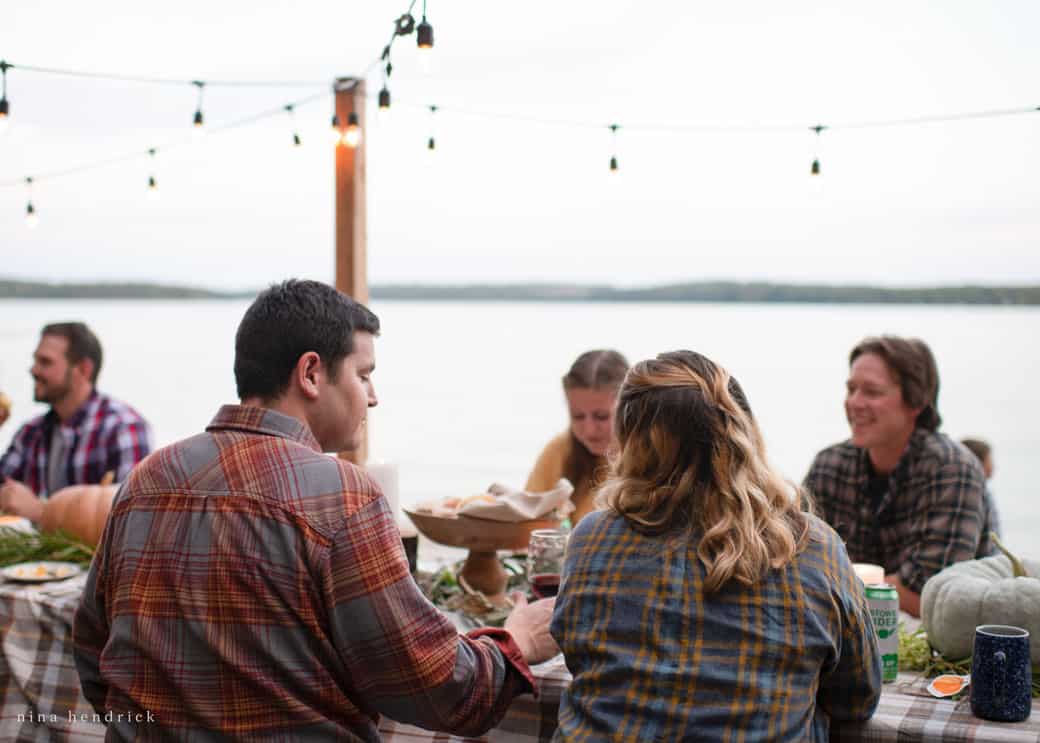 We ate a traditional Thanksgiving meal. Plus macaroni and cheese for the kids.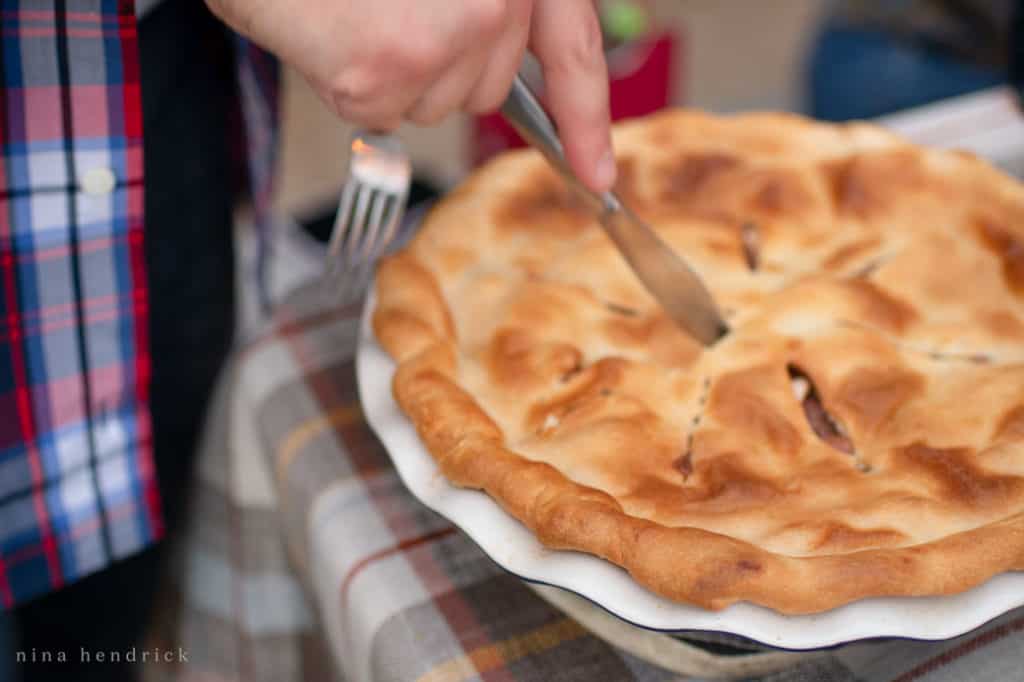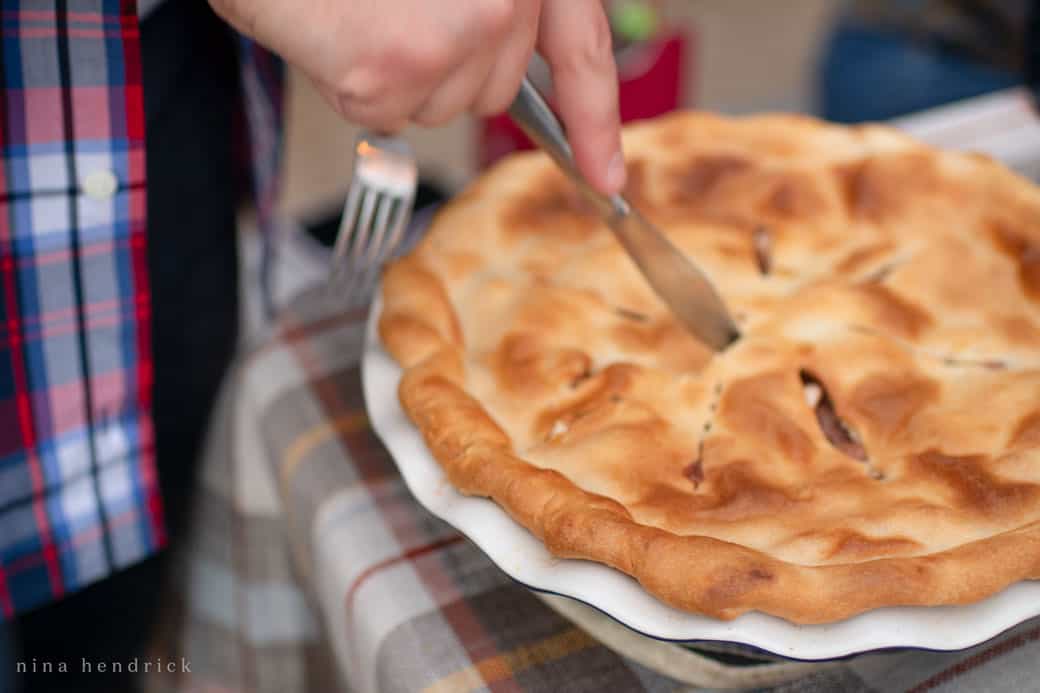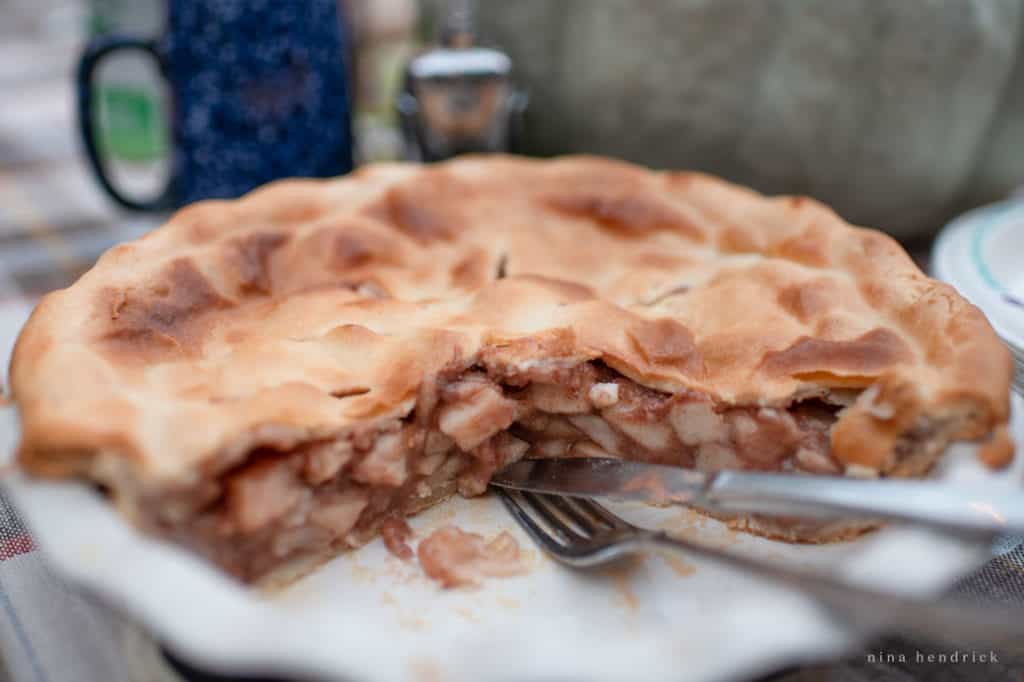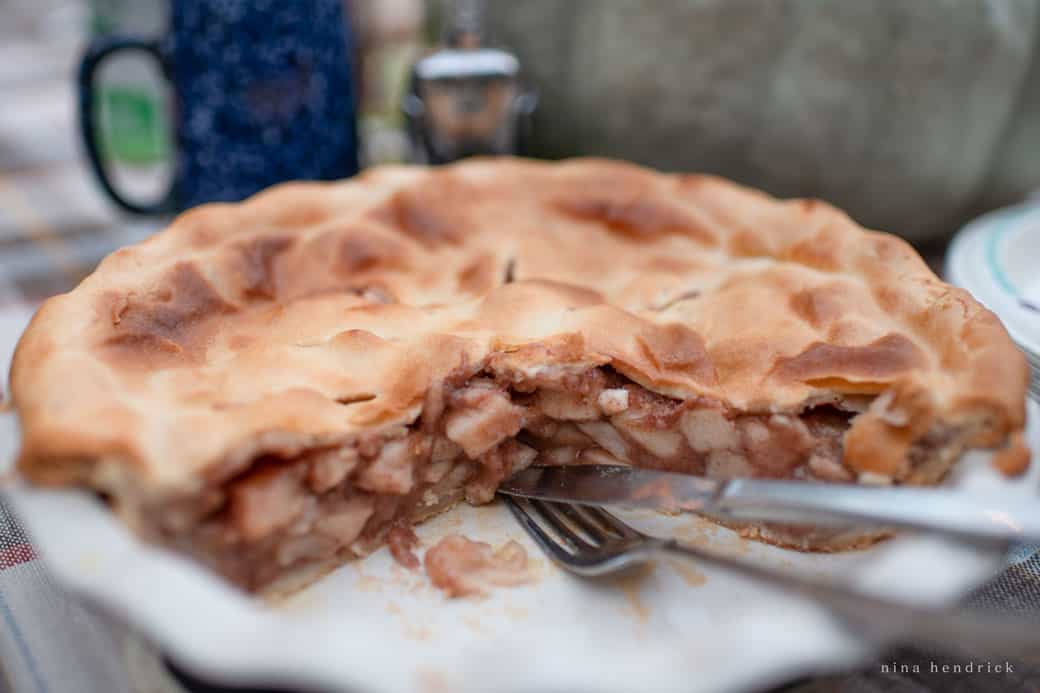 Then we followed it up with apple pie. You can see some of my other favorite apple recipes here!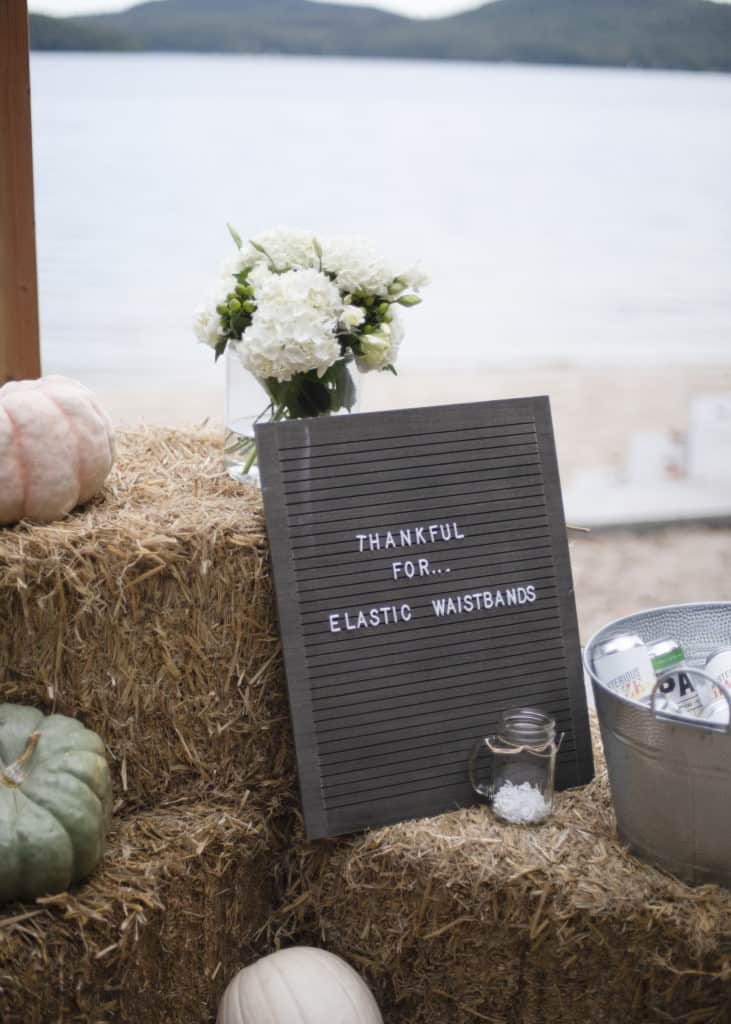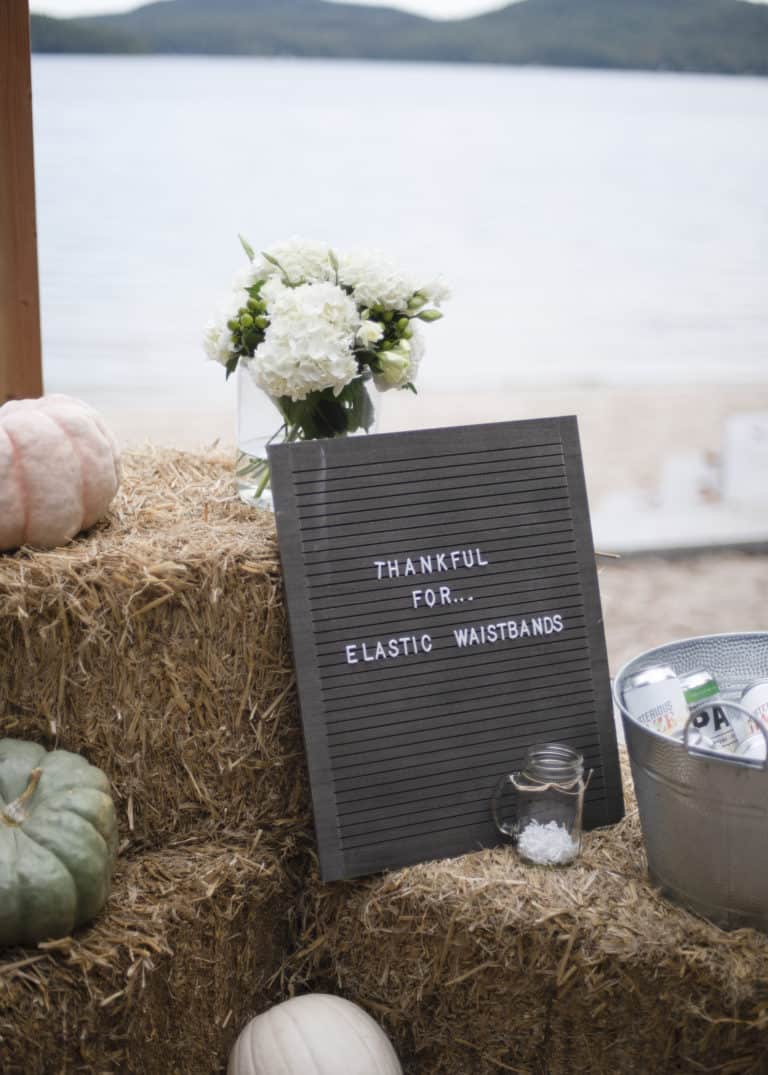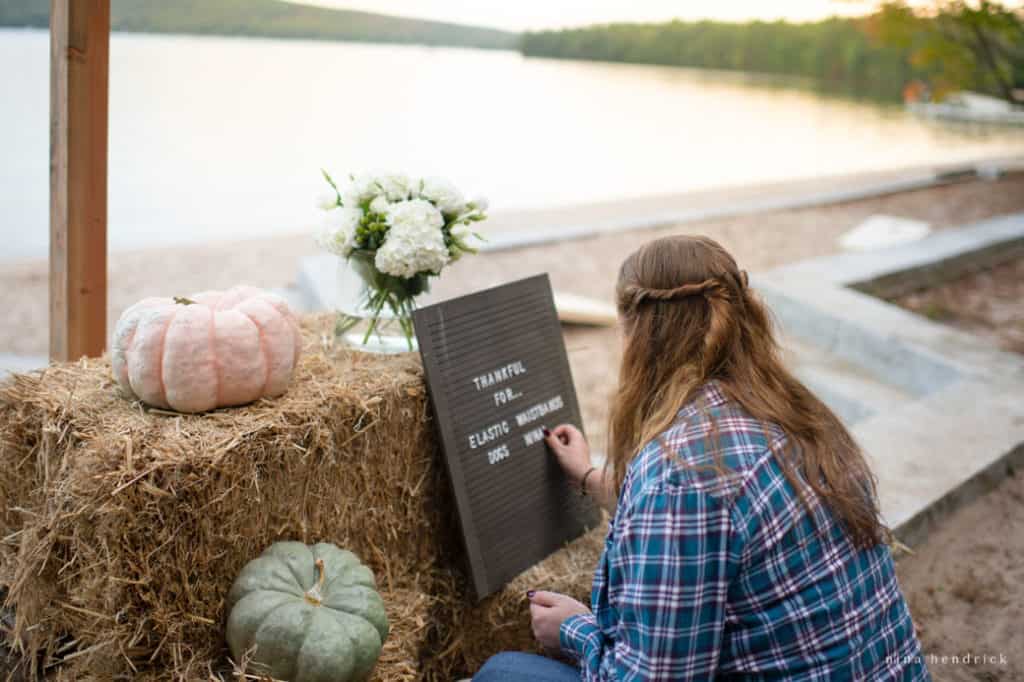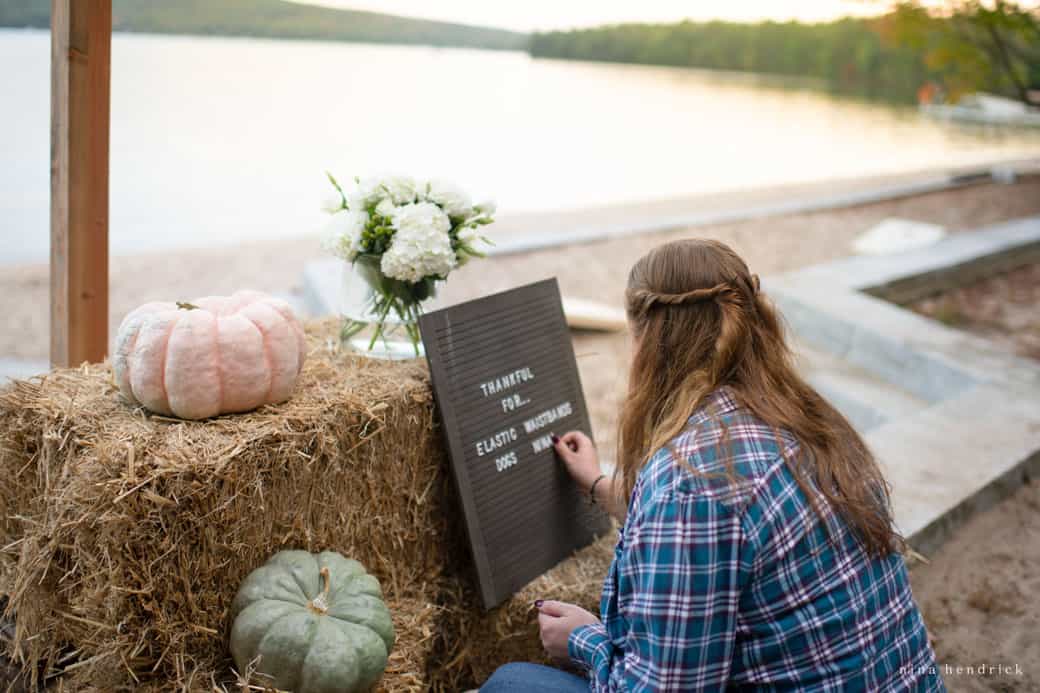 I set up a letter board where we could put what we were grateful for. What's a gathering of millennials without a letter board?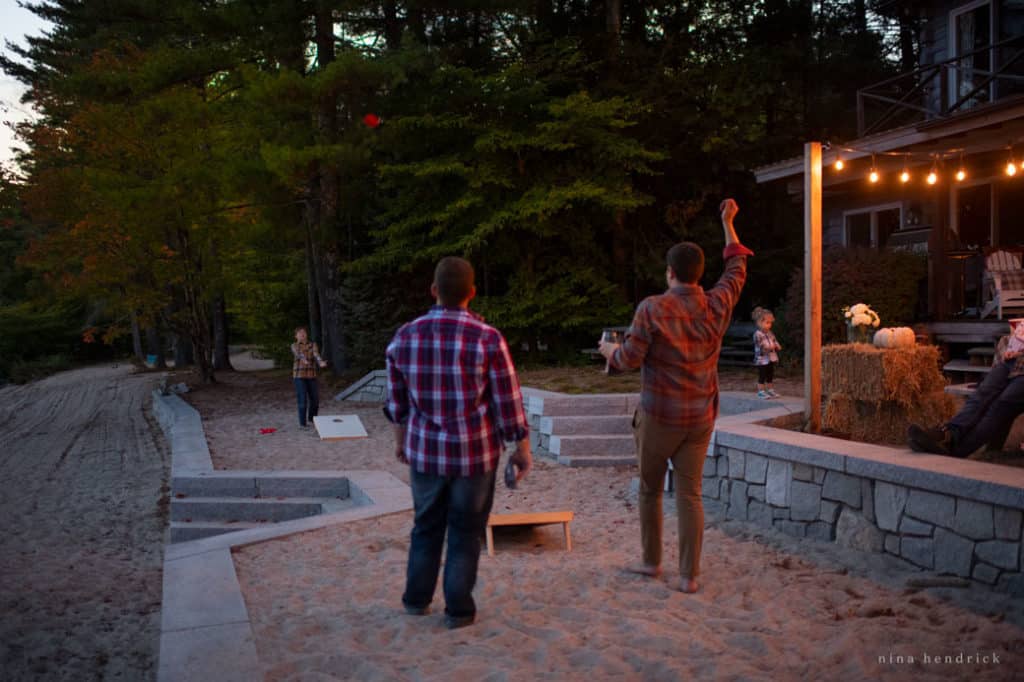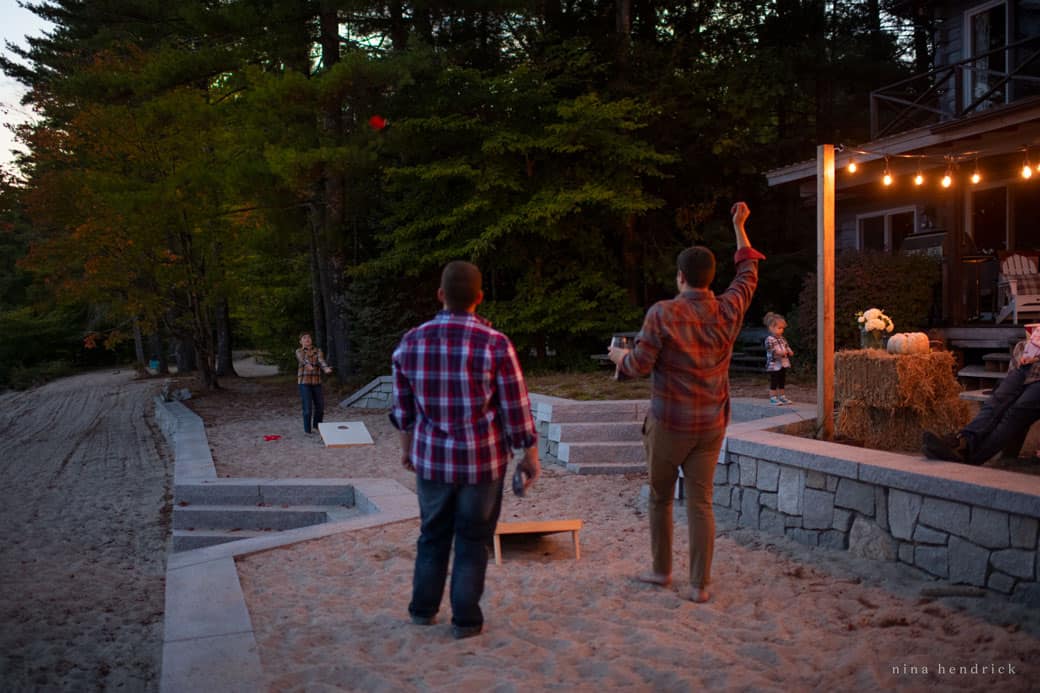 We set up a game of cornhole that the boys played until it was time for the kids went to bed. Then the adults played party card games– which are always good for some laughs.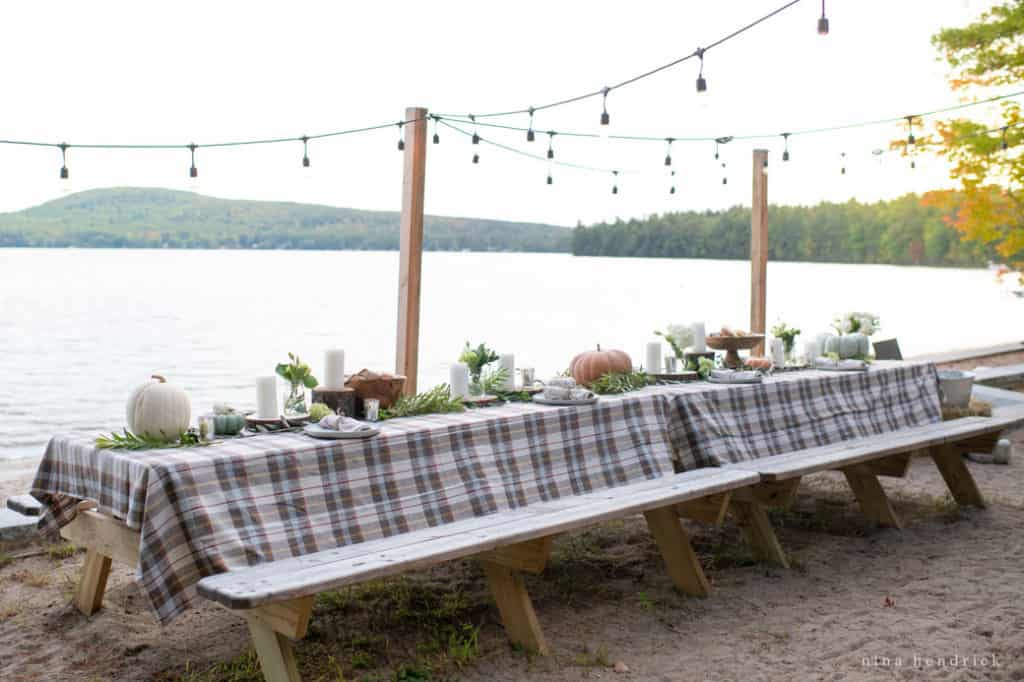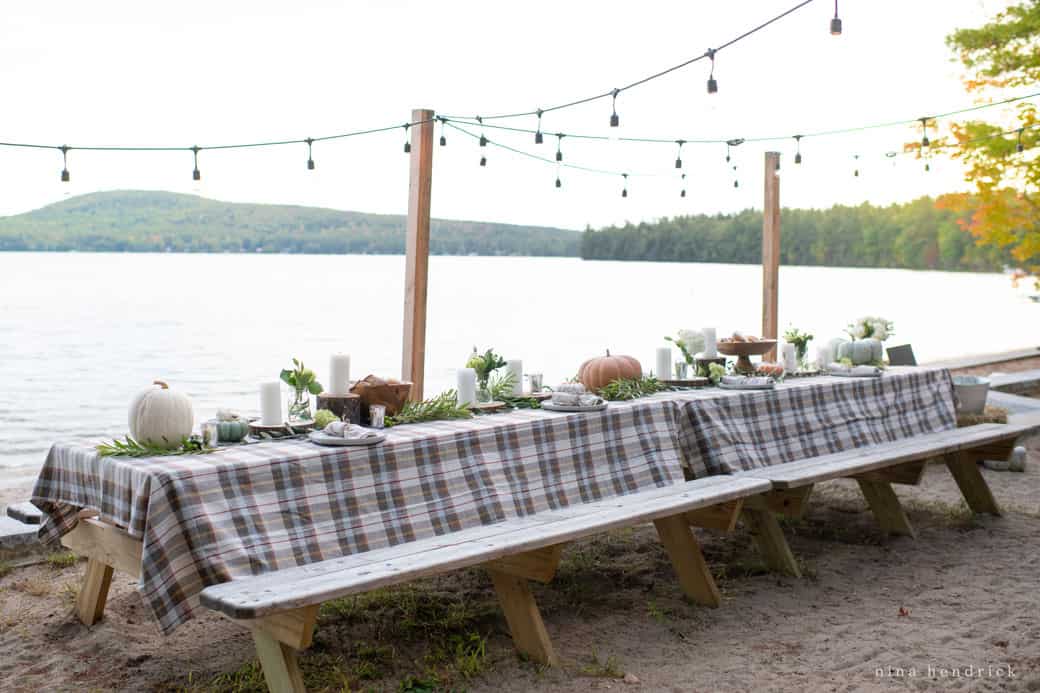 Overall it was a fun night with friends enjoying comfort food, drinks, and fun party games. Friendsgiving can be as simple as you want it to be, or you can add as many fun things as you can manage. Either way, the most important part is getting together and filling an evening with laughter and fun!

Rooms for Rent
| Craftberry Bush | Modern Glam |
Pine and Prospect Home

Sincerely Marie Designs | Shabby fufu | Almafied | The Happy Housie

Nina Hendrick | Crazy Wonderful | Amber Tysl | My Sweet Savannah | Maison de Cinq