Learn how to create a tablescape with these step-by-step instructions! Tablescapes are the perfect way to decorate and celebrate for memorable occasions.
Creating a tablescape is an easy way to transform your table from ordinary to extraordinary. From selecting the perfect centerpiece to coordinating your color scheme and choosing the right table linens, these step-by-step instructions will guide you through the process of creating the perfect tablescape for your special occasion.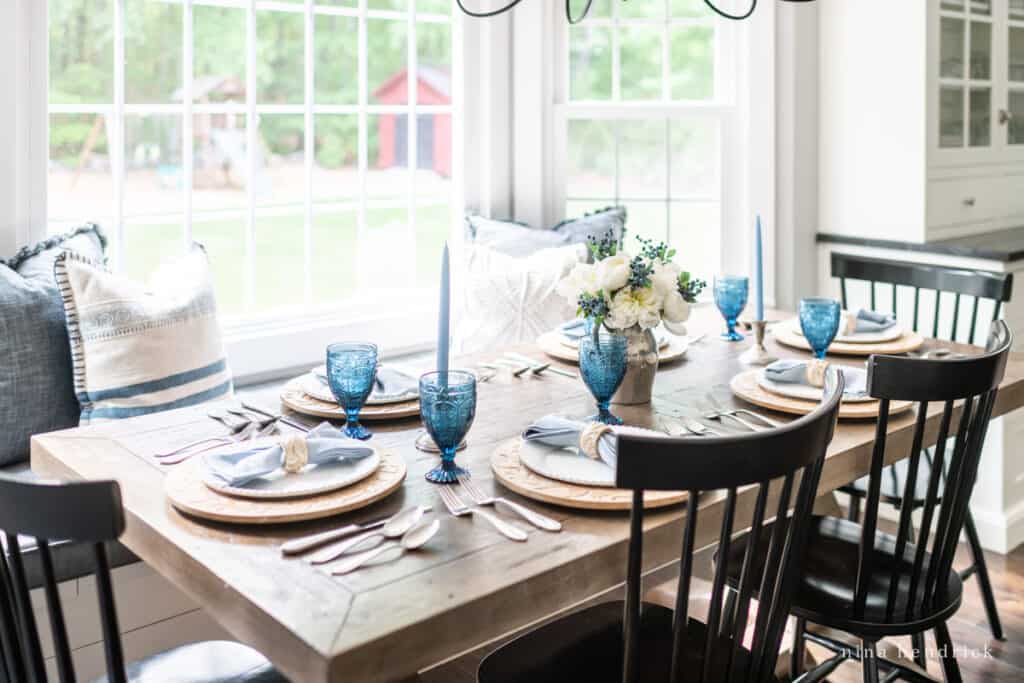 I've shared many tablescapes over the years for everything from an intimate dinner party to a large holiday gathering to a simple table setting to celebrate the season. In this post, I've collected my favorite tips and tricks together in one spot for you to use to make your own gorgeous tablescape!
This post contains affiliate links, which means I may get a small commission (at no extra cost to you) if you shop my link. Please see my disclosure if you'd like more info!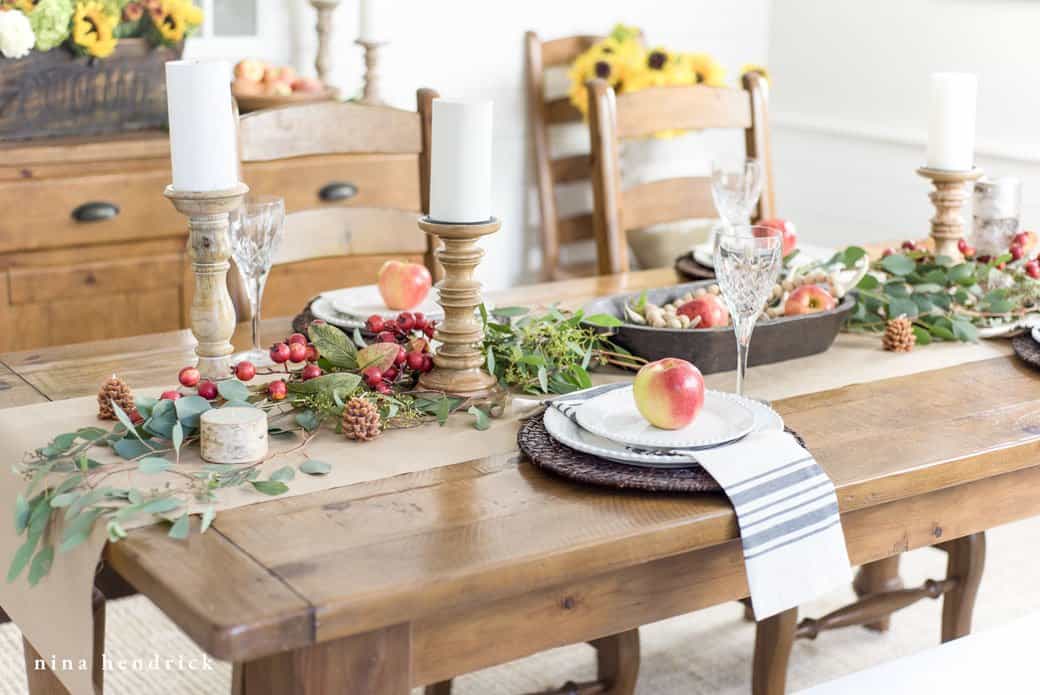 Learn How to Create a Tablescape
When I started my business back in 2010, it was with the intention of becoming an event planner. That quickly morphed into being a party stylist and creating dessert tables. It was something I loved doing! Over the years my business has further evolved to encompass all things homemaking, and I still love to pull from my experiences during those early years to create beautiful events at home.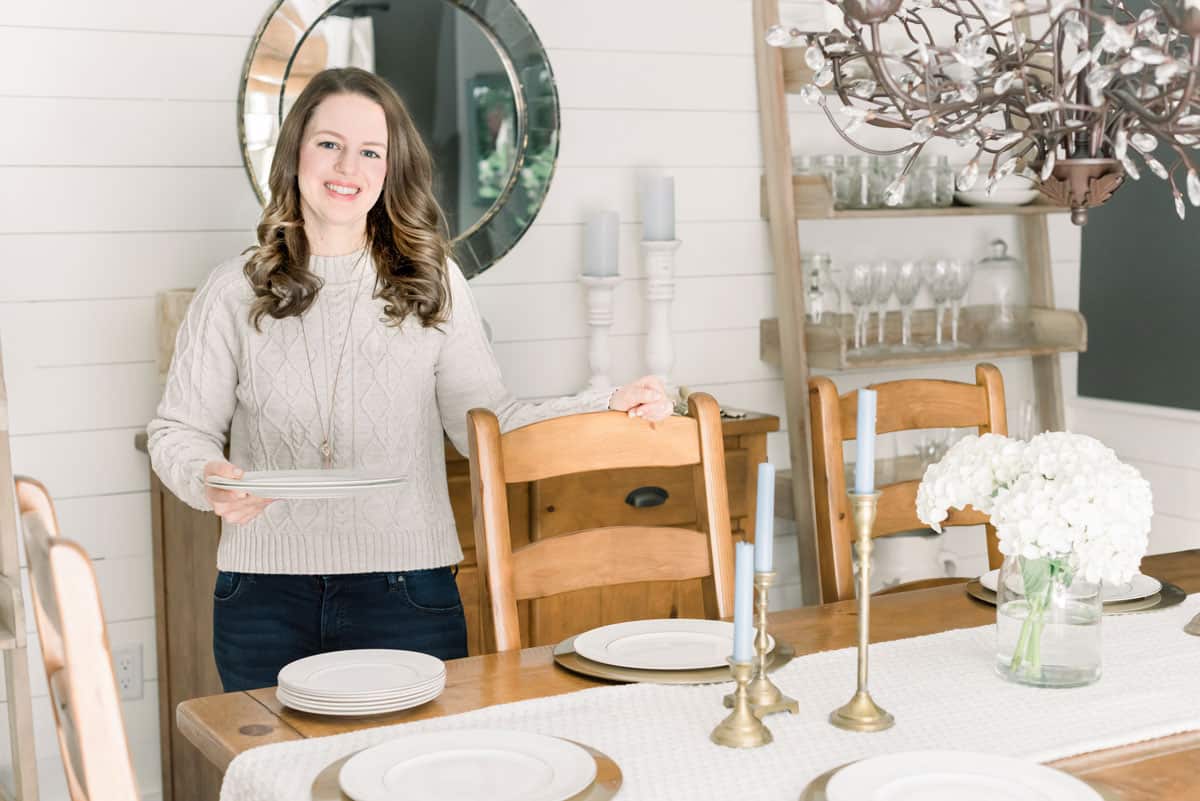 Back then, we didn't use the word "tablescape"! I'm not exactly sure who coined the phrase. I'm guessing you've probably created a beautiful table arrangement too without even knowing you were partaking in the art of tablescaping.
What is a Tablescape?
A tablescape is simply a blanket term that combines your table's centerpiece and place settings, or the overall decoration and landscape of your table setting.
Vignette vs. Tablescape?
Some people consider them the same thing, but I look at them as separate decorating scenes and style them accordingly.
To me, a vignette is typically a small tabletop decorating scene and a tablescape is a dining table display that includes a centerpiece and place settings (so potentially multiple vignettes).
For example, in your dining room, you would create a tablescape on your table and a decor vignette on your sideboard/buffet.
Why Would I Create a Tablescape?
A tablescape is meant to elevate an entertaining experience. It's a way to show your guests that you care about them and that the meal is special. This doesn't have to be something that you spend a ton of money on or even any money at all! Some of the most elegant tablescapes I've ever seen have included flowers picked from the yard and everyday white plates.
When Should I Create a Tablescape?
Seasonally
For a Holiday
For a Specific Celebration: birthday, anniversary, shower, wedding, etc.
Any time you want!
Where Do You Put the Food in a Tablescape?
I get this question on social media from time-to-time, typically from men. It's a valid concern that my husband shares, haha!
A good analogy is to compare some tablescapes from creators to runway fashion. It's a bit over the top and meant to inspire. You take bits and pieces to apply to actual life.
I'd say that my tablescapes have been a mix. Some have been over the top/for inspiration only and you'd never be able to actually eat there, but we have certainly sat down to meals at some of them as well.
For the purposes of this post I'm explaining how to create a tablescape that you can actually eat at, but feel free to have fun and create one for decorative purposes, too!
One thing I've done in the past is to decorate a tablescape for the season and then remove enough decor to place delicious food when the actual event occurs.
How to Create a Tablescape Step-By-Step
1. Find Your Inspiration
The first step is to find your inspiration. When I've posted my tablescapes previously, my intention was for you to find those on Pinterest or Instagram and use them for this step!
With that being said, inspiration doesn't have to come from a blogger or magazine. You can be inspired by the season, a holiday, a place (like when I created a tablescape inspired by Ireland!), or a color/pattern. Inspiration is such an intangible thing, but you'll know the feeling when it comes!
Sometimes an item will jump out at you while shopping and you'll create a tablescape around it. Other times you'll feel drawn to a flower and that will set the color scheme for the entire thing!
2. Consider Your Event
How many guests do you have? What will you be serving? If it's a large spread, you'll want to leave room for dishes on the table and on your buffet or sideboard. You can also consider serving at your kitchen counter buffet style. Regardless, this is something you'll want to consider.
3. Gather Your Materials
No matter what you choose, it's best to go into creating a tablescape with a plan of which materials you use. That way you aren't having to venture out for things part way through (can you tell that's been me in the past?).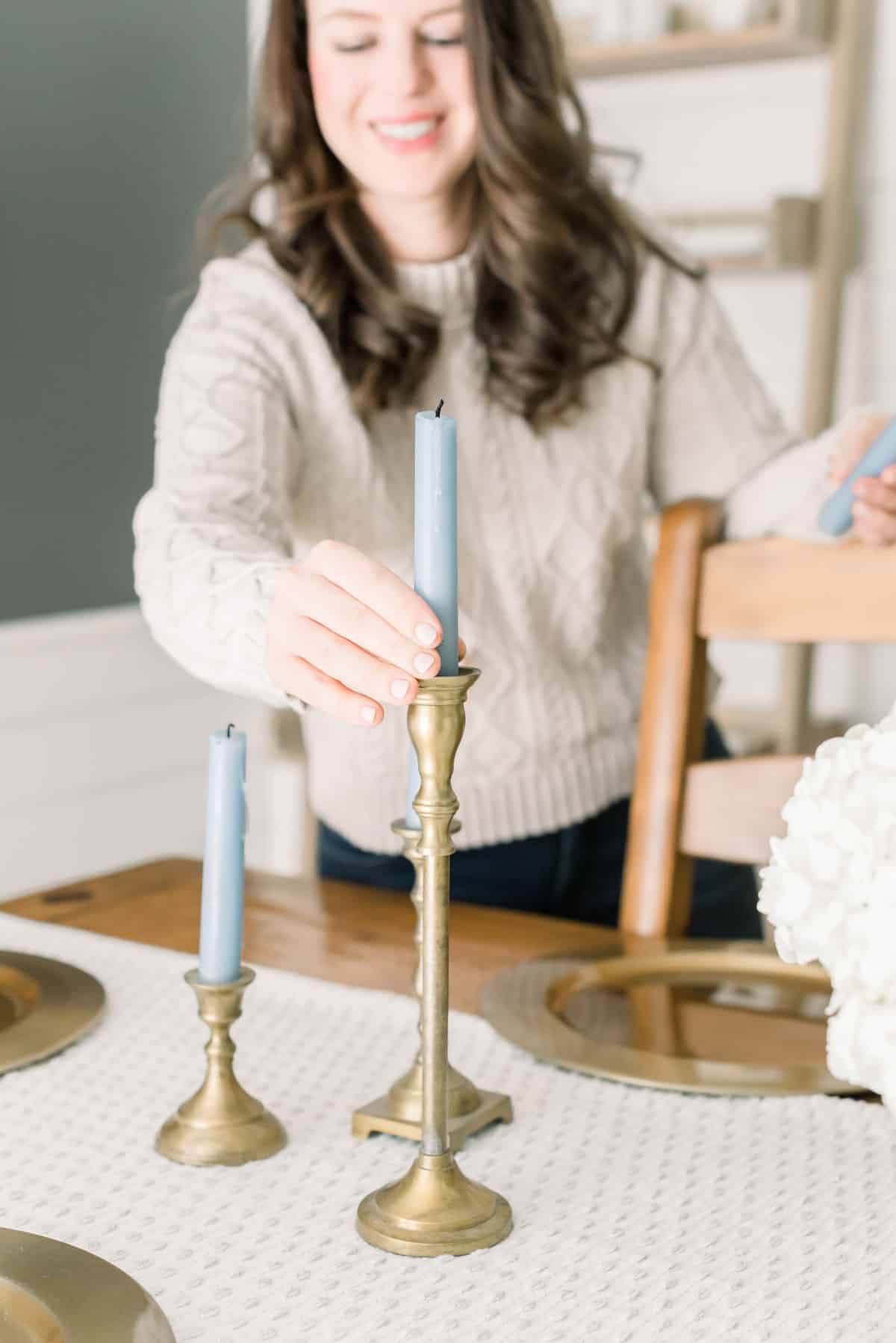 Here are some ideas of basic things you may want to incorporate:
Basics: dishes, silverware, charger plates, glasses, napkins, runner/tablecloth
Decor: candlesticks, candles, glassware, serveware
Flowers, branches, greenery: can be faux or natural materials foraged from your yard!
Seasonal elements: pumpkins, apples, etc.
You may already have the majority of things on hand, which I highly encourage! I don't believe you need to go out and purchase new things every time you entertain. If you do make a purchase, choose something versatile you can use time after time to build your capsule of entertaining essentials.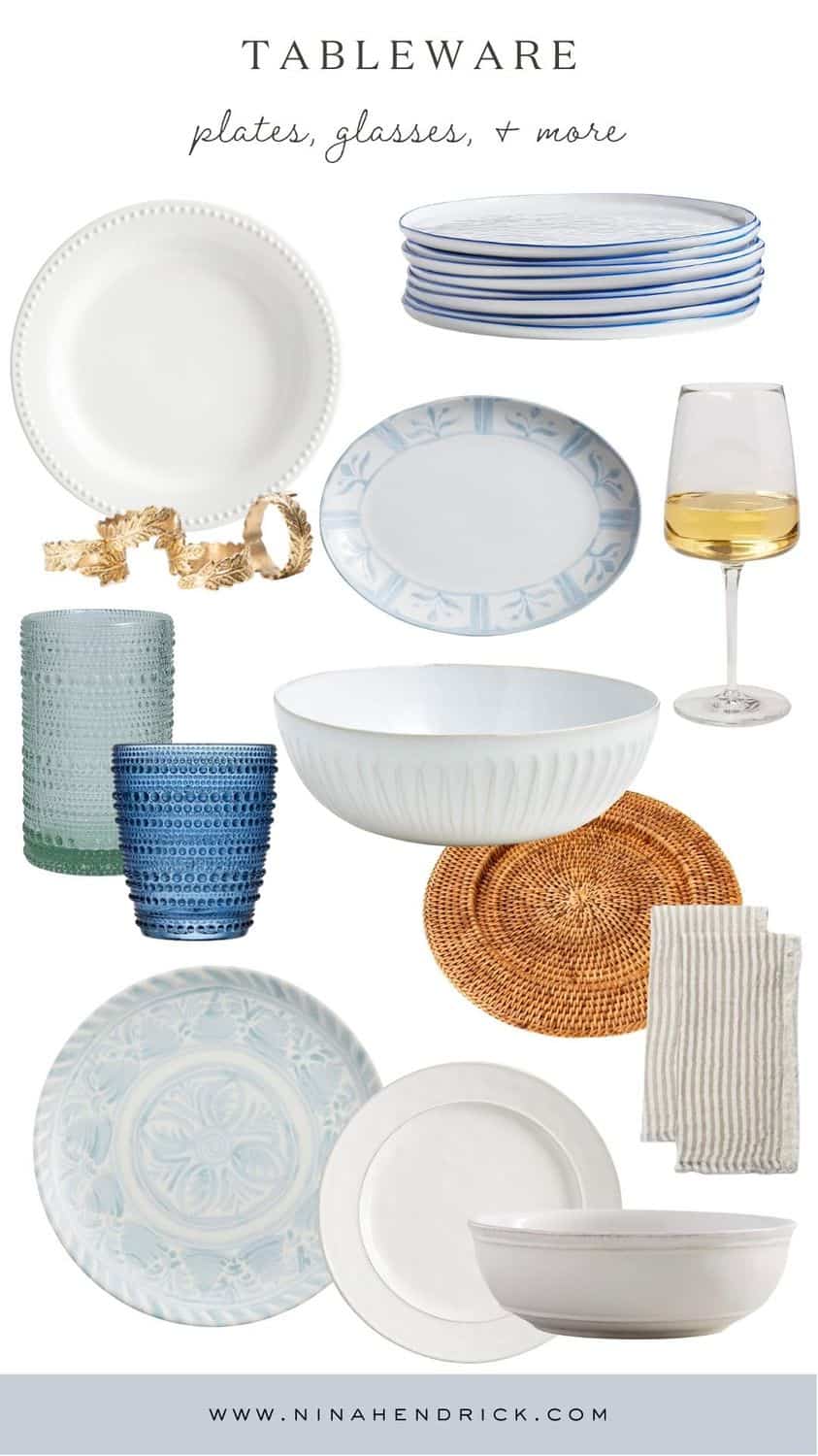 White Beaded Plates | Gold Napkin Rings | Blue-Rimmed Plates | Chambray Tile Platter
Modern Wine Glass | Hobnail Glasses | Fluted Bowl | Rattan Charger
Blue Chambray Tile Plates | Simple Stoneware Plates | Soup Bowls | Striped Linen Napkins
How to Create a Tablescape Using Food as Part of Your Display
I mentioned that my business once included styling dessert tables, and I'm still a huge fan of the concept! Food serving double duty as décor is one of my favorite entertaining strategies. The principles I'm about to share work for things like candles or food.
4. Start With a Clean and Uncluttered Surface
You aren't going to take everything off again to clean, so make sure to clean off your surface before you begin! I think it also helps to get the creative juices flowing when you start with a clean slate.
5. Choose Your Base
Before you begin, choose a tablecloth, runner, or whatever will lay the base or foundation for creating your tablescape. Will you be using placemats? Plan your base.
It can be fun to think outside-the-box for this or really any elements of creating a tablescape. One of my favorite things to use as a runner is kraft paper, which guests can then write on. We love to do this on Thanksgiving! I've also seen people use blankets and scarves, which is a fun trick. Be creative!
If you're using cloth of any kind, make sure to steam or iron the piece smooth. You wouldn't want wrinkles to distract from the rest of your pretty display.
6. Compile Your Centerpiece
I create the centerpiece first. It may be that others do it differently, but this is how I've always done it! I begin with candlesticks, floral arrangements, and any serveware that needs to fit on the table, like platters or other dishes (like cakestands!). Even if the food isn't made yet, that way you know there will be room for it when the time comes.
I like to vary the height of decor throughout the tablescape, but there are a couple of things that I keep in mind while I'm entertaining.
Things to Keep In Mind when Creating a Centerpiece:
Conversation: You usually don't want to create displays that are so tall that your guests can't see other people right next to them at the table.
Chandelier height: Along the same lines, I try to keep the décor at the center of the table on the lower end below the chandelier. This can be a great place for the platter of your main dish!
I generally put the tallest candles and florals closer to the heads of the table, but I offset them from each other. For example, for those sitting at the opposite heads of the table, the floral arrangements will both be to their right hands, so opposite sides and not in a visual straight line.
Texture: I like to vary texture throughout my tablescapes. I do this with natural elements such as the branches and floral, and even through things like a woven runner or rattan chargers.
Rule of Threes: this is the design principle that arrangements of threes are the most visually appealing. It's true! I love to use three candleholders, three different types of flowers, three colors etc.
After placing the larger items, I sometimes go through and tuck greens, long-stem flowers, or floral branches throughout the centerpiece. I also sometimes "scatter" votive glasses (in safe, non-flammable spots) to break up the symmetry.
Create Your Place Settings
This is where your guests actually sit to eat and converse, so create your place settings thoughtfully. Include things you'll actually need for the food you're serving, like a soup bowl if you're serving soup or stew.
Begin with your charger or placemat, then plate. From there add any additional items like I mentioned above. I often place napkins on top of the plates with a napkin ring and use a casual utensil arrangement. Other times I've wrapped my utensils in the napkin.
Embellishments and Personalization
It's always a nice touch to include something that makes your guest feel special, like a sweet place tag or some other token.
Some quick favor ideas for tablescapes:
For Easter, I've filled little mason jars with some moss and candy eggs to make a little nest as a favor.
For Thanksgiving one year I made easy "Pilgrim Hat" cookies with Reese's cups, frosting, and vanilla wafers and put them at each place.
For Christmas you can tie a name tag to a pretty glass ornament for each place setting.
Guests love little gifts along these lines! It makes your table especially memorable and fun.
Chair Decorations
Though not necessary, you can also go above and beyond and add a little something to your chairs. I've tied ribbons to my chairs in the past, wrapped lace sashes around them, and even tied a small Christmas wreath to the back.
Overall, the possibilities for creative tablescapes are endless. Whether you are trying to make a bold statement or just want to add a little something special to your dinner parties, a tablescape can be the perfect way to make your gathering memorable. With the right materials, colors, and textures, you can create a beautiful tablescape that will make your guests feel extra special and spark plenty of conversations. With a bit of planning and creativity, you can set the atmosphere to create a fun night with your family and friends!
I hope that these tips are helpful, and you feel confident you now know how to create a tablescape! Share your tablescape on Instagram and make sure to tag me at @ninahendrickhome. I can't wait to see what this inspires you to create!