This spooky & elegant Halloween tablescape transitions a moody fall table to a creepy holiday display with three simple tips that can be used year after year!
While putting together my recent Moody Fall Tablescape, I very quickly realized that it wouldn't take much at all to translate those dark and bold colors from a fall theme to an elegant Halloween Tablescape. I love it when decor can be easily transitioned from one season or holiday to the next!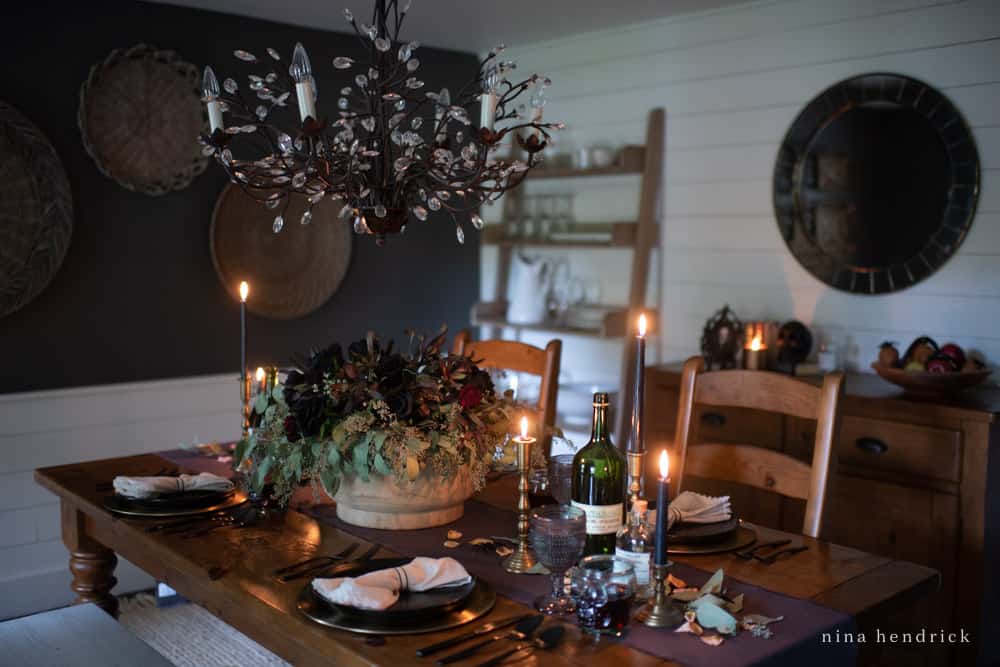 Along with sharing the updates, I have three tips for how you can transition decor from season to season, year after year. Of course, the focus is Halloween, but many of these concepts can be applied to any holiday/season!
Spooky & Elegant Halloween Tablescape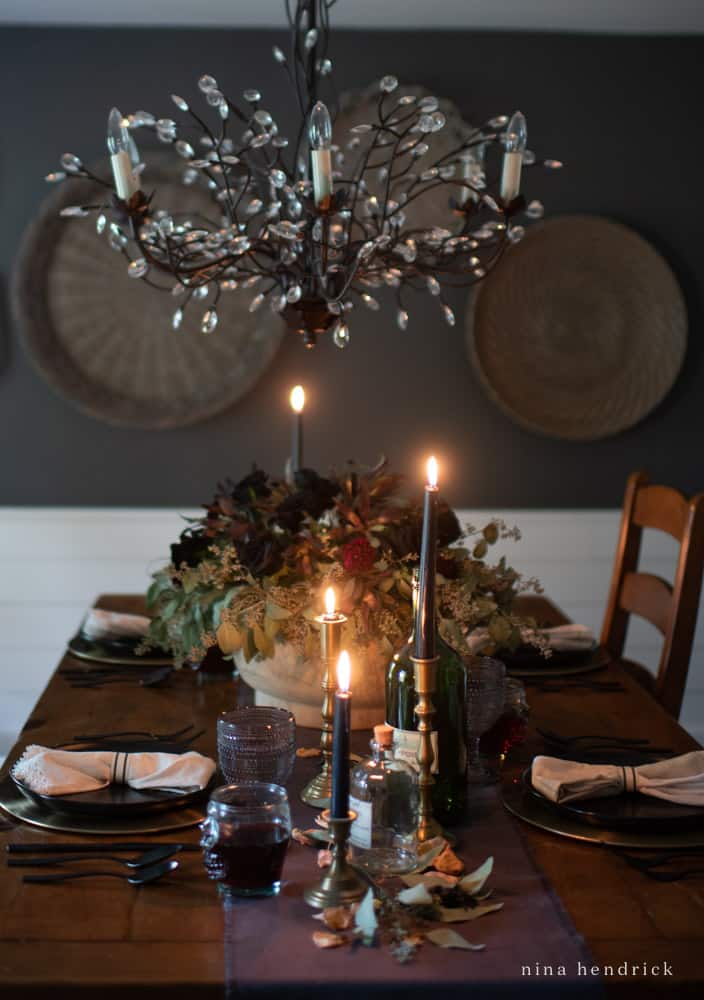 Although the main spirit (get it?) of the table stayed the same in this case, in order to change up this tablescape for Halloween I made a couple of small tweaks.
Tip One: Get as much mileage as possible out of flower arrangements.
The first was letting the flowers dry out. The large moody flower arrangement was very time-consuming to create initially (You can watch the time-lapse here! It was really about an hour in total.), so I really loved the idea of getting more mileage out of it. It had bloodred carnations and already hinted toward a spooky season.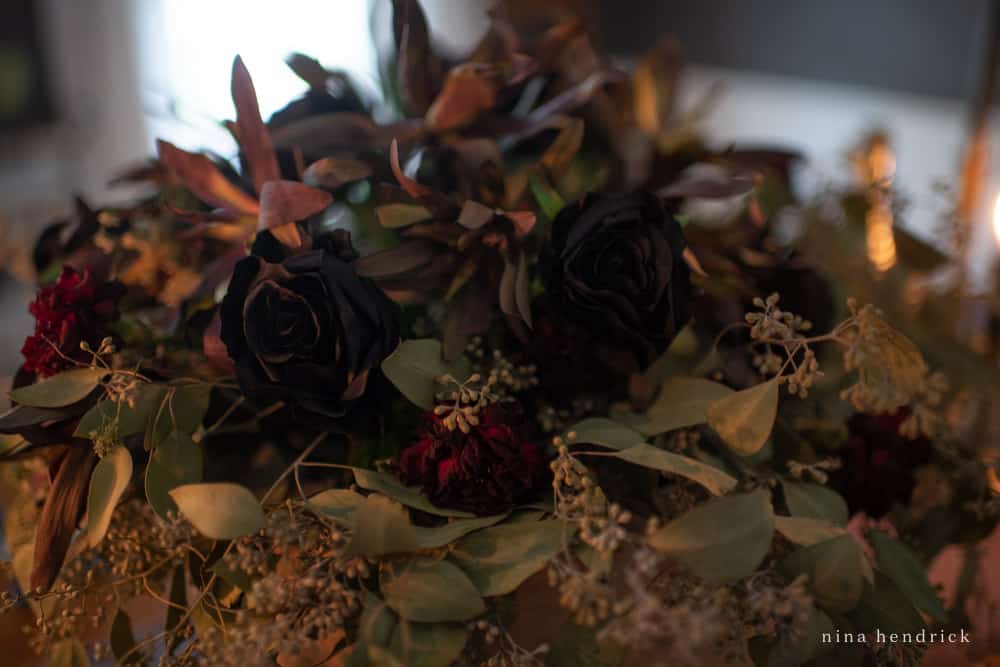 This post contains affiliate links, which means I may get a small commission (at no extra cost to you) if you shop my link. Please see my disclosure if you'd like more info!
The peach roses didn't dry out exactly as I hoped, so I ended up replacing them with some inexpensive faux roses. They needed some fluffing but ultimately ended up filling in the arrangement nicely. The bonus is that they can be used again and again. The spiky leucadendron was already very Halloween-esque and it opened up and dried in a very interesting way.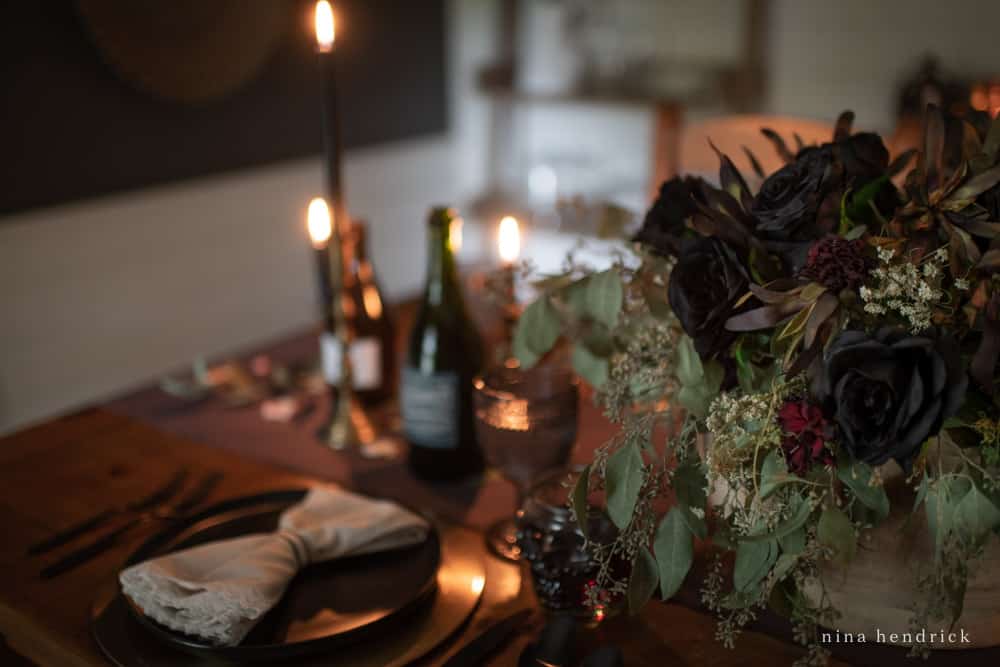 Another season that this tip works really well for is Christmas. You can very easily transition evergreen arrangements from Christmas decor to regular winter decor.
Tip Two: Add or remove small elements to transition from season to holiday (or vice versa).
In this case, when I was transitioning the table to Halloween, I added small touches that would bring the table from a normal pretty setting to a spooky/creepy vibe.
I sprinkled dollar spot spiders in the dried rose petals from the runner and also added them into the fruit bowl on the buffet. I brought out my skull wine goblets to add a ghoulish flair.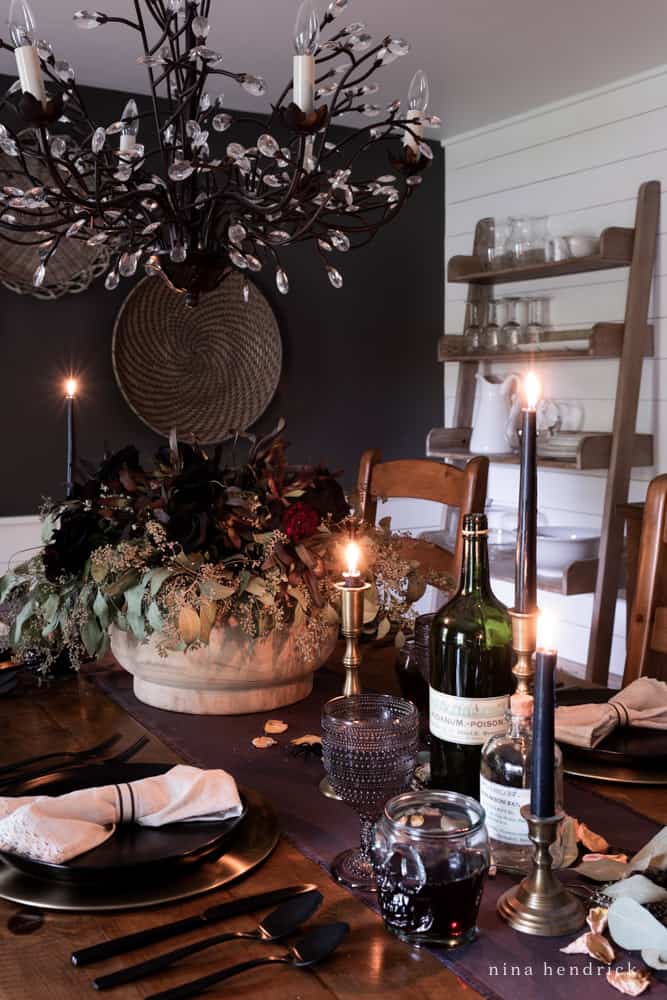 I also swapped out the fresh fruit and handwritten place card with a vintage-look napkin with a black striped piece of ribbon as a napkin ring that brought the Addams Family to mind.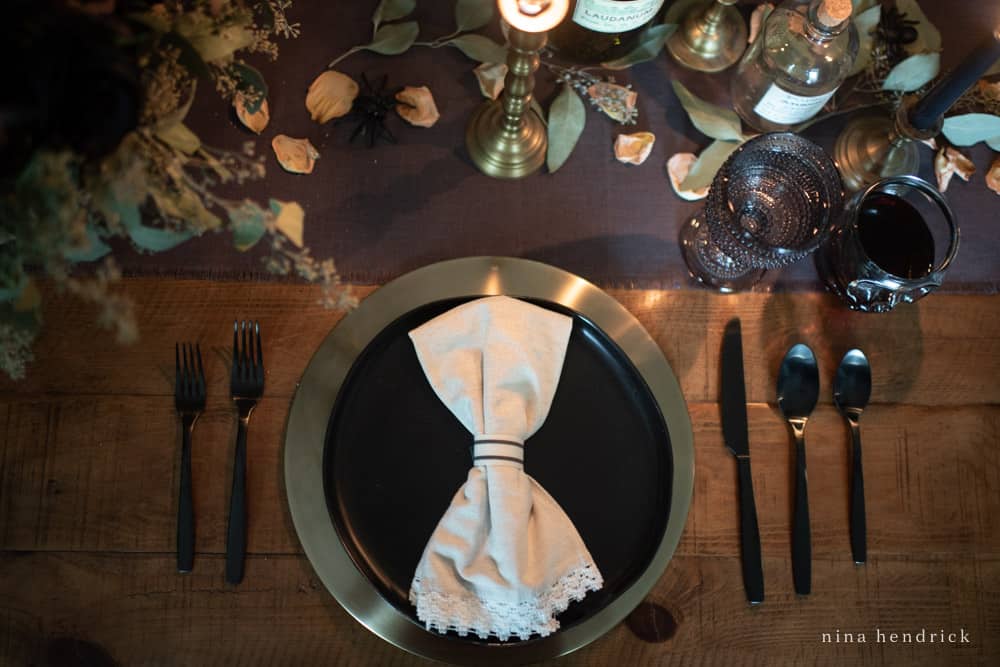 Tip Three: Use Seasonal and Holiday Decor over and over again in new and different ways.
One important thing to mention is that the only thing I purchased for this tablescape was the black roses. Everything else that I brought in for Halloween has been part of my collection for years. However, by using it for this elegant Halloween tablescape it had a new and fresh feeling.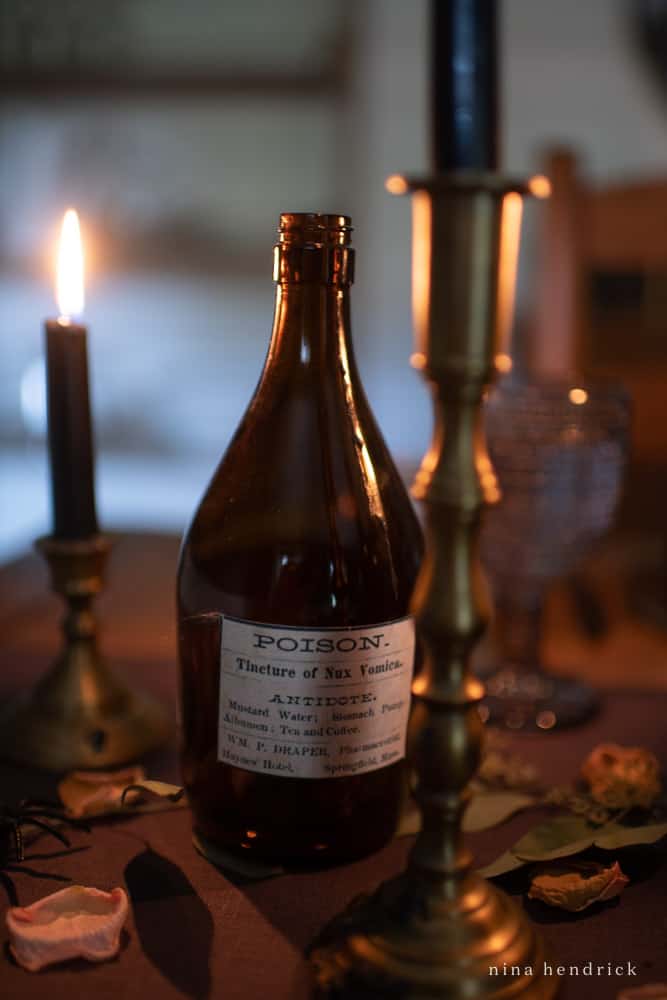 One example is these "poison" recycled wine bottles. It was such a quick and easy craft and I've used them over and over again pretty much every year for nearly a decade. You can grab the free printable labels here!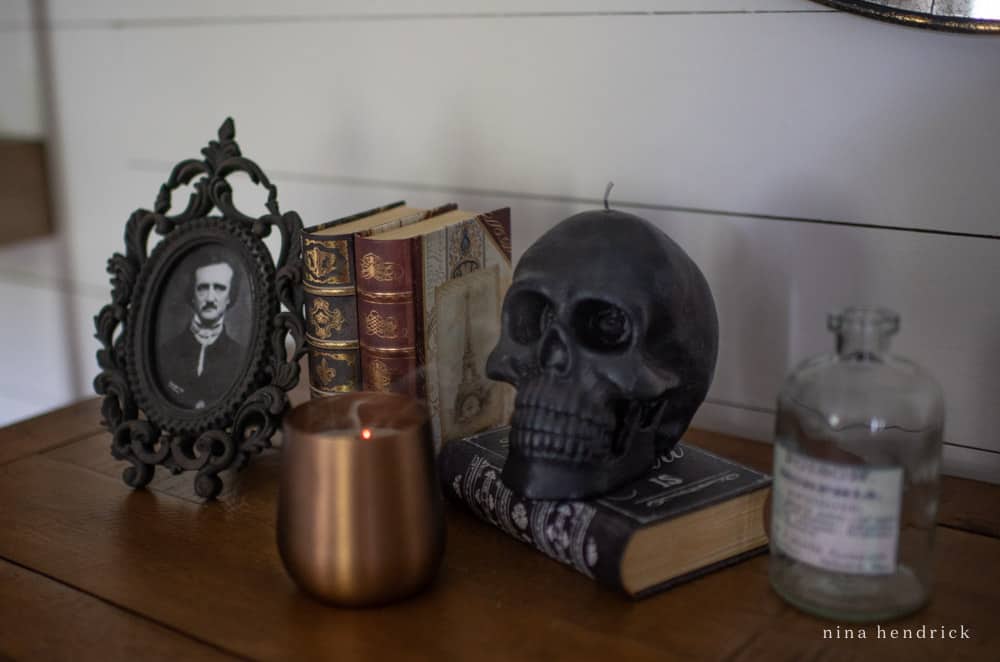 Also, elements of this little vignette on the buffet were originally set up here several years ago as an Edgar Allen Poe theme. By rearranging them I was able to give them a new look!
I've learned to be a big advocate for building a small capsule collection of seasonal decor and using things over and over again. There's no reason to chase the trends and spend a bunch of money each season— and then have to store it somewhere.
I know, it can be tempting when you see really beautiful and intricate/abundant displays on Instagram (truckloads of faux pumpkins, Target hauls each month, etc.)— I've fallen in that trap in the past, too! But over time I've realized that quality is really more important than quantity when it comes to seasonal decor. I don't want to drown in bins of seasonal decor and add to our clutter problems.
With that being said, if there's an item that you really find you want to add to your seasonal decor, by no means am I discouraging you from buying something to add to your collection.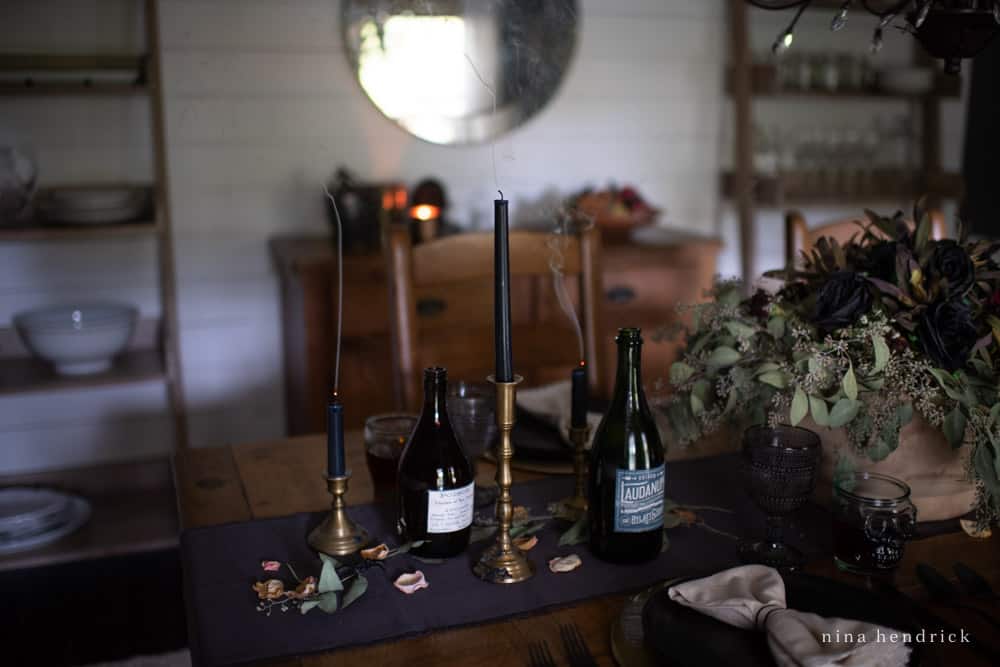 Overall, I'm advocating for being intentional with what we add to our homes (since we do have to store things, after all!) and repurposing and reusing as much as possible from season to season and year to year. This spooky & elegant Halloween Tablescape was a great way to stretch decor from Fall to Halloween.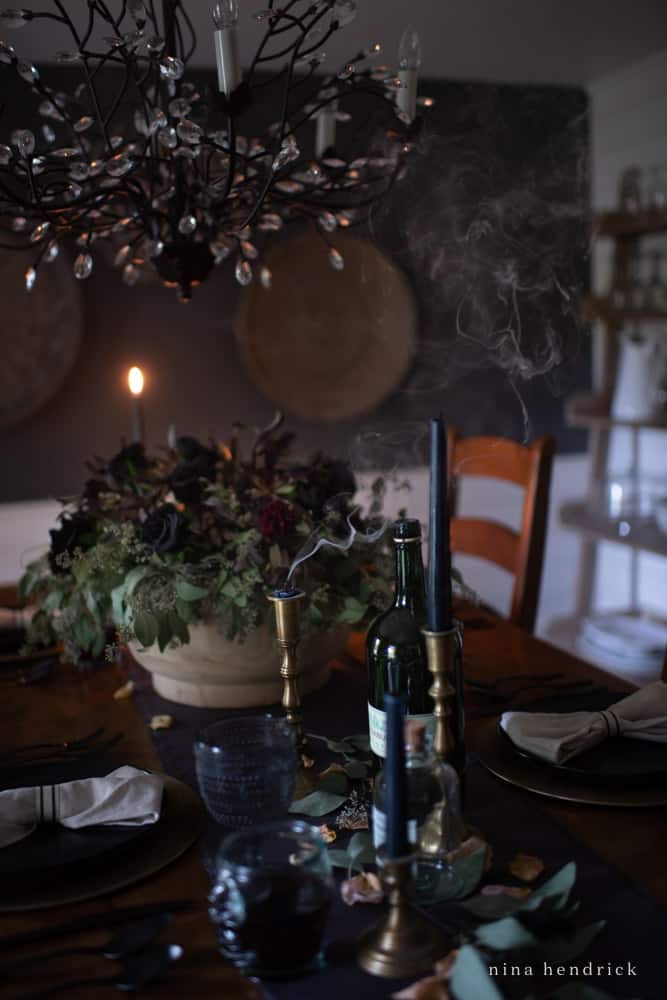 If you're looking for other fun Halloween ideas that use some of these same decorations, you can also check out my Spooky Foyer decor and my Spooky Surprise Cameo craft. Let me know on Instagram @ninahendrickhome if you use any of these ideas!
Pin It For Later | Spooky & Elegant Halloween Tablescape