Looking for a wood and upholstered bed? I'm giving you all of my favorite sources for this exact bed as well as sources for similar beds that have this classic wood and linen style.
After our Primary Bedroom Renovation and the full source list makeover post, it became obvious by the number of questions that I was going to have to do a standalone post about my wood and upholstered bed. I get it, it's super pretty and timeless! Four years later, I'd choose it all over again. In this post, I've provided some of the best sources for you to track down this bed as well as some similar wood and upholstered beds you may like even more!
This post contains affiliate links, which means I may get a small commission (at no extra cost to you) if you shop my link. Please see my disclosure if you'd like more info!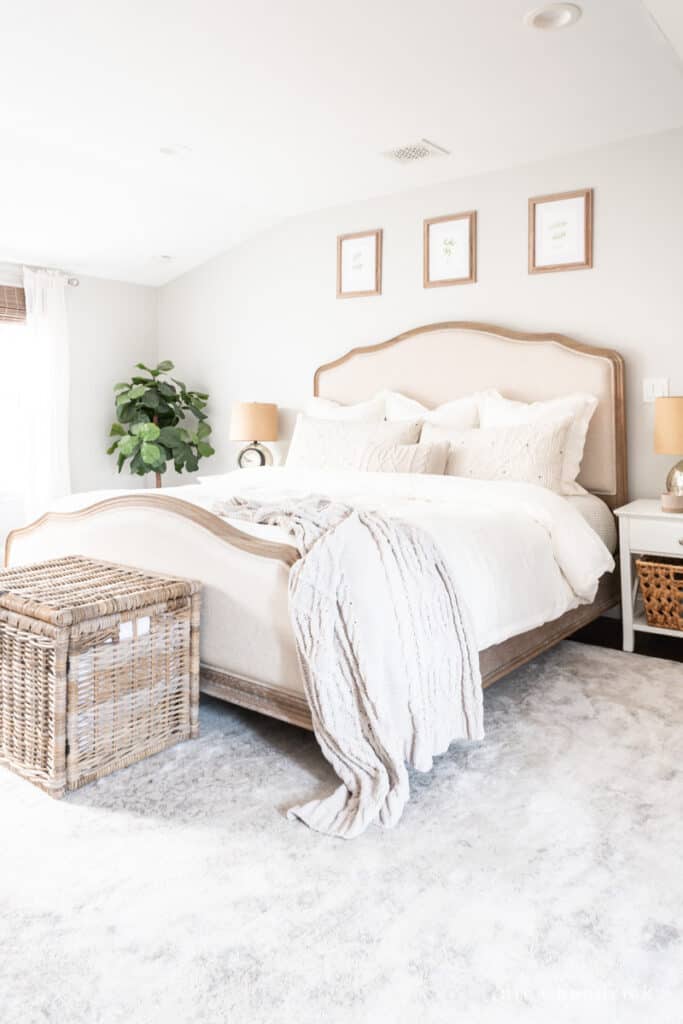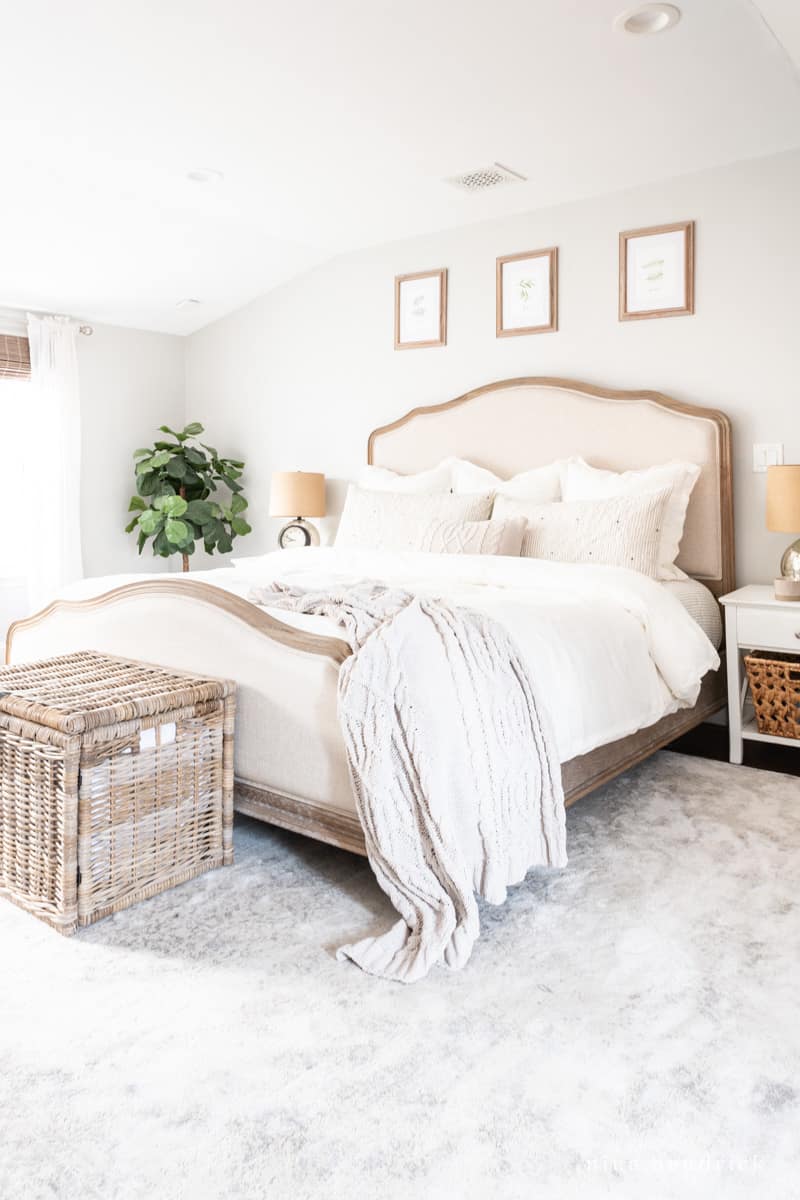 My Sources for a Wood and Upholstered Bed
First, here's the current link (as up-to-date as possible) for the exact bed I have from the same source. You may have to sign up for an in-stock alert.
Before we dive in a bit further, aside thoughts, because I'm committing to sharing my behind-the-scenes thoughts more this year:
I'm grateful to be able to do this— truly, but it's odd to live in a world where I'm answering questions from lots of people about where I sleep. 😂 I had a friend point this out recently and it struck me that yes, okay, this blogging thing is a bit weird sometimes.
So with that random thought out of the way: dozens of you have asked me questions about my wood and upholstered bed. I'm going to do my best to answer all of the questions and give you multiple sources since it sells out fast.
My goal is for this to be a post I can direct people to with their questions to cut back on the same email and DMs, so please read it in its entirety. If there's anything I missed, I'm happy to answer in the comments and update the post!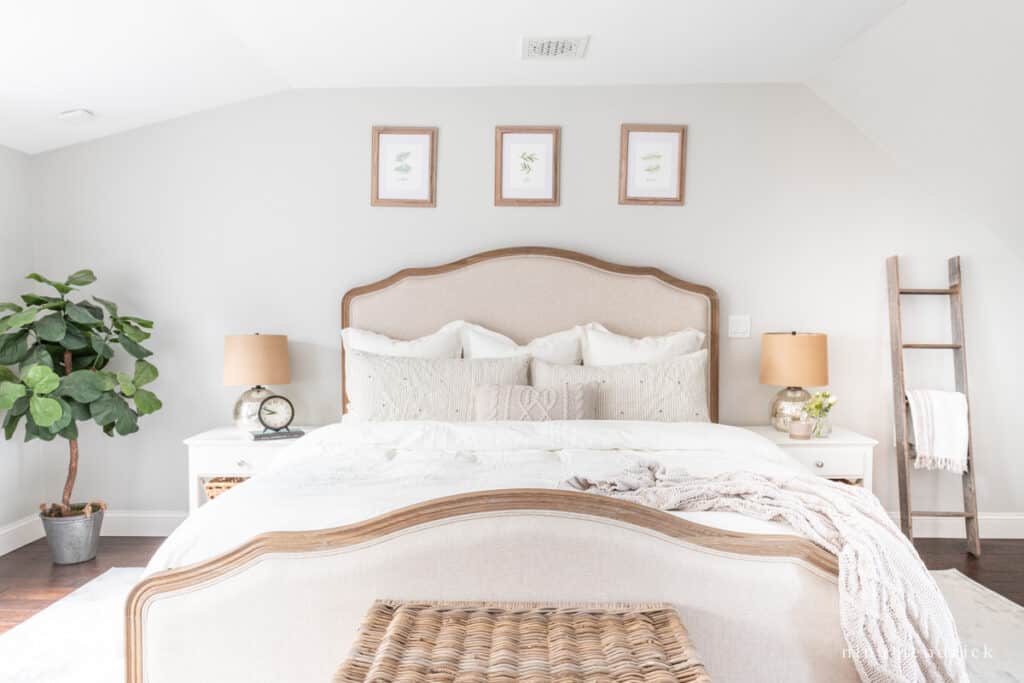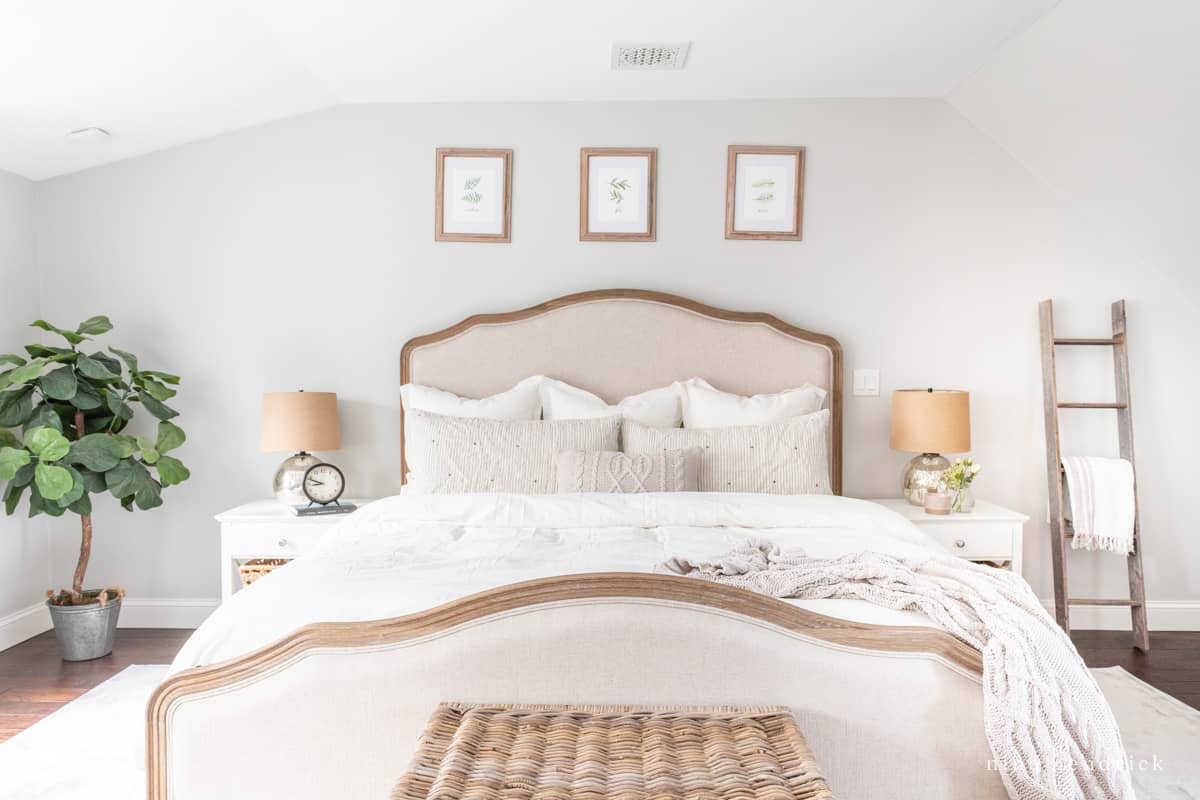 Where Can I Buy this Bed?
I received this wood and upholstered bed as a collaboration with Joss & Main three years ago. It's held up well in the years since, I love the way it looks, and the quality is great. It's a big-ticket item, so I was a bit nervous not being able to see it in person ahead of time, but I have no complaints.
Now, a frustrating aspect from a blogging perspective is that I always try to share sources, but the links/names/and descriptors for this bed seem to change more often than usual. So, if these links are dead before I can get back to them, it's called the Watson/Haverford/Romaine/Culbane bed across the Wayfair brands (Wayfair, Joss & Main, and Birch Lane), and a google search should bring up a result for at least one of those. We have the king size and the oak/weathered/gray wood finish.
Now, at the time of writing, it can be found at the Wayfair brands under the name "Romaine" (Wayfair/Joss and Main). It also appears to be called the "Culbane" bed at Birch Lane, but the stock matches between the two names (i.e. it has the same sizes/colors available and sold out).
I believe that the Ogden Linen Panel Bed from One King's Lane may be the exact same bed. At the very least, they use the same photo.
I believe this Copper Grove bed from Overstock is slightly different but very similar. The reviews suggest it may be a bit darker. I also suspect that the Clintwood Bed from Wayfair is the same as this Copper Grove bed.
I also tracked down another source here, but I can't be sure it's the same as my wood and upholstered bed or if it's more like the Copper Grove/Clintwood version.
Last but not least, I put together a roundup at the bottom of the page of some similar (but different) wood and upholstered beds, along with the original, that will give you this look.
What are the dimensions?
Please see the product listings for the specific dimensions of the size of the bed you're looking for. They will vary by size (king vs. queen) and the brand of the bed you ultimately choose.
Our primary bedroom is approximately 24′ by 16′ with varying rooflines, eaves, and dormers. The tallest point of the wall behind the bed is 8′.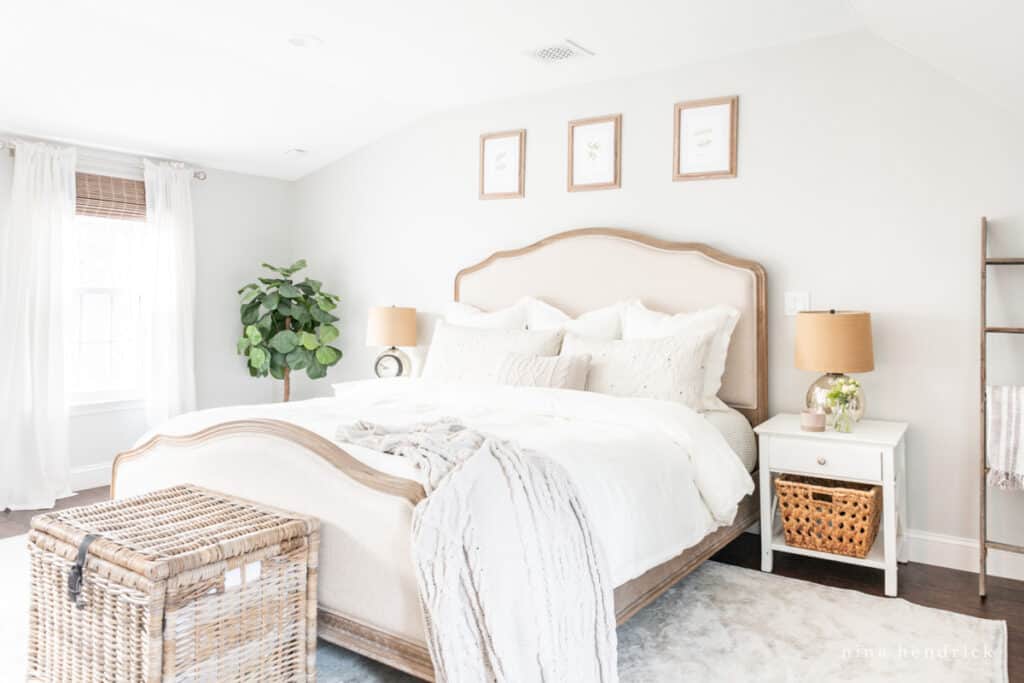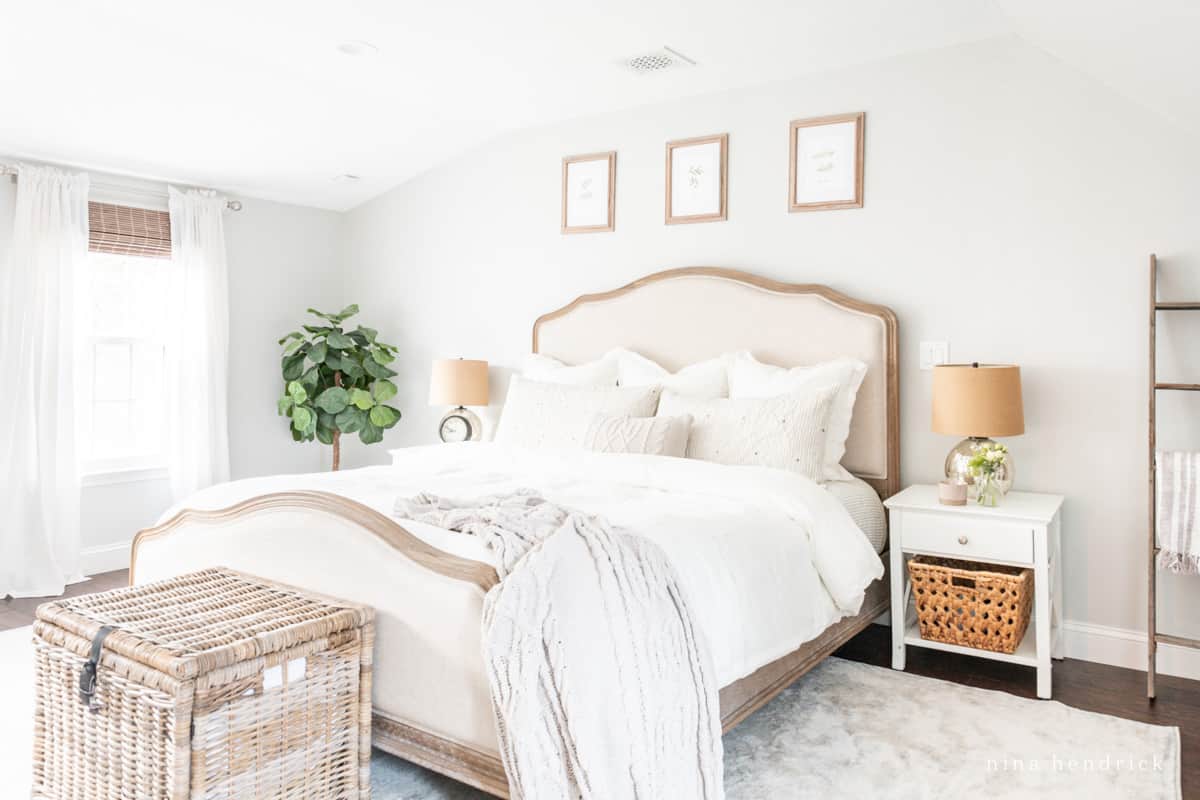 The wood and upholstered bed is sold out! What do I do?
If it's sold out (which is often the case), I recommend signing up for an in-stock notice, because they will restock it fairly quickly. Often this will be quicker than the estimated date. Also, inventory seems to be coordinated across all of its various names and listings on all of the Wayfair sites, so you only have to sign up for one in-stock notice.
Are the colors true to the product photo? Is the linen more gray or beige in person?
The colors are pretty true to the photos. The linen is very neutral— oatmeal, I'd say— and goes well with the gray walls in our room (SW Repose Gray lightened by 50%).
Our wood and upholstered bed has the oak finish, which is a warm stain with some gray wash. It isn't purely gray and it isn't "oaky" gold, orange, or red. It's a nice neutral stain in a gray-brown color. I've tried to edit my photos in a way that shows the color as I see it in person. Obviously, this is going to be somewhat subjective.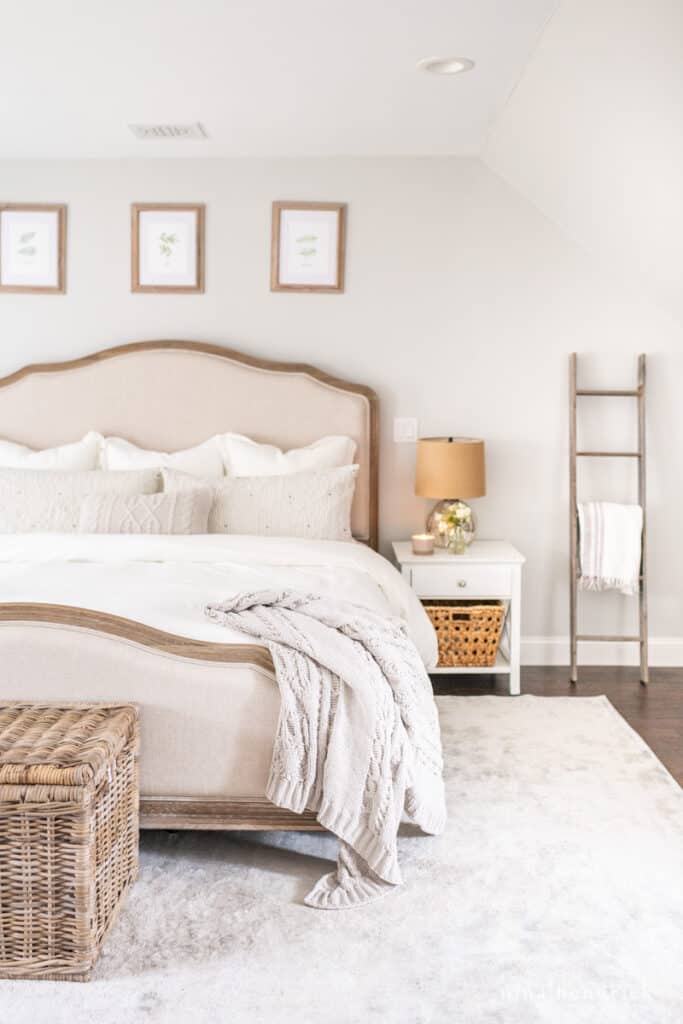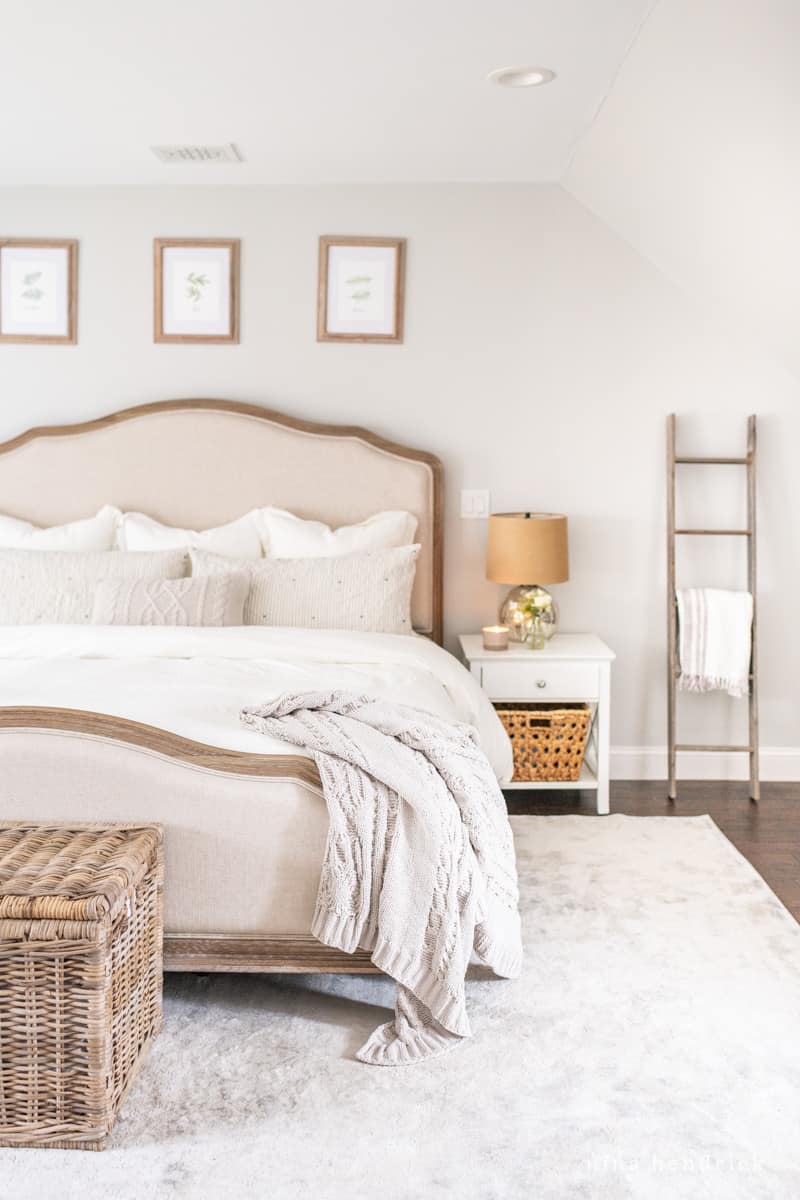 How do I know whether to choose a king- or queen-sized bed?
I would say the decision between a king or queen bed is largely based on personal preference. We chose a king bed simply because we both like space when we sleep and we happen to have enough space for it.
The only design-related reason to choose between a king or queen bed would likely be scale. A king bed is approximately 18″ wider than a queen bed. If you have a particularly small room, you may need to have a queen-sized bed because it's all that will fit. If you have a huge wall, a king-sized bed is one way to balance that visually.
A consideration to keep in mind when choosing between the two is cost. Not only will you pay more upfront for a king bed frame and mattress, but all linens will be slightly more expensive. Just something to keep in mind!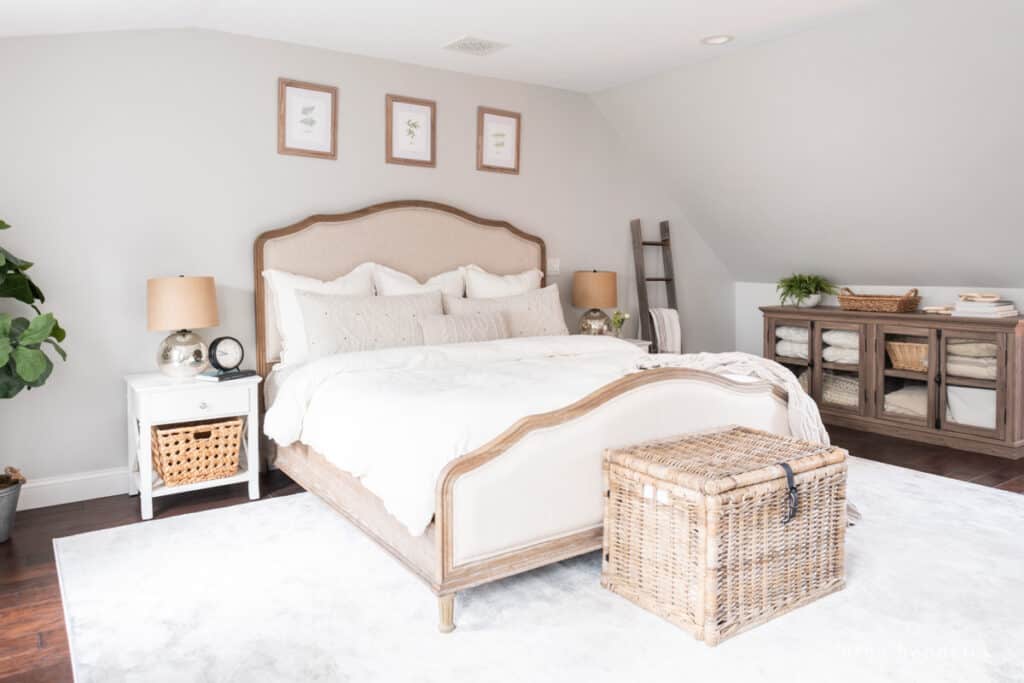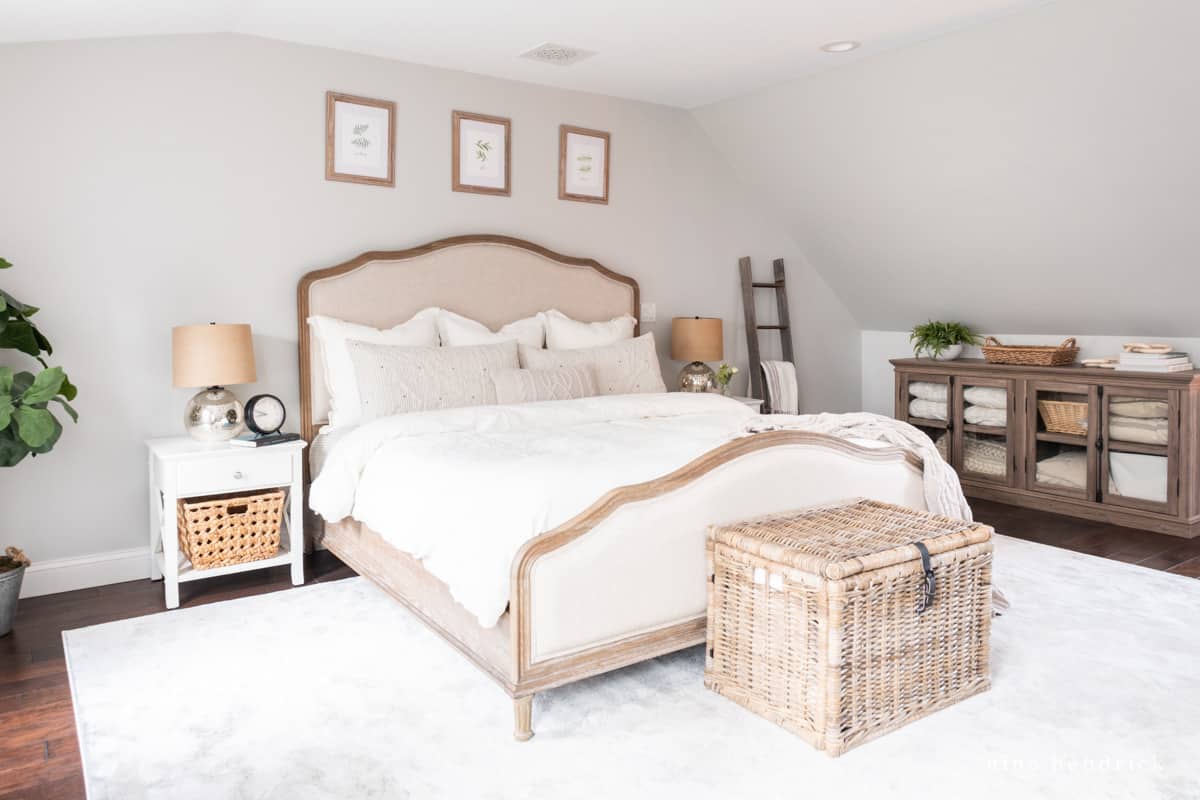 What size area rug should I choose for a king-sized bed?
We chose this rug in the 9.5 x 13 (and I love it!). We chose to begin the rug just past our nightstands, keeping in mind that the wicker trunk at the foot of our bed added some depth to the layout. It works perfectly for the size of our room, but it isn't the "only right answer" for what size rug to choose. You could also use an 8×12′ sized area rug, beginning at the front of your nightstands, and that would also look proportional. You can visit this post to get all of the sources from our primary bedroom project.
Are there similar wood and upholstered beds to this from different sources?
Here's a collection I put together if you're looking for something similar, but not exactly the same.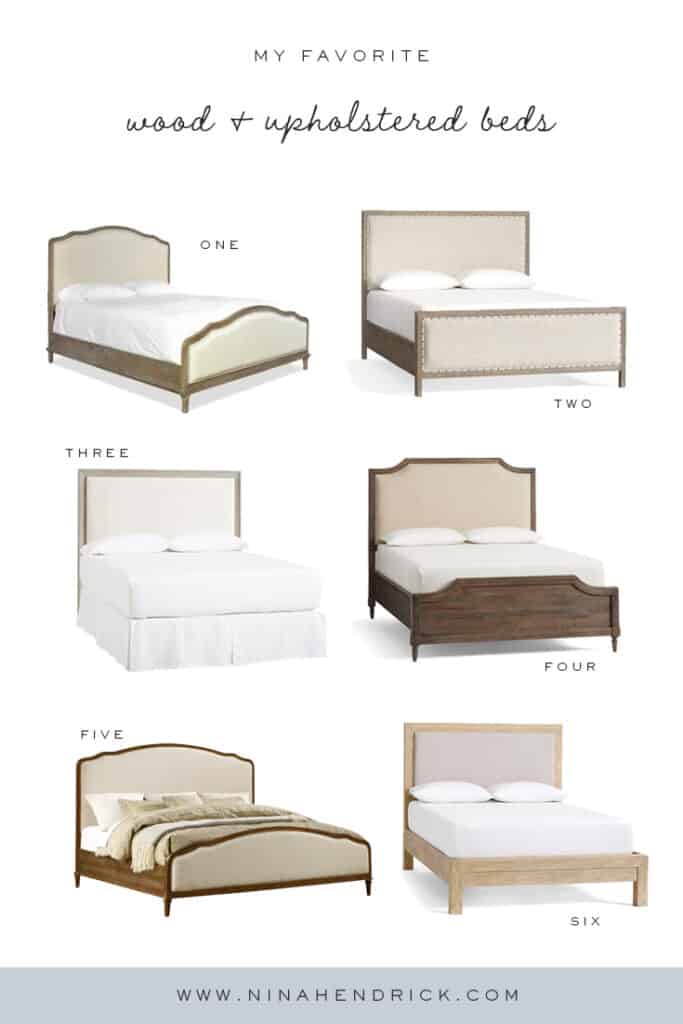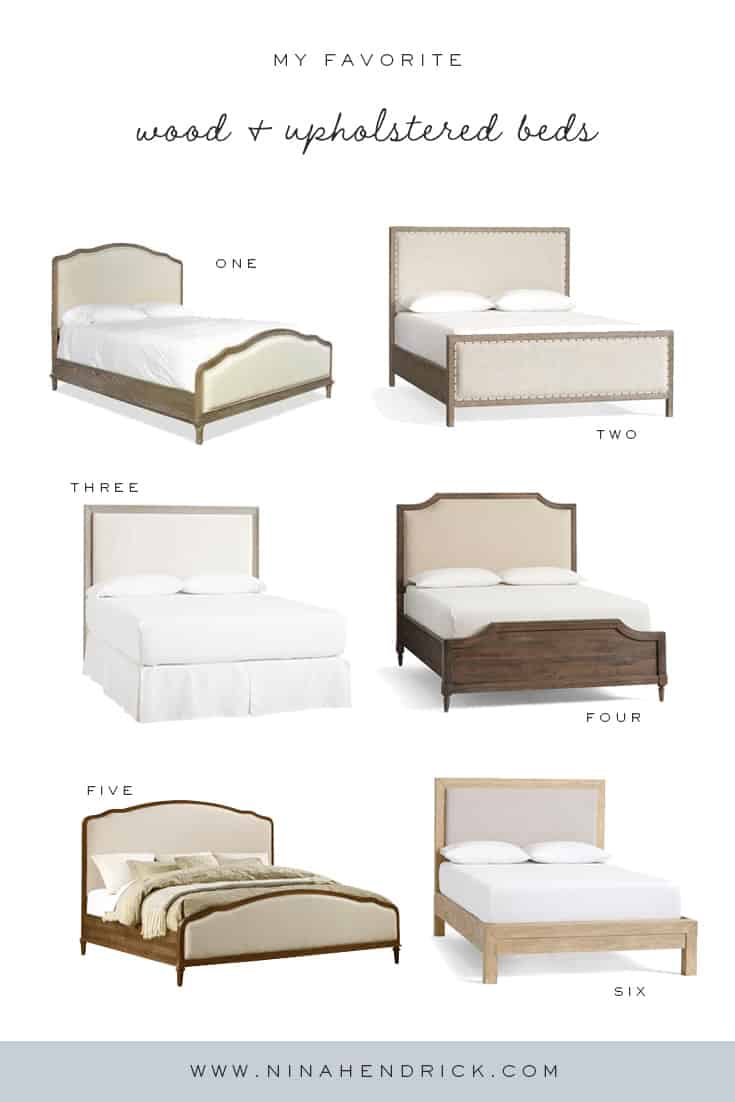 All in all, I hope that these sources were helpful and helped you track down this wood and upholstered bed (or one that you like even better!). Overall, it's a great style and a classic combination. Let me know on Instagram if you end up finding one you love!
Pin It for Later | Wood and Upholstered Bed